Sungkyung Dumplings | Jongno Food Recommendation
A local favorite! 「Sungkyung Dumplings」 offer affordable and delicious dumplings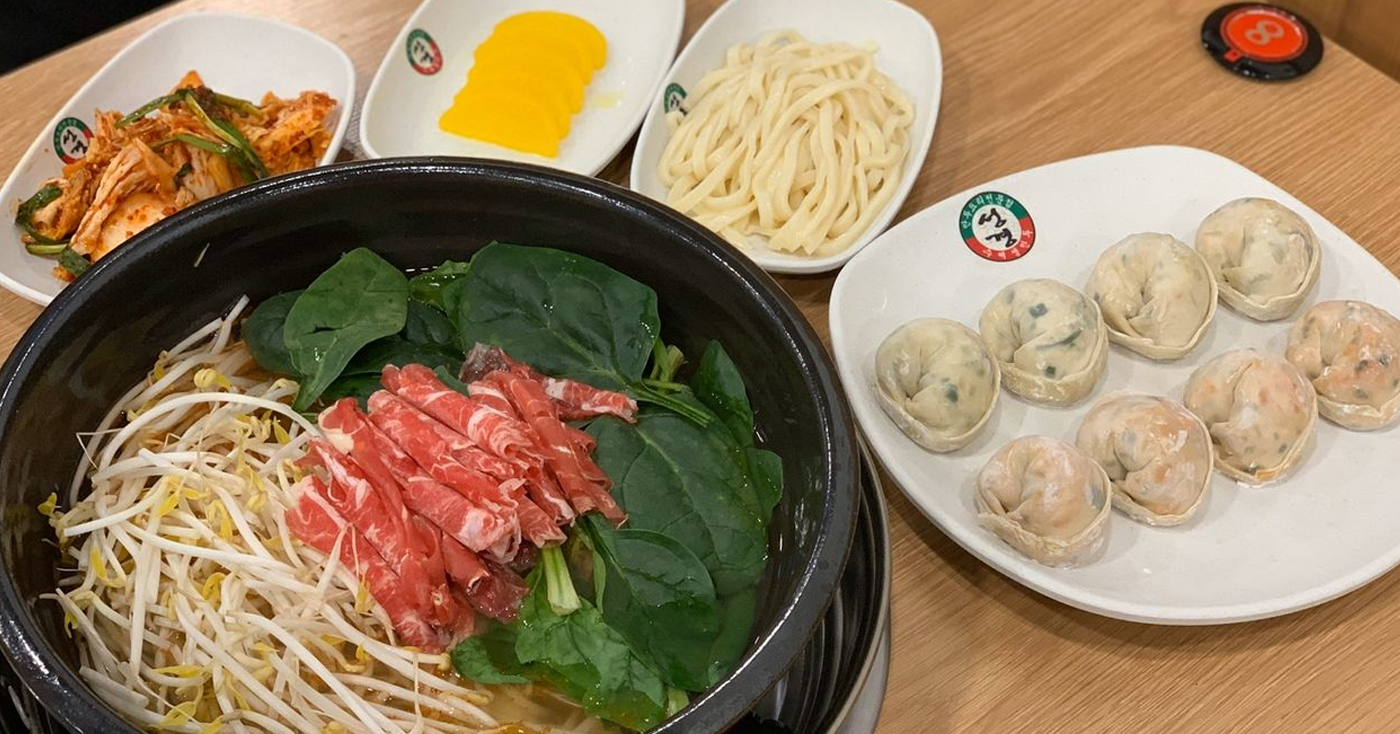 As the air is getting colder, the wind will soon pierce through our sweaters onto our skin and we will all be craving a warm bowl of soup to warm us up from within. This restaurant located in Jongno serves Mandu Jeongol, a hotpot that consists of vegetables, beef, and juicy dumplings. Not only is this hotpot going to warm up our bellies, but it will also give us enough energy to go back into the cold to explore more of the Jongno area. Read on for a detailed review of Sungkyung Dumplings!
---
Sungkyung Dumplings
---
Information
Address: 서울 종로구 수표로 88
88 Supyo-ro, Jongno-gu, Seoul
Hours: 10:00 ~ 21:30
---
Why We Recommend It
Unlike some dumpling shops that use frozen dumplings, Sungkyung Dumplings uses their own homemade, fresh dumplings. They are large and filled to the brim with filling so you will not be disappointed.
You can choose what type of dumpling you want to fit your tastebuds.
The restaurant is crowded, especially at mealtime, but even if there is a wait, it will all be worth it once you taste their dumplings!
---
Menu
| | |
| --- | --- |
| | |
| | |
| | |
| Dumpling Yukgaejang (만두육개장) | |
| | |
| | |
| | |
---
Our Visit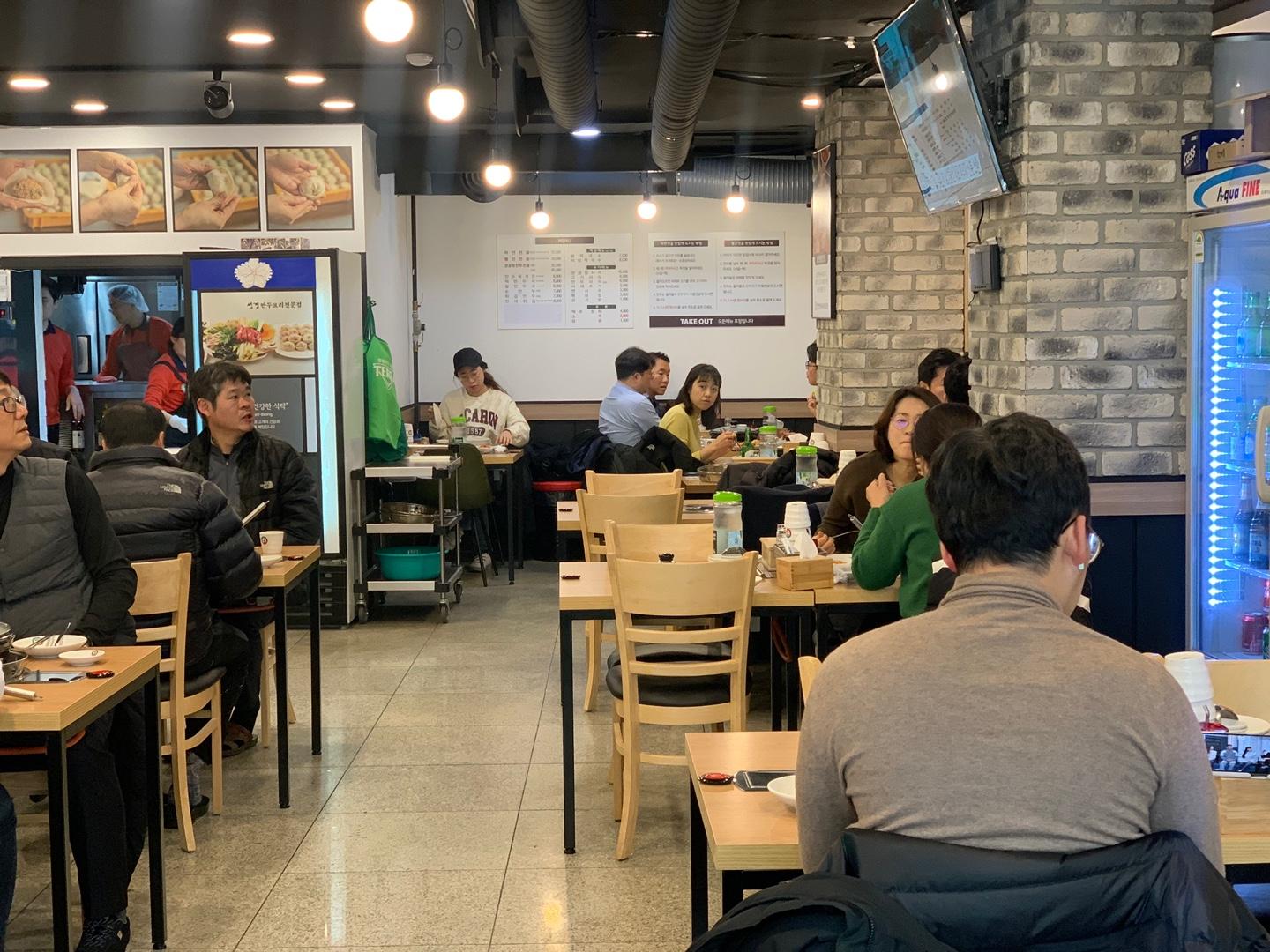 Sungkyung Dumplings is loved by many locals and by lunchtime, the restaurant is filled with office workers that work nearby. This is because it is relatively cheap and the portions are satiating. Even though we avoided mealtime, the restaurant was still pretty full.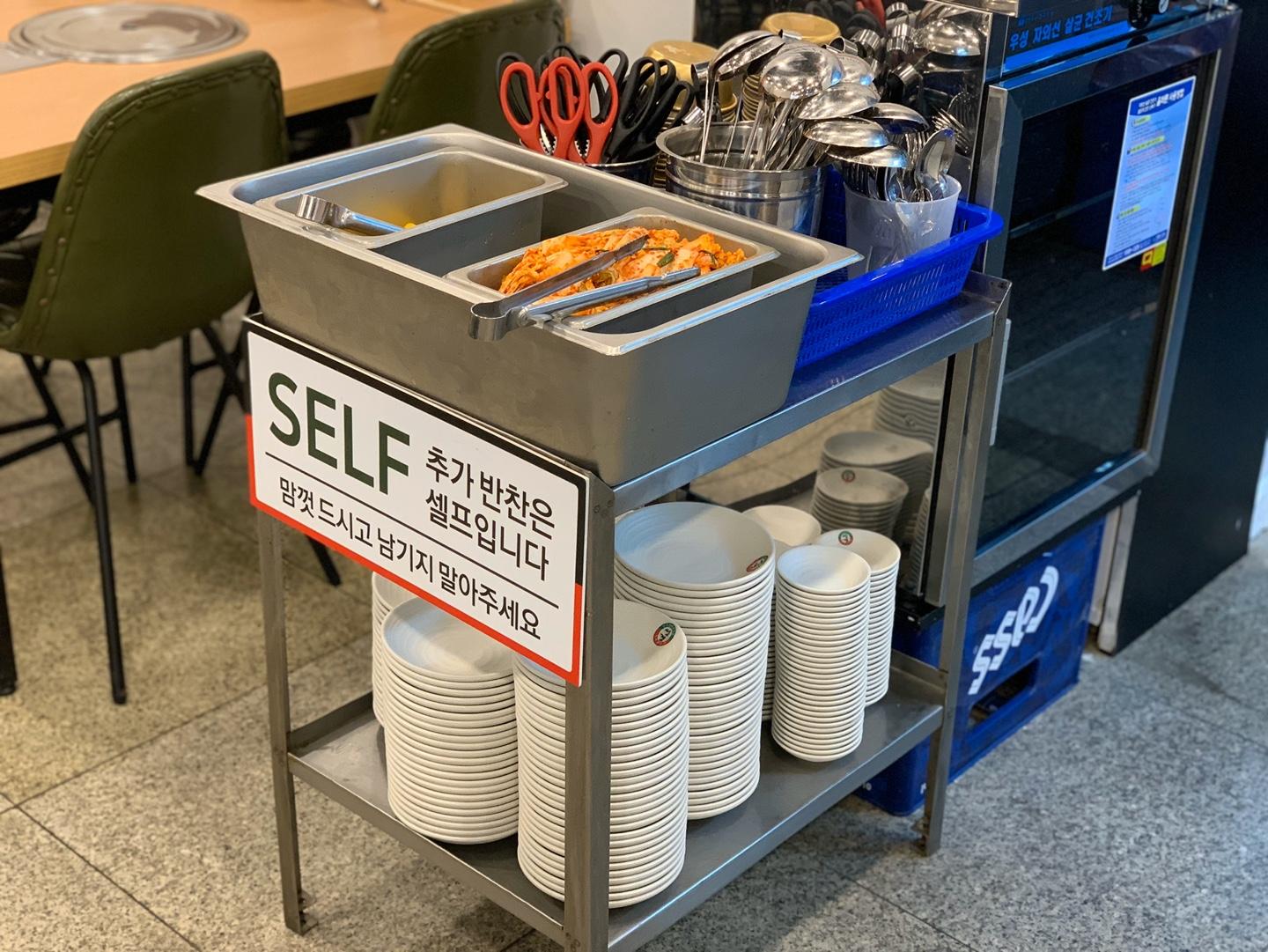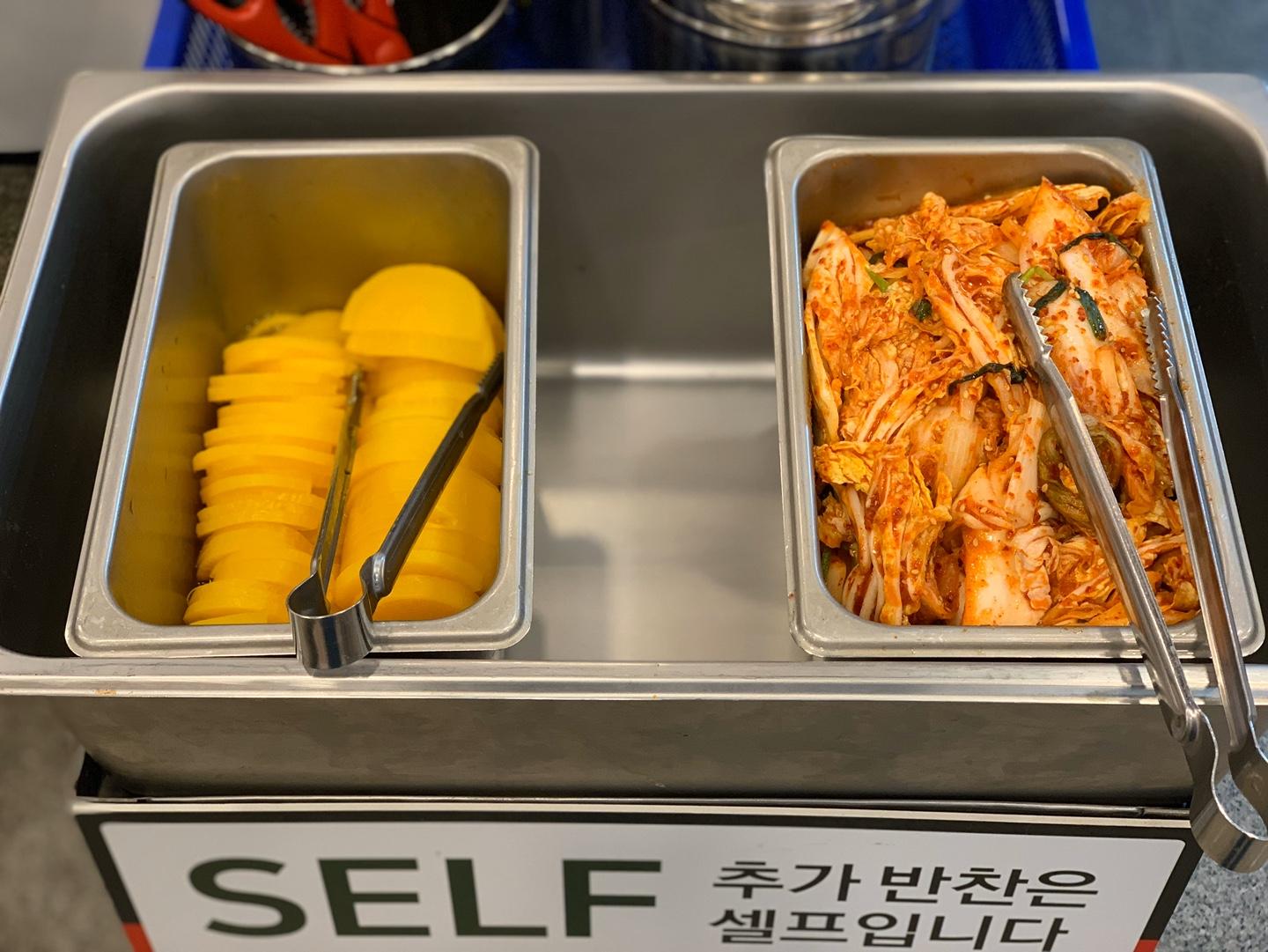 There is self-serve kimchi and pickled radish, so you can help yourself to as many side dishes as you want.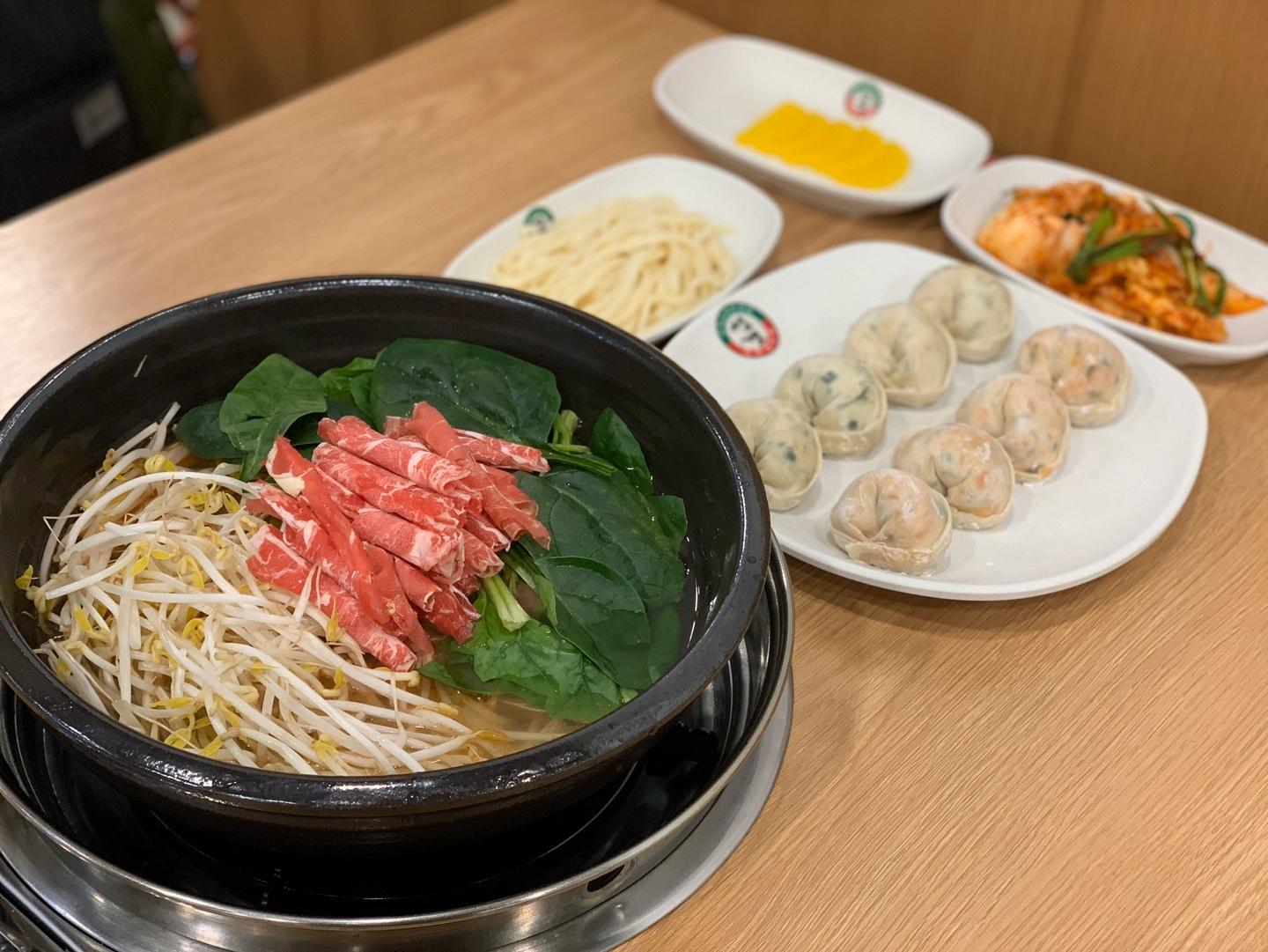 If you order the spicy stew, you will get a table of the items in the picture above.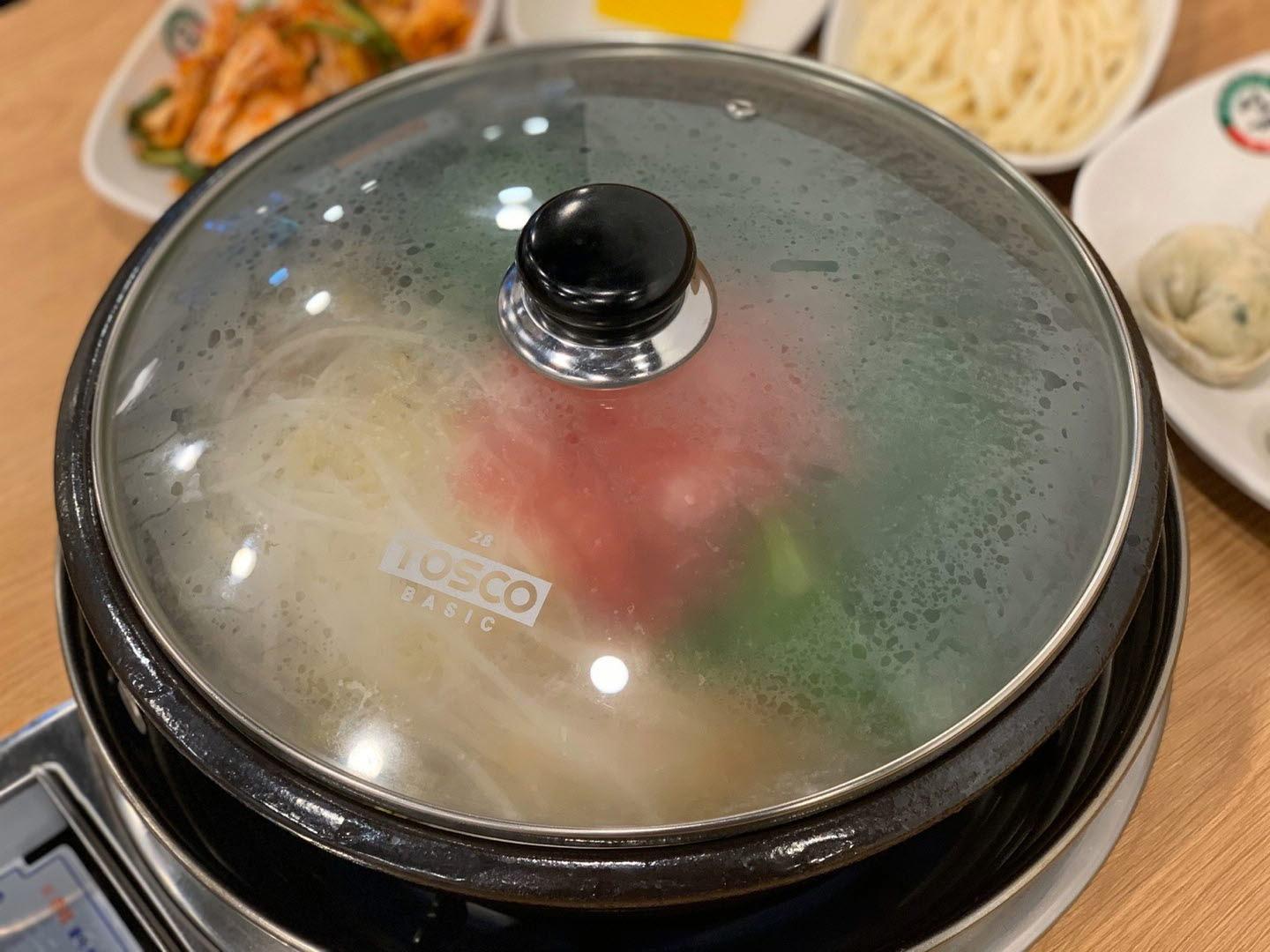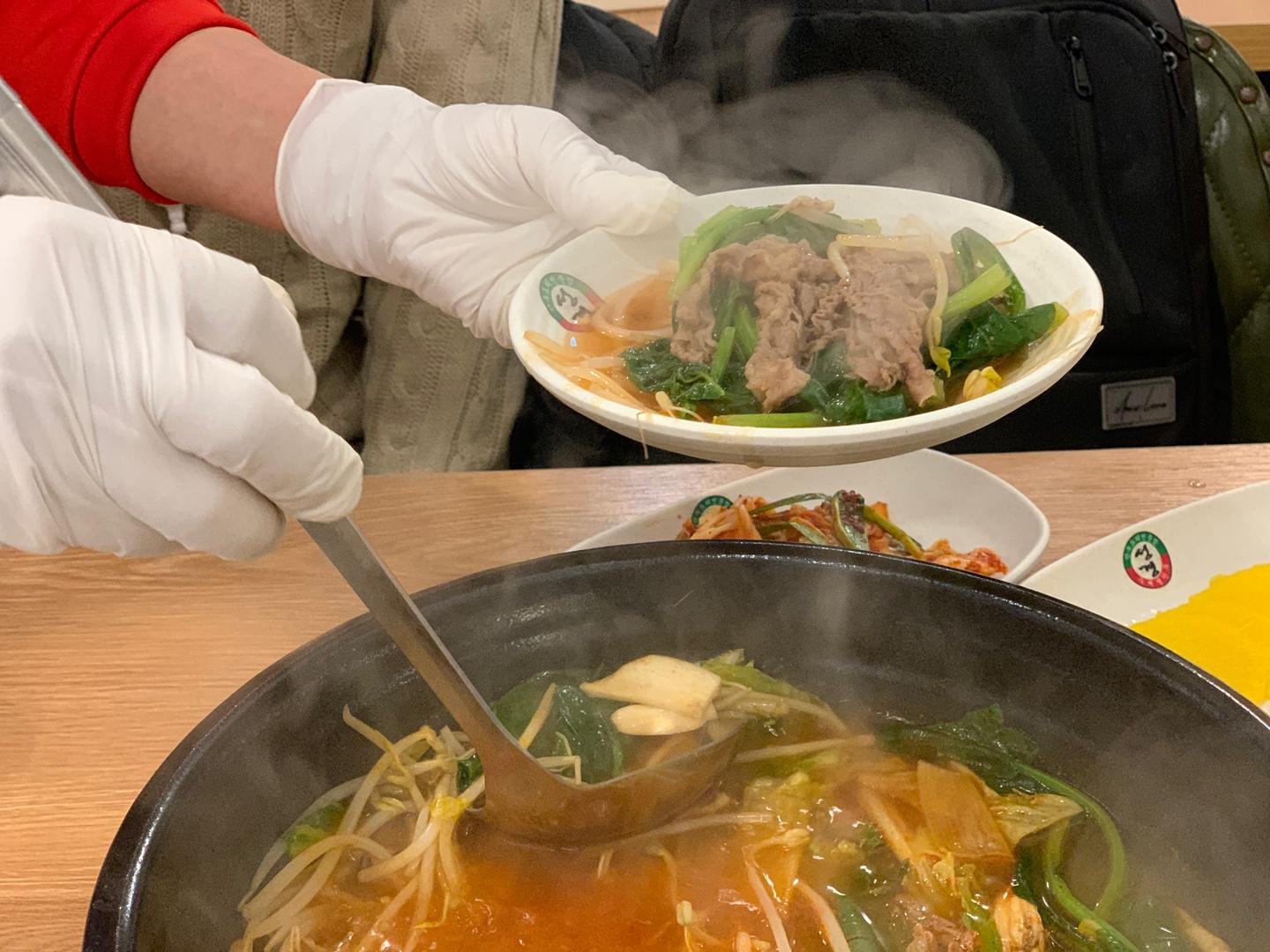 The hotpot will be cooking in front of you, which is quite common in Korea. Wait until the vegetables are cooked and add the dumplings in the broth to cook them as well.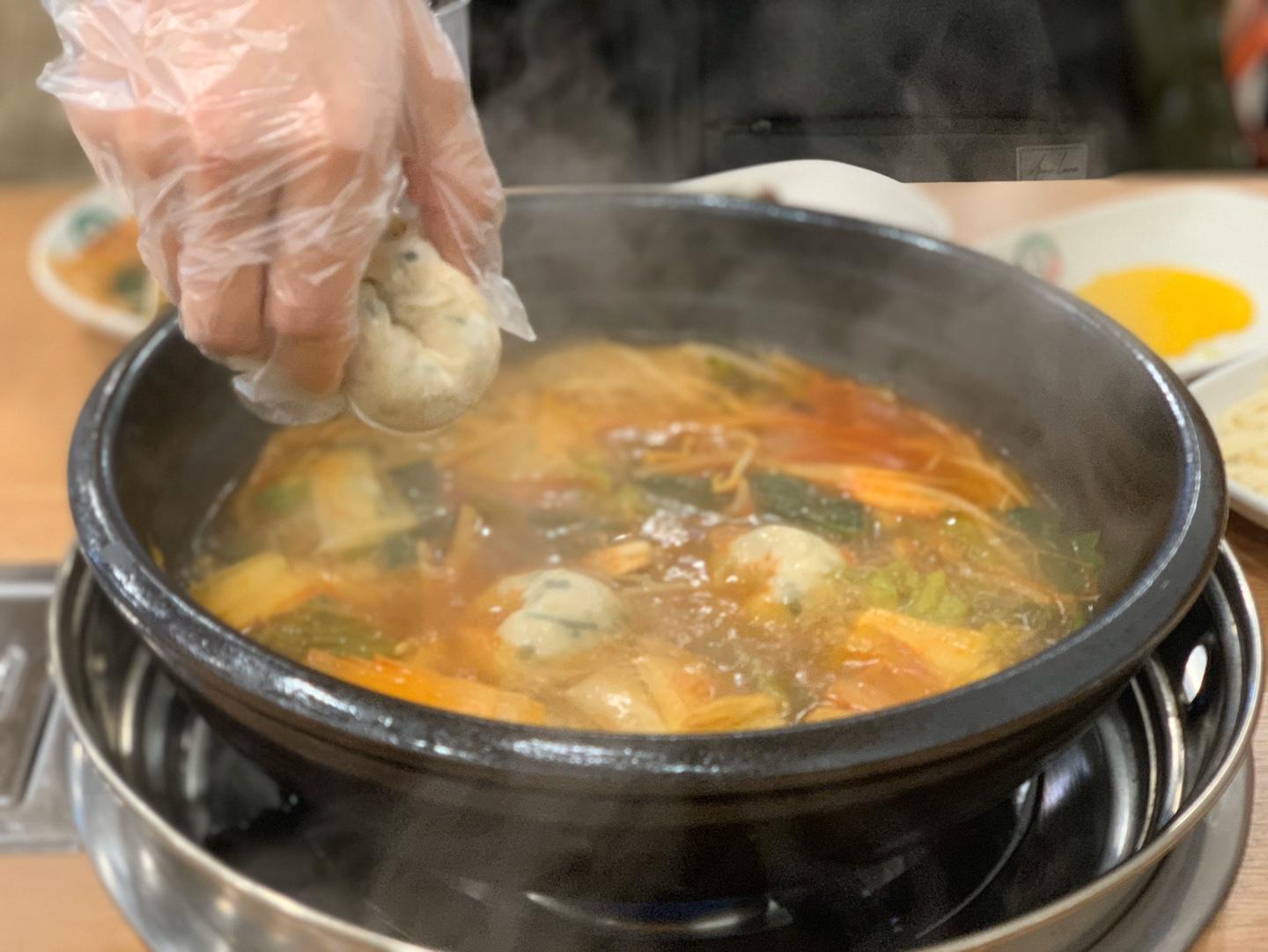 You can wear gloves and put the dumplings in. If you leave it in the soup for too long, the dumplings will come apart and get mixed in with the soup so make sure to eat them or take them out once they look done.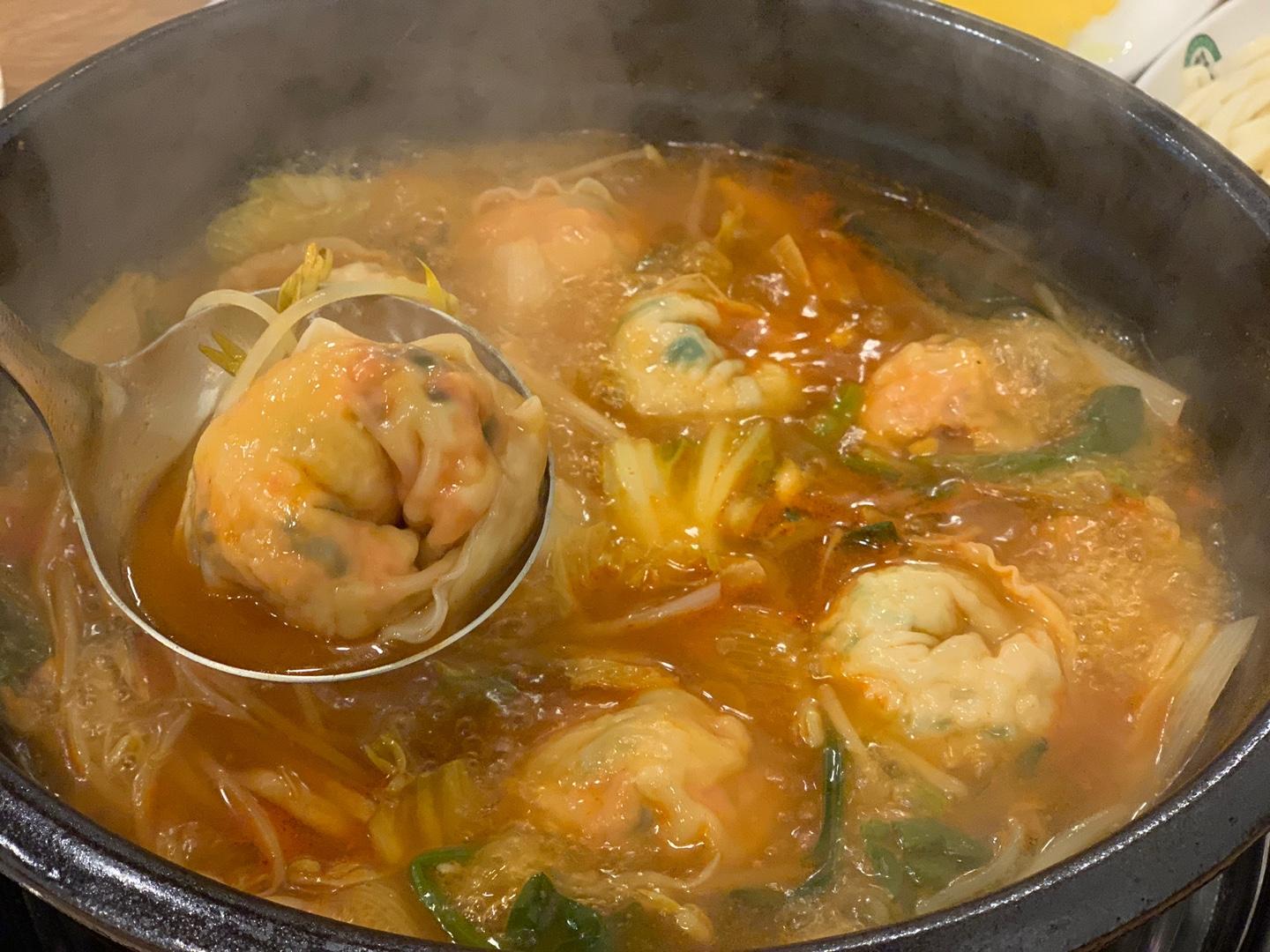 There are two types of dumplings which have kimchi and pork filling. If you order two, you will get 4 of each flavor. You can order according to your preference (for example, all pork dumplings).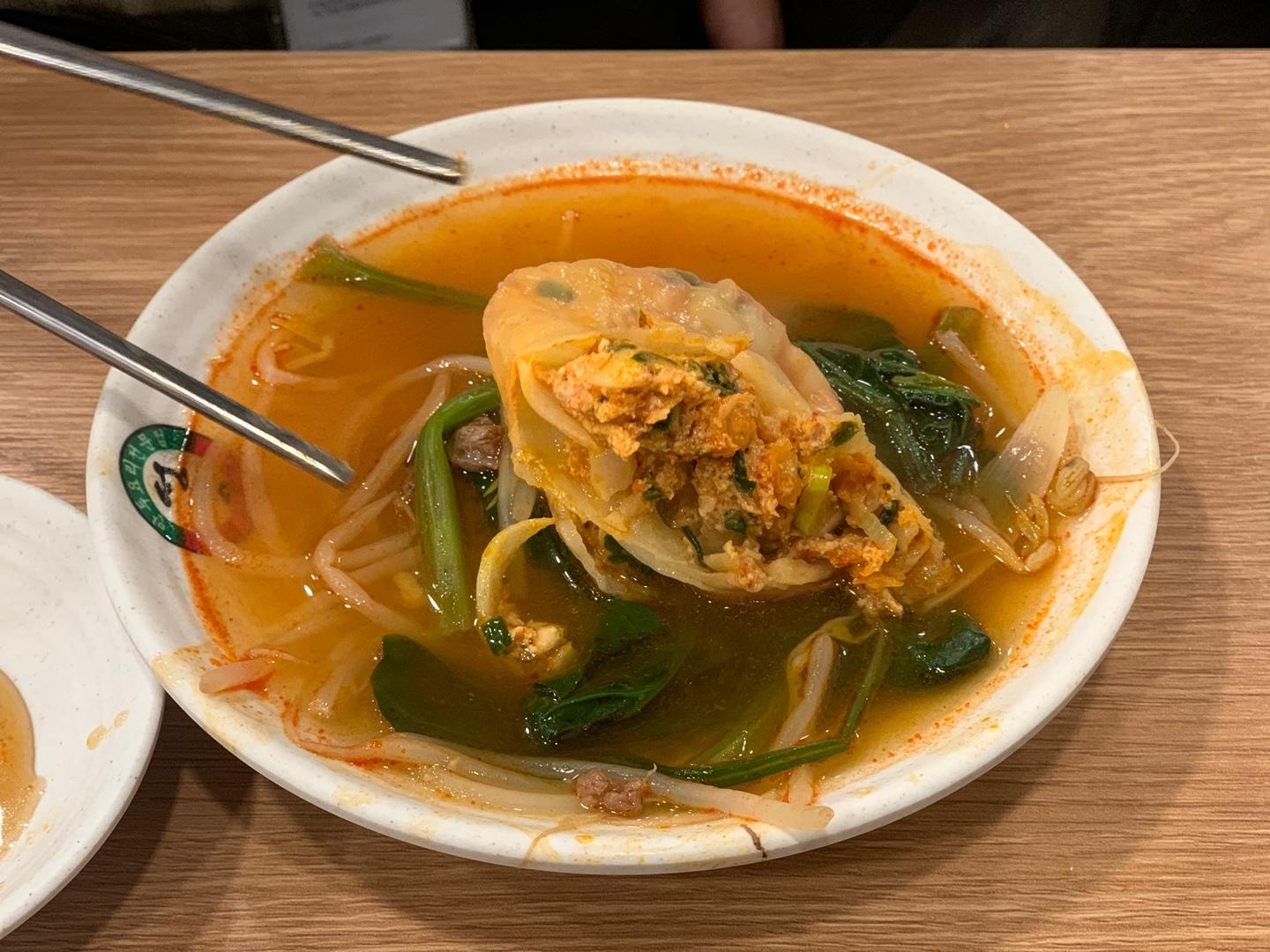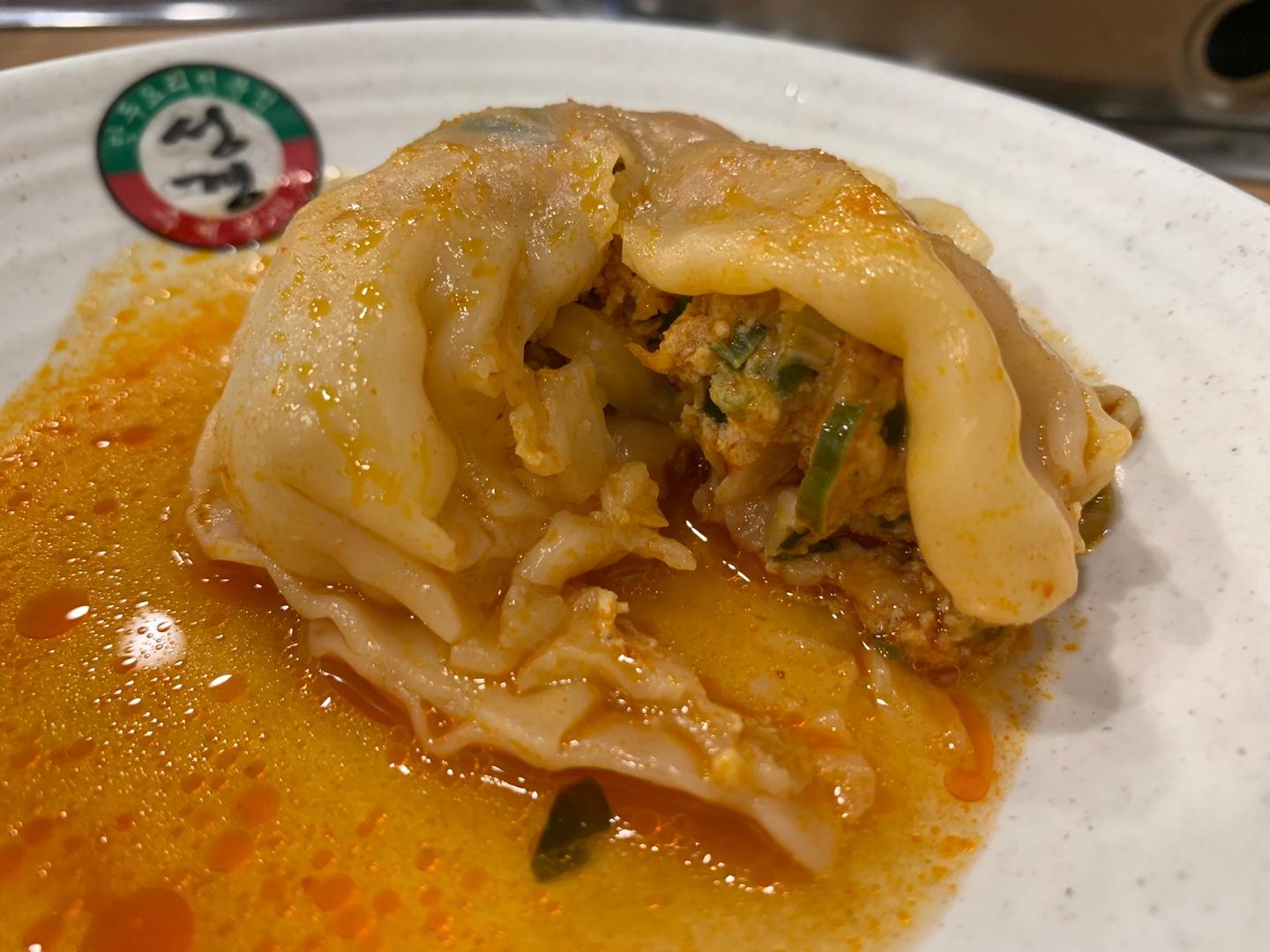 The dumplings were really delicious! The wrappers were thin and filled to the brim with pork and kimchi filling! Personally, we prefered the pork dumplings more.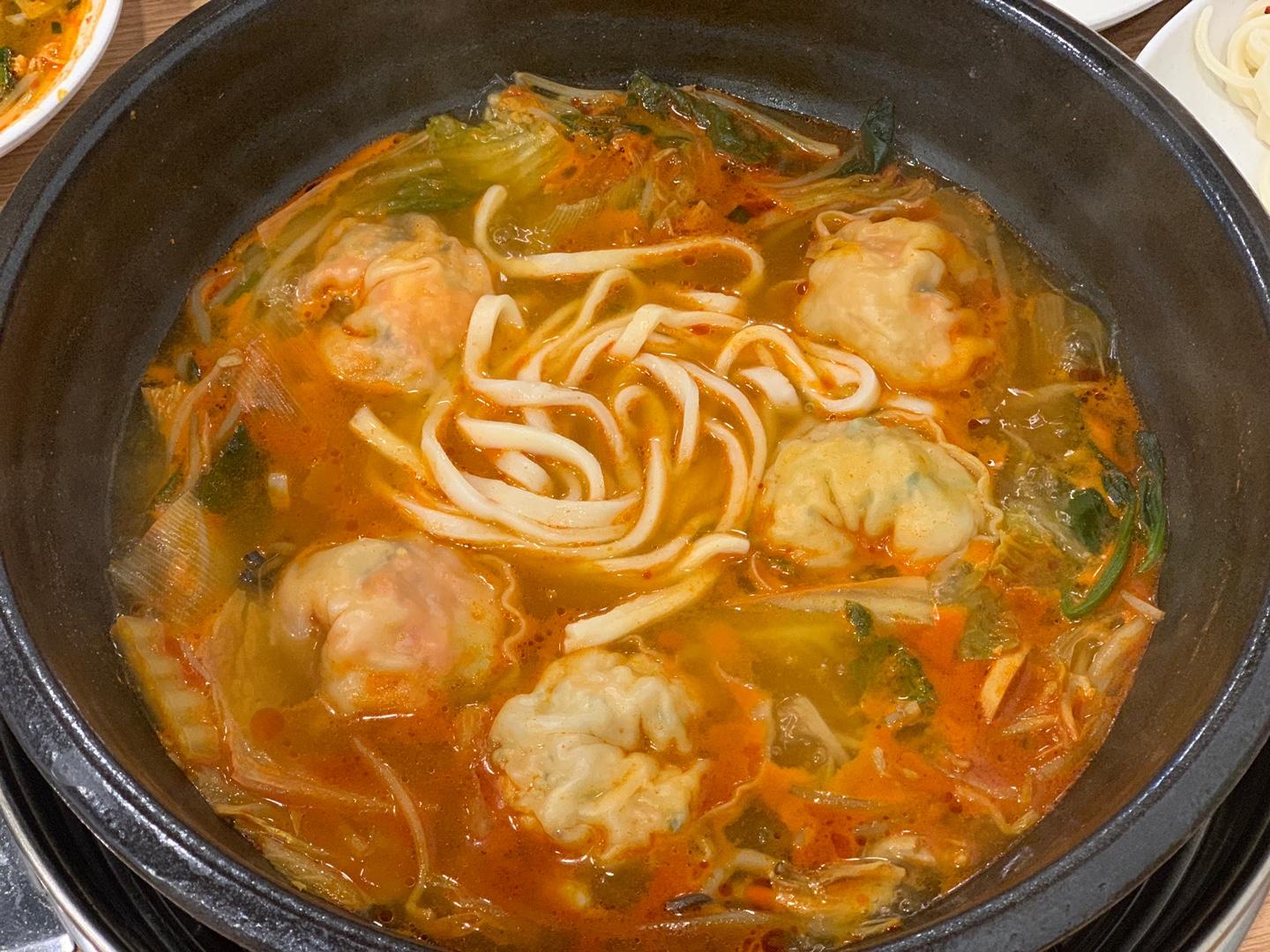 While eating dumplings, you can also add the noodles and cook them together. They had a good texture and soaked up all the flavor in the broth.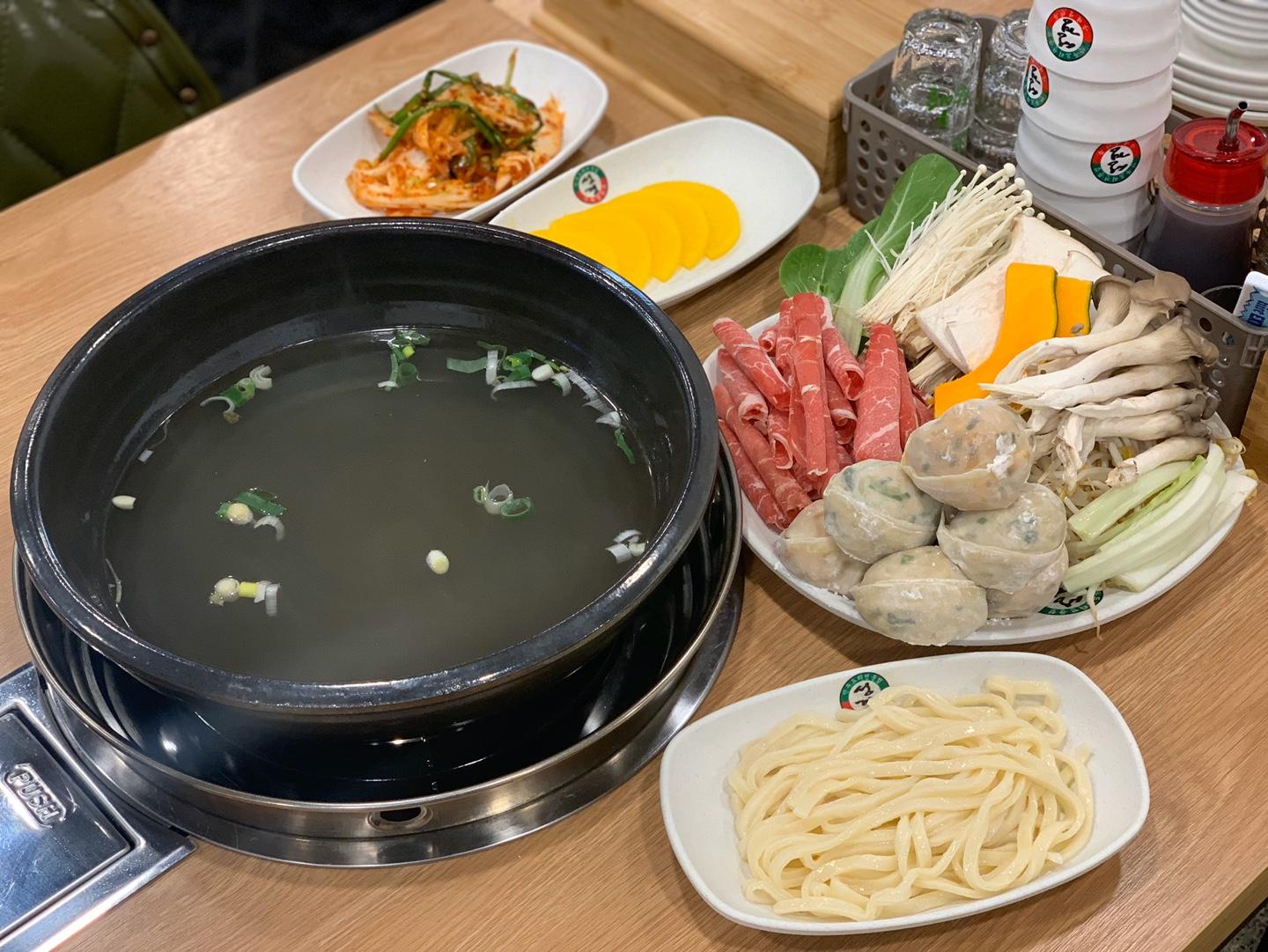 The clear stew comes with similar ingredients!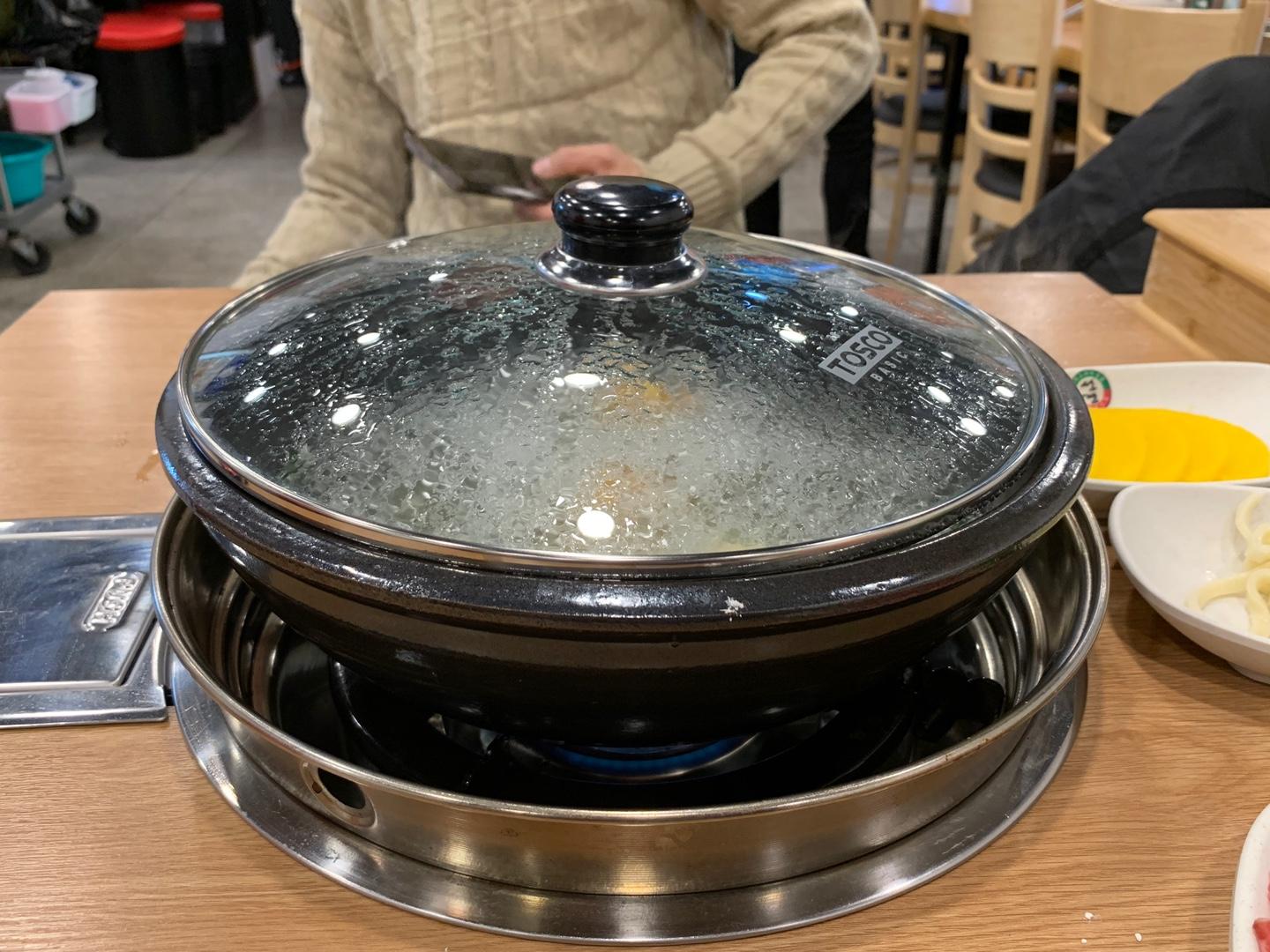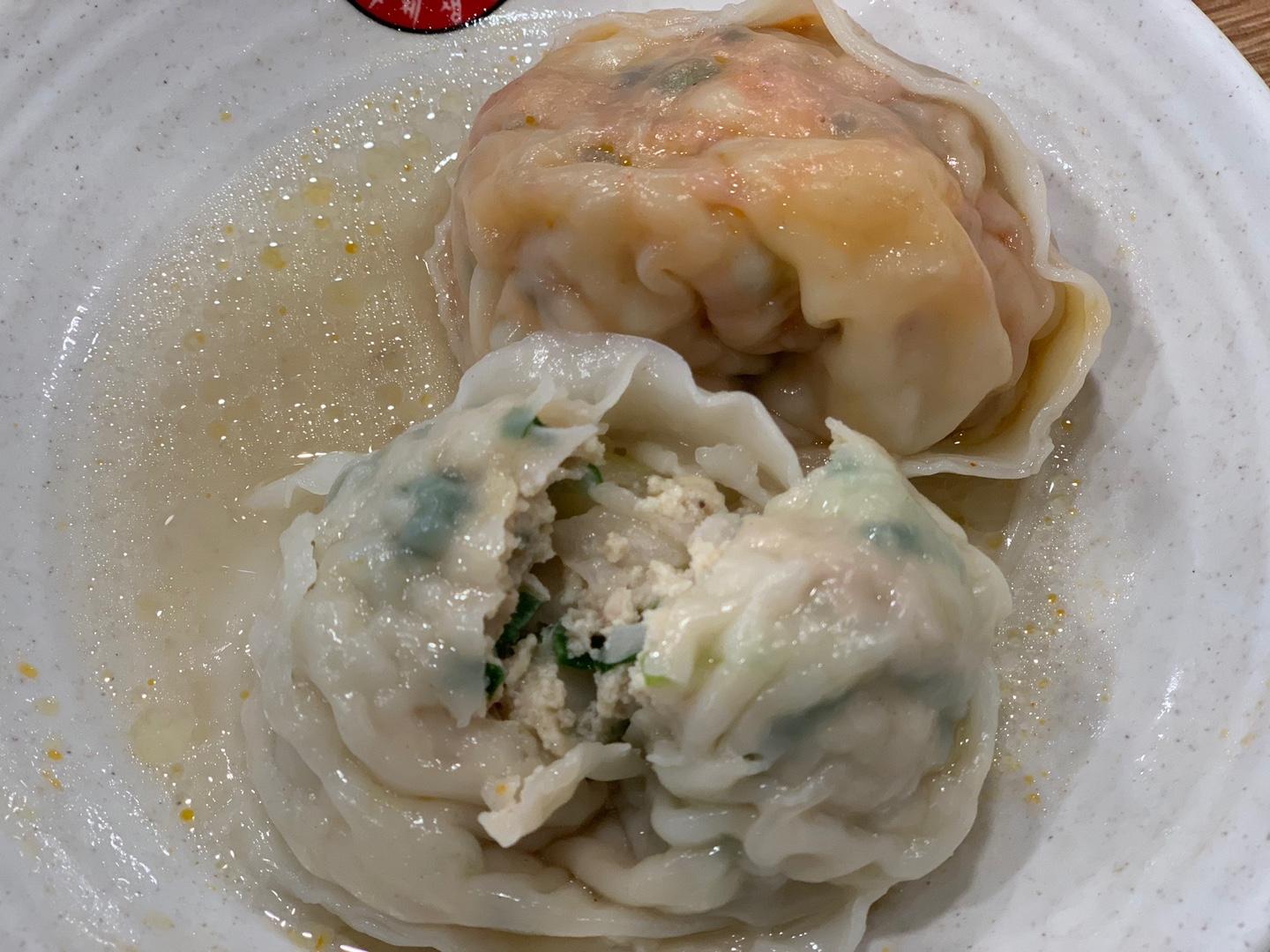 Similar to the spicy broth, wait until all the ingredients are cooked and enjoy! My mouth is watering as I write this blog.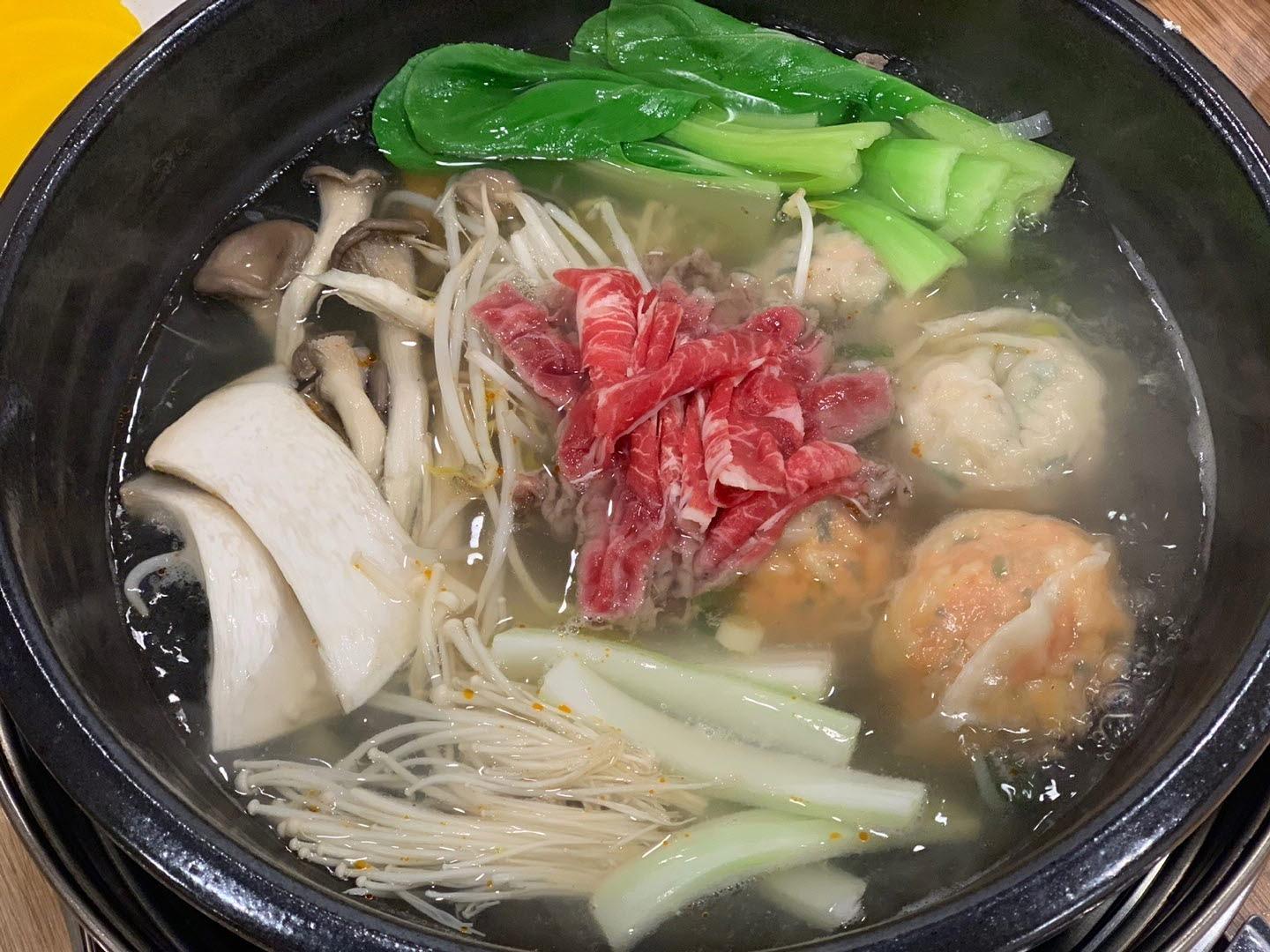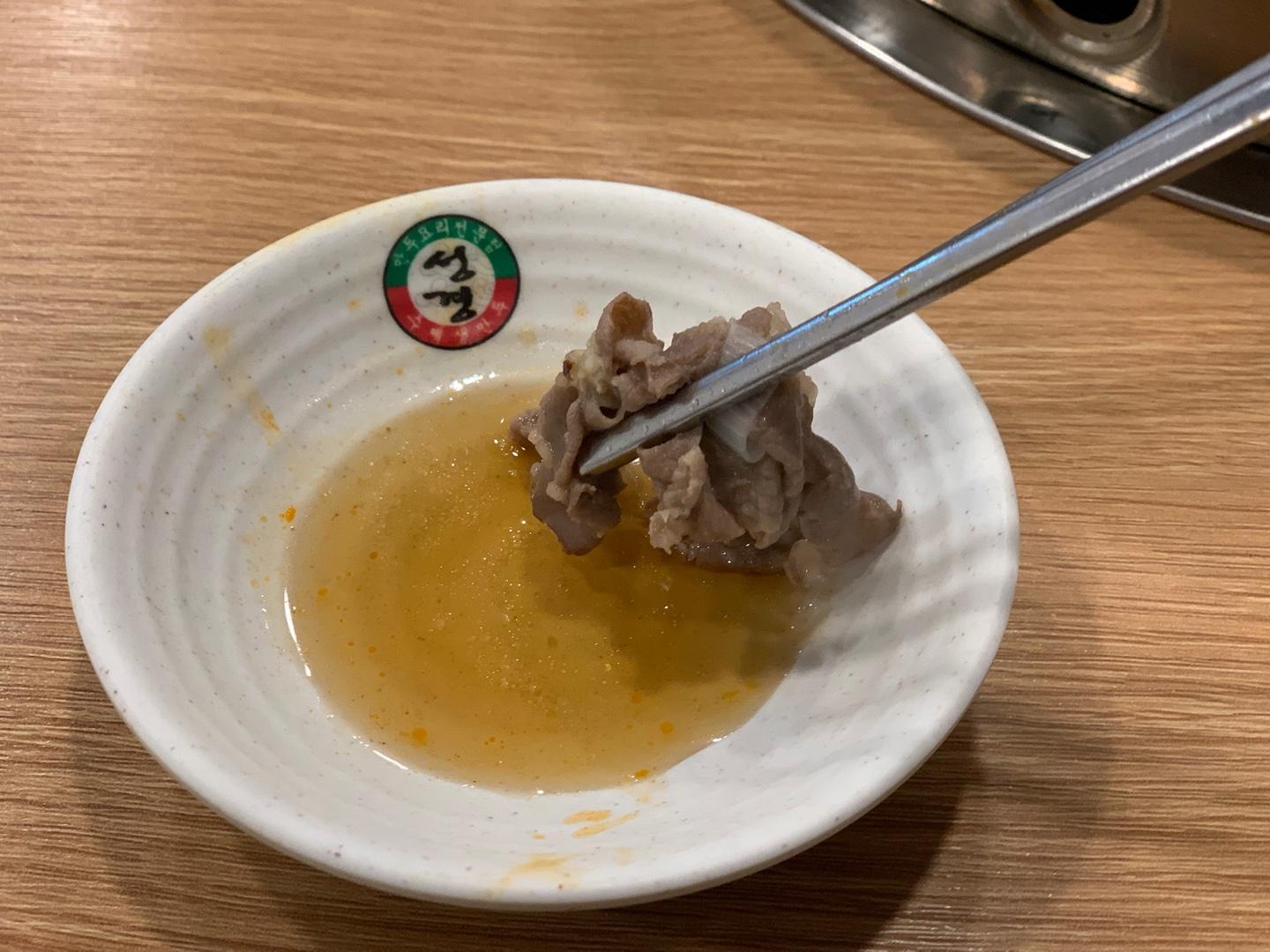 If you order spicy stew, you don't need to add any seasoning, but if you order clear broth, you can taste the natural flavors of the fresh ingredients but the flavors can be enhanced with the dipping sauce that is provided.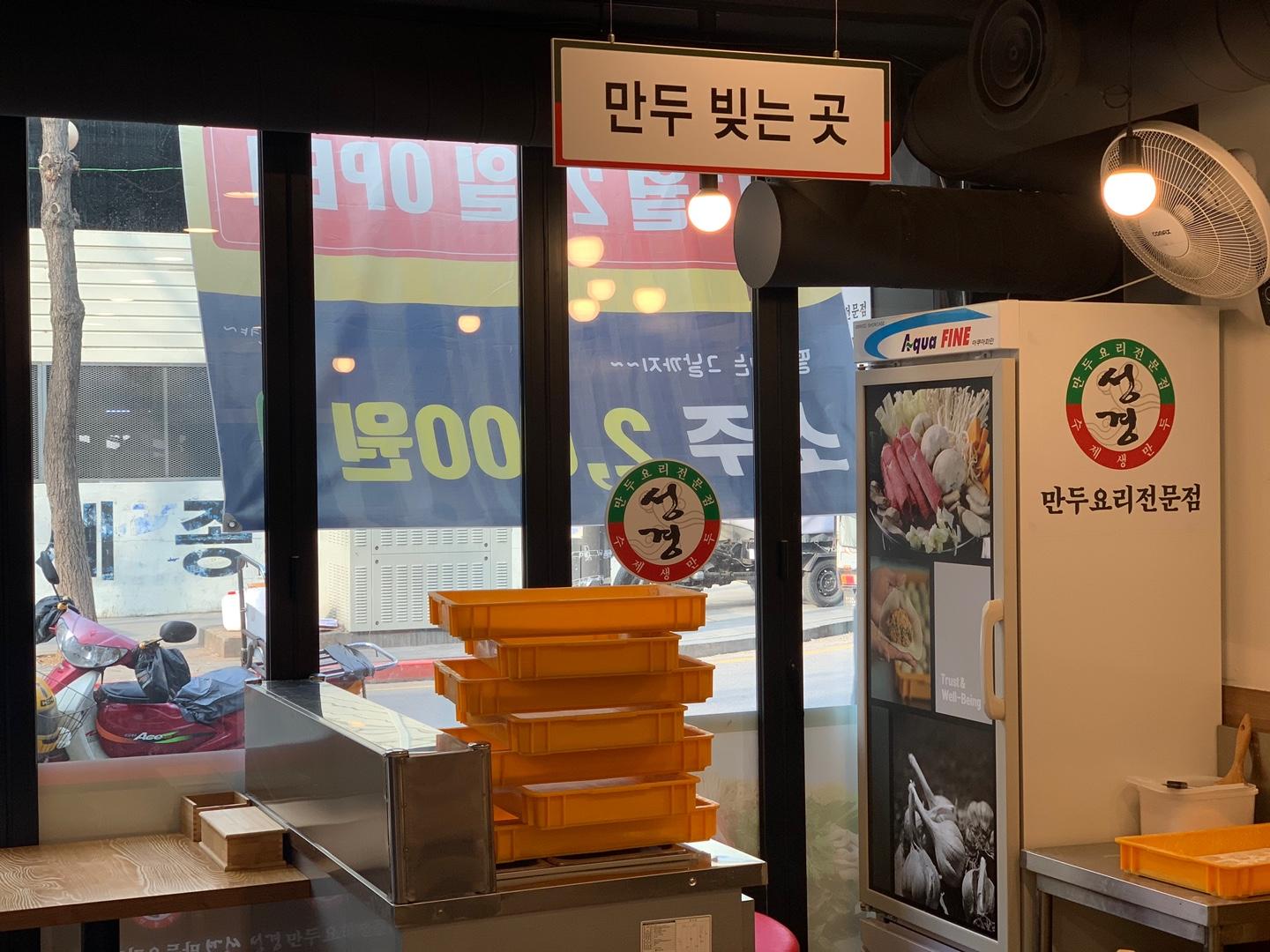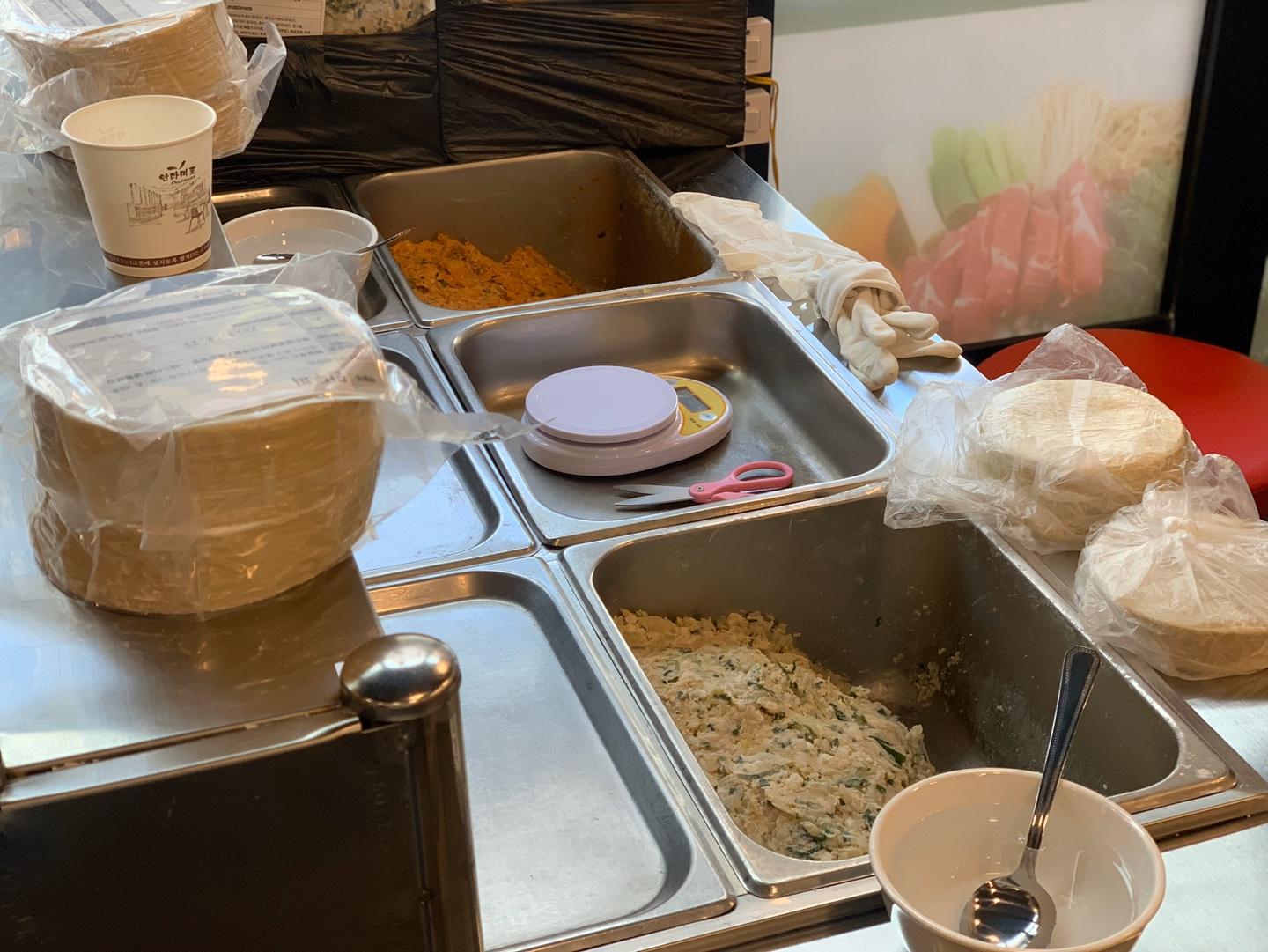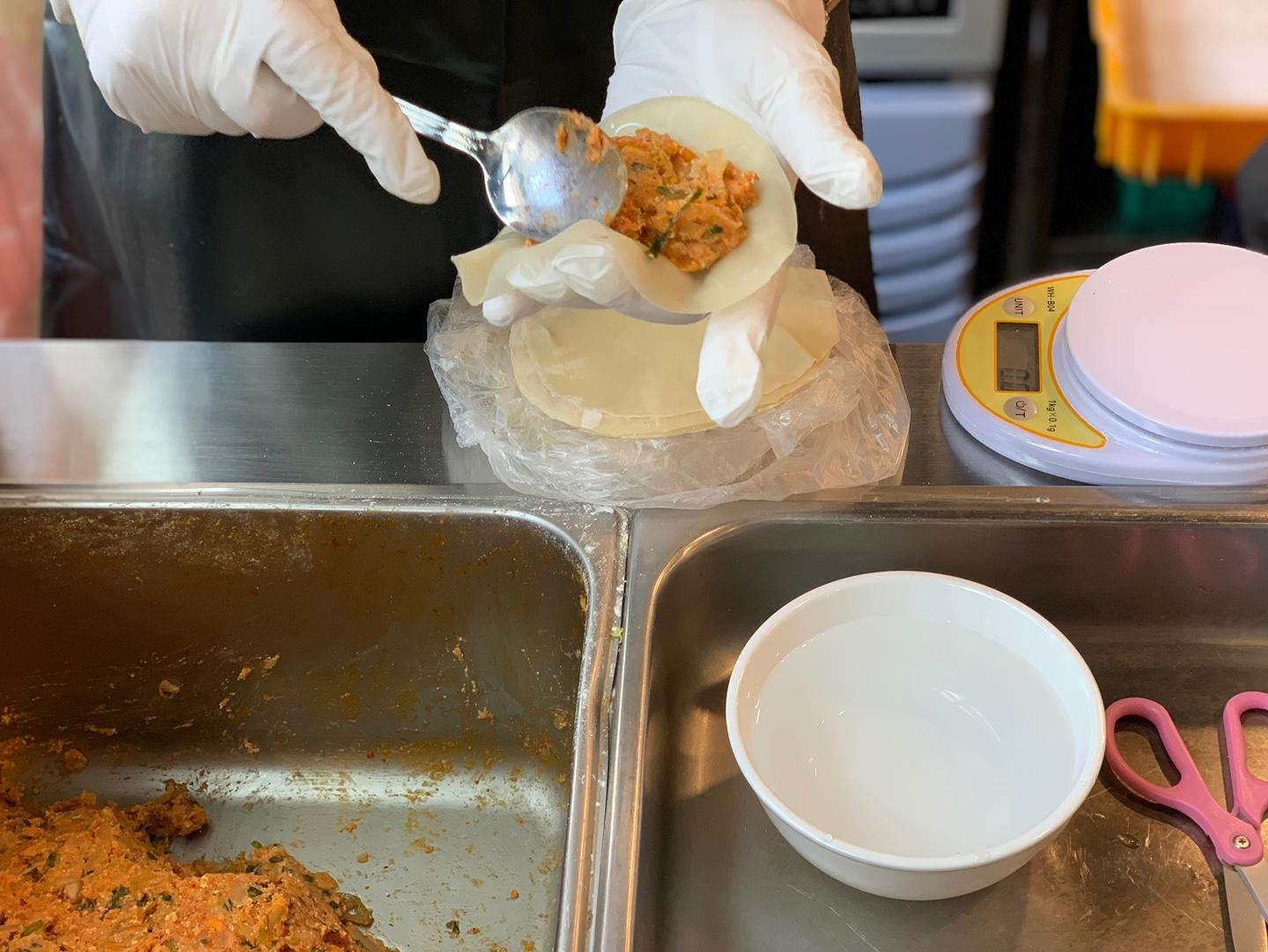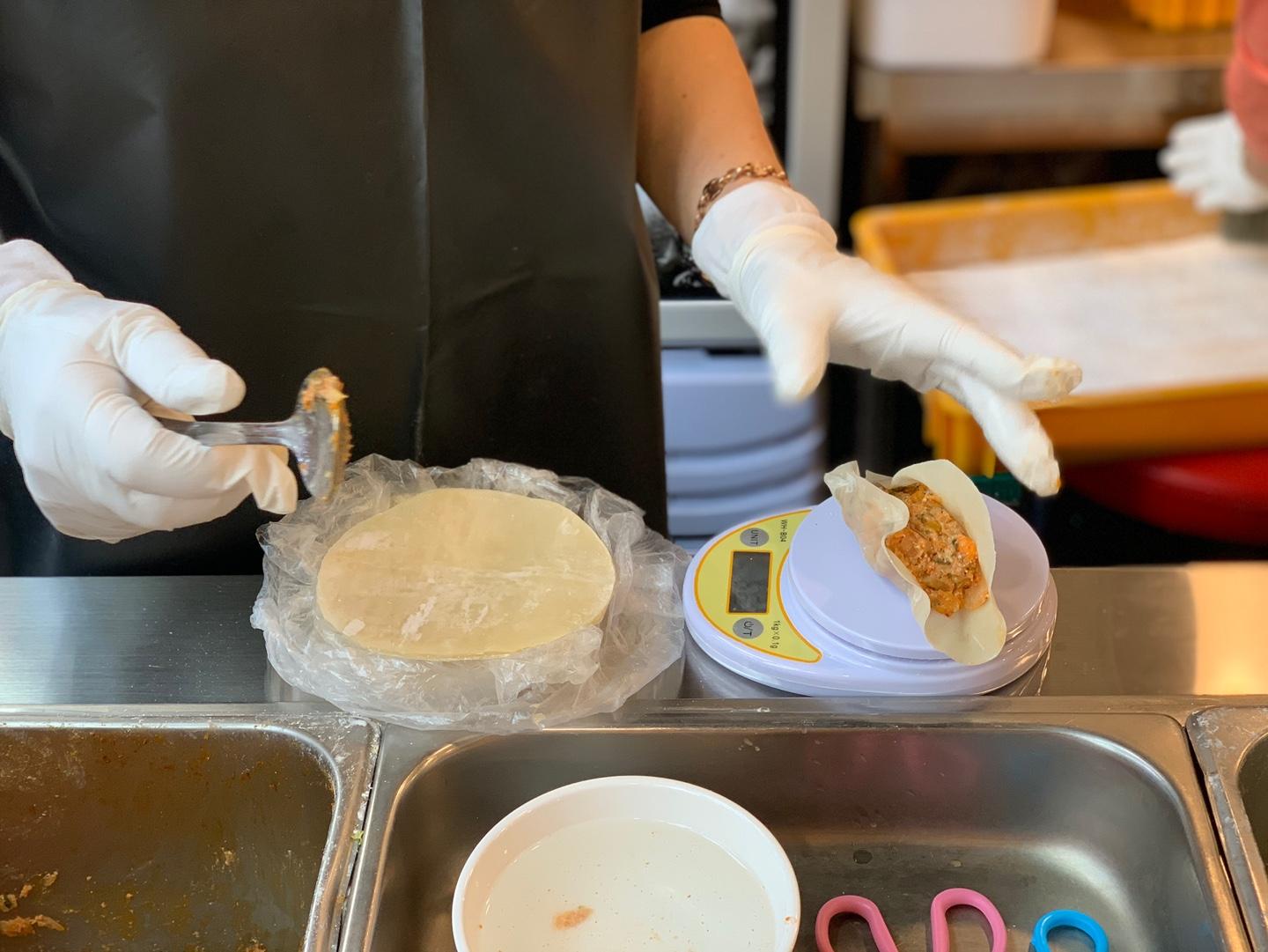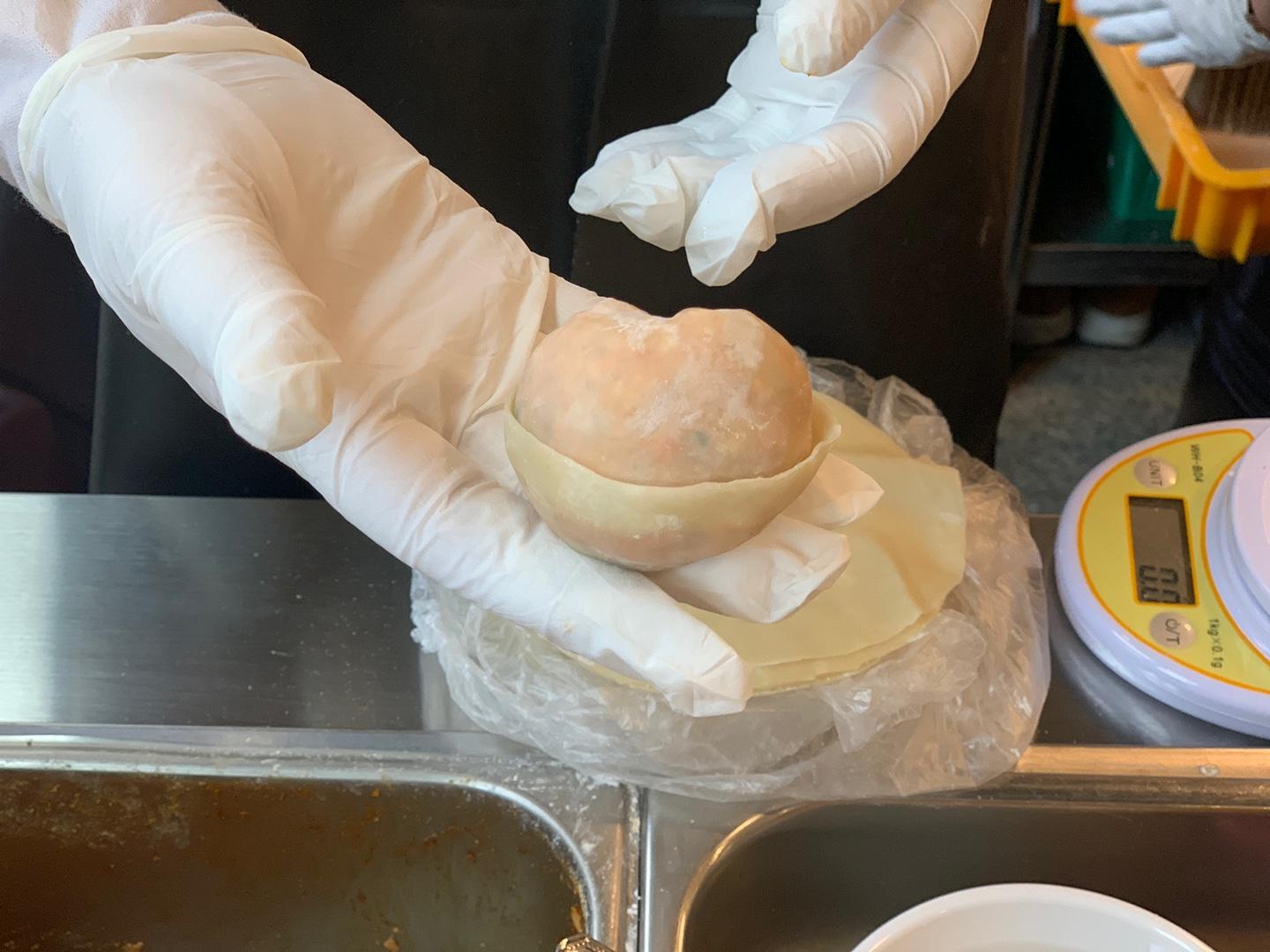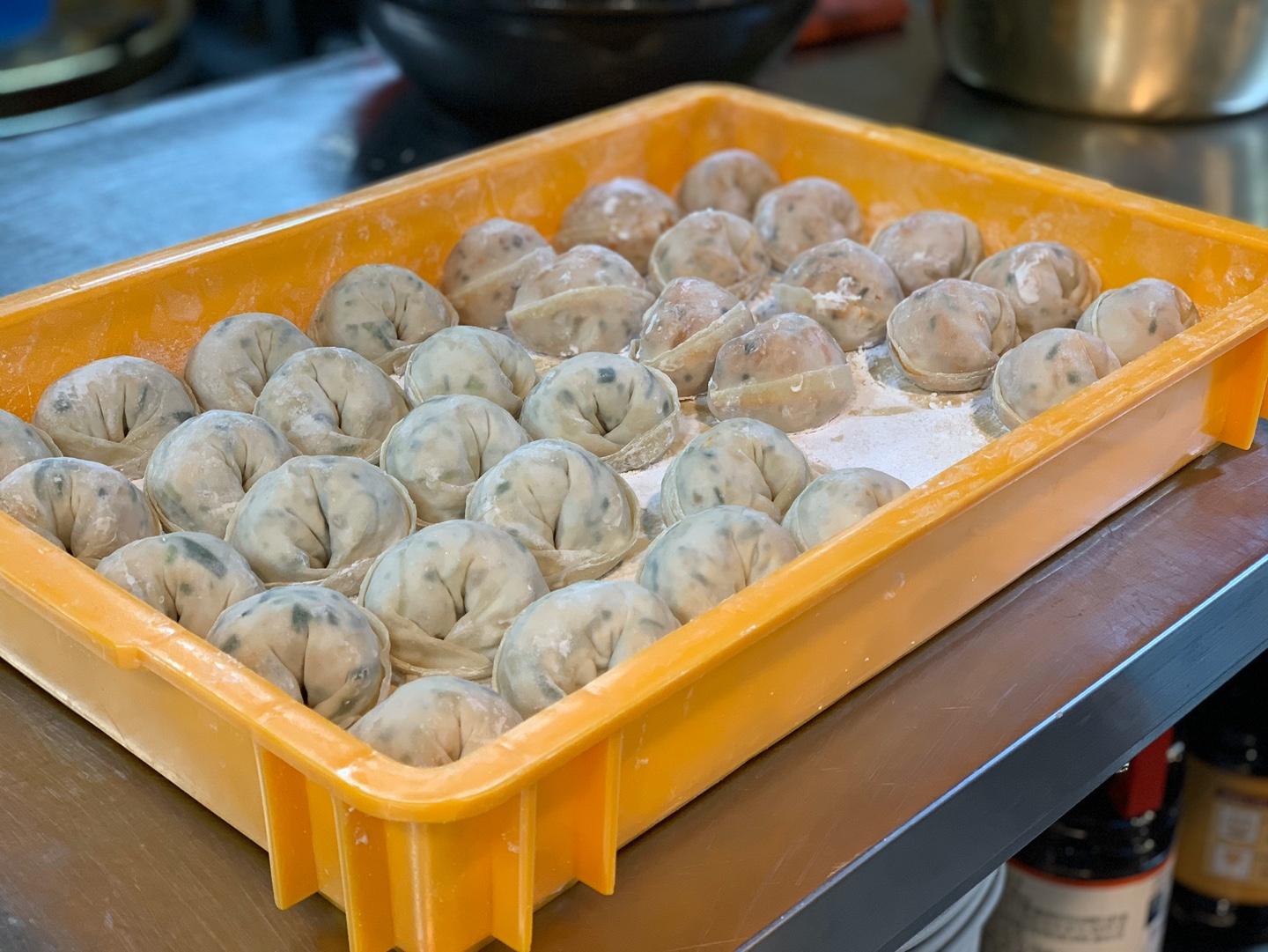 After we finished our meal, we went to see how the dumplings were made. Every day at 12 o'clock, the cook starts to make dumplings. To be fair, all dumplings are made with the same amount of ingredients.
---
How to Get There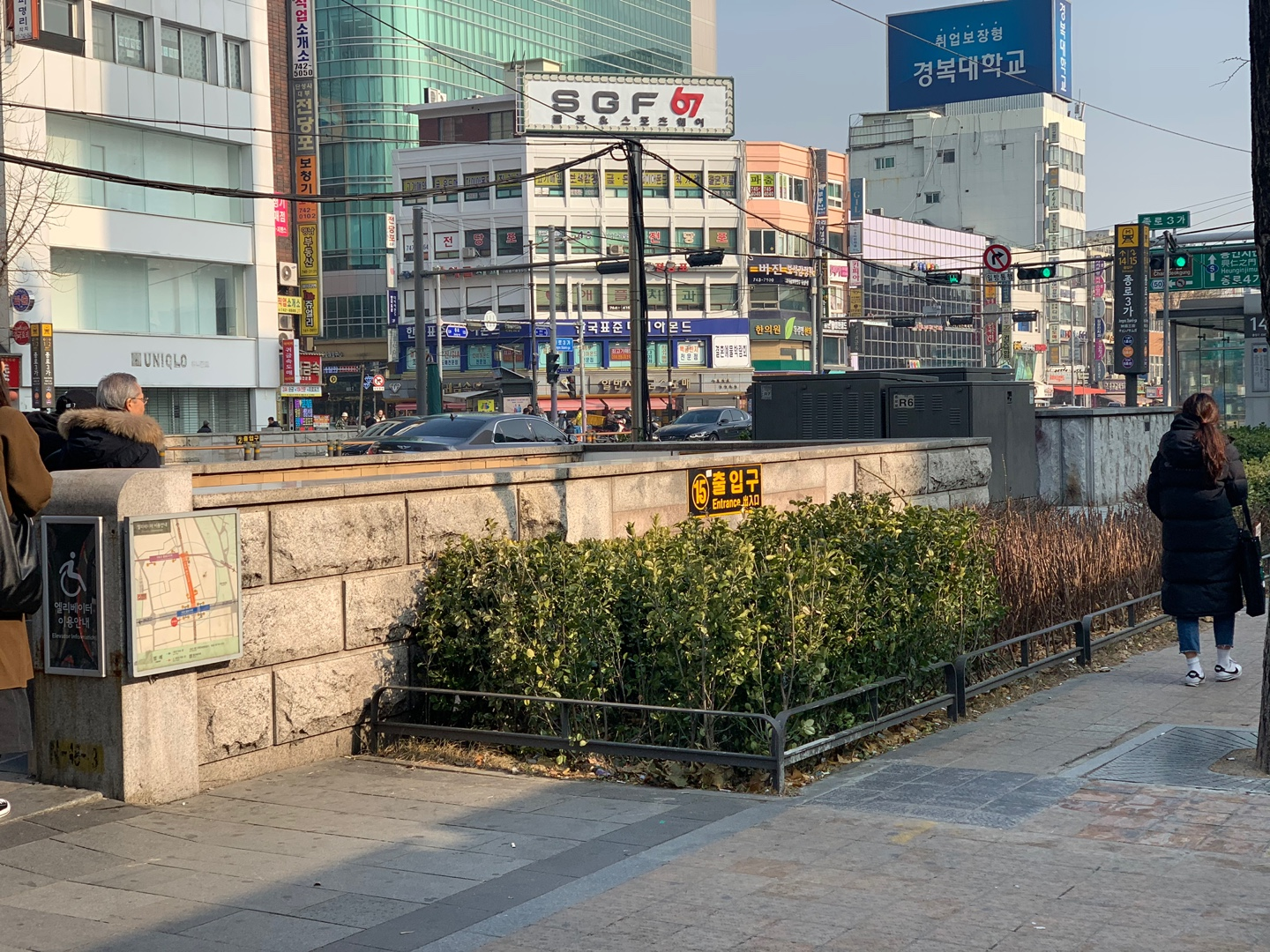 Jongno 3-ga Station Exit 15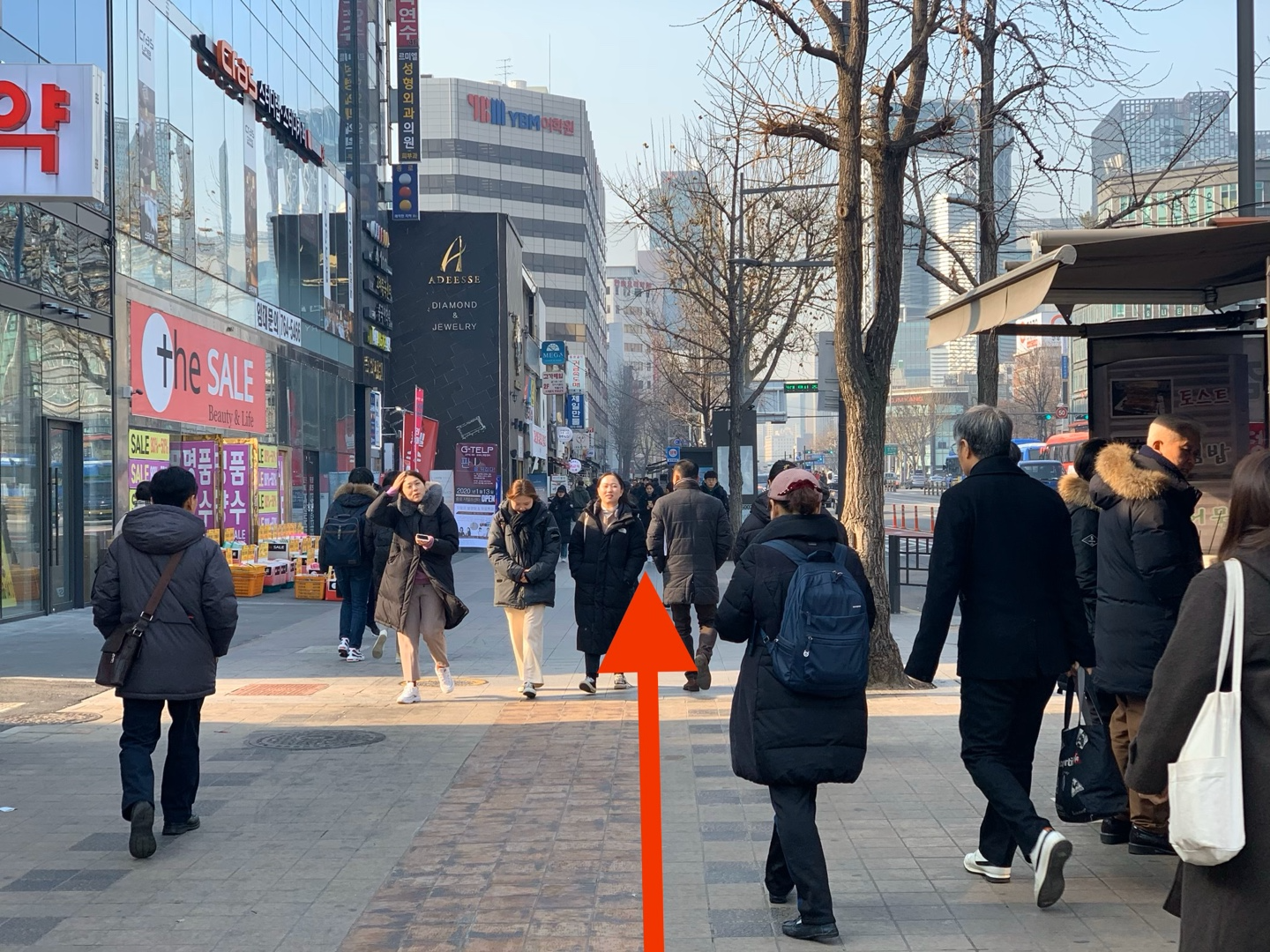 Go straight to the crossroads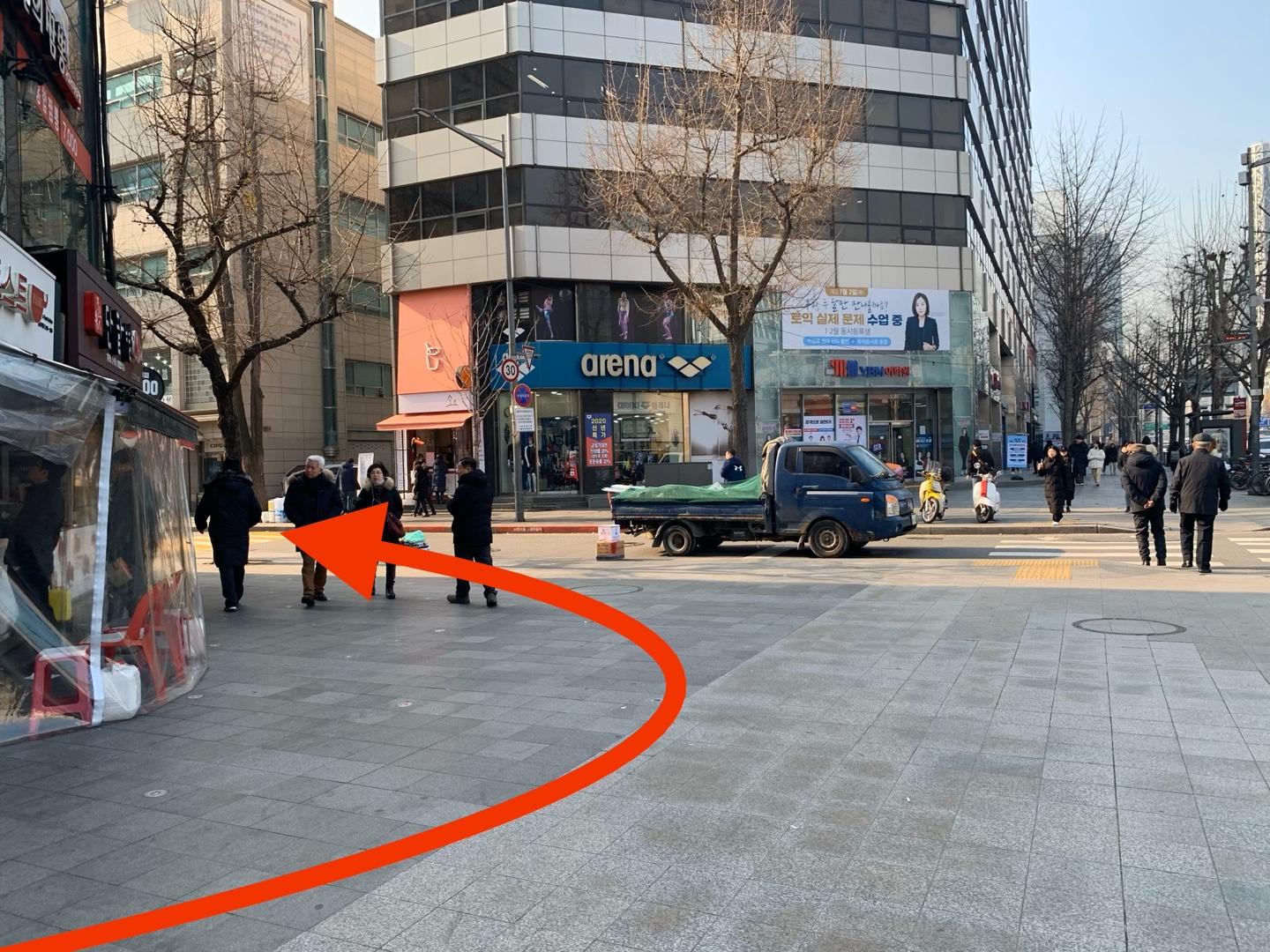 Turn left when you come to a crosswalk.
In 30 seconds, you will see Sungkyung Dumplings.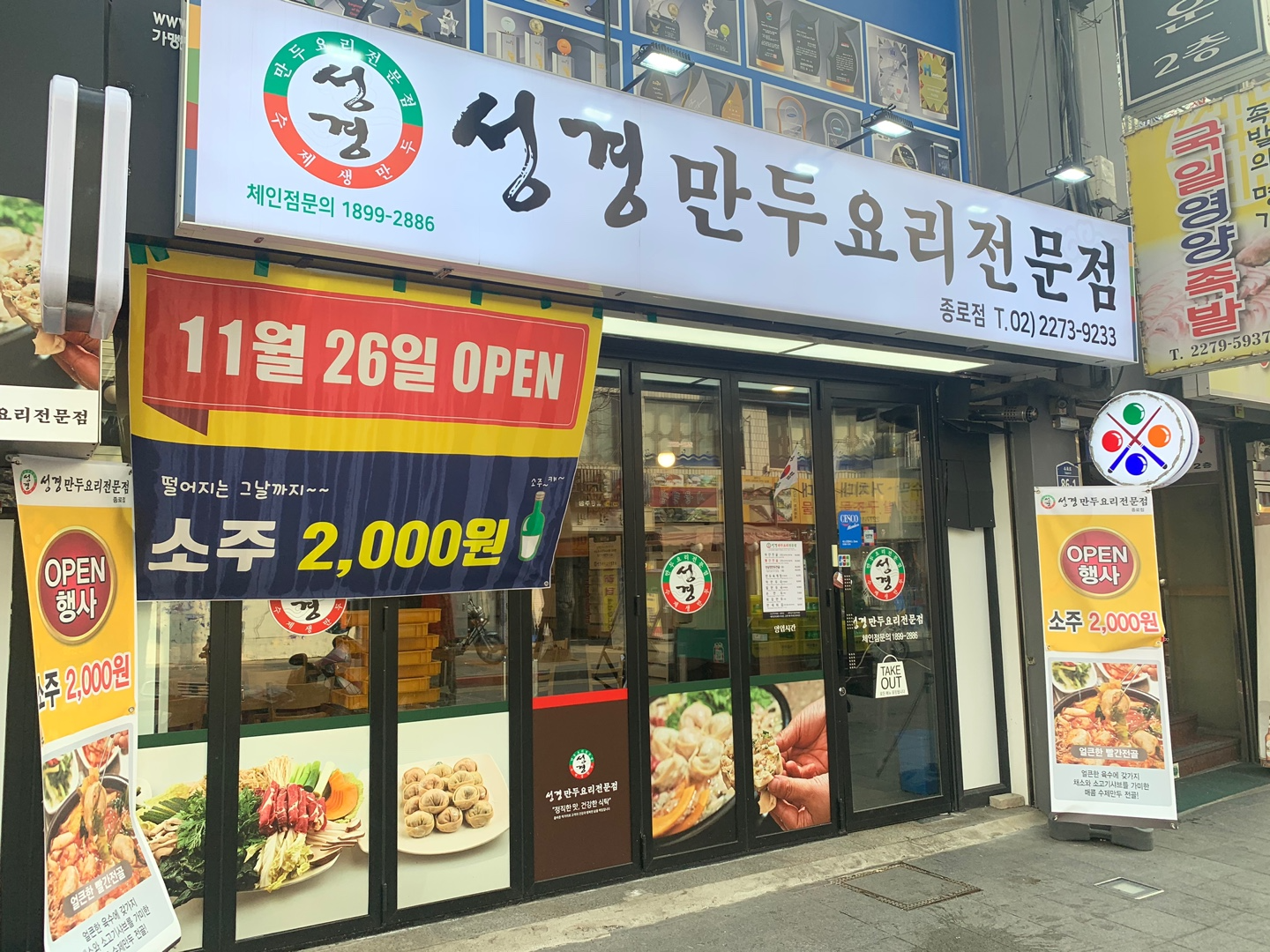 ---
Sungkyung Dumplings
---
We hope that you can enjoy a delicious meal of warm dumpling hotpot! If you have any questions or concerns, please leave a comment below or send us an email at support@creatrip.com! You can follow us on Instagram, TikTok, Twitter, and Facebook to stay updated on all things Korea!
---