r.about in Sinsa | Trendy, Aesthetic Cafe Recommendation
Trendy Cafe r.about: visit the hottest cafe in Garosugil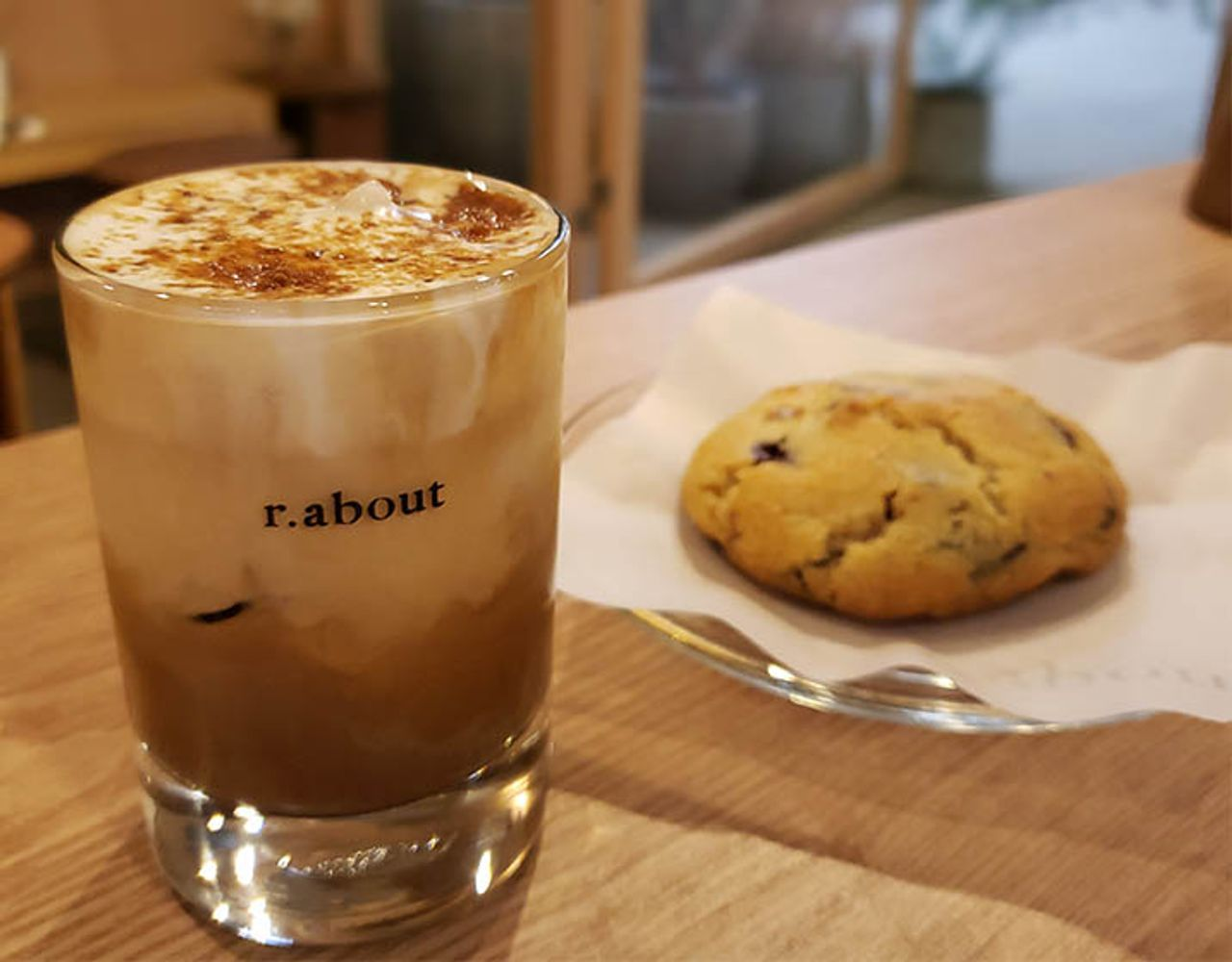 Are you looking for a cafe in Garosugil that is exclusive, unique, and has a tasty menu? r.about at Garosugil have moved into the new cultural complex building, the Garo Golmok. This cafe is already trending on Instagram among the locals, and customers visit the cafe for its luxurious coffee and desserts.
This post will give you an overview of r.about, which recently became a favorite among the locals. r.about updated their original menu, and we got to try the new coffee and dessert, which was exceptional! r.about is offering a 10% discount for Creatrip members only.
---
r.about in Sinsa
r.about in Sinsa | 10% Discount Coupon
---
Information
Address: 서울 강남구 도산대로13길 36
36, Dosandaero13-gil, Gangnam-gu, Seoul
Hours: 11:00 - 21:00
---
Why We Recommend It
r.about Sinsa is a cafe in Garosu-gil famous for its trendy, vintage interior design. (7-minute walk from Sinsa Station)
r.about's chocolate brownie is very sticky and thick. If you prefer a dark and thick brownie, you will love it here.
r.about's interior is decorated with intricate details, so those who are interested in cafes with fascinating small details should stop by.
---
Things to Keep In Mind
Present the coupon to the cashier when paying the bill.
This coupon can be used in both Itaewon and Sinsa r.about branches.
There is no need to make a reservation beforehand.
If an issue occurs when using the coupon, contact us at support@creatrip.com.
---
Price
| | |
| --- | --- |
| Item | Price |
| | |
| | |
| | |
| | |
| | |
| | |
---
Our Visit
Once we arrived at the main street of Garosugil, we walked for another few minutes to get to r.about. You won't be able to miss the building since the exterior of the new cultural complex building is trendy and interesting enough to attract pedestrians' attention!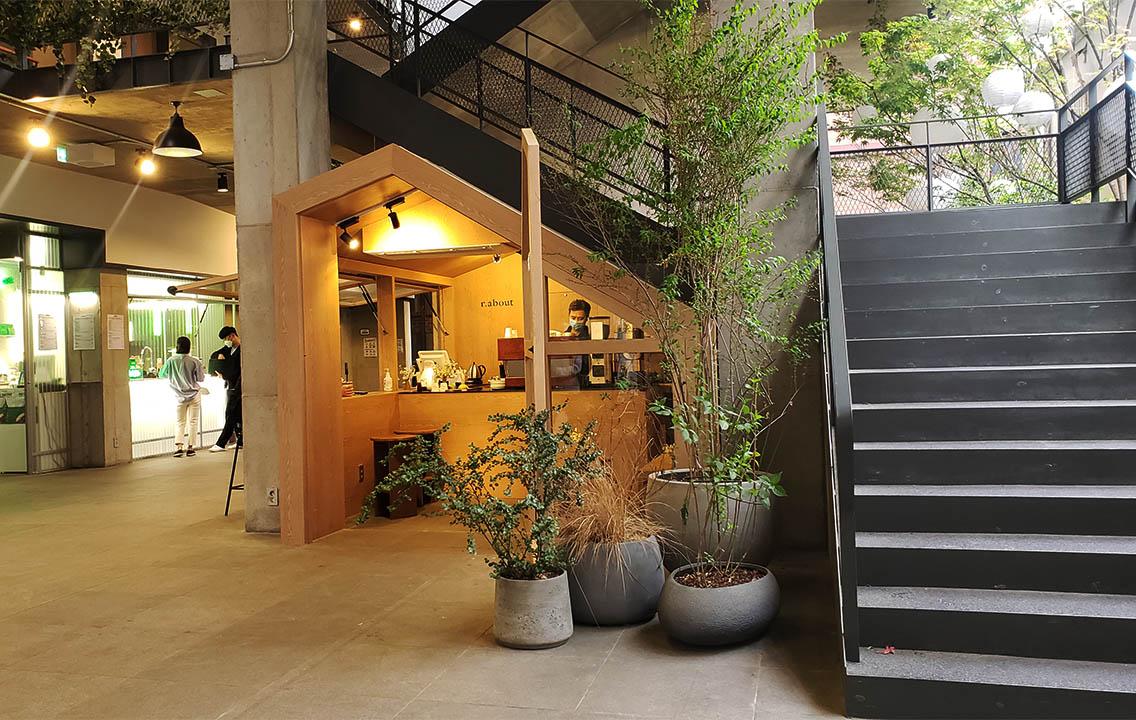 r.about is a beautifully designed coffee shop with floor-to-ceiling windows that provide the atmosphere of a cute attic.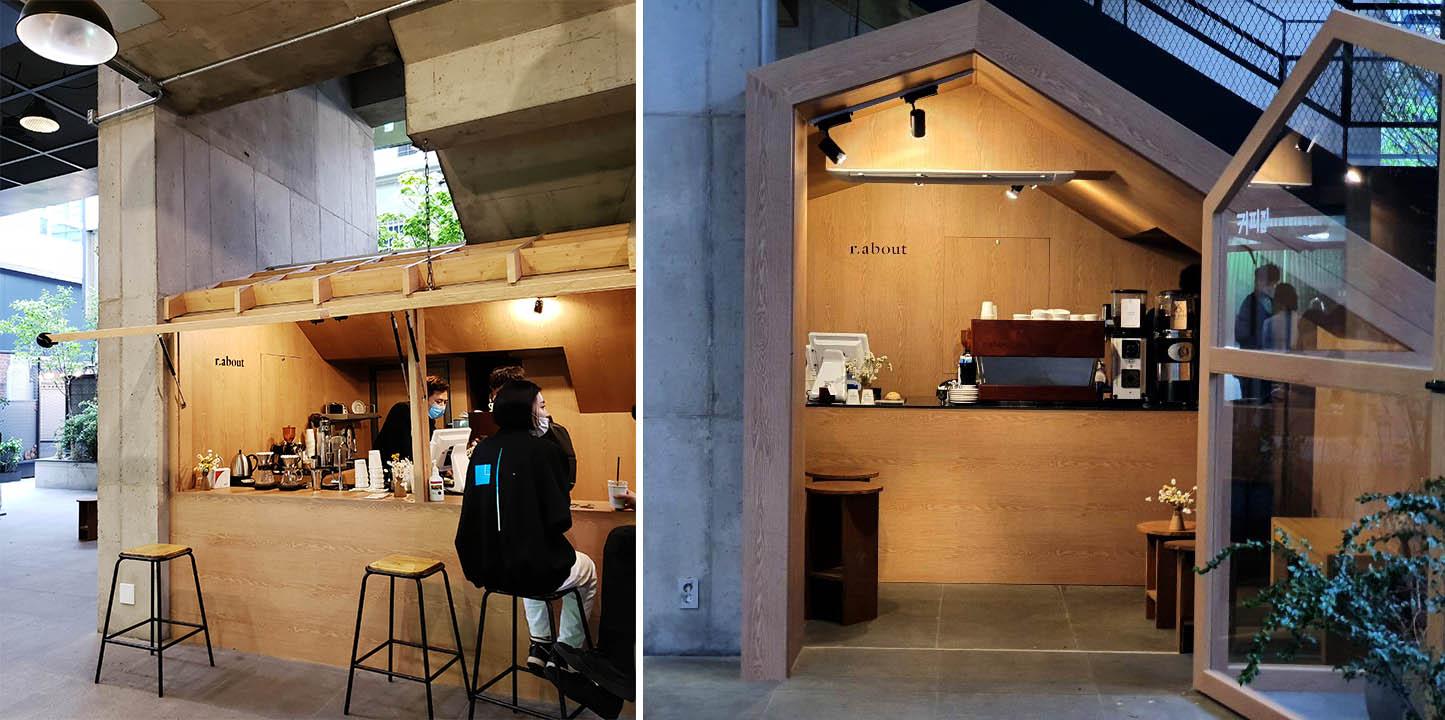 The interior inside this cute cafe was adorable as well. Their simple wooden furnishing enriched the authenticity of r.about.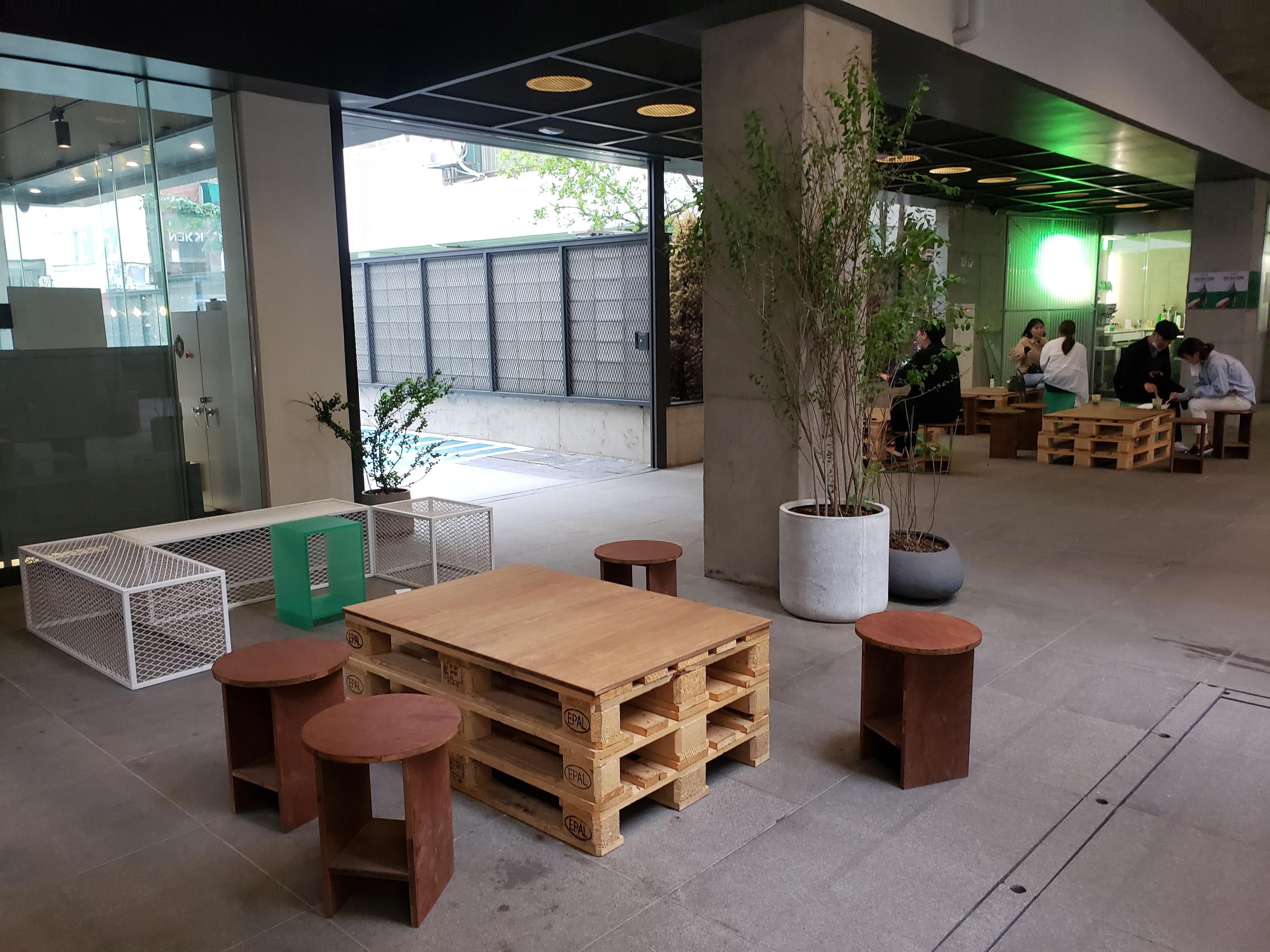 Also, there are plenty of seats so you can chill with your coffee.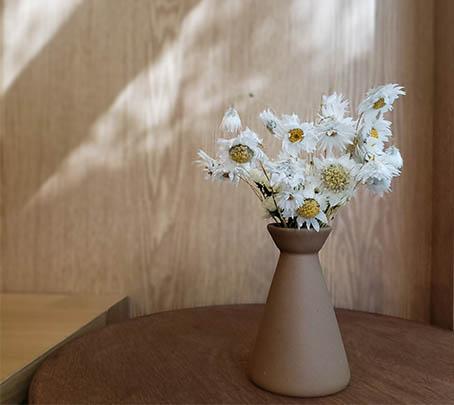 r.about is famous for using various types of coffee beans in each store. The Myeongdong store uses coffee beans from England and the Sinsa store uses fresh coffee beans from Berlin and Seoul. They roast their own beans, which makes r.about stand out compared to other cafes. r.about doesn't stop at offering its customers the best coffee beans in the world but they also offer the unique fragrance from each bean through a light roasting process. As I listened to this explanation by the manager as he extracted the coffee, I was getting more curious about the taste.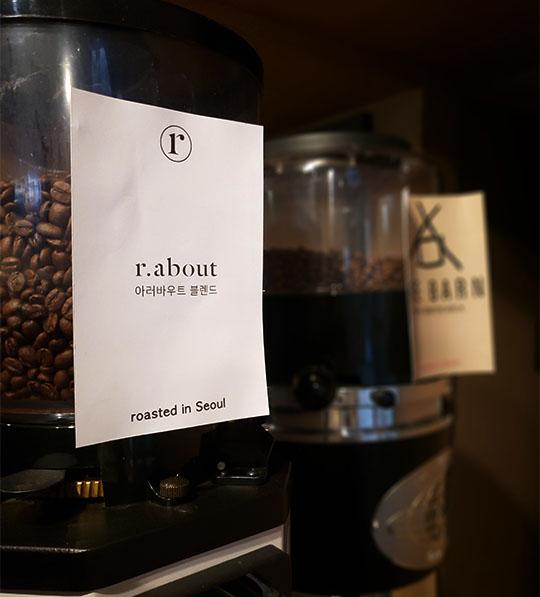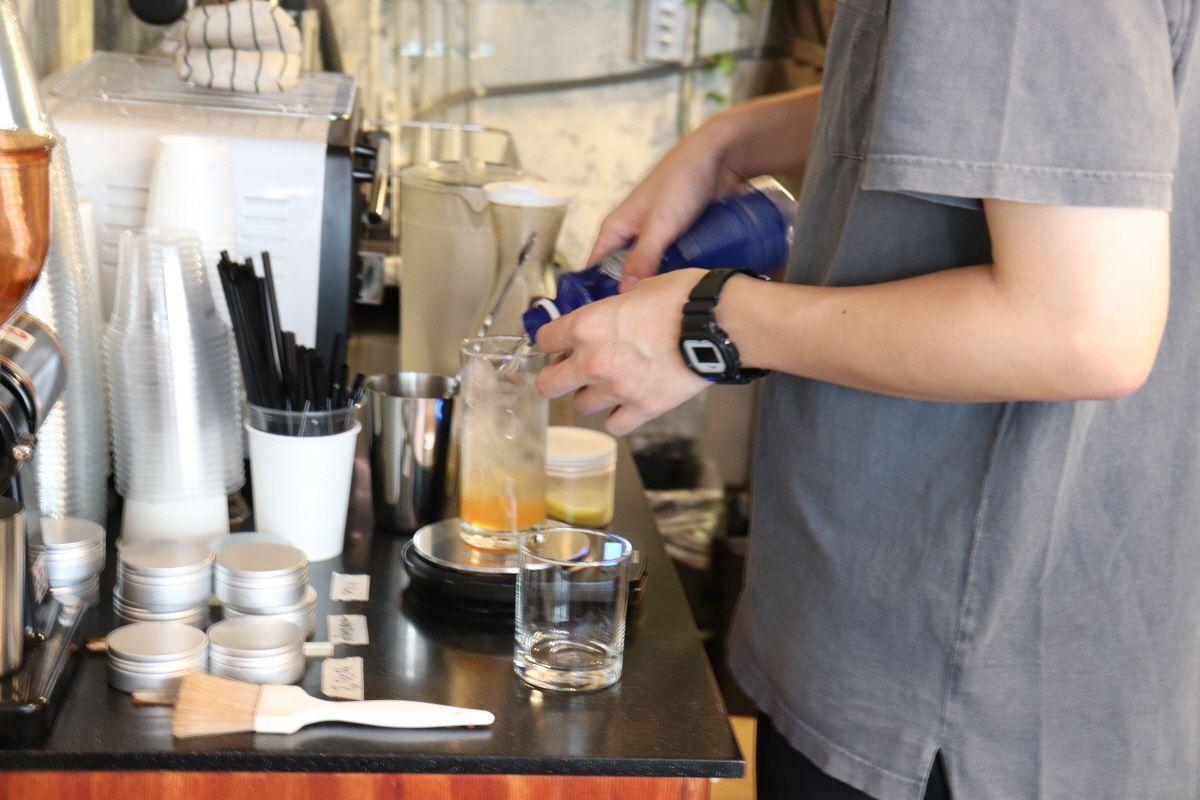 We have ordered their Royal Coffee, which is their specialty coffee as well as a chocolate chip cookie. Also, r.about is well-known for its pour-over, so if you are planning on going with your friends, try ordering each and compare the taste!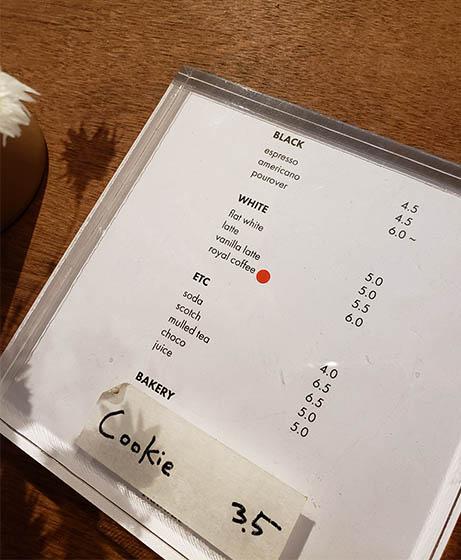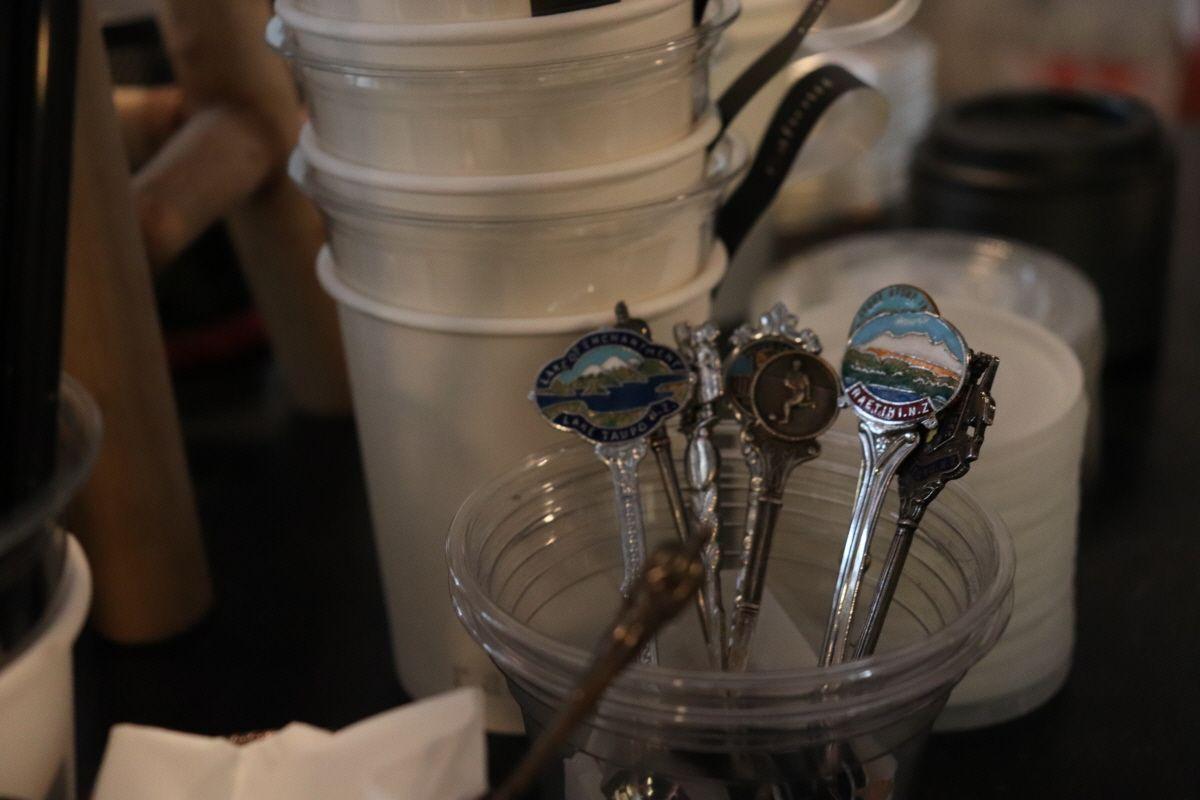 As I was on my way to get my drink these teaspoons that looked vintage stopped me. The r.about Sinsa store is not that big but they have made full use of this space by adding various interesting details in their interior design making me increase my expectations of the taste of the drink.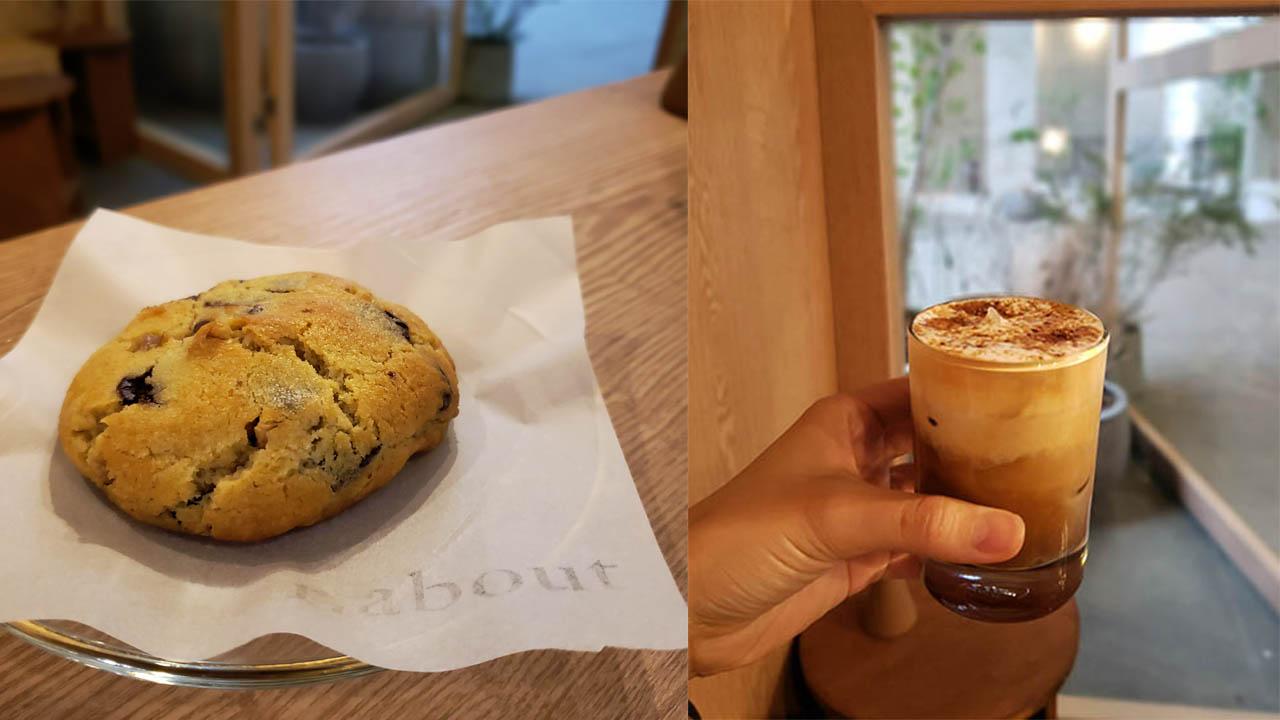 We ordered a Chocolate Chip Cookie (3,500 KRW) and Royal Coffee (6,000 KRW), which were updated menu items.
Royal Coffee was one of the best cups of coffee I've ever had in my life; the cream on top was house-made, which made the coffee even smoother to drink. Also, the topping on the cream was sugarcane sugar, which made the drink taste even richer. The chocolate chip cookie had a rich taste of chocolate as well. It was a perfect match with the Royal Coffee. We highly recommend trying this combination.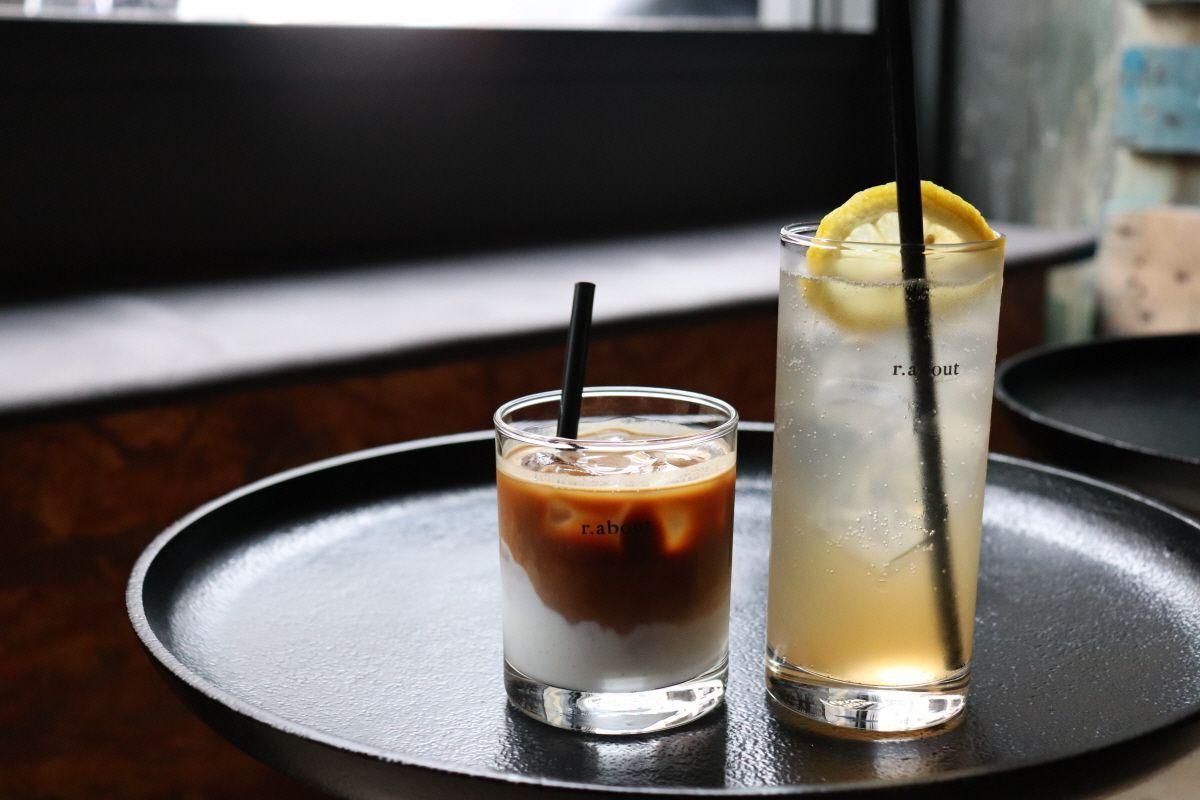 We also ordered the Flat White (5,000 KRW) and the Mulled Tea (6,500 KRW) today.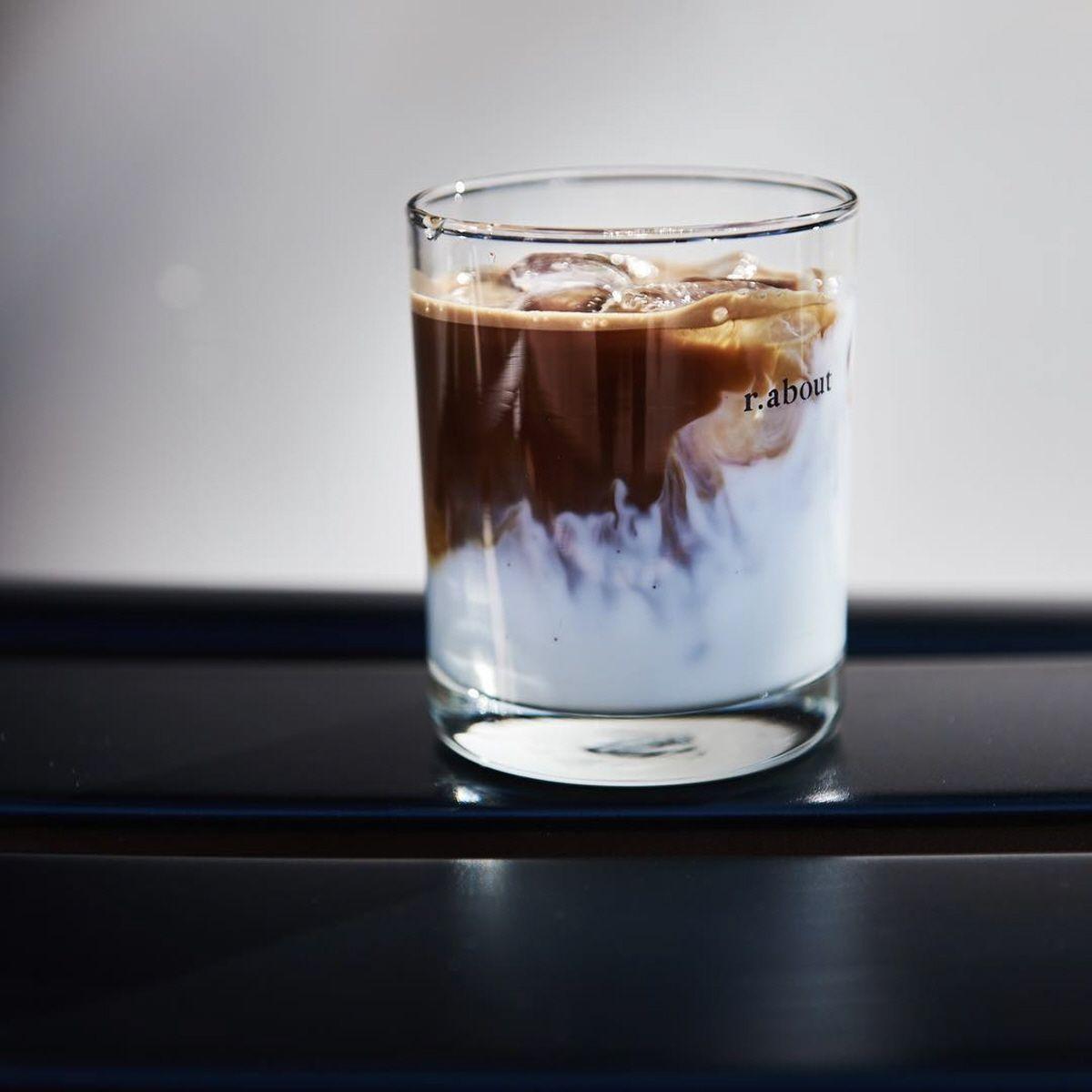 The Flat White was a drink that had separate layers just like when draft beer is served. Doesn't it make you want to take photos right away? It didn't just look pretty but also tasted great as it gave you a mix of three flavors (bottom layer - milk, top layer - espresso, taste of a latte when mixed). If you are looking for a coffee that tastes as good as it looks, the Flat White is the perfect choice.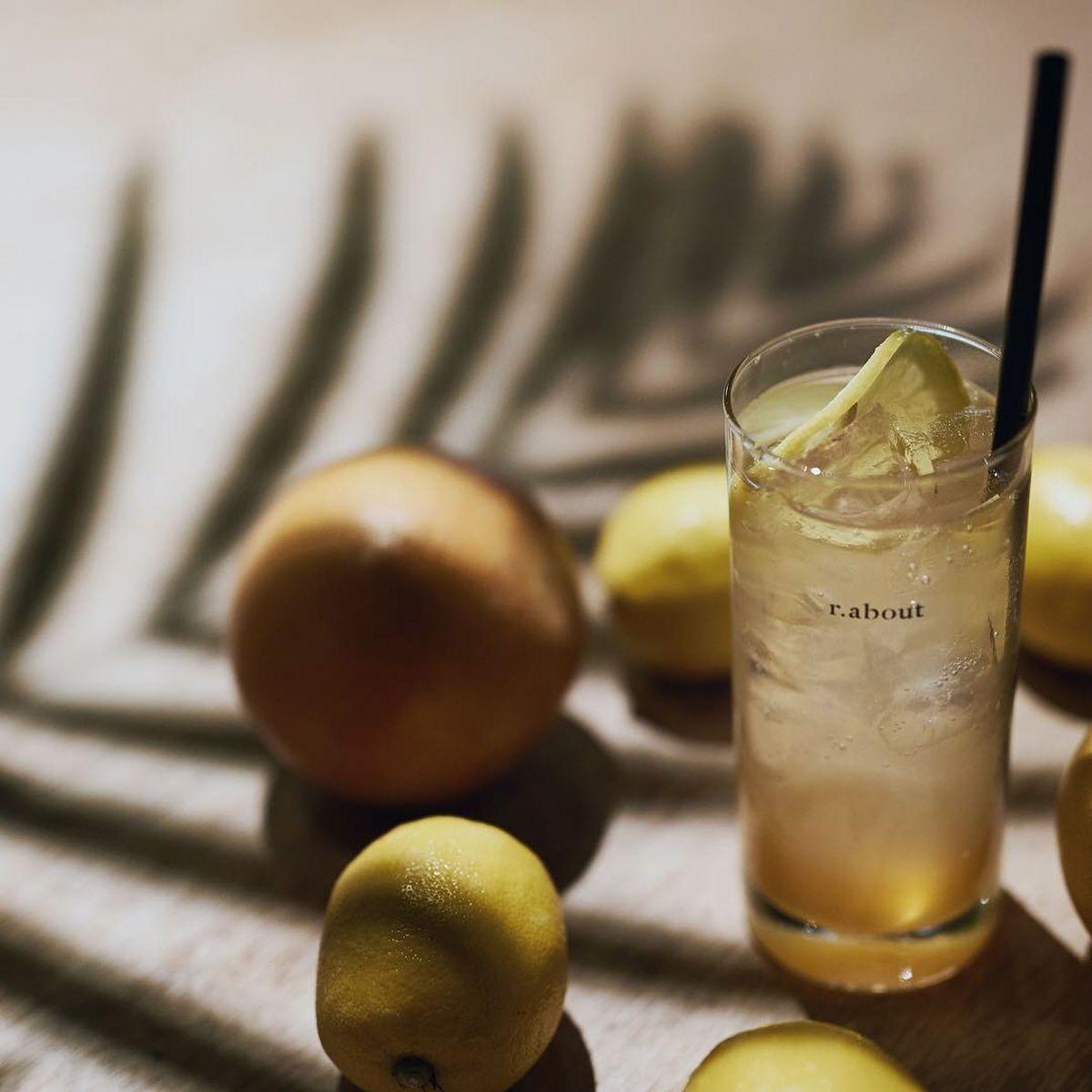 The Flat White was a drink that went well with r.about's sophisticated atmosphere, but when thinking of just the taste alone, the Mulled Tea was the best. The cinnamon fragrance appeared slowly and made me think it would taste just like SuJungGwa (a Korean traditional drink) but I was wrong as the carbonation from the soda gave it a refreshing taste. The Mulled Tea's unique taste would be perfect for such a hot day like today!
---
How to Get There
Take exit 8 once you get to the Sinsa station.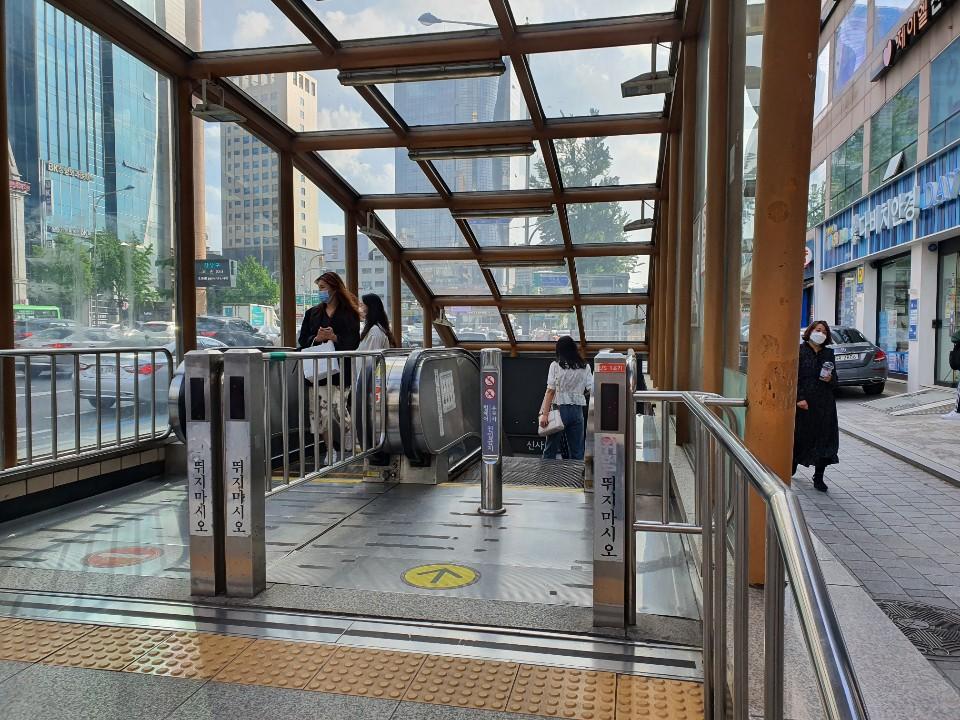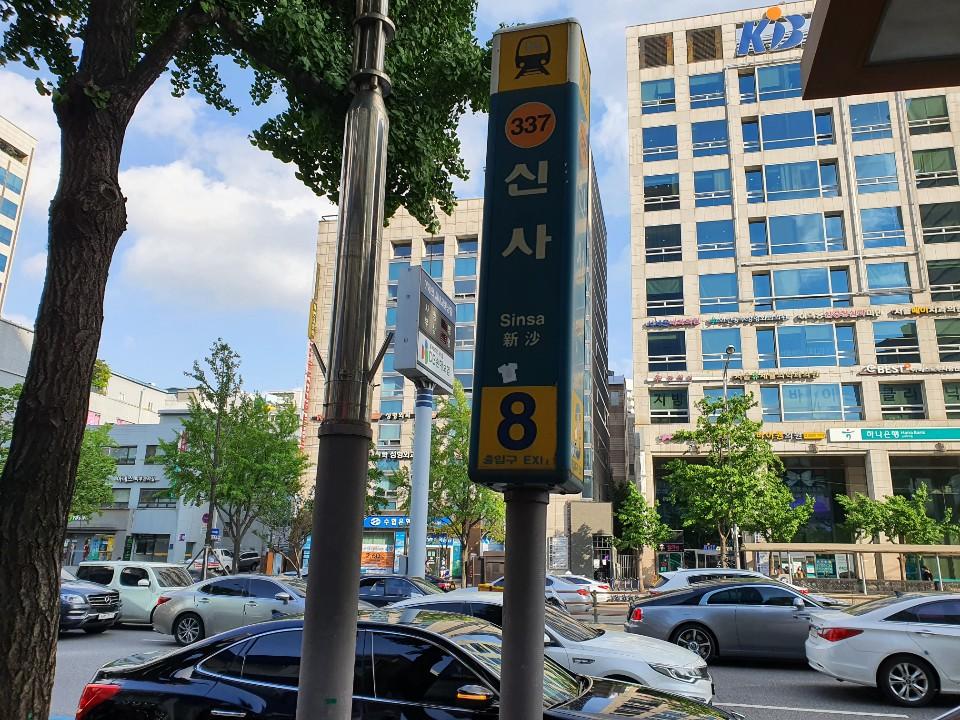 Walk straight until you see the sign of Garosugil.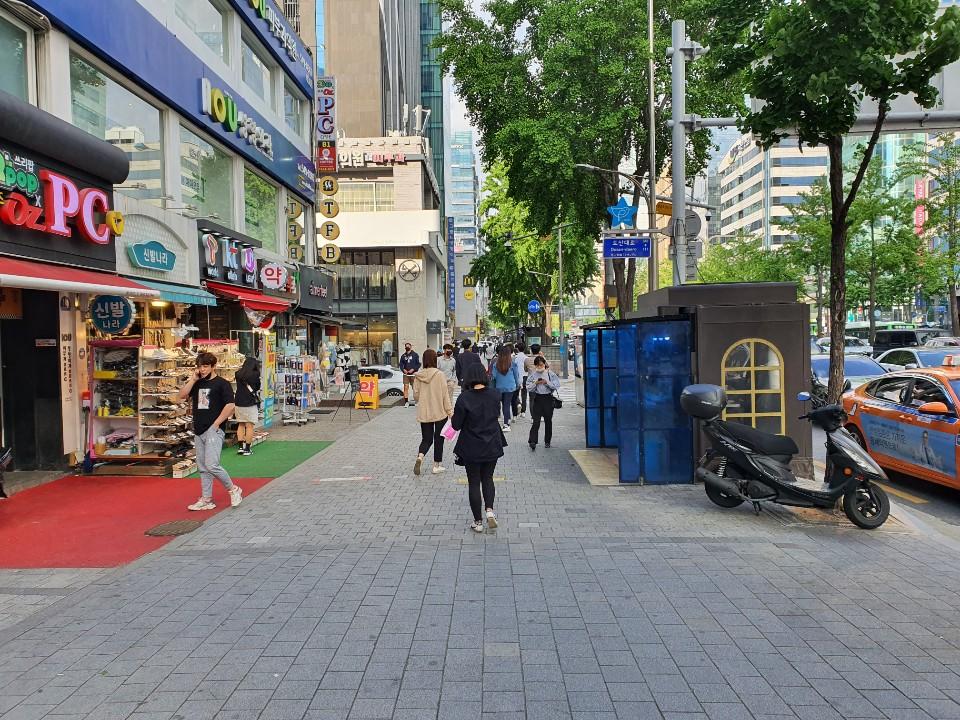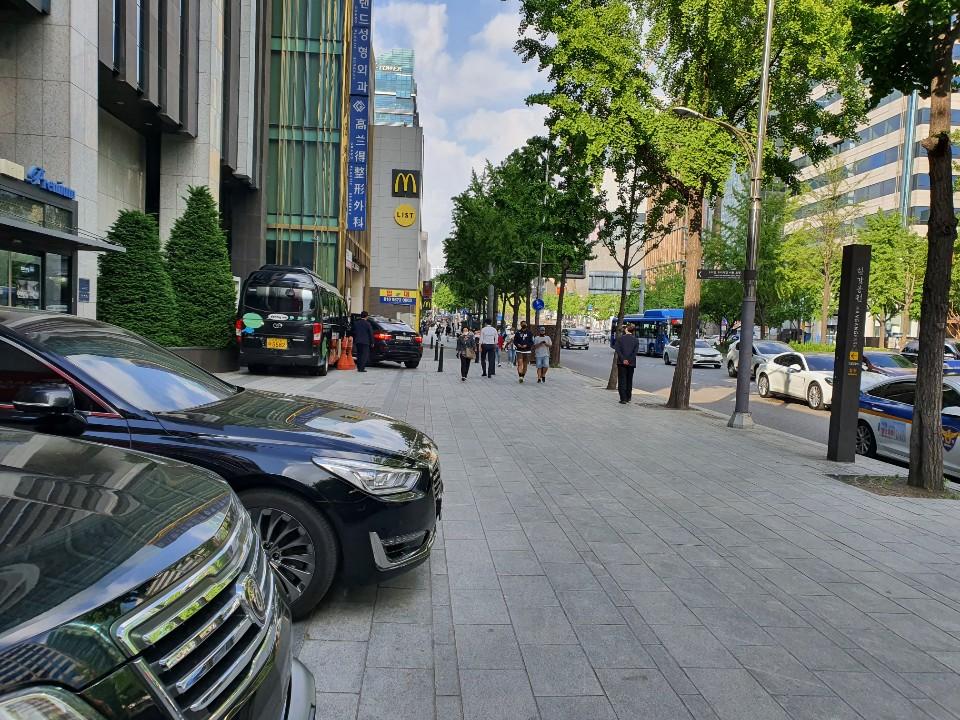 This is the sign that you would be looking for! When you see this, take a left turn, and enter the main road of Garosugil.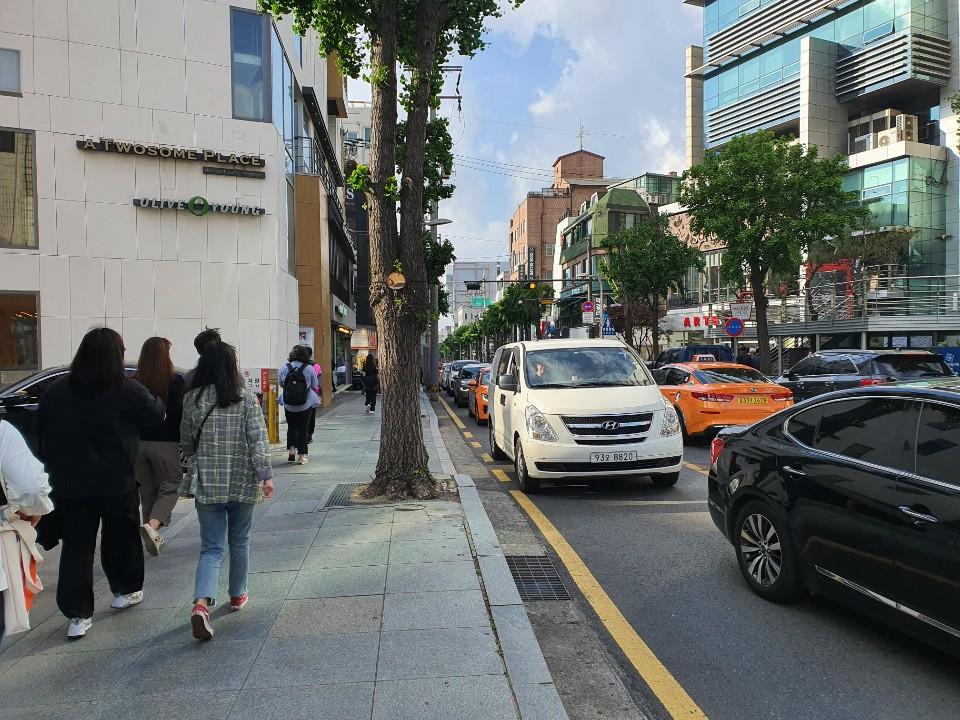 Go straight on the main road. There are so many cute shops and restaurants on the way too!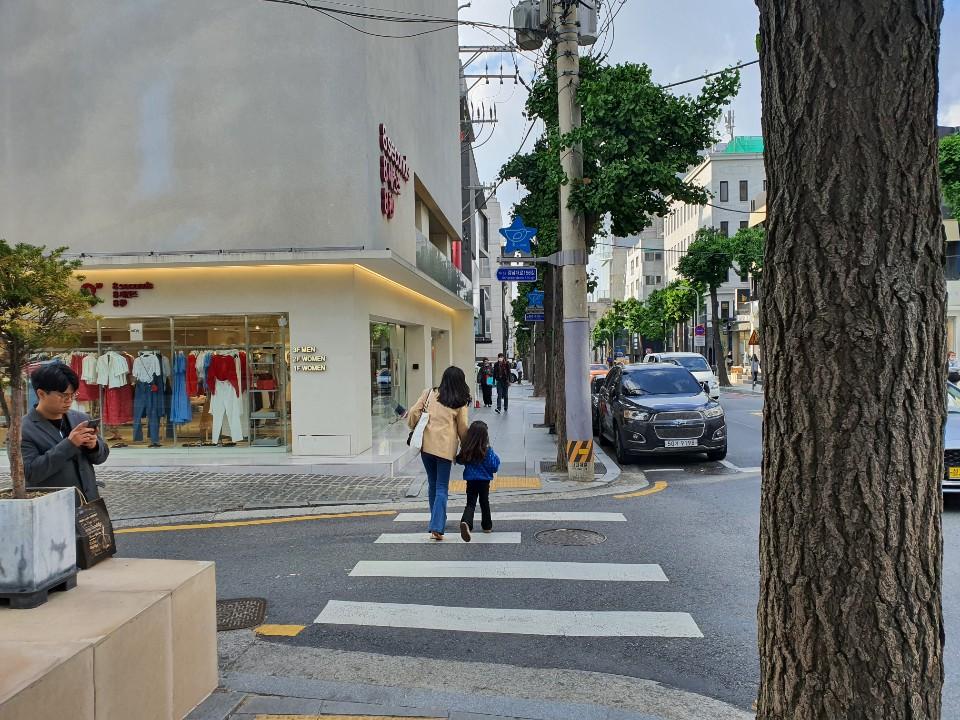 Cross the road to the right side after 2-3 minutes.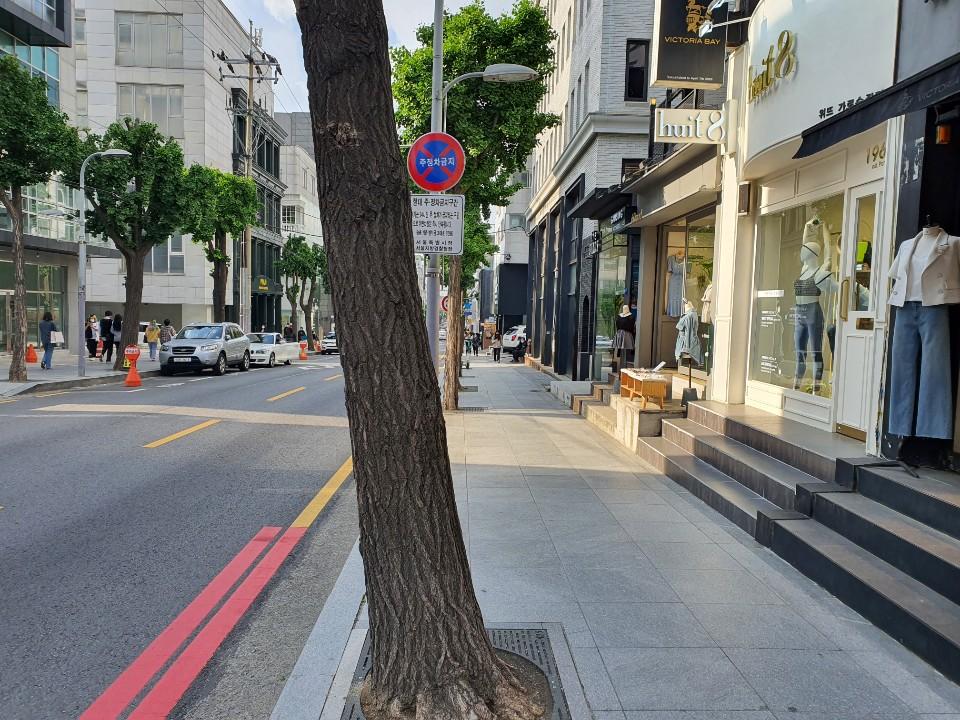 When you walk straight for a minute or so, you will be able to find GaroGolmok on your right!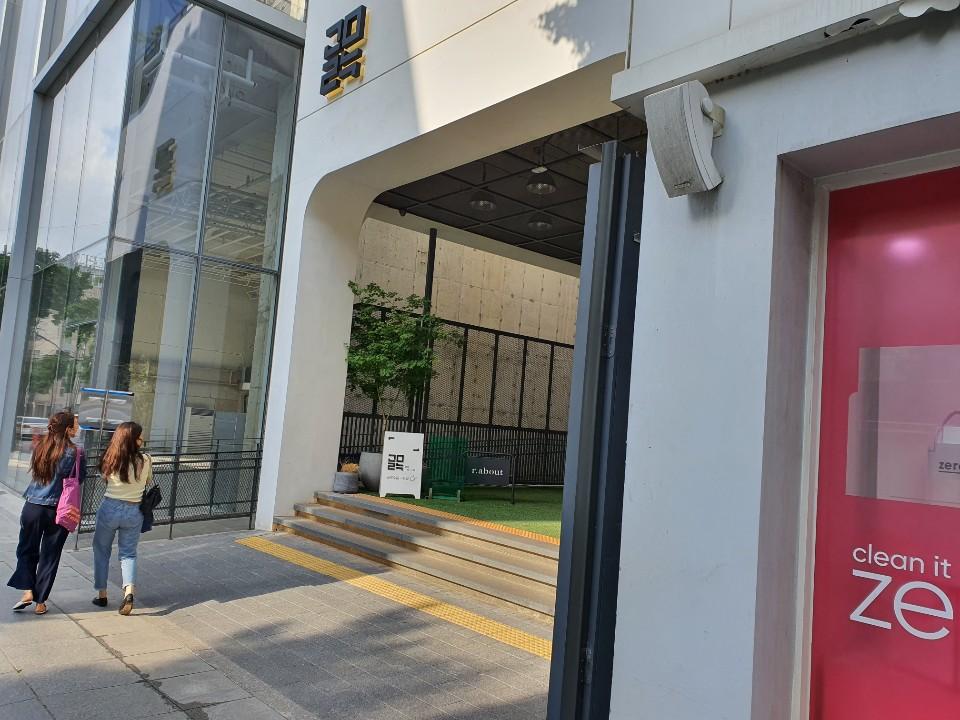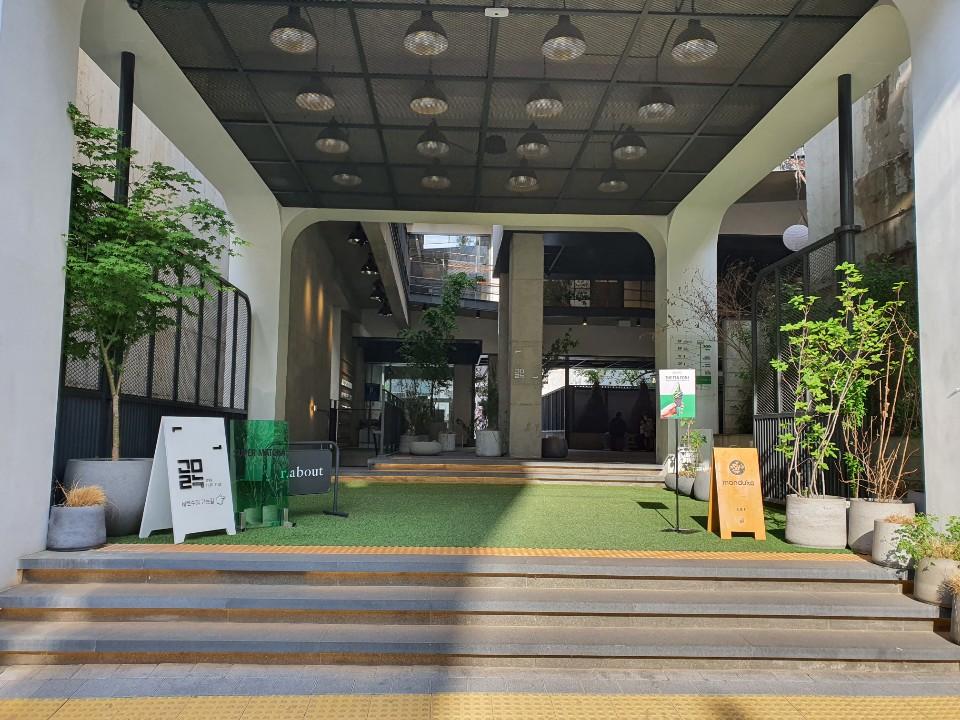 ---
r.about in Sinsa
r.about in Sinsa | 10% Discount Coupon
---
We hope that you can enjoy a cup of coffee at r.about Sinsa! If you have any questions or concerns, please leave a comment below or send us an email at support@creatrip.com! You can follow us on Instagram, TikTok, and Facebook to stay updated on all things Korea!
---