Top 4 Rooftop Hotels in Seoul | The Rooftop Guide
Great vibes, great value! Rooftop accommodations hot now in Seoul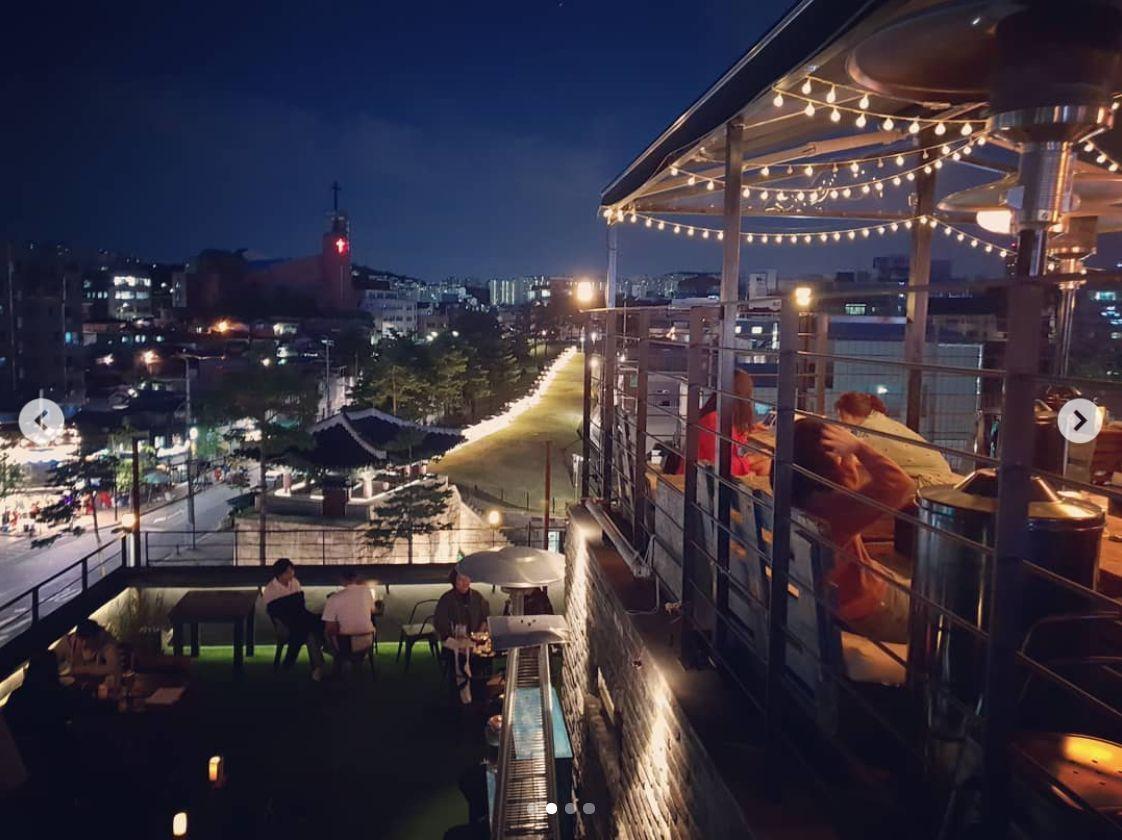 Hello, everyone! We are Creatrip, a group of travel experts. We bring you the latest travel tips and tricks every day.
A lot of you have reached out to tell us that you often get overwhelmed researching or have trouble deciding accommodations because there's just so many available That's why we're going to be introducing to you some popular rooftop accommodations in Seoul, reserved even by locals!
Of course, there's the luxury five-star hotels that offer beautiful rooftop views and top tier services, but those rooms can go for over 200,000-300,000KRW a night. What we're going to be looking at today are the accommodations that offer not only great vibes but also great value.
Creatrip has curated these spots after considering the price, location, facilities, and vibe of these accommodations So let's take a look!
---
Seoul Rooftop Accommodations
96 BUN:Z | Information
Location : Dongyang Building, 343-1 Toegye-ro, Jung-gu, Seoul
96 BUN:Z | Prices



Standard Twin/

Standard Double

69,000~ / Per night

$59.61~ / Per night

Twin View Room

74,000~ / Per night

$63.93~ / Per night

Triple View Room

110,000~ / Per night

$95.03~ / Per night
96 BUN:Z | Preview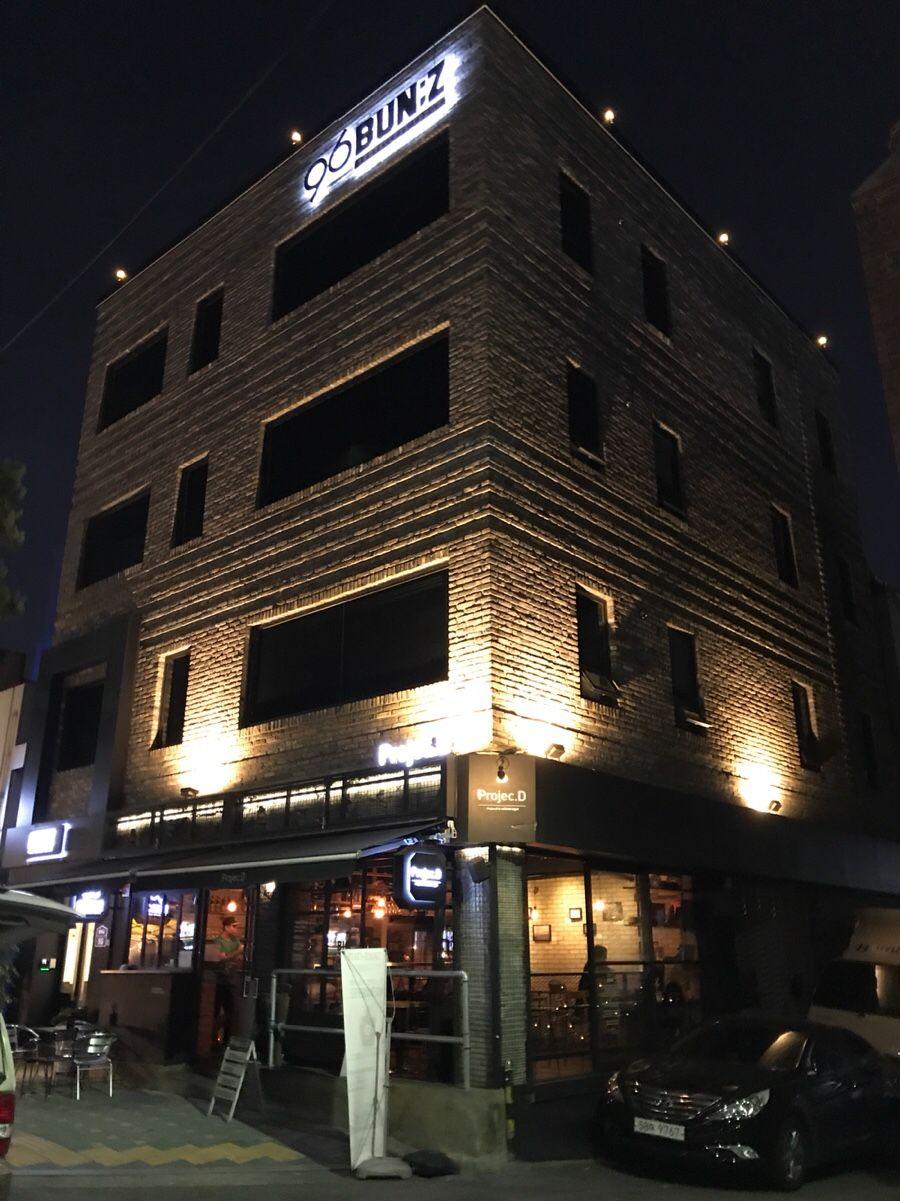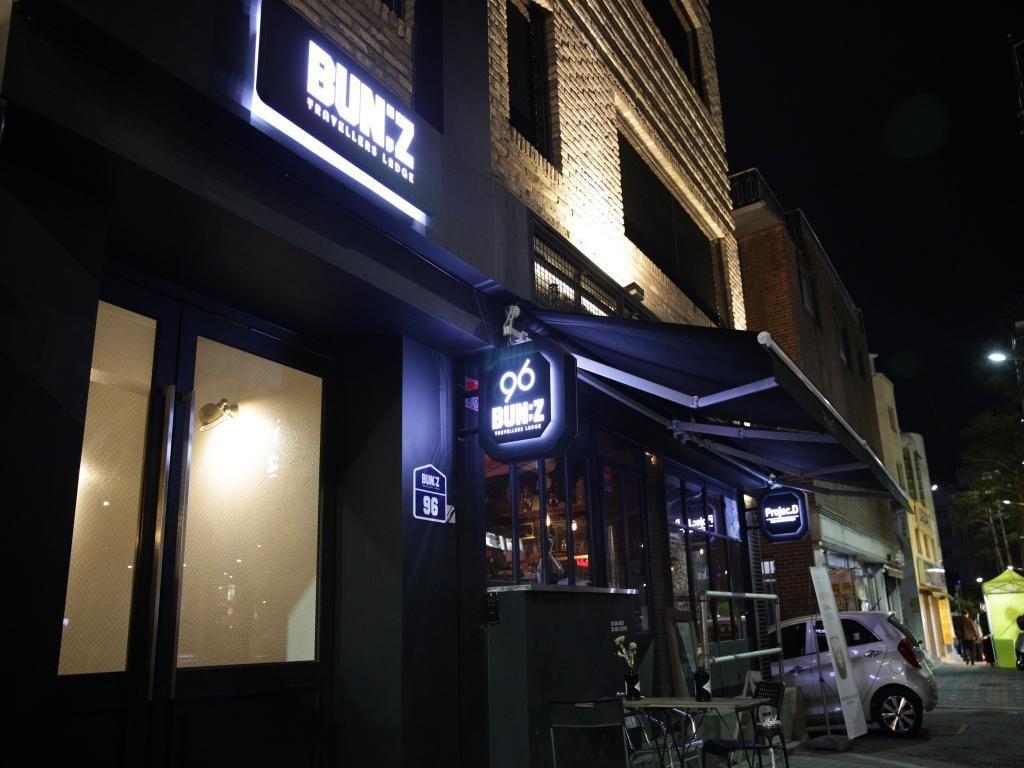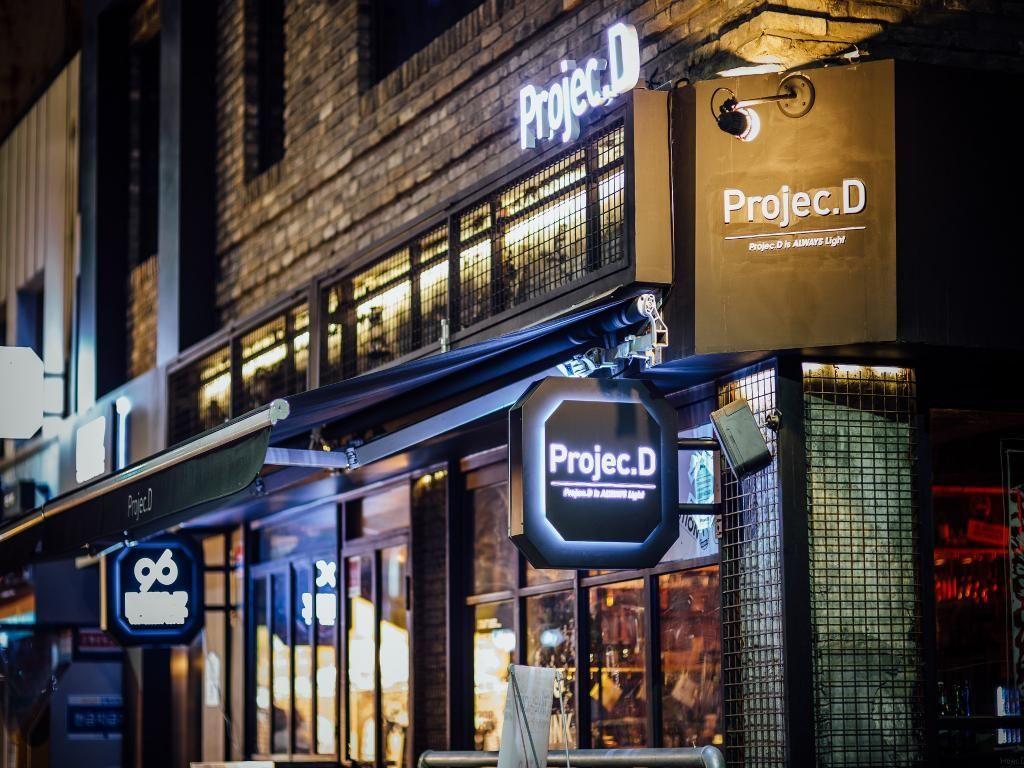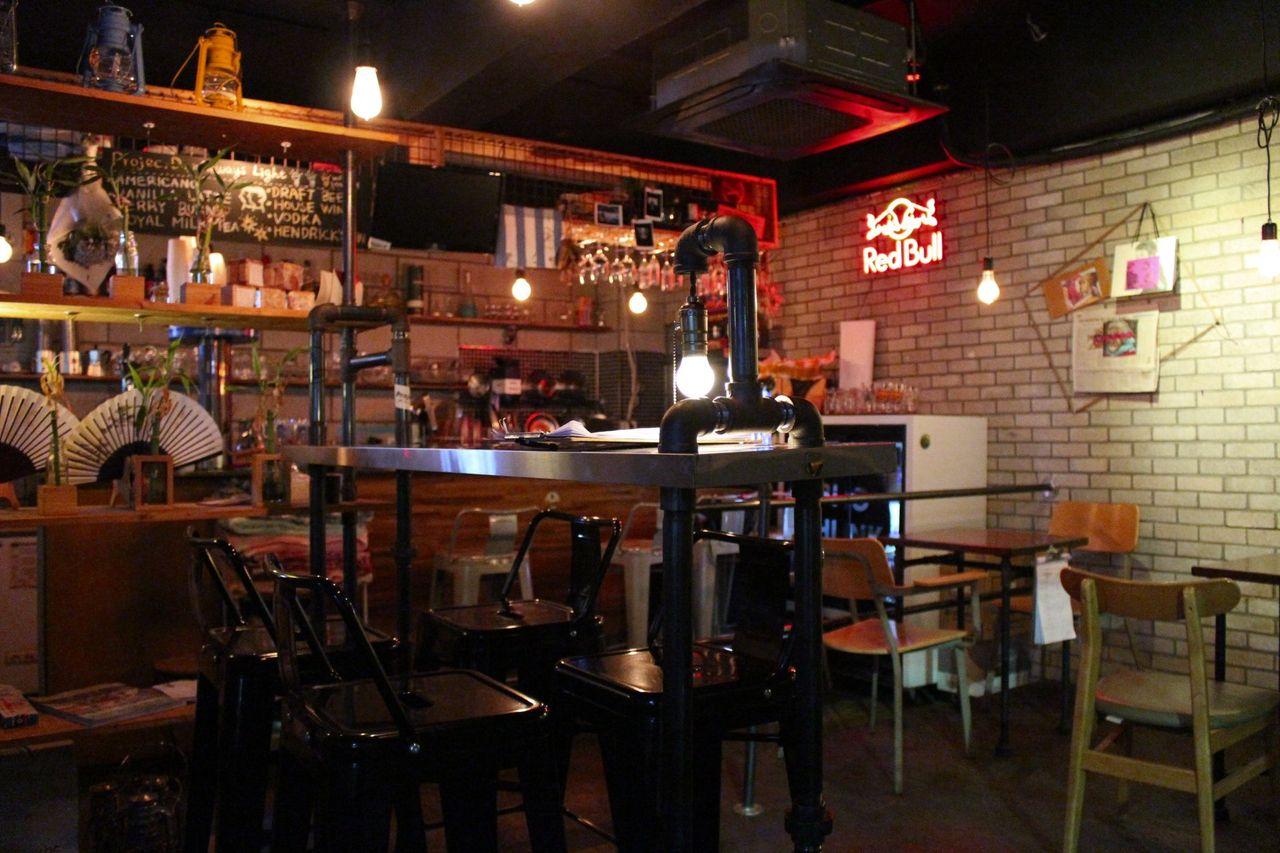 1st-floor pub, Project.D
The first accommodation we're going to be talking about is 96 BUN:Z, located in Dongdaemun. The Projec.D pub is operated in the same building. The entire exterior and interior of the building has been personally decorated by the owner himself so that you can enjoy the real trendy Seoul vibes.
The reason this accommodation is so popular among locals is because of its rooftop. The view is beautiful both day and night since Gwanghuimun is located right across the street.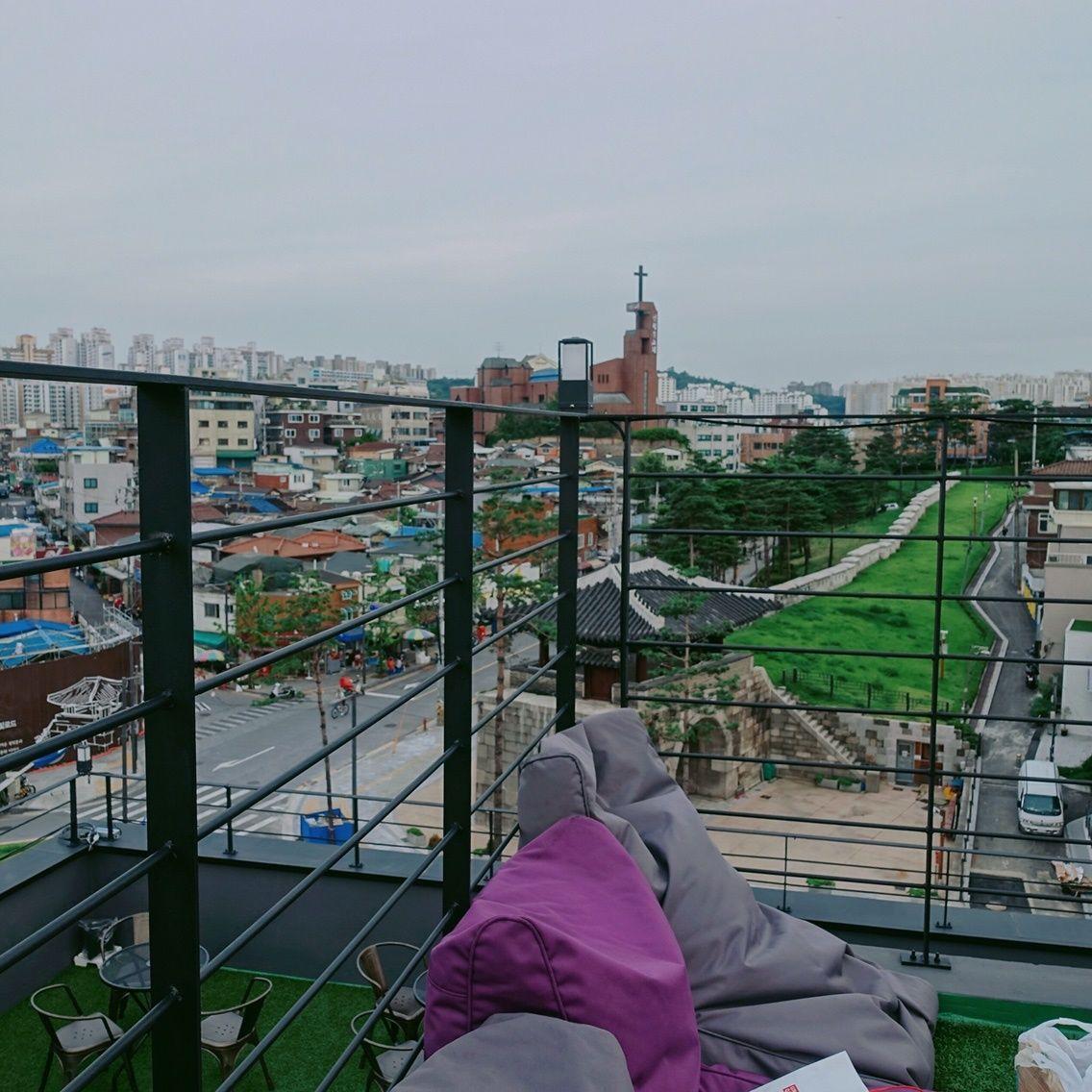 Rooftop view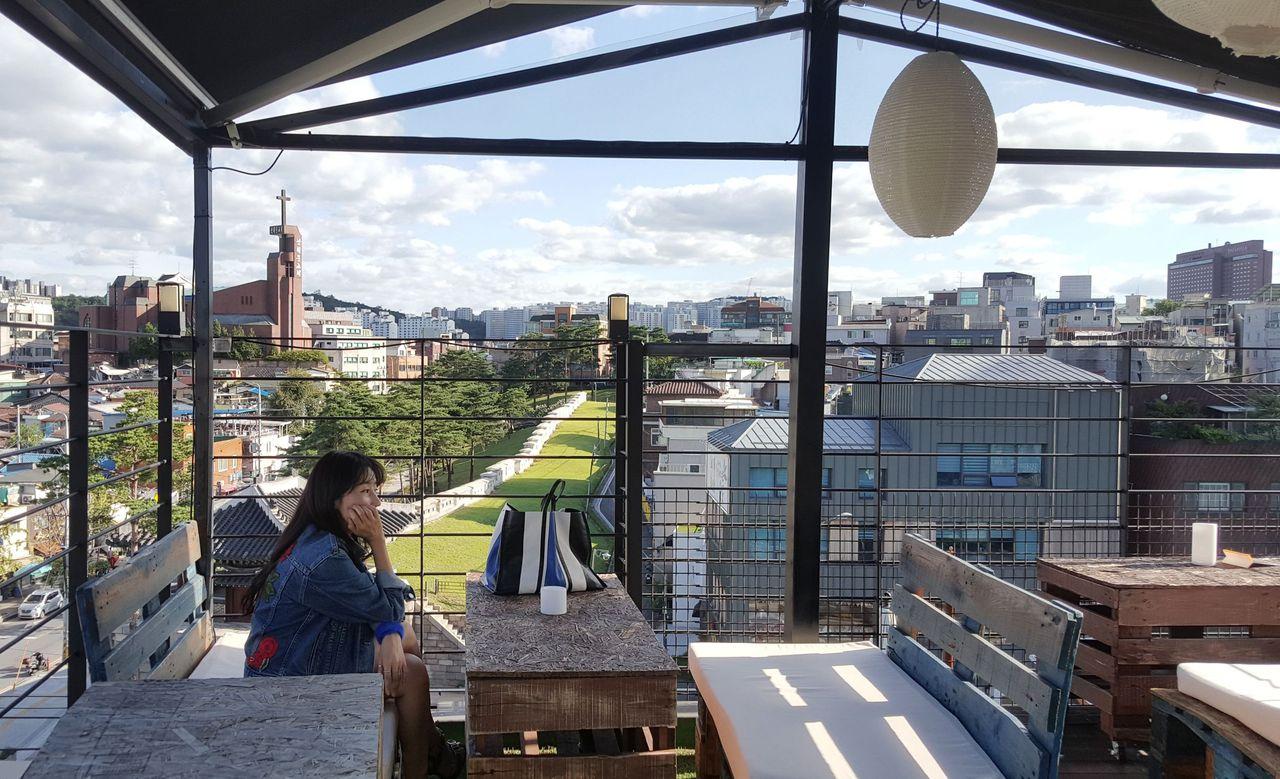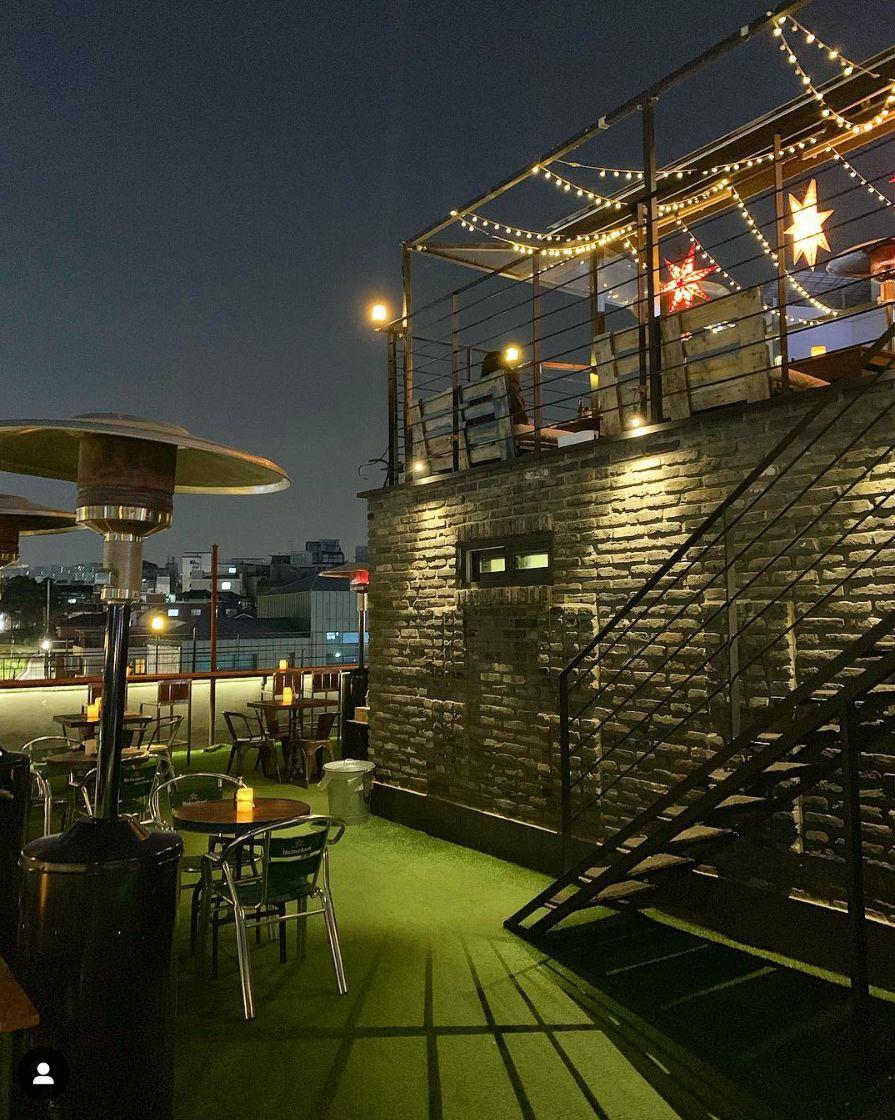 I personally recommend going up to the rooftop at night. That way, you can enjoy both the DDP and the night view of the Gwanghuimun.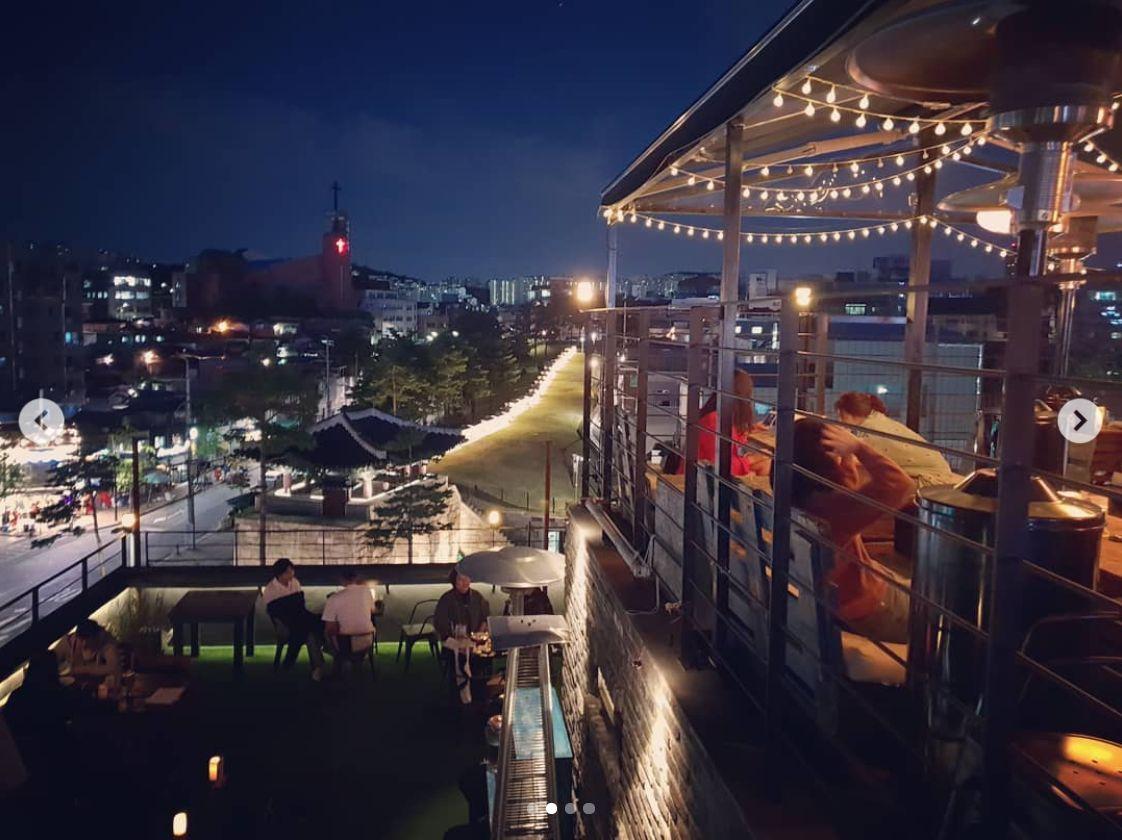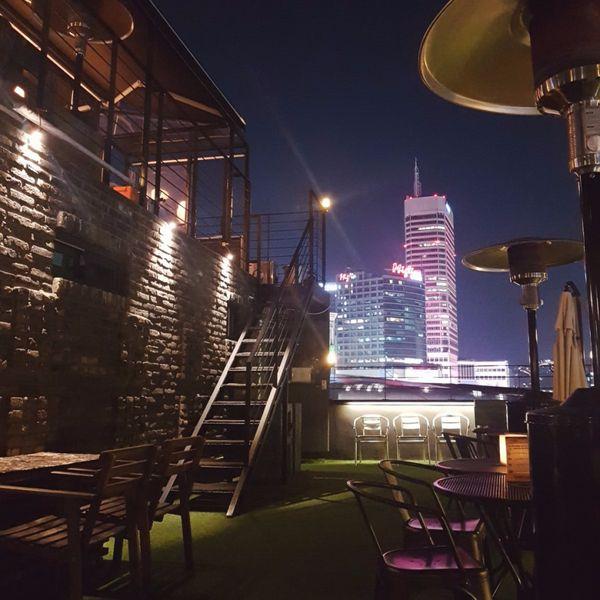 The pub has all kinds of alcohol and snacks. You order on the first floor, but if you're a guest, you're free to enjoy the rooftop with your own food without having to order anything. When I was here with my friends, I would just get alcohol from the convenience store or order chicken and chill out, haha.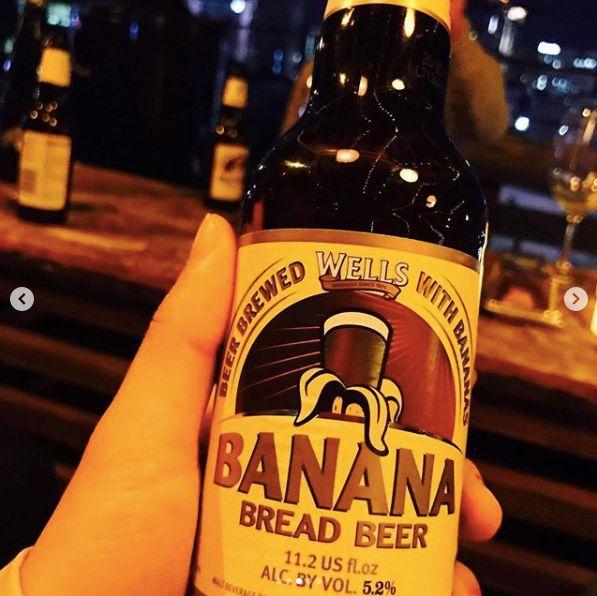 I'd still recommend that you order the Banana Bread Bear beer from the first-floor pub. It's a banana-flavoured beer that's sweet and pretty popular among girls. I tried it for the first time here and absolutely got hooked.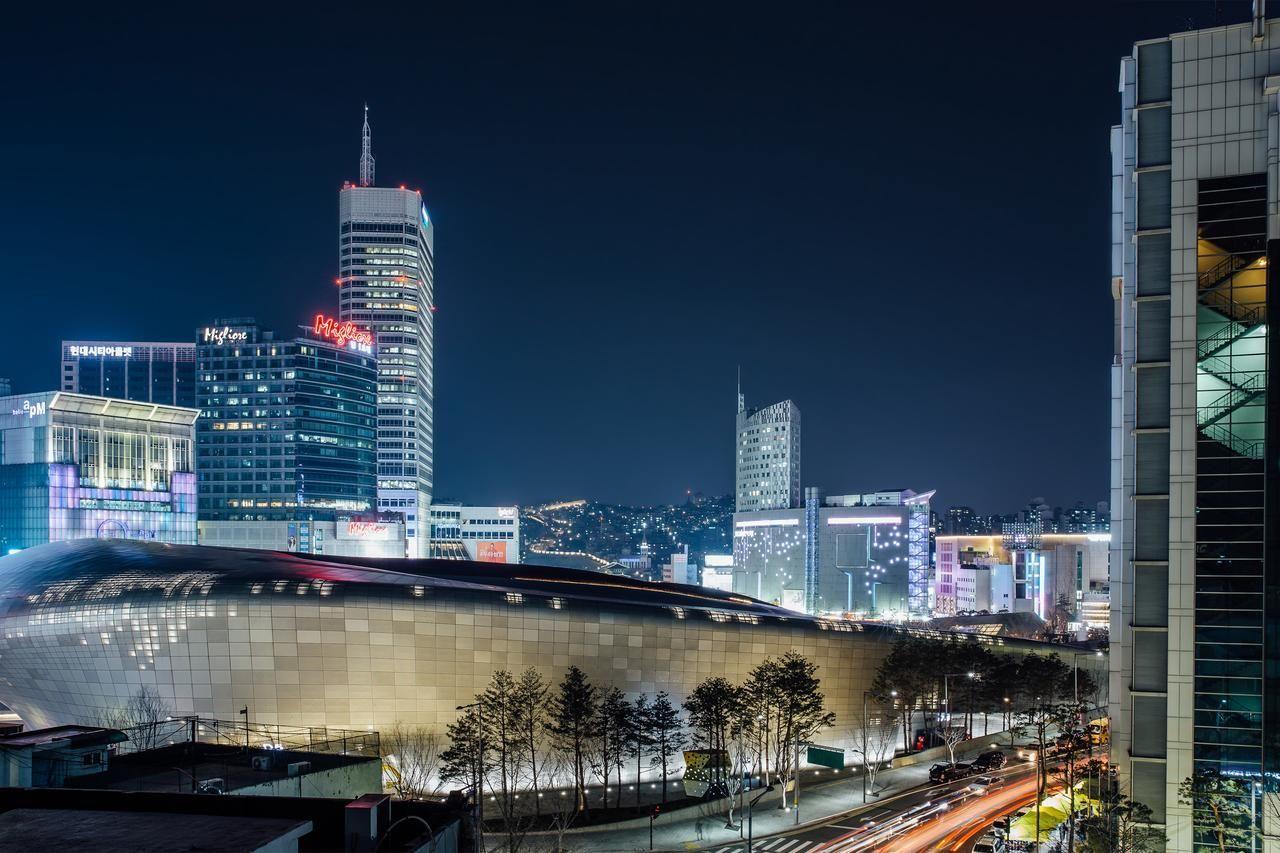 The Dongdaemun DDP from the rooftop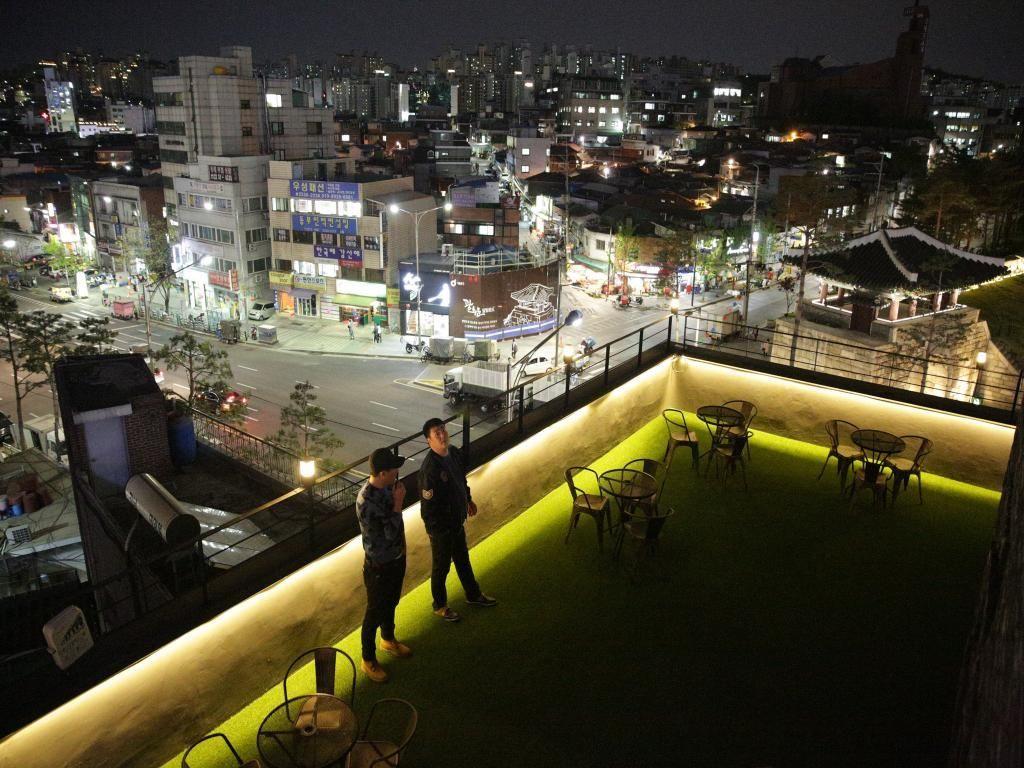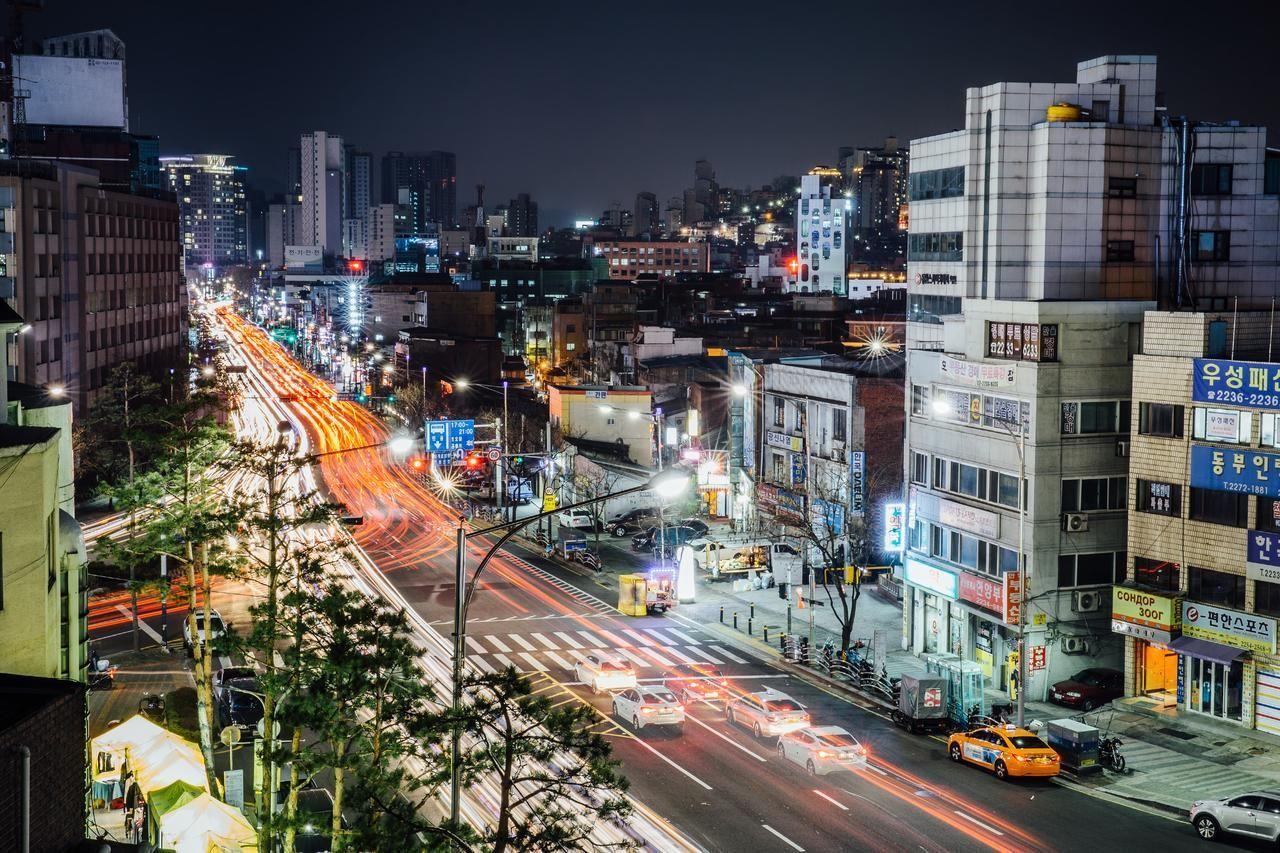 You can see the mixture of old Korea and the new city blending in during the night from the rooftop.
If you end up staying at BUN:Z, I recommend that you stay at the triple view room. The three-person room isn't cheap at 110,000KRW, but you can get it as low as 80,000-90,000KRW if you use booking sites like Agoda.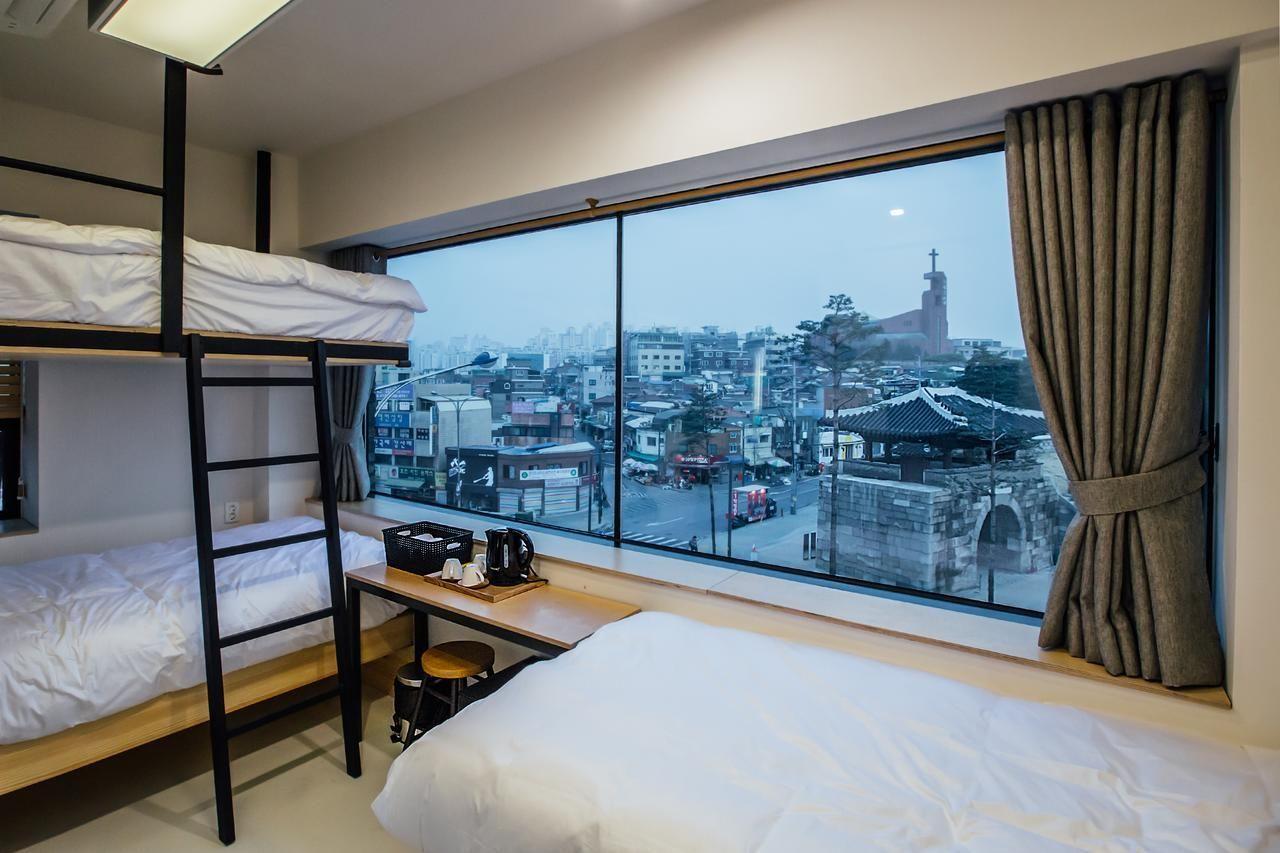 Triple View Room
Not a huge room, but the interior is clean and simple. I guarantee that once you take a look at the view outside the window, you won't be thinking of the cost anymore!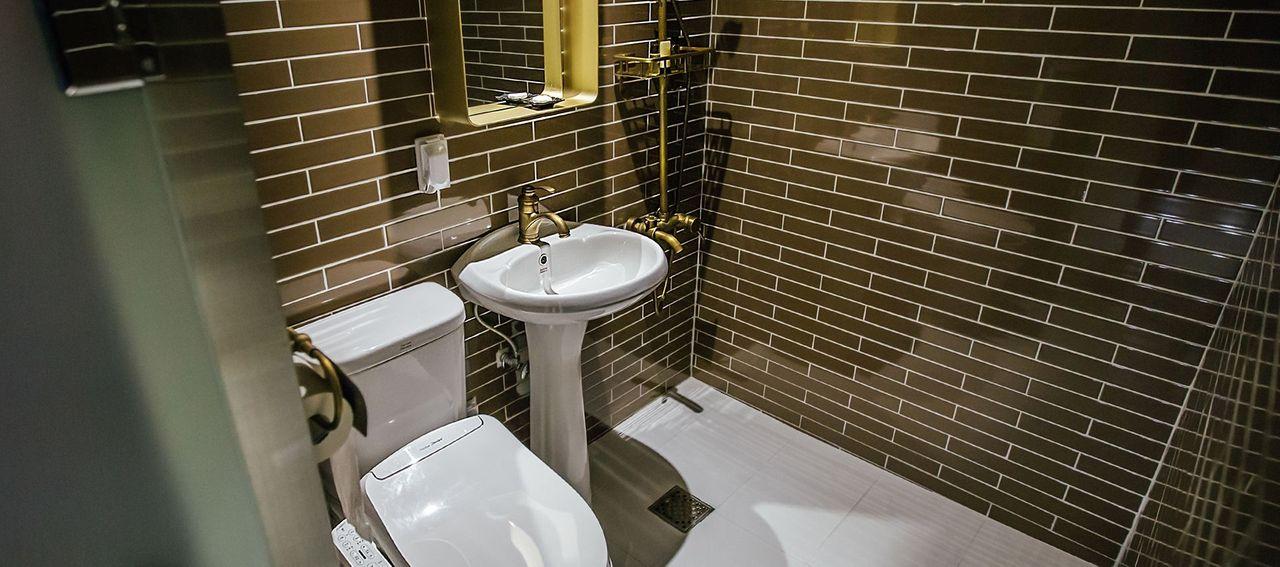 Even the bathroom is cute!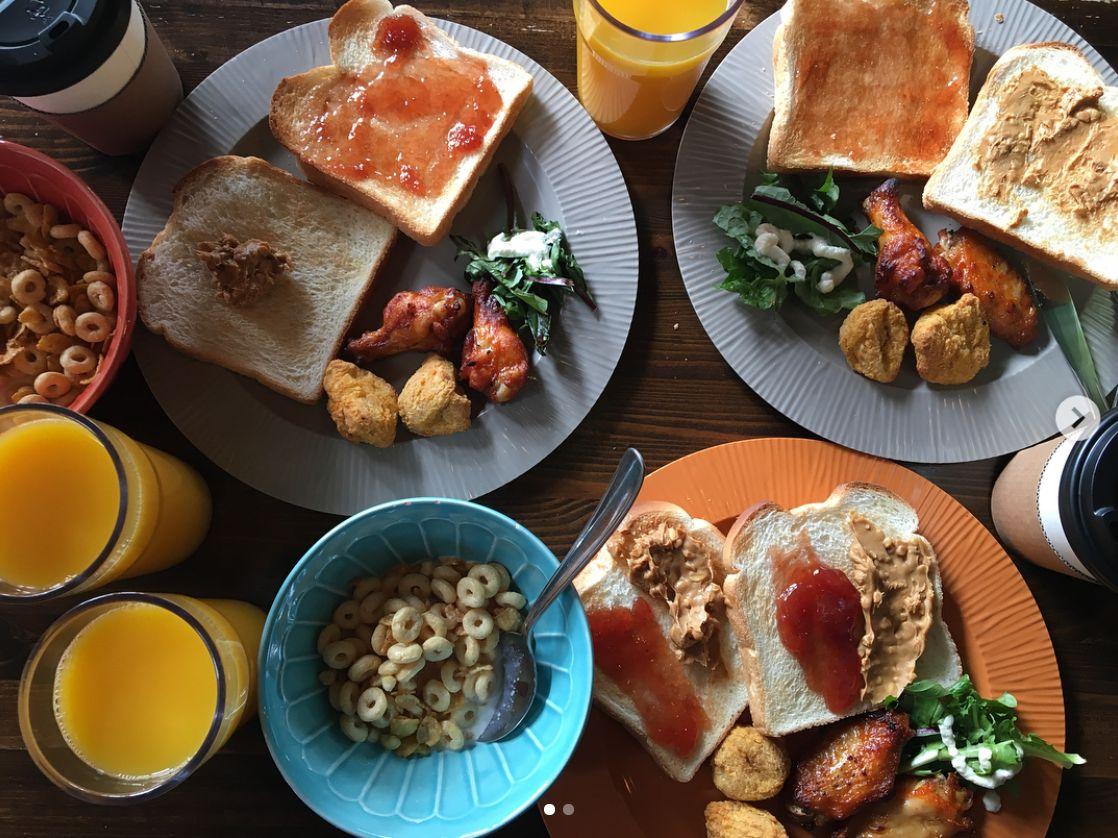 What I liked best about this place is the breakfast. Most guesthouses don't offer breakfast, but it's included with a room at 96 BUNZ! And it's actually good! As you can see above, the breakfast selections are pretty diverse
For around 100,000KRW between three people, you can get the rooftop vibes, delicious breakfast, and an amazing room view at 96 BUNZ.
---
Hotel Cappuccino | Information
Address : Hotel Cappuccino, 155 Bongeunsa-ro, Gangnam-gu, Seoul
Hotel Cappuccino | Price



Standard Double

(City View)

Around 100,000 / Per night
(depends on the date)

$86.39~ / Per night

Bark-Room

(Pet Friendly)

Around 150,000 / Per night
(depends on the date)

$129.59~ / Per night
Hotel Cappuccino | Preview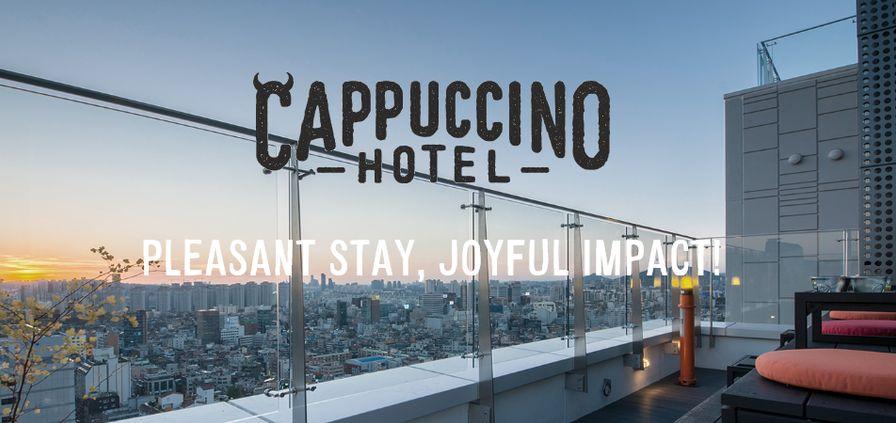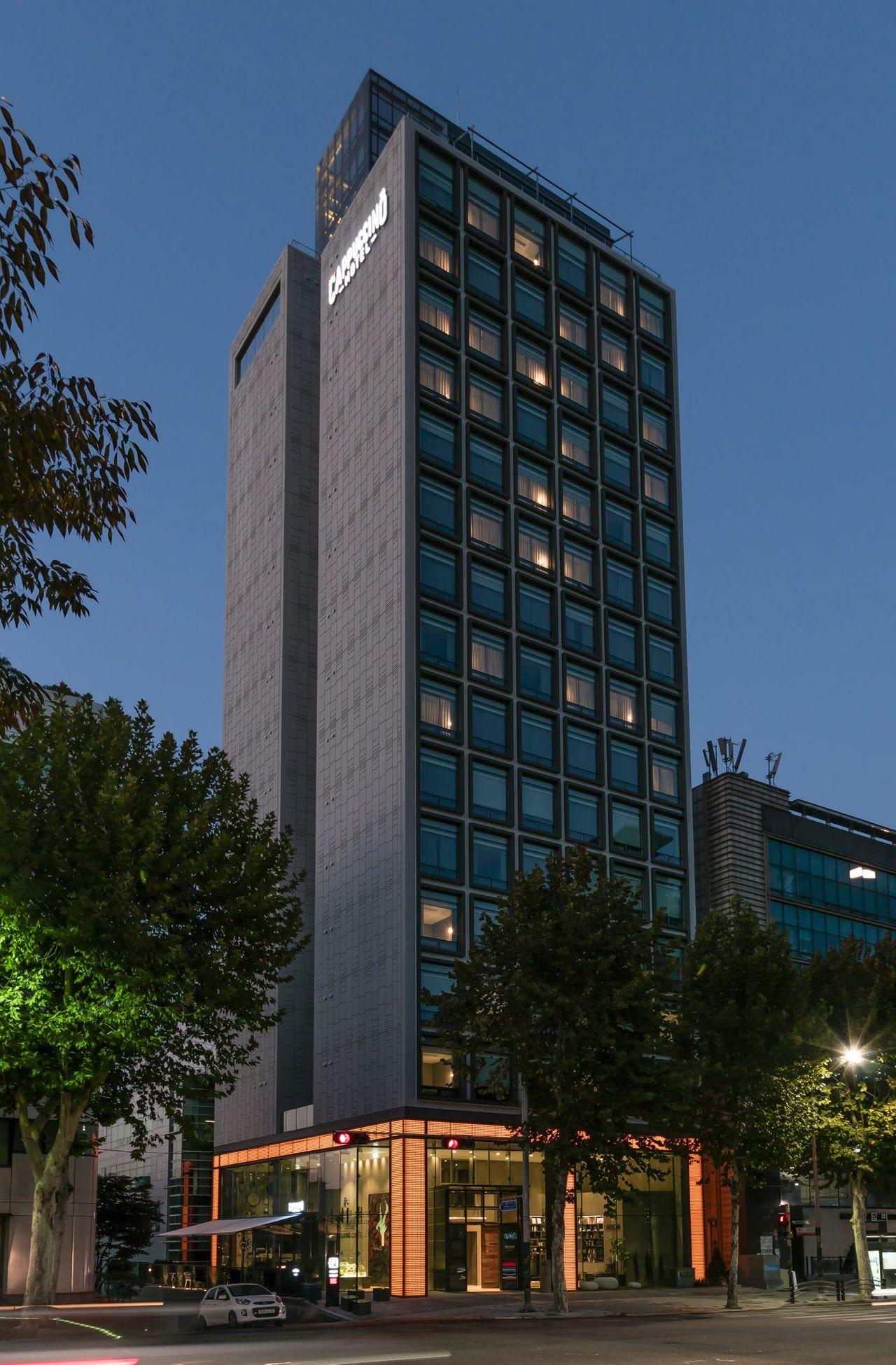 Hotel Cappuccino is one of the only hotels in Seoul where you'll get the entire view of Gangnam (south of the river) from its rooftops. Located near Unjoo Station exit 2, you'd only have to pay the base rate via taxi from Gangnam Station.
Additionally, this hotel is quite popular among pet owners as there are rooms available where you can stay with your pets.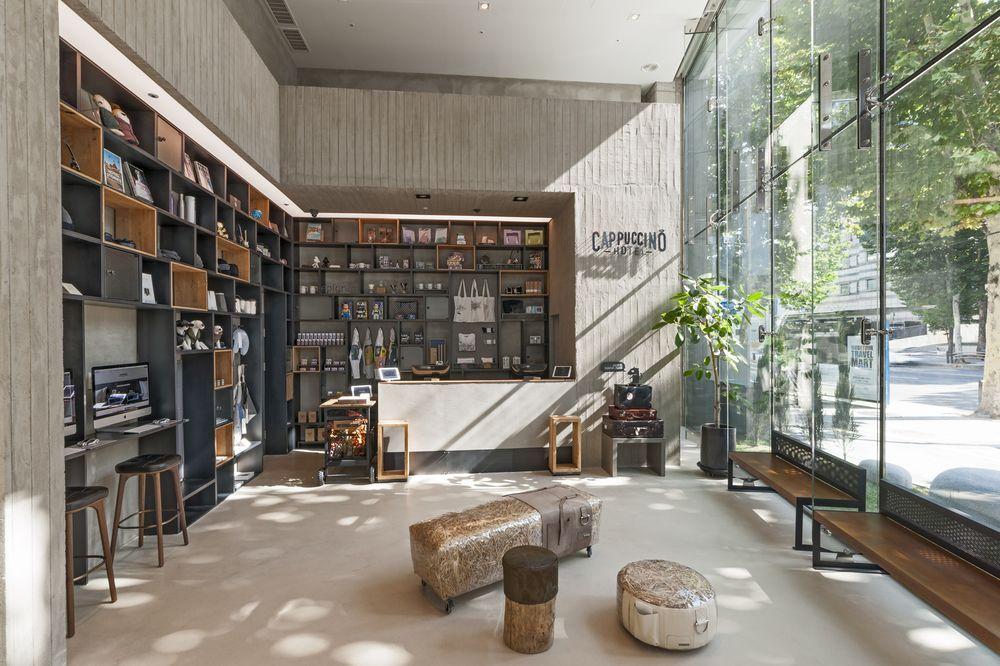 1st floor reception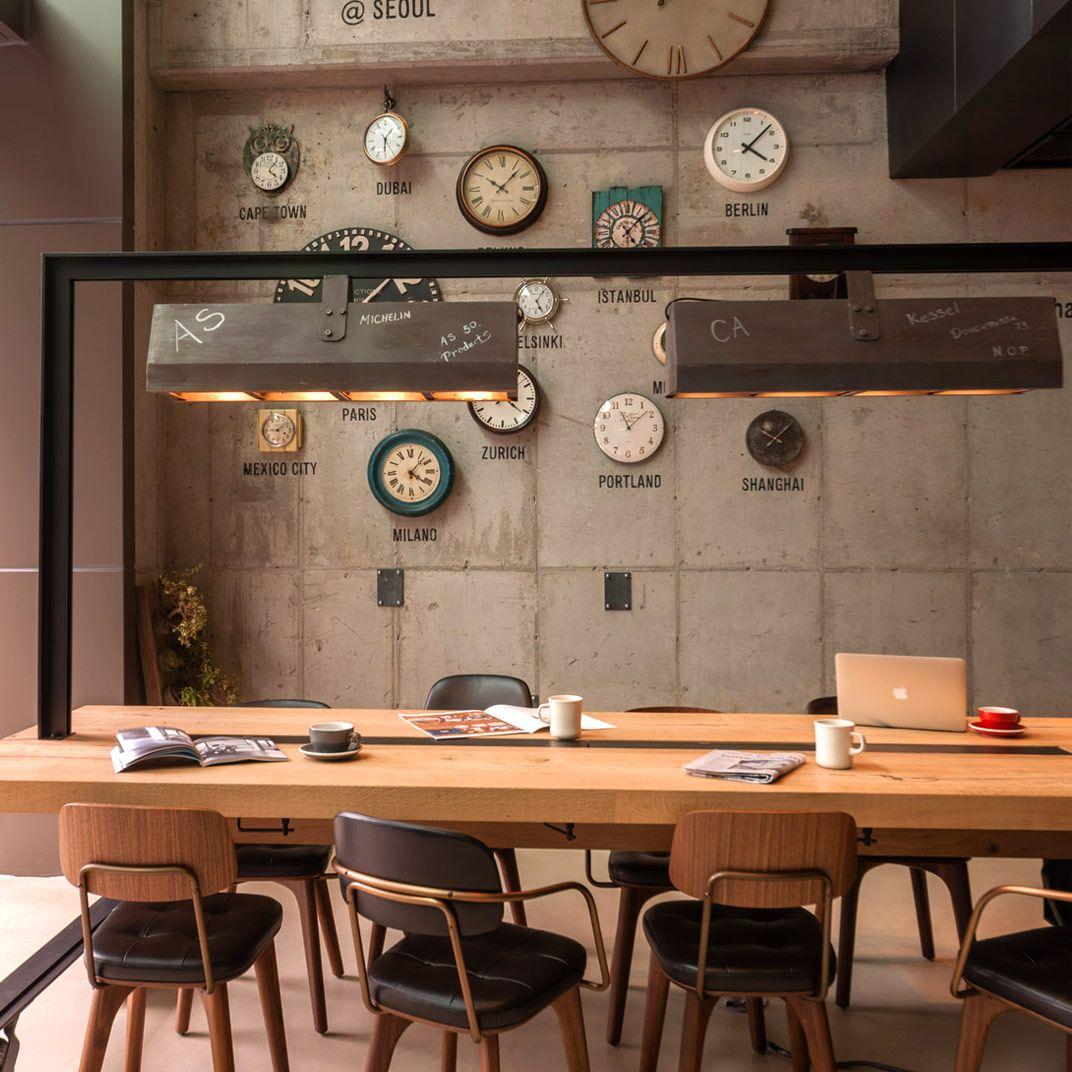 The interior design is very well thought-out, another reason why the hotel is so popular among locals as well.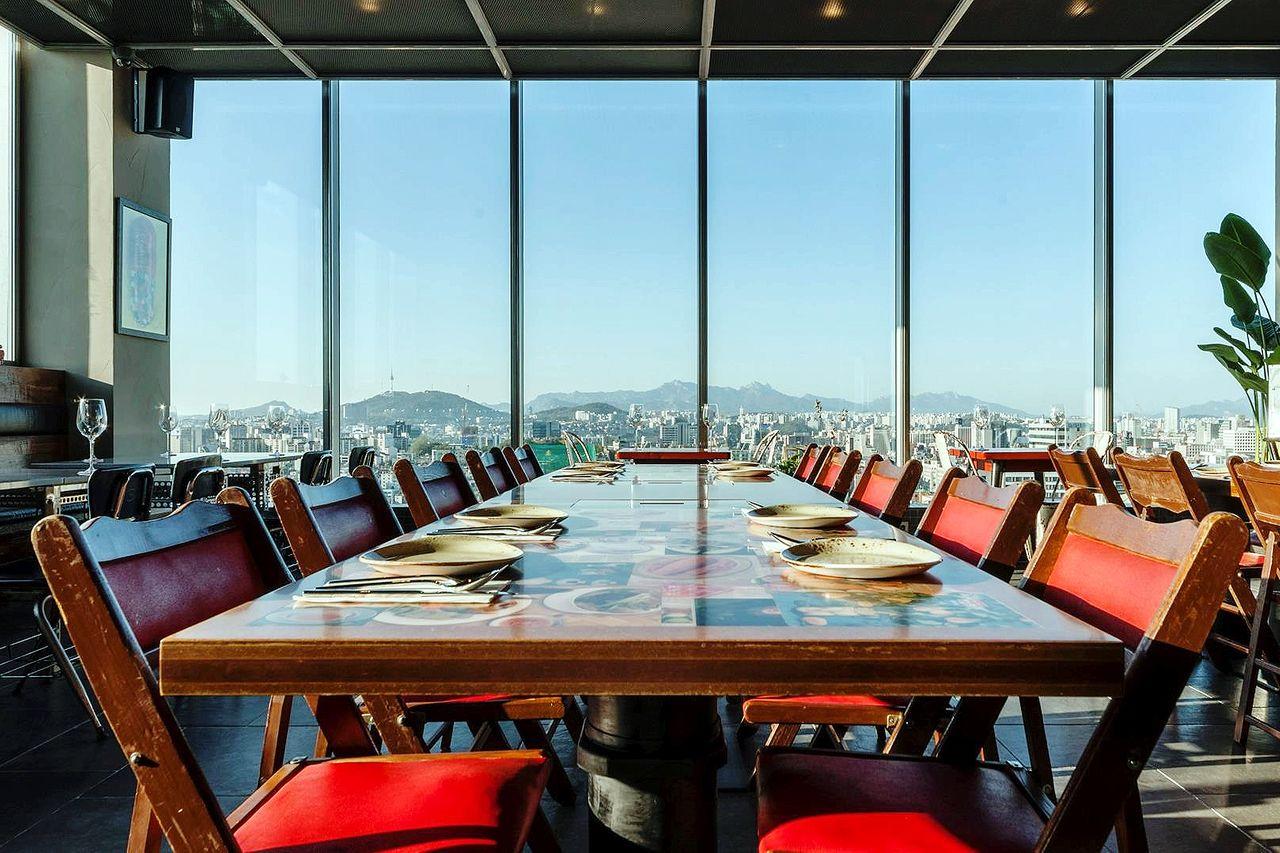 Restaurant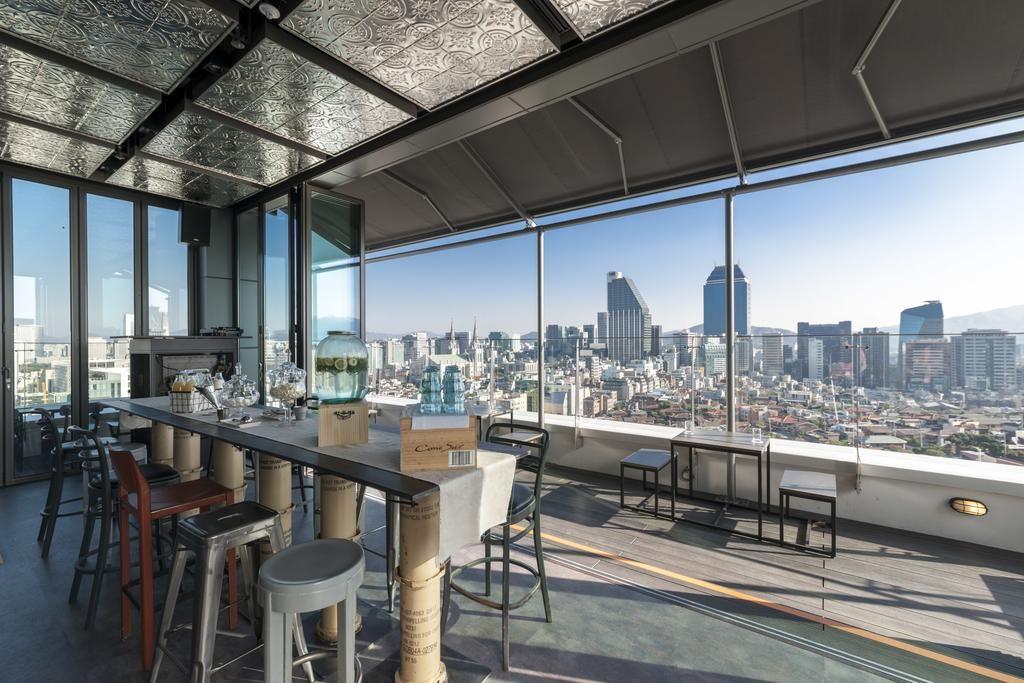 Rooftop Bar
The restaurant and rooftop bar are both on the 17th floor.
This is where you can see all of Gangnam in one breathtaking view. Even if you're not planning on being a guest at Hotel Cappuccino, I recommend checking out the restaurant or bar here.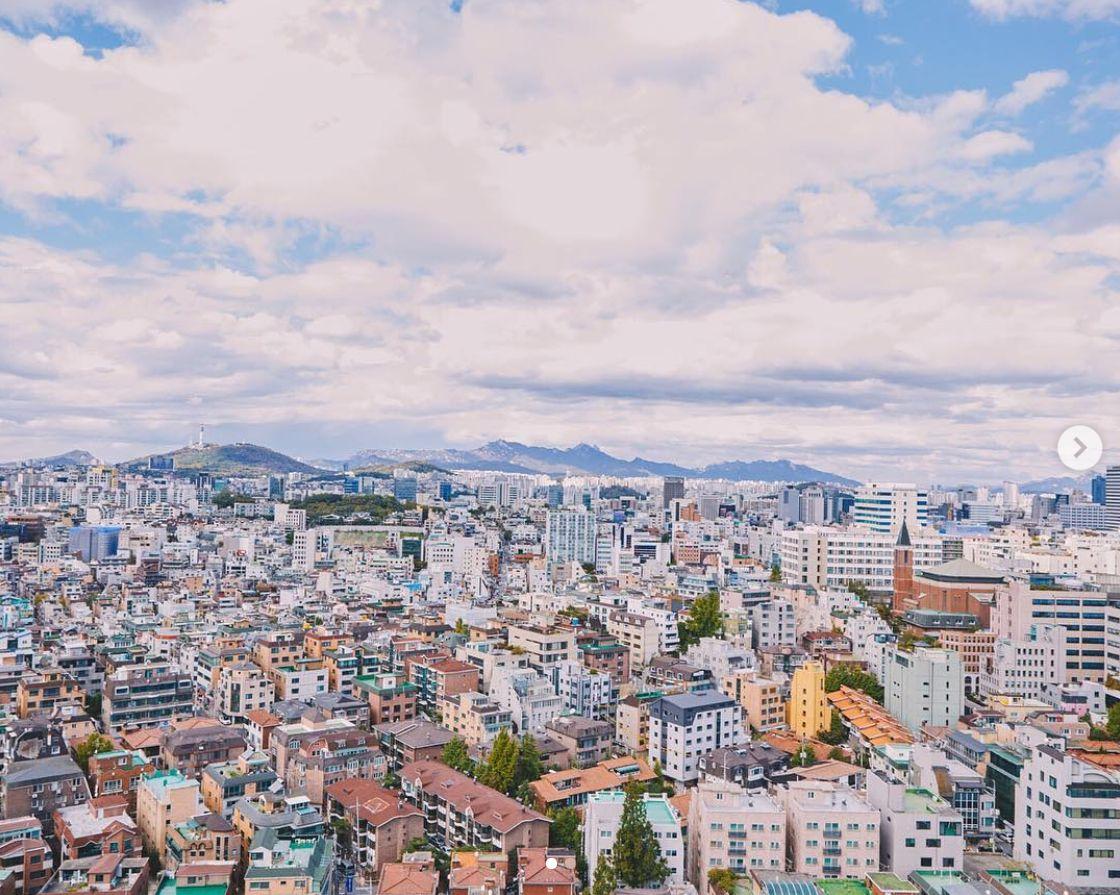 The Gangnam day view from the rooftop
Just imagine a trip with your friends, enjoying your meal with this amazing view and ending the night with the night lights of Seoul on the bar's terrace.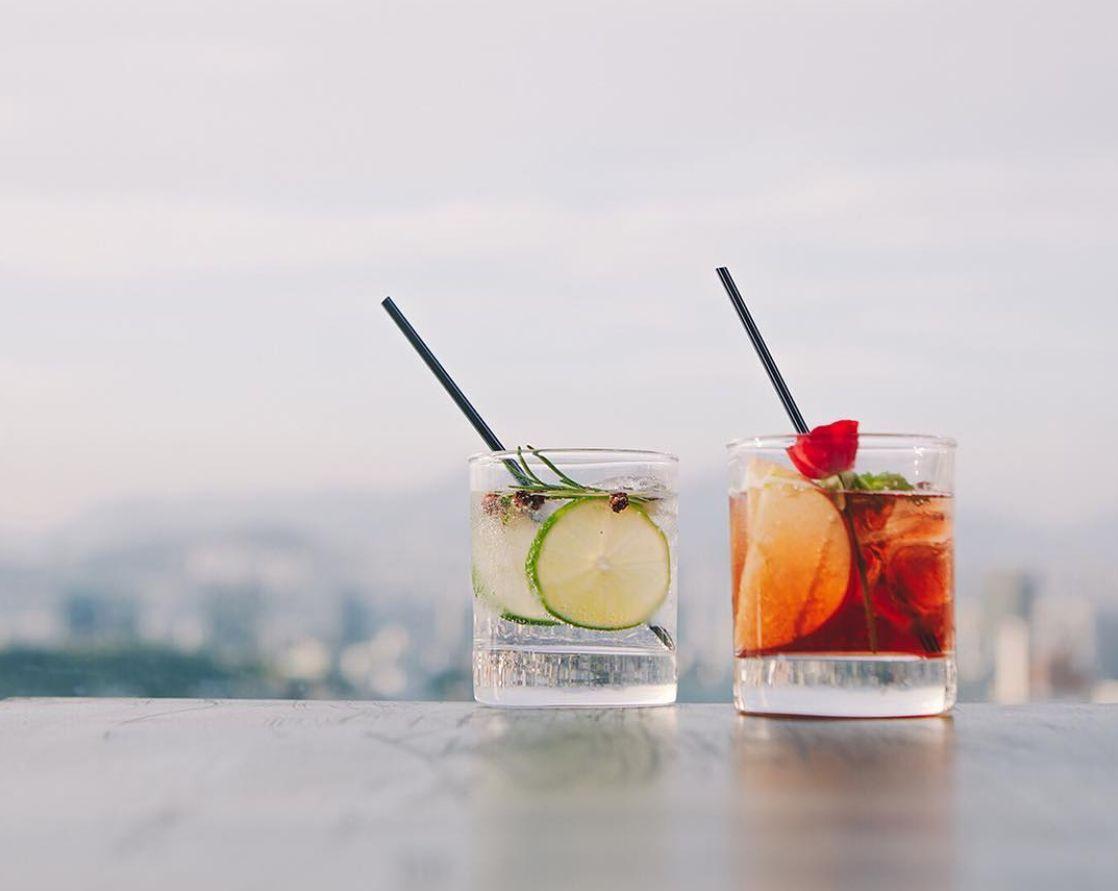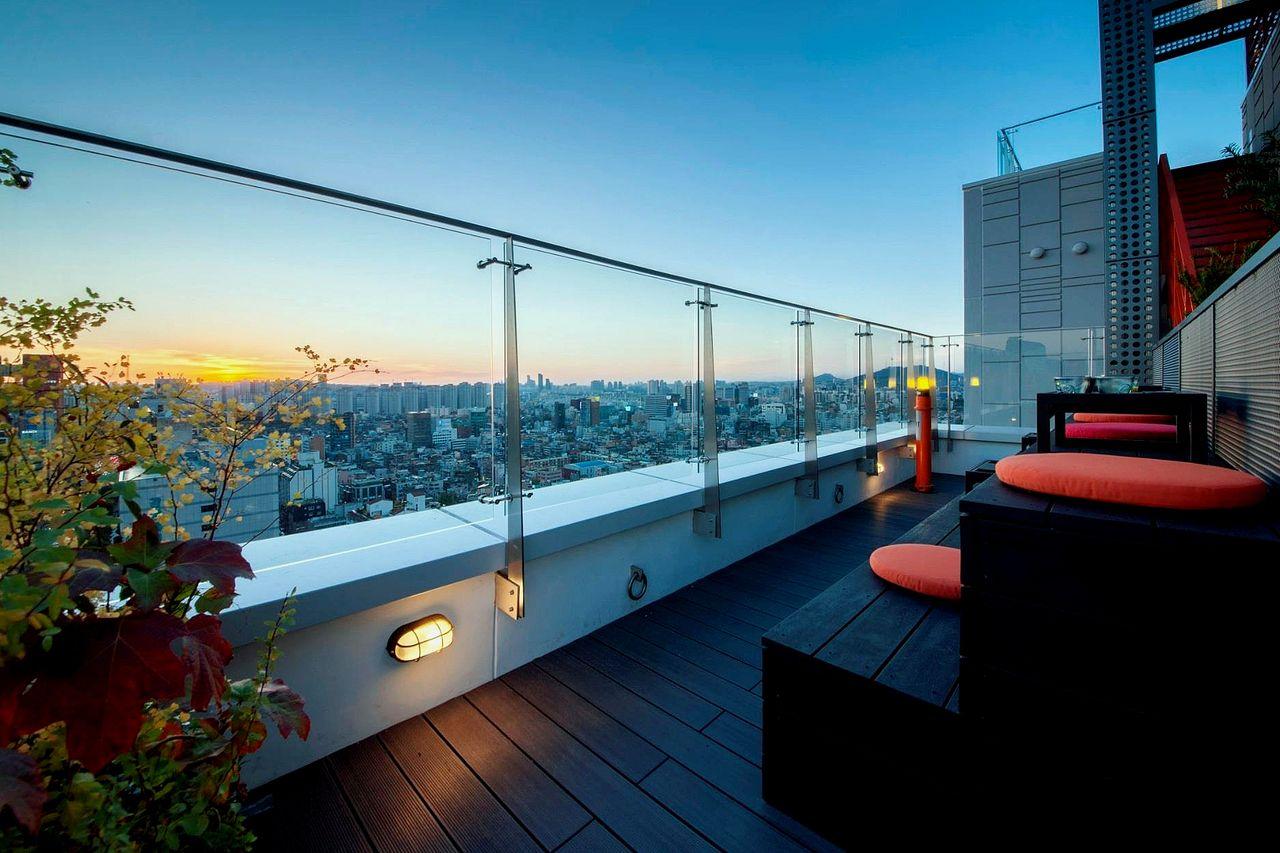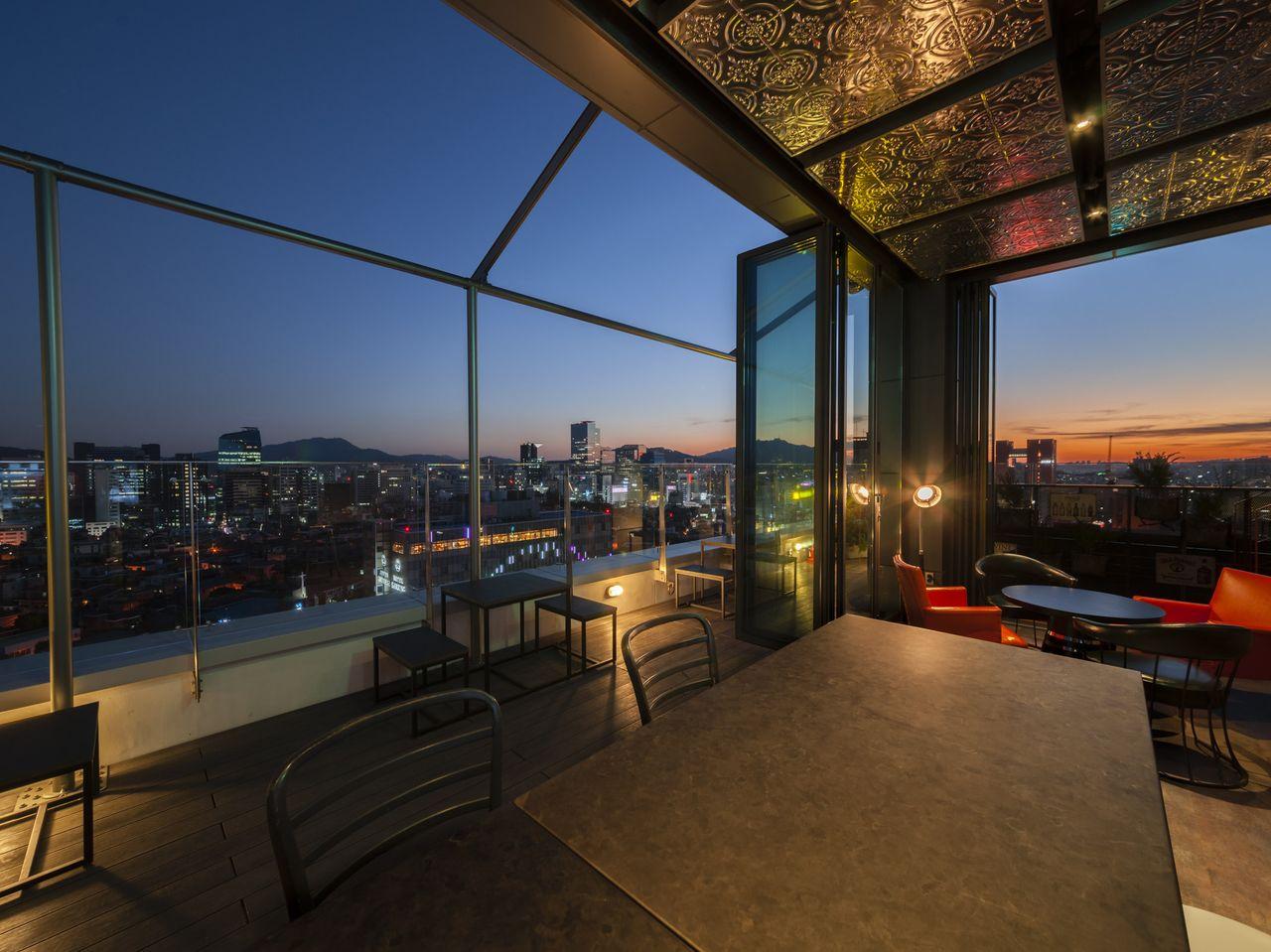 I'd especially recommend getting here right when the sun is setting. The view of the sun going down and the light seeping through between the buildings is healing.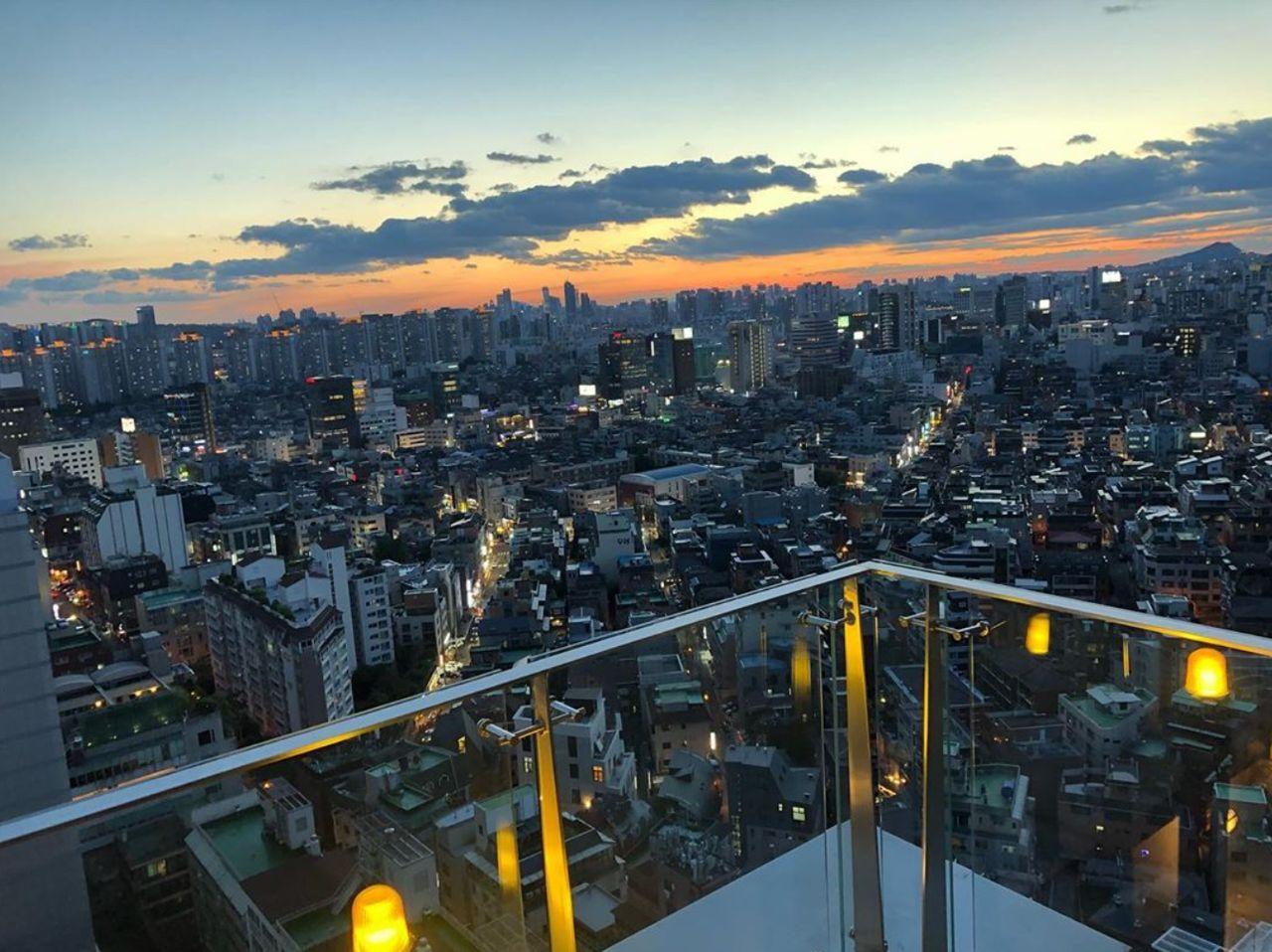 Unfortunately with this amazing view, comes high prices
A cocktail glass will cost you 20,000KRW. It's way too expensive, but I'd still like to go at least once for the amazing view!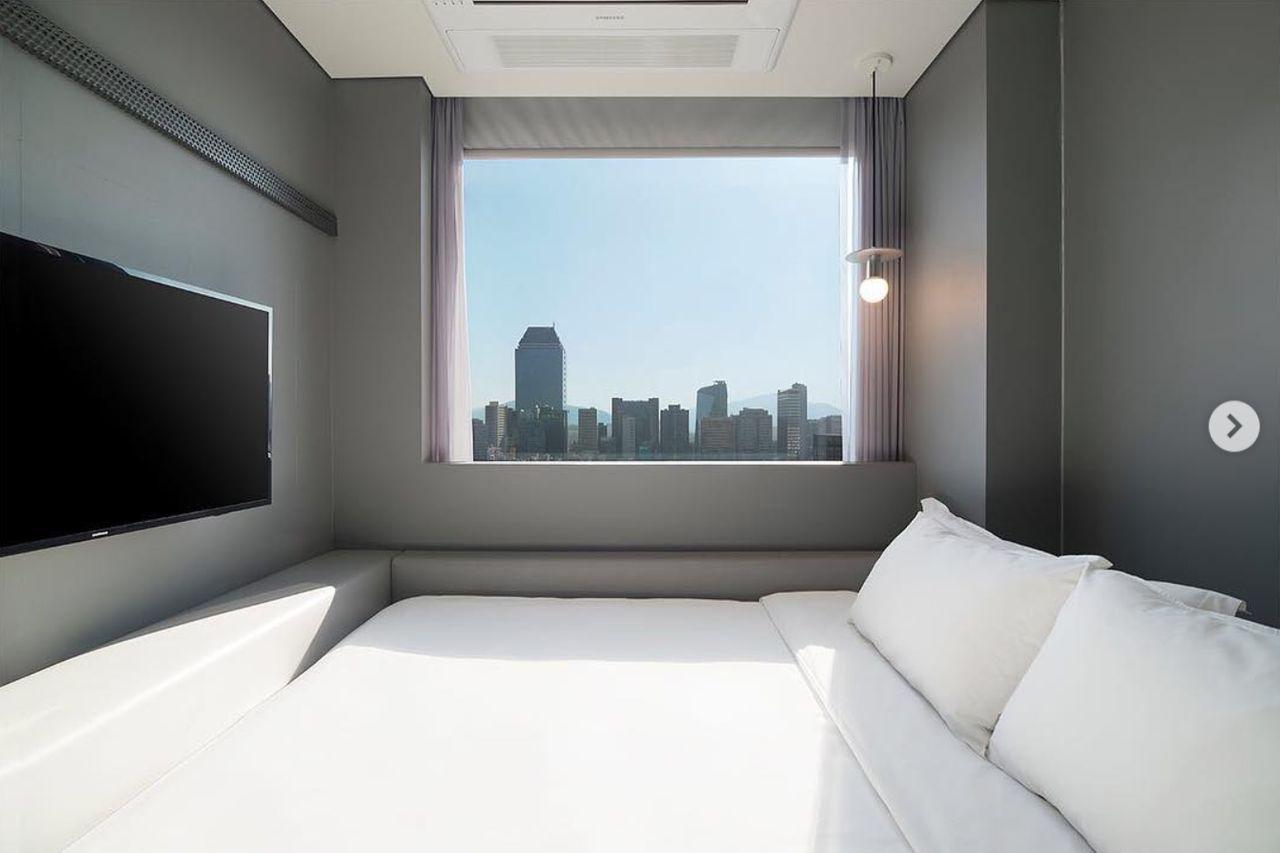 Standard Double (City View)
There are a lot of room options to choose from as the hotel is quite large. The most common room is the Standard Double (City View). You can book this room for two for 100,000KRW a night.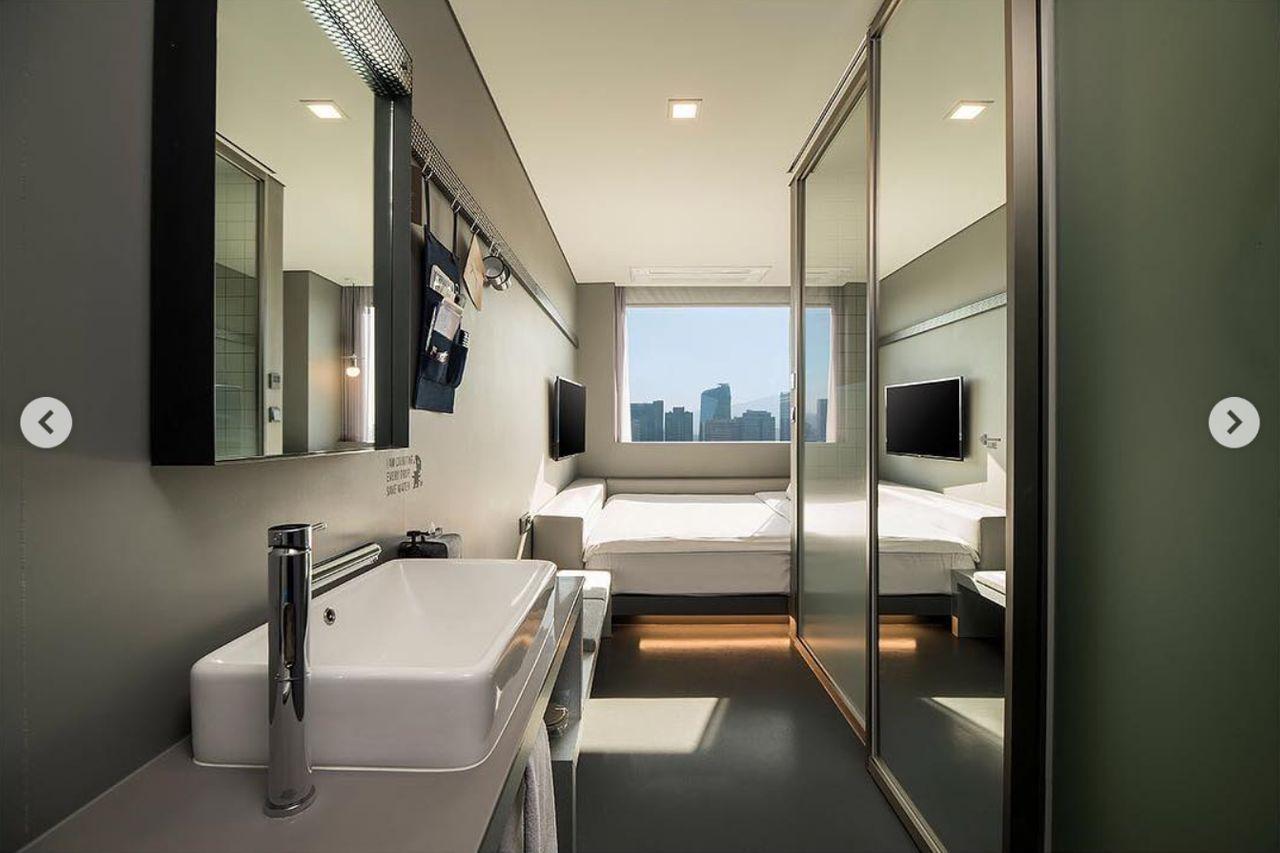 Standard Double (City View)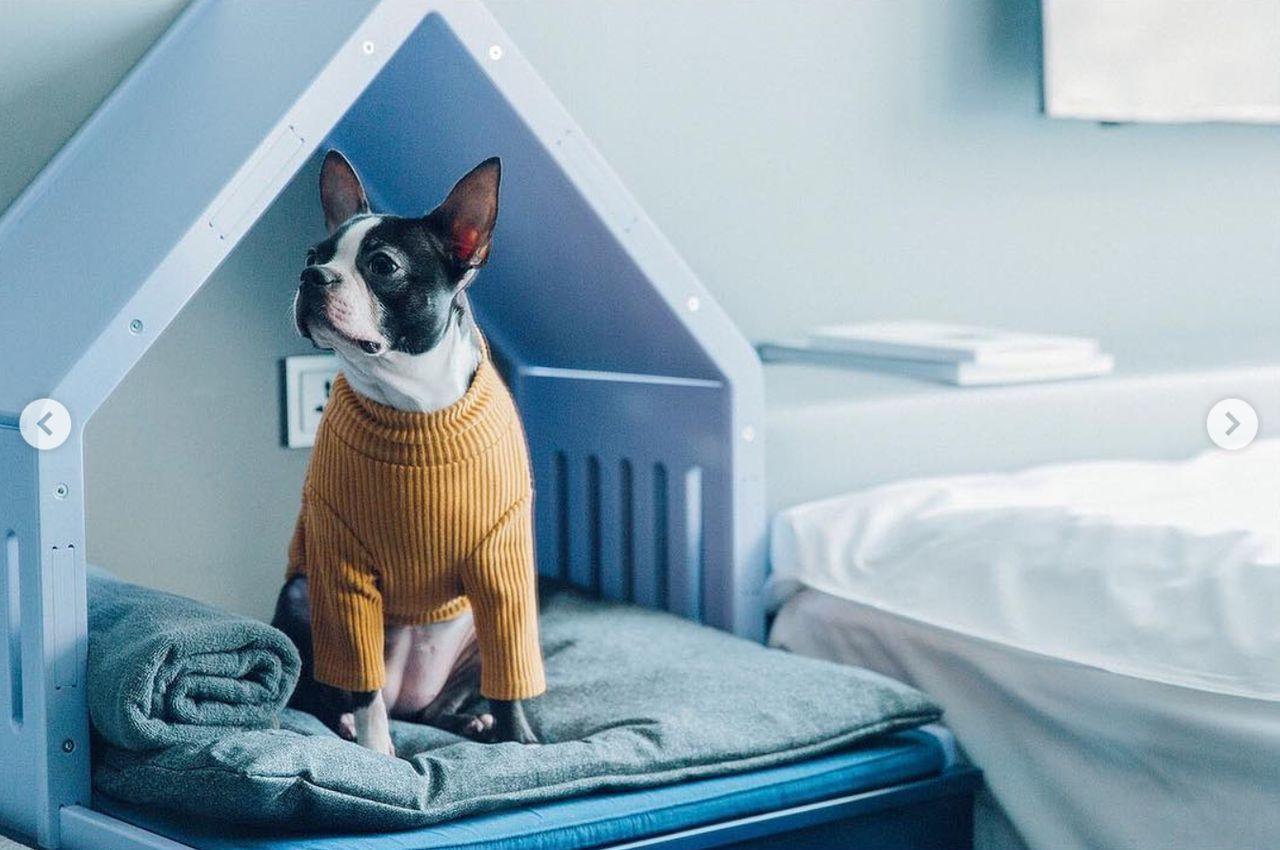 Bark-Room (Pet Friendly)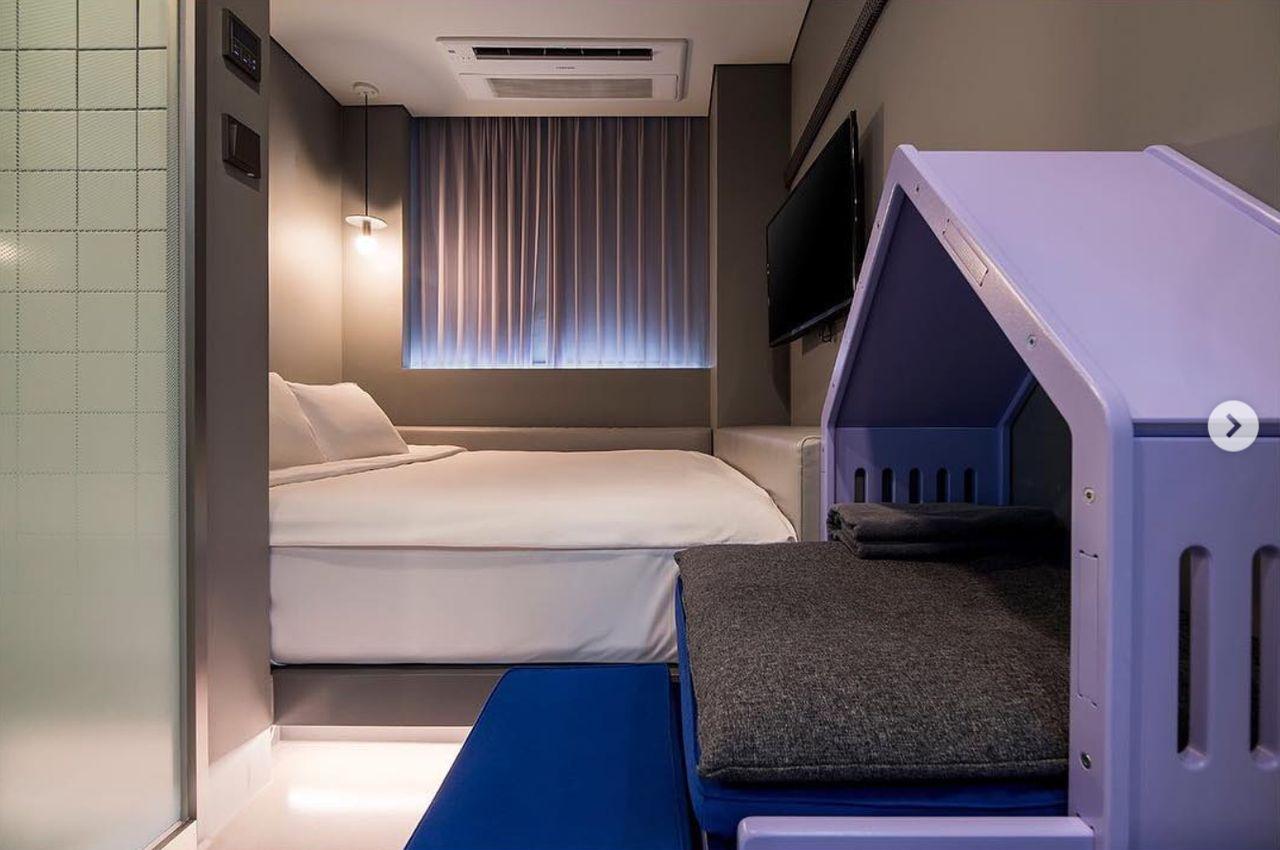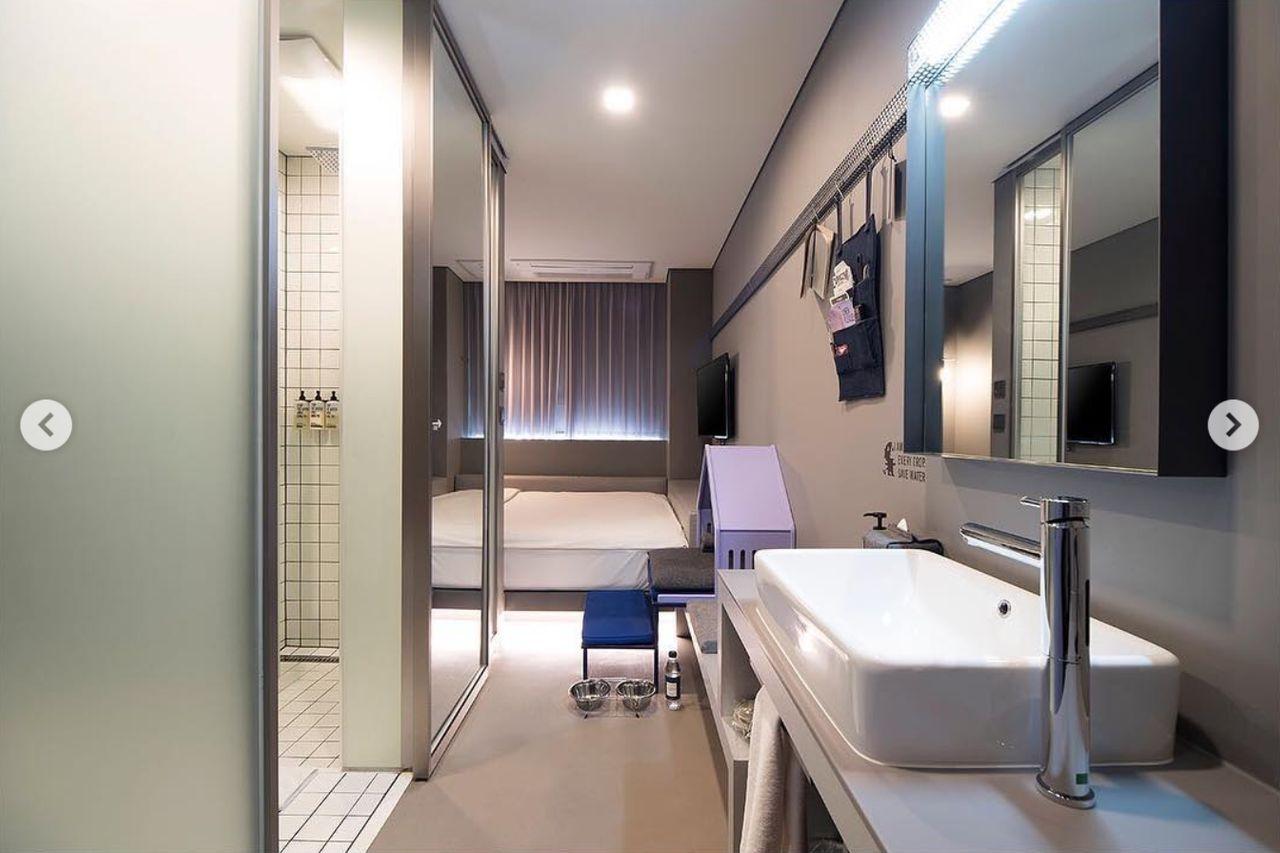 The Bark-Rooms are the pet-friendly rooms. There's even a bed, bathroom, and a pet food room service for your pet, which is crazy!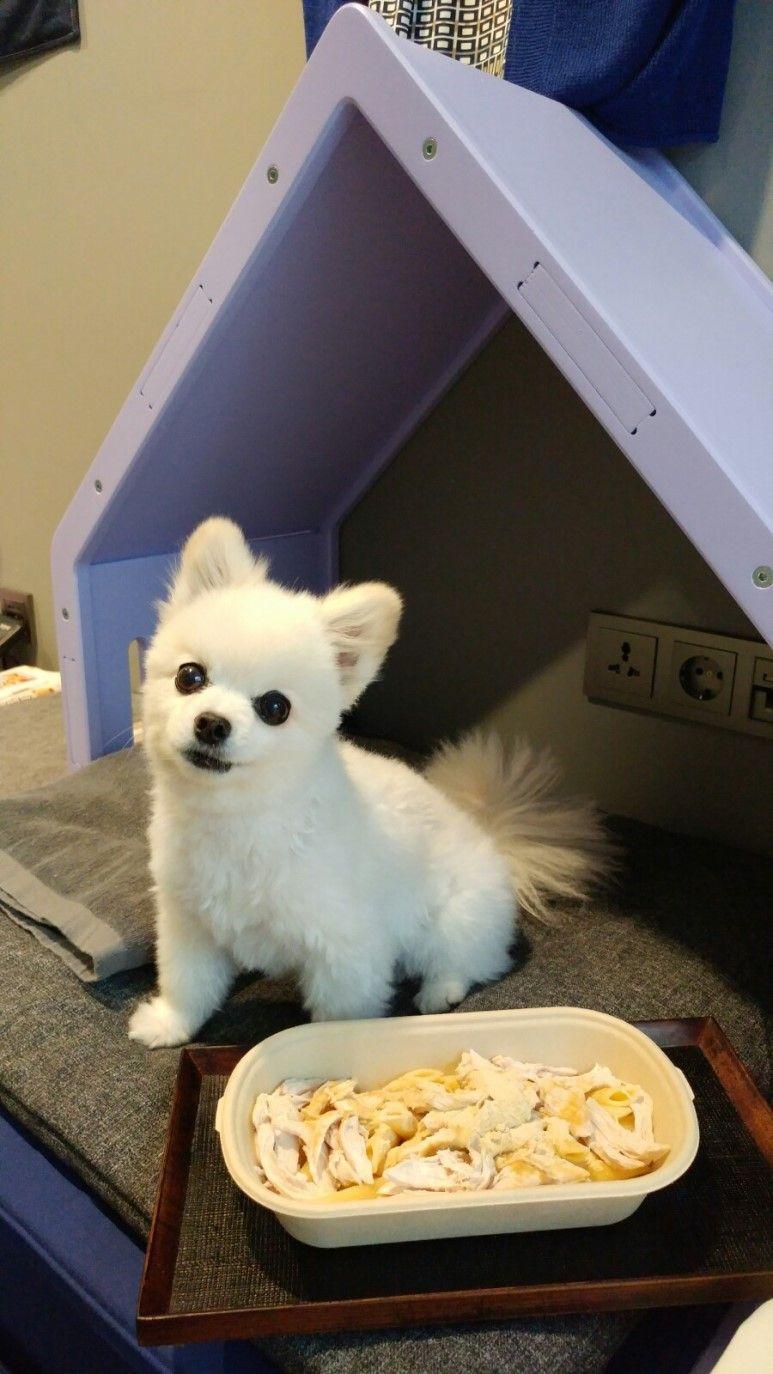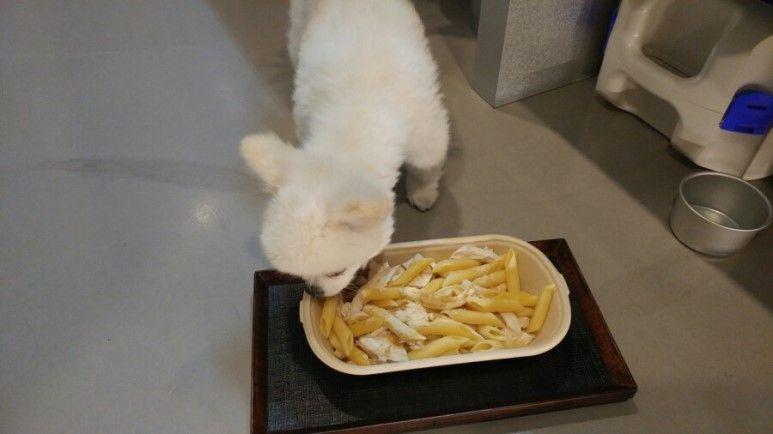 If you plan on visiting Korea with your dog, I highly recommend Hotel Cappuccino. It's one of the very few pet-friendly hotels in Korea, and probably the only one that offers pet room service!
And if you don't have a pet, come for the Gangnam rooftop views and bougie vibes. Not bad for 100,000KRW.
(There are a lot of rooftop bars in Gangnam but the surrounding high-rises won't let you have a very wide-open view. Hotel Cappuccino does though )
---
G Guesthouse | Information
Address : 14-38 Bogwangro 60-gil, Yongsan-gu, Seoul
G Guesthouse | Price



Twin Room

Around 50,000
(depends on the date) / Per night

$43.20~ / Per night


Triple Room

Around 70,000
(depends on the date) / Per night

$60.48~ / Per night

G Guesthouse | Preview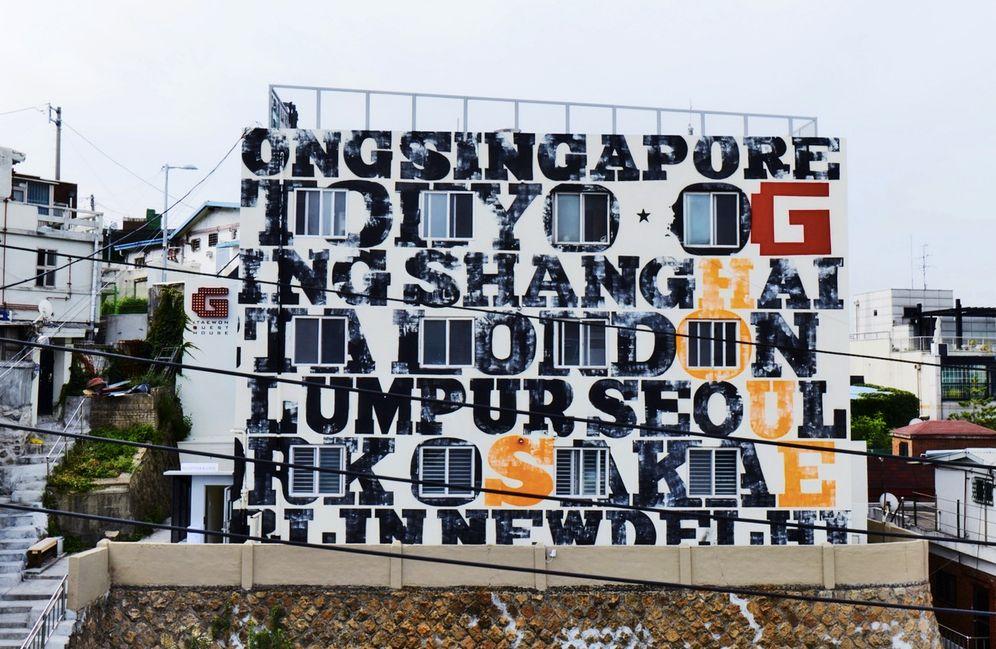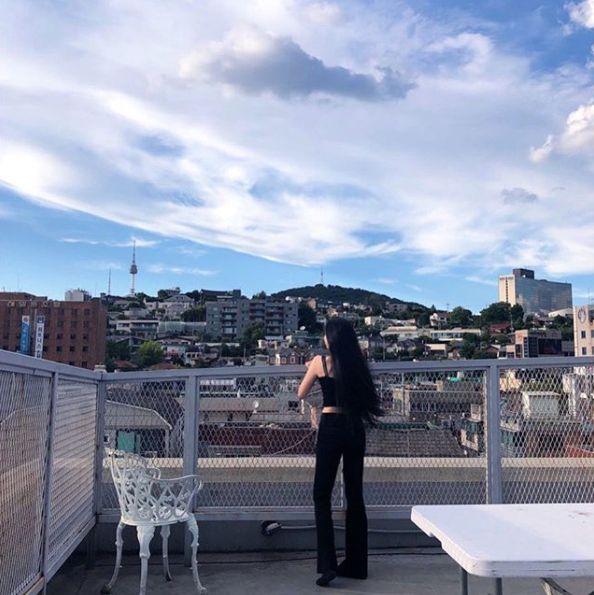 Next is G Guesthouse, located in Itaewon, a neighbourhood that's a cool mixture of Korea and the foreign. From the rooftop, you'll get a view of this neighbourhood and the Namsan Tower
The huge rooftop can fit up to 50 people, and the oil drum tables and the plastic box seats embody that uniquely Itaewon vintage vibes!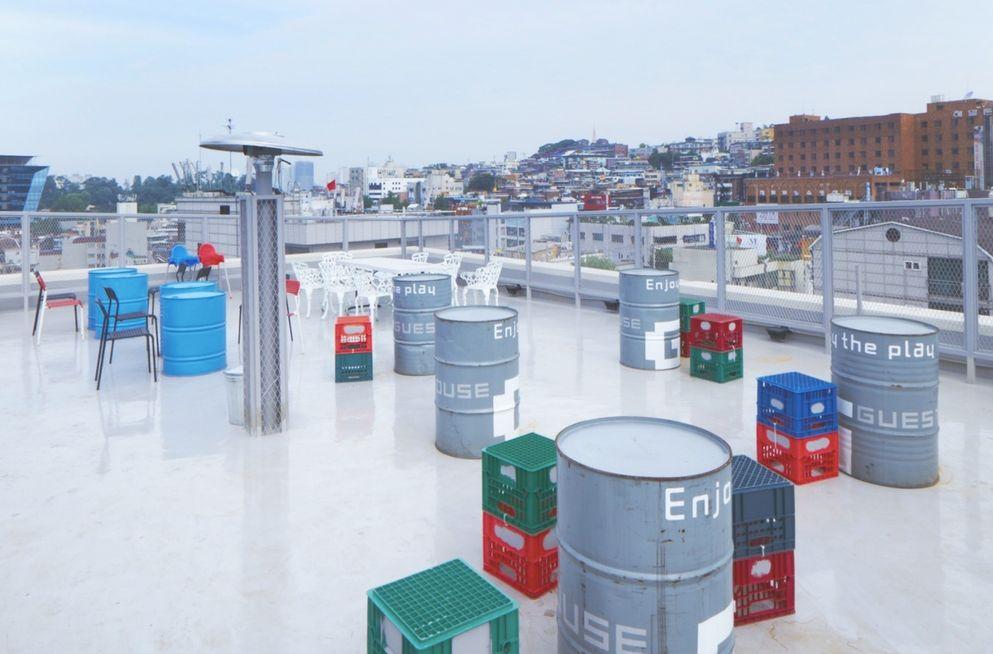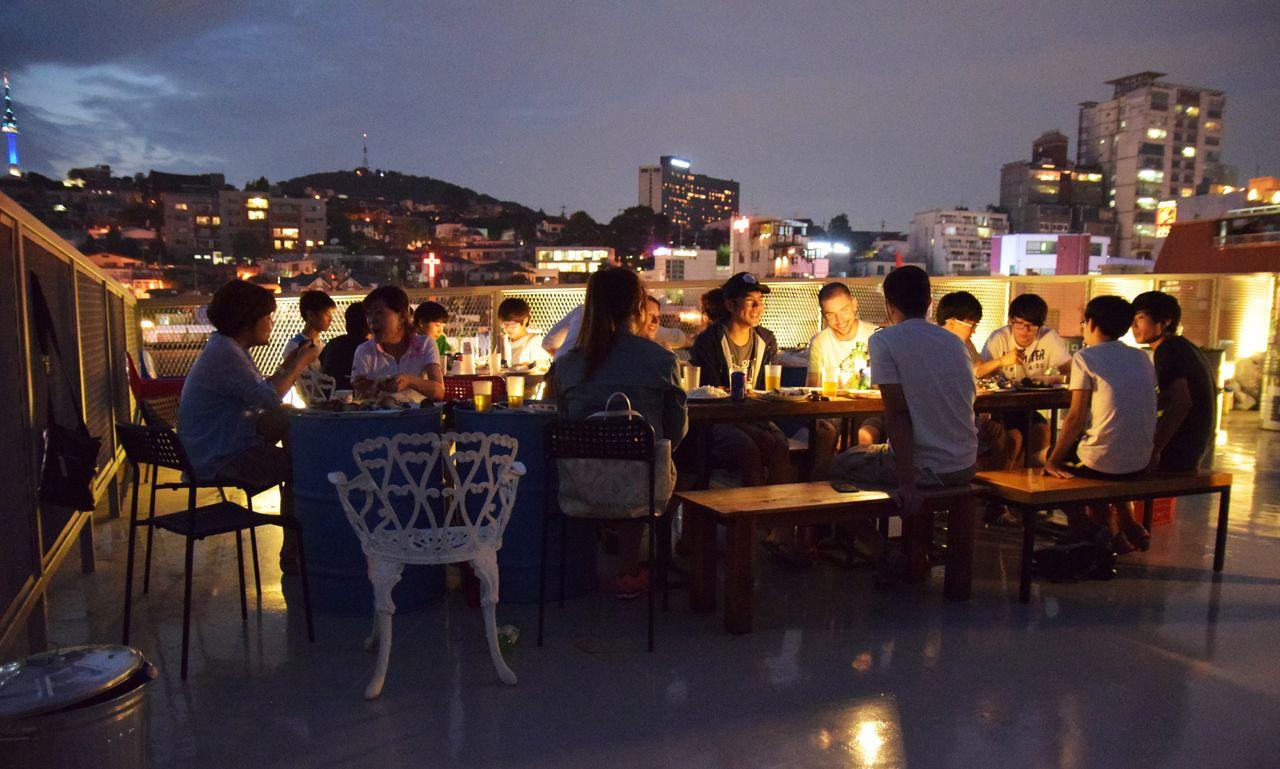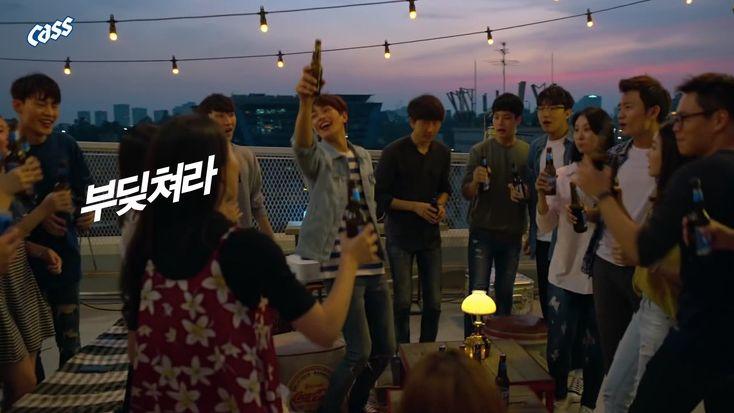 There are BBQs and casual parties hosted on this wide-open space. These events are loved by Korean locals and foreigners!
The exotic and vintage vibes are so well done that the rooftop has actually been scouted as advertisement locations for brands such as Cass (beer) or the Samsung Galaxy S8.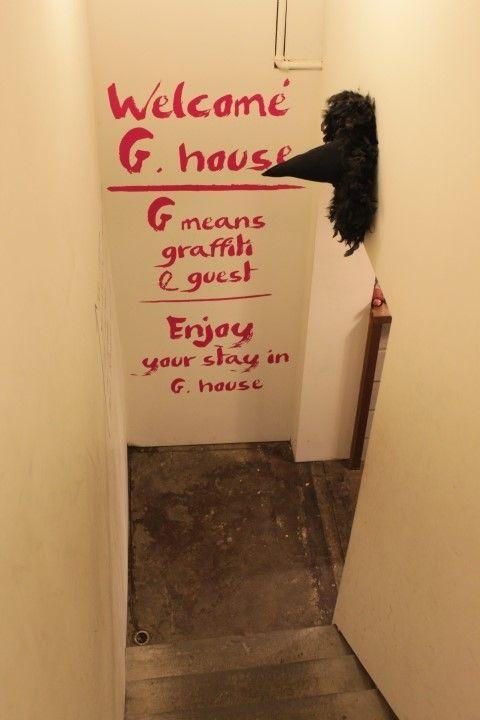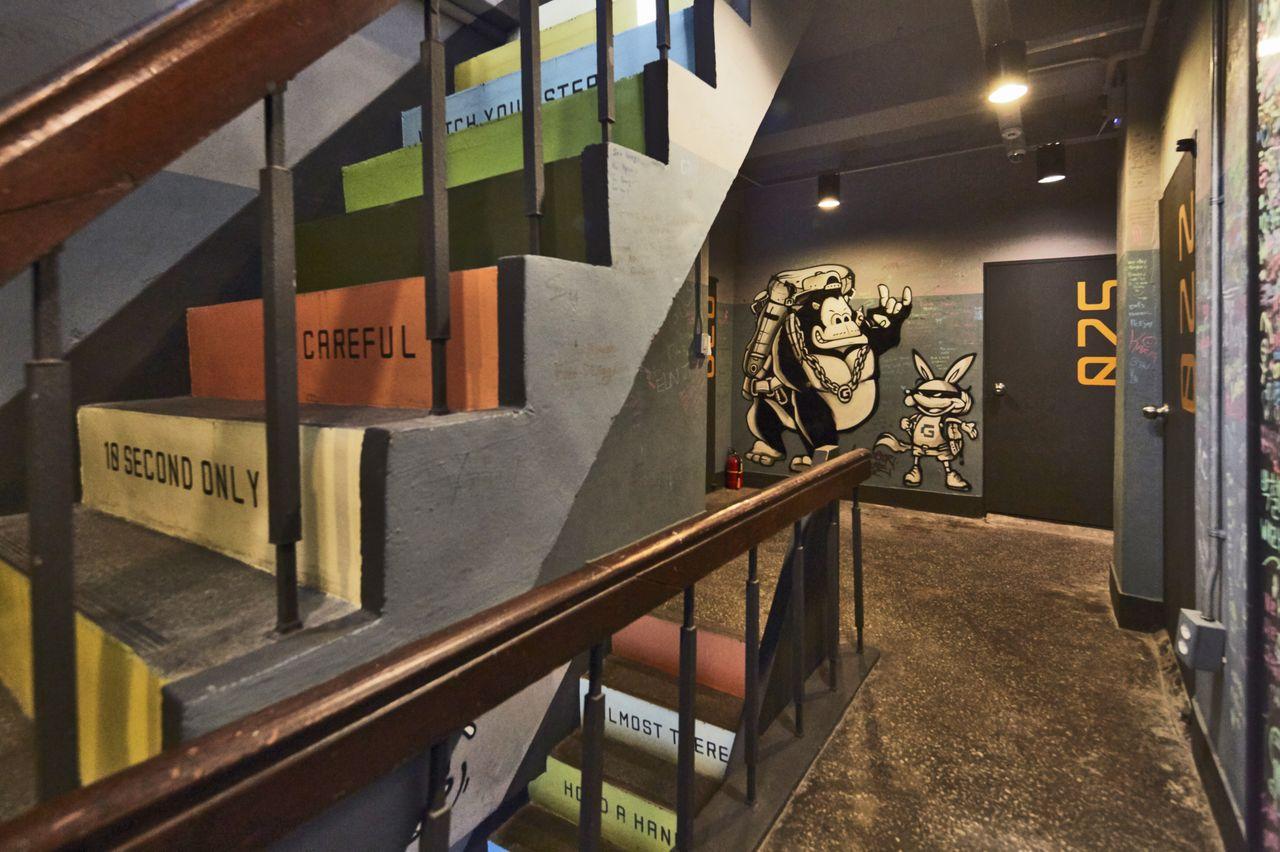 G Guesthouse's "G" stands for both graffiti and guest. You'll see plenty of this namesake graffiti on both the exterior and interiors of the building.
*Note that there are no elevators
The reception area inside the building. A pretty standard hostel/guesthouse reception area.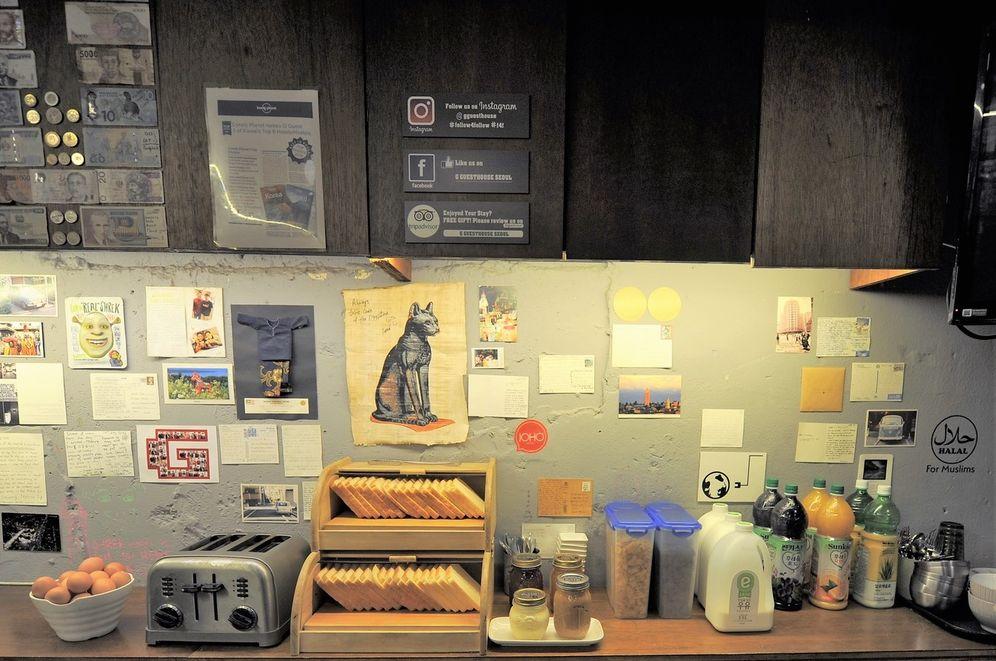 They offer free breakfast. Quiet simple. They've got toasters, eggs, milk, cereals, etc.
There are twin rooms, triple rooms, and shared dorm rooms at G Guesthouse.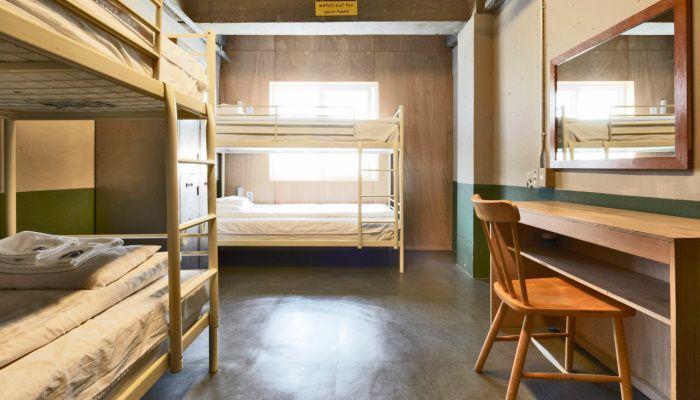 Triple Room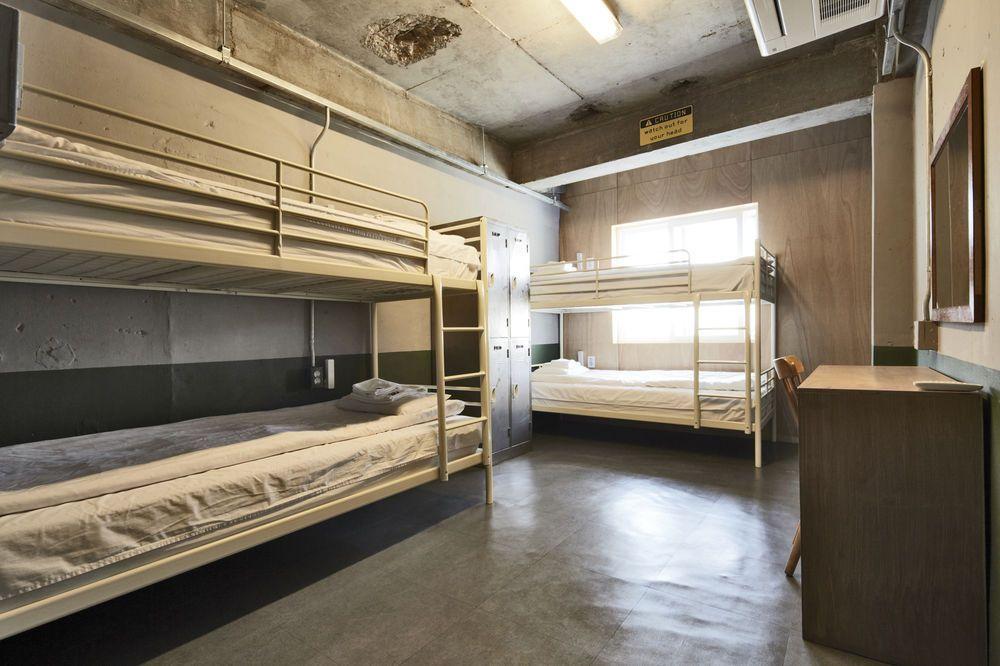 There are two bunk beds in the Triple Room, so up to four people can actually stay here.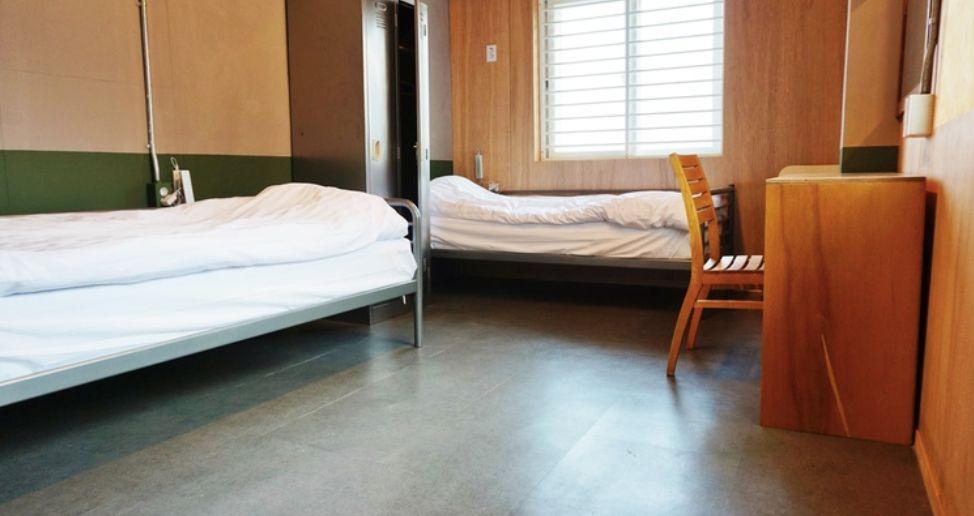 Double Room
As you can see, the rooms are kept pretty simple and have just the things you need, nothing more, nothing less. If you're looking for value over luxury, I recommend looking into this place.
You can actually book the double rooms for around 30,000KRW through booking sites.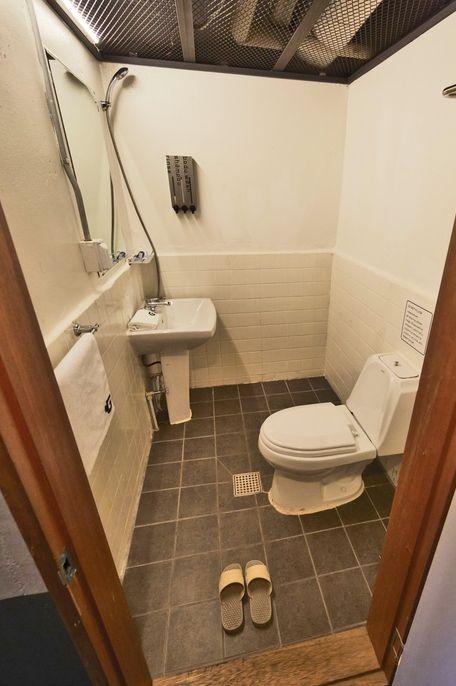 The shared Dorms share bathrooms as well. The Double Room and Triple Room have private bathrooms.
A very minimalistic and simple set up!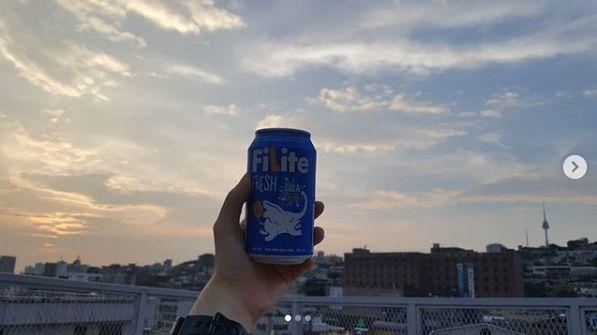 If you are looking for a lively atmosphere in the middle of the city and in the most diverse neighbourhood in Korea, I highly recommend you to stay in G Guesthouse! You'll be falling in love with the scene and the mood
---
AMASS Hotel | Information
Address : 11 Yeulgok-ro 10-gil, Jongro-gu, Seoul
AMASS Hotel | Price



Standard Twin/

Standard Double

Around 60,000
(depends on the date) / Per night

$56 ~ / Per night

Deluxe Double

Around 70,000
(depends on the date) / Per night

$65 ~ / Per night

Standard Triple

Around 70,000
(depends on the date) / Per night

$65 ~ / Per night

Standard Quad

Around 90,000
(depends on the date) / Per night

$83 ~ / Per night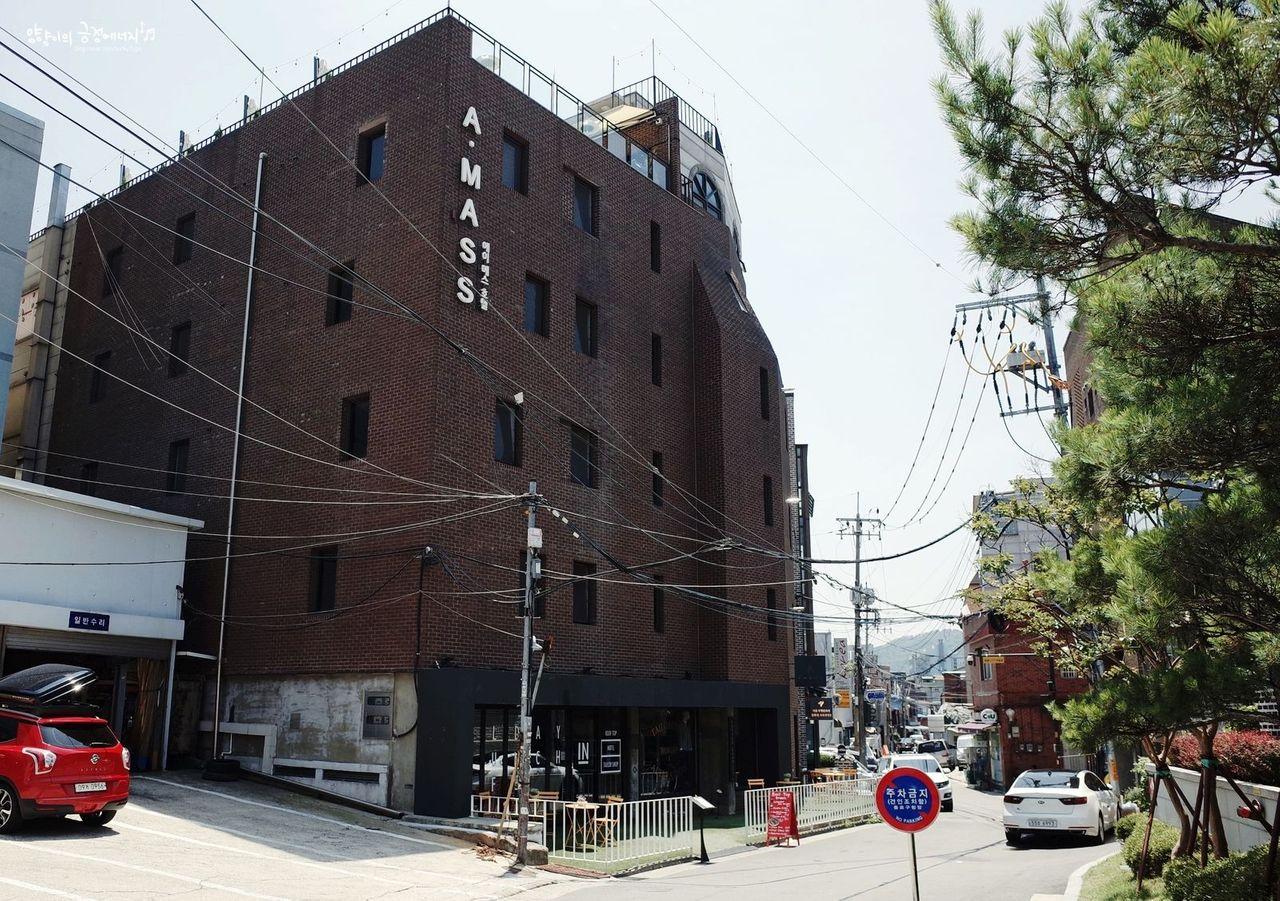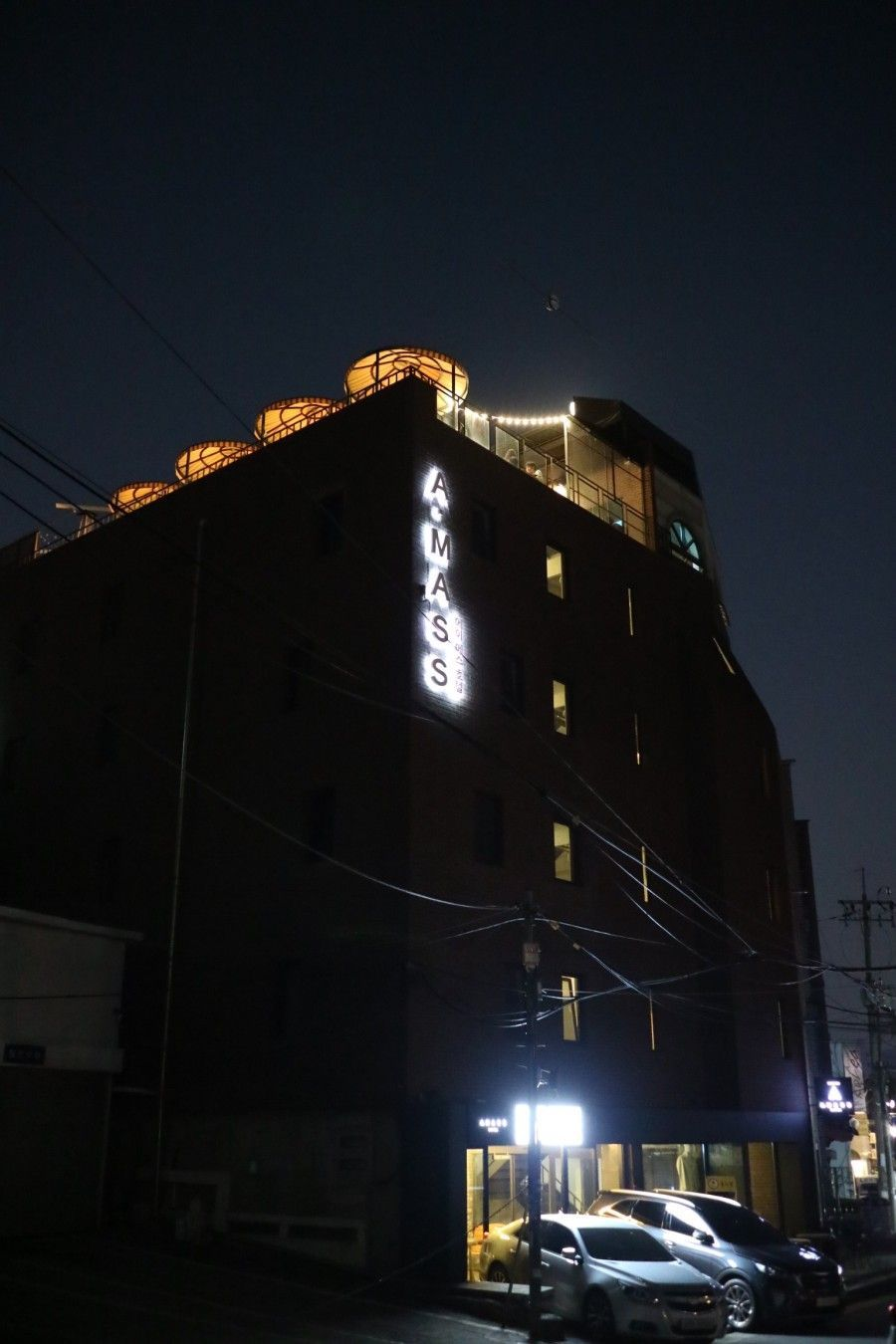 AMASS Hotel is located near Changdeokgung Palace, another palace that's known among locals and just as beautiful as Gyeongbokgung. It's also very close to Insadong and Bukchon Hanok Village, so it's a great choice for those planning on renting hanbok!
AMASS's rooftop is famous among locals because you get an amazing view of Changdeokgung Palace in the middle of the bustling city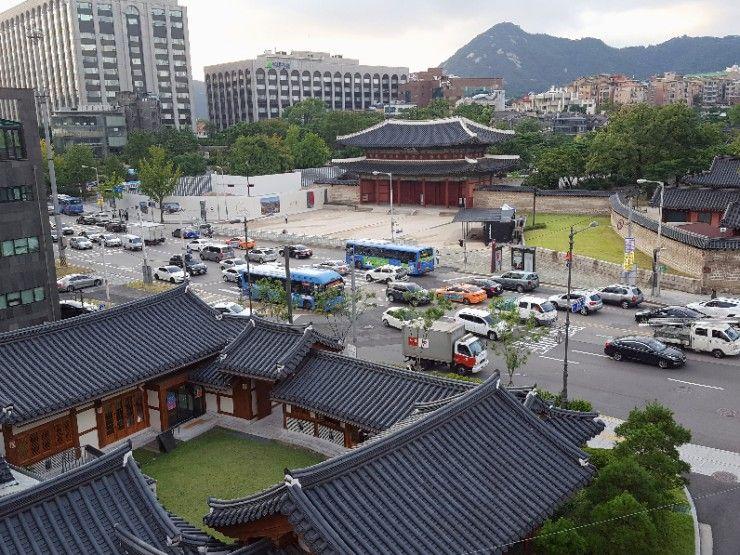 Hanok Rooftop View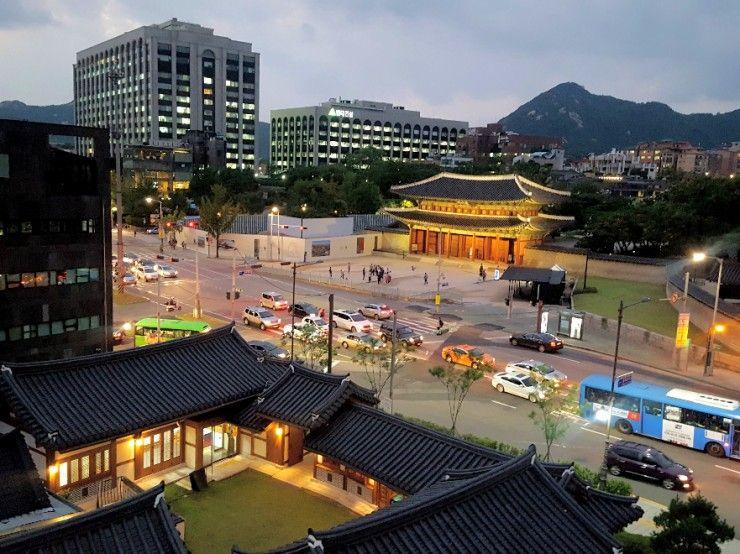 There's a hanok cafe right in front as well as Changyeongung, so you have an amazing view of old Korea from the hotel.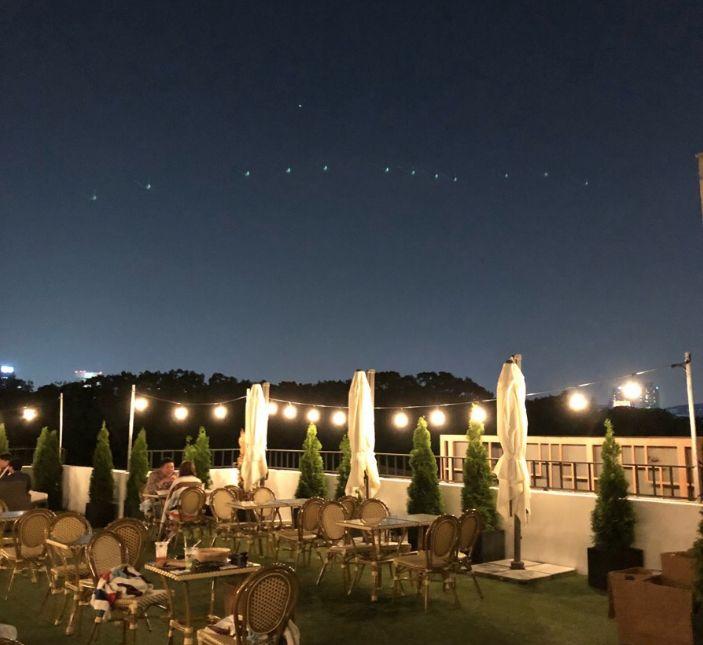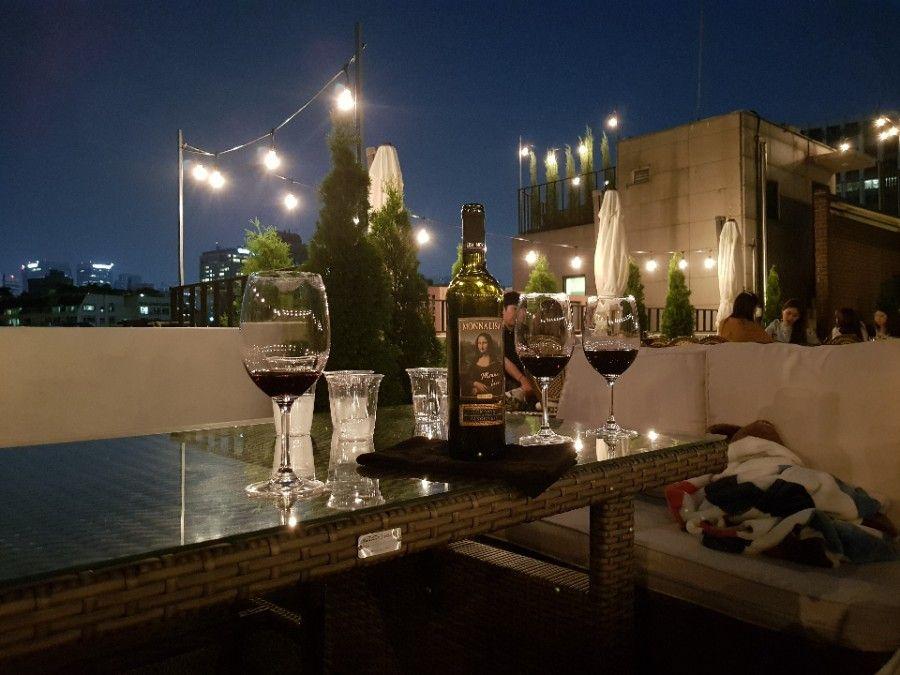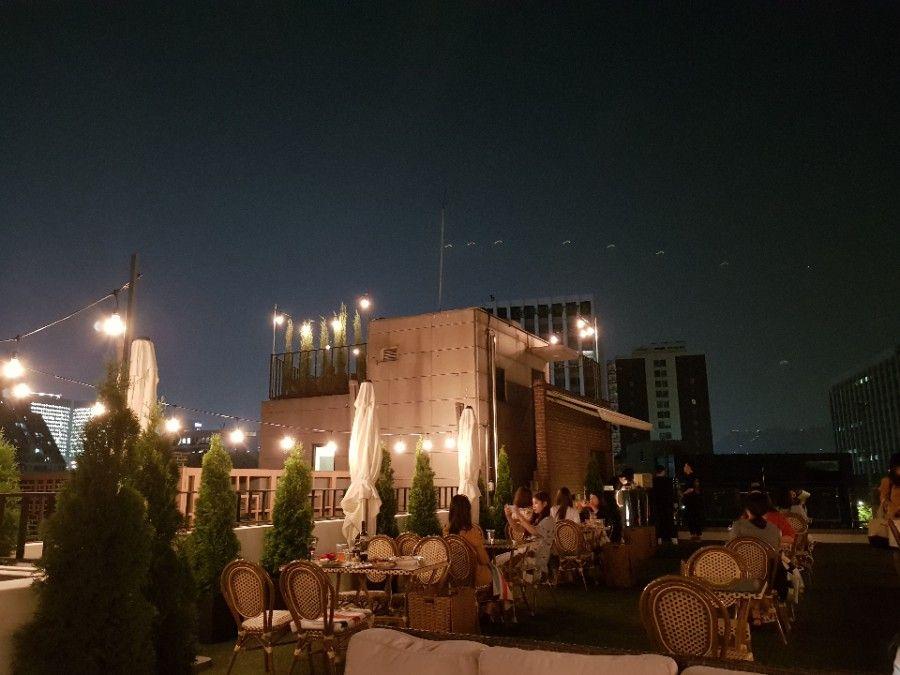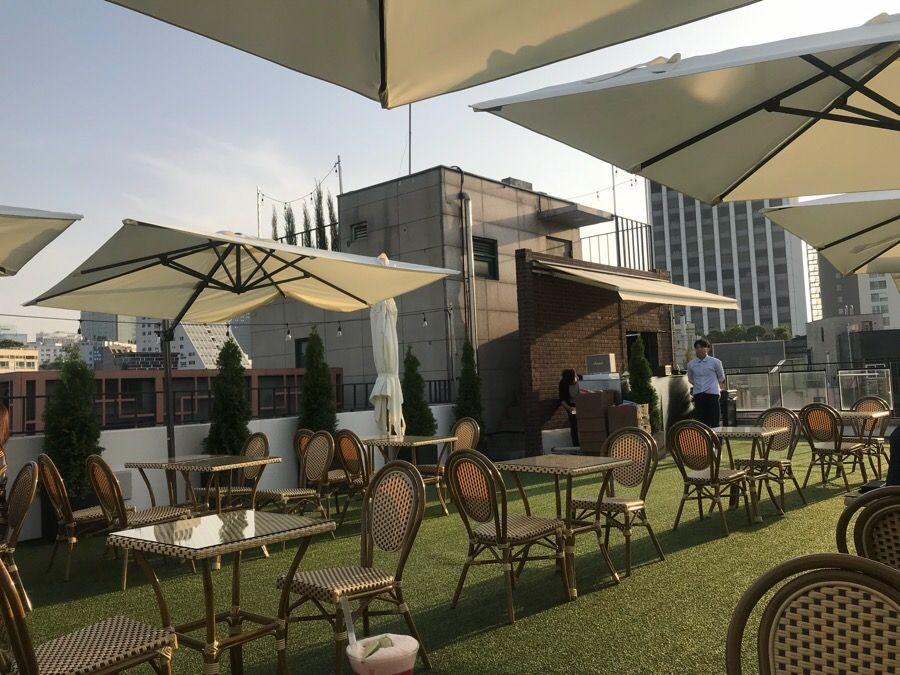 The rooftop is open both during the day and for the evenings. The menu includes cocktails, coffee, salads, brunch, pizza, and steak. It's not as expensive as you'd expect.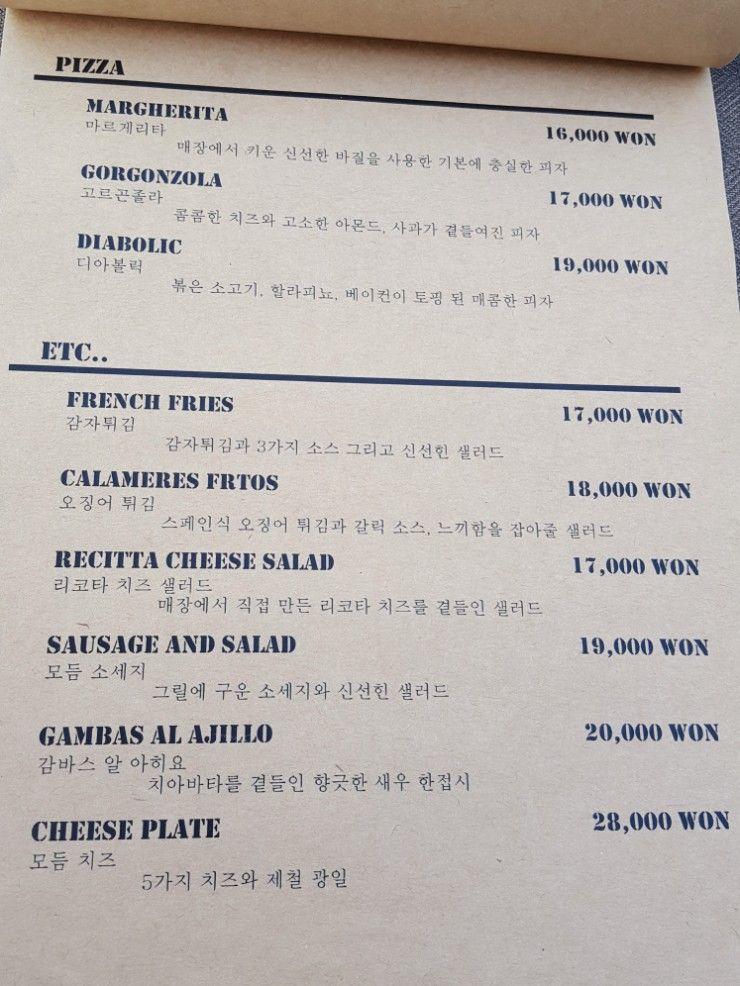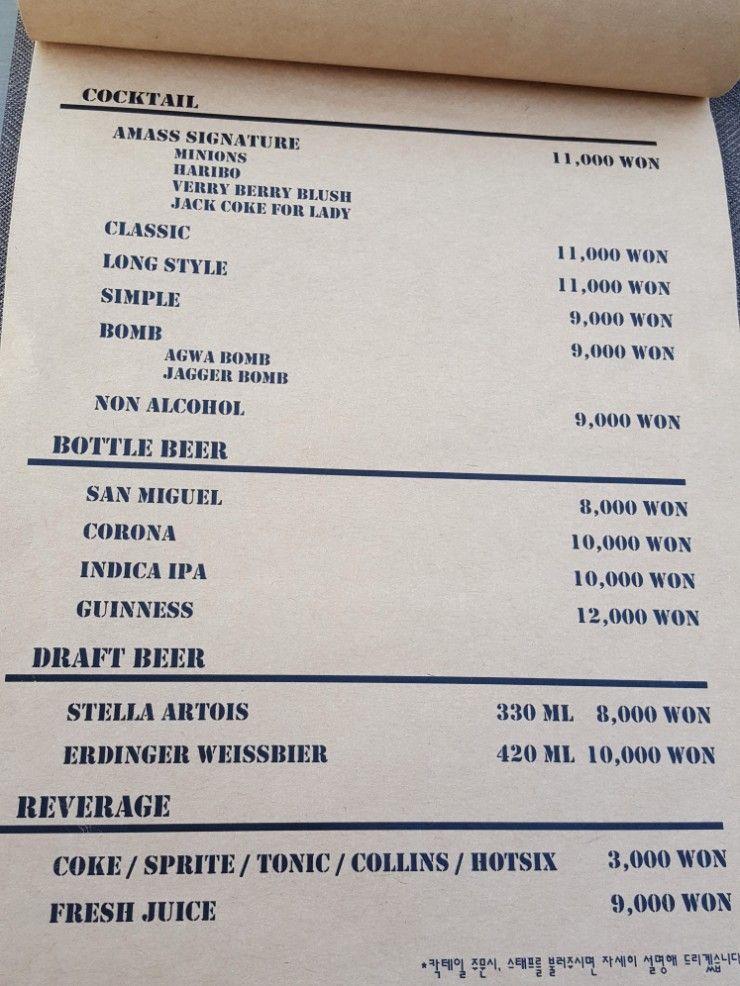 The overall interior is modern and clean.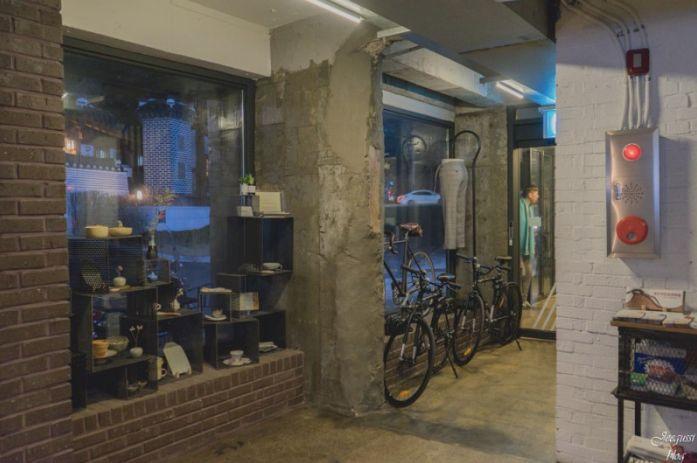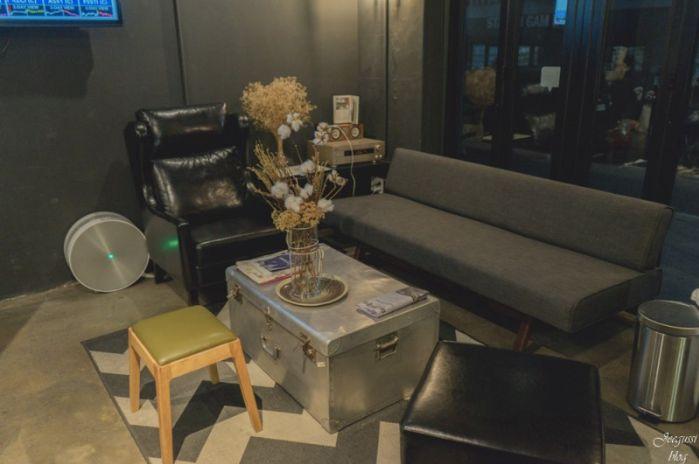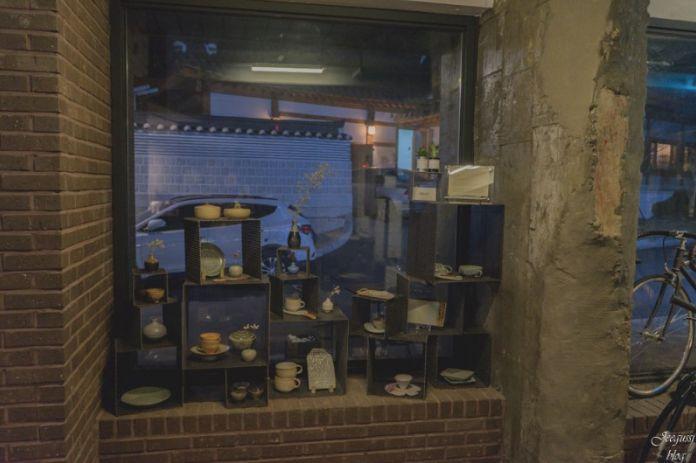 You can see a lot of vintage props and well-curated furniture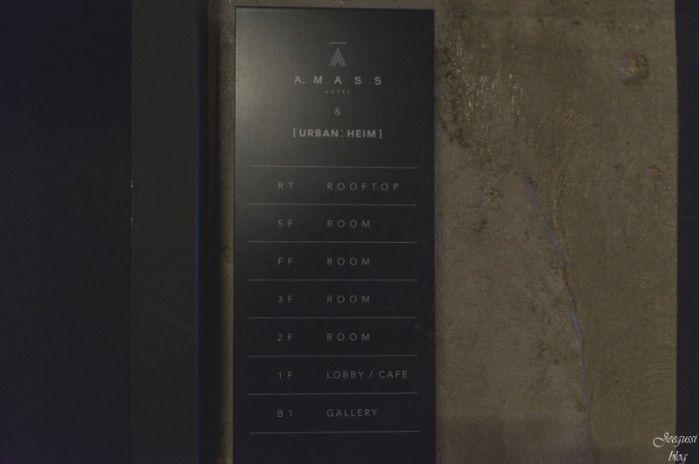 The first floor is the lobby and the cafe, floors 2-5 are the guest rooms, ad the 6th floor is the rooftop.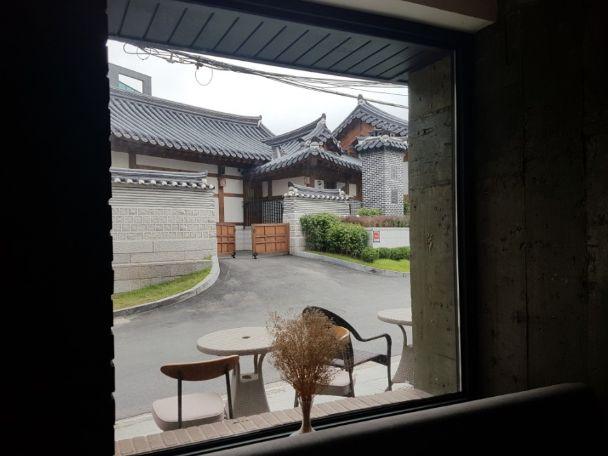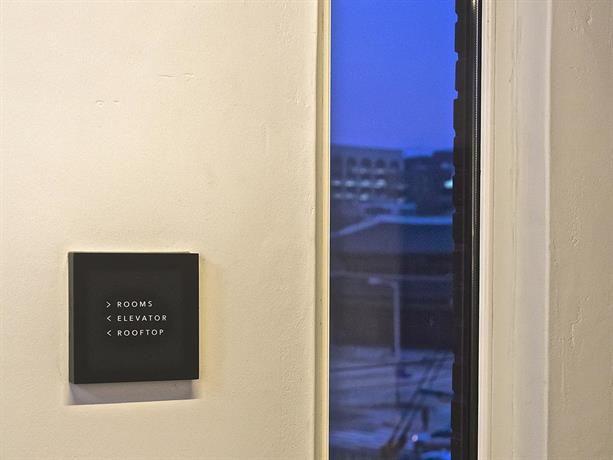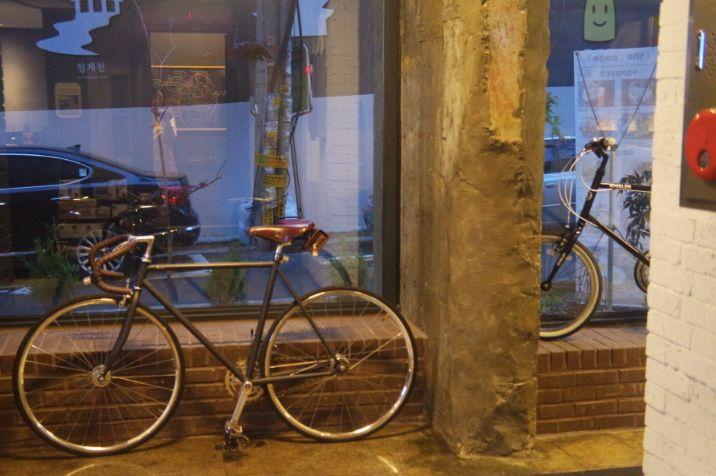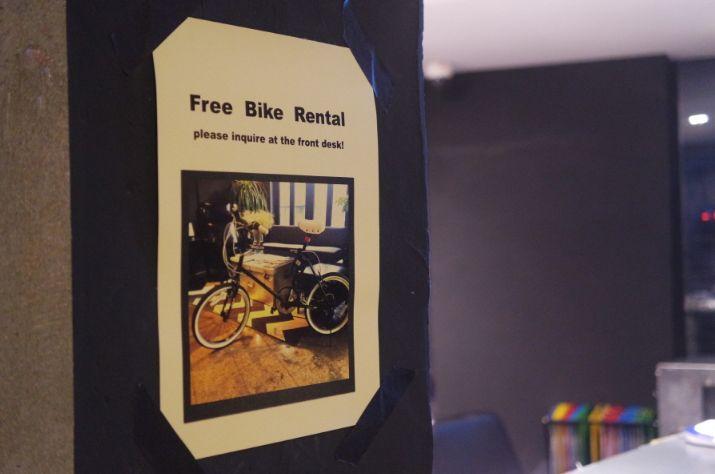 What I liked most about this hotel is that they offer free bike rentals to guests.
This is a great option for guests especially as the Jongro area is a great area to explore on a bike.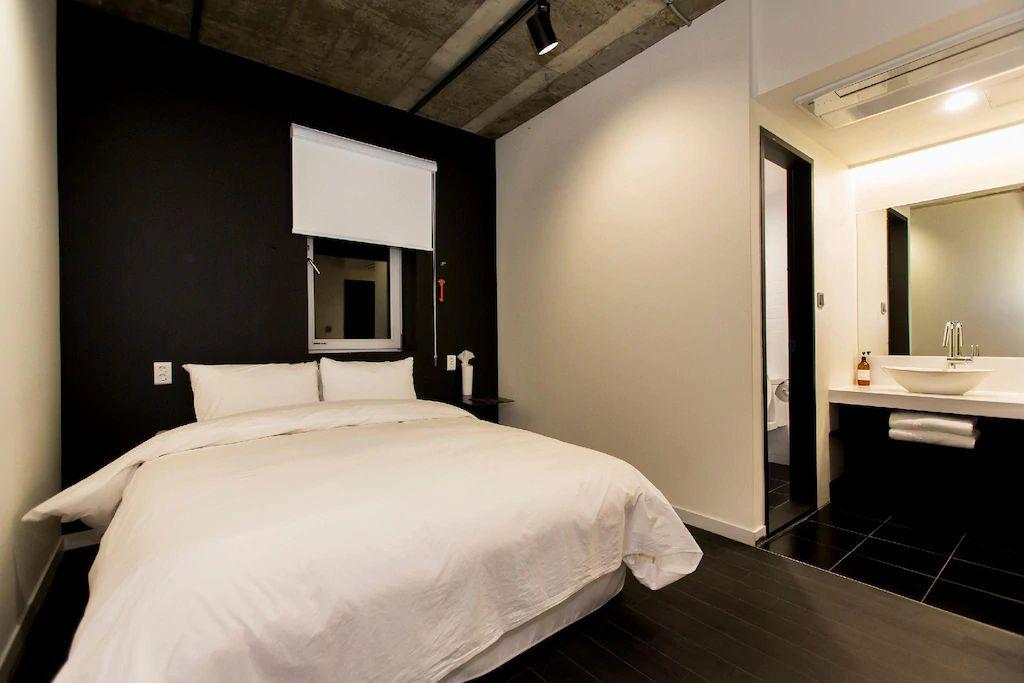 Standard Double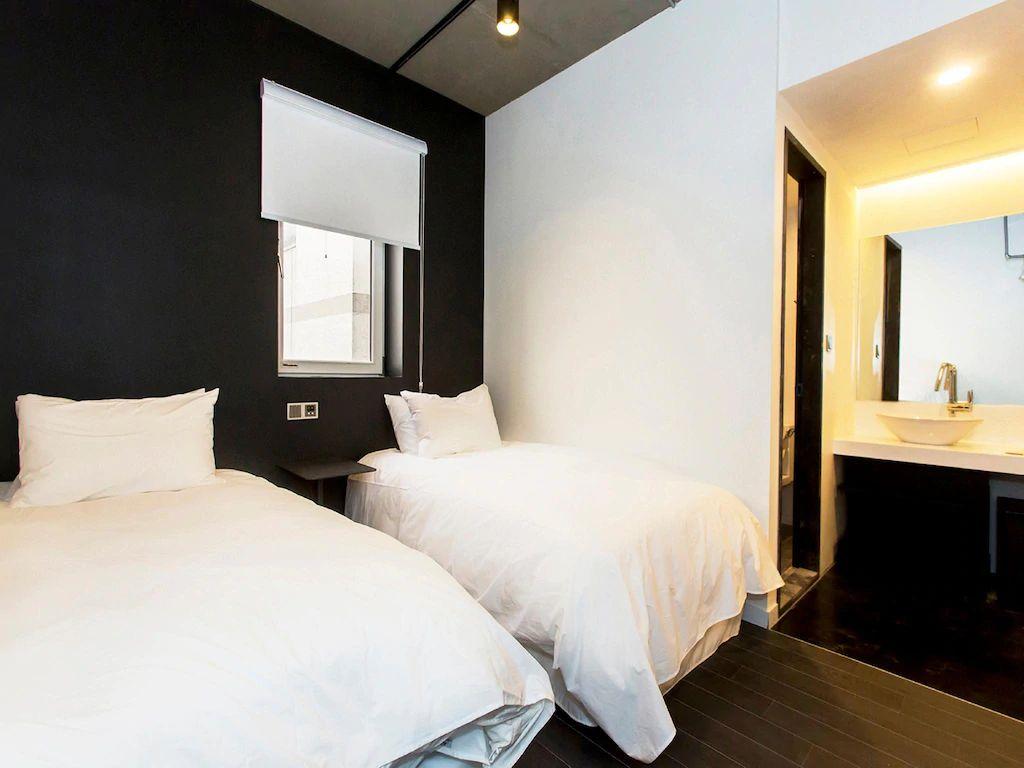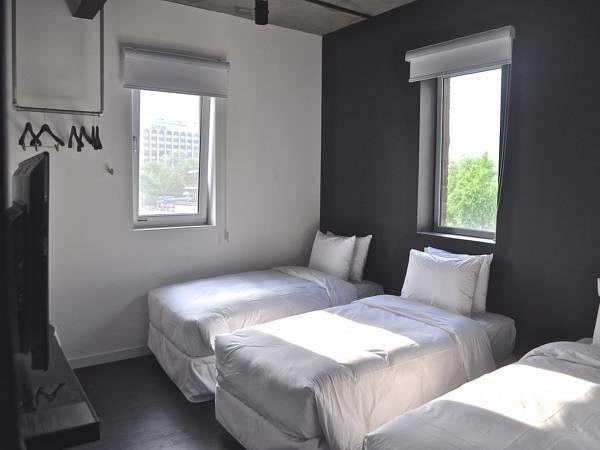 Standard Triple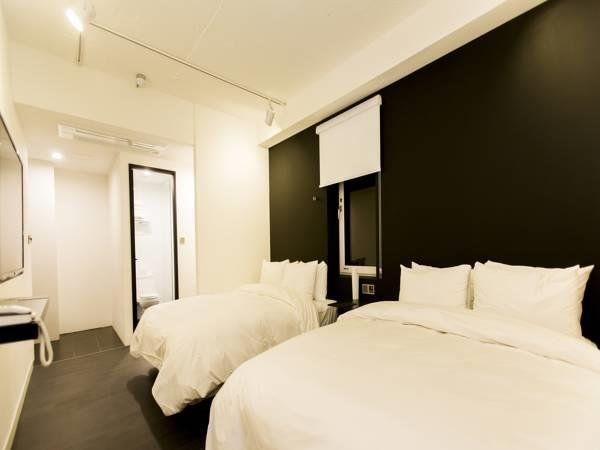 Standard Quad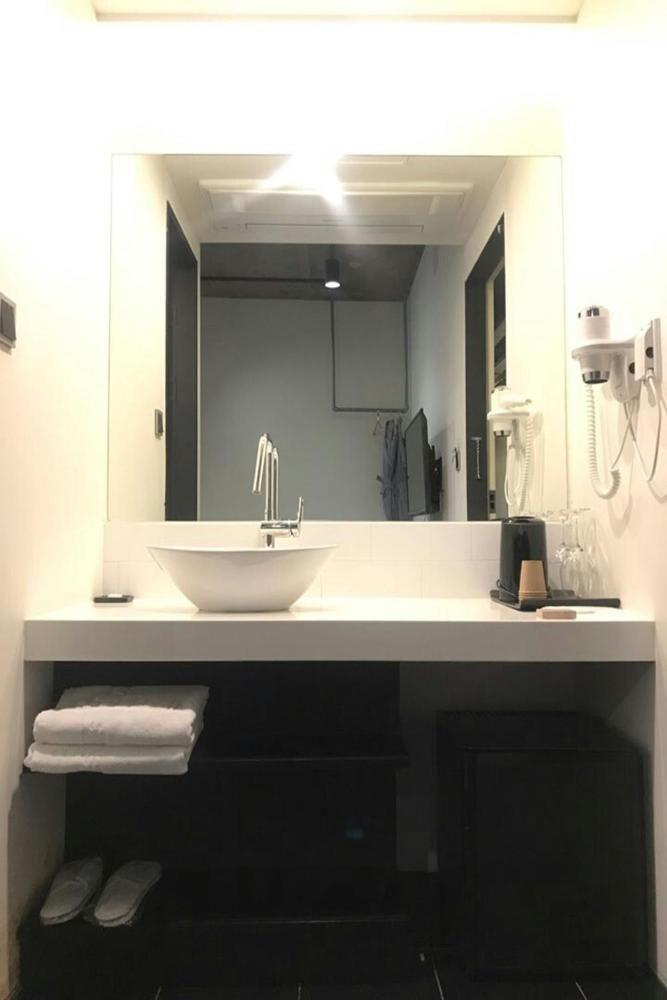 Bathroom
The guest rooms are all monochromatic and kept simple. Most hotel amenities are provided in the rooms.
Reservations are available only through booking sites. If you are lucky, you can book a Standard Double for about 50,000 KRW a night.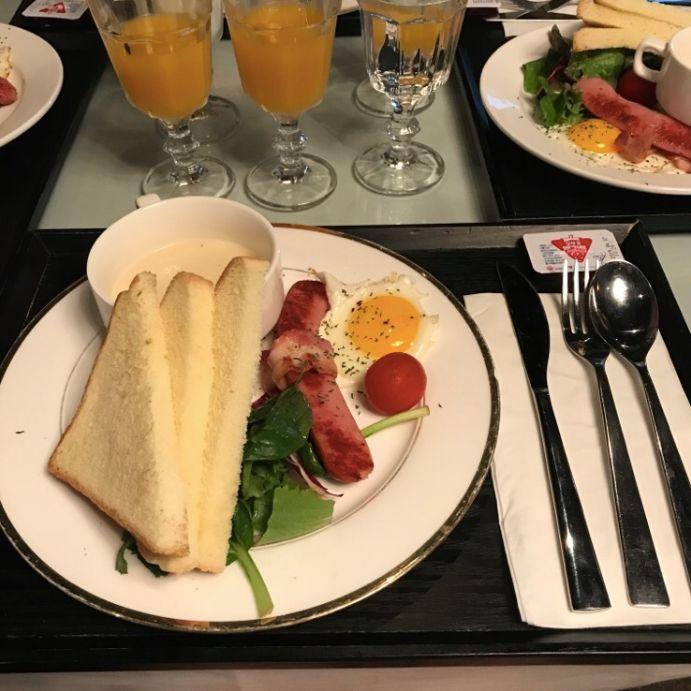 They also offer breakfast between 08:00-10:00 AM. It's a simple buffet with eggs, toast, bacon, soup, etc.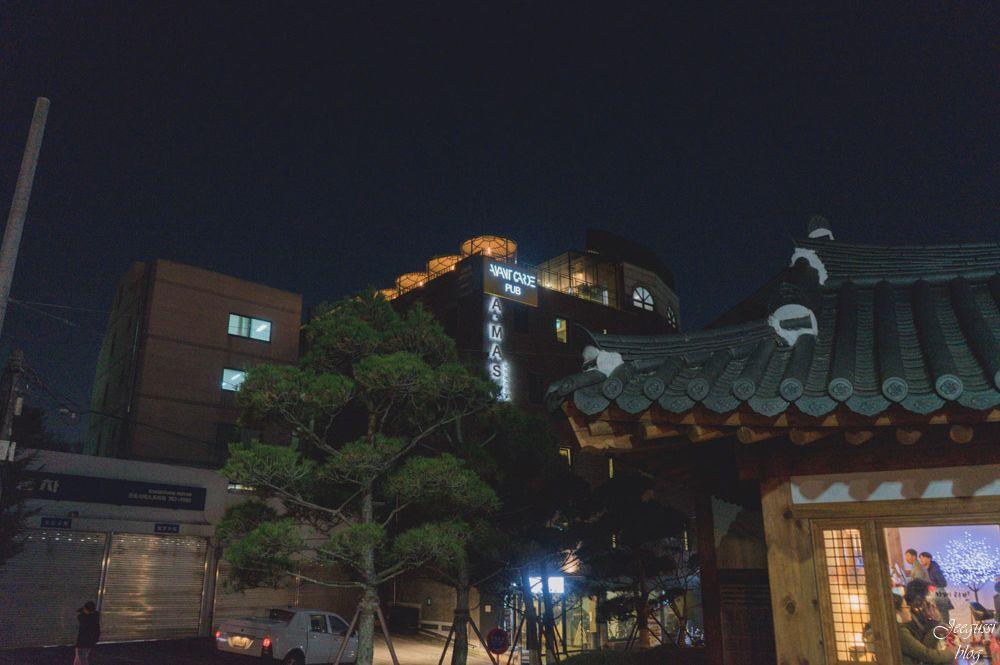 The vibe, view, and facilities are all above par with this rooftop Hotel!
If you'd like to enjoy a lazy evening at a rooftop with a beautiful view of old Korea, I highly recommend AMASS Hotel!
---
We've gone over a few Seoul rooftop accommodations that have both the vibes and value~ If you have any further inquiries, please comment below or shoot us an email at support@creatrip.com.
---