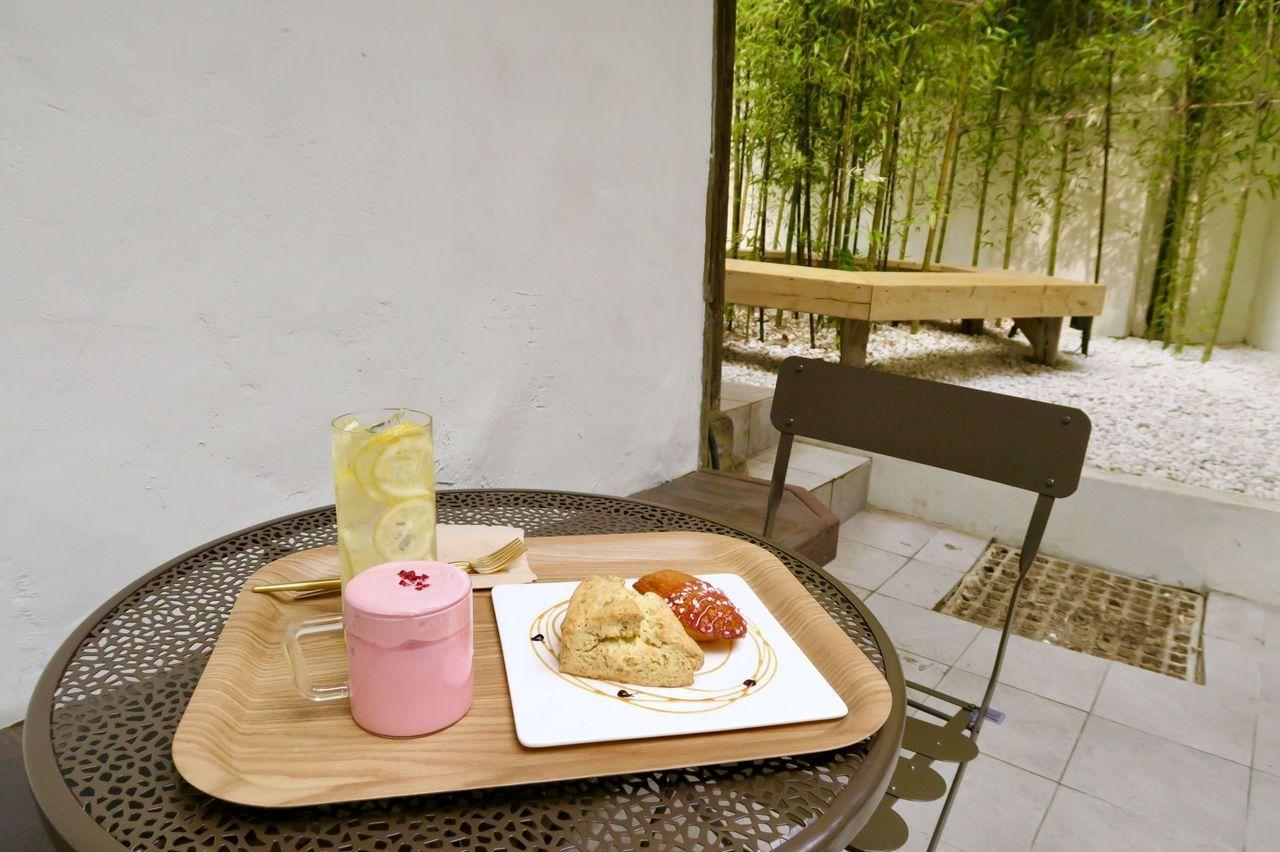 Hello, everyone! We are Creatrip, a group of Korean travel experts.
Today, Let me introduce you a Hanok cafe, the J.Hiddenhouse where you can enjoy the ultimate harmony of modernity and Korean traditional beauty at Dongdaemun! This cafe is located in the middle of the buzzing city, near Dongdaemun. It is not only visited by Koreans but also famous celebs from all over the world. Especially, a lot of fashionistas also visit this cafe during the Seoul Fashion Week!
Creatrip initiated a partnership with J.Hiddenhouse and now, Creatrip members can get 10% discount on all the drinks. Visit J.Hiddenhouse and enjoy the inherent beauty of Korea.
---
Dongdaemun Hanok cafe:J.Hiddenhouse | Information
Address:서울 종로구 종로 269-4
Opening hours: 12:00至18:00
---
Dongdaemun Hanok cafe:J.Hiddenhouse | Recommended Reasons
J.Hiddenhouse is located near Heunginjimun Gate, Dongdaemun Market, and within walking distance of DDP. It would be perfect for those visiting Dongdaemun area. I recommend starting or finishing your day at the J.Hiddenhouse before and after the Dongdaemun tour and shopping.
J.Hiddenhouse is a remodeled hanok, which has been preserved for five generations since 1915. You can experience the ultimate harmony of traditional Korean hanok and modern decorations. You can also take great pictures in various places inside the hanok cafe.

J.Hiddenhouse's peanut cream latte and raspberry cream latte are on another level. You can also enjoy the luxurious desserts while drinking and getting rest in the middle of the city.
---
Dongdaemun Hanok cafe:J.Hiddenhouse | Review
I visited the J.Hiddenhouse where it was so popular even before it officially opened the cafe. This cafe first became popular by the words of mouth among 20s and 30s.
You might almost pass by this cafe, if you haven't heard of this cafe. If you walk into a small alley next to exit 10 of Dongdaemun Station, you can meet this traditional and yet also modern cafe.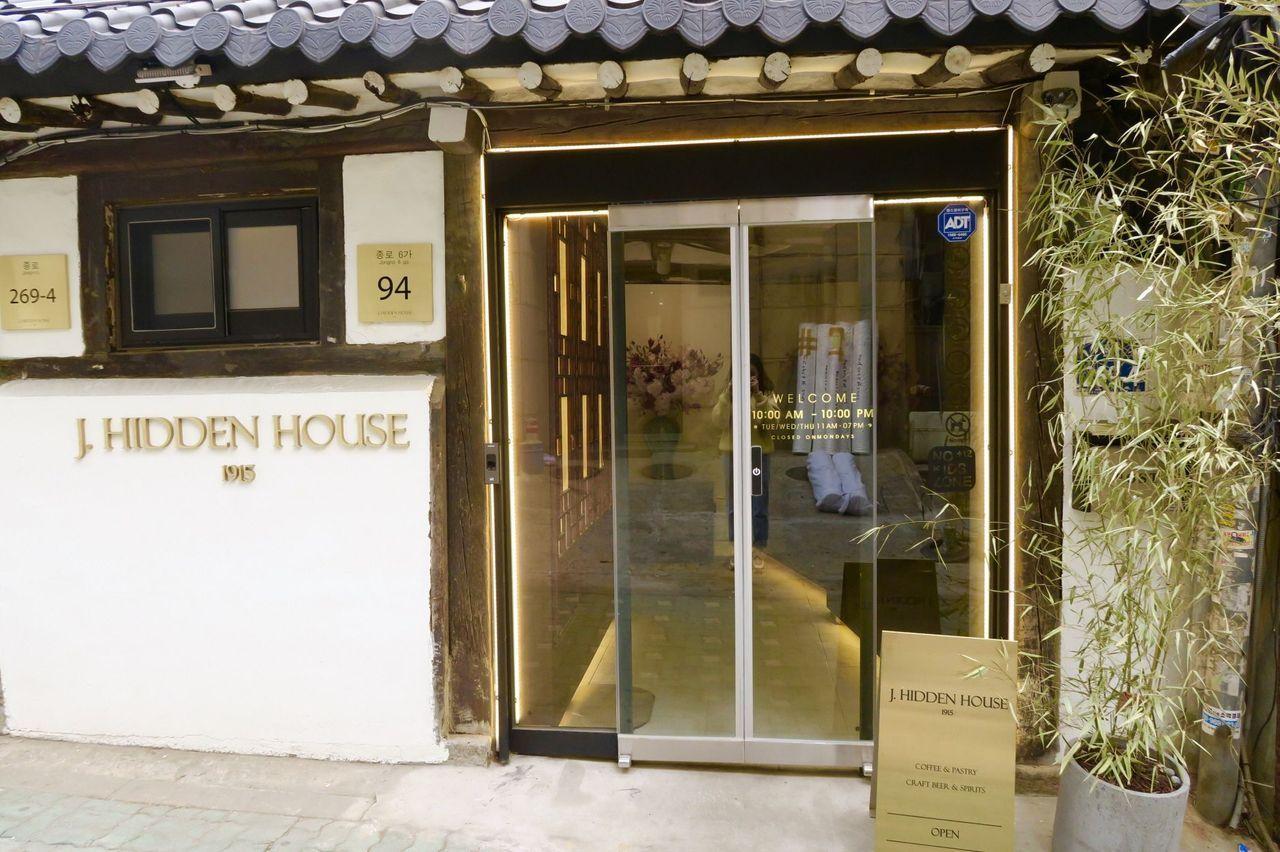 Even the entrance of this cafe was so sophisticated.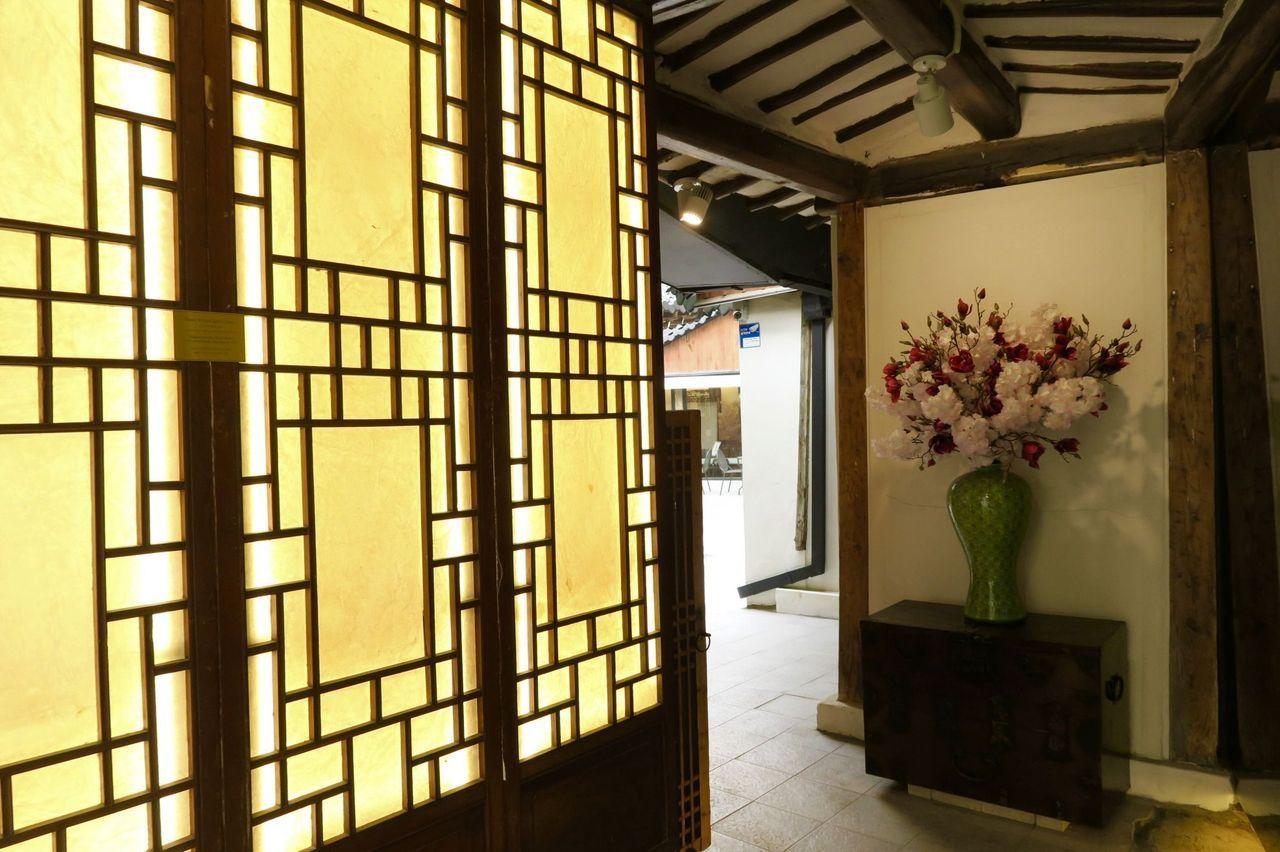 The door frame, stone mortar, and 100 years old wooden ski set are actual items that belong to this hanok. It was their daily life items a long ago. These beautiful display of traditional house items made me feel like I was in an art museum, not a cafe.
If you sit here and take a picture, your legs would look much longer! So, as a personal tip, I recommend you taking a picture sitting on this chair.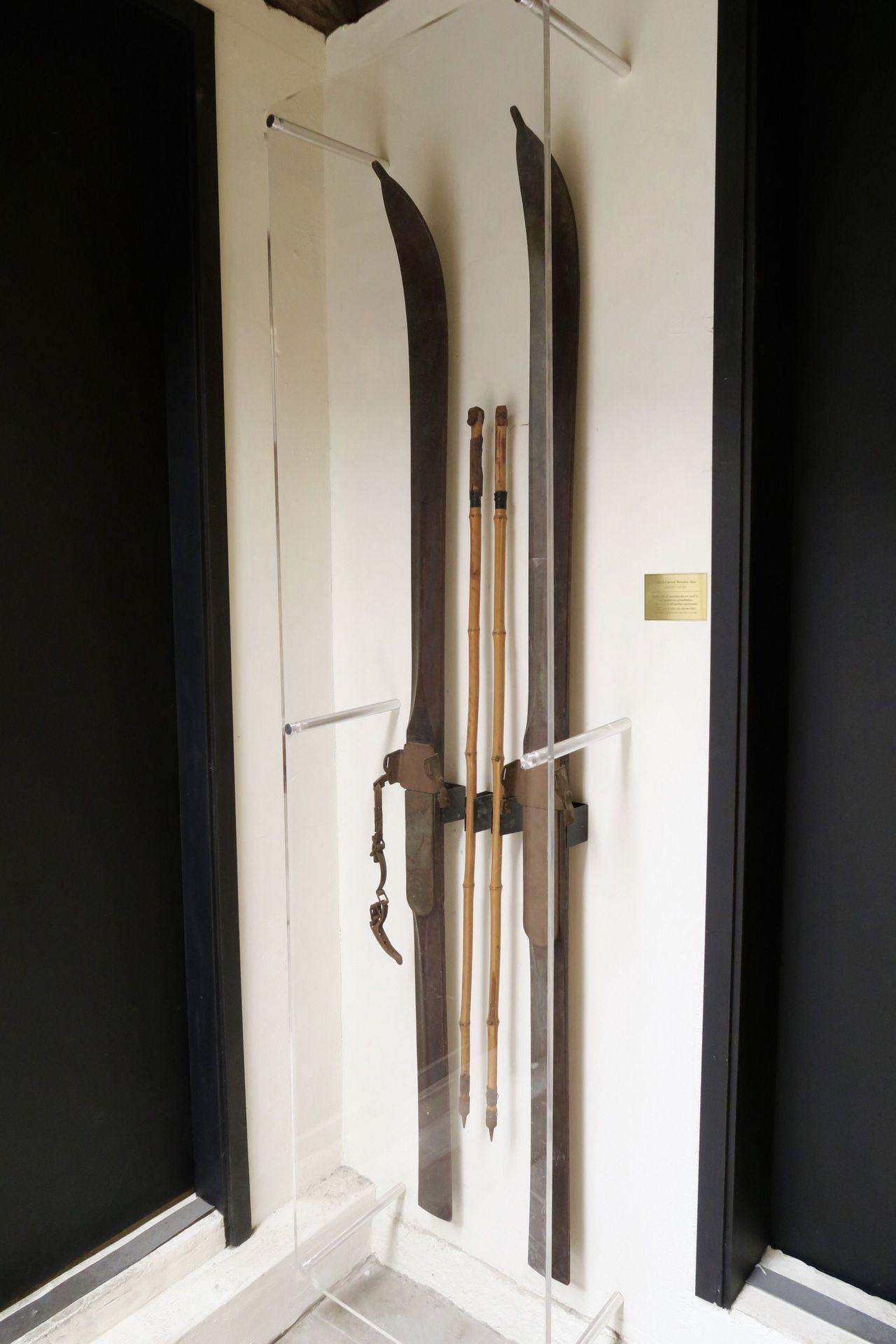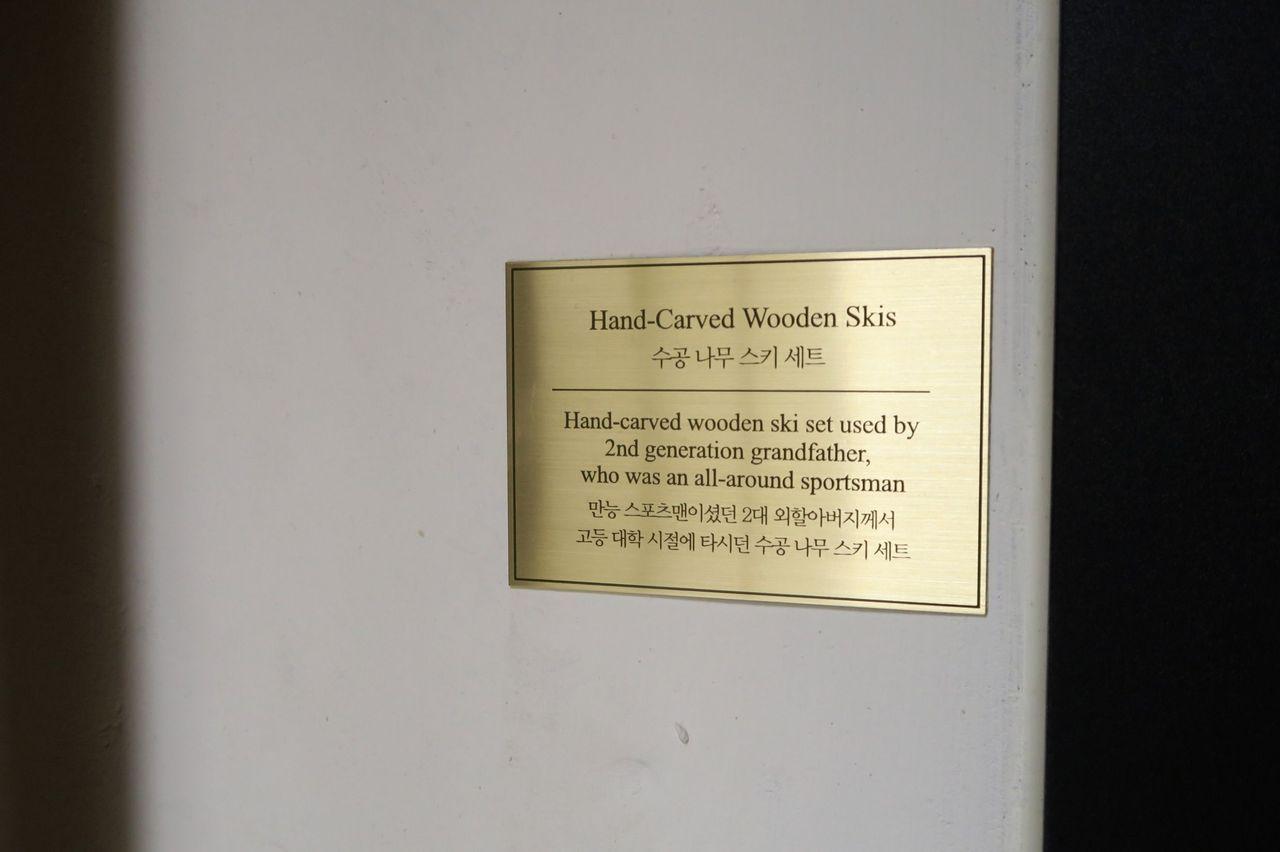 J.Hiddenhouse is a Korean traditional house that has been literally hidden in this small alley.
Over the years, Seoul has changed a lot but this cafe still maintained its true color of Korea.
You can experience the ultimate harmony of traditional Korean hanok and modern decorations.
I believe it is the most 'Korean' cafe that you can meet around Dongdaemun area, where it is surrounded with modern architectures.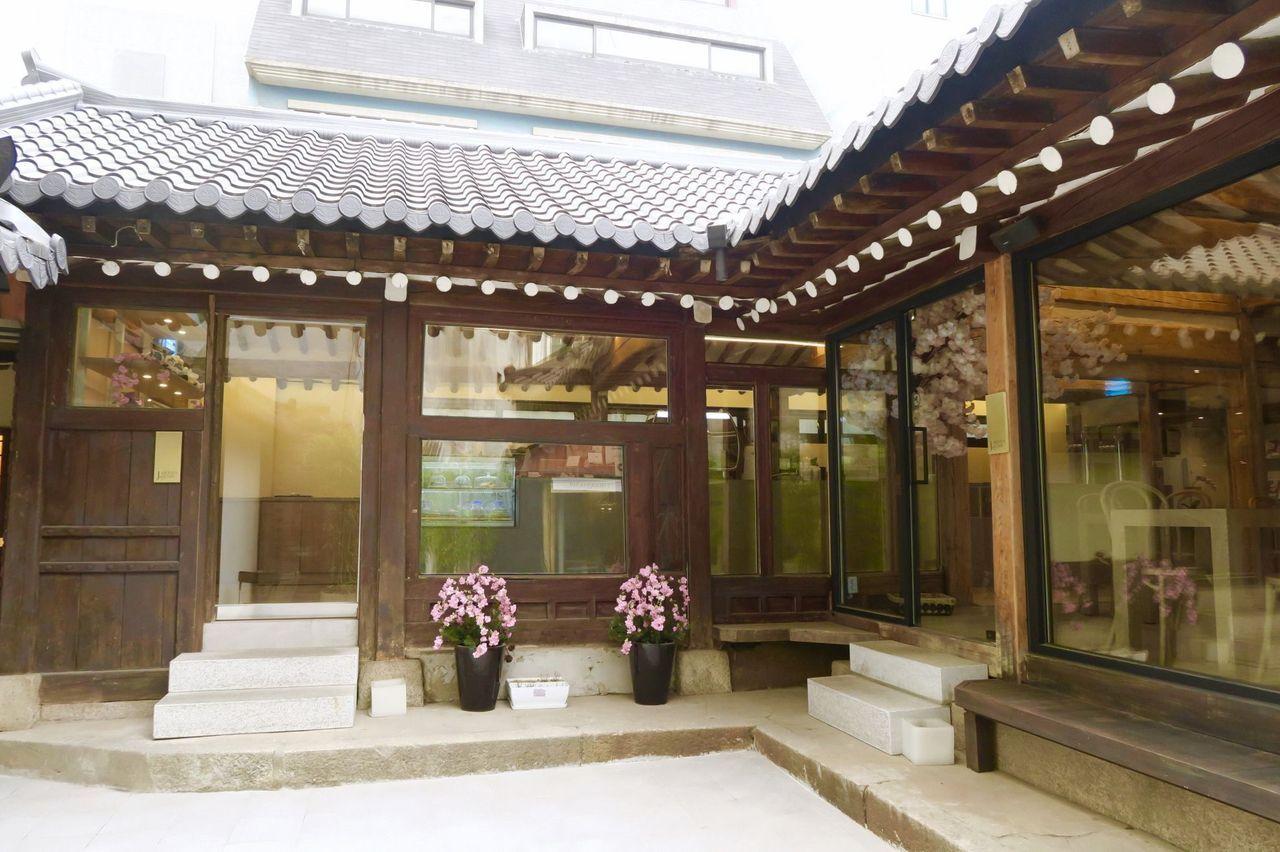 This white wall is also used as a beam projector to display black-and-white movie or various images! It would be really great in summer to hang around outside while drinking some beer.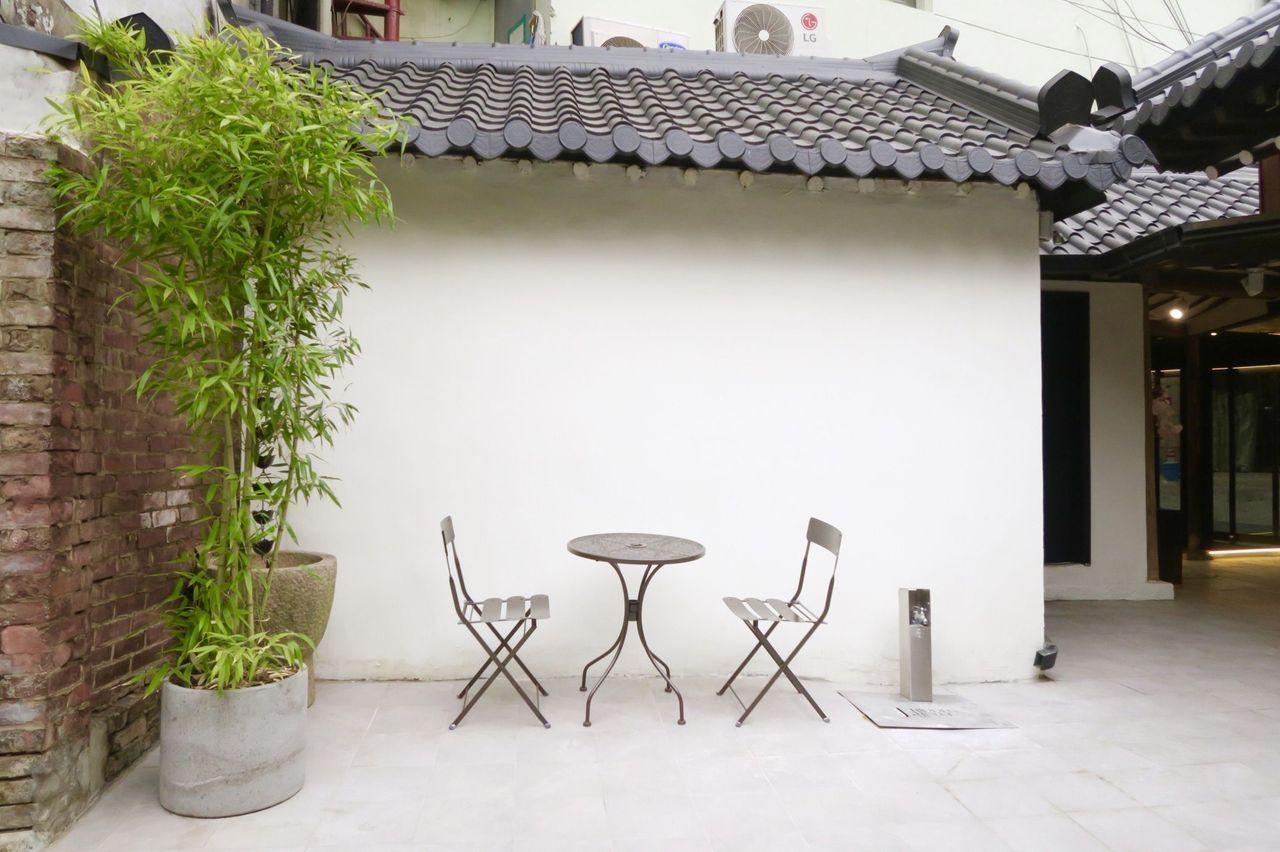 J.Hiddenhouse is divided into two spaces, which are Sarangchae and the main house. In the middle of this buildings, there are mirrors aligned to make space look more spacious. For your information, this mirrors are slimming mirrors. By this, you know what I mean. You gotta take that instagram selfies!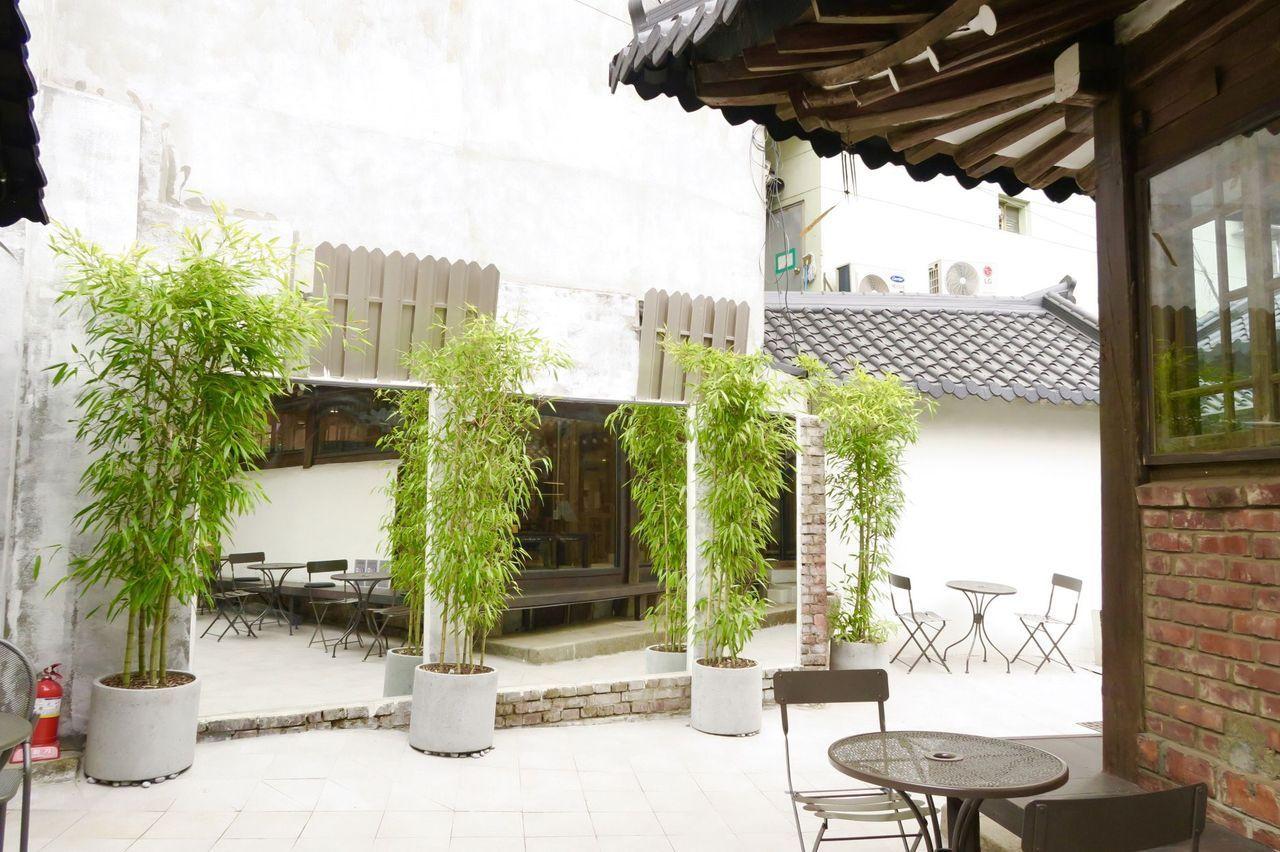 Can you hear the windchime? Listening to the sound of the wind and looking at the bell, it instantly relaxed me.
I loved the fact that I could take this brief break in the middle of the bustling city. For a while, I felt like I was somewhere else.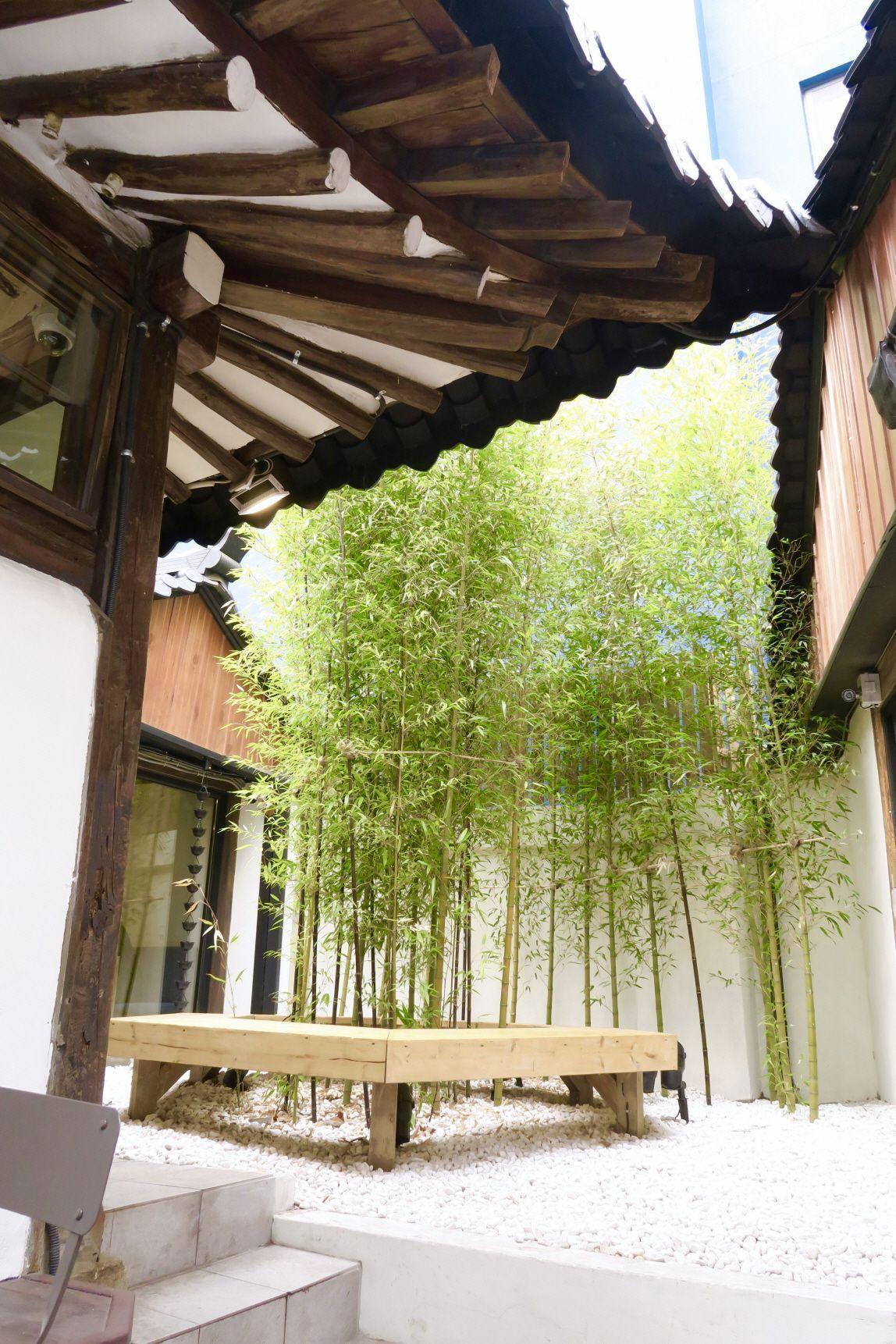 By this cherry blossom tree inside the cafe, I realized that Spring has arrived. The subdued color of the hanok and cherry blossom tree went well together.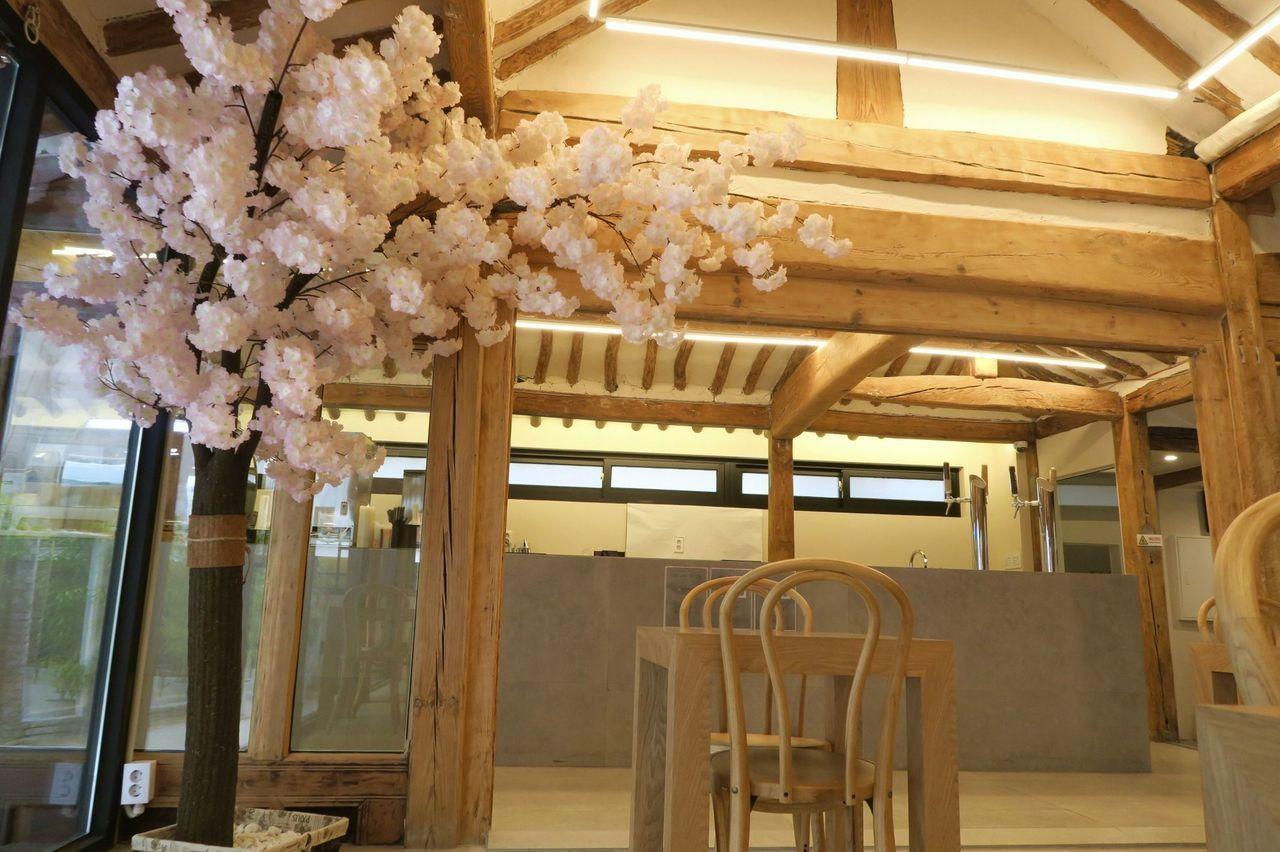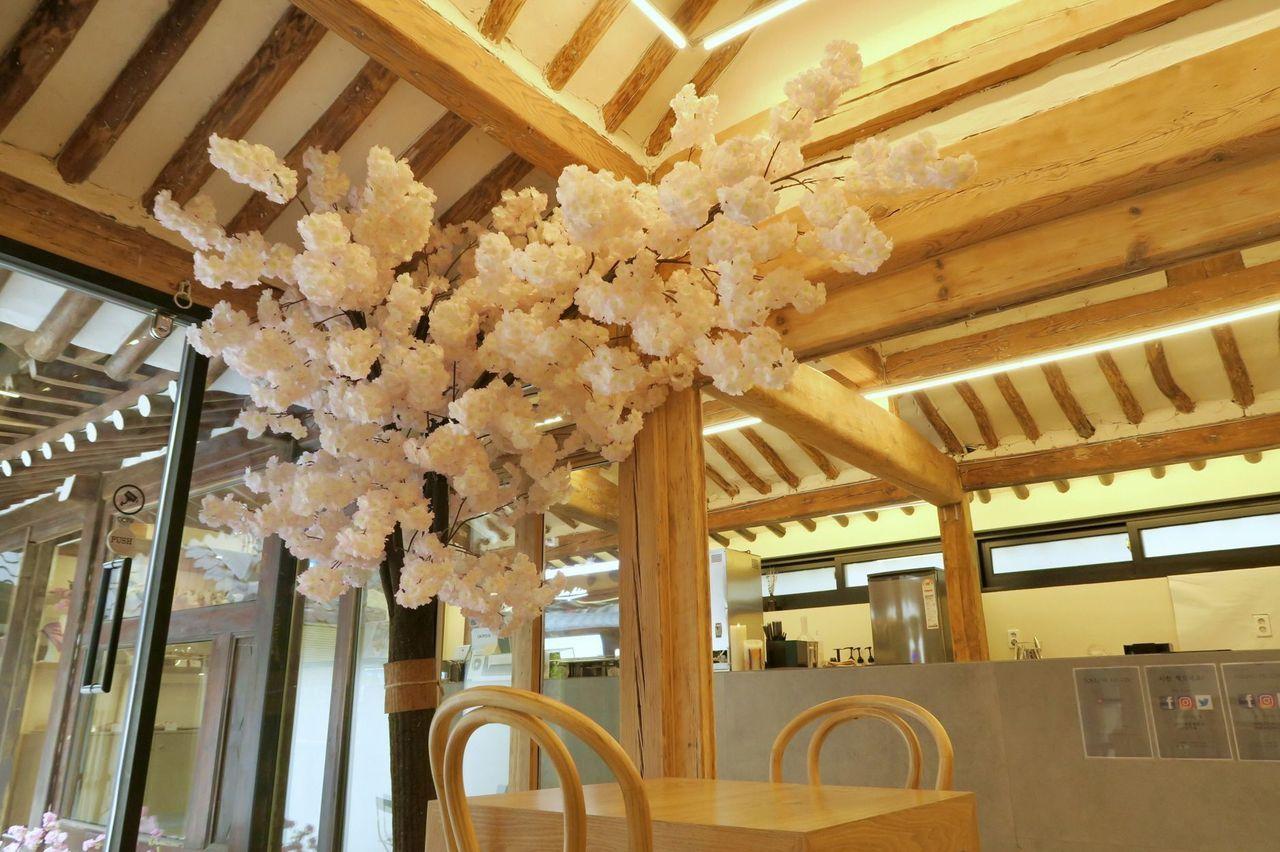 J.Hiddenhouse tried to preserve the door frames and window frames of the hanok by not breaking them down. These door frames and window frames are not available elsewhere, so if you're curious to see old houses in Korea, you'd better take a look inside this cafe.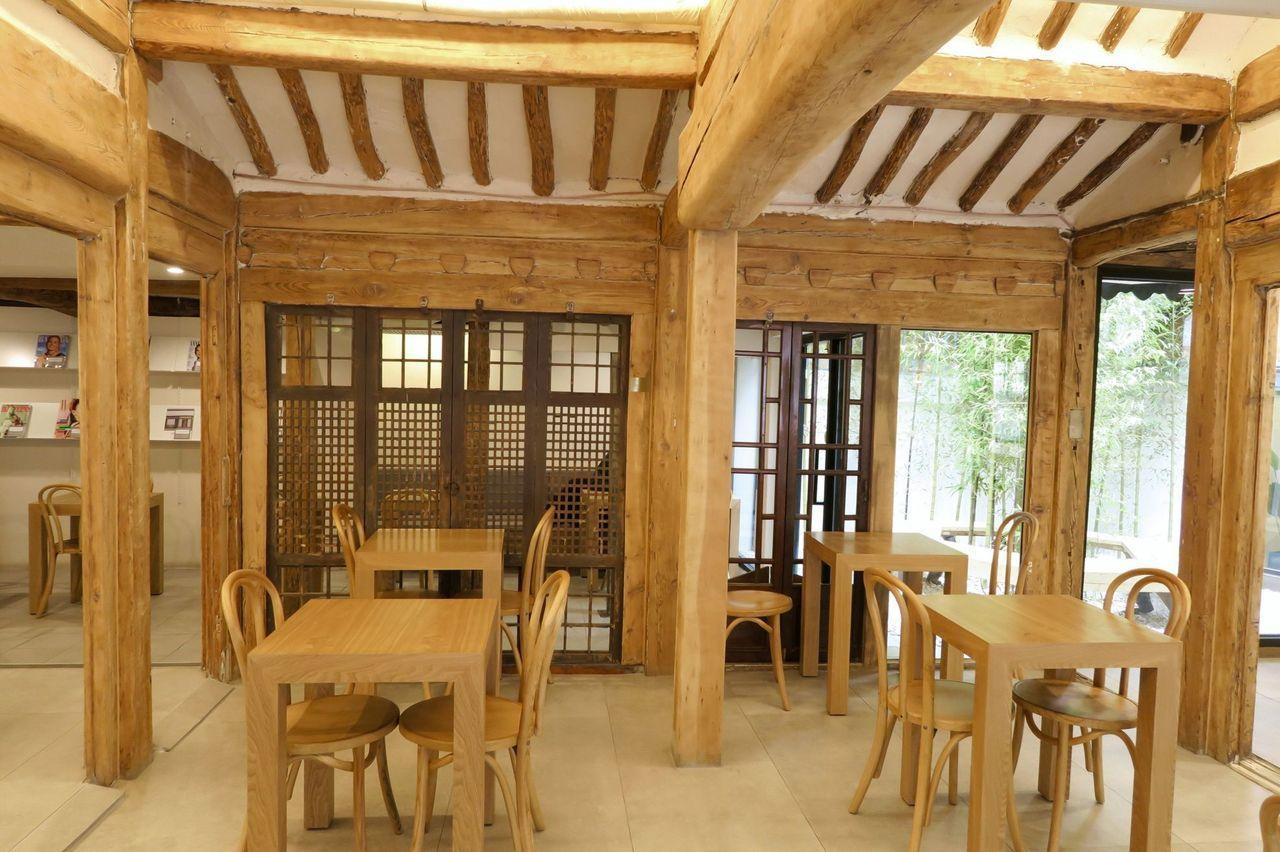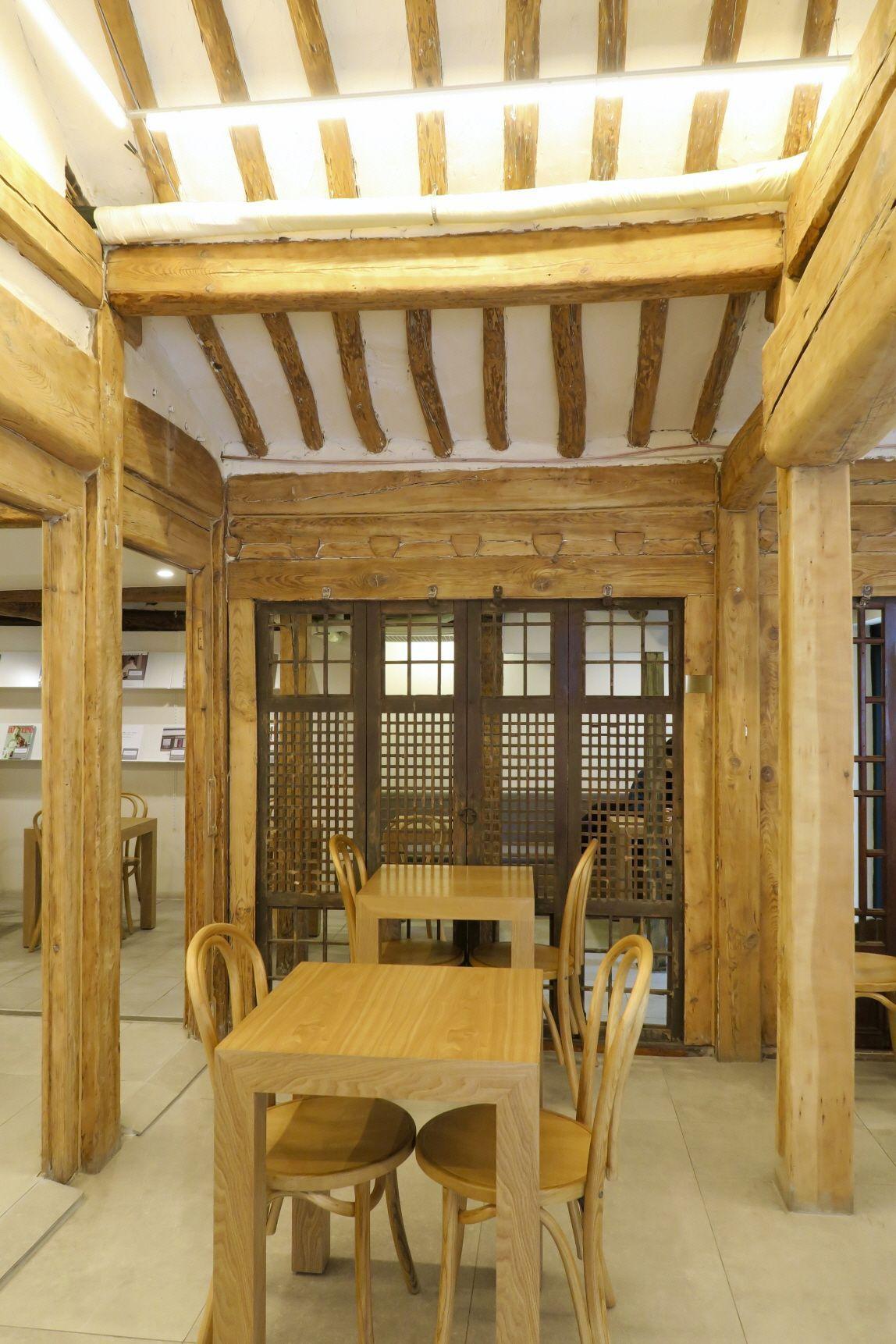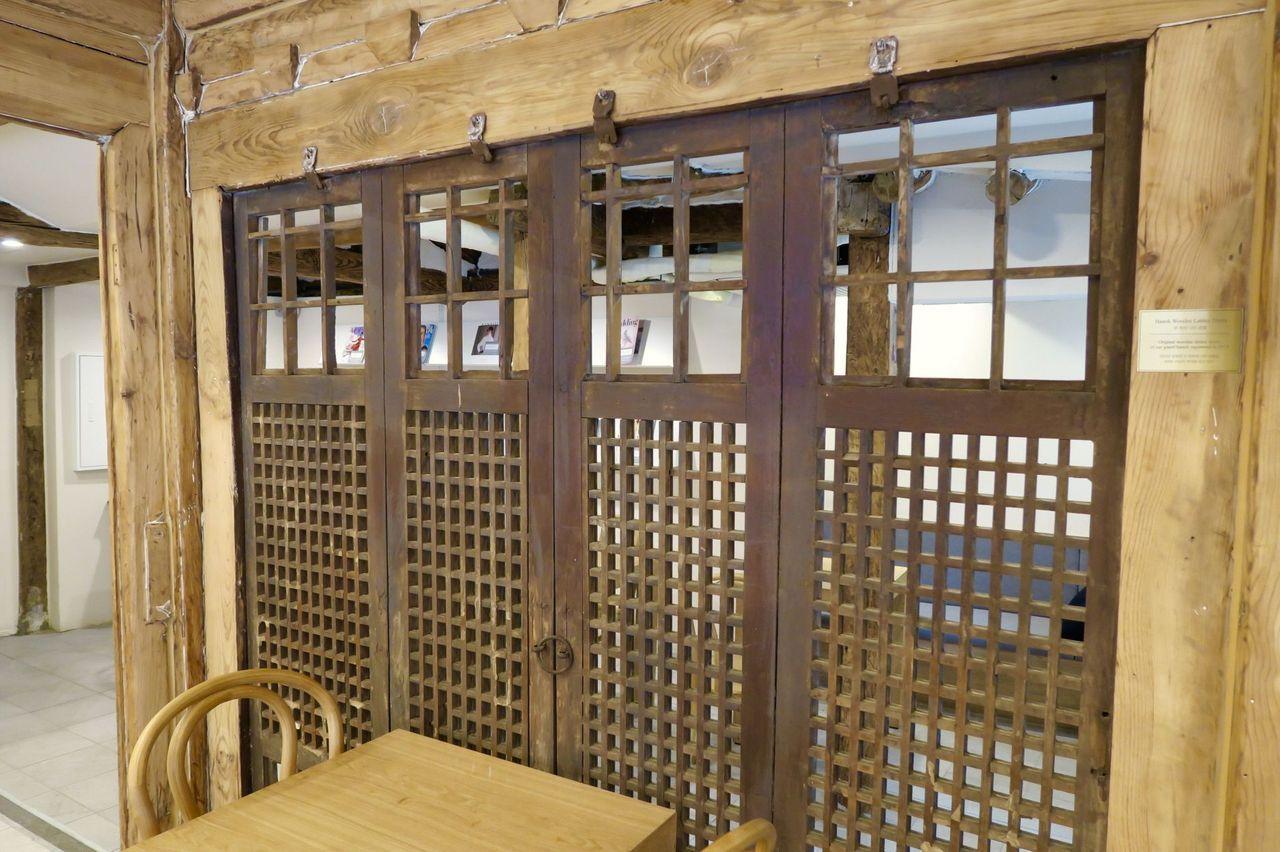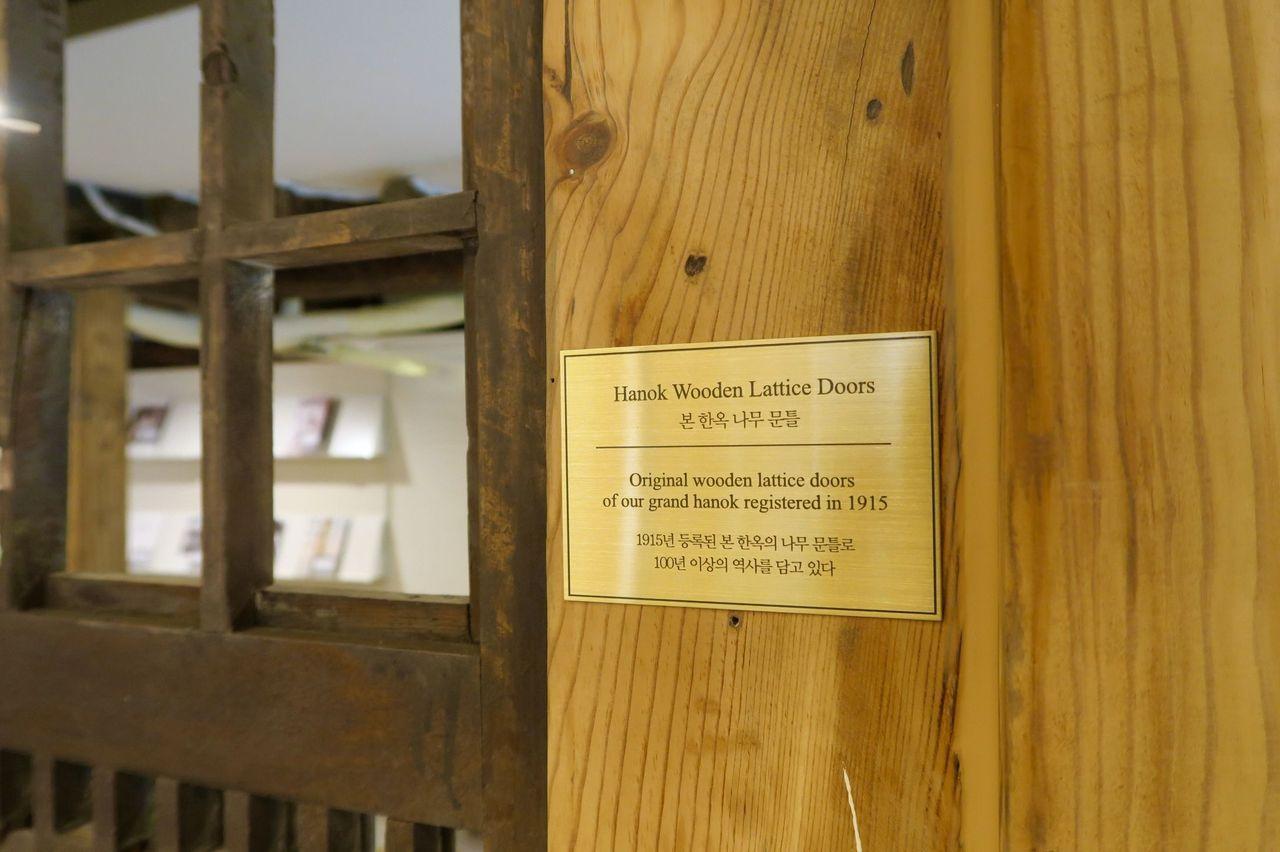 This is the view from inside the cafe.
The size of the window is from ceiling to the foot bottom, so you can be fully immersed in Korea's four different seasons. In Korea, there are four distinct seasons. If it rains or snow, you get to feel the weather 100% by looking at the window in this cafe.
Personally, I wanted to visit J.Hiddenhouse on a rainy day. I would be so happy to sip a warm cup of coffee while listening to the sound of the windchime, and rain falling on the eaves.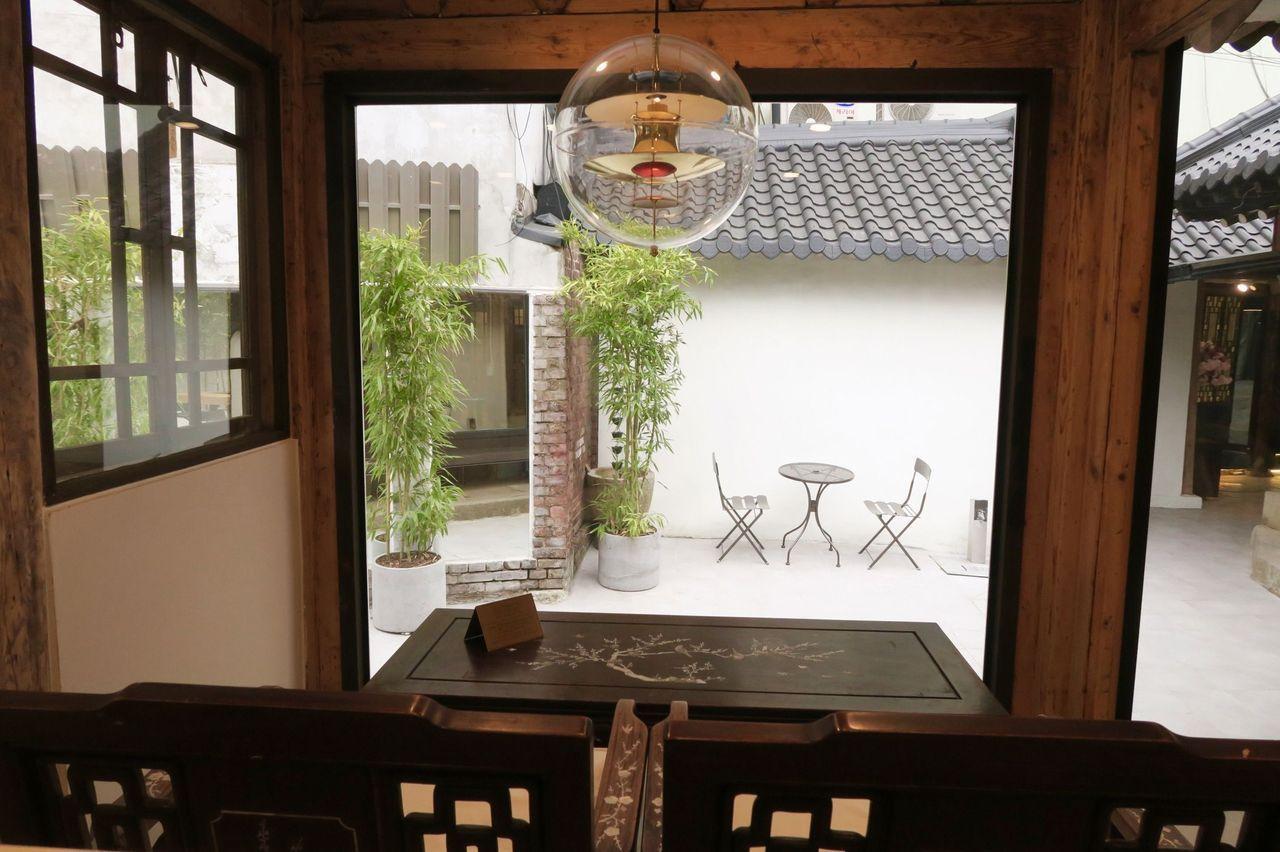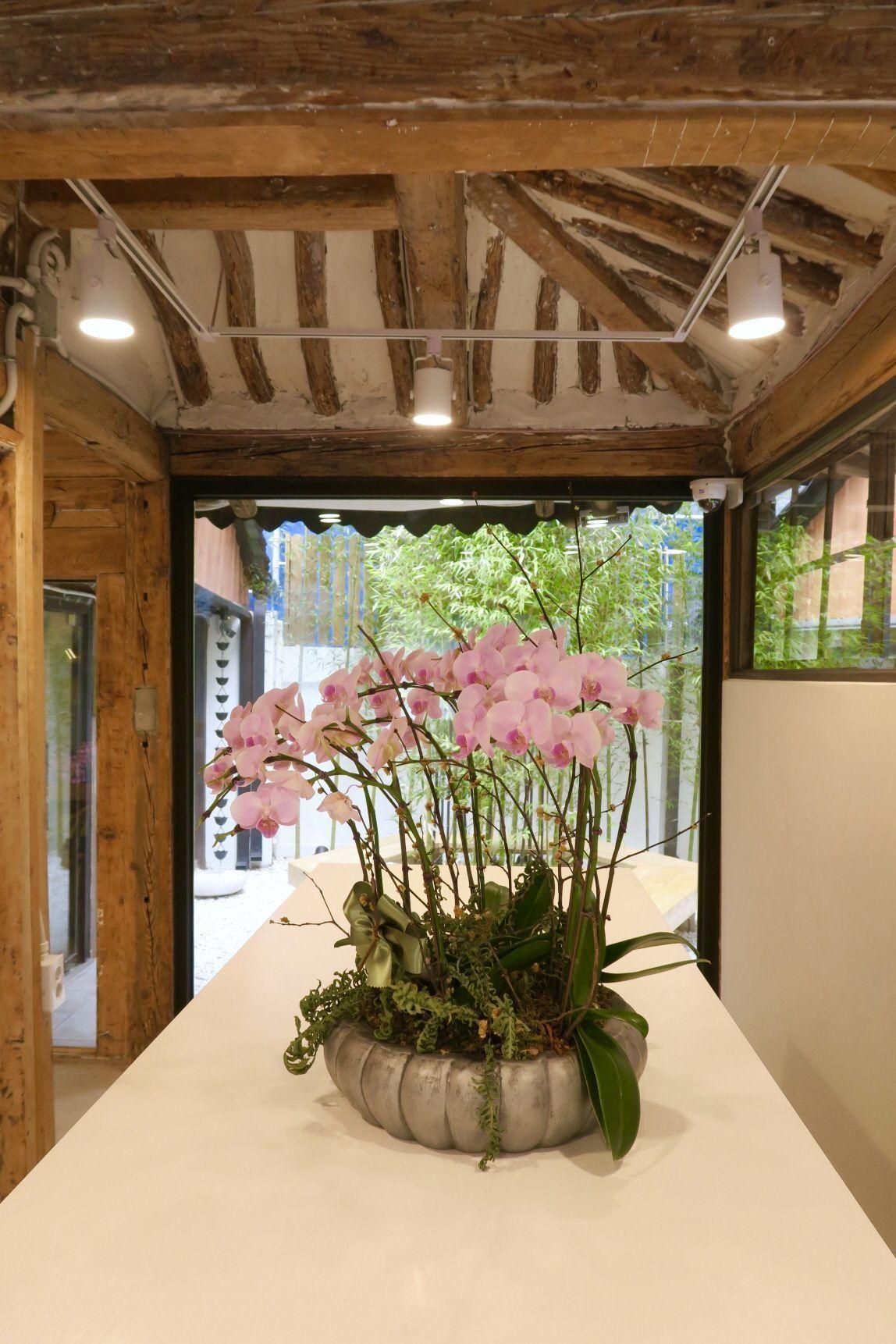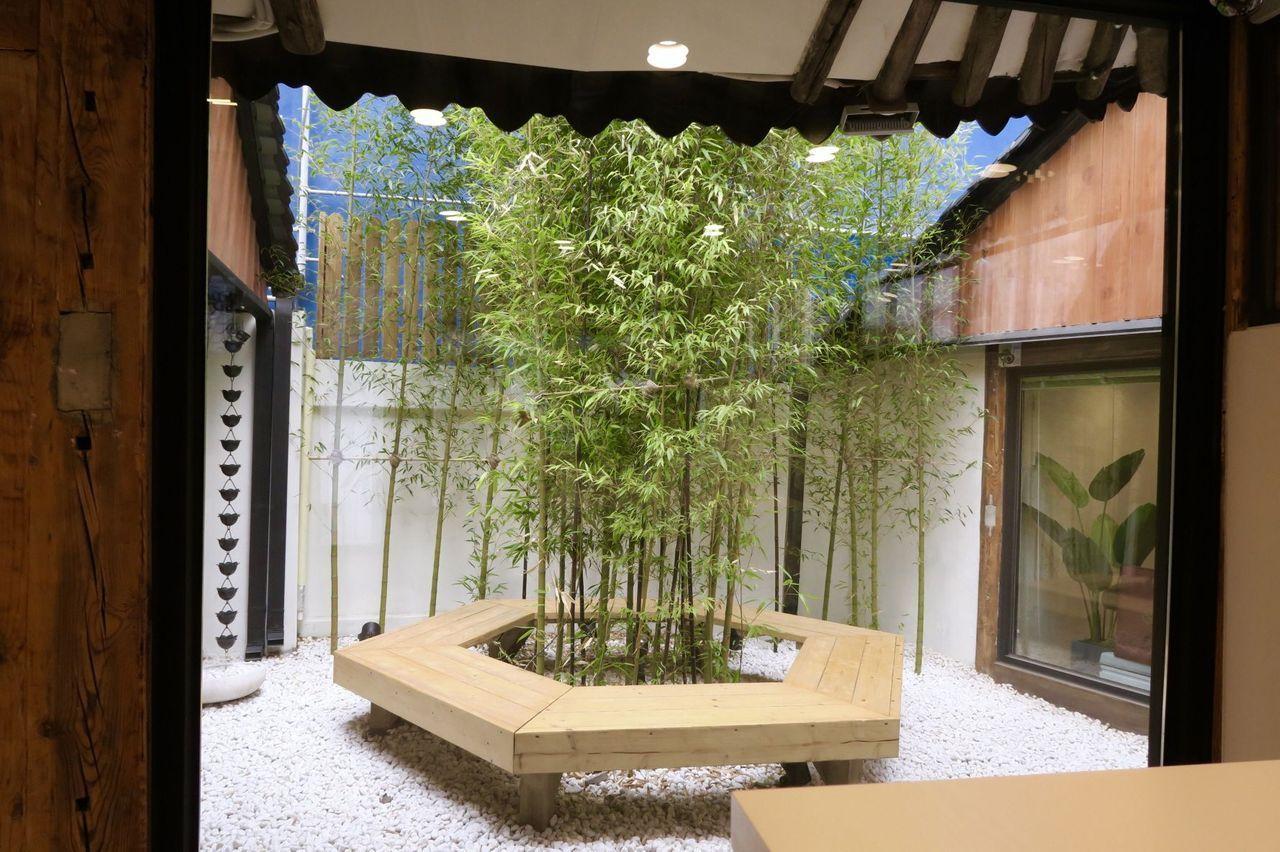 Sarangchae has a cozier vibe than the main house.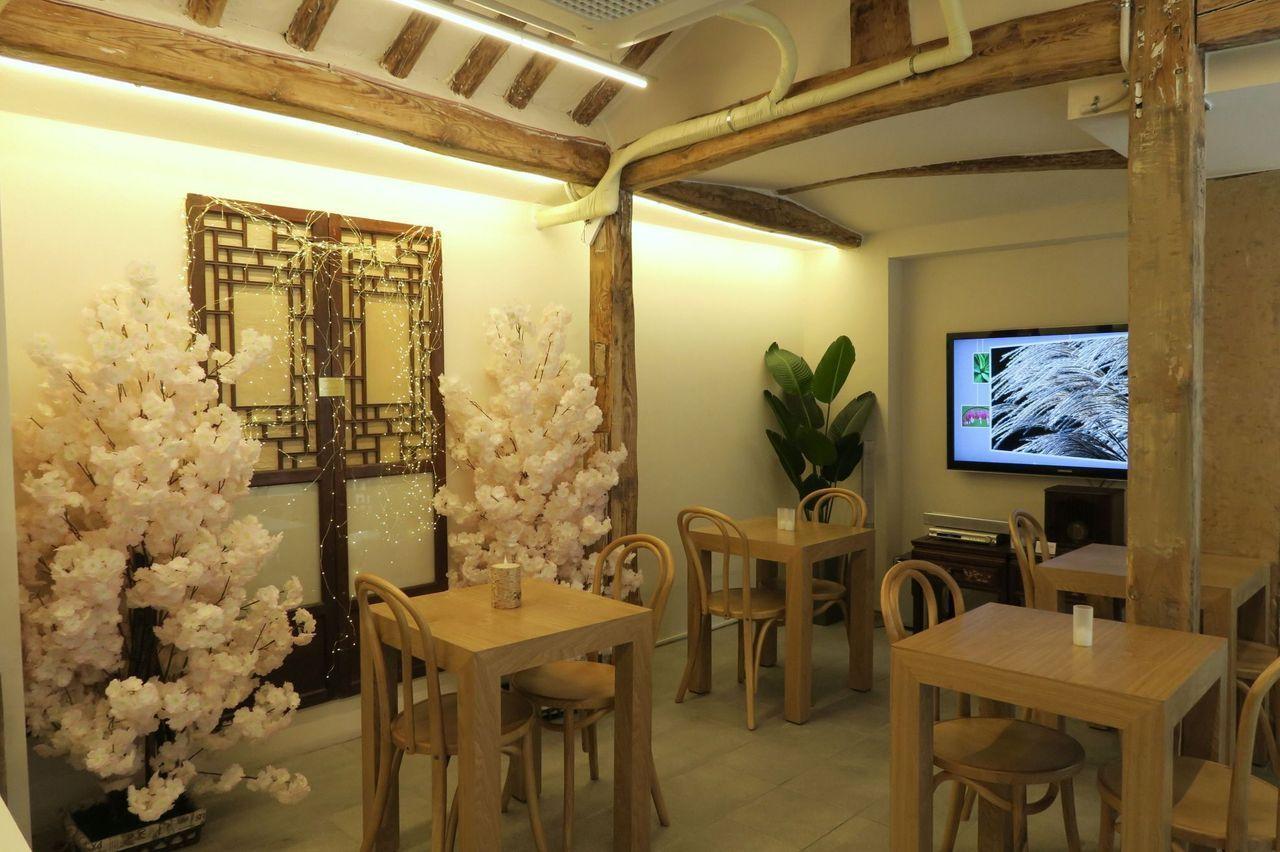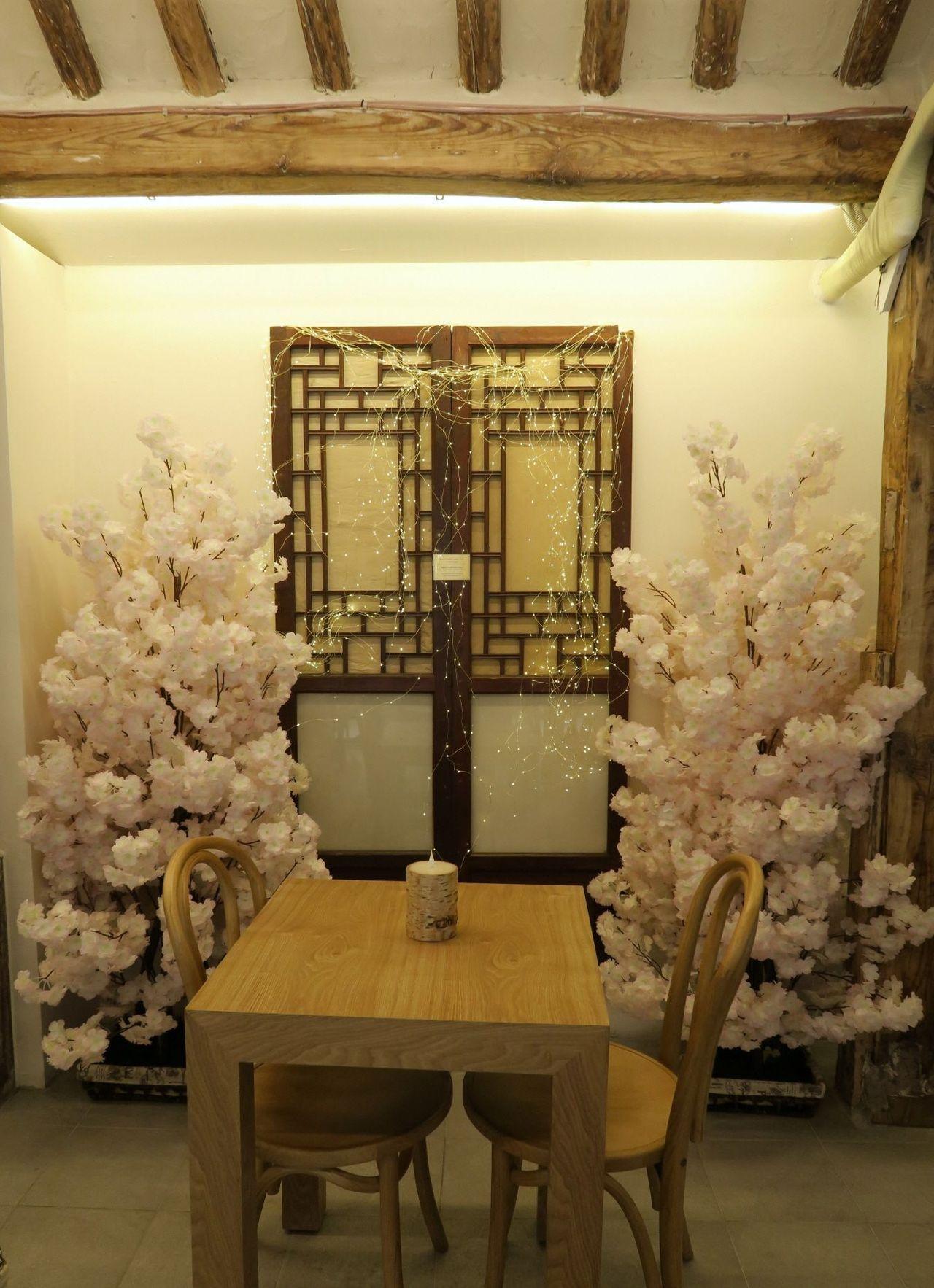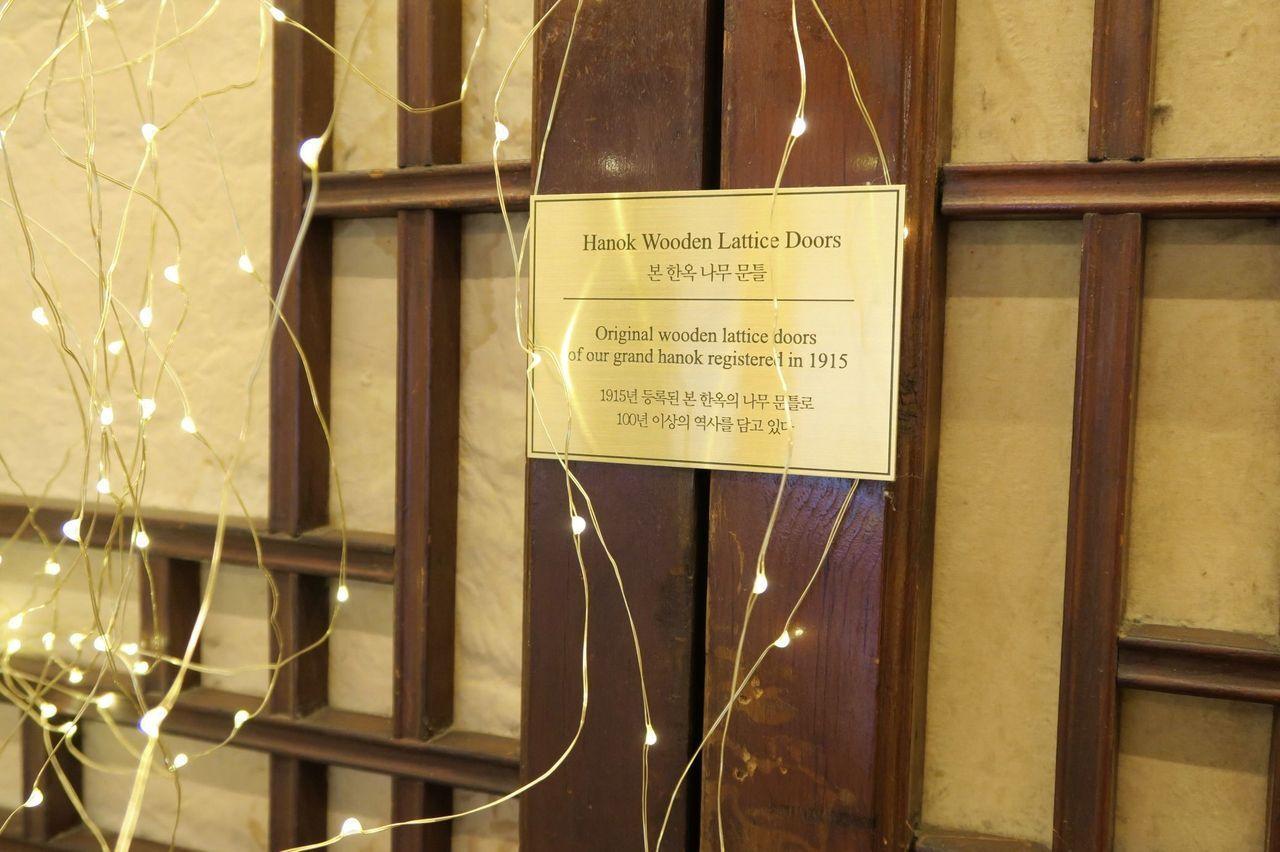 The combination of modern and stylish interior props and traditional Korean furniture was very beautiful and so natural.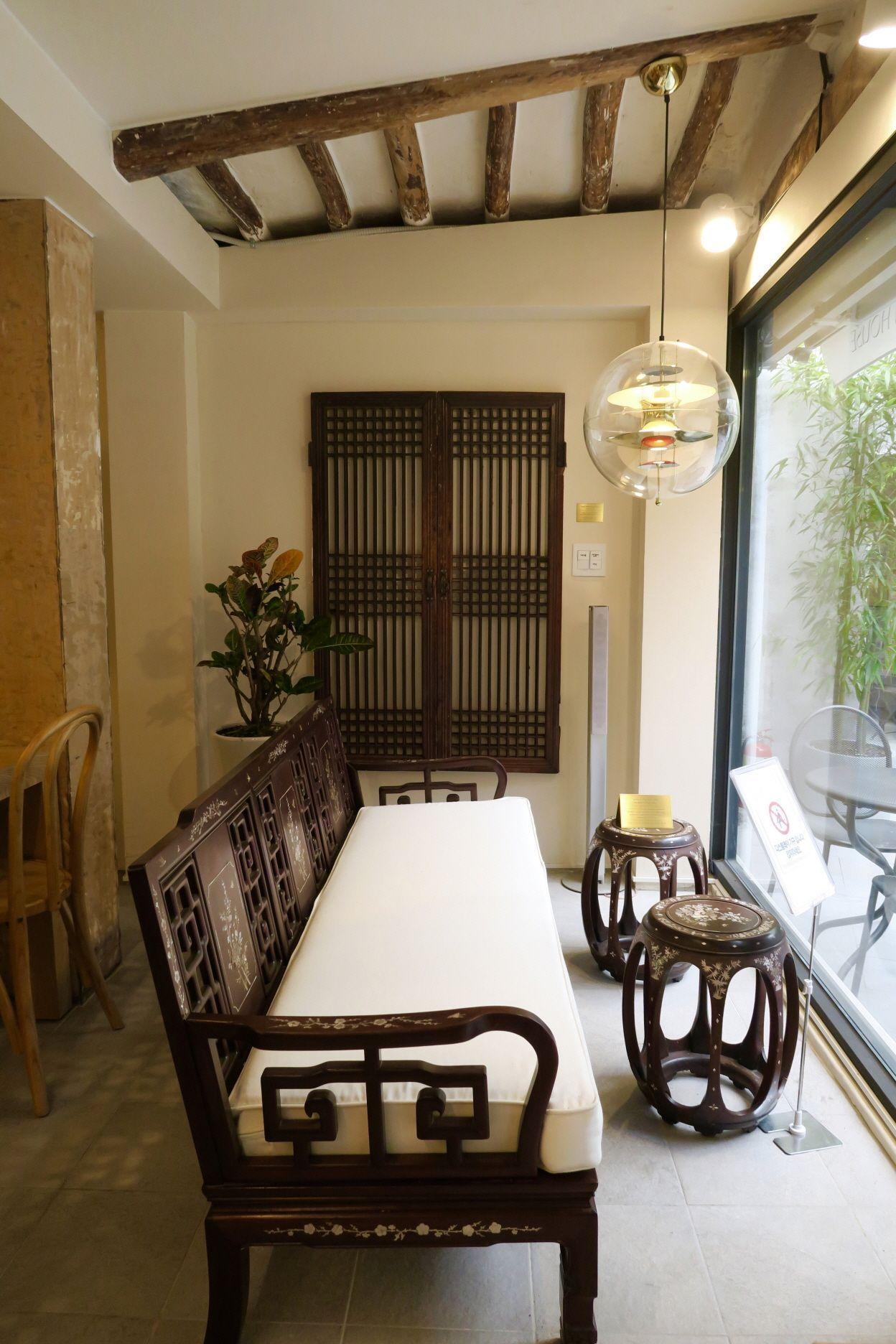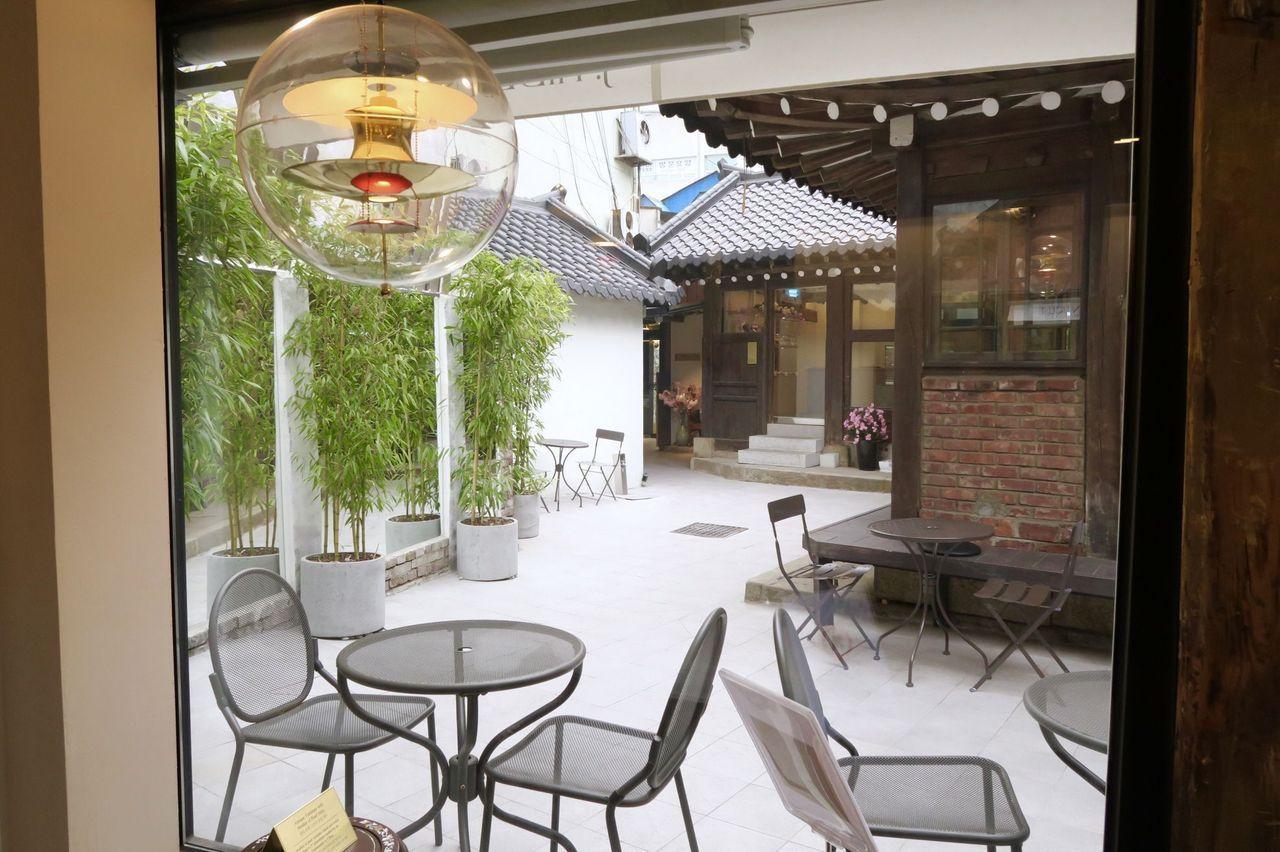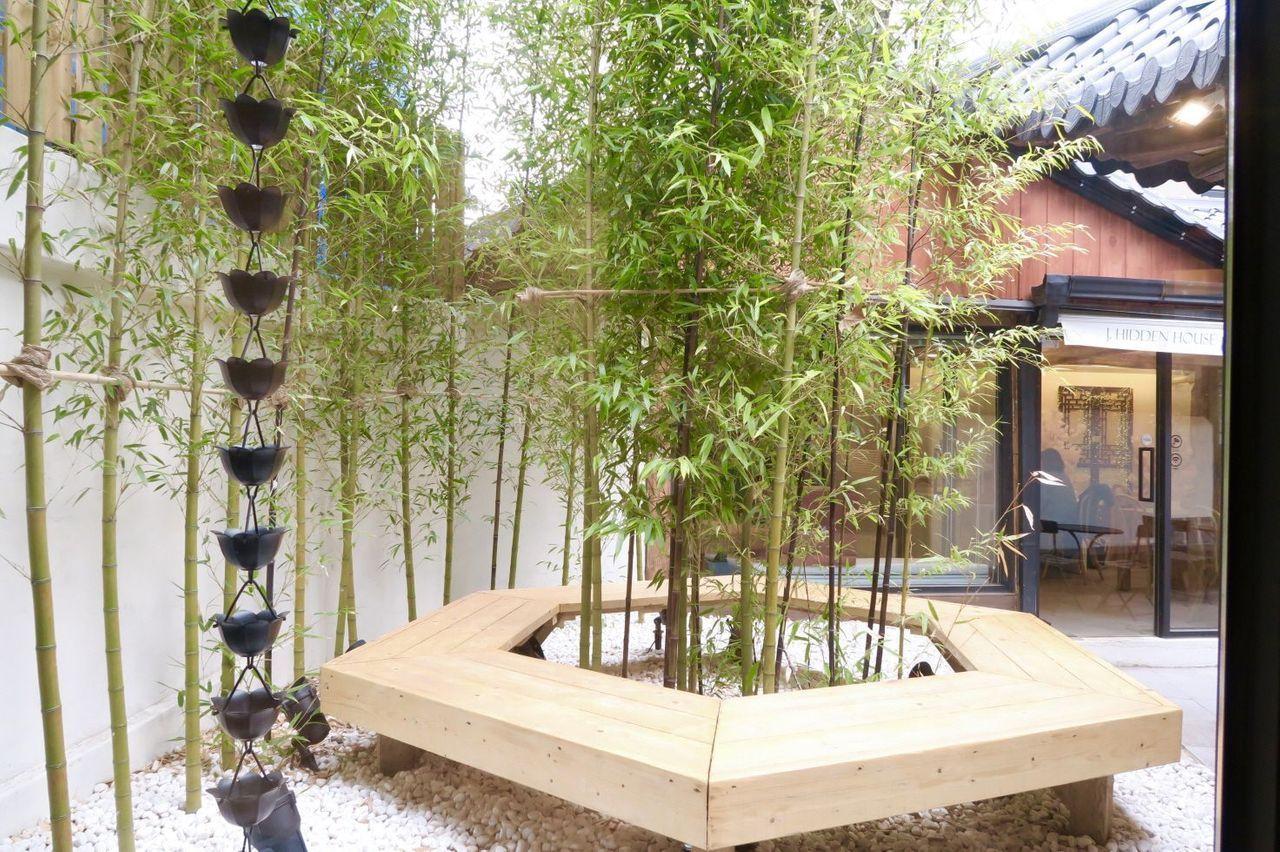 Even though it has opened recently, there were a lot of desserts! Desserts and drinks were luxury hotel-level. These high quality desserts are made by the once manager from a luxury hotel kitchen.
Coffee beans are changed into optimal ones on each season. In the Winter, it uses espresso beans with a heavy note, and in the Summer, it uses espresso beans with slight acidity in it.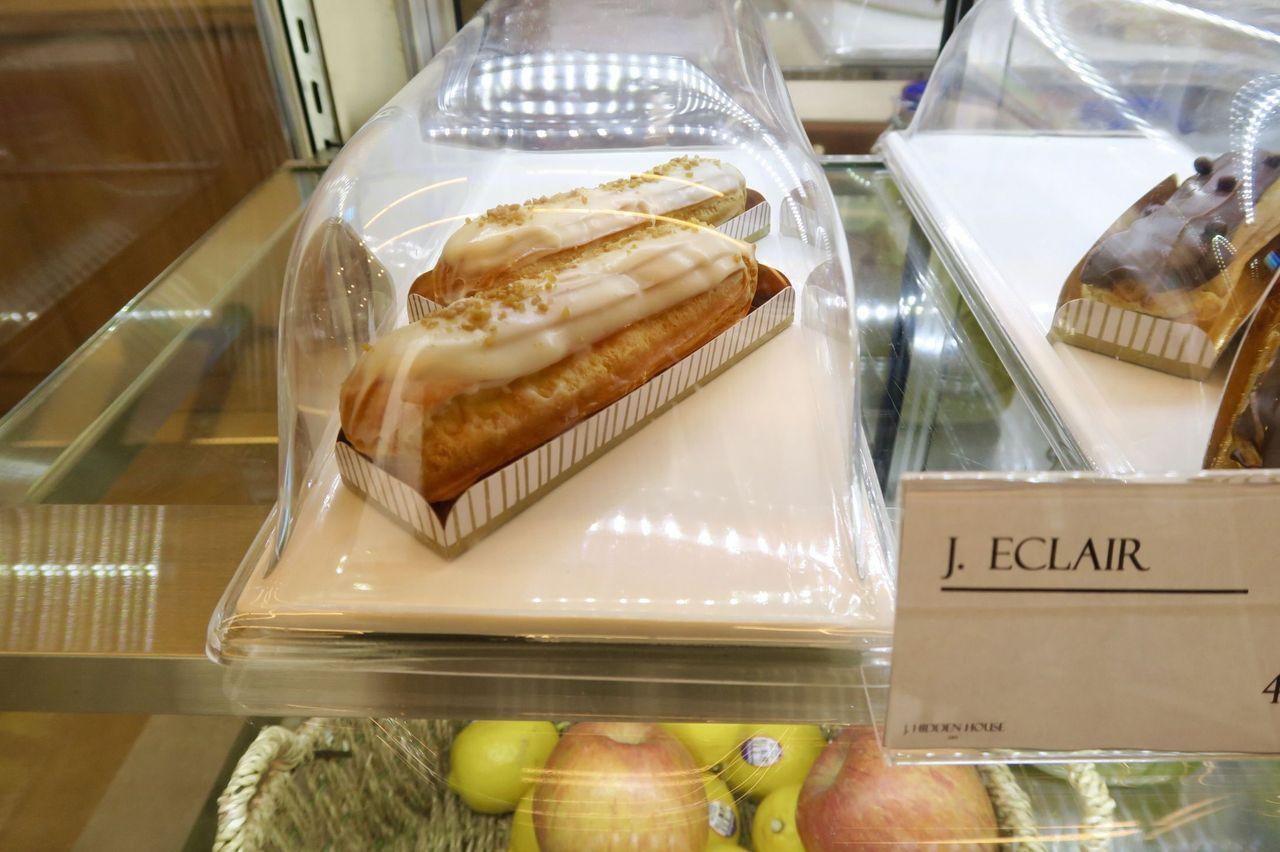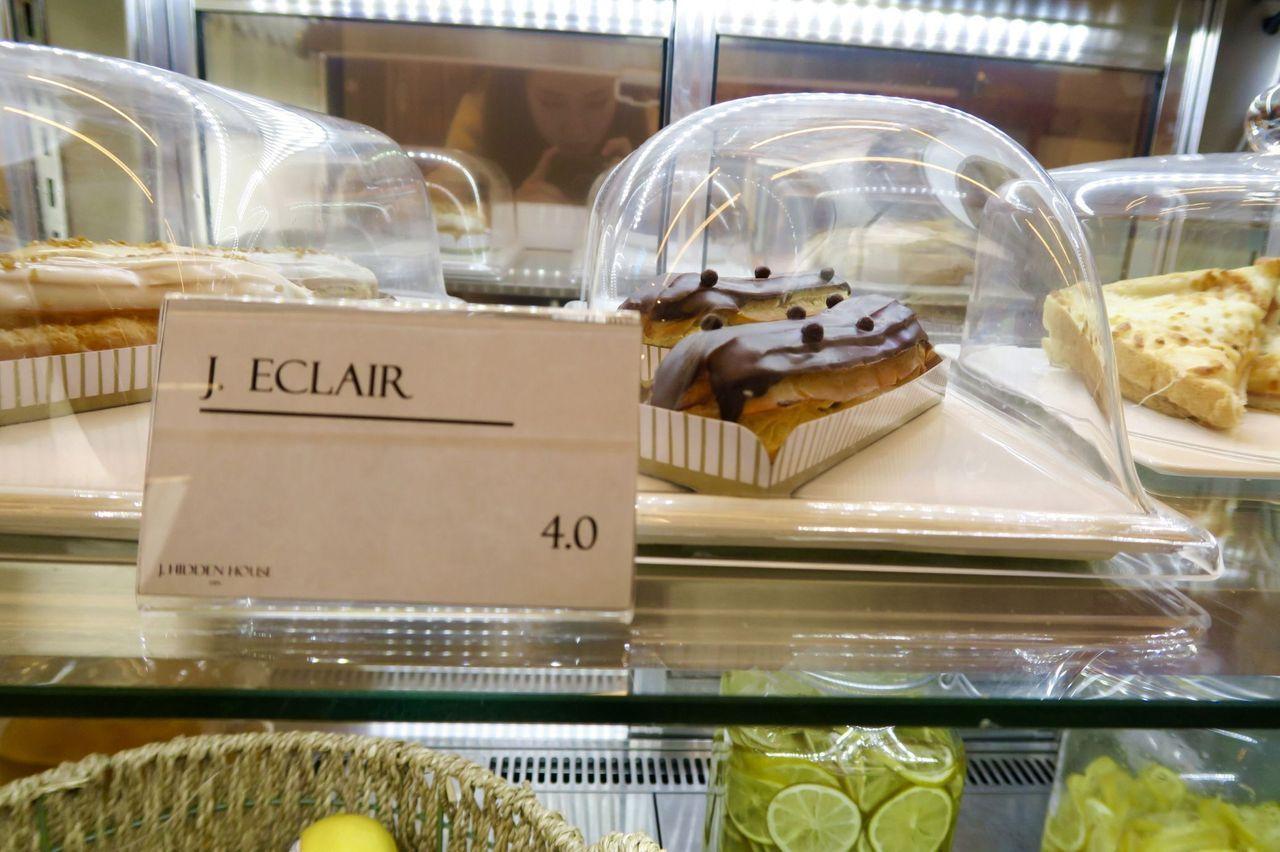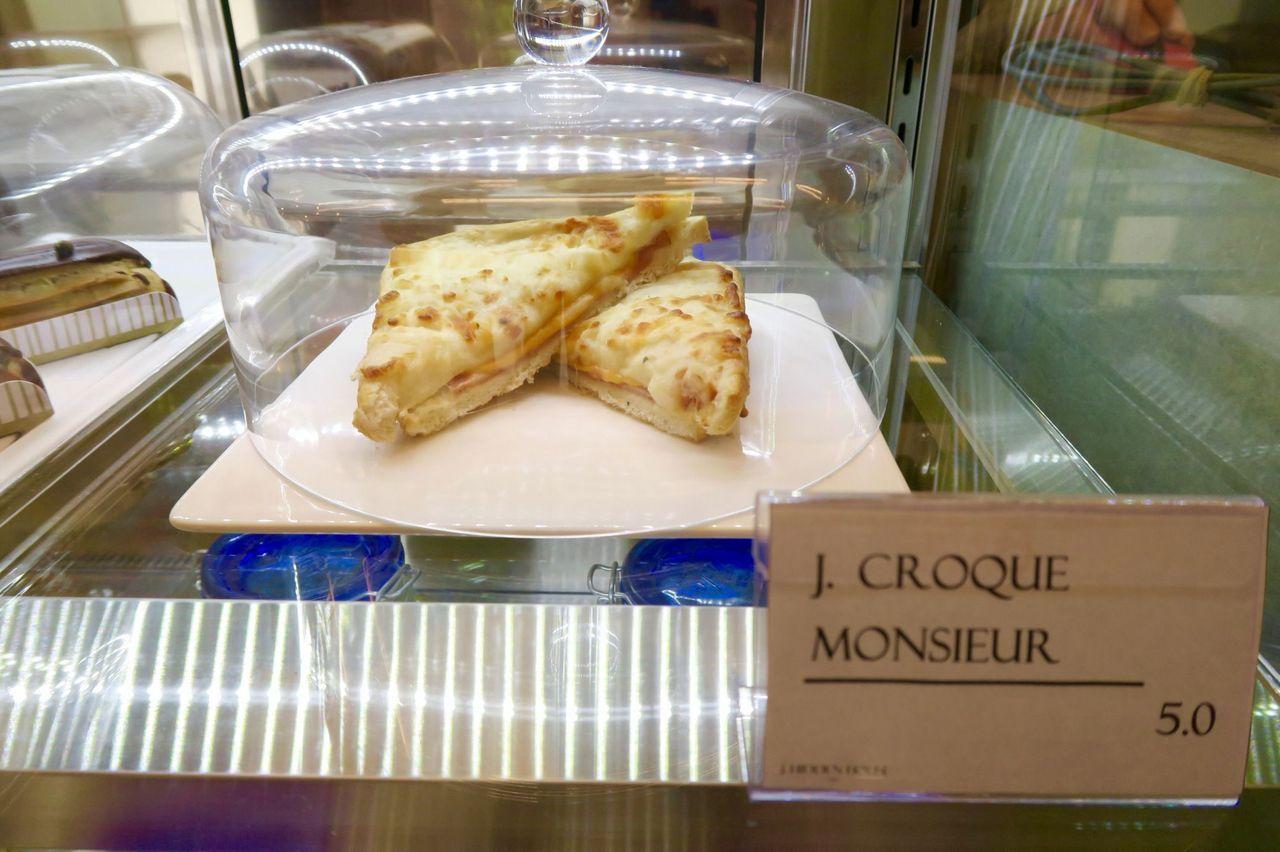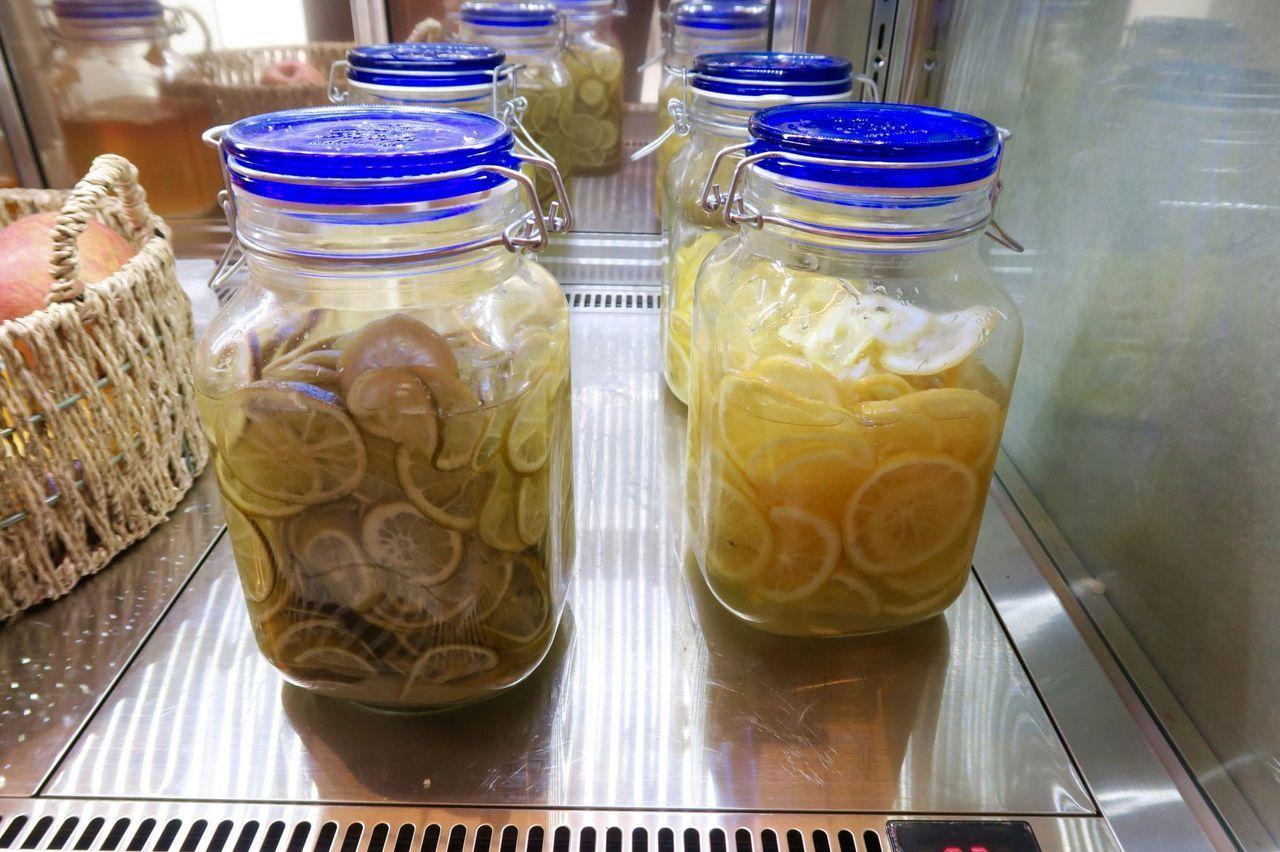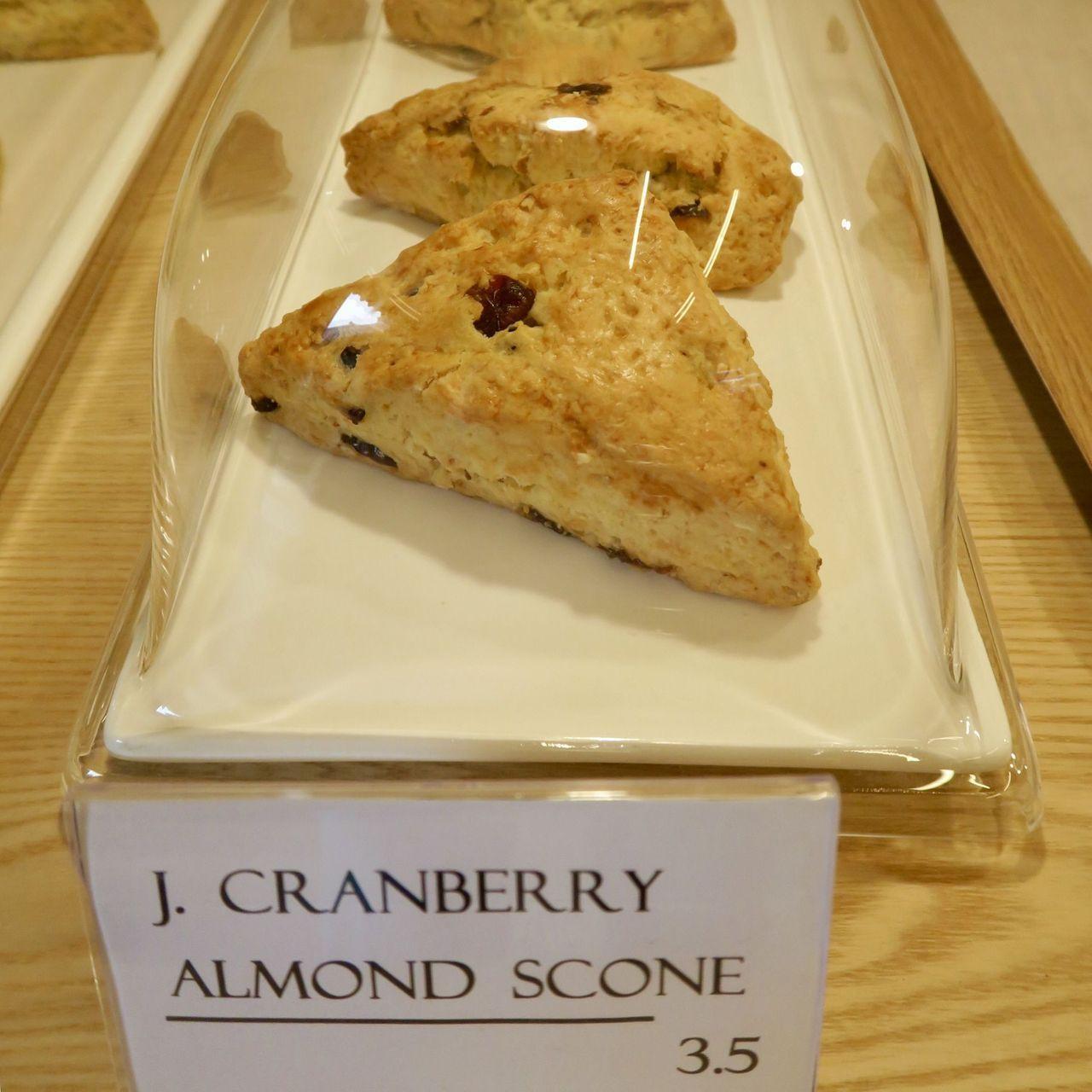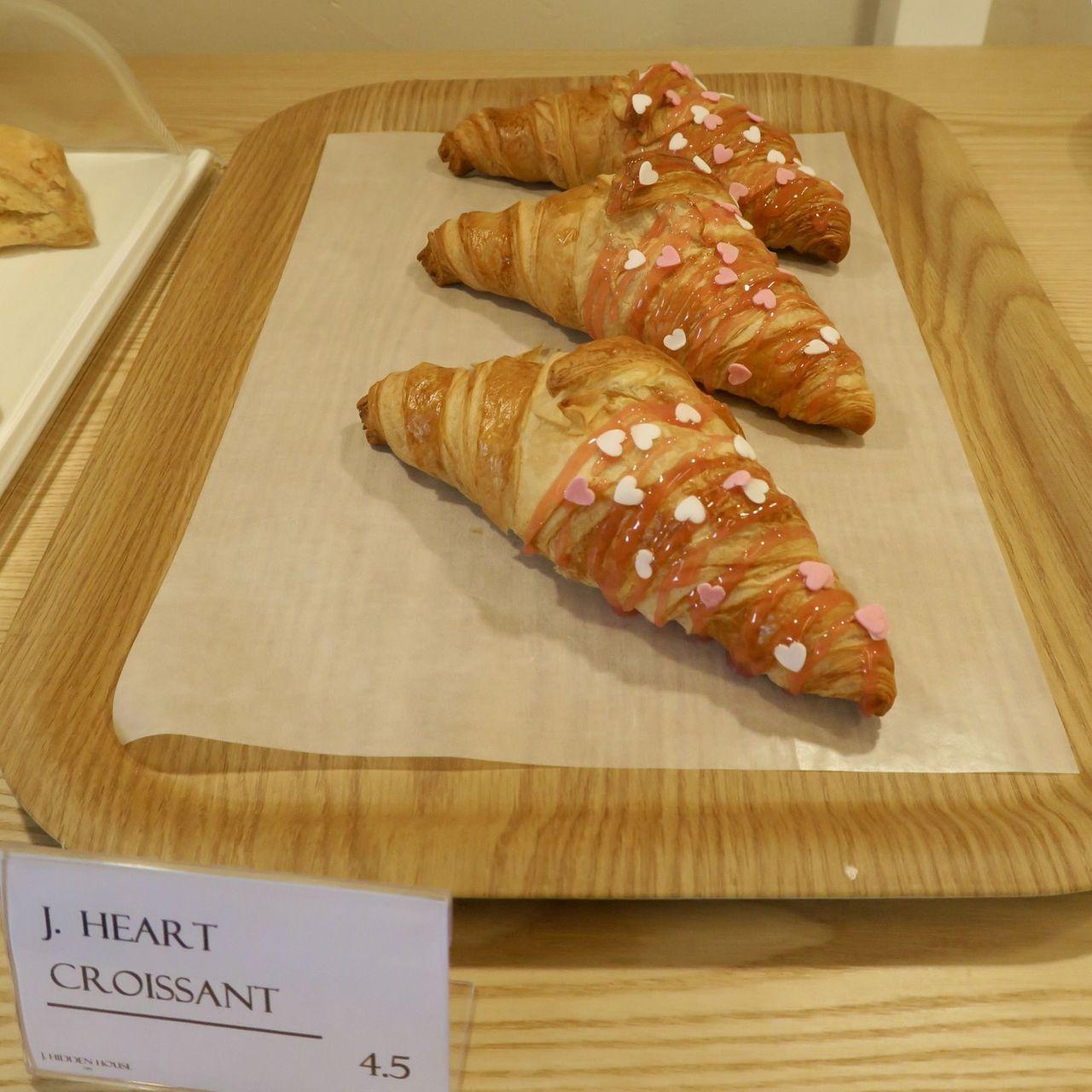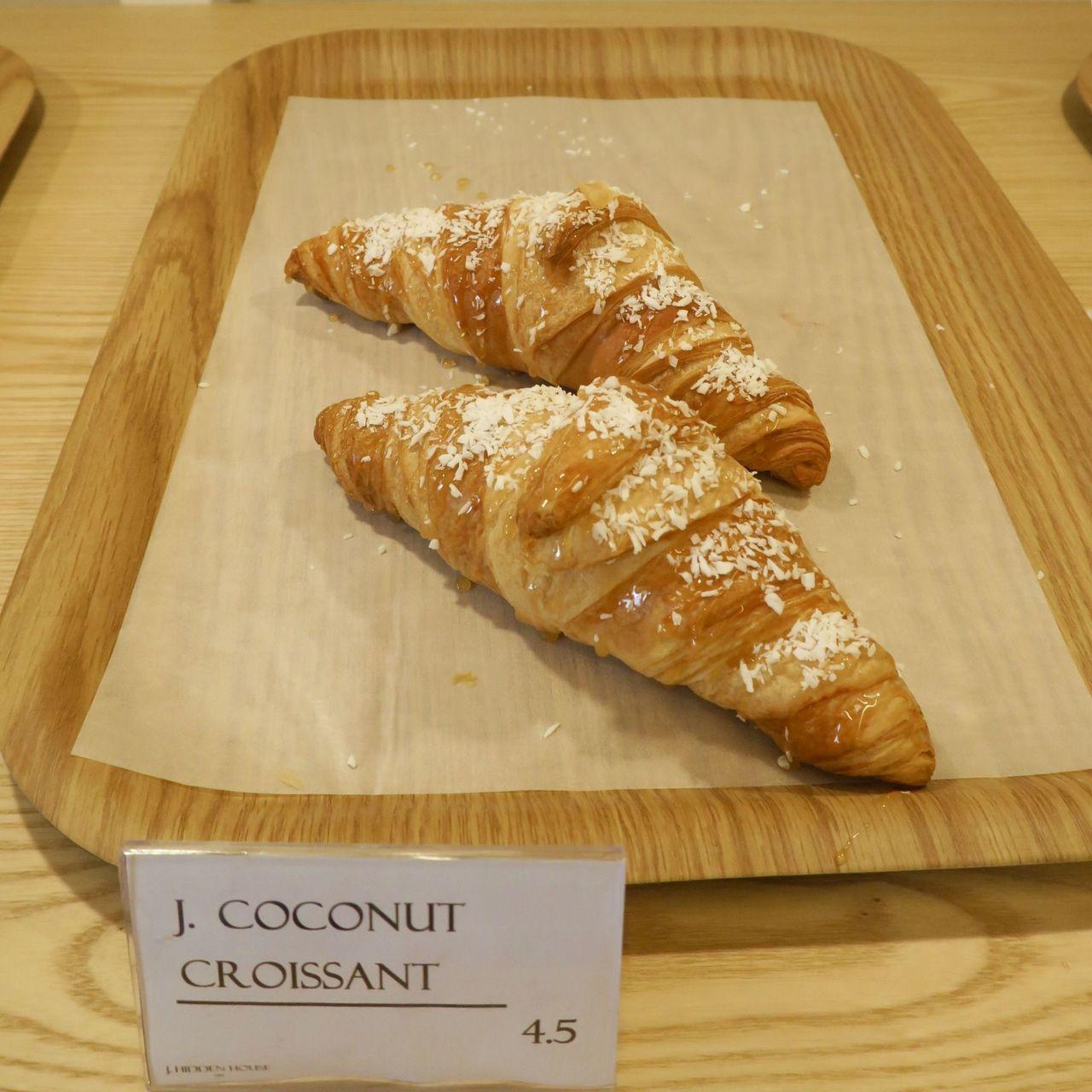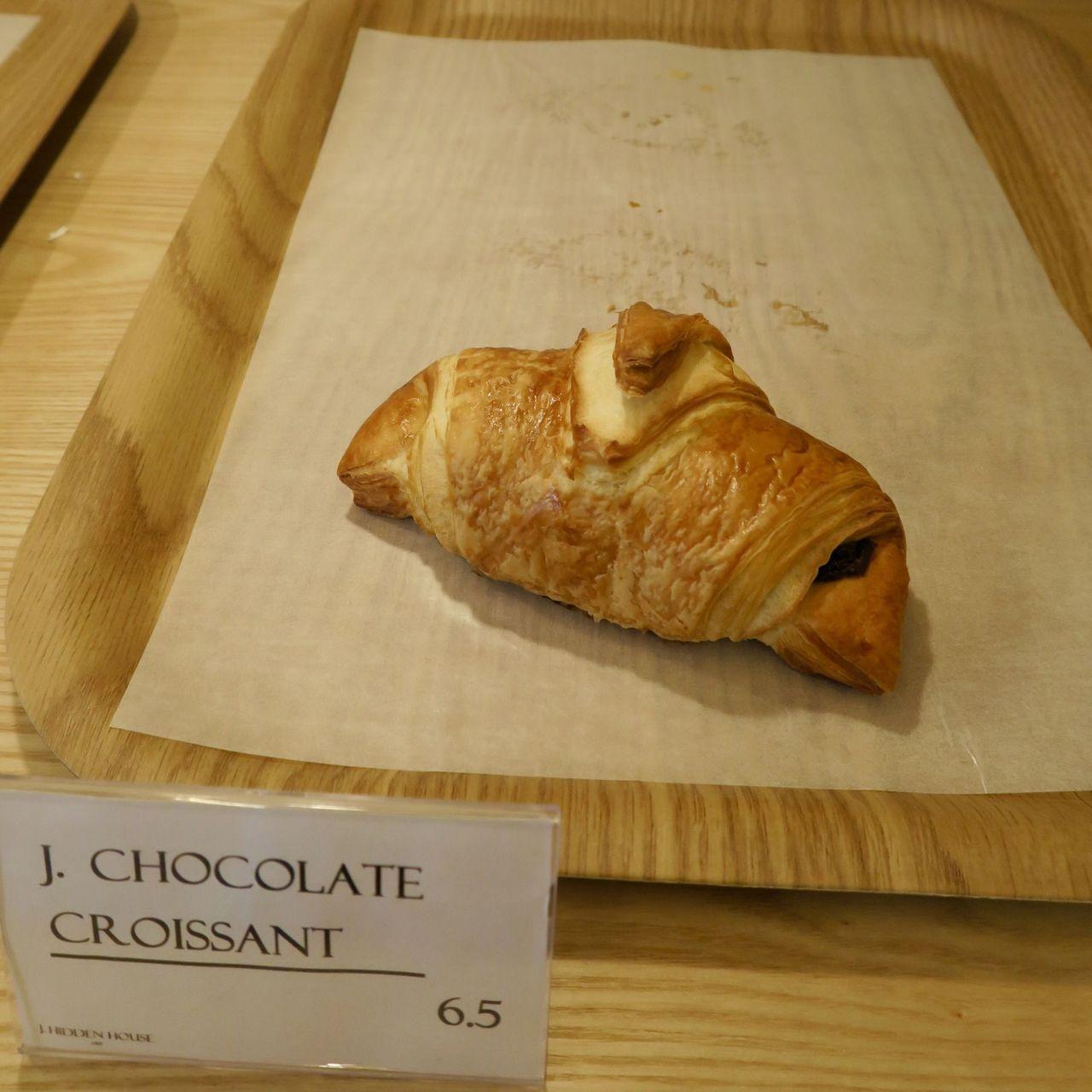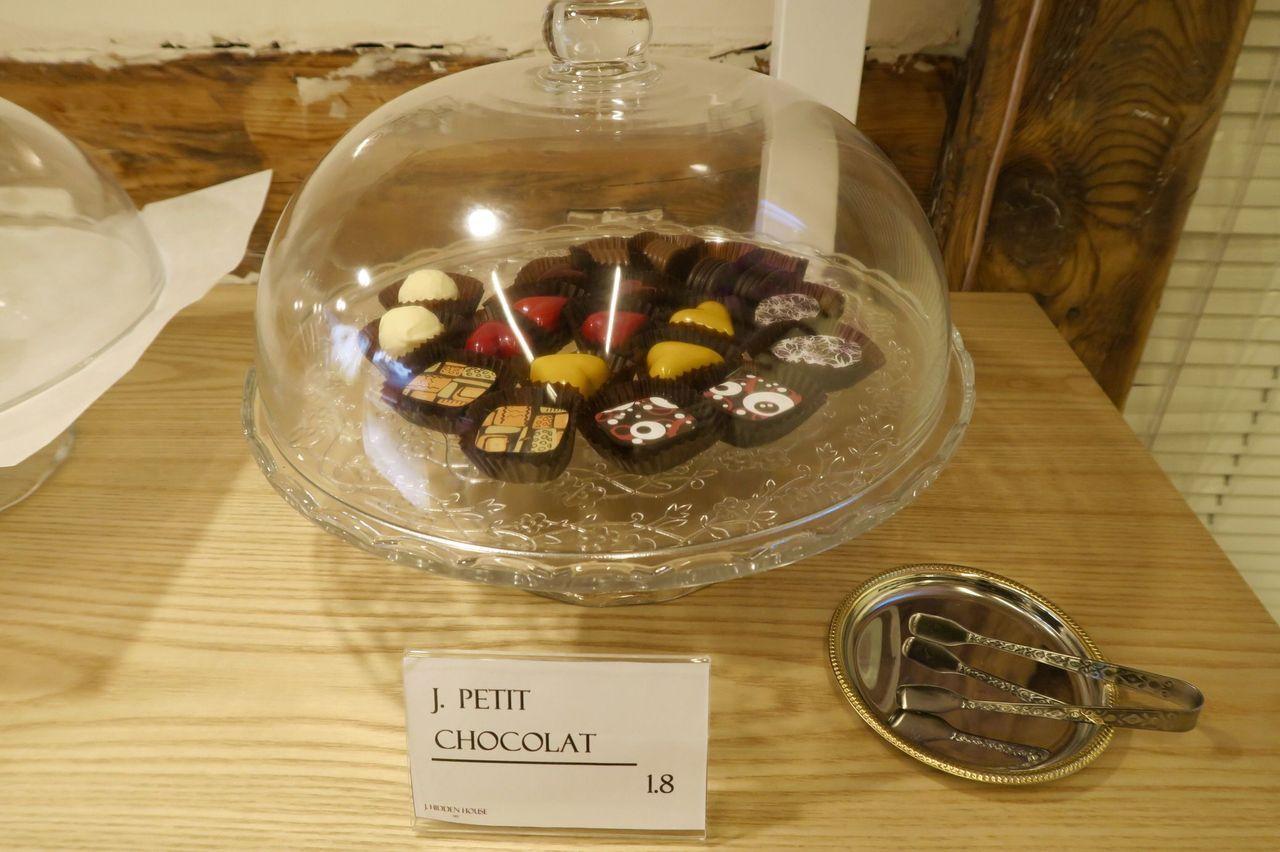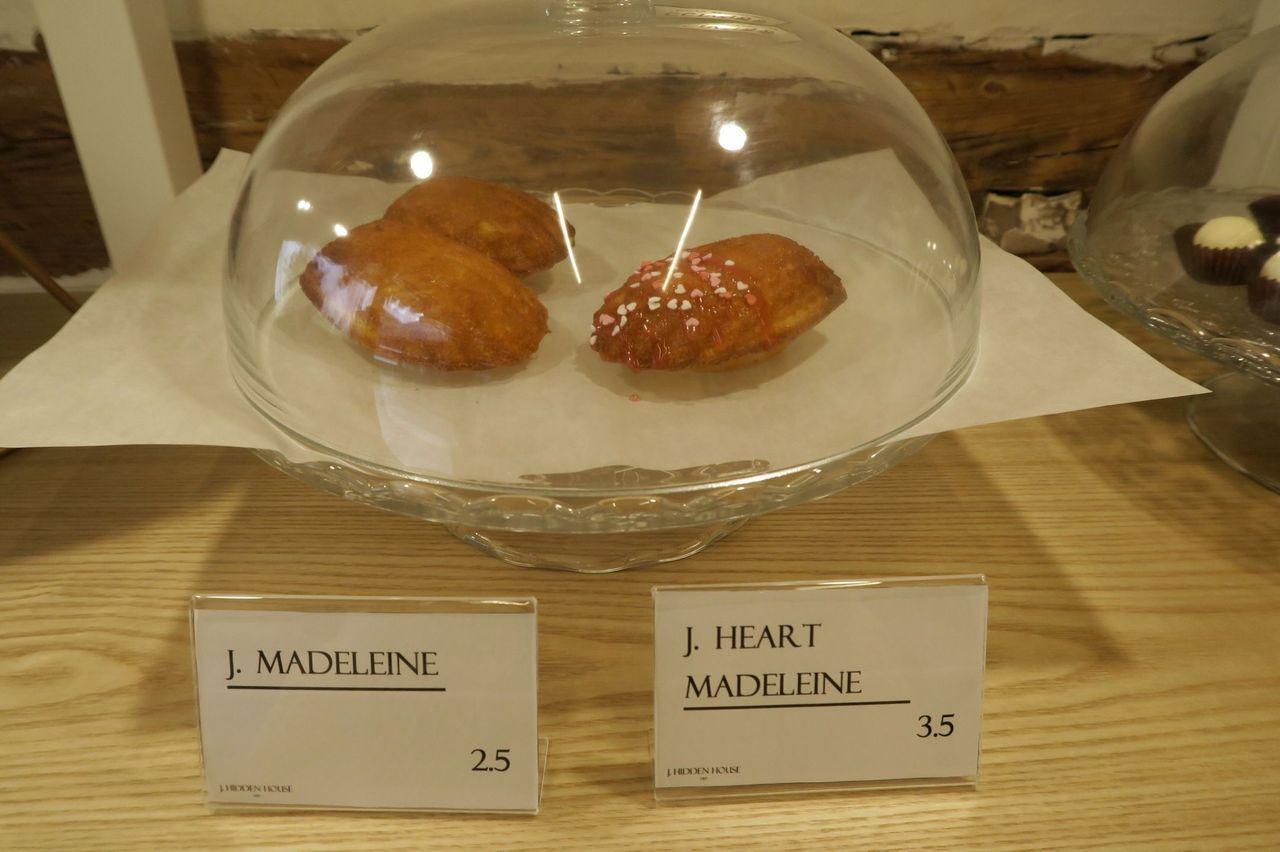 I ordered J.Peanut Butter Latte, J.Raspberry Cream Latte, J.Earl Grey Milk Tea, J.Fruit Ade, J.Heart Madeleine, J.Chocolate Croissant, J.Earl Grey Lemon Scone, J.Coconut Croissant, and J.Eclair. As I visited the cafe with my friends, I ordered pretty much all the desserts on the menu.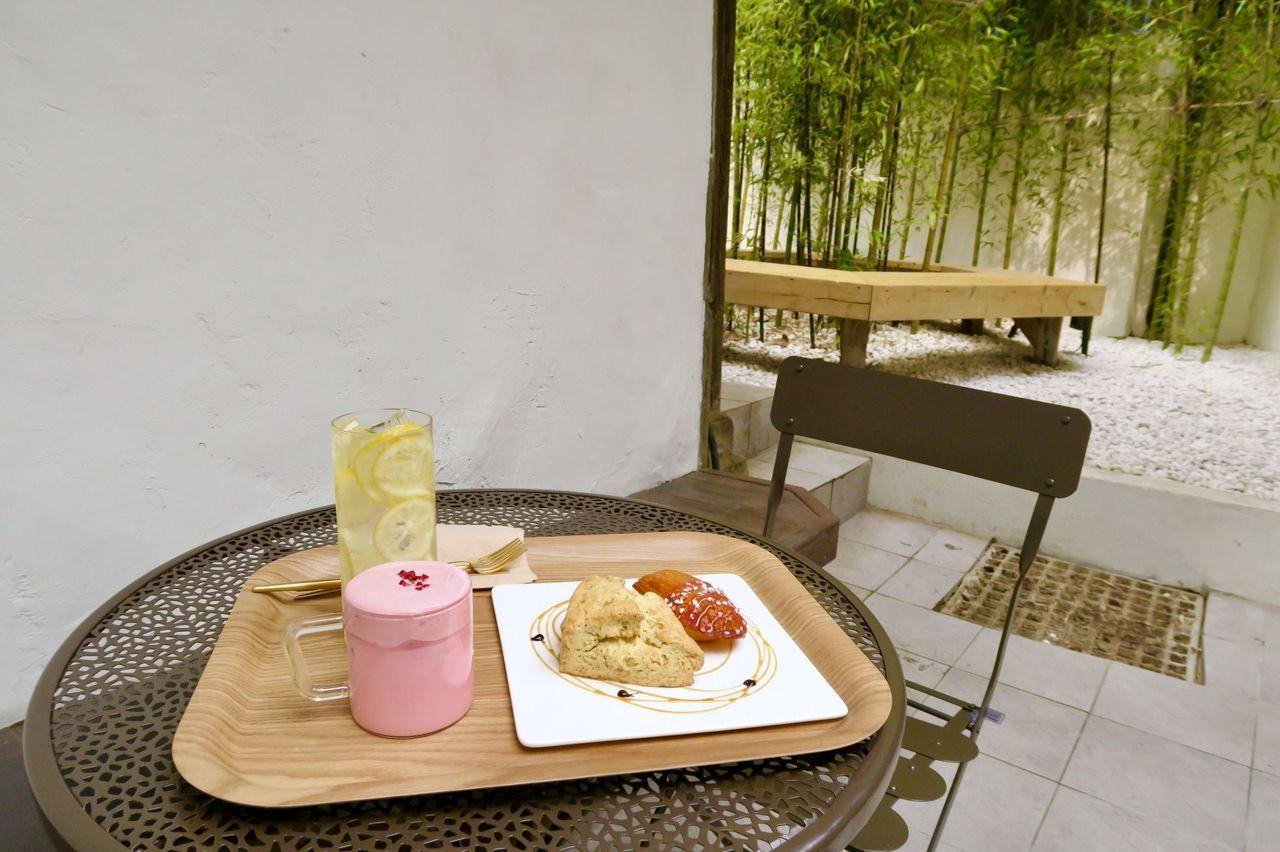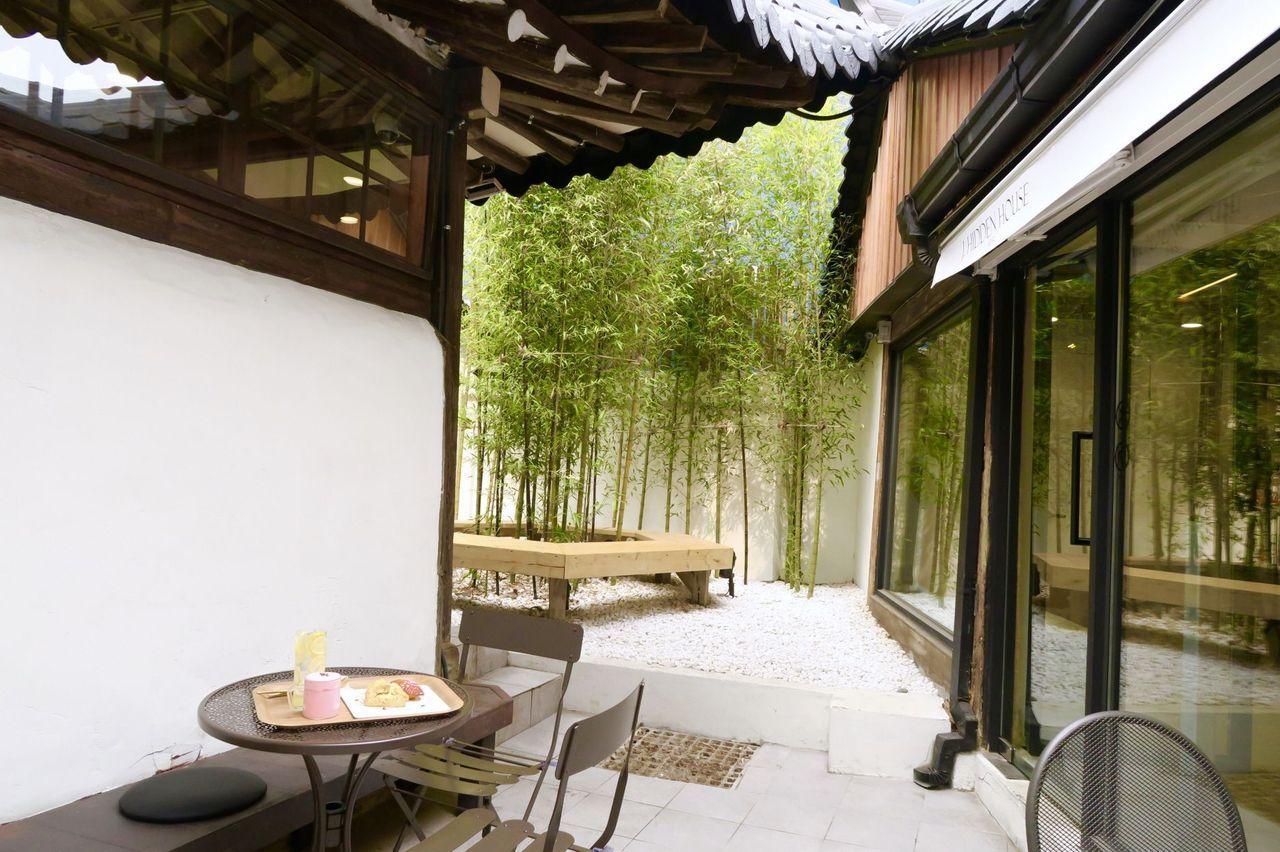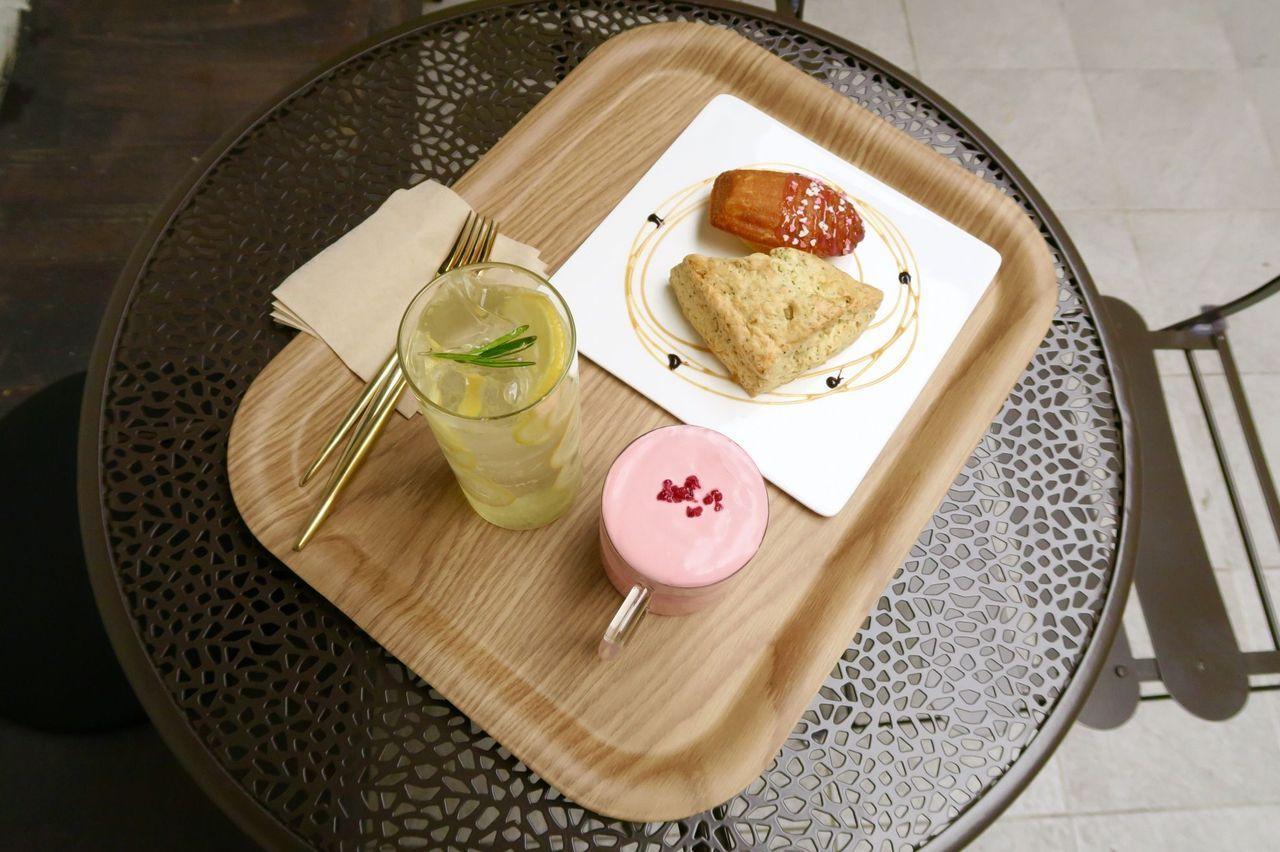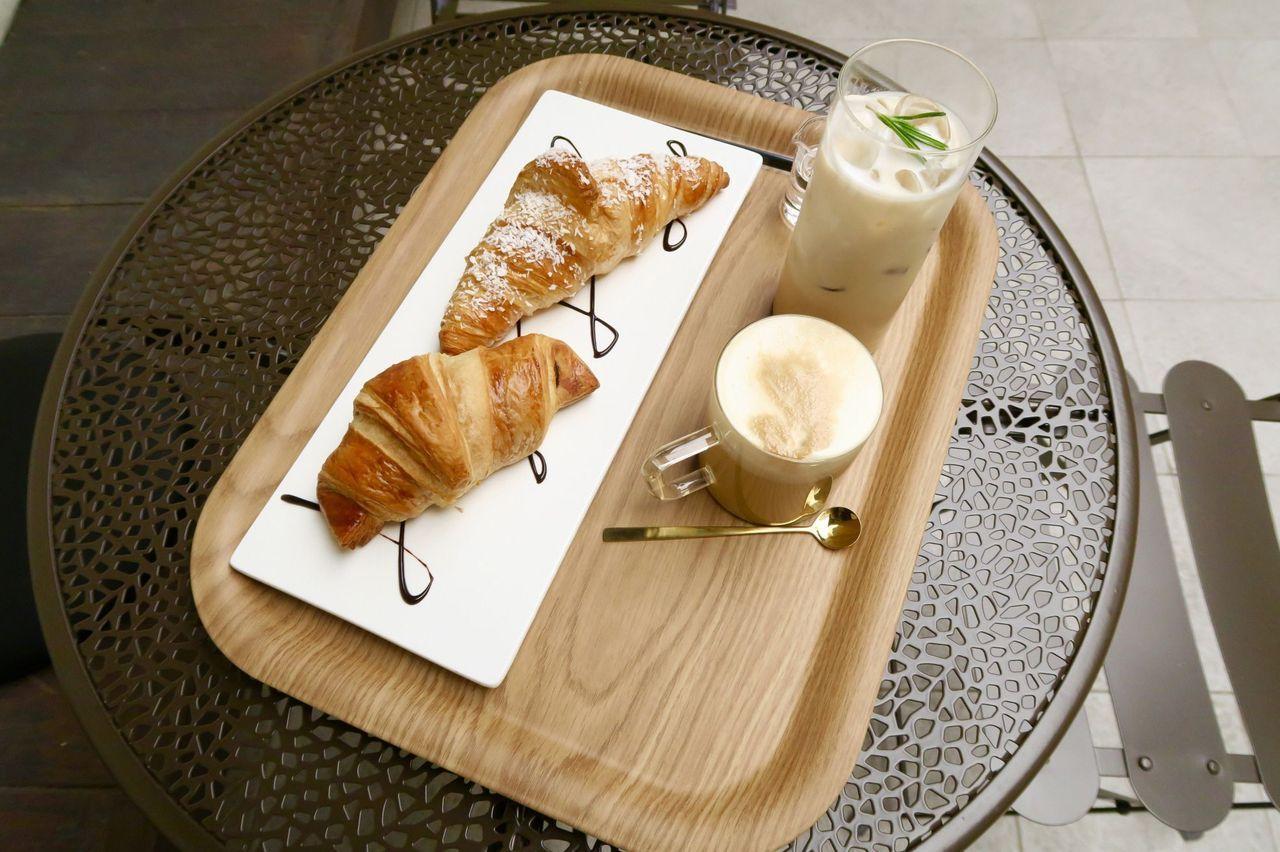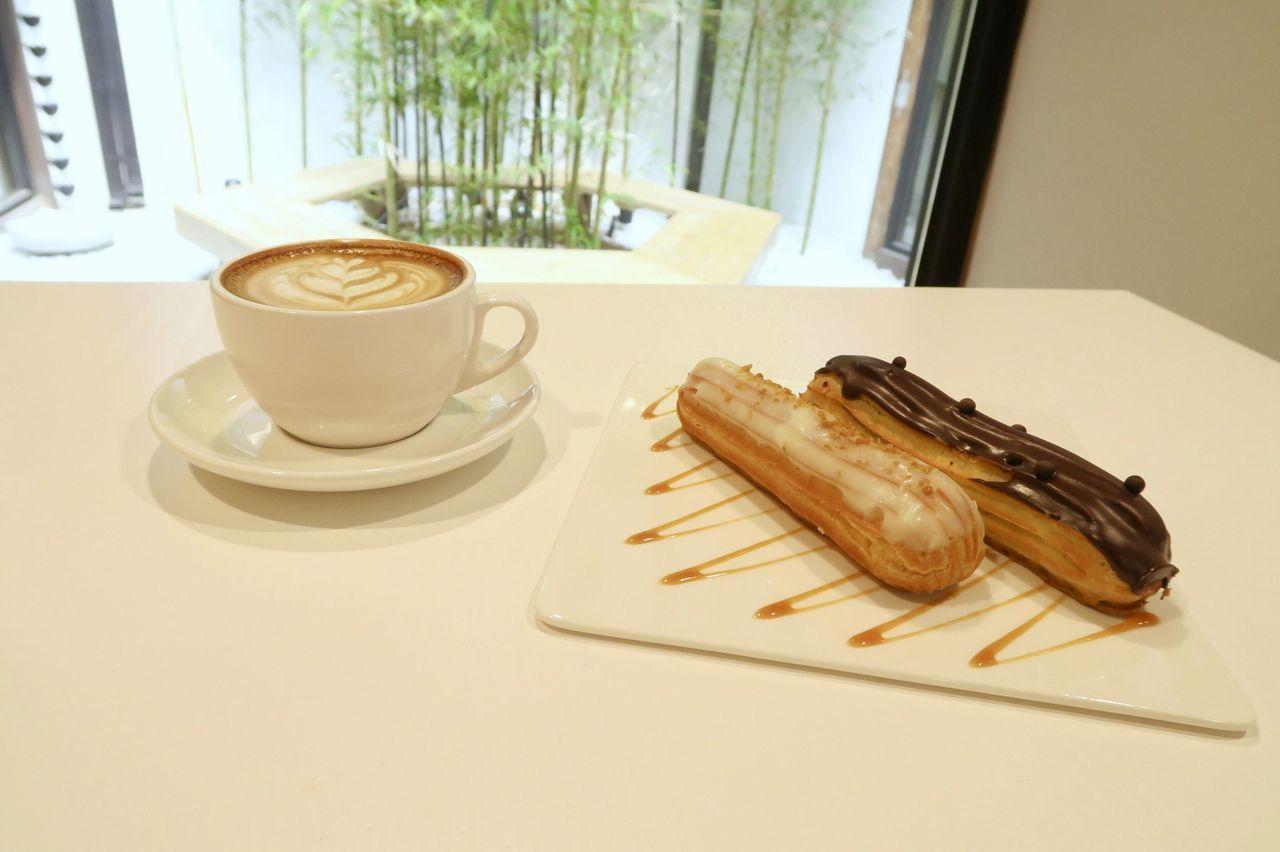 On top of the J.Raspberry Cream Latte(₩7,500), it ts topped with a thick and cool raspberry-colored cream. This latte coordinated very well with the cherry blossom tree. The color of this latte would surely captivate all the women. What's more amazing was that, even when I took a sip, the cream didn't get messy. Under the cream there was mild milk tasted like sweet raspberries!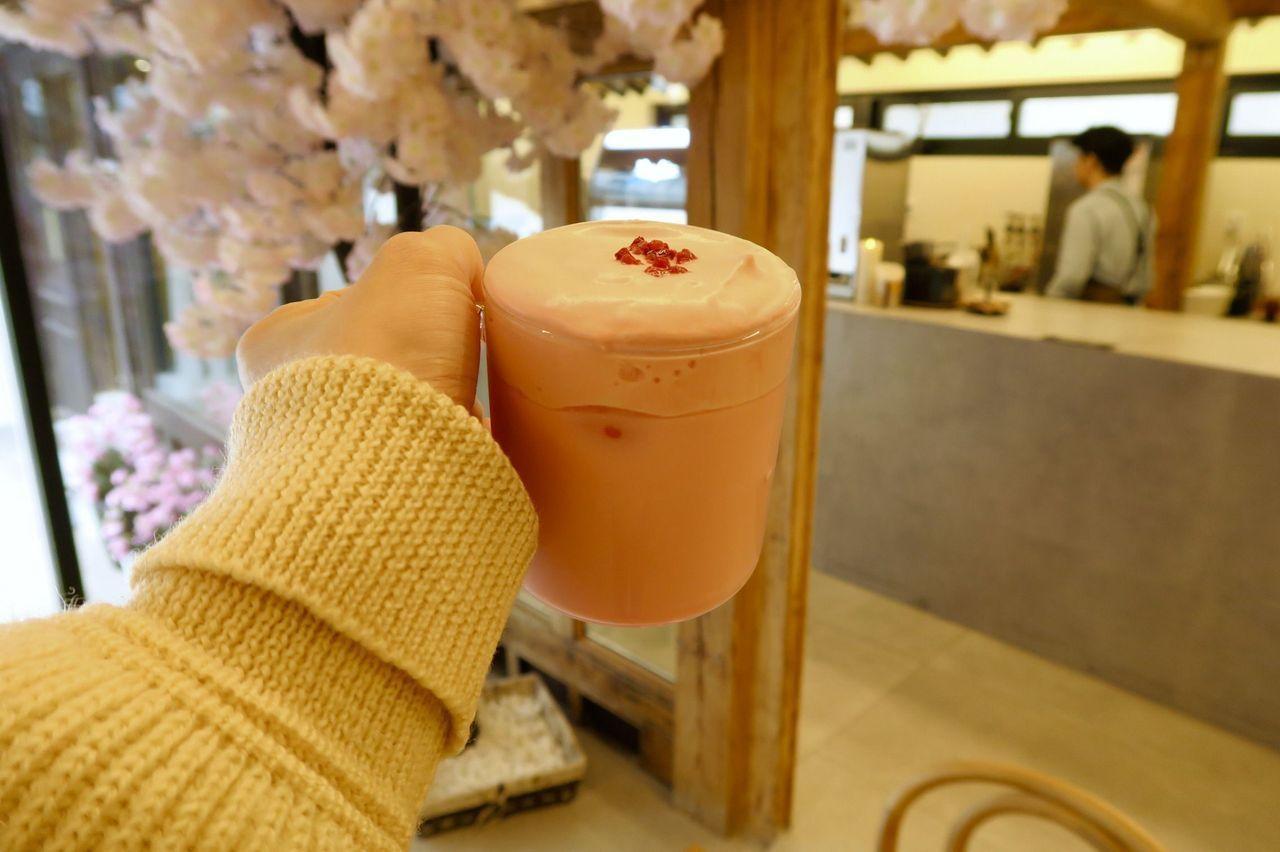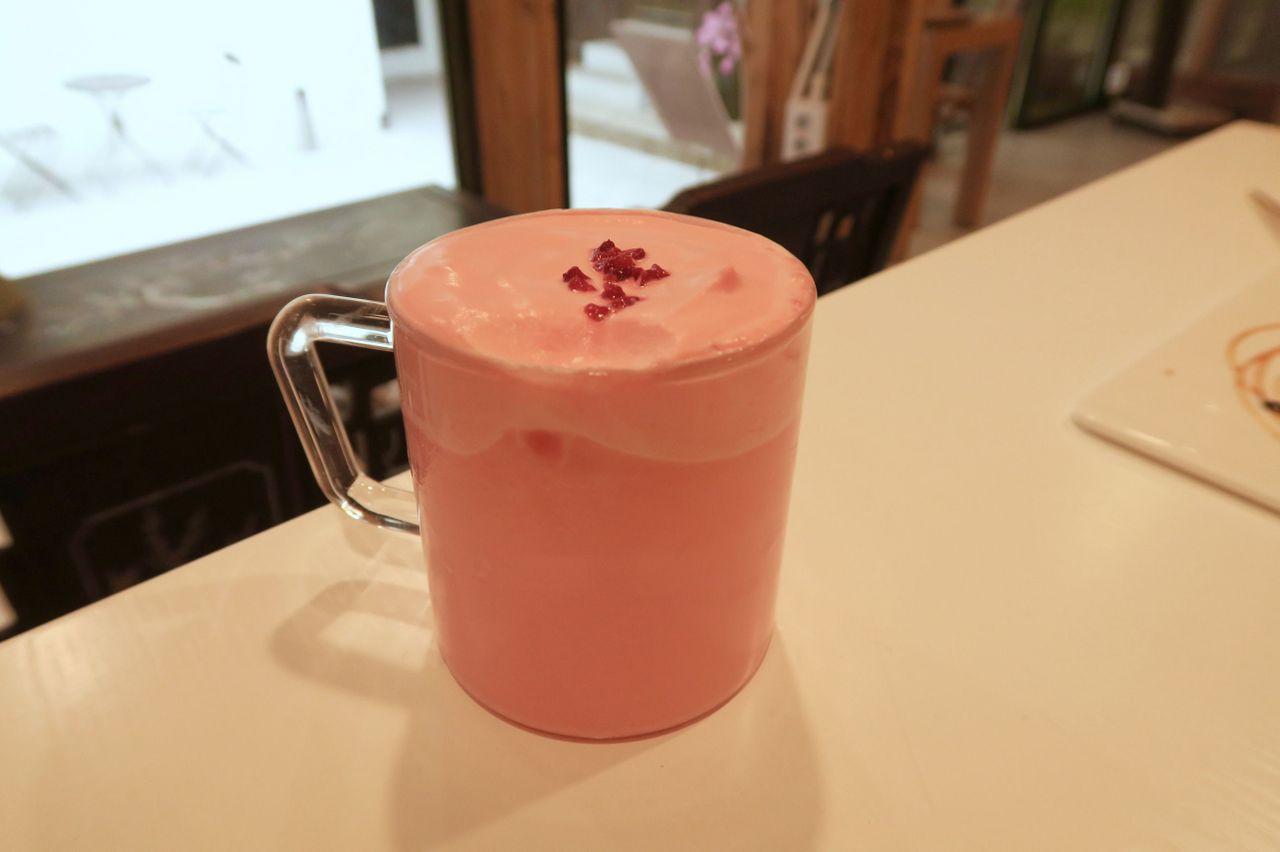 J.Fruit Ade(₩7,000) is a refreshing, tangy, and cool ade with lemons in it. It would be a perfect combination with sweet desserts. The fruit ade of the J.Hiddenhouse has no syrup in it and it is made with healthy ingredients. When I drank this ade, the scent of lemon was so strong, it felt like whole lemon was in it. Can you see the huge chunk of lemon slices in it?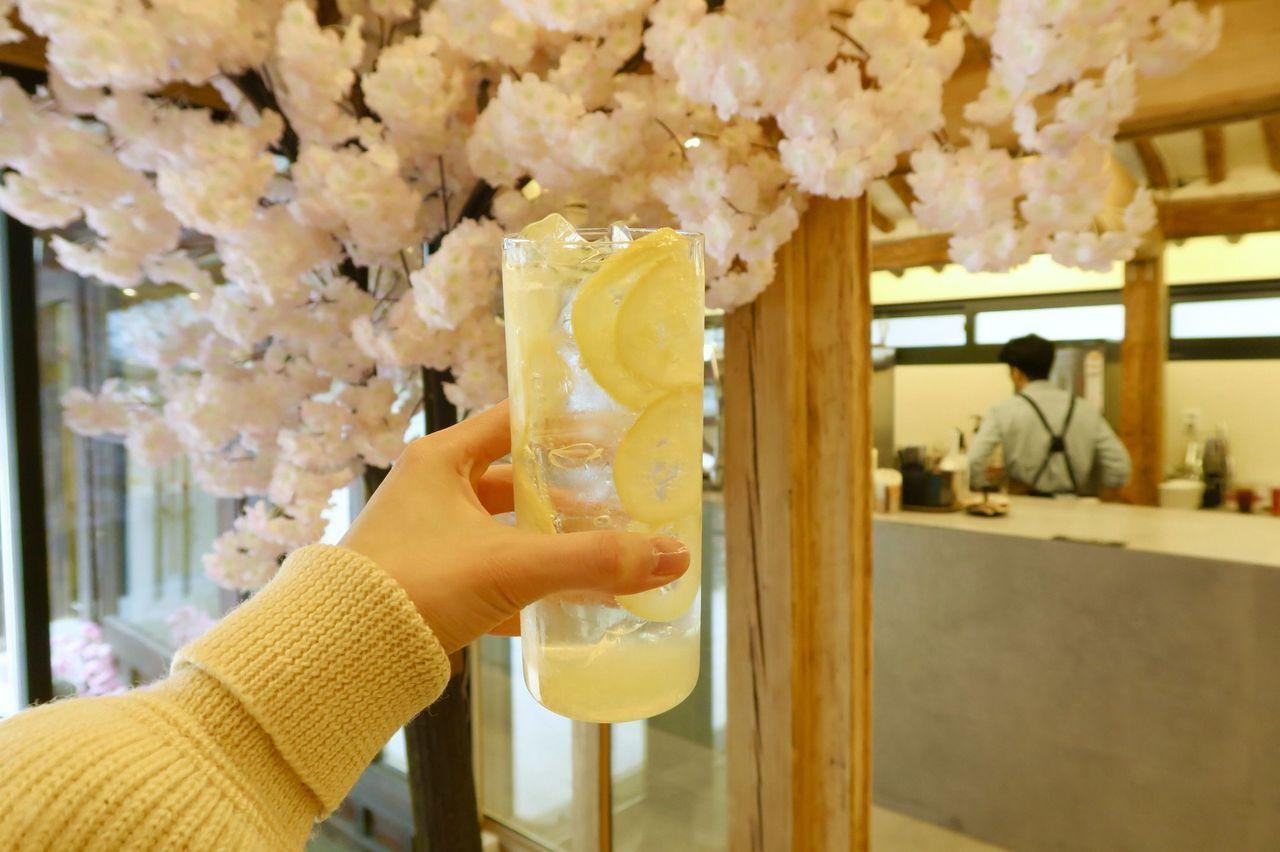 I could strongly taste the black tea when I drank iced J.Earl Grey Milk Tea(₩6,500). Those who are used to the subdued taste of milk tea will be marveled by this scent.
This earl grey milk tea is brewed from the pure black tea leaves, thus it taste very clean and neat. There was no heavy aftertaste after drinking the tea, which was so satisfying.
J.Peanut Butter Cream Latte(₩7,500) was my personal favorite! It reminded me of Reese's chocolate!
As soon as I took a sip, I knew it was something that can't be tasted elsewhere. It was savory, sweet, and very peanut buttery.
At the very top, there's a pretzel with peanut butter in it. You better take a picture first as the pretzel sinks!
I would like to order this latte when I visit the cafe again.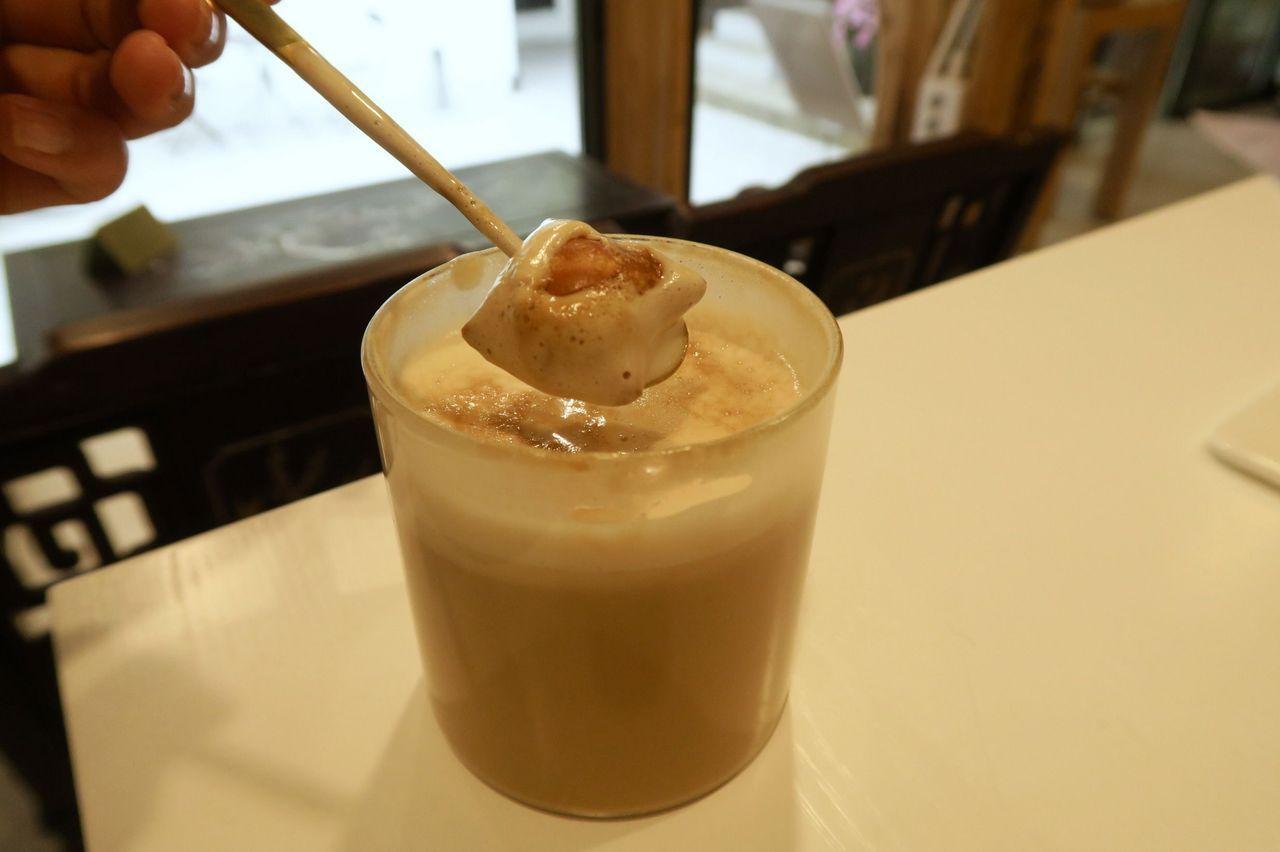 There are two kinds of J.Eclair(₩4,000), chocolate and cream. Of course, I ordered all of those to strictly evaluate the taste.
The dessert was..just another level, so the taste of the pastry itself was on point.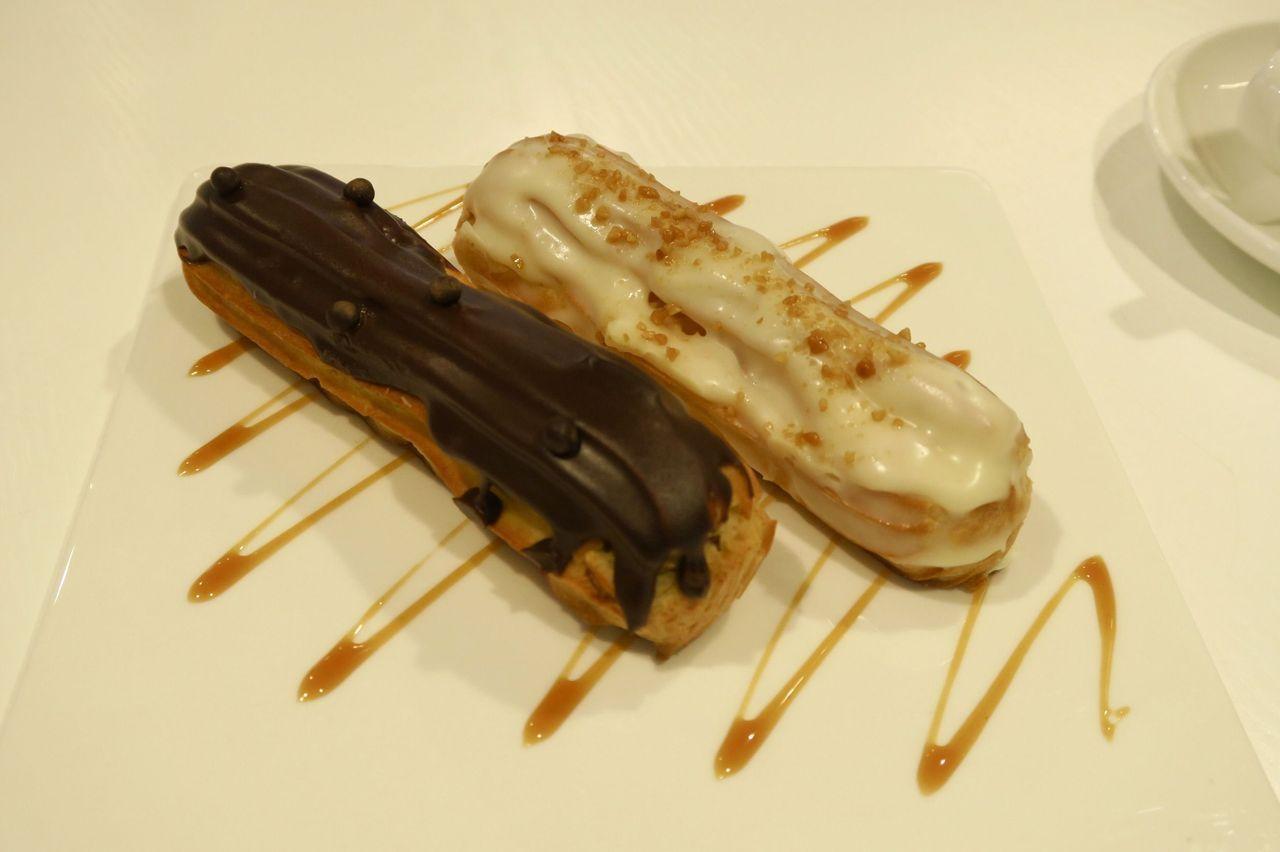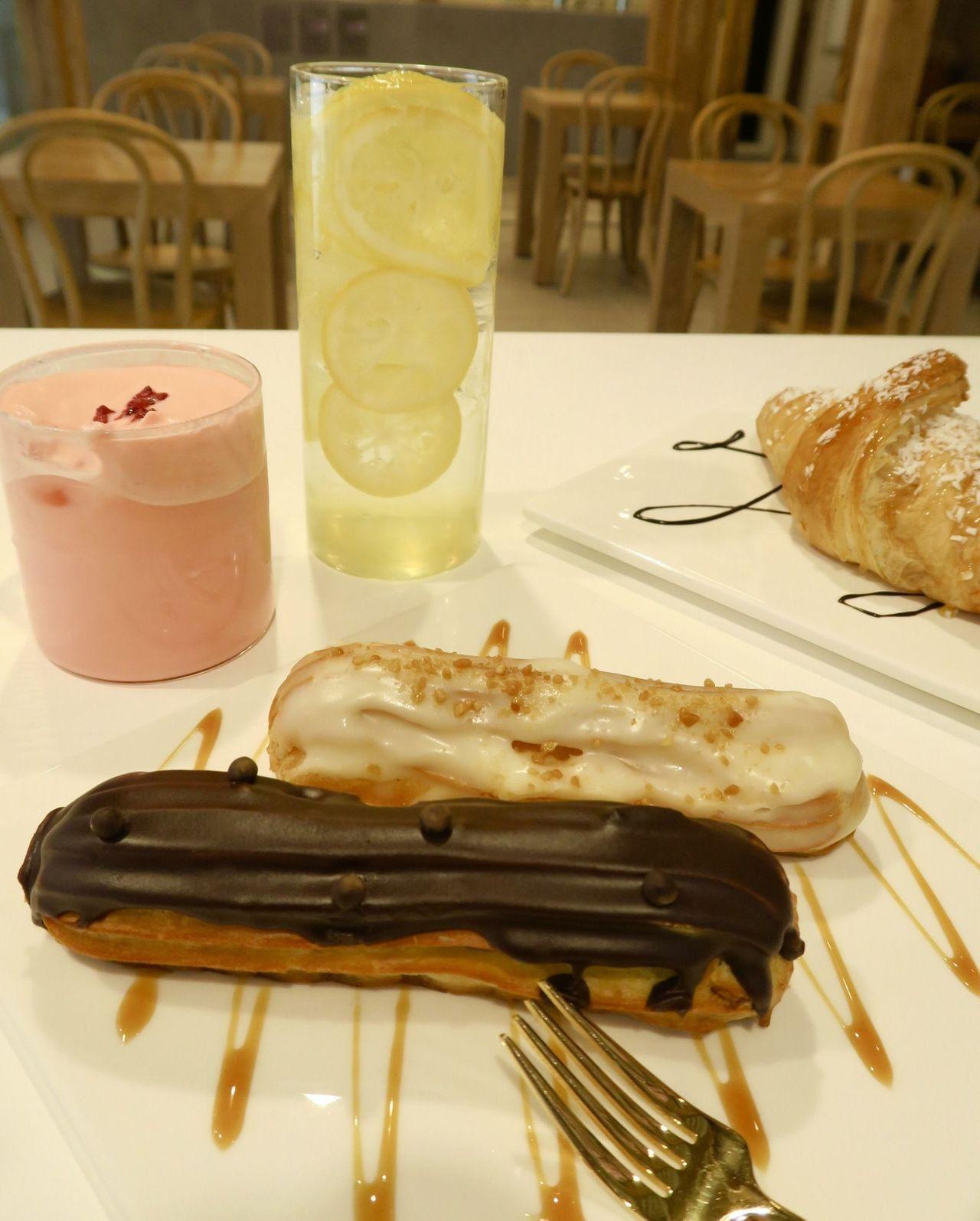 The layers of patissere were thin but tender full of filling, allowing me to fully capitalise on the top notch French butter.
Inside the Chocolate eclair, there was soft chocolate filling. It was the taste of hot chocolate rather than dark chocolate.
Inside the White eclair, there was soft cream filling.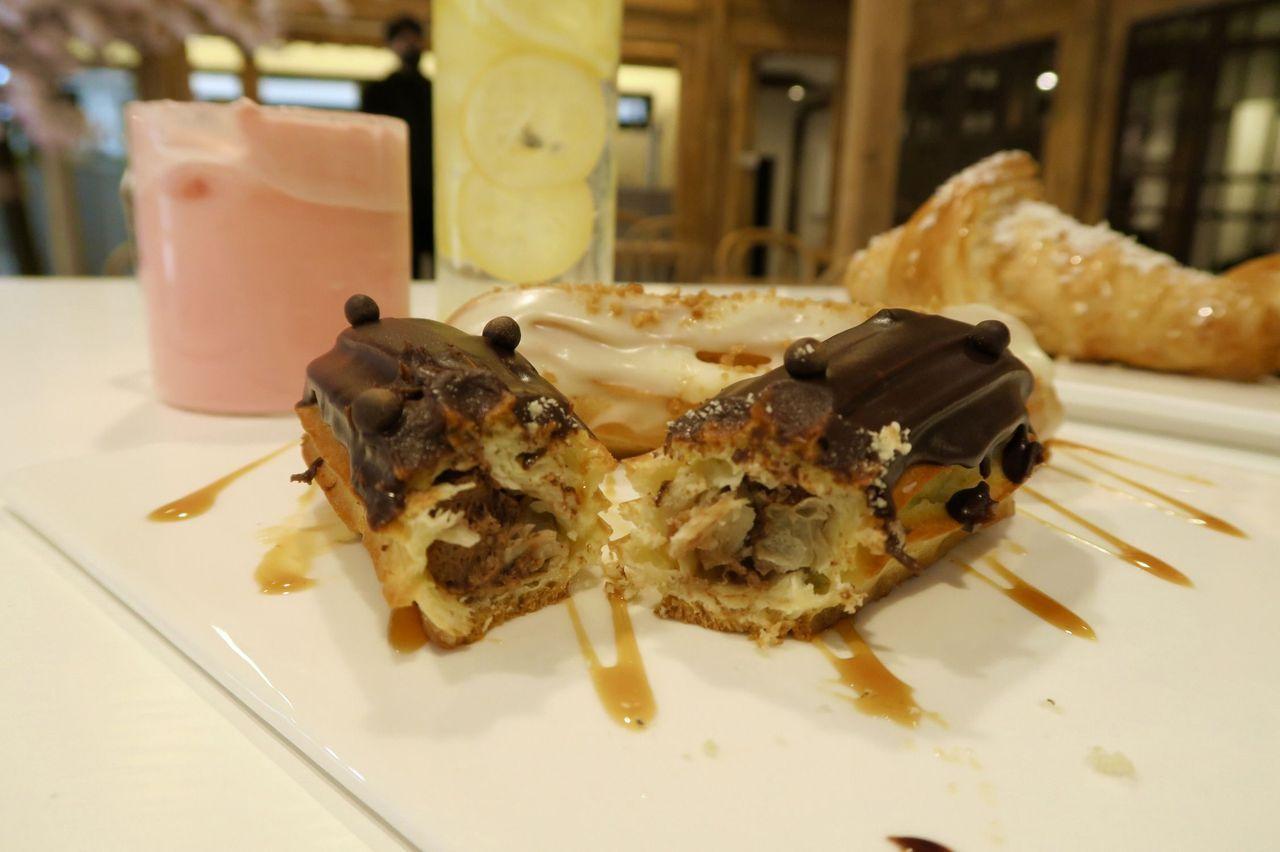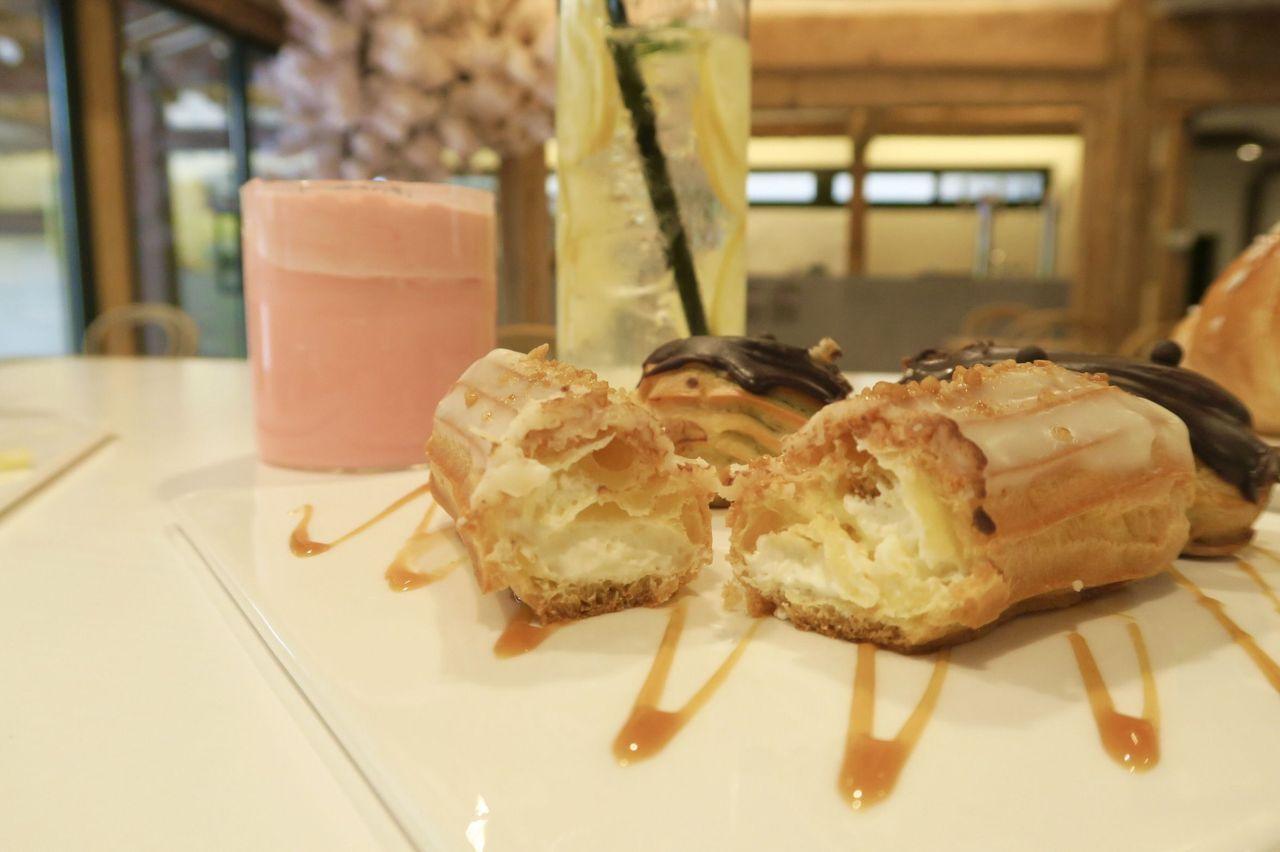 There were also coconut croissant and chocolate croissant.
J.Coconut Croissant(₩4,500) is one of the popular desserts at J.Hiddenhouse.
There's a lot of caramel and coconut powder sprinkled on top of the croissant. When I had a bite, it was sweet and savory. Also, the texture itself were very scrumptious. As each and every layer of the crossiants were fresh and alive, I was able to feel the flesh of French butter
Inside the J.Chocolate Croissant(₩6,500), there's hazelnut chocolate just like nutella chocolate. Just like J.Coconut Croissant, the crust on the outer part was very crispy, and the inner part was tender and chewy.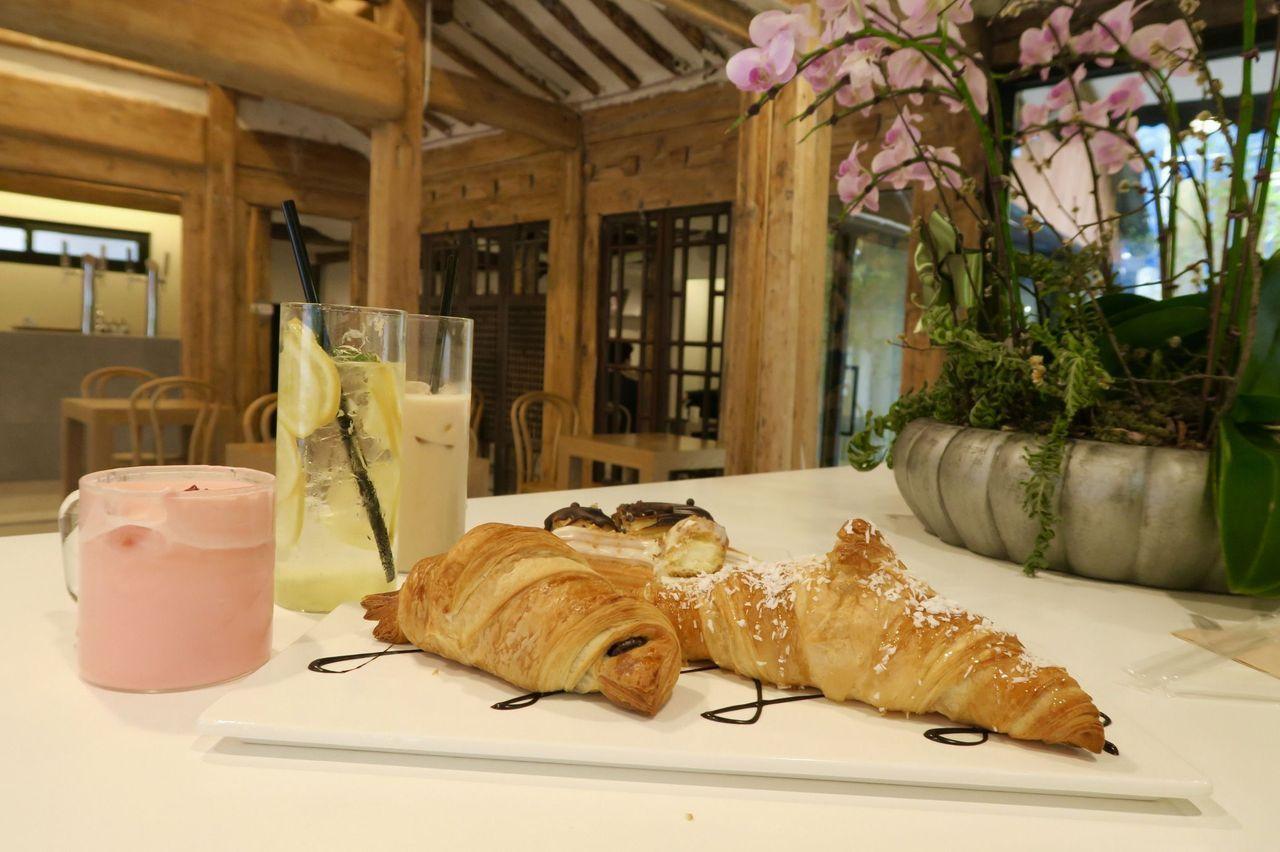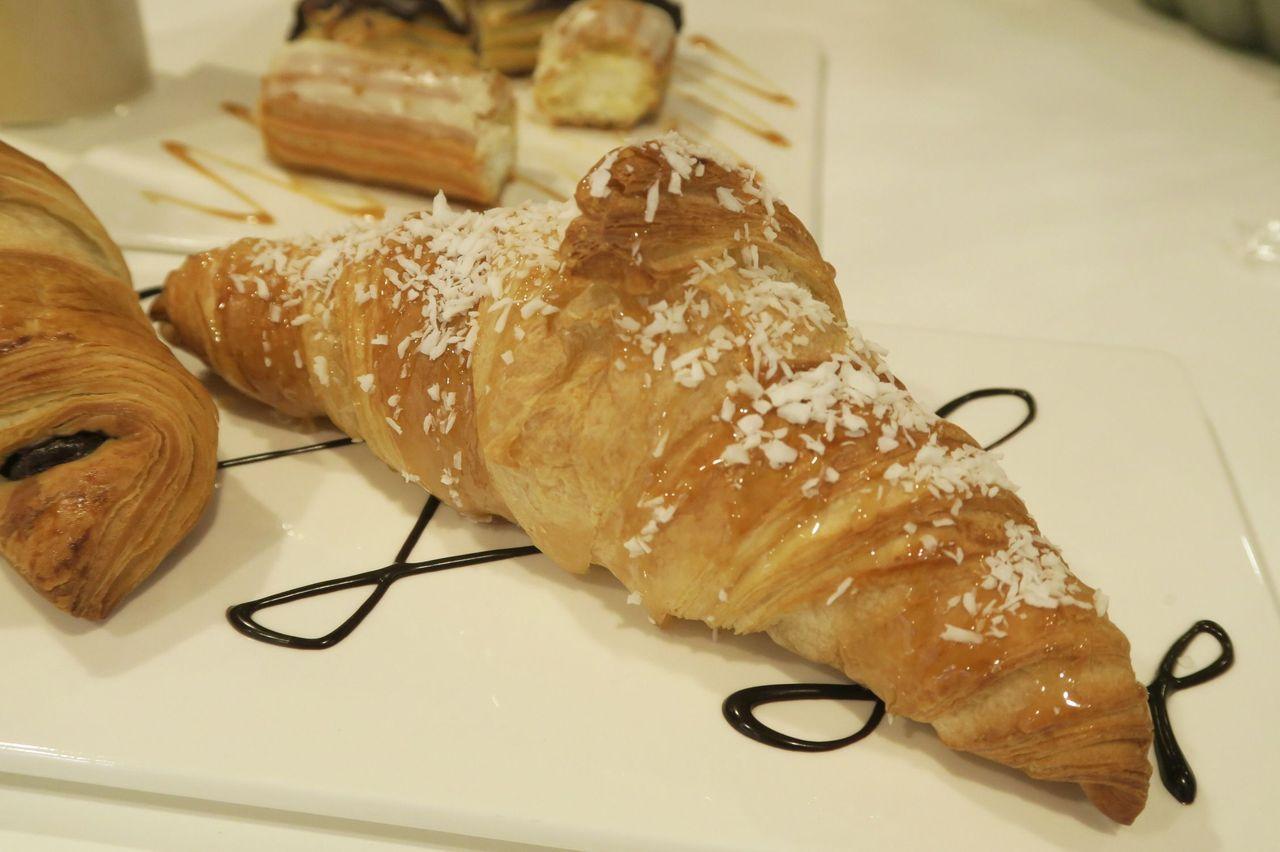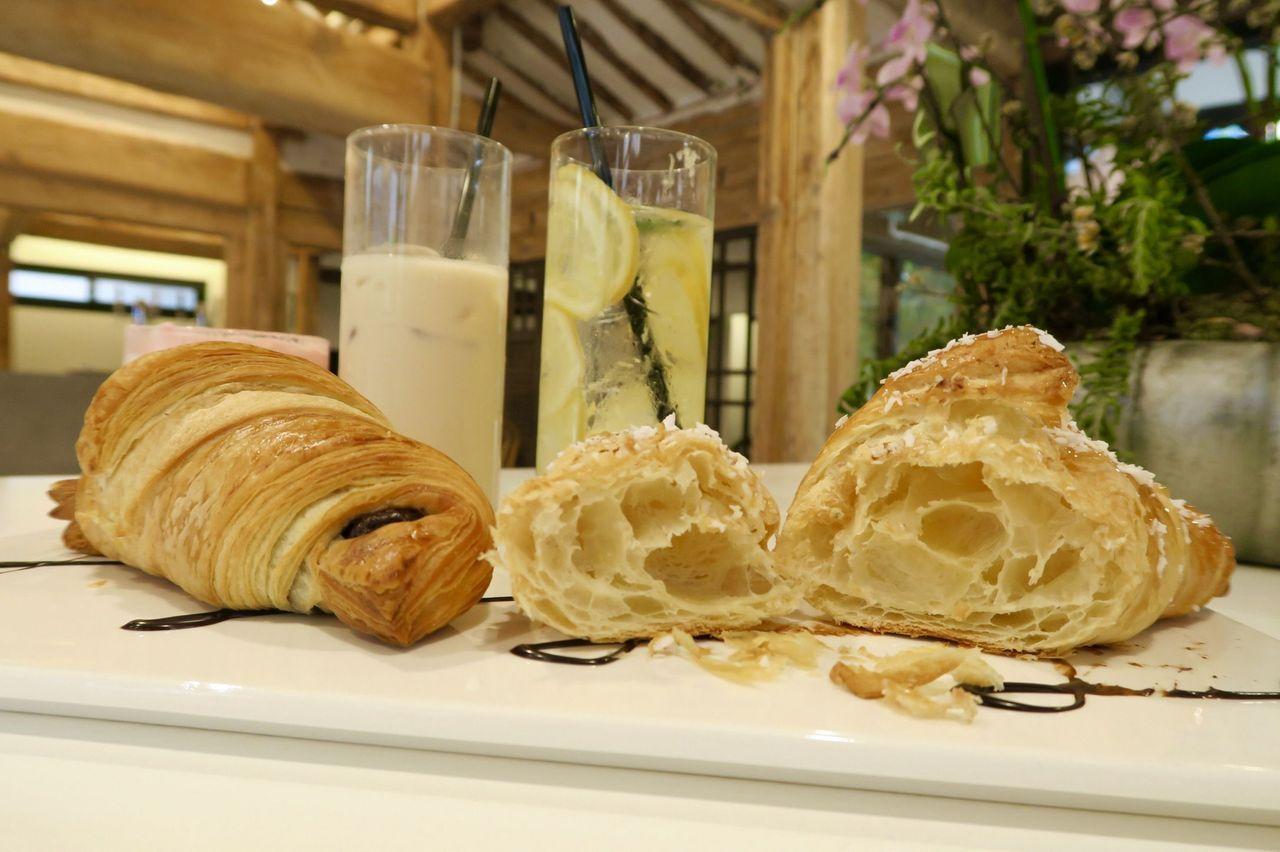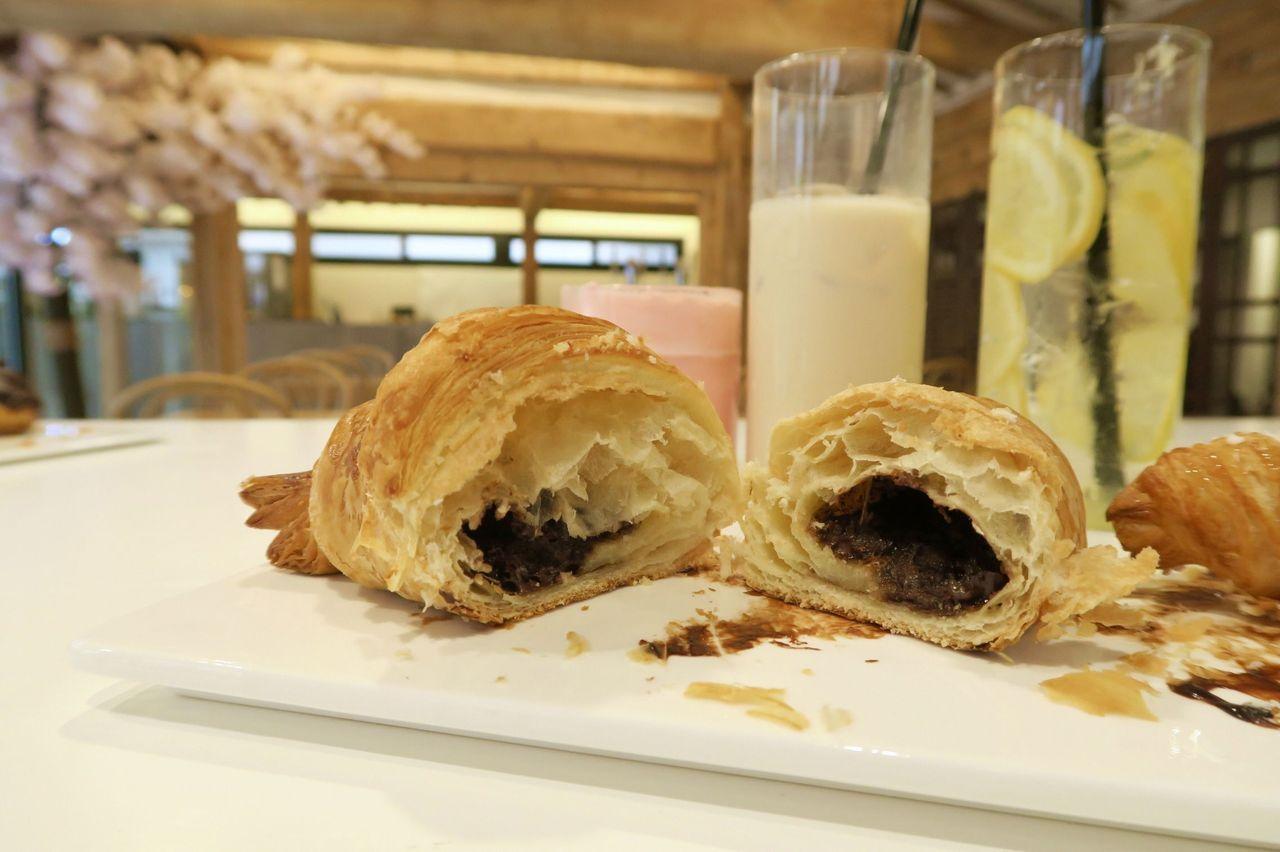 I ordered J.Heart Madeleine(₩3,500) just because it was so pretty. The heart sprinkles scattered over madeleine reminded of me cherry blossoms. This madeleine was perfect match with warm drinks!
I think J.Earl Grey Lemon Scone(₩3,500) can be substituted with breakfast or dinner. The crust of the scone was a bit hard and the inner part was soft. Milk tea and the scone was perfect combination. As there's a slight taste of lemon int he scone, it didn't have any heavy aftertaste.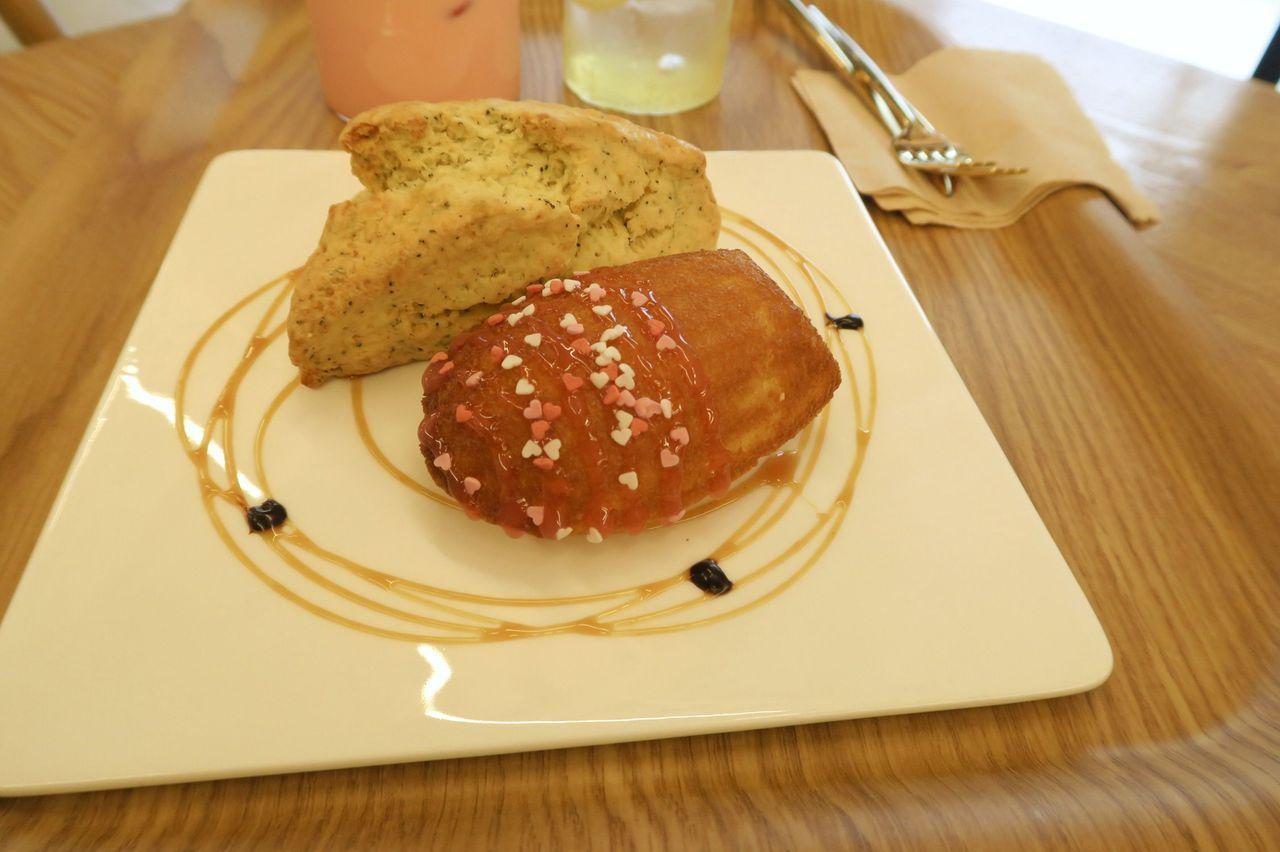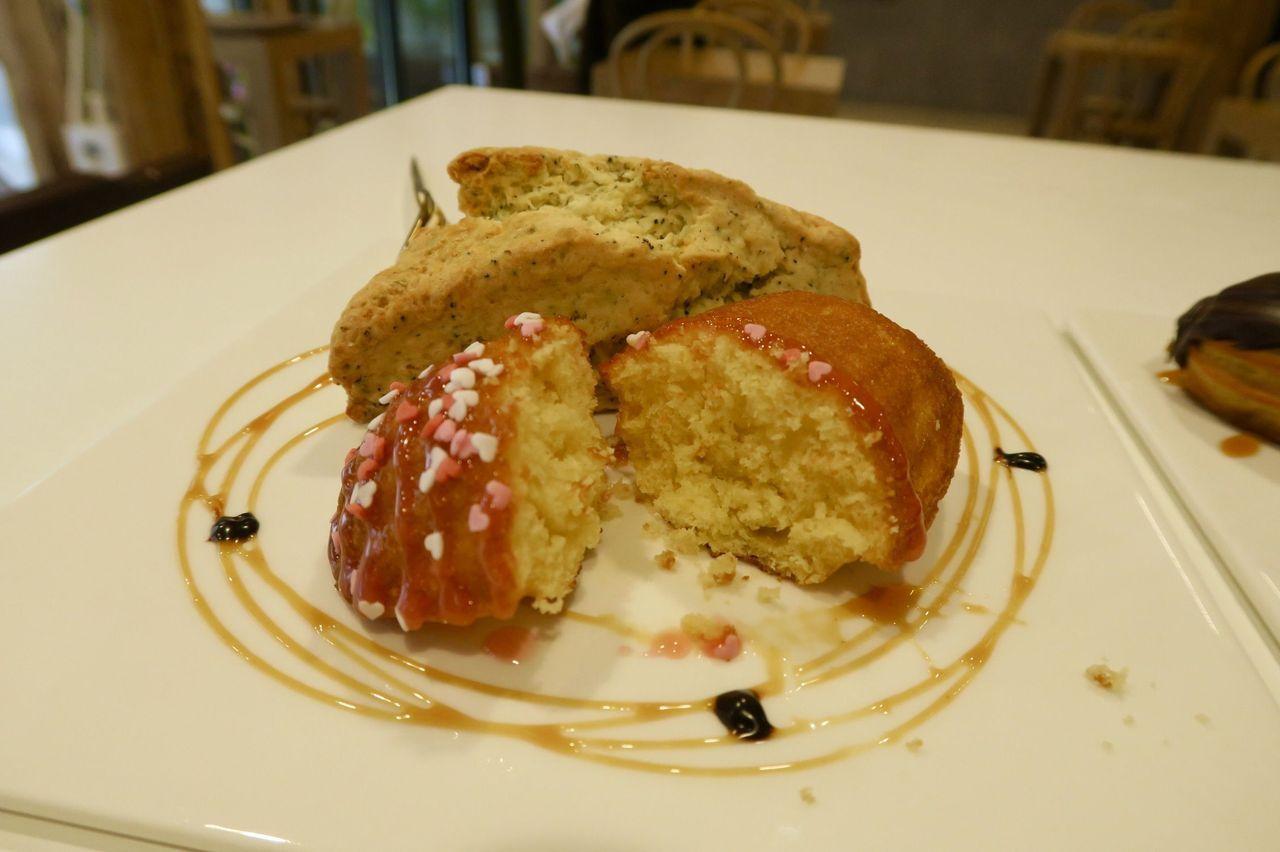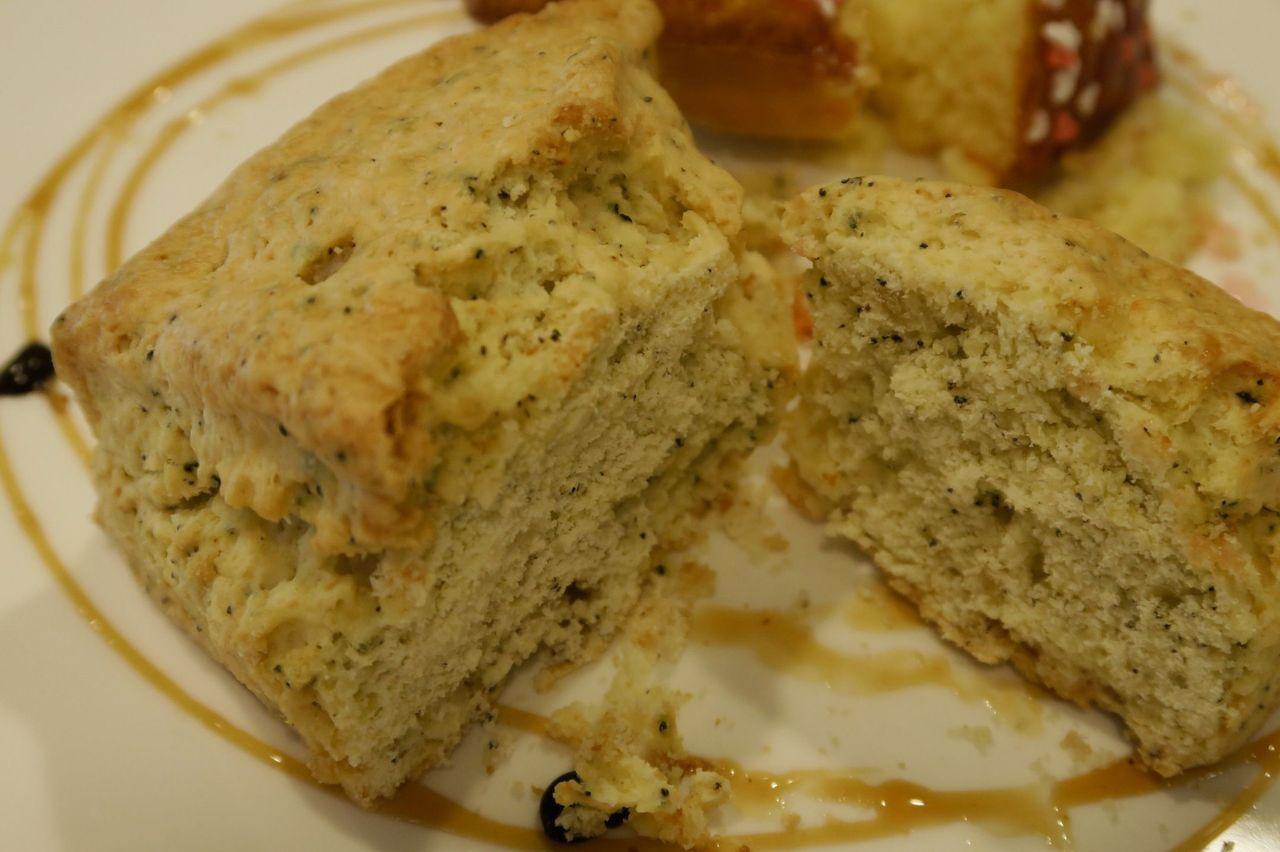 Moreover, J.Hiddenhouse is trying to fulfill its social responsibility by donating part of their profits to Junior Achievement, an NGO of the International Education Fund.
After the shopping spree and tour around Daongdaemun, how about taking a crisp break while eating the finest desserts?
---
Dongdaemun Hanok cafe:J.Hiddenhouse | Menu
| | | |
| --- | --- | --- |
| English | Korean | Price |
| J.Caramel Cream Latte | J.카라멜크림라떼 | ₩7,000 |
| J.Peanut Butter Latte | J.땅콩크림라떼 | ₩6,500 |
| J.Raspberry Cream Latte | J.라즈베리크림라떼 | ₩7,500 |
| J. Handmade Fruit Ade(Lemon/Lime) | J.수제 청 에이드(레몬/라임) | ₩7,000 |
| J.Earl Grey Milk Tea | J.얼그레이 밀크티 | ₩6,000 |
| J.Coconut Croissant | J.코코넛 크로아상 | ₩4,500 |
| J.Earl Grey Lemon Scone | J.얼그레이 레몬 스콘 | ₩3,500 |
| J.Eclair | J.에끌레어 | ₩4,000 |
| J.Heart Madeleine | J.하트 마들렌 | ₩3,500 |
The menu changes seasonally so be sure to check their Instagram often for updates!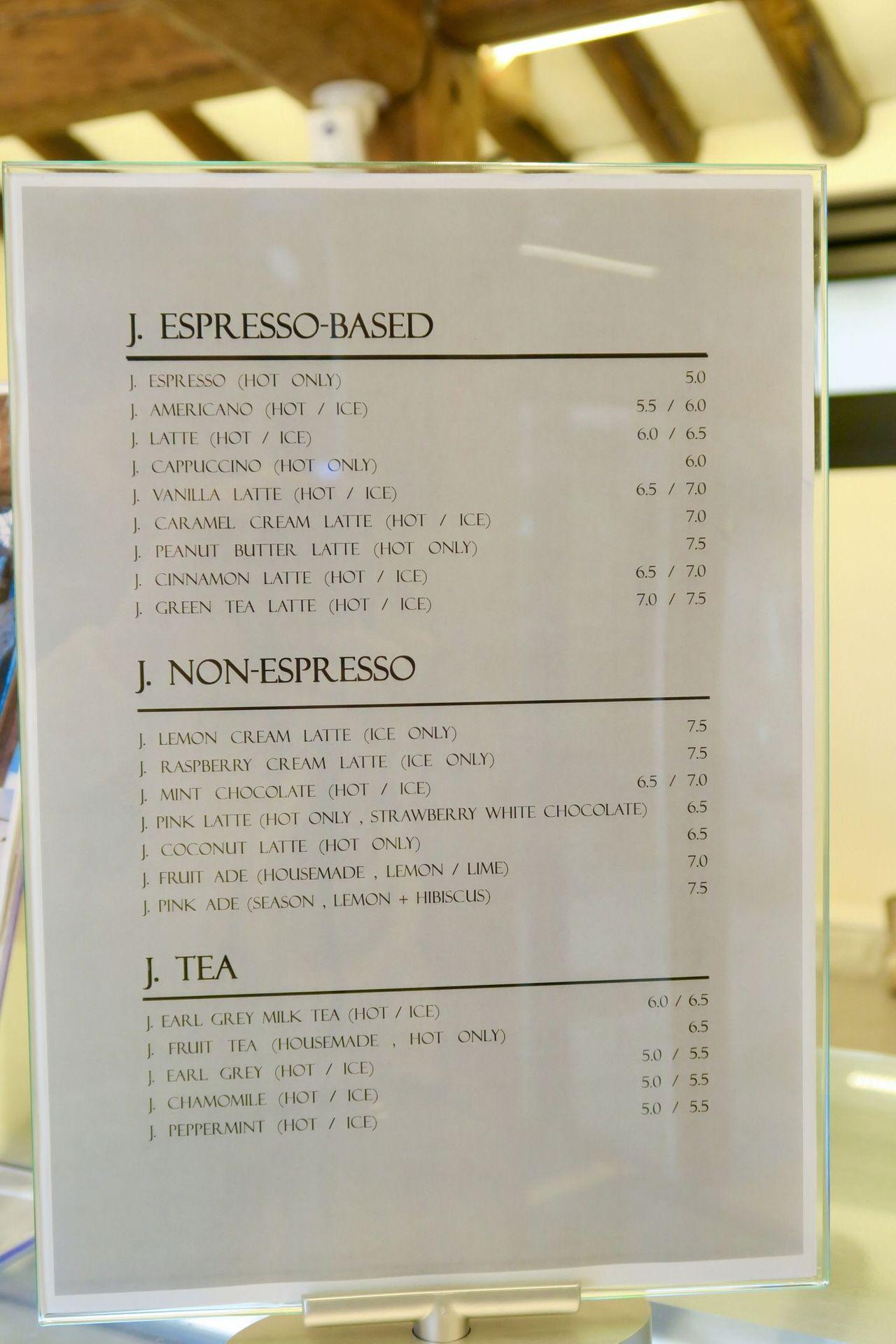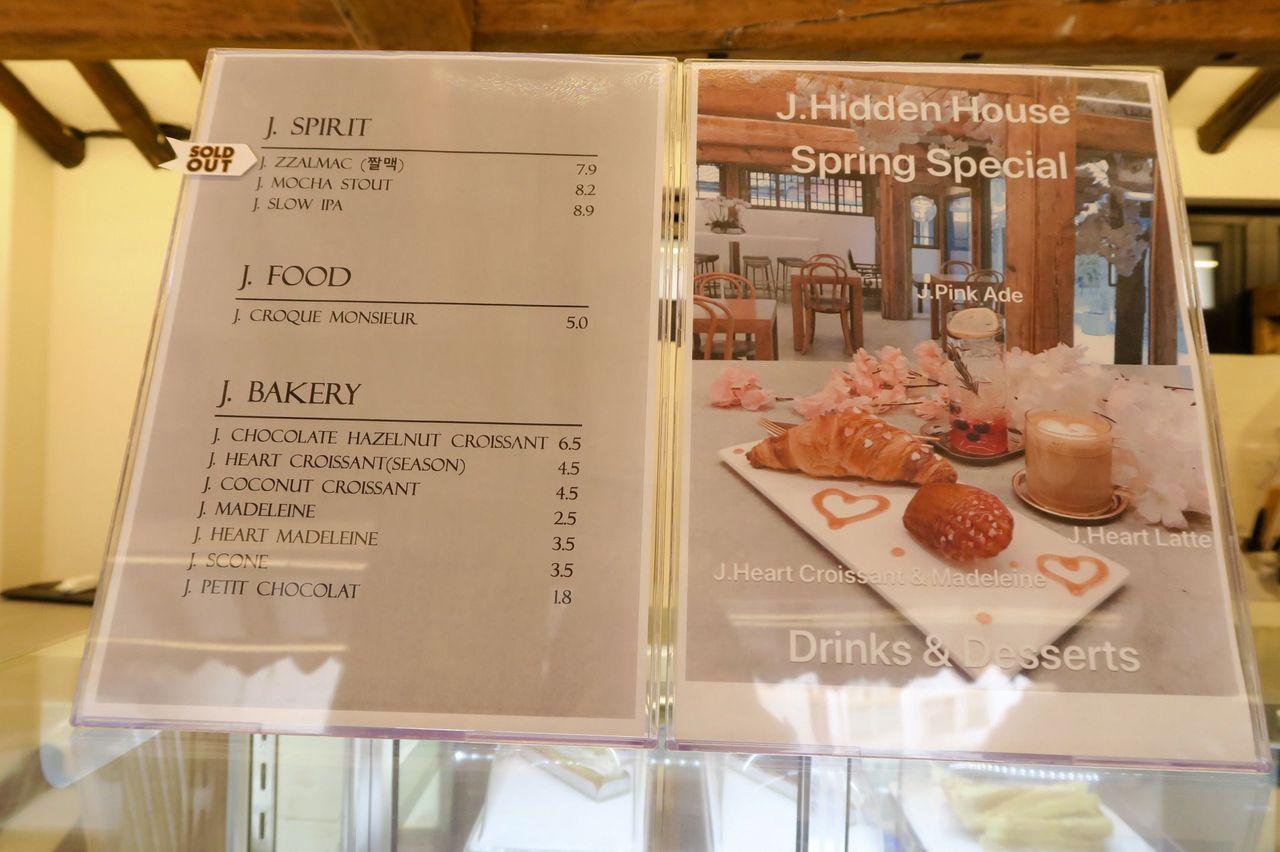 ---
Dongdaemun Hanok cafe:J.Hiddenhouse | Direction
Address:서울 종로구 종로 269-4
2 minutes by foot from Dongdaemun Station Exit 10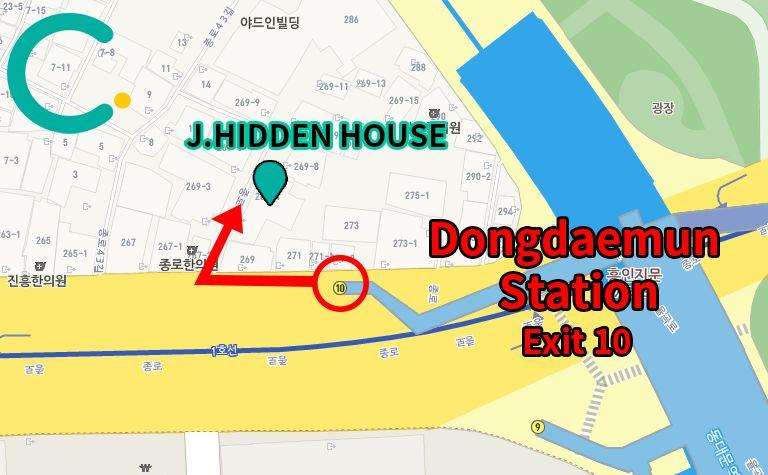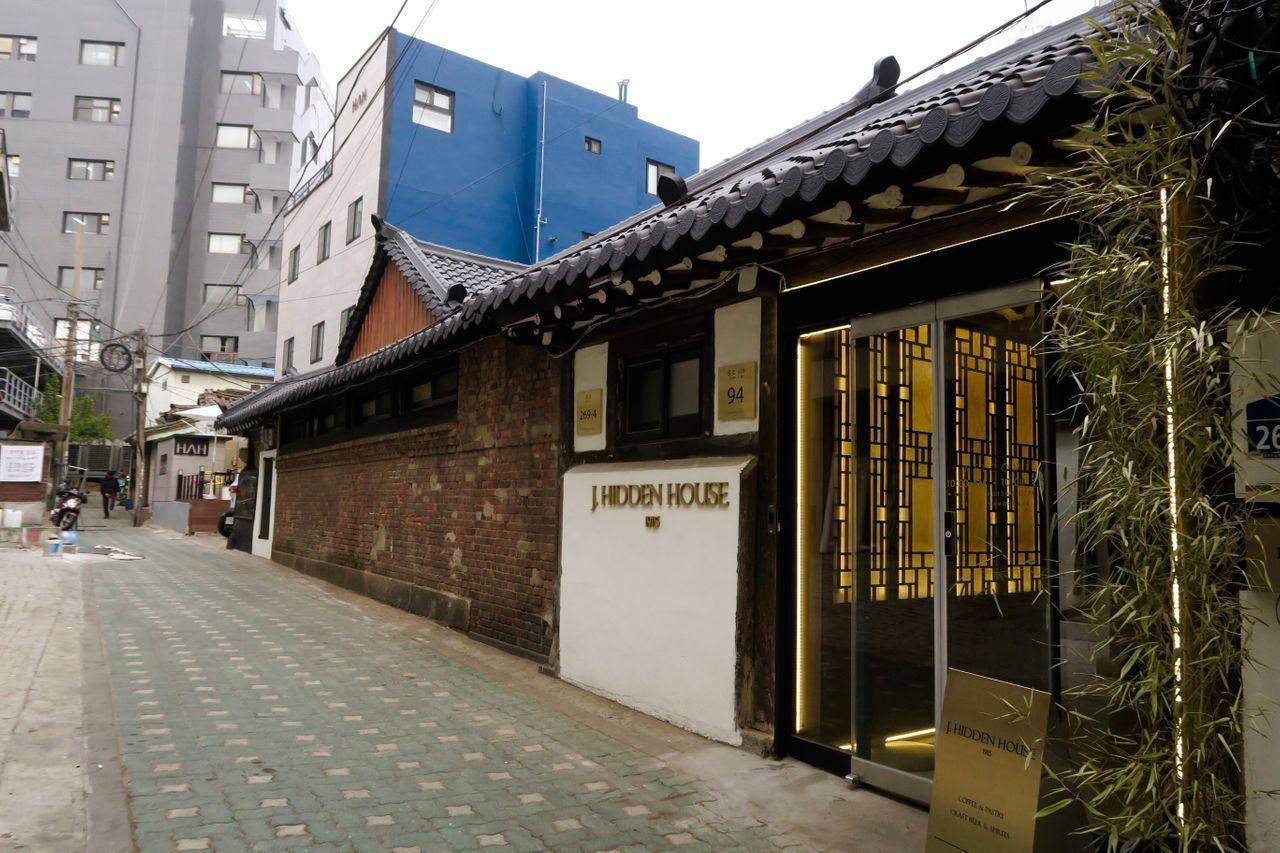 ---
Click the 'COUPON' button at the bottom or click the picture to claim your coupon. Present it to the vendor when paying to receive your discount!
---
The above was a short overview of J.Hiddenhouse (제이히든하우스) in Dongdaemun. Please read this blog post carefully and follow the instruction given in this post to get special discounts. If you have any further inquiry, please shoot us an email at support@creatrip.com.