Seongsu Cafe Guide | Local's Recommendations
Recommending cafes you must visit in the Seongsu area!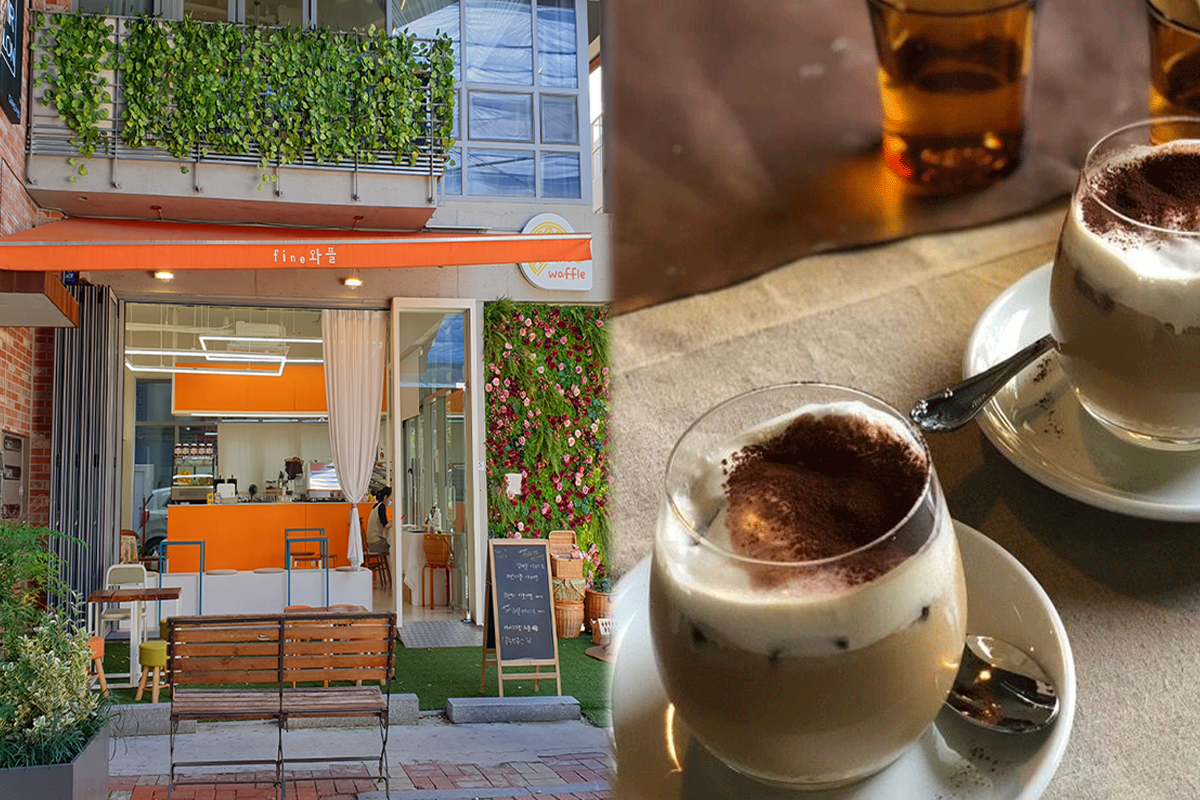 Lately, old buildings in Seongsu-dong have undergone a lot of remodeling and many vintage, but sophisticated cafes have popped up.
The Seongsu area is called the Brooklyn of Seoul and is becoming the latest hot place among young Koreans. Therefore, we'll introduce you to some cafes you must visit in the area!
For more information about what to eat, drink, do, and more in the Seongsu and Konkuk University Station areas, click this link.
---
Sweden Picnic Seoul Forest
스웨덴피크닉 서울숲점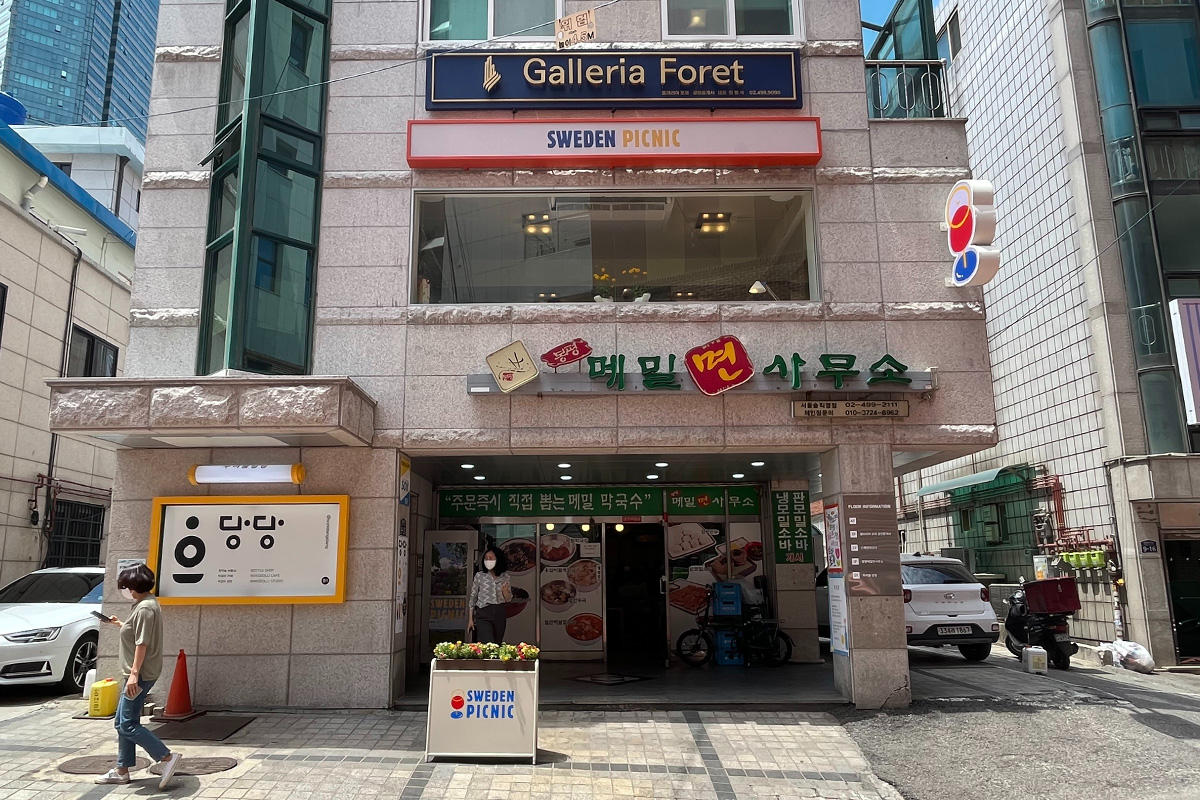 This is a wine bar located near Seoul Forest, a popular bar in Seoul. Sweden Picnic offers natural wines that are beneficial to our health and well as being environmentally friendly.
Wine prices here are very affordable as well.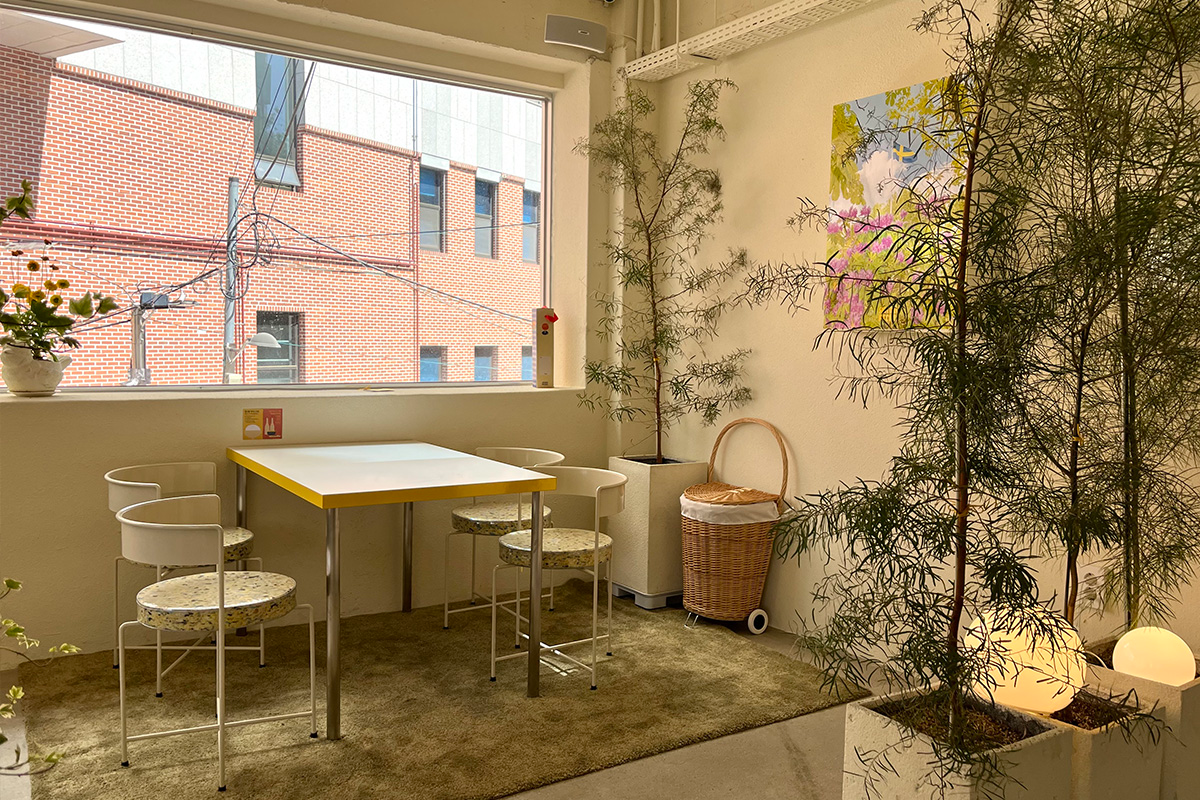 The interior of the store is made with the concept of going on a picnic, with soft colors and lots of sunshine. It's also beautifully decorated which makes it the perfect place to enjoy wine in a relaxed atmosphere.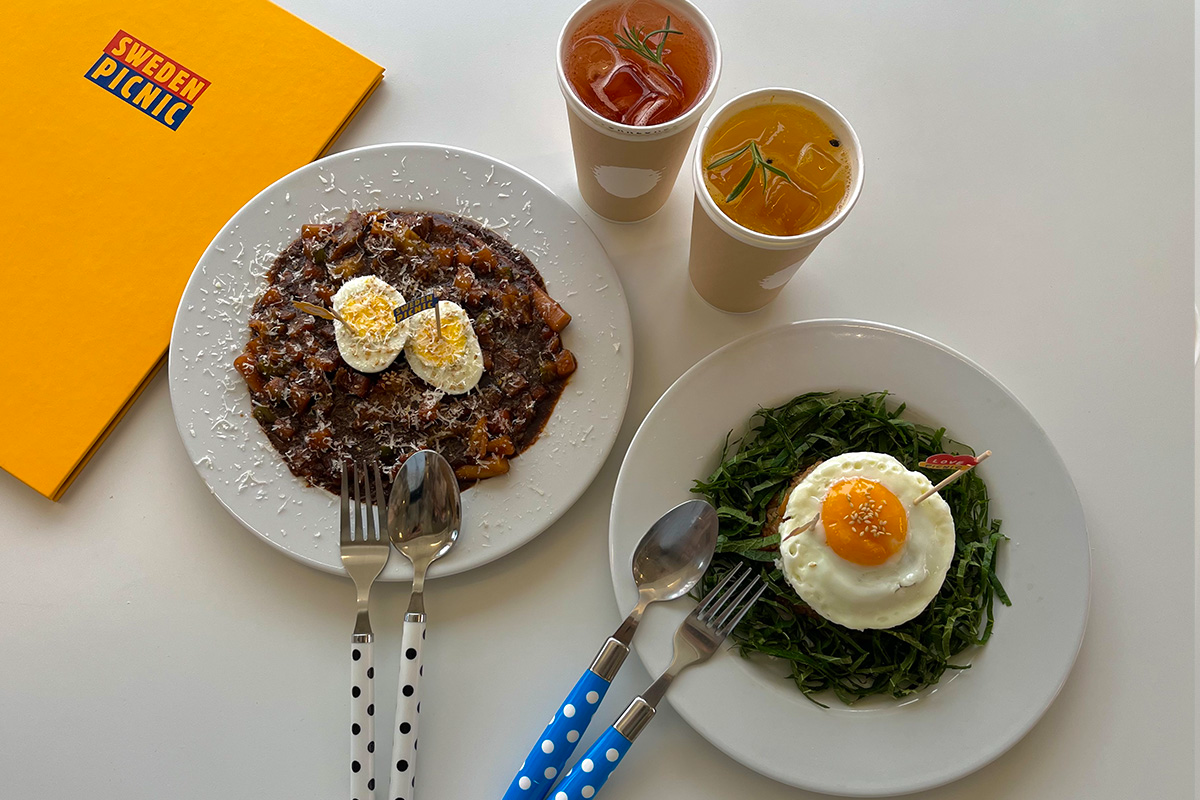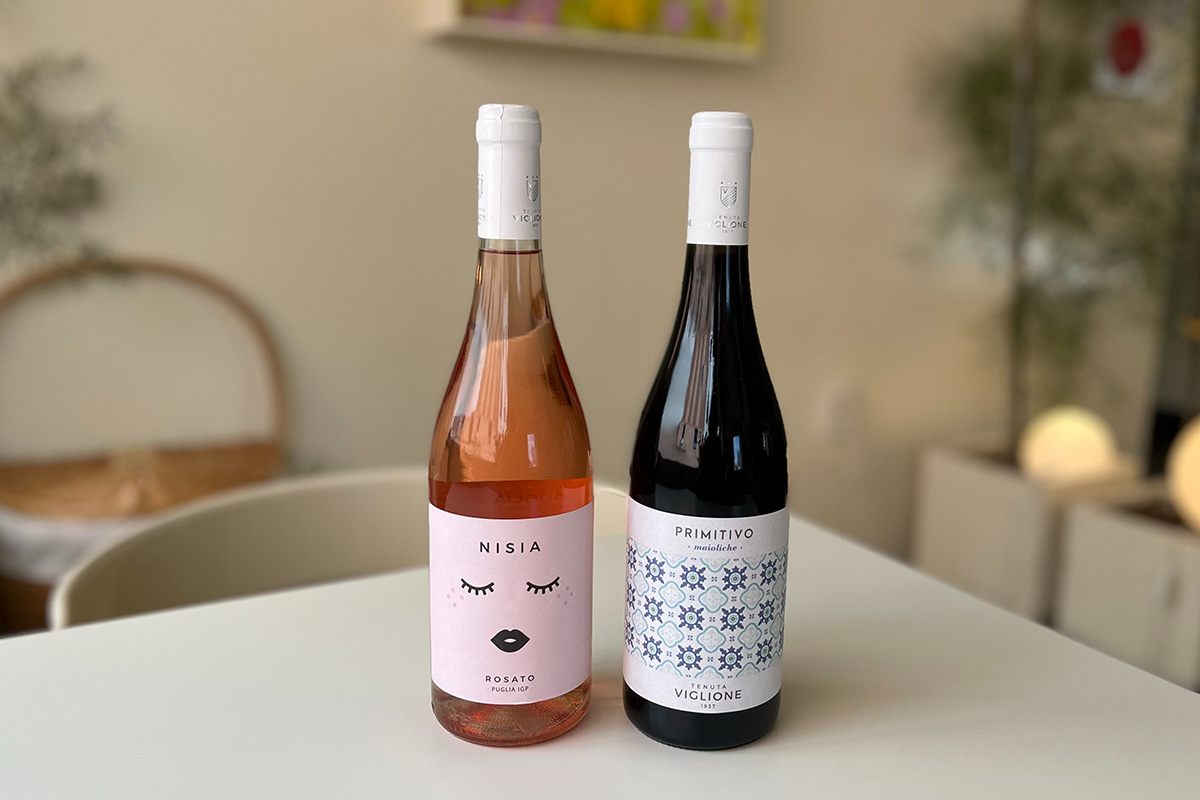 The store has a variety of dishes such as pork kimchi fried rice (13,000) won, beef jjajang tteokbokki (13,000 won), and other beverages that are delicious.
The bottles of natural and organic wines are carefully selected by the owner. If you are a beginner to wine, you can try Nisia (43,500 won) and Primitivo (43,500 won). They taste light and are easy to drink!
Address: 서울시 성동구 왕십리로5길 9-20, 2F
(2nd floor, 9-20, Wangsimni-ro 5-gil, Seongdong-gu, Seoul)
Hours: 11:30-23:00 (Last order: 22:30)
Closed on Tuesdays
Check out our review here!
---
Camel Coffee


카멜커피

If you search #성수동카페 (Seongsu-dong cafe) on Instagram, the cafe appearing the most is Camel Coffee. Camel Coffee has captivated customers with it's own special branding.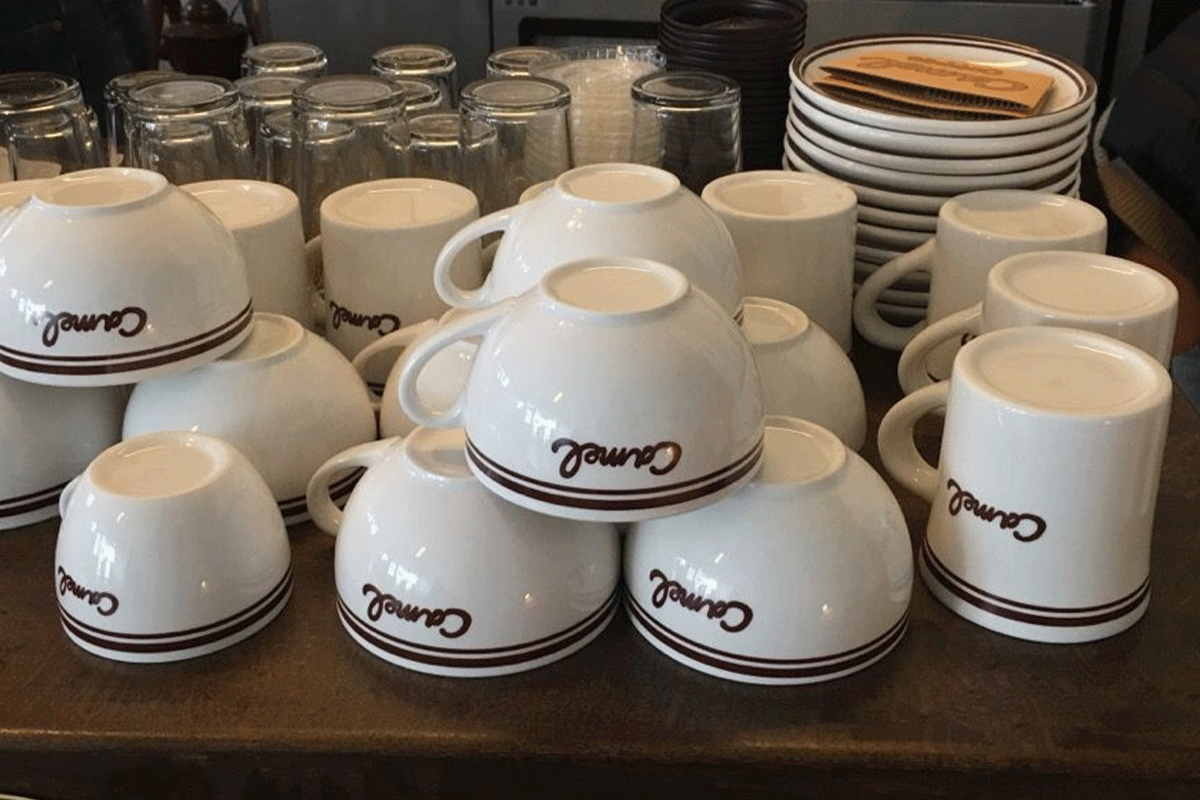 The cafe has a vintage aesthetic with a lot of brown tones. It makes you feel like you've gone into a really old space! The mugs with their neat logo on them match Camel Coffee so well.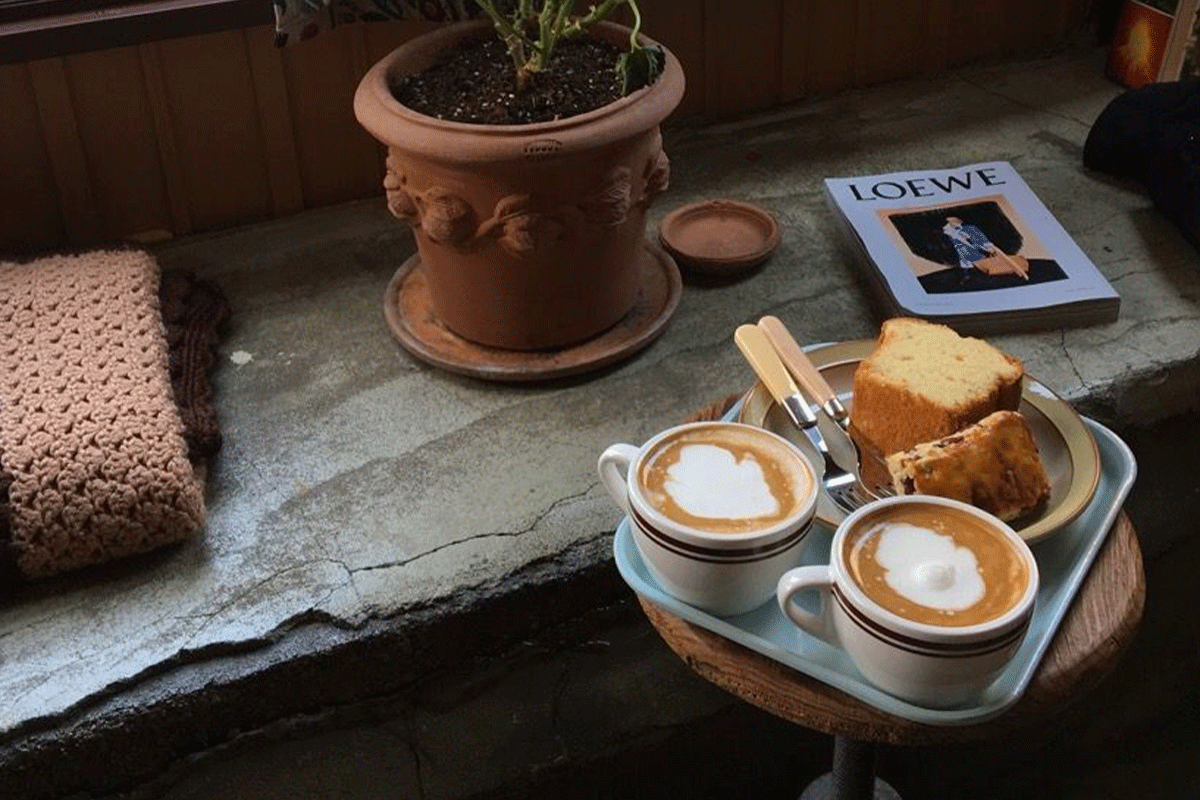 Their signature coffee, Camel Coffee, is 5,500 won and I recommend everyone try it! Drinking coffee at this cafe is relaxing as the small space is full of warmth.
You can try delicious coffee and desserts here that will lift your spirits.
Address: 서울 성동구 성덕정19길 6
6 Seongdeokjeong 19-gil, Seongdong-gu, Seoul
Hours: 11:00-20:00
---
Matchacha
맛차차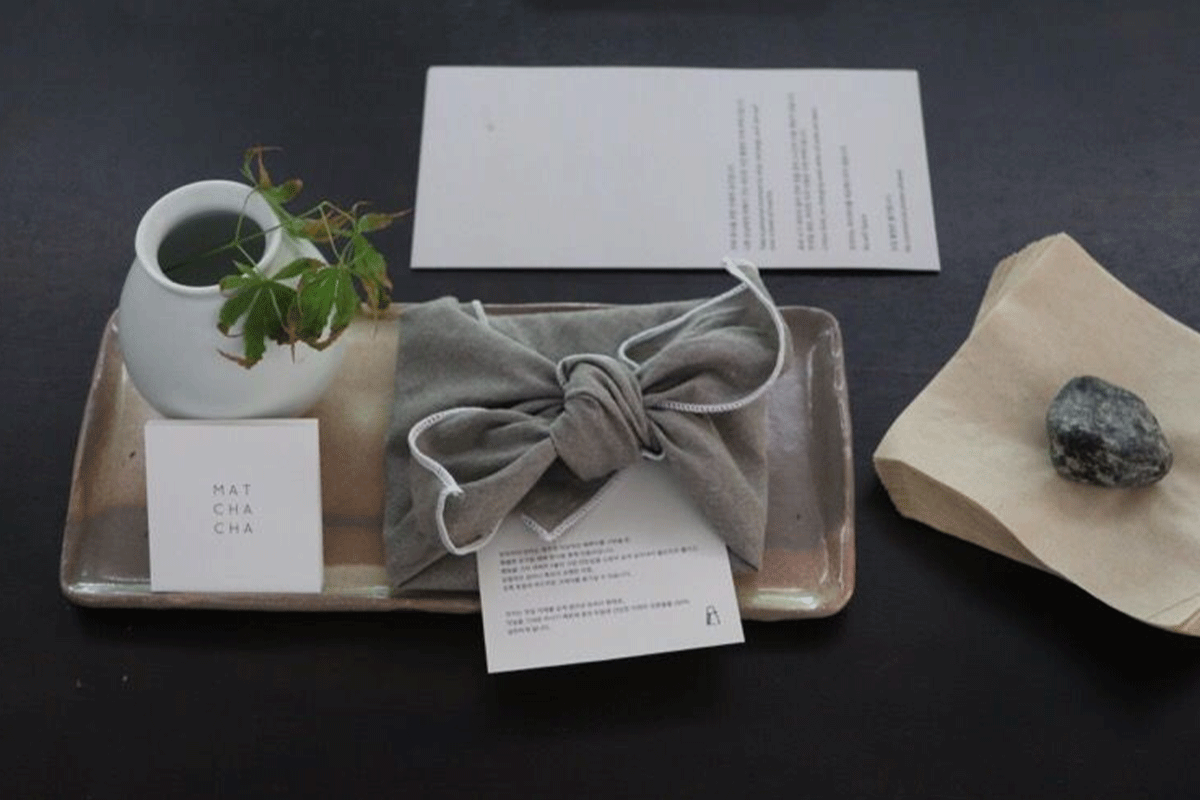 Matchaha is a tea house with a quiet atmosphere right by Seoul Forest. You'll be able to fully enjoy your time here in peace and quiet.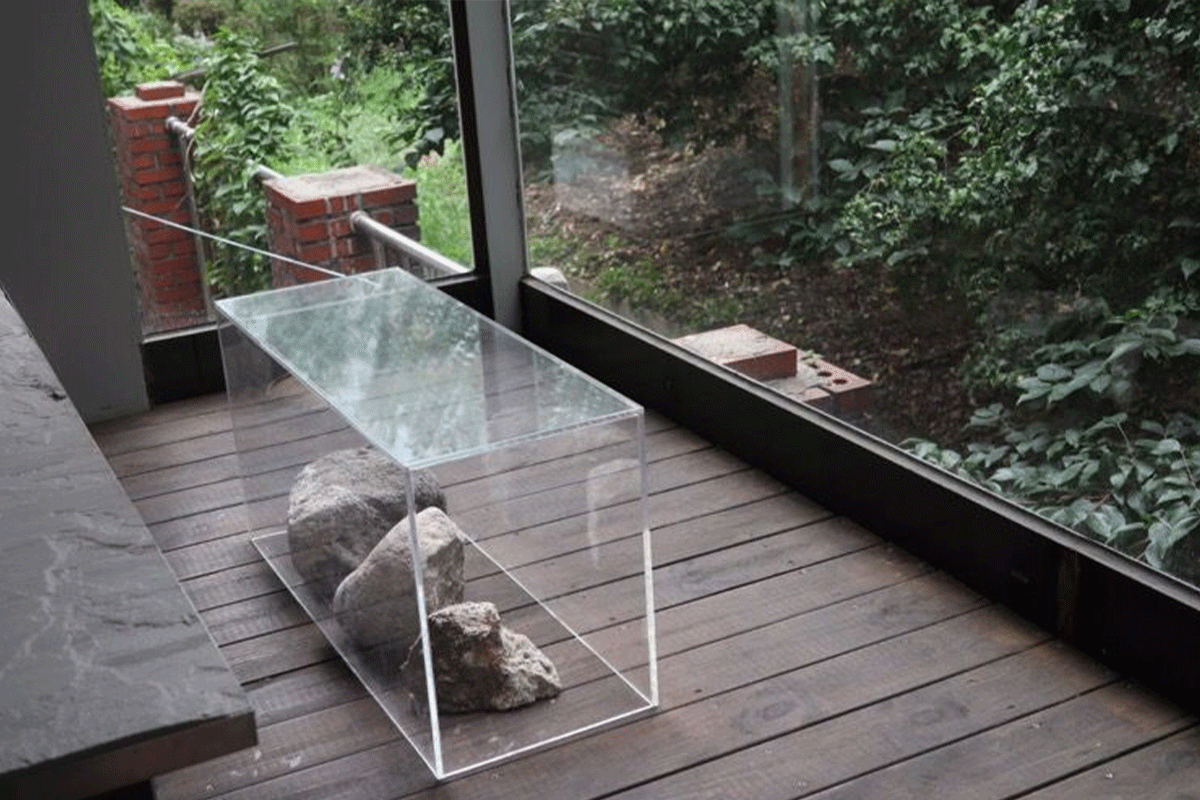 If you go out on the forest, you can experience the peaceful Seoul Forest. You can sip on your coffee while feeling the fresh air all around you.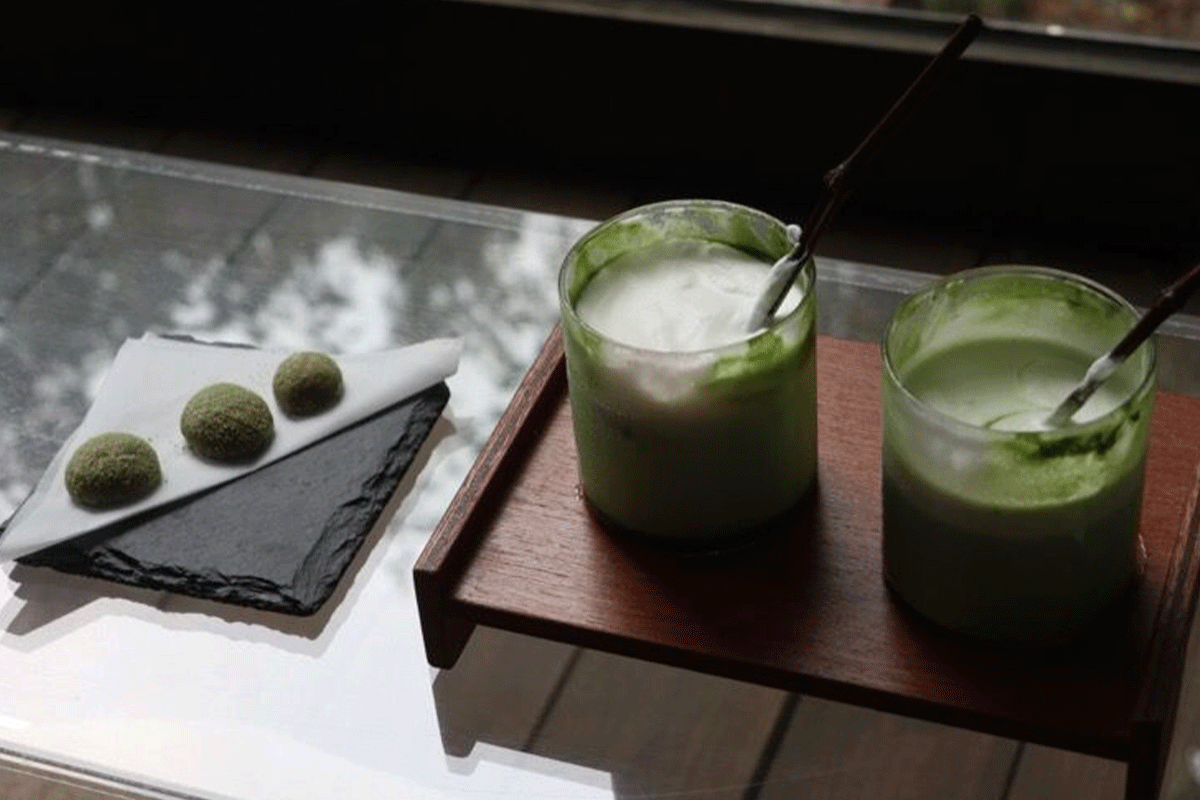 I recommend ordering the Matcha Latte (7,500 won) and Dasik (3,500 won), a traditional Korean snack. Neatly prepared drinks and dasik taste light and delicious.
Address: 서울 성동구 서울숲2길 18-11
18-11 Seoulsup 2-gil, Seongdong-gu, Seoul

Hours: Wed - Sun 11:00-19:00 (closed on Mon & Tues)
---
Greyt Coffee
그레이트커피

Greyt Coffee is a super cozy cafe with a perfect Insta-worthy aesthetic.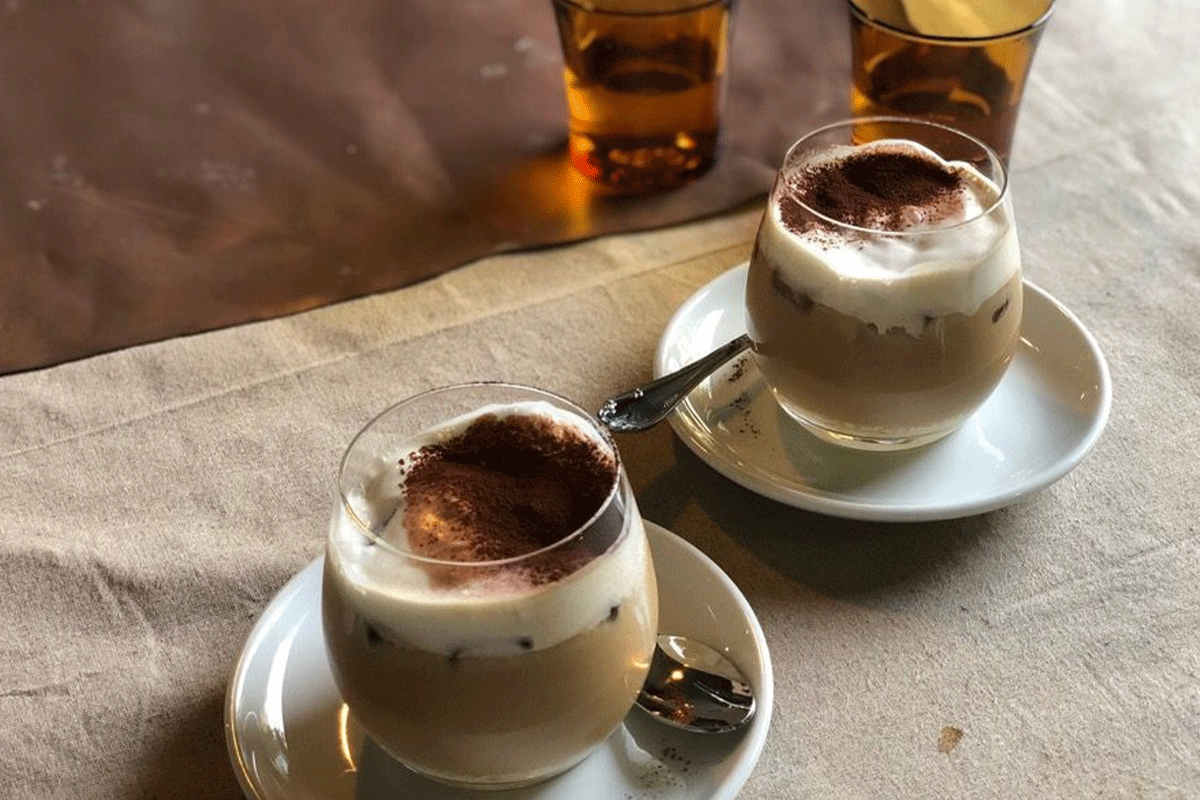 This warm latte (6,000 won) goes perfectly with the cozy beige interior.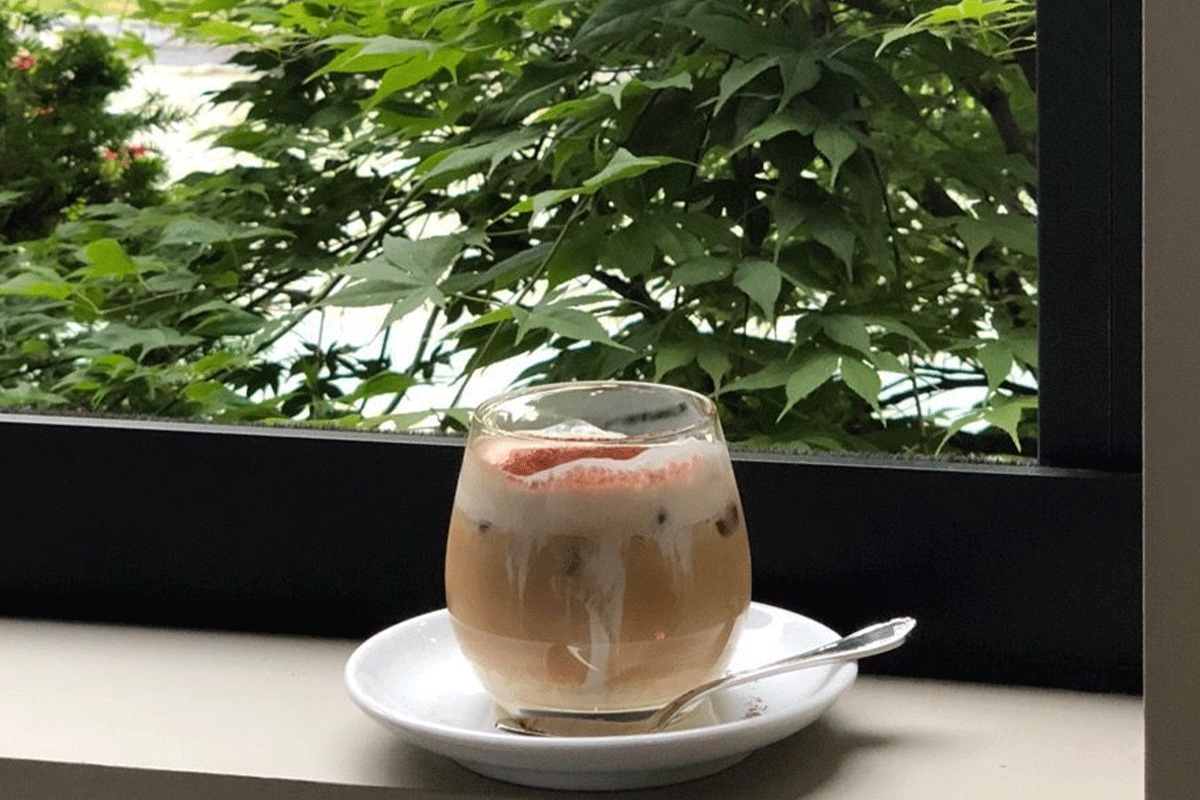 If you manage to get a seat by the window, you can enjoy the scenery outside and enjoy how the view changes throughout the seasons.
Address: 서울 성동구 서울숲2길 6 1층
6 Seoulsup 2-gil, Seongdong-gu, Seoul
Hours: 12:00-22:00
---
Sunny bread is a cafe and bakery by Seoul Forest that sells healthy vegan, keto, and gluten-free bread.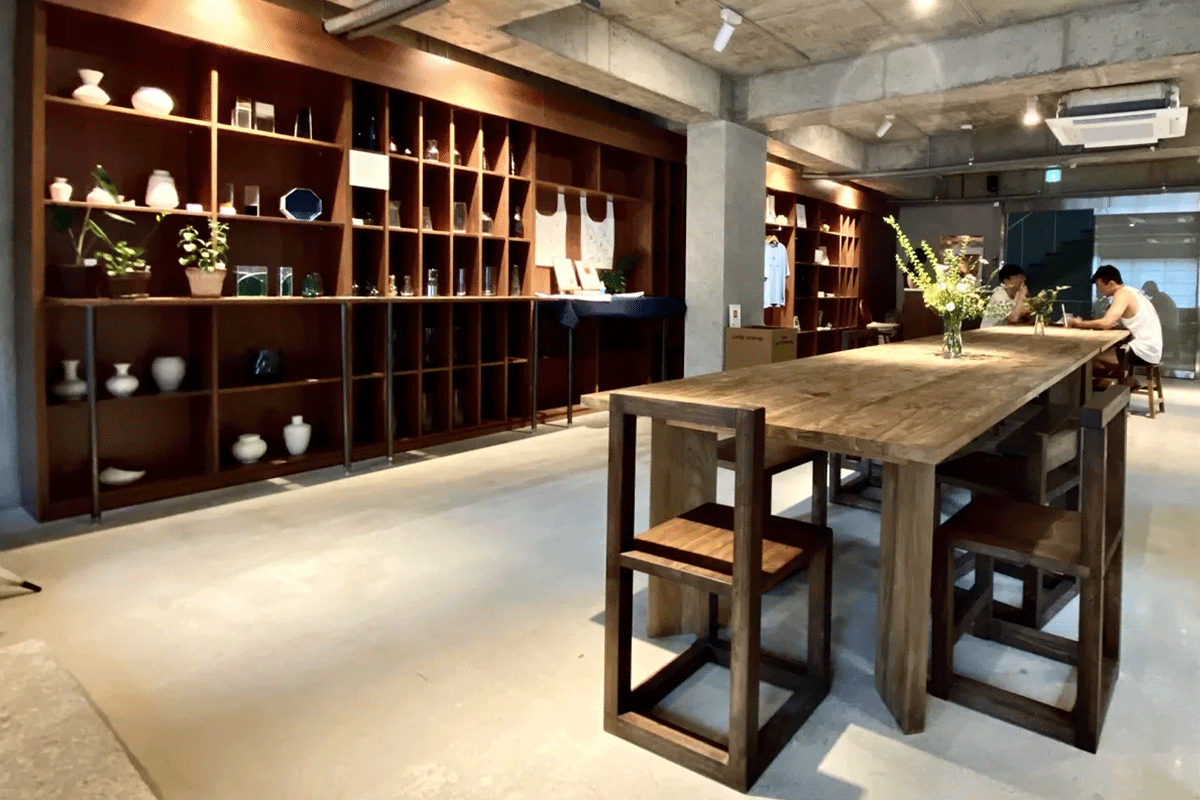 The wooden tables and shelves inside create a warm and cozy atmosphere.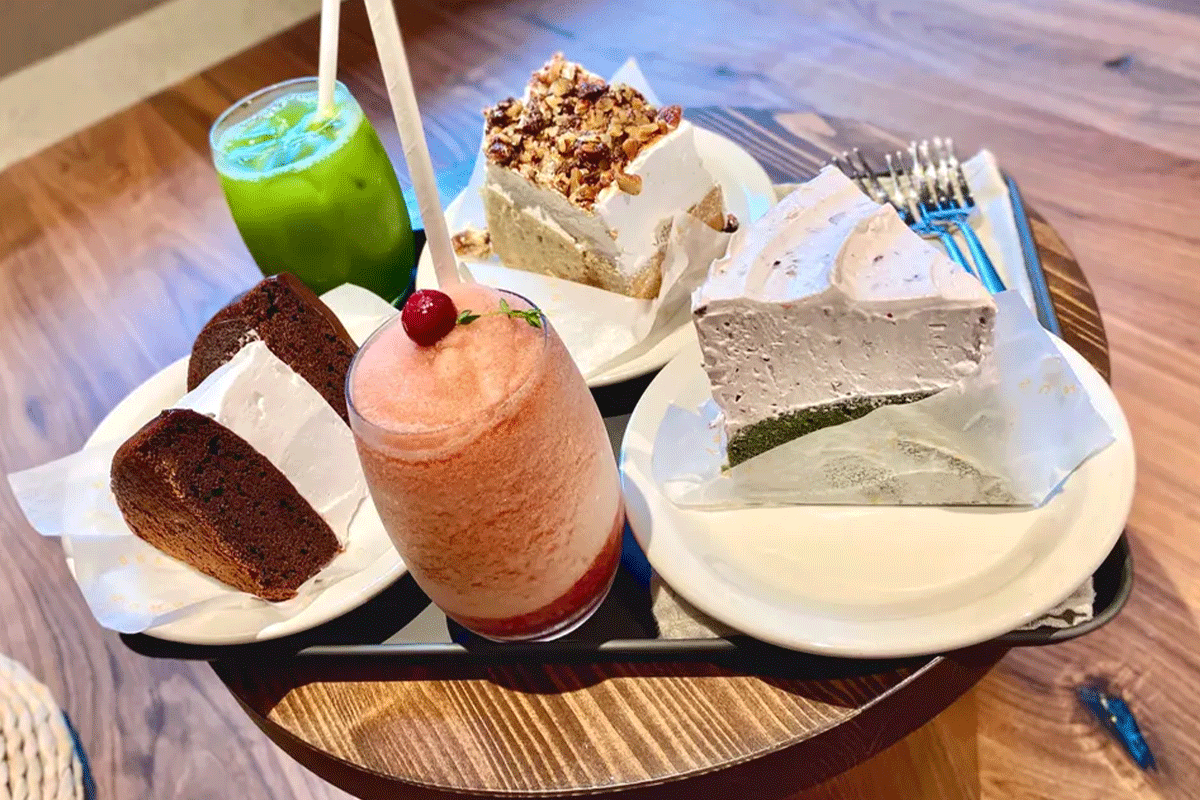 The drinks are made without gluten and sugar, so they are very healthy and satisfying in both looks and taste. Pies and cakes are 8,000-8,500 won, Peach Slush is 6,500 won, and Iced Matcha is 5,000 won.
Creatrip members can get a 10% discount on beverages if they present this coupon!
Address: 서울 성동구 서울숲2길 24-8
22-2 Seoulsup 2-gil, Seongdong-gu, Seoul
Hours: Tue-Sun 11:00-21:00
Tue-Fri Break Time 15:00-16:30
---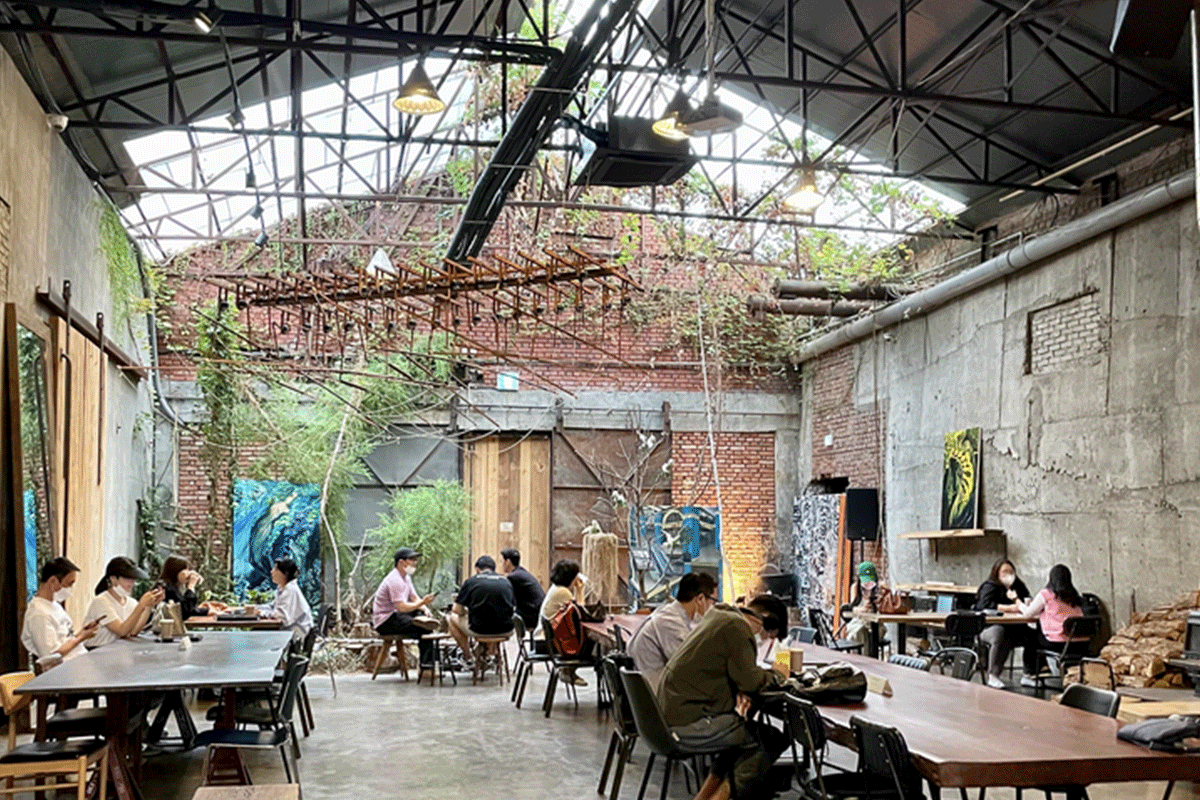 As the name suggests, Daelim Changgo (changgo/창고 means warehouse) is a cafe remodeled from a warehouse into a unique and modern space.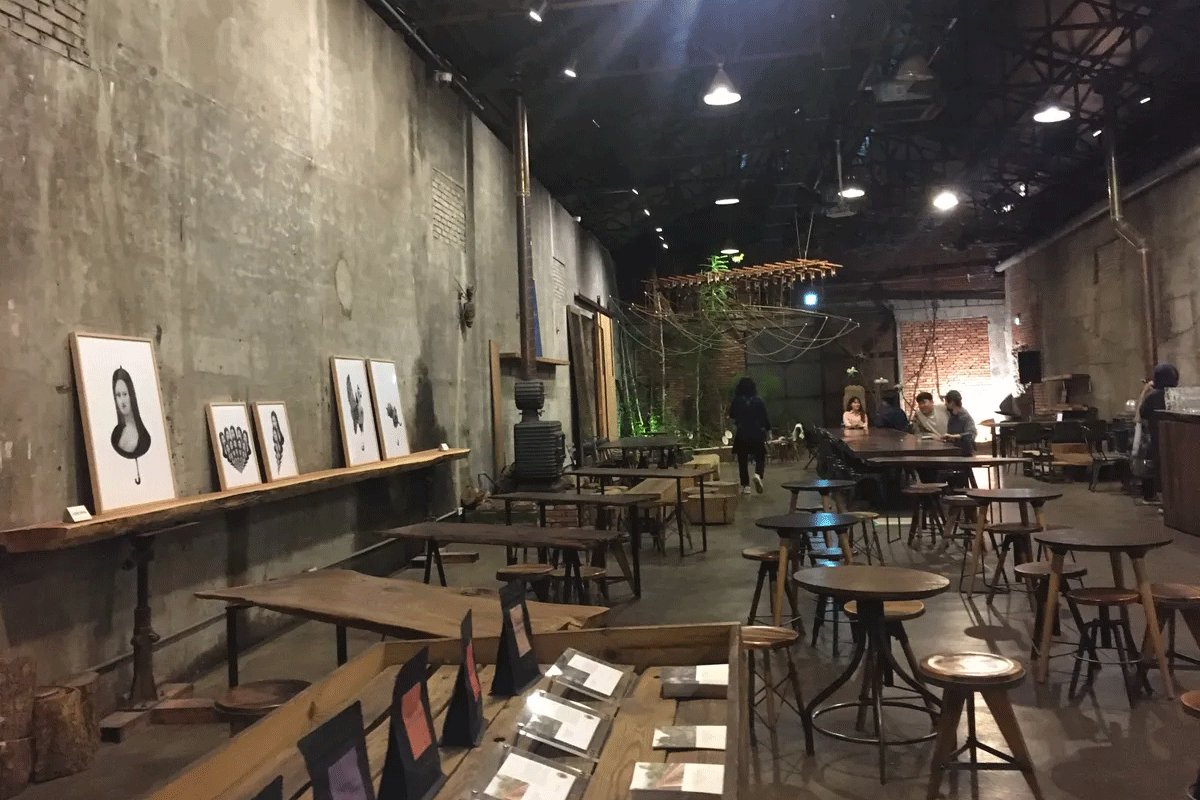 It's not just a cafe, but they also operate as a gallery where you can enjoy and purchase various artworks.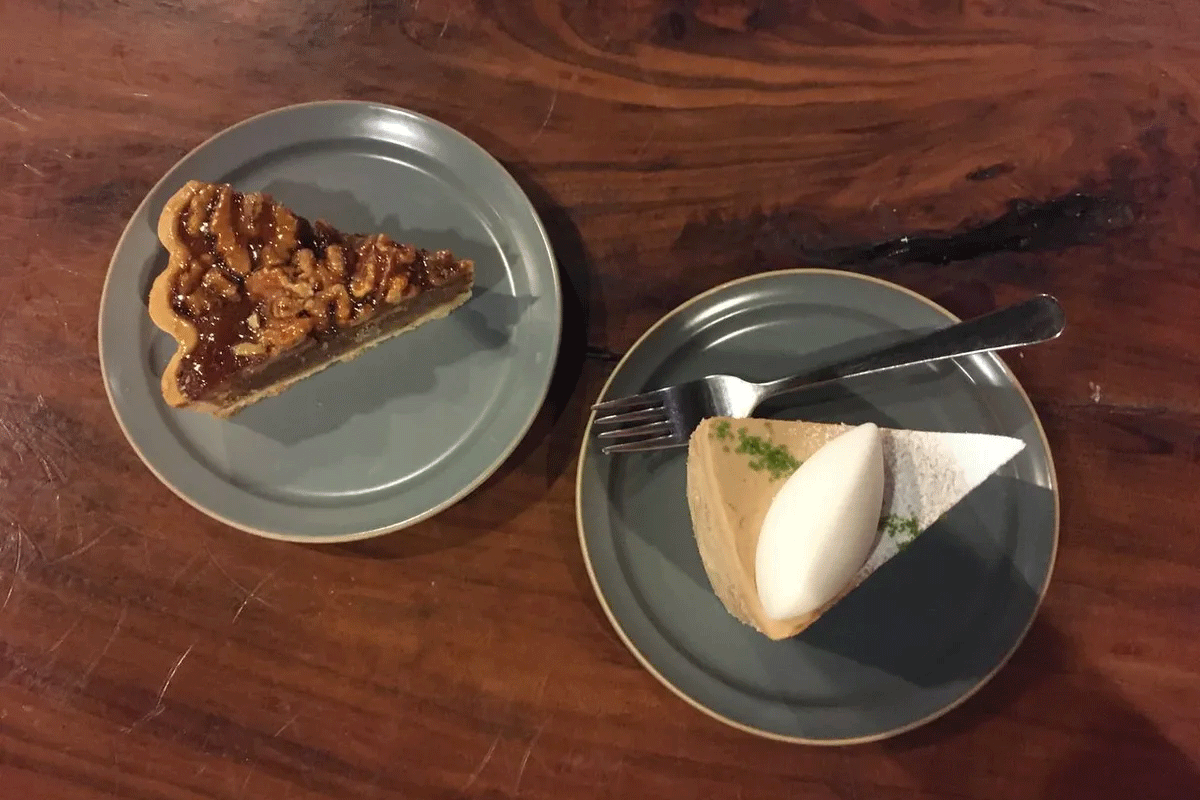 The prices are a little higher compared to other cafes (Earl Grey Chiffon Cake and Pecan Pie are 9,000 won), but it is understandable seeing how unique the cafe is and how much there is to see inside.
Address: 서울 성동구 성수이로 78
78 Seongsui-ro, Seongdong-gu, Seoul
Hours: 11:00 - 22:00
---
Cafe Knotted Peaches
카페노티드 피치스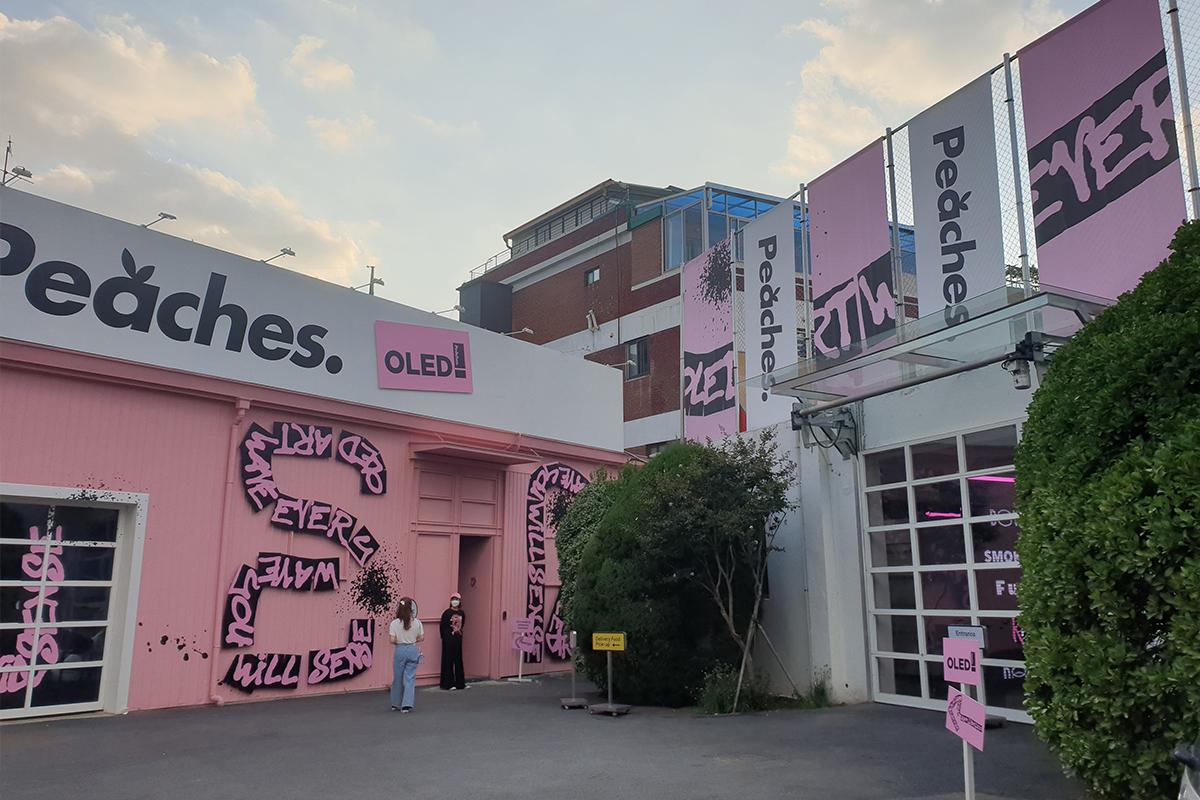 When walking around Seongsu, I'm sure you'll come across the eye-catching pink building of Cafe Knotted Peaches.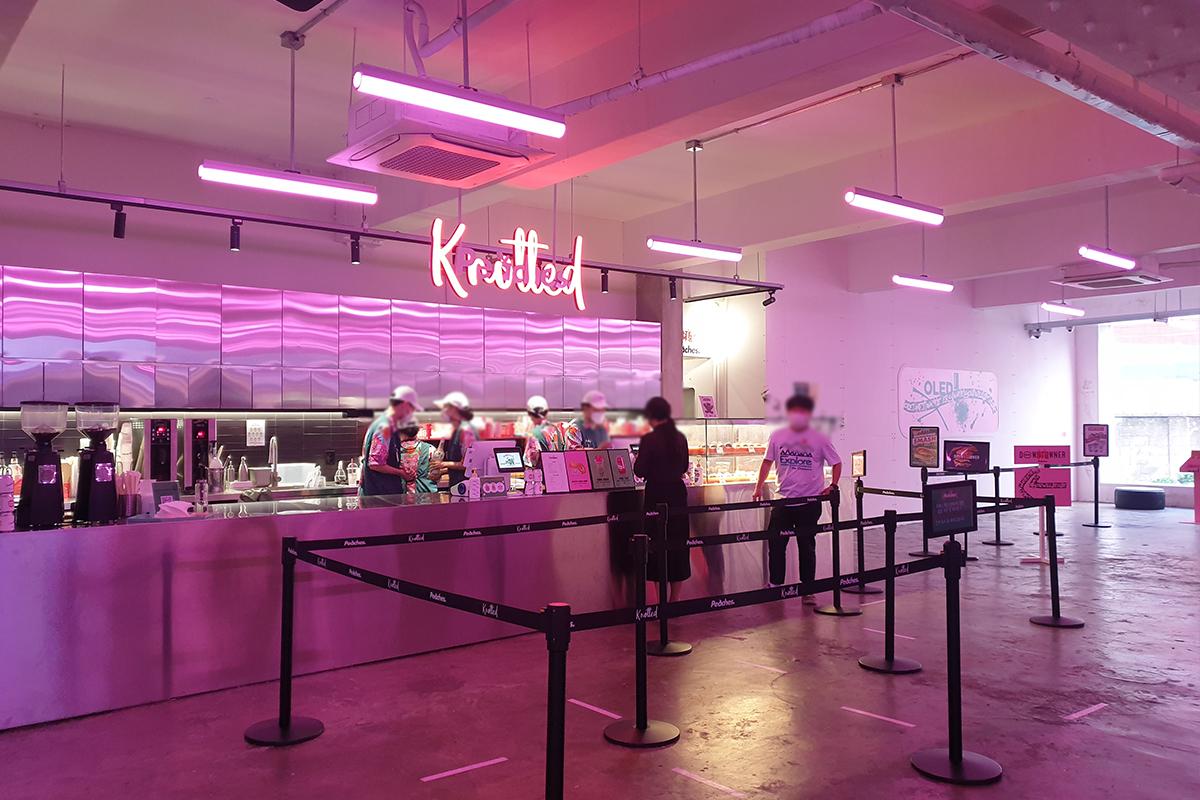 Like the exterior, the interior is also filled with pink lighting. It has a very hip and industrial vibe!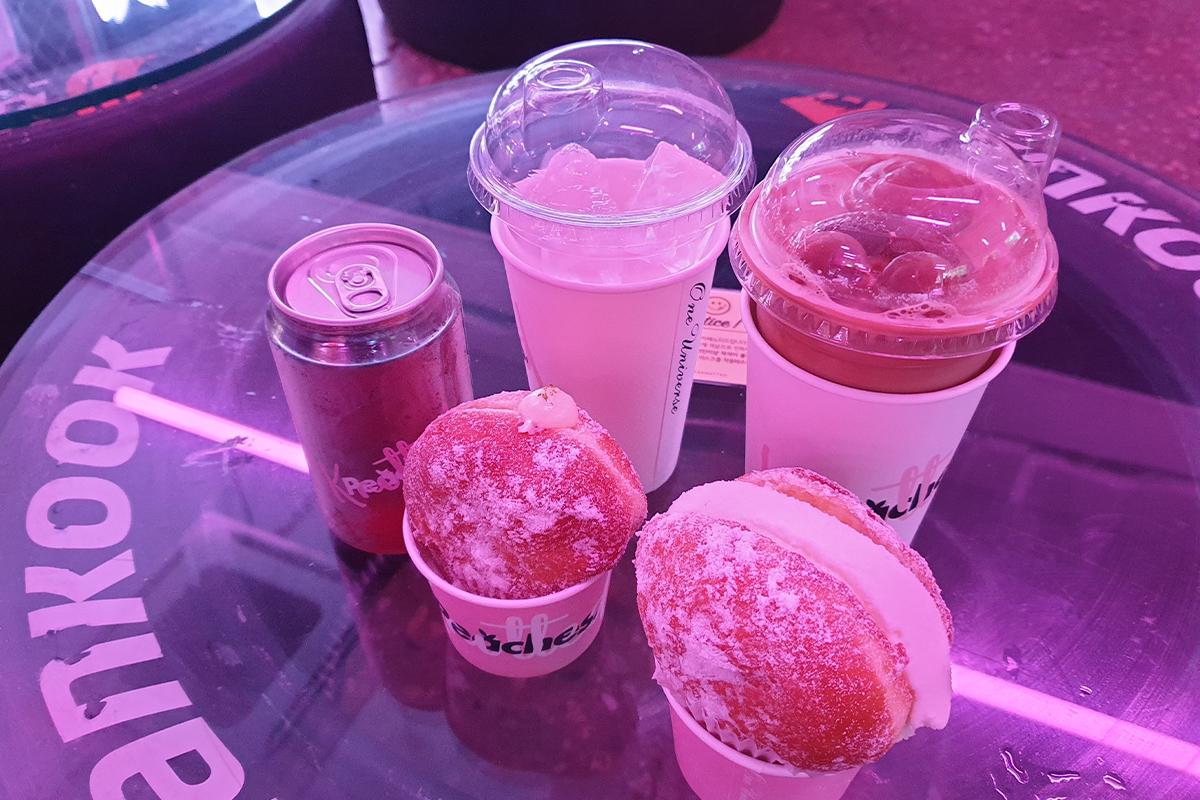 Since the concept for decorations of the cafe is cars, you'll see tables made of tires.
You definitely have to order the donuts (3,000-3,500 won) here! They're filled with so much cream that it'll be hard to eat in just one bite and the flavor of the sweet cream fills your mouth as soon as you take a bite.
Address: 서울 성동구 연무장3길 9 1층
9 Yeonmujang 3-gil, Seongdong-gu, Seoul
Hours: 11:00-21:00
---
Fine Waffle
파인와플
Fine Waffle is a cafe by Seoul Forest selling a variety of waffles ranging from 3,000 won to 7,000 won, and there's one more thing that sets it apart from other cafes.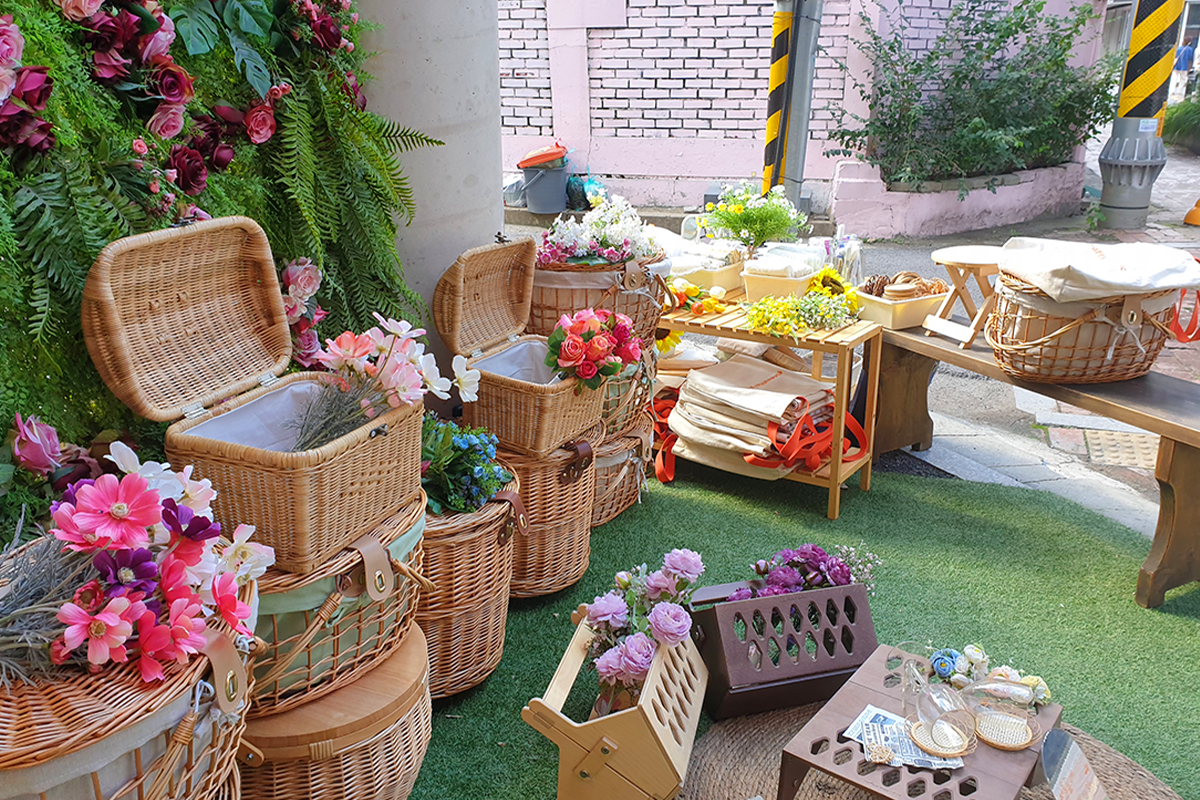 Fine Waffle also rents out pretty picnic baskets you can fill with cute props and a picnic table so you can enjoy a special picnic in the Seoul Forest, which is 5 minutes away.
The price depends on the items you choose and the different rental options, but the basic basket starts at 11,000 won and the basic mat is 9,000 won.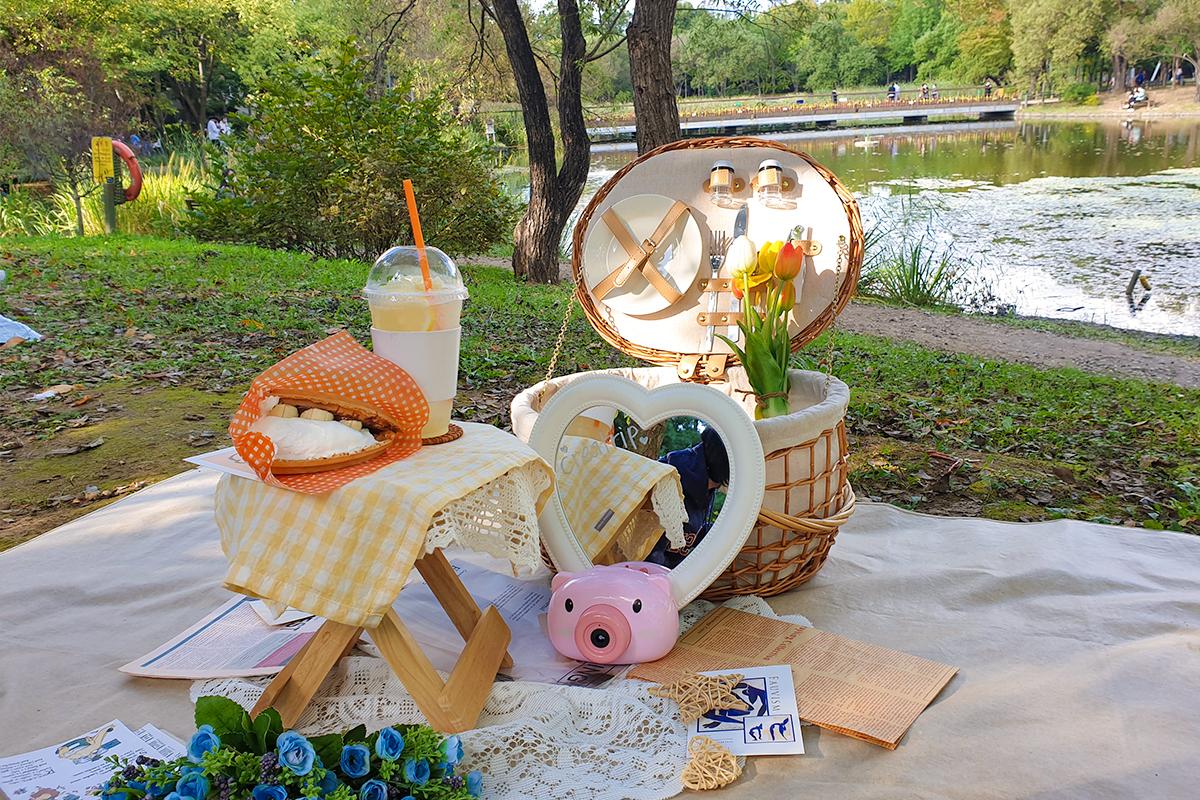 Take waffles and drinks to-go from Fine Waffle and enjoy them at Seoul Forest! You'll enjoy a different experience from what you can get at other cafes.
Address: 서울 성동구 서울숲4길 16-1 1층
16-1 Seoulsup 4-gil, Seongdong-gu, Seoul
Hours: 12:00-22:00
Unscheduled closings announced on their Instagram
---
SEOUL ANGMUSAE
서울앵무새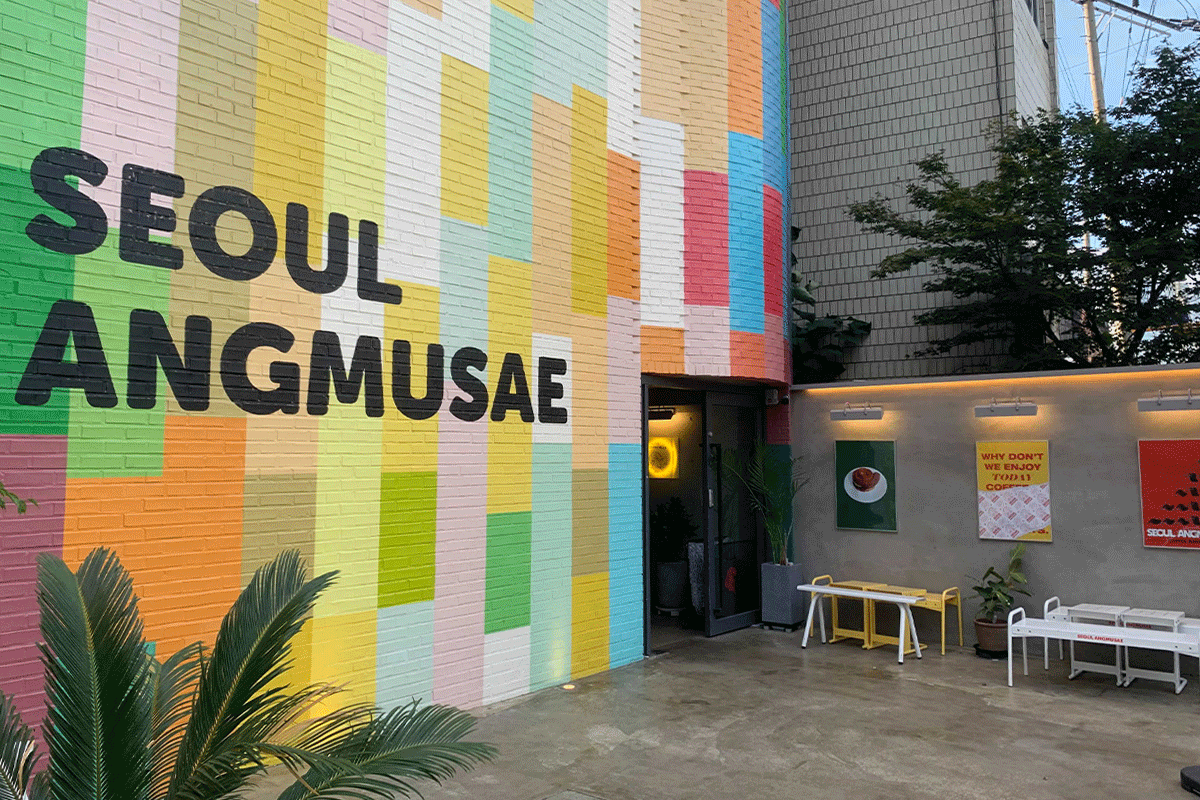 Lately, this is one of the hottest cafes in the Seongsu area. Many people stop to take Instagram pictures in front of the colorful wall by the entrance.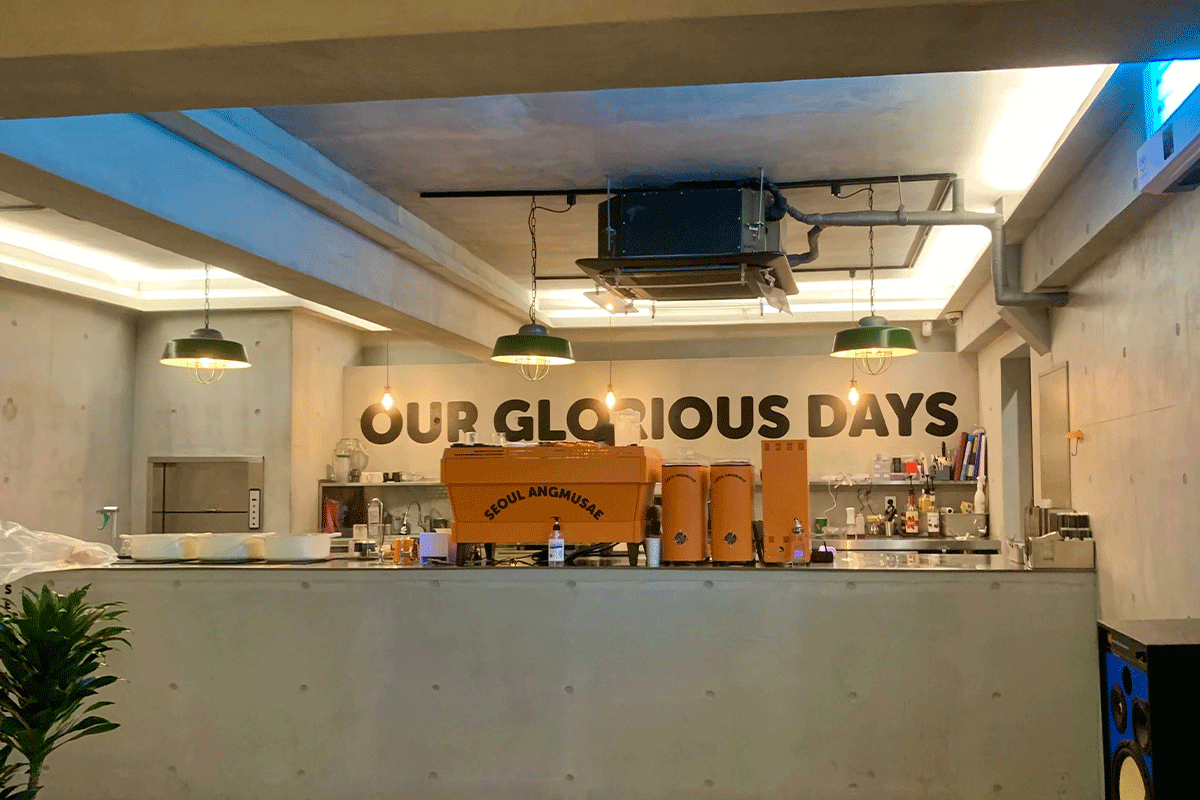 You have to go downstairs to enter and the cafe is on the 1st and 2nd basement floors.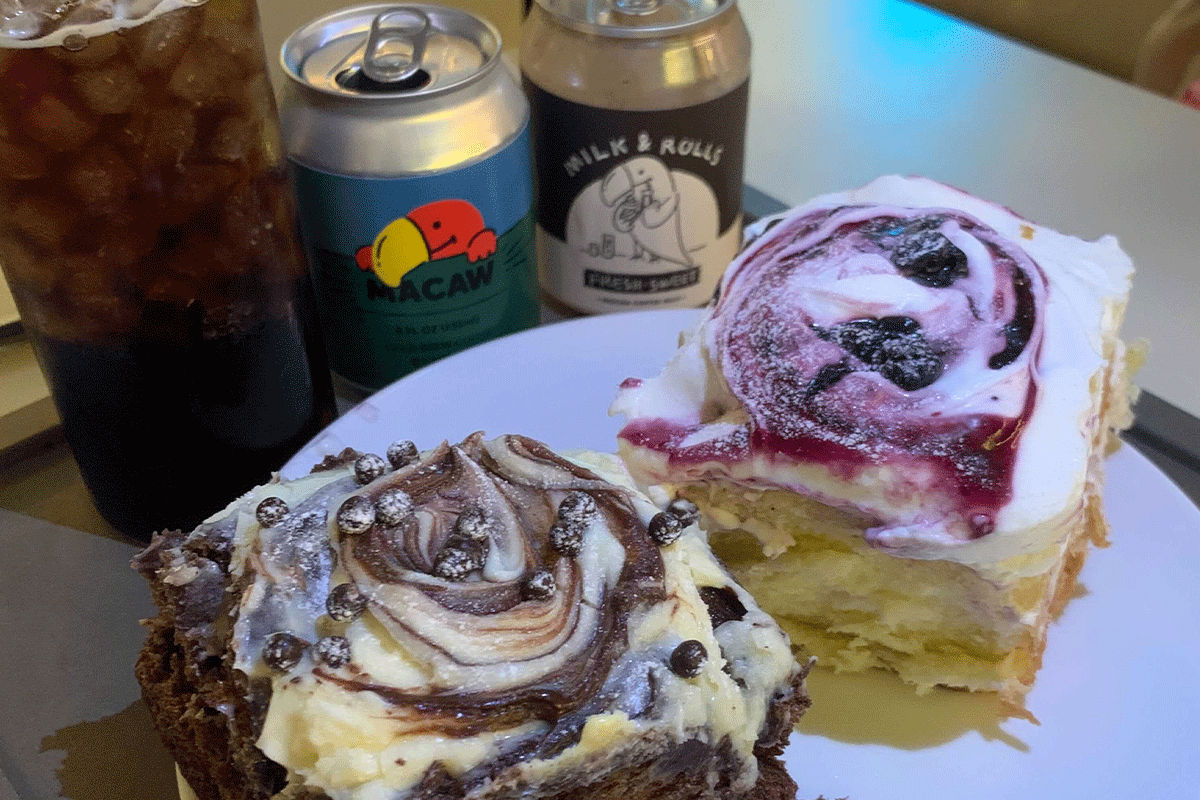 Just like the entrance of the cafe, their desserts are also very colorful and fun just to look at. The cookies start at 3,500 won and their famous cinnamon rolls at 4,800 won. They also sell vegan items, so vegans can also visit without worrying about what to order!
Address: 서울 성동구 서울숲9길 3 지하 1~2층
3 Seoulsup 9-gil, Seongdong-gu, Seoul
Hours: 08:00 - 23:00
---
Scène


쎈느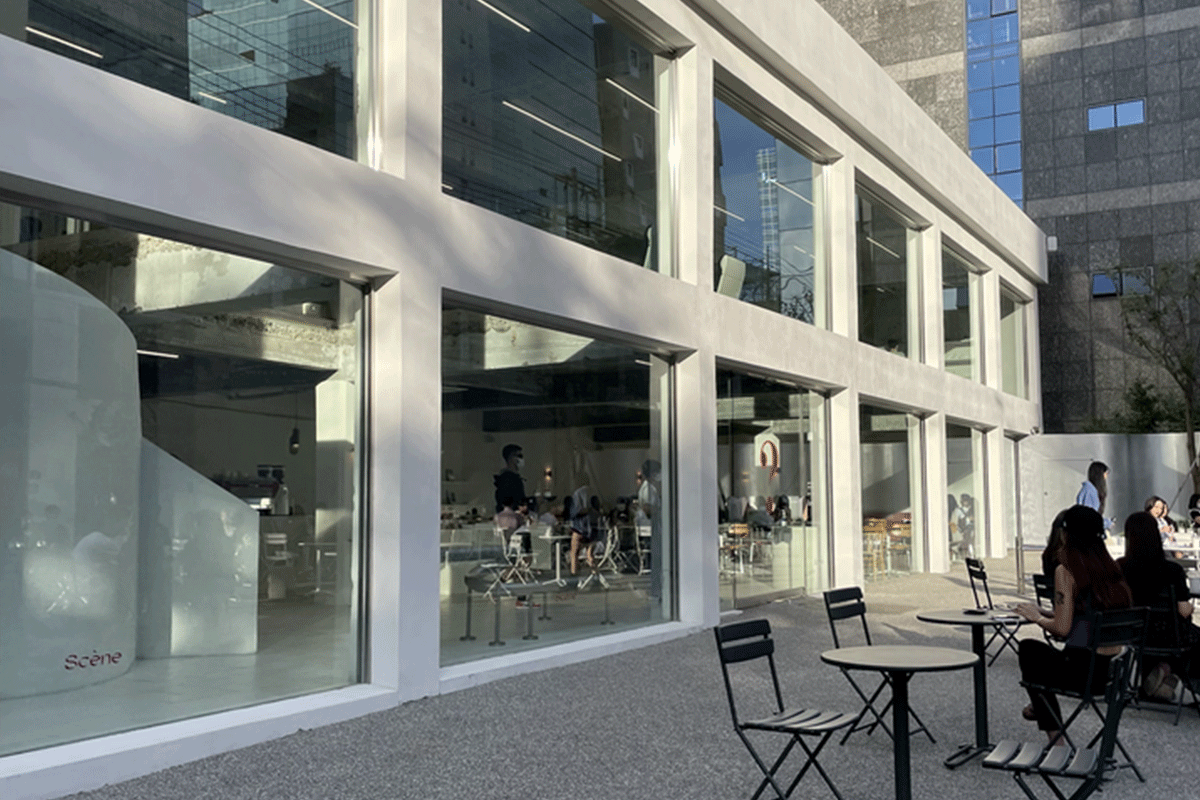 This huge, white building with big windows is sure to grab people's attention, and this is Scène, another popular cafe in Seongsu.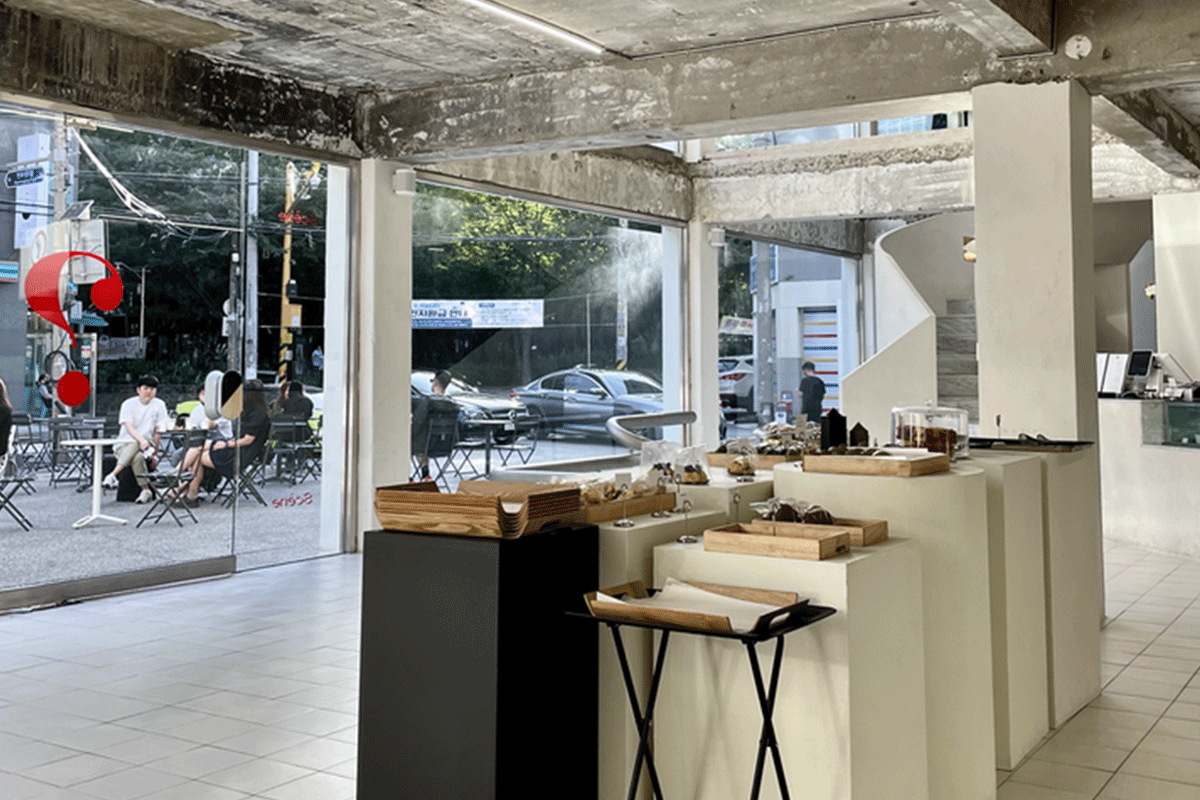 It's a two-story building, so there are plenty of seats, and you can even enjoy your desserts on the terrace.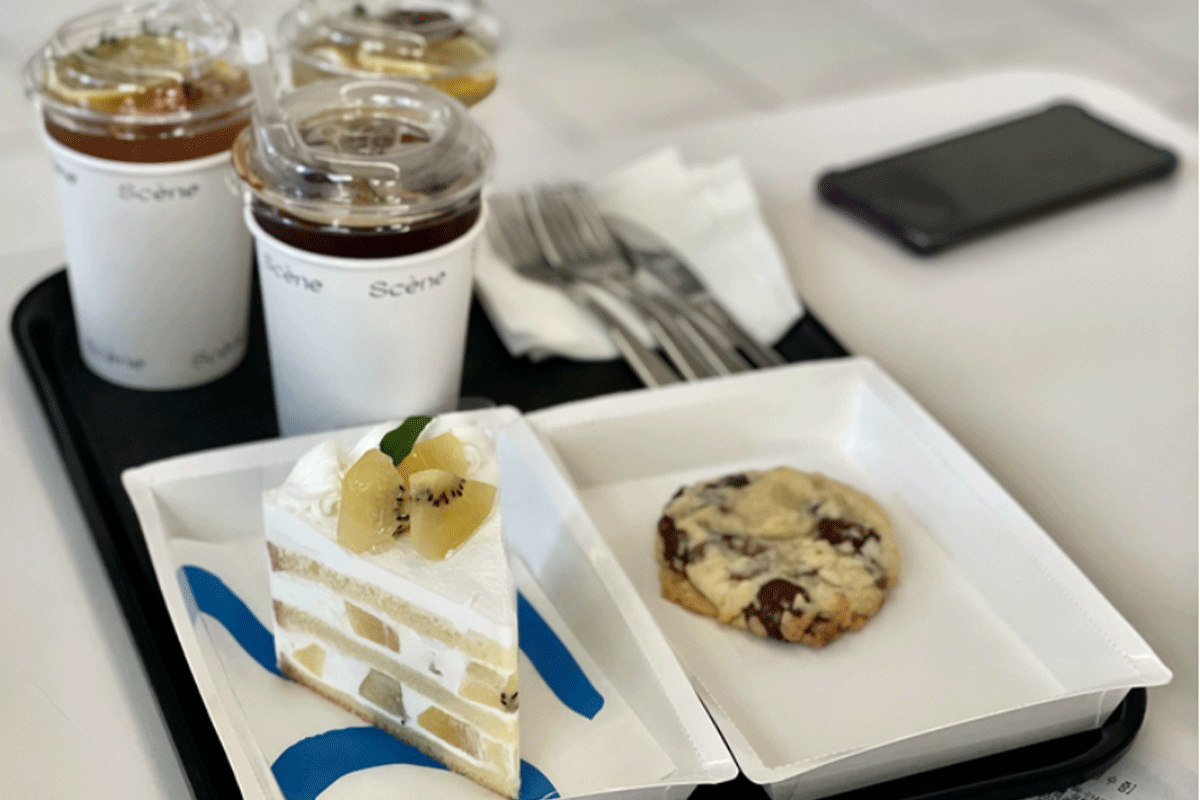 After enjoying your drinks and dessert (Americano 5,000 won, Kiwi Cake 8,000 won), you should definitely check out the second floor! There is stationary and postcards on display and for sale.
Also, a huge clothes hanger photo zone is also set up and it's very popular to post on social media, so be sure to visit!
Address: 서울 성동구 연무장5길 20
20 Yeonmujang 5-gil, Seongdong-gu, Seoul
Hours: 10:00 - 21:30
---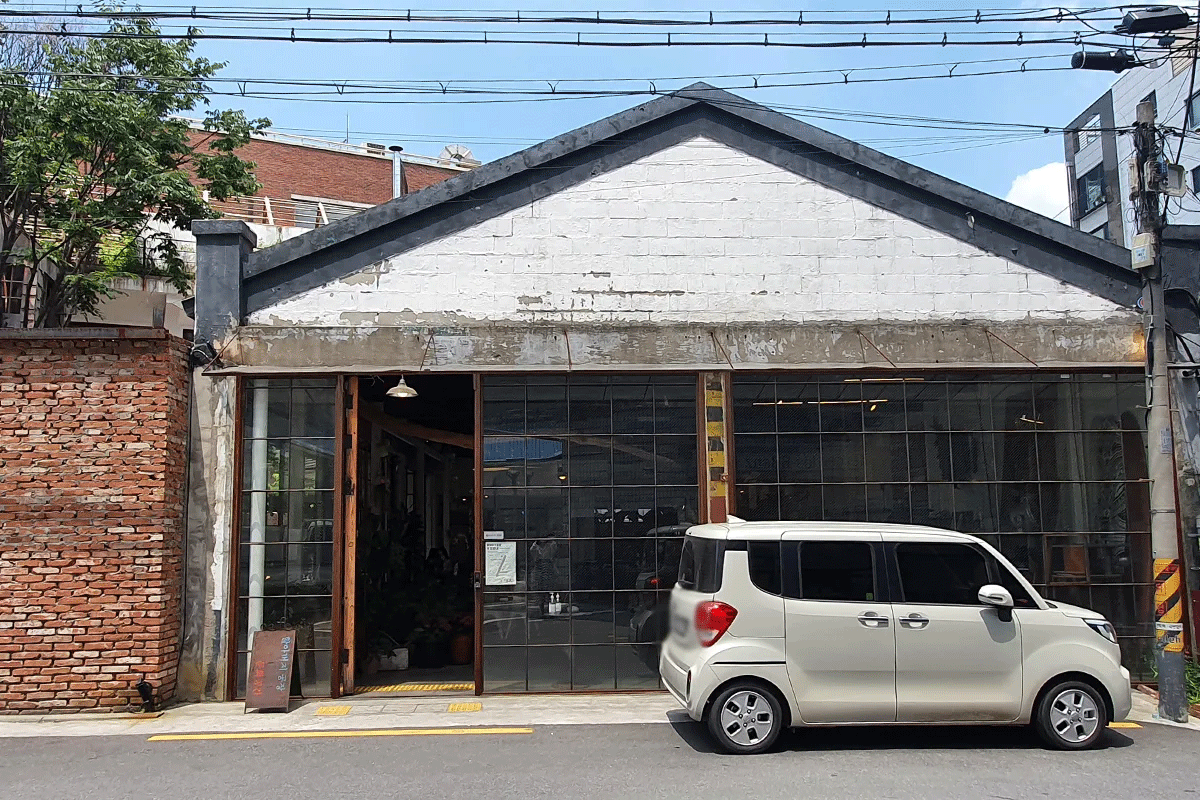 Designer and owner of Grandpa Factory Cafe, Hong Dong-hee, is a famous Korean architectural designer and installation artist. Thanks to the mobilization of all his architectural know-how, Grandpa Factory Cafe has become one of the most beautiful cafes in Seongsu-dong.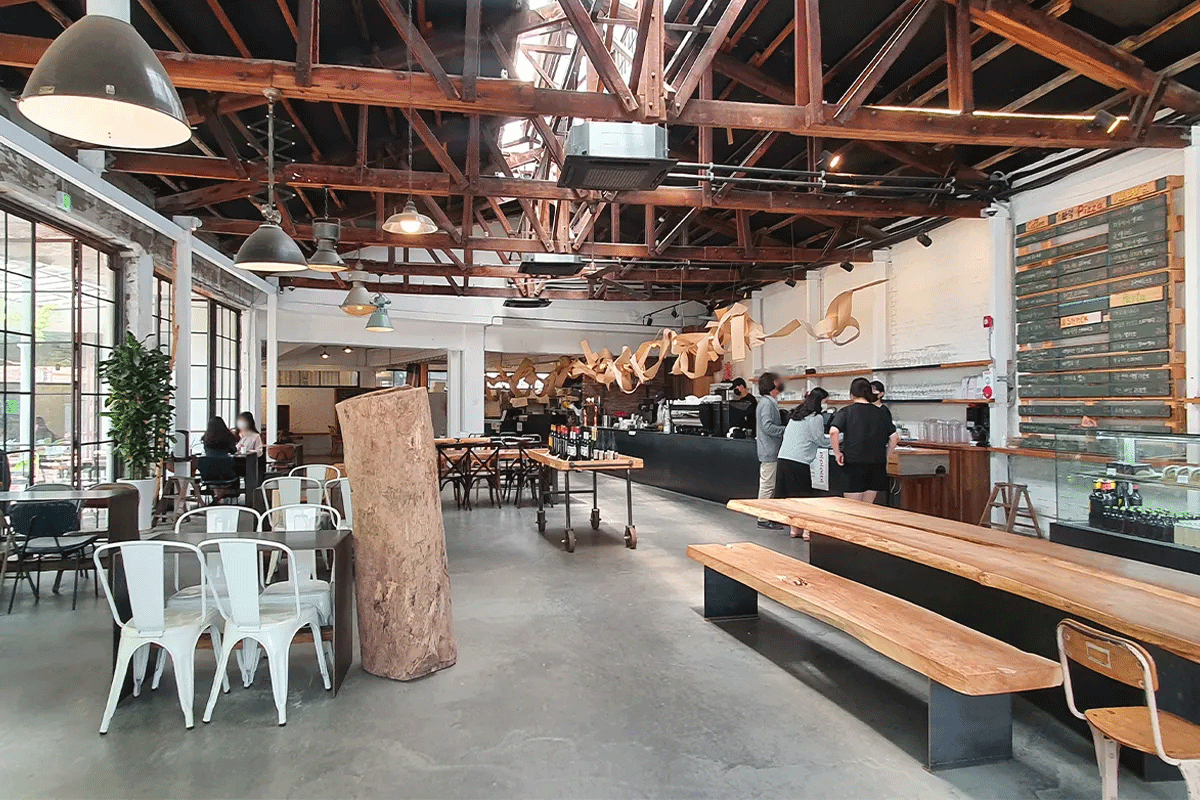 Hong Dong-hee has also achieved great success by opening Daelim Changgo. It's no exaggeration to say that thanks to his efforts, the Seongsu-dong streets have been reborn as a beautiful cafe and cultural space.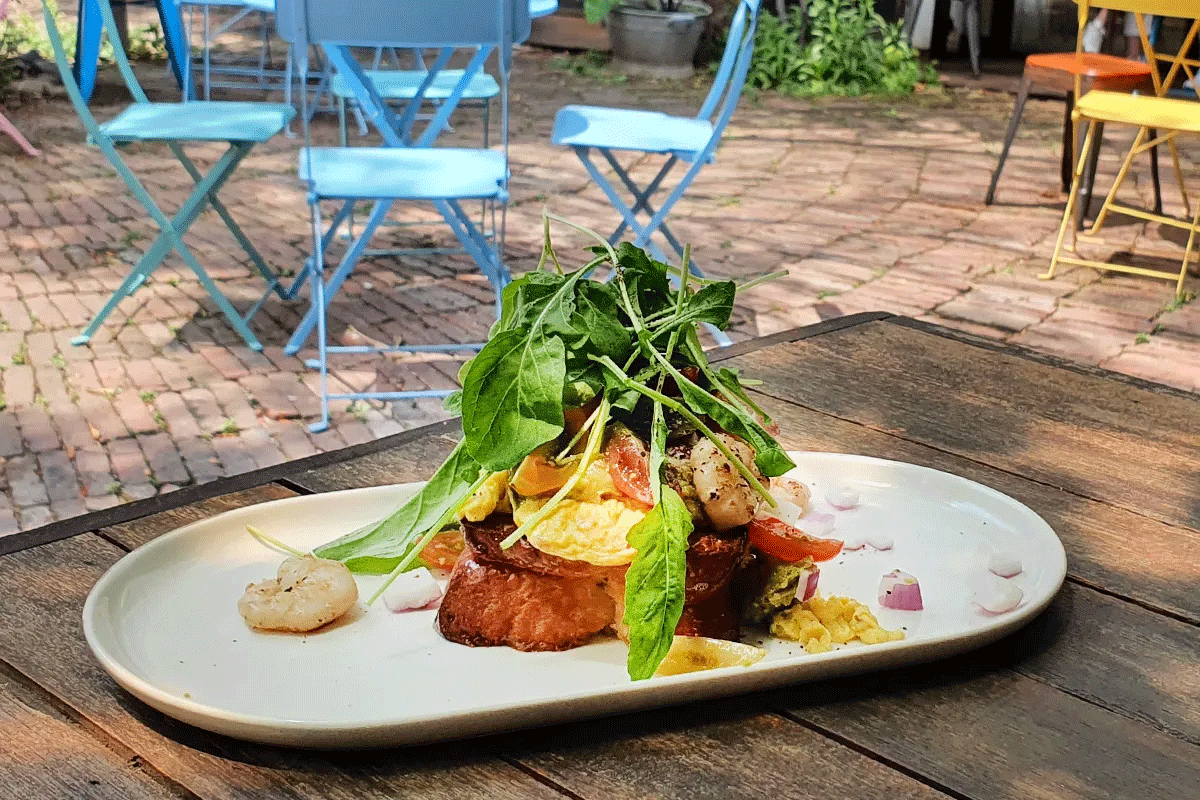 They don't just sell cafe items (Einspänner 8,000 won), but they also serve food items as well (Shrimp Guacamole Sandwich 17,000 won). Therefore, this is the perfect spot to visit for a quick meal or dessert.
Address: 서울 성동구 성수이로7가길 9
9 Seongsuiro 7-ga, Seongdong-gu, Seoul
Hours: 11:00 - 22:00
---
Cafe Onion


어니언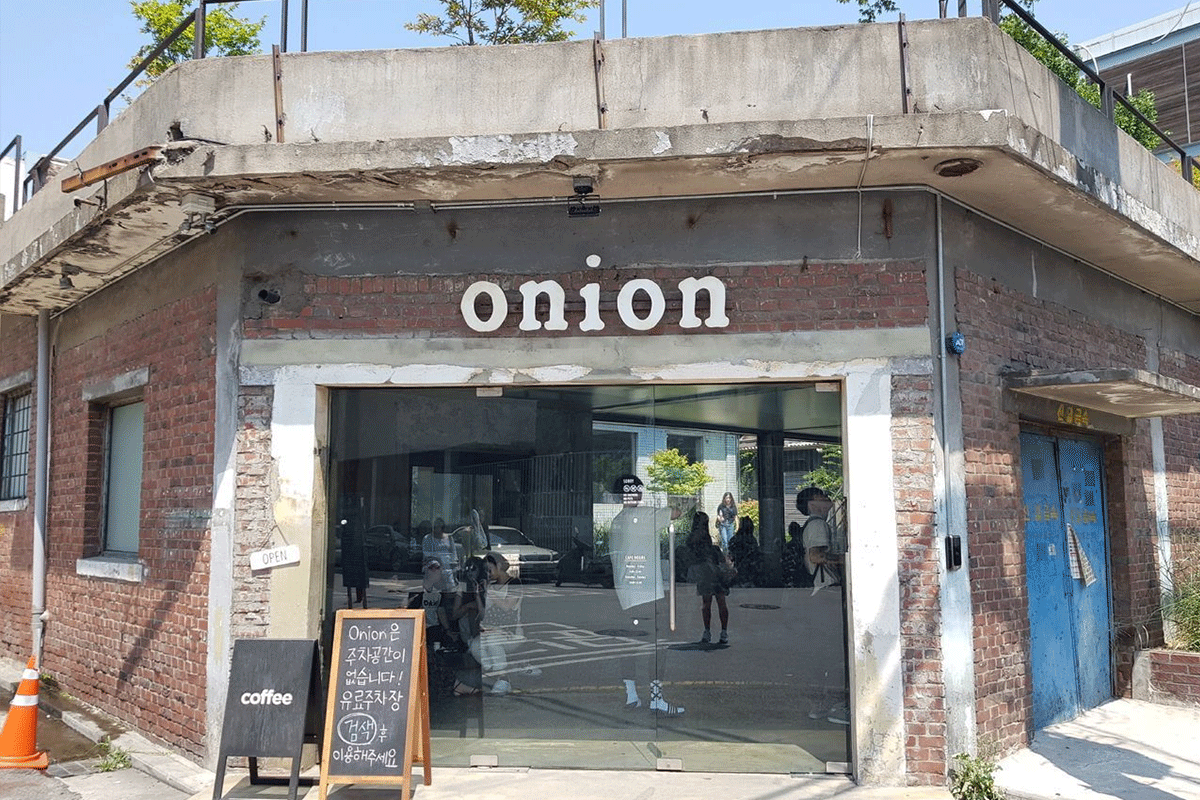 Cafe Onion is a popular cafe in a remodeled abandoned factory. This place is both a cafe and bakery, so it is always crowded with customers who visit to eat the delicious bread.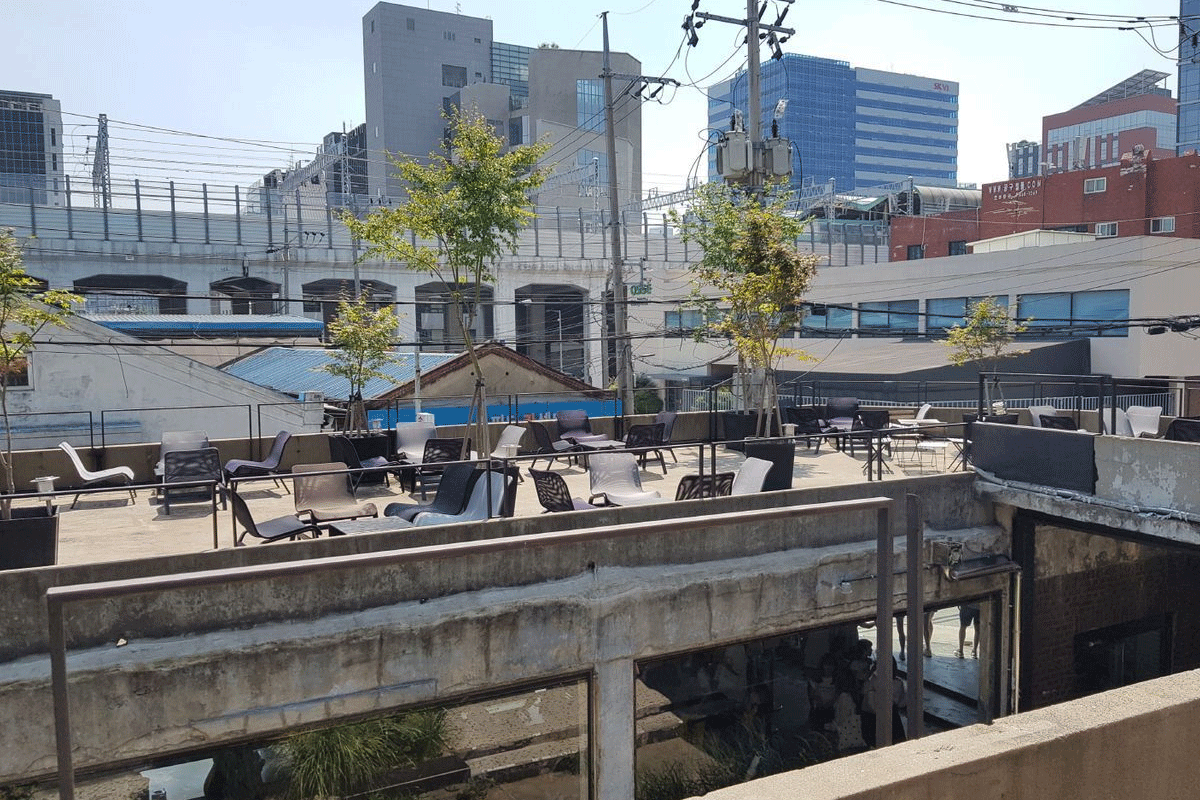 There are also rooftop seats, which would be perfect to sit at when the weather is nice.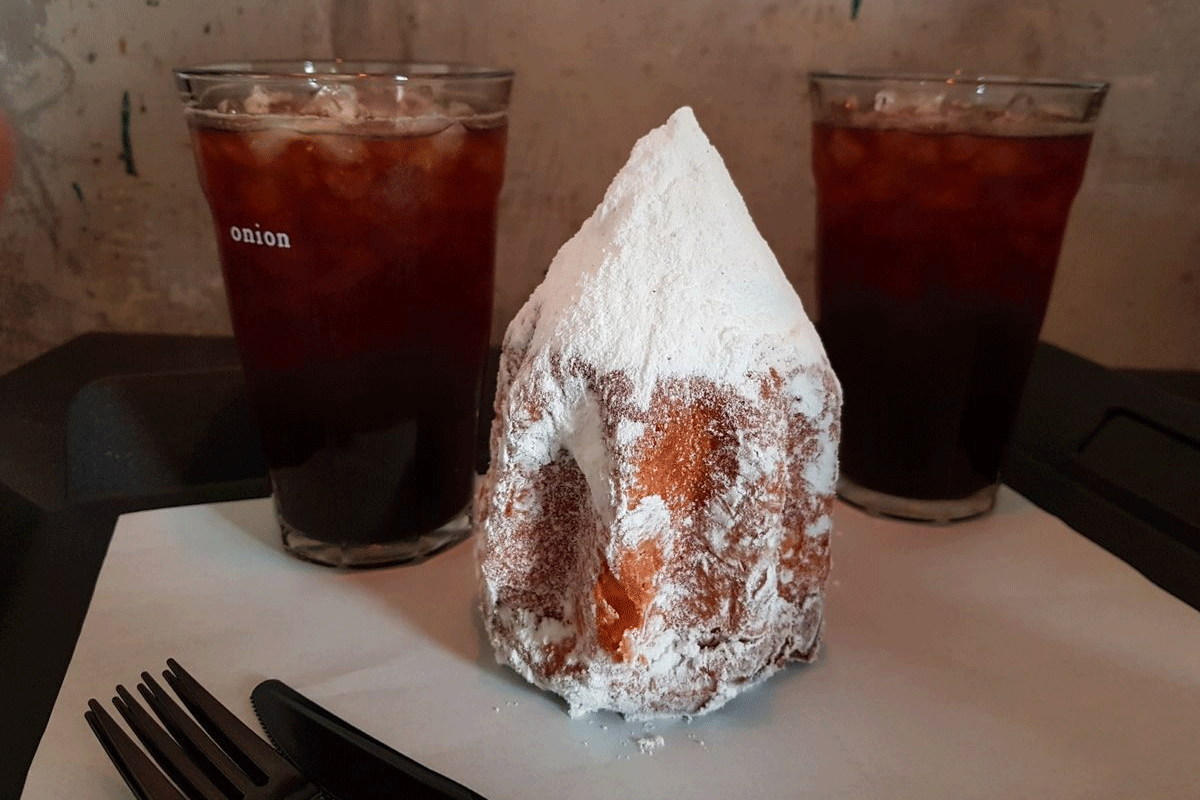 Cafe Onion's signature item is the Pandoro (5,000 won). It is baked in a canele mold, sprinkled with a lot of powdered sugar, and it looks like a mountain covered with white snow, making it a very unique dessert.
Address: 서울 성동구 아차산로9길 8
8 Achasan-ro 9-gil, Seongdong-gu, Seoul
Hours: Mon-Fri 08:00-22:00
Sat-Sun 10:00-22:00
---
GLOW


글로우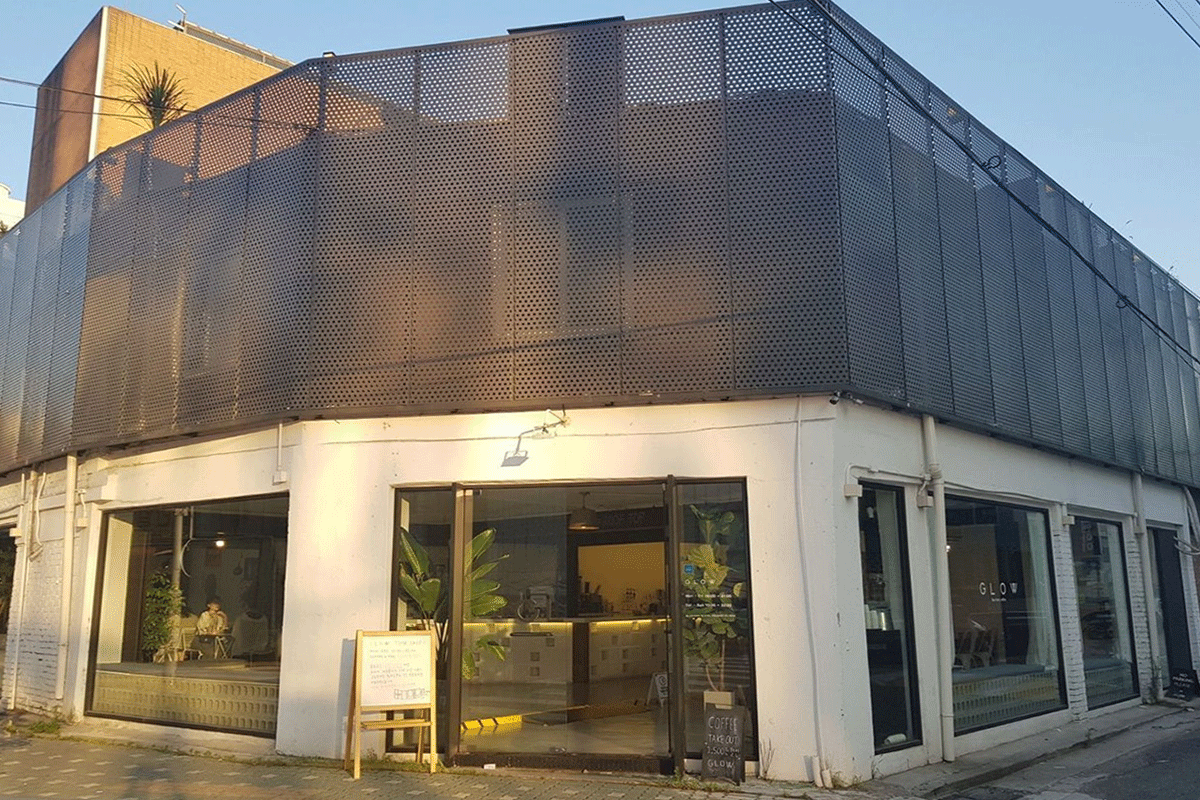 GLOW is right next to Cafe Onion, which we just introduced, and is a cafe with a very warm atmosphere.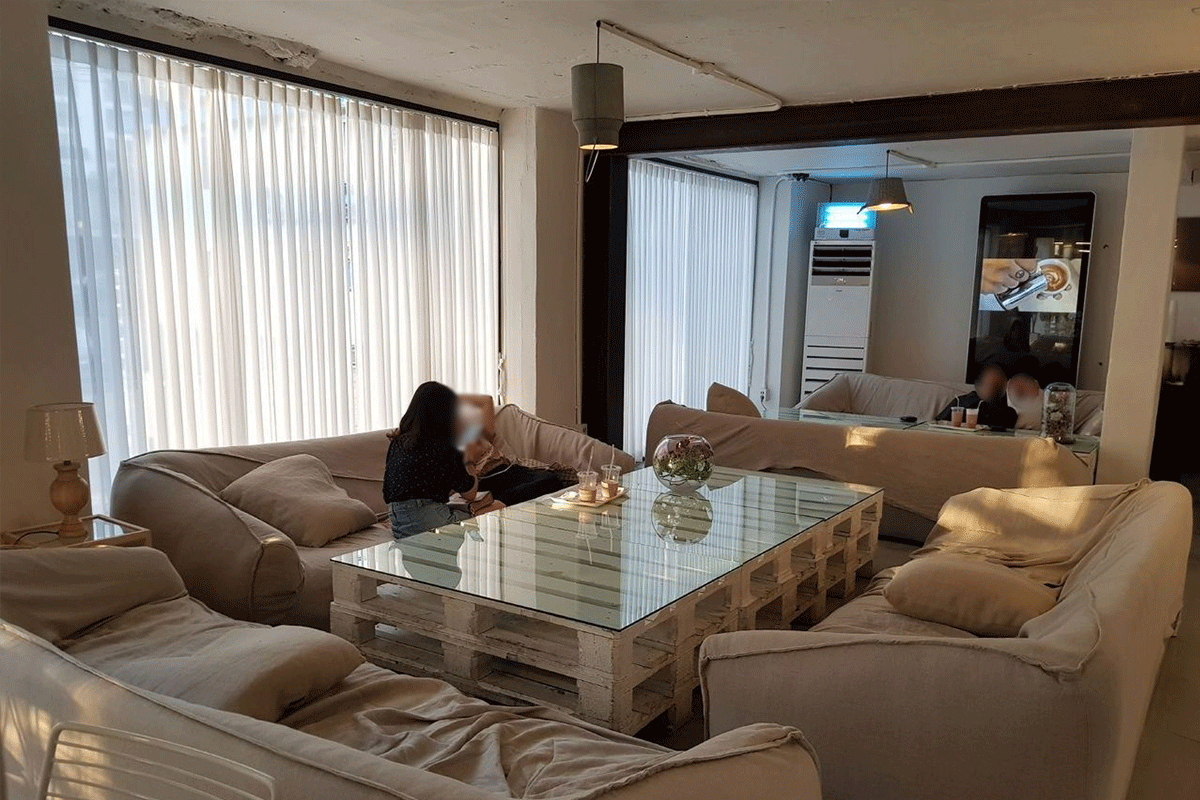 Although the overall vibe is very modern, it goes well with the antique furniture and props.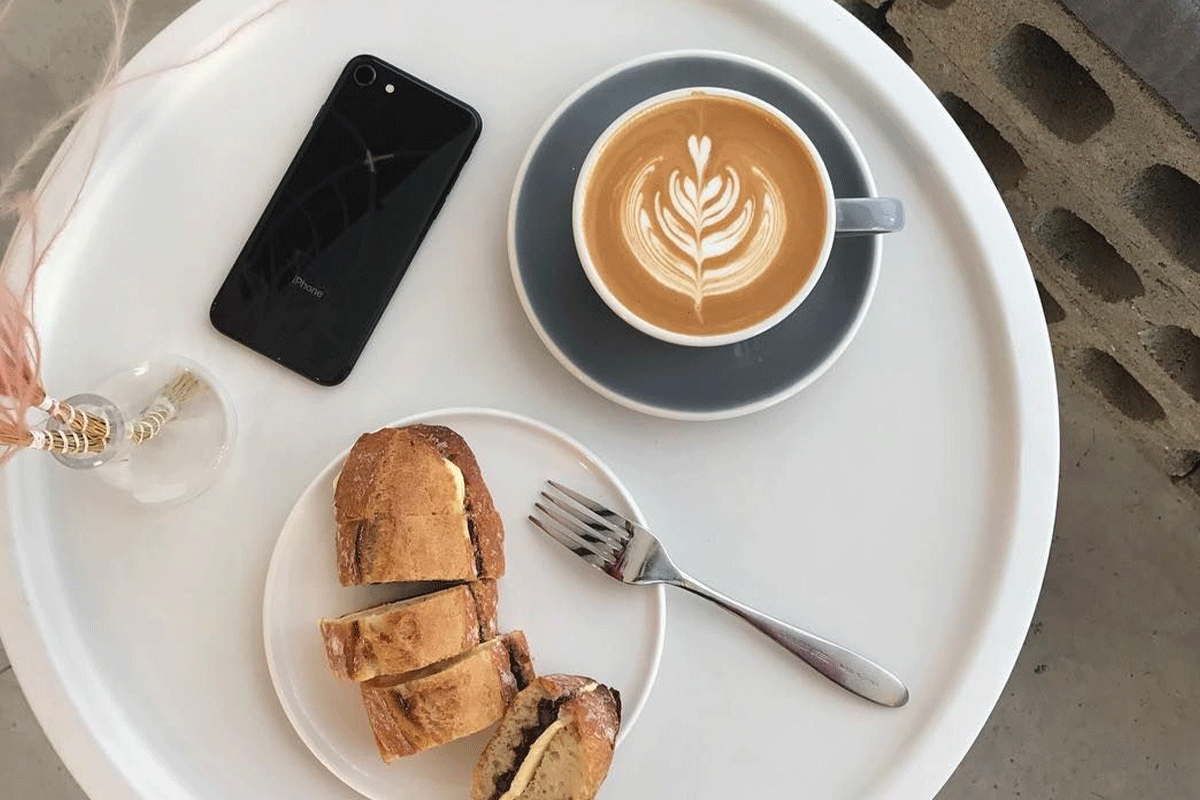 GLOW serves delicious desserts (Americano 4,500 won, scones 3,500 won-4,500 won), and has a very comfortable, cozy vibe. There's also seats on the rooftop, so keep that in mind when you visit!
Address: 서울 성동구 아차산로9길 20 1층
Hours: Mon-Fri 09:00-22:00
Sat-Sun 10:00-22:00
---
Today, we introduced some unique cafes located in Seongsu-dong, a hot place for Koreans.
Be sure to go on a cafe tour in the charming Seongsu are when you get a chance!
For more information about what to eat, drink, do, and more in the Seongsu and Konkuk University Station areas, click this link.
---