SOONSIKI Hair | Top Hair Salon in Hongdae
Get up to 20% off at one of Korea's top hair salons, SOONSIKI!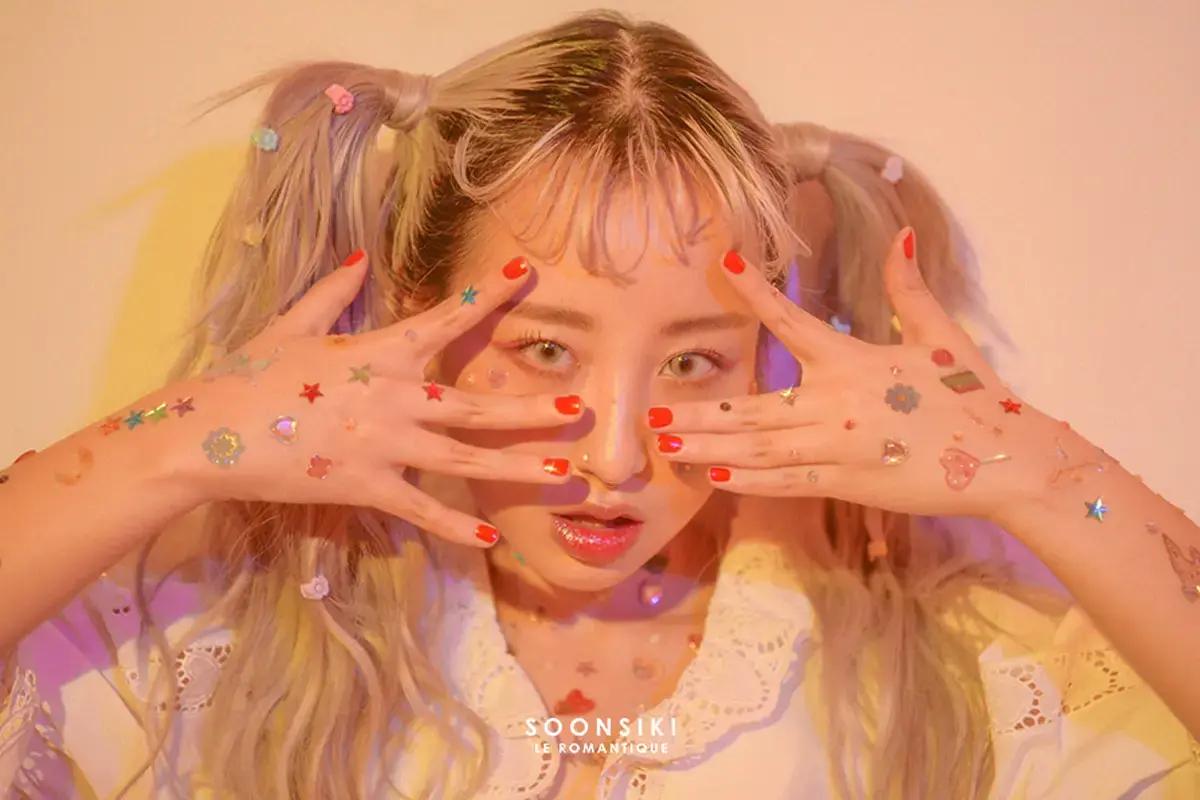 Korea is known for its booming beauty and fashion industry, and many that come to Korea also make sure to try out all of the nation's best beauty treatments, from facials to massages! Another popular beauty treatment that many people get when they come to Korea is a hair makeover. Korea is home to some of the most talented hair stylists and designers, many who start amazing hair trends within Korea as well. It is no secret that all the K-pop and K-drama stars always have hair that is picture perfect.
So who is in charge of Korea's most stylish K-pop stars and Korean actors and actresses' envious locks? Many of these idols and celebs trust the hair designers at SOONSIKI Hair. They are known for being some of the most talented designers in the country. However, they do not just cater towards celebs and idols! Anyone can get their hair done by the designers here. For those that want to get a hair upgrade, you can make a reservation here on Creatrip!
---
Information
SOONSIKI Hair Hongdae Main 1st Branch
Hours: Wed-Sun 10:00-19:00 (Closed on Mondays and Tuesdays)
Available Reservation Times: Wed-Sun; 10:00-18:00
Address: 서울 마포구 와우산로21길 29
29 Wausanro21-gil, Mapo-gu, Seoul
Main 1st Branch | Reserve Here
SOONSIKI Hair Hongdae Romantique Branch
Hours: Wed - Sun 10:00 - 20:00 (Closed on Mondays and Tuesdays)
Available Reservation Times: Wed - Sun 10:00 - 17:00
Address: 서울 마포구 양화로 164 8층
8F Yanghwa-ro, Mapo-gu, Seoul
Hongdae Romantique Branch | Reserve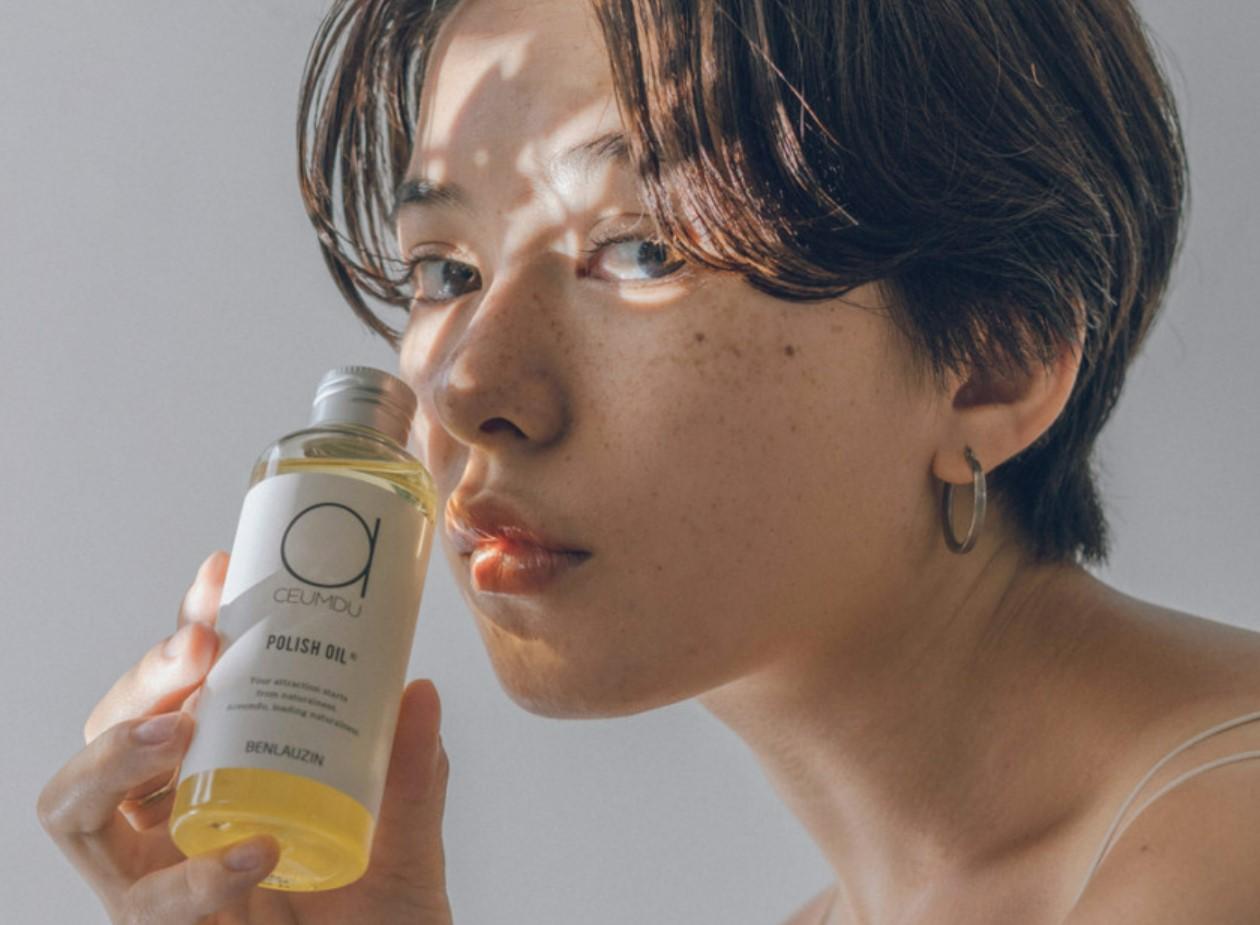 SOONSIKI ACEUMDU Hair Products | Reserve Here
---
Why We Recommend It

SOONSIKI Hair is located in the Hongdae area. Get your hair done and show off your new look while exploring one of the trendiest neighborhoods in Korea!
Models and celebrities frequently visit SOONSIKI Hair! If you are sensitive to the most up-to-date styling trends, SOONSIKI is perfect for you.
SOONSIKI Hair has a transparent pricing system with incomparable professionalism and service.
Save up to 20% off your bill by reserving through Creatrip and leaving a review!
---
Benefits
Mandatory Google + Creatrip Review

Benefit:



Up to 20% Discount

Google Review

Creatrip Review
*You will receive a discount after writing a review on both Google and Creatrip.
*20% Discount Procedures: Color, Perm, Cinderella Treatment
*20% Discount Not Applicable For: Bleach, Balayage, Special Color, Clinic Treatment, Partial Perm
---
Things To Keep In Mind
Depending on the type of procedure, hair length, and the addition of extra services, there may be additional costs to be paid on-site.
The duration of the procedures typically range from 1 to 3 hours but may vary.
Please note that specific designers cannot be assigned in advance, and there may be variations in treatment costs depending on the designer.
There are two locations: the Main 1st Branch and the Hongdae Romantic Branch. Please check the location when making a reservation.
To ensure a smooth reservation process, please accurately fill in the required information on the reservation page.
If you are more than 10 minutes late for your reservation, it will be automatically canceled, and the deposit paid will not be refunded.
For customers with damaged hair due to processes like bleaching or dyeing, perming procedures are not possible.
Please make a reservation by selecting the right amount of people.
One person can make a reservation for 2 or more products.
For reservation changes or other inquiries, please contact help@creatrip.com.
---
Price

Cut

33,000 KRW

Color + Cut
203,000 KRW


162,400 KRW

(Cold) Perm + Cut
180,000 KRW


144,000 KRW

(Heated) Perm + Cut
210,000 KRW


168,000 KRW

Cinderella Treatment
300,000 KRW


240,000 KRW
*Please make a reservation at least 2 days in advance.
*A deposit must be paid at the time of reservation to confirm the booking. The remaining amount, excluding the deposit, must be paid at Soonsiki on the day of your reservation (Haircut: 2,000 KRW / Other services: 5,000 KRW).
*The prices listed in the table are inclusive of the 25% discount, which will be applied when writing both a Google & Creatrip review.
*Please keep in mind that these are average prices, and prices will vary on-site after consultation. Prices vary based on hair length as well.
Refund Policy
| | |
| --- | --- |
| Cancelation 3 days before reserved date | |
| Cancelation 2 days before reserved date | |
---
How to Reserve
Step 1


Make a reservation on the Creatrip reservation page.

Main 1st Branch | Reserve Here


Step 2

Enter the required information in detail and pay the deposit. Your reservation will be confirmed in 1-3 business days via email. You can also check My Page for the reservation status.


Step 3

Please be sure to arrive at the appointed location 10 minutes early on the day of the reservation.

Step 4

Present your reservation confirmation at the front desk and enjoy your hair makeover!
---
Our Visit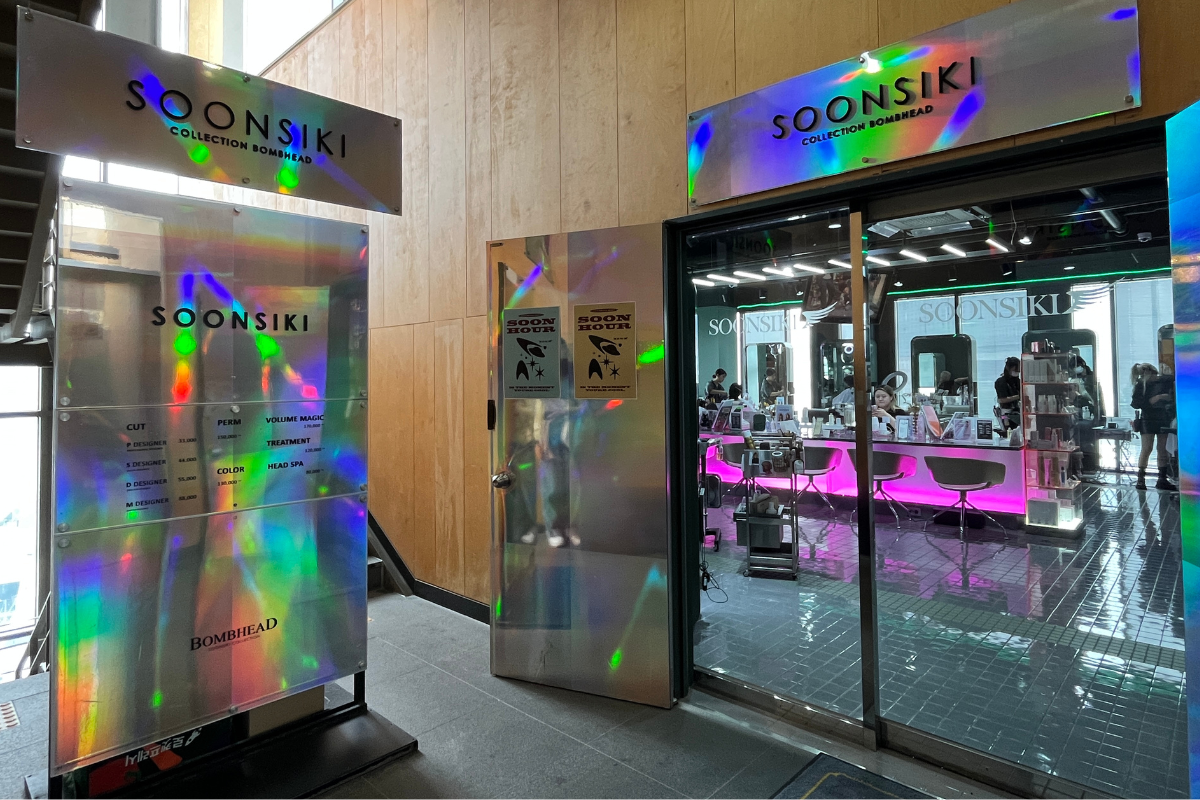 We recently visited Soonsiki's Main 1st Branch in Hongdae to get our hair done. The salon itself was nothing less of impressive as it is chic and has the theme of a barber shop from the 90's with a colorful twist.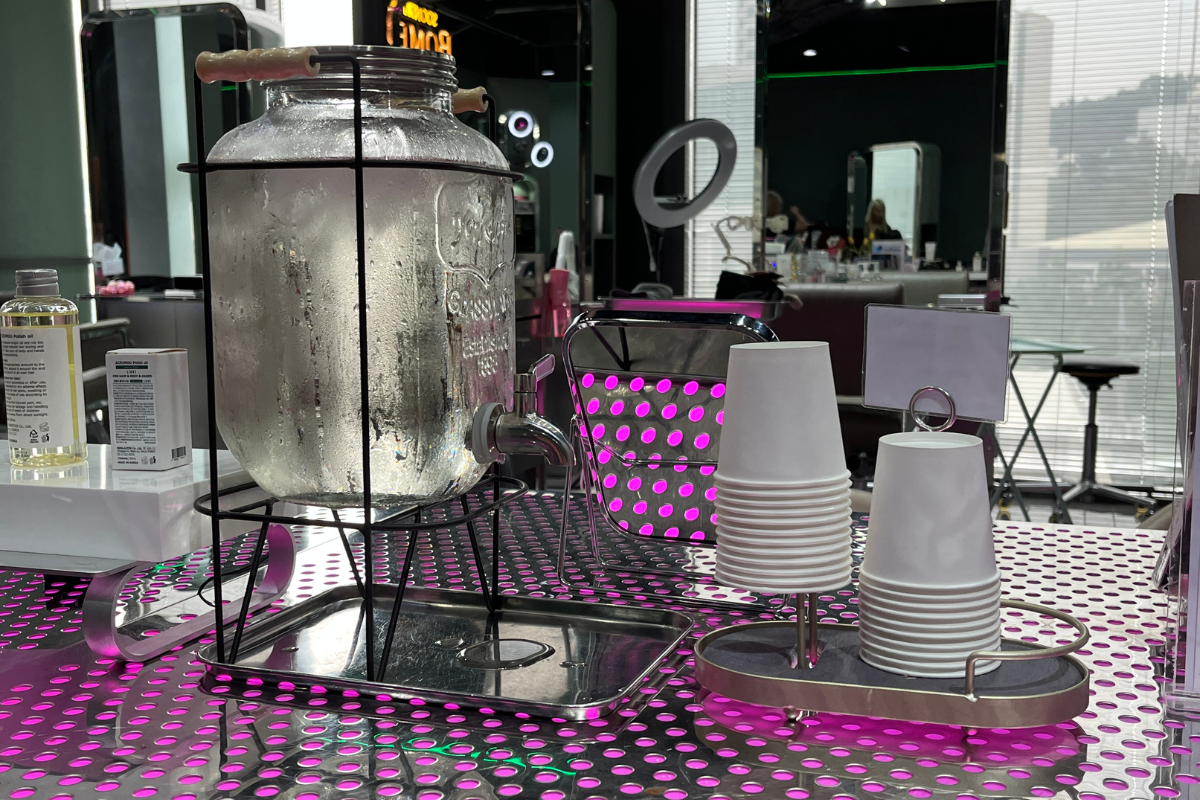 As soon as we sat down, we were offered a refreshing drink. Then they took our belongings to store in the lockers.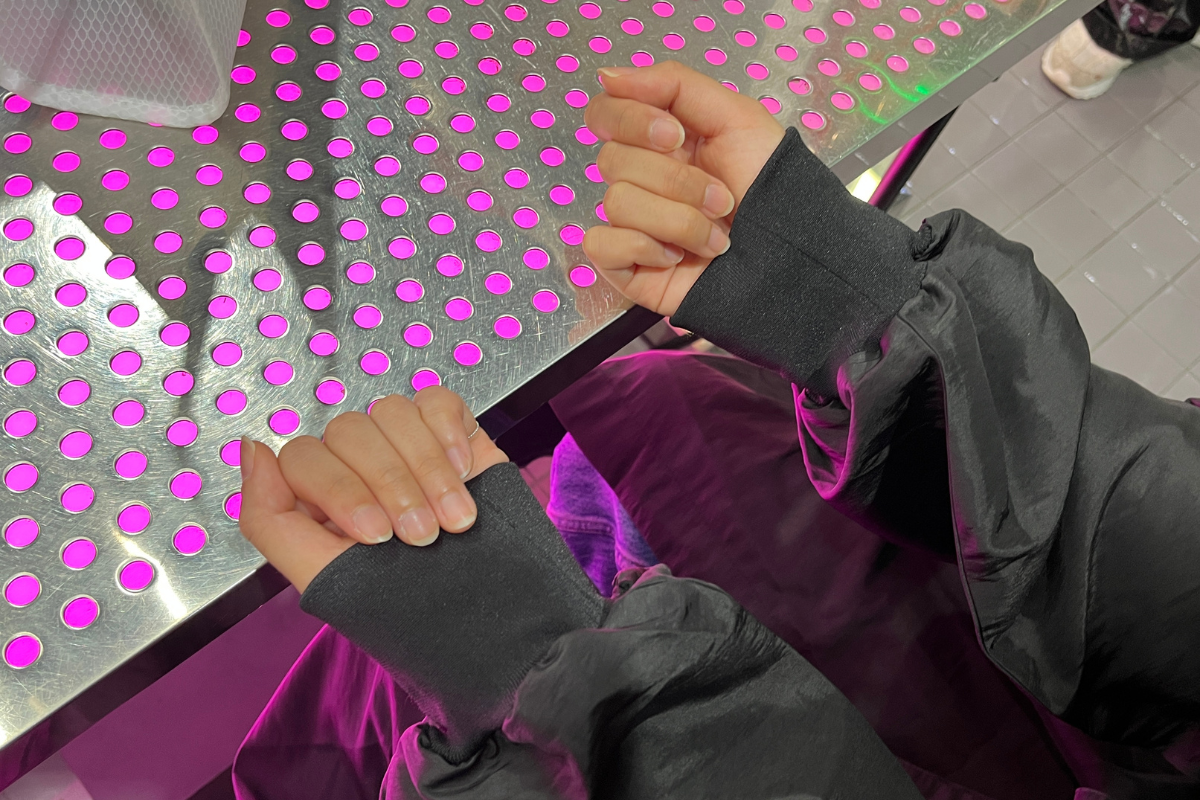 We were given robes to change into and they mentioned that they were specially customized so your clothes are safe from hair dye.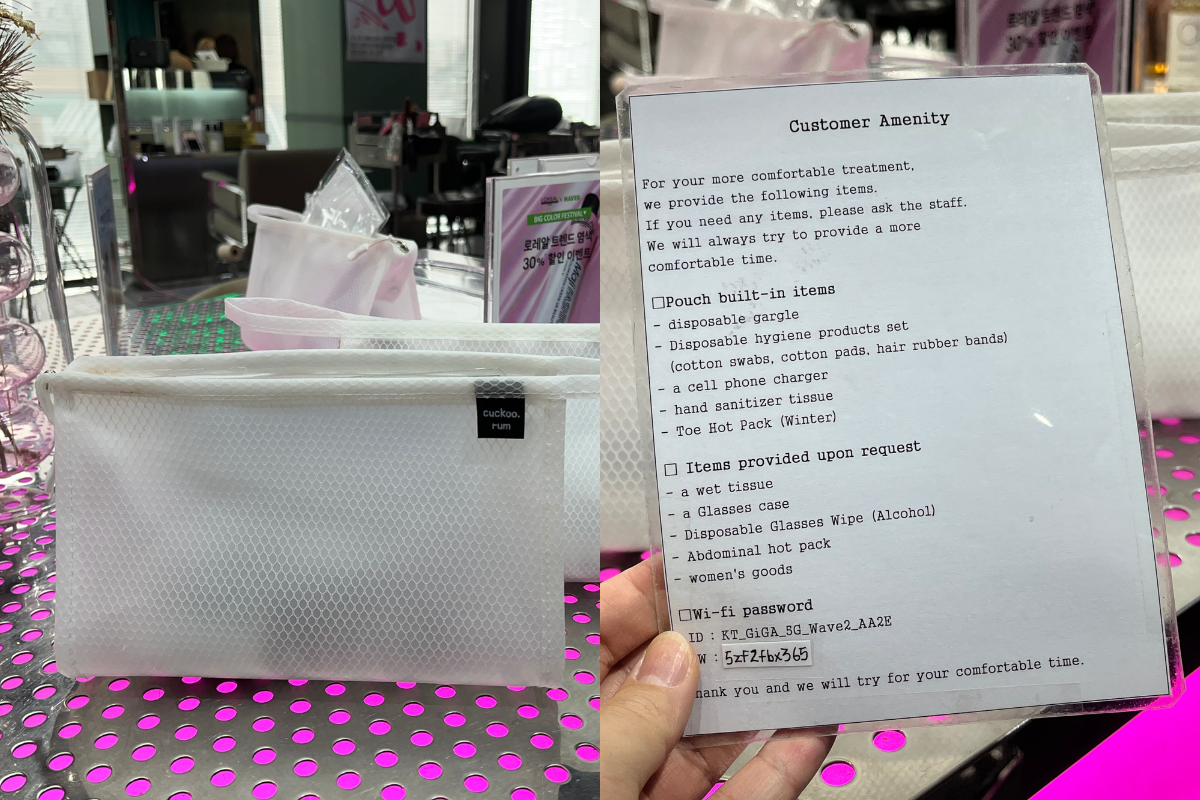 They also handed us an amenities pouch for you to use while you're here. Inside was a mask, hair tie, mouth wash, a phone charger, hand sanitizer, etc. You can also find a card in English with everything you can request if needed.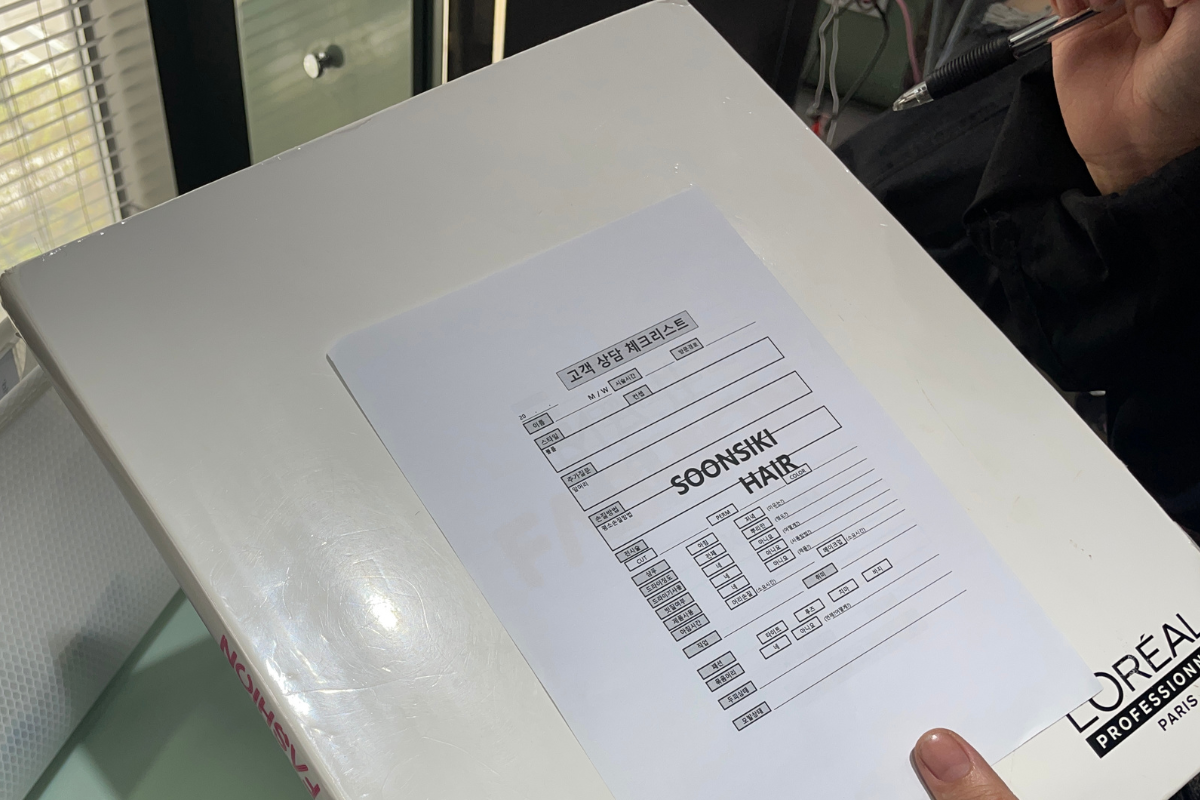 When the hair designer assigned to you is ready, you will go through consultation about the hairstyle you desire. Basic English communication is possible, but it is best to bring a couple photos of the style you want.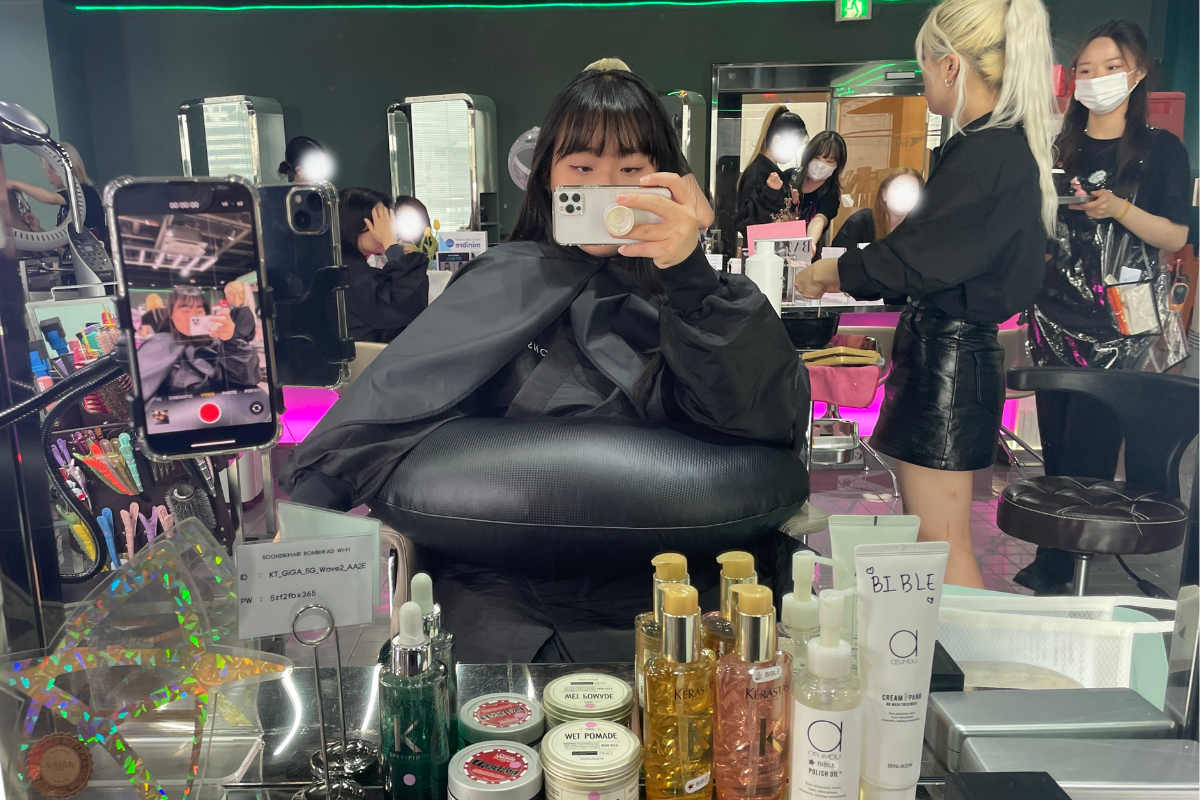 You will then be seated at a chair and offered a drink. You can choose from coffee, iced tea, tea, etc.
You will have snacks to eat throughout your appointment and you can get refills of your drink.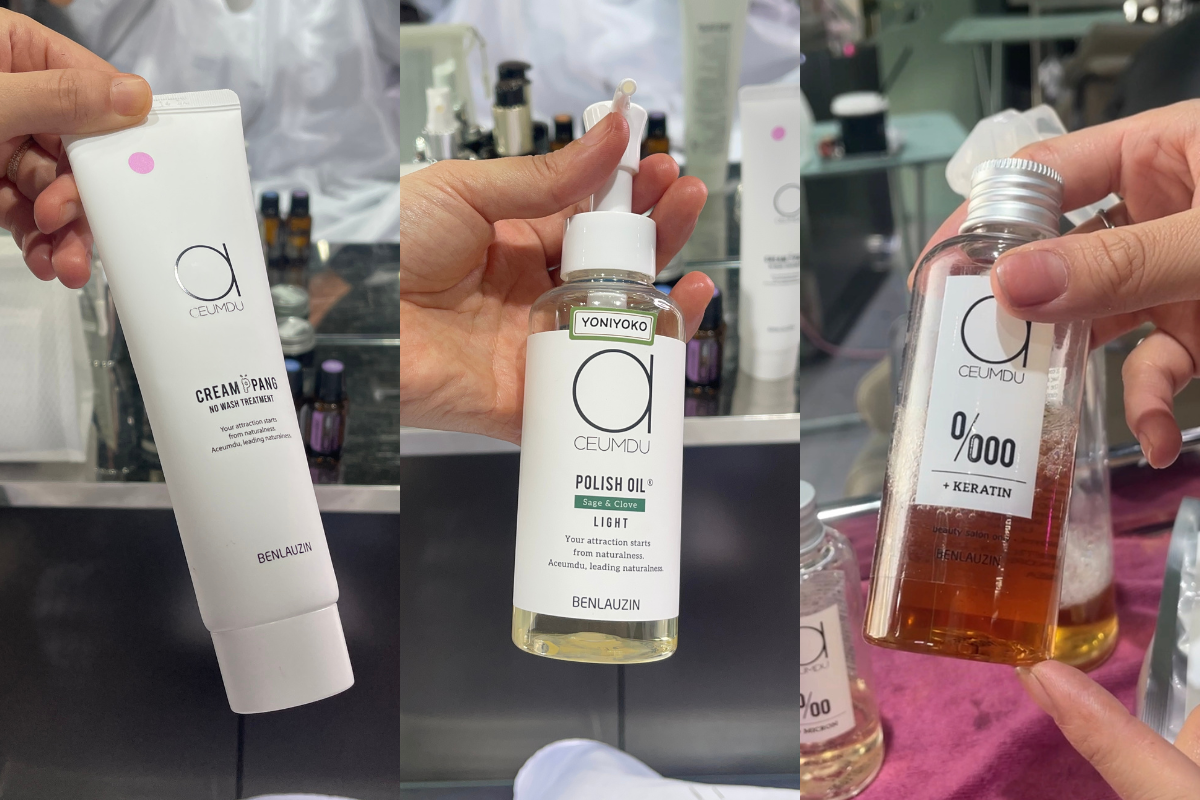 Throughout the appointment, Soonsiki uses products from Aceumdu, their in-house brand. The products are all-natural and are easy to use. The directors of Soonsiki are very skilled and well-known in the hair industry in Korea, so you can trust their products, which have been tested for 2 whole years!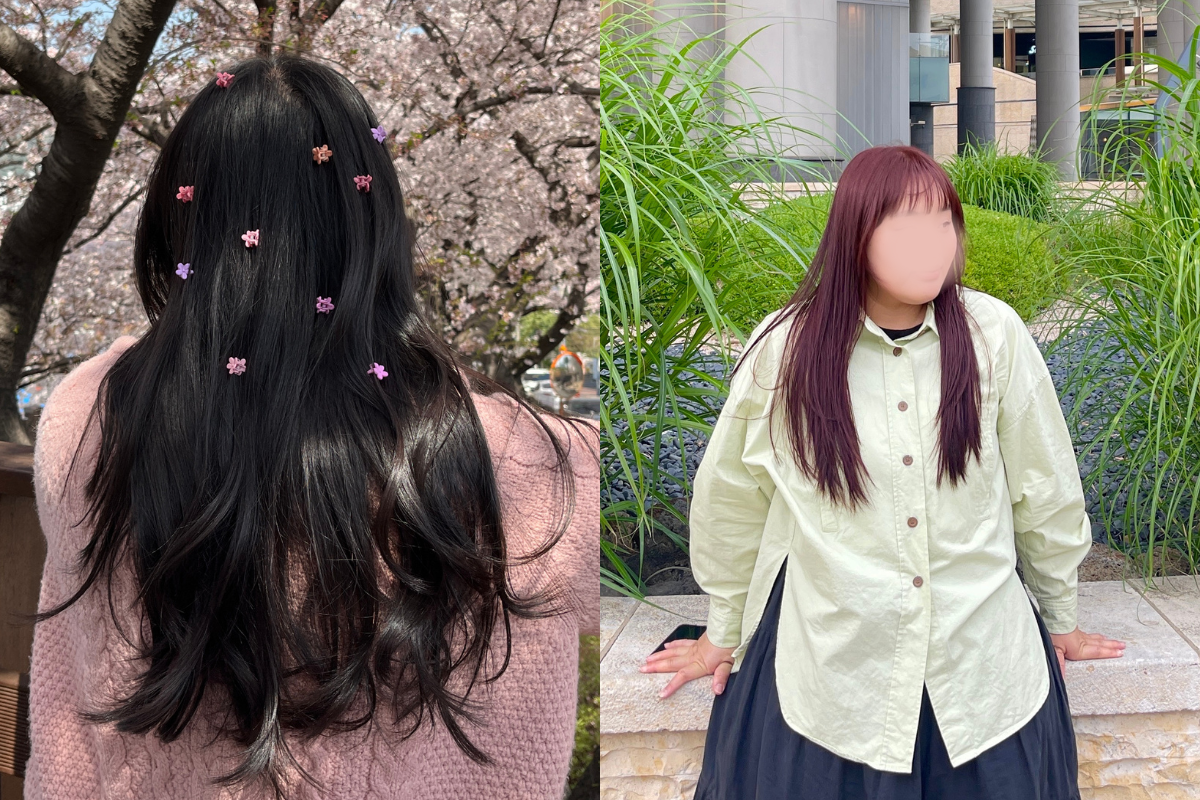 Color + Cut 203,000 KRW 152,250 KRW + Aceumdu Treatment 120,000 KRW
= 323,000 KRW 272,250 KRW (with Creatrip discount)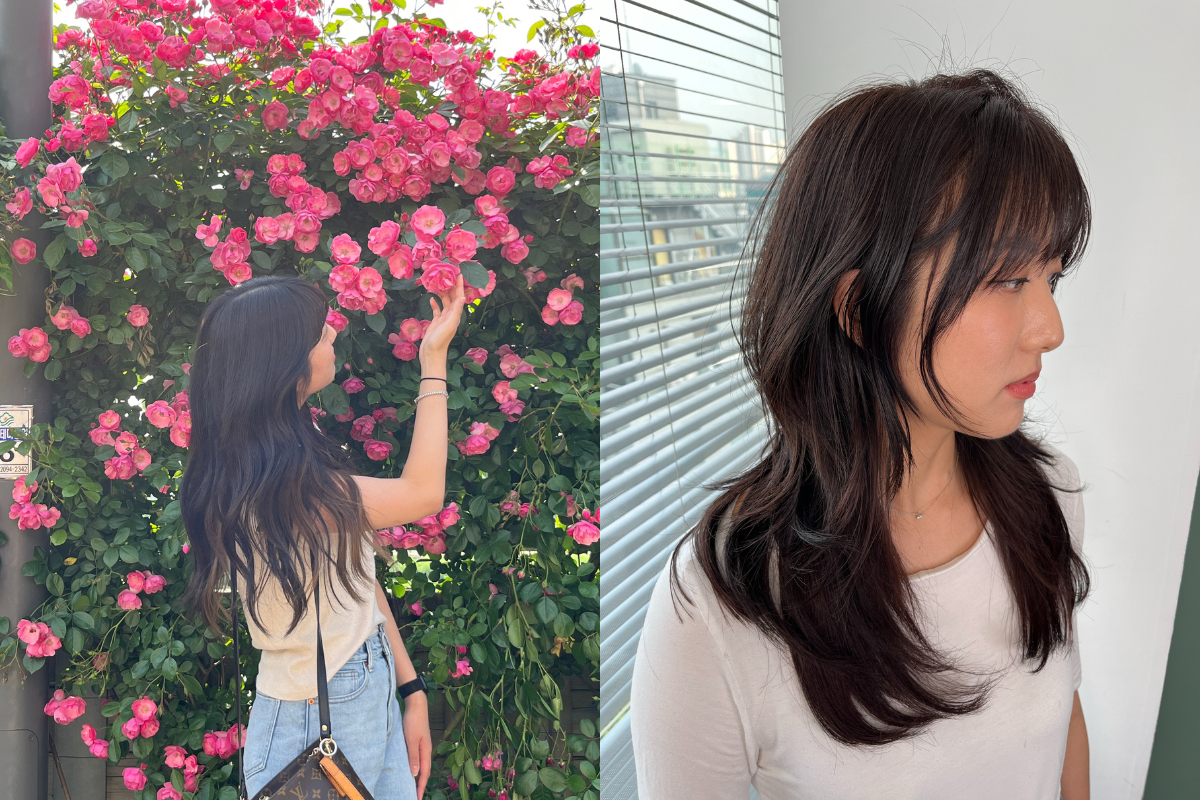 Color + Cut 203,000 KRW 152,250 KRW + Cinderella Treatment 300,000 KRW 240,000 KRW
= 503,000 KRW 392,250 KRW (with Creatrip discount)
Throughout the appointment, the Soonsiki staff will make sure you're comfortable and check if you need anything. The level of professionalism and hospitality is incomparable and best of all, the price is much affordable than hair salons in the United States or Europe. On top of that, if you book your appointment at Soonsiki on Creatrip, you get an additional 25% off!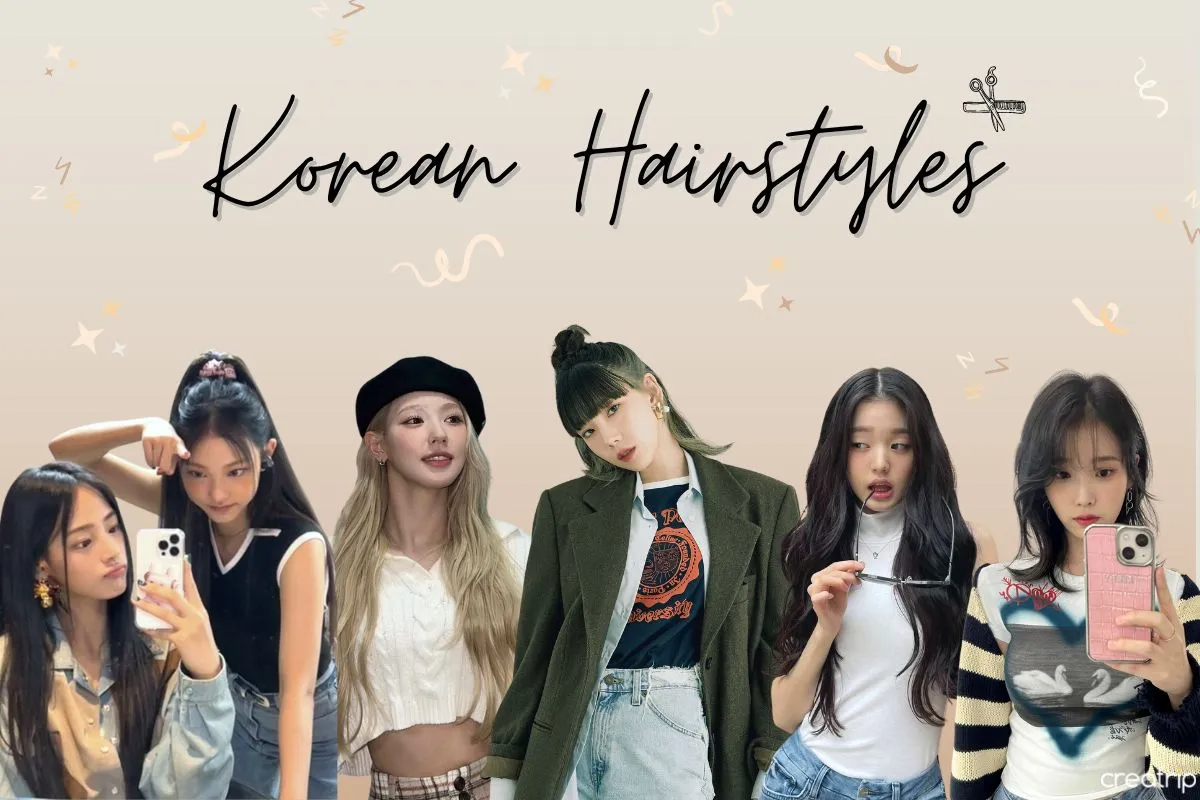 Need inspiration for hairstyle ideas? Check out some of our Korean hairstyle blogs below for ideas and trends!
Guide to Korean Women's Hairstyles
---
About Soonsiki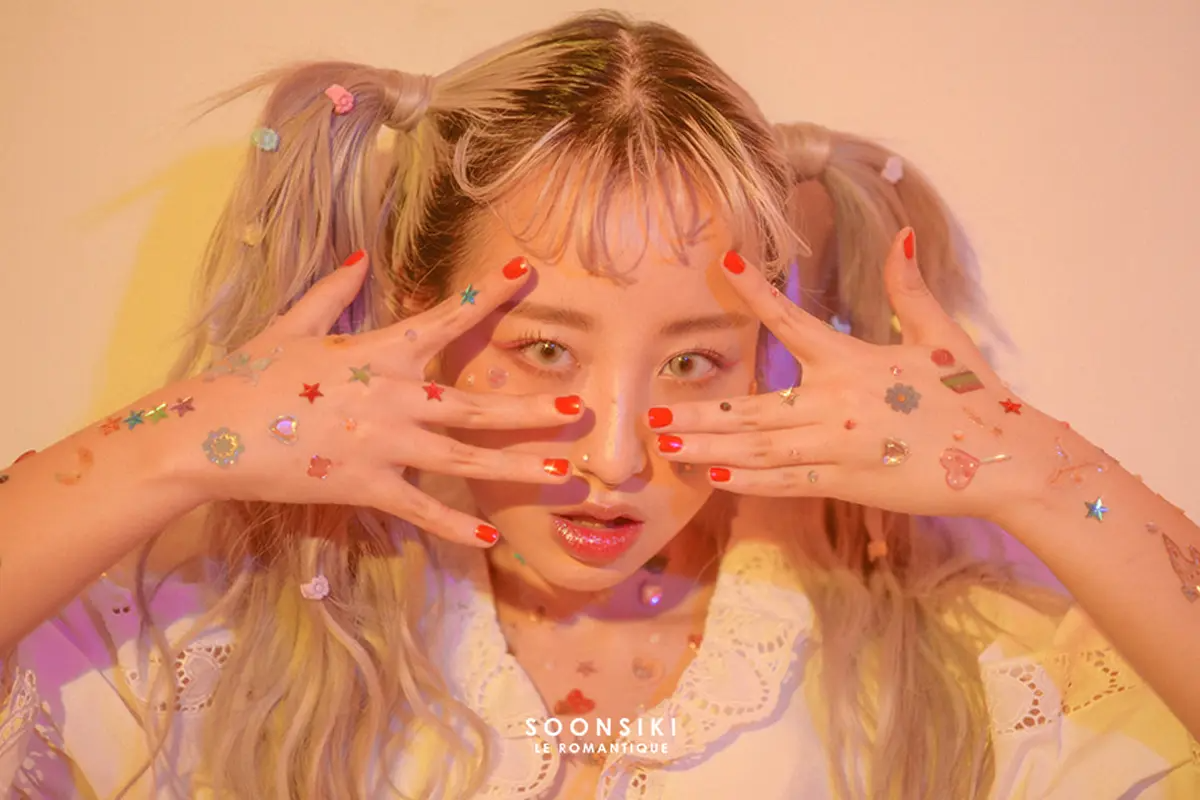 SOONSIKI Hair is a well-known hair salon in the Hongdae area, one of the trendiest areas in Seoul. Hongik University is the best art school in Korea, and many hip, trendy students live nearby. They are very up to date with all the latest fashion trends. For those coming to Hongdae for sightseeing, or planning a visit to Hongdae, we recommend also stopping by to get your hair done here as well!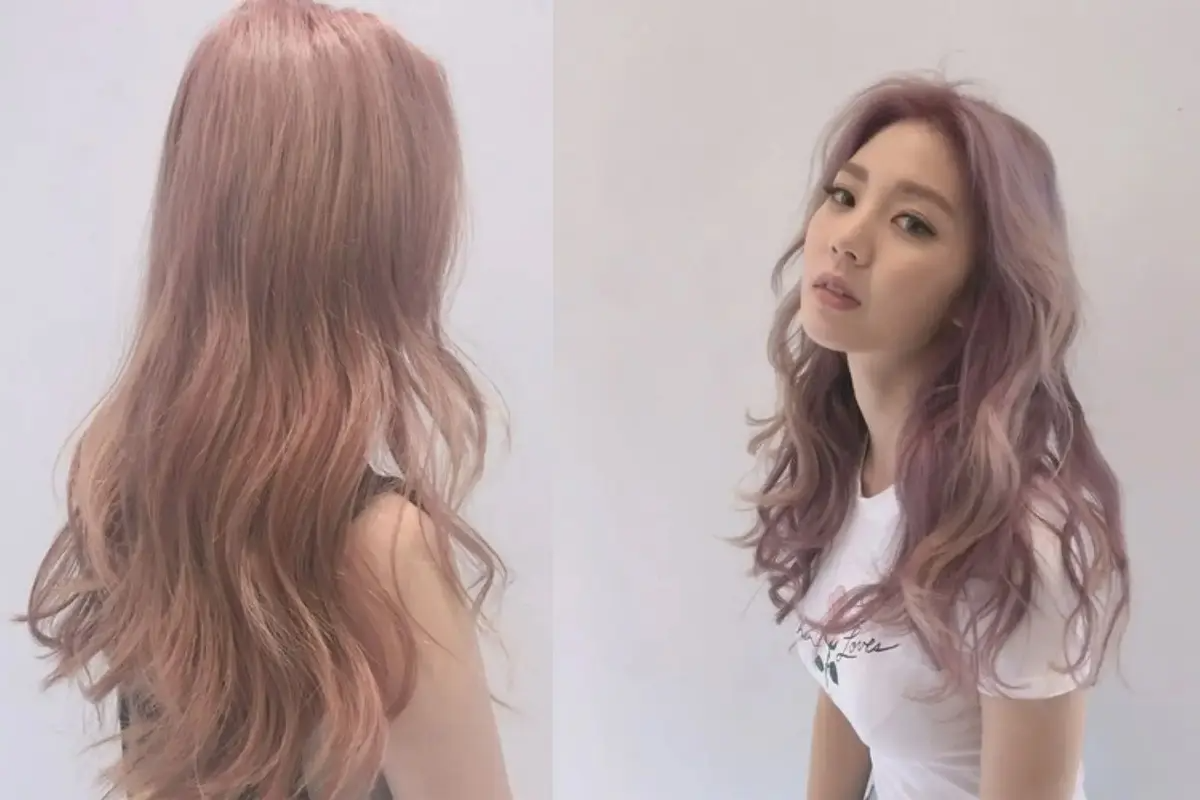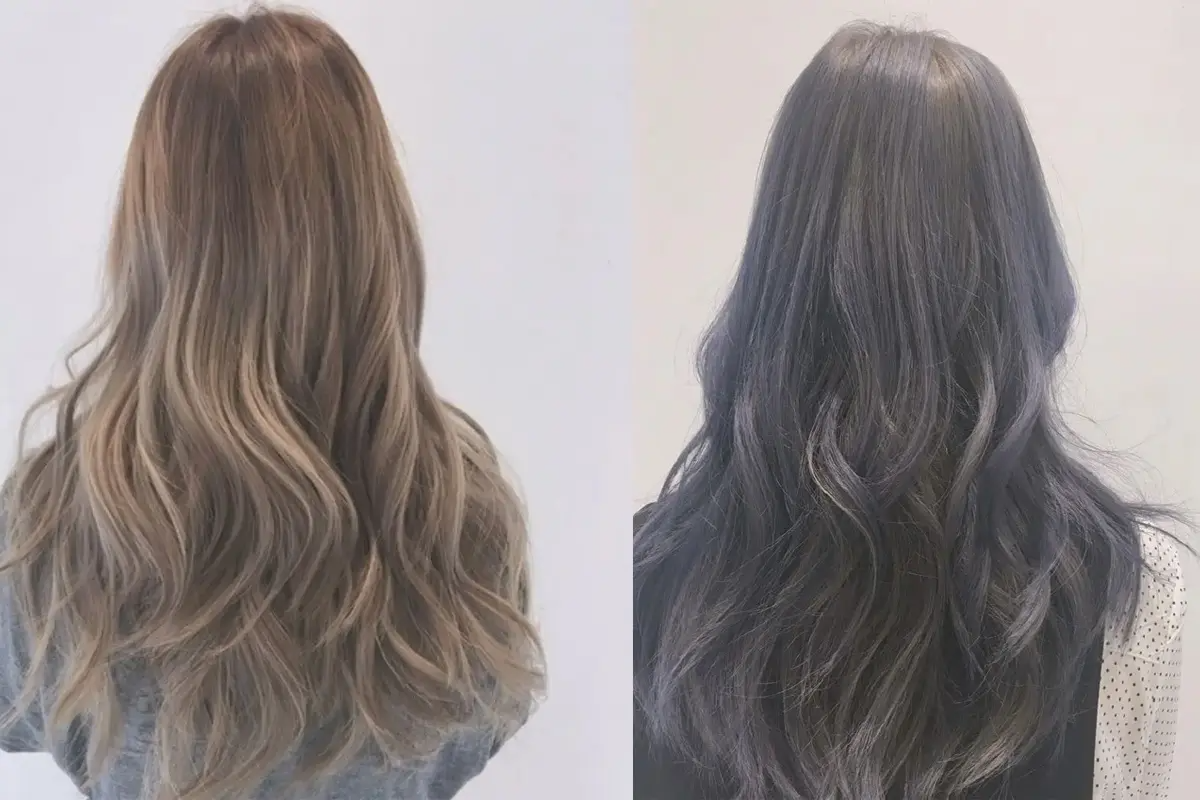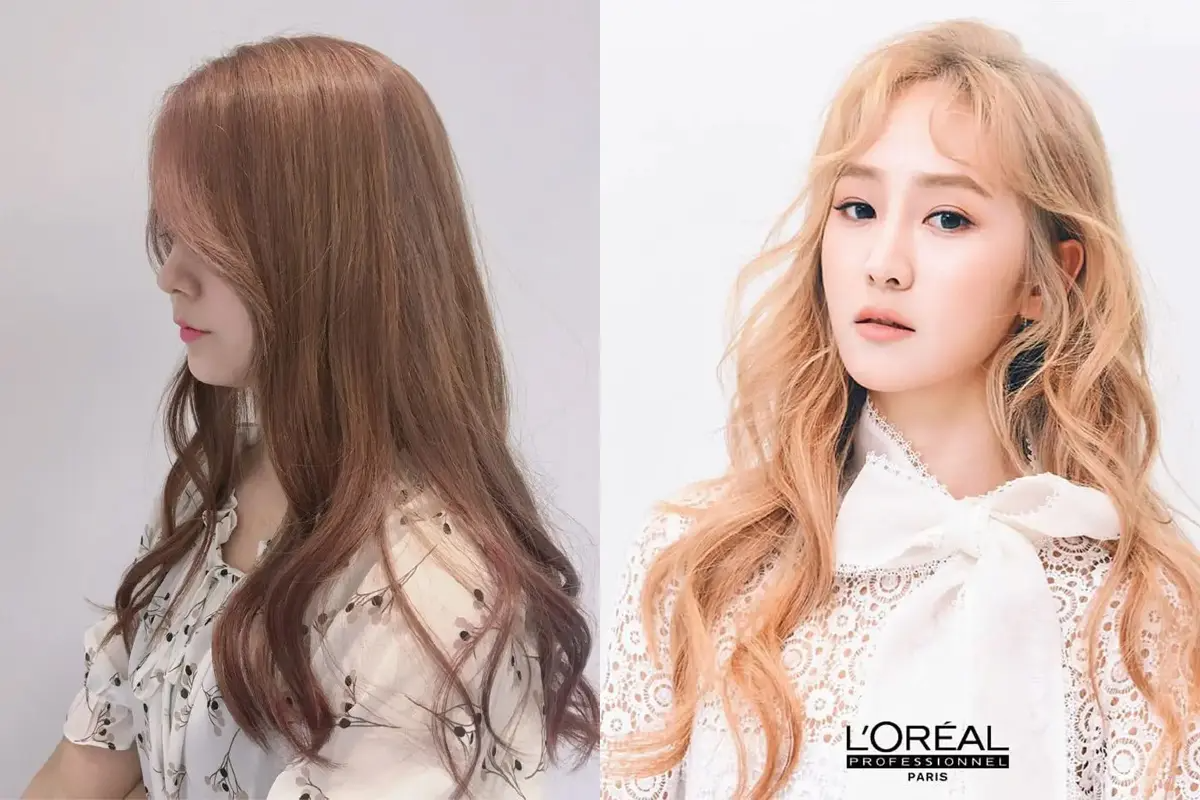 SOONSIKI Hair, at the forefront of trends, effortlessly maintains its stylish edge in the fast-paced Hongdae district. With their team of senior designers who possess artistic sensibilities, they lead the way in setting K-beauty trends while garnering satisfaction and acclaim from a diverse range of customers, both locally and internationally. Offering an array of popular styling choices such as layered perms, S-curl perms, and C-curl perms, they effortlessly cater to the diverse preferences of their clientele.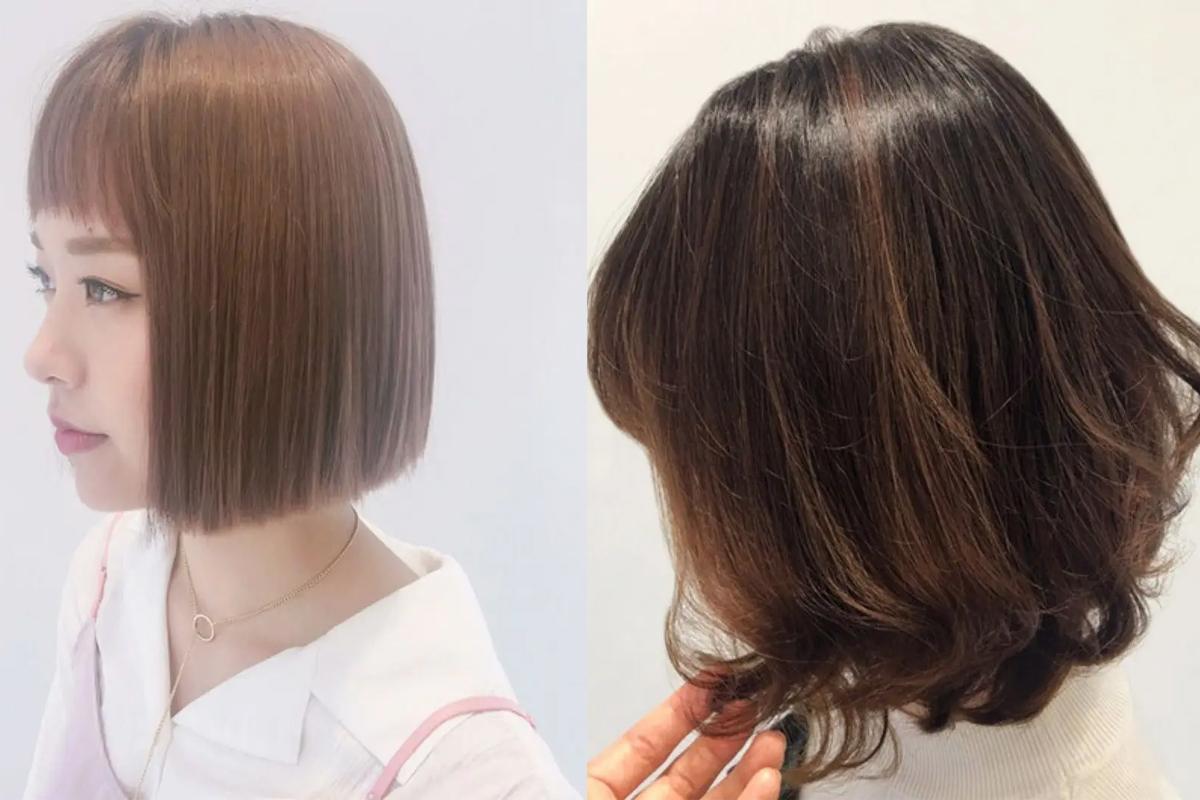 Not limited to long hairstyles, SOONSIKI Hair also showcases stylish and trendy short hair styling, as well as a wide range of perm styles. They excel in creating sophisticated and fashionable looks, even for short hair lengths.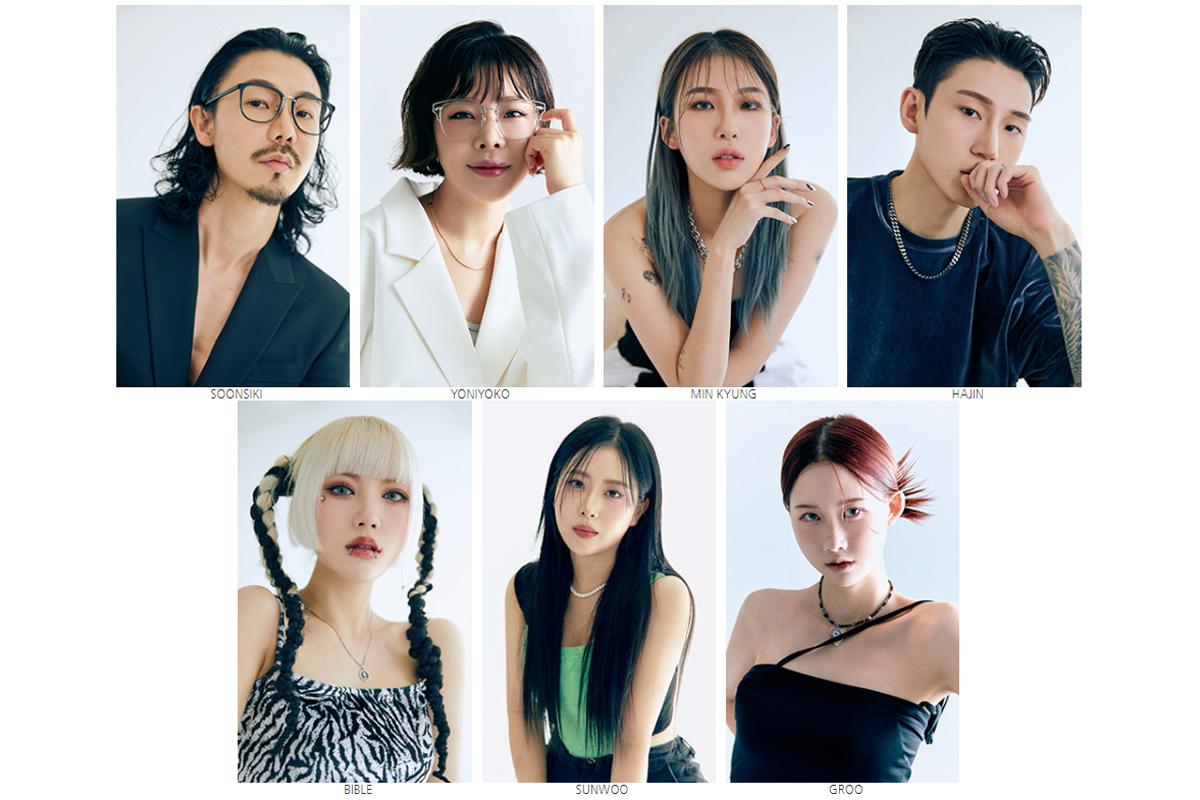 Soonsiki Hair 1st Branch Hair Designers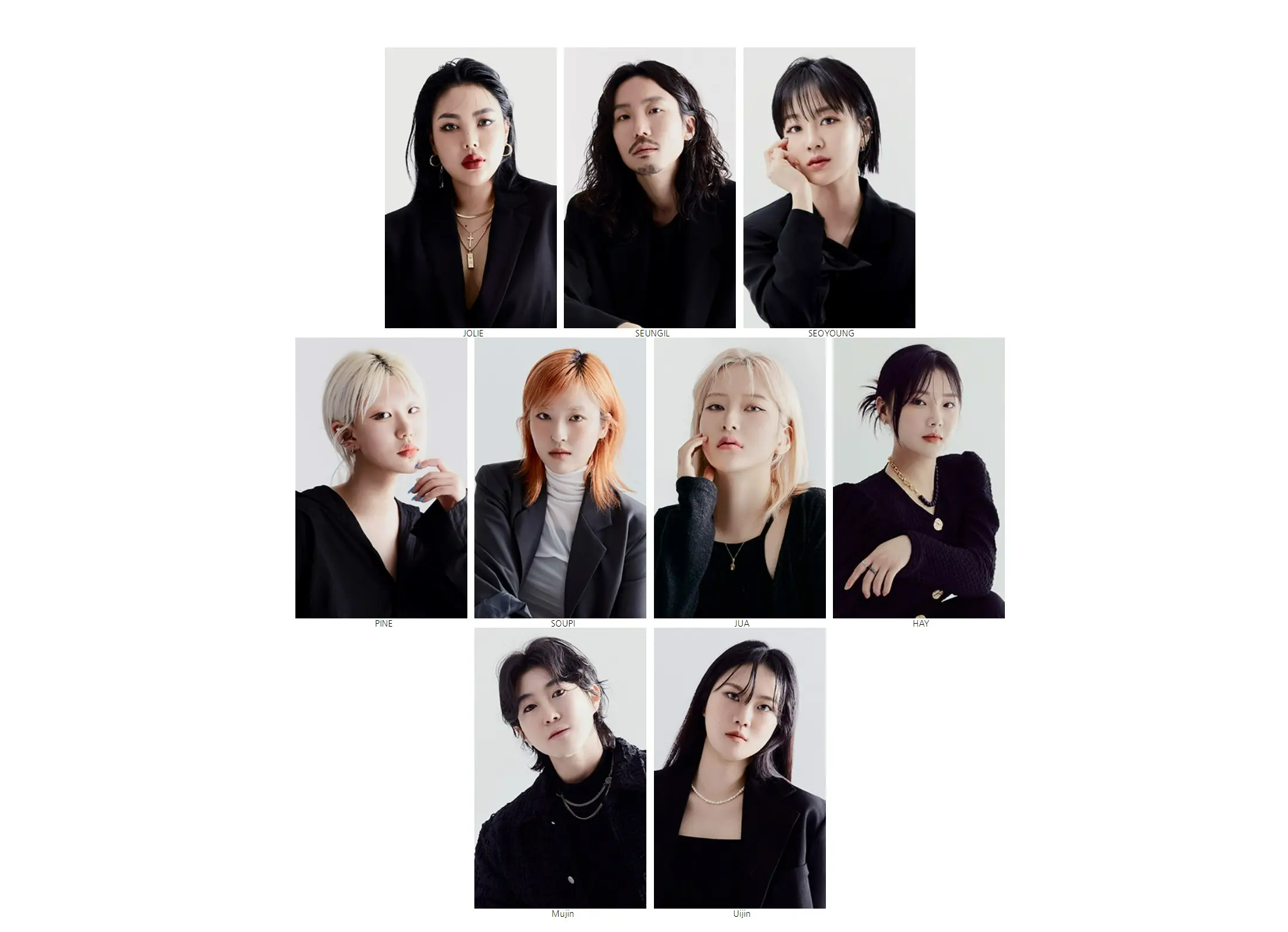 Soonsiki Hair Hongdae Romantic Branch Hair Designers
Don't worry if you're unsure about which hairstyle to choose! SOONSIKI Hair's designers are skilled at recommending the perfect hair style based on their clients' face shape, skin tone, and personal style. Moreover, the representative of SOONSIKI Hair has participated in various hair shows and seminars. They have experience in hairstyling for photoshoots and events, as well as collaborating with other brands for special events.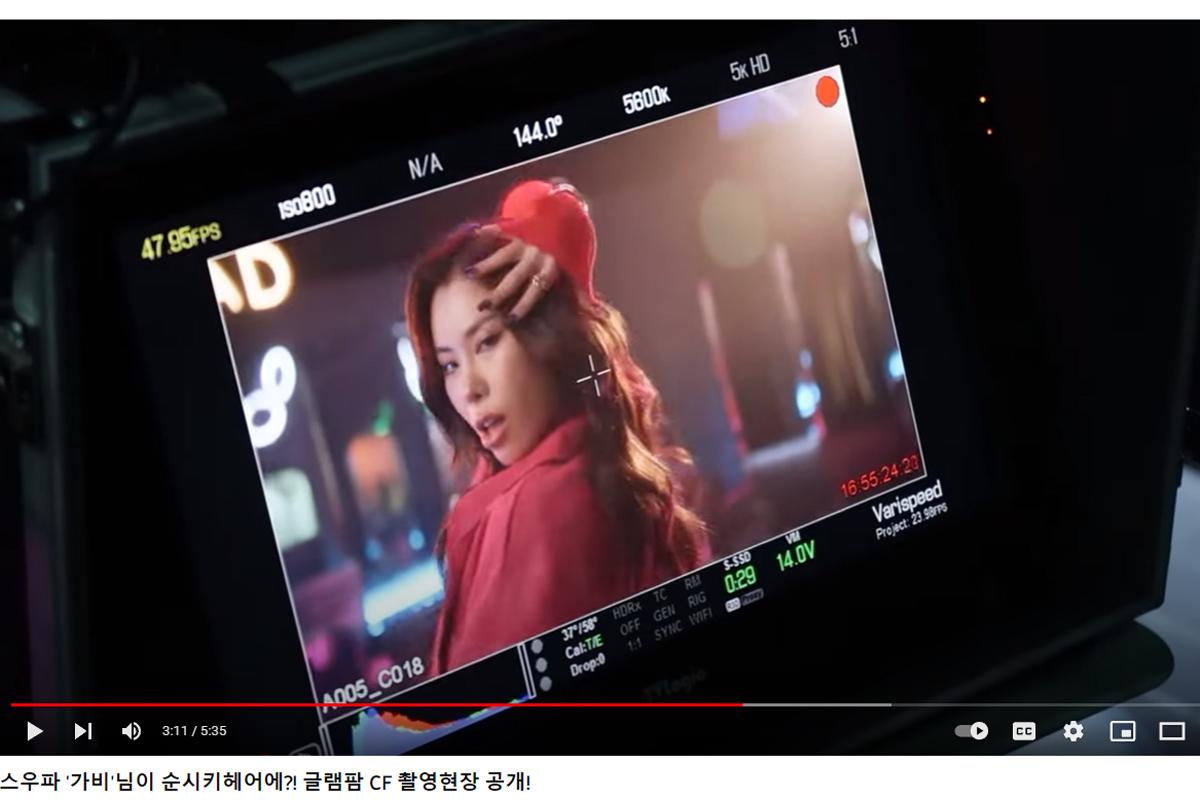 Source: SOONSIKI YOUTUBE
SOONSIKI Hair is well-known as a salon frequented by many Korean celebrities and K-pop idols. Recently, the dancer Gabi, who appeared on "Street Woman Fighter," had a photoshoot at the main branch of SOONSIKI Hair.
SOONSIKI Hair 1st Branch Salon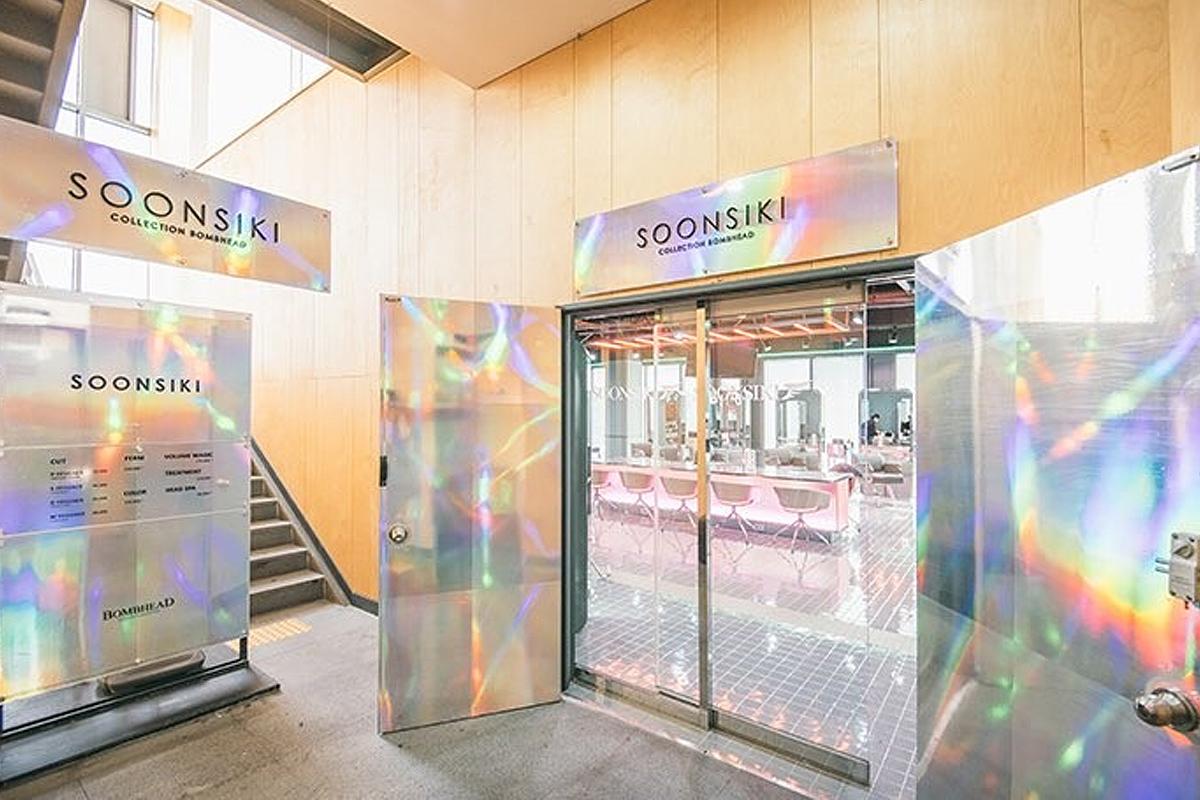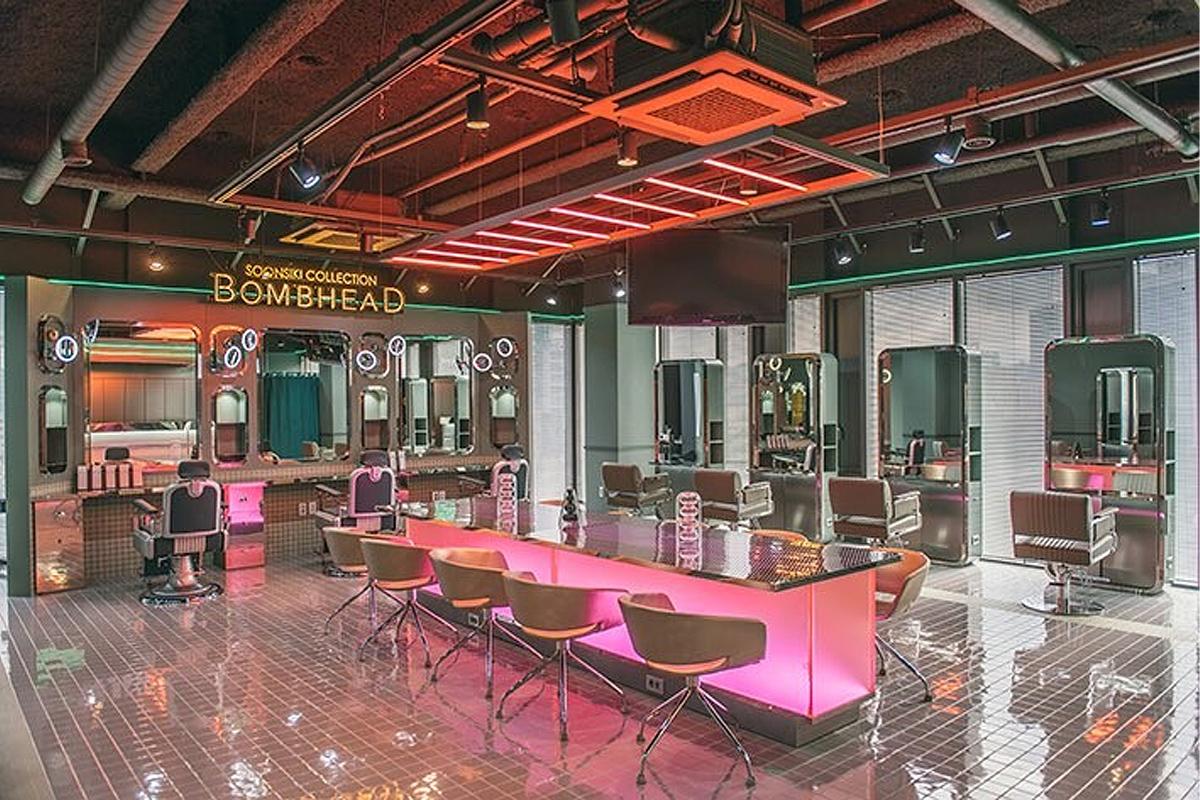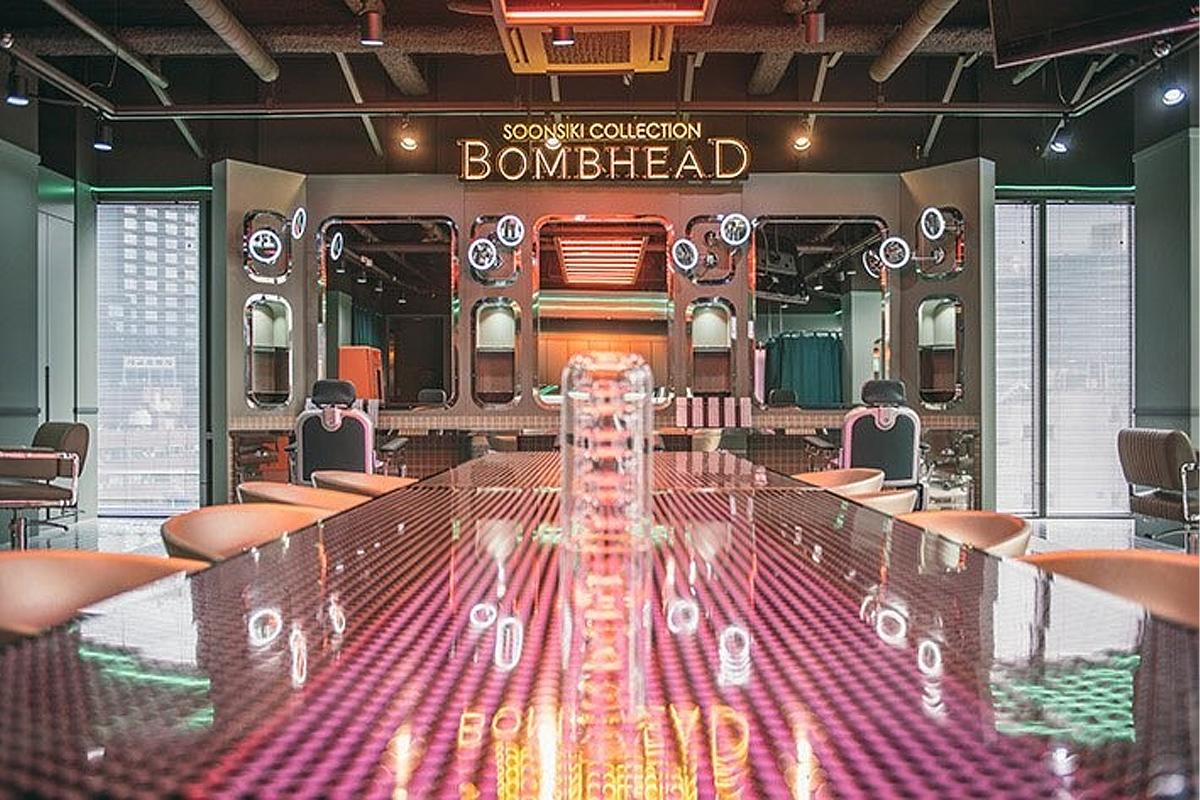 The main branch of SOONSIKI Hair embodies the essence of "FEMME + HOMME," creating a seamless blend of hair salon and studio-like space. It goes beyond a conventional salon, offering a unique environment where customers can not only receive exceptional hairstyling services but also immerse themselves in the creation of beauty content. This thoughtfully curated space allows customers to witness and personally experience the captivating ambiance firsthand.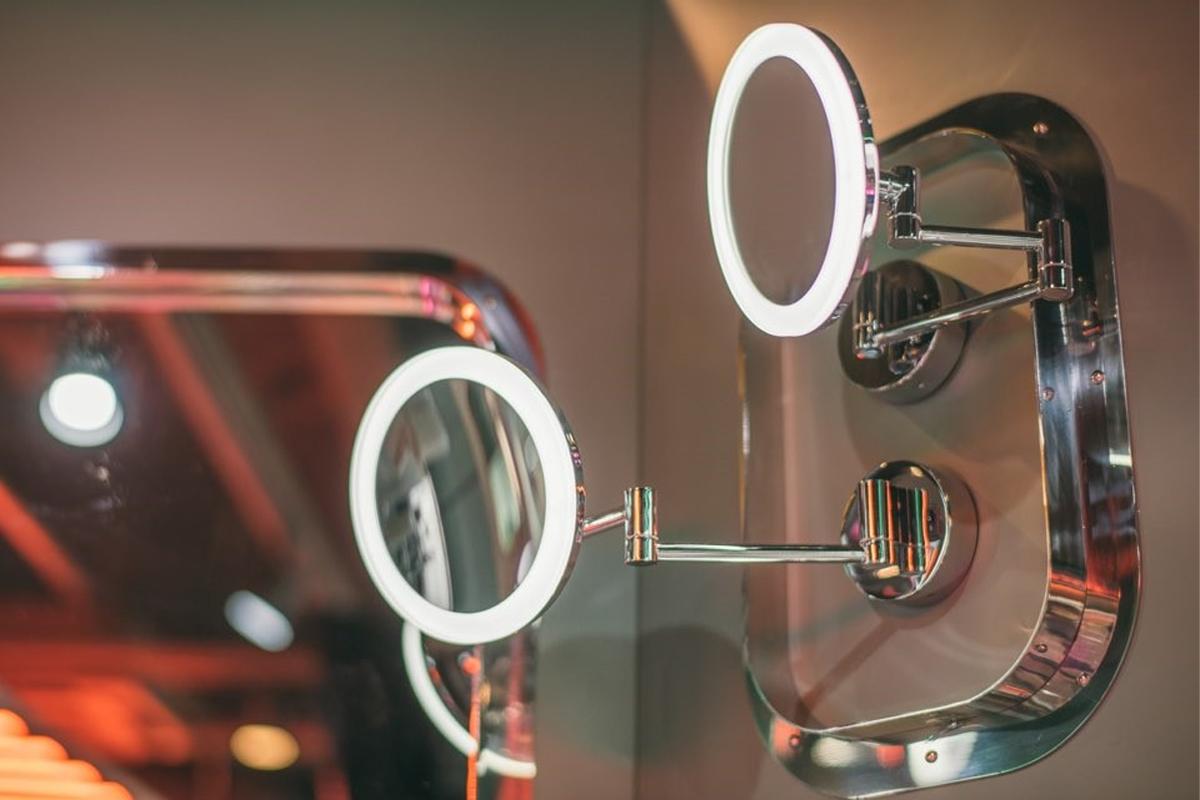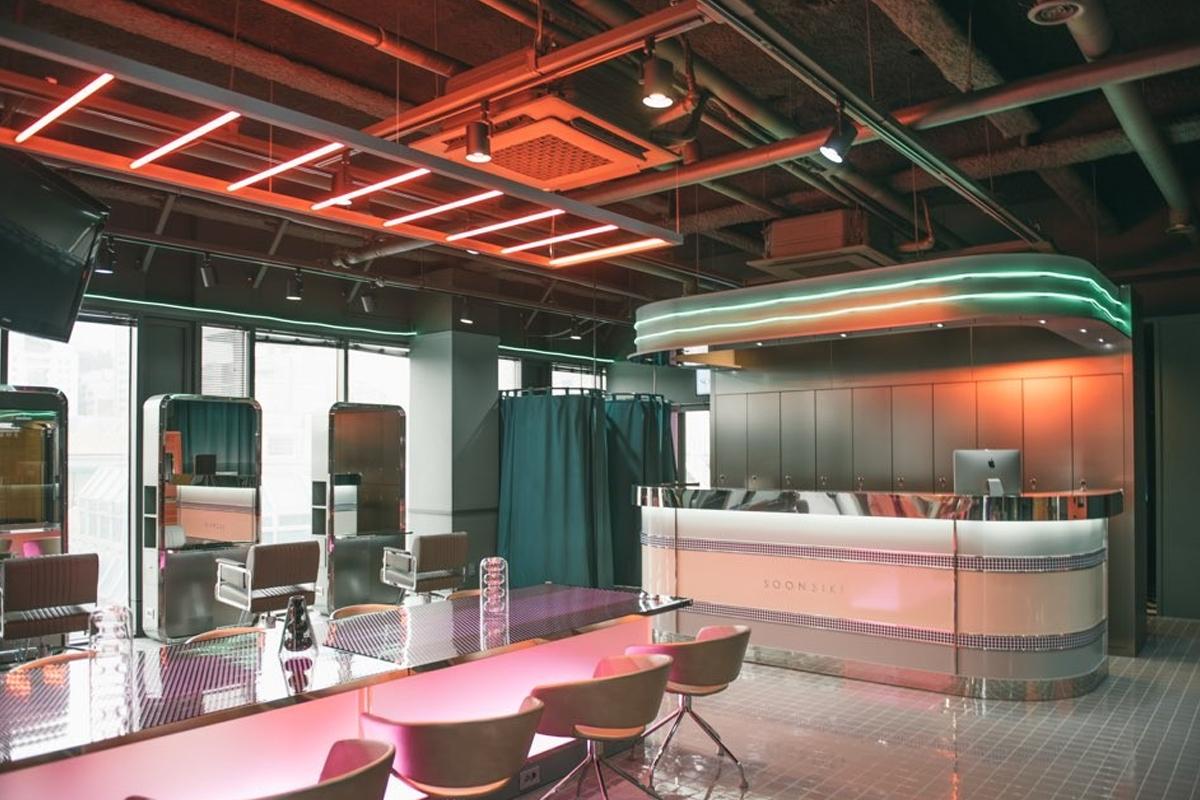 It's no surprise that many international customers seek out SOONSIKI Hair in vibrant and individualistic Hongdae, where Korean trends emerge quickly. With its unique and creative approach to Korean beauty, SOONSIKI Hair has become a destination for those wanting to experience the distinctive charm of Korean beauty. The hip interior design is so captivating that even editors are tempted to pay a visit!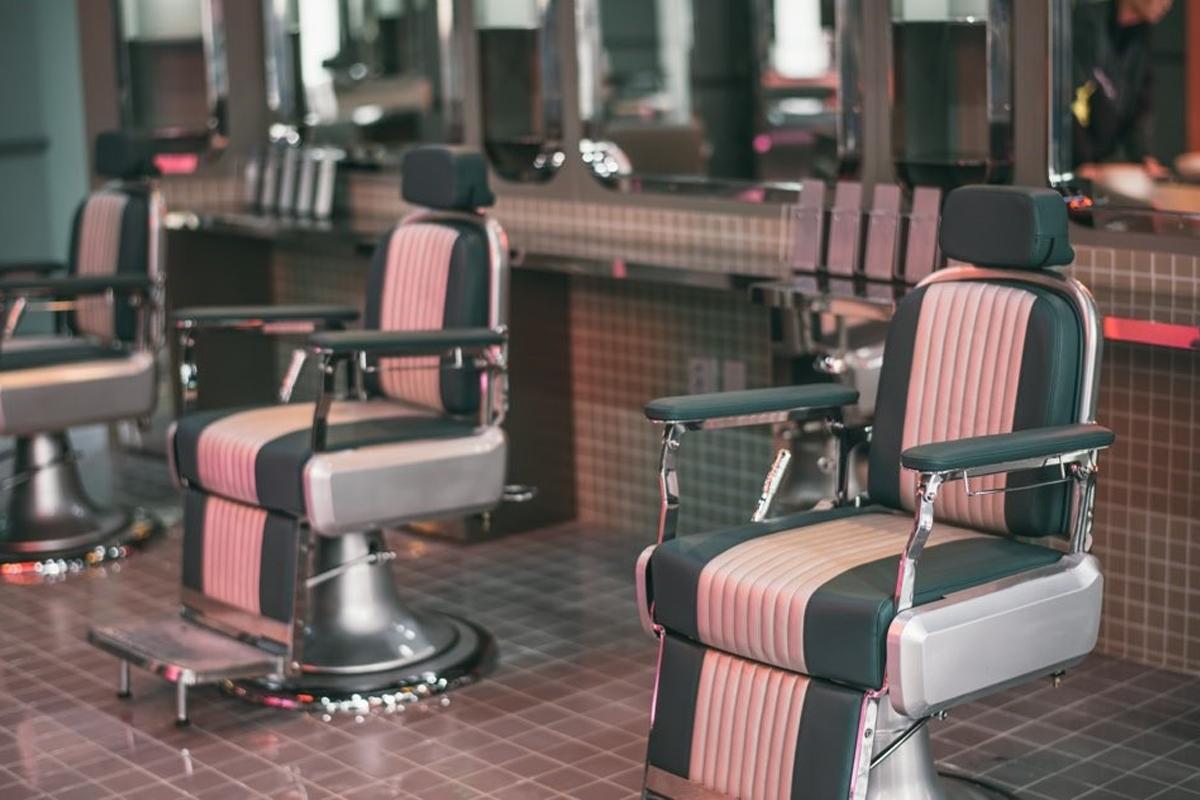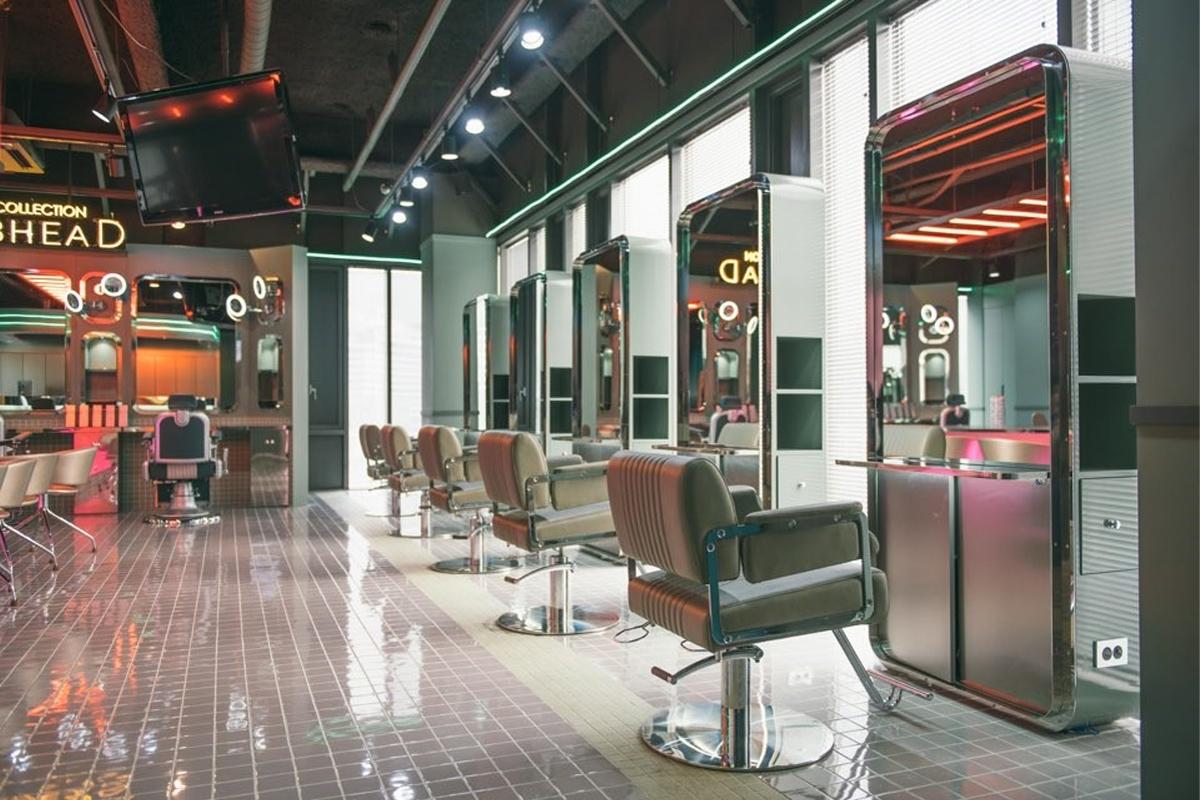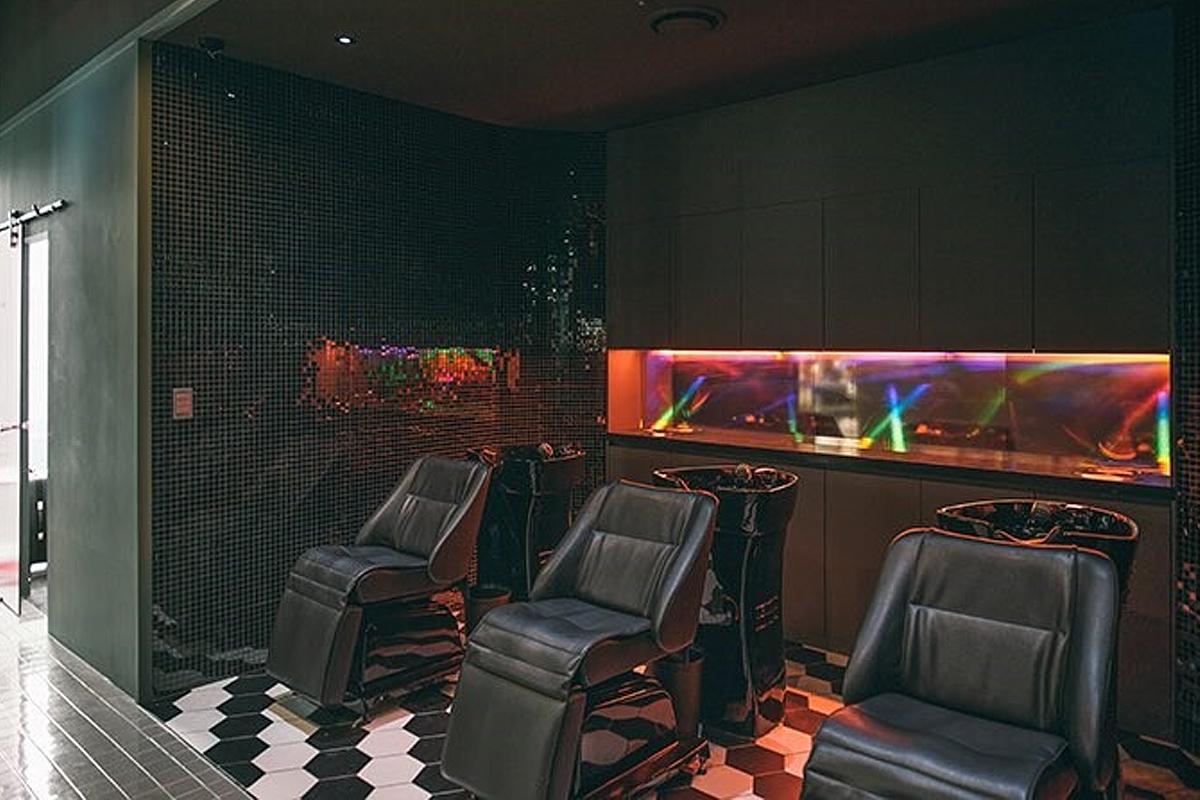 The main branch of SOONSIKI Hair features a dedicated barbershop area, catering to customers who appreciate barbering styles and providing them with a comfortable service experience. Moreover, the main branch of SOONSIKI Hair has also received positive responses from female customers, as it offers a unique space that appeals to their preferences as well.
SOONSIKI Hair Hongdae Romantic Branch Salon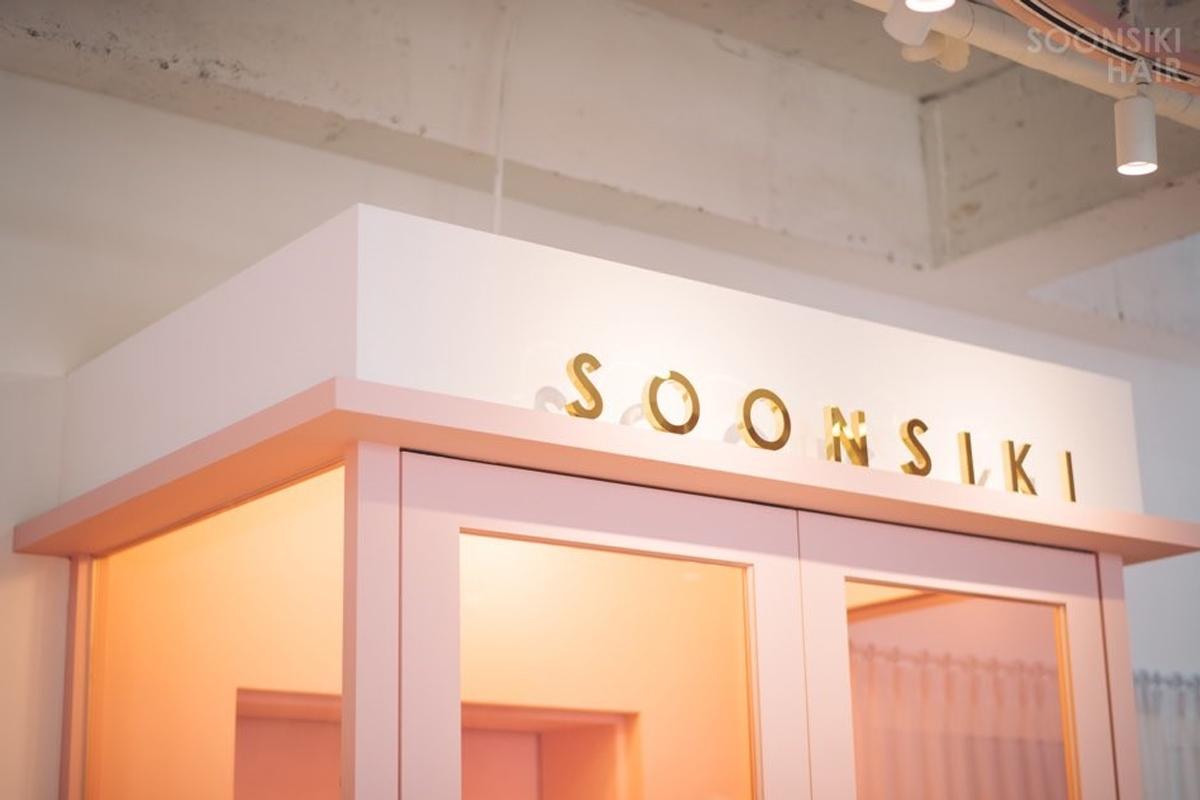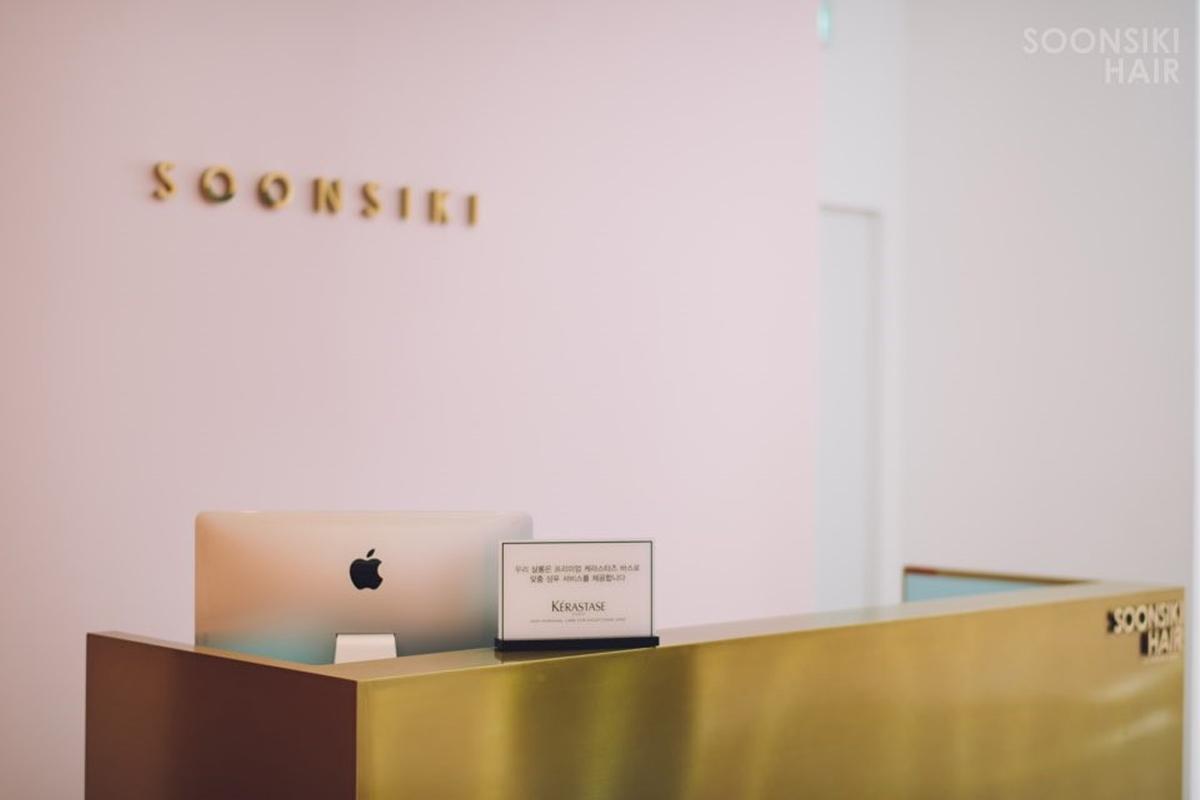 SOONSIKI Hair's Hongdae Romantic Branch, also known as SOONSIKI Romantique, has gained popularity for its romantic atmosphere. It is beautifully and predominantly adorned in pretty shades of pink, infused with the unique feminine sensibilities that SOONSIKI Hair is known for. The interior design truly captures the essence of the slogan, "The moment you become the most romantic." It creates an ambiance that perfectly aligns with the concept, allowing customers to immerse themselves in a romantic and enchanting setting.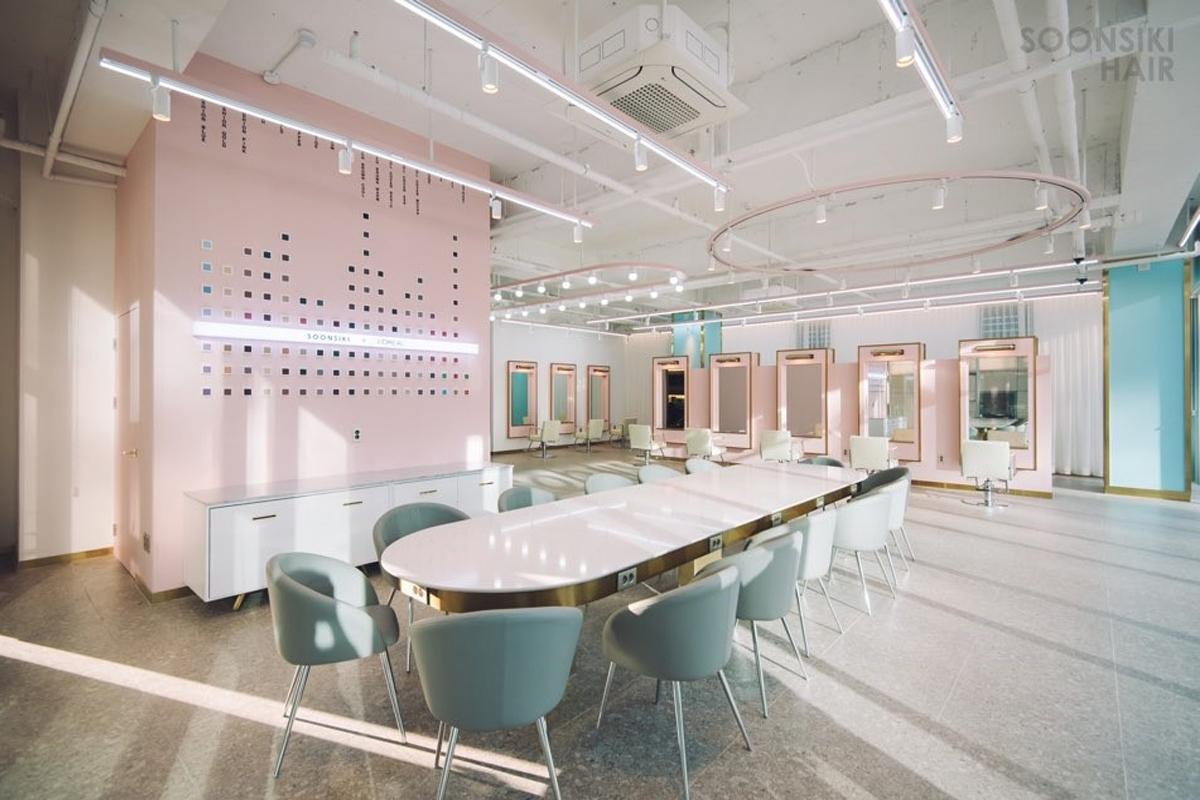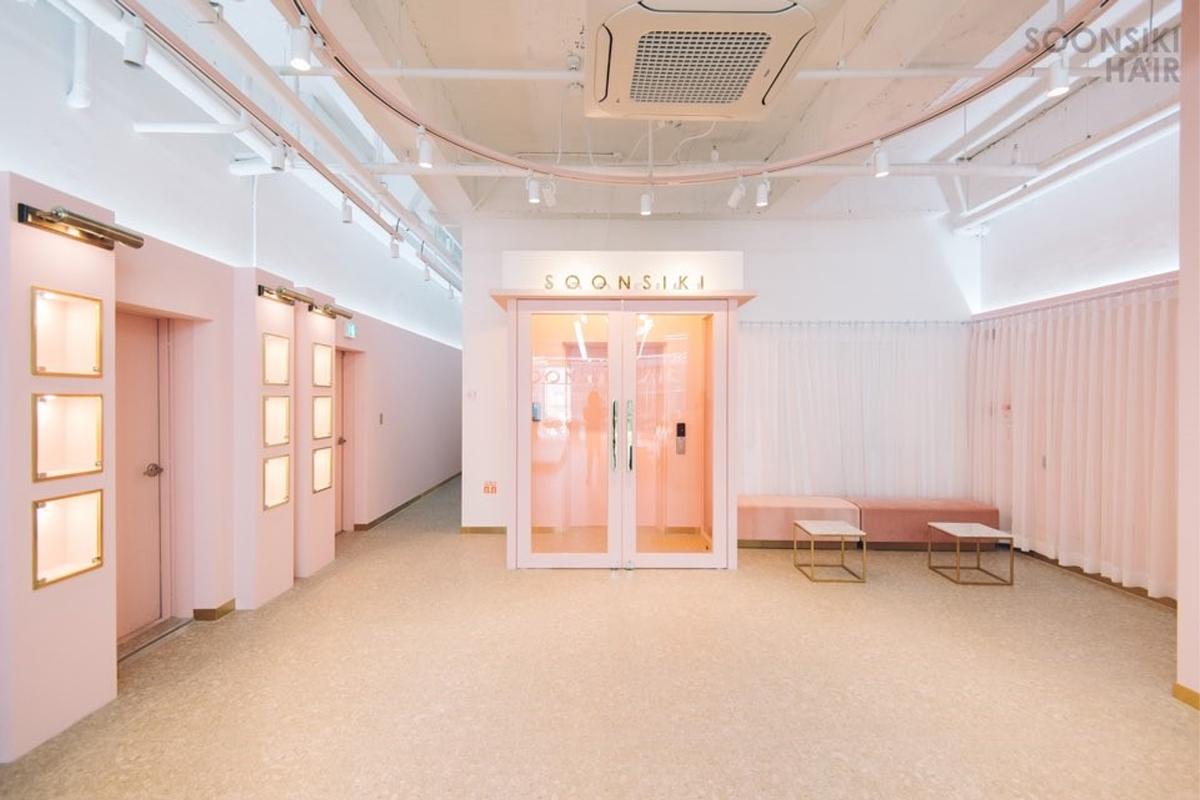 SOONSIKI Hongdae Romantic Branch caters to the preferences of female customers, exuding a feminine and romantic ambiance that is tailored to their tastes. It provides top-notch service, going above and beyond to ensure customer satisfaction. With its unique concept that sets it apart from typical hair salons, SOONSIKI Hongdae Romantic Branch has received positive feedback for its ability to resonate with the preferences of female clientele. It offers a refreshing and distinctive space that appeals to their sensibilities.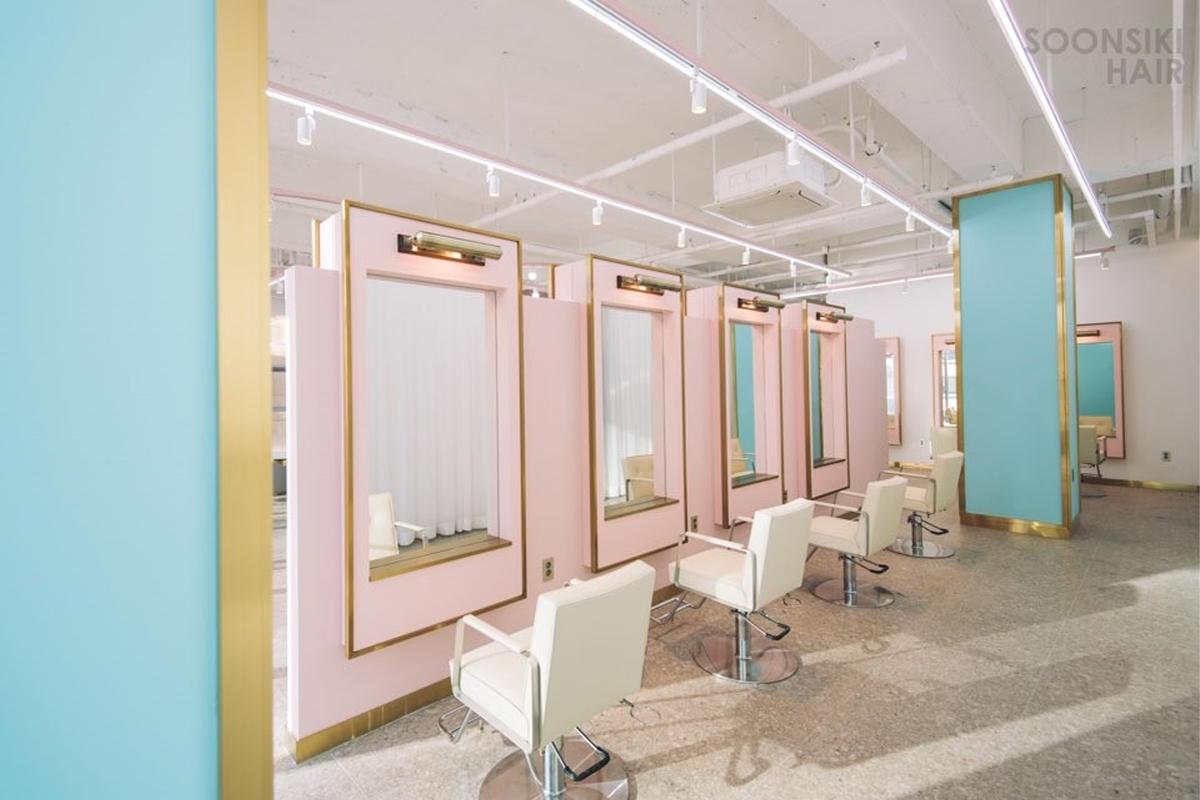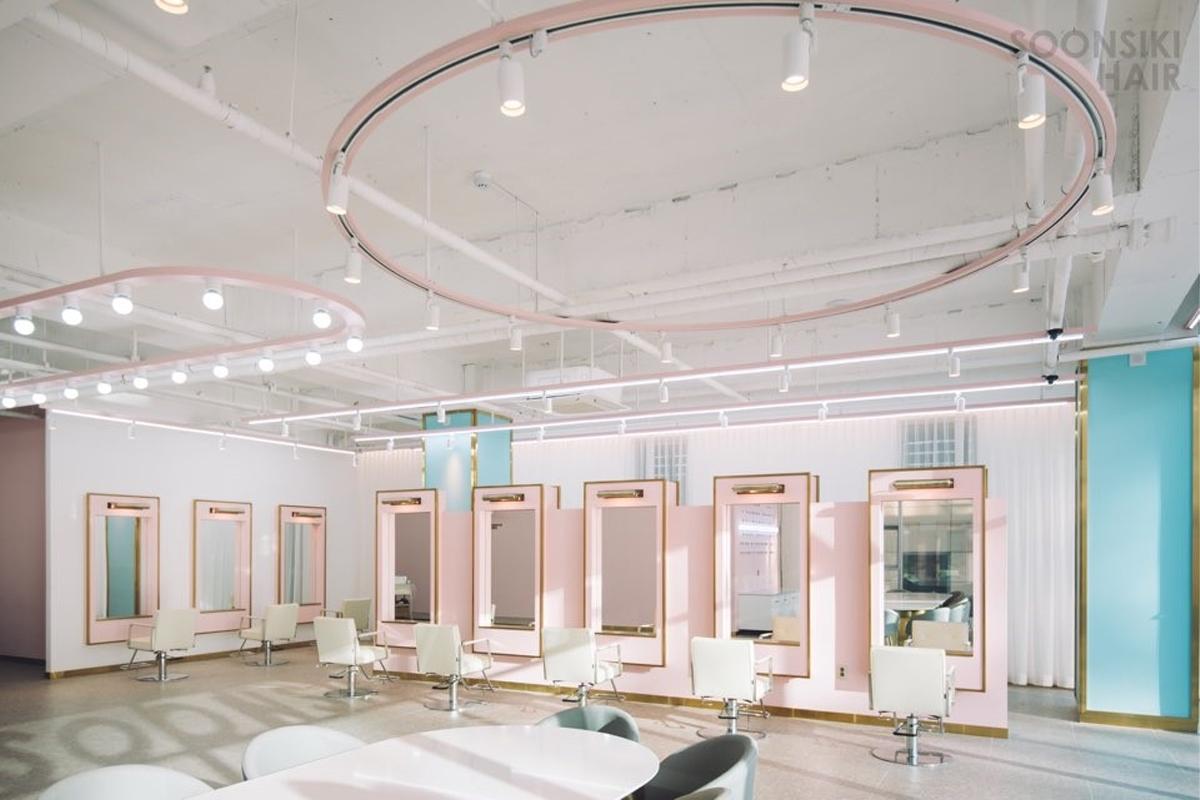 Experience the expertise of highly skilled designers at the popular hair salon in Hongdae, where the interior combines pink and blue elements for a visually pleasing and refreshing atmosphere. Trust in their capabilities as you receive top-quality hair services in this clean and comfortable salon.
---
How to Get There
SOONSIKI Hair Main 1st Branch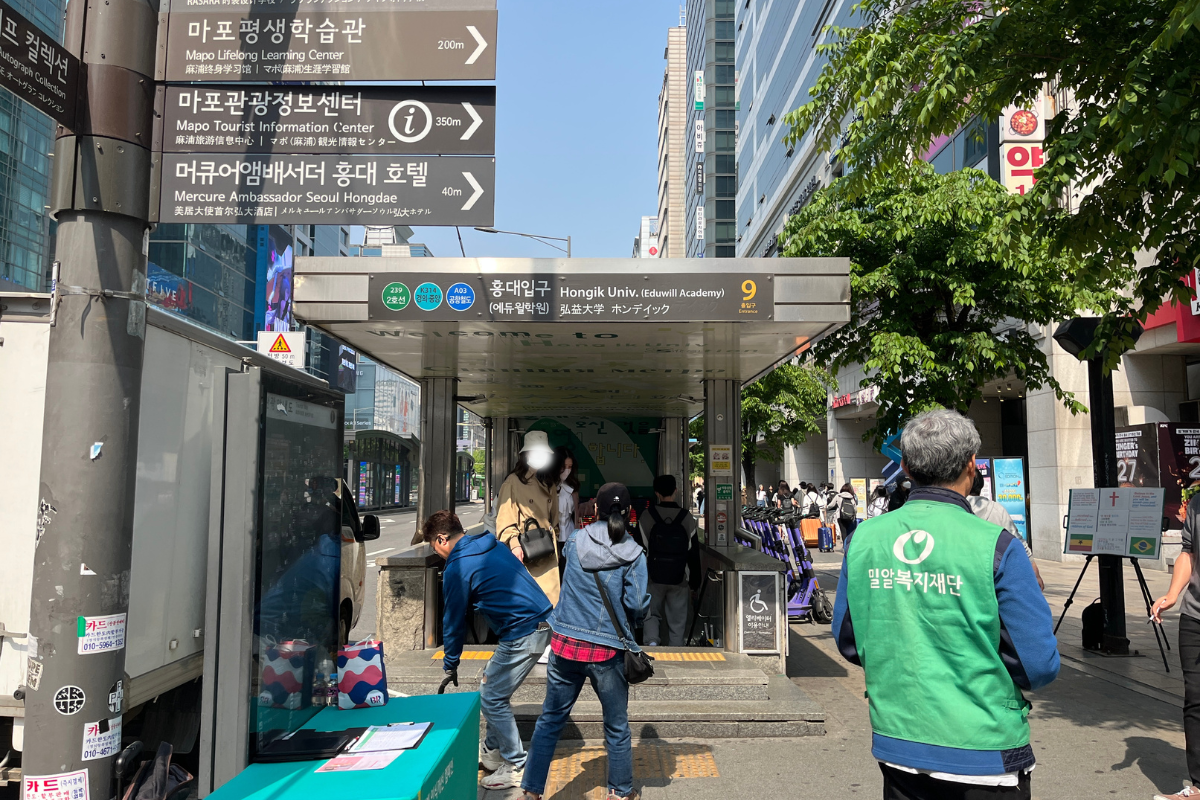 The closest Hongik Univ. Station exit is Exit 9.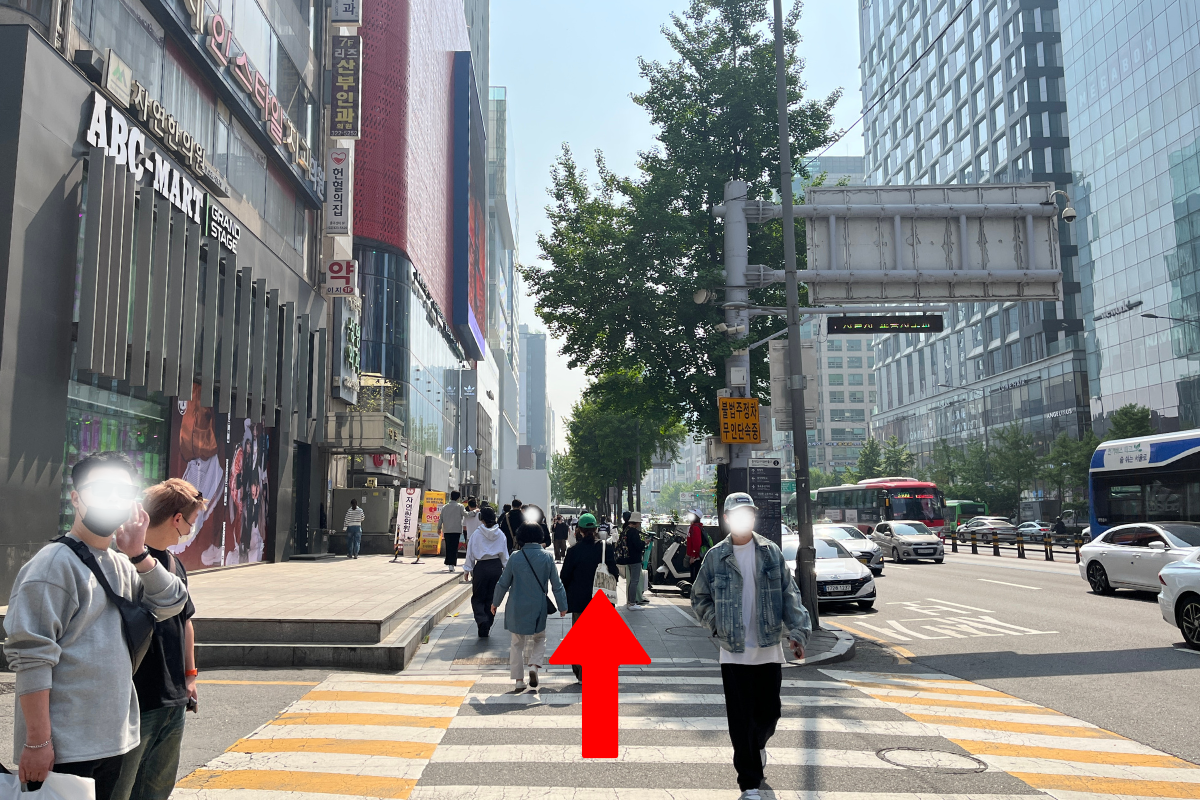 Walk out of Exit 9 and go straight ahead.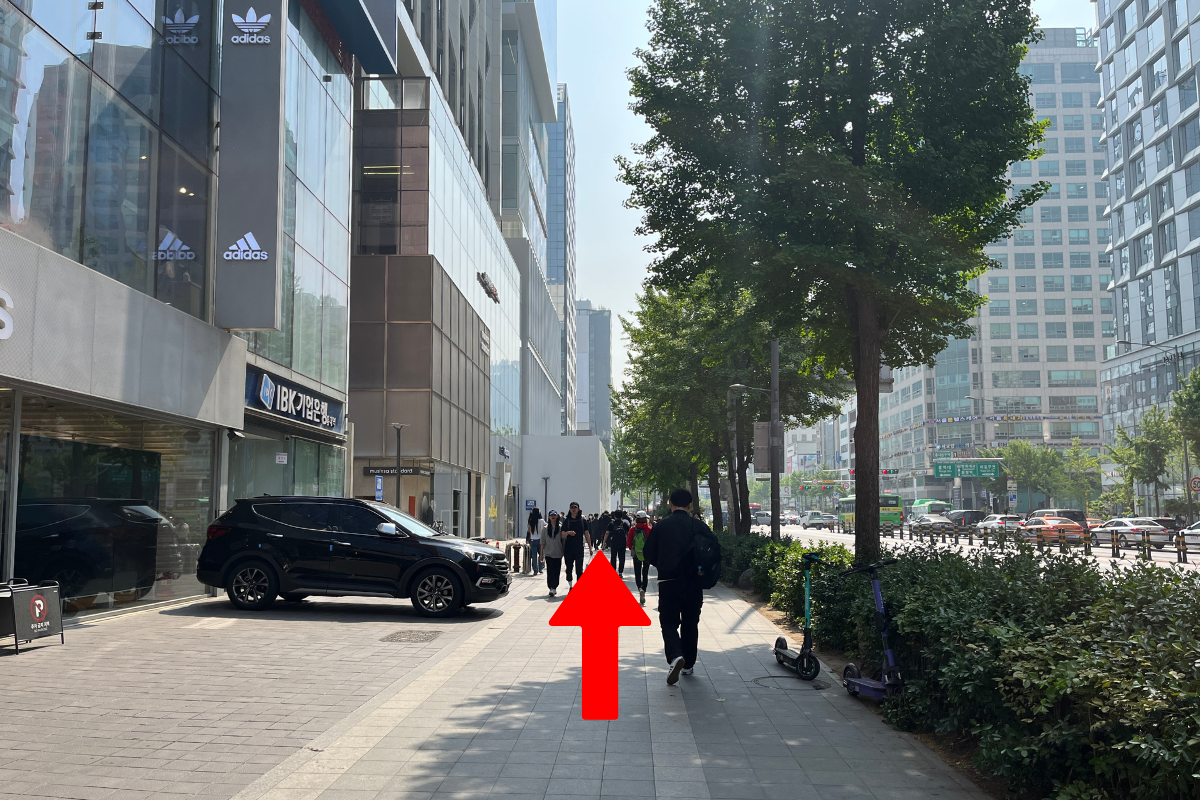 Keep going straight until you come across a crosswalk.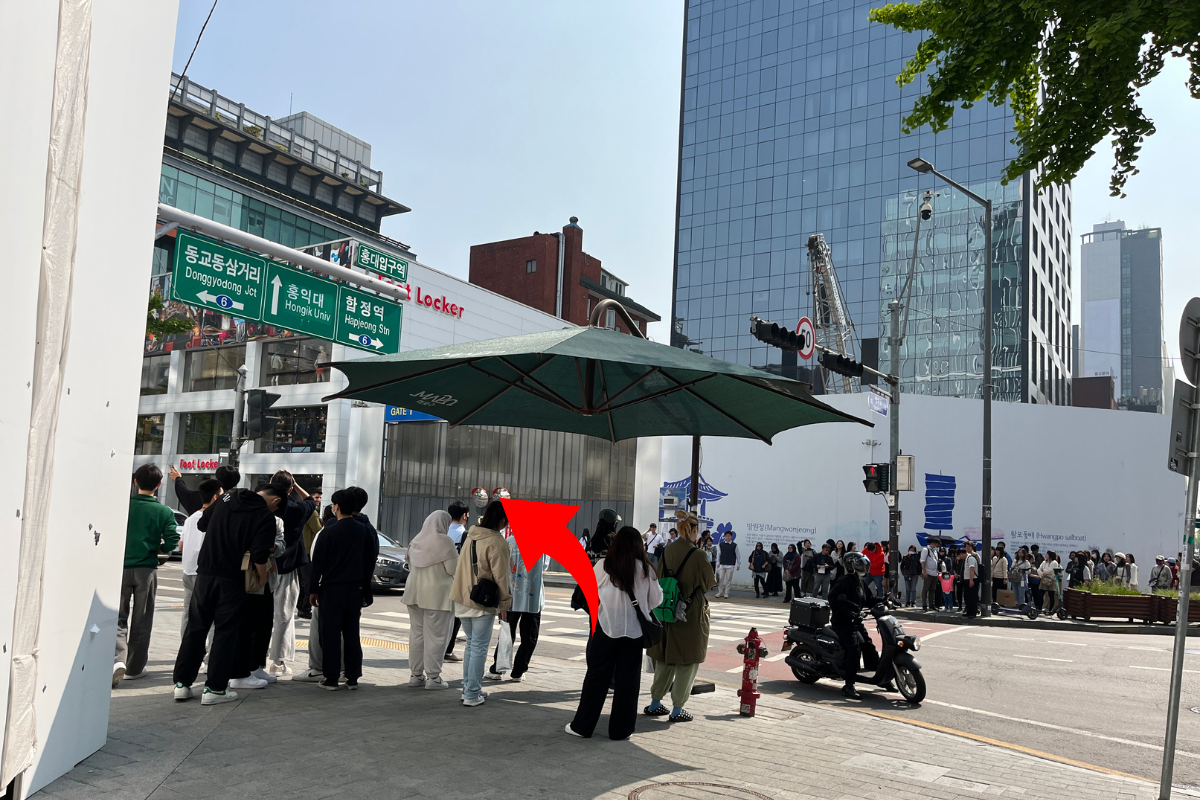 Cross the road and turn left.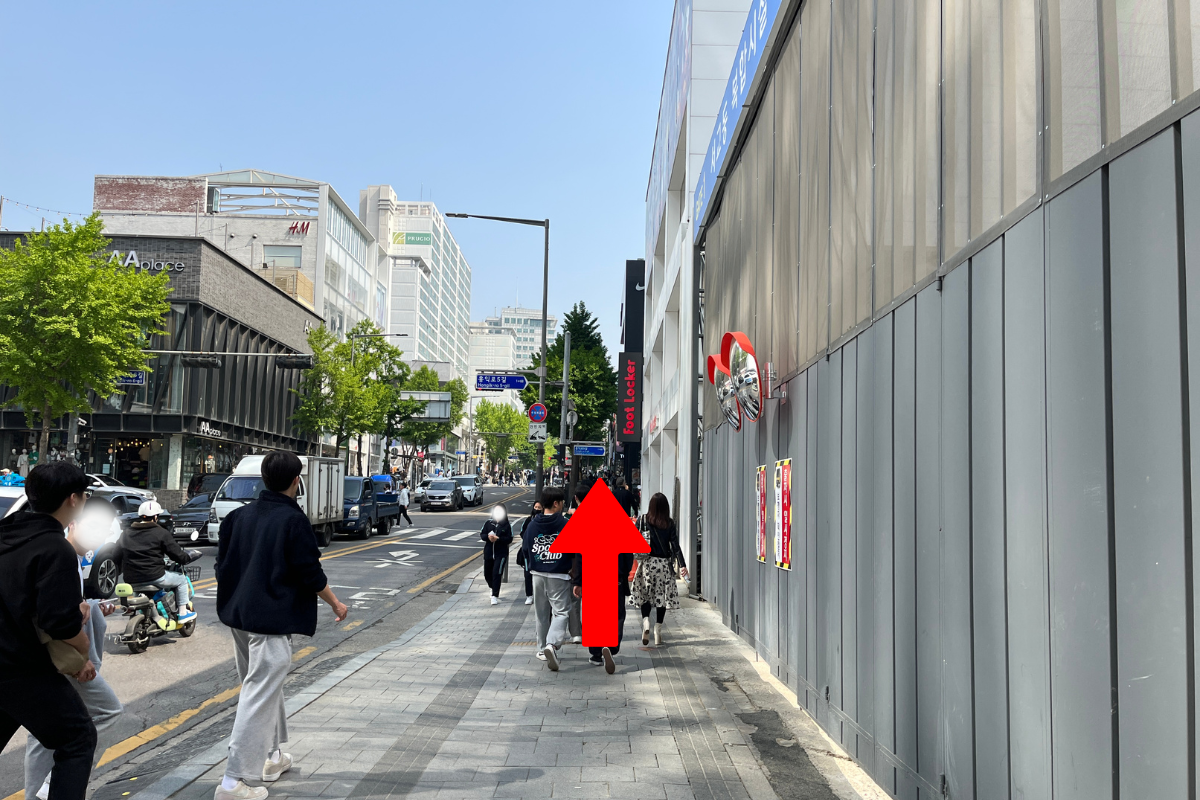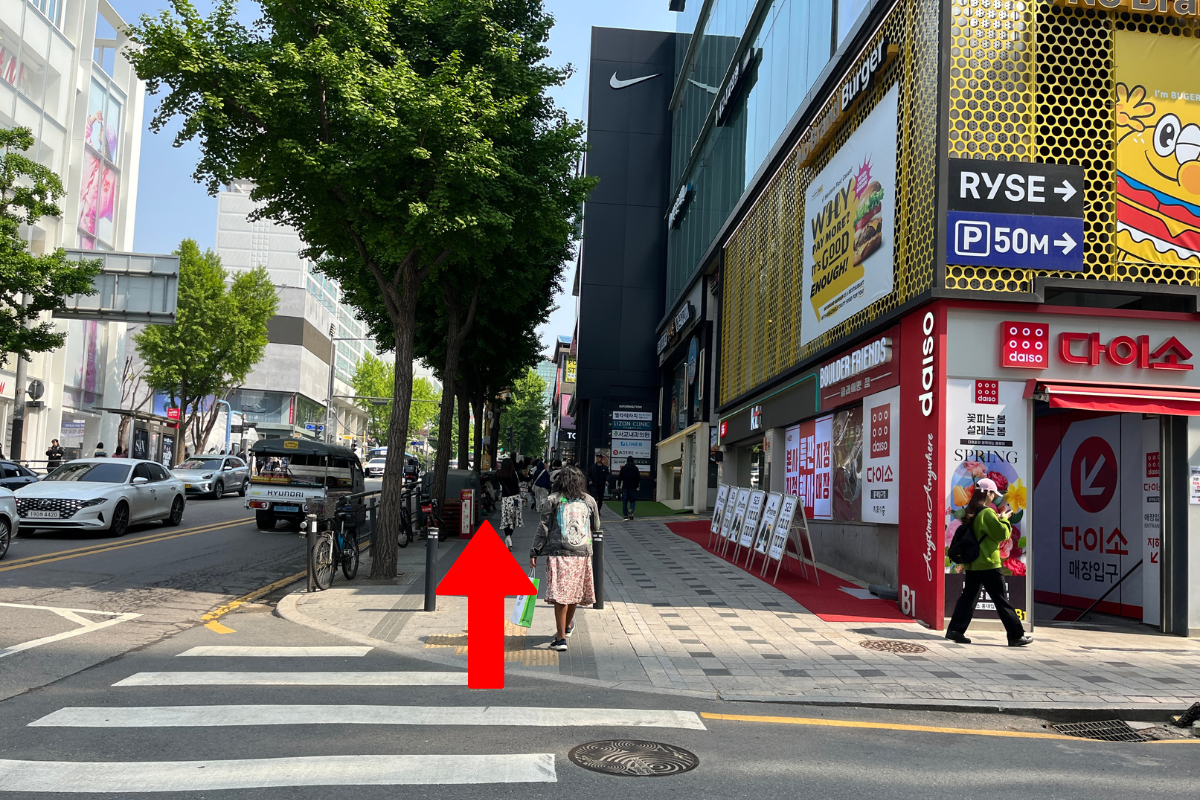 Keep walking straight until you reach the alley between Tony Moly and the Red Button building, which is the main entrance to Hongdae Shopping Street.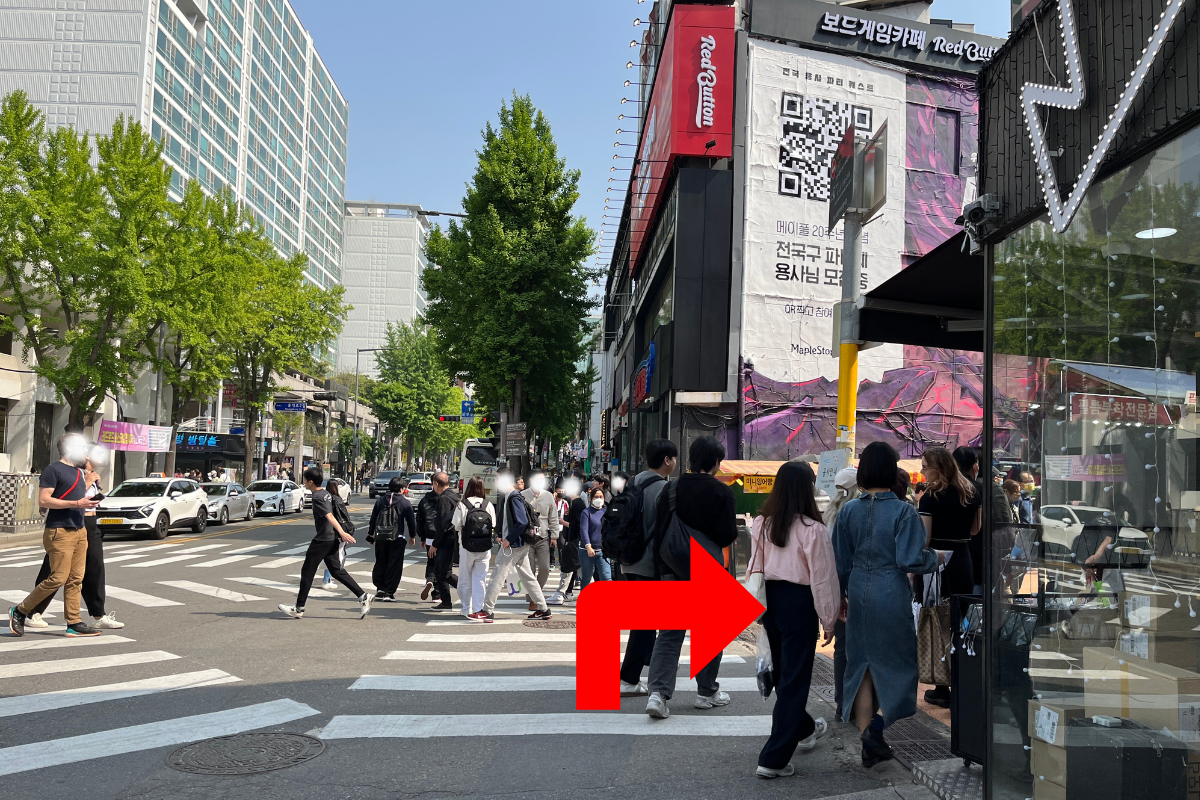 Turn right into Hongdae Shopping Street.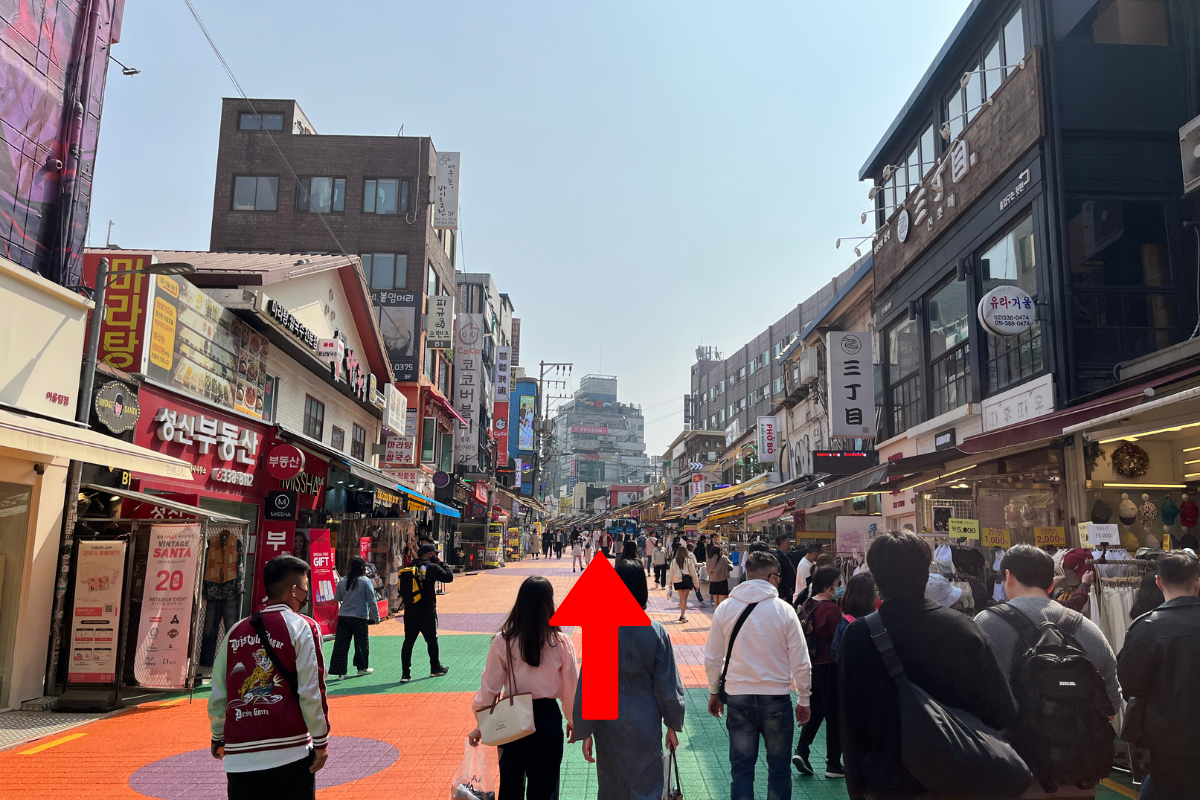 Go straight ahead until you come to the intersection with Banila co (painted in purple).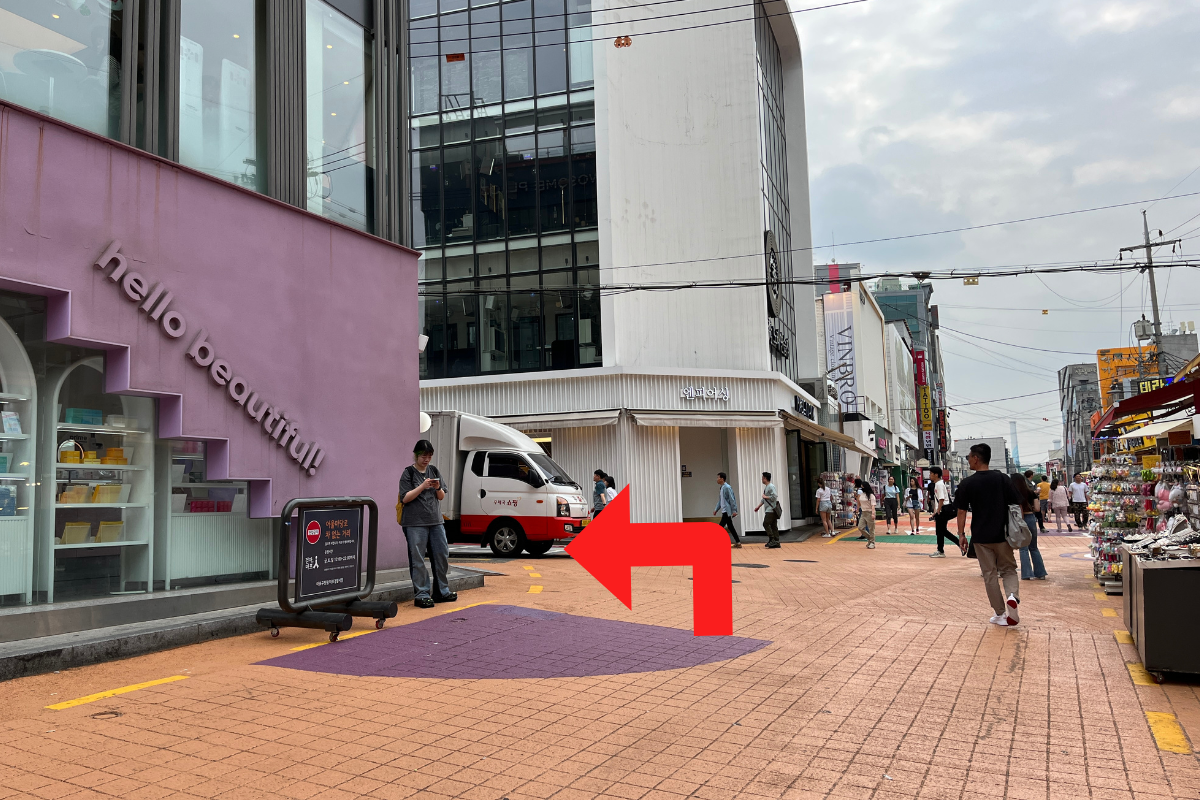 Turn left into the alley between Banila co. and N Piercing.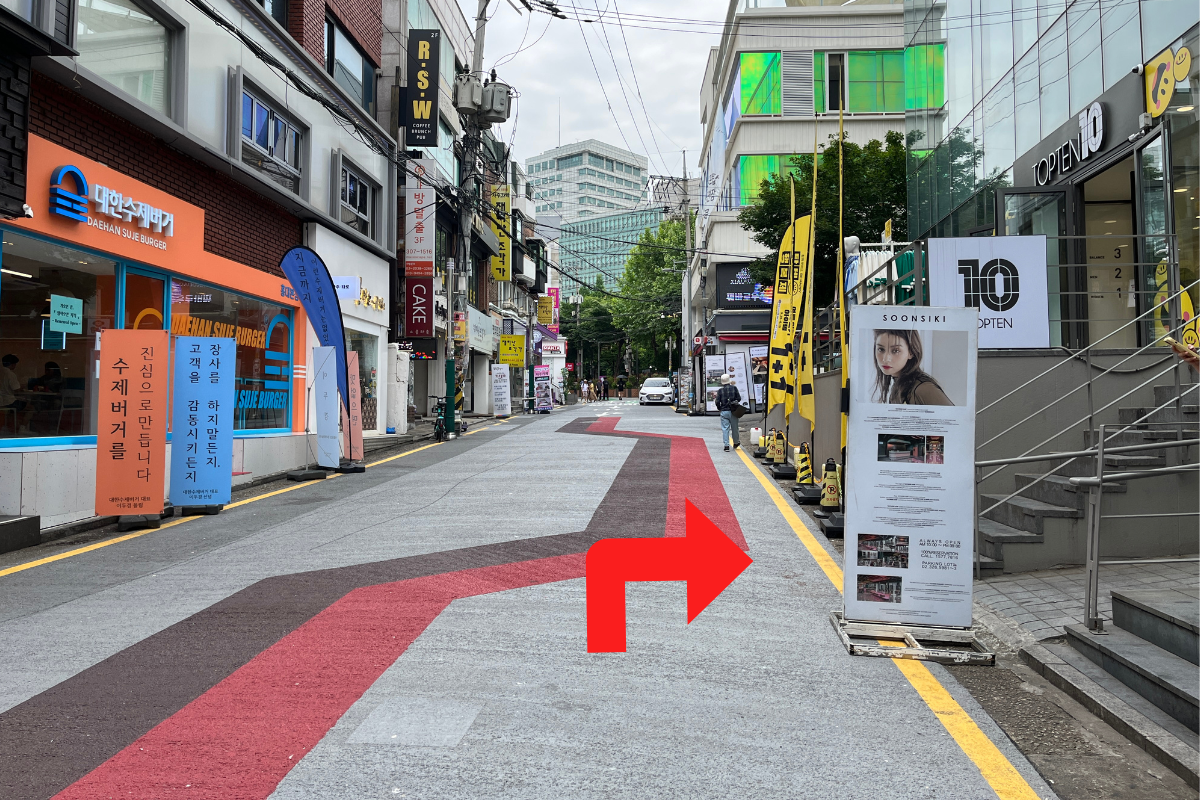 Walk straight until you come across the Top Ten building.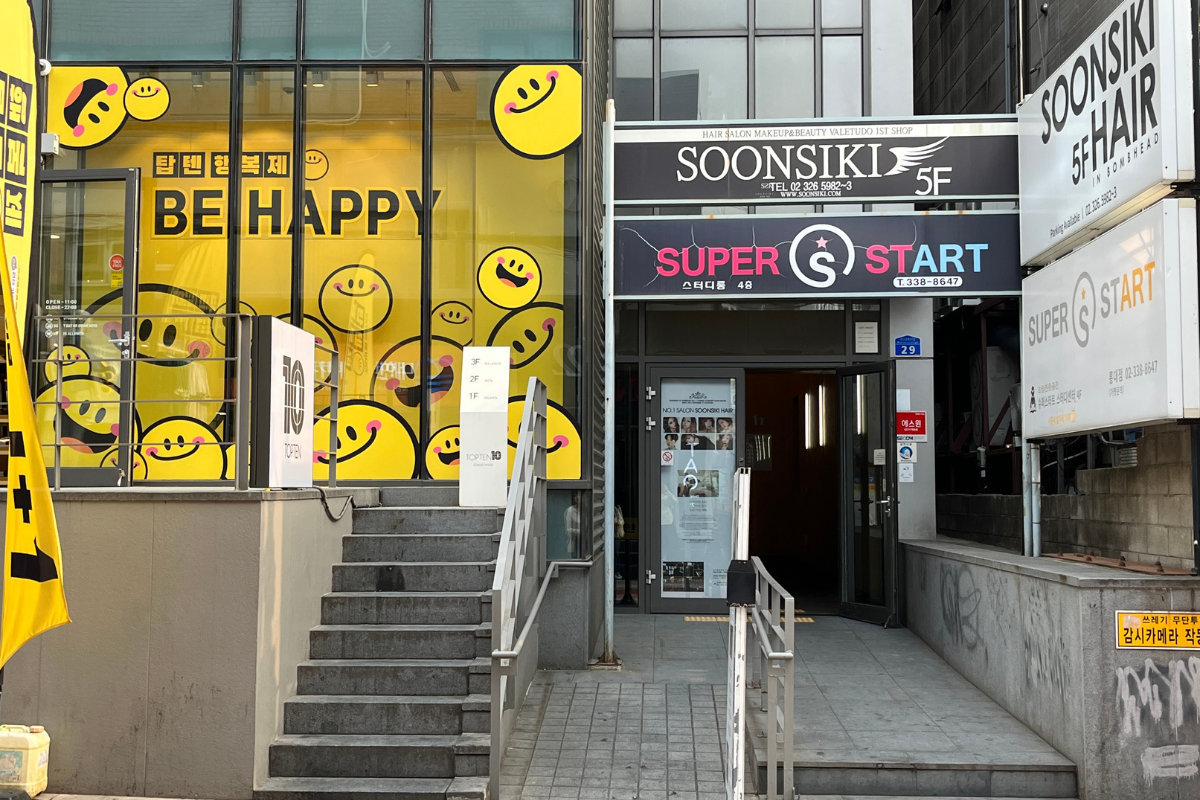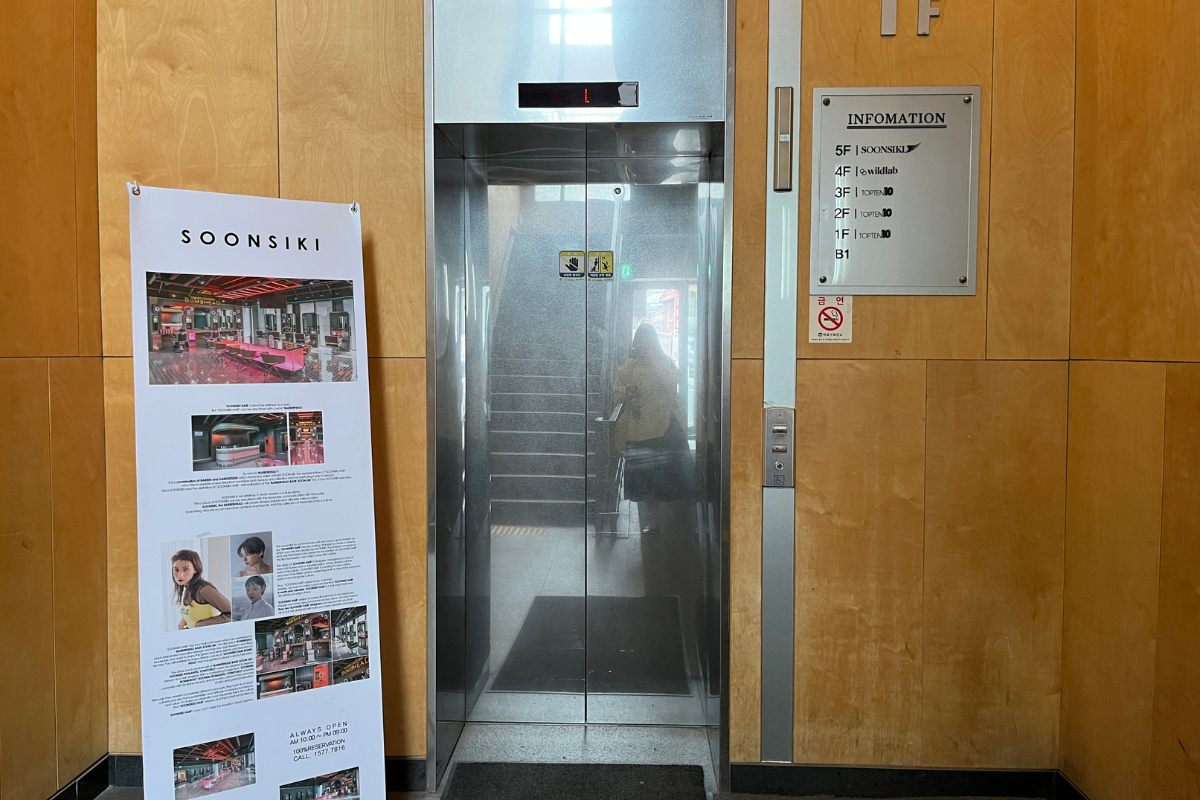 Walk into the building and go up to the 5th floor.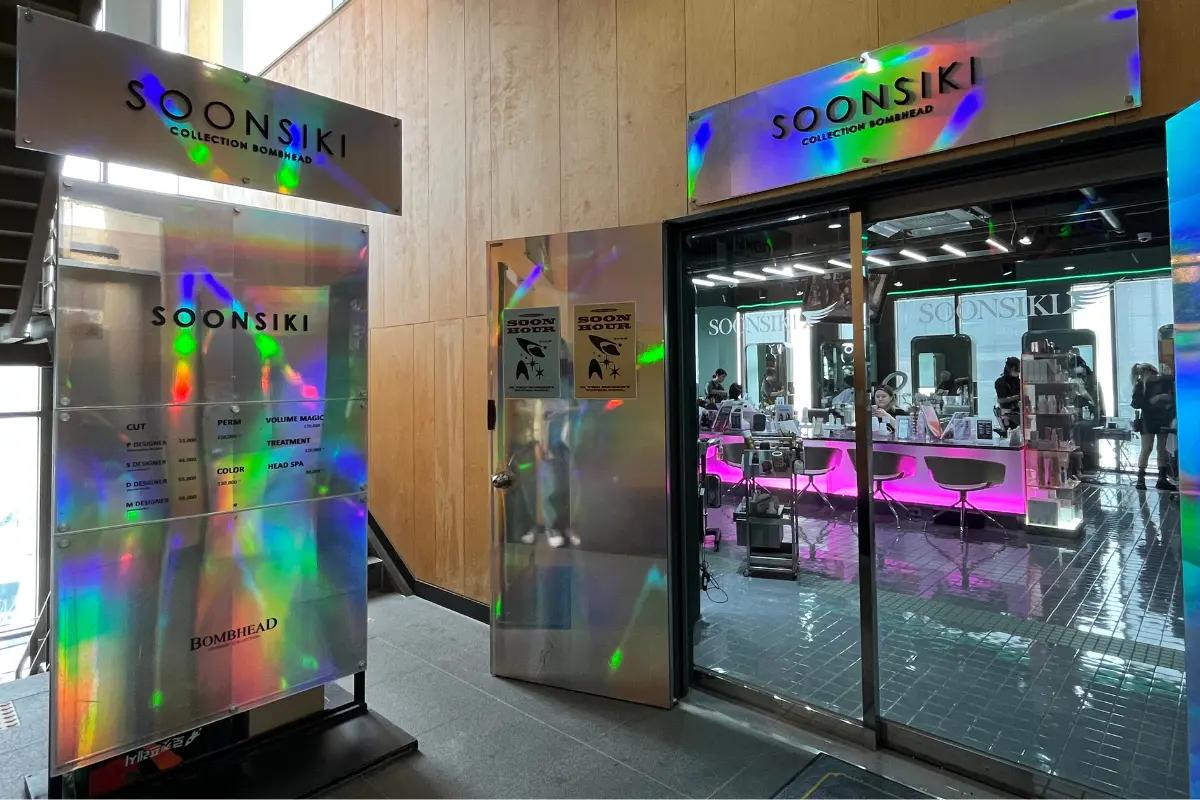 You've arrived at Soonsiki Main 1st Branch!
SOONSIKI Hair Hongdae Romantic Branch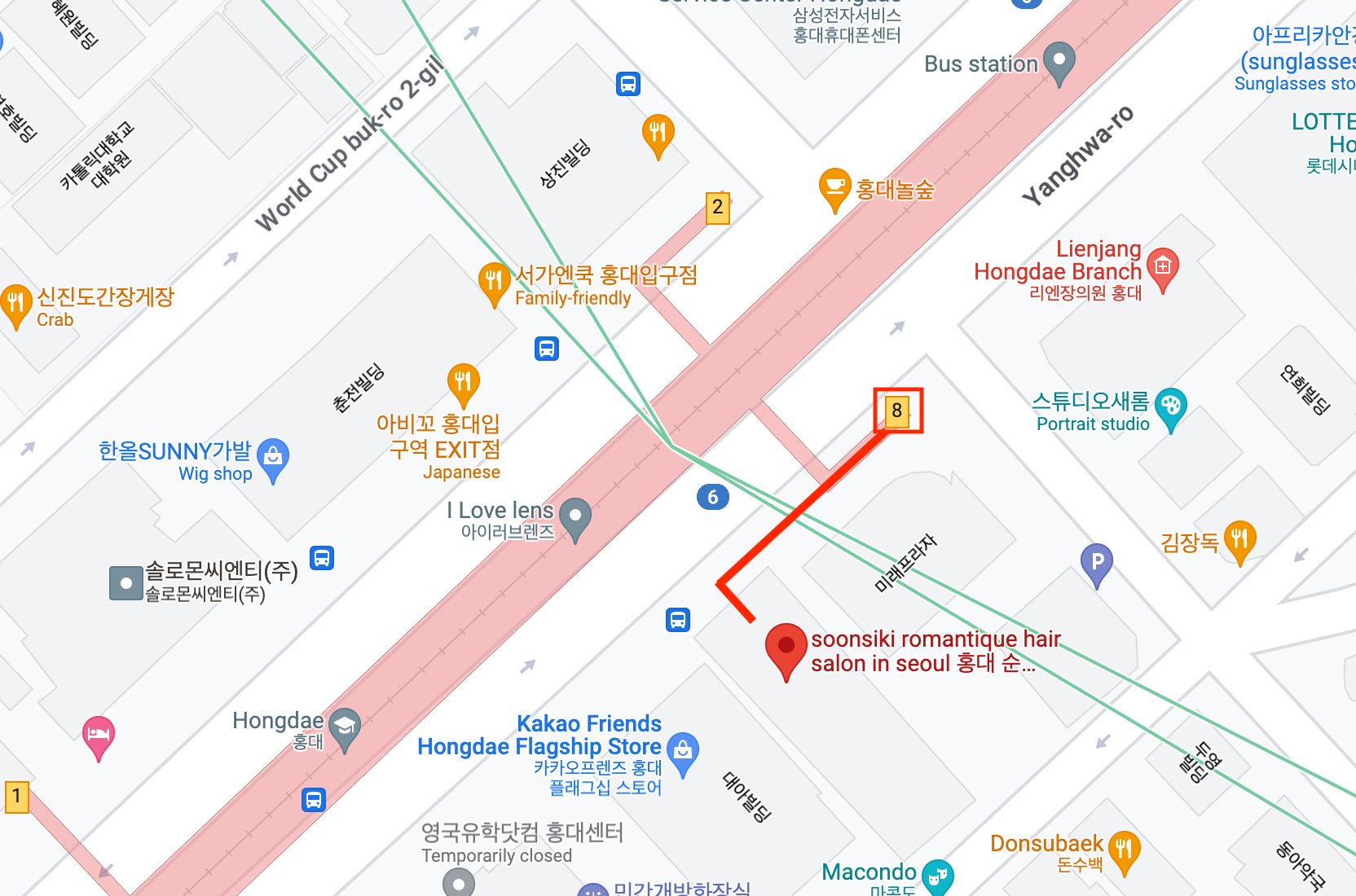 Soonsiki Hair Hongdae Romantic Branch is right in front of Exit 8 of Hongdae Station in between KAKAO Friends and Starbucks, on the 8th floor.
---
25% Off SOONSIKI Hair
Main 1st Branch | Reserve Here
Hongdae Romantic Branch | Reserve
---
We hope that you can enjoy your new look from SOONSIKI Hair! If you have any questions or concerns, please leave a comment below or send us an email at help@creatrip.com! You can follow us on Instagram, TikTok, Twitter, and Facebook to stay updated on all things Korea!
---