A Complete Guide To The Best Ginkgo Tree Spots
Here are 8 beautiful Ginkgo tree spots you have to check out!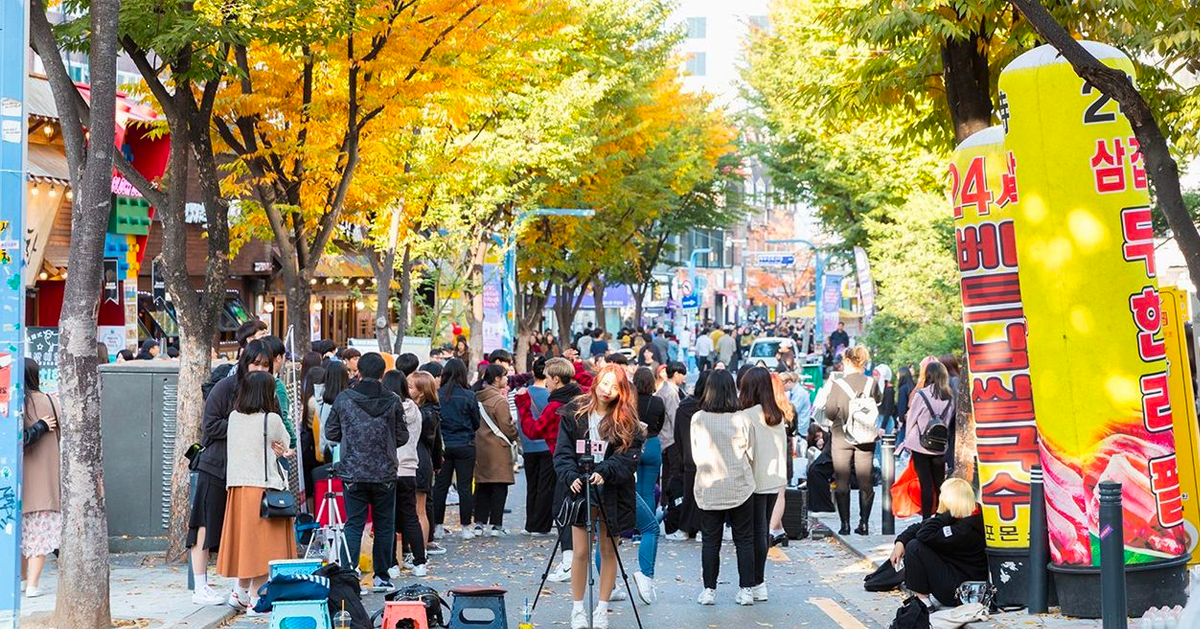 Borders have gradually been opening up as Covid-19 has been subsiding, so more and more people have been enjoying long-awaited trips to South Korea! In this guide, we'll share some of the best places in Seoul to see the vibrant colors of Ginkgo trees without having to travel all the way to a mountain. The scent of the Ginkgo tree nuts is not very pleasant, but the only time to see the golden leaves are during fall, so you should definitely add this as an activity to cross off your Korea trip to-do list!
---
1. Gyeongui Line Forest Road
경의선숲길
Access From: Line 2 Hongdae Station Exit 3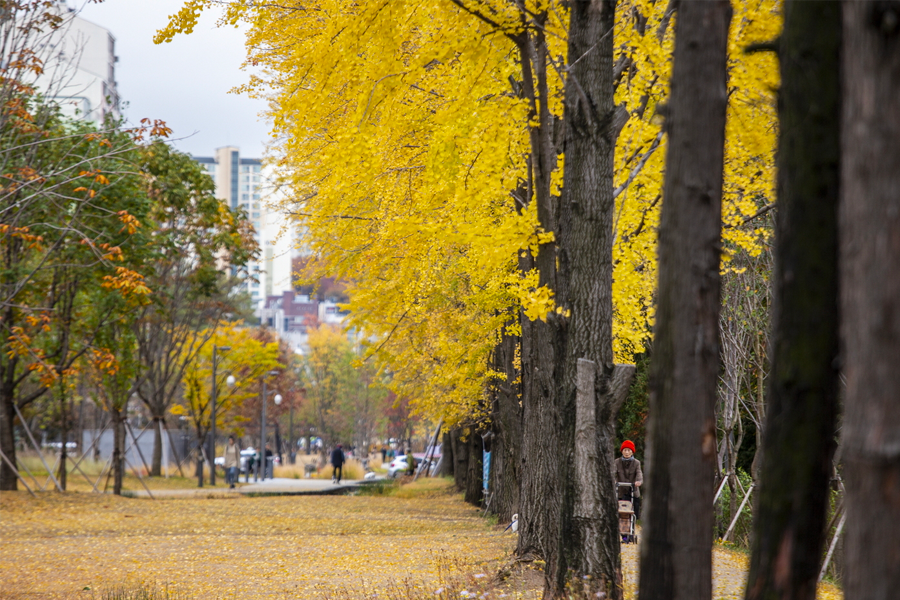 Credit: Seoul Tourism Organization
Gyeongui Line Forest Road is lined with Maple and Ginkgo trees and has become a passageway after the Gyeongui Jungang Line was transferred underground. The path leads towards Yeonnam-dong. The beautiful Ginkgo trees that become a bright yellow in the autumn became very popular after appearing in the popular Korean drama "Because This Is My First Life".
Click below for the Yeonnam-dong Travel Guide!
---
2. Songpa Wirye Castle Road
송파 위례성길
Access From: Line 5 & 9 Olympic Park Station Exit 3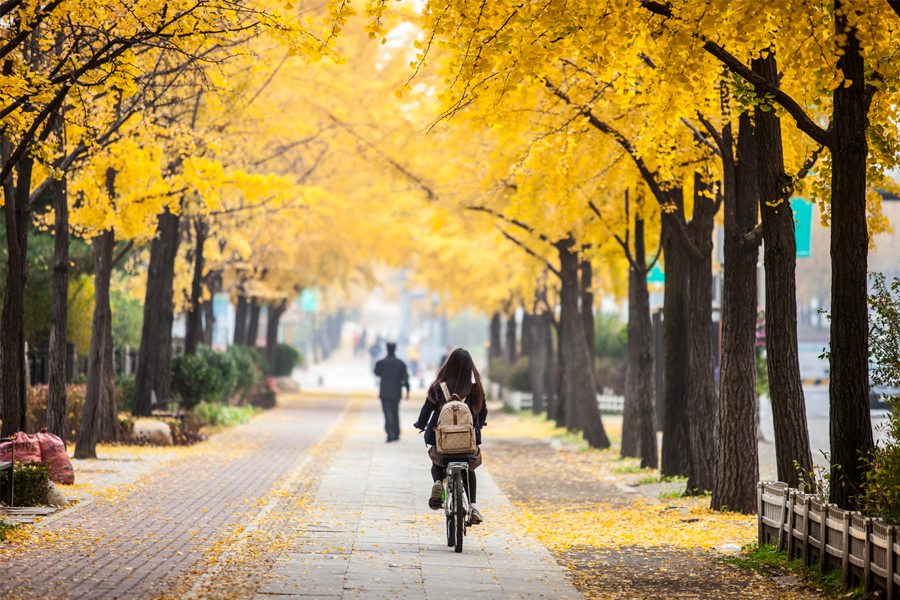 Credit: Seoul Tourism Organization
The name of this spot may be a bit unfamiliar, but Songpa Wirye Castle Road is right by the famous Olympic Park. You can enjoy the scenic route as you walk along the path, which is lined with more than 1,000 Ginkgo trees.

Learn more about Olympic Park here:
---
3. Korea University & Kyunghee University Boardwalk
고려대 경희대 거리
Address: San1-137 Cheongnyangri-dong, Dongdaemun-gu, Seoul (서울 동대문구 청량리동 산1-137)
Access From: Line 6 Korea University Station Exit 3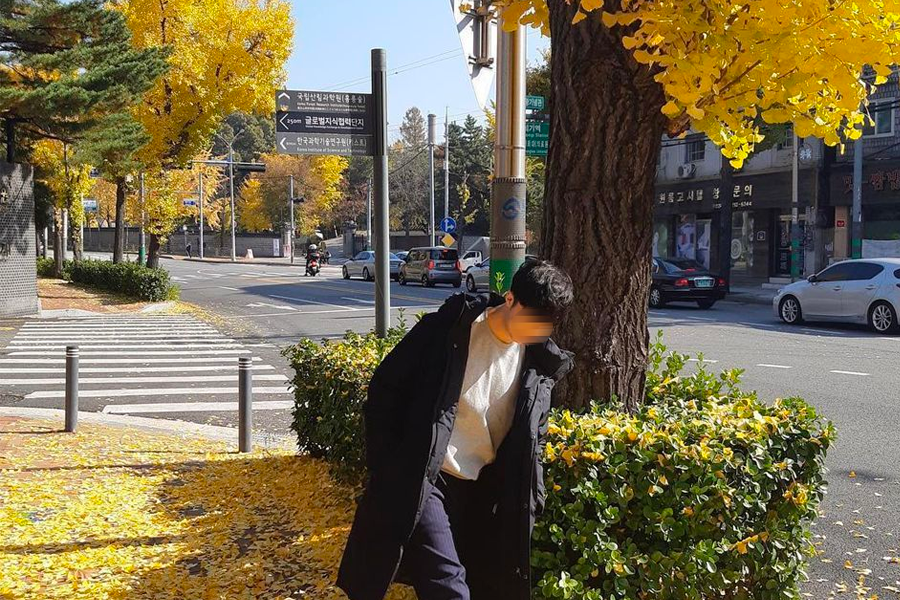 In order to travel between Korea University and Kyunghee University you need to make a transfer on the subway, but you can also get to each location easily by bus in about 10 minutes, or on foot in 30 minutes. In the fall, this road is especially beautiful and romantic, almost like a photograph, due to the golden hues of the Ginkgo trees that fill the streets.
---
4. Insa-dong
인사동
Address: 123-6 Gwanhun-dong, Jongno-gu, Seoul
Access From: Line 3 Anguk Station Exit 6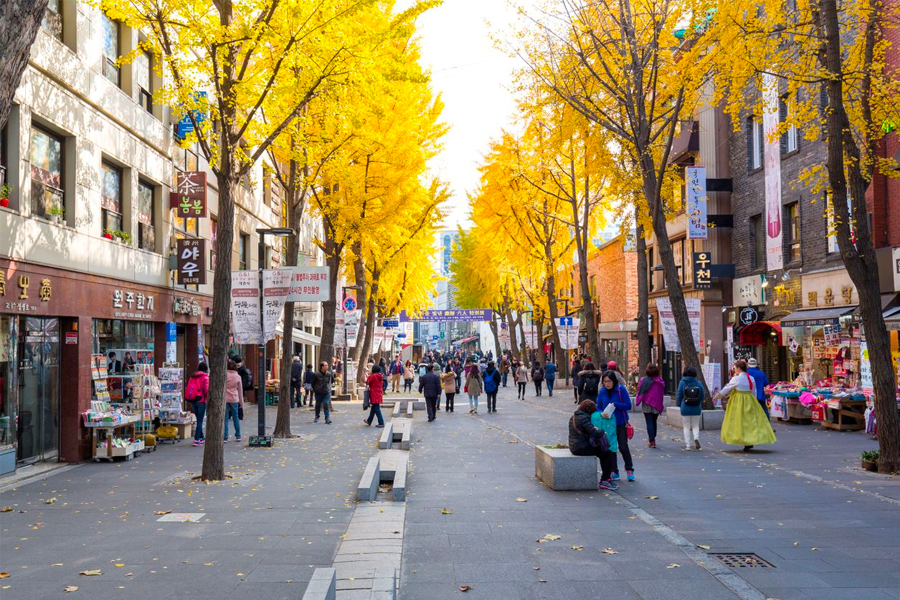 Insadong's Ginkgo tree path is easily overlooked, but it also becomes a beautiful golden color when autumn comes around. It almost feels like time is moving at a more relaxed pace in Insadong during the fall as the vivid, yellow Ginkgo leaves blow in the wind and scatter along the pathway.
Click here for a guide to Insadong!
---
5. Sinsa-dong Garosugil
신사동 가로수길
Address: 667-13 Sinsa-dong Gangnam-gu Seoul (서울 강남구 신사동 667-13)
Access From: Line 3 Sinsa Station Exit 8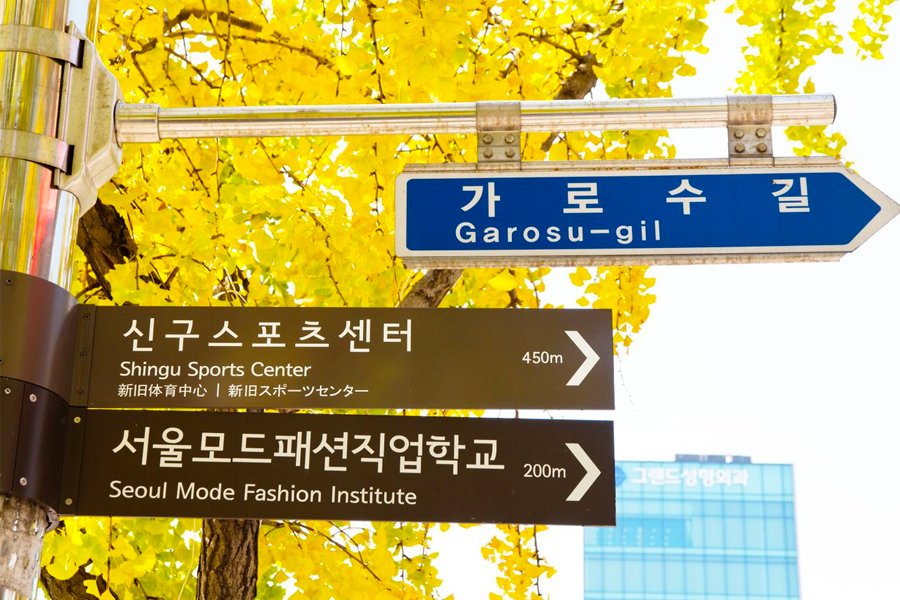 Seoul's most famous path of Ginkgo trees is 'Garosu-gil' in Sinsa-dong. Its beauty can best be captured in autumn, so be sure not to miss it! We also recommend that you take a leisurely stroll along the Ginkgo trees here in autumn. It's very romantic!
---
6. Seoul Forest
서울숲
Address: 273 Ttukseom-ro, Seongdong-gu, Seoul (서울 성동구 뚝섬로 273)
Access From: Suin Bundang Line Seoul Forest Station Exit 5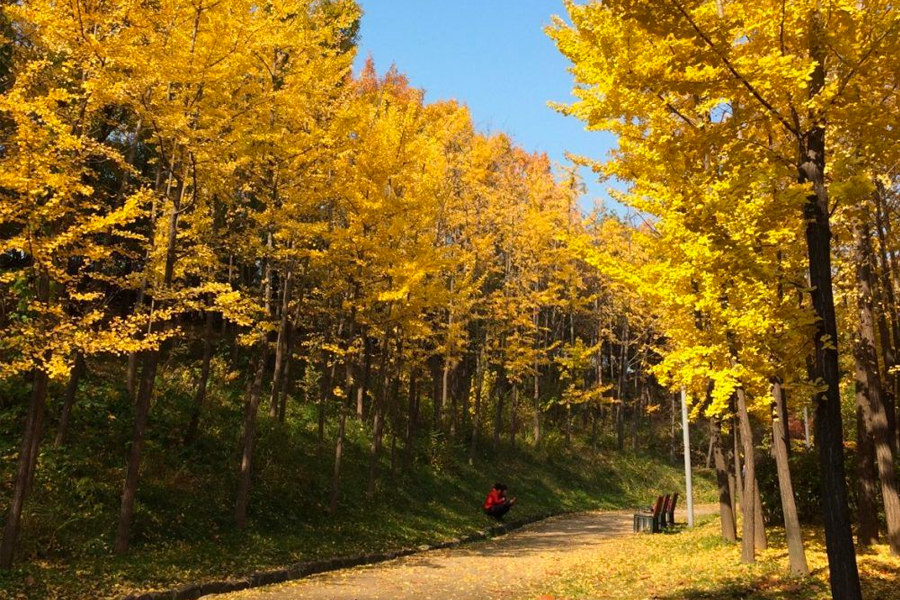 The park in Seoul Forest is one of the largest parks in Seoul. It is a man-made forest, but the beautiful scenery here is unmatched and elegantly expresses all four seasons. The autumn walkway has a gorgeous Ginkgo tree forest, and on the other side, there's a large Maple tree forest you can see as well.
Seoul Forest Tour Here:
---
7. Sungkyunkwan University Myeongnyundang
성균관대학교 명륜당
Address: 53 Myeongryun 3-ga, Jongno-gu, Seoul
Access From: Line 4 Hyehwa Station Exit 4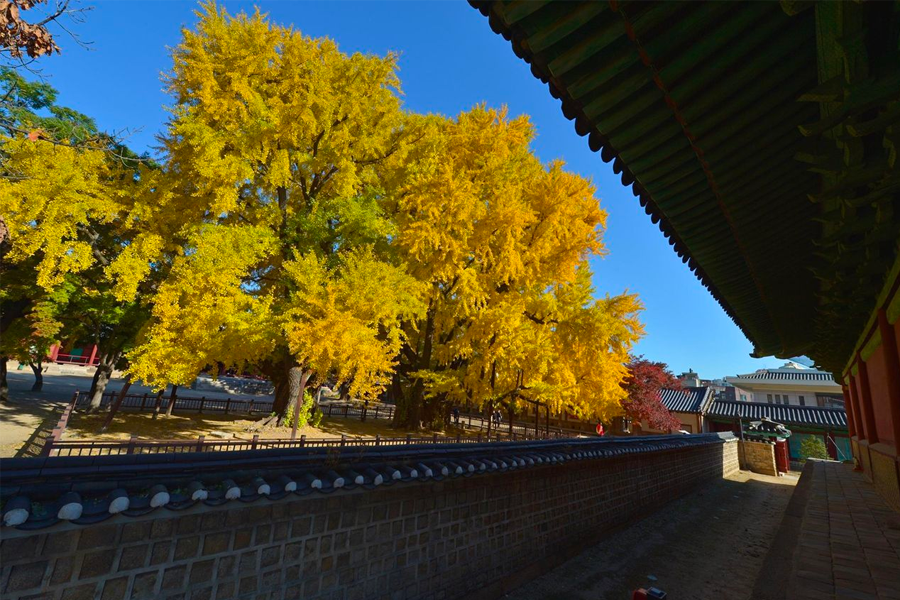 Sunkyunkwan University, located by Hyehwa Station, is one of Korea's most famous universities, and is said to be the oldest existing university in Korea. On campus you can see Myeongryundang (명륜당), a historic traditional building. There is a massive Ginkgo tree next to Myeongryundang with branches so large it looks like they're soaring into the sky. When the Ginkgo leaves fall in the wind, it's almost like watching a scene from a Korean drama!
---
8. Deoksugung Stone Wall Path
덕수궁 돌담길
Address: 24, 19-gil, Sejong-daero, Jung-gu, Seoul (서울 중구 세종대로19길 24)
Access From: Line 1 & 2 City Hall Station Exit 3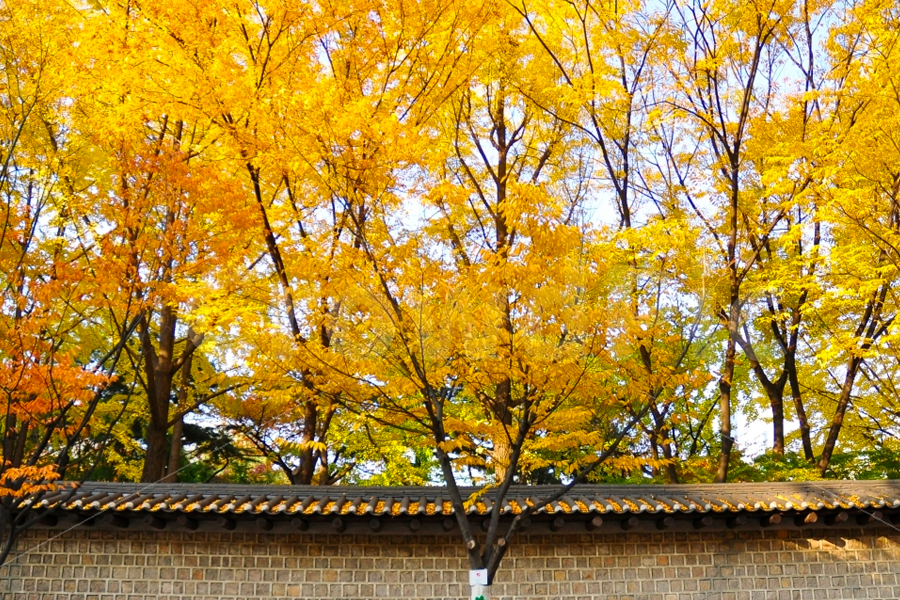 Deoksugung, one of Seoul's five grand palaces, will make you feel like you're living in a Korean drama if you visit in the fall. Ginkgo trees and Maple trees are planted around the stone wall, so you definitely don't want to miss the golden period to see these beautiful trees during autumn! If you are able to visit Deoksugung during fall, we recommend taking a walk along the stone walls to fully enjoy the atmosphere of autumn!
Click below for a tour of Deoksugung!
---
This concludes our guide to the best Ginkgo tree spots in Seoul! We hope you can get some great pictures of the Ginkgo trees around Seoul at these various locations! If you have any questions or concerns, please leave a comment below or send us an email at support@creatrip.com! You can follow us on Instagram, TikTok, and Facebook to stay updated on all things Korea!
---