Lotte Mart Seoul Station Branch
Tips and Recommendations for the Lotte Mart Seoul Station branch!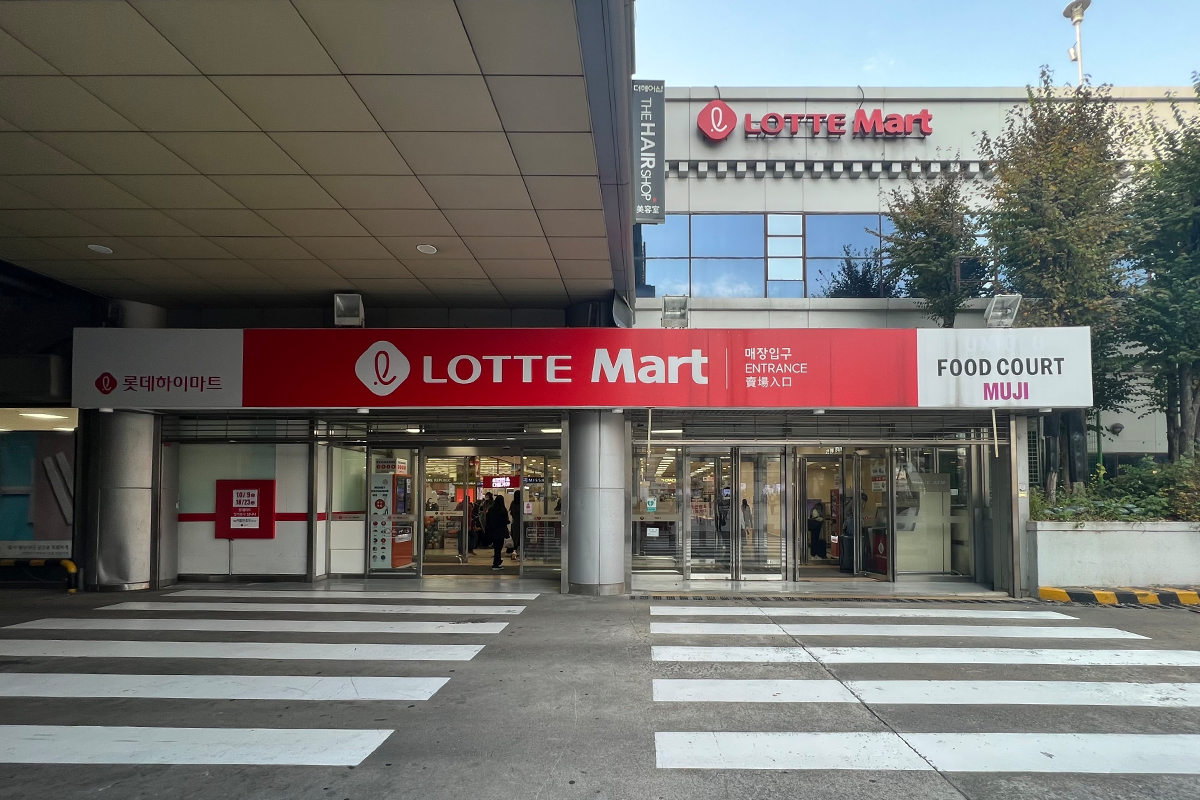 Korea is a great place to go shopping – but aside from the underground shopping centers, you can also visit the local supermarket! Today, we will be giving a full 2022 update on Lotte Mart Seoul Station branch. You might be surprised at all the new things we have to share!
---
Information
Address: 405 Hangang-daero, Jung-gu, Seoul (서울 중구 한강대로 405)
Hours: 10:00-24:00
---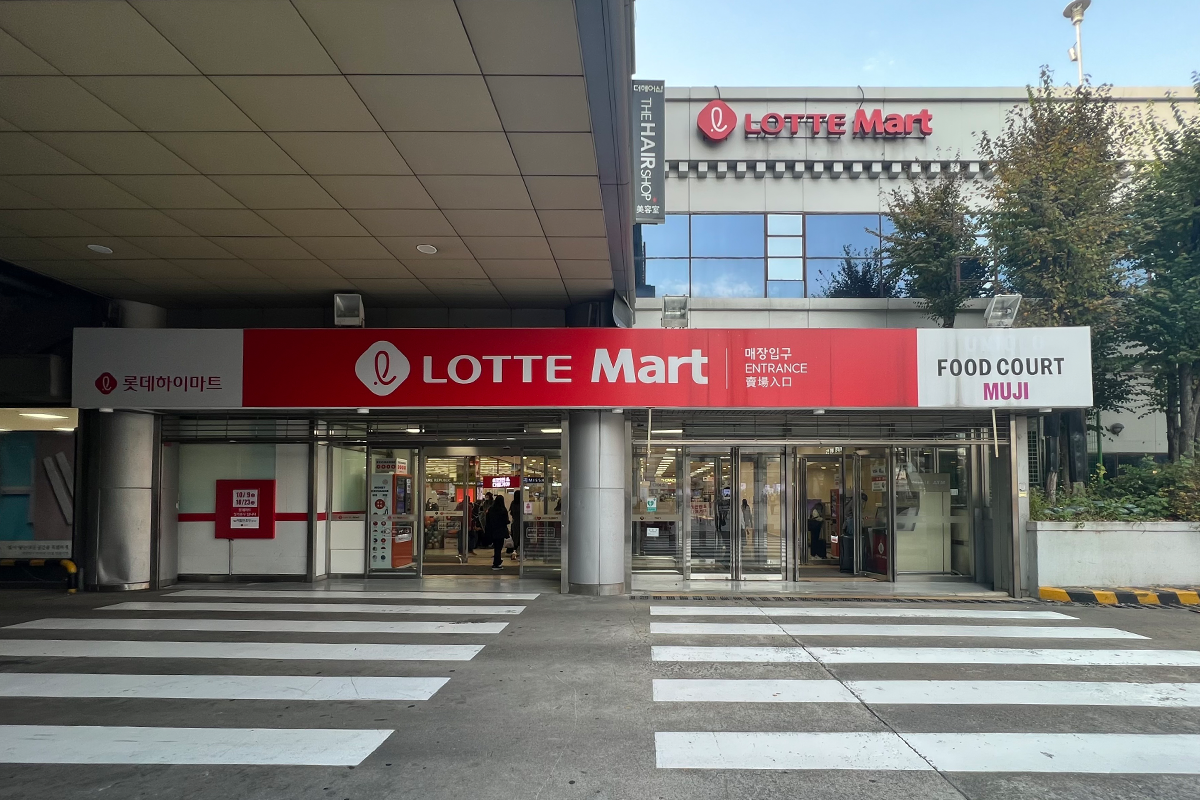 You can find Lotte Mart all over Korea, but in terms of convenience and location, the best one is the branch at Seoul Station. This is because it can be accessed from many different train/subway stations (Line 1, Line 4, Gyeongui Jungang Line, KTX).
The first thing you see when you enter is an ATM machine. You can easily withdraw any extra cash you may need from here, even with a foreign card.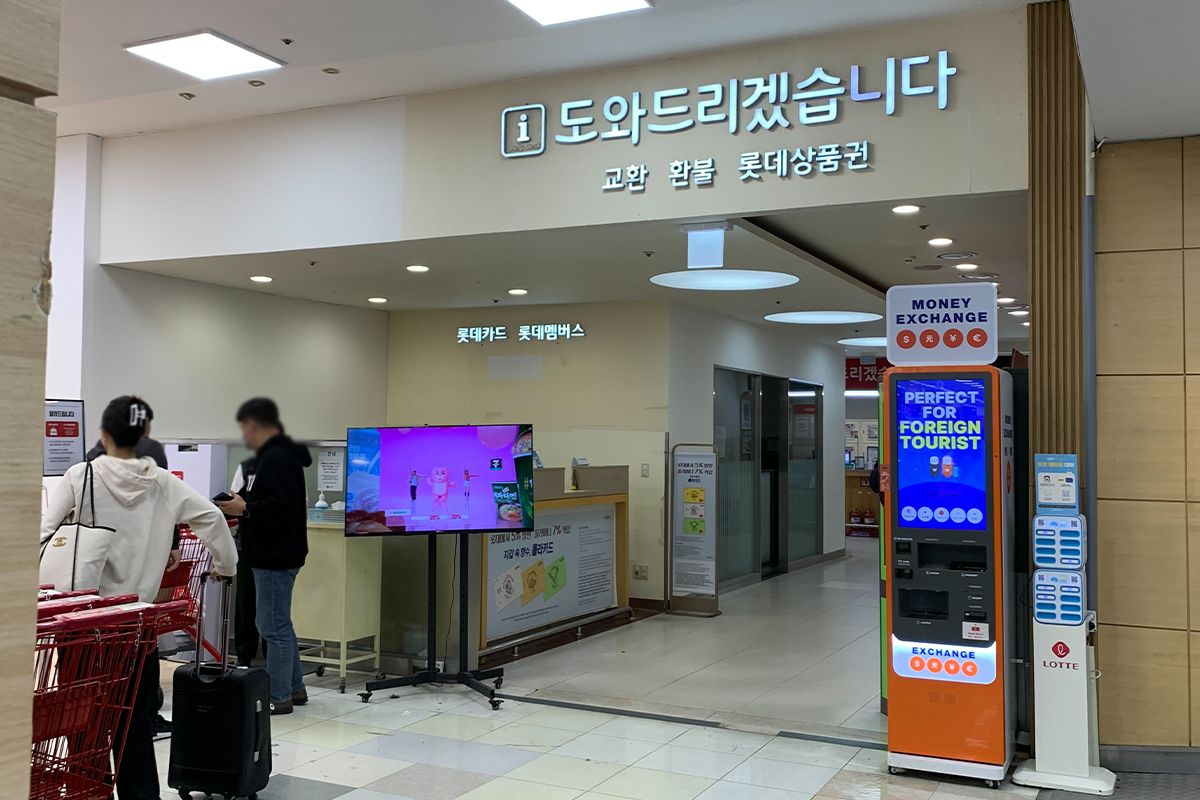 If you're worried about paying an extra fee for withdrawing cash from a foreign card, you can go to the currency exchange counter called WOW EXCHANGE located on the right side.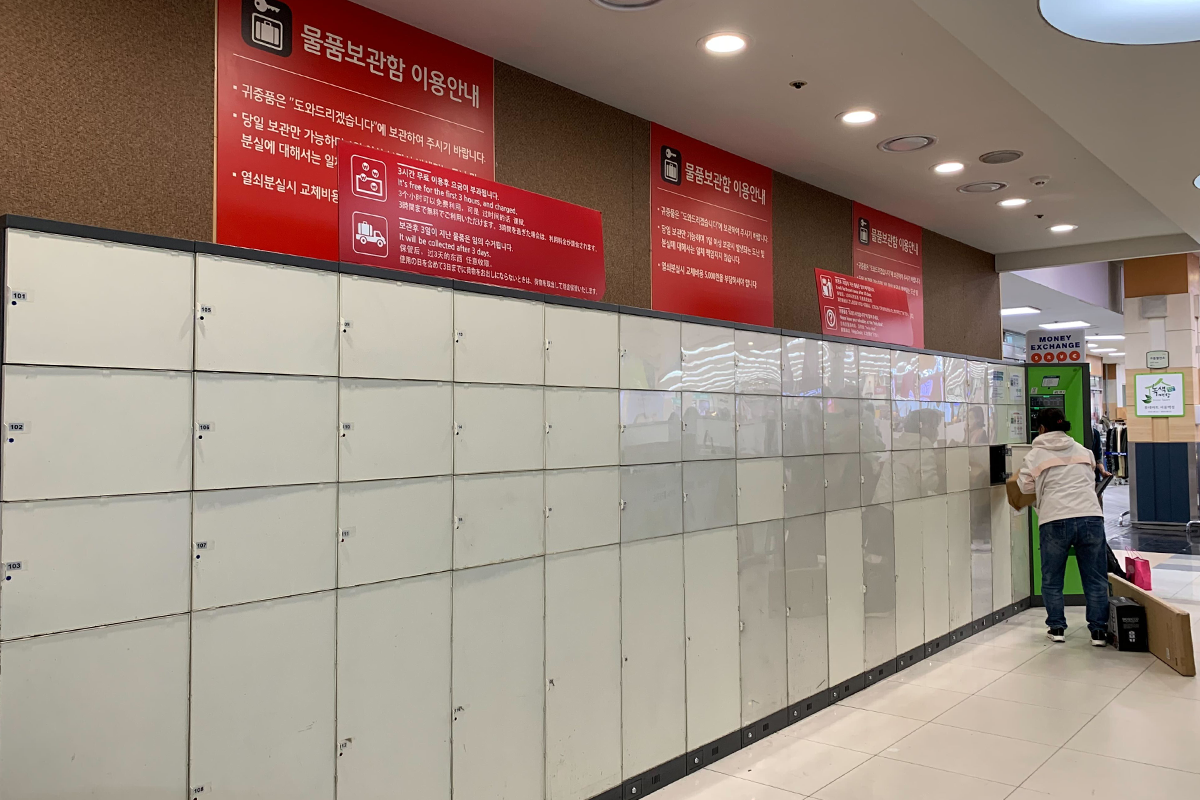 Behind the currency exchange kiosk, there is a customer service center where you can make exchanges or refunds. There are also lots of lockers available, so if you need to store some luggage or bags, you can store them here free of charge for up to 3 hours! After the 3-hour mark, a fee will be added. Don't forget to get your things before leaving, because the contents of the locker will be discarded of if not collected within 3 days.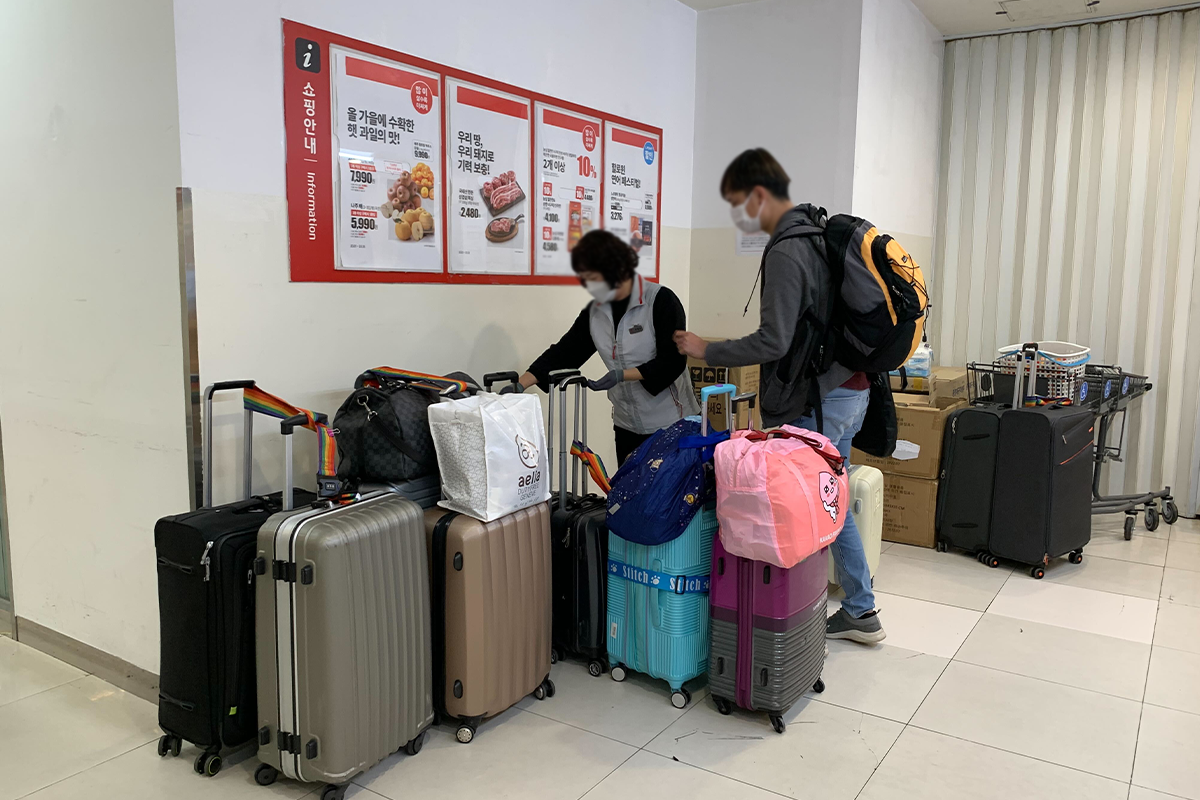 In addition, if you have large carriers, you can leave them at the counter with an employee free of charge for up to 2 hours. Just let an employee know and they will give you a numbered ticket to keep track of your things.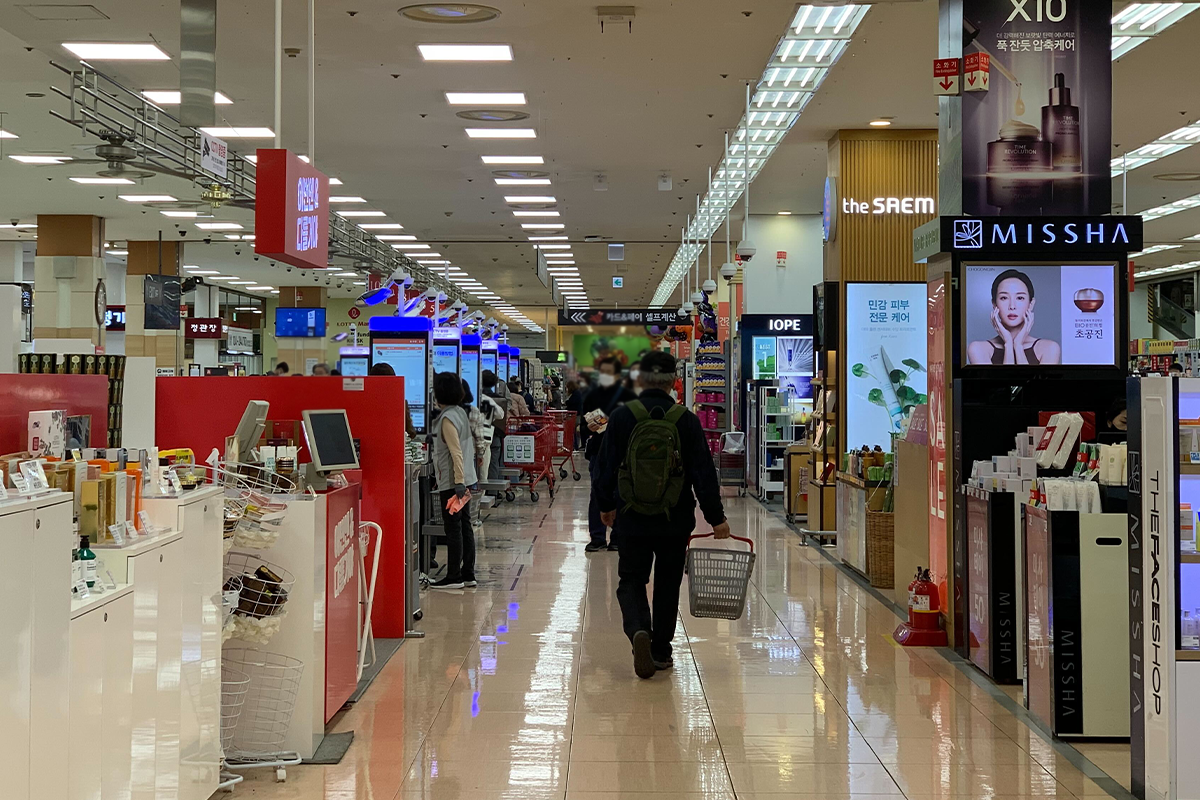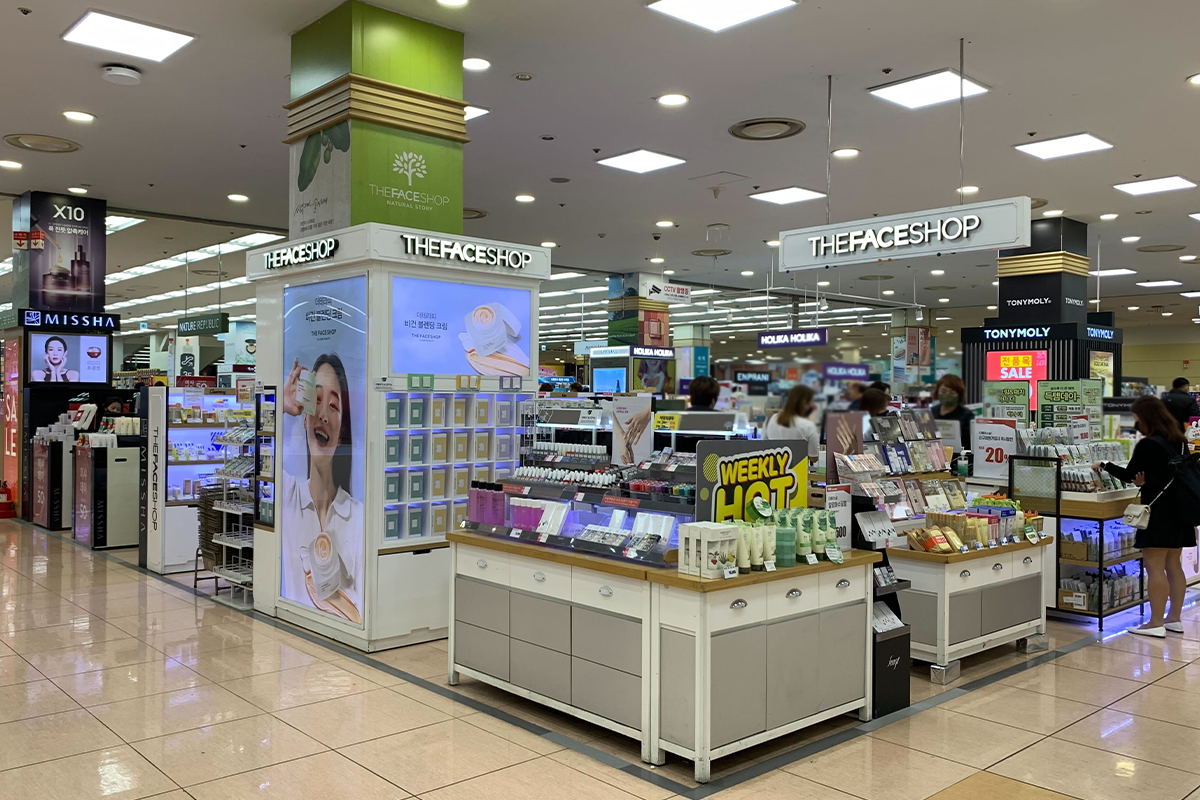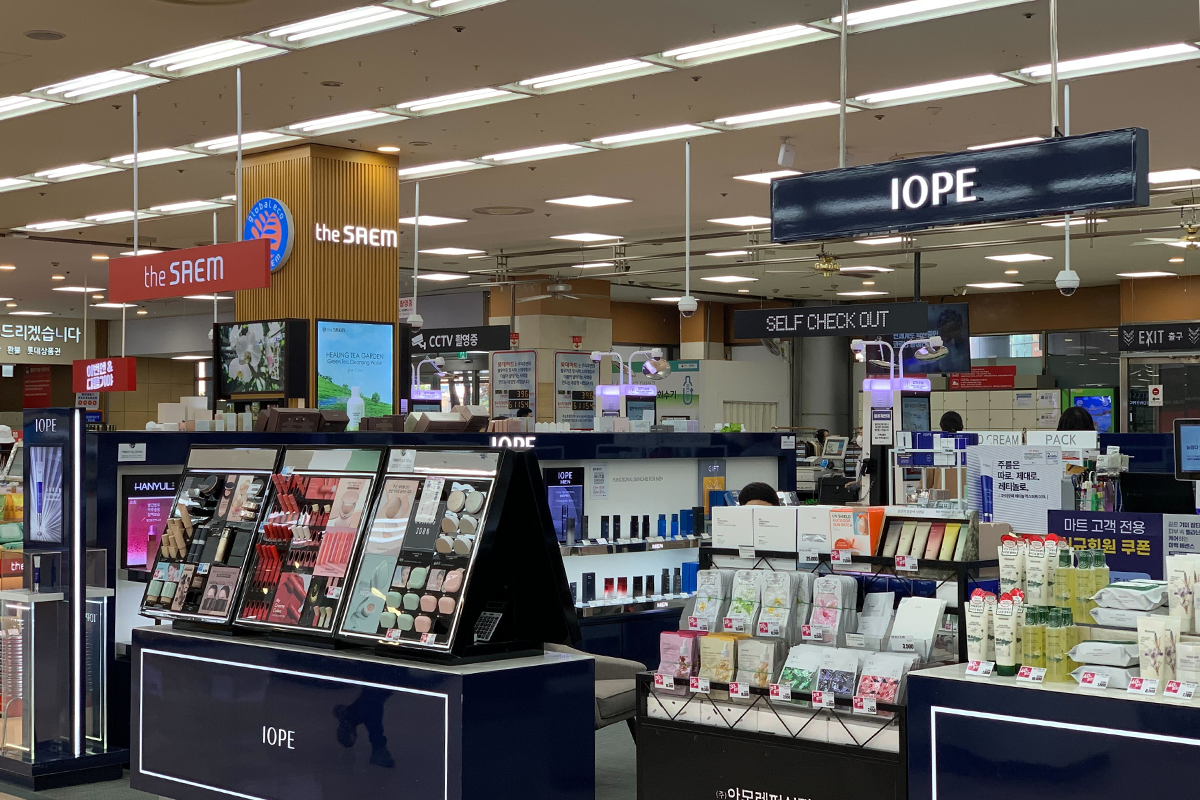 On the left of the entrance, you will see many famous Korean beauty brands like The Face Shop, Missha, The Saem, and IOPE.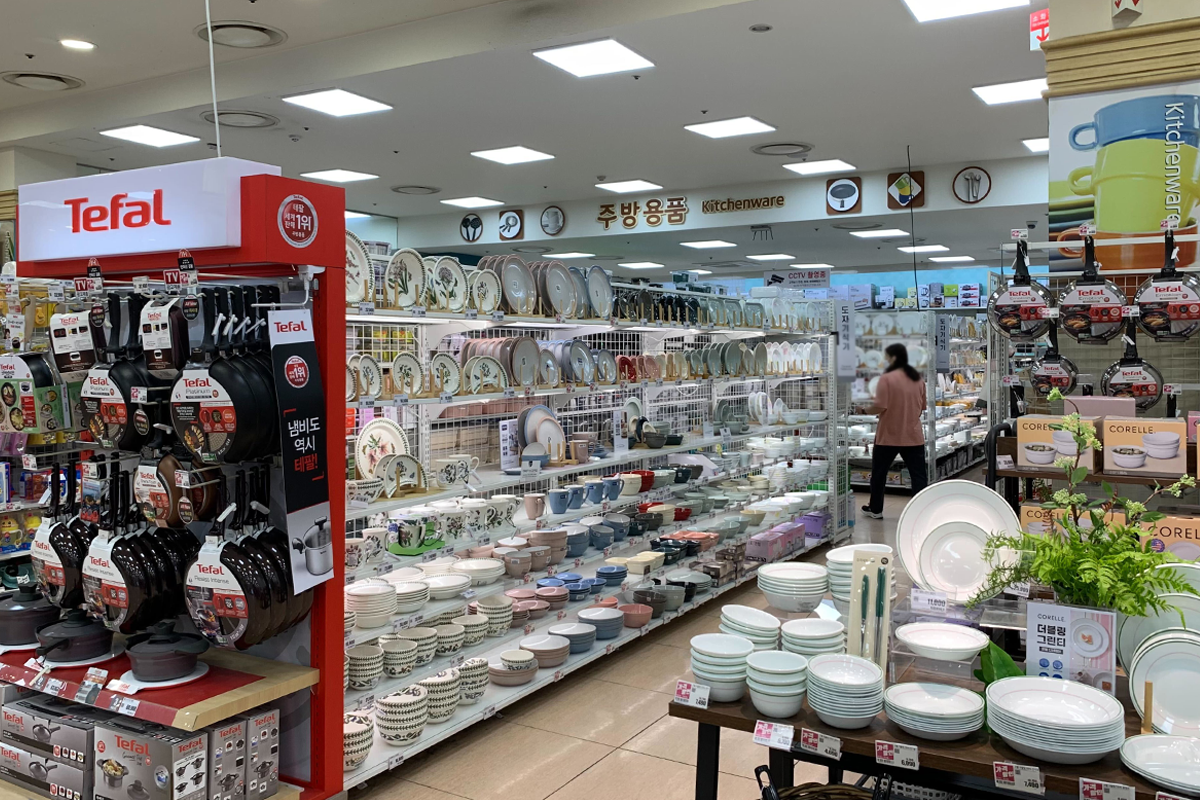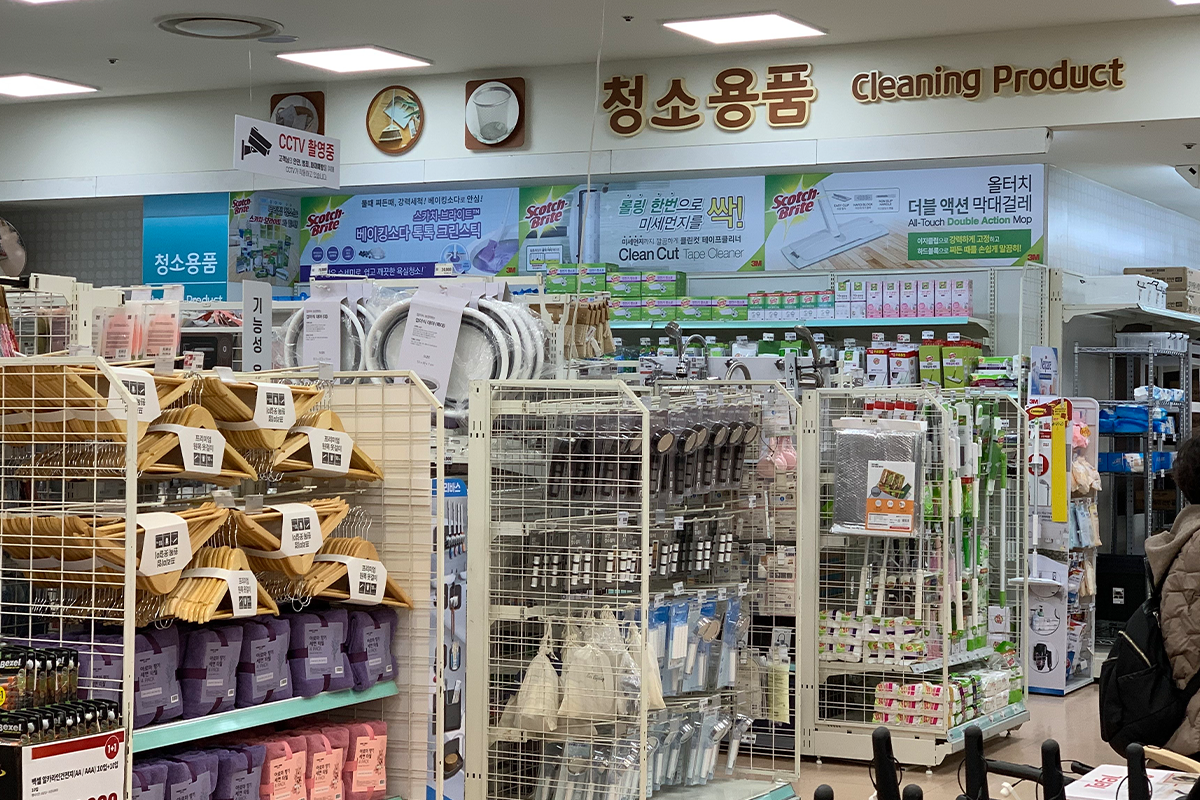 On the right side, there is a section for kitchen appliances and cleaning supplies. Everything is neatly organized and all the signs are in both Korean and English.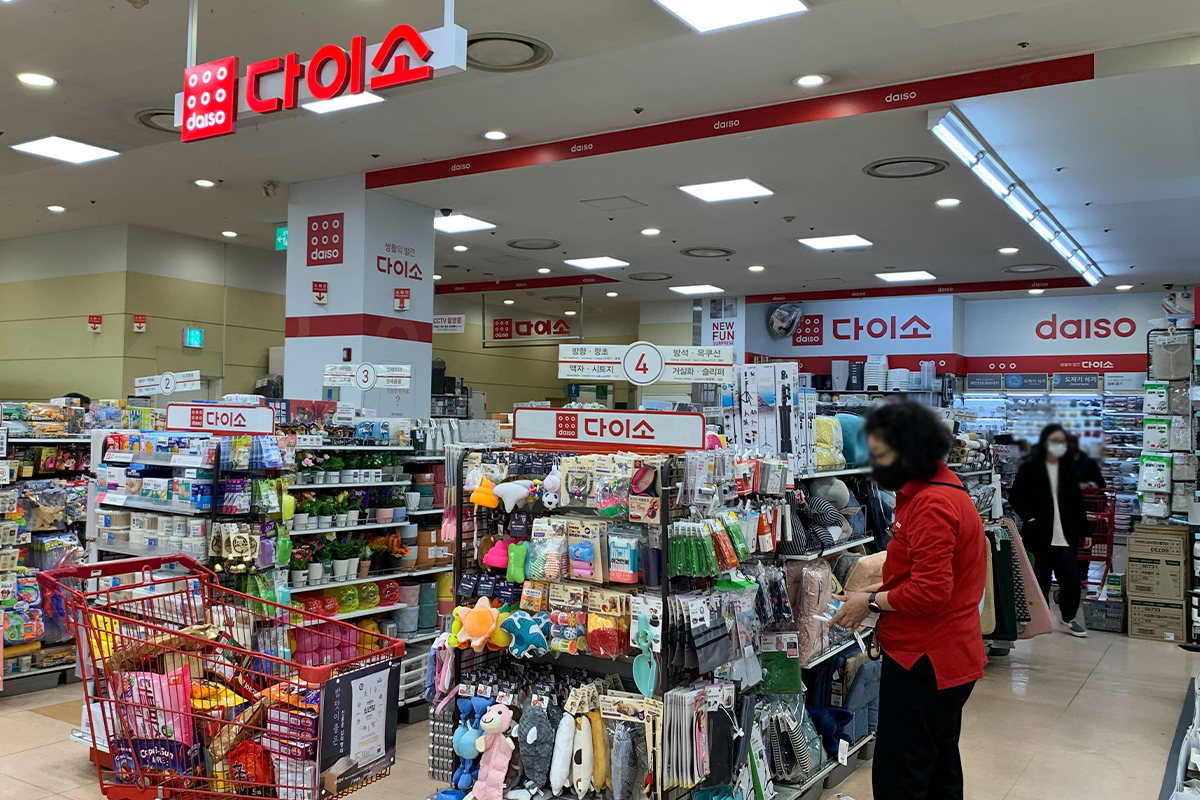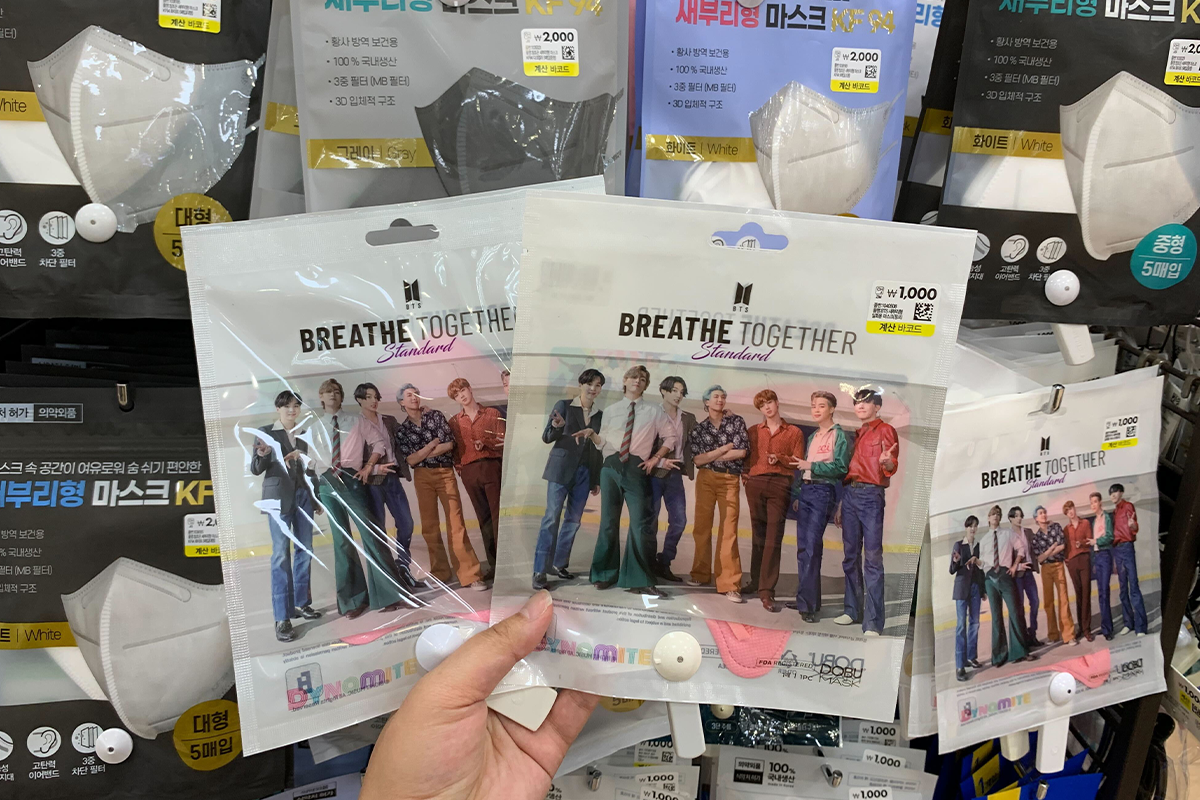 If you keep going straight from here, you'll see the Daiso section. It's small, but is still packed with many products. They even have the newest BTS mask!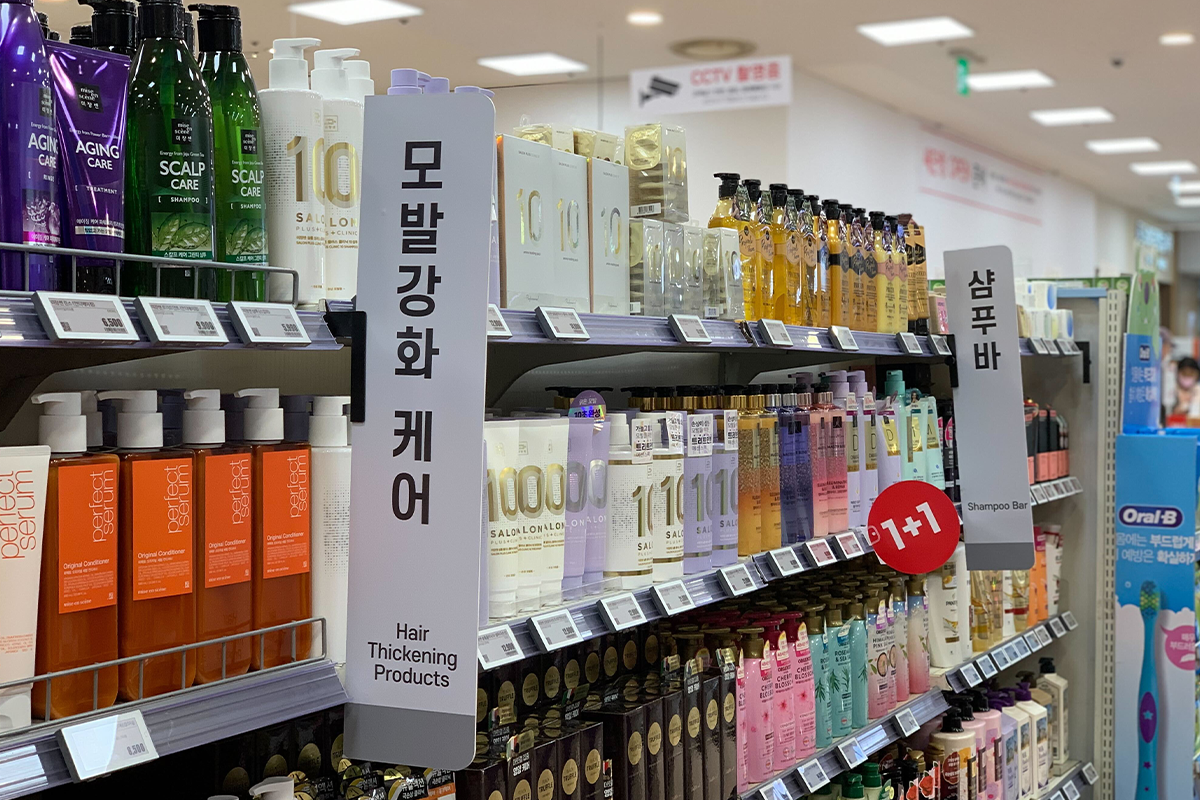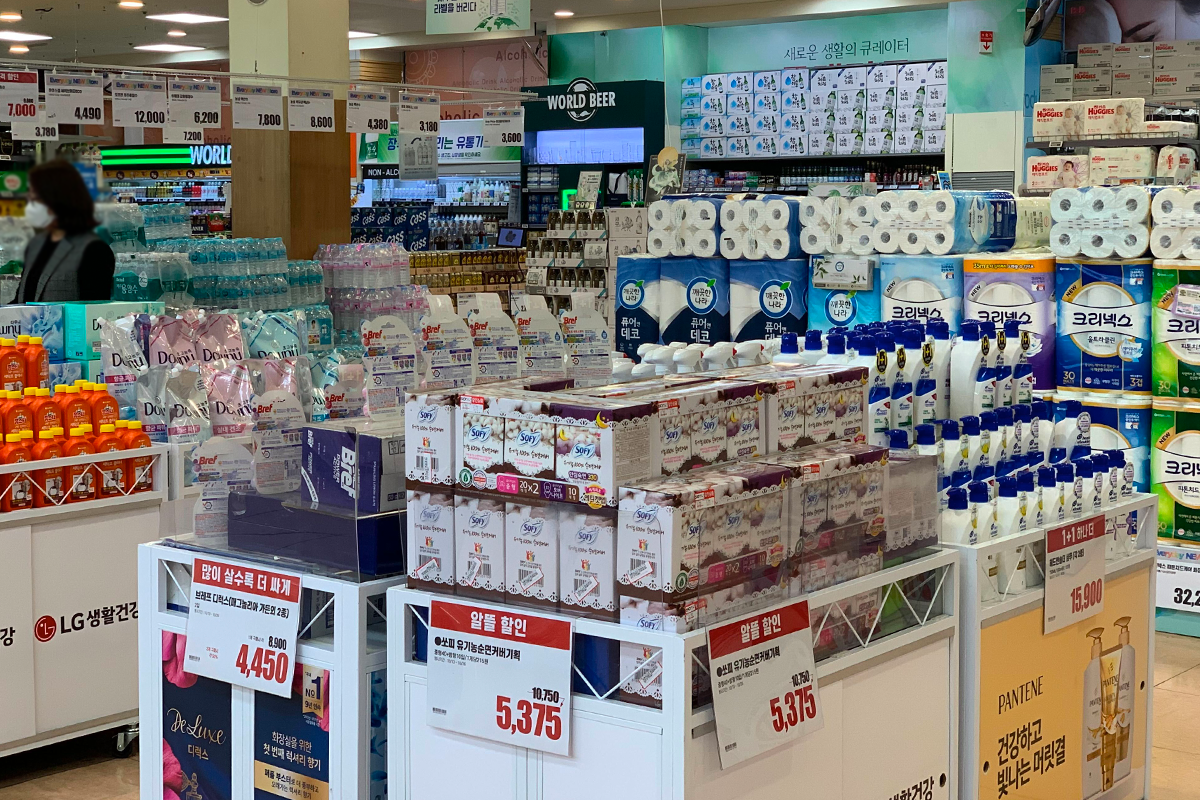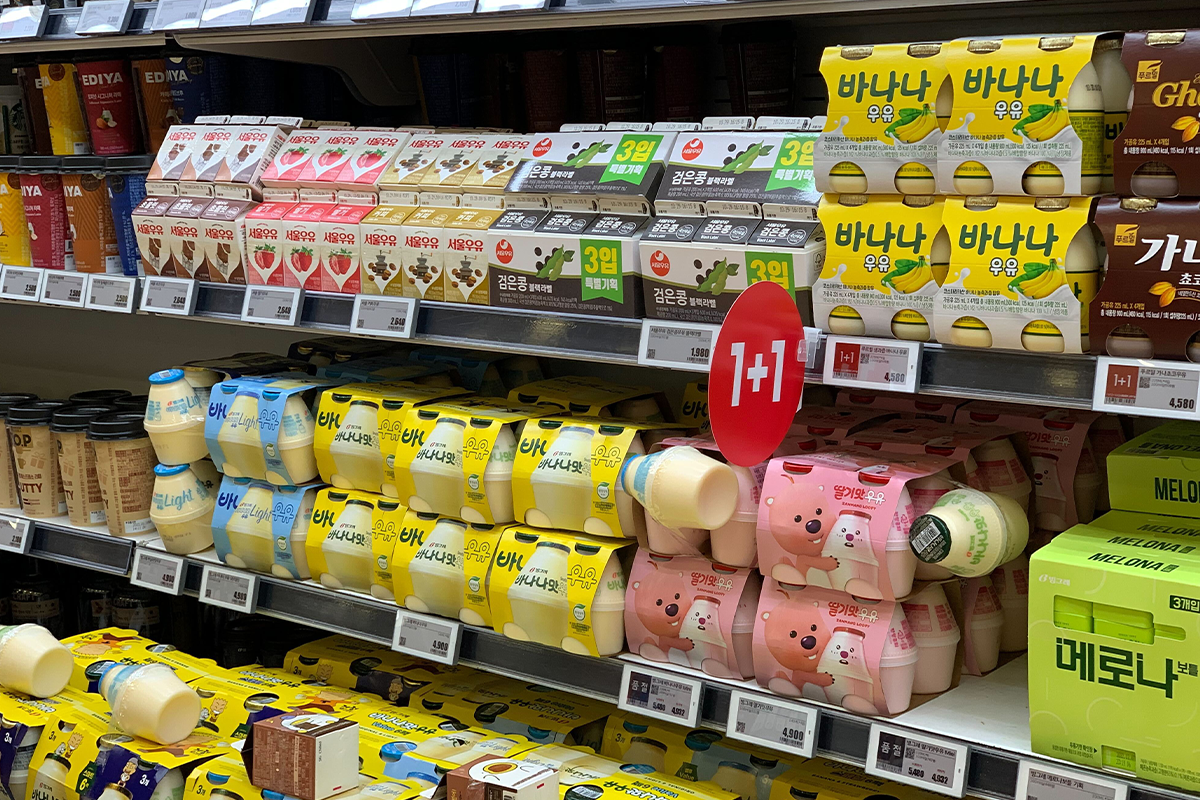 As you can see, every aisle and shelf is filled with all kinds of products! There are lots of BOGO-free (buy-one-get-one-free) deals available, and they will all be marked with a '1+1' sign so be on the lookout for it! Please note that some products require an 'L.Point' membership in order for the 1+1 benefit to be applied.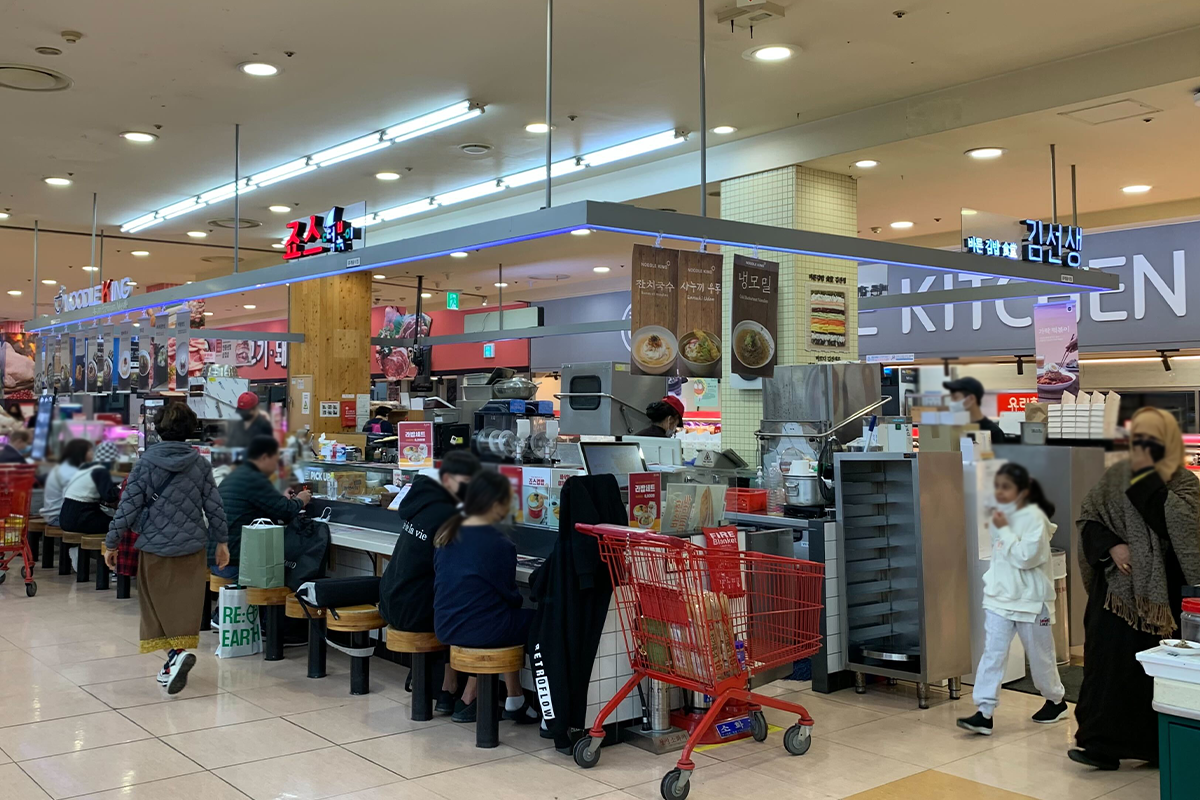 If you go toward the middle of the market you will come across the mini food court area where you can try all kinds of snacks like spicy fried rice, fish cakes, kimbap, etc. to fill your stomach as you shop!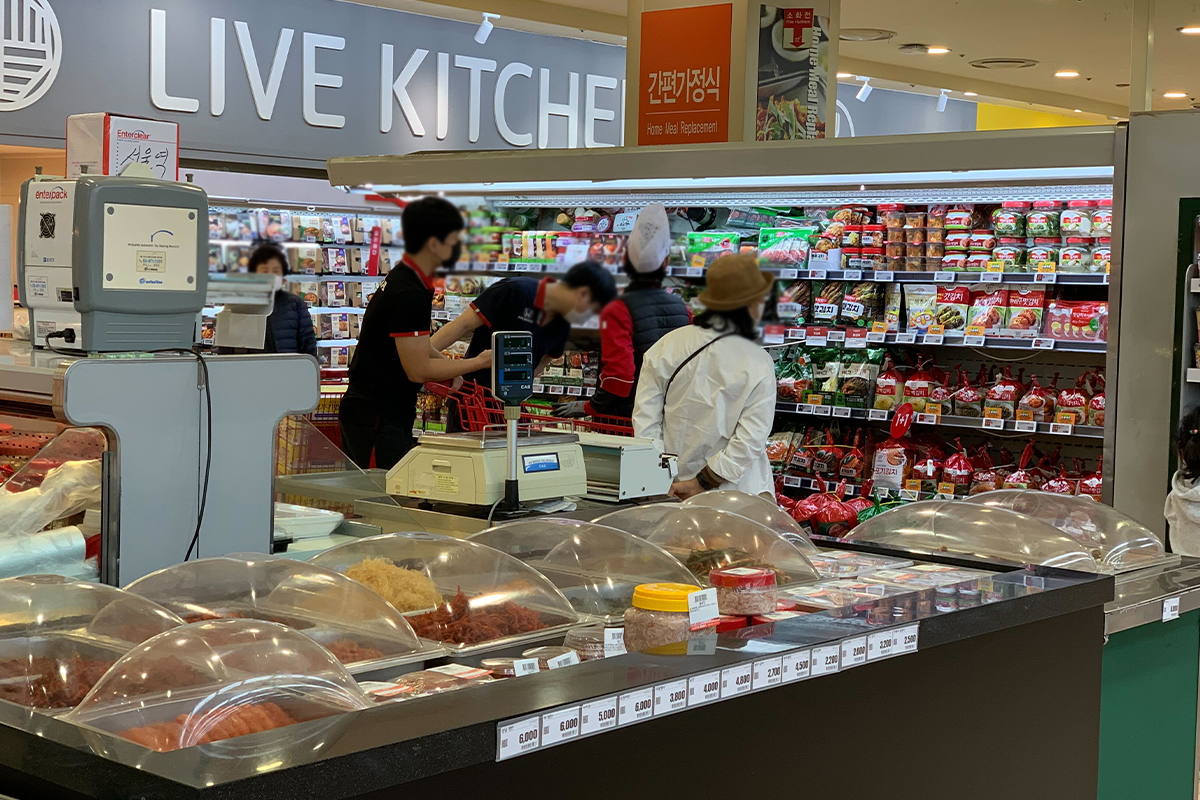 If you want to bring some authentic Korean side dishes back home, you don't need to search through an outdoor market tirelessly – you can find all kinds of side dishes here!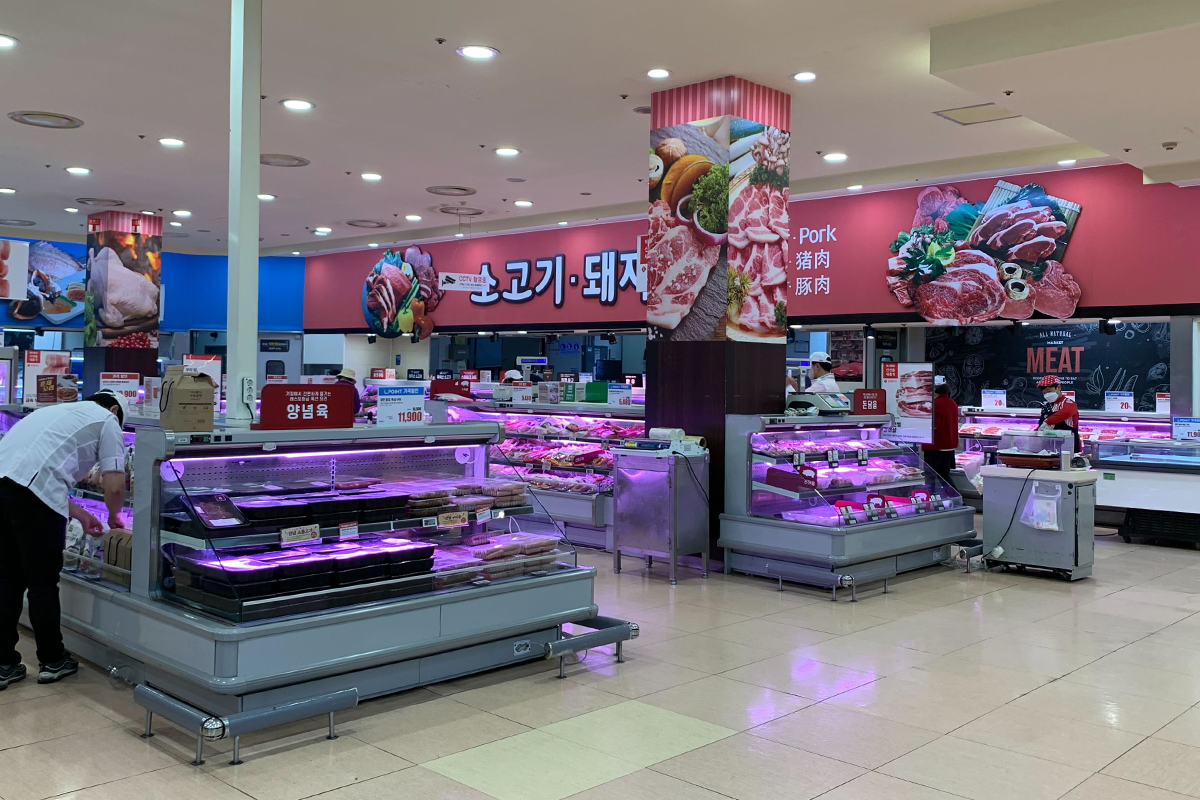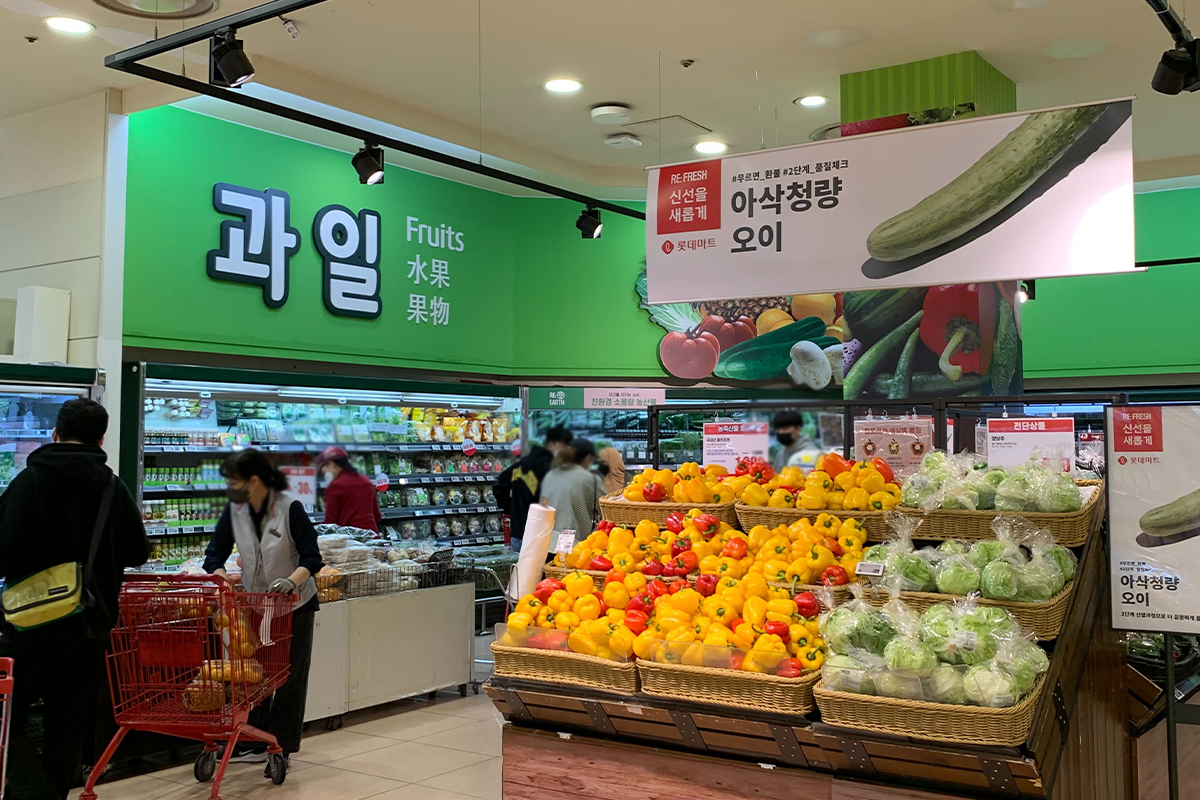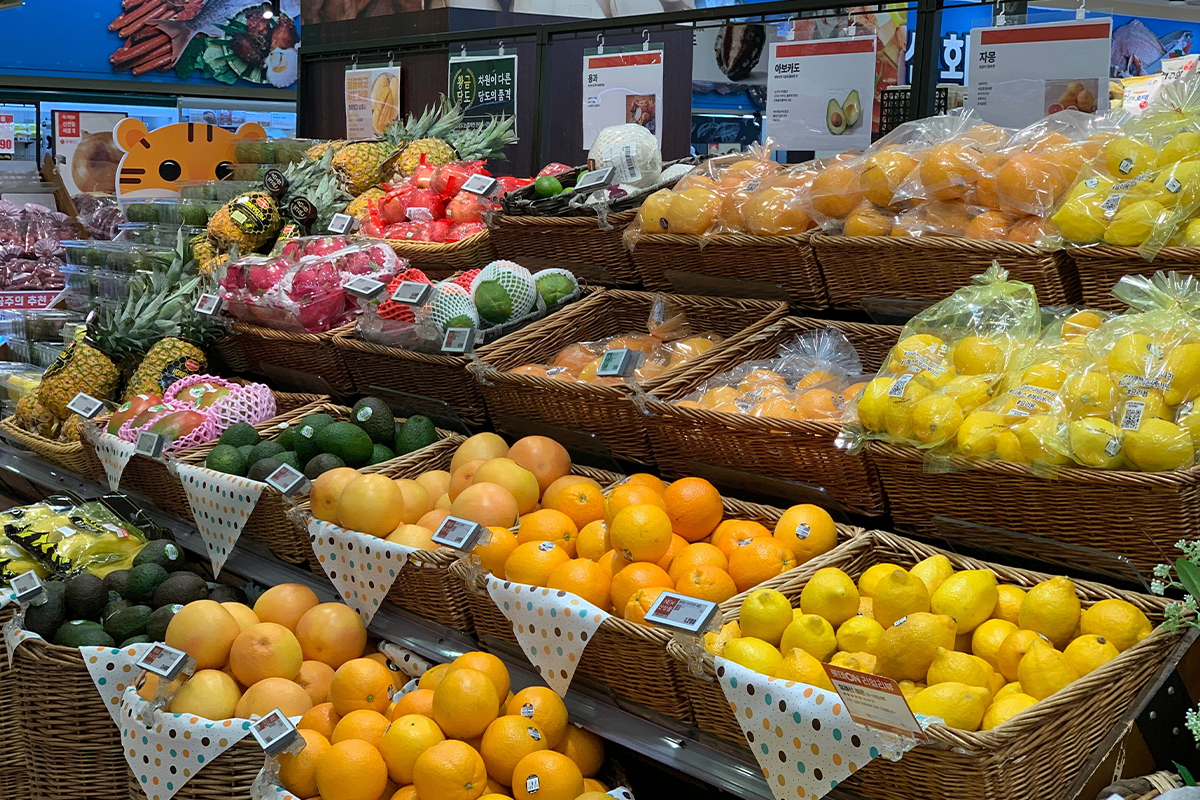 Since a lot of Korean meals consist mostly of meat and not as many vegetables, you can stock up on some fruit to take back to your accommodation if you're feeling a little low on nutrients!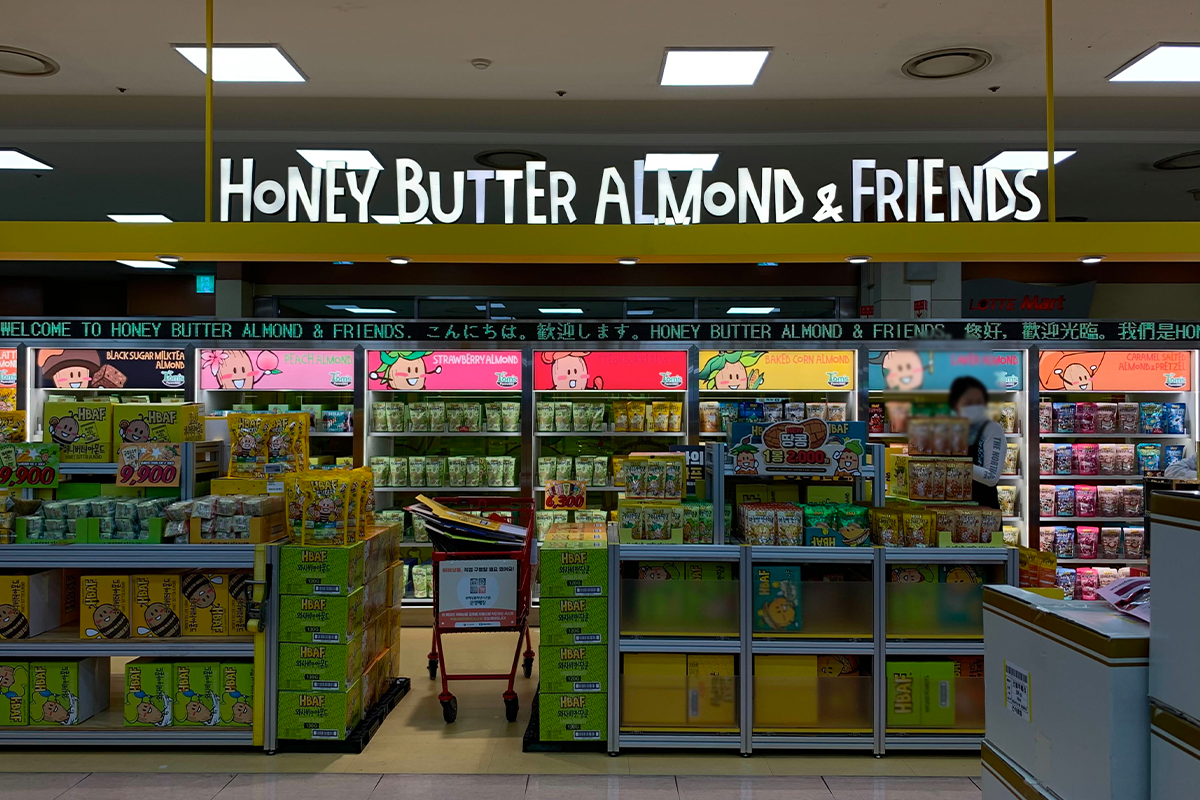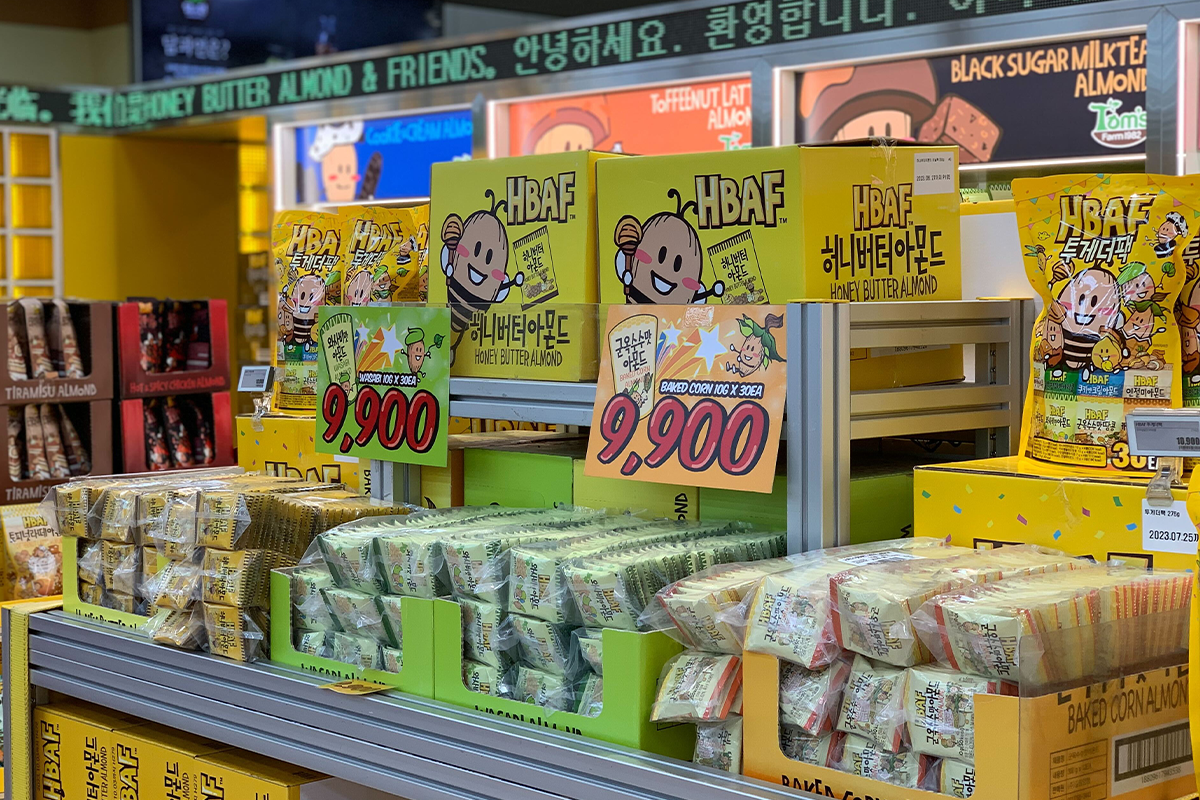 Now, let's head over to the best part of the mart, the snack section! You can get a really good deal on HBAF Almonds here! In the picture above you can see that it's only 9,900 KRW for 30 mini packs! These are great to bring home as a gift!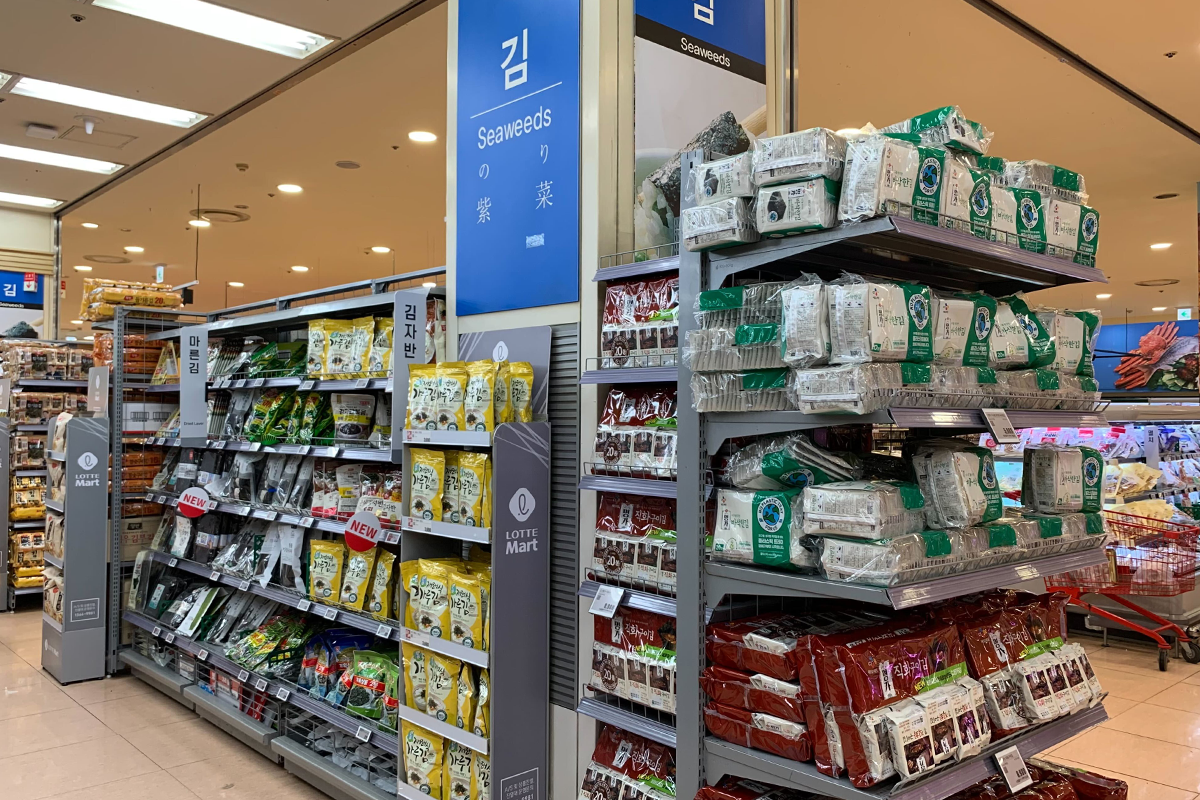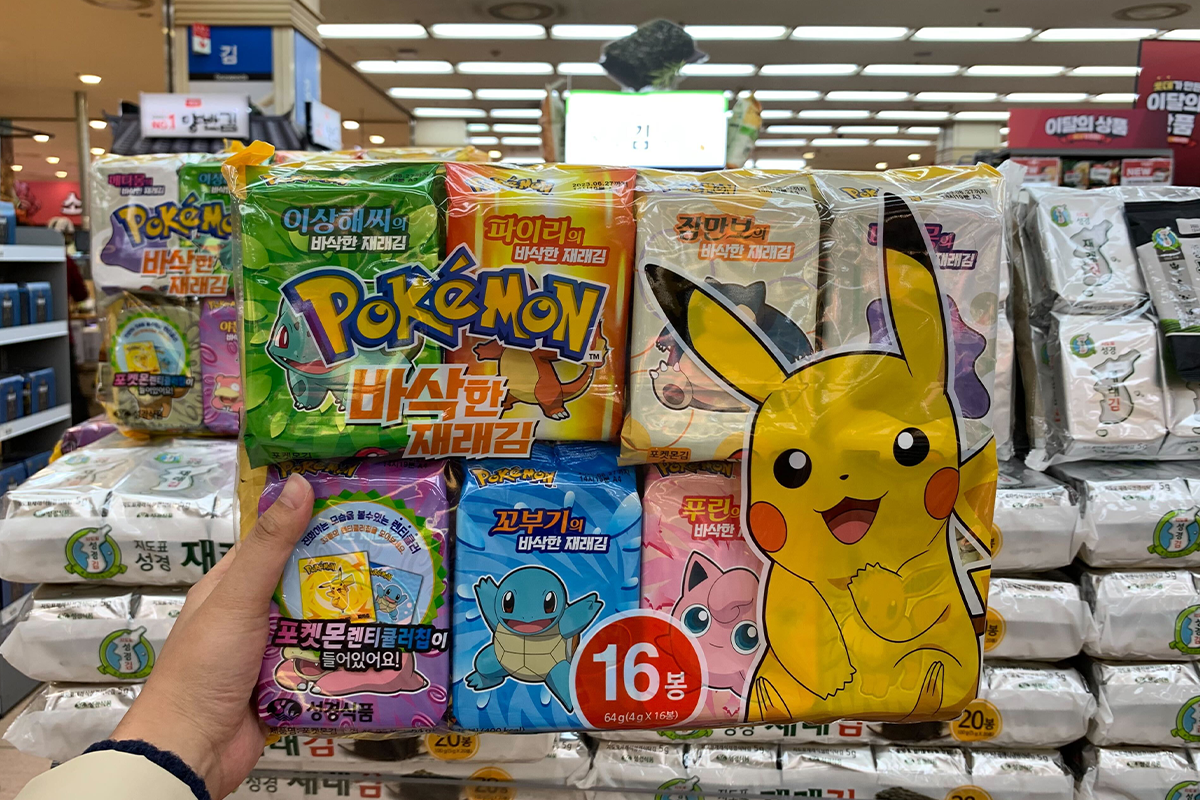 Lots of people like to buy some dried, seasoned seaweed to bring home. There are lots of different brands and types, so you'll have a wide selection to choose from! Currently, this Pokemon seaweed is really popular in Korea. Isn't it so cute?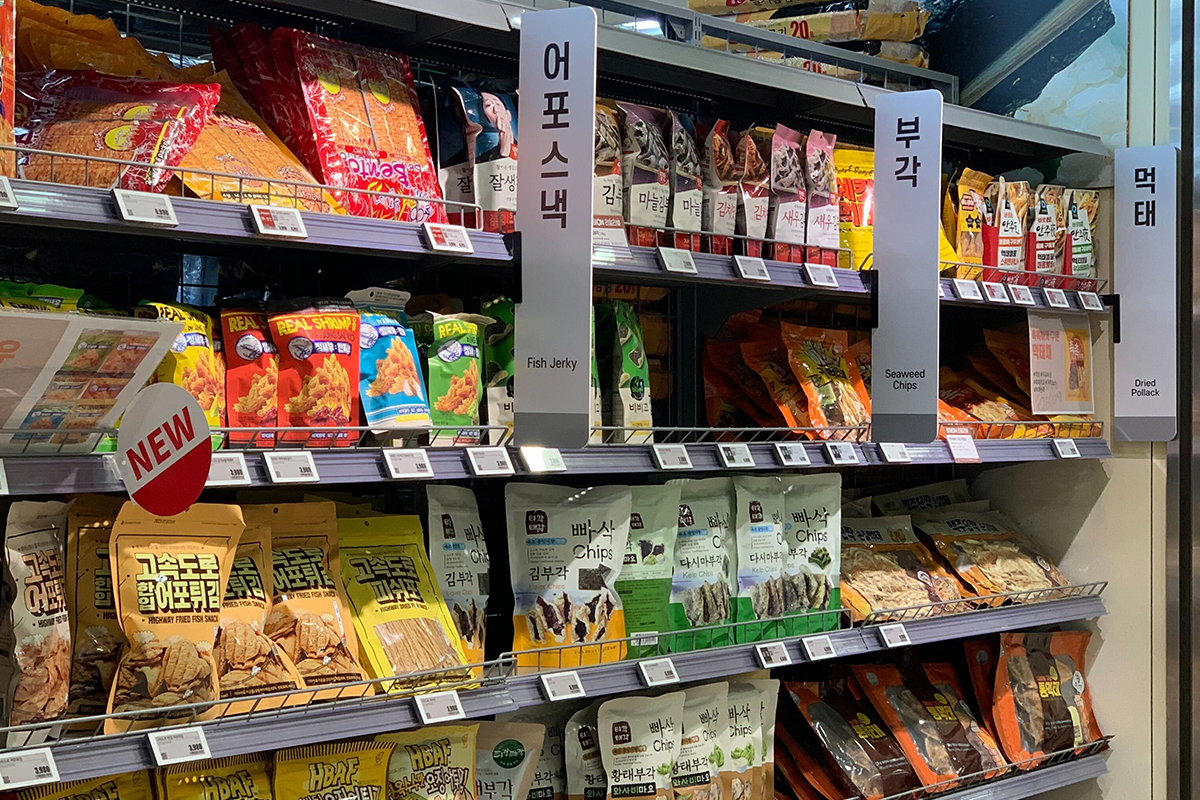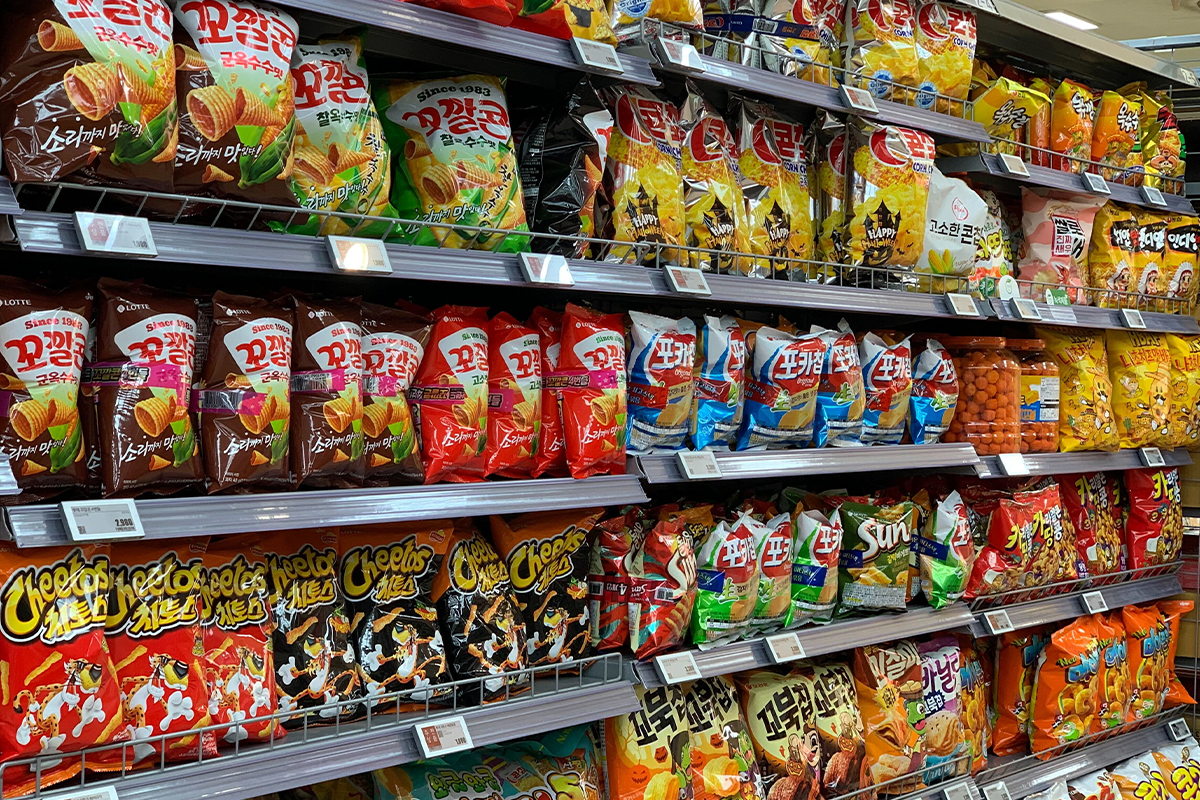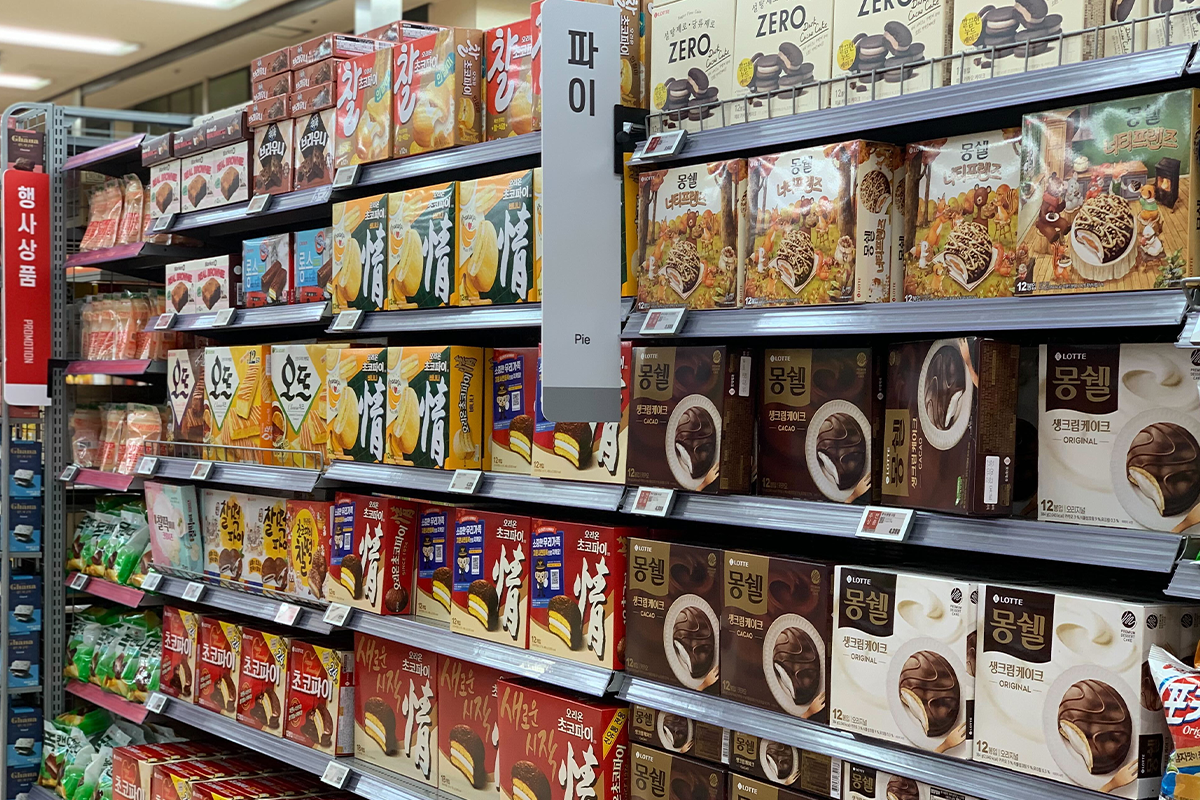 Lotte Mart has such a huge selection of snacks that you might spend more time here than intended. Look at all the different types of Choco Pie available!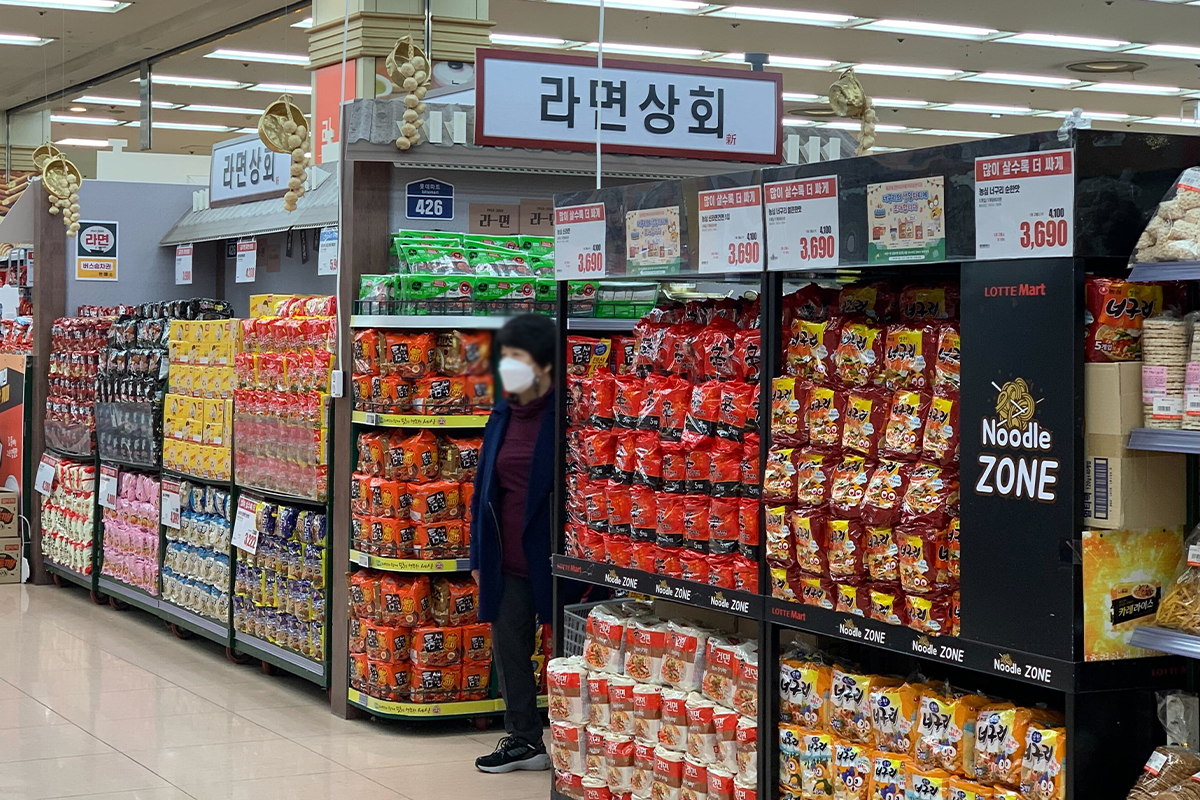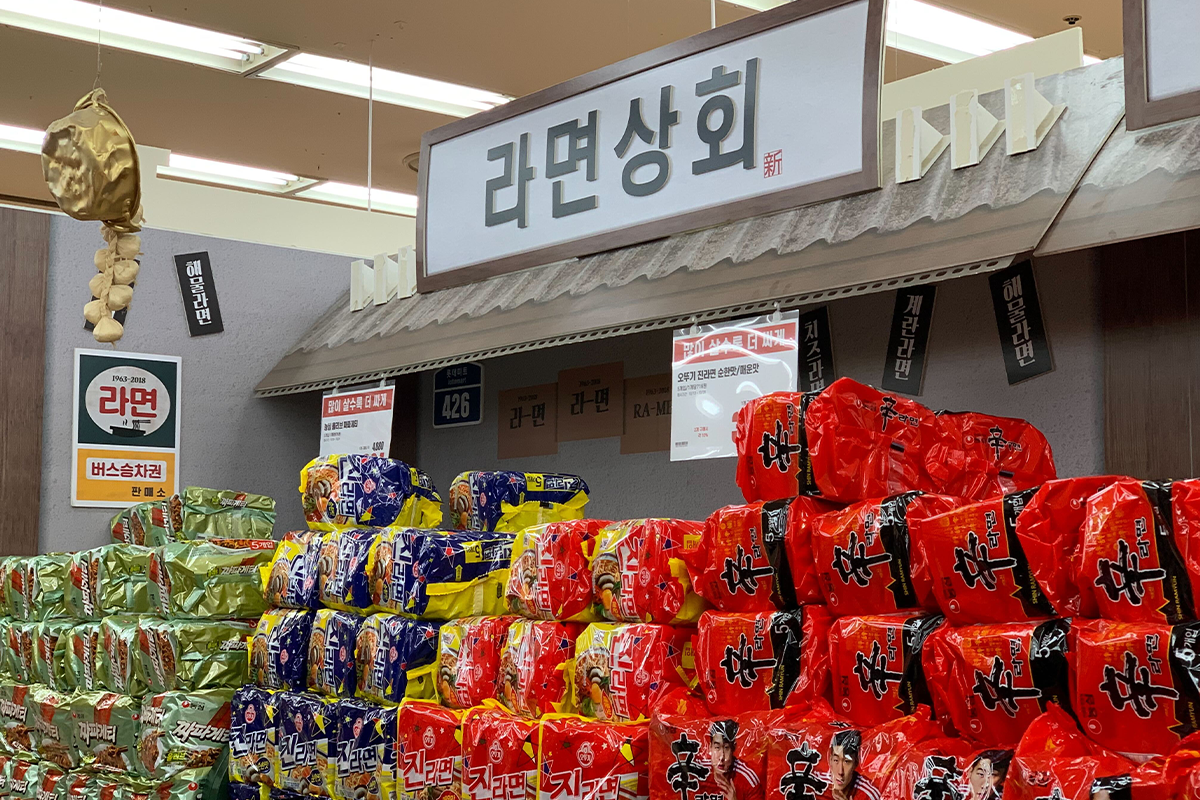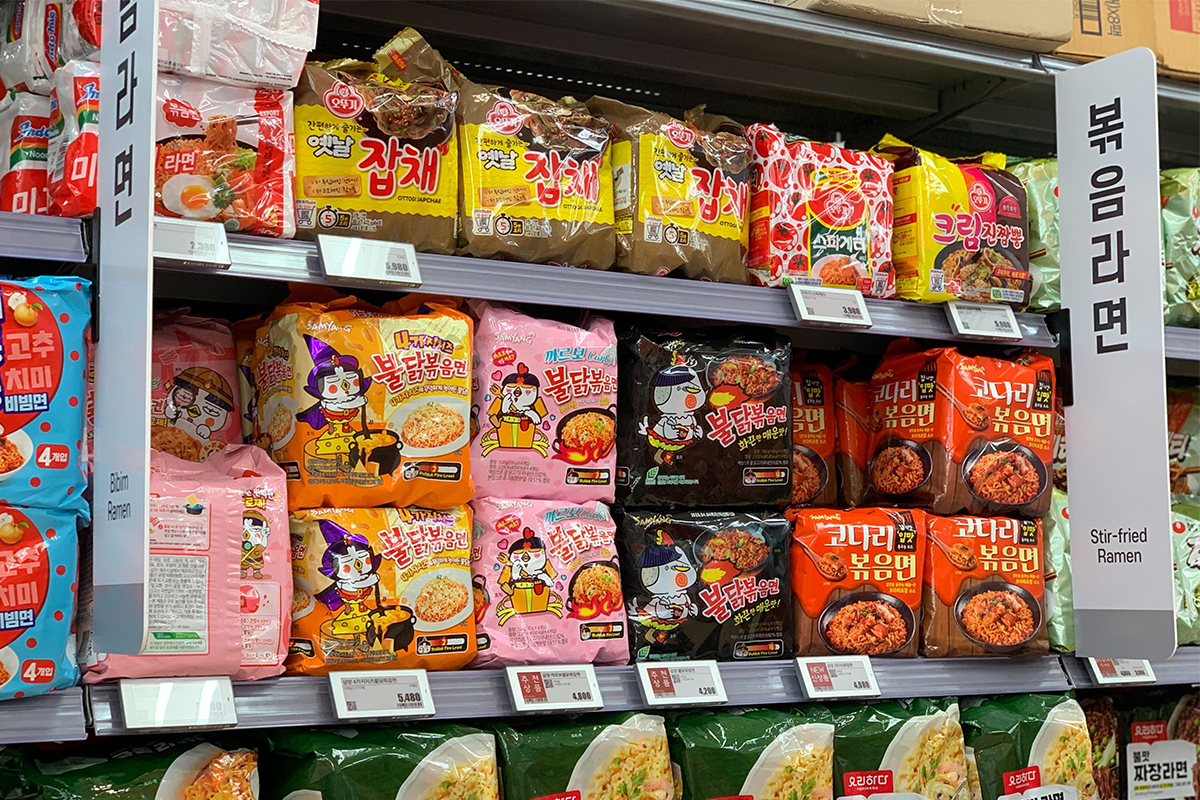 Korea has an infinite selection of ramen brands to choose from as well. You might find something that's not available back in your home country, so see what you can find! It'll also most likely be much cheaper to buy here!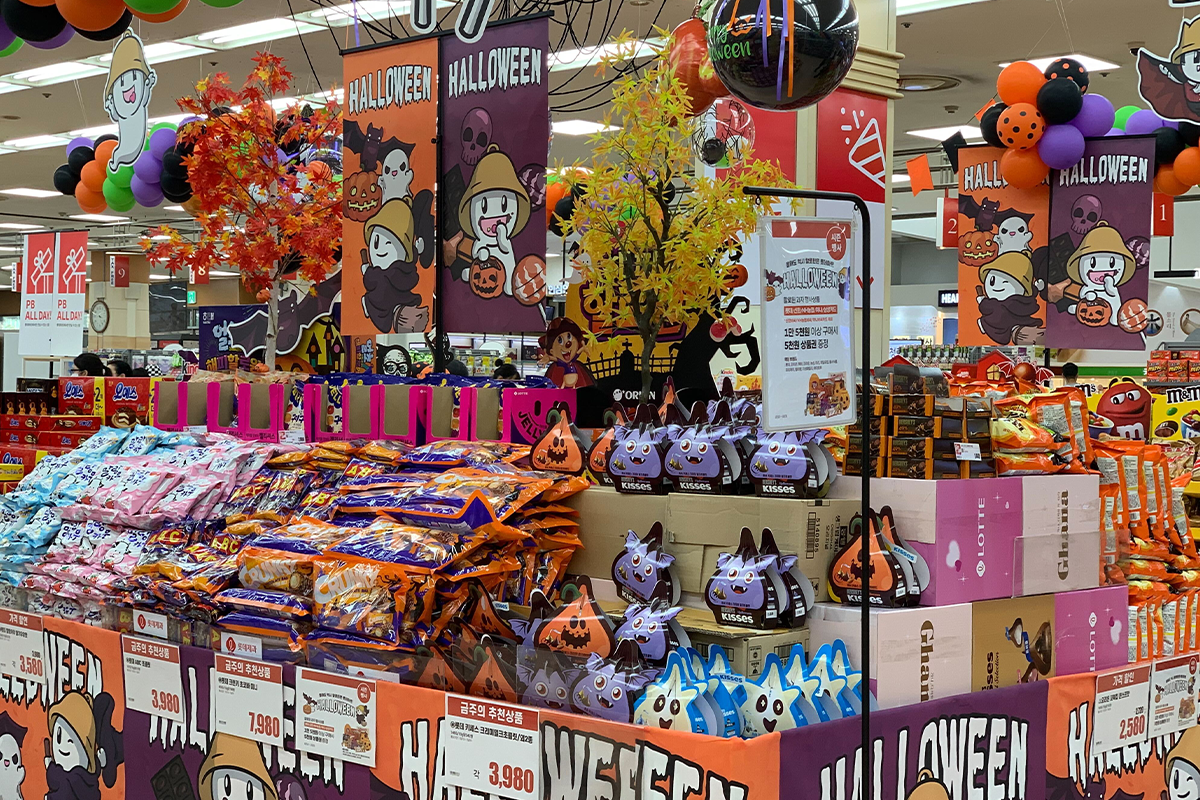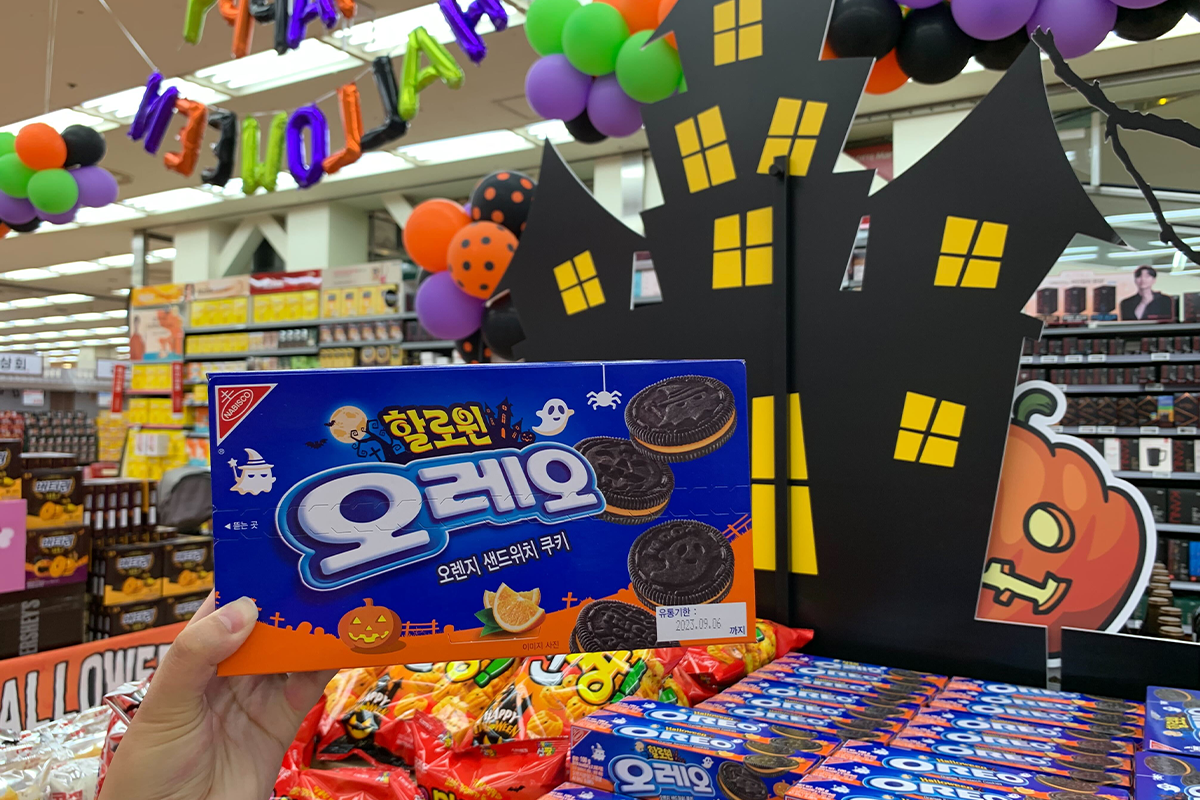 Lotte Mart will also have themed snacks available! When I visited this branch it was October, so they had Halloween-themed snacks!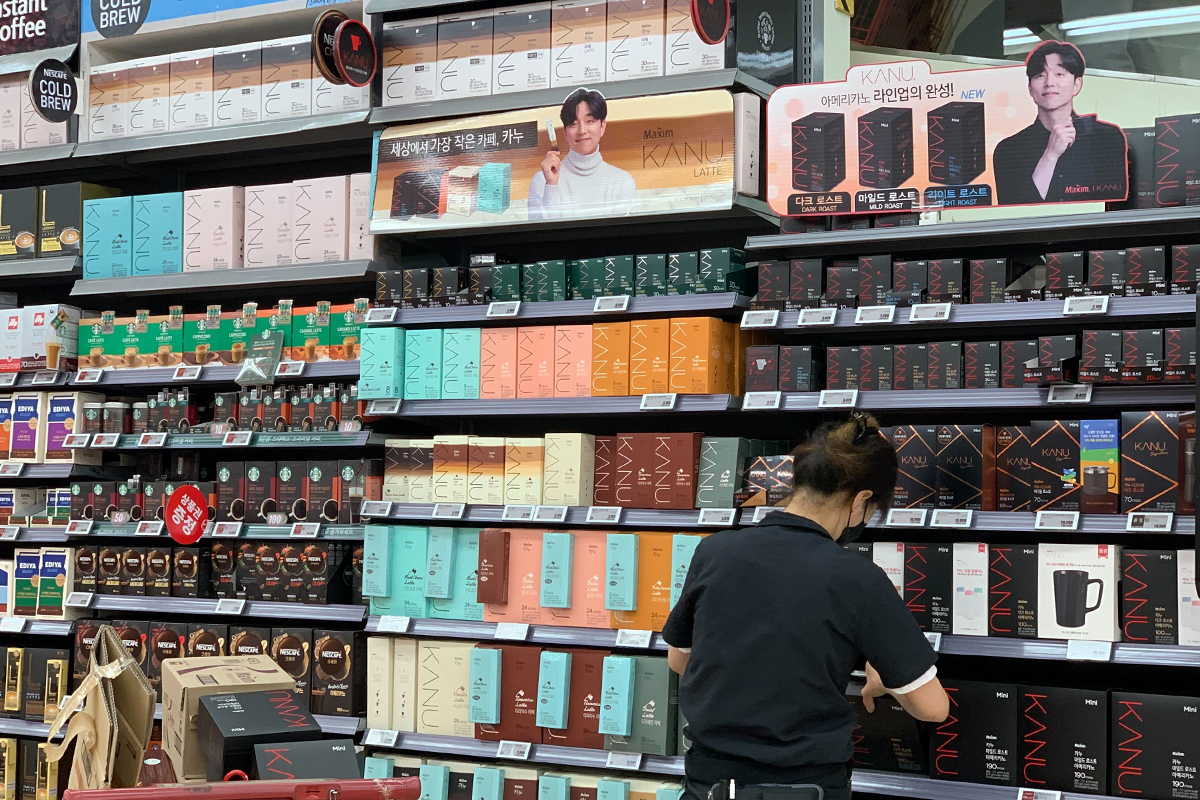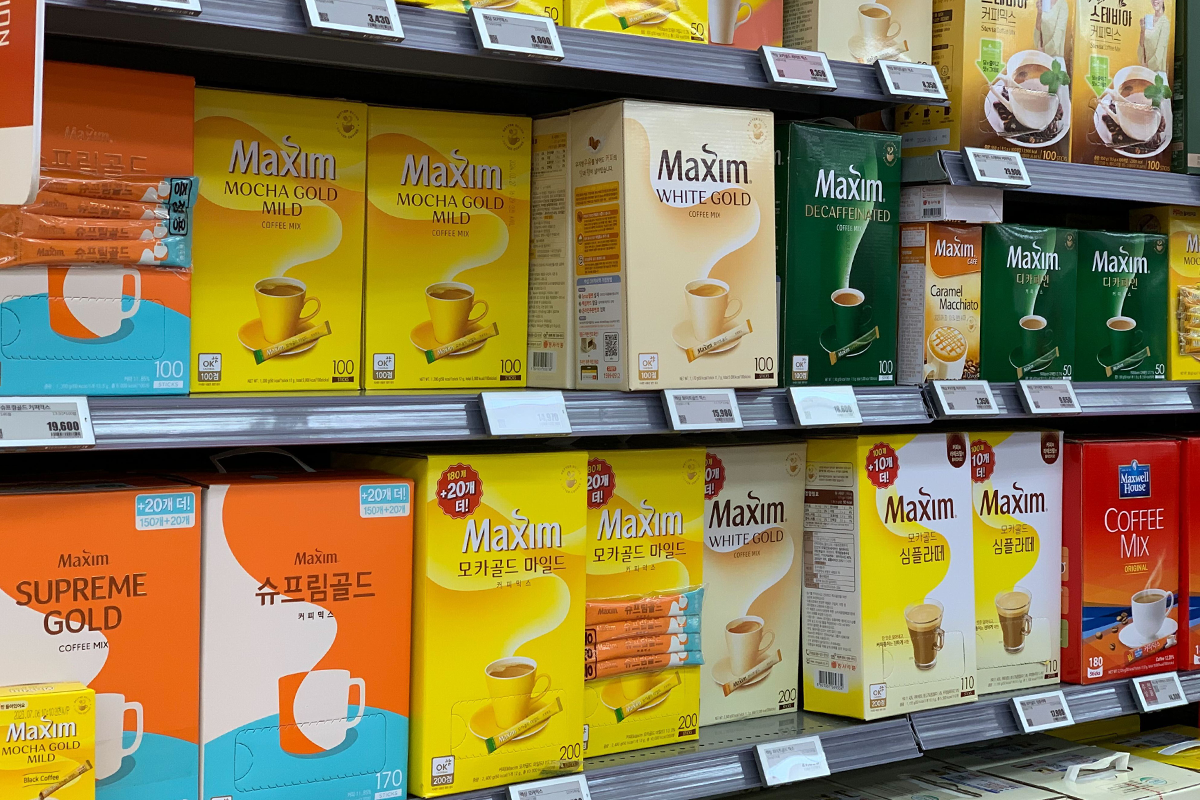 You can also get the best Korean coffee brands here! From Gong Yoo's recommendation, Kanu, to Korea's most famous coffee brand Maxim, you can get a great deal on these products and take them home for friends and family!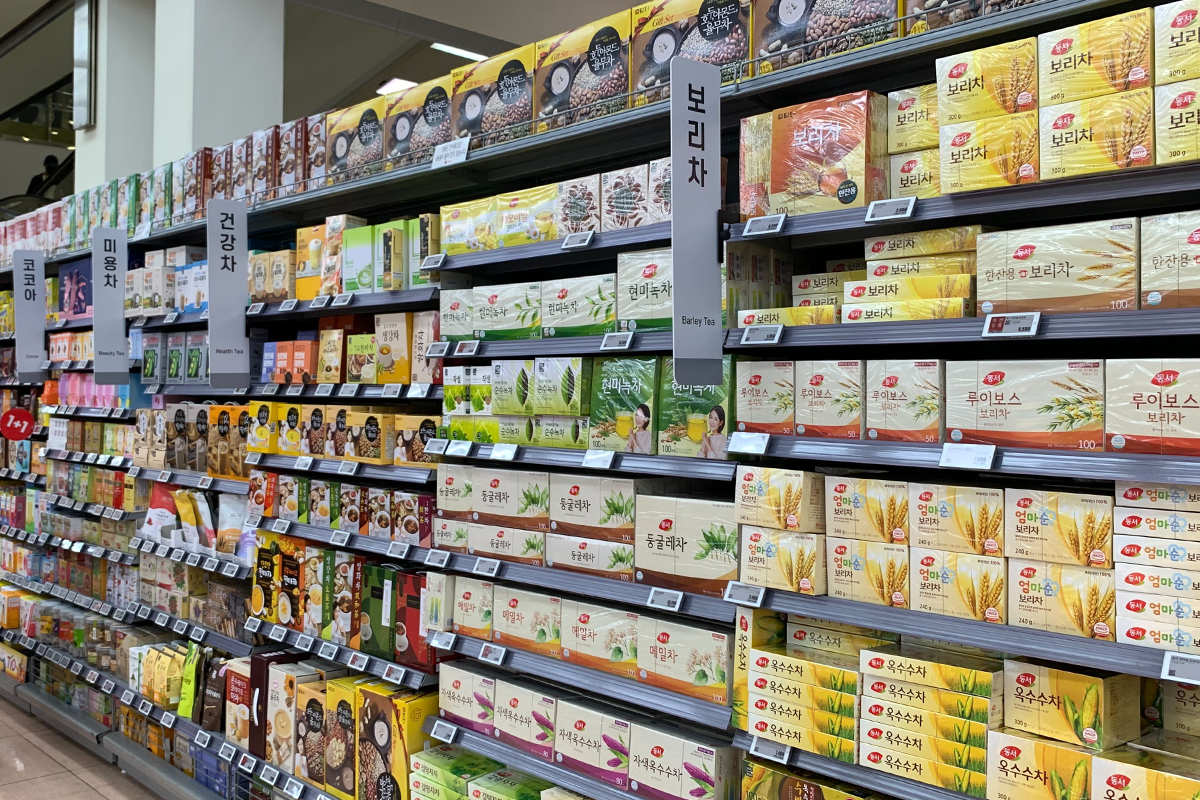 Many people also like to buy Korean tea as a souvenir! There is also a huge variety of tea flavors and brands available; I wish I could try all of them!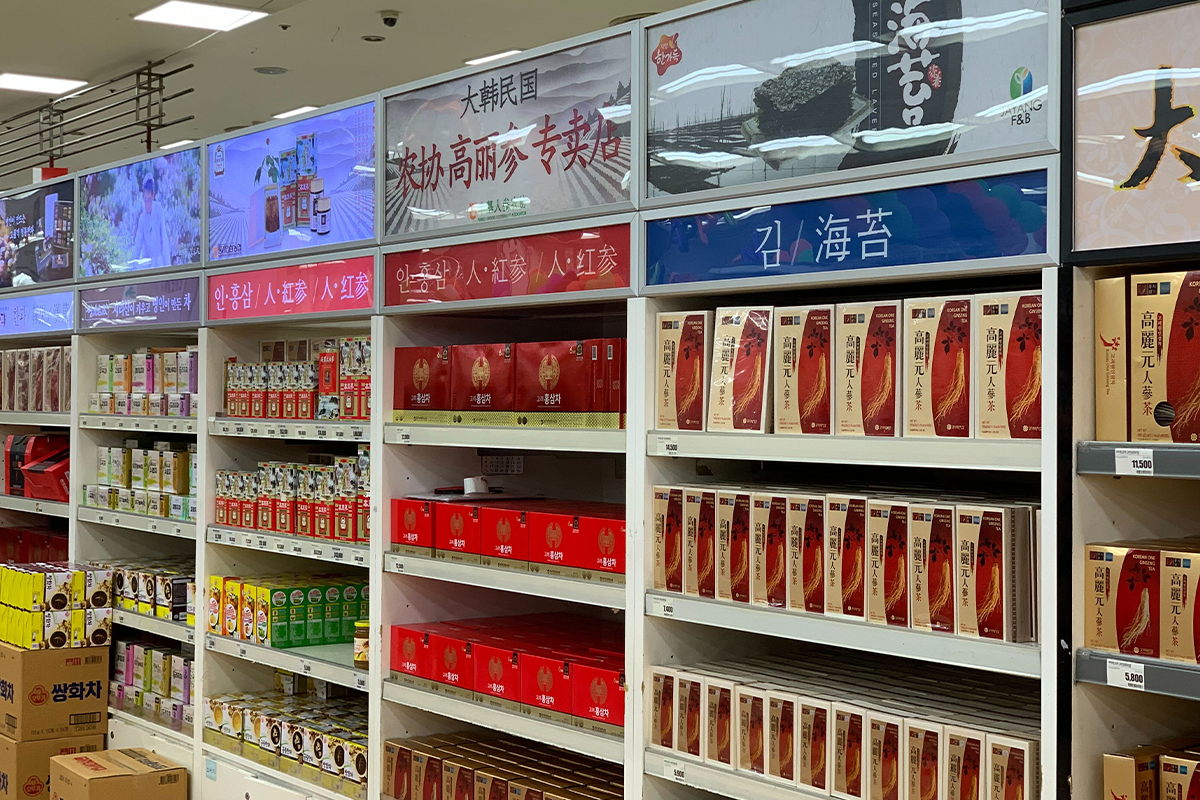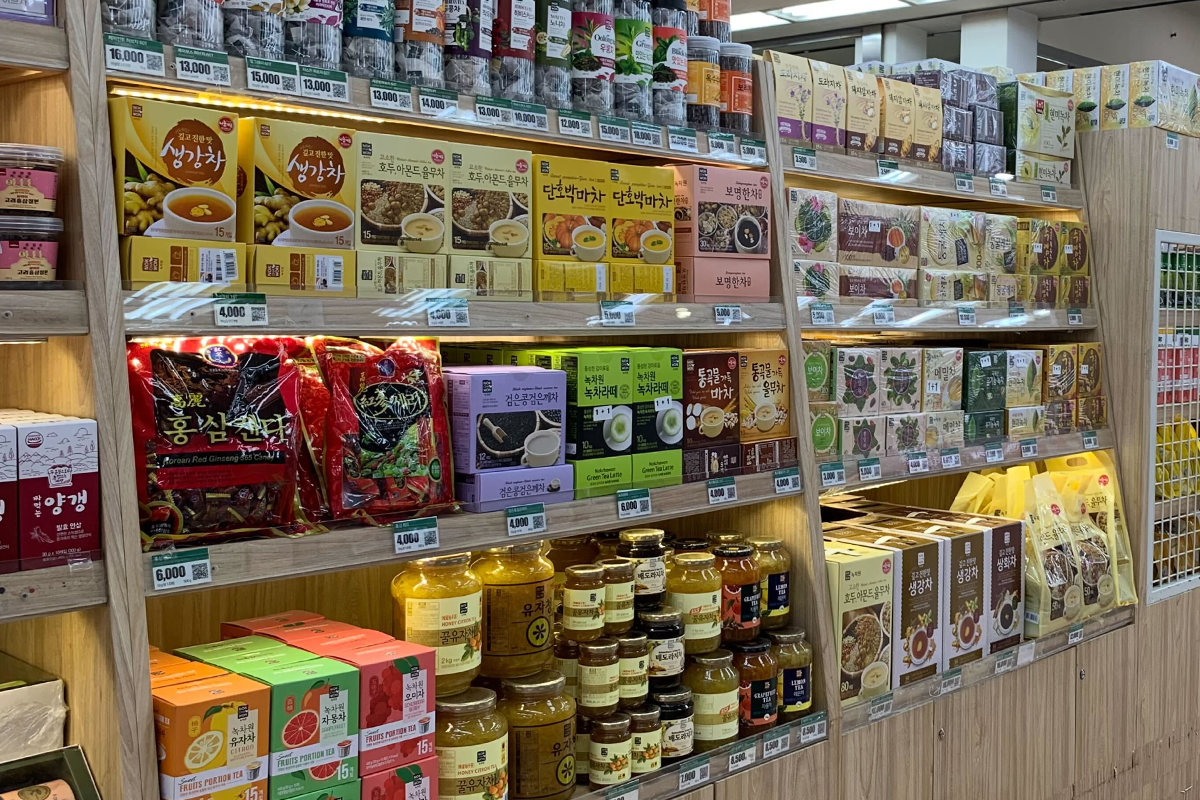 If you want to get suitable gifts for your family, definitely check out the 'Family Gift' section for a selection of Korean gift sets! Here, you can get ginseng and poppy grapefruit tea, which is popular amongst tourists.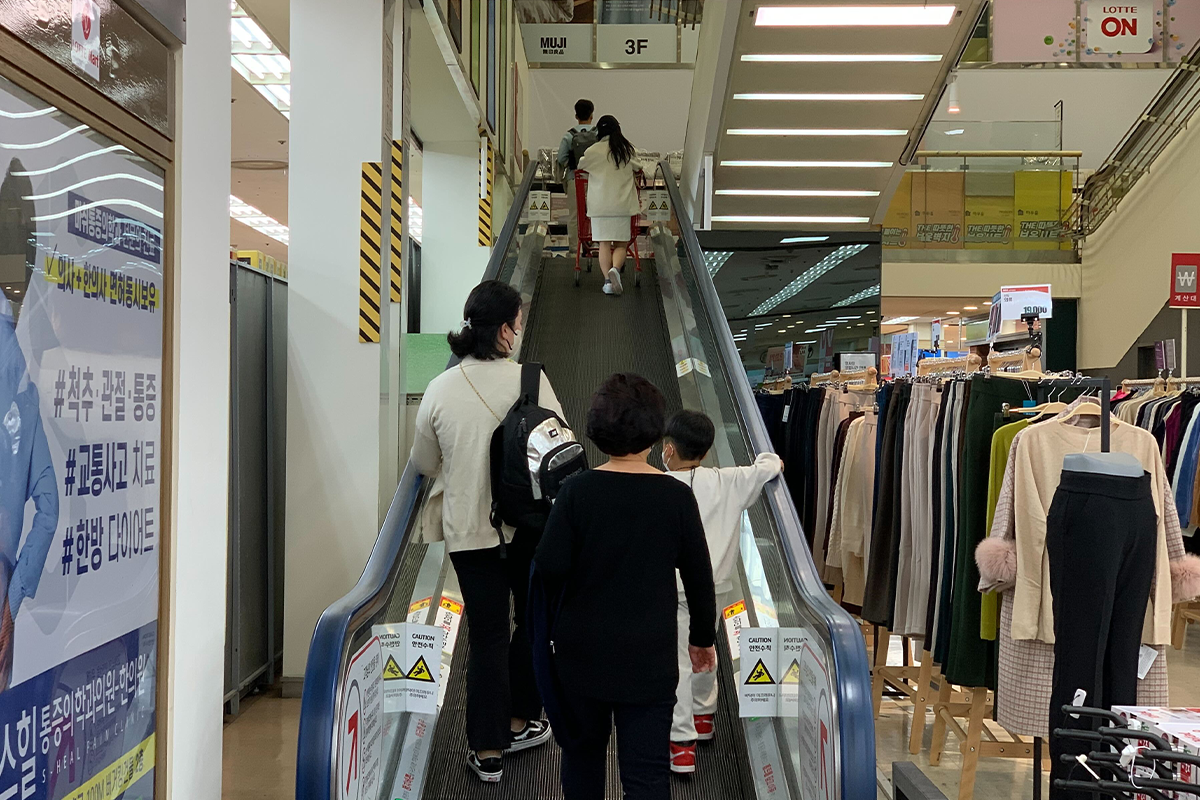 Lotte Mart, of course, has a second floor as well! There's an escalator leading up to the second floor in the middle of the store.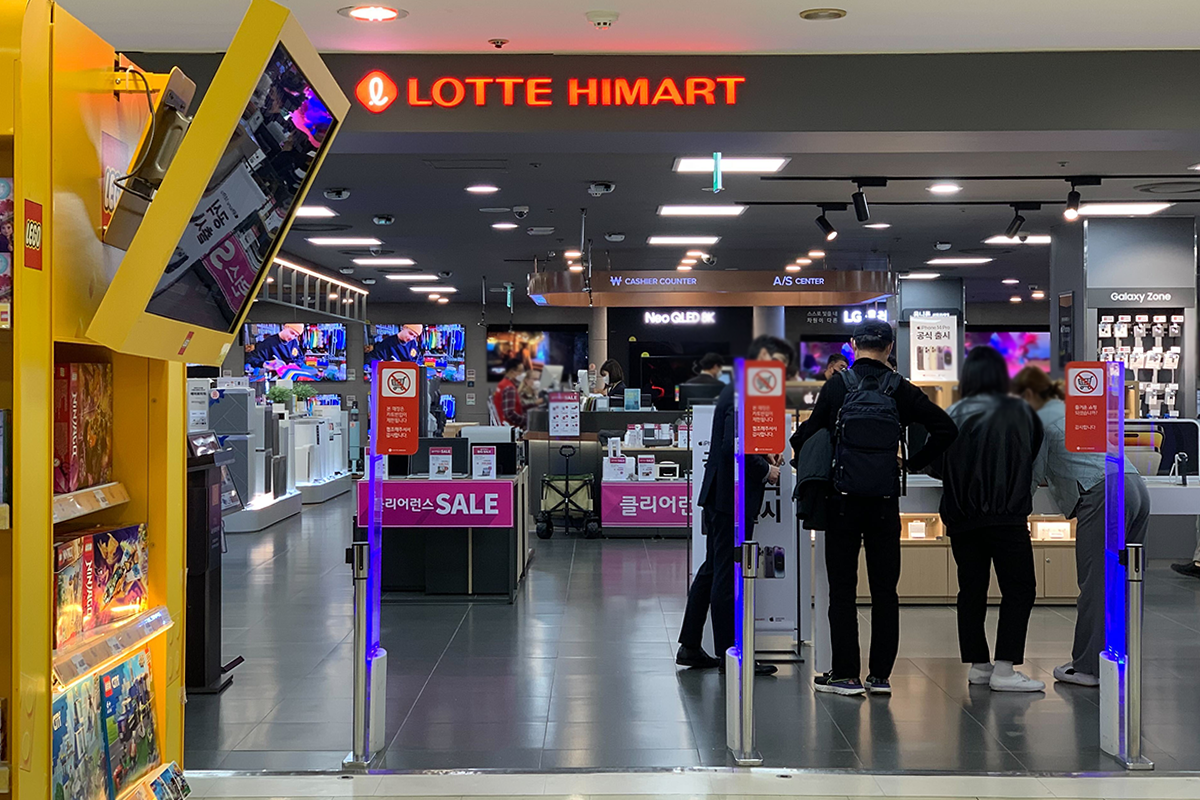 The first thing you'll see on the second floor is Lotte HiMart, where you can get Korean electronic products.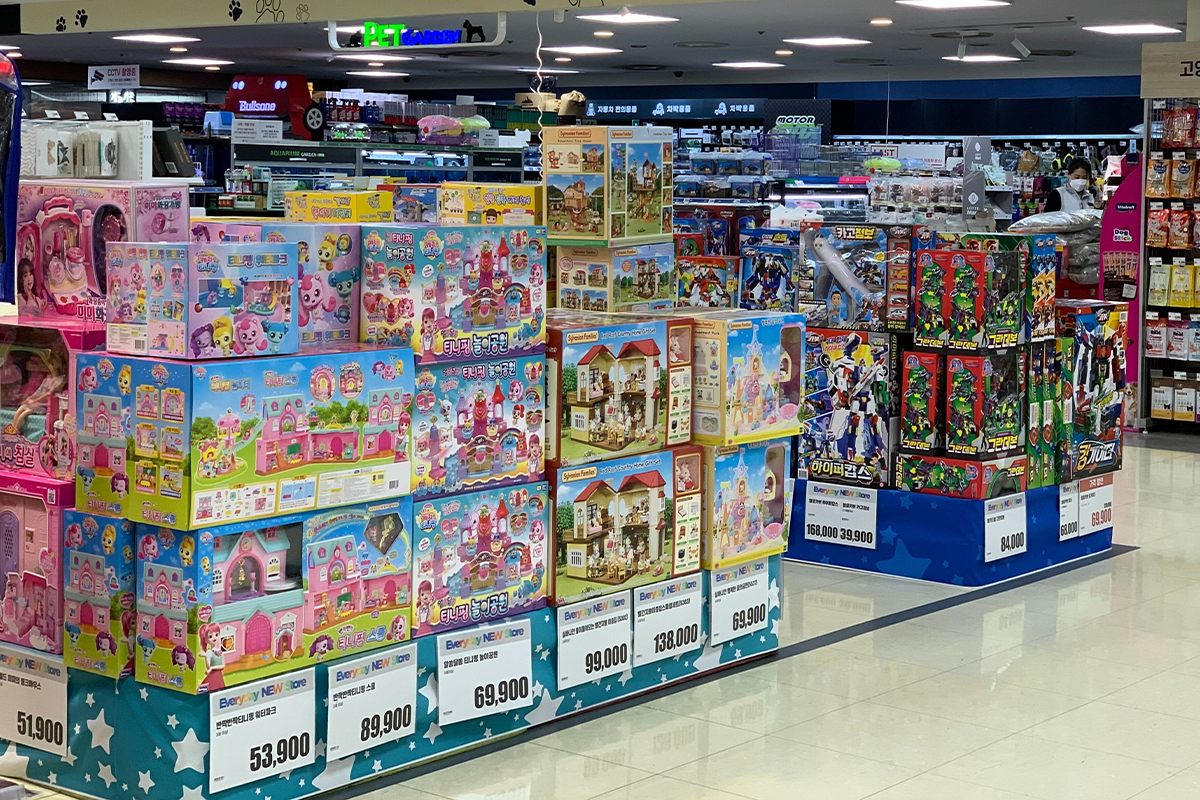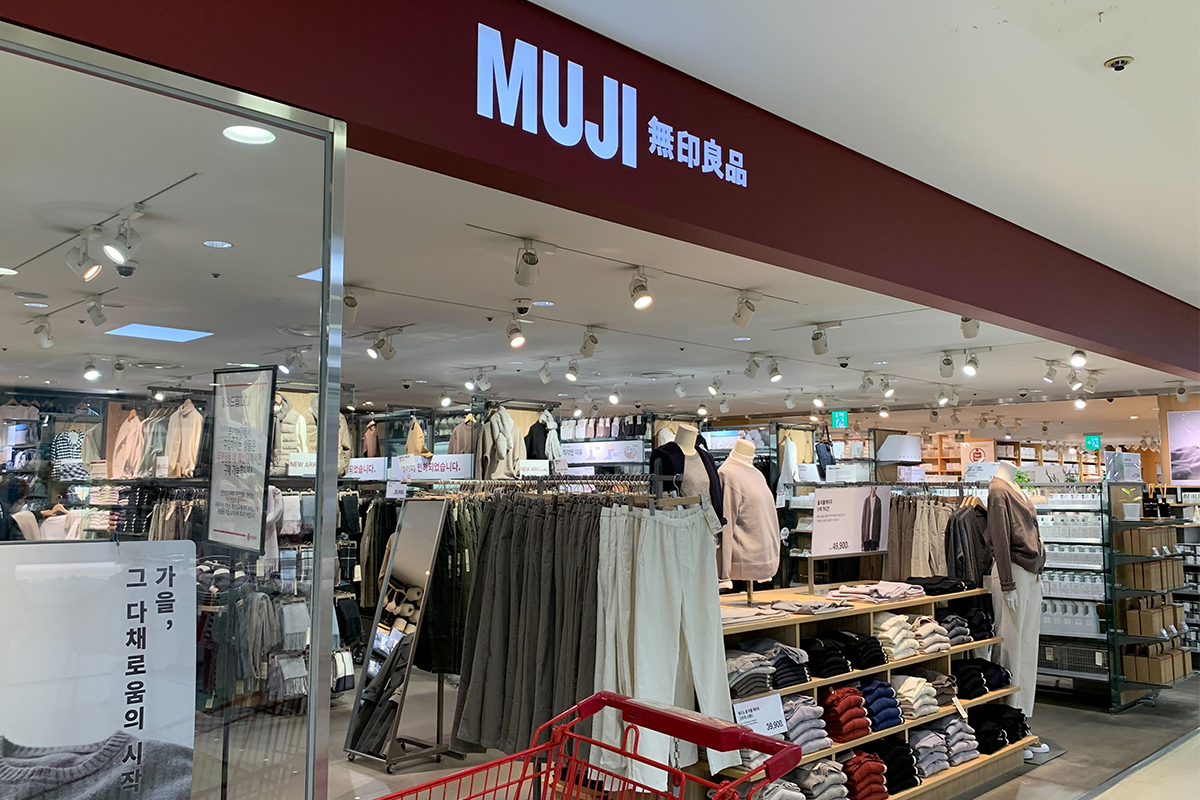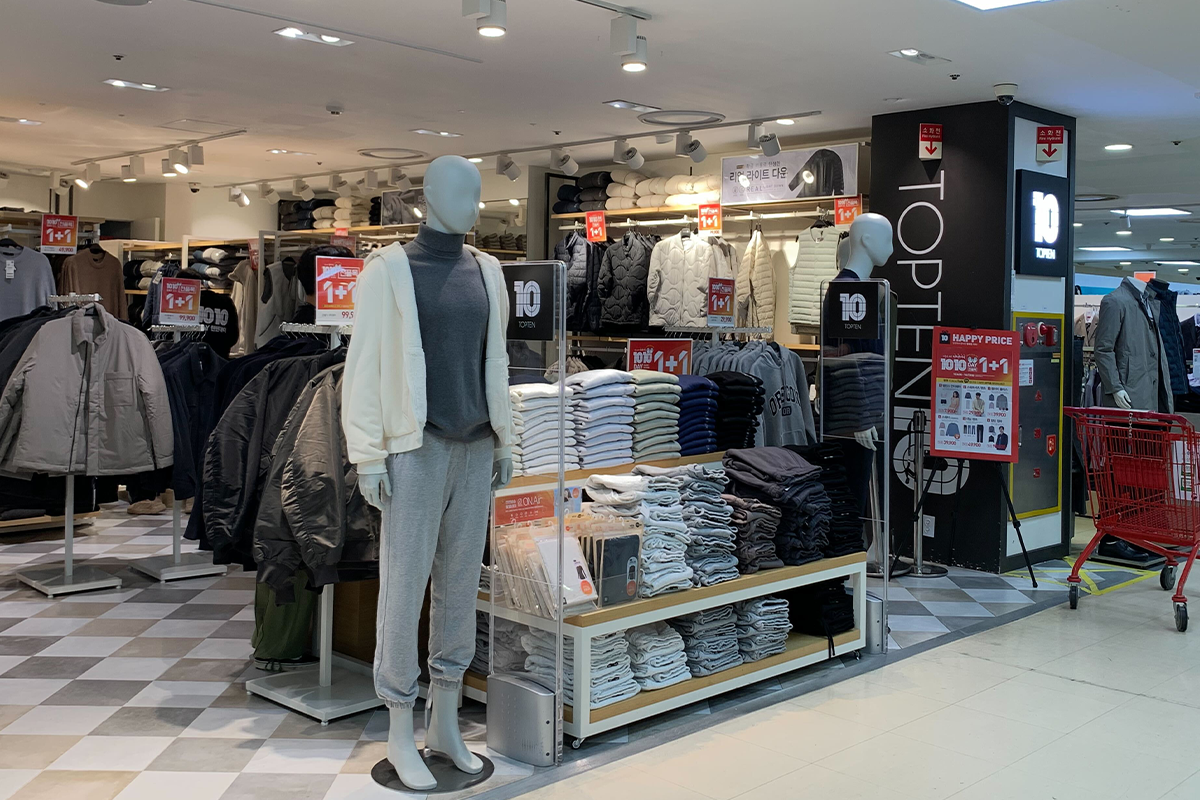 On the opposite side, there is a Toys"R"Us, Muji, TOP TEN, and a shop for children's clothing.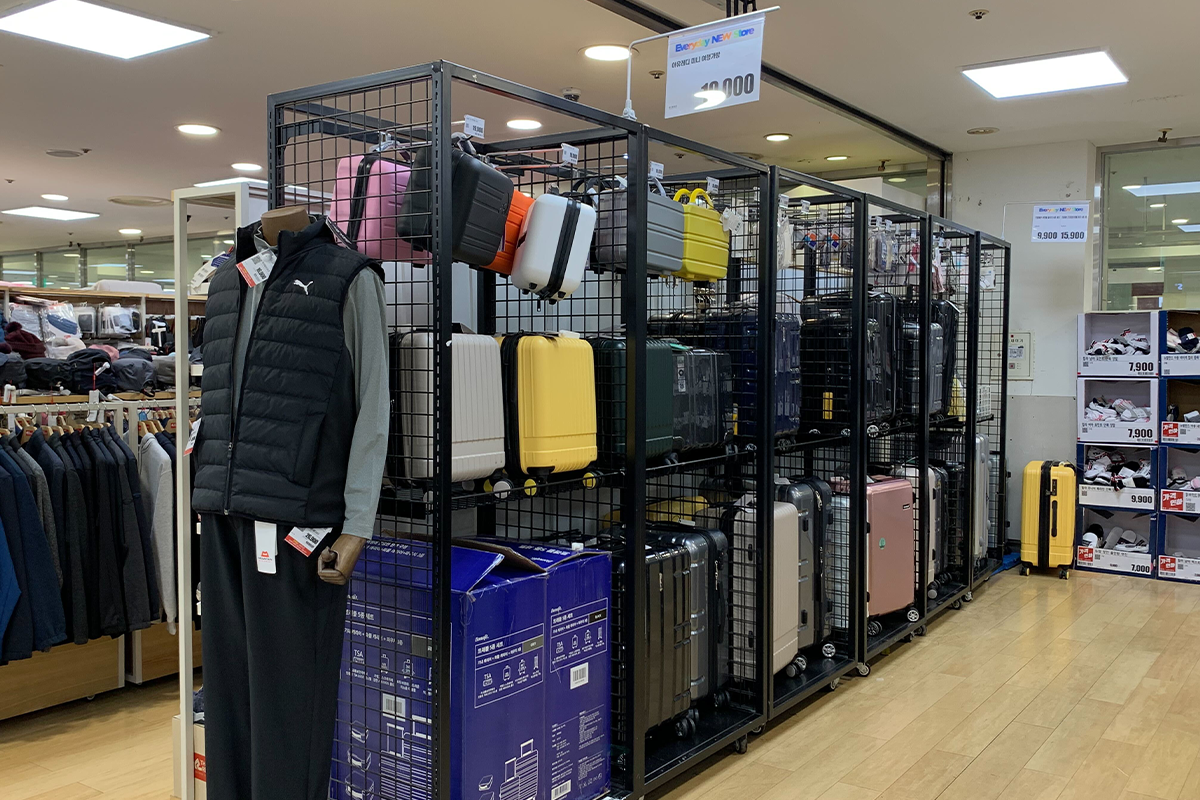 If you've gone a little overboard with the shopping in Korea, you can get another suitcase here!
When you're done shopping, you can check out at the counters on the first floor.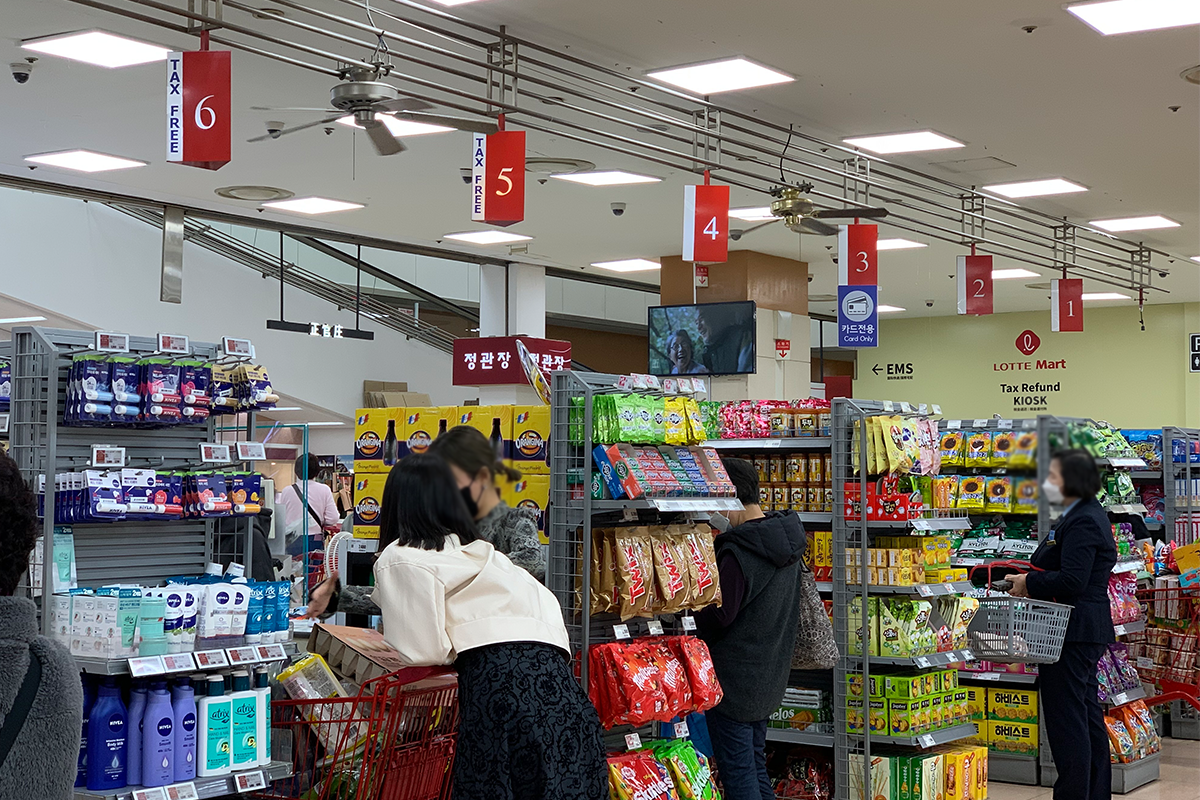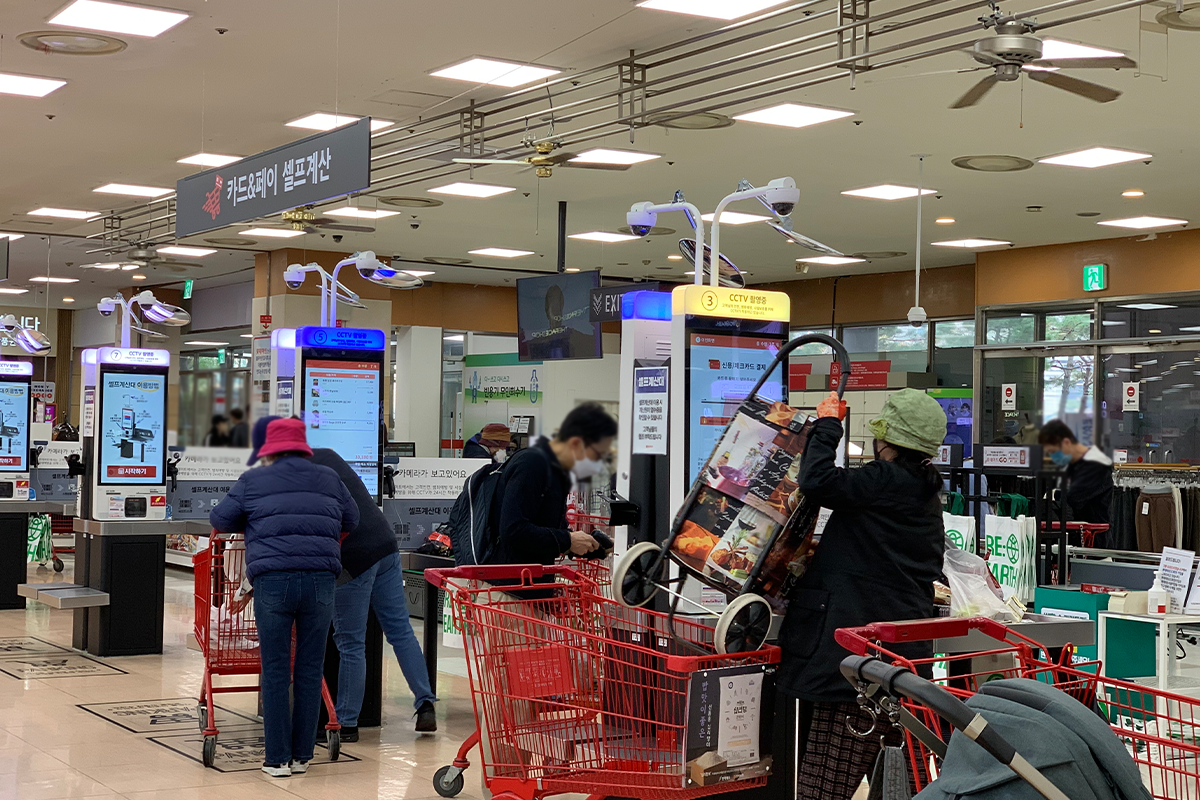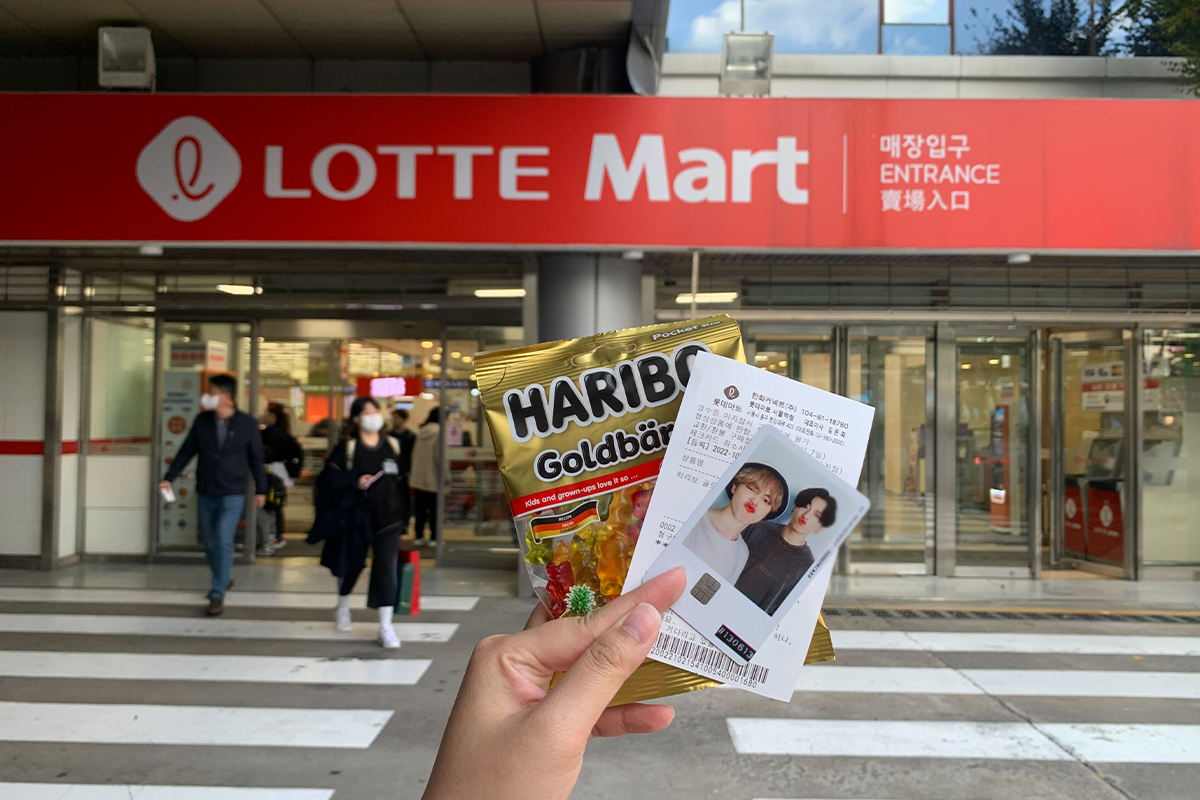 In Korea, most marts have both manned counters and self-checkout counters available. If you want to enjoy the luxury of not having to carry around a wad of cash everywhere you go as you travel, try out the NAMANE Card!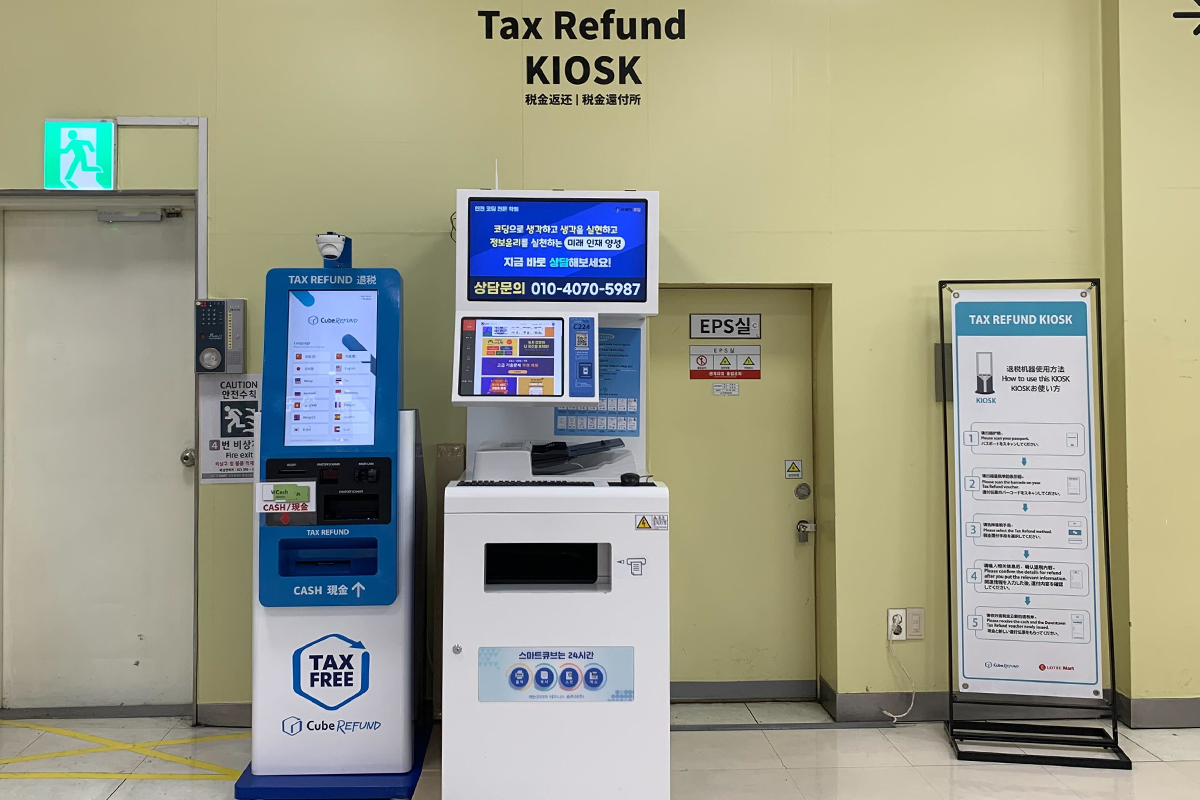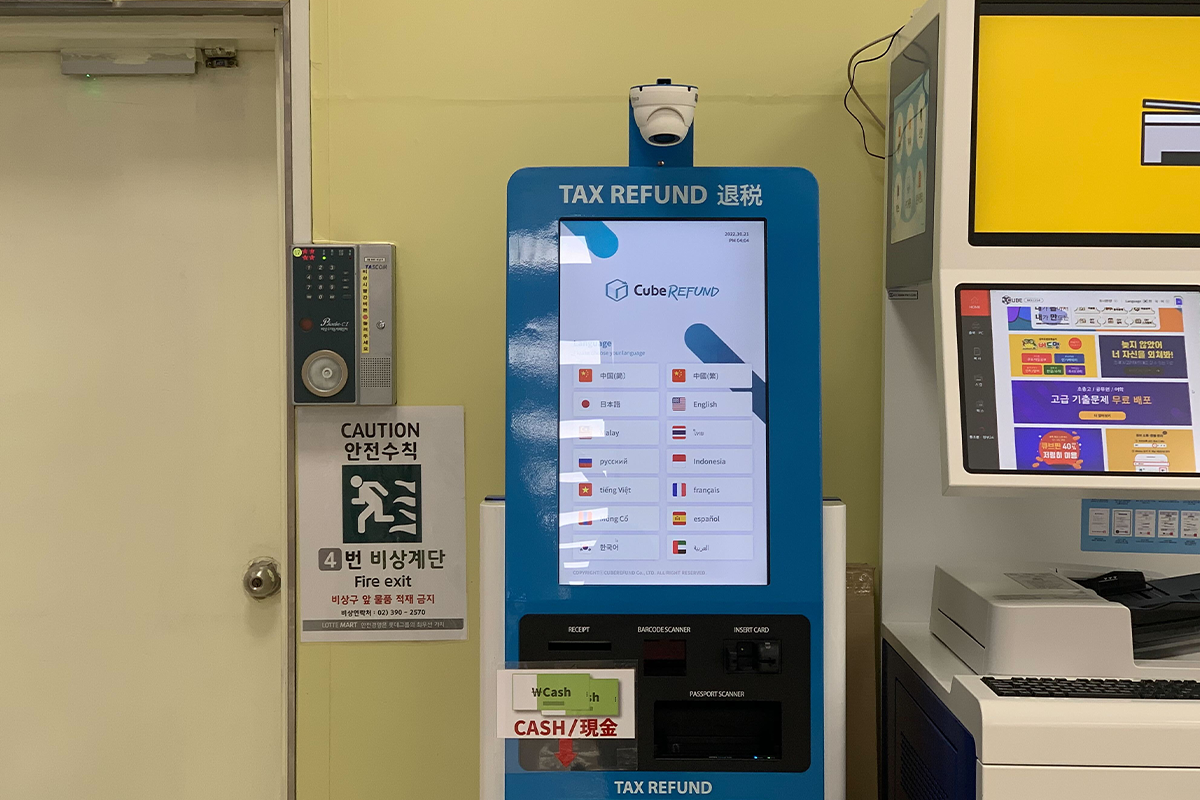 If your purchase exceeds 30,000 KRW, you can receive a tax refund! There's a kiosk that's available in multiple languages and easy to use.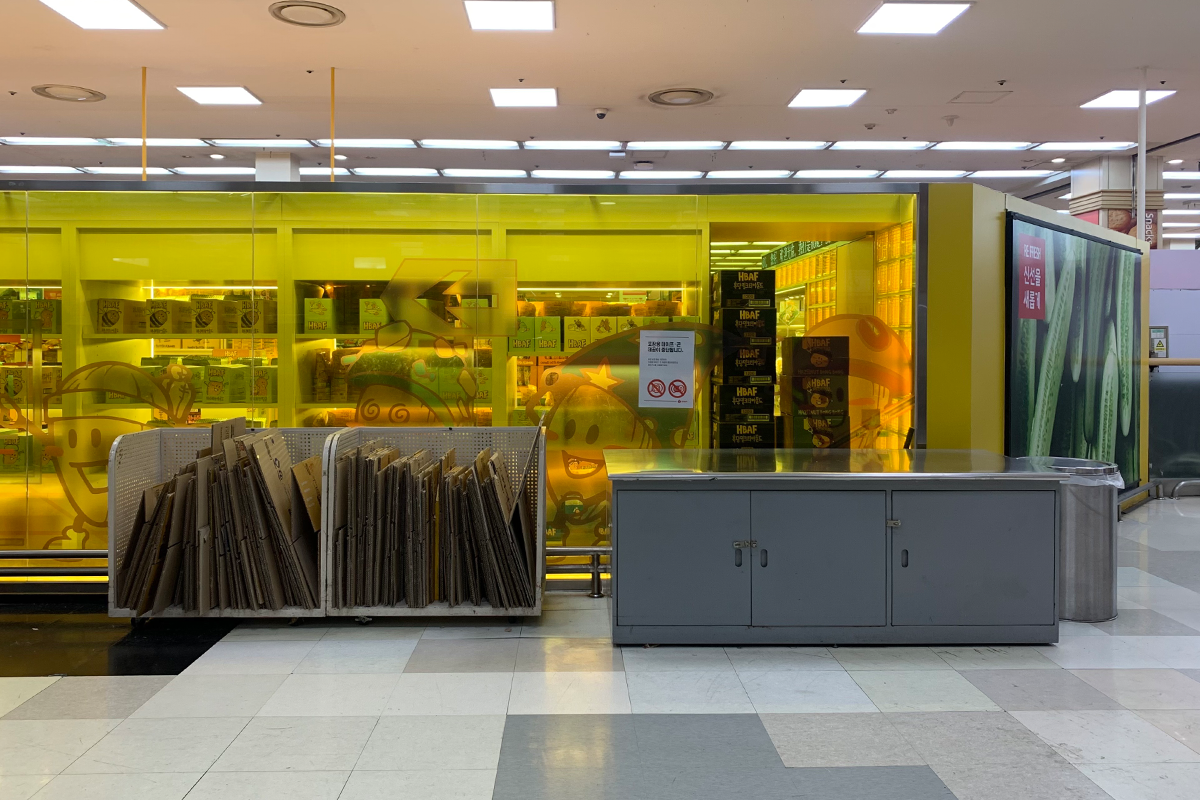 If you purchased a lot of items, you can grab a box or two for free (located behind the HBAF Almond section) to carry your items. Keep in mind that they do not provide adhesive tape or rope, so if you think you'll need it, you might want to prepare some beforehand. This Lotte Mart used to provide EMS delivery before, but unfortunately, it is no longer available. If it becomes available again we will update you!
That was our full review and guide to Lotte Mart Seoul Station Branch; was it helpful?
---
How to Get There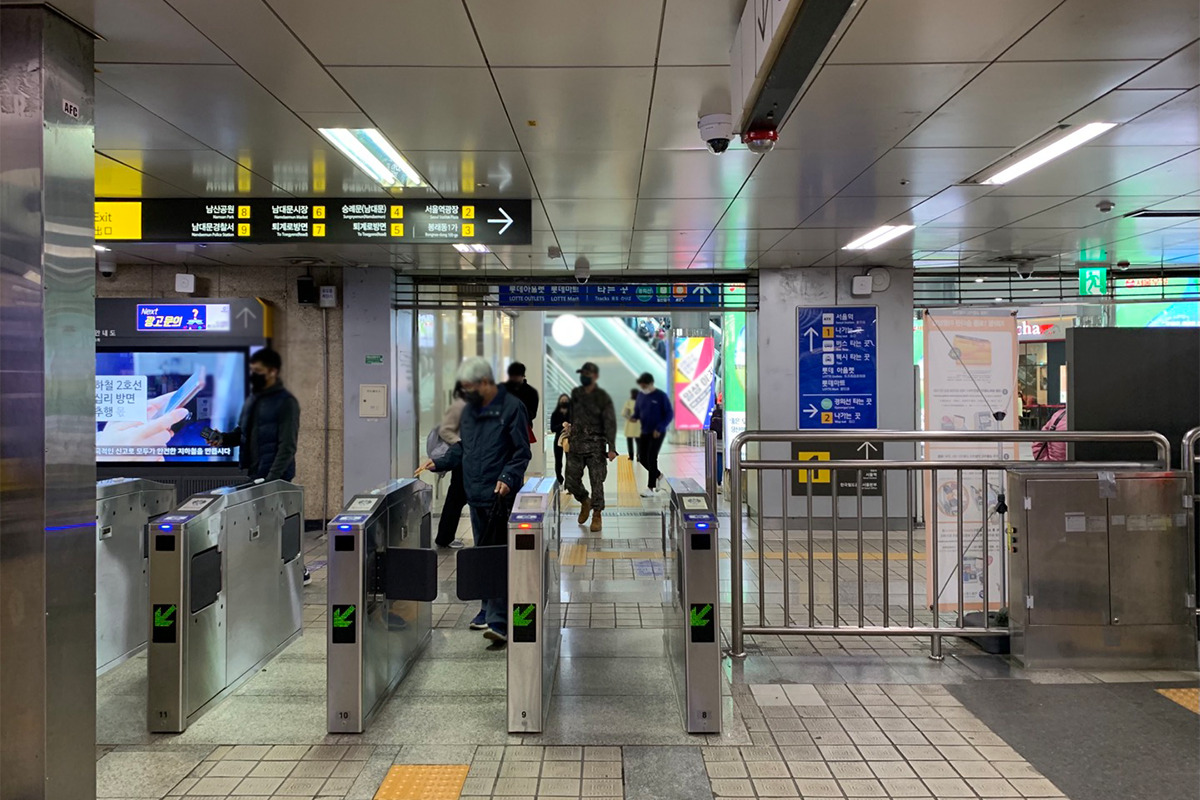 After arriving at Seoul Station, leave through Exit 1.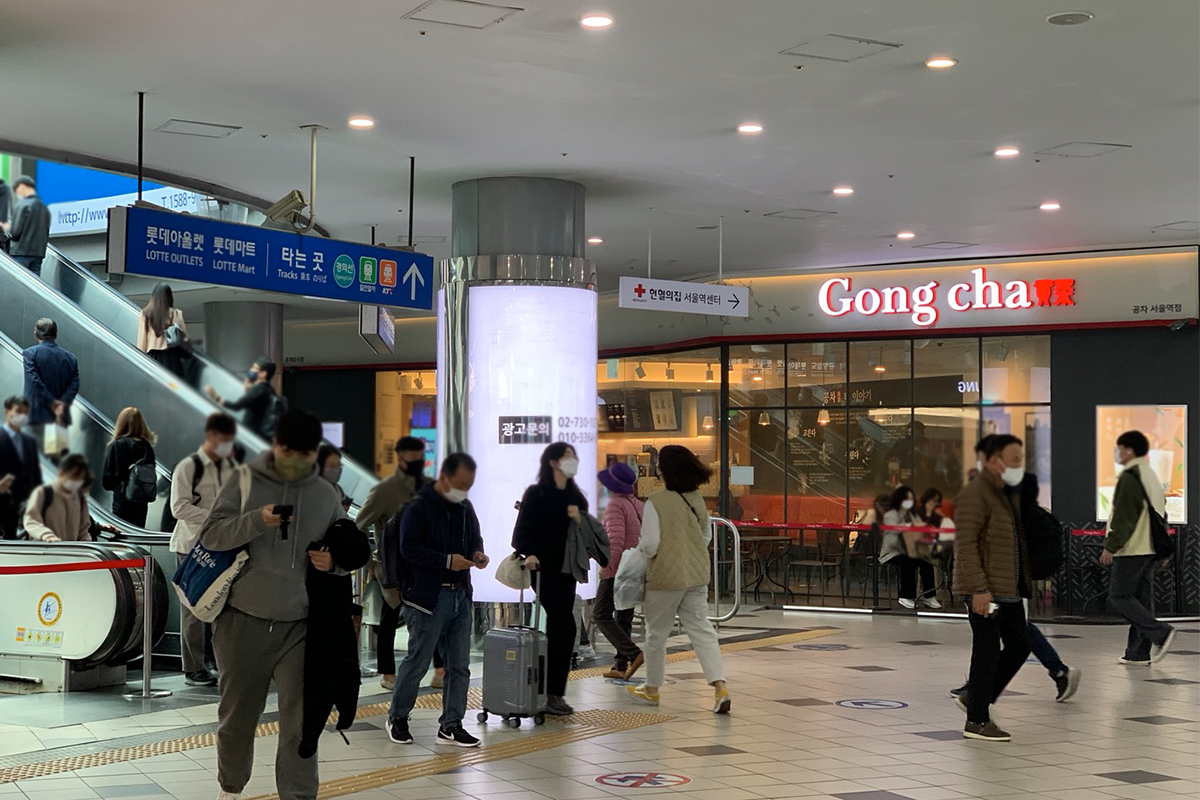 Get on the escalator and go up one floor.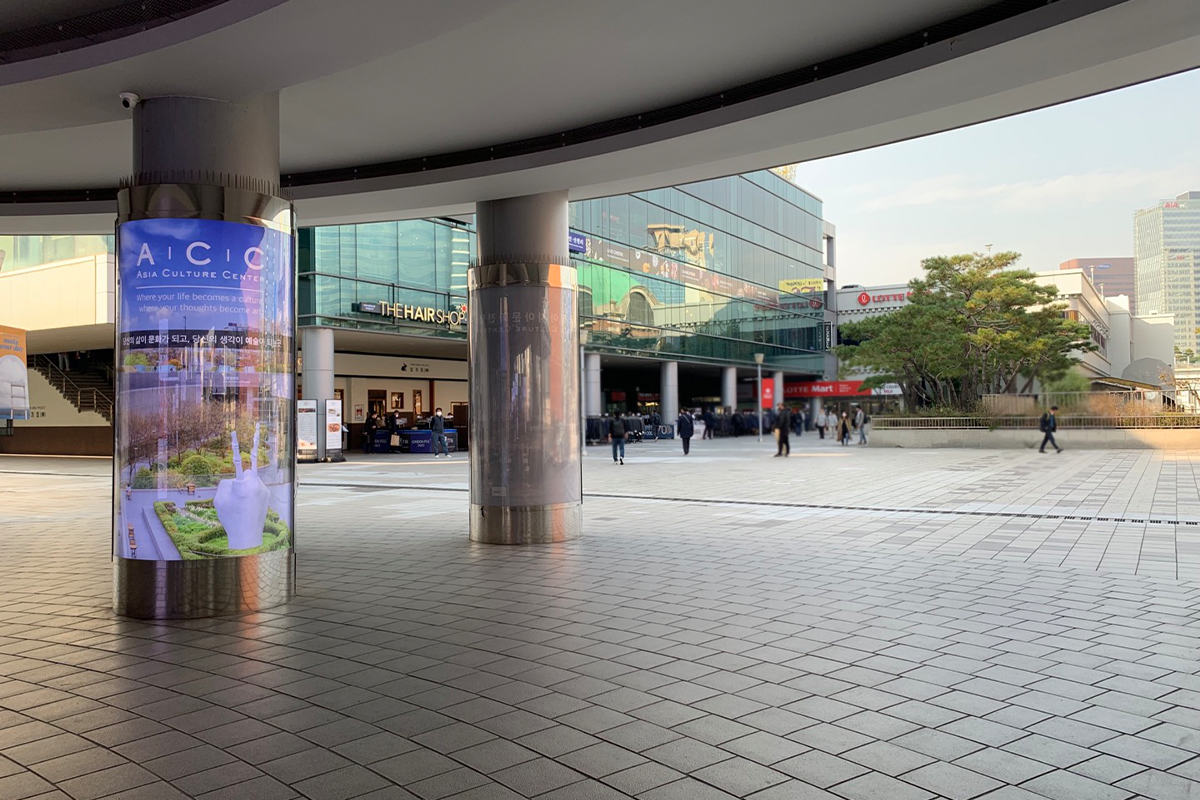 Once you've gotten up, turn right and go straight.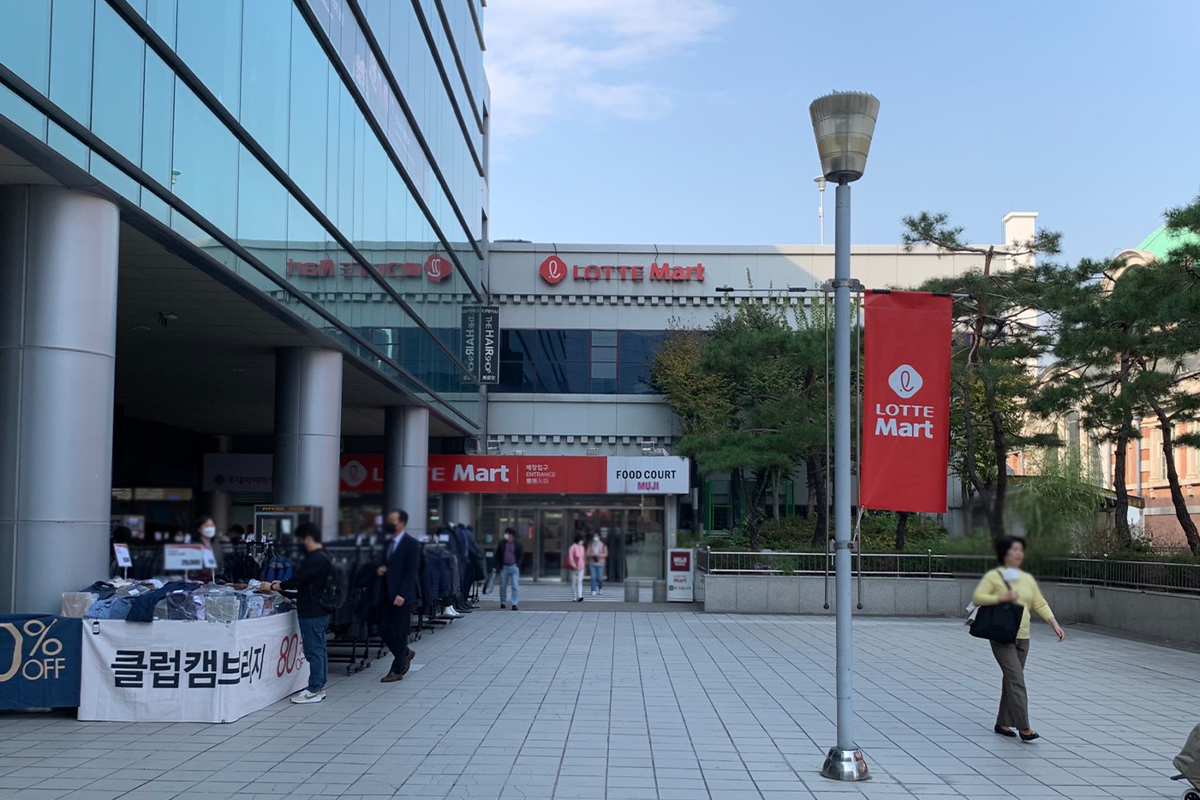 You should see the entrance to Lotte Mart!
---
We hope you can enjoy a trip around Seoul at these various locations! If you have any questions or concerns, please leave a comment below or send us an email at support@creatrip.com! You can follow us on Instagram, TikTok, Twitter, and Facebook to stay updated on all things Korea!
---