The Only Guide to Korea You'll Need - By Creatrip!
It can be overwhelming trying to plan your trip to Korea when there is so much to do and see! Look no further, we've answered all your questions for you!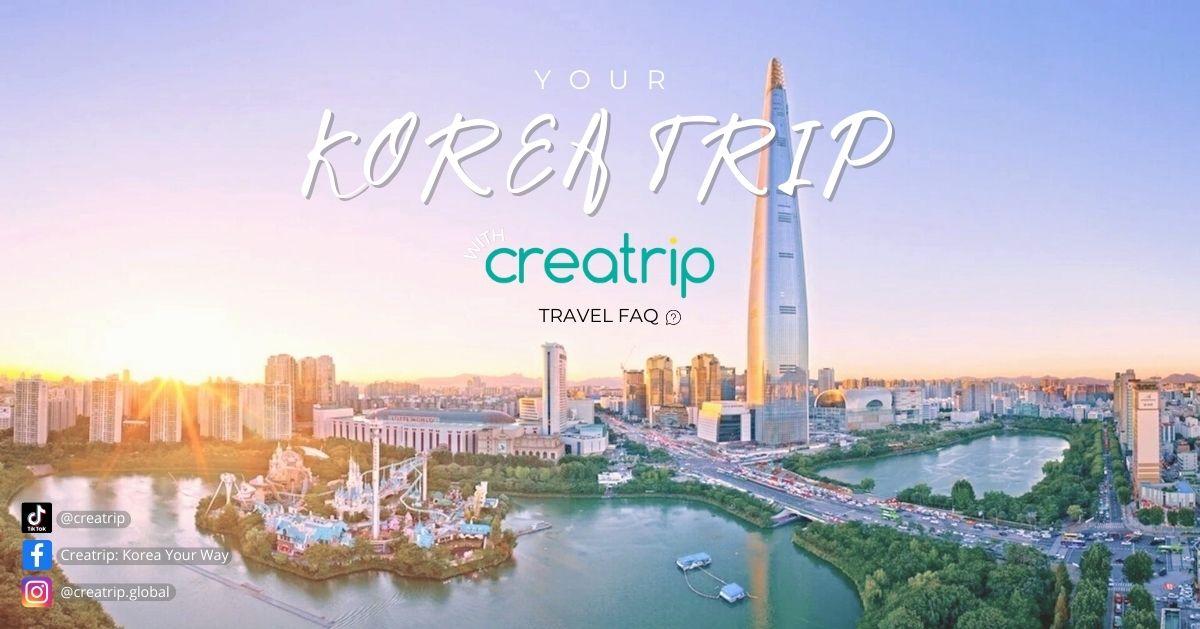 Do you have questions about Creatrip or want more information about Korea and what to do while you're here? Here is a regularly updated list of frequently asked questions that we've collected from our followers. This will definitely be a lifesaver for your trip to Korea!
For more specific inquiries regarding logistical issues, please contact us at support@creatrip.com. We will do our best to respond promptly!
Last Updated: October 17th, 2022
---
FAQ Guide
1. Our Services

Ordering Delivery Food
Getting a SIM Card
NAMANE Card
Korean Language Courses
Online Shopping

2. Transportation
3. Tours, Guides, and Recommendations

Seoul Recommendations & Guides
Bars
Hiking Spots
Beauty Service Recommendations
Must Eats

4. Seasonal Visits
5. Other

Job Opportunities with Creatrip
---
1 – OUR SERVICES
Q: What kind of services does Creatrip offer?
Creatrip has so much to offer for foreigners visiting Korea! From informational blogs to exclusive coupons and events, we got you covered! Everything you'll need when it comes to traveling to Korea can be found on Creatrip (SIM card, debit card, reservations, concert tickets, tours, etc.)! You can look through the rest of this section to see what specific services we have, or look through our site!
Q: What is K-ETA?
K-ETA, which stands for Korean Electronic Travel Authorization, is a mandatory electronic travel authorization that all visitors entering the Republic of Korea without visas must apply for and receive approval for prior to boarding a flight. The process of applying to the official K-ETA site can be very cumbersome and difficult, so we'll take care of it for you through our proxy service! With a low cost of 10,300 KRW, all you have to do is provide your basic information, and we'll figure out the rest. Click on the link below to apply now!
Q: Are there food apps foreigners can use that don't require a Korean number?
Yes, Creatrip offers a Food Delivery Service for foreigners where you can order various foods popular in Korea! No Korean phone number or Korean card is needed. Payment can be made with a foreign card on our website or app.
Q: How can I order delivery through Creatrip?
Click the link below for a list of what you can order! After placing your order and proceeding to checkout after payment, make sure you contact Creatrip through LINE (@creatrip) within 30 minutes, or your order will be canceled. You need to be in contact throughout the entire process until you receive your food, in case any complications occur.
Delivery Hours: 14:00 – 21:00
Line Support Hours: Every day 13:30 – 21:00 (Available in Chinese, English, Thai, Japanese, and Korean)
How to Order Delivery
Step 1

Pick a date and time for your order. You must order at least 1 hour in advance.
Order Delivery Here

Step 2

Select your order and be sure to enter all your information in full detail, including the address you would like your food delivered.

Step 3

Once your order is confirmed, contact us through LINE (@creatrip) within 30 minutes, or your order will be canceled.

Step 4

Stay in contact with us through LINE in case any additional information is needed, if there are changes to the delivery that need to be made, or for any updates on the delivery status.

Step 5




Be ready to receive your delivery food and enjoy!




Please keep in mind that the delivery cannot arrive at an exact time; it may arrive around 30 minutes before or after the reserved time slot.




Q: What's the difference between the NAMANE card and the T-money card?
NAMANE can be used at a broader range of locations, and works like a debit card. Although T-money has been more regularly used in Korea, the newer NAMANE card is definitely more useful when thinking about where you can use it and the connectivity to the NAMANE mobile app. For detailed information on the NAMANE card, read our blog here!
NAMANE Card Features:
• Customizable Transportation and Debit card
• Connects to the NAMANE app, where you can check/recharge your balance and see your usage history
• No restrictions on who can use it – available for foreigners and minors
• Can be issued immediately at Incheon Airport
• 200 kiosks available all over Korea
Q: How can a foreigner get a Korean number?
By getting a Korean SIM card! If you are planning on staying in Korea long term and need a Korean number, we recommend getting the Chingu Mobile Prepaid SIM! It is our most popular SIM card service as it is very affordable and extremely easy to use. You can also get the LG U+ eSIM card, which is simply downloaded using a QR code. You don't need to switch out your SIM card and can get Internet access straight off the plane! We offer many other SIM card services as well, so you can click the link below to see what other options you have!
Q: Are there any courses I can take to learn Korean?
Yes! We have a Language School Service where we help students apply for Korean language programs at Korea's best universities! If attending a university is too much, we recommend Green Korean Language School, which can also be applied to without Language School Service, for Korean classes that you can be enrolled in with a tourist visa!
Q: Are there any online sites to shop for clothes from Korea?
Korean sites can be difficult to navigate and may not always provide international shipping. Check out our online shop where you can purchase everything from food, makeup, clothes, and more!
---
2 – TRANSPORTATION
Q: How can I get to different cities outside of Seoul, like Busan or Daegu?
Korea boasts an advanced high-speed railway system that can get you to multiple cities across the country in no time! The KTX (Korea Train Express) operates from Seoul Station and the SRT (Super Rapid Train) operates from Suseo Station. If you're trying to travel outside of Seoul, you can book tickets for these speedy trains through Creatrip! Click the links below:
KTX Tickets: Reserve Here
SRT Tickets: Reserve Here
Q: How can I get to Chuncheon from Seoul/Incheon (esp Kangwon National University)?
Chuncheon can be easily accessed from Seoul/Incheon through the subway! You can ride the Gyeongchun Line, which goes all the way to Chuncheon station. If you'd like to have a guaranteed seat you can take the ITX, which goes along the same line but has fewer stops. You can buy ITX tickets on the Korail site here! For detailed information on taking the ITX, click on the link below!
---
3 – TOURS, GUIDES, & RECOMMENDATIONS
Q: Which places should I visit in Seoul?
Seoul, being a large, dense city full of liveliness, has so much to offer that it can be overwhelming to decide where to go! Creatrip has a wide array of recommendations for you curated by locals, so you know you're getting the best information! Below is our guide to the best, most popular places to visit in Seoul. Start planning away!
Creatrip Locals' Guide to Seoul
For even more recommendations, check out these additional links below:
Guides & Travel Tips: Seoul Blogs
Activities & Tours: Seoul Reservations
Coupons & Discounts: Seoul Coupons
Q: Can I get a Suwon Day Trip Guide?
Suwon is a beautiful city! It is especially popular these days because it is often featured in K-dramas. Below is the link to a day tour of the Suwon Hwaseong Fortress Walls. Check it out if you're interested!
Q: Can you recommend any bars or speakeasy bars in Seoul?
There are tons of speakeasy bars worth visiting in Seoul! Here are some of our favorites:
Our first recommendation is Sookhee, which has a traditional Korean interior and a super unique ambiance! They have two locations, one in Euljiro and one in Myeongdong. It's really worth the visit!


Next up is Social Haven in Itaewon. It's a small location but has a modern feel to it and the owner's dogs are usually hanging out there as well! They're most known for their Aperol Spritz, but they have a variety of other drinks and cocktails as well. It's very foreigner friendly as well. Definitely check it out!
You can also check out this blog in the link below for more bar recommendations!
Q: Are there any easy hikes to do around Korea?
Inwangsan, Ansan, and Achasan are great locations for easy hikes! They are beginner-level hikes but are tall enough to provide a great view of Seoul! If you want a bit more of a challenge, check out Bukhansan, a popular destination for hiking! If you're looking to take a nice walk, you can do so at any of Korea's many parks, such as Haneul Park, Gyeongui Line Forest Park, or Seoul Forest. For more information on hiking in Korea, check out the link below!
Q: Are there any beauty services available in English?
Korea has a huge variety of beauty services available for foreigners! Here are some options we recommend that have English translators on call – you can make reservations and get a discount through Creatrip! Click on the link below to see all the beauty services we have avaliable!
PPEUM Clinic
Wooa Plastic Surgery
LIENJANG
Q: What is Korea's version of Yelp to find good eats and things to do?
Creatrip has tons and tons of blogs available with recommendations, reviews, and guides to all the best eats in Korea! These blogs give extensive reviews with photos and you can even find pricing, location, operating hours, and coupons. You can also use apps like Mango Plate or Google Maps for reviews! Click on the link below to open a world of delicious restaurants and cafes we've already visited for you!
---
4 – SEASONAL VISITS
Q: What clothes should I pack?
Korea has 4 distinct seasons, so it's important that you pack clothes based on what the weather will be like! If you're coming in the spring or fall, the weather is pretty mild so you can bring layers and a mixture of both short and long sleeves. Winter is extremely cold, so you'll need a thick jacket, long sleeves and long pants, and thermal wear for sure. It snows during the winter too, so boots, gloves, scarves, and hats might be needed as well! The summer heat, on the other hand, is no joke. You'll be sweating your way through Korea so you definitely want to bring thin clothing and mostly short sleeves and pants. Most places, including the subway, blast the air conditioner, so it'll be relieving at first – but you might want to bring a light jacket or cardigan for long periods of time spent indoors.
For an extensive guide on what to pack for Korea, click on the link below:
Q: I'm coming to Korea in the spring. Where should I go?
April to May is peak Cherry Blossom season! Go check out the cherry blossoms at Yeouido, Seokchon Lake, or honestly any street in Korea! There are cherry blossoms everywhere during this time! Here are some recommendations we have for different cherry blossom viewing locations. Click on the links below to read in more detail!
*Please keep in mind that cherry blossom tours are seasonal and usually only run in April.
Q: I'm coming to Korea in the summer. Where should I go?
Summer in Korea is brutally hot, but a great time to enjoy vacation here! There are all kinds of festivals you can attend and special events that open up during the summer! We also recommend traveling outside of Seoul during this season, especially to the coast! Below are links to all kinds of activities you can do in the summer:
Q: I'm coming to Korea in the fall. Where should I go?
Korea is wonderful in the fall time! It is especially known for the beautiful fall foliage. You can see the colorful autumn leaves almost anywhere – on the street, at the park, or in the mountains! Fall is also the most popular season to go camping here in Korea, since the weather is not too hot or cold. You can go all out and grab a sleeping bag and a tent – or you can opt for glamping (glamorous camping)! Check out the links below for more details on what you can do here in the fall.
Q: I'm coming to Korea in the winter. Where should I go?
Korea has so much to offer in winter as well! You can visit one of the many ski resorts all over Korea, or enjoy the festive decorations all over Seoul. You have to try some of Korea's most popular winter foods and snacks too! If you want to avoid the cold, you can stay at a Jjimjjilbang (찜찔방), or sauna, to warm up and spend time relaxing and snacking on eggs and sikhye (식혜), a traditional Korean rice drink. Click on the links below to see in more detail!
---
5 – OTHER
Q: Do you hire people from different countries?
Yes! We have a diverse team here at Creatrip and have employees from all over the world! We are currently looking for a new Global Content Marketer that has a passion for travel and Korea! Applicants must be a native English speaker and have business-level proficiency in Korean. You can always check the link below to see what positions we have open!
---
Now you're all set for your visit to Korea! If you have any questions or concerns, please leave a comment below or send us an email at support@creatrip.com! You can follow us on Instagram, TikTok, and Facebook to stay updated on all things Korea!
---