Why You Have to Visit Ganghwa Island: Specialty Produce
You can get the freshest local produce in Incheon! Ginseng, eel, herring, mugwort and more!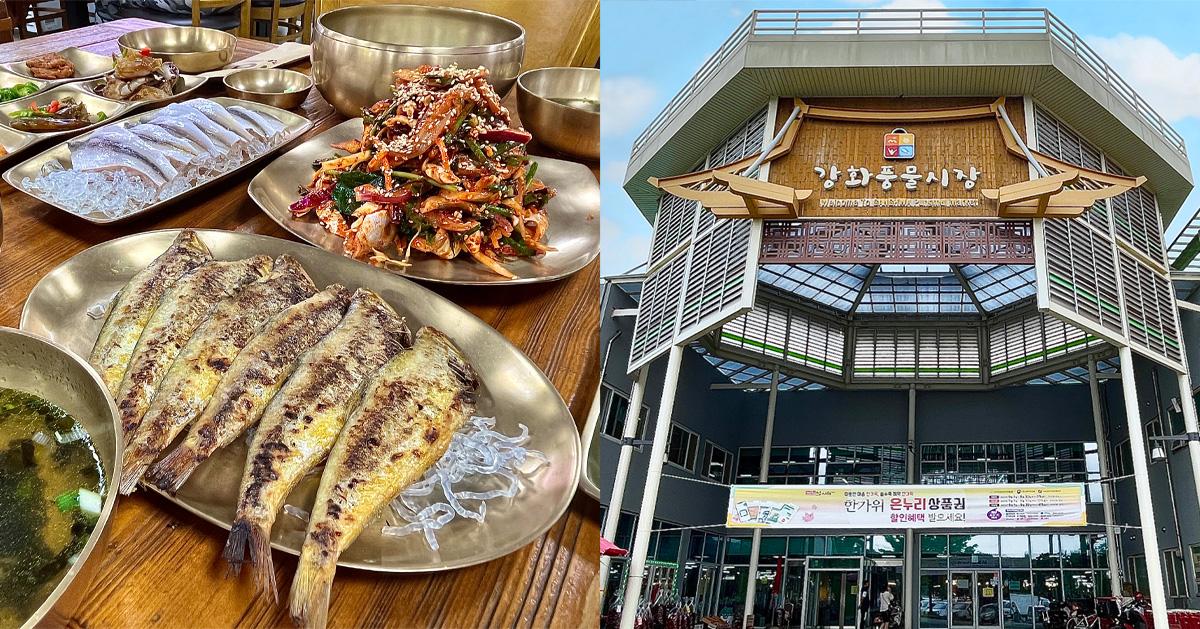 Ganghwa Island, located in the north of Incheon, is an island near the border of North and South Korea. Because of its close proximity to the border, the island has been a victim of several attacks since ancient times. Consequently, many artifacts are found and historical landscapes are located here. The island is also abundant with local specialty products that are exported and sold all over the country. Let's take a look at them together!
---
Incheon Ganghwa Island Specialty Produce
Ganghwa Ginseng Center (강화인삼센터)
Address: 인천 강화군 강화읍 강화대로 329
329 Ganghwadaero, Ganghwaeup, Ganghwa-gun, Incheon
Hours: 09:00 - 20:00; Closed on the third Monday of every month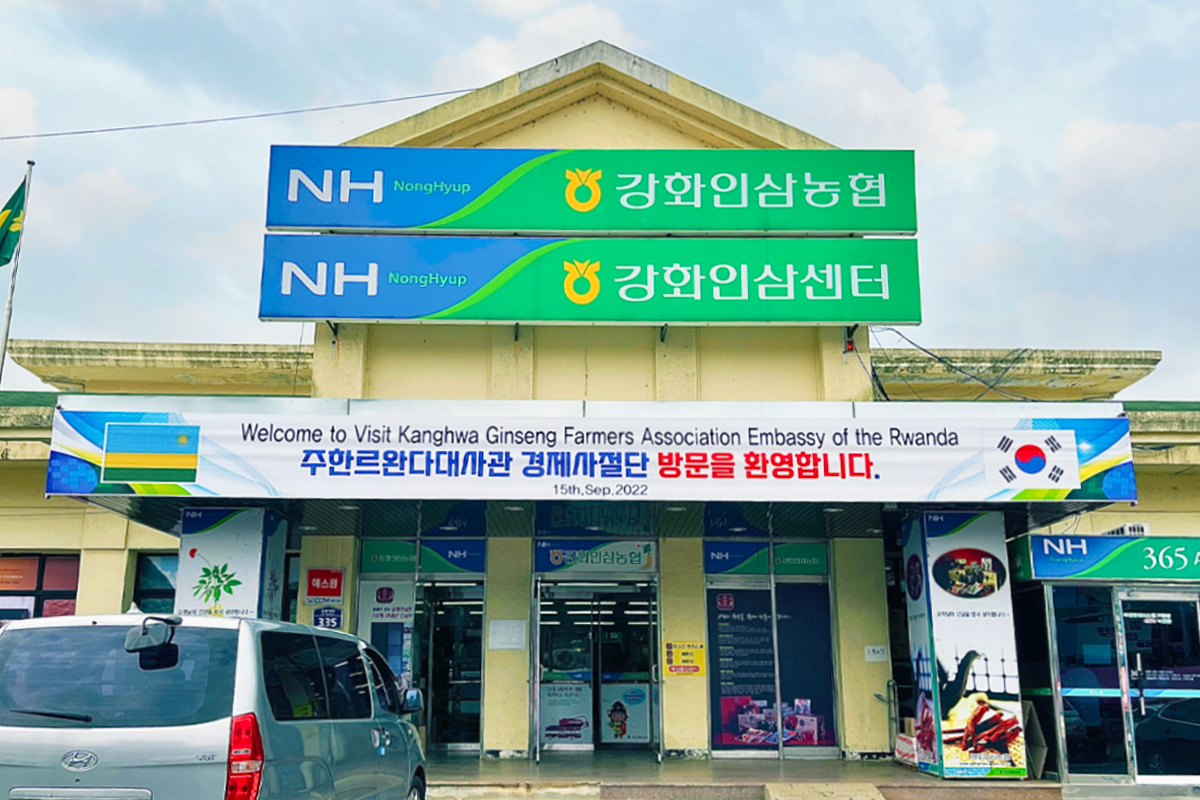 The first sightings of ginseng in Ganghwa Island can be traced back to 1232 during the reign of Emperor Gojong of Goryeo. The climate and soil on the island are the perfect conditions for ginseng to grow so it is known that Ganghwa Island has ginseng of great quality.
There are a total of 53 vendors that specializes in locally grown ginseng at the Ganghwa Ginseng Center. In addition to the vendors, there is a common agricultural association in charge of production, processing, and sales, so customers can buy the produce without the worry of being ripped off.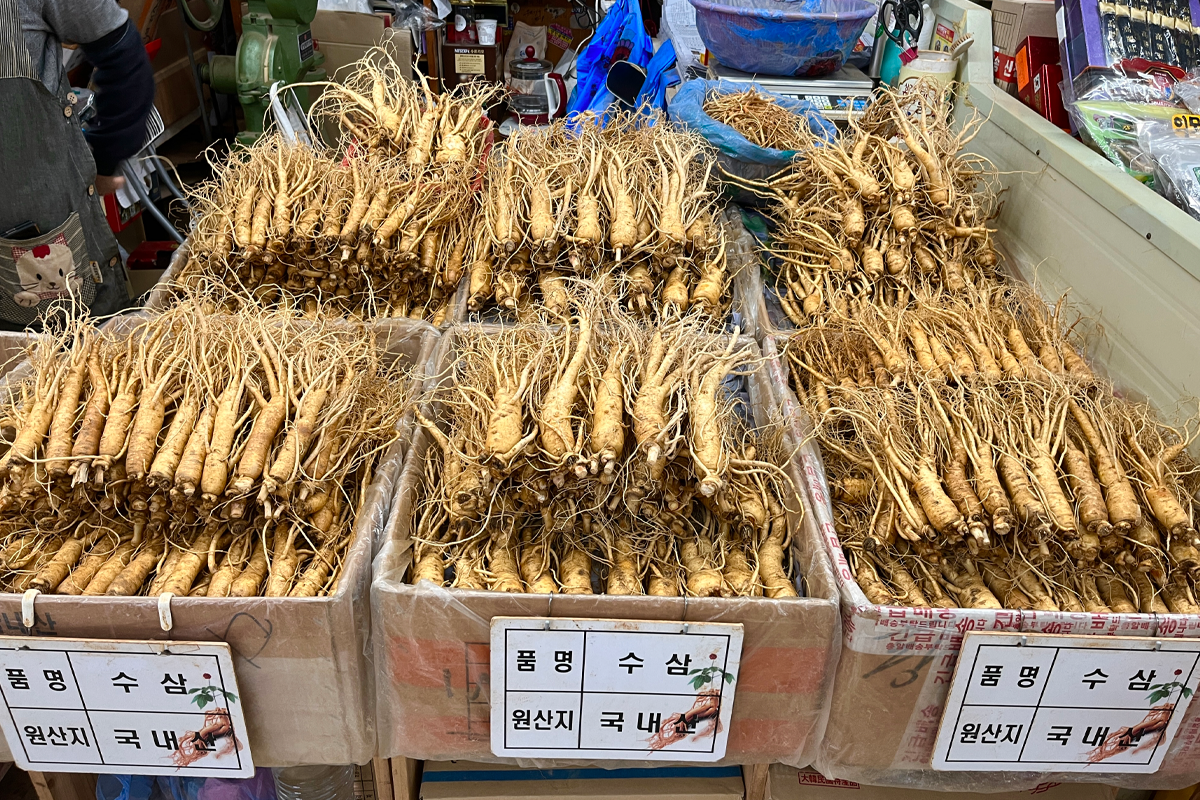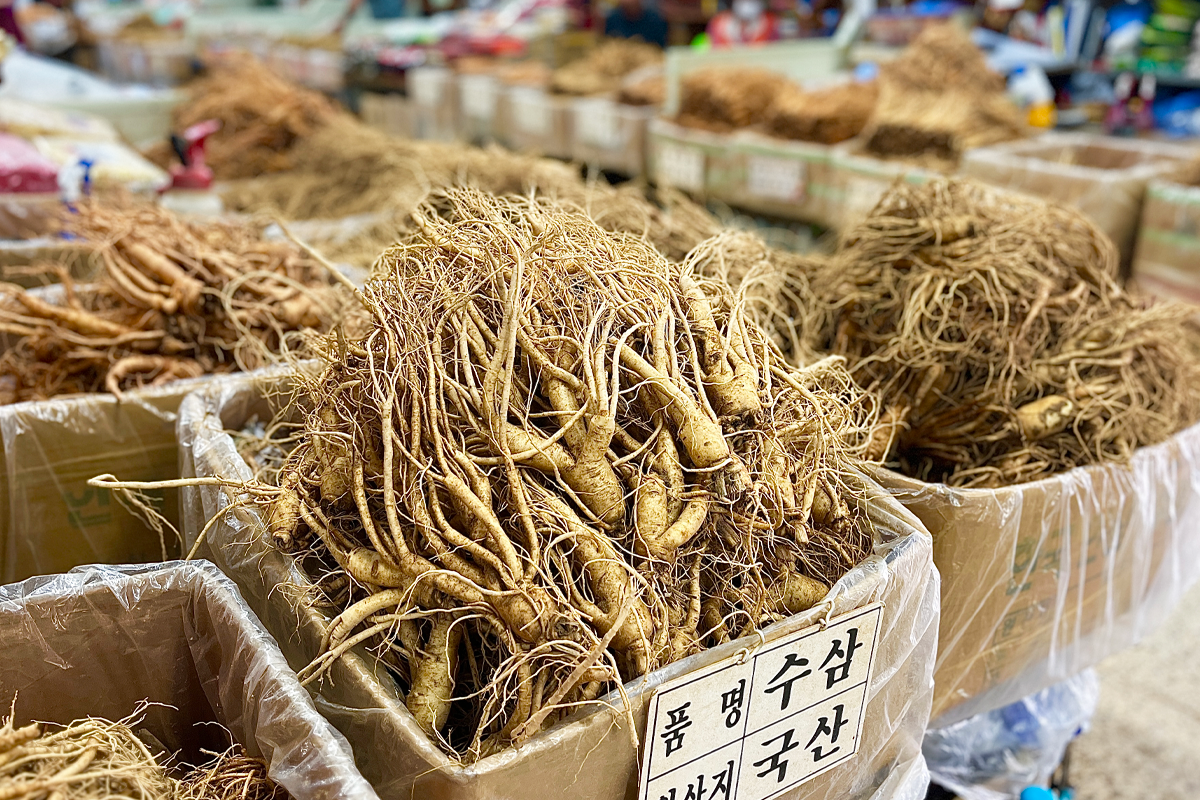 The variety of ginseng in this market is quite diverse as well and the price is not too high. 750 grams of ginseng equals 10 to 12 individual roots and is approximately 30,000 KRW to 40,000 KRW. If you want to gift someone a box of ginseng, the vendor owners will wrap it up in a nice package.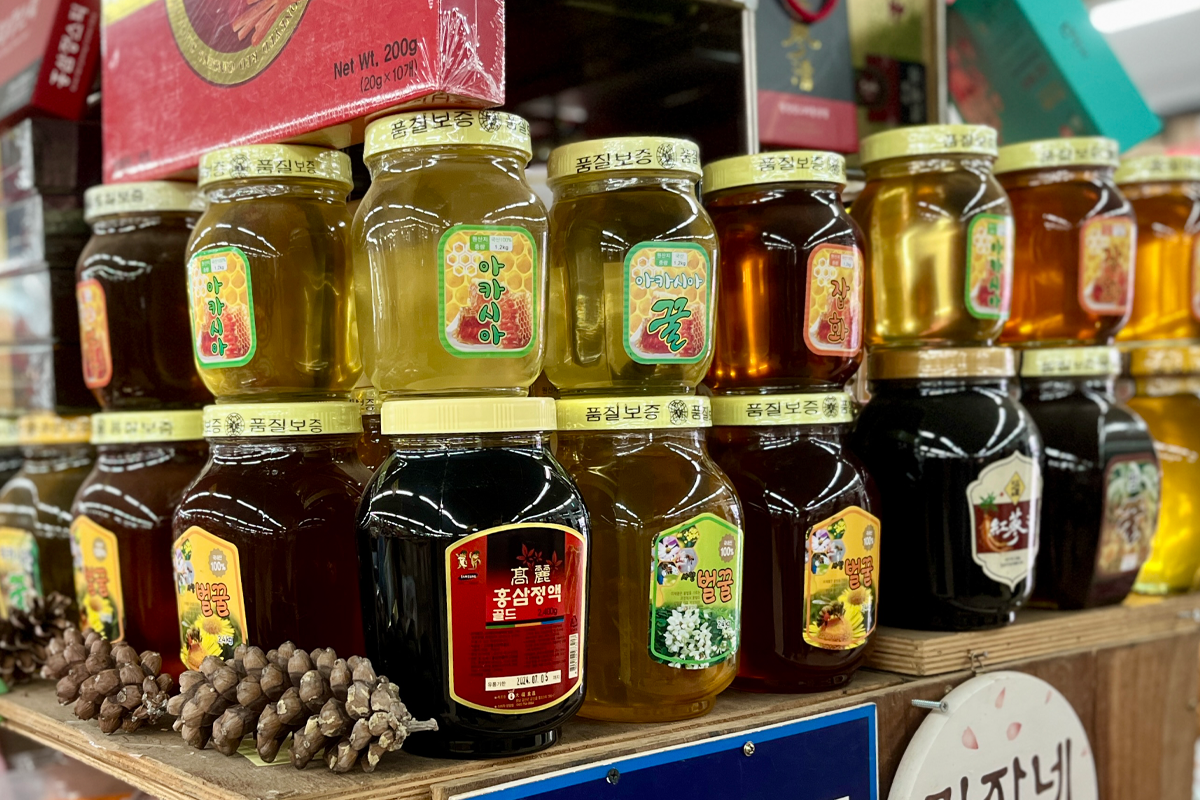 Other than the ginseng root itself, there are other ginseng-related products sold as well. You can find ginseng in all sorts of forms like honey, extract, dried, slices, tea, and more!
Ganghwa Pungmul Market (강화풍물시장)
Address: 인천 강화군 강화읍 중앙로 17-9
Hours: 08:00 - 20:00; Closed on the first and third Monday of each month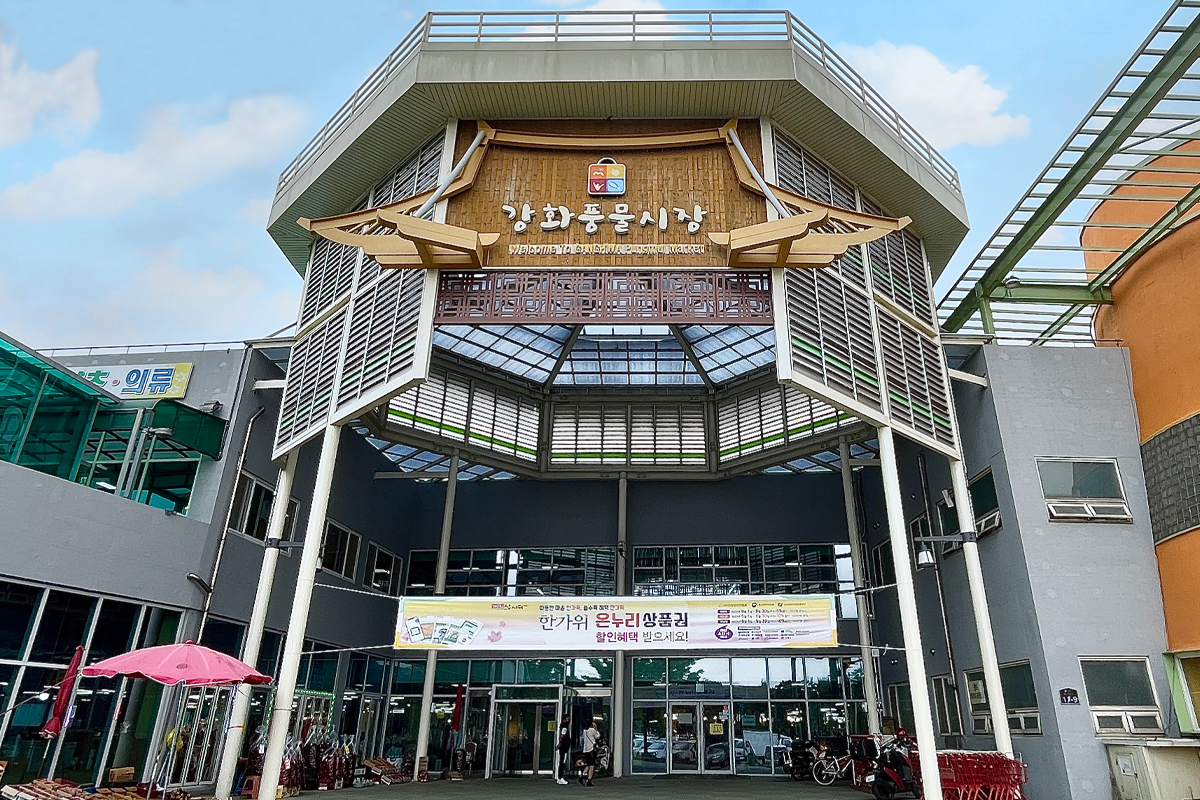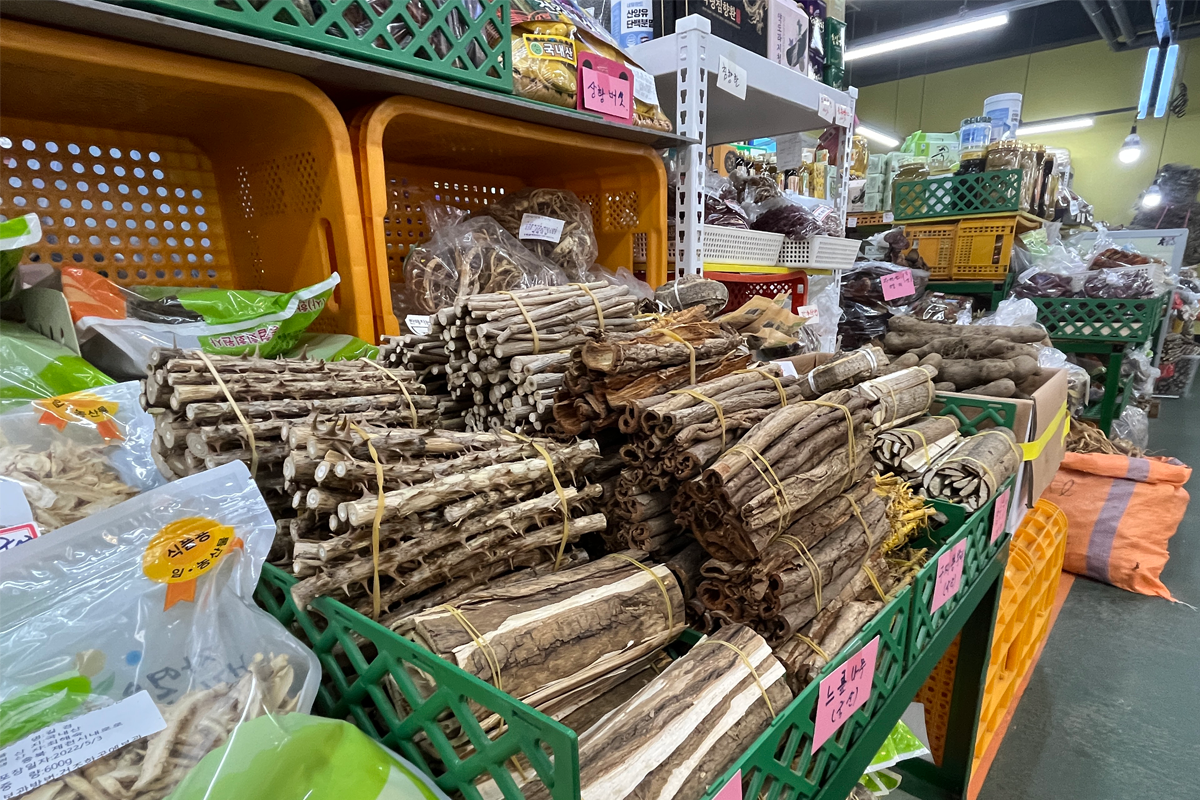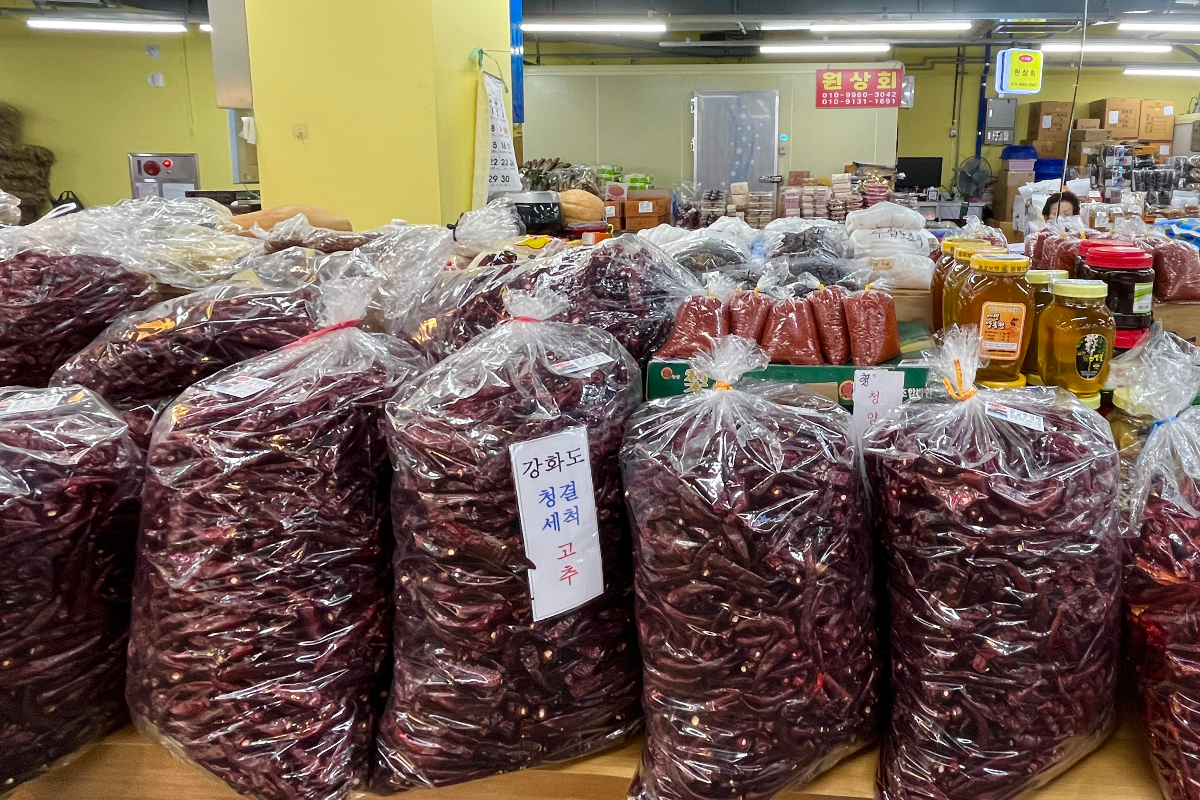 The Ganghwa Pungmul Market sells a variety of Ganghwa specialty products. Once every 5 days, the market is joined by local vendors to open the '5-day market' and is more abundant with goods and street food. The market is in a two-story building where on the first floor, there are vendors that sell food and dried goods, and on the second floor, there are stalls where you can grab a meal. The market can be somewhat crowded on the days when the '5-day market' opens but on the weekdays, there isn't much of a crowd.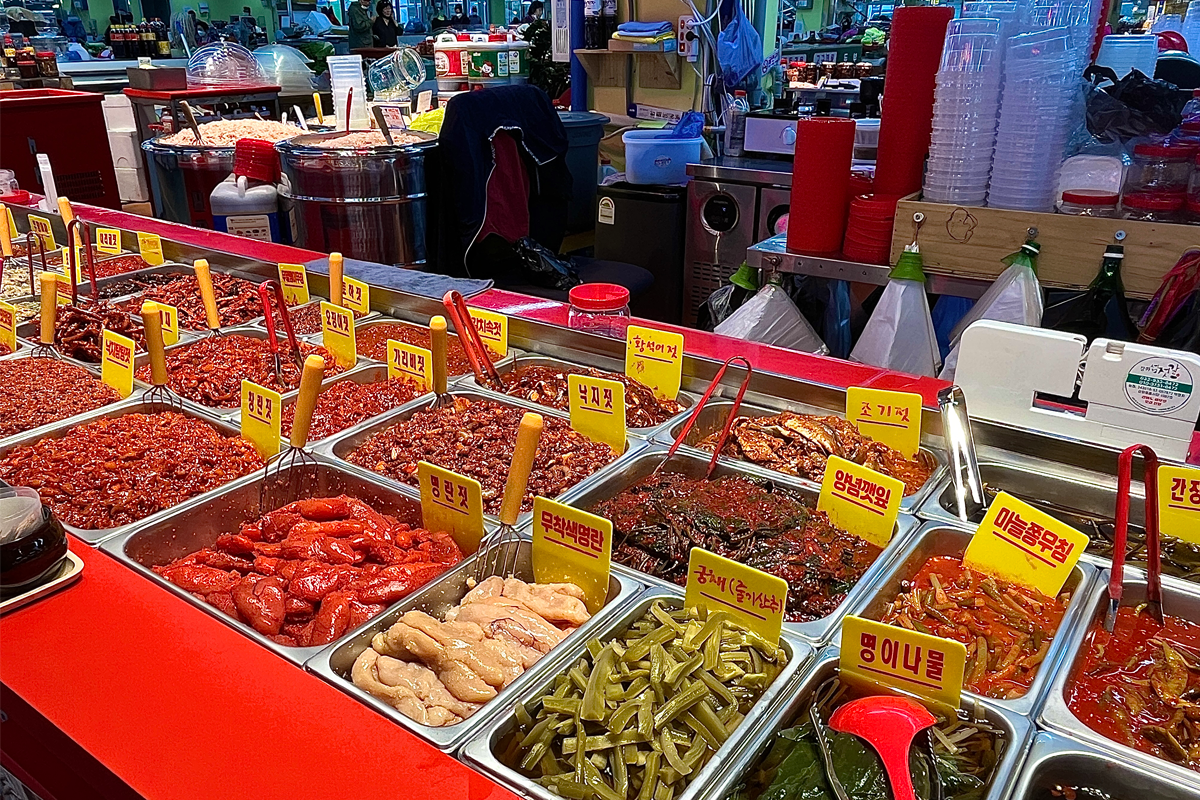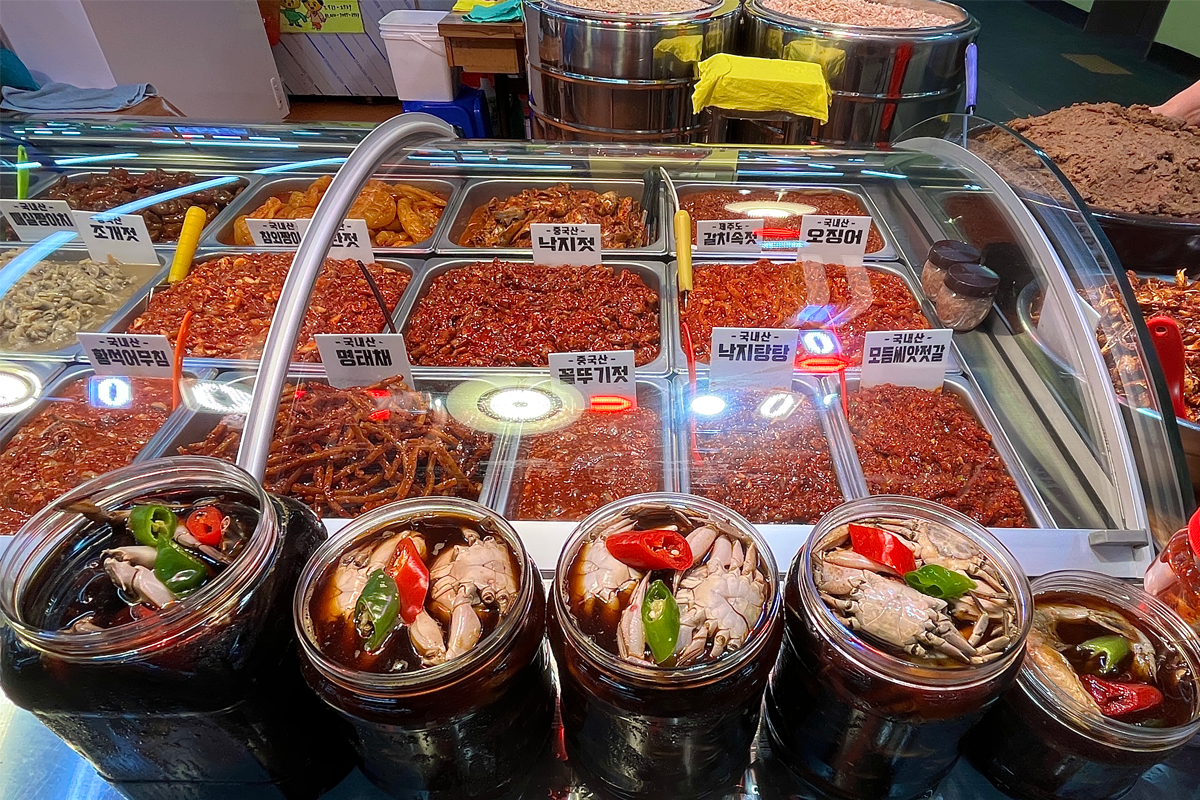 Since Ganghwa Island is surrounded by the sea, there is a lot of fresh seafood available. One of the most popular products at the market are shrimp paste and marinated seafood. The picture above includes buckets of fresh marinated raw crab, a Korean delicacy.
Dried fish can also be found at many of the vendors. The process of drying the fish makes the texture chewier, which is something Koreans like, and more flavor denser.
Changseok Eel (창석이네 민물장어)
Address: 인천 강화군 강화읍 중앙로 17-9 1039호
#1309, 17-9 Jungang-ro, Ganghwa-eup, Ganghwa-gun, Incheon
Hours: 09:00 - 19:00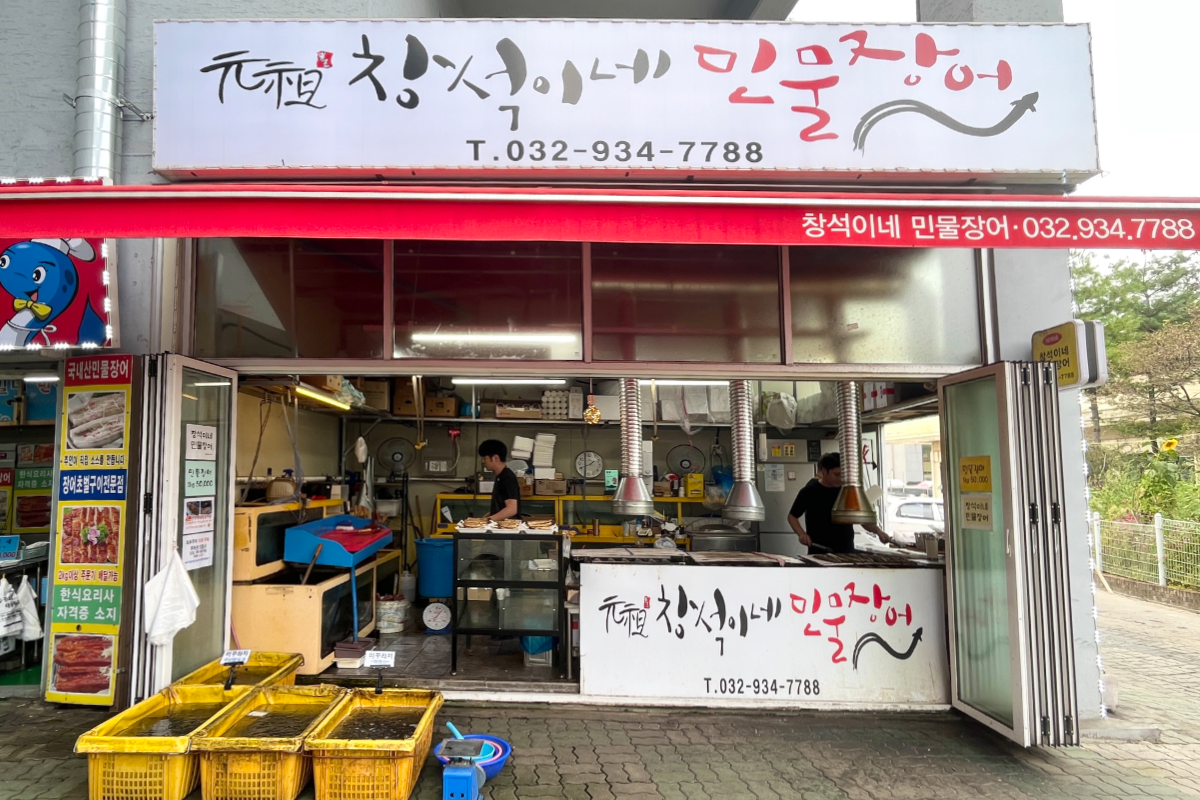 Nearby the entrance of the Ganghwa Pungmun Market, Changseok Eel is a stall that specialized in selling and grilling freshwater eel for 28 years. The eels are freshly cut and grilled at the stall and are extremely popular among local residents. The eels are so popular that it is delivered to many parts of Korea!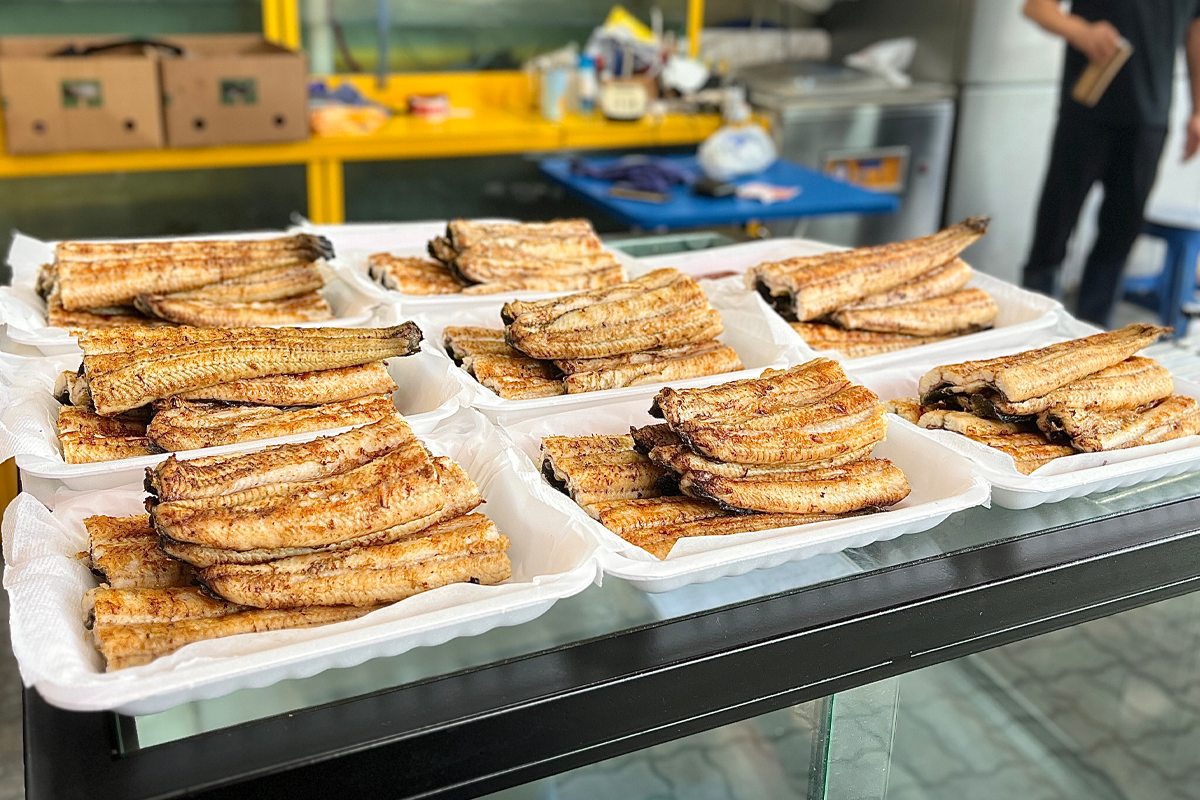 500g of Grilled Eel (장어 500g) 25,000 KRW
Look at how plump the eels are! Just looking at the pictures makes our mouths water. Changseok Eel is usually only for take-out, but they do have a few tables where you can sit and enjoy a meal for an additional 4,000 KRW. The 4,000 KRW pays for an array of side dishes and lettuce wraps for you to enjoy with your eel!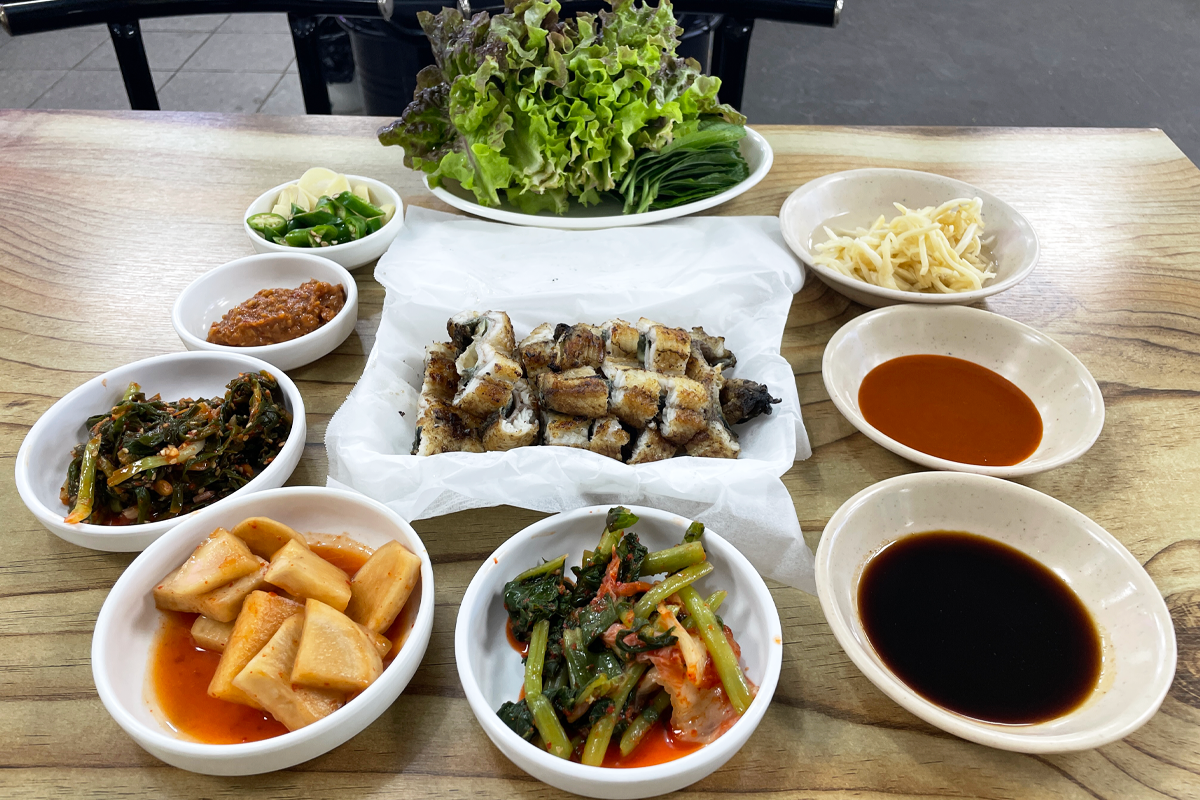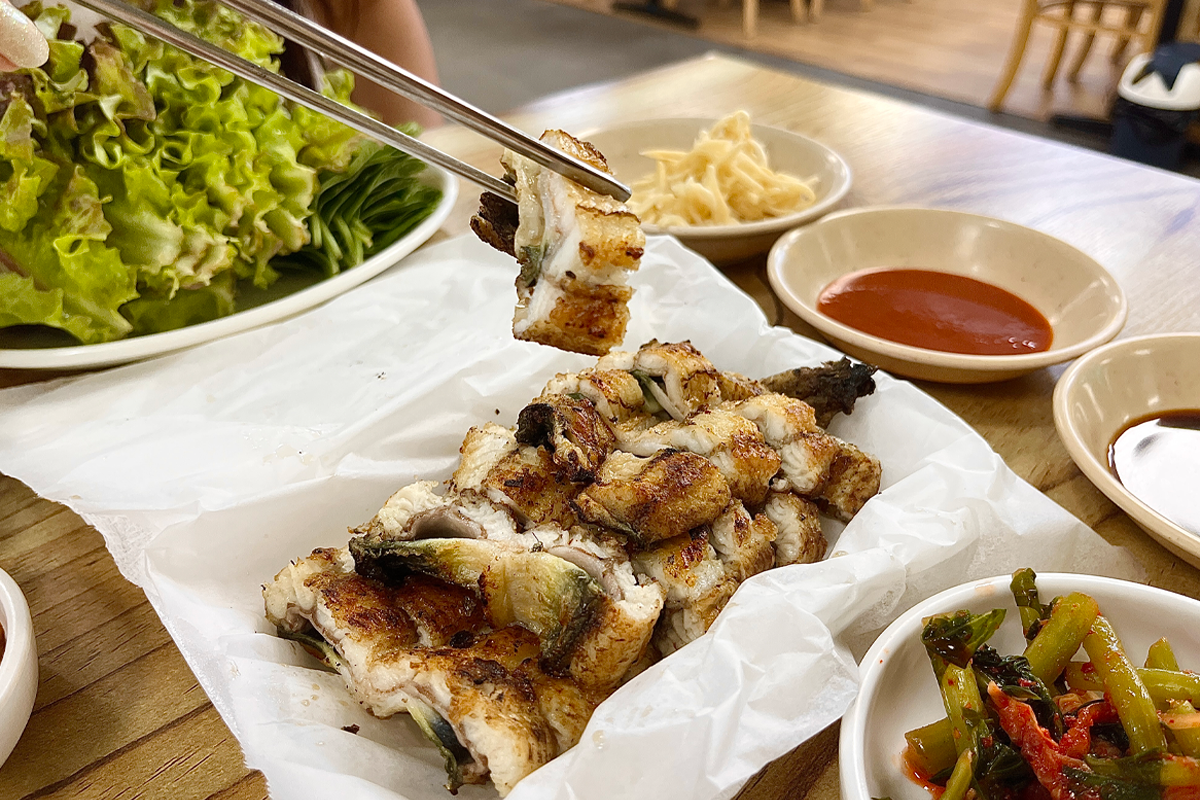 To eat at the restaurant, make your order on the first floor and head to the second floor where the tables are. After about ten minutes, the owner will serve you a plate of eel, along with the side dishes. Since the eels are freshly grilled, every bite is delicious and savory. As soon as you take a bite, you'll understand why the stall is so popular.
House of Herring (Baendaengi Gadeukhanjip Notgeureutjip) (밴댕이 가득한집 놋그릇집)
Address: 인천 강화군 강화읍 중앙로 17-9 강화풍물시장 2층 2004호
#2004, 2F, Ganghwa Pungmul Market, 17-9 Jungang-ro, Ganghwa-eup, Ganghwa-gun, Incheon
Hours: 10:00 - 19:00 (Last order at 18:15); Closed on the 2nd and 4th Monday of each month, but if they fall on the 2nd, 7th day of each month, closed on Tuesday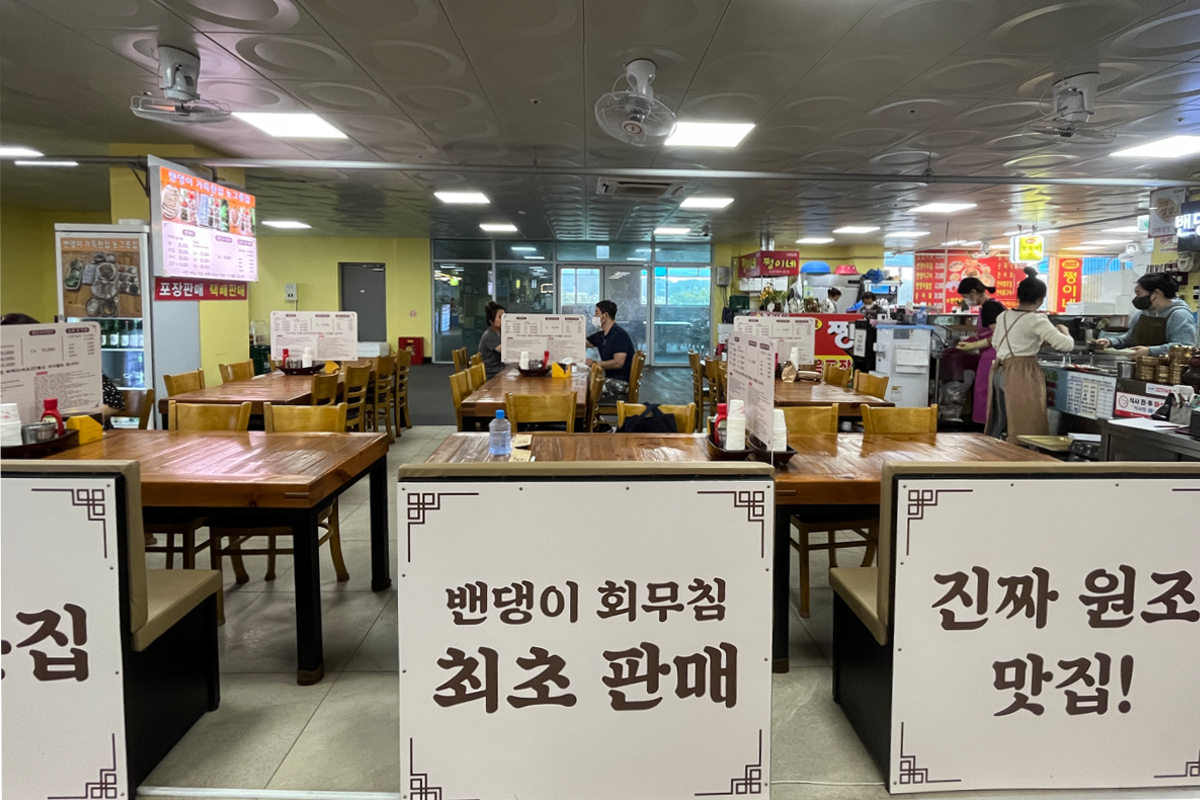 The second floor of Ganghwa Pungmul Market is full of stalls that specialize in raw herring mixed with vegetables. This stall is the original stall that started to sell this dish first, 30 years ago.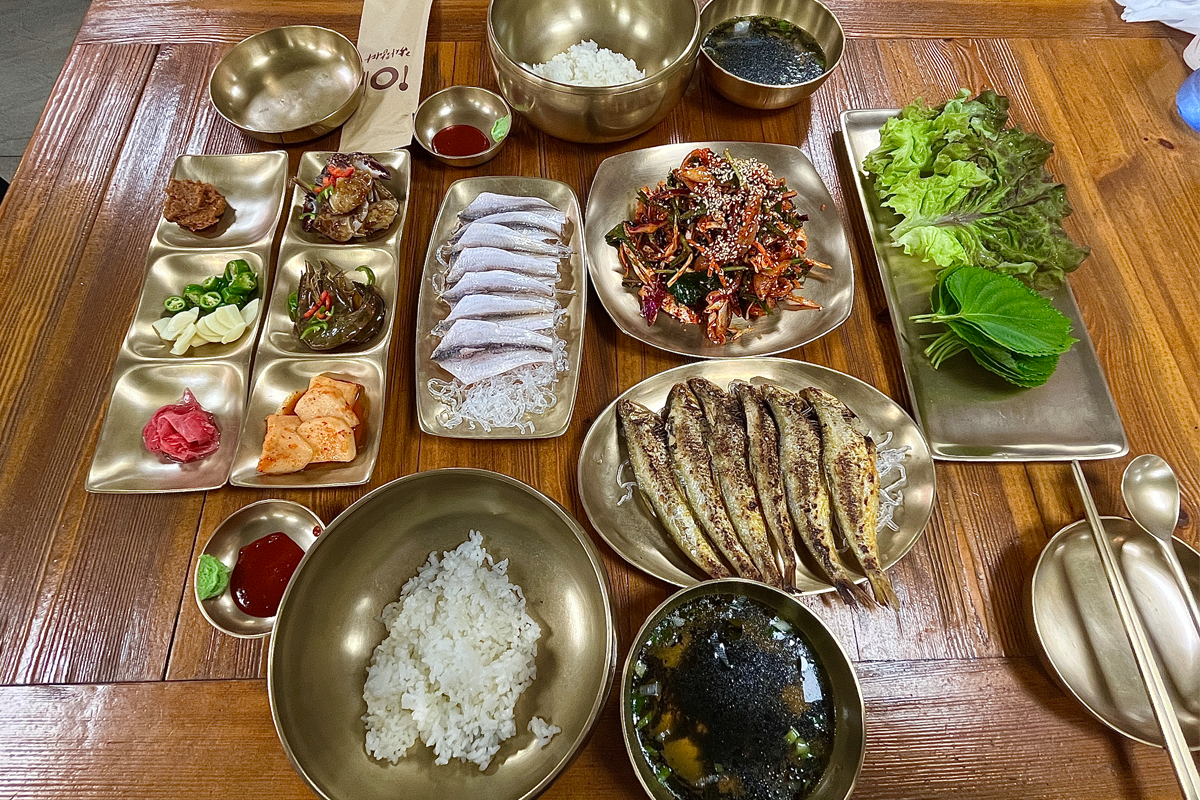 Herring Set (밴댕이 모듬) for 1 person 35,000 KRW
The Herring Set some with 3 different ways to eat herring: herring sashimi, raw herring mixed with vegetables in a chili sauce, and grilled herring. Since the herring is super fresh, eating it raw is perfectly fine! As a person trying raw herring for the first time, I was scared that it would be too fishy. However, I was completely wrong! It was not fishy at all and had a nice chew. Herring is infamous for having lots of bones, so be careful when eating the grilled herring!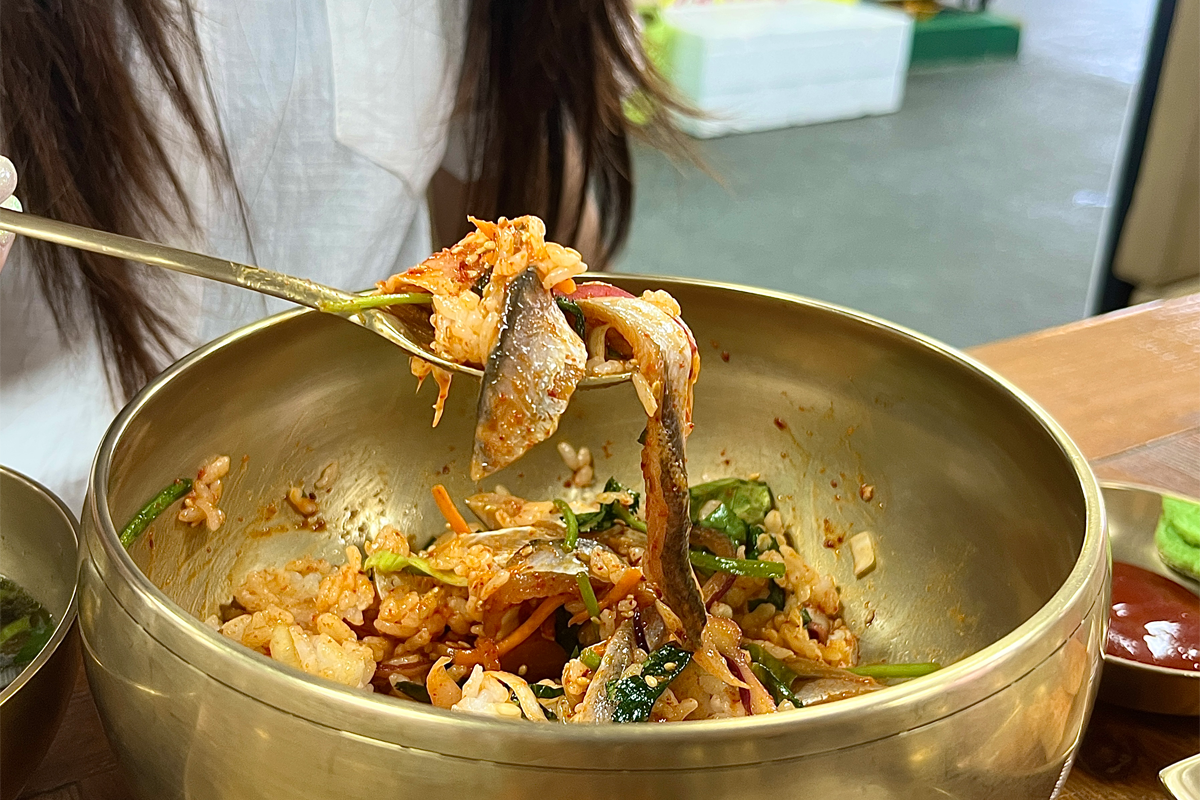 The raw herring mixed with vegetables in chili sauce is a common dish in Korea called 'muchim'. The sauce isn't too spicy and the muchim is finished off with a drizzle of sesame oil so the aroma of the oil makes your mouth water even before you dig in. You can mix it with rice and make your own bibimbap! In addition, the side dishes here are all dishes that you would have to pay extra at other restaurants, which is another reason why you should check this place out!
Dolmen Bakery (돌멘베이커리)
Address: 인천 강화군 선원면 해안동로 1209 1층
1F, 1029 Haeandong-ro, Seonwon-myeon, Ganghwa-gun, Incheon
Hours: 10:00 - 20:00 (Last order at 19:30); Close on Monday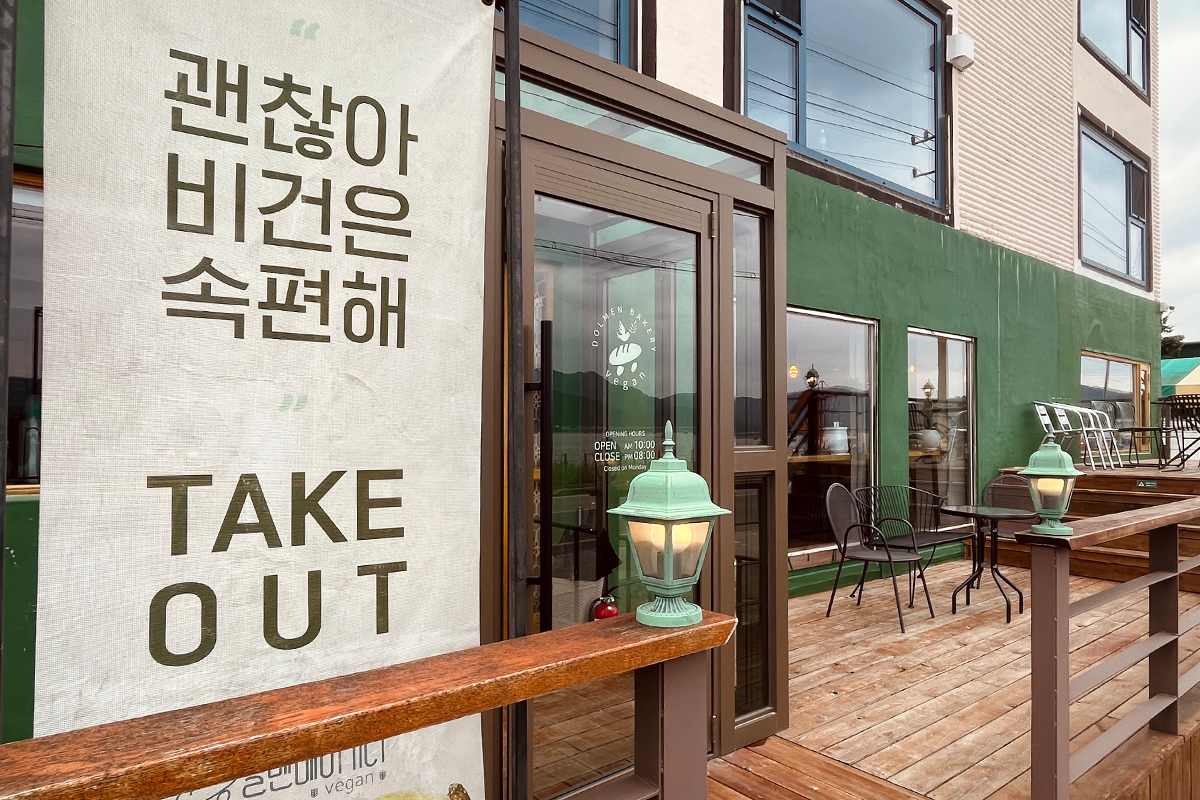 The last specialty produce of Ganghwa Island we want to introduce today is mugwort! What a strange name... It does not sound appetizing at all! But mugwort is an edible herb that grows all over the Korean peninsula, especially here at Ganghwa Island! The herb is used to make all sorts of things like rice cakes, desserts, and even K-beauty products! The healthy benefits of the mugwort and earthy green taste attracts Koreans and several bakeries have started to use it in a lot of their desserts! Here at Dolmen Bakery, they have a signature dessert that uses mugwort as the main ingredient.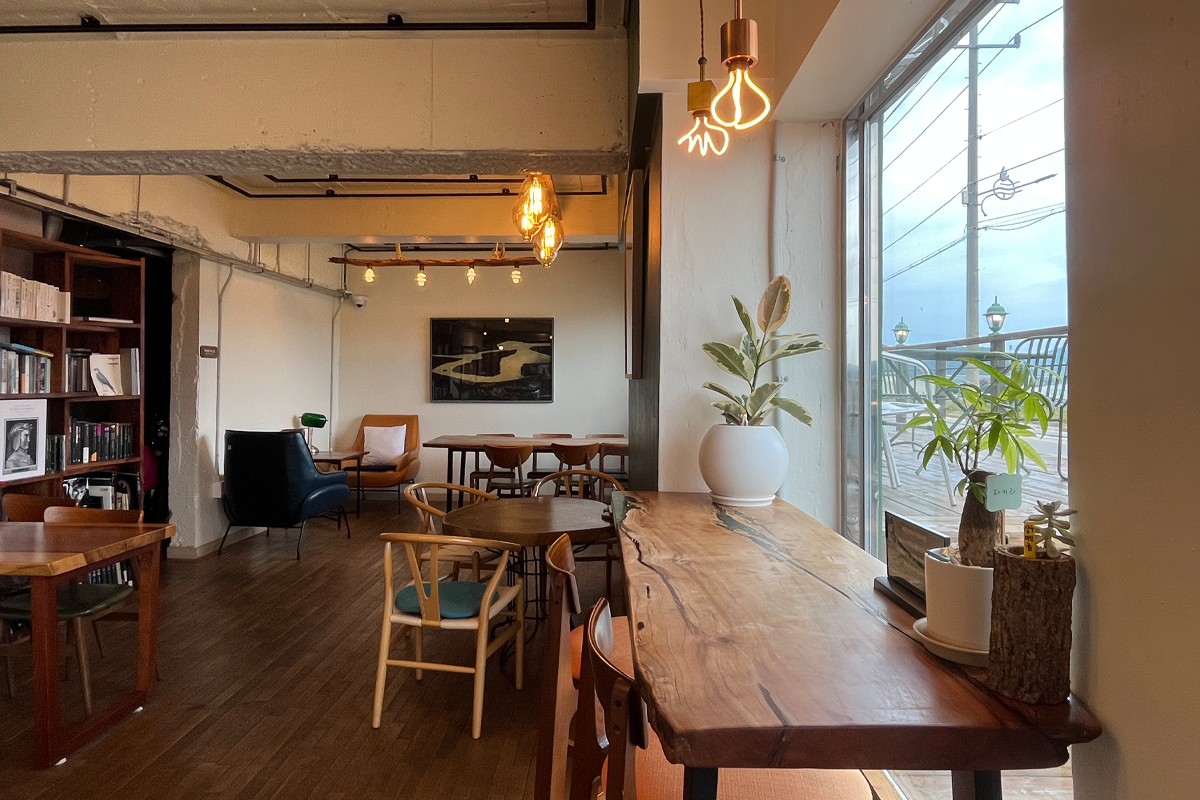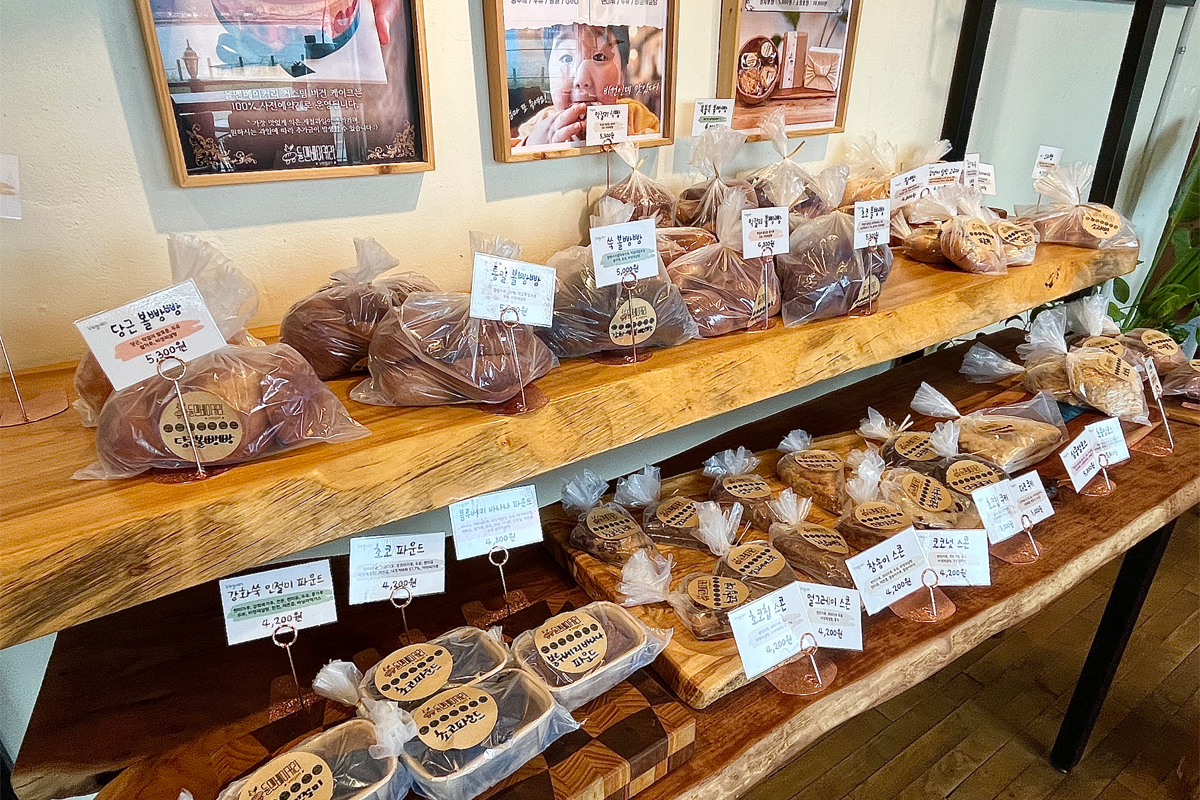 As soon as you step into the bakery, you'll see an array of baked goods displayed by the wall. There are desserts made of chocolate, pumpkin, and other delicious flavors!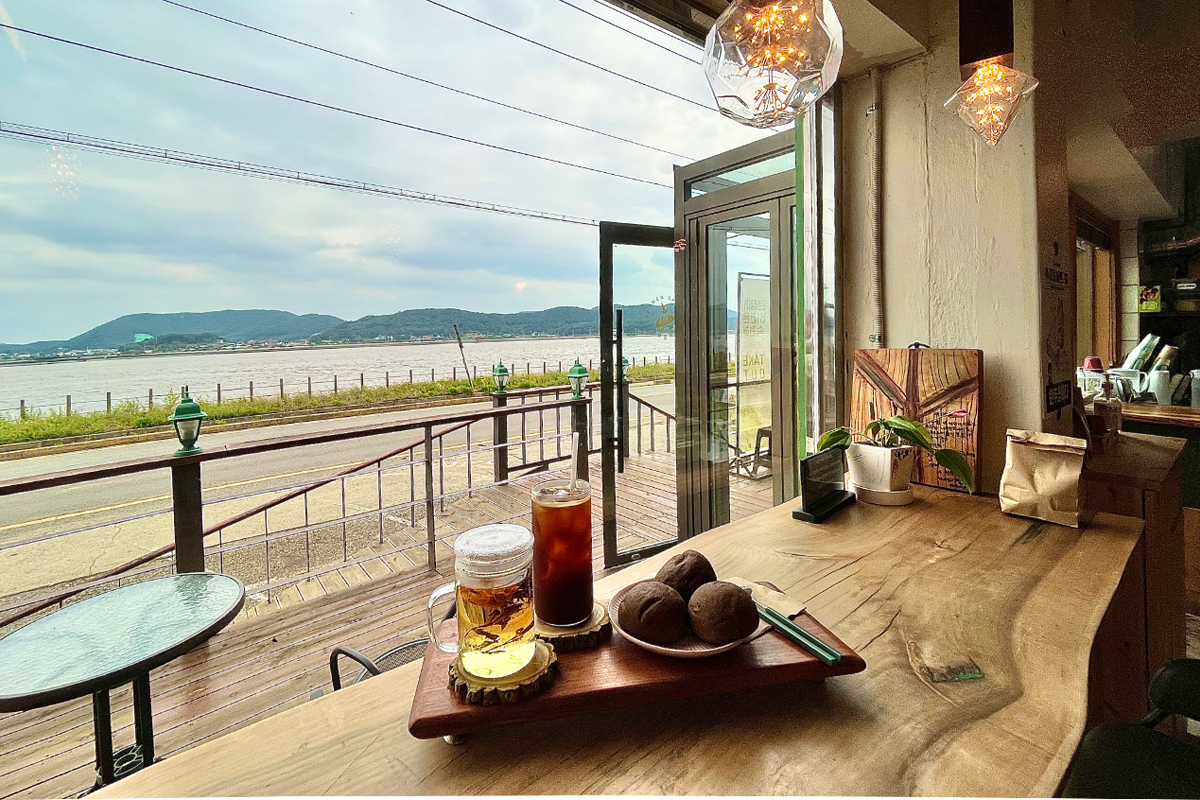 Mugwort Bol(Cheek) Bread (쑥 볼빵빵) 5,000 KRW
They are most own for their Mugwort Bol Bread. Bol is cheek in Korean and the bread is named so because they look like full cheeks! There are six of them in a bag, and you can tell the staff that you only want a few at the bakery and take the rest home!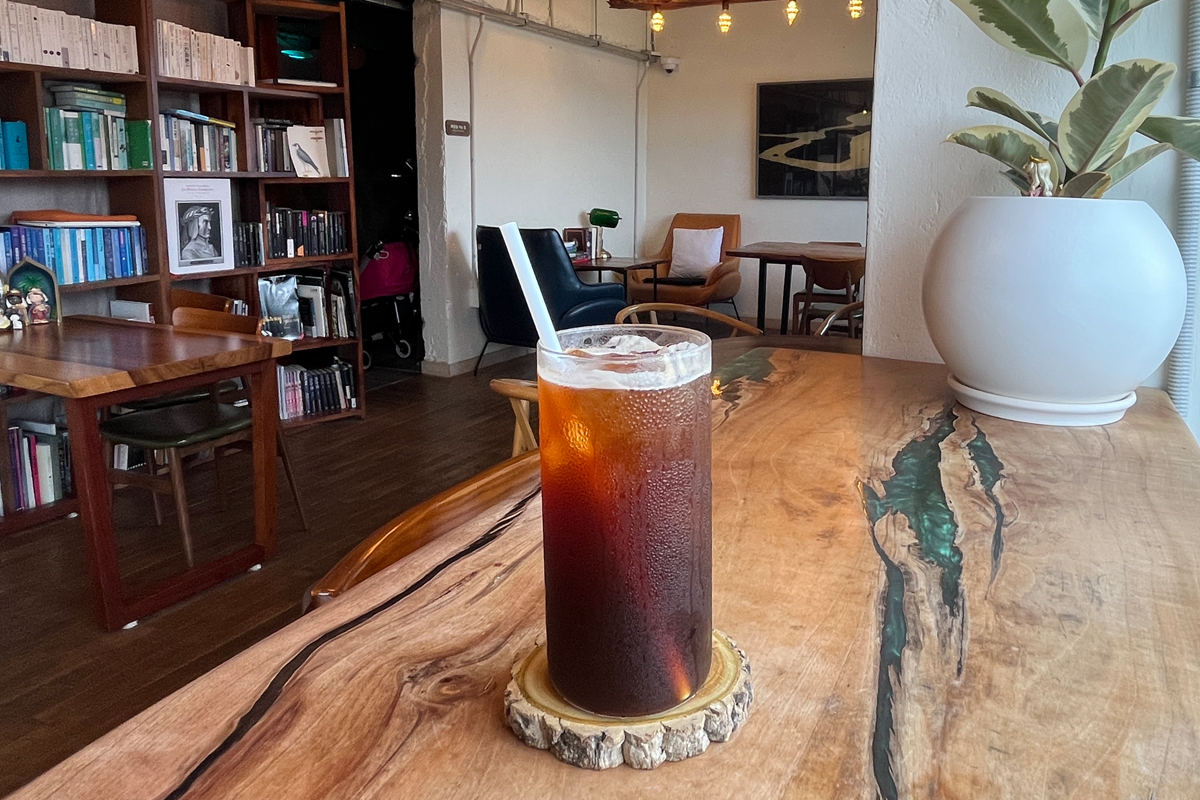 Iced Americano (아메리카노) 4,500 KRW
The bread pairs well with the iced americano, which isn't too bitter.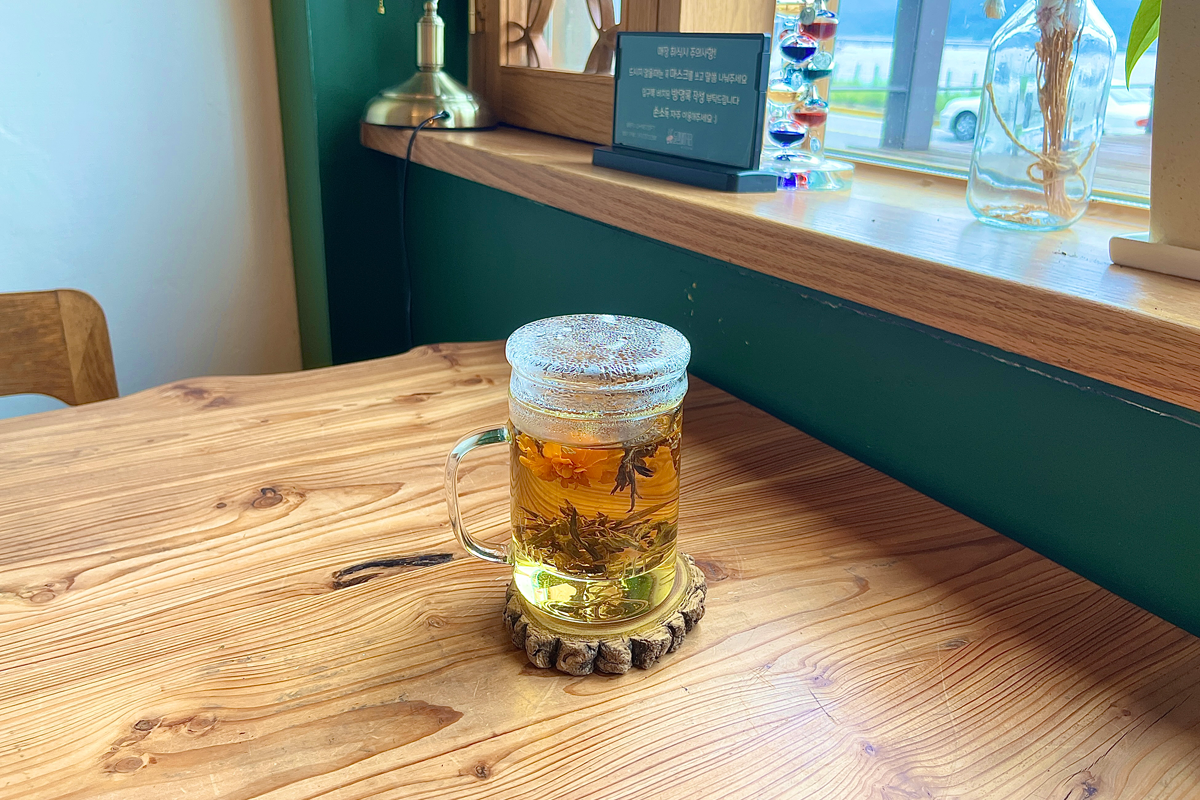 Merigold Ganghwa Mugwort Tea (메리골드 강화 쑥차) 7,000 KRW
The Merigold Ganghwa Mugwort Tea is one of the most popular drinks at this store. The blended tea is fragrant and gives off a strong aroma of mugwort tea. This drink is perfect to warm up your body on a cold day. It is recommended that you don't let it sit for too long, as the mugwort can get bitter if it sits in hot water for too long.
---
Are there some items on this list that you would like to try? Ganghwa Island is not too far from Seoul, only about an hour and a half by bus from Hongdae. Take a day off and make your way down to Ganghwa Island to try all the delicious specialty food! If you have any questions or concerns, please leave a comment below or send us an email at help@creatrip.com! You can follow us on Instagram, TikTok, Facebook, and Twitter to stay updated on all things Korea!
---