Golden Farm | Myeongdong Restaurant
Pork Belly or Korean Beef? Golden Ranch in Myeongdong offers 18 cuts of high-quality meats!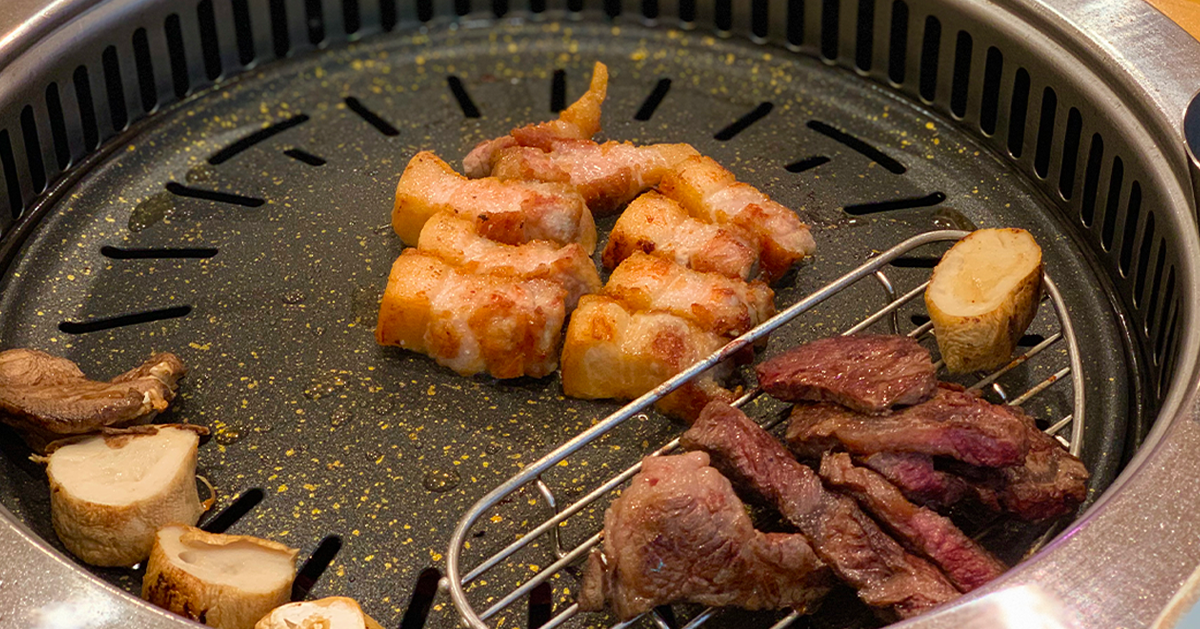 When it comes to Korean food must-haves, K-barbecue is definitely on the list. The melt-in-your-mouth cuts of meat are a guilty pleasure for both Koreans and foreigners alike. Why hesitate whether you want three-layered pork belly or tender Hanwoo beef when you can get both?
On your trip to Korea, if you have bulgogi for two consecutive meals, you'll get sick of it quickly. Today, we are going to introduce a restaurant called Golden Ranch, located in Myeongdong, where you can choose between 18 different cuts of meat. Not only do they have an extensive menu, but they also have waiters that cook the meat for you, so you don't have to worry about overcooking your meat!
---
Golden Ranch
---
Information
Address: 서울 중구 명동8나길 6 3F
3F, Myeongdong 8nagil 6, Jung-gu, Seoul
Hours: 11:00 - 22:00; Closed on Sundays
---
Why We Recommend It
It was mentioned on the television show, "Welcome, First Time In Korea?". It is not only popular among Koreans but also among foreigners because they provide English and Chinese services.
There are a variety of choices you can choose from, 18 to be exact. All high-quality cuts of beef and pork, waiting to be grilled.
The restaurant is spacious, having private rooms available, perfect for big groups. Make a reservation for a private room to eat amongst yourselves.
---
Things to Keep In Mind
Show the coupon at the cashier when you pay to get 10% off your entire bill.
No reservation needed.
If you have difficulties using the coupon, contact us at support@creatrip.com.
---
Price
B SET (For 3 people)
Includes brisket, beef platter, pork belly, seafood scallion pancake, seafood soybean soup, bibimbap

159,000 KRW

Pork Belly150g
통삼겹

16,000 KRW

Brisket/Beef Platter
500g 차돌소고기모듬

Stone-pot Bibimbap
돌솥비빔밥

Seafood Soybean Soup
해물된장찌개

Seafood Scallion Pancake
해물파전
---
Our Visit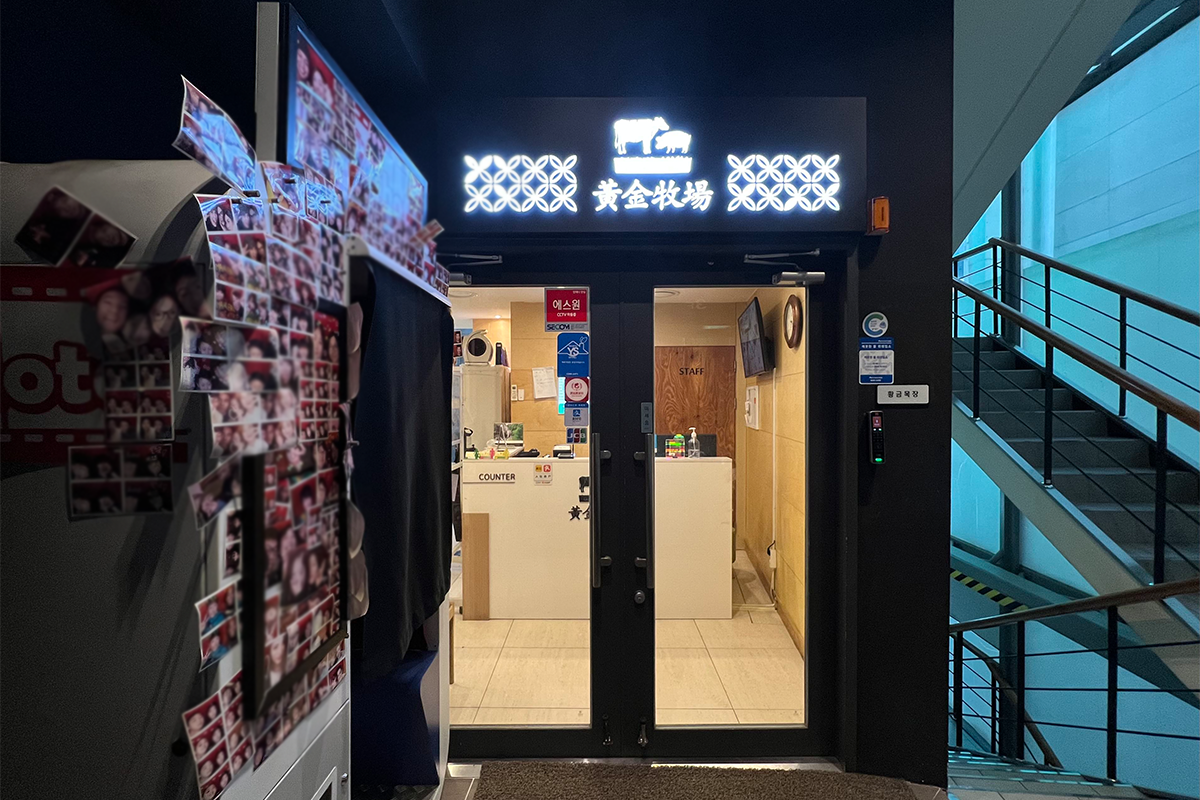 Golden Ranch is a two-minute walk from Myeong Station Exit 6, the entrance is located right next to a flight of stairs.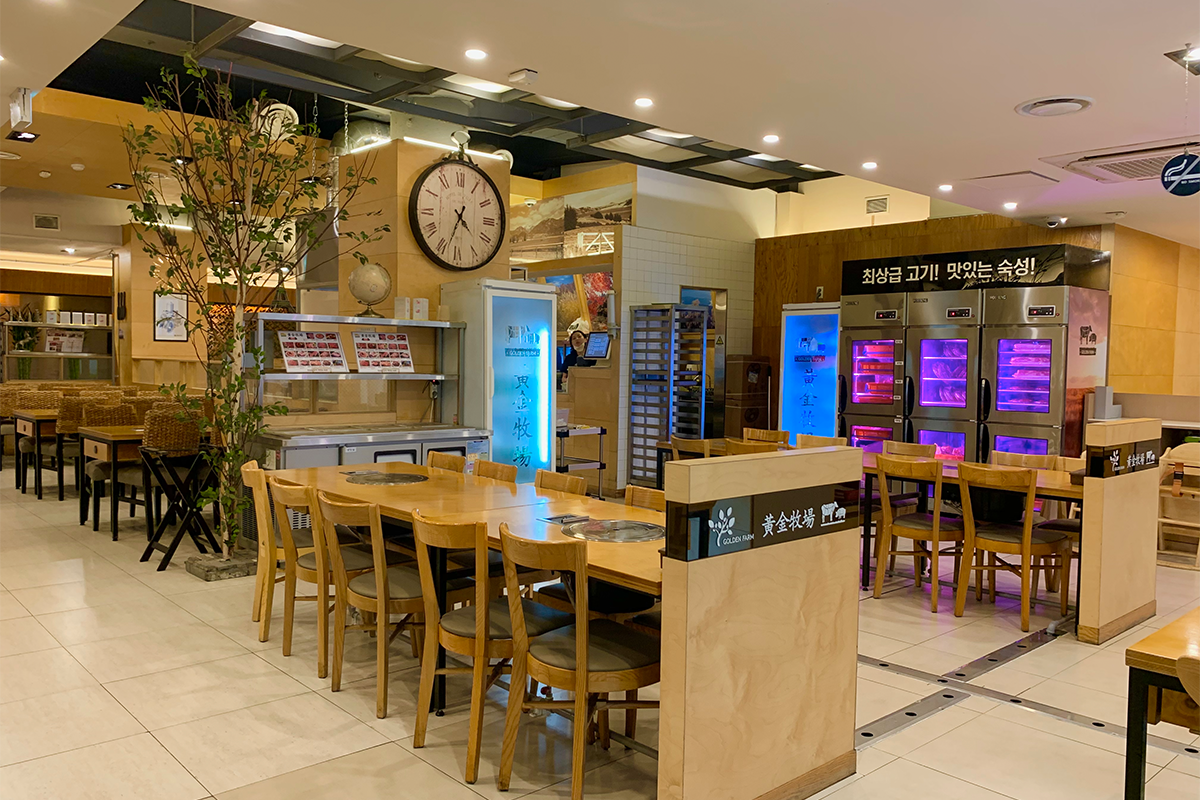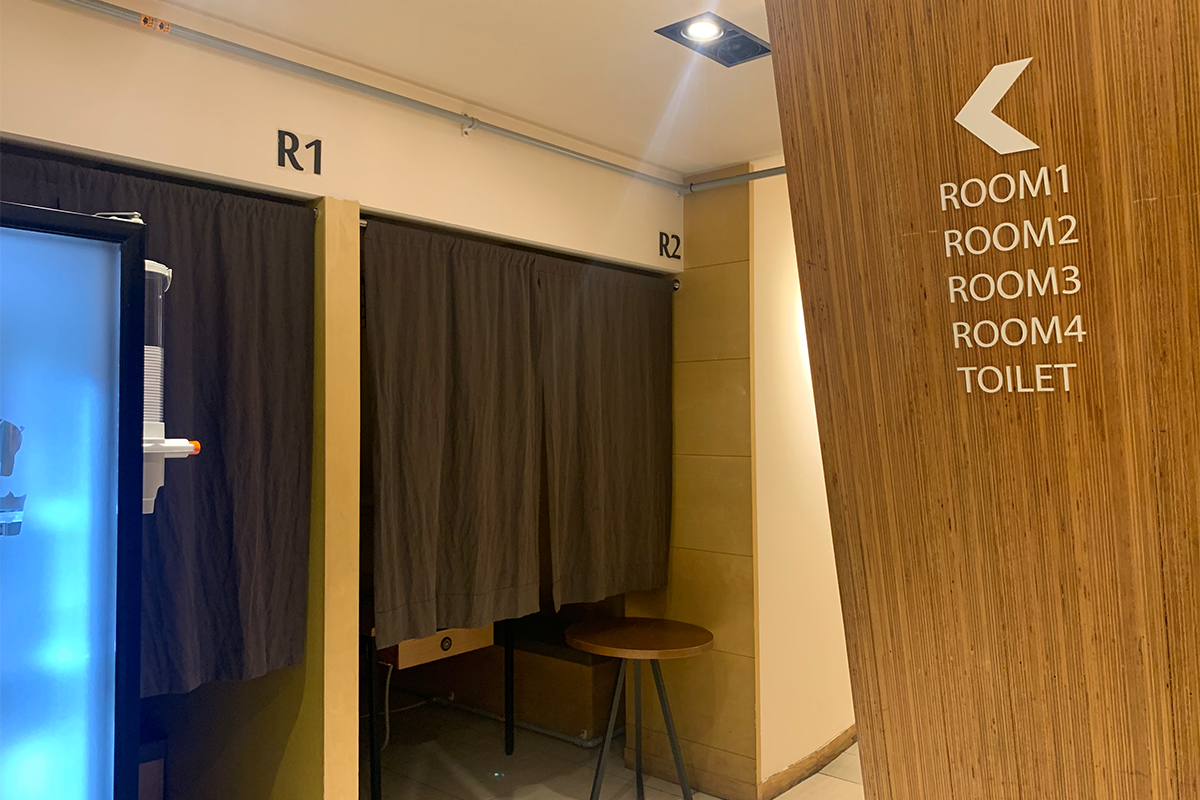 There is floor seating and groups can book a private room in advance. They also have rooms that fit 20 people, so it is perfect for visitors in large family groups.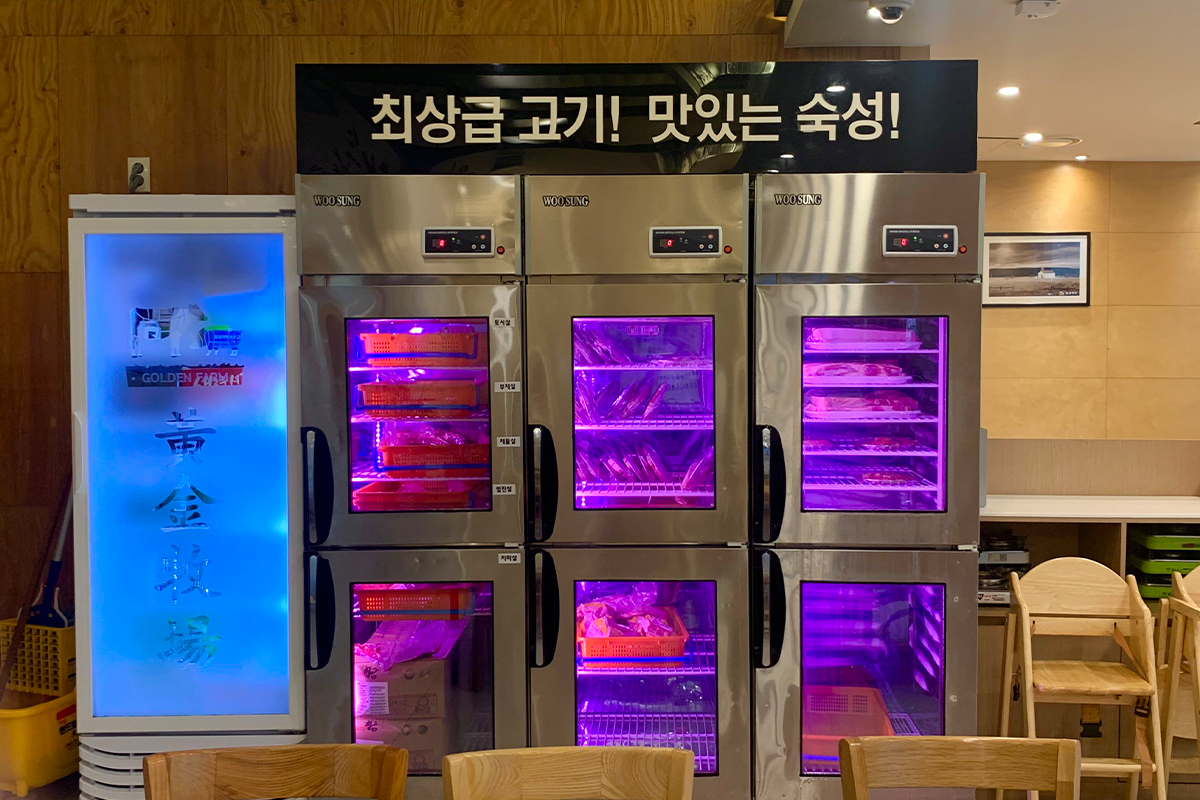 The meat at Golden Ranch is aged to break down the muscle fibers of pork, bringing out the best flavors while also tenderizing the texture. This is the process that makes the meat melt in your mouth.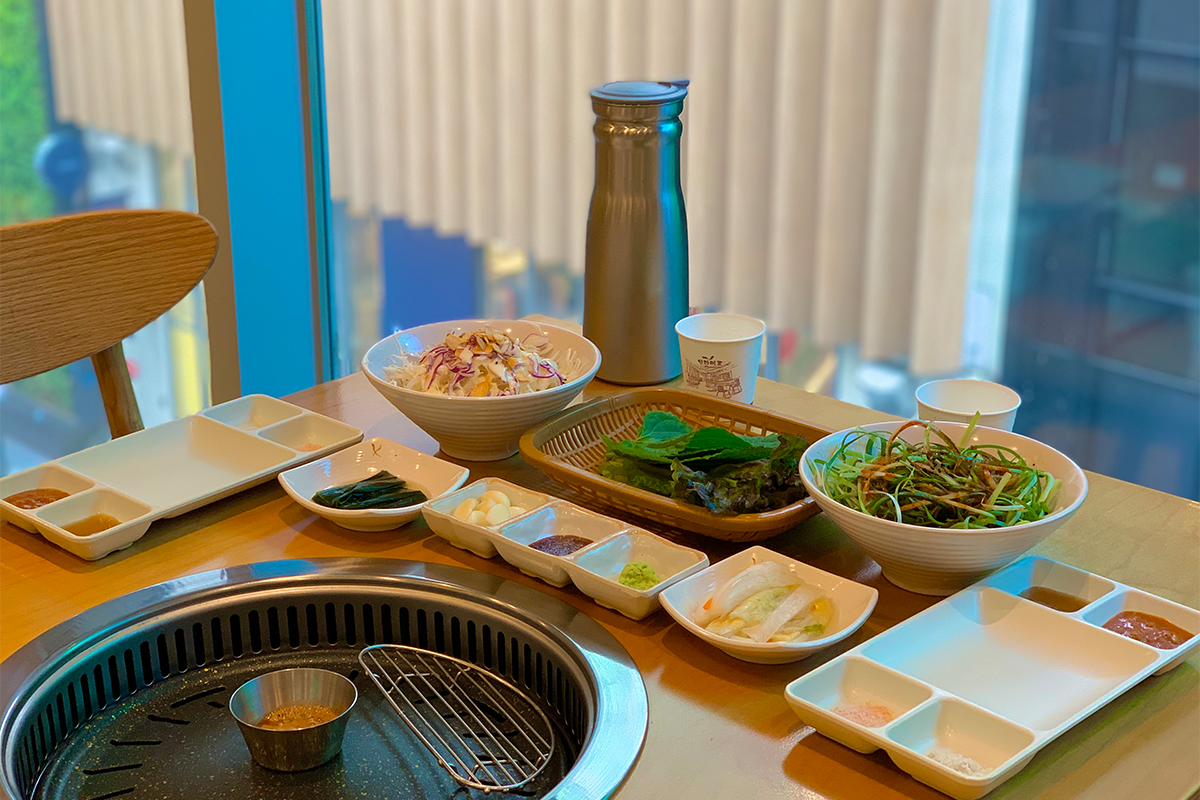 It's a barbeque restaurant, but it is clean and doesn't have a greasy film on the tables as some barbeque places tend to have. After choosing a seat, waiters bring out a variety of side dishes.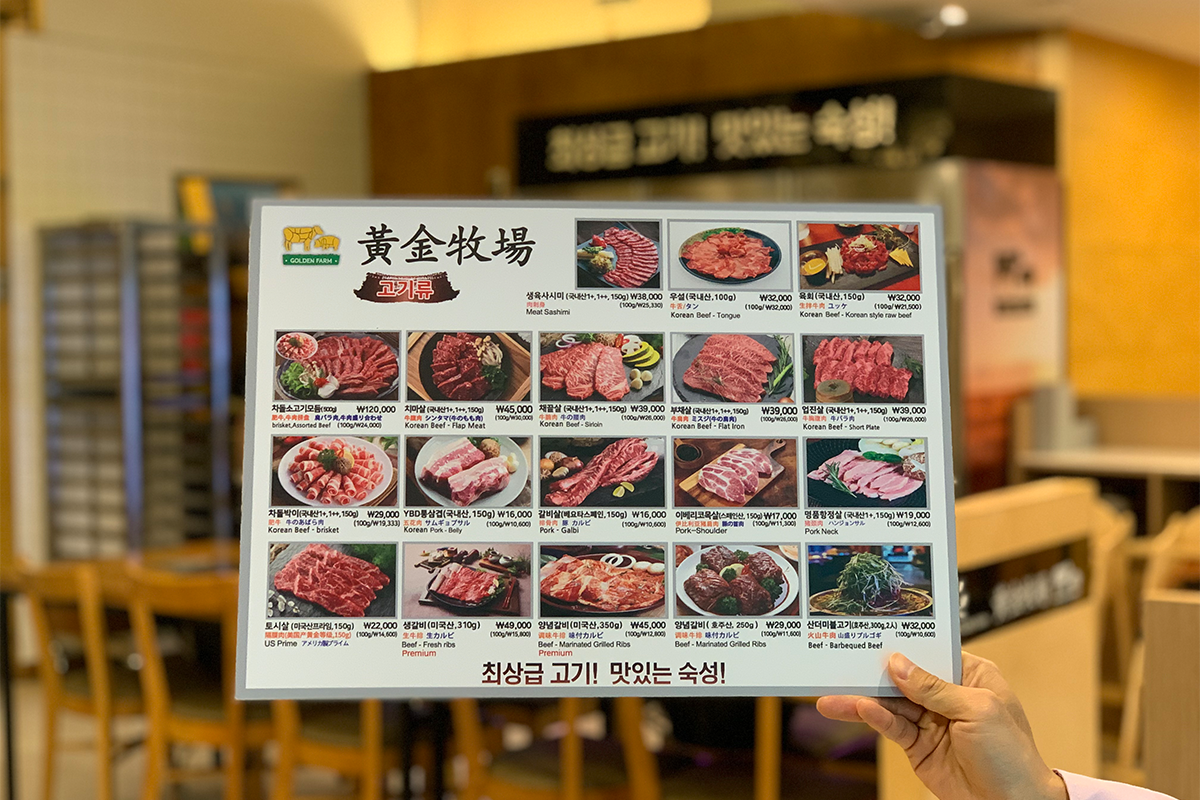 On the menu are 18 cuts of meat all with explanations written in Korean, English, and Chinese, so you can read about the cuts of meat.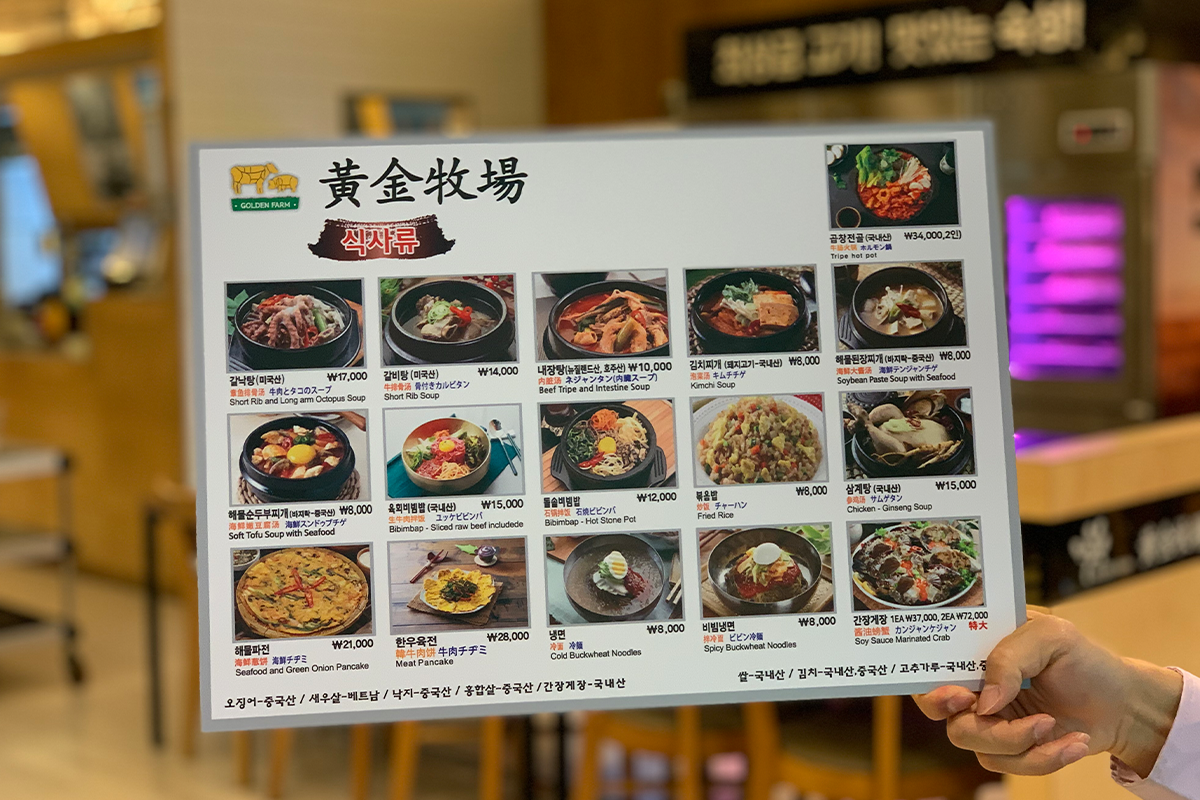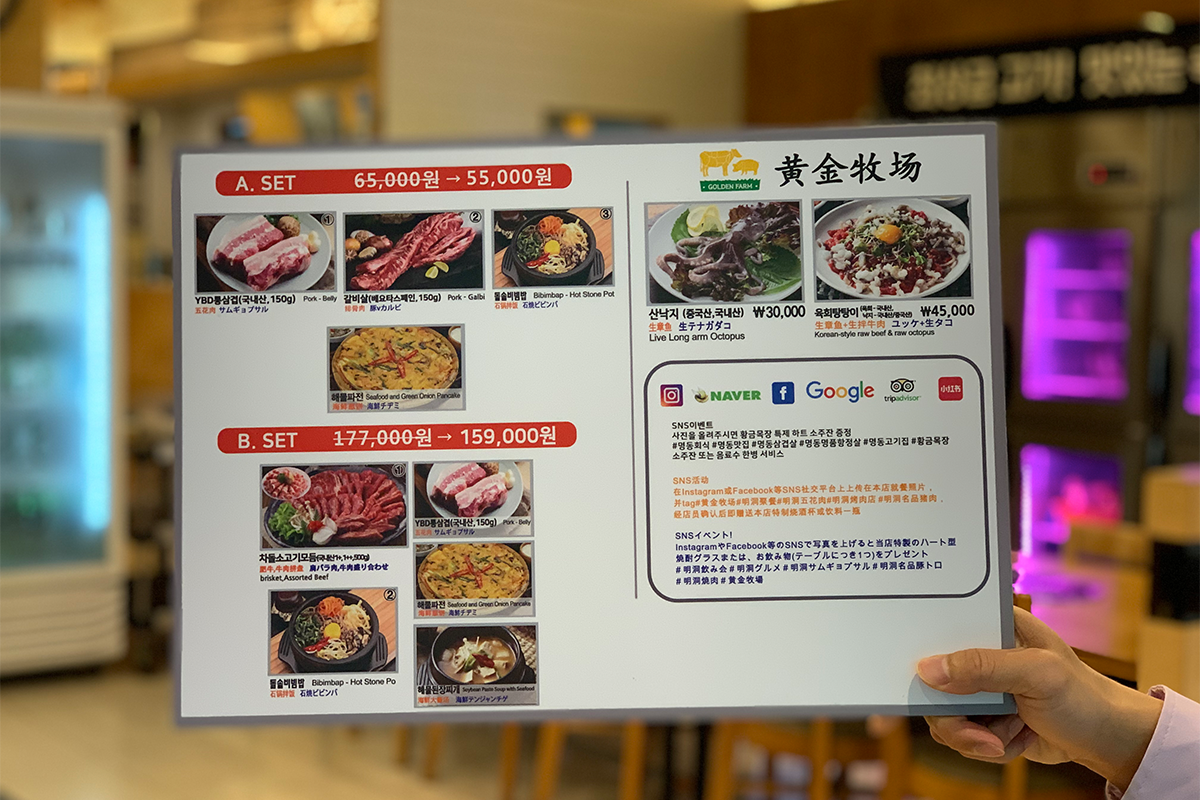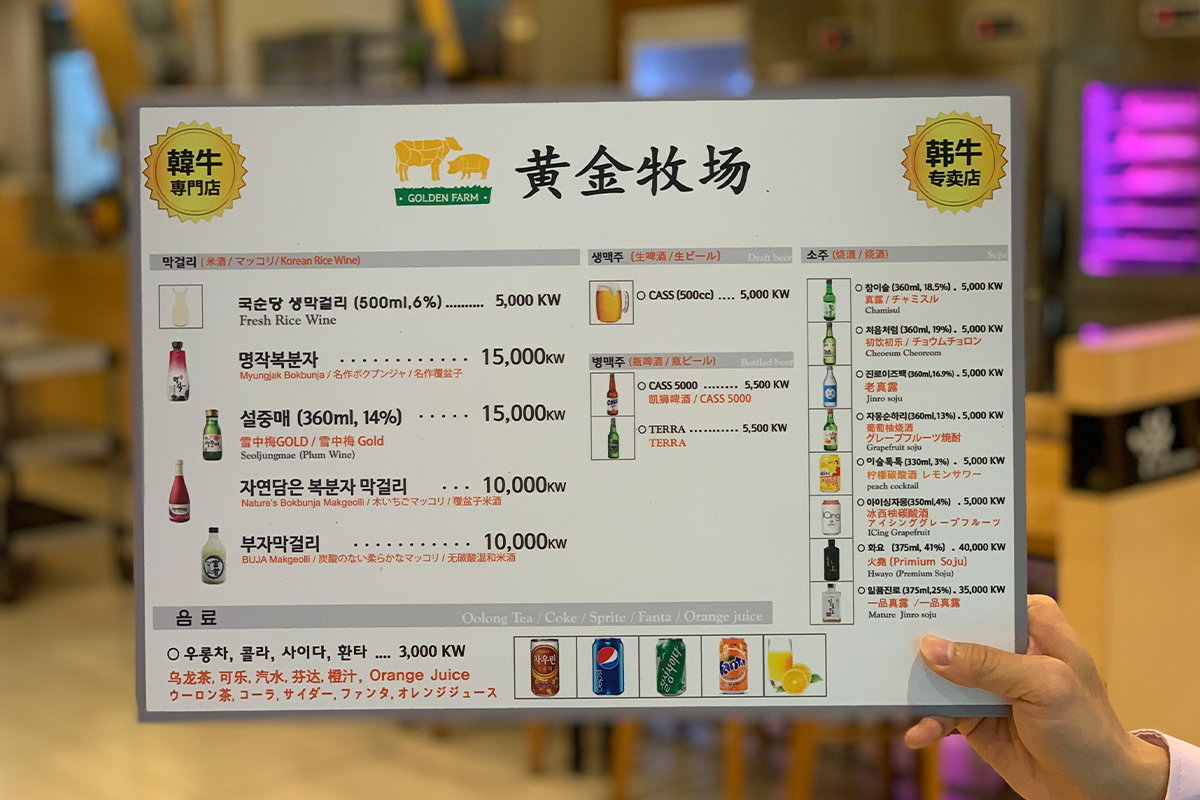 The waiter recommended the "B set" that includes brisket, a beef platter, pork belly, seafood scallion pancake, seafood soybean soup, and stone-pot bibimbap. This set is a meal for 3 people but it was perfect for our group of 4 women.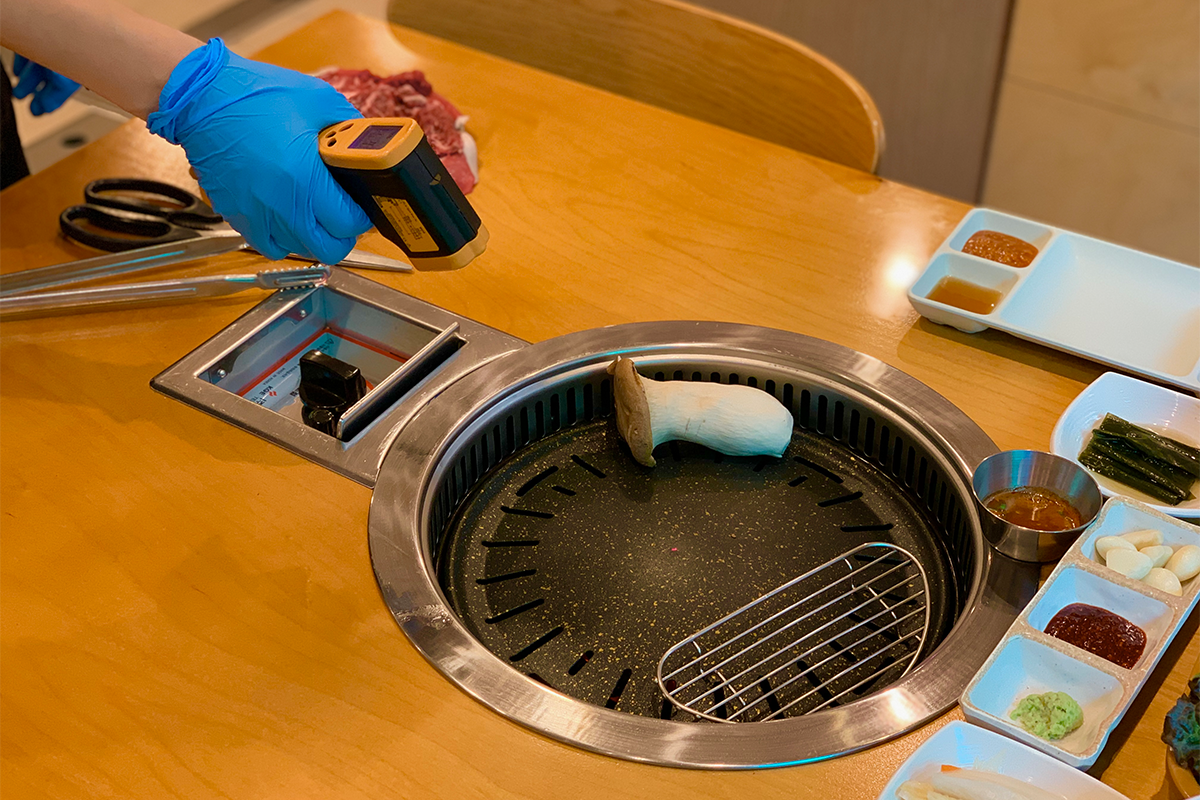 Before putting the meat on the grill, the waiter measures the temperature of the grill, to see if it has reached the ideal temperature of 240 degrees.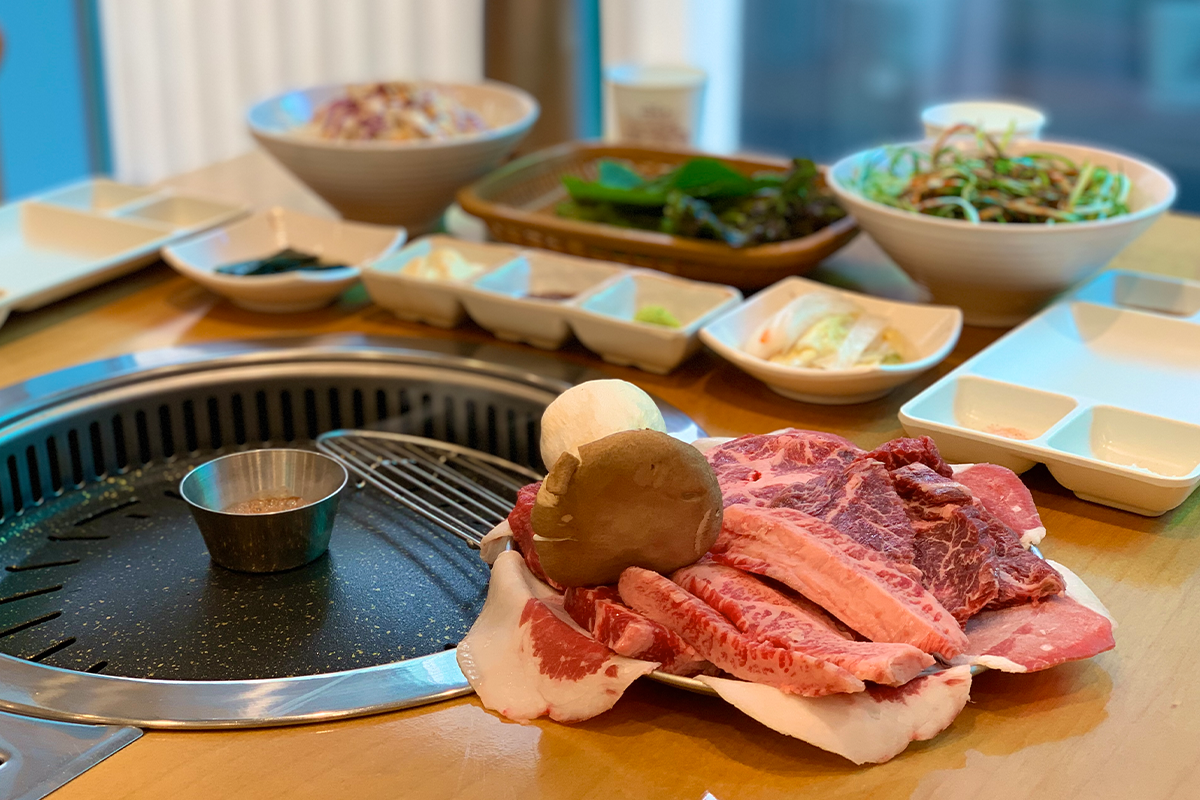 A plate of meat was brought out, which included special cuts of beef and a giant oyster mushroom.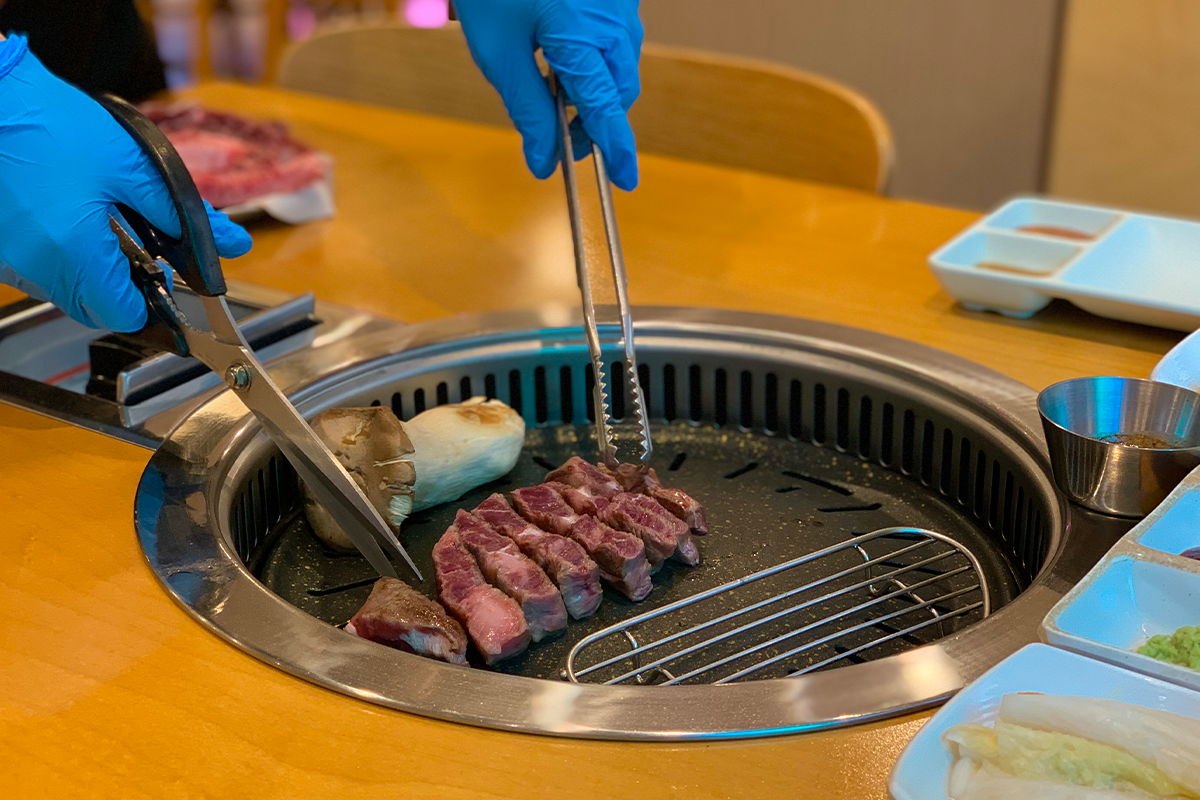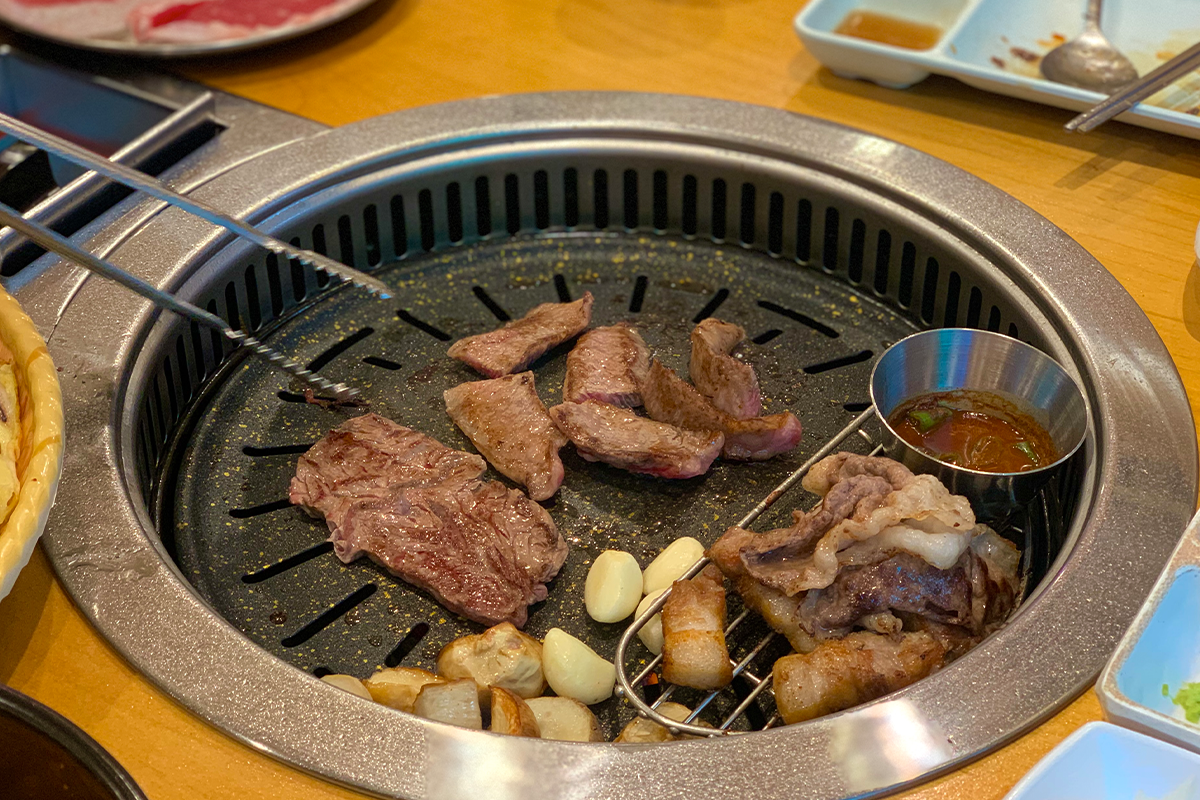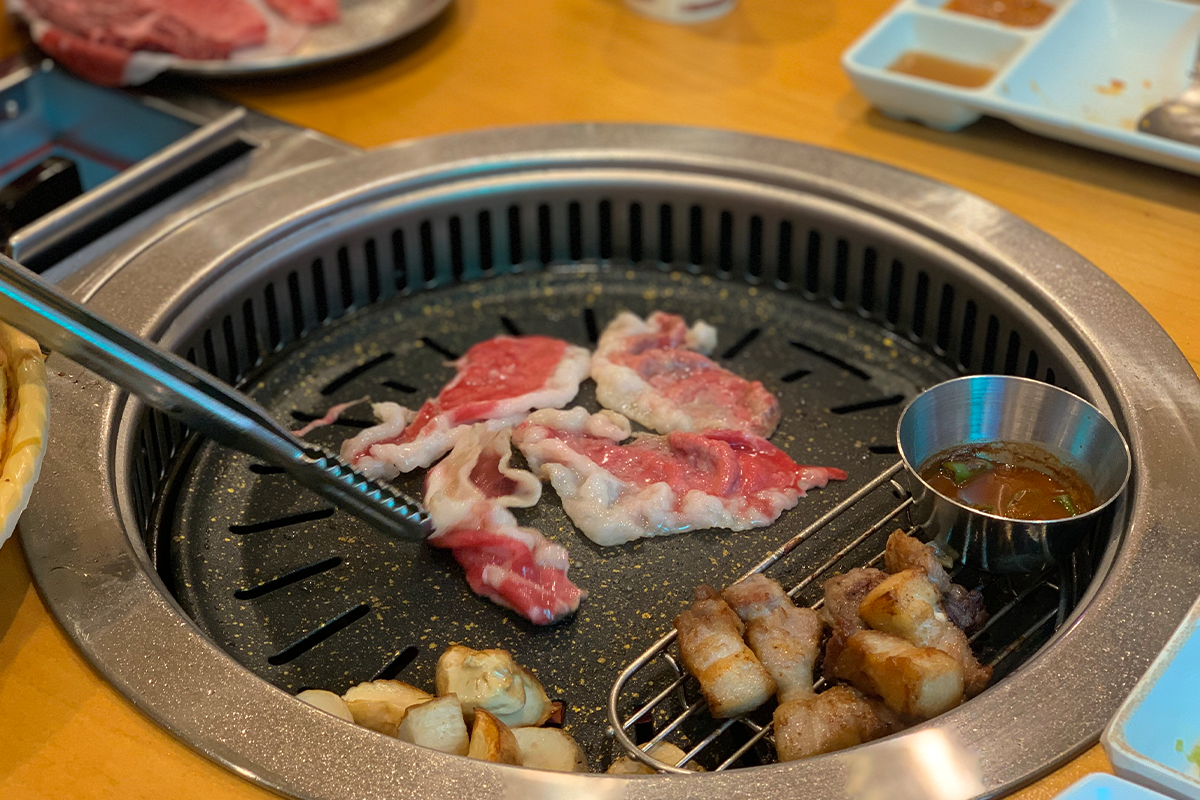 Each cut of meat is grilled one by one, to preserve the purity of the flavor of each cut. Once each cut is done, the waiter cleans the grill to ensure it doesn't burn or smell of grease.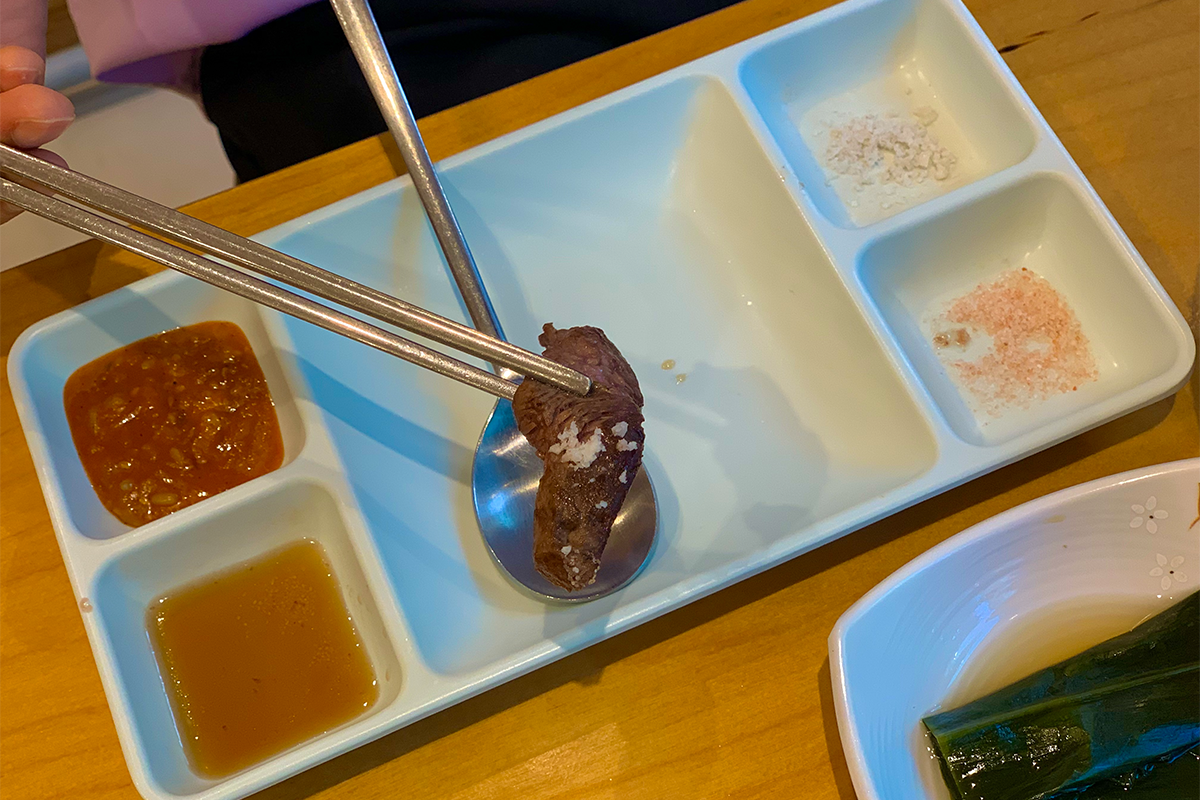 Each bite is juicy and tender, something we all can't help but indulge in. If you want a change in flavor, try wrapping a piece of meat in a lettuce wrap with mustard and green onions!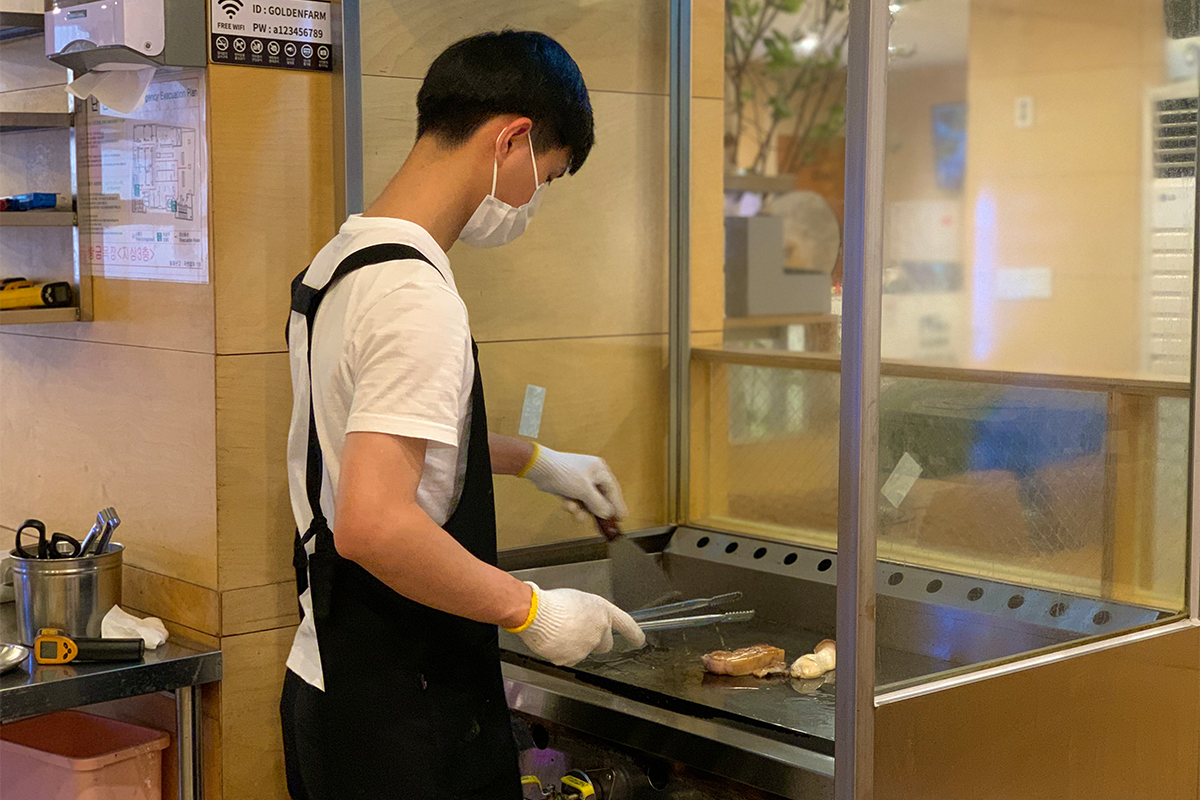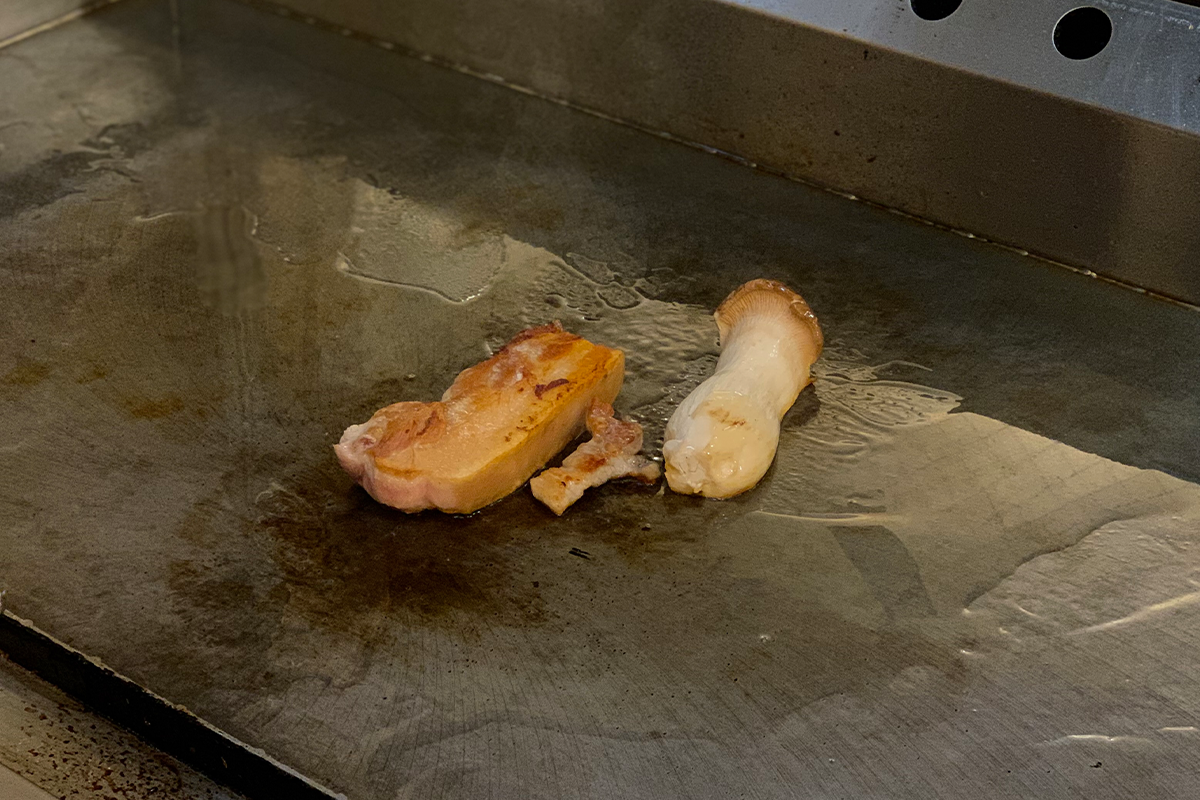 Another must-have at Golden Ranch is their pork belly, which is already cooked 70% through when it comes to the table. This is because since pork belly has so much fat in it, it creates a cloud of thick smoke in the room, which may lead to an unpleasant experience.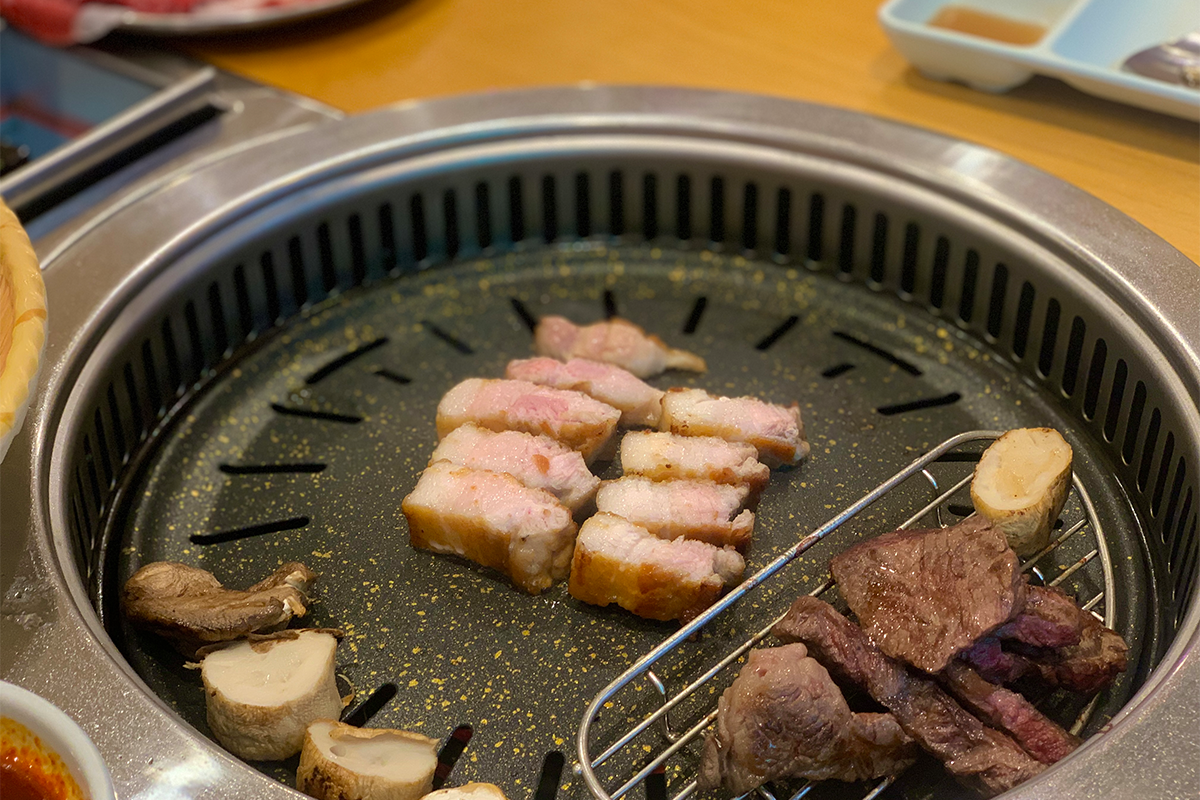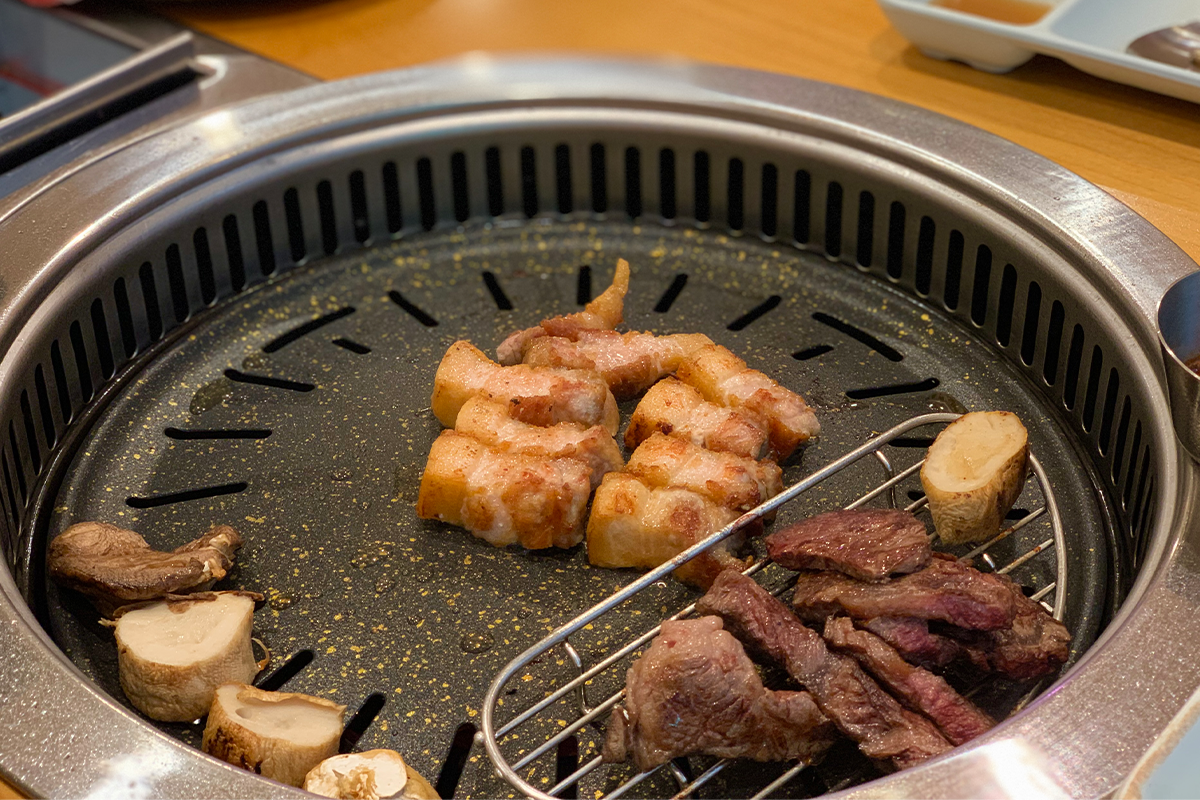 The pork belly is grilled so it has a crispy golden brown crust and is tender on the inside.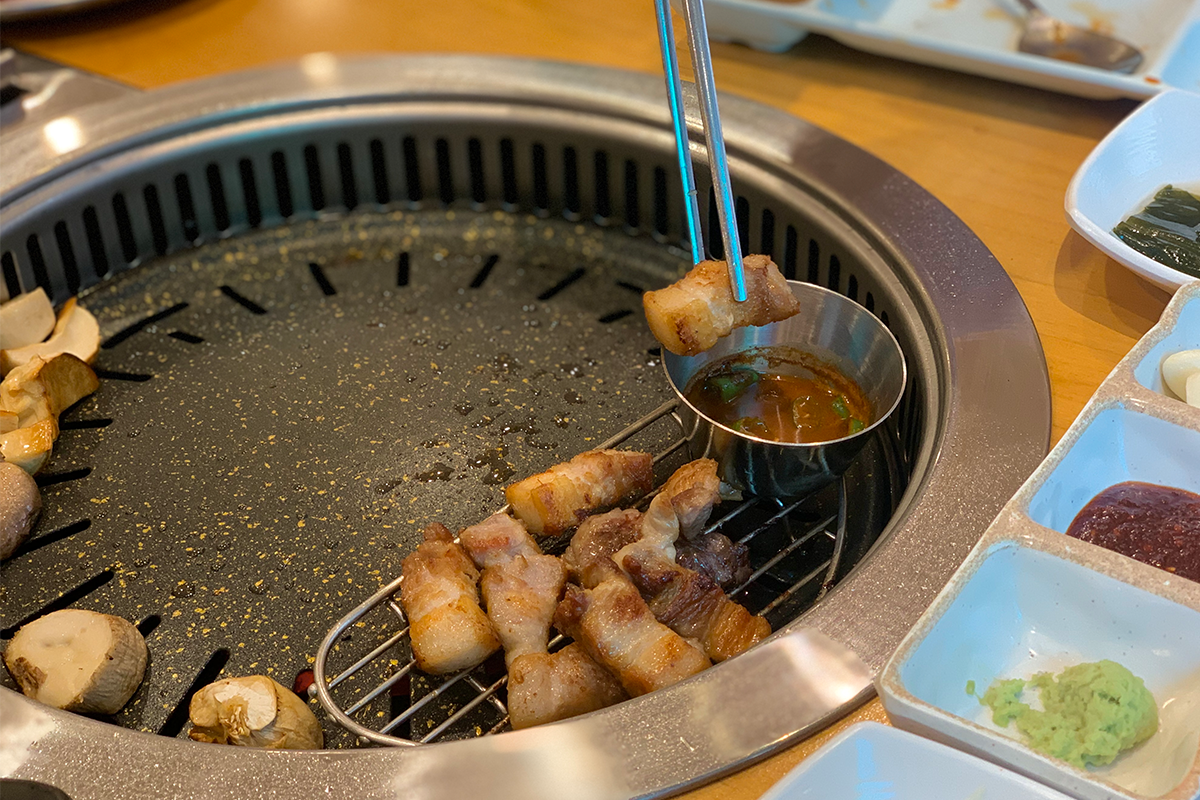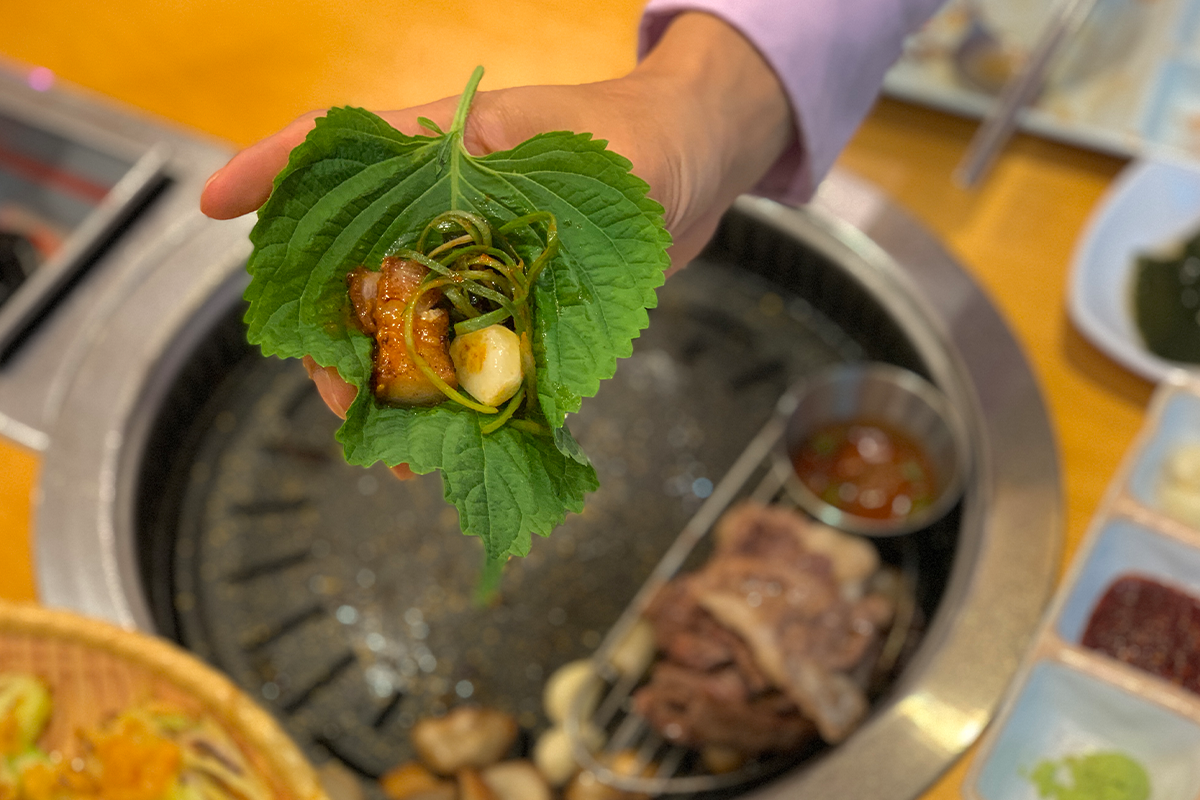 On a piece of perilla leaf, add a piece of pork belly, some green onion, and a clove of garlic with some shrimp sauce, and wrap it up. Your mouth will explode with flavor!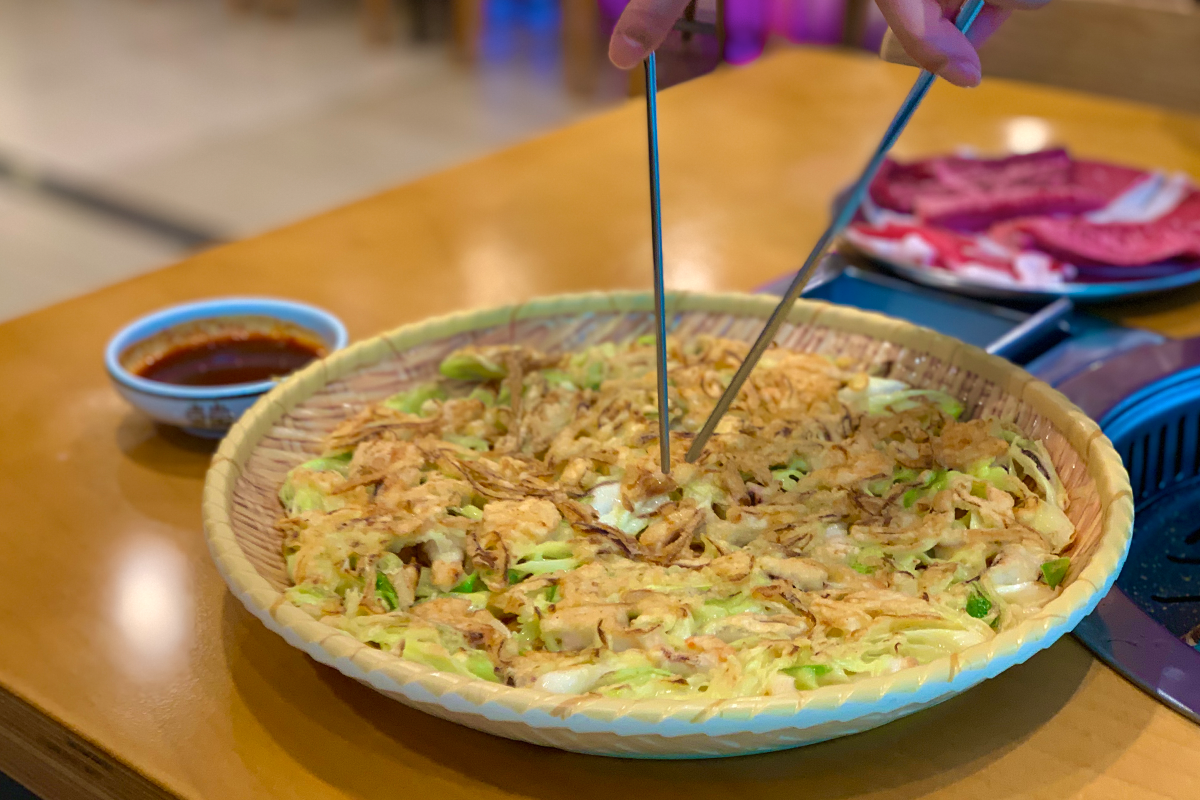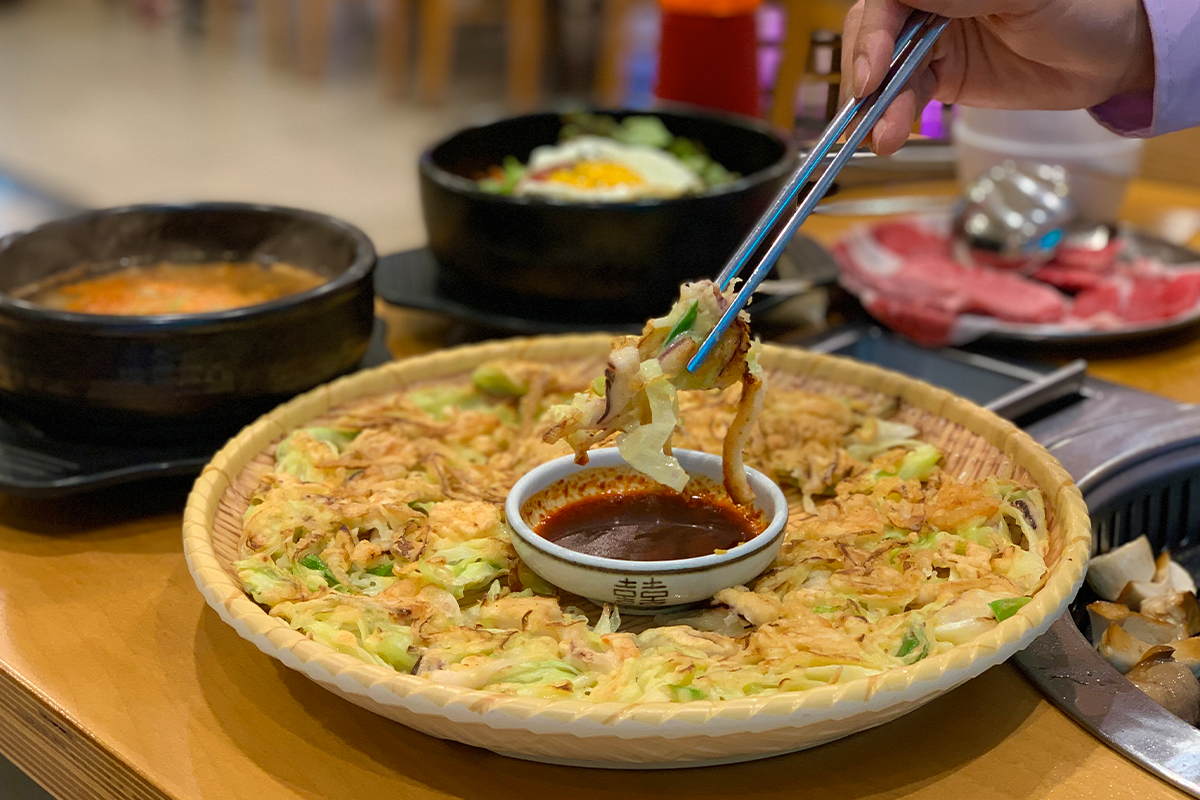 The B Set has 3 side dishes, the first one I want to introduce is the seafood scallion pancake. The scallion pancake has a variety of fresh seafood such as squid and prawns and is fried until it is crispy. It is accompanied by a special soy sauce with chili that brings out the flavors of the scallion and seafood. The sauce may be a little hot for some but for us, it was perfect!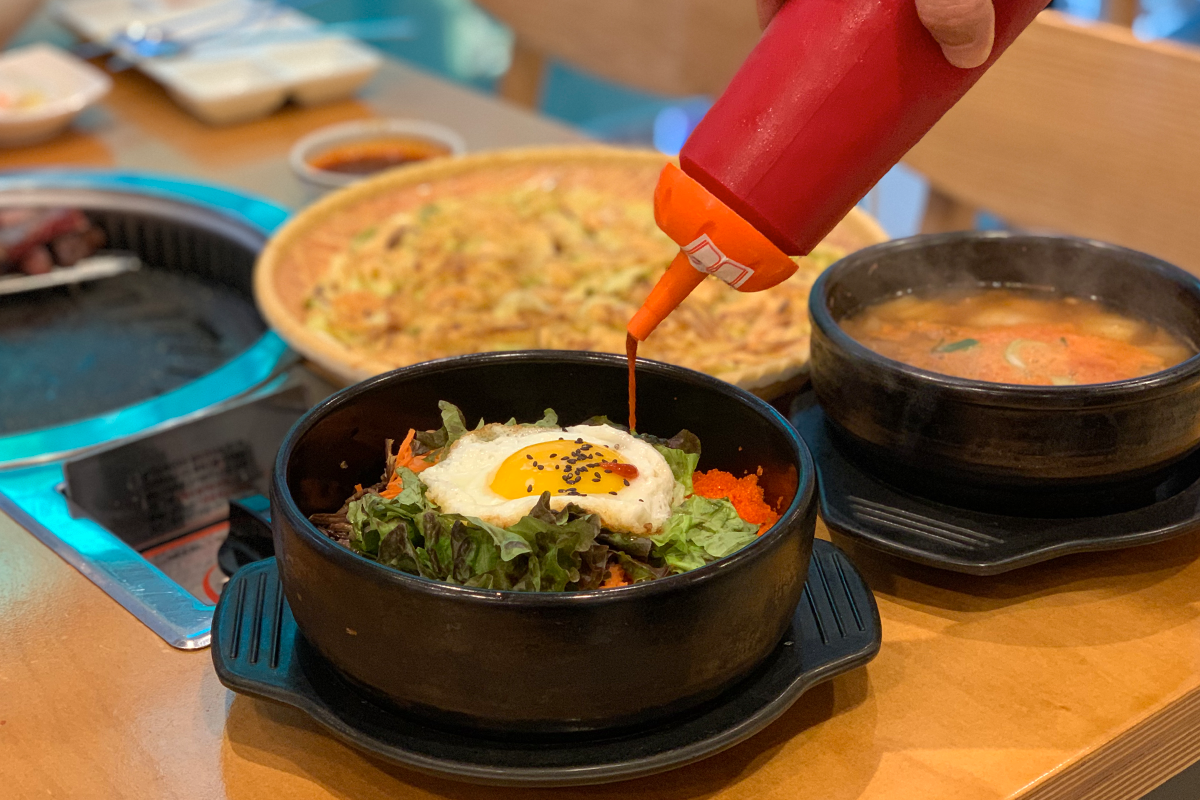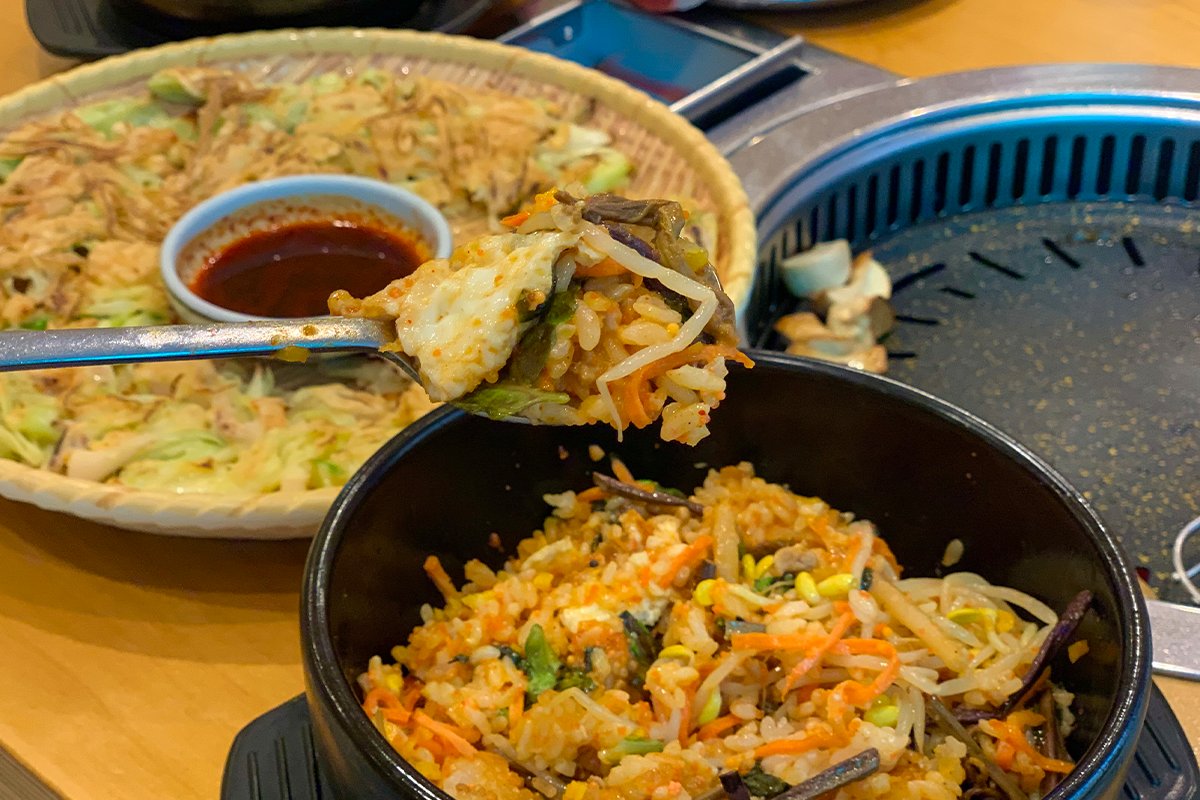 The stone-pot bibimbap is also excellent. The vegetables and fried egg with gochujang sauce are a favorite among adults.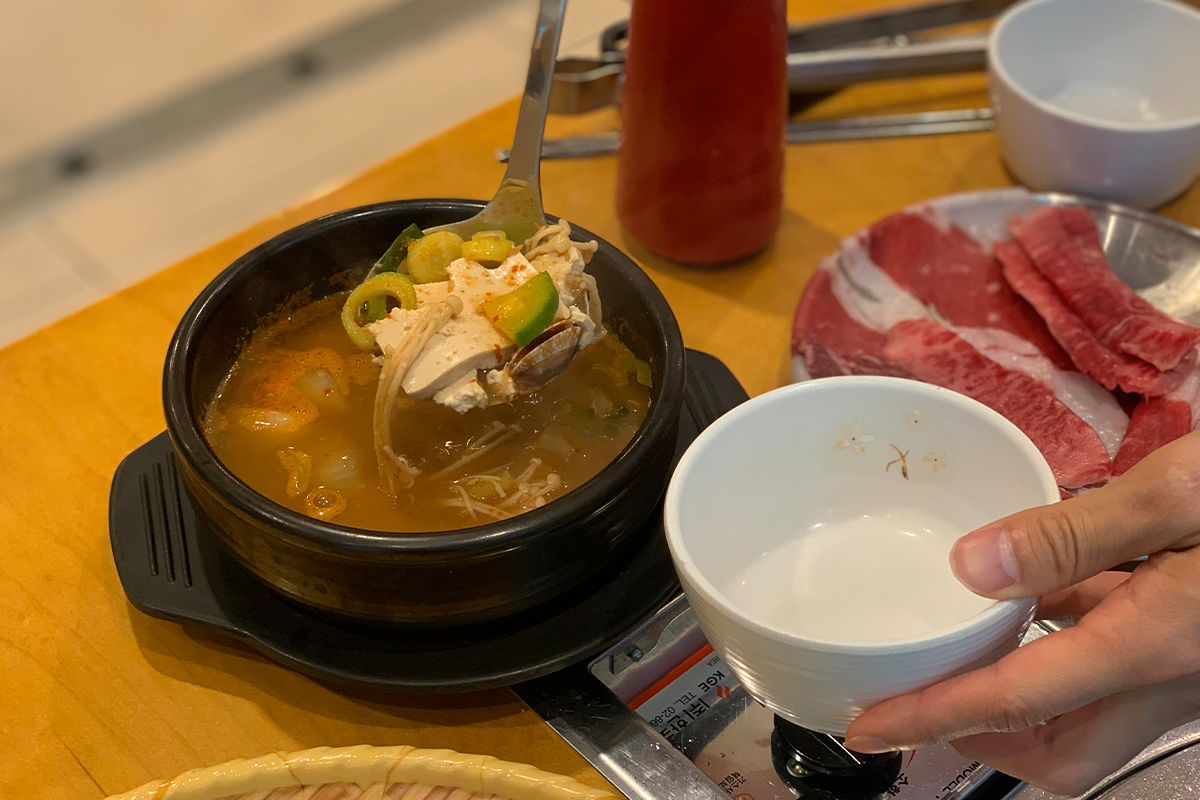 Seafood soybean soup is not only packed with flavor but also has a lot of ingredients, so people couldn't help but get seconds!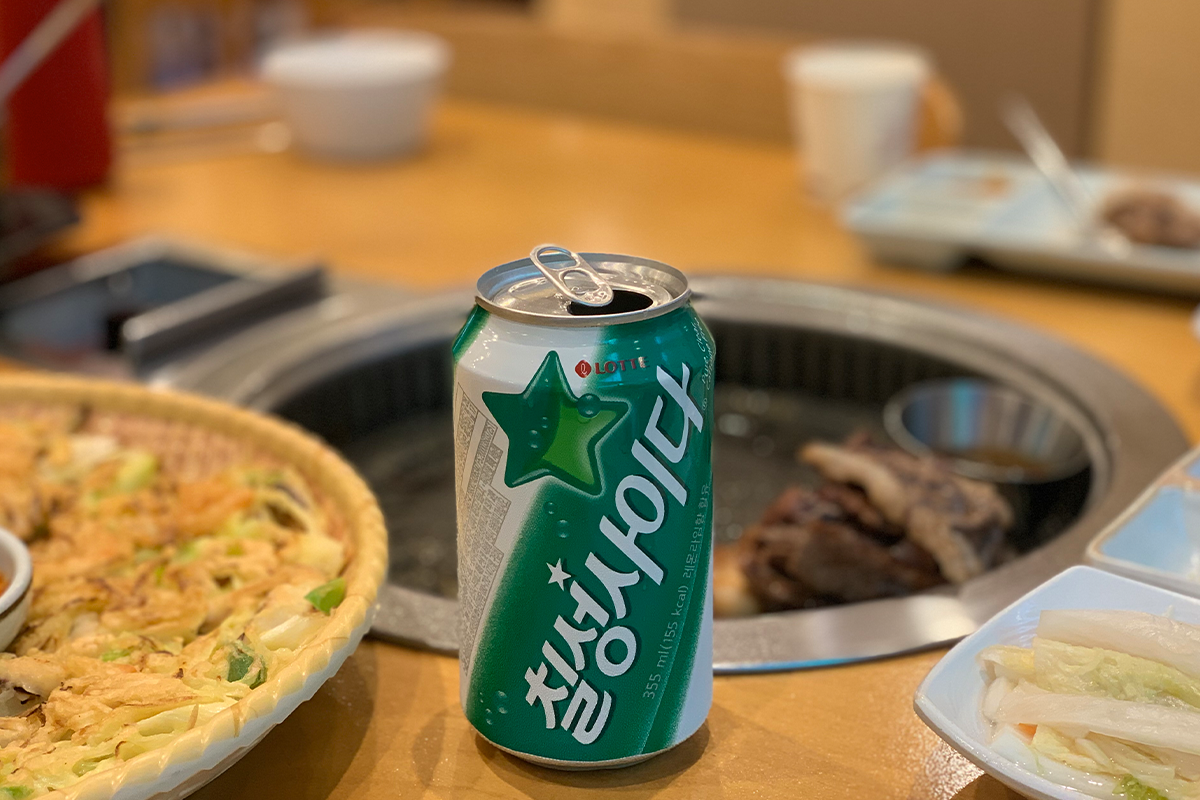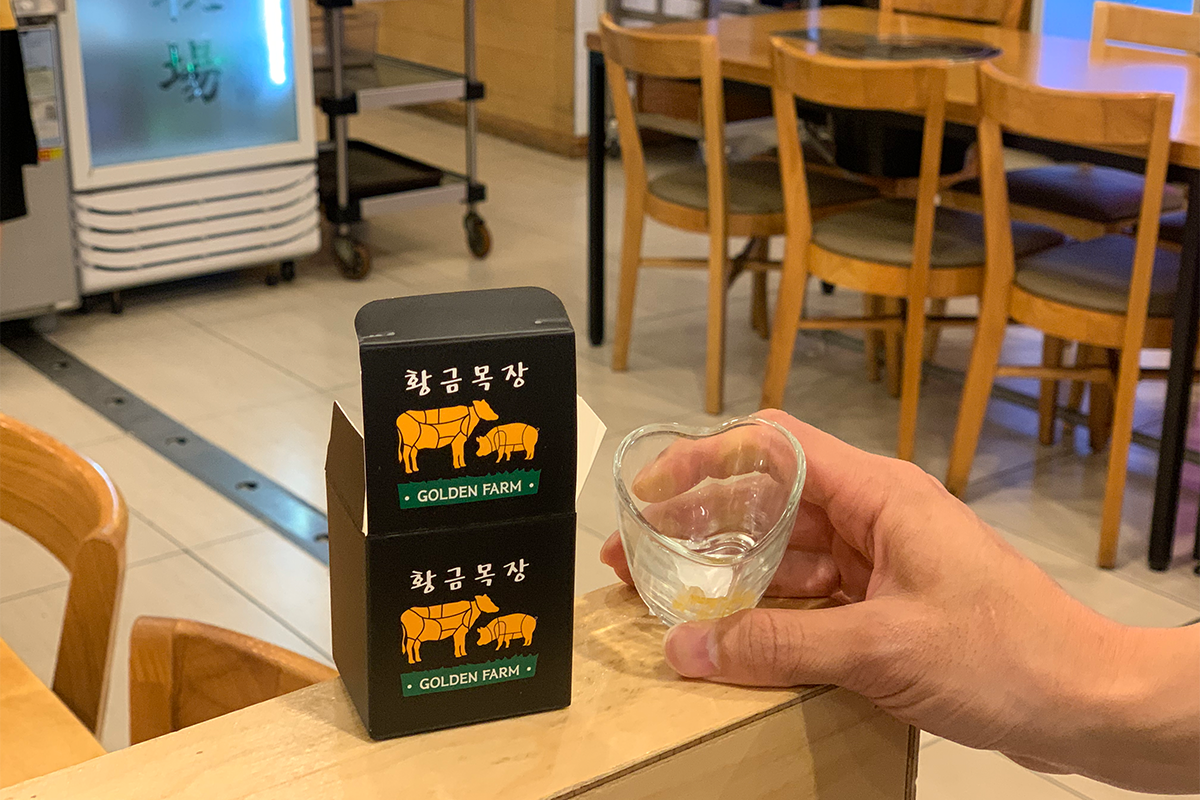 If you show the cashier our coupon, you can get a 10% discount, and also, you can get a heart-shaped soju cup at the Golden Ranch if you follow them on their social media (Instagram, Naver, Facebook, Google, Tripadvisor, and Xiaohongseo. Don't miss out on a double deal!
---
How to Get There
When you exit Myeongdong Station Exit 6, turn right in the alley next to Nature Republic and go straight, you will see a yellow sign on the second floor next to Giozia that says Golden Ranch in Korean(황금목장).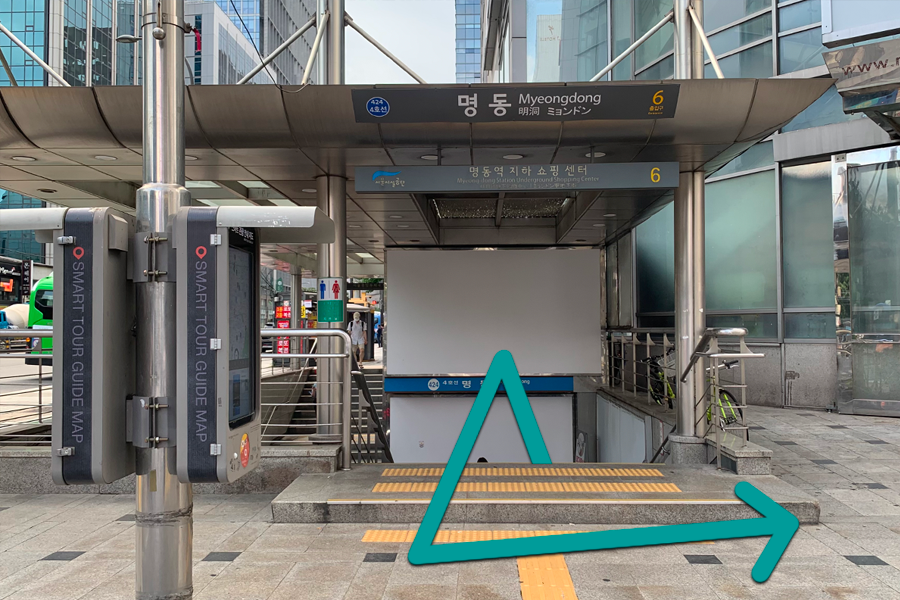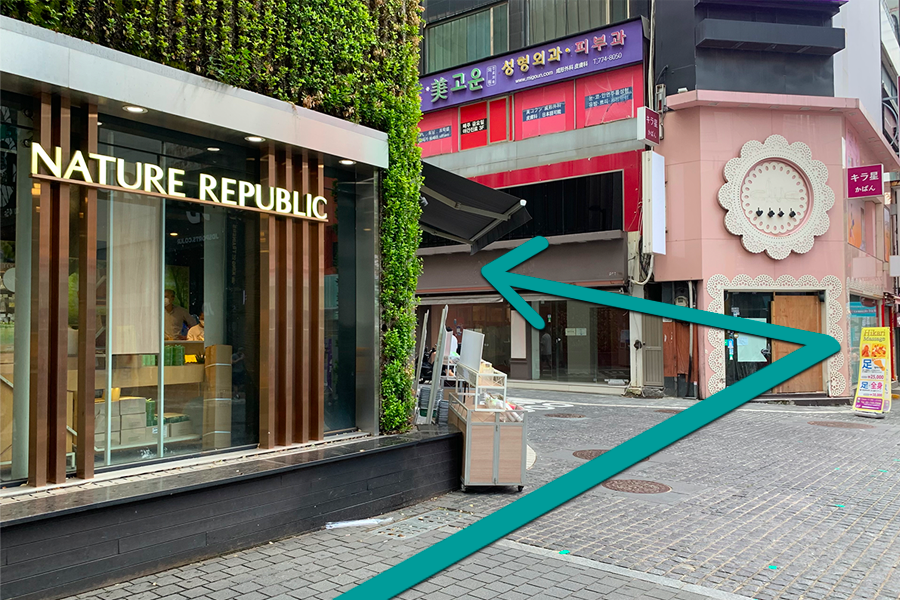 From Myeongdong Station Exit 6, turn left at Nature Republic.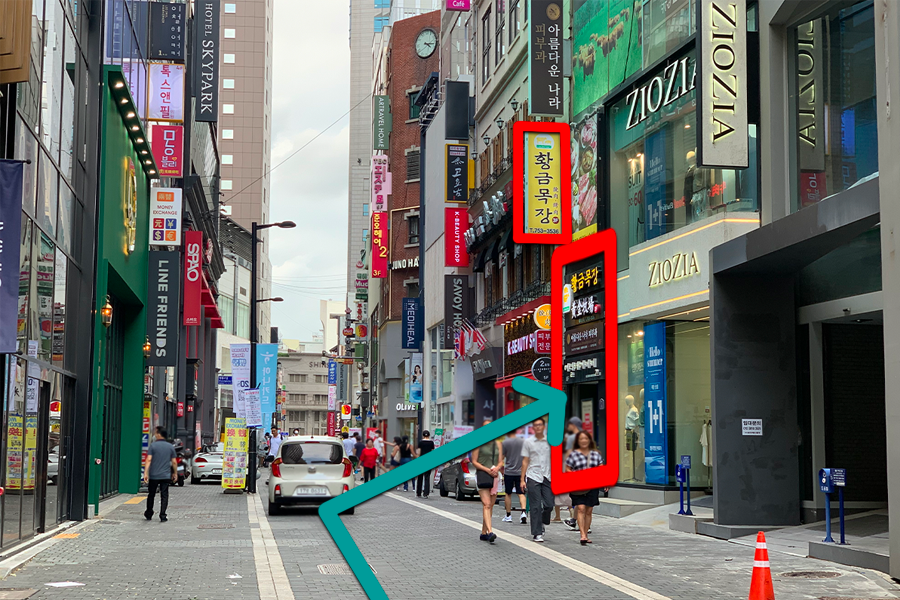 If you go straight, you'll see a yellow sign on your right that reads "Golden Ranch" in Korean(황금목장).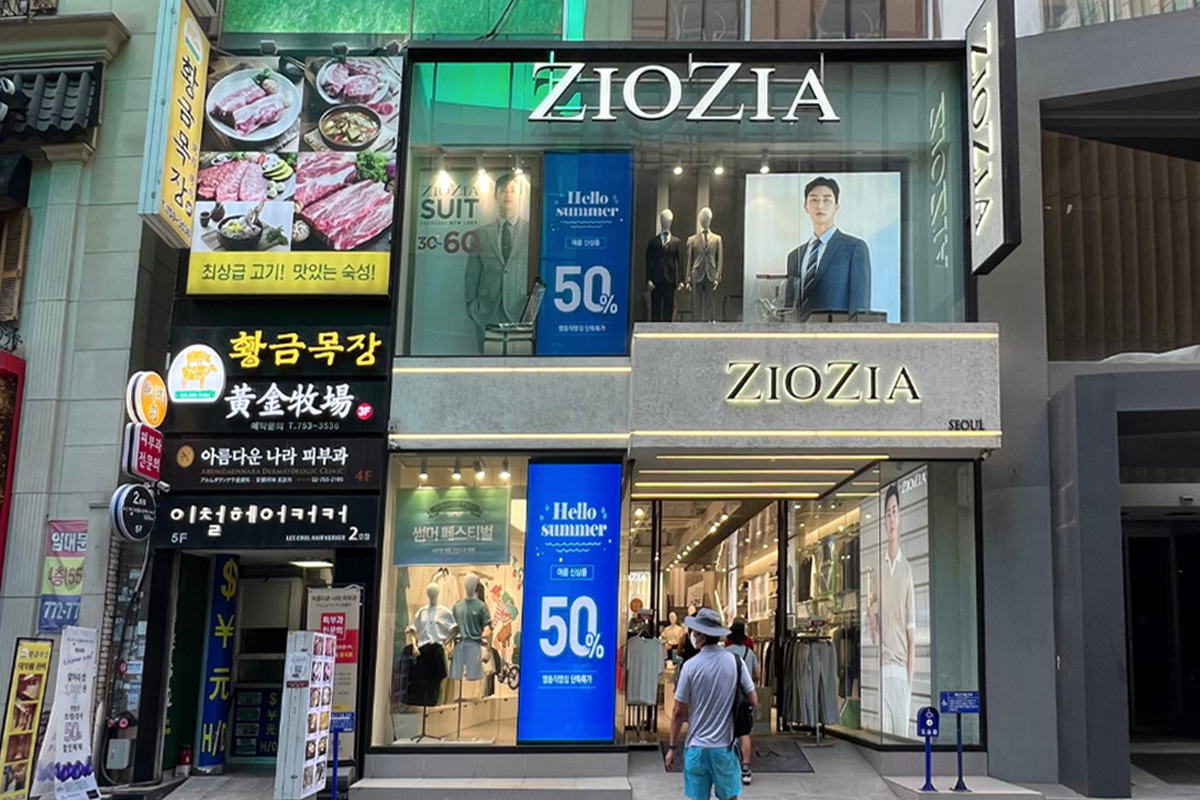 There's a building on the left of Ziozia, walk in.
Go into the building and go to the 3rd floor by the stairs or take the lift. You will arrive at the entrance of Golden Ranch.
---
Golden Ranch | K-BBQ in Myeongdong
---
We hope that you can enjoy a K-BBQ meal at Golden Ranch in Myeongdong! If you have any questions or concerns, please leave a comment below or send us an email at support@creatrip.com! You can follow us on Instagram, TikTok, and Facebook to stay updated on all things Korea!
---