Enjoy A Peaceful Picnic At Yeonhee Nature Garden
Have a picnic at Yeonhee Nature Garden in Incheon and enjoy a beautiful, peaceful day surrounded by nature!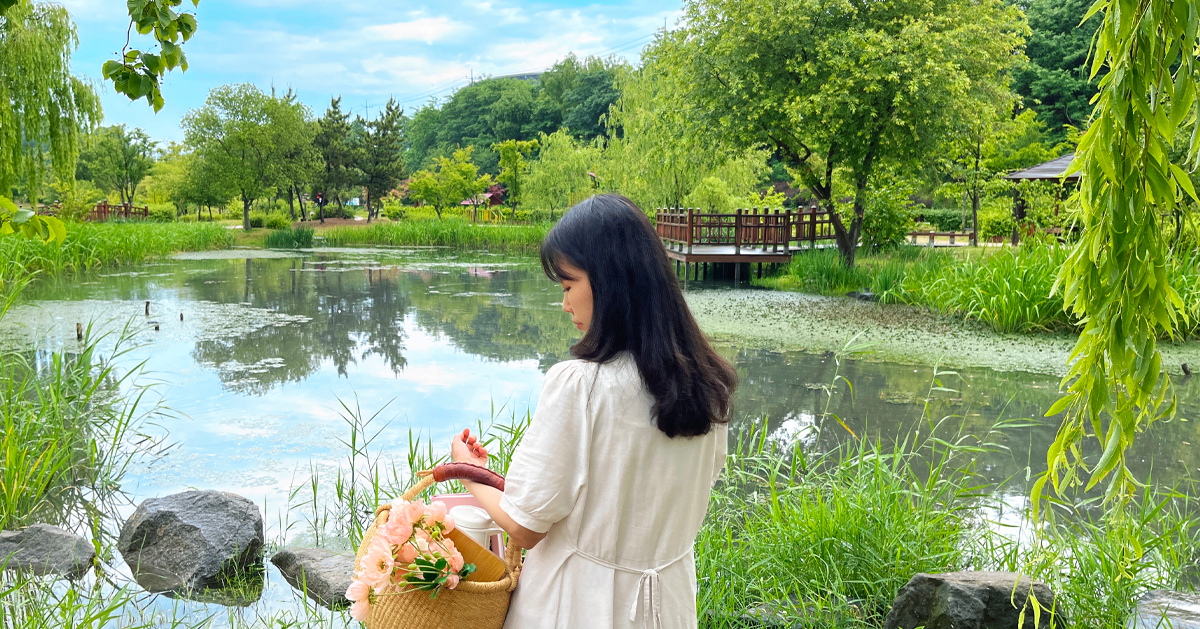 Today we will take a trip to Yeonhee Nature Garden which is located opposite of the Incheon Asiad Main Stadium.
It has a quiet atmosphere and various ecological spaces, allowing its citizens to enjoy the beauty of nature and have a peaceful day.
Let's take a look at a picnic service that will make your long drive to Incheon worthwhile.
---
Cafe MFT
카페엠에프티
Address: 13 Cheongna lime-ro 122beon-gil, Seo-gu, Incheon
인천 서구 청라라임로122번길 13 1층
Hours: 11:00-21:00 (Last order: 20:30)
Bread baked from 12:00-13:00
Picnic combo rental hours: 12:00-20:00
Extra fee of 5,000 won per 1 hour of overtime
How to reserve: Through the store's Instagram
---
Price
Price

Included

Picnic mat, bamboo basket, eco-friendly thermos, plastic wine glass, English book, mirror, bouquet

Additional purchase: Rattan table ₩3,000, Rattan table (small) ₩2,000

Mini folding table, chair (with back), bamboo basket, eco-friendly thermos bottle, plastic red wine glass, English book, mirror, bouquet

Additional purchase: ₩10,000 for 1 person: chair (with back), plastic wine glass, English book, mirror, bouquet

Folding tables and chairs, bamboo baskets, eco-friendly thermos, plastic wine glasses, English books, mirrors, bouquets

Additional purchase: ₩10,000 for 1 person: folding table, chair (with back), plastic wine glass, English book, mirror, bouquet

Please note the rental picnic set will come with hot/cold coffee and be served in a thermos. If you want to change your drink, you will need to pay the difference and provide your own takeaway cups.

No deposit is required, but it is recommended to make a prior appointment to secure your rental.
---
Review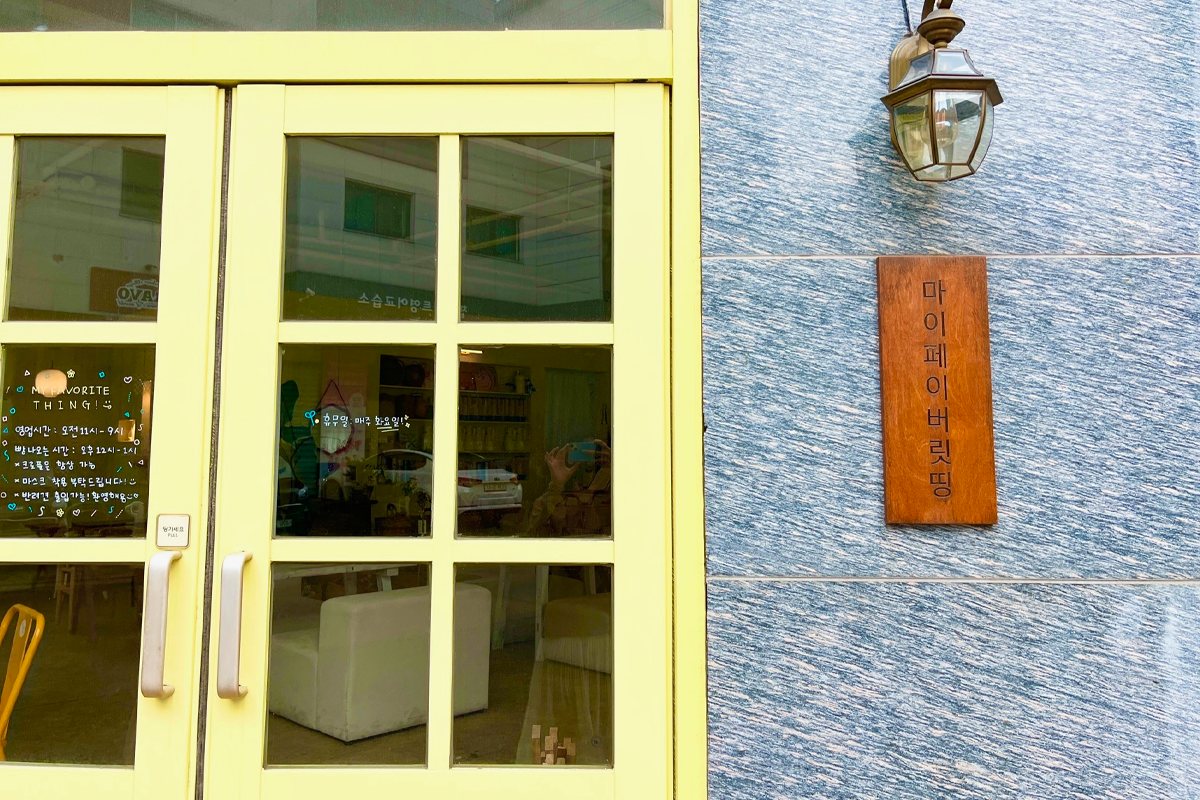 Cafe MFT is located in a quiet residential area. The name of the store is the abbreviation of "My Favorite Thing" in English.
The warm yellow door is very eye-catching.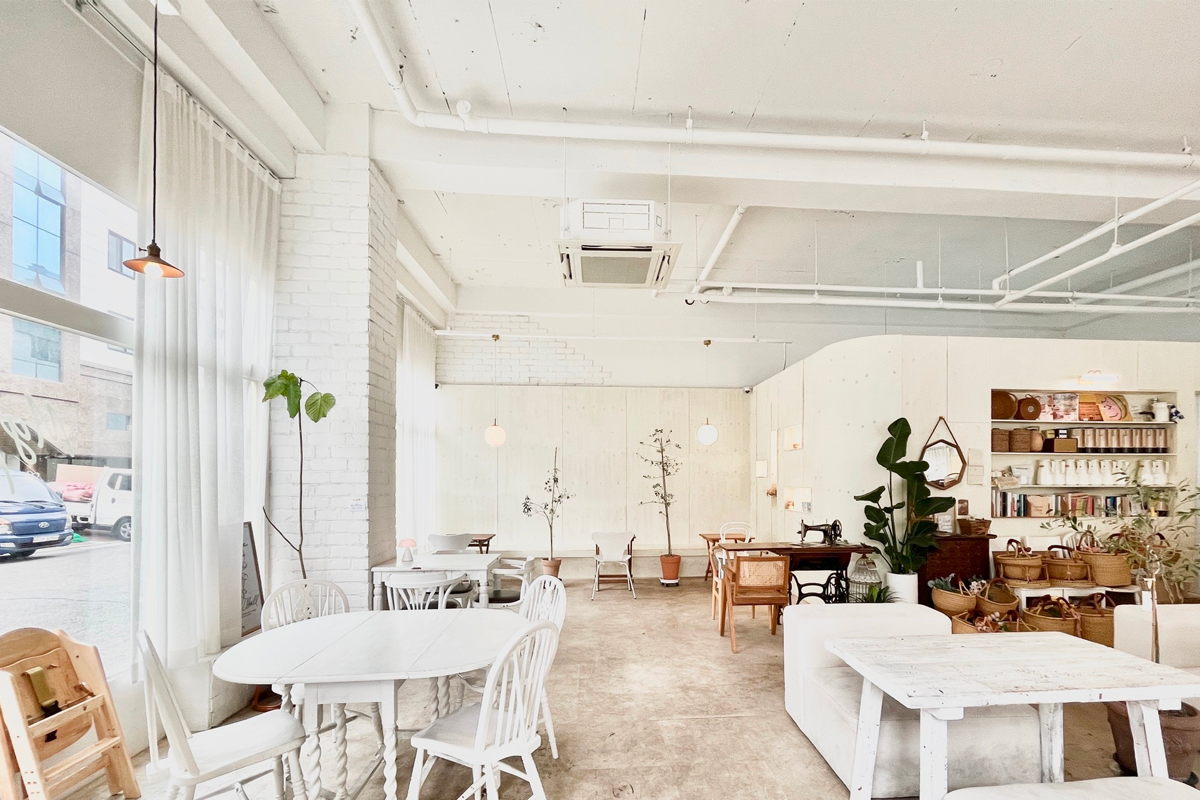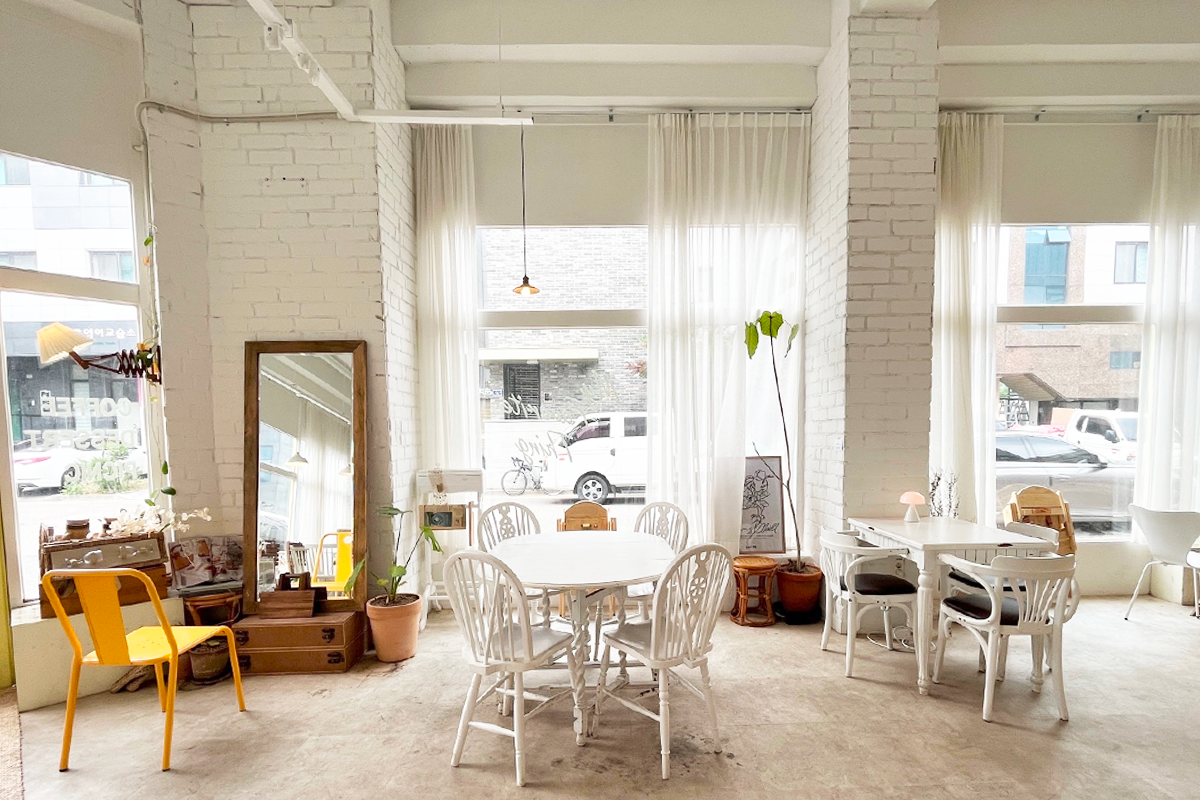 The pure white and simple interior made us awe in amazement as we walked in the door at first.
The spacious interior made us feel welcome and the way natural light spilled in through the large windows was beautiful to see.
Its cozy and comfortable atmosphere felt very warm and welcoming. We were certain we had come to the right place!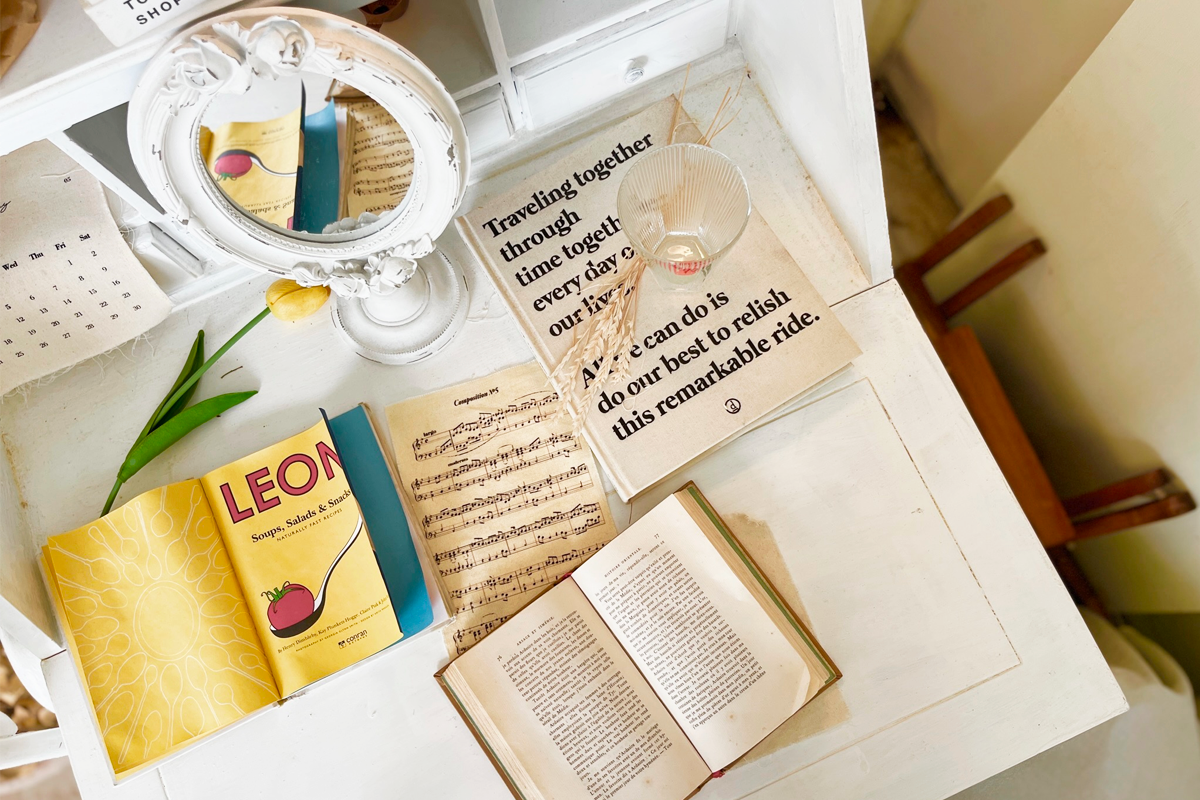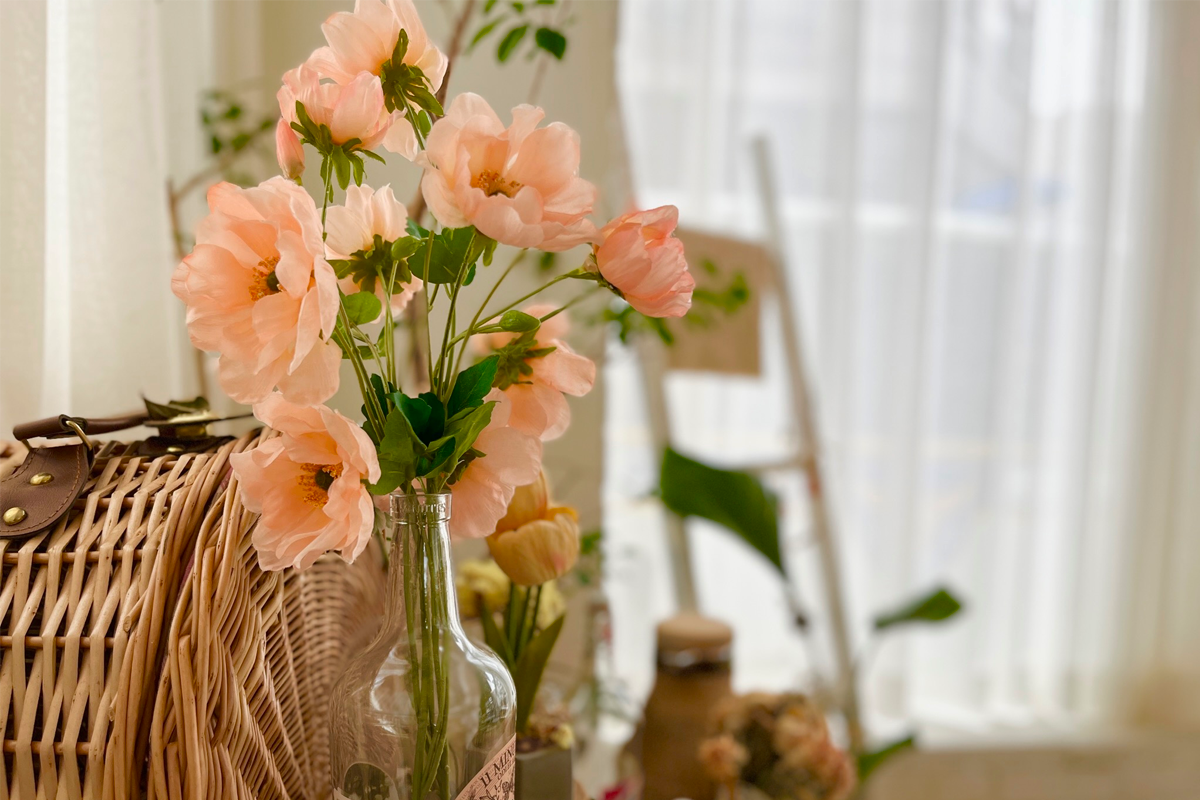 The matching colors and decorations in every corner were very unique and stylish. Every small space was filled with little decorations and we looked around every little corner.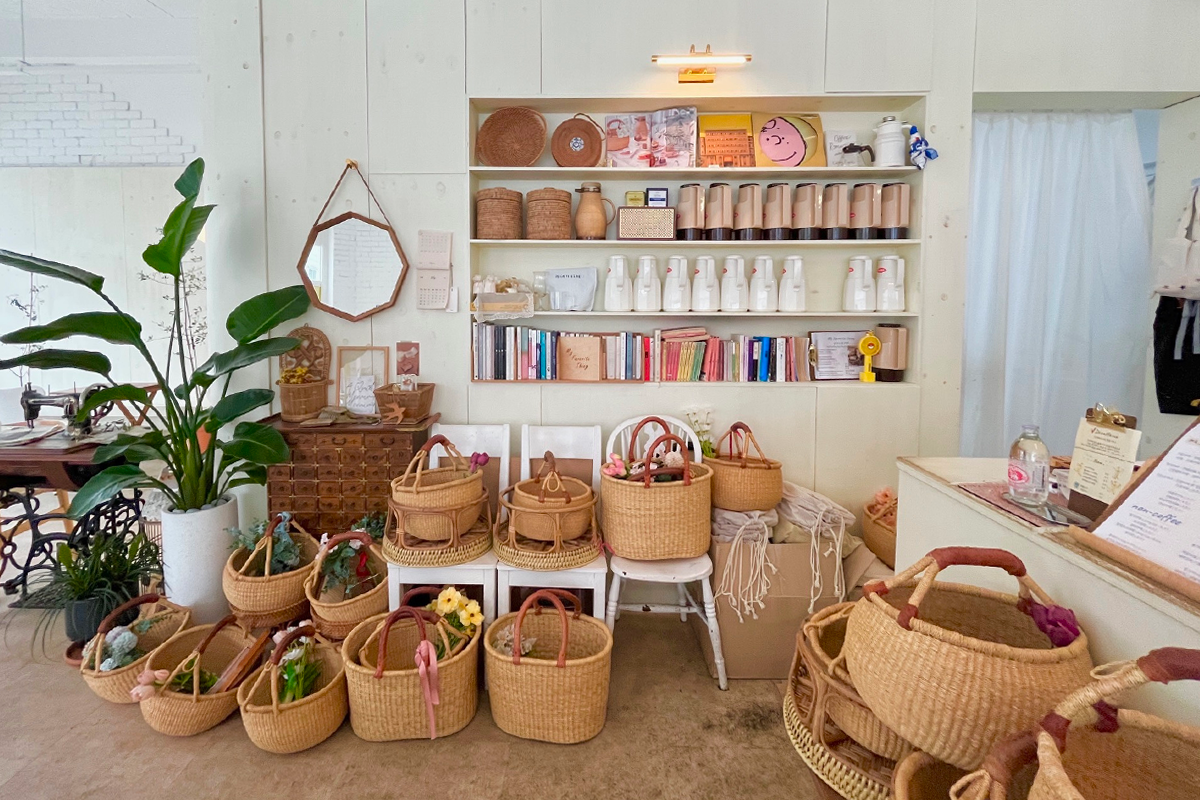 Large and small bamboo baskets and decorations were placed on the side of the counter. Guests could freely choose what type of basket they wanted or the store distributed them at random.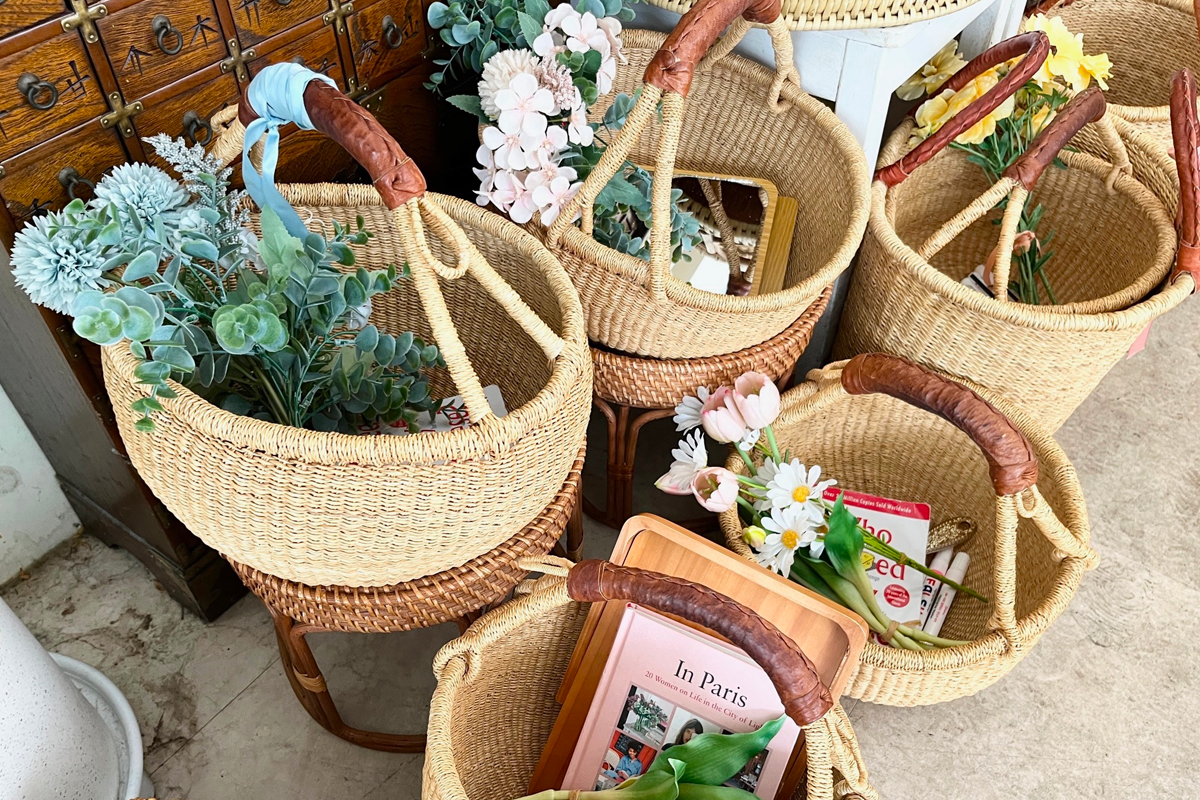 In each basket, there were beautiful flowers placed in them. There were also mirrors, English books, and other small items that add to the beautiful picnic atmosphere.
But don't be fooled by its cute appearance! It was a little heavier than I thought and took some effort to carry.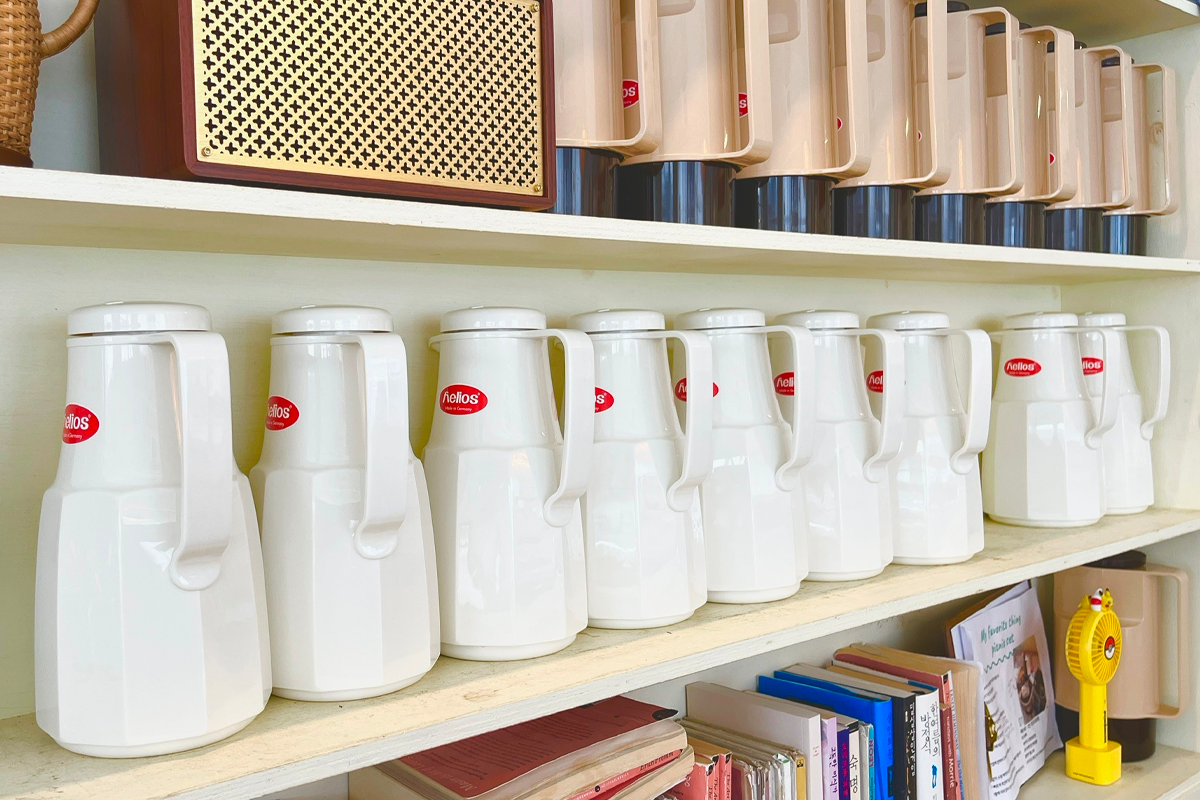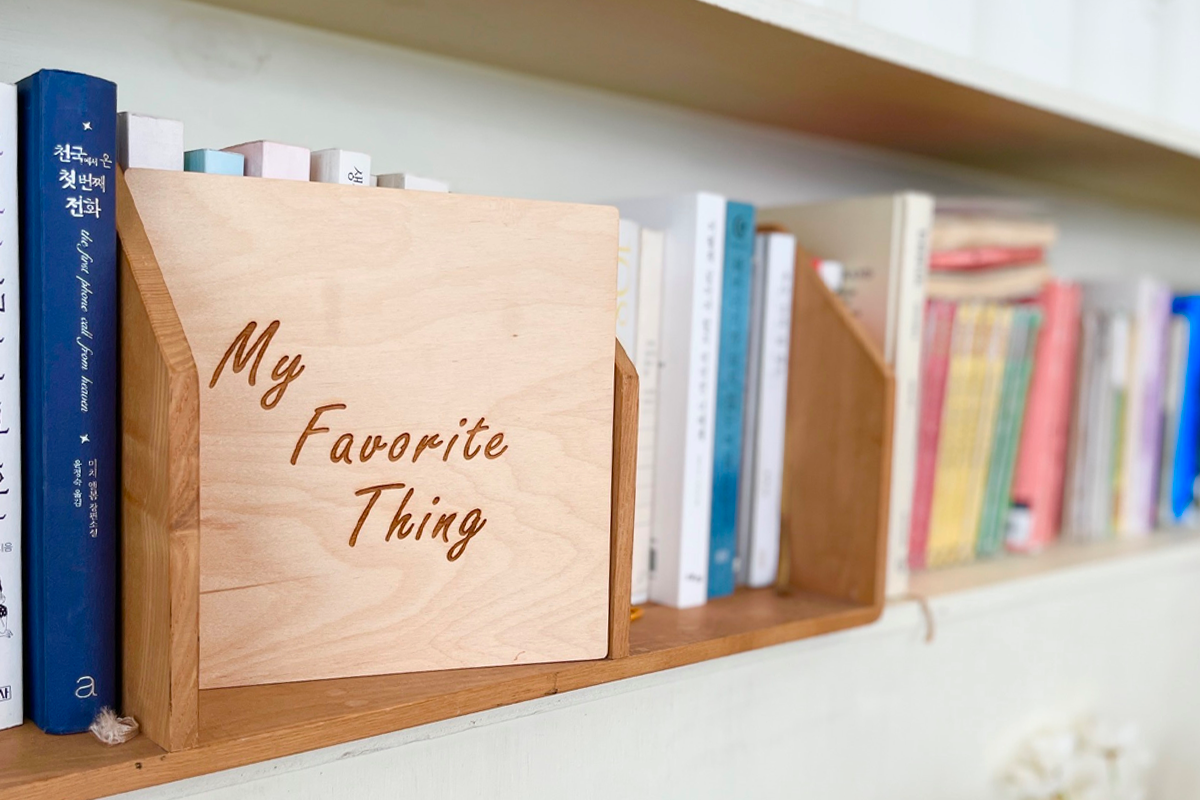 There was a row of thermos bottles on the shelf. If you rent a picnic set, the thermos will hold complimentary coffee. If you want to order other drinks though, the thermos will be filled with water instead.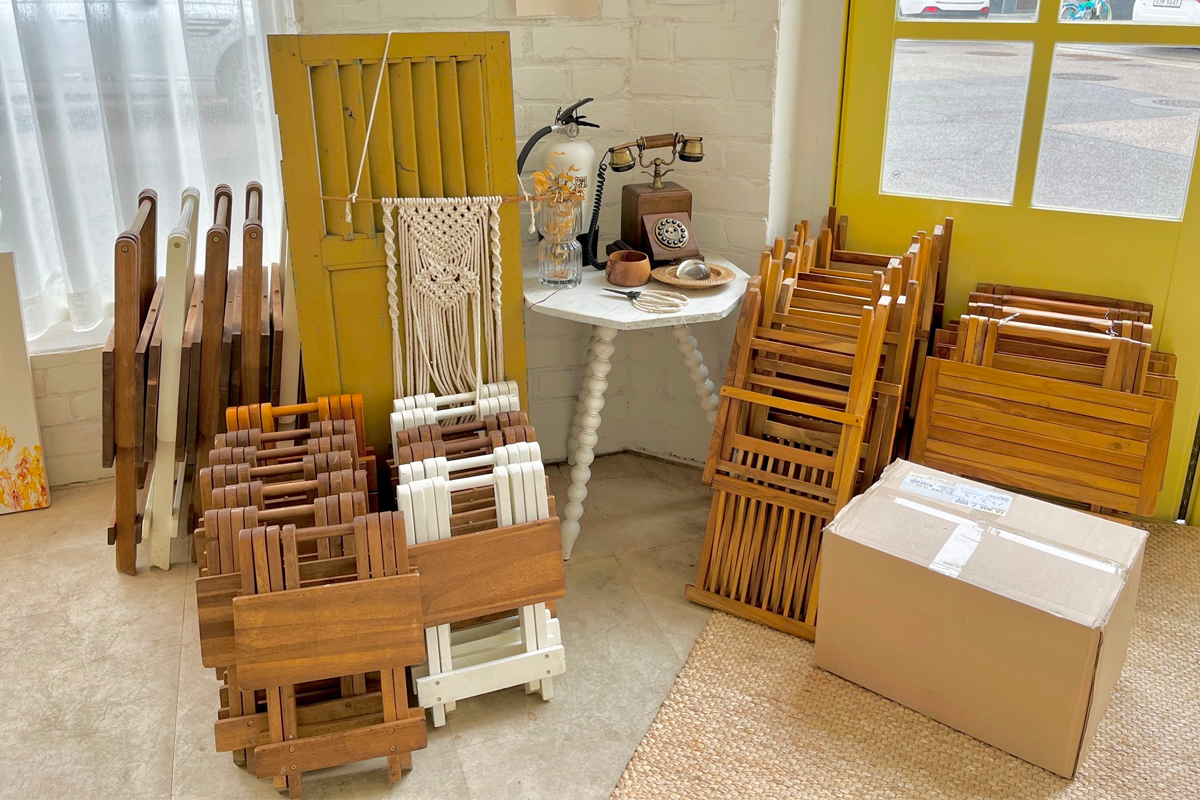 Wooden tables and chairs of different colors are placed at the entrance. Although they may look light, they were actually quite heavy.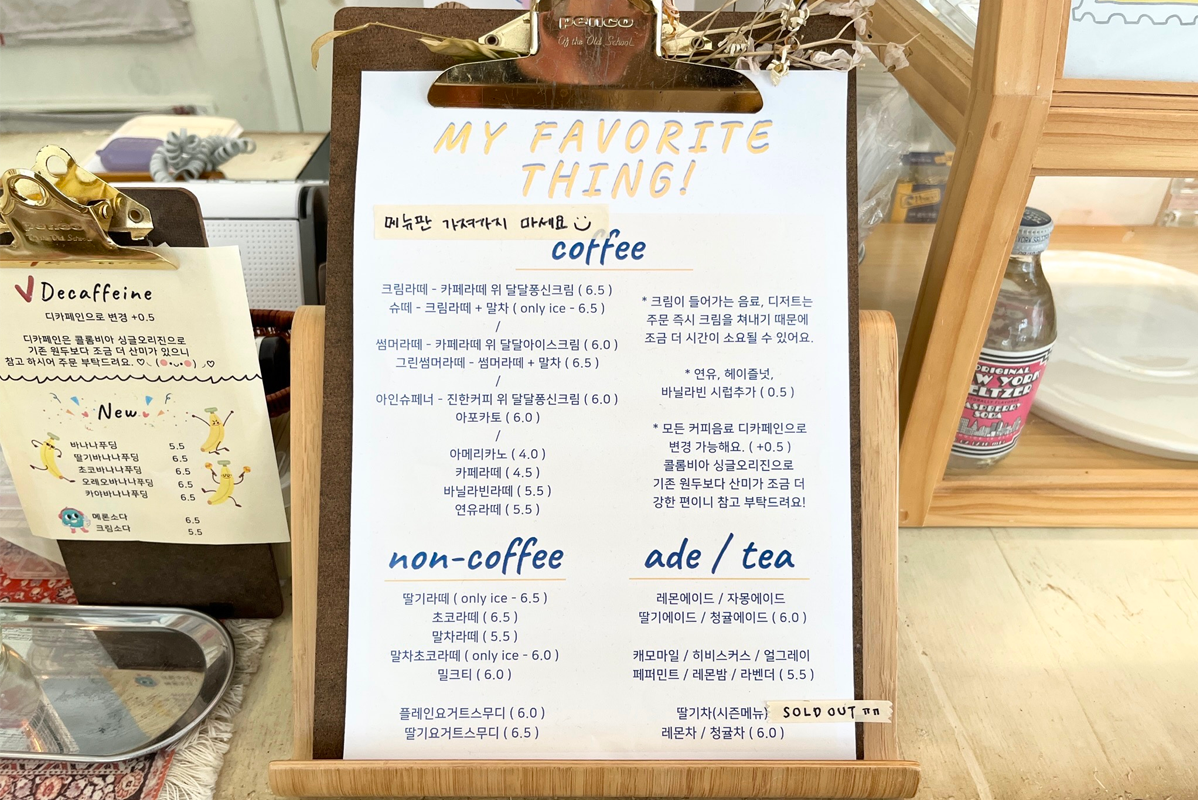 The most famous dessert at this cafe is the pudding but when I visited at noon, the desserts weren't ready yet so there weren't many choices available.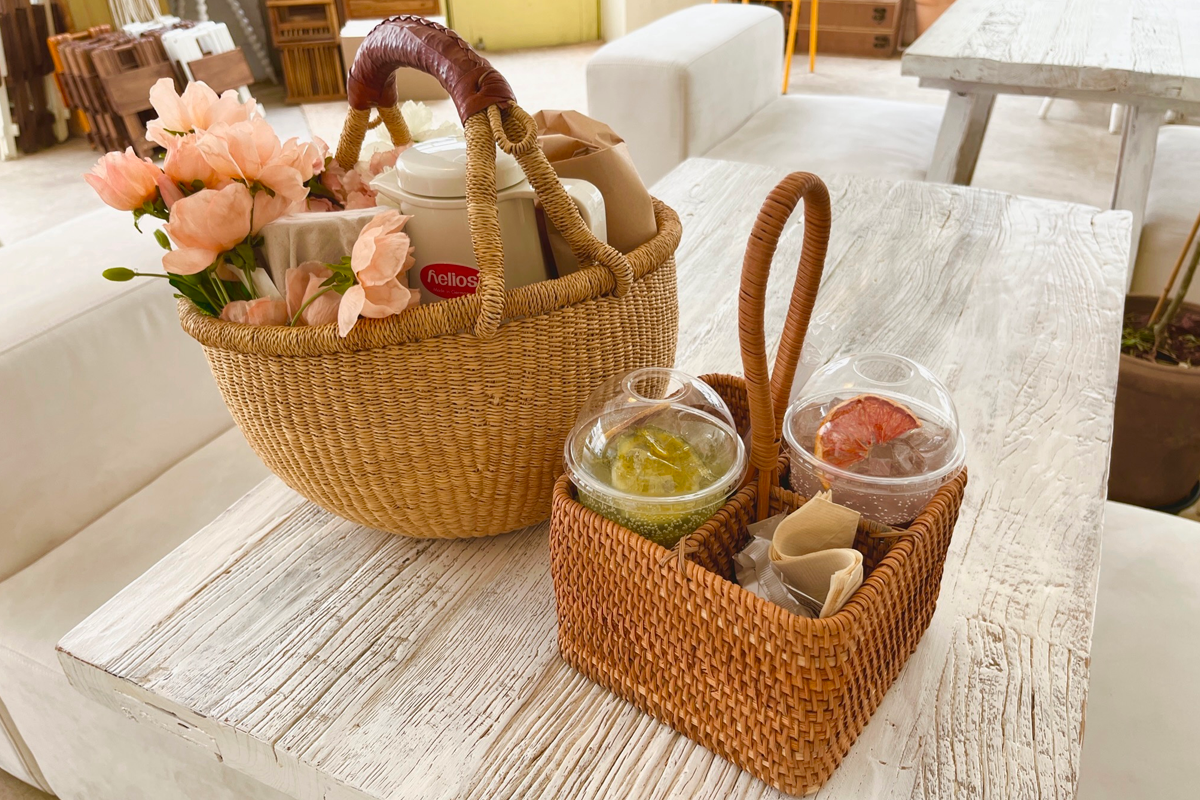 We finally chose the set we wanted. Since the drinks are freshly made, it took a while to come out but we were very excited!
It's about a 15-minute walk to the garden but since we were carrying so many things, we called a taxi. It took us less than 10 minutes to get to the garden to begin our wonderful picnic!
---
Cheongna Yeonhee Nature Garden
청라 연희자연마당
Address: 156 Yongdusan-ro, Seogu, Incheon
인천 서구 용두산로 156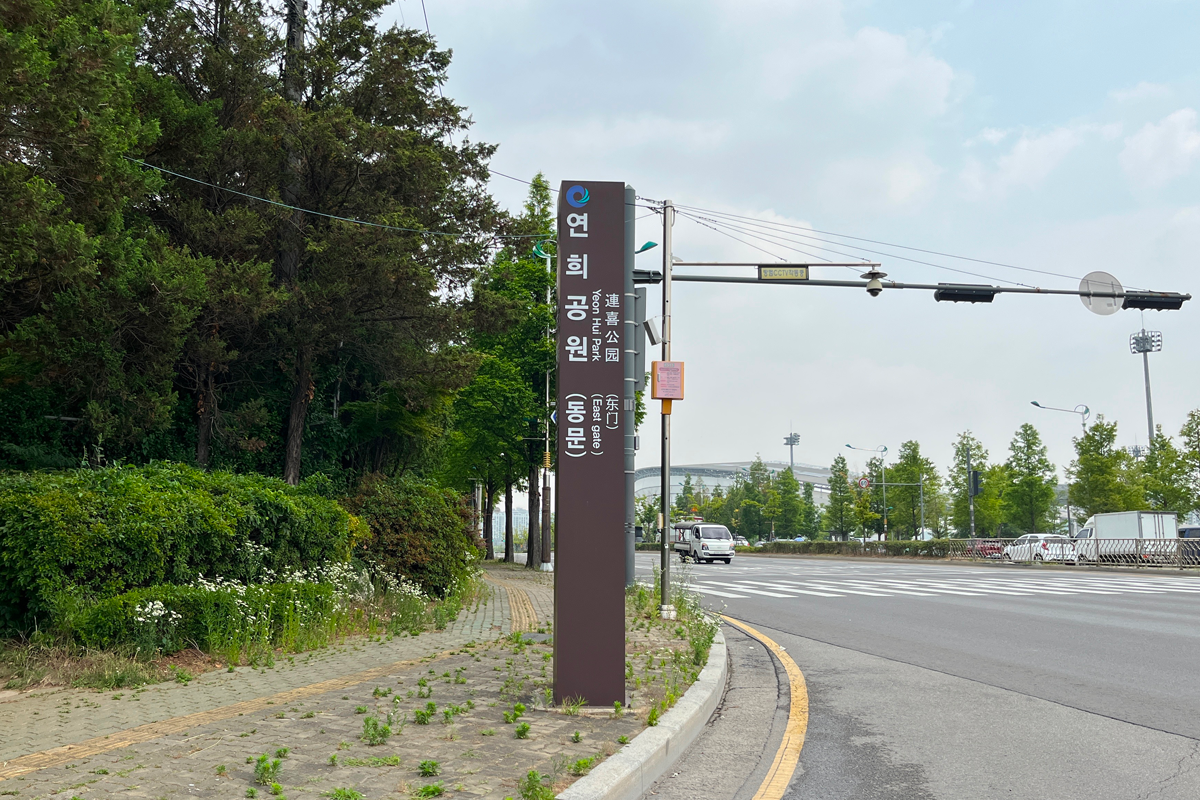 Located opposite of the Incheon Asiad Main Stadium, Yeonhee Nature Garden is not a well-known tourist attraction. It is an educational ecological park often visited by its locals of the area.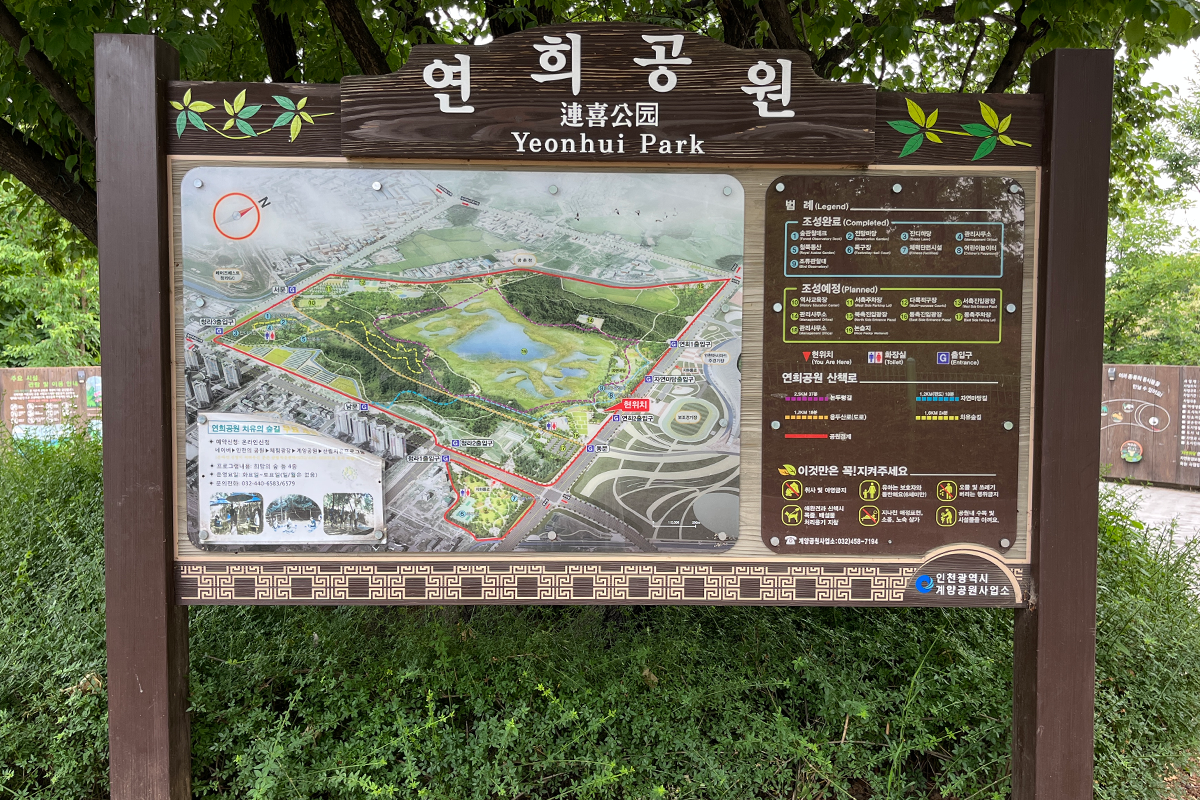 The photo above is the map of the garden. The blue route is more suitable for tourists and visitors of the area. Many people will settle down and have a picnic in the "Nature Garden Area" and you'll find lots of children playing in the "Children's Play Area".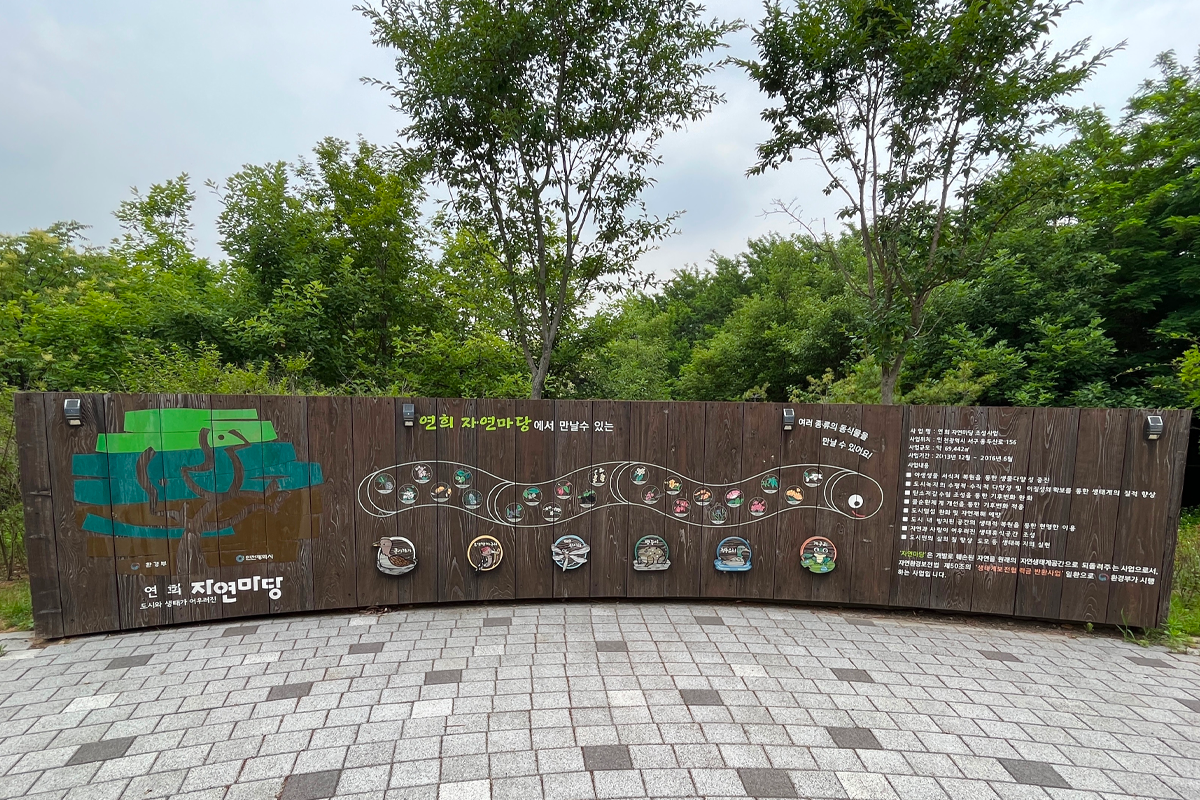 The wide garden has a nature learning center, a children's play area, a lotus pond, a viewing platform, and many animals and plants for you to explore. It is a great place for families who want to spend some quality time together playing games.
There are also many people here that come for a picnic.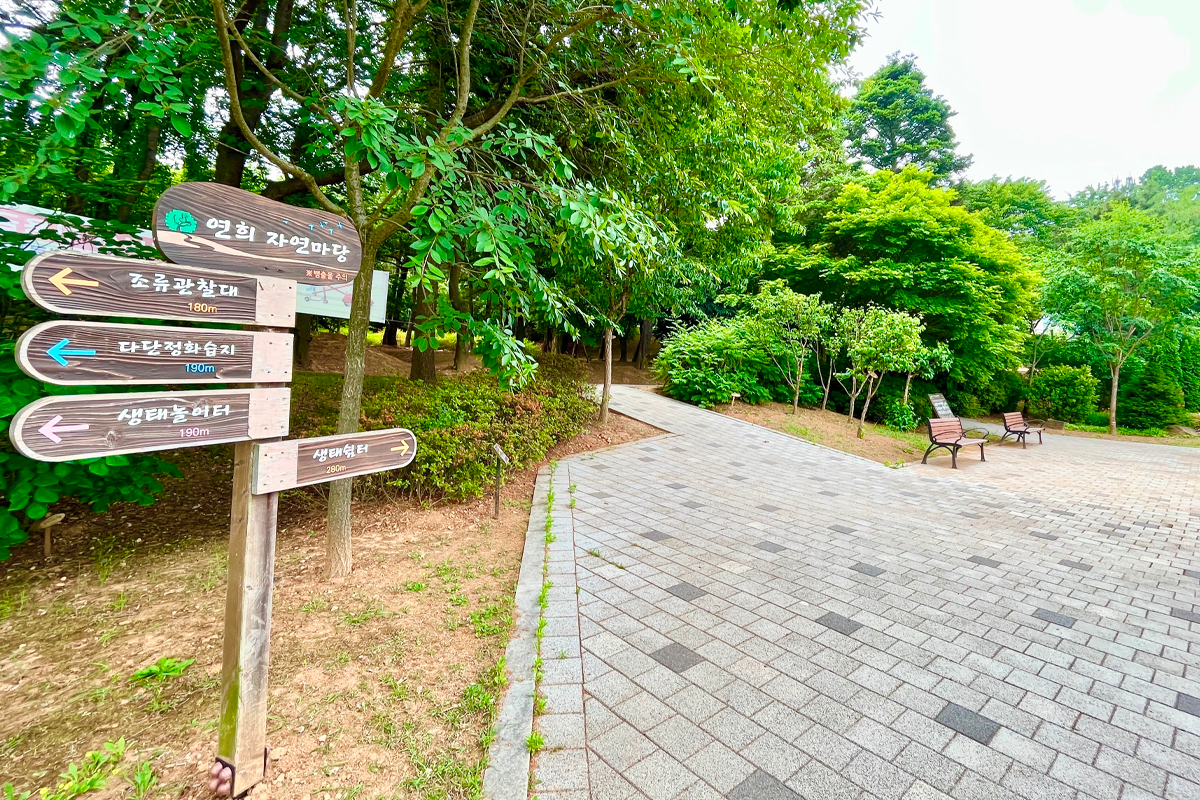 Incheon Yeonhee-dong used to be a place where waste materials were left unattended, but after the Minstry of Environment was created, it was transformed into an ecological park.
It also helped strengthen the ecological function of Incheon City. After all, the area near Incheon Port is an industrial area. By adding more nature gardens help create a much more pleasant living environment for the citizens of Incheon.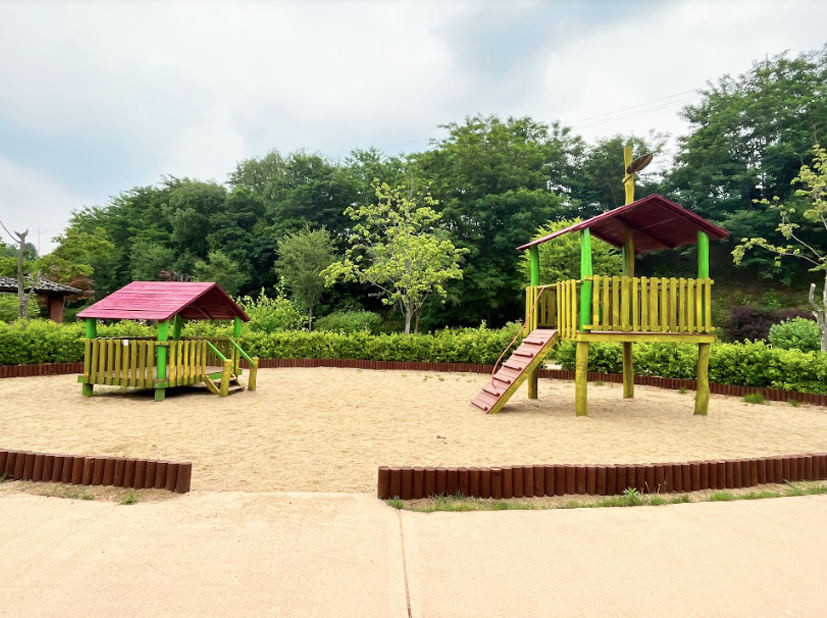 On the way to the garden, you'll see the children's play area. There are slides and sands for the children to play on.
There is also a Korean-style pavilion on one side where you can take a rest.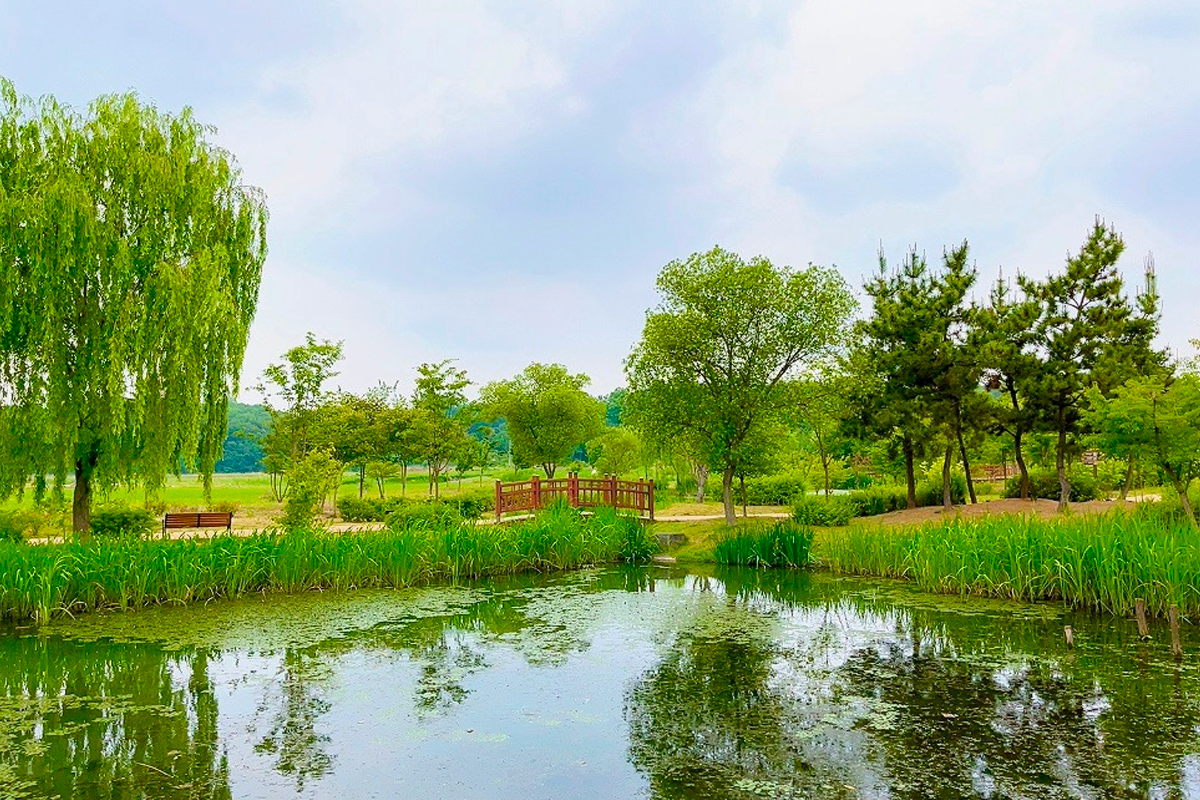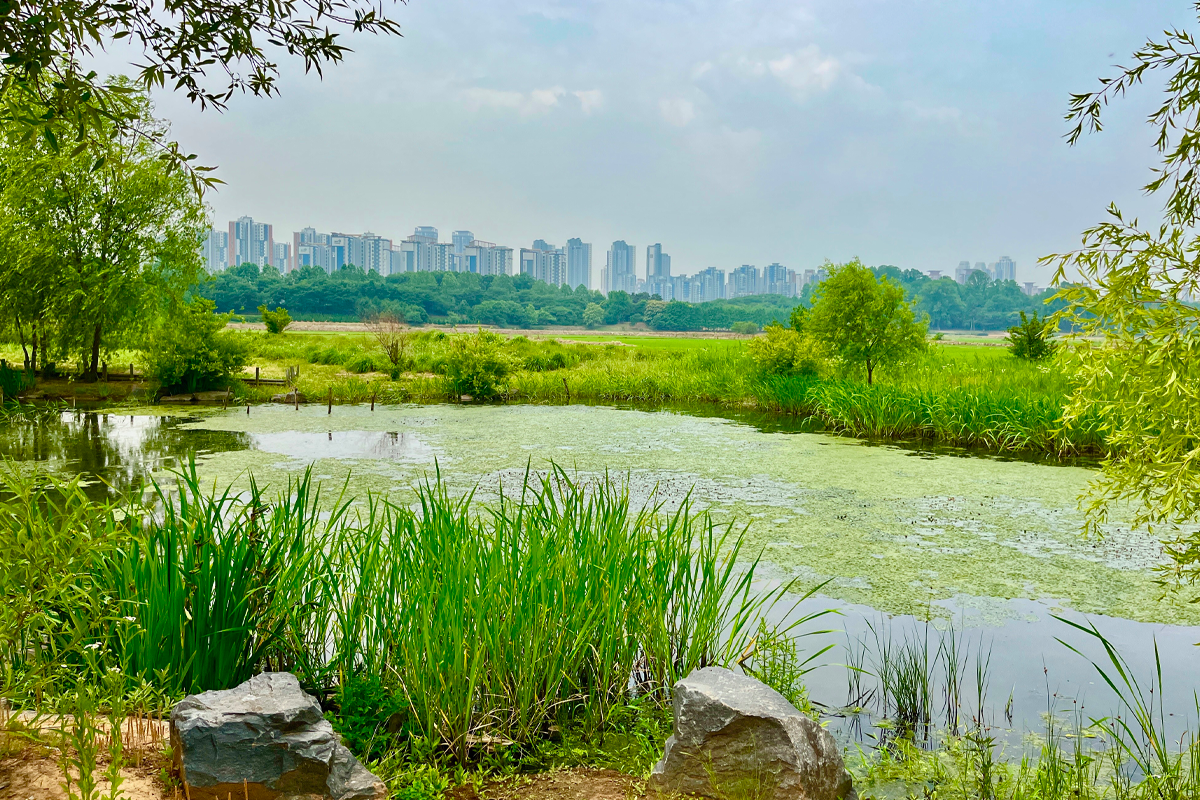 The main nature garden is a paradise of aquatic plants. The reflection of the beautiful green trees can be seen on the lake thus adding to a more peaceful atmosphere.
In the other direction, you can also see rows of buildings in the city of Incheon.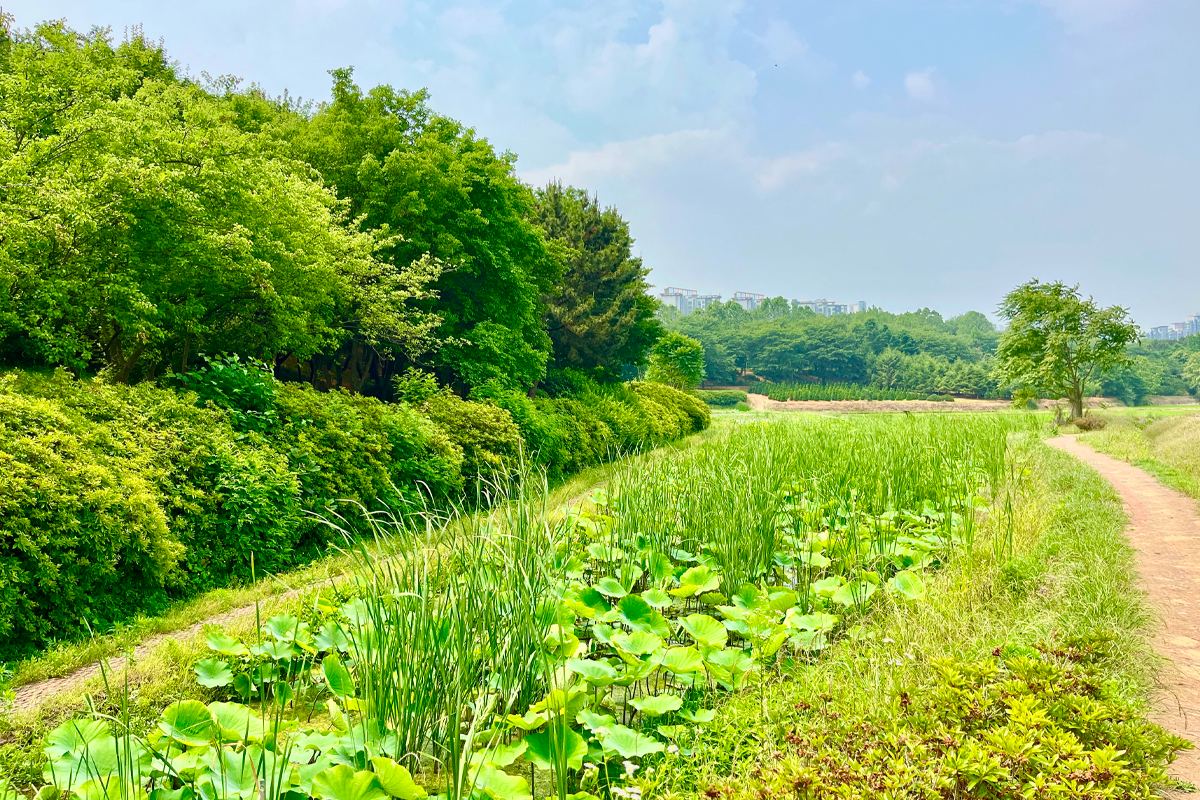 There is also a lotus pond that you can visit. But the day that we went, we couldn't see any traces of lotus flowers yet but it felt very peaceful being in a rural area surrounded by a vast greenery field.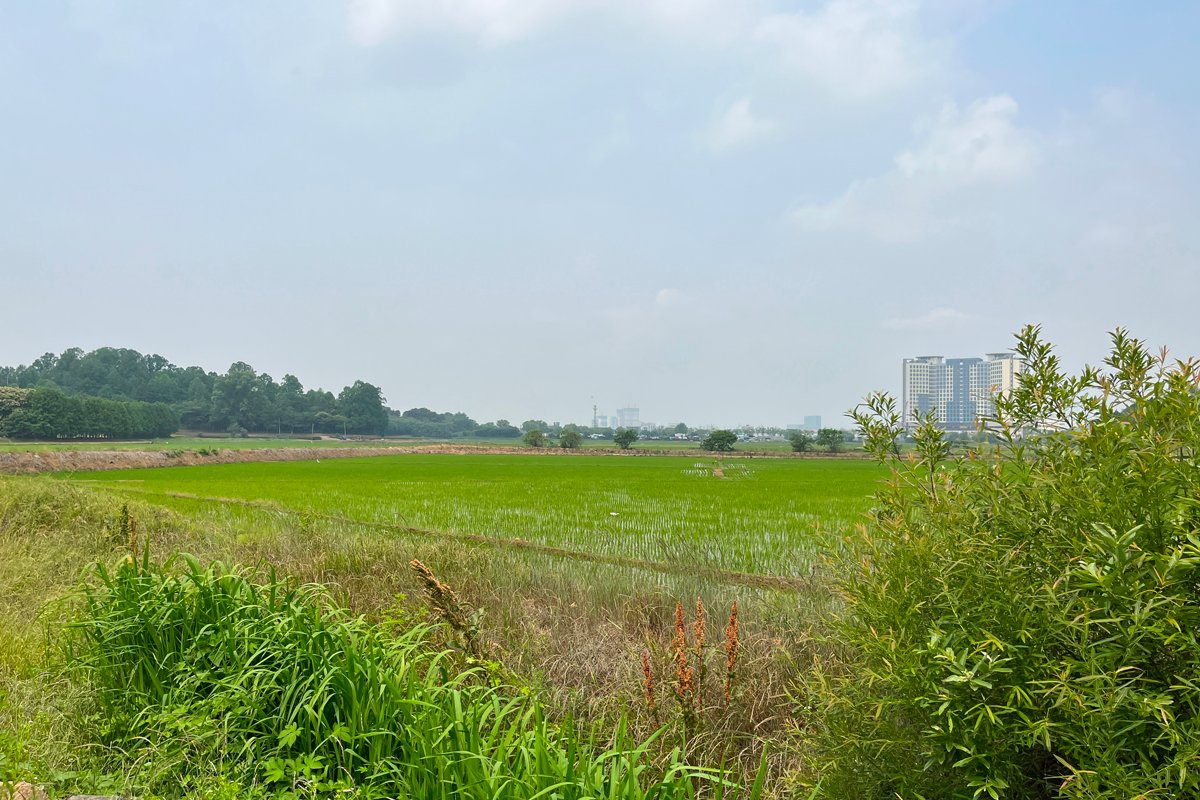 When you walk a little further from the lotus pond, you can see the paddy fields which are interesting to see. It's not everyday that we can see this view in the city of Seoul.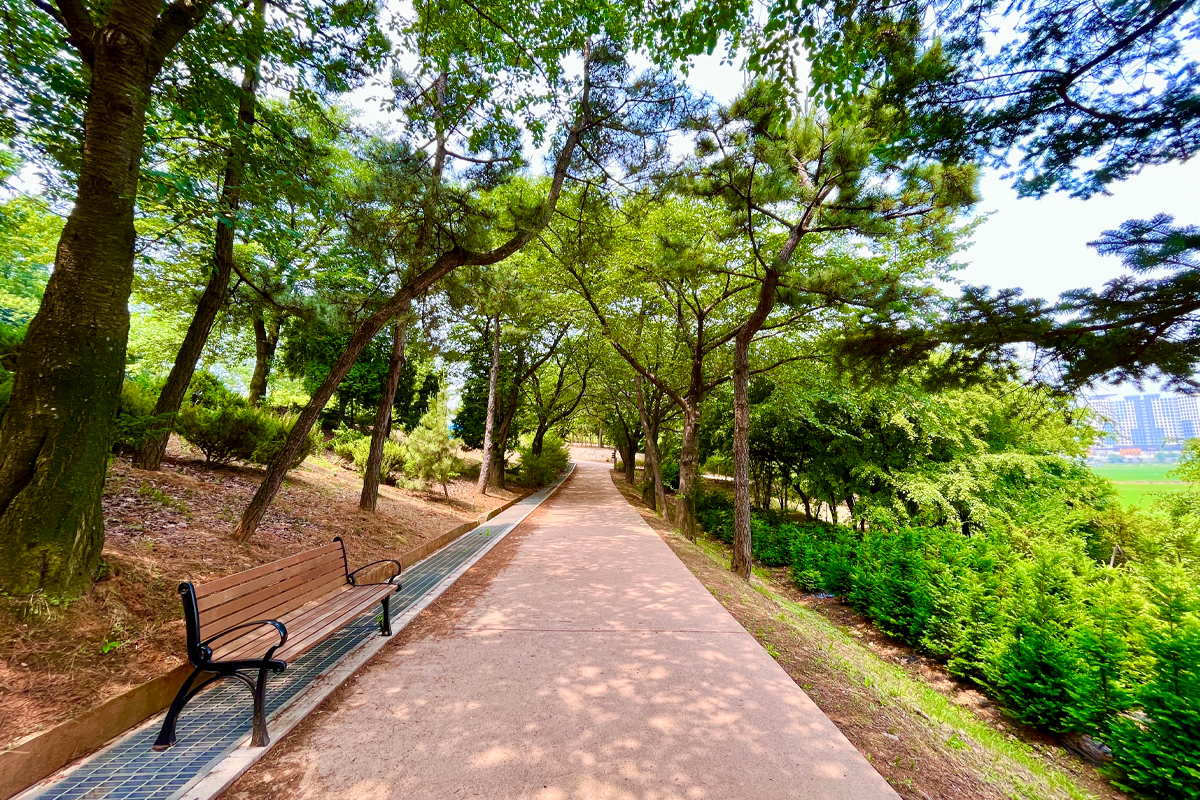 Walking along the path, you can see many green landscapes.
There are many benches along the trail where you can pause and enjoy the scenery and feel the breeze.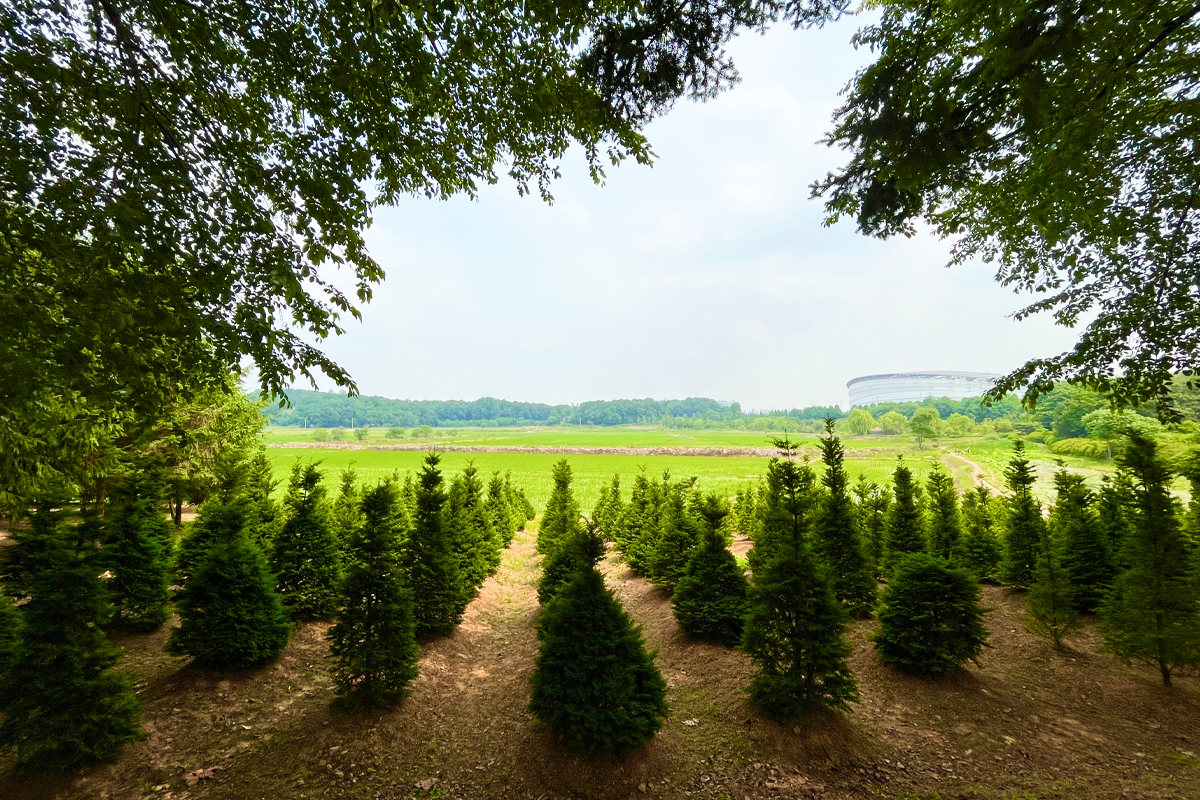 In this direction, you can also see the Incheon Asiad Games Main Stadium which contracts with the green nature landscape.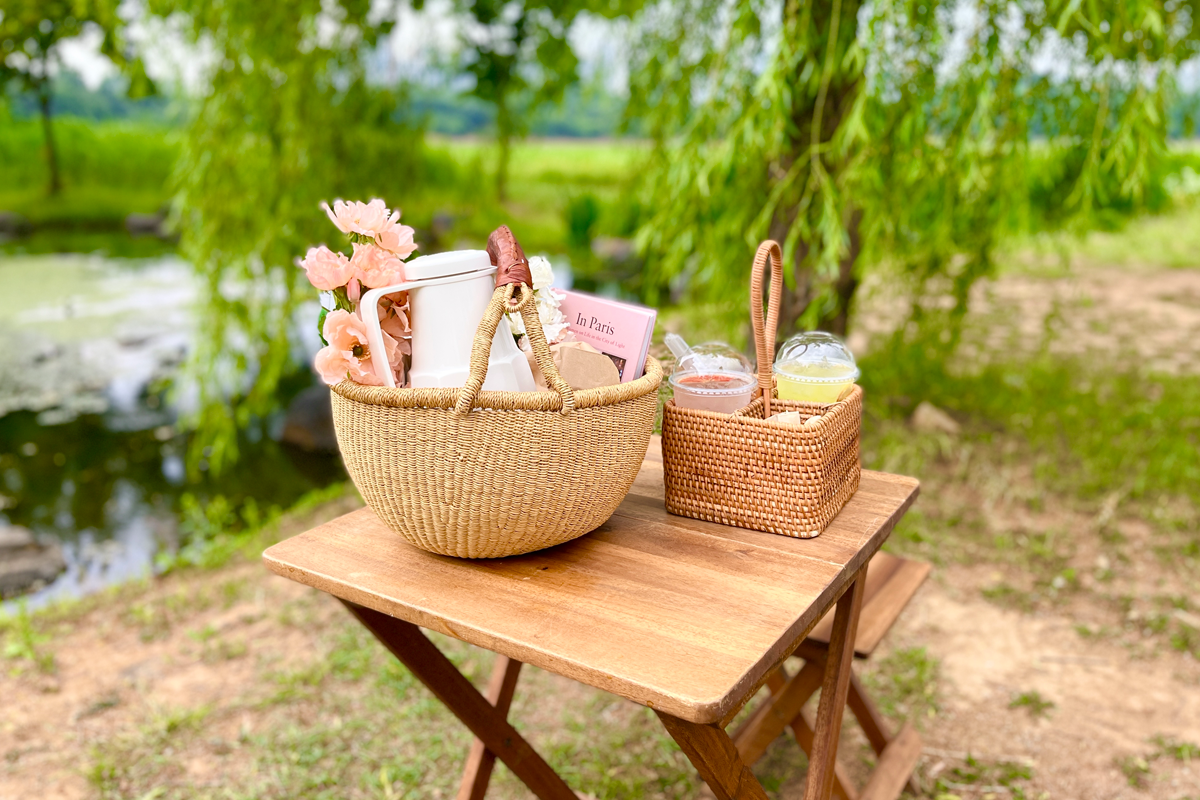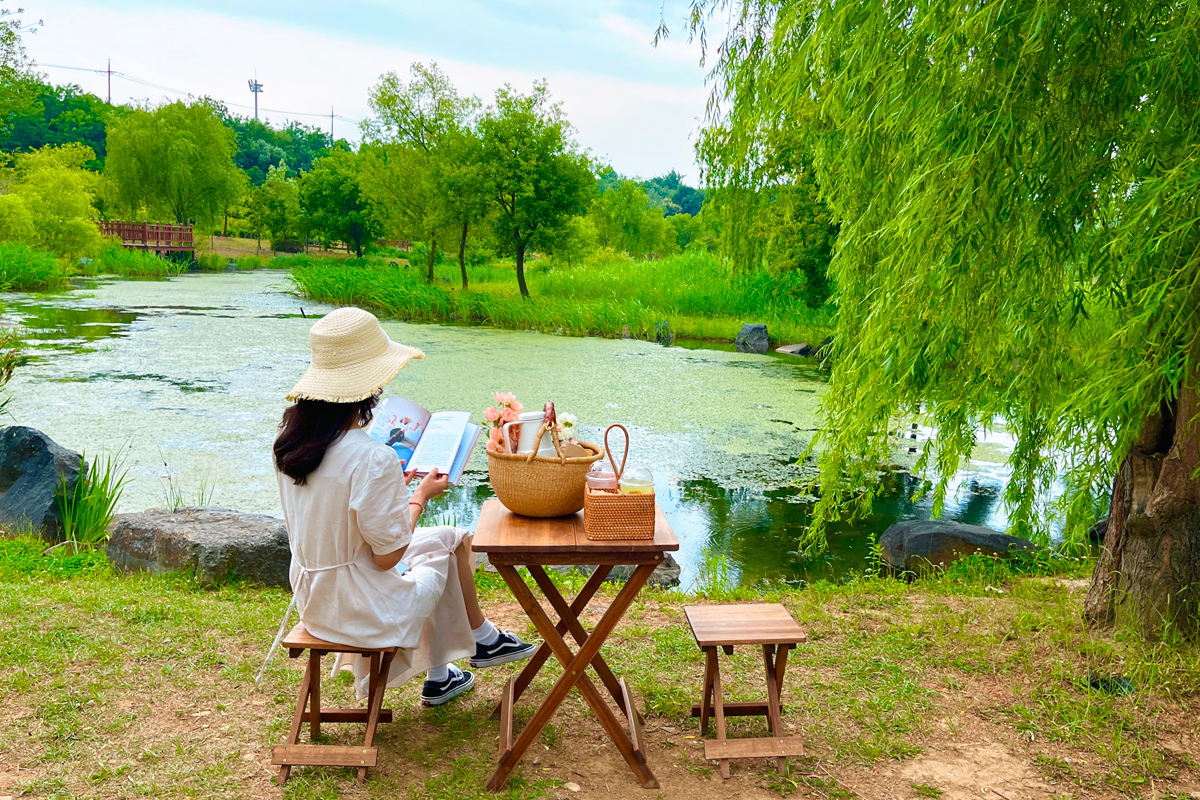 We found a suitable location for a picnic in the nature garden and quickly prepared our picnic from the rental set.
Since it was an afternoon on a weekday, there weren't many other people here so we could relax comfortably and read a book.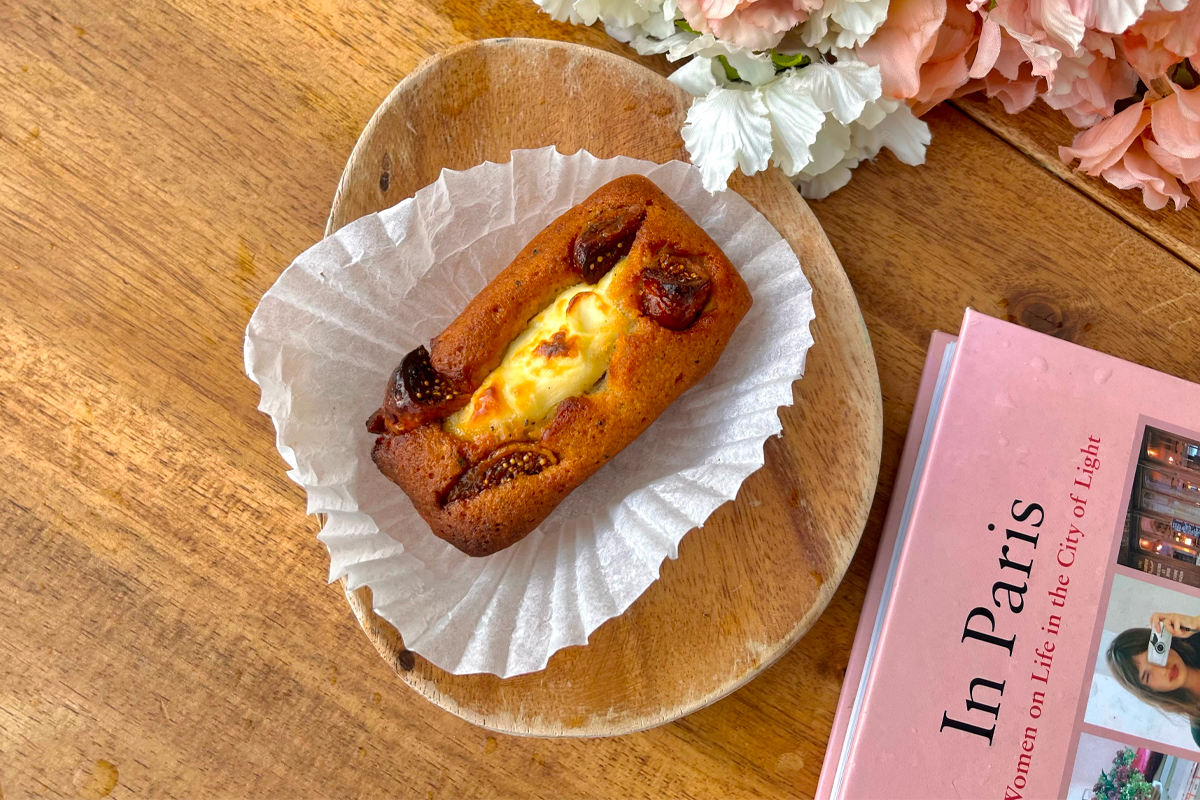 Fig cream cheese financier (무화과크림치즈 휘낭시에)
₩3,000

The financier that we ordered at the cafe has a very soft and tender taste. In addition to the thick creamy fragrance, there are also figs on top which added to its rich flavor.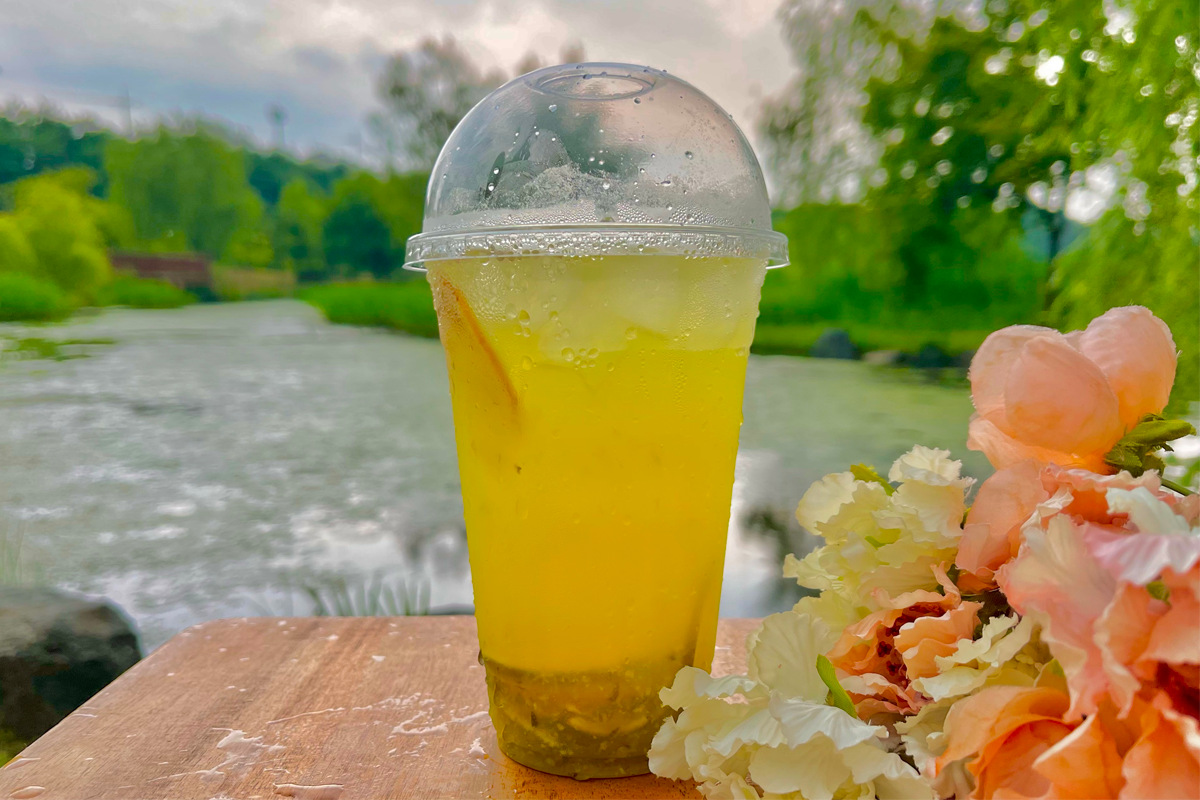 Green tangerine ade (청귤에이드)
₩6,000

The lime bubbly drink tasted both sweet and sour. It was the perfect drink for a hot summer day as it was extremely refreshing and large in size.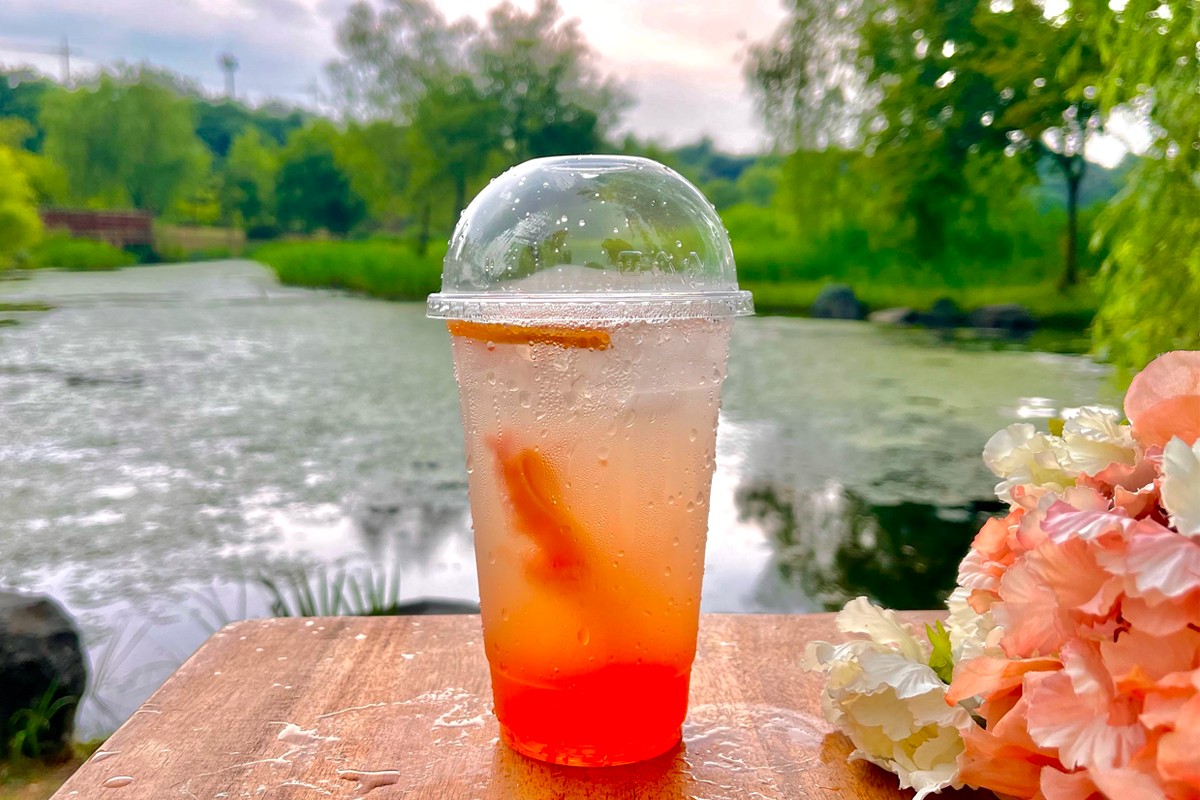 Grapefruit ade (자몽에이드)
₩6,000

The gradient color of the drink was very beautiful to see! The taste wasn't too sweet but not too sour. It tasted very fruity and we could taste chunks of grapefruit with each sip, so it was definitely worth the money!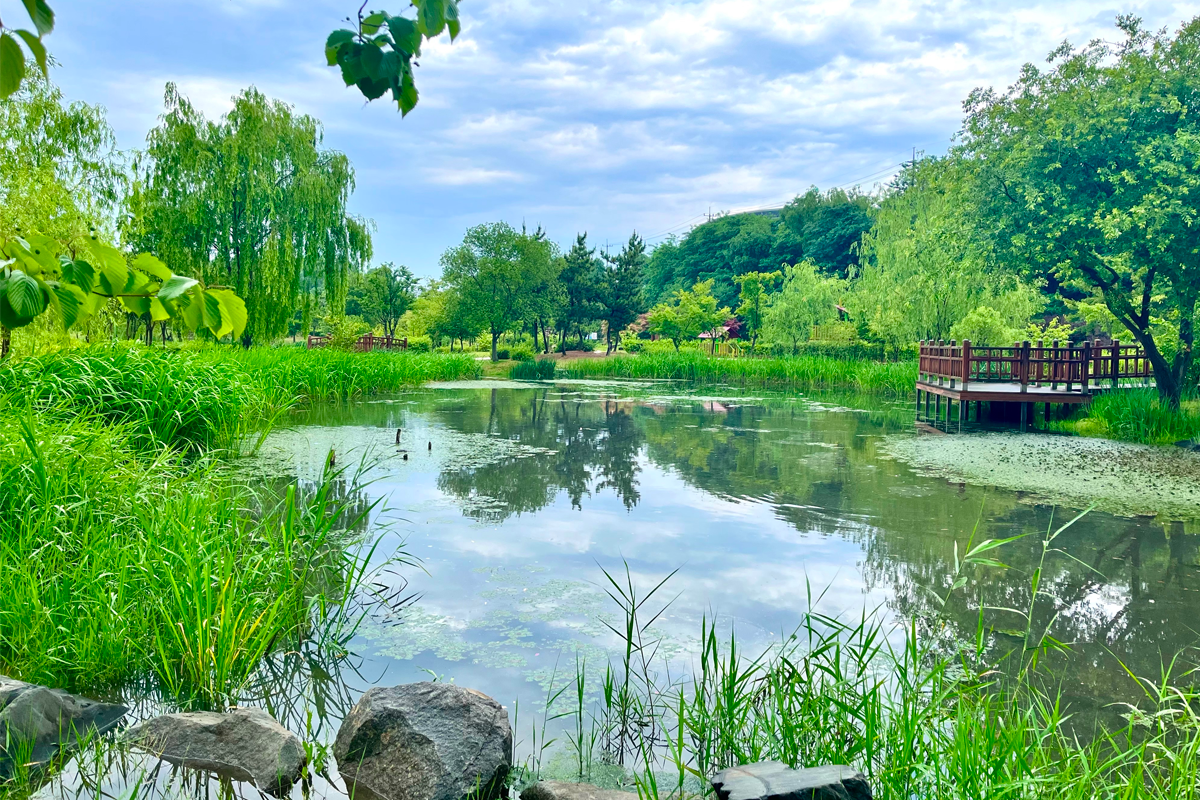 The day we came here there was a thunderstorm in the afternoon. Thankfully, it stopped after awhile and left us this beautiful clear lake and sky!
The Yeonhee Nature Garden is the perfect spot for those that want to get away from the busy crowds of Seoul and relax in the nature. It's a great place to come with your family or friends.
The only thing to note is that there are "Beware of snakes" signs in some areas so you must keep an eye out for snakes!
---
We hope you enjoy your picnic at the Yeonhee Nature Garden and learn about natural ecology. It's a great place to educate yourself while appreciating the nature.
Please let us know if you have any questions in the comments below or by sending us an email at help@creatrip.com! Also make sure to follow us on Instagram, Tik Tok, and Facebook. to stay updated on all things Korea!
---