LEGOLAND Korea Resort | One-Day Pass
Come explore LEGOLAND Korea!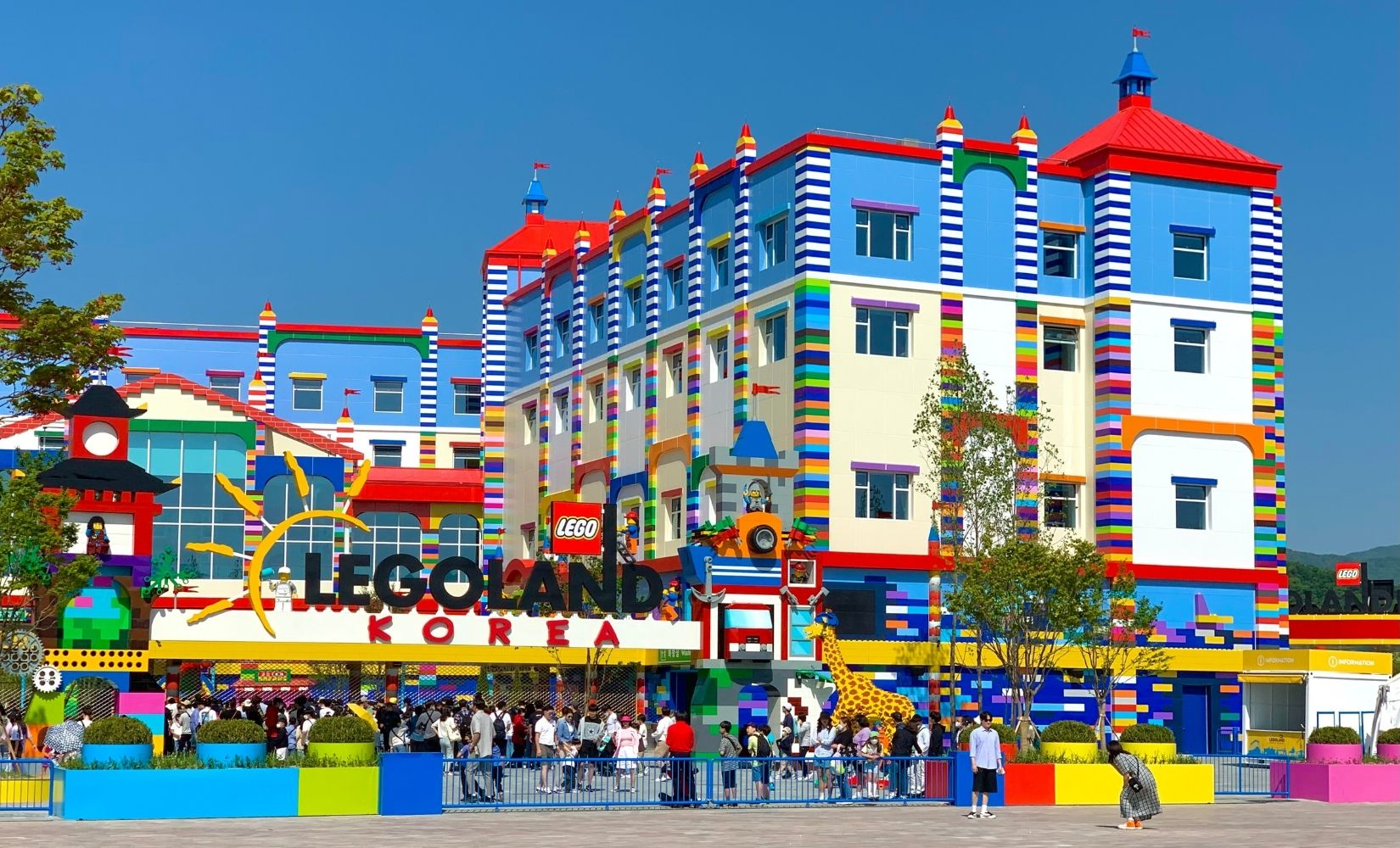 Did you know there's a LEGOLAND Resort in Korea? It's more than 283,000 square meters and is located in Chuncheon. It's an amusement park with a very special Lego concept. Embrace yourself for a colorful Lego experience!
---
LEGOLAND Korea Resort | One-Day Pass
---
Information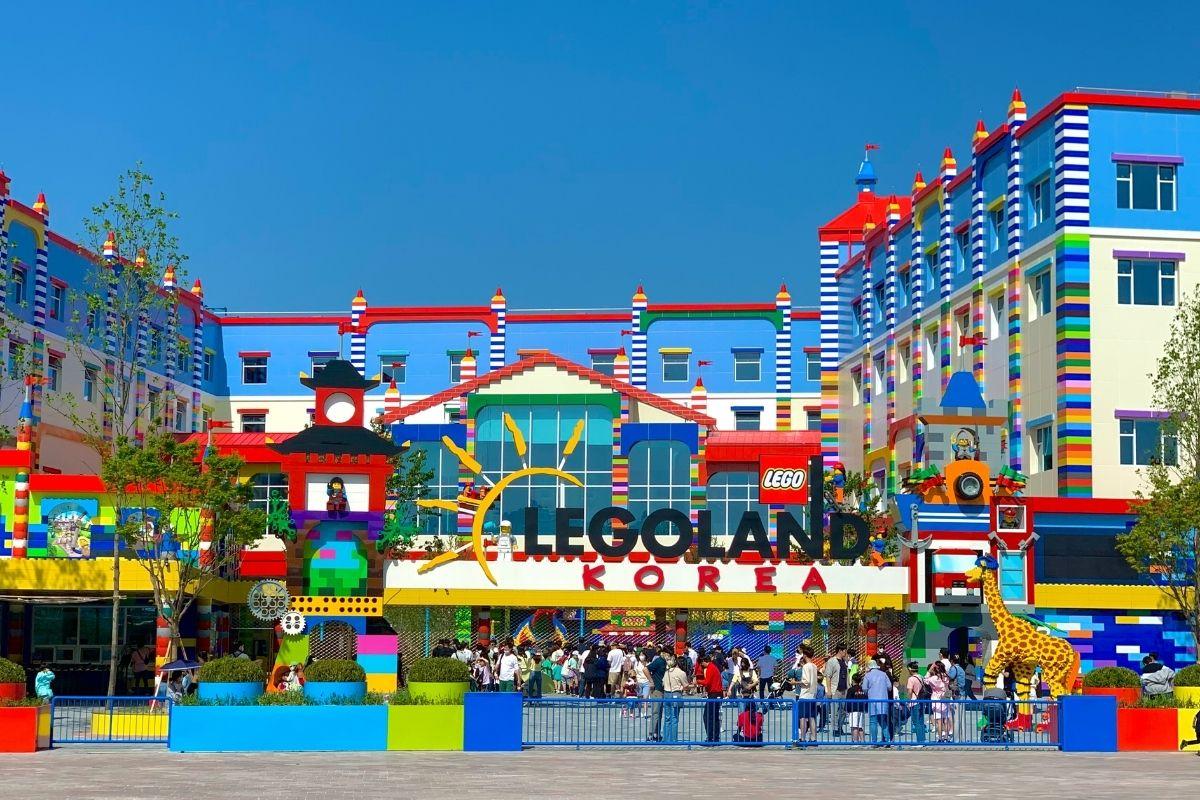 Address: 강원도 춘천시 하중도길 128
128, Hajungdo-gil, Chuncheon-si, Gangwon-do
Hours: Mon-Thurs 10:00 - 18:00, Fri-Sun: 10:00 - 19:00
*Opening hours may vary, please check the exact time when you go for your reservation.
---
Why We Recommend It
Visit Legoland Korea Resort, the second-largest Legoland in the world and the largest in Asia!
You can enjoy seven different theme facilities, such as Lego City, Pirate Bay, Mini Land, Ninja World, and Brick Street.
Legoland, which is decorated with the cutest Lego figures, is the perfect place for taking photos, as every space is a photo zone! Take Insta-worthy shots with colorful Lego sculptures!
---
Things To Keep In Mind
The price for adults, teenagers, and children is the same.
Korean passport holders cannot use this ticket.
This ticket is valid only on the selected date of the ticket. Please complete the reservation at least 2 days before the admission date.
Please keep in mind that once the ticket voucher has been sent out, it cannot be refunded.
The voucher will be issued within 1-2 business days and can be checked via email or on My Page.
The voucher includes a QR code that can be scanned at the entrance after showing it to the staff.
Children under 12 years old must be accompanied by an adult over 16 years old to enter.
Children under 24 months old can enter for free if they present proof of age (passport, etc.) at the entrance.
A pre-entry safety inspection will be conducted. The following items are prohibited inside the venue: weapons, sharp objects or knives, alcohol, drones, large luggage, outside food, etc.
Please check www.LEGOLAND.kr for detailed information on operating hours and unavailable facilities.
For any further inquiries, please contact us at help@creatrip.com.
---
Price
The price of Legoland varies depending on the chosen date (peak/off-peak season). Please check the exact amount at the time of booking.

Weekday
1 Person
Weekdays (Mon~Fri)
60,000 KRW
45,000 KRW ~ 51,300 KRW
Weekends (Sat~Sun)
60,000 KRW
48,600 KRW ~ 51,300 KRW
---
How To Reserve
| | |
| --- | --- |
| Step 1 | Make a reservation on the Creatrip reservation page. |
| Step 2 | Enter the required information in detail and make the full payment. Your reservation will be confirmed in 1-2 business days and you will receive a voucher via email. You can also check My Page for the reservation status. |
| Step 3 | This ticket is only valid on the selected date of the ticket. The voucher includes a QR code, so please show it to the staff and scan the QR code to enter. |
---
Our Visit

LEGOLAND Korea Resort is a new Lego-themed resort that opened on May 5, 2022. Immediately after its opening, it has become a destination for many Koreans and foreign tourists. Come to LEGOLAND Korea Resort, where you will be greeted by a colorful, fun Lego world. It's not only fun for children, but adults too.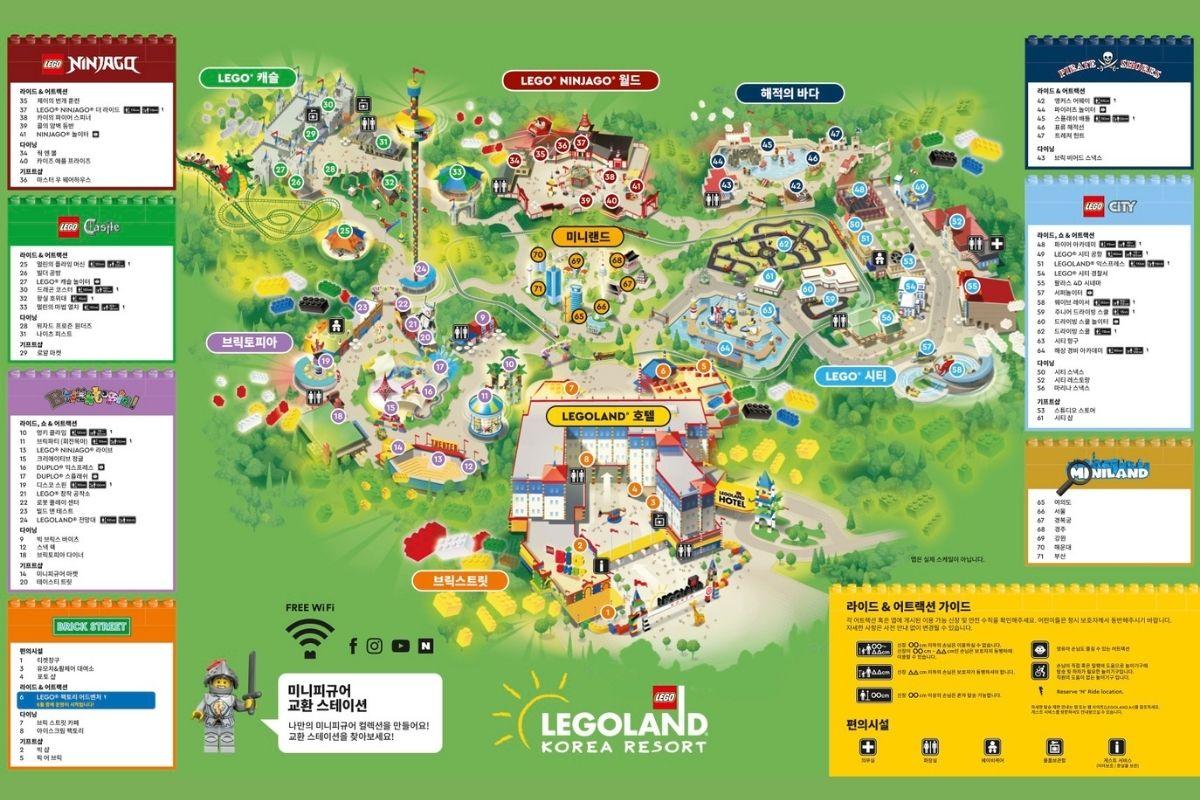 LEGOLAND
LEGOLAND is divided into eight main areas, including the LEGOLAND Hotel and seven playgrounds. They include Brick Street, Bricktopia, LEGO Castle, LEGO NINJAGO WORLD, MINILAND, Pirate Shores and LEGO CITY. Each amusement park is designed with more than 40 rides and have a wide variety of food and shopping available. We will be introducing all the parks in this blog.
When we first entered LEGOLAND, we assumed it would be small and that we could explore it quickly. BUT WOW, were we wrong...We spent the whole day here easily.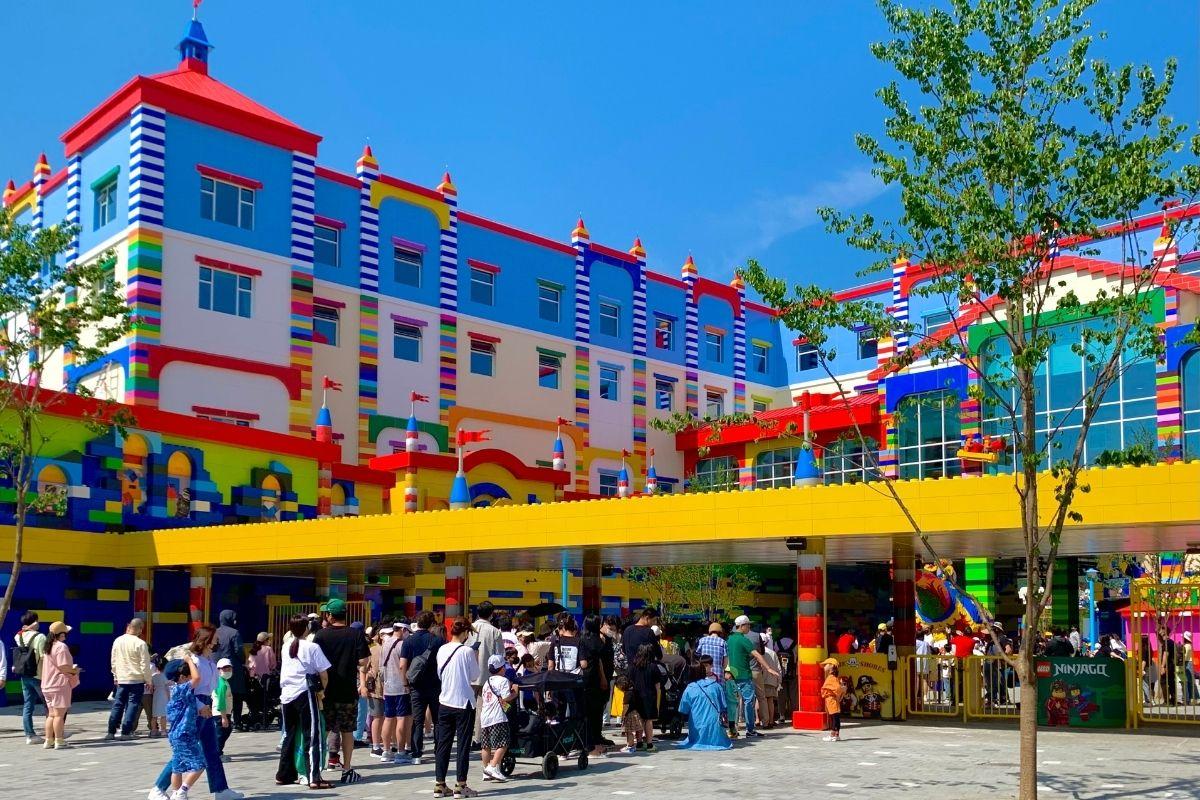 We went to LEGOLAND Korea Resort on a weekday. It opened at 10am, but there were still many people to enter before that. Not only families with young children, but groups of young adults as well could be found. We figured this place must be quite popular.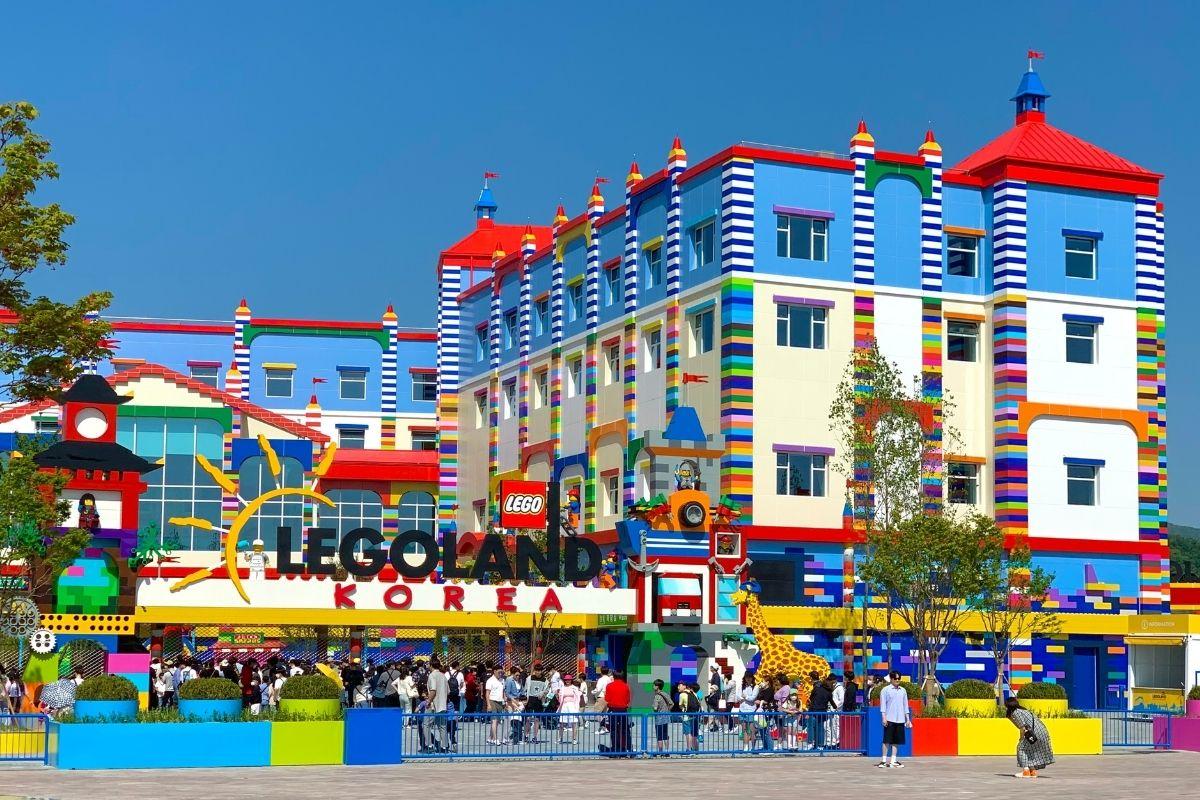 From a distance, LEGOLAND looks like a building from an animation. Blue, red, yellow...it's so characteristically Lego-y that it feels very nostalgic and welcoming. Right next to the entrance, you'll find the ticket booth.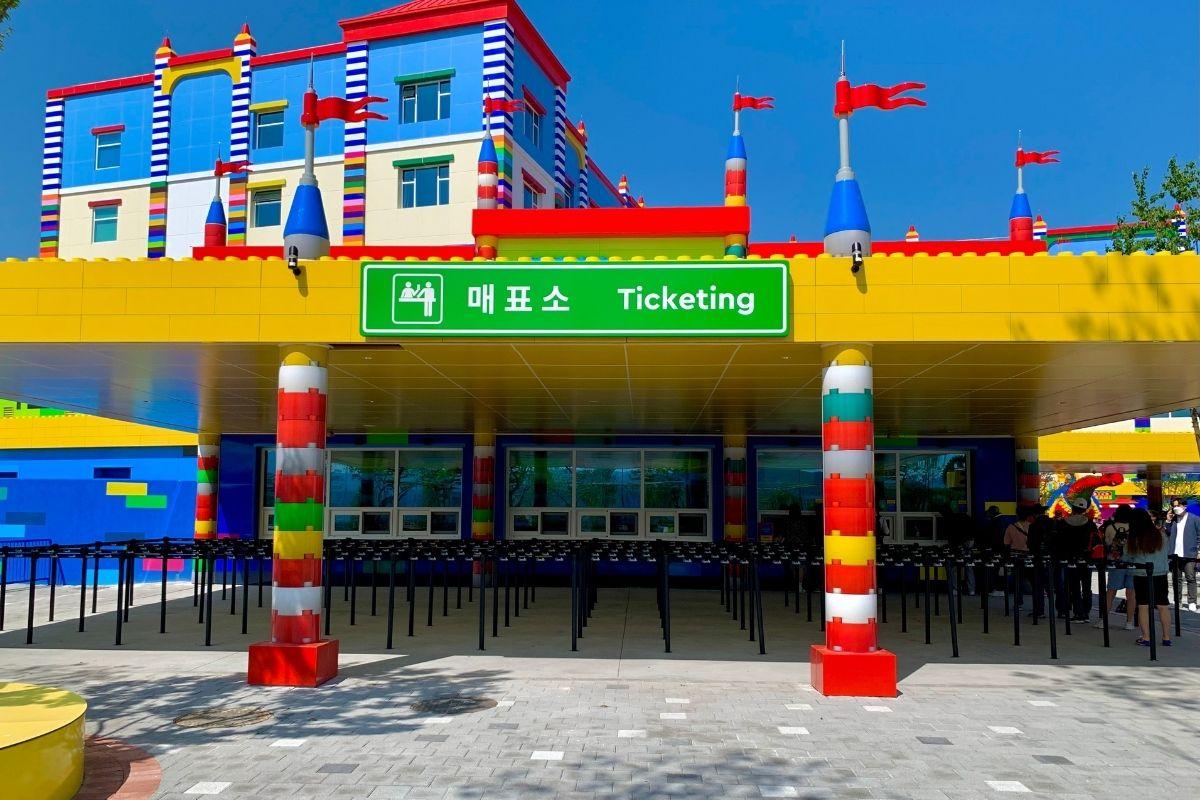 There's a rule on LEGOLAND's website saying that you need to make a reservation before you go, but the ticket booth is still operational as usual. Note that when purchasing tickets on-site, only card payments are accepted, no cash. So if cash is your preferred method of payment, it is recommended to purchase in advance.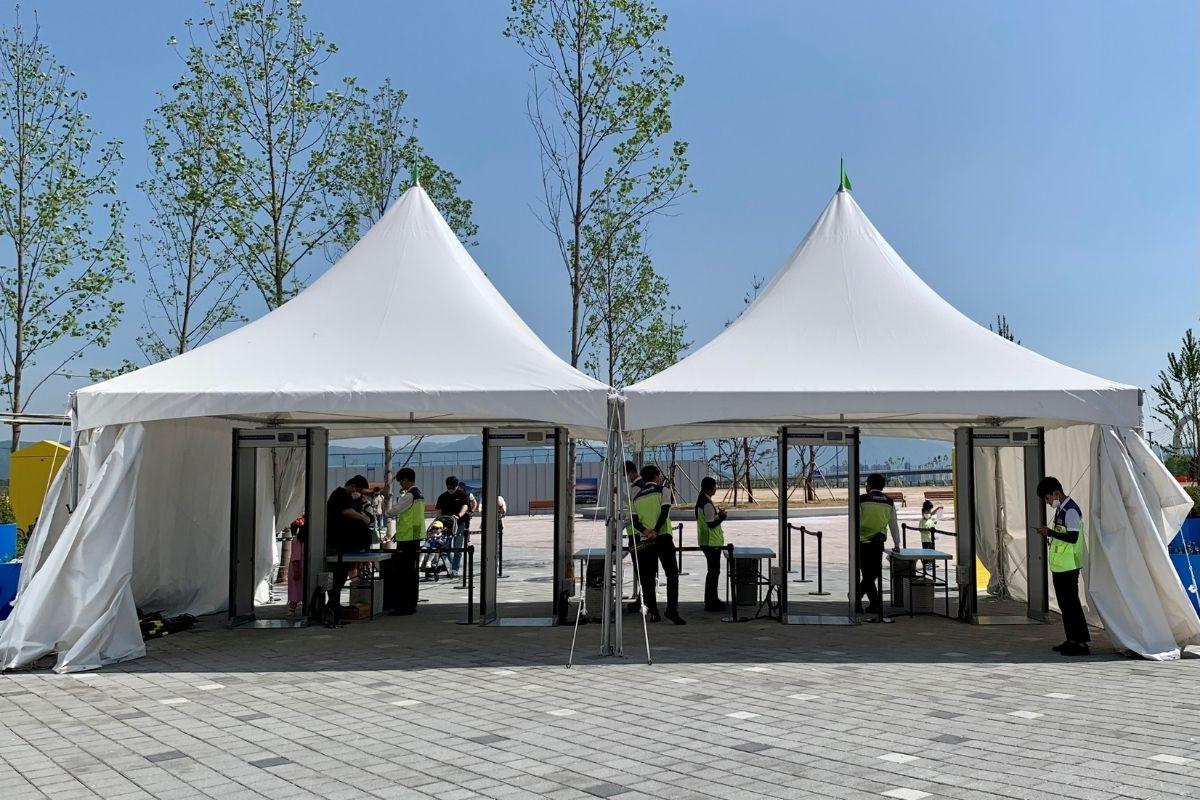 Before entering the LEGOLAND ticket gate, you need to go through one checkpoint. Here they will screen for any dangerous or prohibited items to ensure the safety of all guests.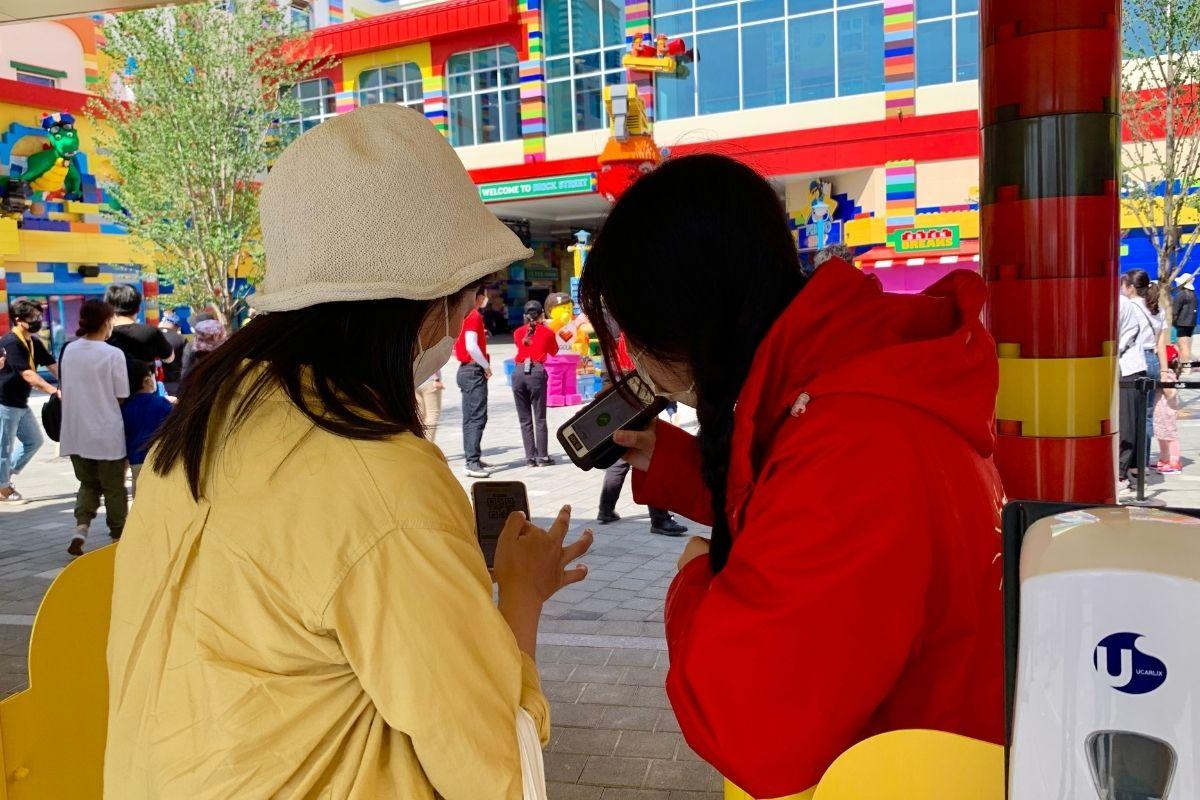 If you go to the ticket gate, you can enter directly by giving the ticket to the check-in agent or showing your QR code. There are many people waiting in line, but as is typical of most places in Korea, the line moves very quickly so you don't have to wait too long. Right next to the ticket gate, there is also a bathroom just in case you need it before entering.
While you wait to enter, there will be staff members who invite you to take pictures with LEGOLAND's main gate. After the photo is taken, the staff will give you a paper bracelet containing the code of your photo so you can view and choose to print the photo if you like.
BRICK STREET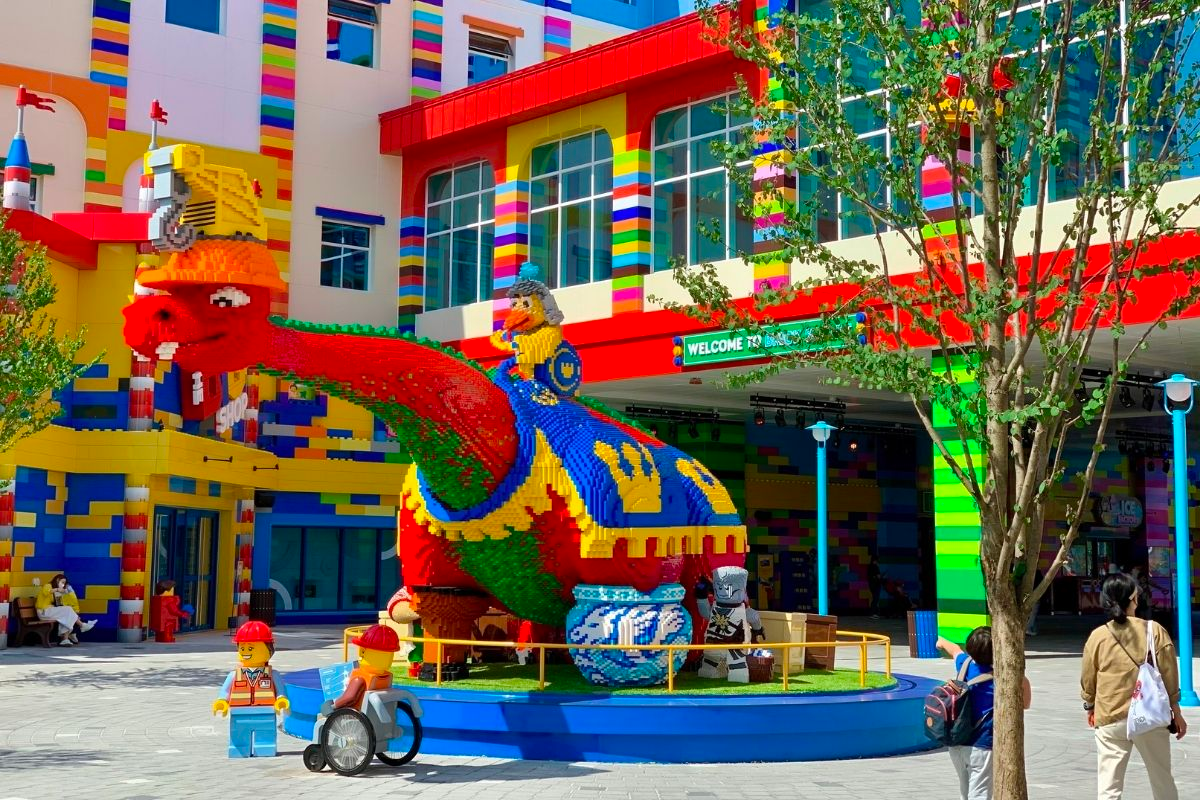 After you enter the entrance, you will pass BRICK STREET and LEGOLAND Hotel. For LEGOLAND Hotel, we'll tell you how to make a reservation.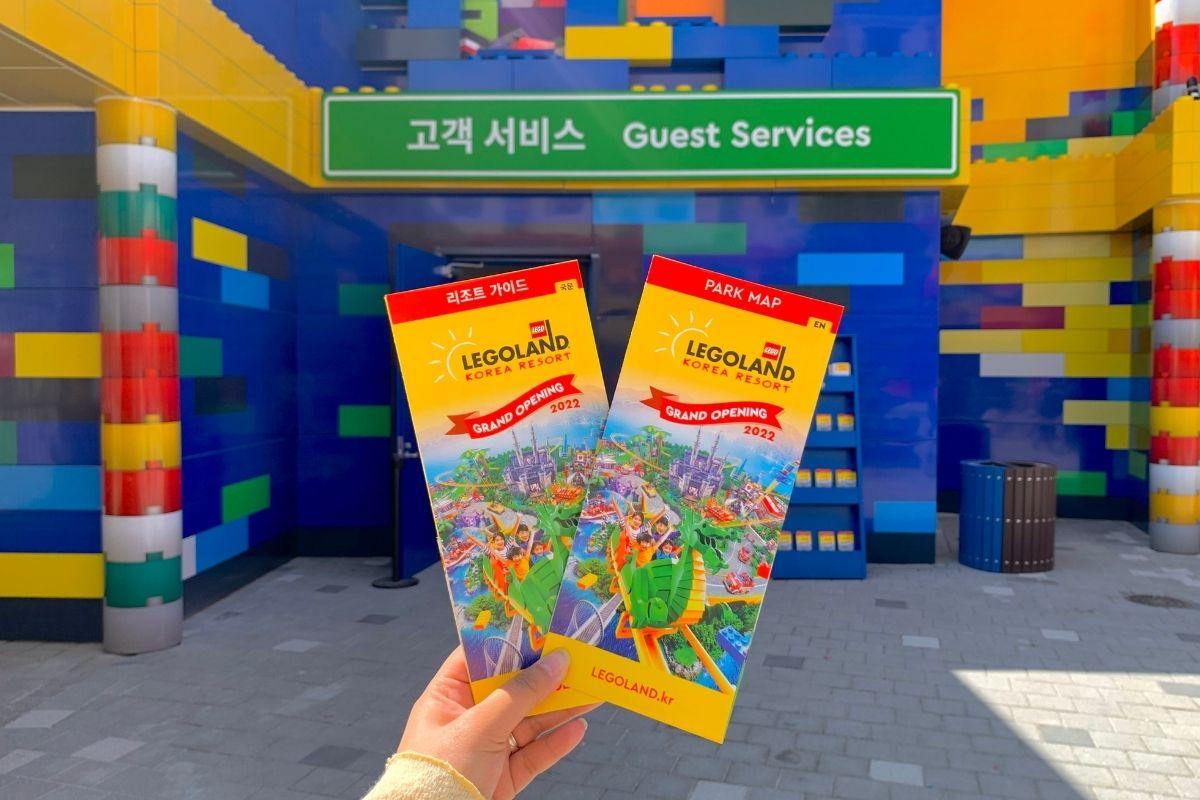 On BRICK STREET, you'll see the Guest Services area, where you can inquire about visiting information and get a tour guide map. The map is available in Korean and English.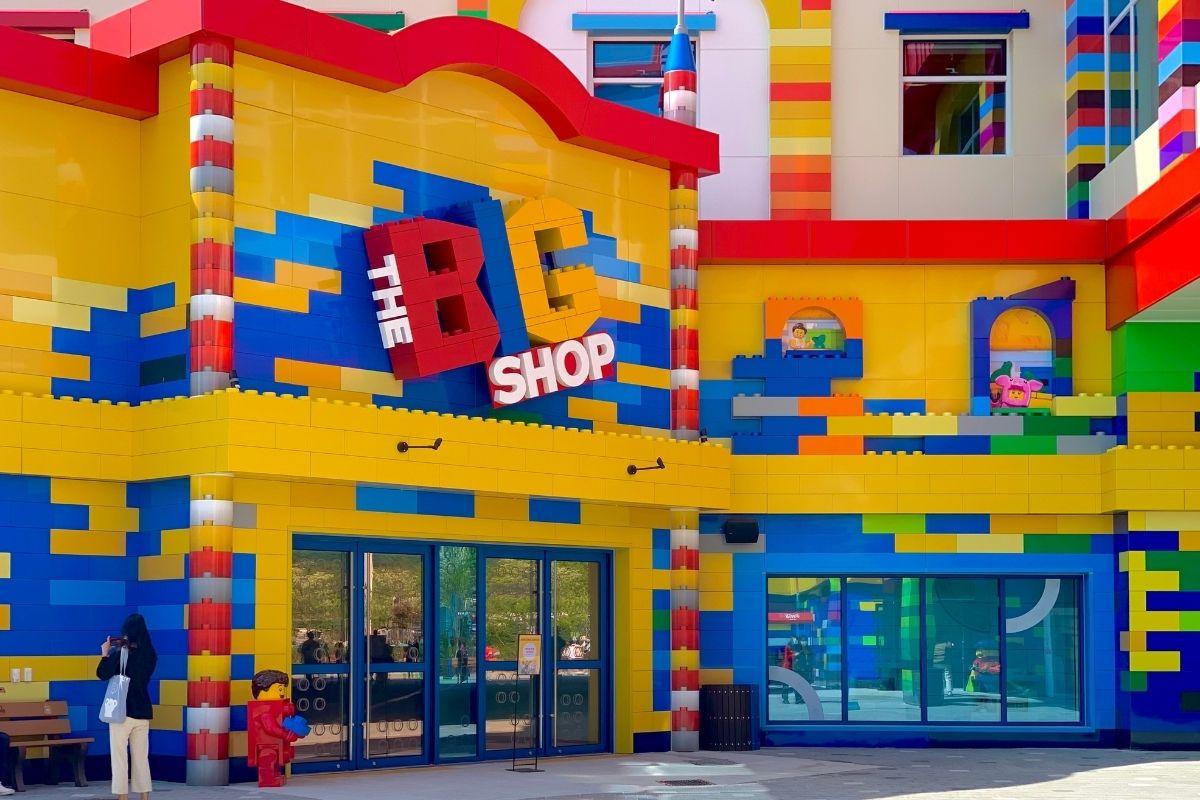 Next to the Guest Services, you'll find The Big Shop, souvenir shop. It's the largest store in LEGOLAND. There you can find a lot of LEGO assemblies from big to small with lots of different models.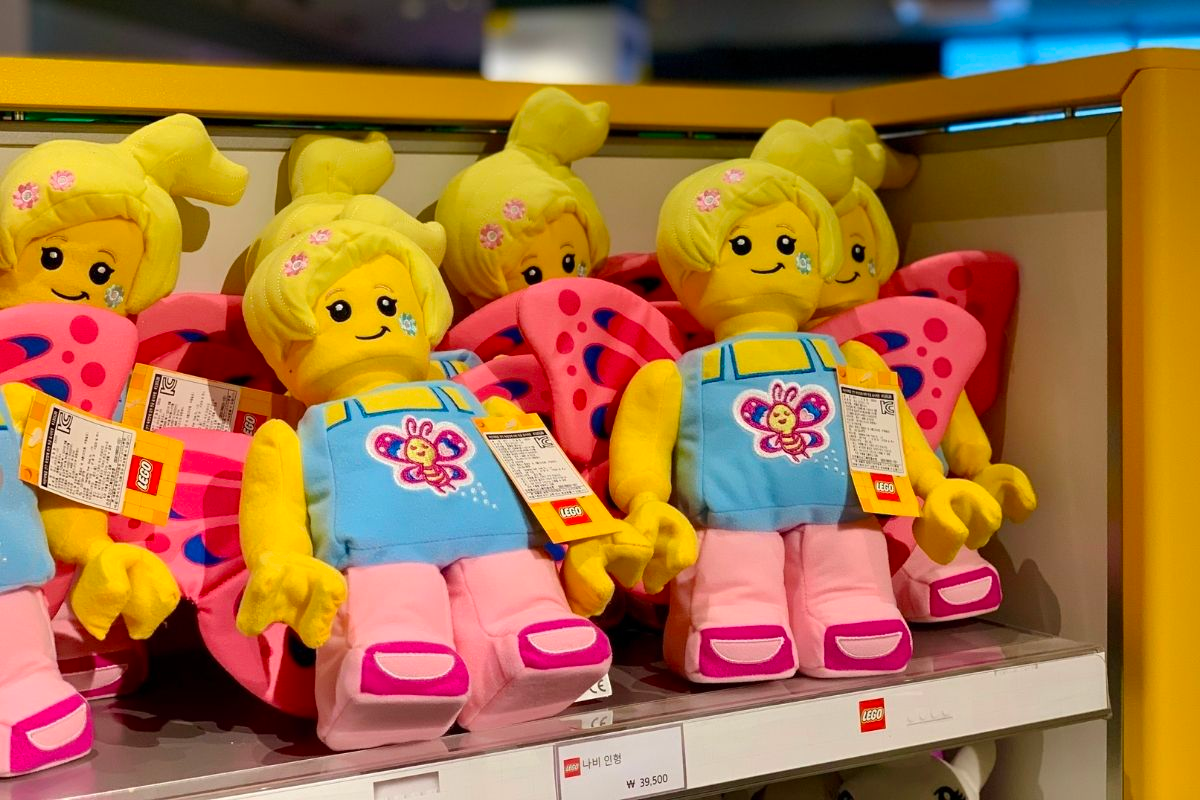 There are cute dolls too! The price is clear so you can buy what you like with confidence about the value. This character, for example, is 39,500 KRW.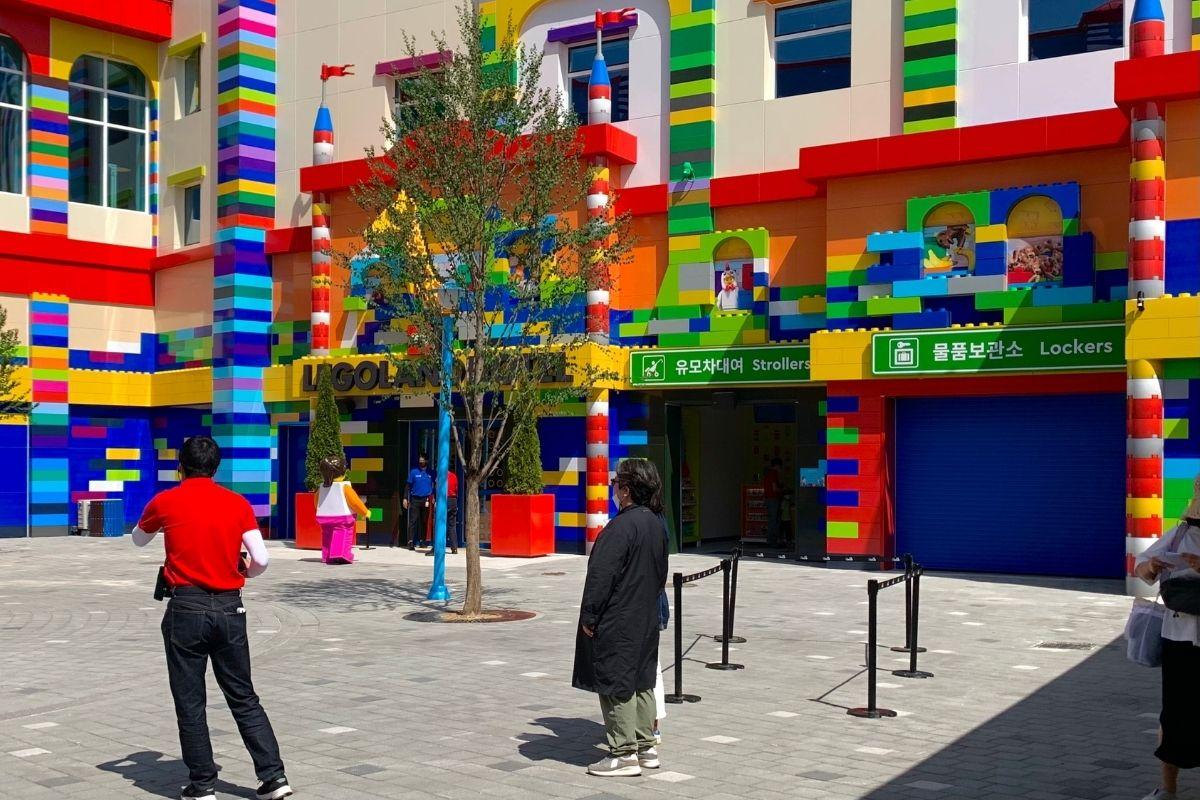 On the opposite side of Guest Services, you can find the entrance of LEGOLAND Hotel and the children's cart and wheelchair rental area. The rental fee for baby strollers is 6,000 KRW and a wheelchair rental is 4,000 KRW. A deposit of 10,000 KRW is required and can only be paid by card.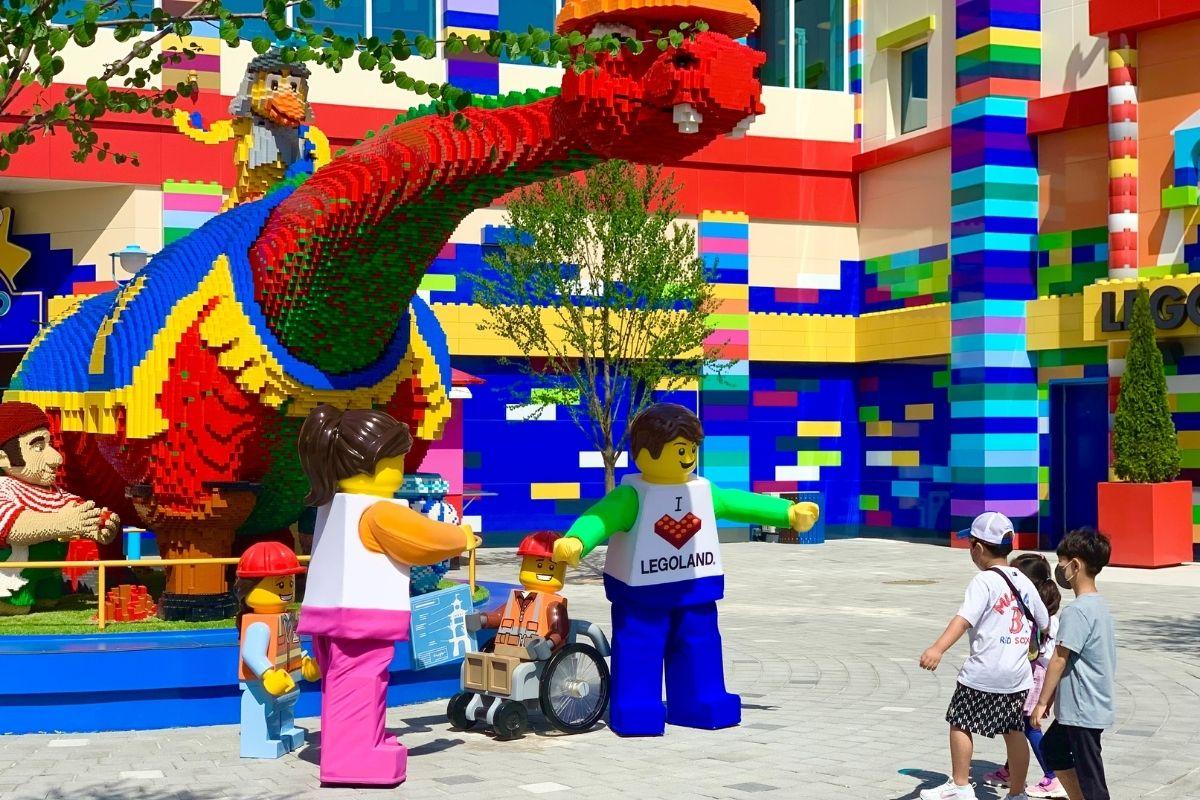 At 10:00, you can meet Lego characters and take pictures with them. The staff will help you take pictures with your phone and professional cameras. Just like at the entrance, they will give you a paper bracelet with a QR code so you can view your pictures later.
If you go further, you will find a photo studio called The Photo Shop. This is where you take your collection of paper bracelets to see the pictures that have been taken of you. They'll scan the code, and your pictures from the day will show. The photos here are divided into two categories: a paper photo (20,000 KRW) and a picture in a comic book (28,000 KRW).
Brick Street also has the LEGO Factory Advertising Ride, but it is not scheduled to run until June 2022. There's a cafe here that sells big, pretty cakes and drinks.
BRICKTOPIA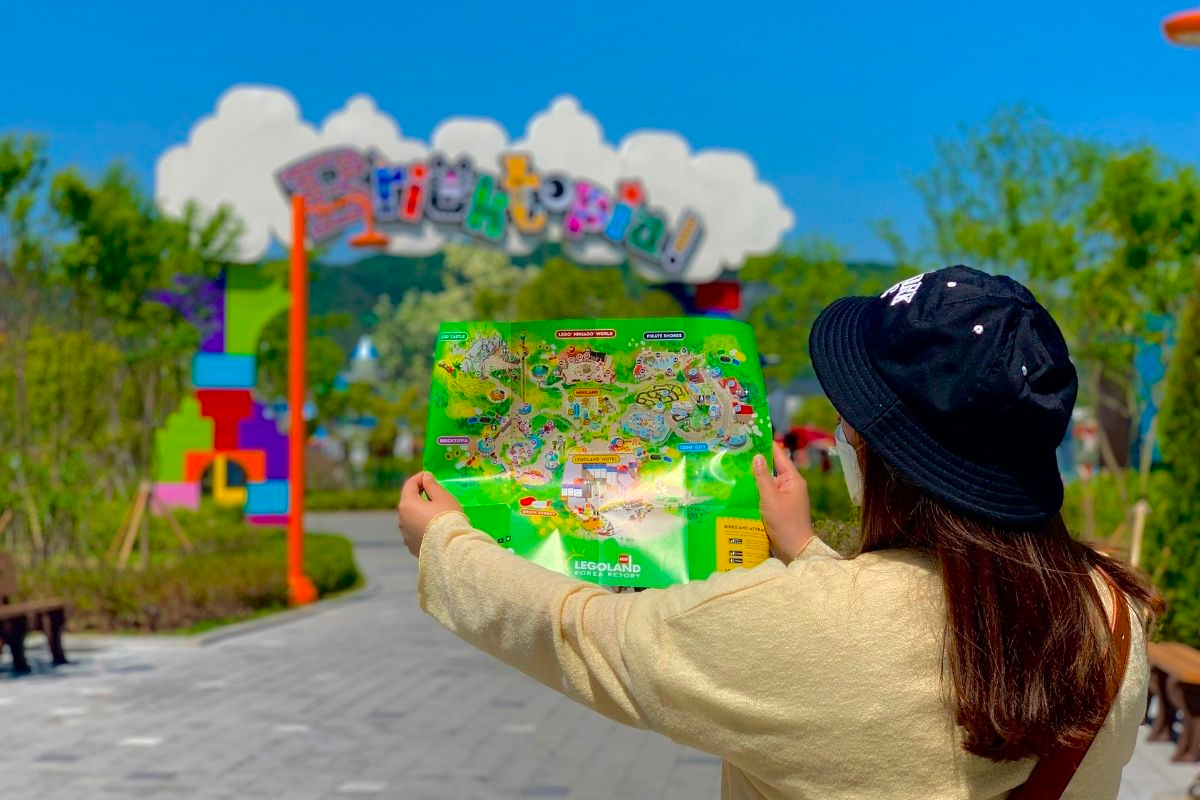 Bricktopia is one of the most popular rides in LEGOLAND. Bricktopia is just behind Brick Street to the left. A souvenir shop and restaurant are also available here. Next, we'll introduce some of the main rides in this area. At the entrance of each game, there are rules for the participants and expected waiting times listed.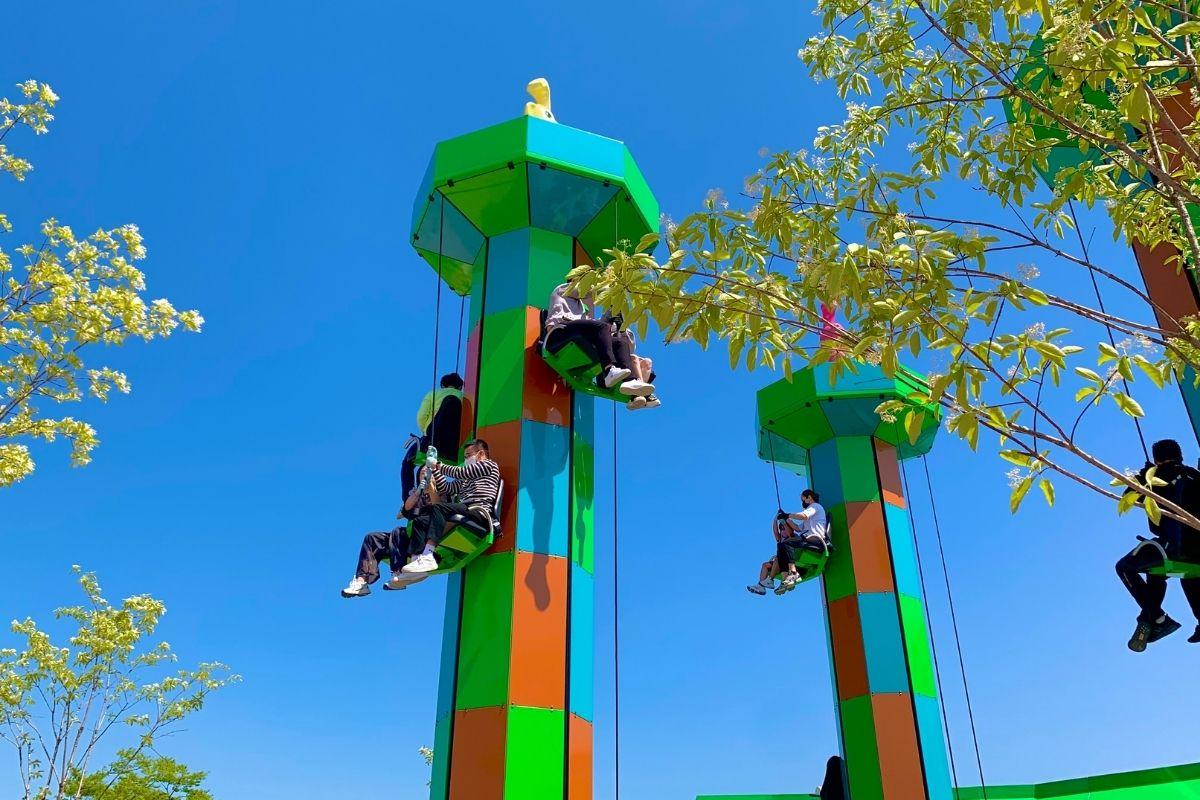 Money Climb
With this game, you pull the rope and pull your chair up. It looks difficult and tiring, but it's actually not very difficult at all. Thanks to the ride, very little effort is needed to pull yourself up. If you want to get off, all you have to do is let go and your chair will come down. The staff will come and unlock your chair so you can get off.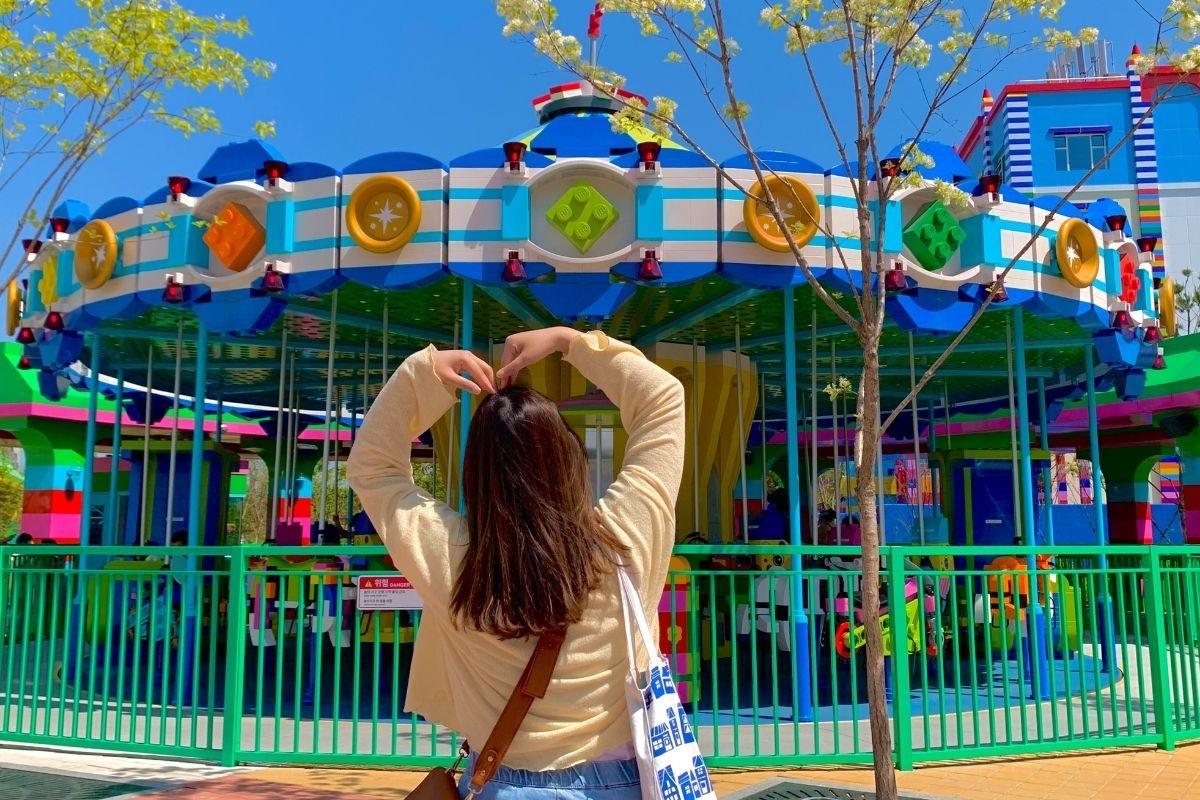 Brick Party
There's no theme park that doesn't have a merry-go-round, right?
LEGOLAND does their own spin on the theme park classic, by making all the horses out of legos. Definitely a different experience than your usual carousel.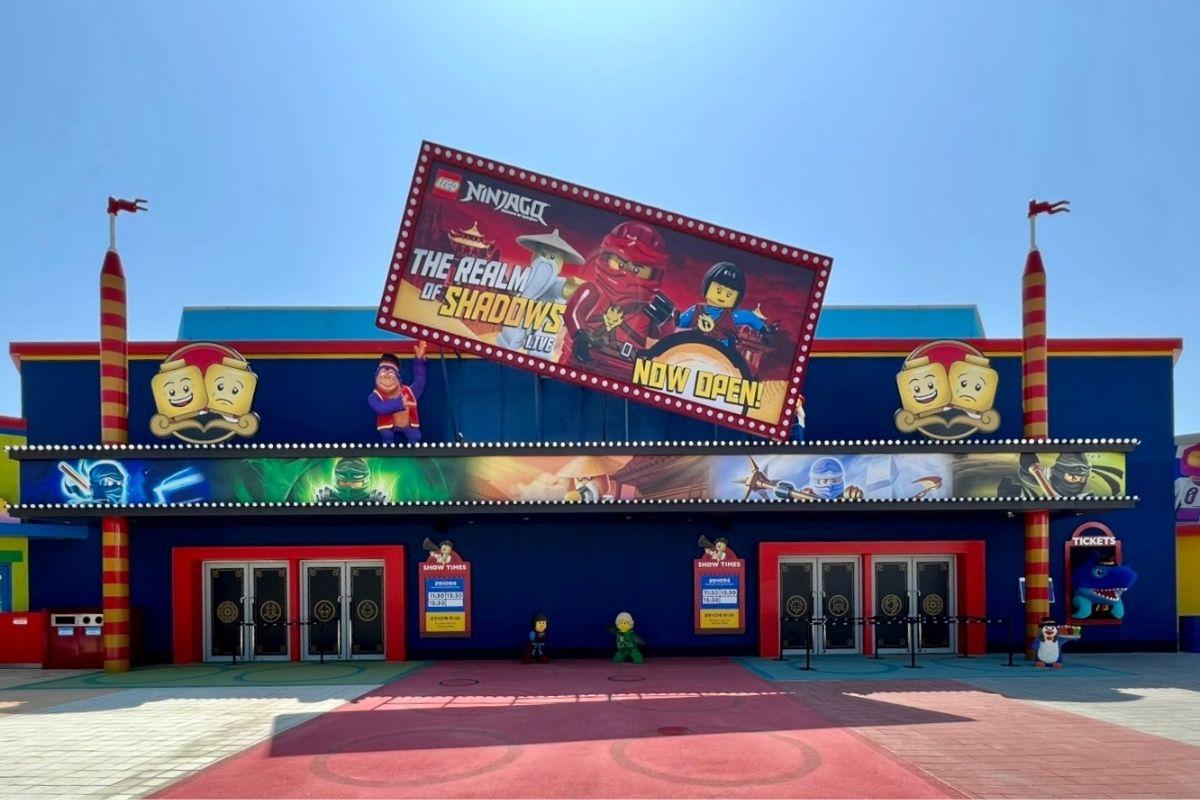 LEGO NINJANGO Live
This is a must-watch show about saving the ninja dragon brothers' dragon. The show lasts for about 30 minutes and shows everyday at 11:30, 1:30, and 15:30.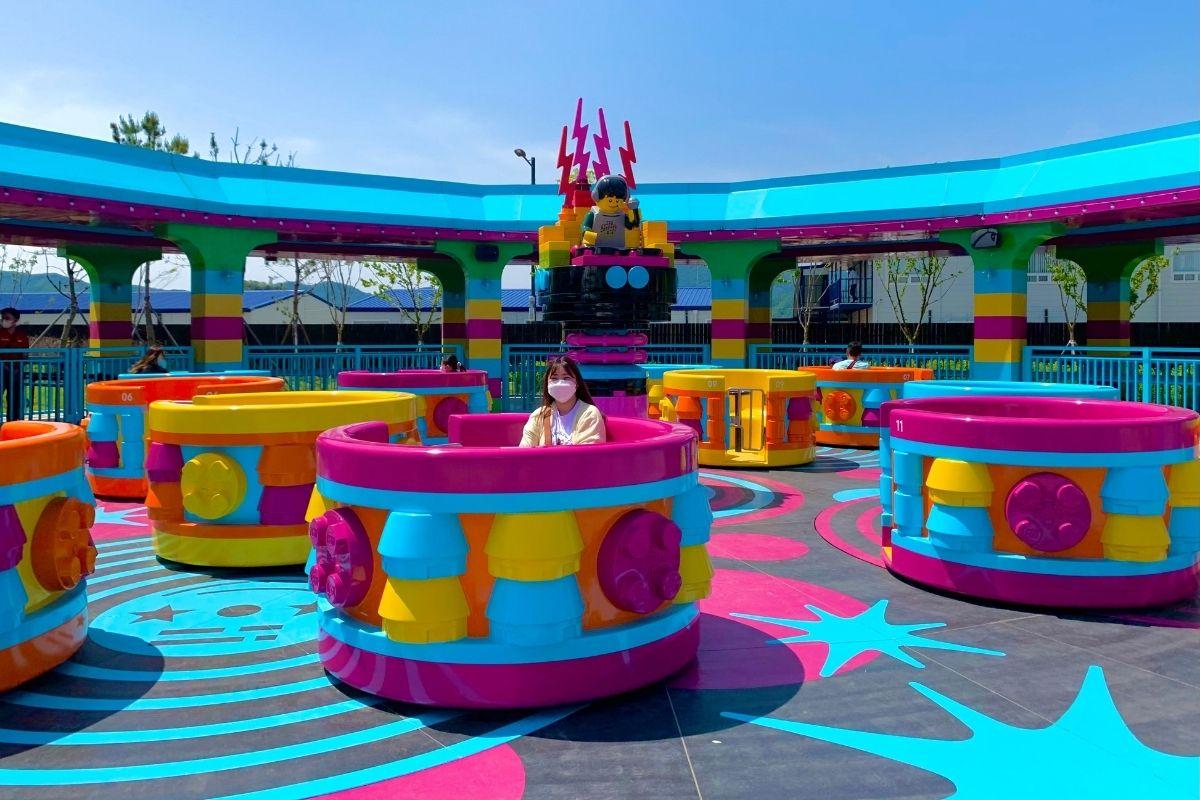 DJ's Dizzy Disco Spin
Some of the rides can make you a little dizzy. This ride does just that with the addition of some fun and exciting music. If you have motion sickness, it might be a good idea to avoid this ride. 😅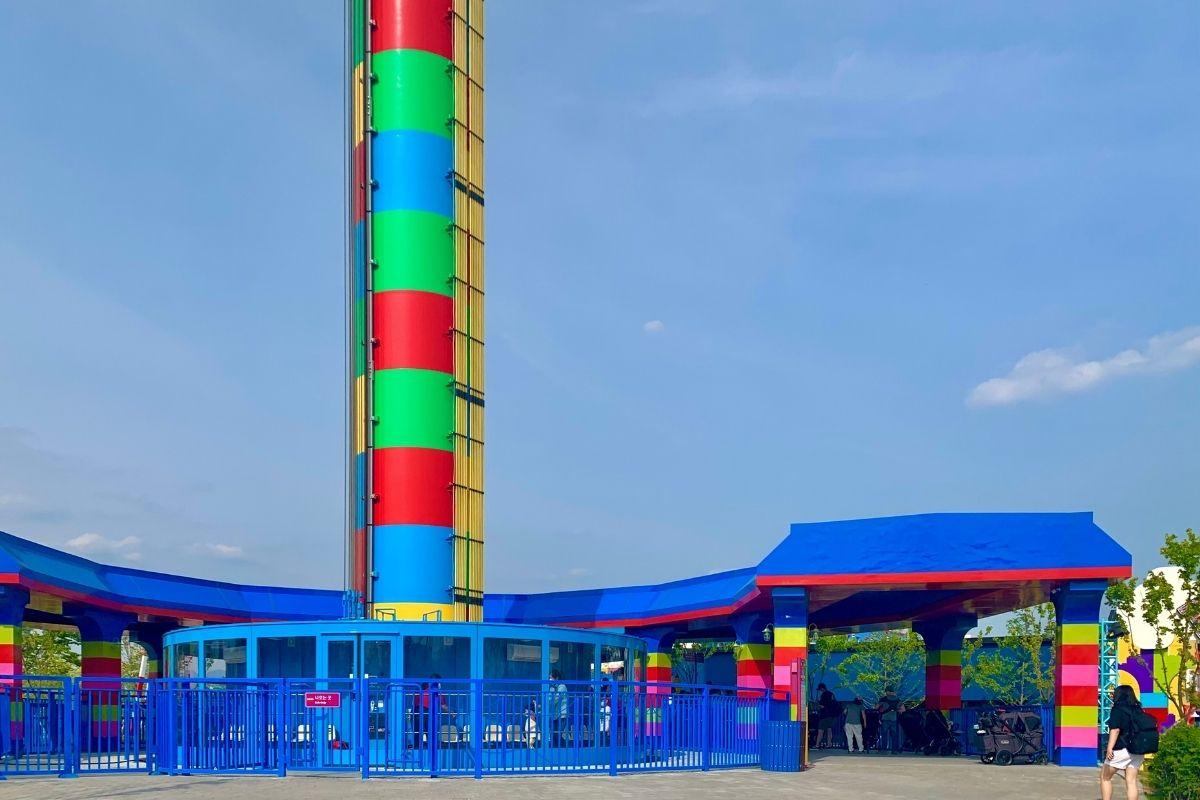 LEGOLAND Lookout
The only observatory in LEGOLAND. You'll be take up to the same height as a 32-story building and you'll see the panoramic view of the entire park from up high.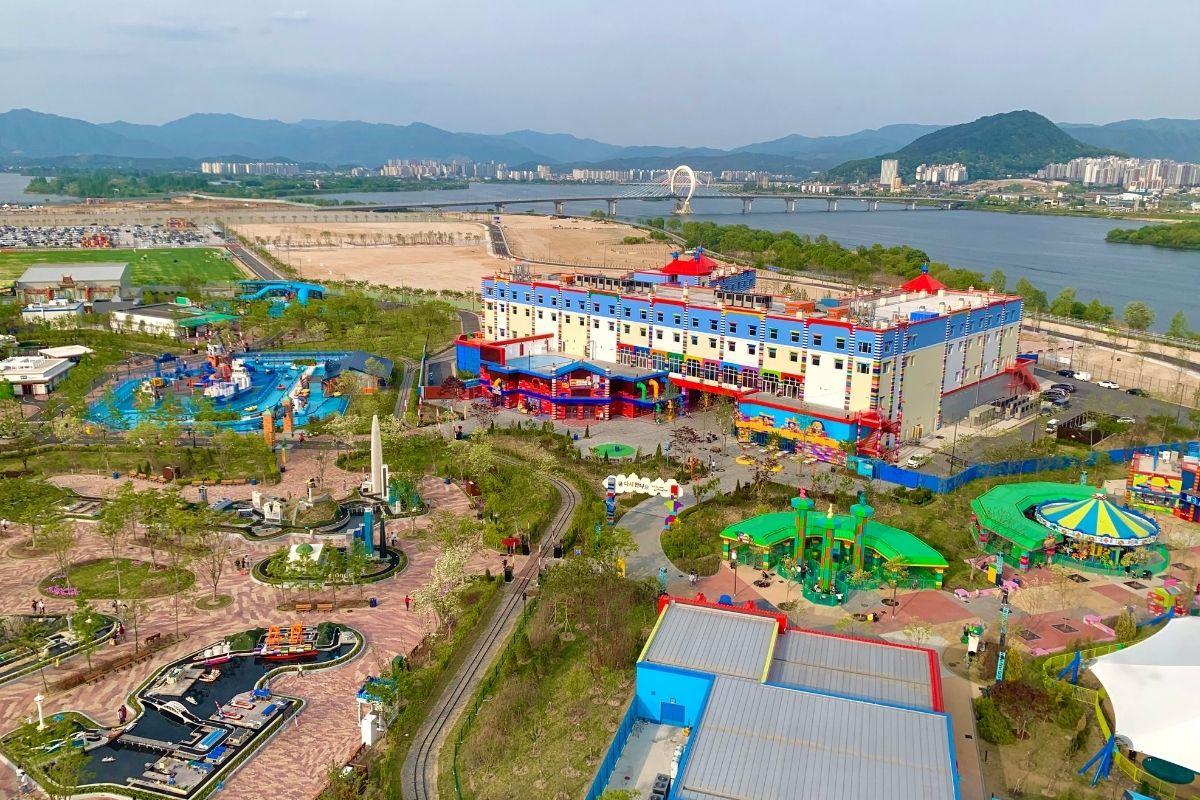 It'll be nice if you can come up here around noon before closing time.
Bricktopia also has plenty of comfortable space. Create and demonstrate Lego installation capabilities such as Robotic Play Center, Build & Test.
Legos are ready for you to use!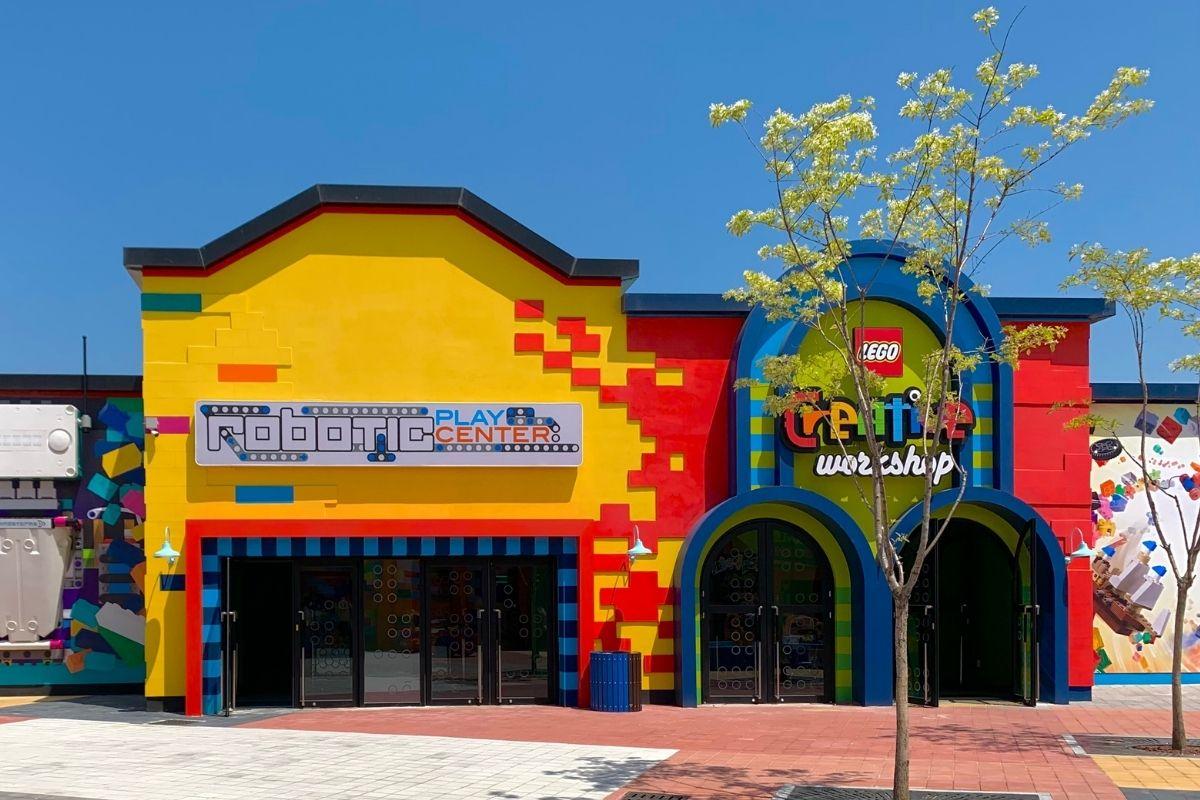 There is also a LEGO Creative Workshop. If you are with a child, you can go and apply for the Lego assembly guide as your child's specialist. It is a free education program for middle school students and below. Applications are open from 10:00 and you have to apply directly to the LEGO Creative Workshop.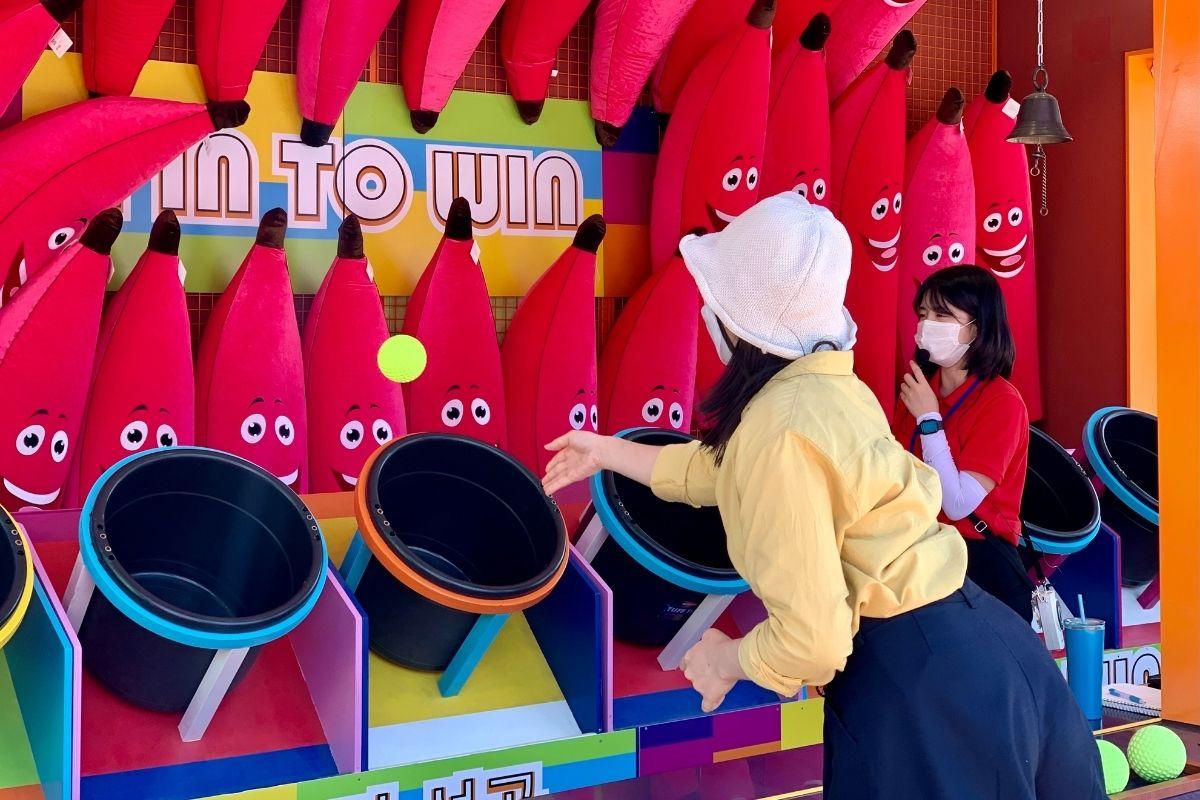 In every area of LEGOLAND, there are games where you can win prizes. In BRICKTOPIA in particular, there is a game for throwing bananas. If you can throw two in a box, you can take a big pink banana home. It may look easy, but as goes for most carnival games, it's not. 🥲 The game costs 4,000 KRW per game and 10,000 for three games.
LEGO CASTLE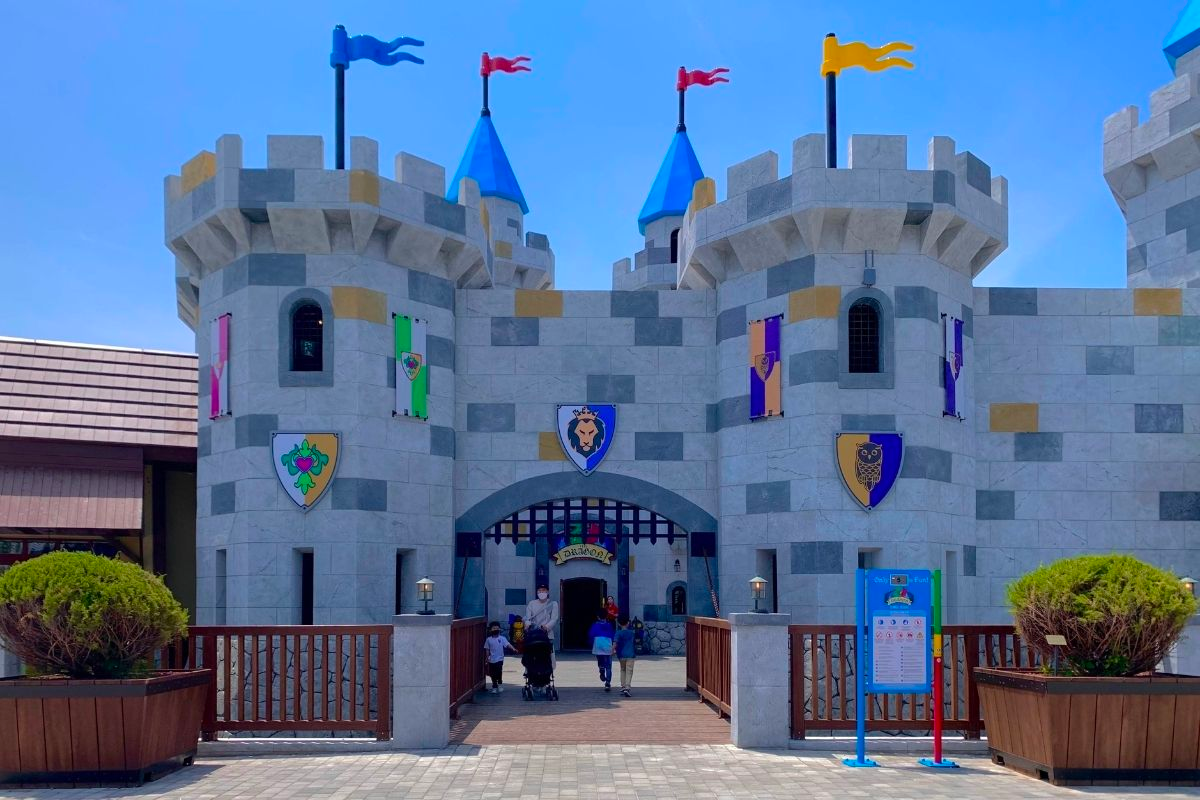 There is a very magnificent and impressive castle made of legos in the park. The castle feels like it's come straight out of a cartoon. If you come to this area, you can participate on the only thrill ride in the park, an exciting roller coaster called The Dragon.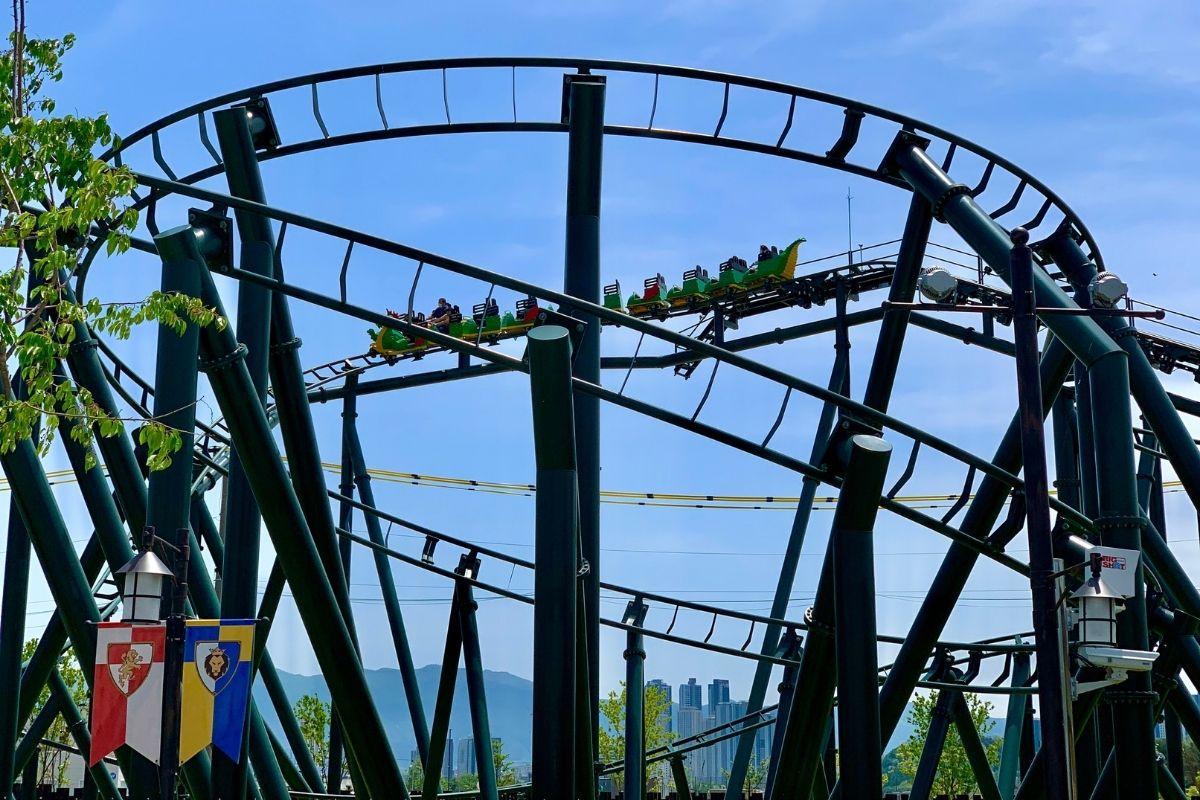 The Dragon
The Blue Dragon roller coaster will take you up to see the amazing Lego models inside the castle and then outside into the open air. It goes pretty quick and is definitely the highlight if you love thrill-rides.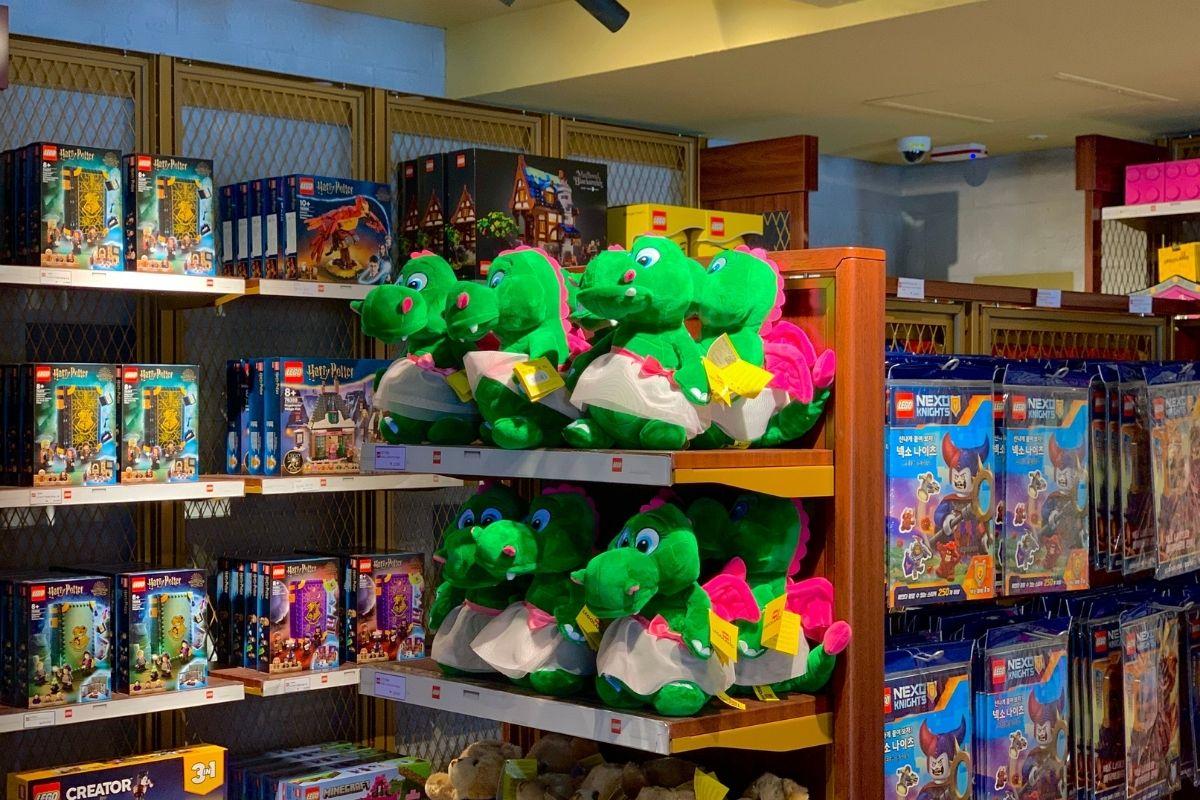 If you like the picture of the dragon, you can buy a souvenir when you get off the ride.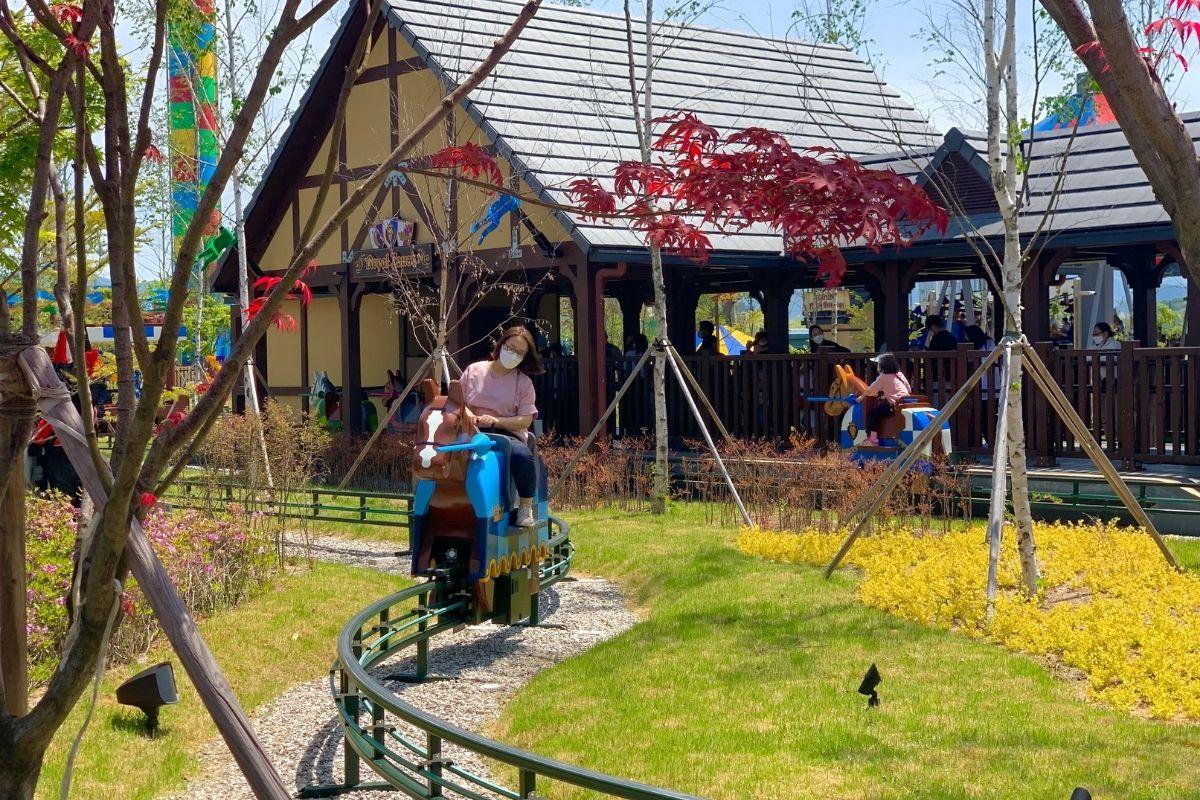 Royal Joust
This is a ride where you can ride a Lego horse around the garden. It's nice to jump back into your childhood and have a unique horse riding experience.
In Lego Castle, there are two other rides you can try: Merlin's Flying Machines and Merlin's Challenge.
At Lego Castle in particular, there is a special gift game called Prize Every Time. It's the only game in LEGOLAND where you will definitely win something, no matter what. If want to leave with a souvenir, we definitely recommend coming to this game.
The game is simple, you just pick up a duck and and put it back down. The higher the score, the bigger the prize. The cost for pulling two ducks is 6,000 KRW and pulling 5 ducks is 10,000 KRW. You can buy as many ducks as you like!
LEGO NINJAGO WORLD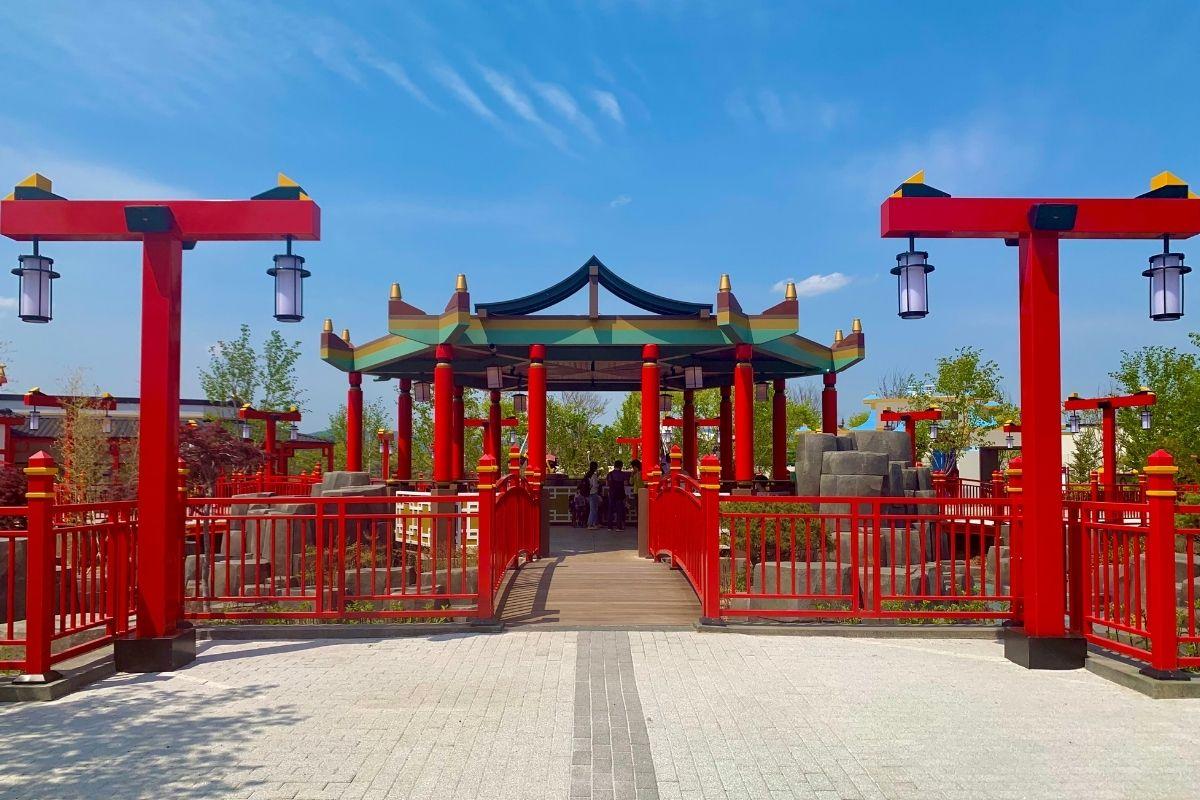 This are is modeled after Feudal Japan with vivd red tone tone that contrasts its surrounding so beautifully.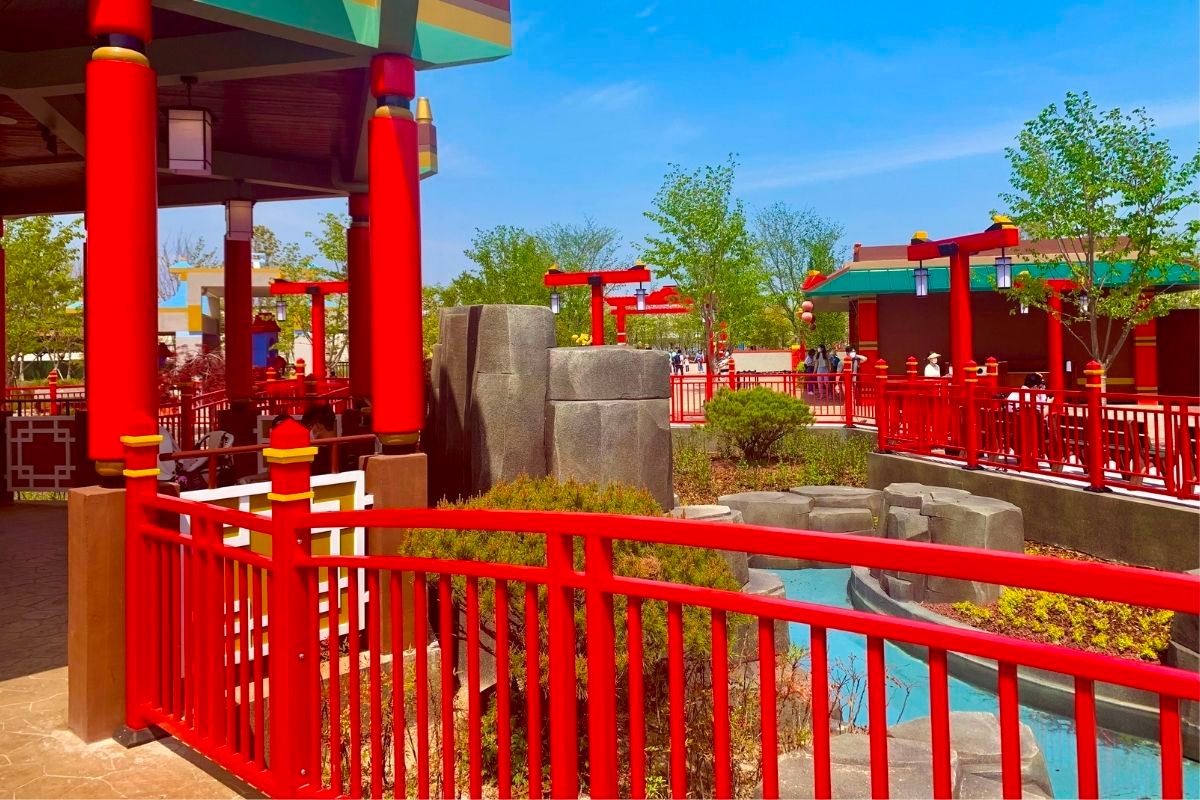 There aren't many rides here but it's a great photo zone. This can be a great place to get away from the rides and focus on getting some great Instagram posts.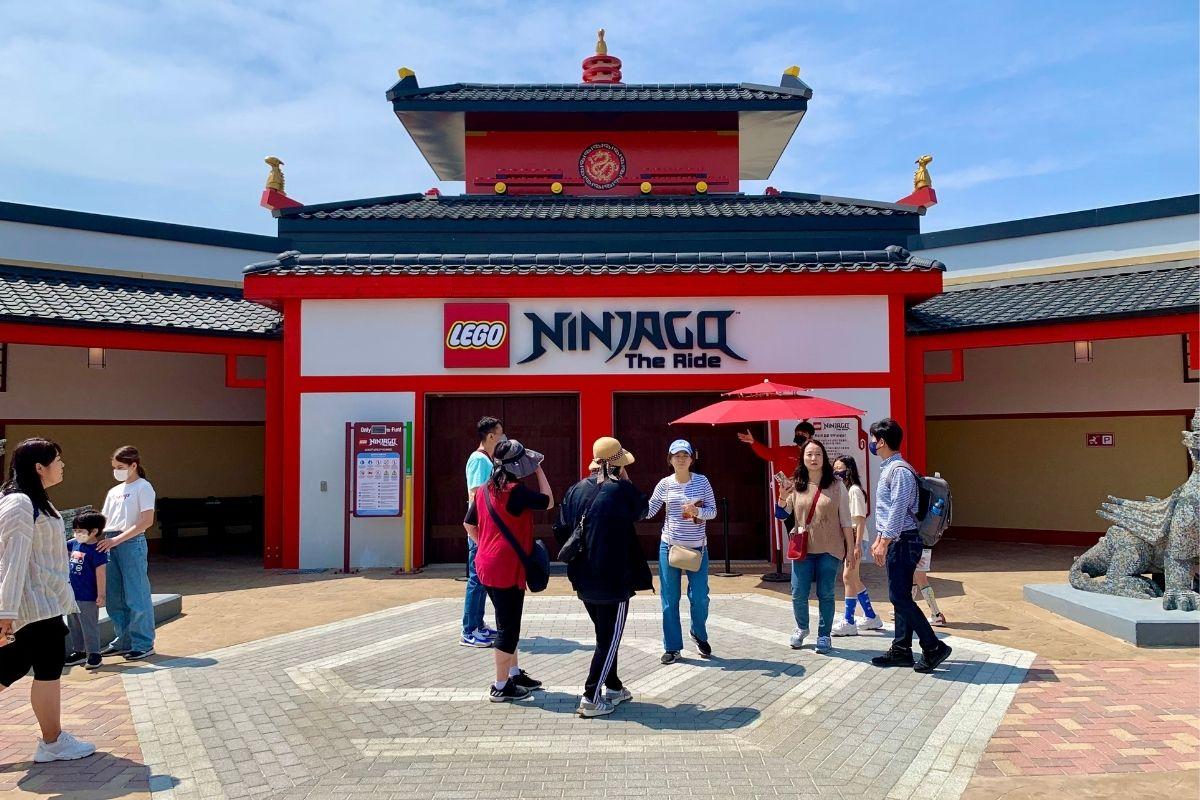 LEGO NINJAGO The Ride
This is a ride that stands out even from its appearance. Unfortunately, when we visited, the ride was not running. 🥲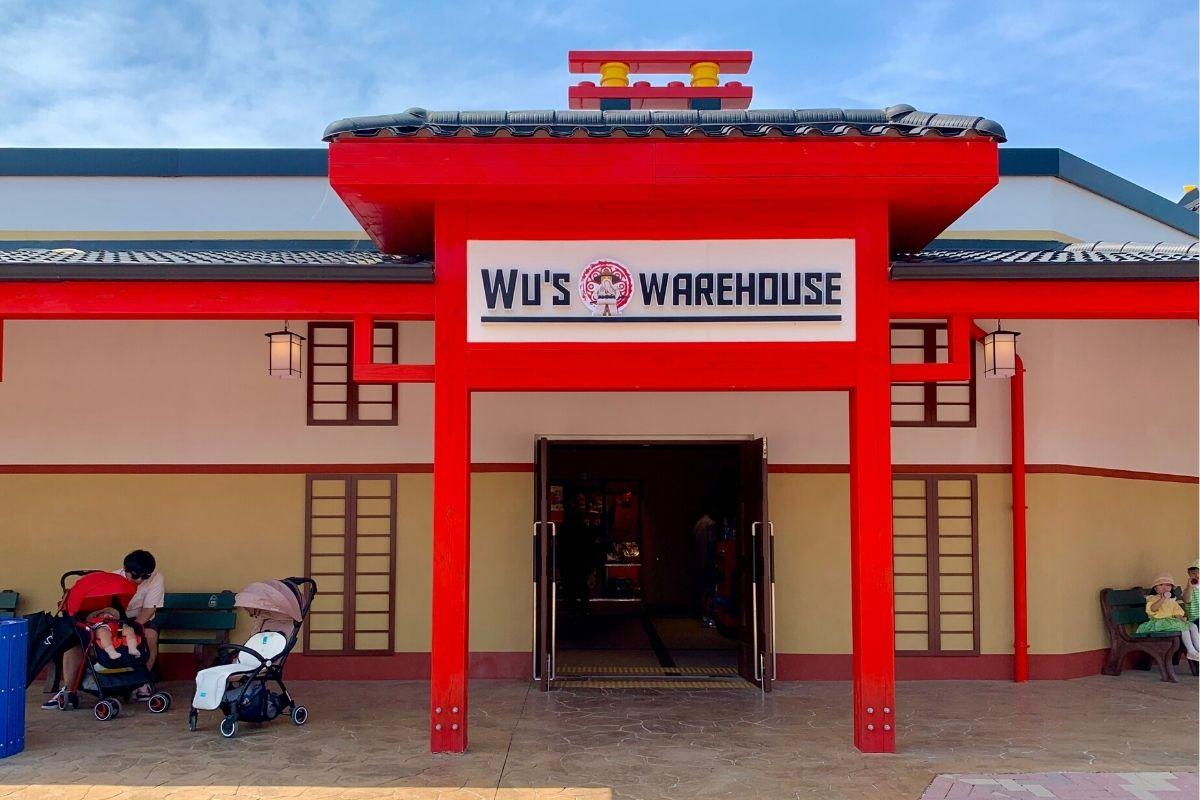 The souvenir shop in this area of the theme park is called Wu's Warehouse. As you enter there are many lego sets and ninja-related items. Prices are written on each product.
If you get hungry, there is also a snack bar in this area as well.
MINILAND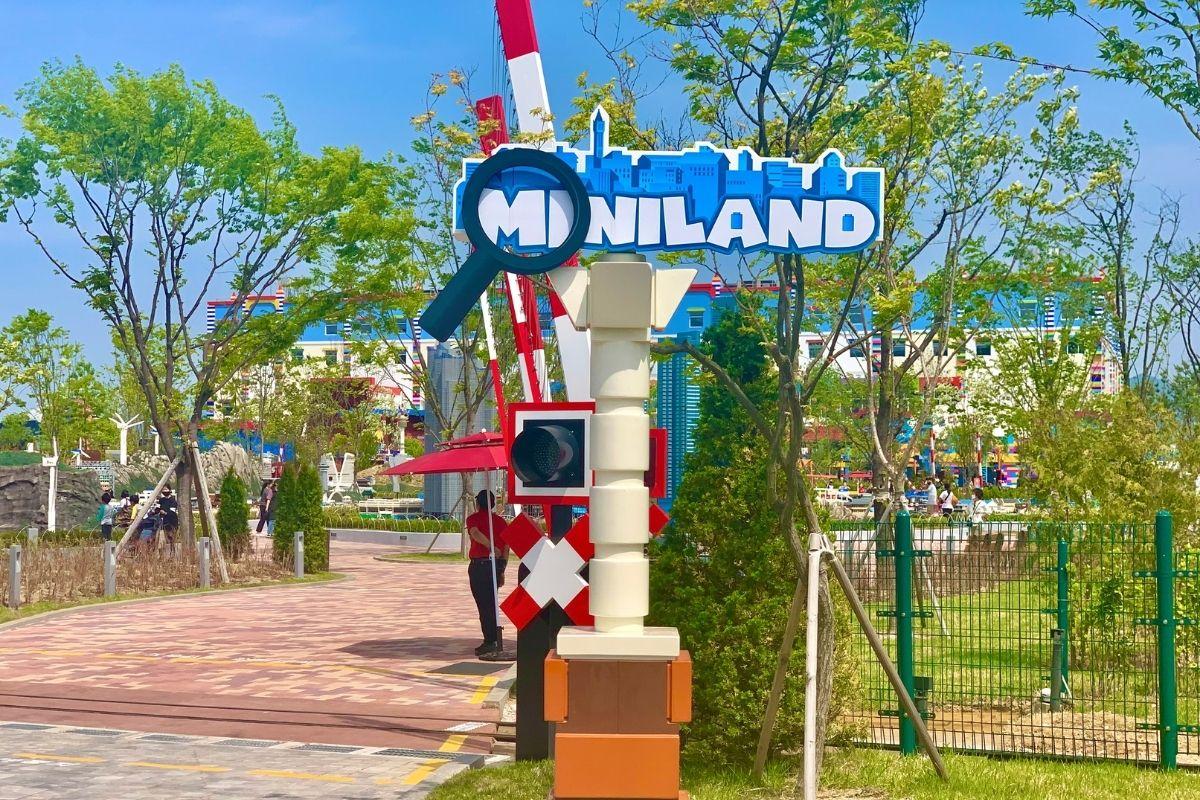 It's a must-visit place for LEGOLAND. Here you can see replicas of famous places in Korea all made of legos.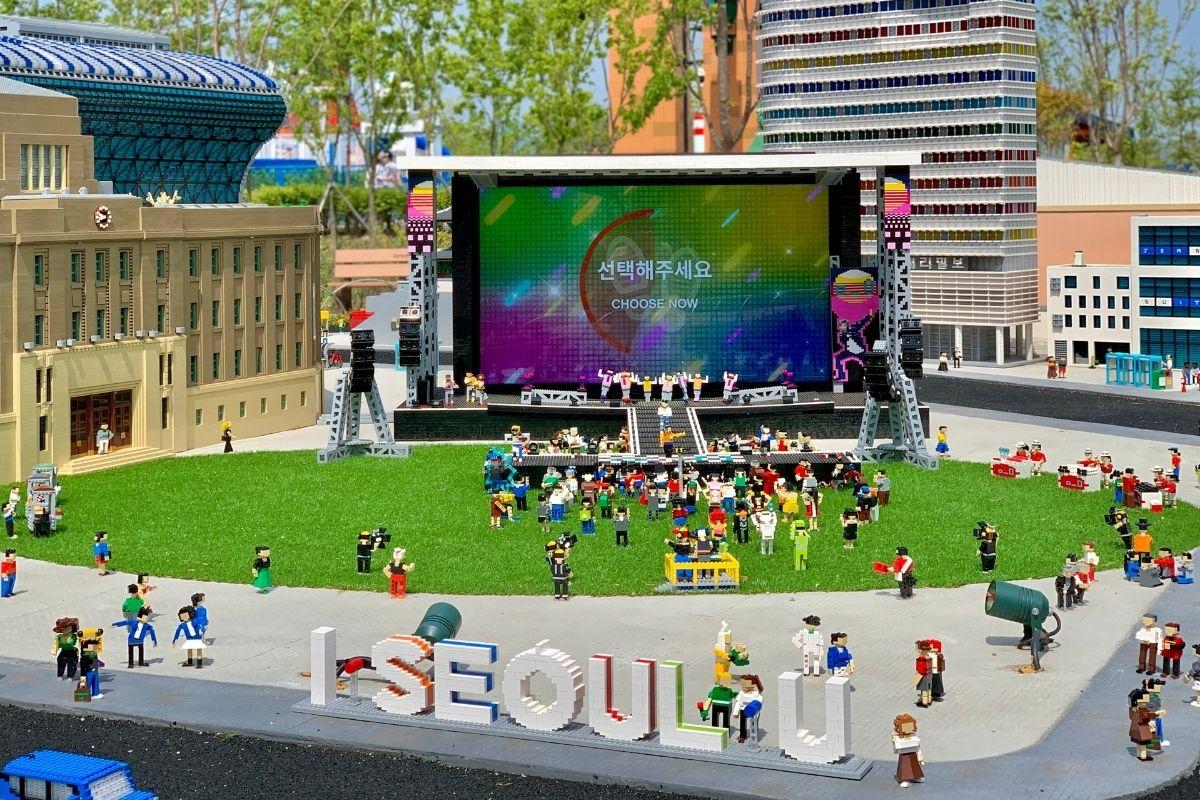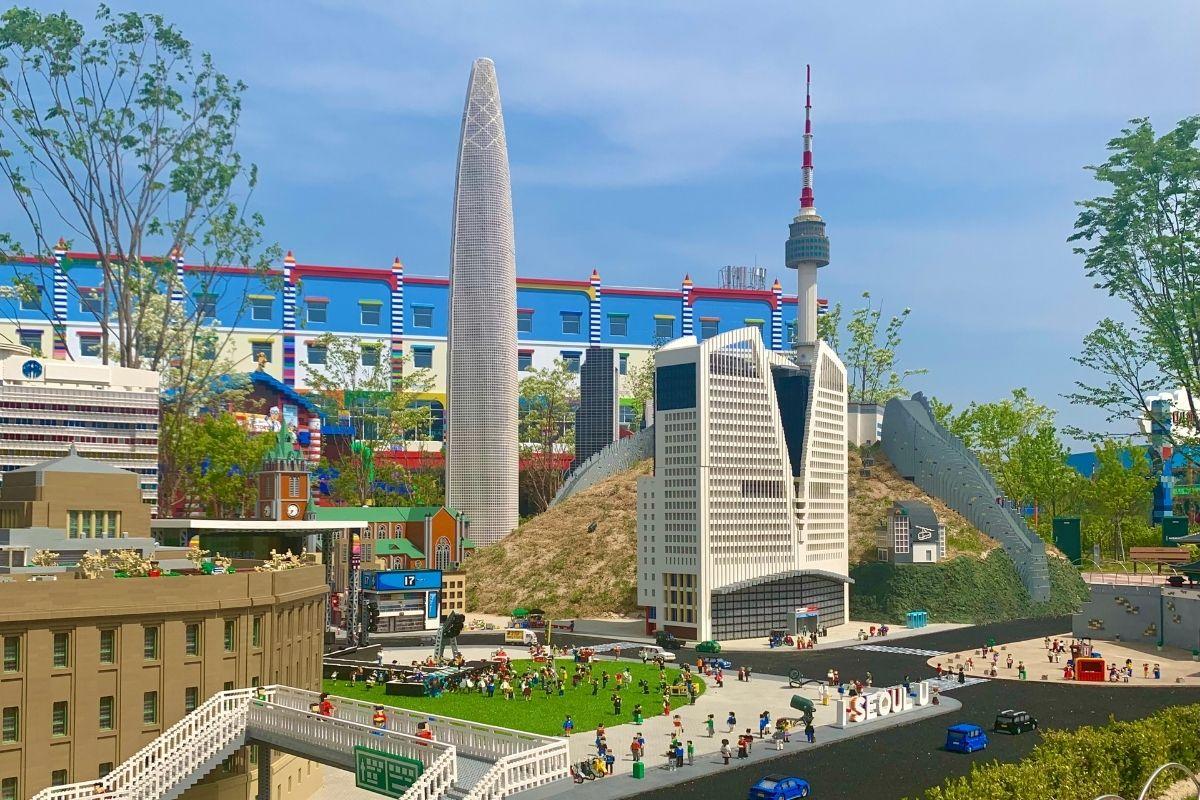 Each work is a famous landmark somewhere in Korea. From popular places in Seoul such as Yeouido and Gyeongbokgung, all the way to Gyeongju, Gangwon-do, and areas Busan like Haeundae.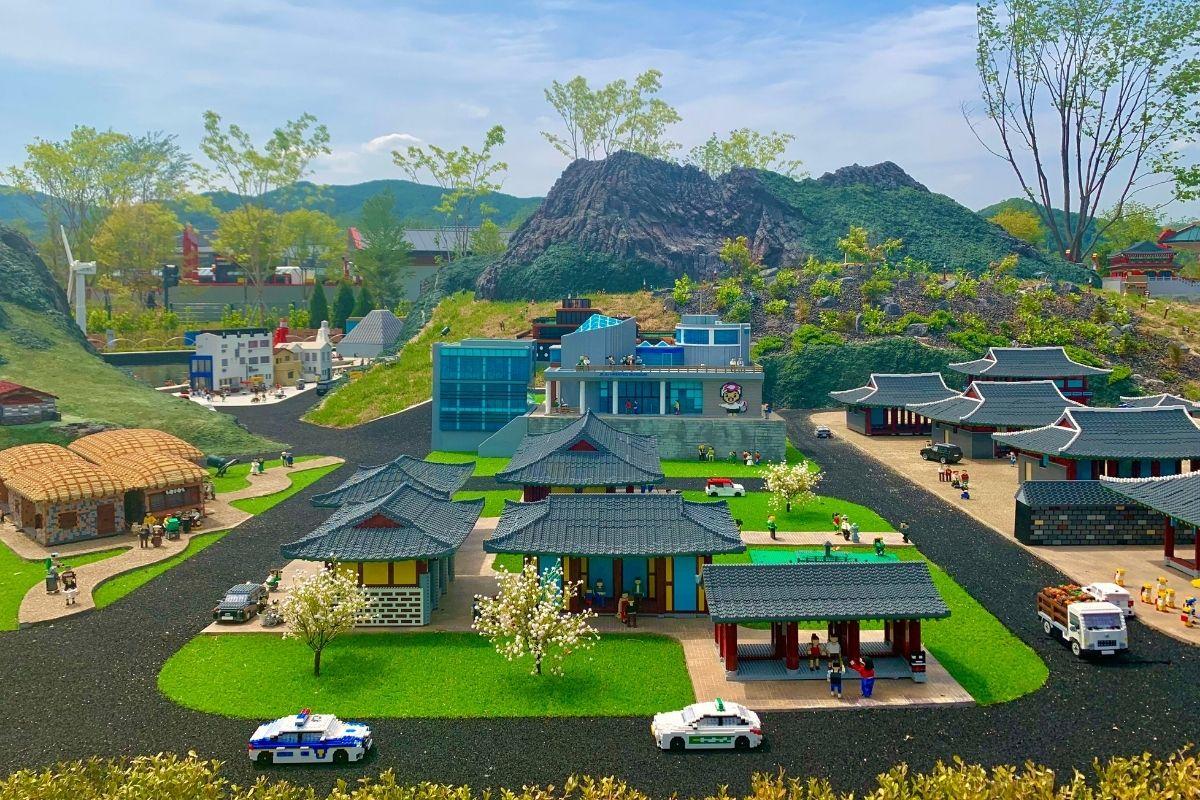 But that's not where it ends. Other places are actively being worked on. For example, areas in Jeju Island are currently being constructed. You can't help but admire the dedication and hard work that goes into planning and building one of these pieces so it's really awesome to see such sophisticated pieces in person.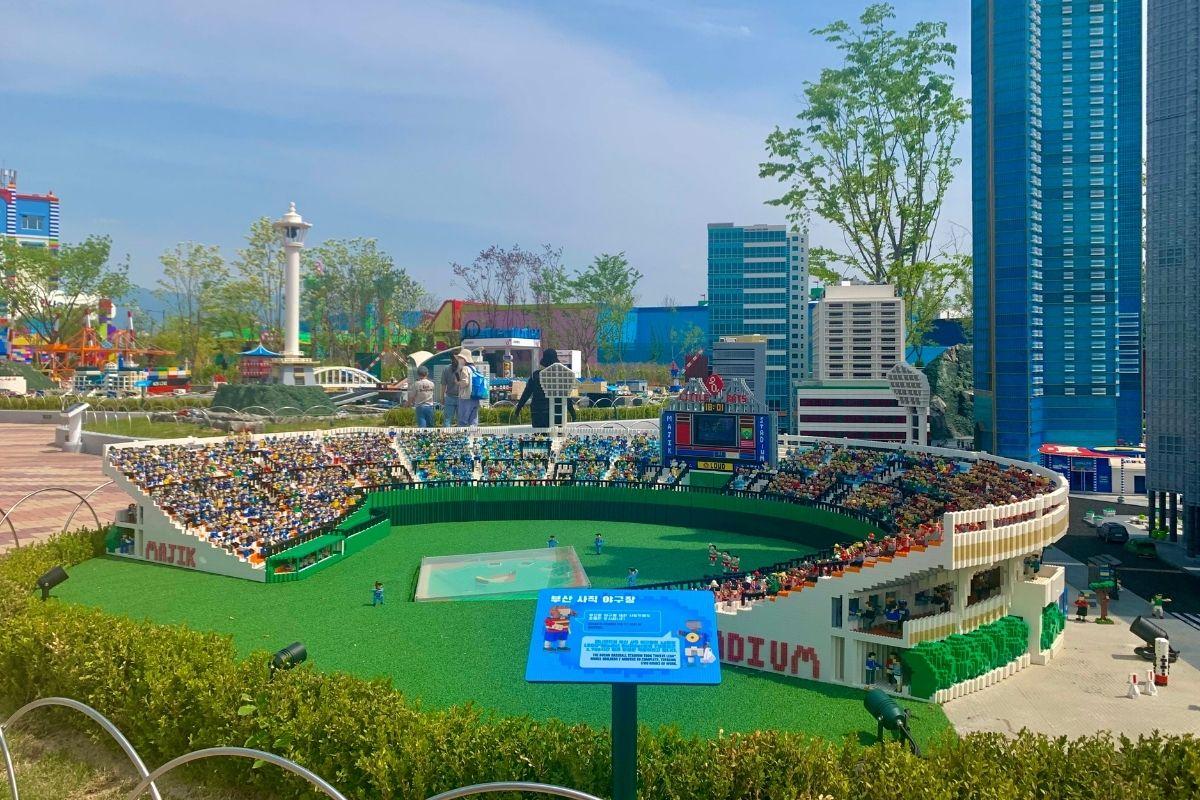 Everything is perfectly reproduced and showcases the highlighted area. It makes you feel like you're traveling all over Korea in a matter of minutes.
Unfortunately, there are no restaurants or shopping in this area, only sightseeing so make sure to plan accordingly.
PIRATE SHORES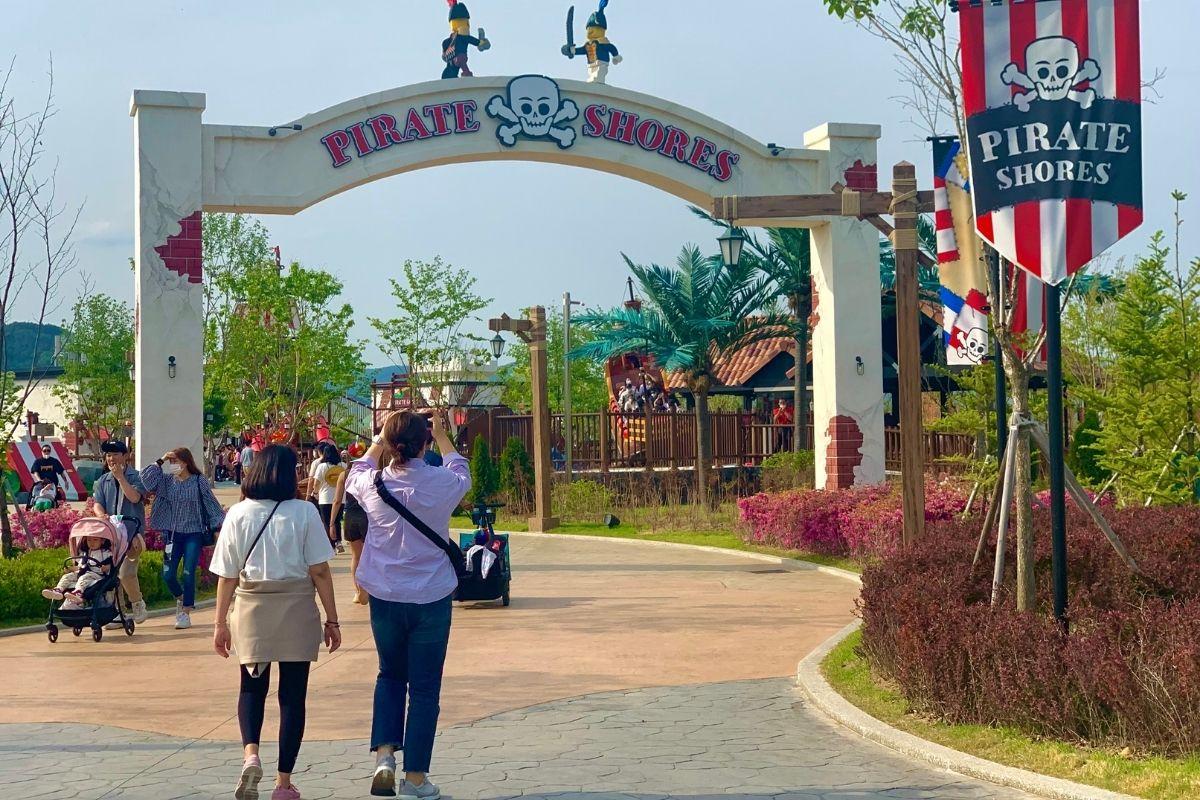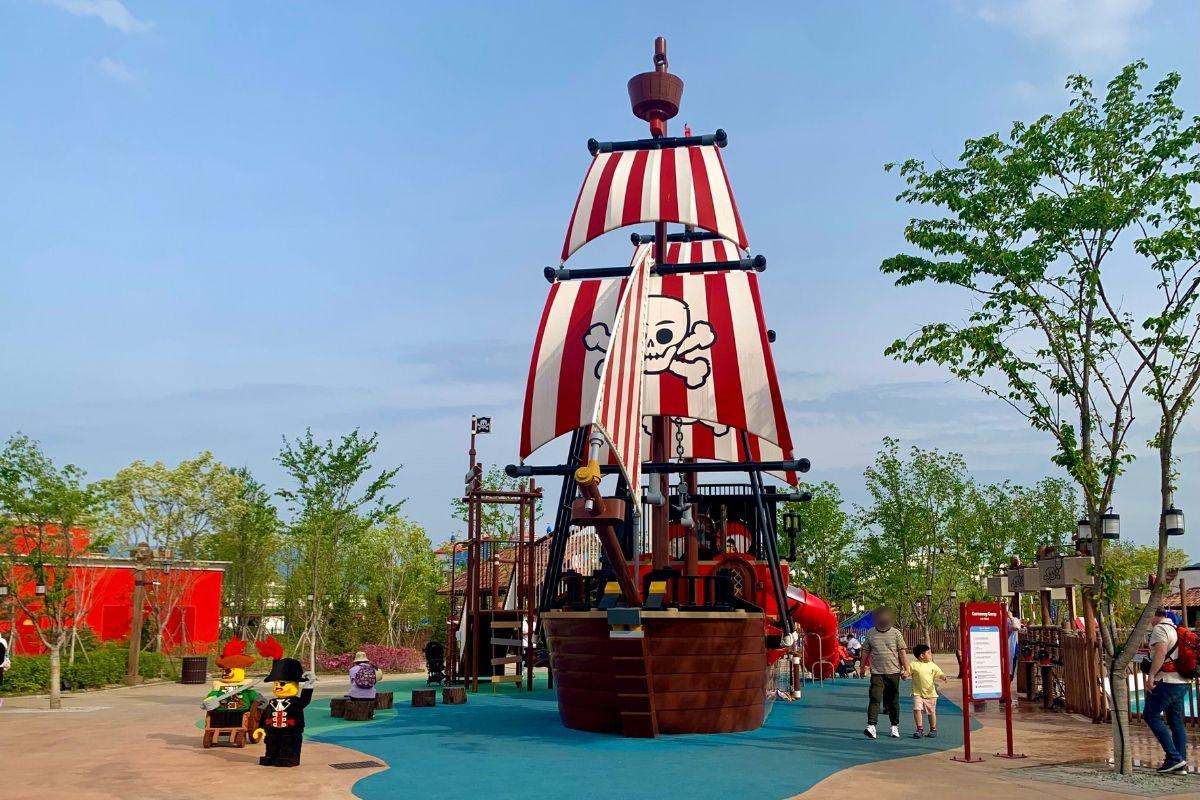 This place is designed with the concept of a pirate ship. You'll see a very large model pirate ship, once again, made of legos! There's no shopping centers, but there is a food stand if you get hungry along the way.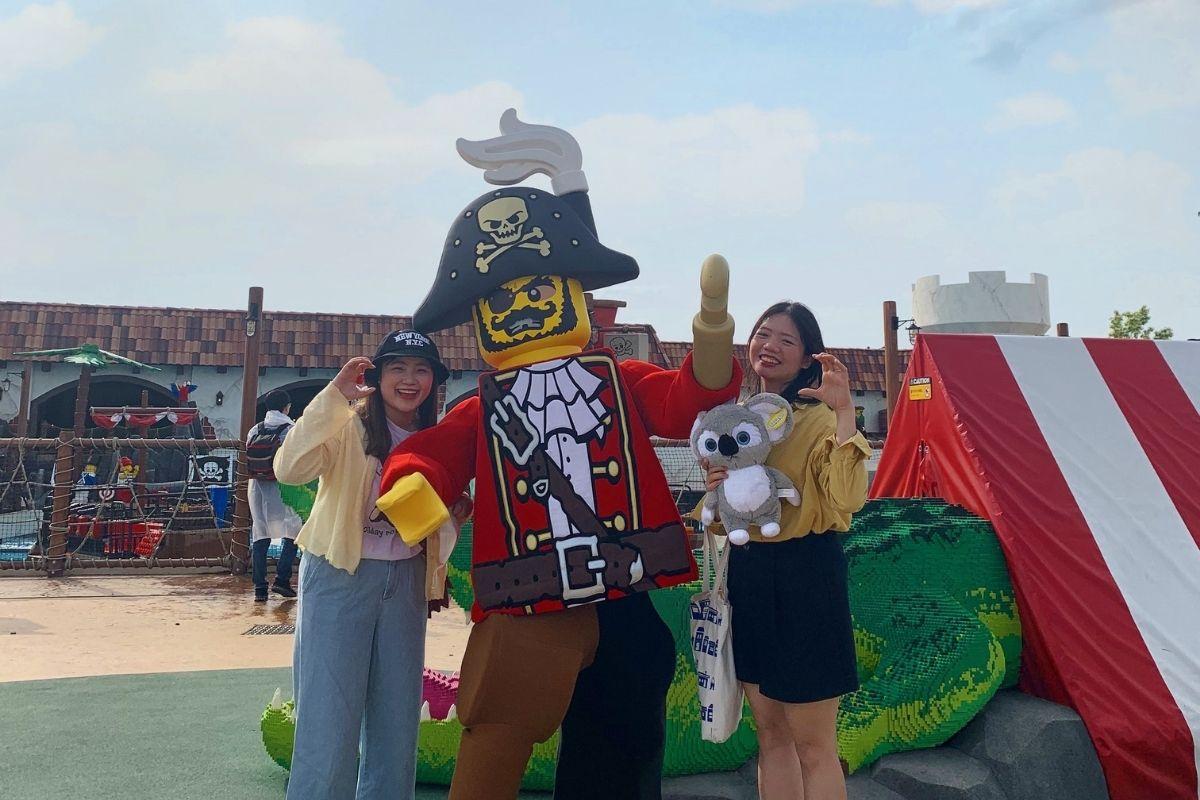 Here, you can take pictures with the pirate ship captain or the ship. There aren't many rides in this area, but the ones are there, are quite fun.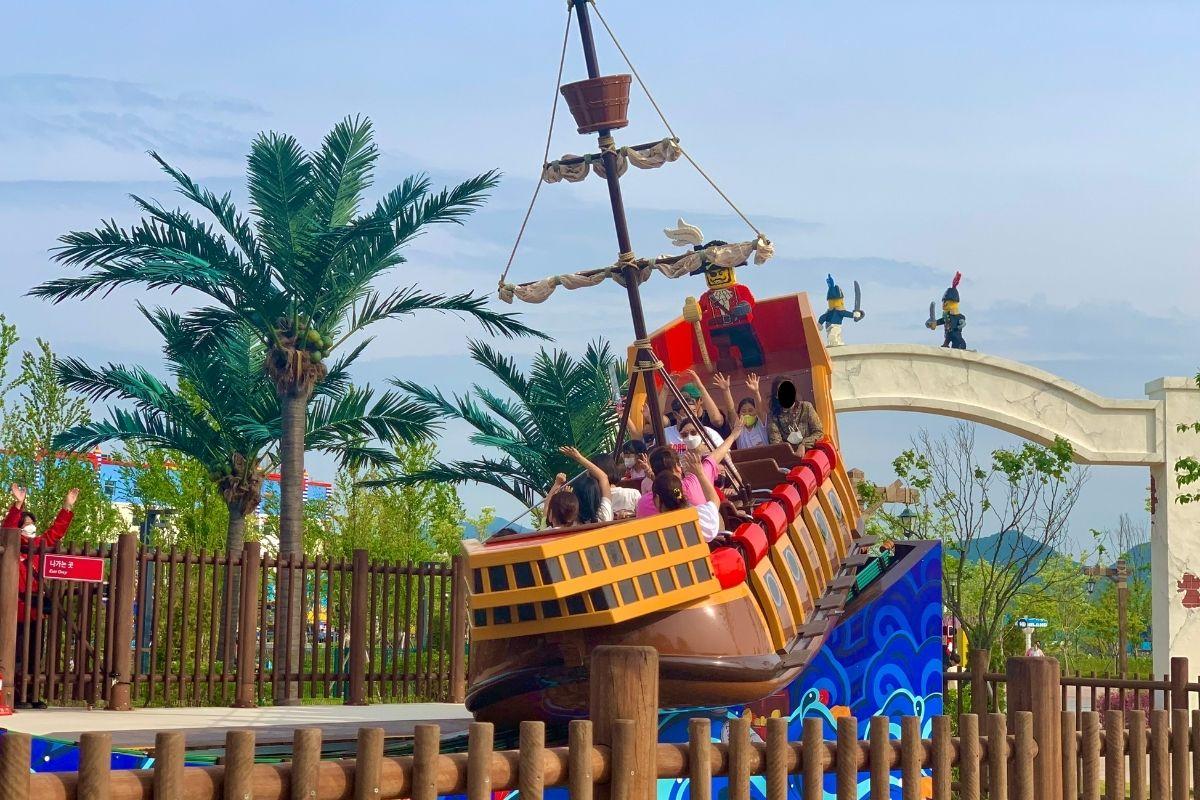 Anchor Away
This ride is a pirate boat ride. You can find many like it in other theme parks where the boat swings back and forth on a pendulum. This one differs slightly with the fact that it is on a track rather than swinging by a post. Oh, the lego design is another stand out difference.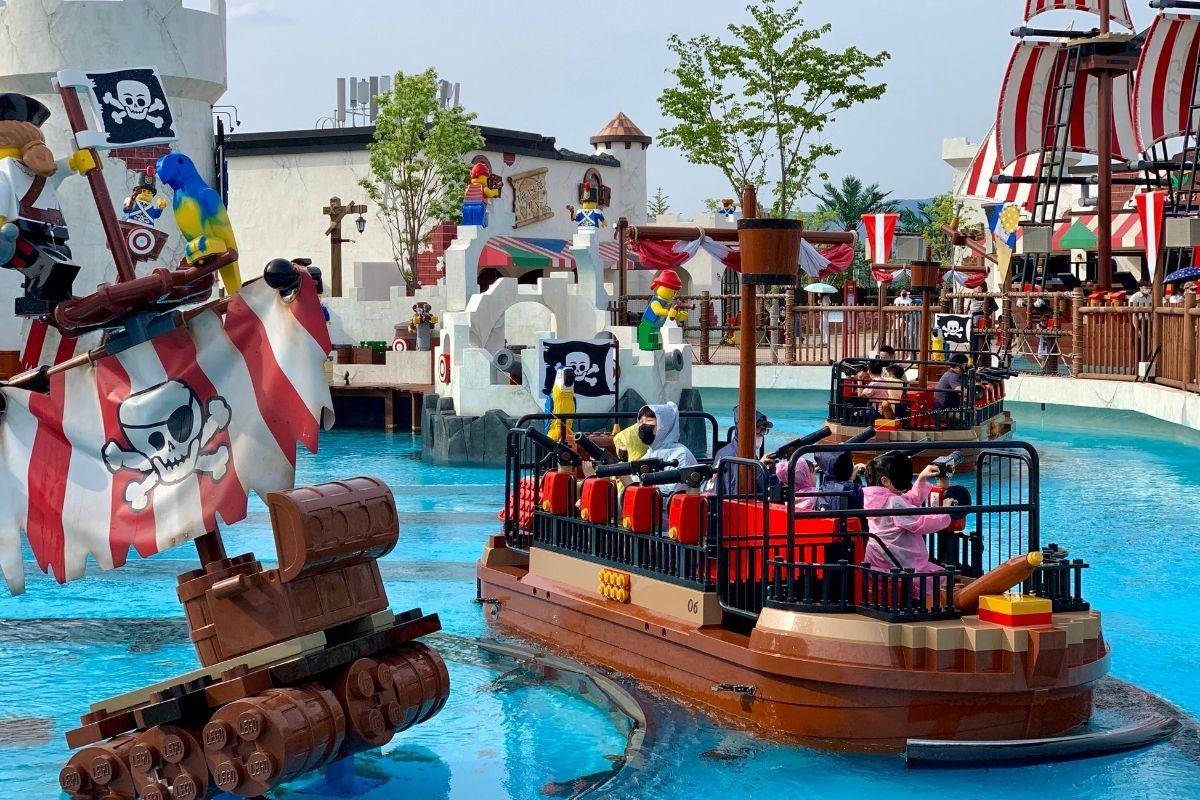 Splash Battle
Splash Battle is the most popular ride inside of Pirate Shores. What's a pirate themed area without at least ONE water ride? With Splash Battle, you will engage in sea battle and try to destroy your opponent with water guns.
When you participate, you will be given a raincoat, but it's still likely you'll get wet. It's fun, but hopefully day is nice enough to dry you off if you don't have spare clothes.
Even if you don't want to ride on the boat, you can still participate by shooting with a water gun from the fence.
LEGO CITY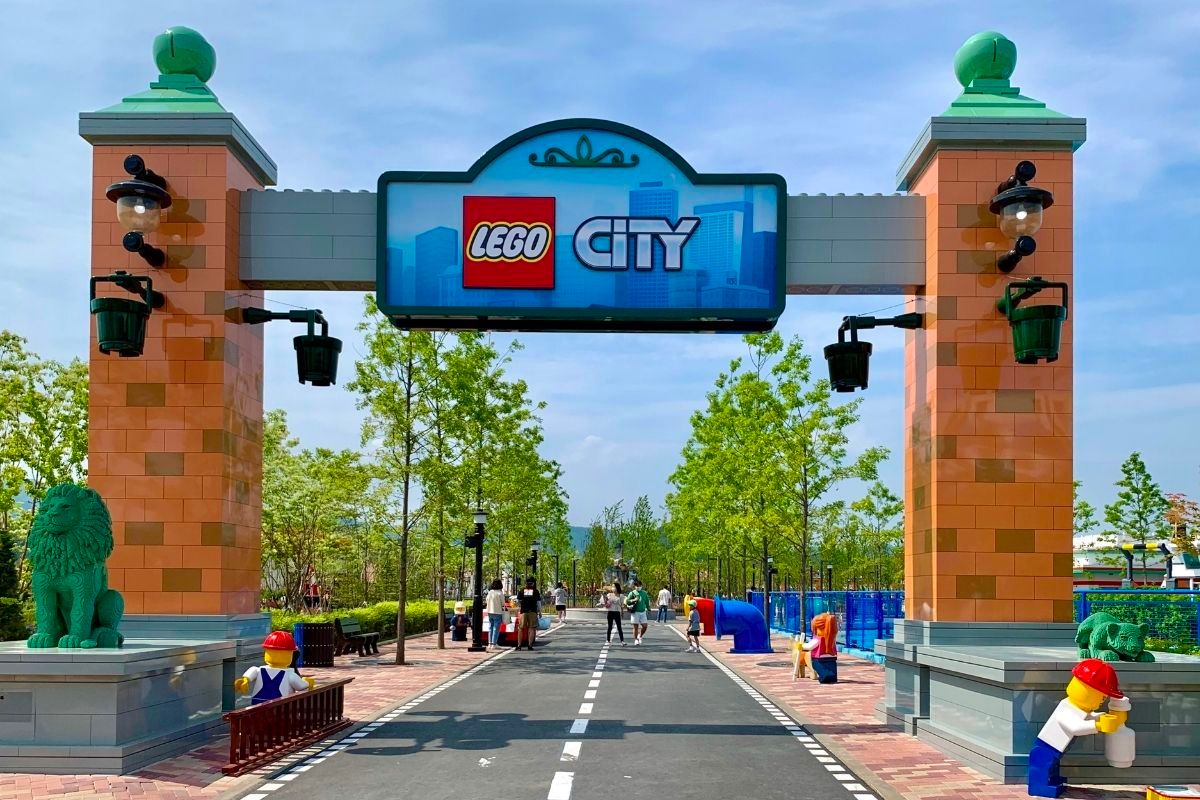 This is the last of LEGOLAND. This area is extremely large and has a very grand and detailed design at every corner. There's also a food court and souvenir shop as well so if you haven't bought anything yet, here's your chance!
There are a number of games and rides in this area which we will explain below.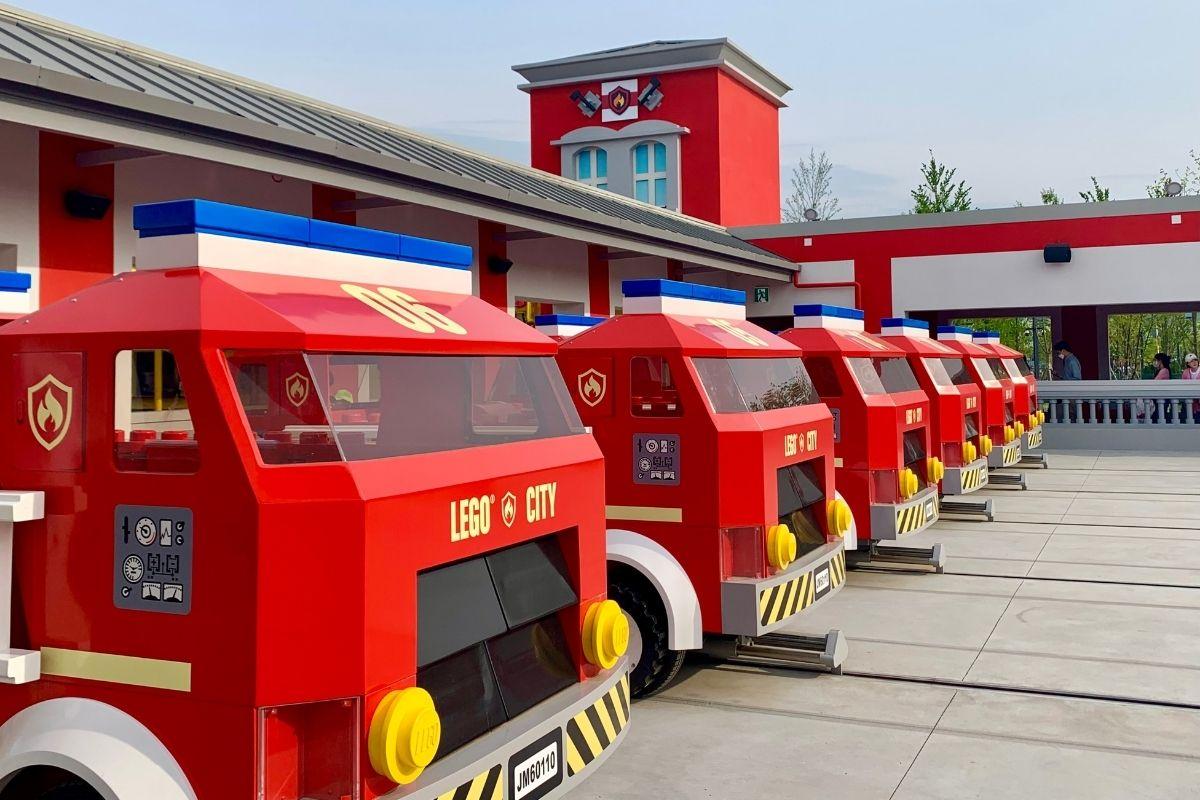 Fire Academy
Here you can experience riding a Lego firetruck and extinguishing a fire on a mission like a real firefighter.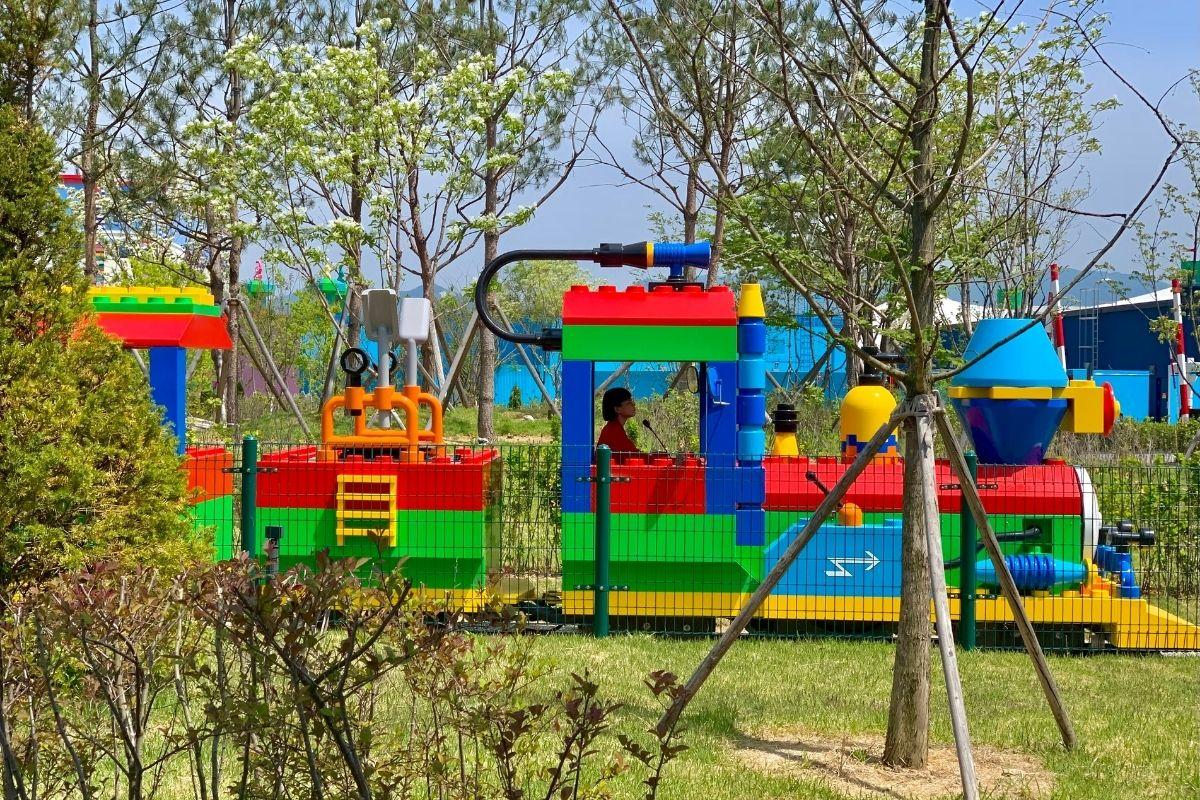 LEGOLAND Express
The Lego train goes around LEGOLAND. This is definitely the easiest way to see the whole park.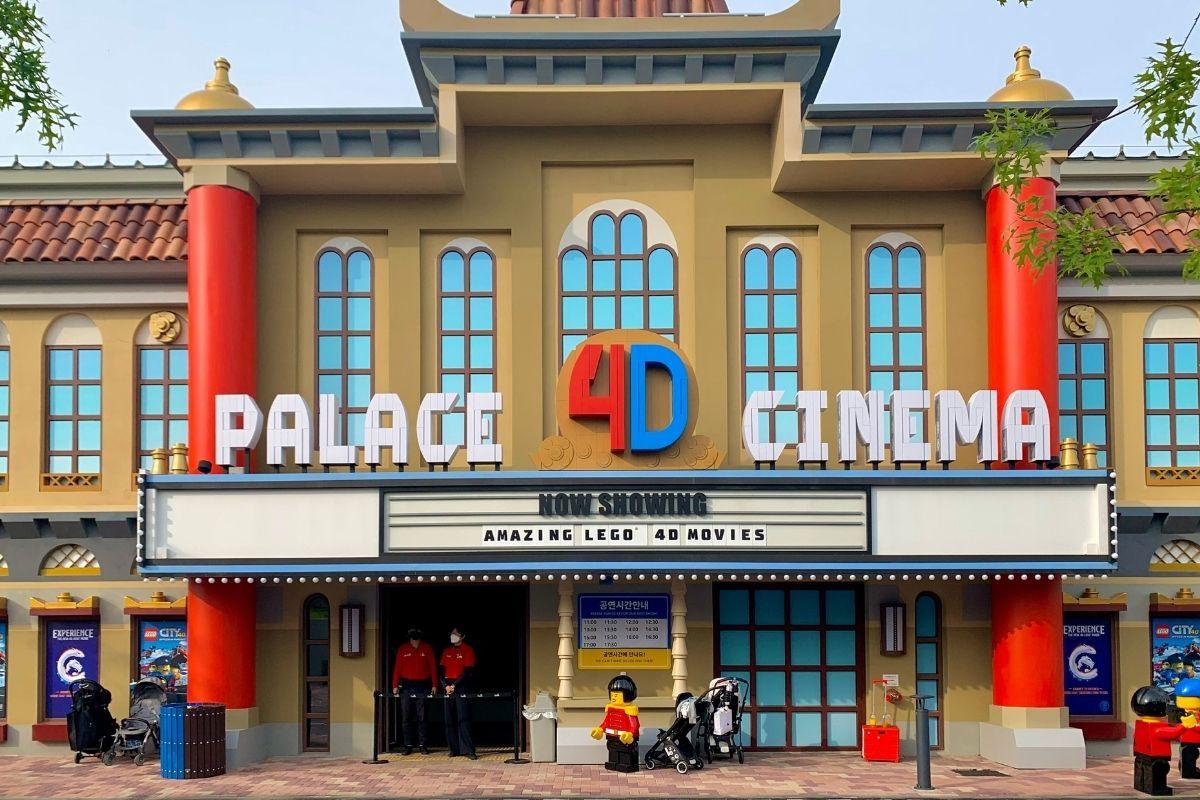 Palace 4D Cinema
This is LEGOLAND's 4D movie theater. The movie playing reenacts the chase of the Lego police. There are a total 14 screenings during the day, starting from 11:00 until 17:30. Each showing is 30 minutes apart.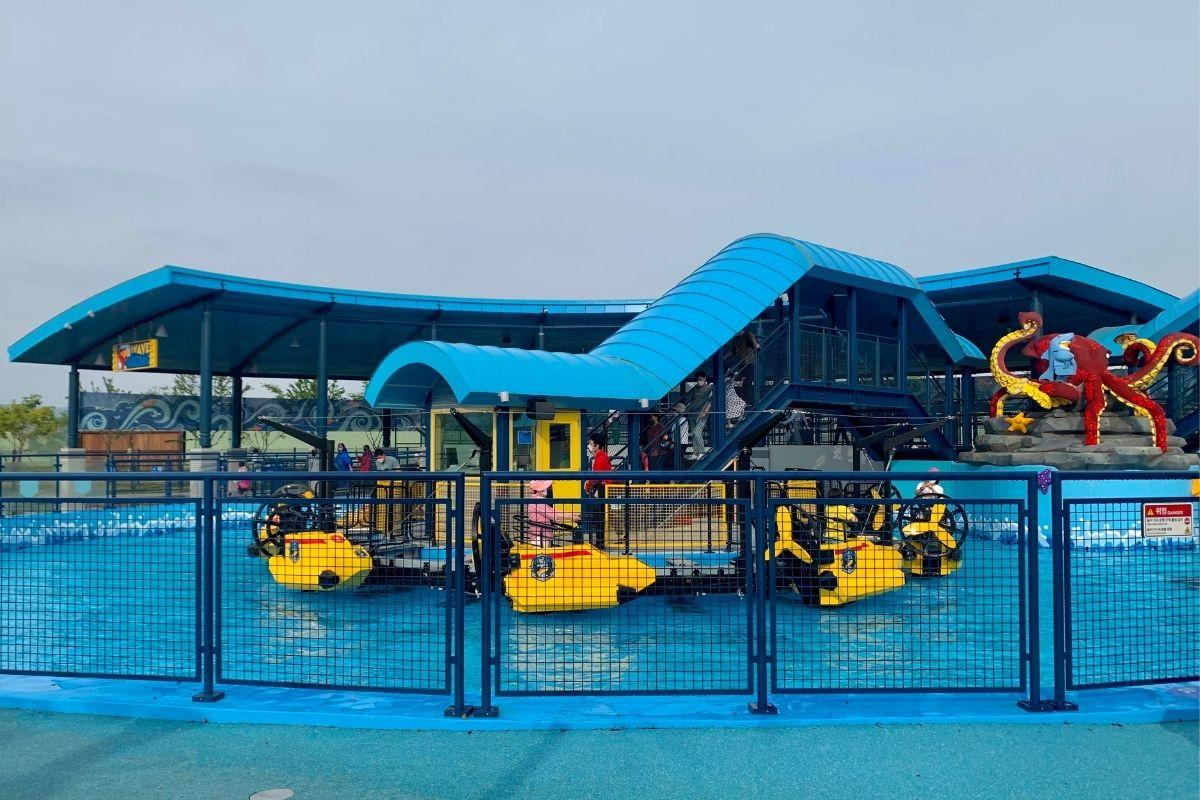 Wave Racers
Experience Lego boats, skimming the water swimmingly. 😉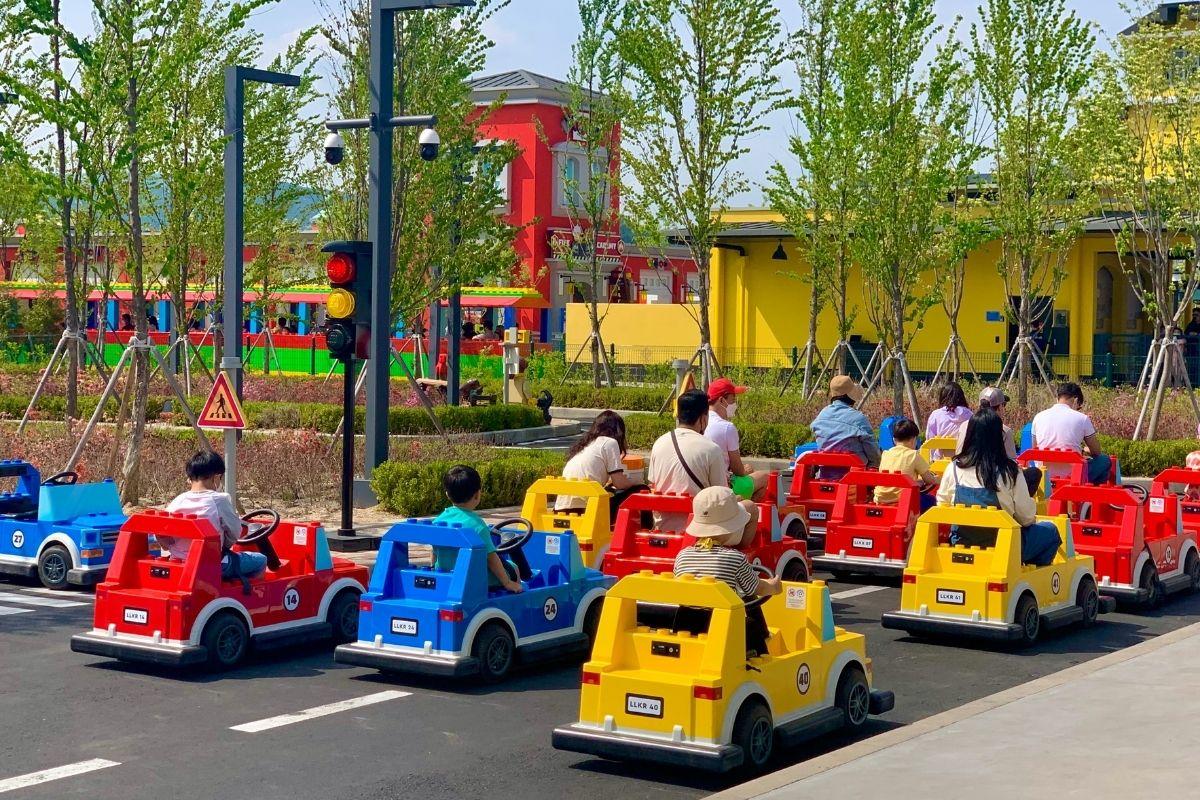 Driving School
Participate in the Lego challenge where you can drive around the city. It'll be a nice test of your driving skills as well. 😂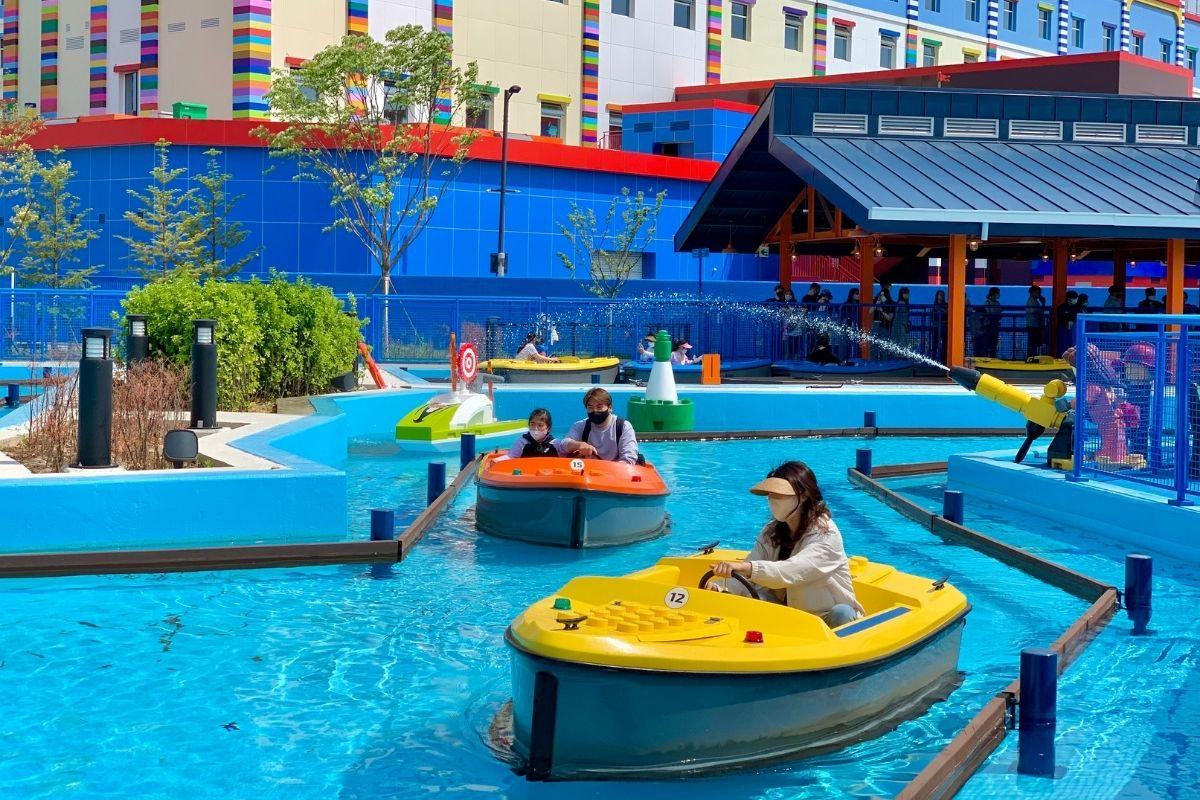 Coast Guard Academy
The experience of riding a Lego boat was so much fun! You don't have to worry too much since it goes so slow, so you likely won't get wet.
LEGOLAND Hotel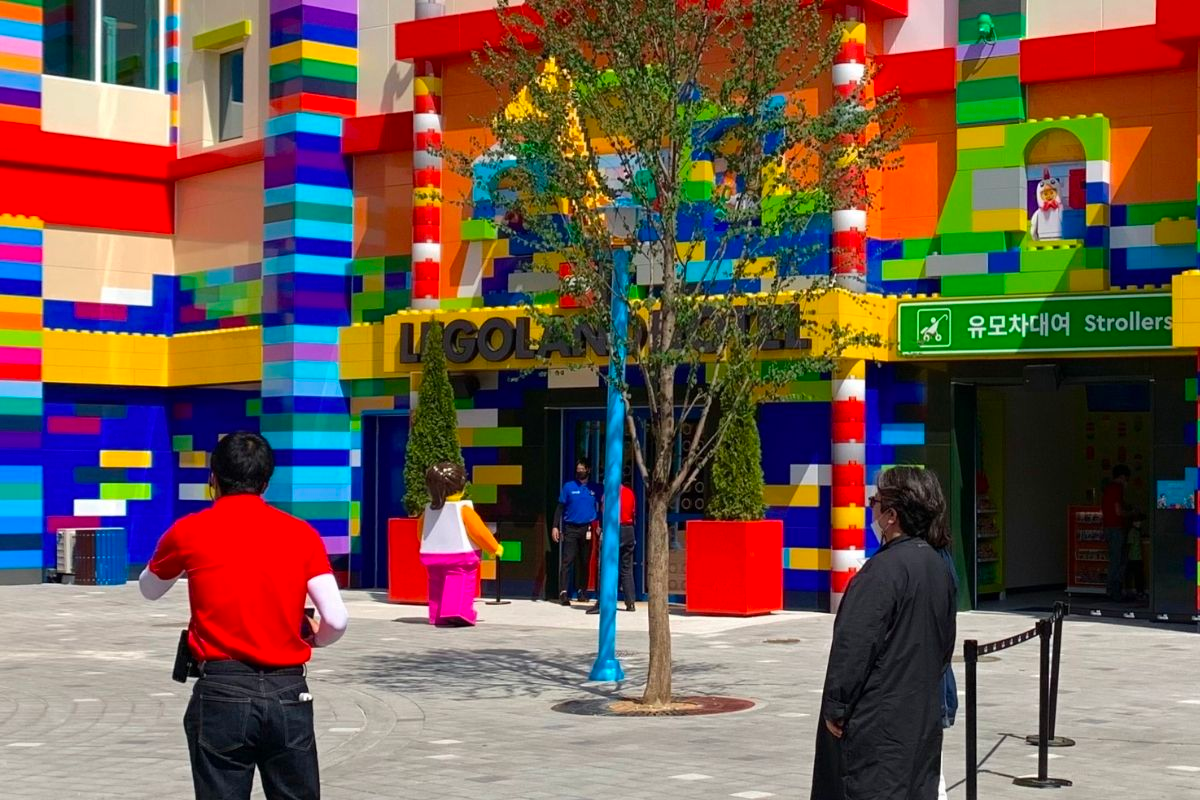 Besides the amusement park, LEGOLAND has a hotel service as well! The rooms here are decorated with different Lego concepts such as Kingdom, LEGO Friends, LEGO NINJAGO, and Pirate. Depending on the type of room, a maximum of six people can stay in one room!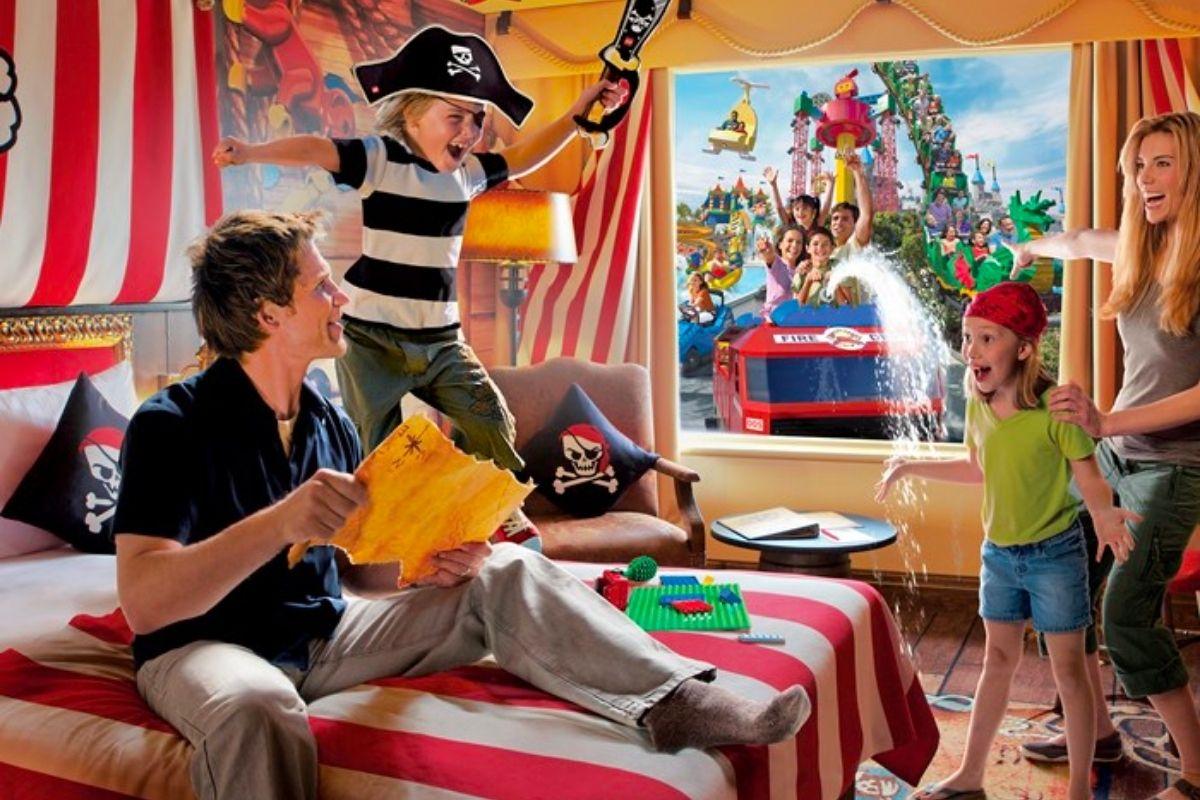 LEGOLAND
The rooms are well equipped with facilities. There are separate beds for adults and children. In particular, there's a welcome game called Treasure Hunt with Lego awards, as well as Legos for your creativity during your stay.
---
Places to Eat in LEGOLAND
In LEGOLAND, each amusement park has food, snacks, and drinks (except MINILAND). We think the price of food is reasonable, but it's mainly Western food. We've listed the locations below so you can find them easily.
BRICK STREET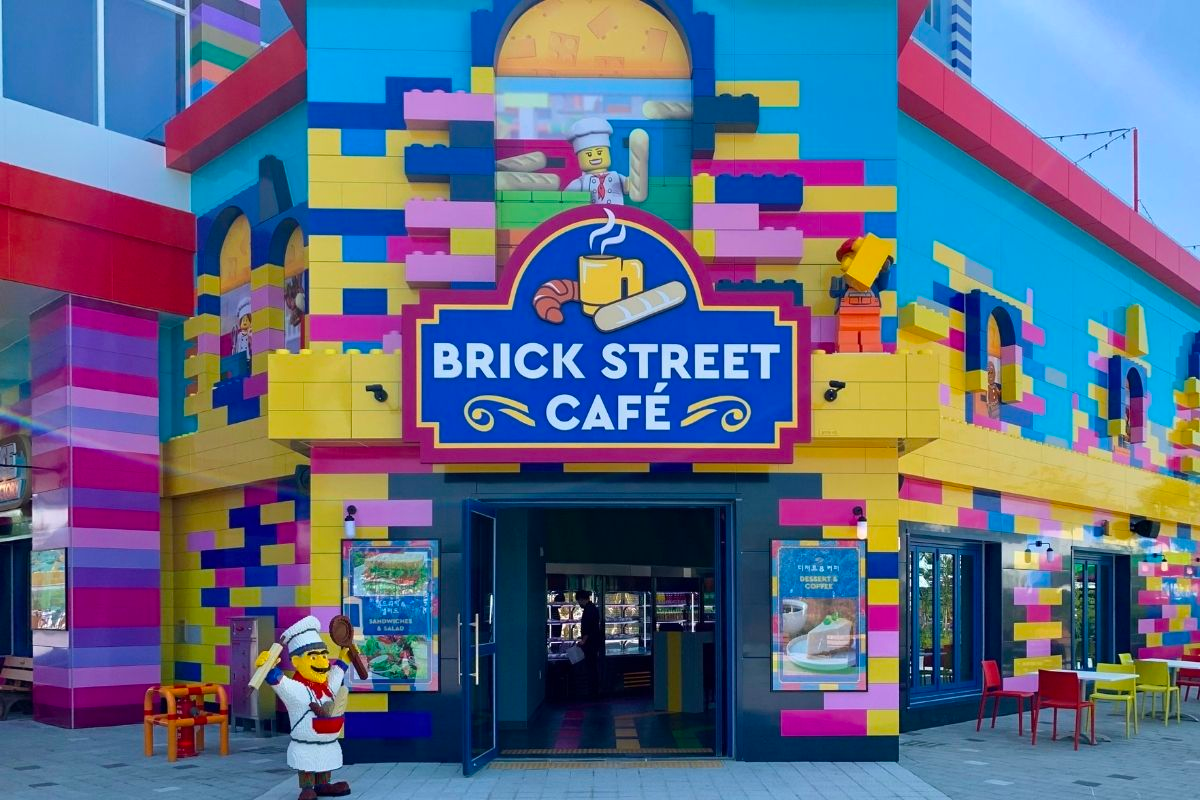 Brick Street Cafe
A coffee shop that sells drinks, some salads, and cakes. There are both indoor and outdoor seating areas so you can sit where you prefer.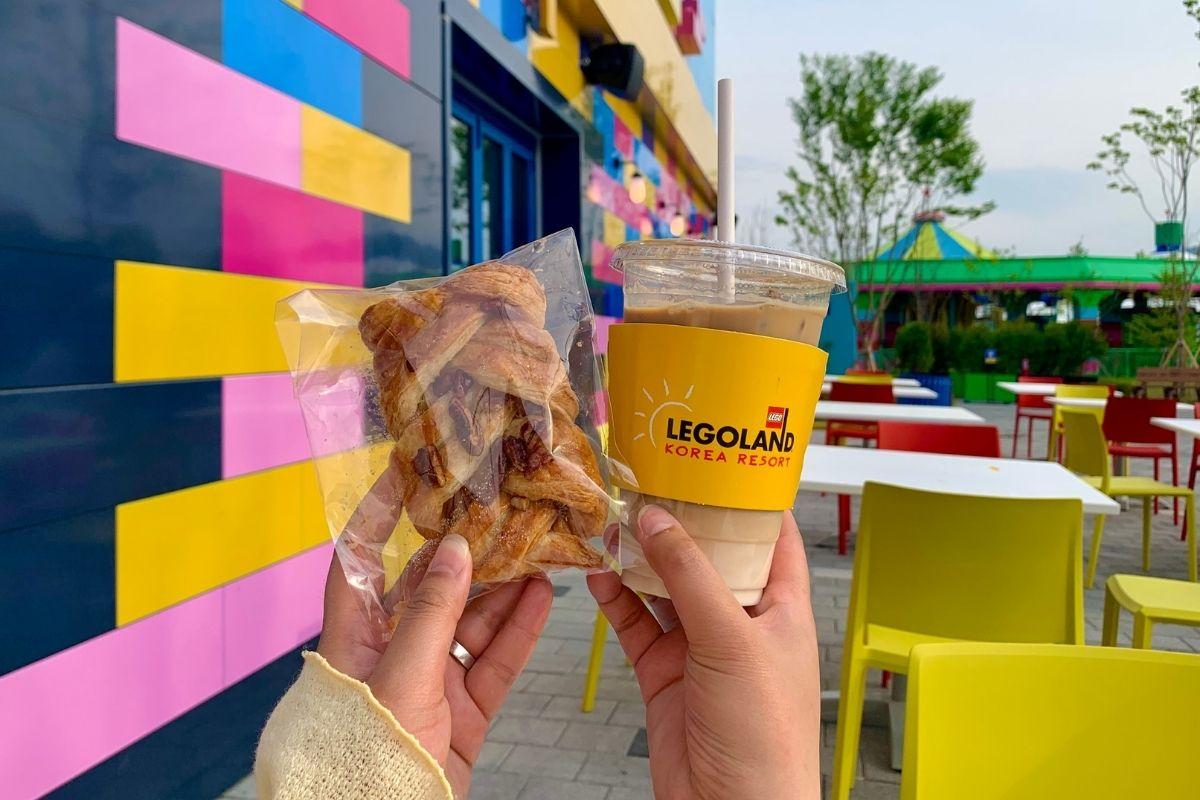 Unfortunately, there aren't too many drinks, just tea, coffee, and bottled water, but the prices are reasonable. A cafe latte cost 4,000 KRW and walnut pie costs 4,500 KRW.
BRICKTOPIA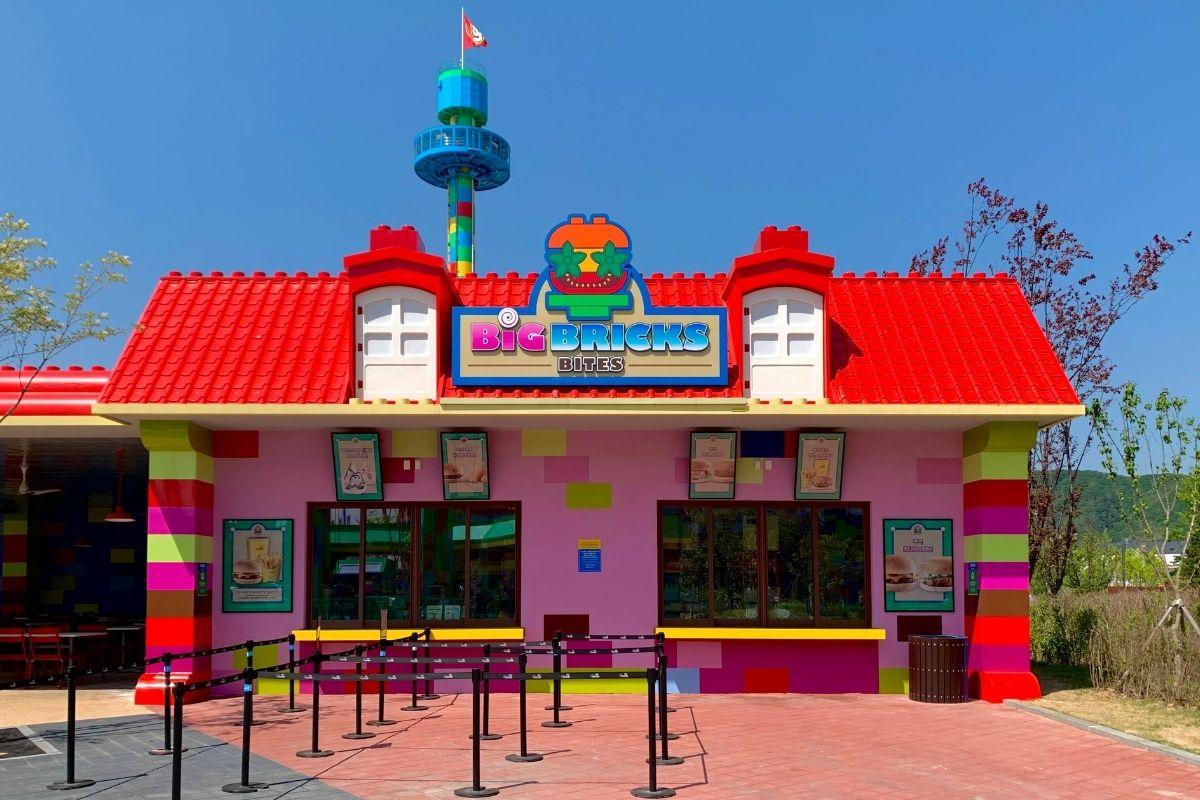 Big Bricks Bites
Beef burgers and french fries!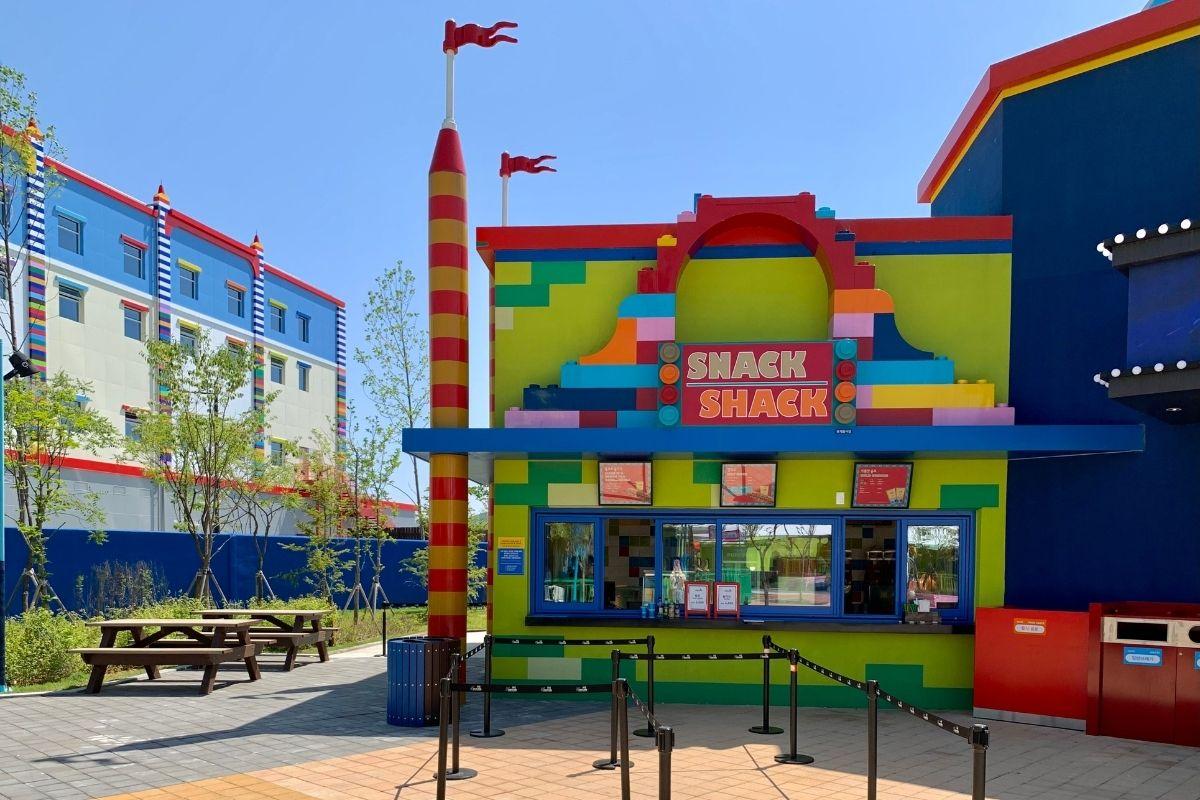 Brick Street Café (Snack Shack)
Hours: 10:00 - 18:00
Hot Dogs (5,000 - 6,000 KRW), Slushy (4,000 KRW), Popcorn (3,000 KRW)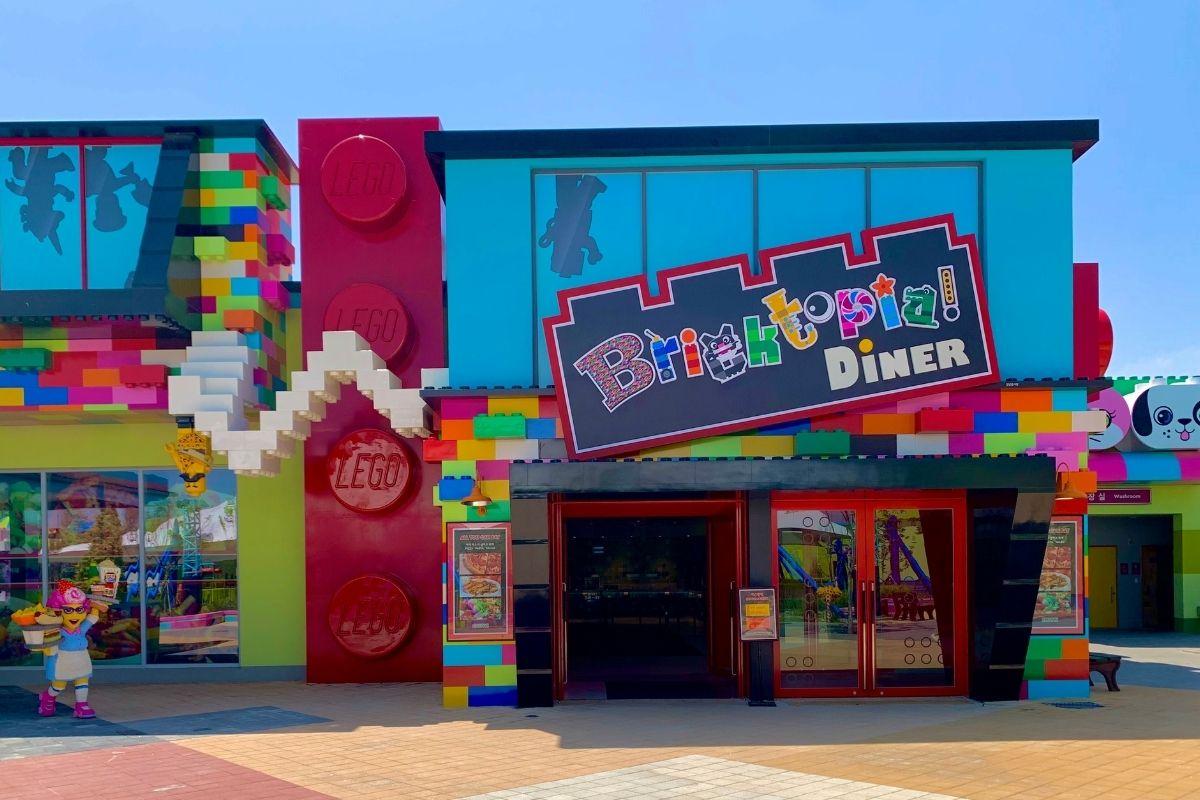 Bricktopia Diner
Hours: 11:00 - 18:00
All-you-can-eat Pizza Buffet, Spaghetti and Salad.
Prices:
Adults - 25,000 KRW
Kids - 15,000 KRW
LEGO CASTLE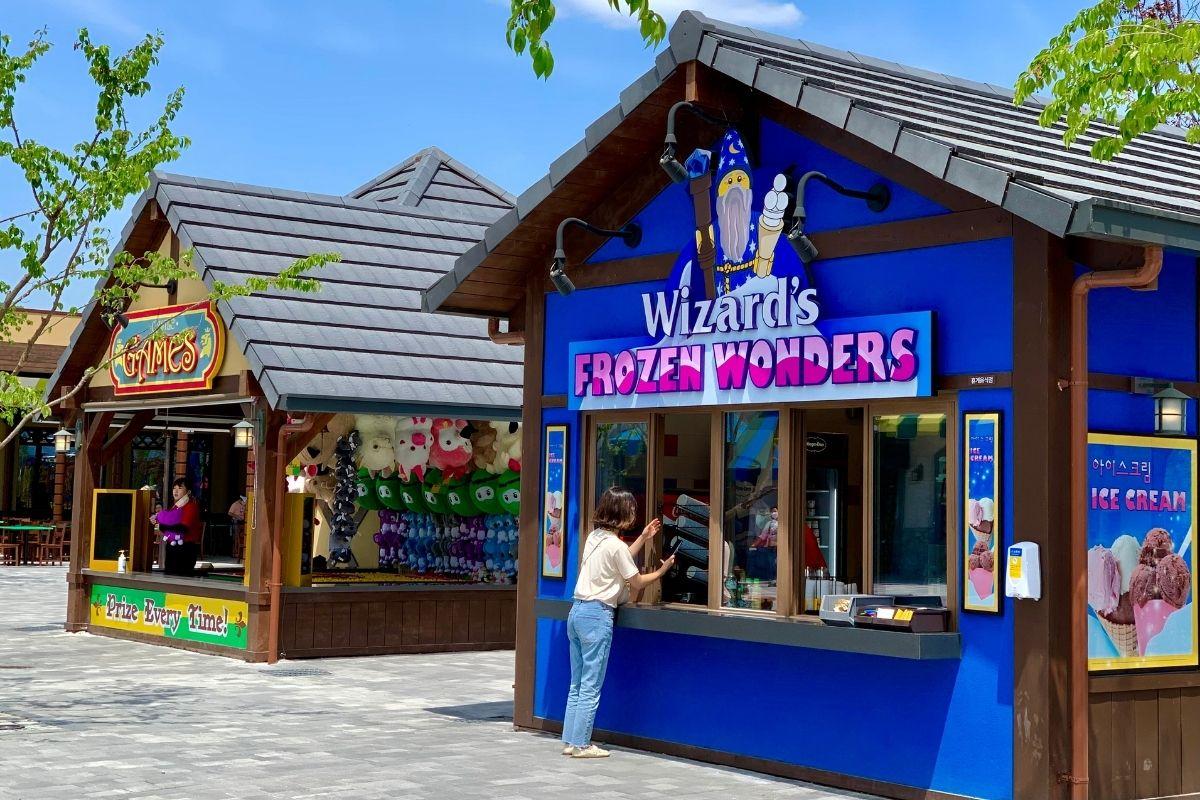 Wizard's Frozen Wonders
Ice cream and slushy stand (4,000 KRW) helps you get rid of your summer thirst!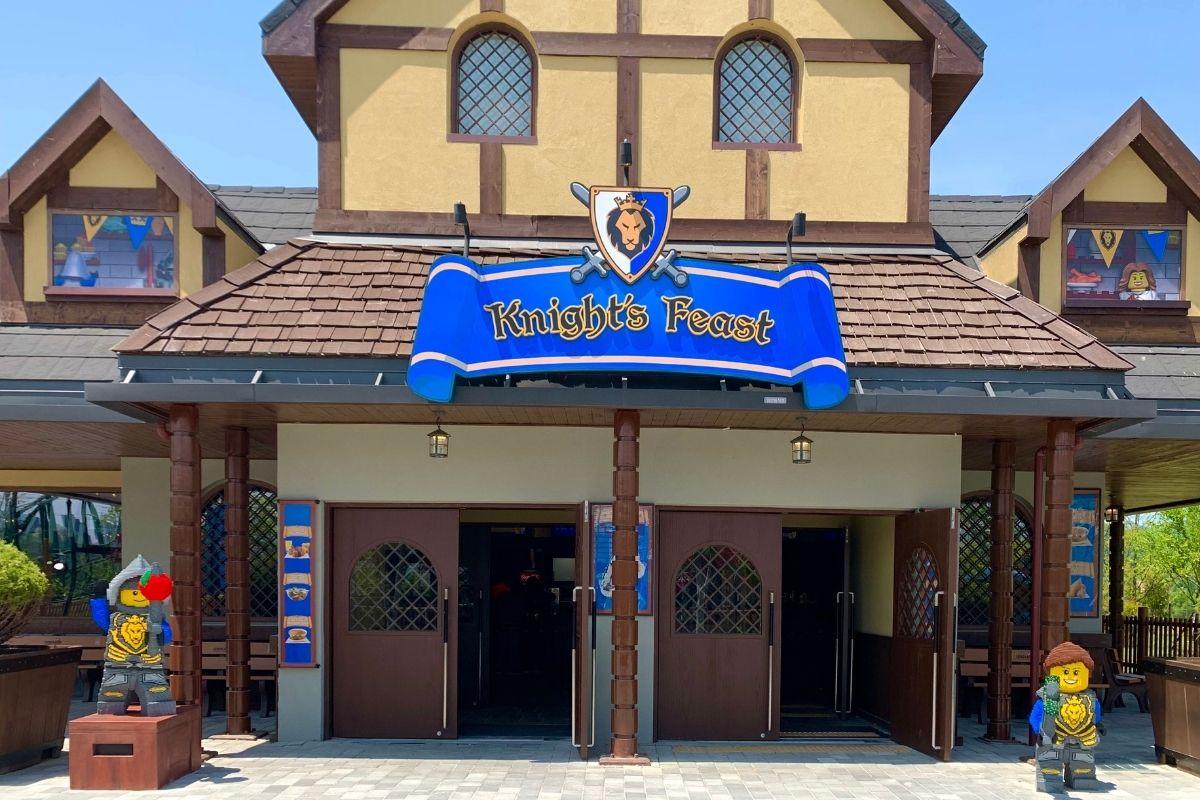 Knight's Feast
Hours: 11:00 - 18:00
The restaurant sells chicken and chicken burgers. There's a lot of space so you can sit, eat and recharge before continuing to explore LEGOLAND.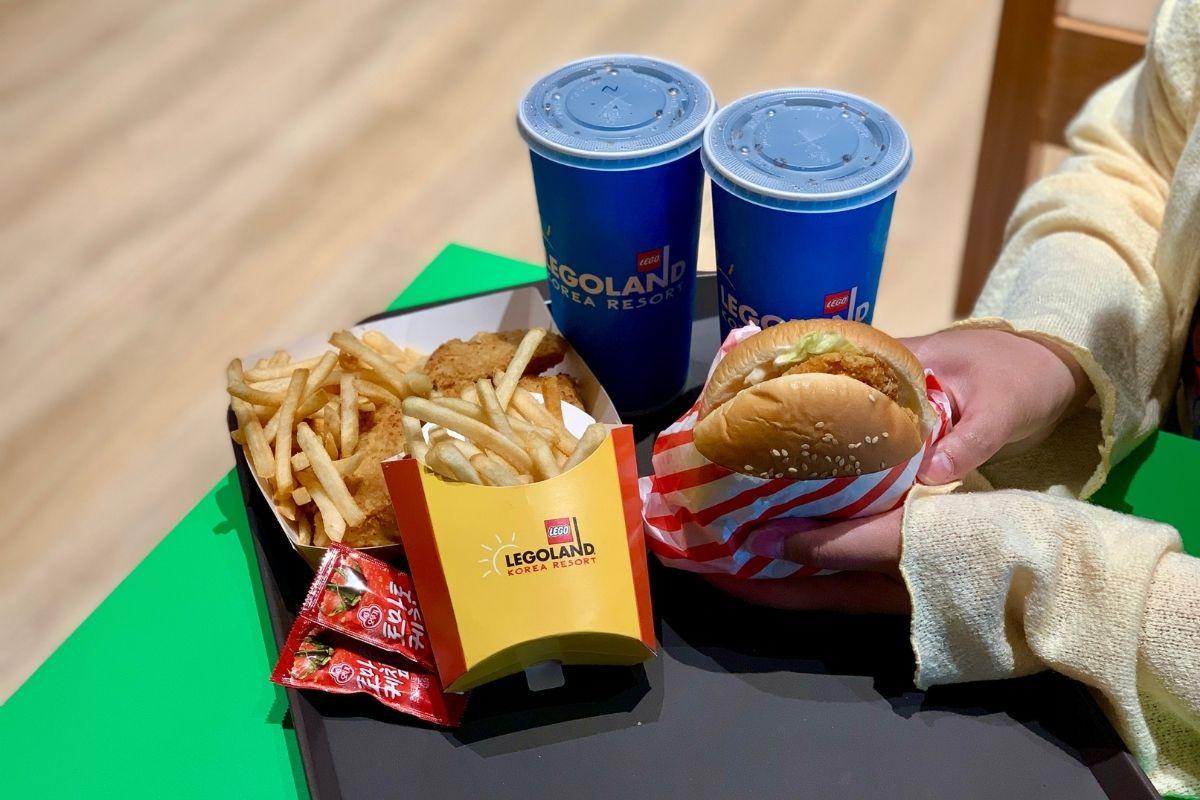 It's not too expensive here. The chicken burger set costs 12,500 KRW and the chicken nugget set cost 9,000 KRW. The set comes with fries and a drink. For the cost, the taste is pretty average.
NINJAGO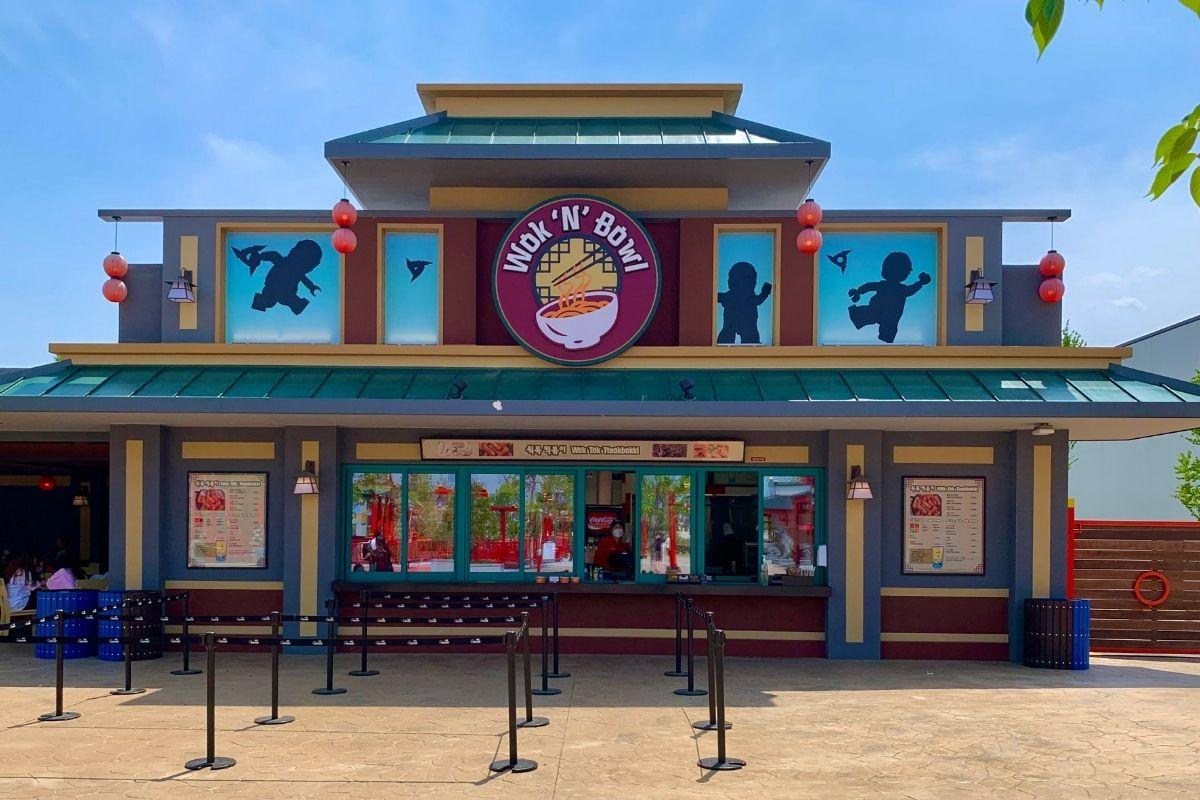 Wok N' Bowl
Hours: 11:00 - 18:00
This location was the only one that sold Korean food in the park. Here you can get tteokbokki and other asian dishes!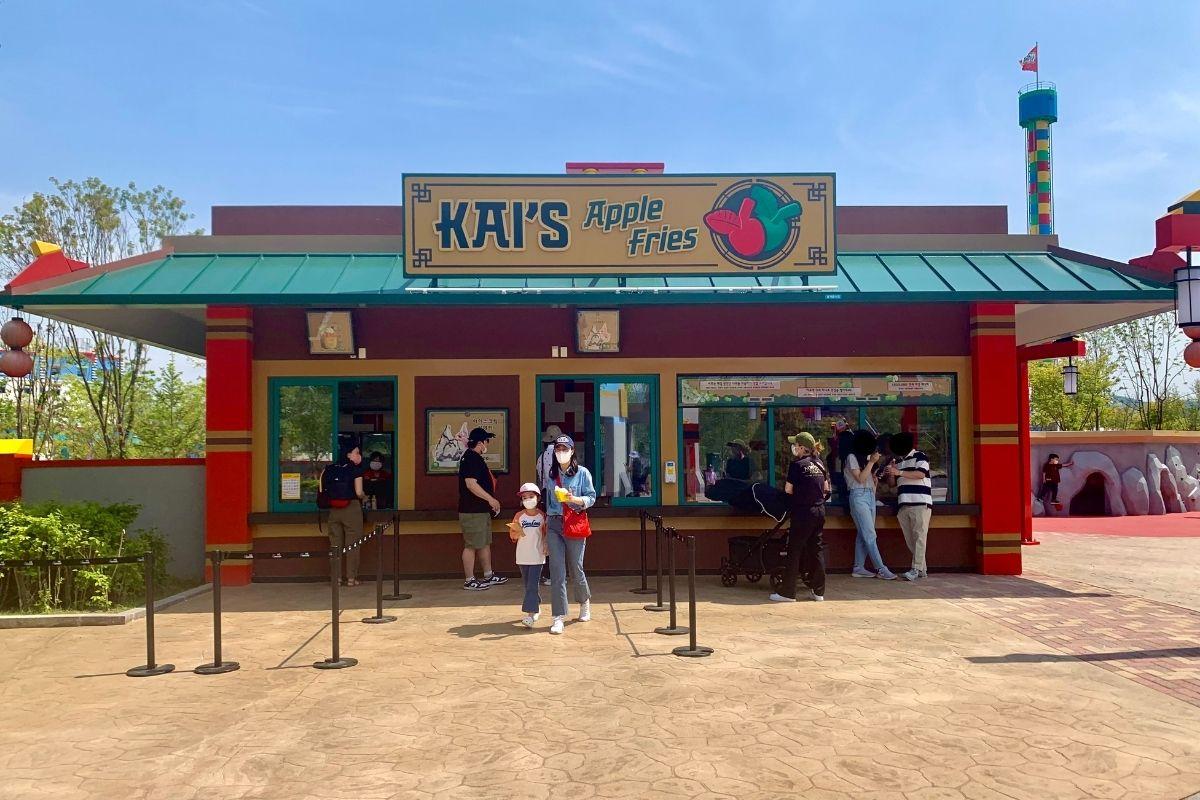 Kai's Apple Fries
Hours: 10:00 - 18:00
The place that sells delicious pie with amazing cinnamon-flavored ice cream.
PIRATES SHORES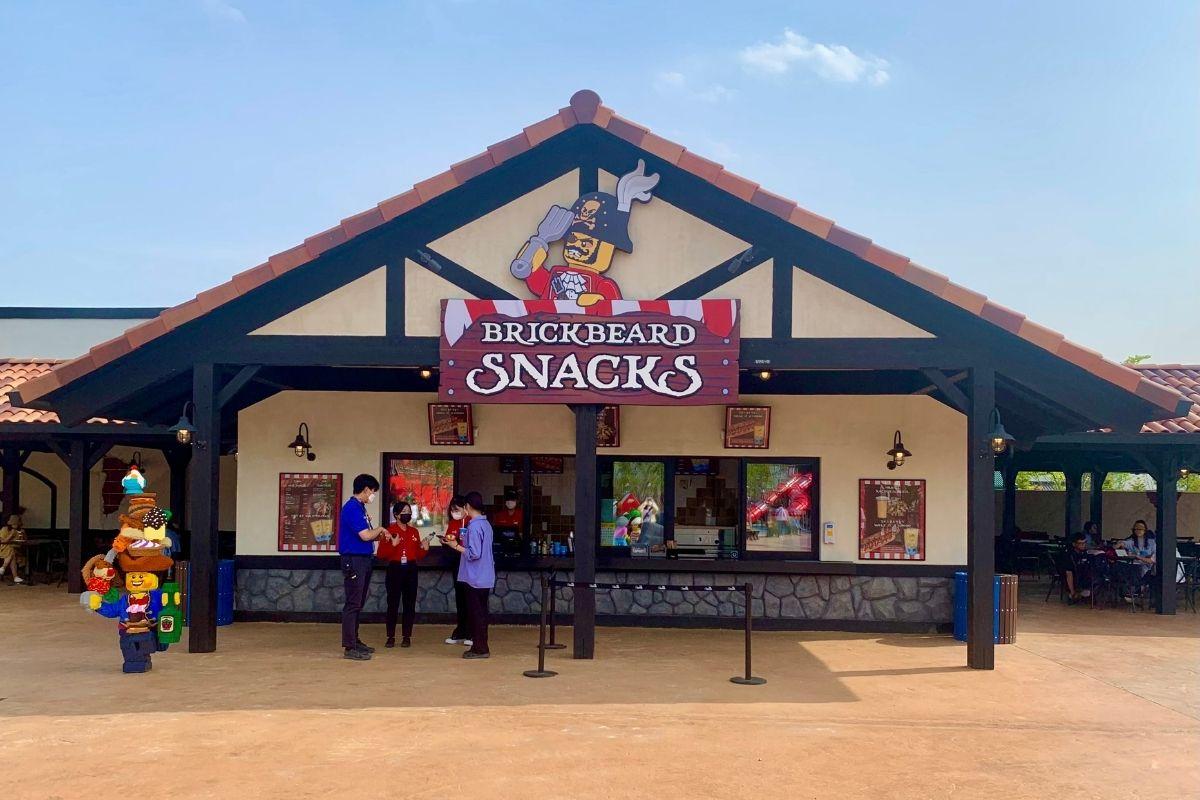 Brickbeard's Snacks
Hours: 11:00 - 18:00
Hot Dogs (4,000 - 6,000 KRW), Nachos (5,000 KRW), and soft drinks are sold here. There is indoor and outdoor seating.
LEGO CITY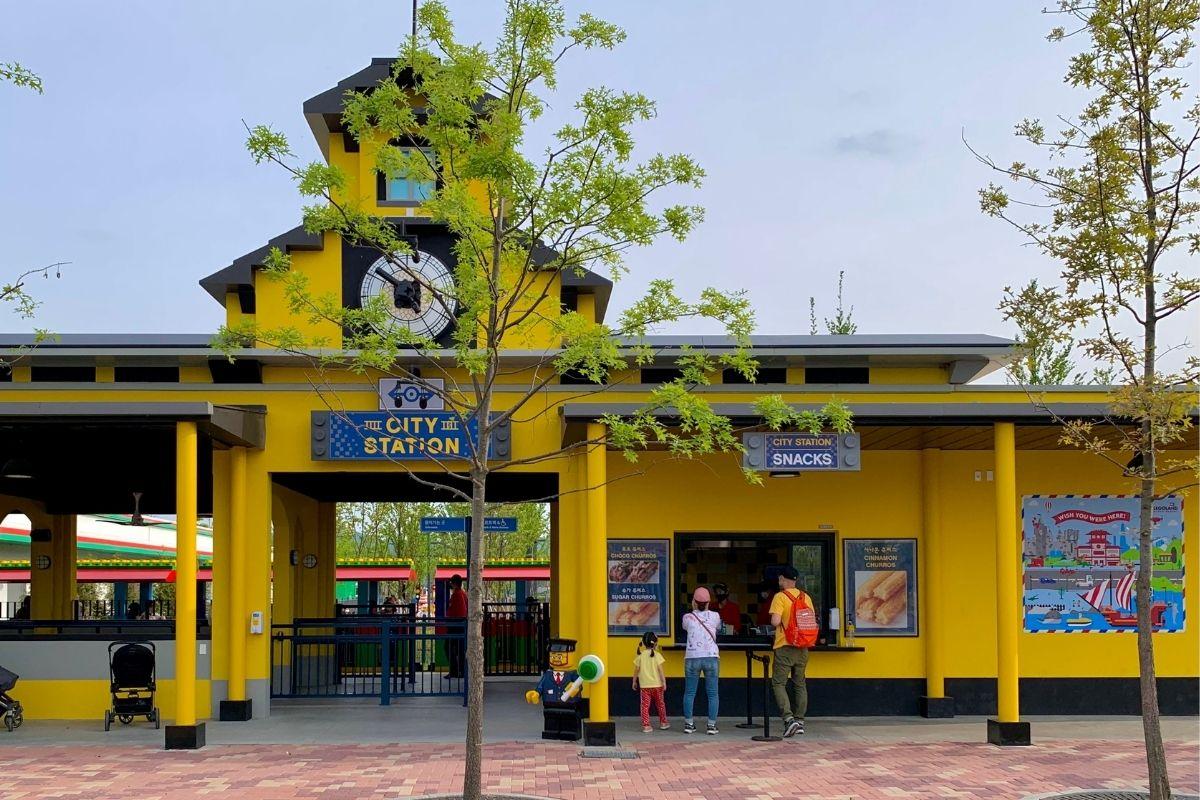 City Snacks
Hours: 10:00 - 18:00
Churros and drinks.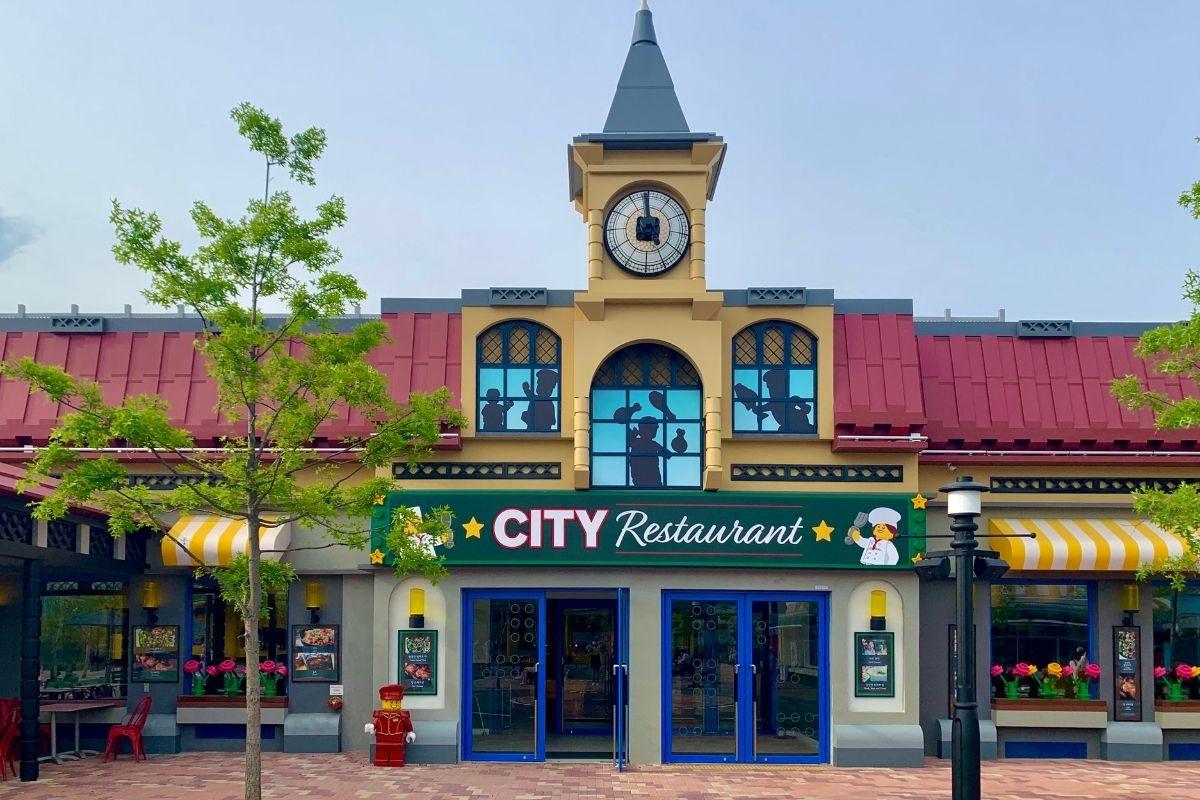 City Restaurant
Hours: 11:00 - 18:00
A perfect place for the whole family to eat! There are some menus you can refer to such as lemon butter chicken (12,000 KRW), grilled salmon (11,000 KRW), pork cutlet (9,000 KRW), etc.
Marina Snacks
Fish and chips stand.
---
Popular Cafes Near LEGOLAND
There are a lot of pretty cafes in Chuncheon, many of which you can find anything like in Seoul. So if you want to explore the city of Chuncheon while in the area, we definitely recommend these. Creatrip members get a special discount at these locations.
Cafe Gamjabat: Cafe with famous potato cakes.
Gontran Cherie Branch, GC Atelier: Cafe with a lovely view of the sunset.
Cafe Carpe: A cafe with an amazing lake view.
---
Other Facilities in
LEGOLAND Korea Resort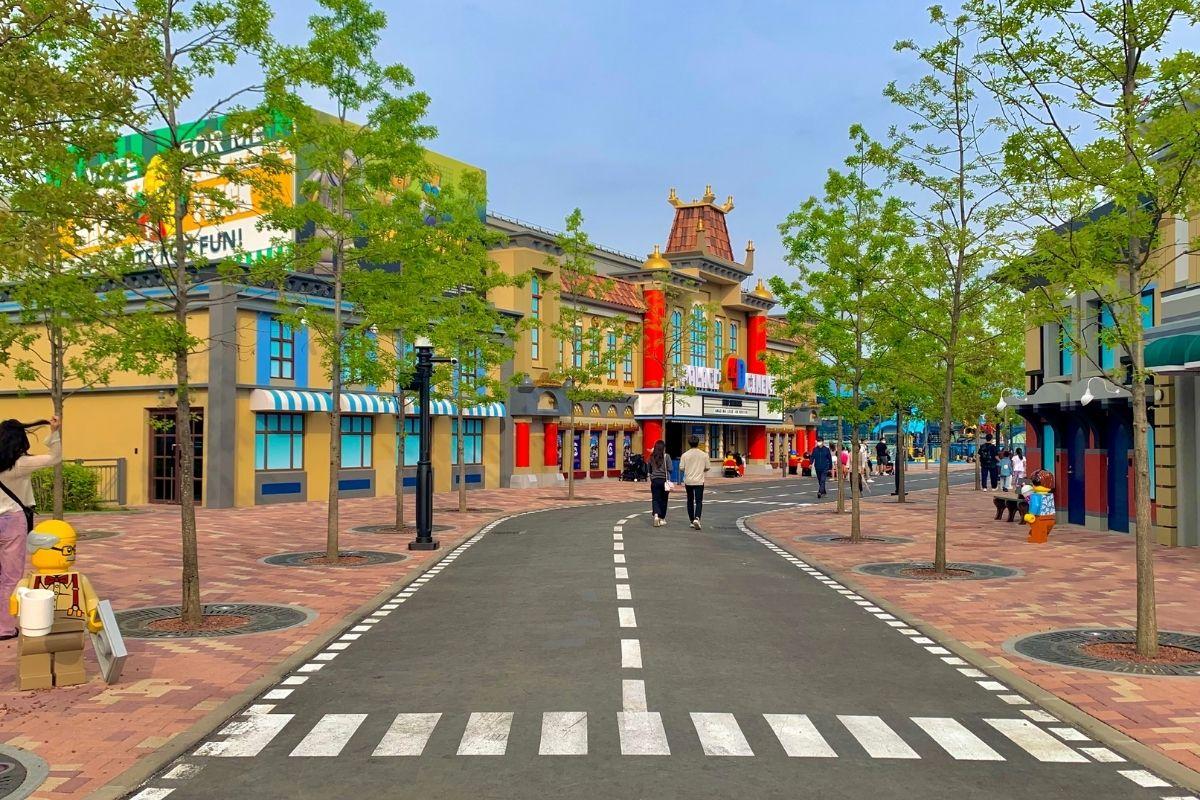 First Aid
CenterFirst is next to the City Restaurant in LEGO CITY. If you need help, contact any LEGOLAND staff near you.
Dublo Baby Care Center
Located in BRICKTOPIA and LEGO CITY. There's a stove, microwave, sterilizer, fridge, and other related machinery available for families with young children to use.
Free Wi-Fi
You can use LEGOLAND's free Wi-Fi, however it's pretty slow since many people are using it.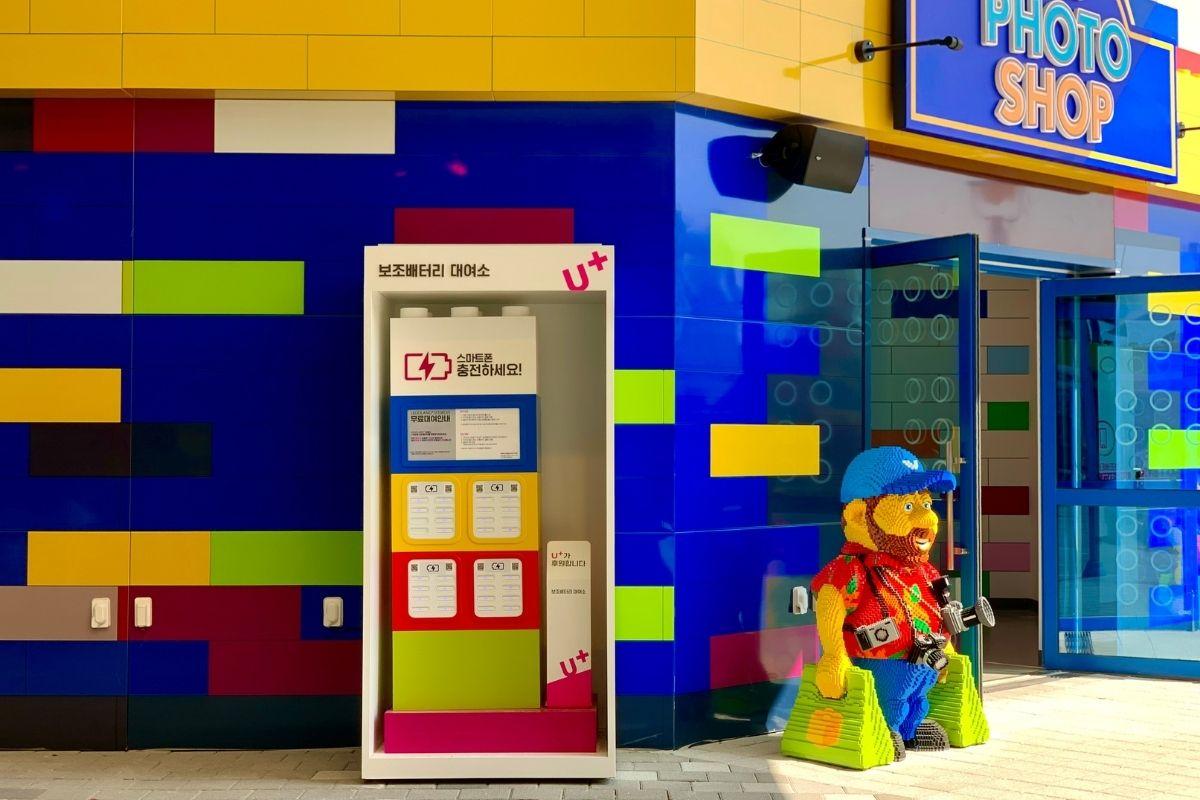 Free Recharger Lending Machine
It's just outside The Photo Shop in BRICKS TREET. You can borrow a charger for free, but you need to give a deposit of 1,000 KRW as collateral. When you return your device, any additional feels will be charged and then you'll get your refund.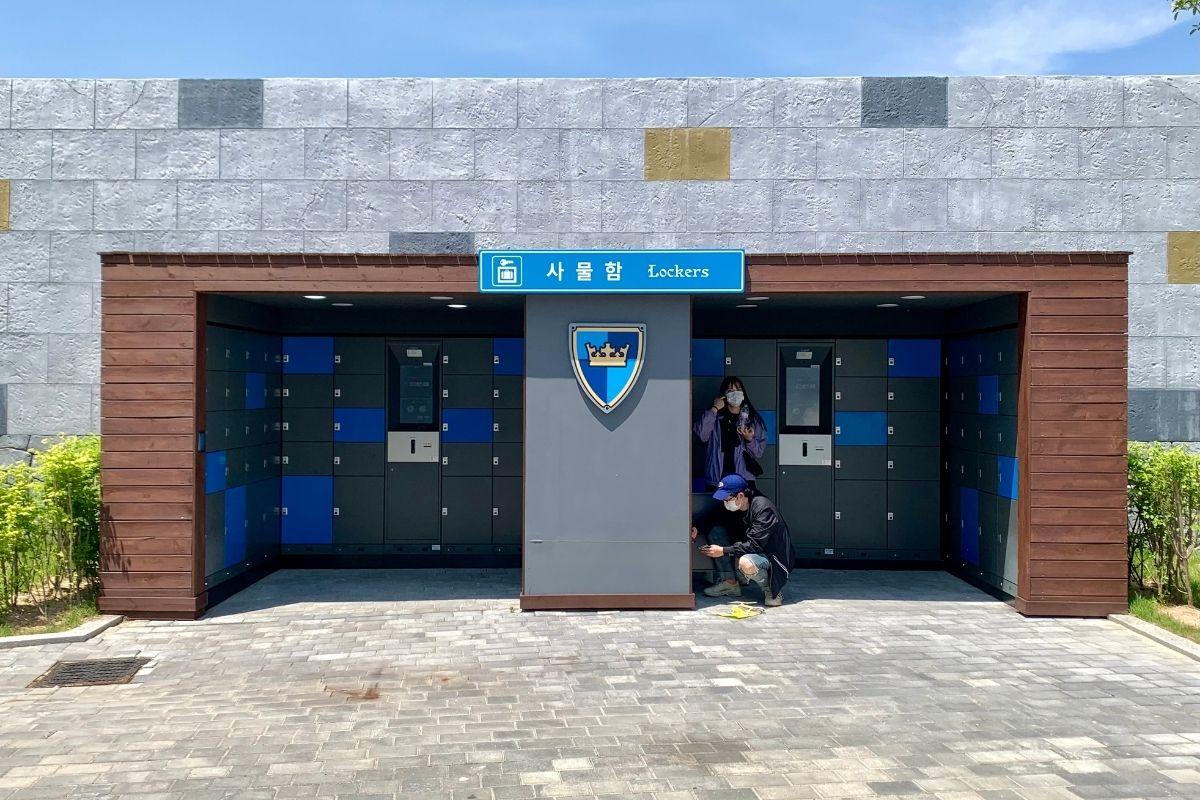 Storage Lockers
Storage lockers are available at BRICK STREET AND LEGO CASTLE. It says there is a fee but when we arrived, it said we could use it for free, oncer per person. You can store all your things here.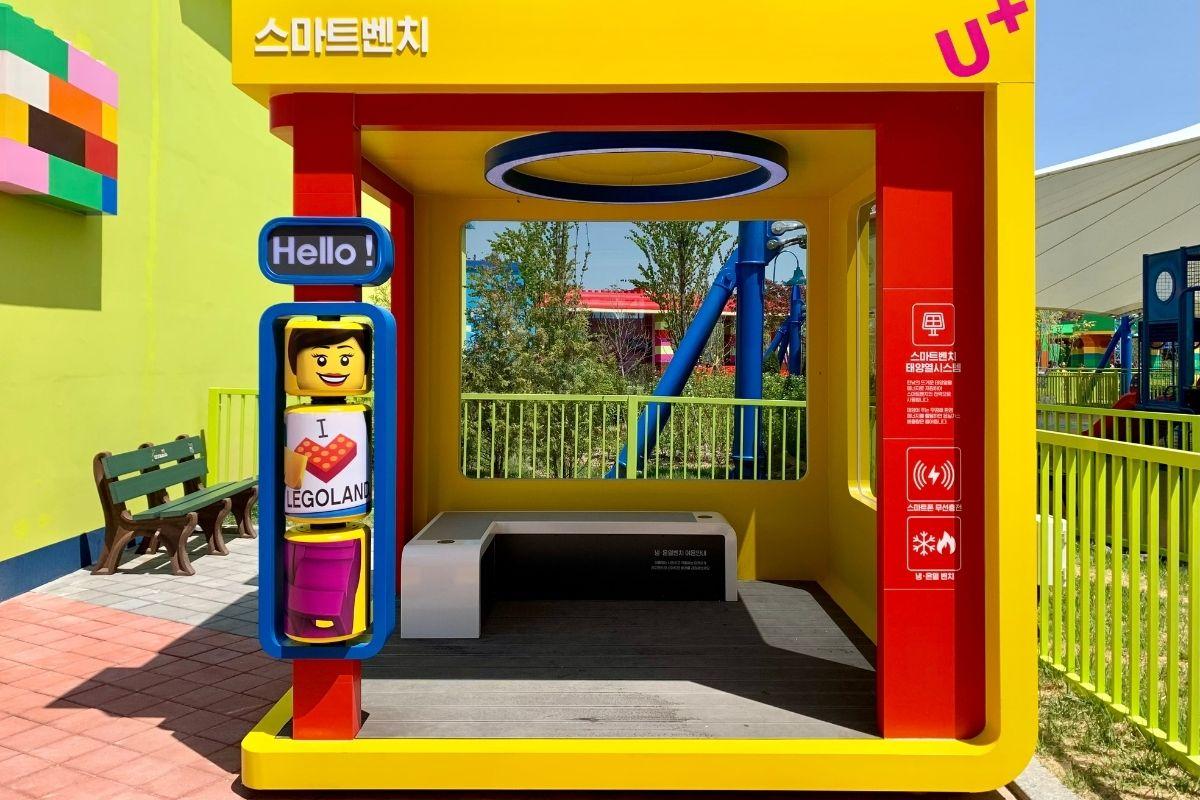 Smart Bench
At each playground, there is a Smart Bench where you can sit down and charge your phone if needed.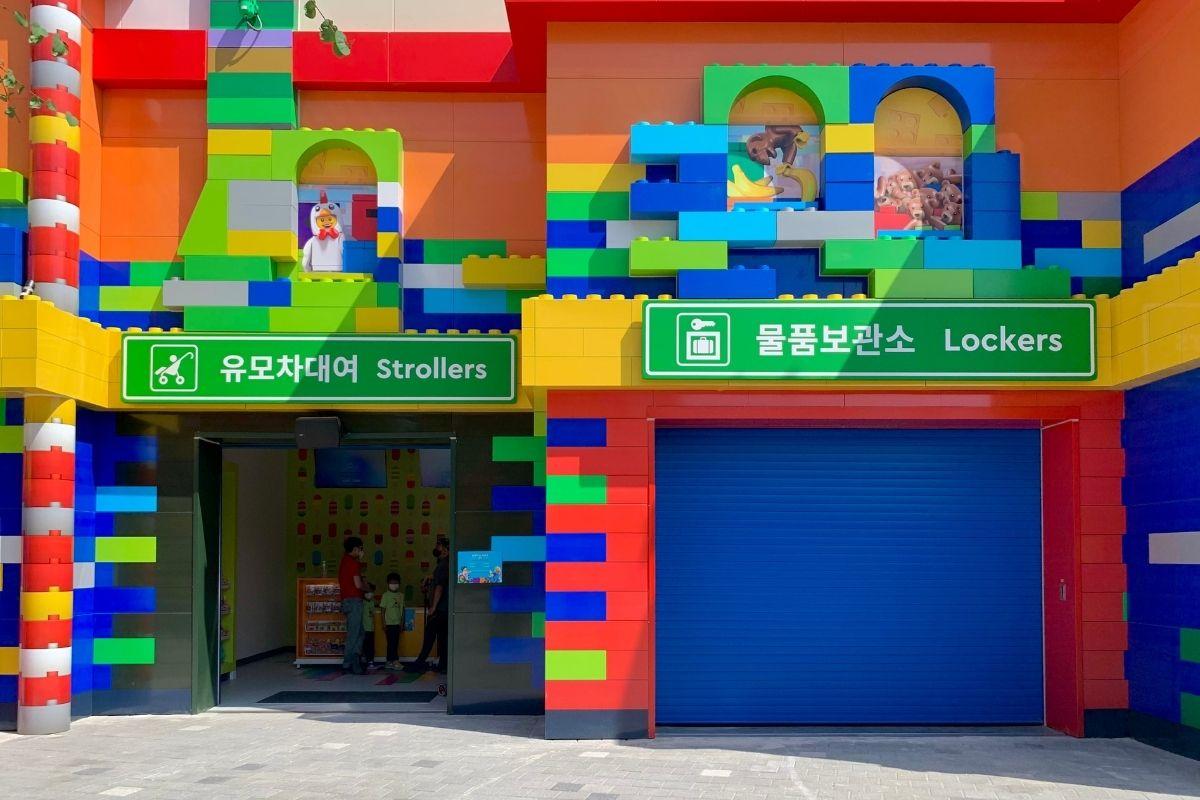 Rent a Stroller or Wheelchair
AT BRICK STREET, after you enter into the gate, you'll see the rental area to the right. Strollers are 6,000 KRW and wheelchairs are 4,000 KRW. You will need to make a deposit of 10,000 KRW with a debit/credit card in order to insure the rental.
---
Tips for Visiting LEGOLAND Korea Resort
Make a Reservation
LEGOLAND requires guests to book tickets before they arrive. You can book your tickets at the promotional price on the website, as well as on the LEGOLAND app. You can also buy tickets onsite, but if the park reaches capacity, you may not be allowed entry. In addition, all purchases on site must be made by card and will not have any discounts (60,000 KRW).
Arrive Early
LEGOLAND is very large and has many attractions. Therefore, if you want enough time to explore it all, we recommend you arrive early and take the first free shuttle bus at 09:30, which departs from Exit 1 of Chuncheon Station to LEGOLAND.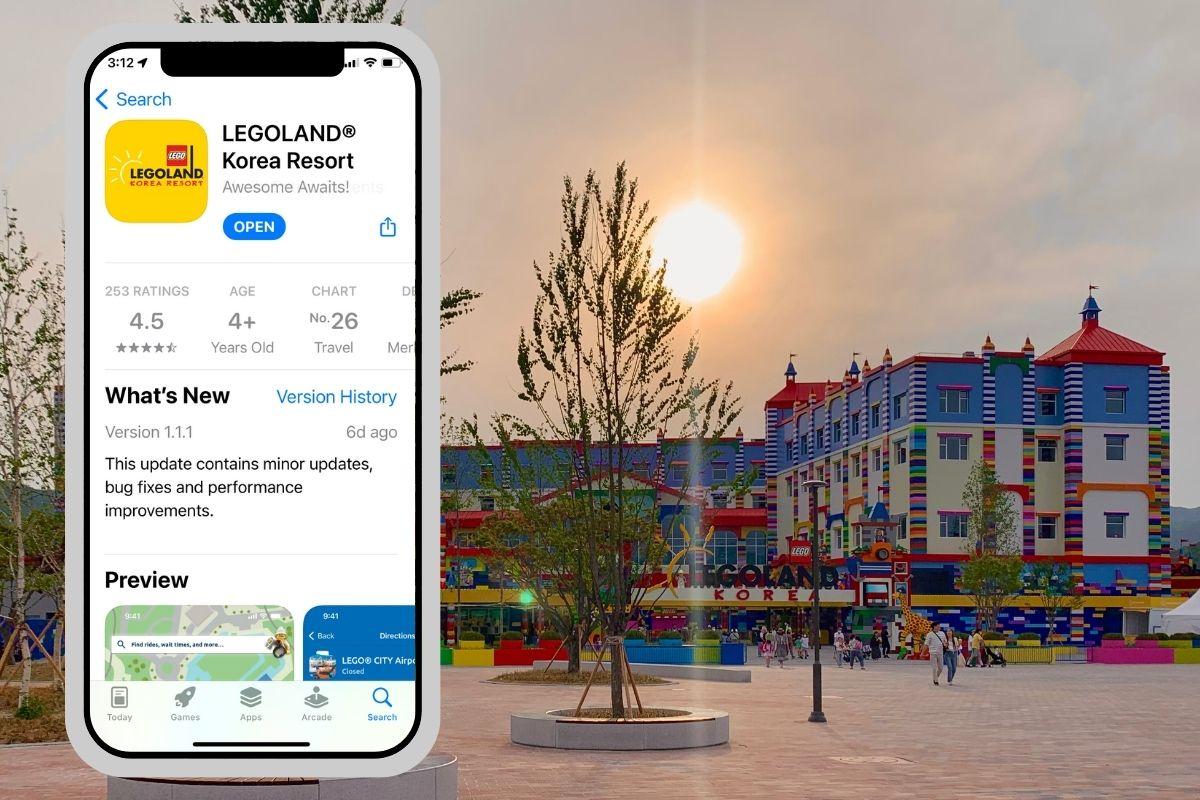 Download the LEGOLAND Korea Resort App
With the app, you can easily see the LEGOLAND map, which can guide you from your exact location. In addition, the app provides information about shows, waiting times for rides, and menus of the restaurants. You can even order your food from the app.
The app is available in Korean and English and you can easily log in with email. Note, the functions of the app can only be used at LEGOLAND.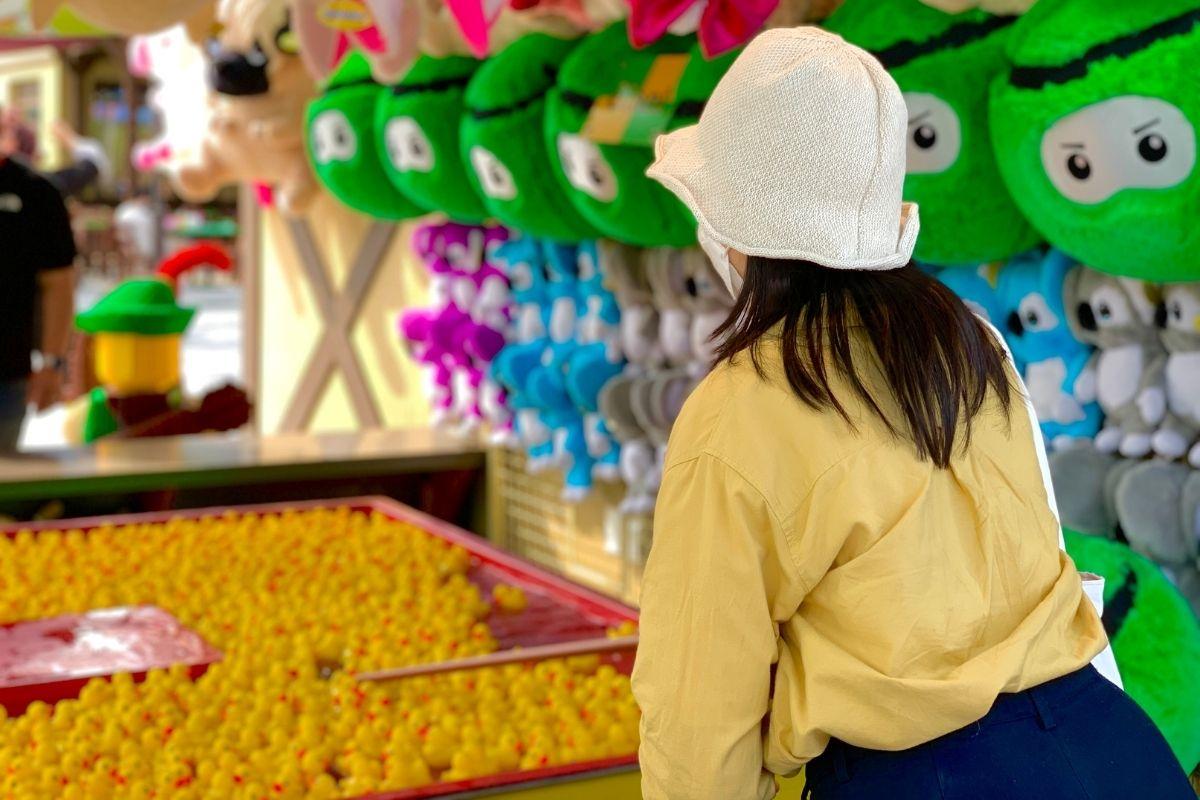 Definitely Play Prize Every Time
There are a lot of games where you can win prizes if you're lucky. However, if you don't want to take the risk of losing a lot of money and want to ensure you get a prize, we recommend going to LEGO CASTLE and playing Prize Every Time. It's the only game at LEGOLAND where you are guaranteed a prize. If you get a duck with a higher score, you can get a bigger prize. The price of the game is 6,000 KRW for two ducks and 10,000 KRW for five ducks.
Don't Bring These Items
Any item considered to be a weapon
Fireworks or smoke bombs
Noise generators (speakers, etc.)
Glass bottles (only allowed for the care of infants)
Wine
Flammable chemicals or drugs
Scooter, electric skateboards, skateboards, longboards, etc.
Pets (except guide dogs)
You CAN bring outside food and drinks.
---
How to Get There
From Seoul to LEGOLAND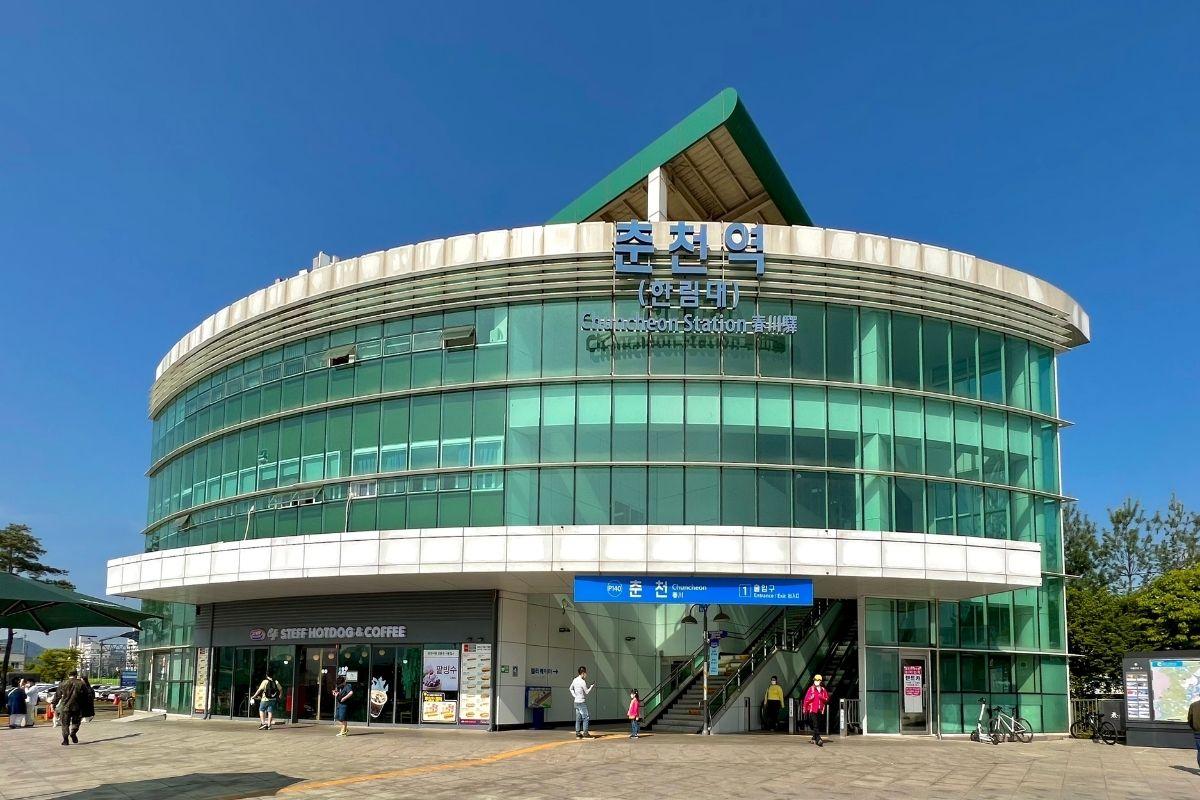 Take the ITX Cheongchun from Cheongnyangni/Yongsan Station to Chuncheon.



Cheongnyangni -> Chuncheon

Weekdays
6:17 / 23:05

Weekends
6:32 / 22:21

Weekdays
6:00 / 22:48

Weekends
6:15 / 22:05

Take the free shuttle bus to get to LEGOLAND which takes about 10 minutes.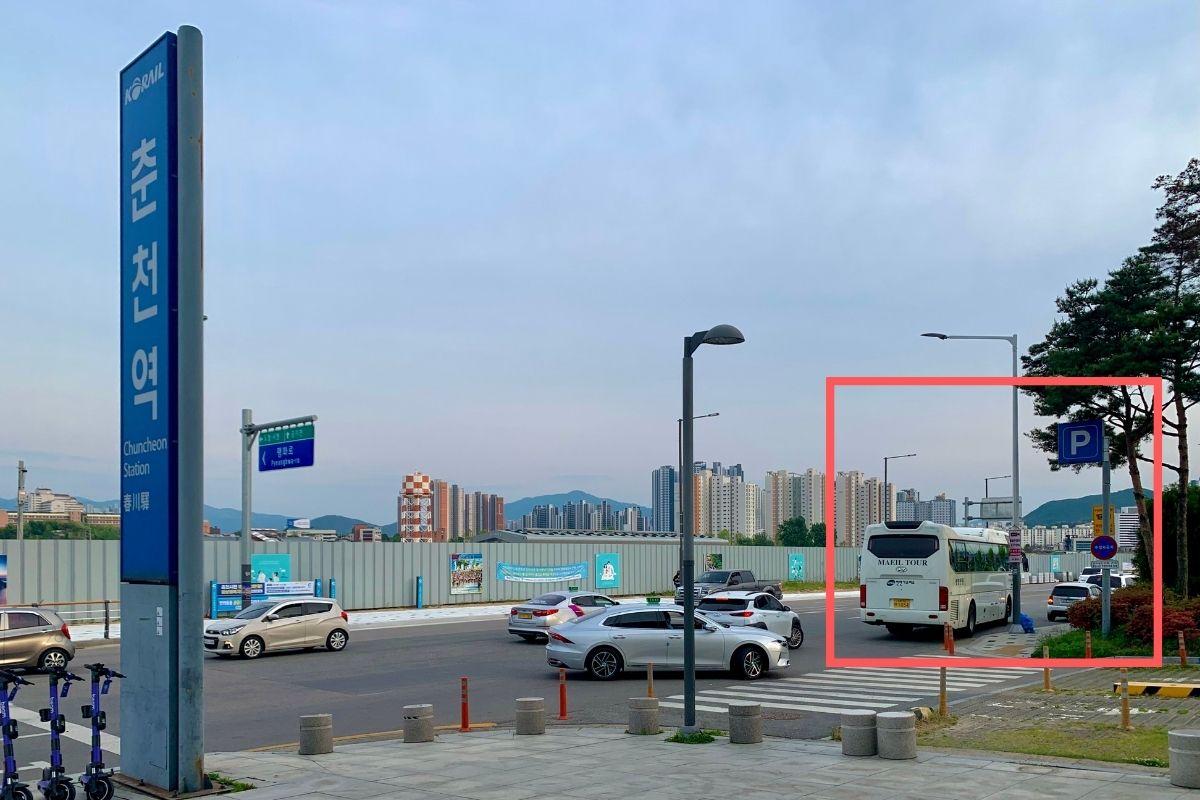 Shuttle Bus Stop: Exit 1 of Chuncheon Station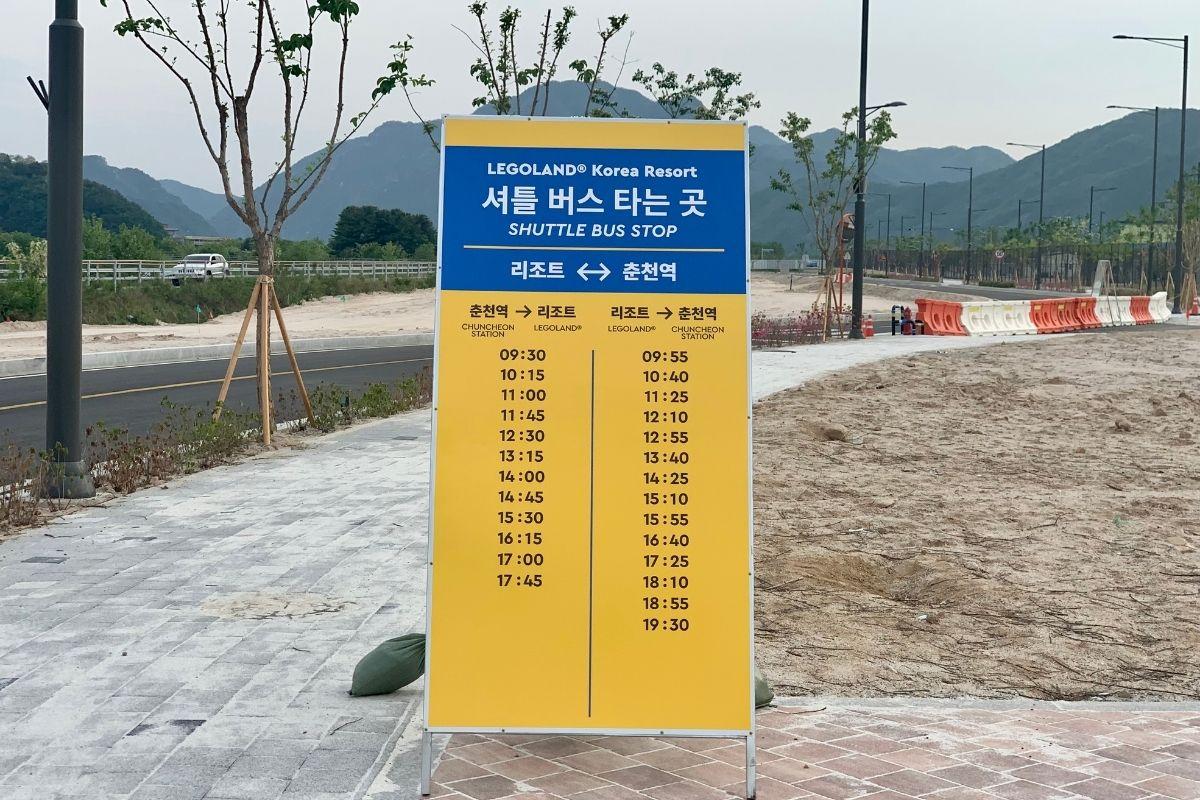 Shuttle Bus Hours: Chuncheon Station to LEGOLAND
First/Last Shuttle: 9:30 / 17:45
Frequency: ~every 45 mins
FROM LEGOLAND TO SEOUL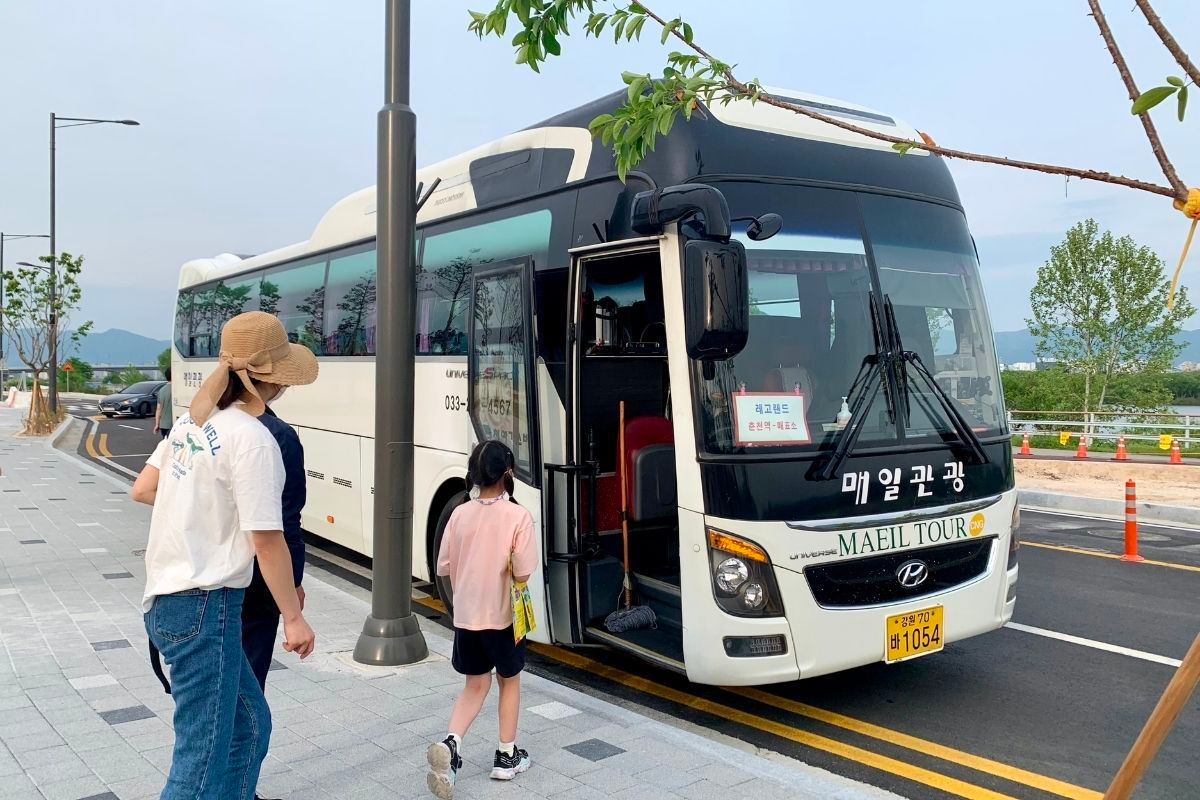 Take the free shuttle bus from LEGOLAND to Chuncheon Station, which takes about 10 minutes. Remember to look at the bus schedule attached to the front of the bus or ask the driver if it is the right bus. There is also another bus that goes to the parking lot so don't get lost!
Parking Lot: Outside the LEGOLAND main gate
Shuttle Bus Hours: From LEGOLAND to Chuncheon Station
First/Last Bus: 9:55 / 19:30
Frequency: ~every 45 minutes
The actual hours may differ from the website since the schedule is subject to change by circumstance.
Take ITX-Cheongchun from Chuncheon Station to Cheongnyangni/Yongsan Station.



Chuncheon -> Cheongnyangni

Chuncheon -> Yongsan

Weekdays
6:08 / 22:14

Weekends
6:06 / 22:13
---
LEGOLAND Korea Resort | One-Day Pass
---
We hope you can enjoy a day at Legoland in Korea! To see more information about other amusement parts in Korea, look here! Other nearby attractions include Nami Island, Petite France, Pinocchio e Da Vinci Village, Edelweiss Swiss Theme Park, and the Garden of Morning Calm. If you have any questions about any of the information in this blog, don't hesitate to contact us at help@creatrip.com. Also make sure to follow us on Instagram, TikTok, Twitter, and Facebook to get all the latest information about Korea.
---