Our favorite cafes in Dongdaemun
The list of cafes in Dongdaemun should visit when travelling to Korea!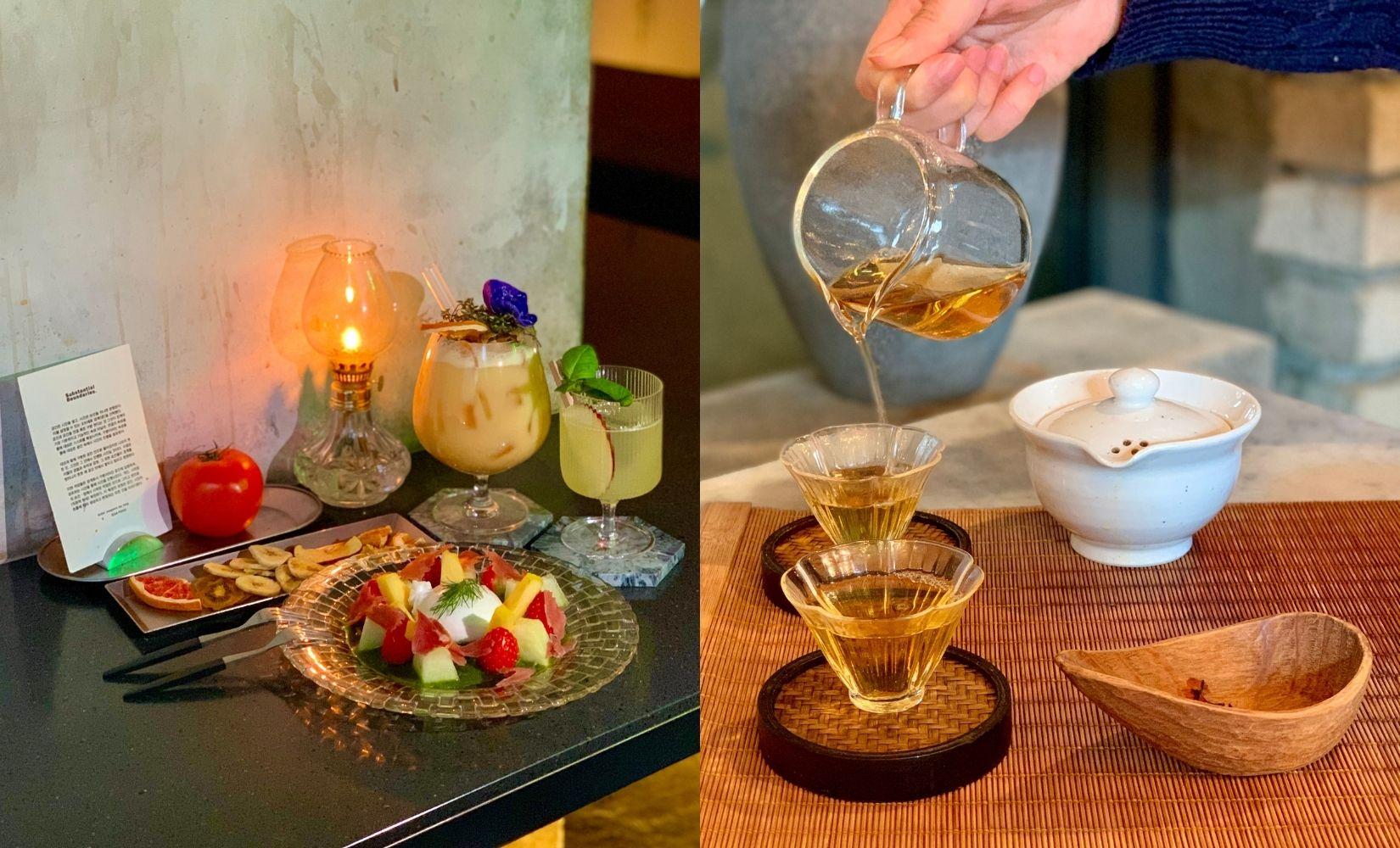 Dongdaemun is one of the most popular tourist attractions in Seoul. The pace of life here is always busy because of all the shopping and fun activities that this neighborhood is filled with such as markets, and historical sites. Dongdaemun has also been designated as a 'Special Tourist Area' since 2002 as well. There is also no shortage of unique local restaurants and cafes. If you have a day to go to Dongdaemun to shop and need a place to rest and recharge, please make sure to check out one of these must-visit cafes in Dongdaemun!
---
Chacha Tea Club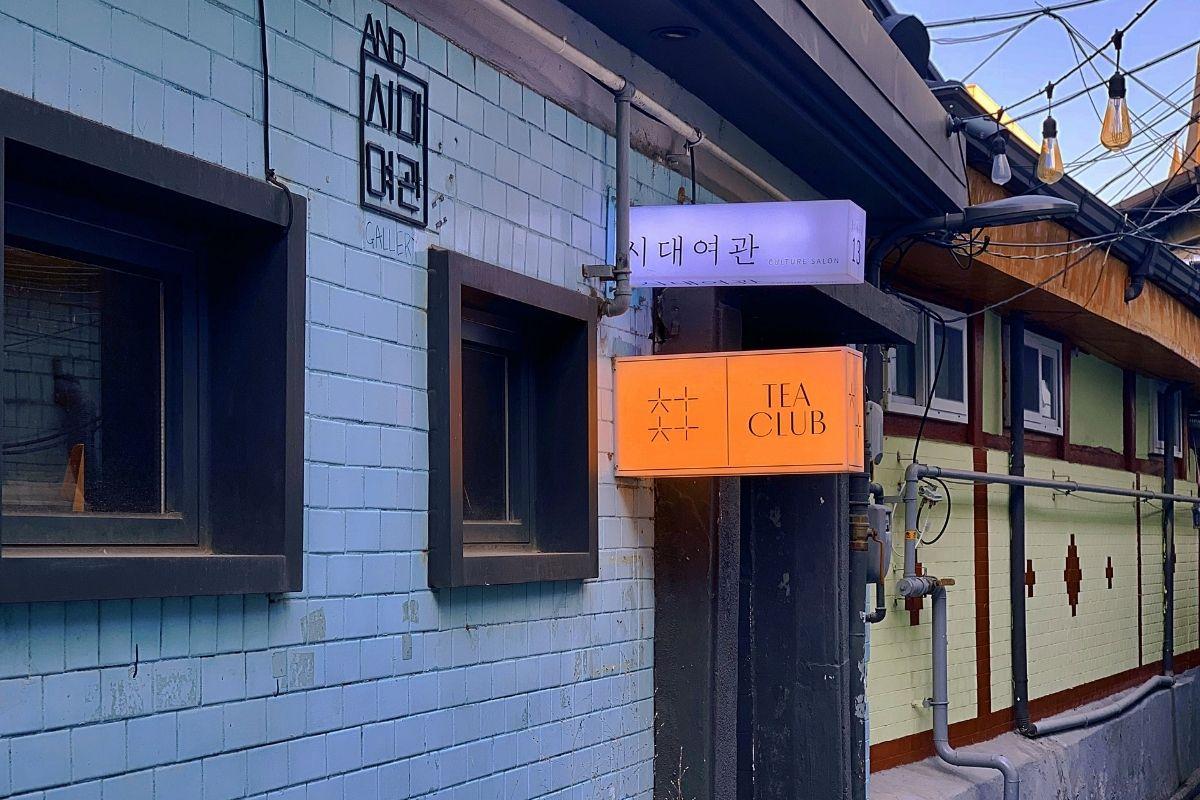 In a busy and always crowded shopping district like Dongdaemun, it is quite hard to find a quiet space to relax and recharge. If you are looking for such a place, we recommend that you come to Chacha Tea club. The shop has 2 branches, one is in Yeonnamdong, and the other is in Dongdaemun. This cafe is in the alleyways of Dongdaemun and has a very peaceful atmosphere!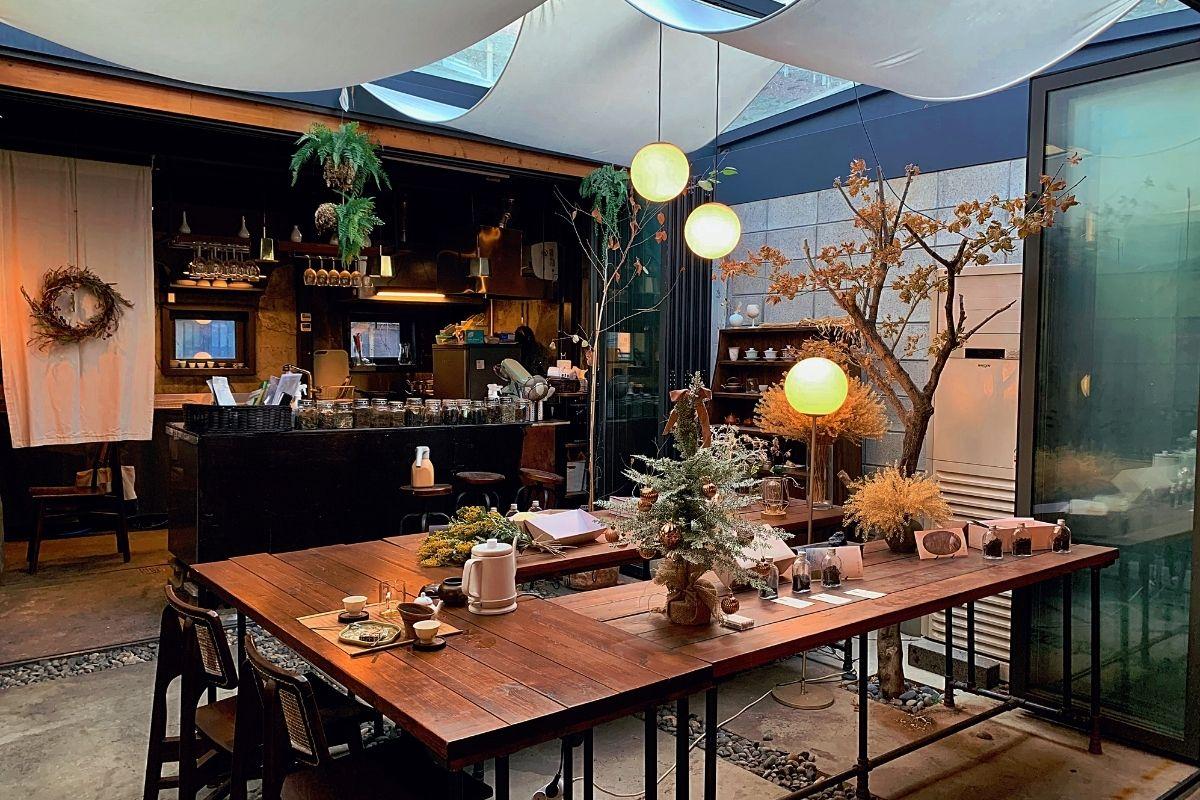 Stepping inside, we were really surprised with the space of the restaurant. It turns out that this was also an old hanok house. The courtyard in the middle makes this place always full of light and very airy. This large table in the middle is decorated with lovely decorations, interspersed with dried tea and tea products. You can buy it as a gift if you want. There are white sheets on the ceiling to help prevent sunlight from being too harsh. You can sit here enjoying tea or sit at the usual table area on the opposite side.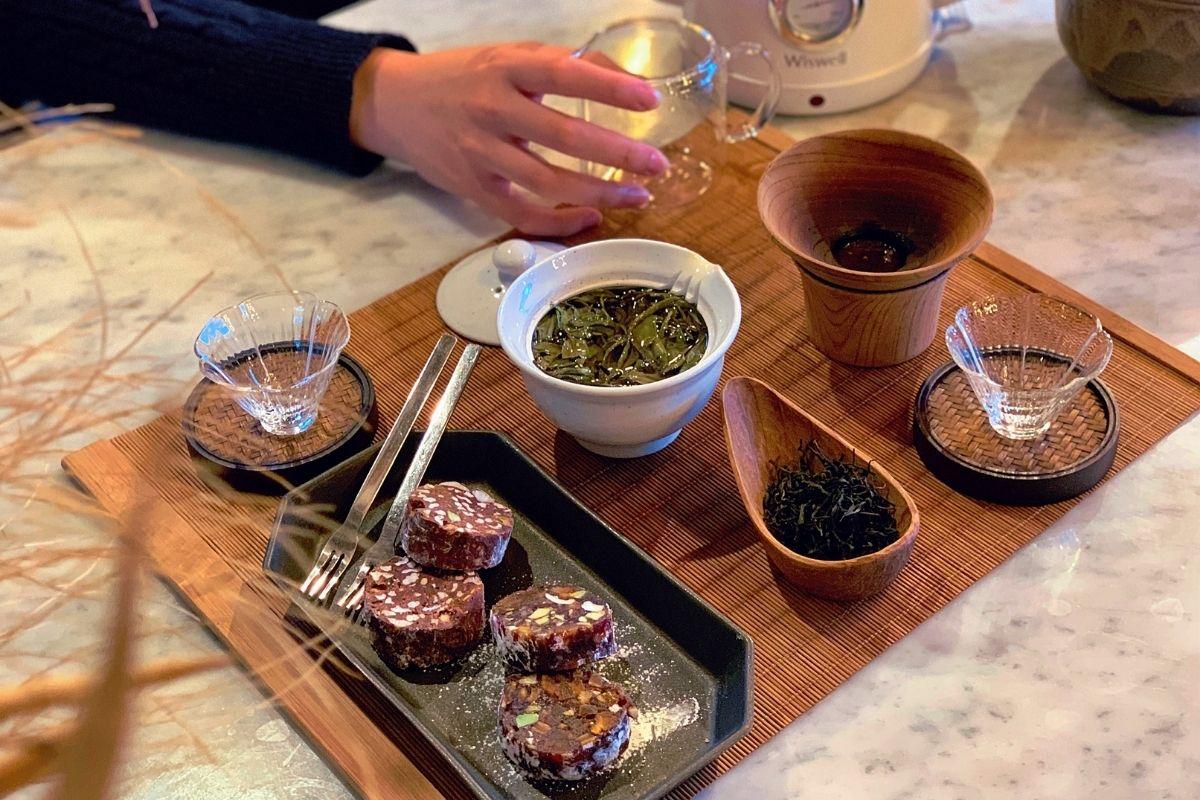 True to the name of the shop, this is a place that specializes in selling tea. This will be a great place for those who want to slow down and learn a little about the art of the tea ceremony. We ordered 2 types of tea, Baekmodan White Tea (백차 백모단) (10,000 KRW) and Jeongsansojon Red Tea (홍차 정산소종) (11,000 KRW). The tea set looks very beautiful ad luxurious. The staff will enthusiastically guide you on how to make tea. With each type, you can brew tea about 5 times.
The Baekmodan White Tea tastes slightly like green apple and has the aroma of tea leaves. If you are a fan of black tea, try Jeongsansojon (홍차정산소종) Red Tea. When you first drink it, you will feel the original taste of black tea, followed by the occasional scent of pine tree smoke. You can also order the Chocolate Dried Persimmons (곶감 초코 살라미) (8,300 KRW) and enjoy it with the tea.
Address: 서울 종로구 종로46가길 13
13, Jongro 46ga-gil, Jongno-gu, Seoul
Hours: Wed - Sun 13:00 - 22:00 (Closed on Monday, Tuesday)
---
Jeong Geurida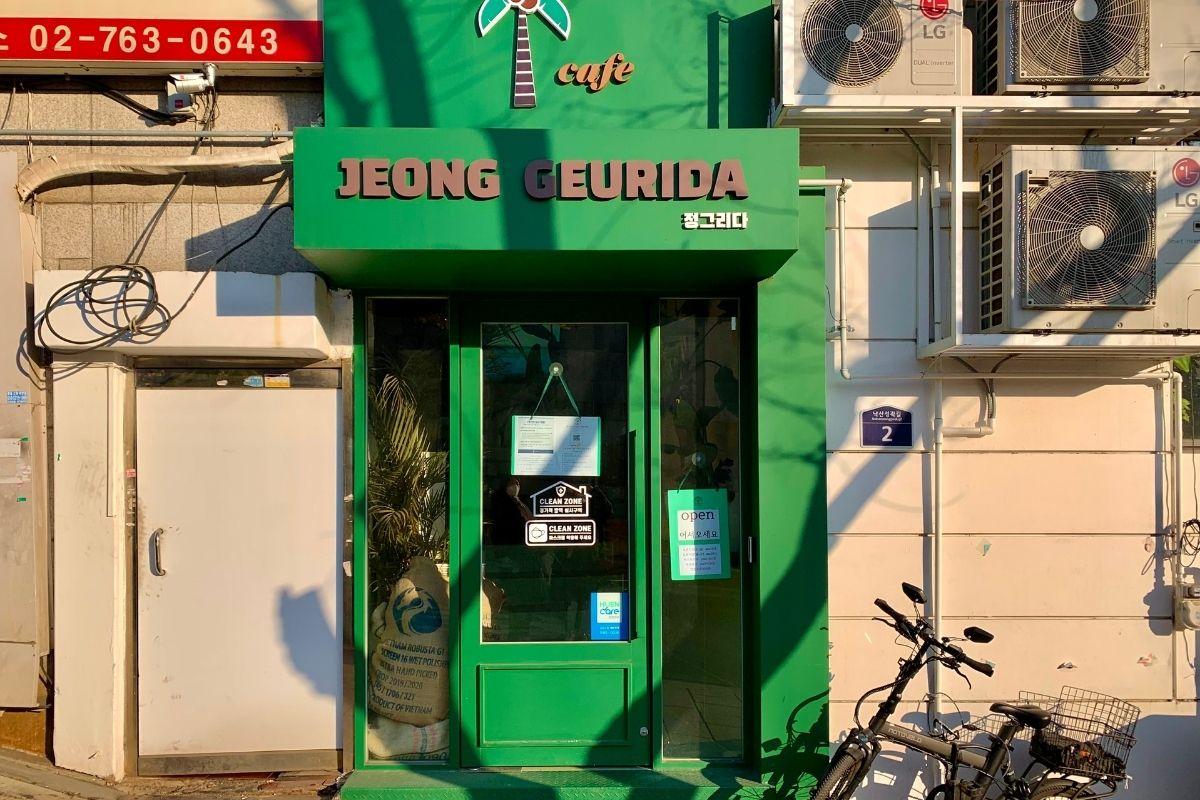 This is one of the most famous cafes in Dongdaemun amongst local Koreans. It is located at a major intersection near exit 1 of Dongdaemun Station, on the 2nd and 3rd floors of a building more than 200 years old, Jeong Geurida has a really great location.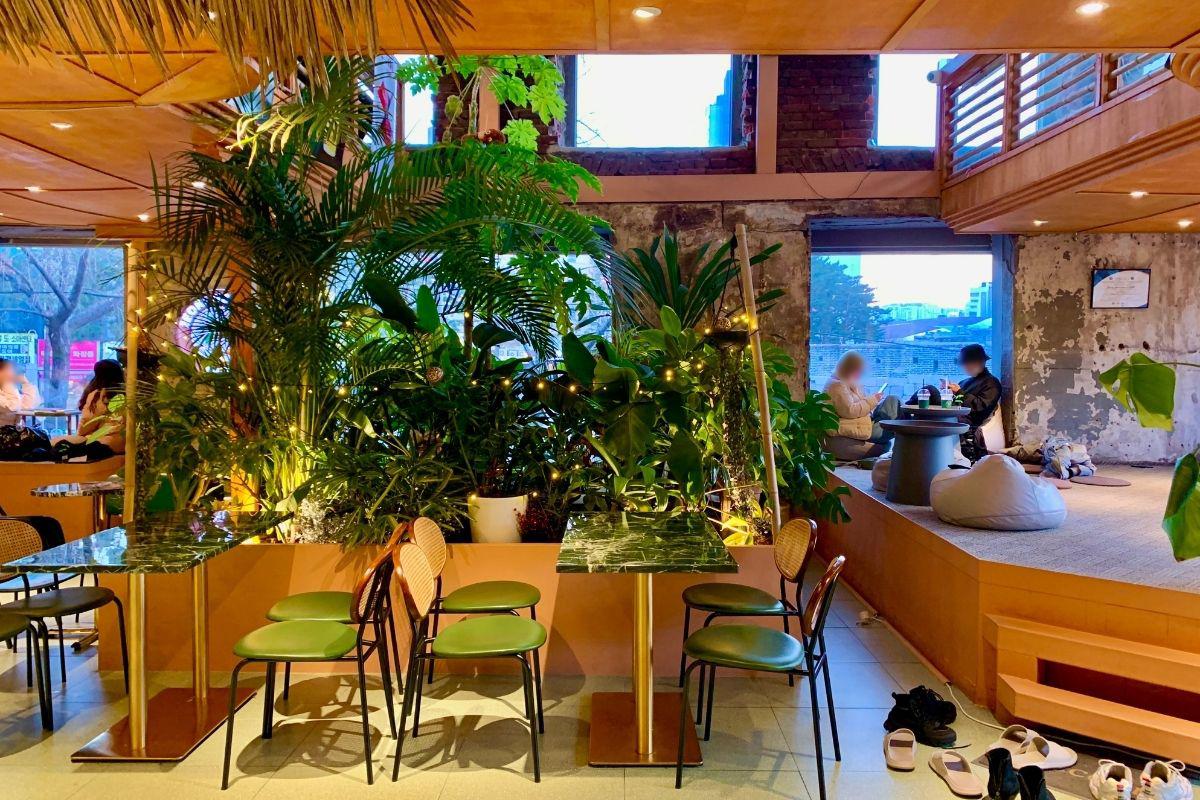 This cafe is very natural and filled with many plants such as bananas, papaya, pineapple, and coffee trees. There is also a lovely pair of parrots who love to interact with guests that live here.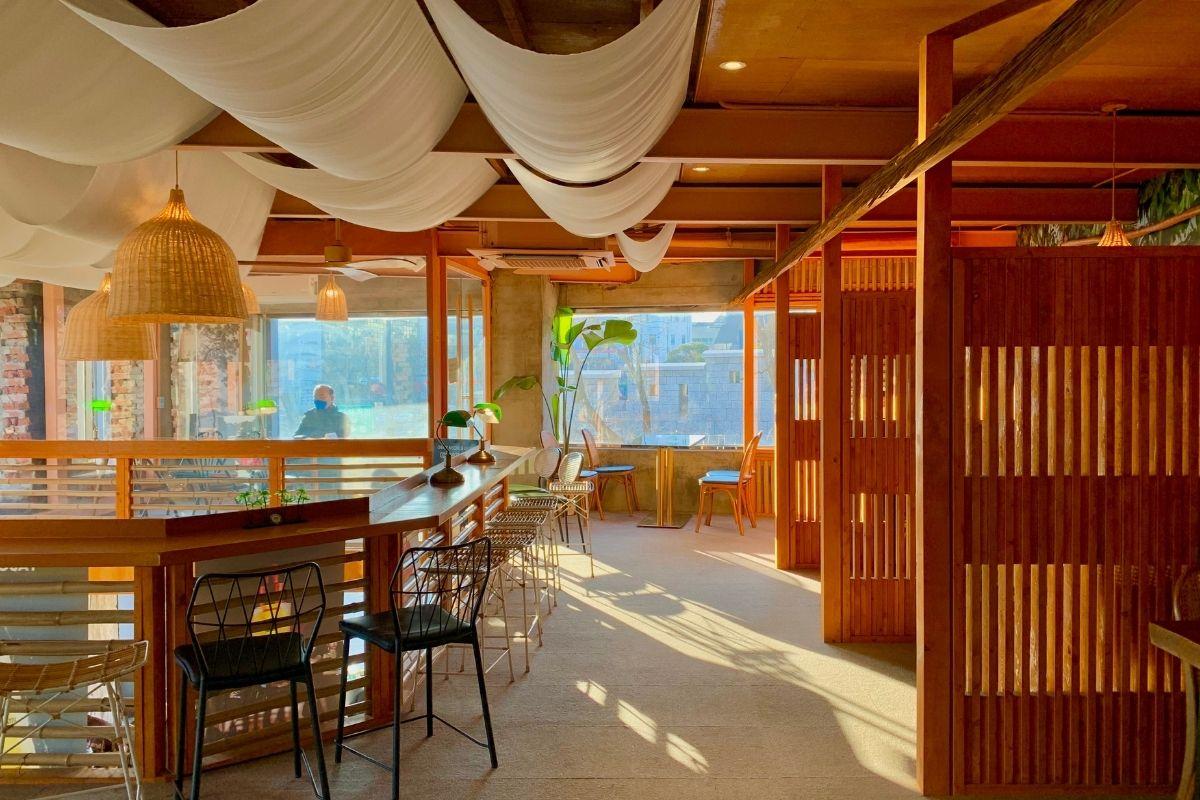 If you head up to the 3rd floor, you will see a large open space filled with sunlight from large windows. There are private rooms for large groups, private pods for those that want to study as well as tables by the window for those who want to enjoy the atmosphere.
People still say that Jeong Geurida is a great view cafe because it has a great view of Heungjnjimun Gate and Dongdaemun Seonggwak Park. We recommend that you come at sunset or at night so that you can feel the shimmer of Dongdaemun when the lights are on.
We ordered our favorite menu items, the Jeonggeuriya (mango + coconut) (5,500 KRW), the Passion fruit tea mix (5,500 KRW), and the Jungle Cake (7,500 KRW). Jungle Cake is also very good quality, the cake is made from matcha, fragrant, and full of tea flavor. The top layer of ice cream is also very fresh and creamy. All in all, this will be a great place for those who like youthfulness and beautiful views.
Address: 서울 종로구 낙산성곽길 2
2, Naksanseonggwak-gil, Jongno-gu, Seoul
Hours: 10:00 - 23:00 (Closes at 22:00 on Wednesdays)
---
Remicone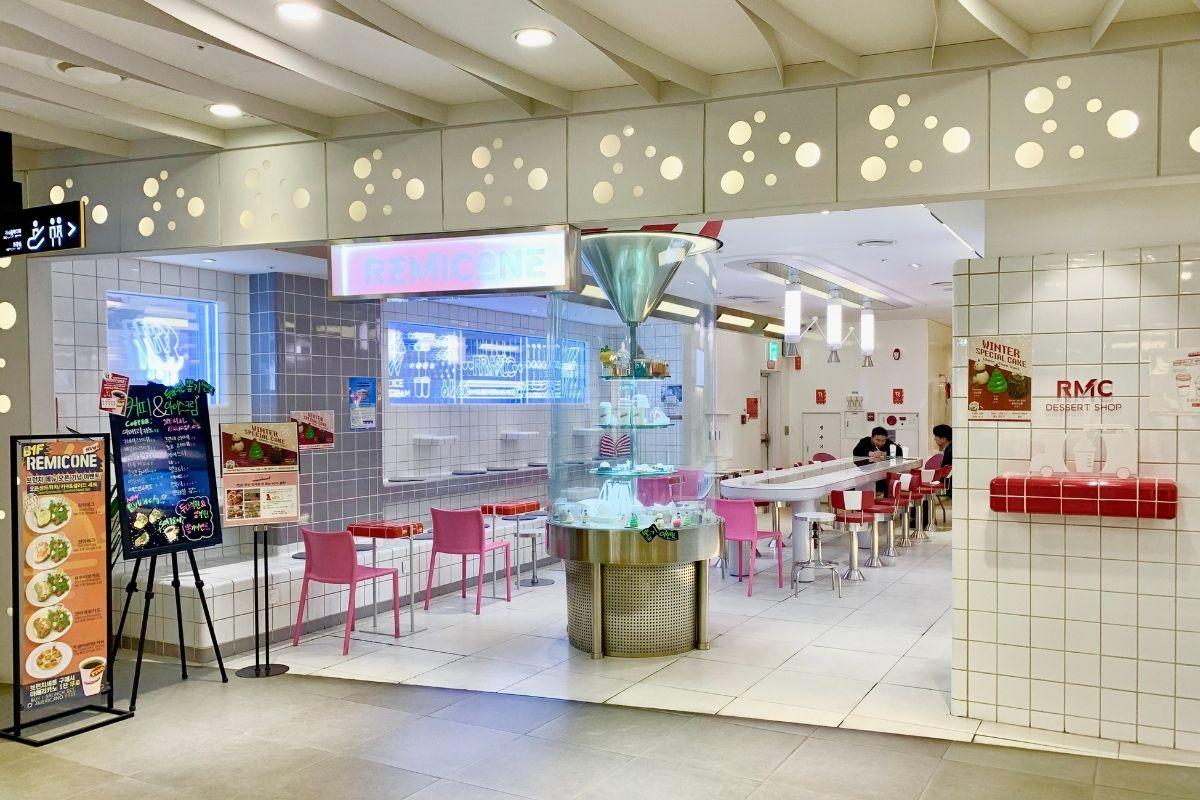 The next cafe that we love in Dongdaemun is Remicone. The ice cream here is very famous because of the beautiful presentation of the ice cream. It was so popular that it was even featured on TV! The cafe is located on the B1 floor of DOOTA shopping mall. This is a large shopping mall with many famous brands in Dongdaemun and most people who come to Dongdaemun will visit this mall. If you are looking to come shop, you can shop in this mall and get a delicious treat after!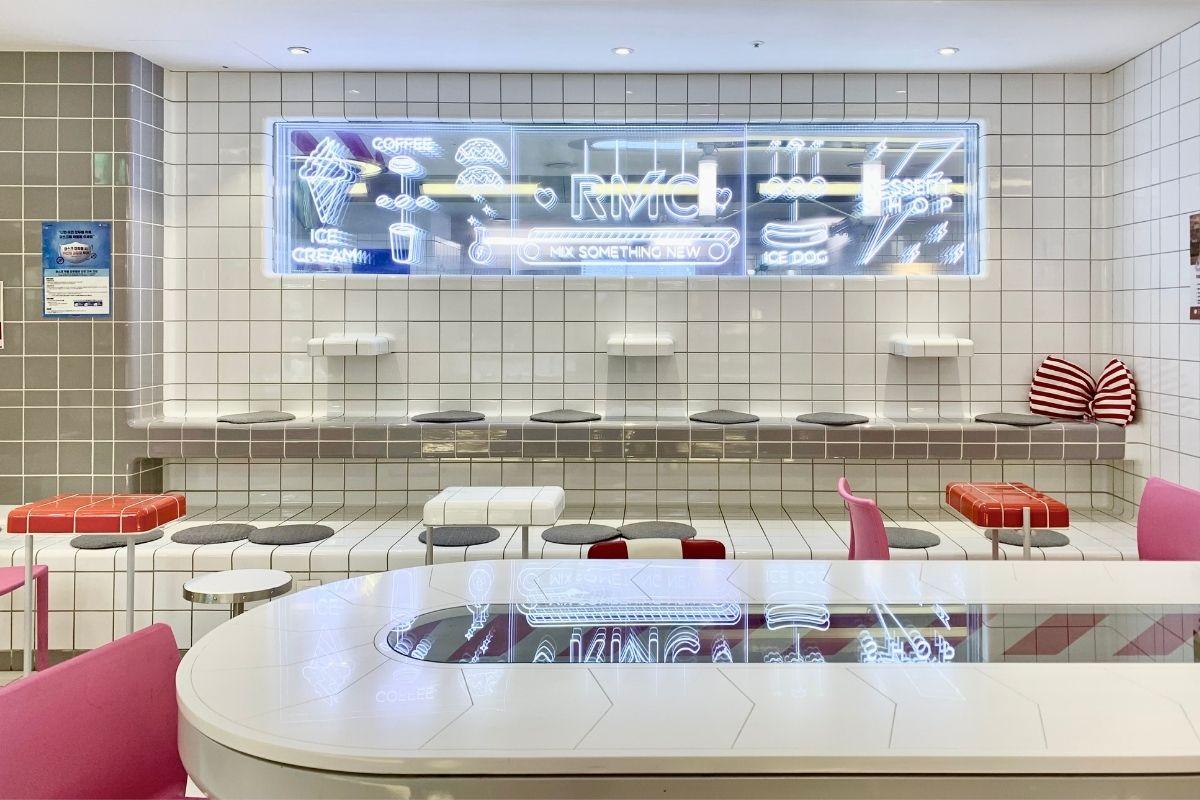 The shop is decorated with white tones and pink and red dots. The space is quite large and there is a good amount of seating When you come here it feels like stepping into a kitchen in a video game. Everything is really pretty!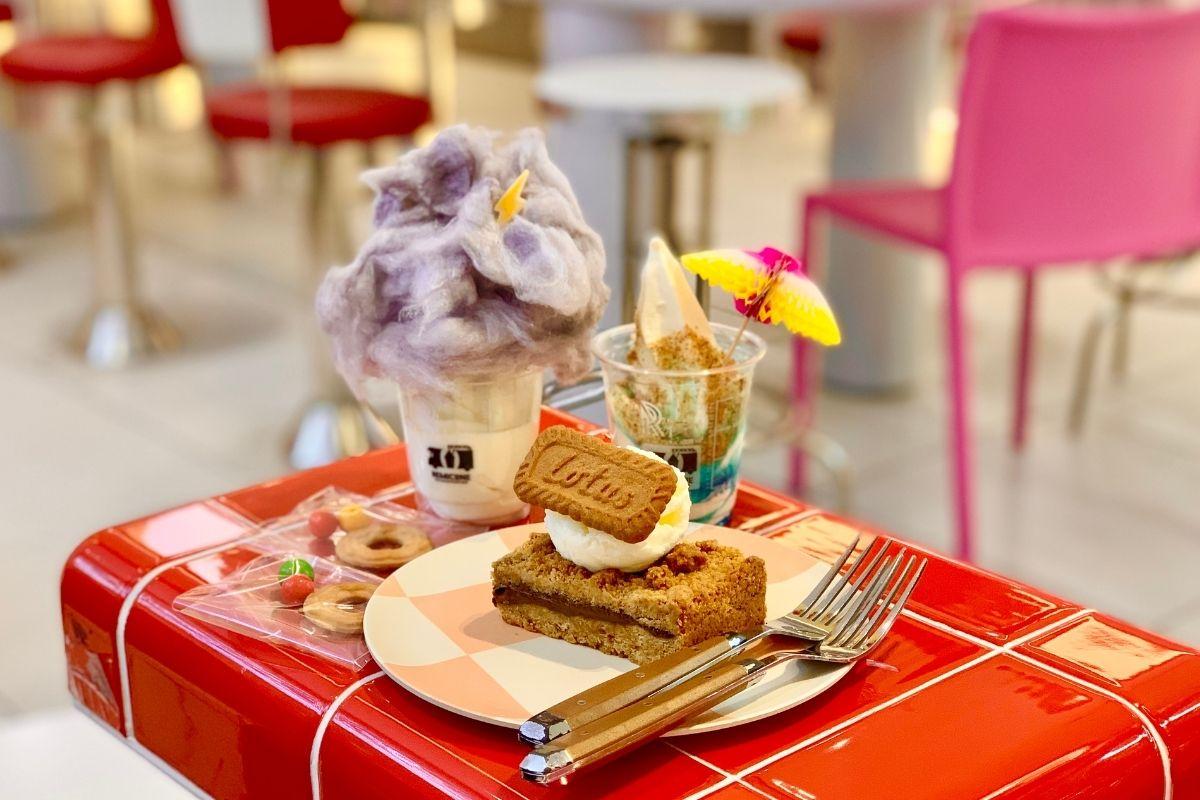 Since Remicone is famous for its ice cream, we got their two best sellers the Thunder Bomb (6,100 KRW) and the Hawaiian Beach (5,500 KRW). When the ice cream came out, we were really impressed as the visuals of the dessert were impressive as rumored. The sweetness of cotton candy served with the cool and creamy taste of the ice cream was great. When you put cotton candy in your mouth, you will feel a very interesting clicking sound. The Hawaiian Beach is ice cream with green lemon sauce on top and it has a very bright and sour taste.
We also ordered the Lotus Crumble Cake (5,500 KRW). The cake has a certain hardness and crunch, and the middle layer is quite sweet. In addition, Remicone also sells coffee, brunch, and other cakes. A special feature is that the shop often offers a limited menu on special occasions such as Christmas and New Year.
Address: 서울 중구 장충단로 275 두산타워 B1 33호
275, Jangchungdan-ro, Jung-gu, Seoul
Hours: 10:30 - 10:00 → Mon~Fri 10:00 -24:00 / Sat~Sun 10:30 ~ 5:00 AM
---
TIFF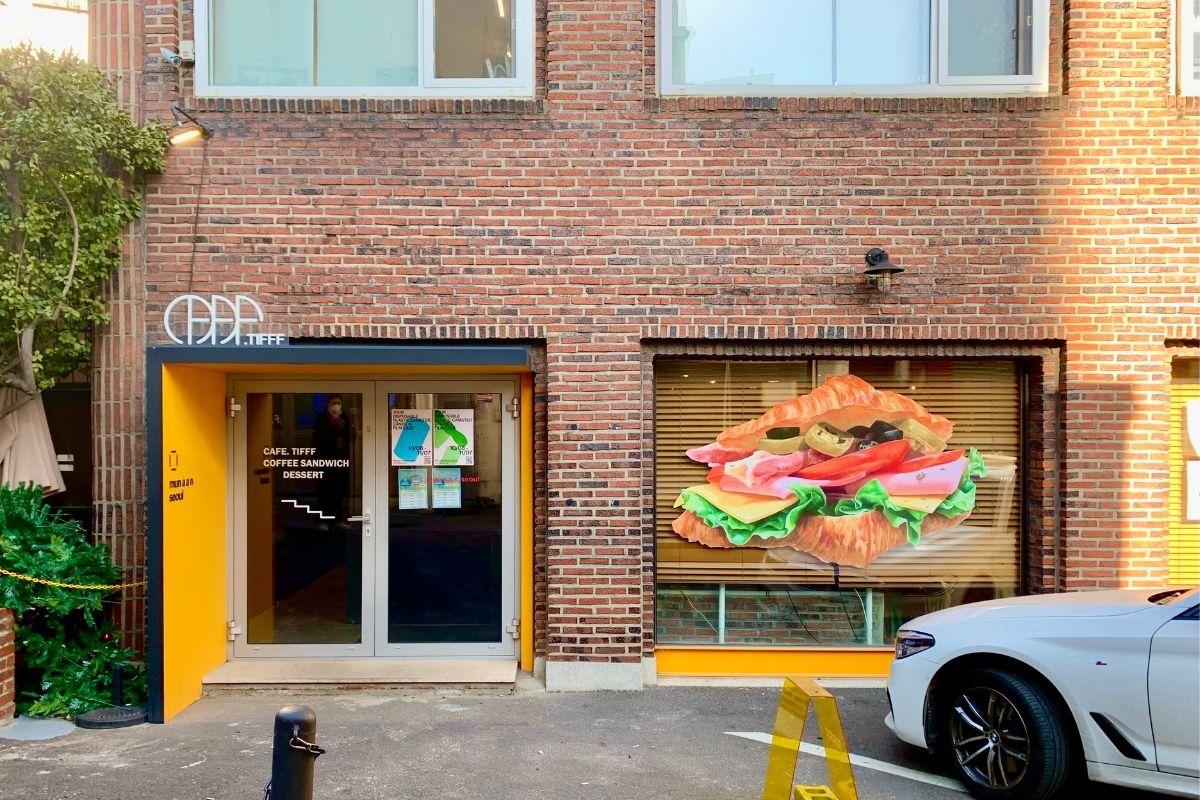 Recently, minimalist-style cafes are becoming more and more popular in Korea. TIFF cafe is one of these minimalistic cafes. This is a cafe where many young Koreans come to chill and rest when they come to Dongdaemun. TIFF is known for its high-quality drinks and desserts.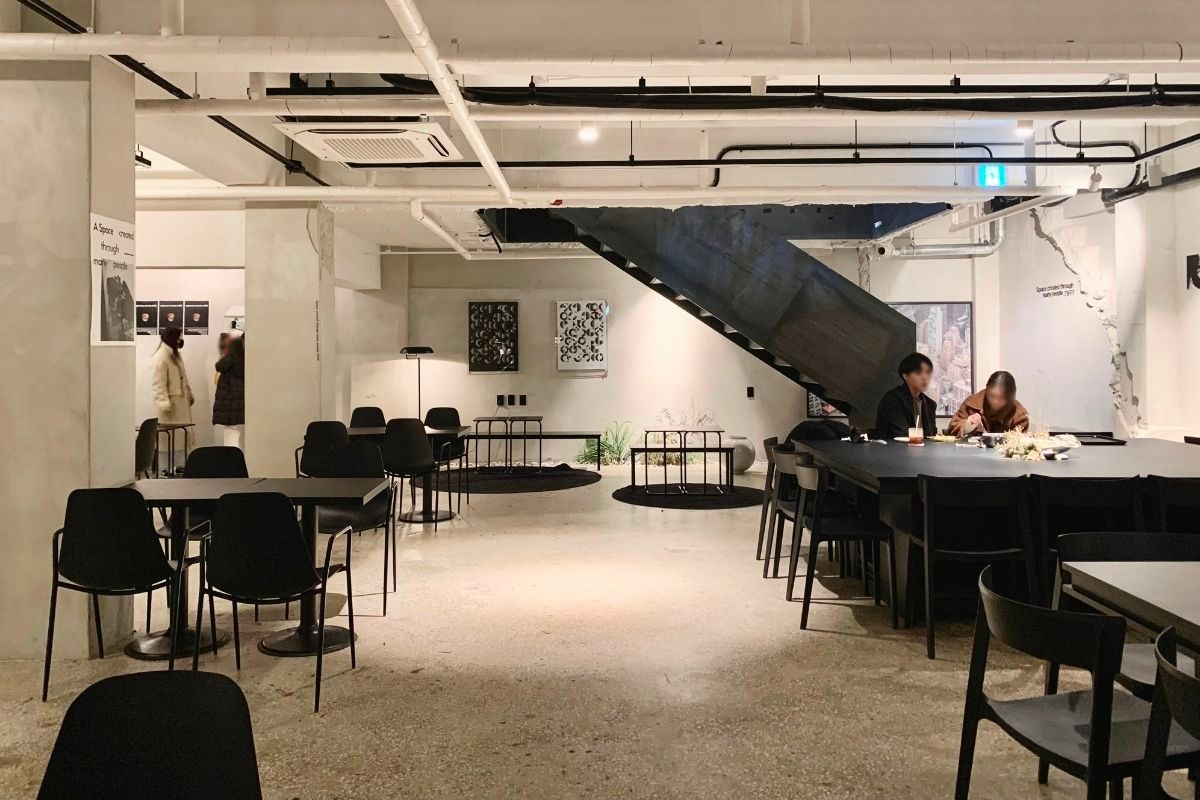 The cafe space is decorated in 2 colors, black and white, and there are also small plants on the table. The interior has delicate accents such as paintings, books, and miniatures placed on the table. The tables are located quite far from each other, so you will have privacy here.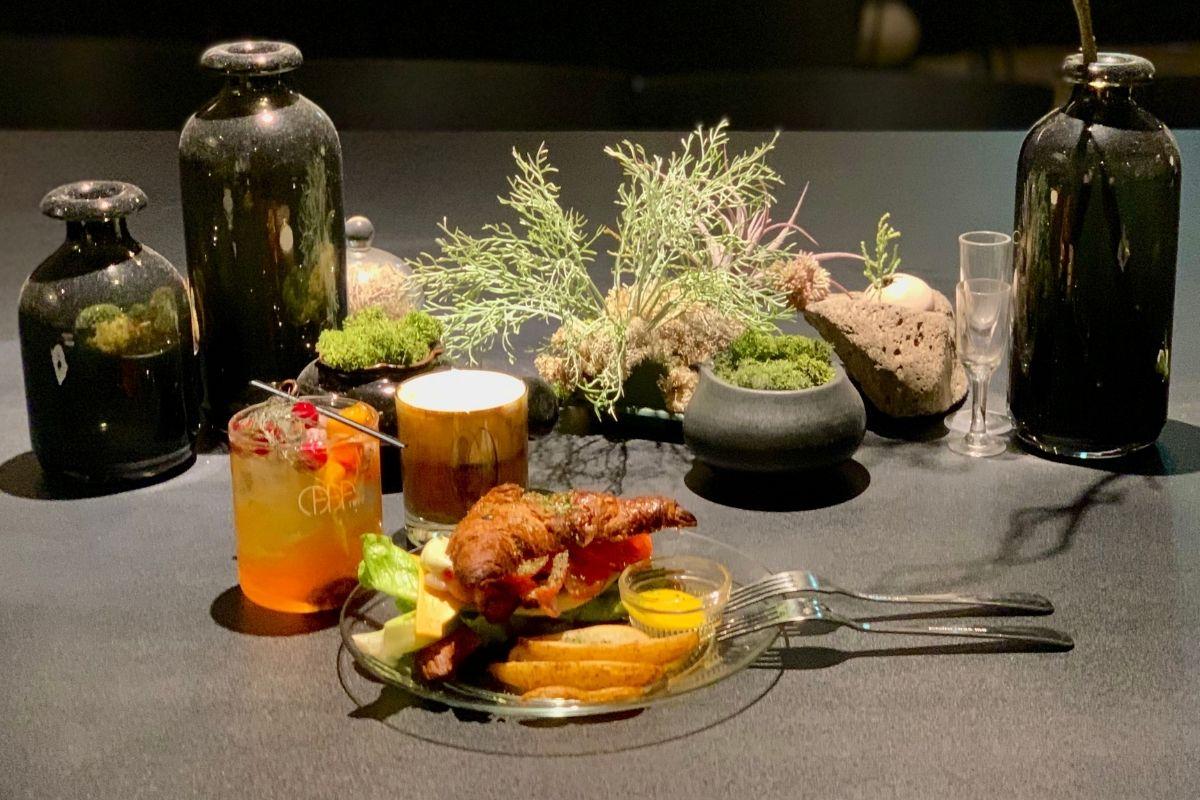 TIFF's menu is quite diverse with coffee, ade, cake, and brunch menu items! At the ordering counter, there is an iPad with pictures of each menu item for you to choose from. If you don't know Korean, you can easily order your favorite dish. They specialize in Einspanner and croissants so we order the Einspanner Nutty (6,500 KRW) and the 2021 Tropical House (6,800 KRW as well as the Croissant Bacon (9,000 KRW). For drinks and desserts, TIFF will be a perfect choice.
Address: 서울 중구 퇴계로53길 6-17 B1
B1, 6-17, Toegye-ro 53-gil, Jung-gu, Seoul
Hours: 12:00 - 21:00
---
Jeanfrigo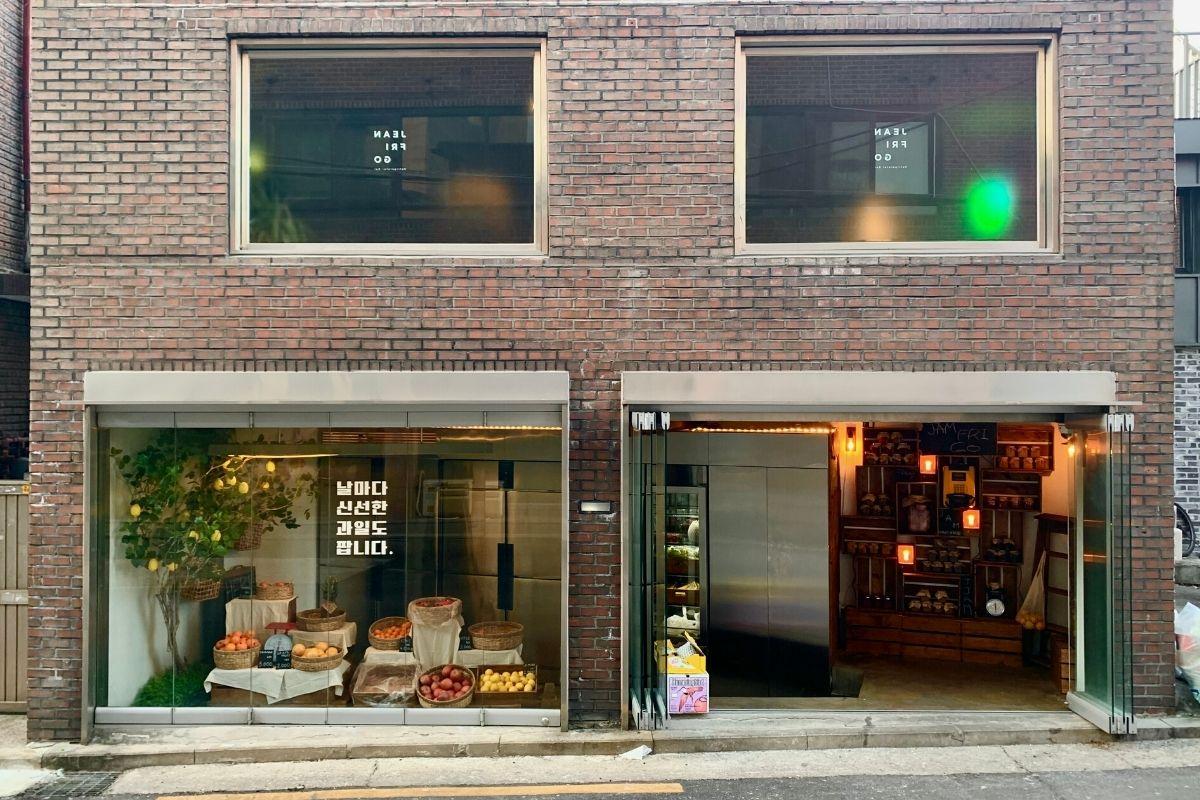 After a long day shopping and walking around Dongdaemun, and the sun is about to set, stop by this cocktail bar for a drink. Jeanfrigo sells an assortment of cocktails and they also have non-alcoholic drinks!
From the outside, the bar looks like a fruit stand. You can actually buy the fresh fruit displayed in front. You'll also see an array of refrigerators. These refrigerator doors happened to be the entrance to the inner part of the bar! How creative!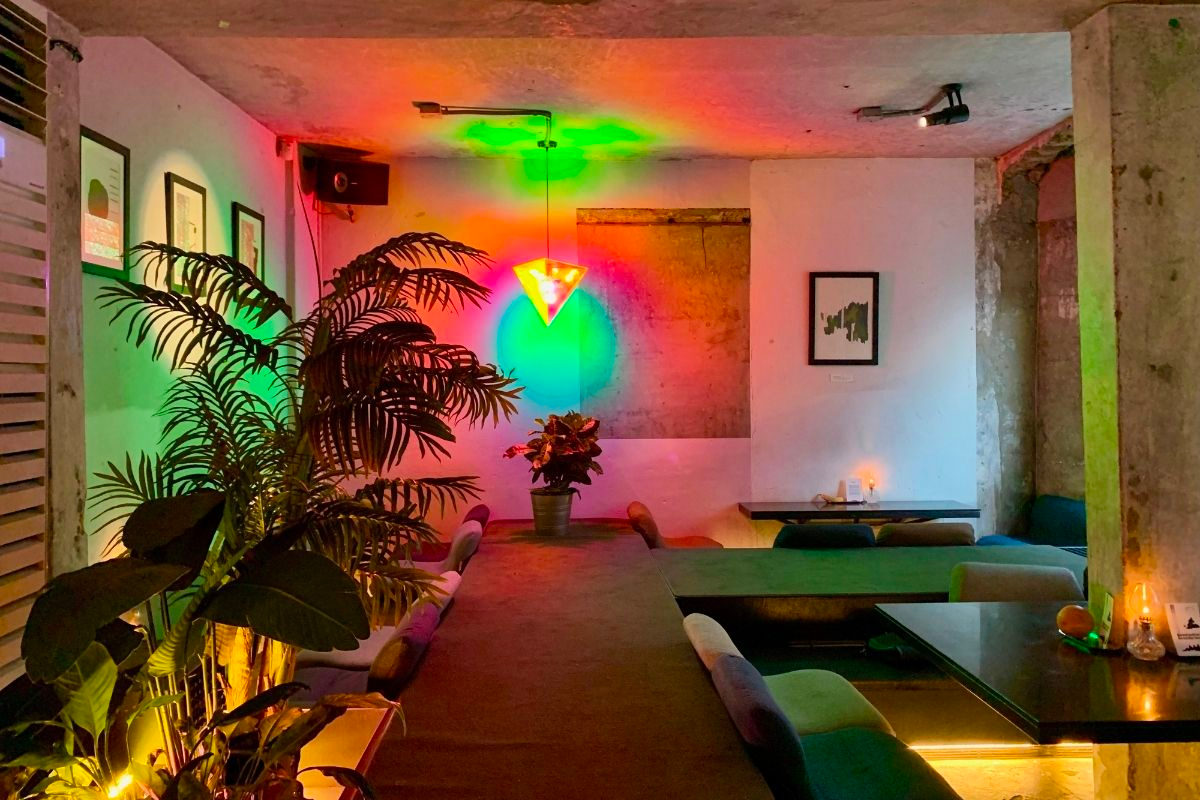 The bar is lit with soft, fluorescent lights giving it a tropical vibe. The first floor is where the bar is so you can see the bartender making drinks here. We went to the second floor for some more privacy.
The multi-colored lights mixed together give off a chill, hip ambiance. The seats are also specially assigned to a fruit, which is the table name you use when you order. There was an apple table, banana table, orange table, and so on. Too cute!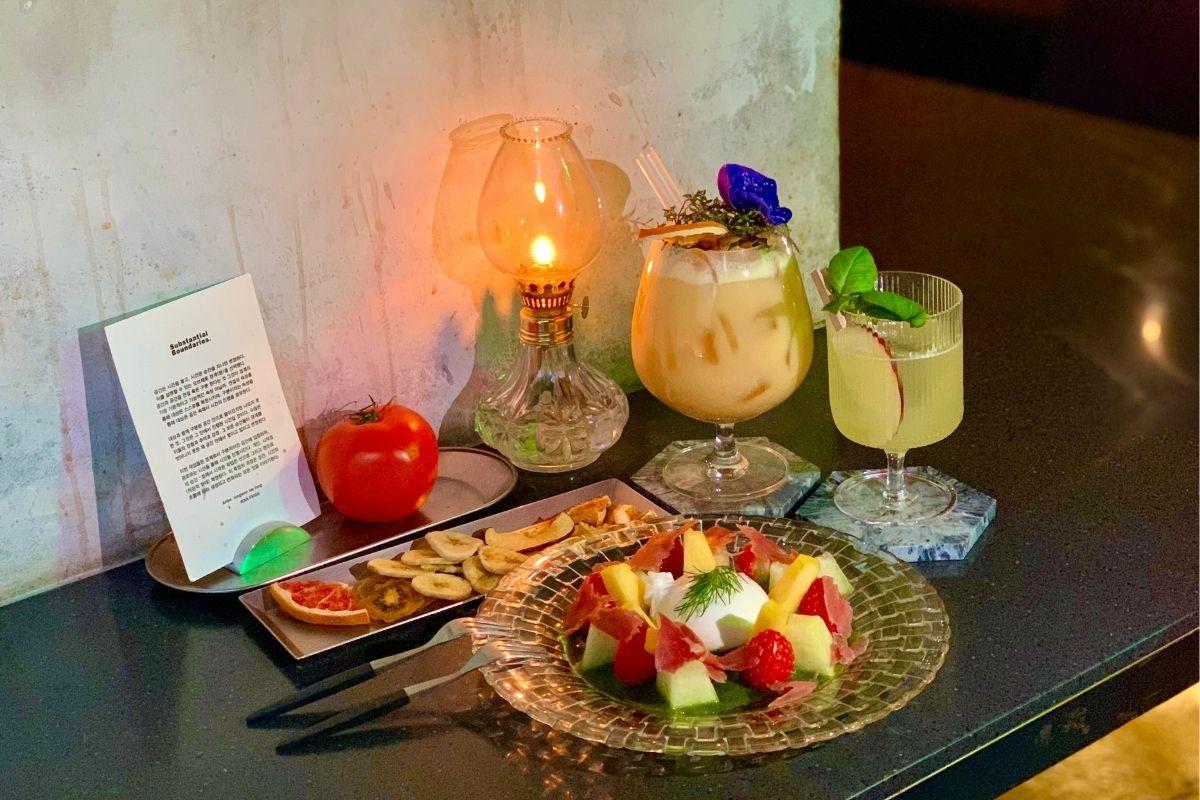 Since I can't drink alcohol, I ordered the non-alcoholic drink called Weekly Fruit Colada (13,000 KRW) and my friend ordered an alcoholic drink called Little Forest (15,000 KRW). The Weekly Fruit Colada is a cocktail made out of pineapple, pineapple juice, coconut, and orange juice. It tasted very fresh, sweet, and not sour at all. The cup was a lot bigger than I had expected. The Little Forest is made of vodka, lime juice, fresh apples, and basil. There was sugar added so it had a slight sweetness to it.
In addition, we also ordered a plate of fruit and Jamon Burrata (16,000 KRW) to eat with our drinks. This dish is trending in Korea right now. You eat a piece of fruit with the Jamon with some pesto and burrata cheese. A strange combination but quite delicious!
Address: 서울 중구 퇴계로62길 9-8
9-8 Toegue-ro 62gil, Jung-gu, Seoul
Hours: Tues - Thurs 18:00 - 01:30; Fri 18:00 - 02:30; Sat 17:00 -02:00: Sun 16:00 - 0:00 (Closed on Mondays)
---
J.Hidden House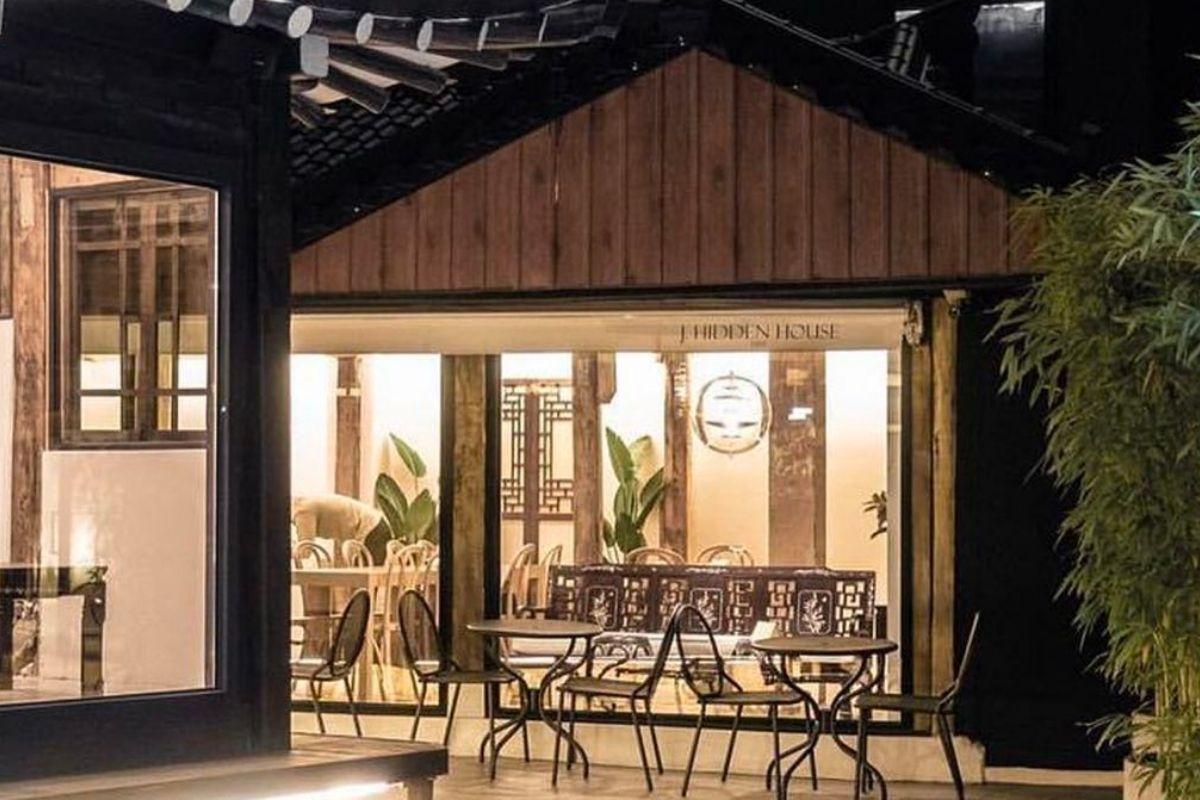 Dongdaemun still has remaining traditional culture, so you can see traditional Hanok houses all over Dongdaemun. In one of those houses in J.Hidden House. This Hanok cafe has been preserved for five generations since 1915. It is located near Heunginjimun and DDP. You can see both the combination of the traditional Korean hanok and modern decor.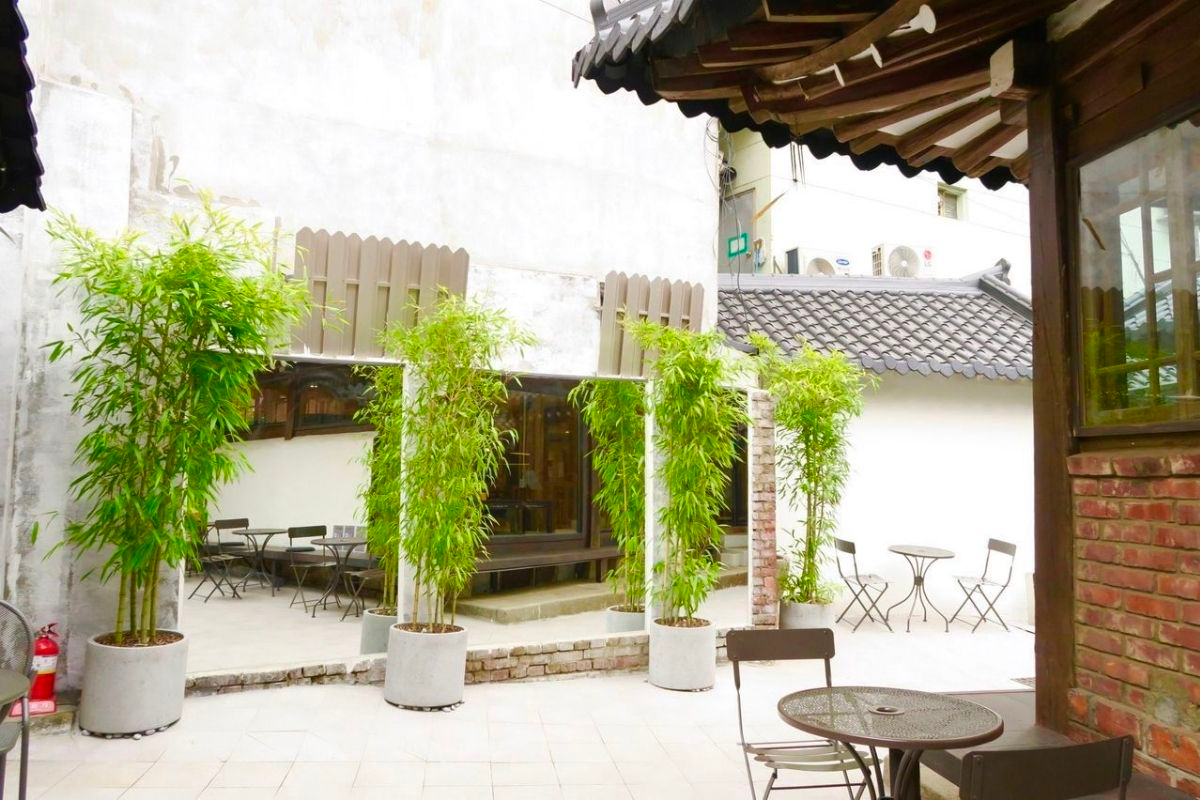 J.Hidden House has several different seats you can choose from, including outdoor seating, great for days with nice weather. All corners of the cafe is photo-worthy, so test your photography skills! As you relax, you can sometimes hear the windchimes.
The cafe has a great selection of desserts! The baker used to work at a hotel bakery so they are quite tasty as well! The coffee beans change according to the seasons so in the winter, they use a darker roasted bean, and in the summer, a light roast.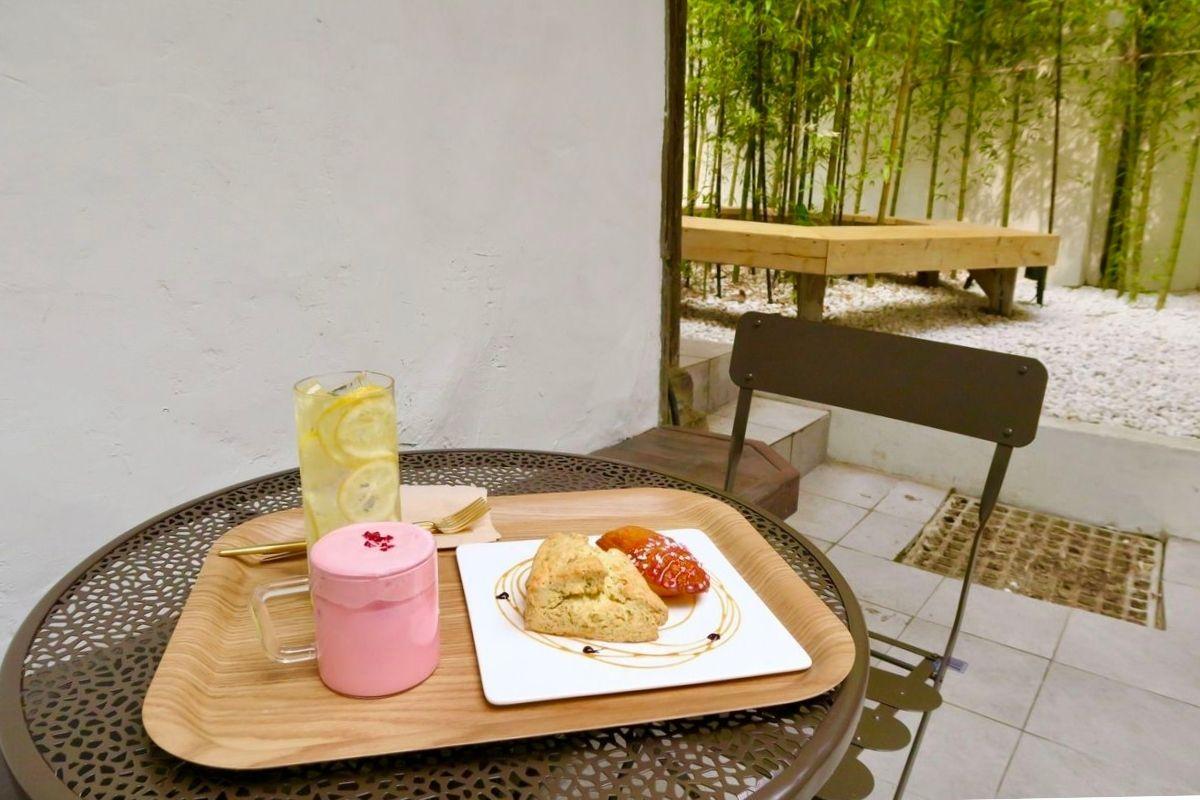 I had the J.Raspberry Cream Latte (7,500 KRW). The vibrant color of this drink will attract anyone that loves the color pink. Under the cream is a lightly sweet raspberry milk.
We also order the J.Fruit Ade (7,000 KRW) which was a refreshing lemonade! It paired well with the sweet desserts. The price of cakes ranges from 3,500 - 4,500 KRW. Creatrip members get 10% off on drinks at J.Hidden House. Don't forget to download the coupon!
For an in-depth review of J.Hidden House, click here!
Address: 서울 종로구 종로 269-4
269-4 Jong-ro, Jongno, Jongno-gu, Seoul
Hours: 12:00 - 18:00 (Check their Instagram page for closed days)
---
Starbucks Doota Branch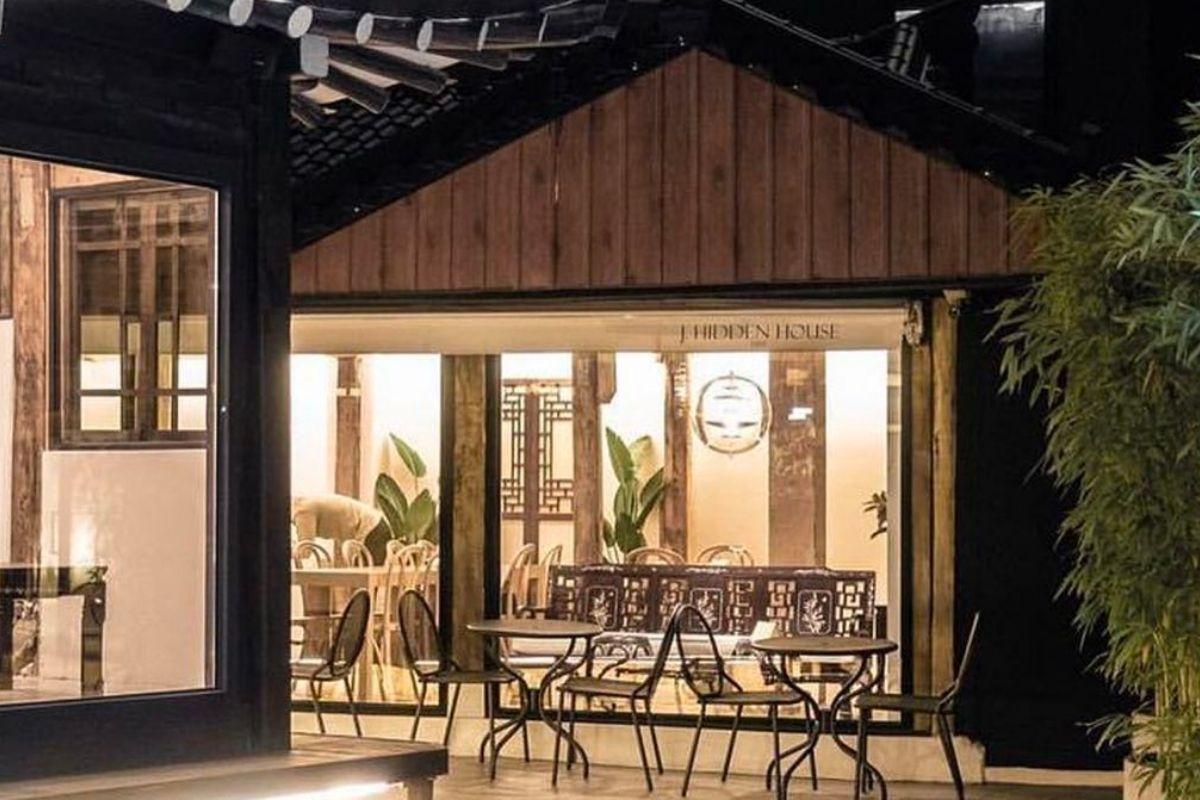 You can find Starbucks all over Seoul but the reason why I added this Starbucks to the list is that it has a super convenient location! This Starbucks is located on the 2nd floor of the DOOTA building. It is crowded no matter the time of day.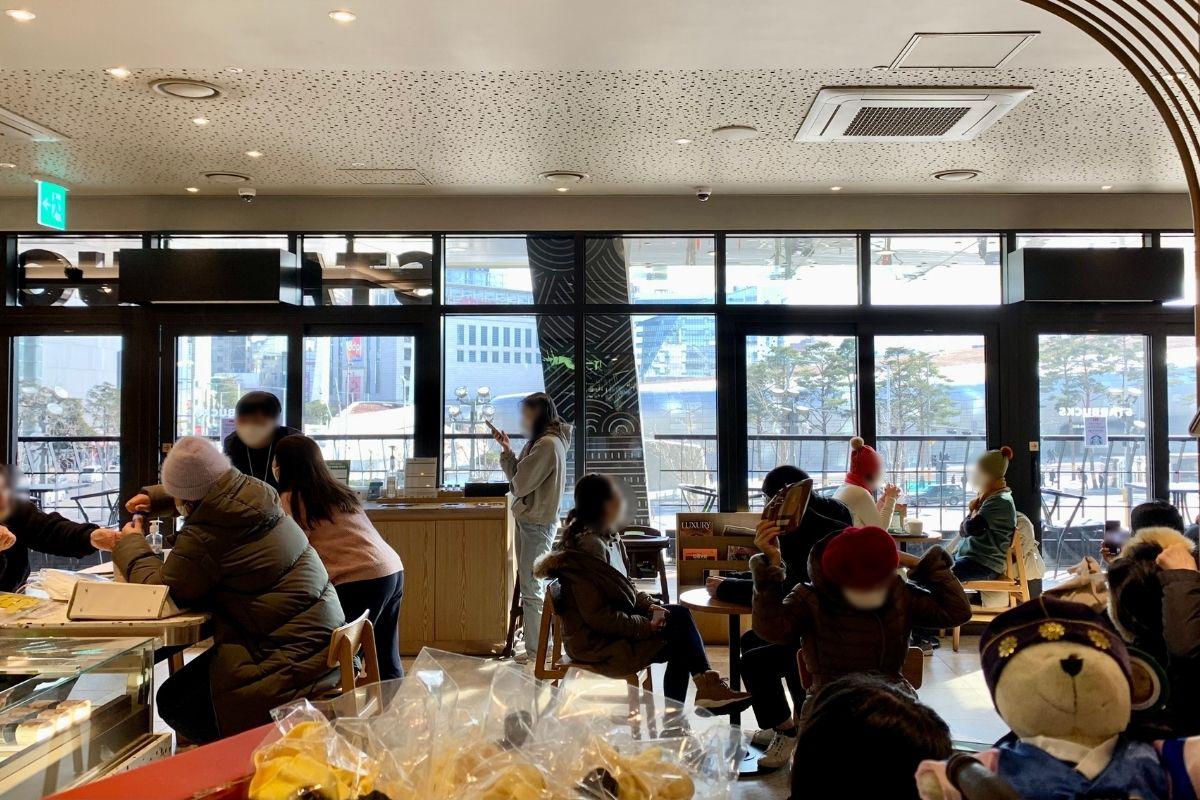 Another reason why it is so popular is that it has a direct view of DDP and the streets of Dongdaemun. At night, when the lights light up DDP and the surrounding buildings, the view is incredible. This Starbucks does not have many seats, so avoid peak hours if you want a good seat!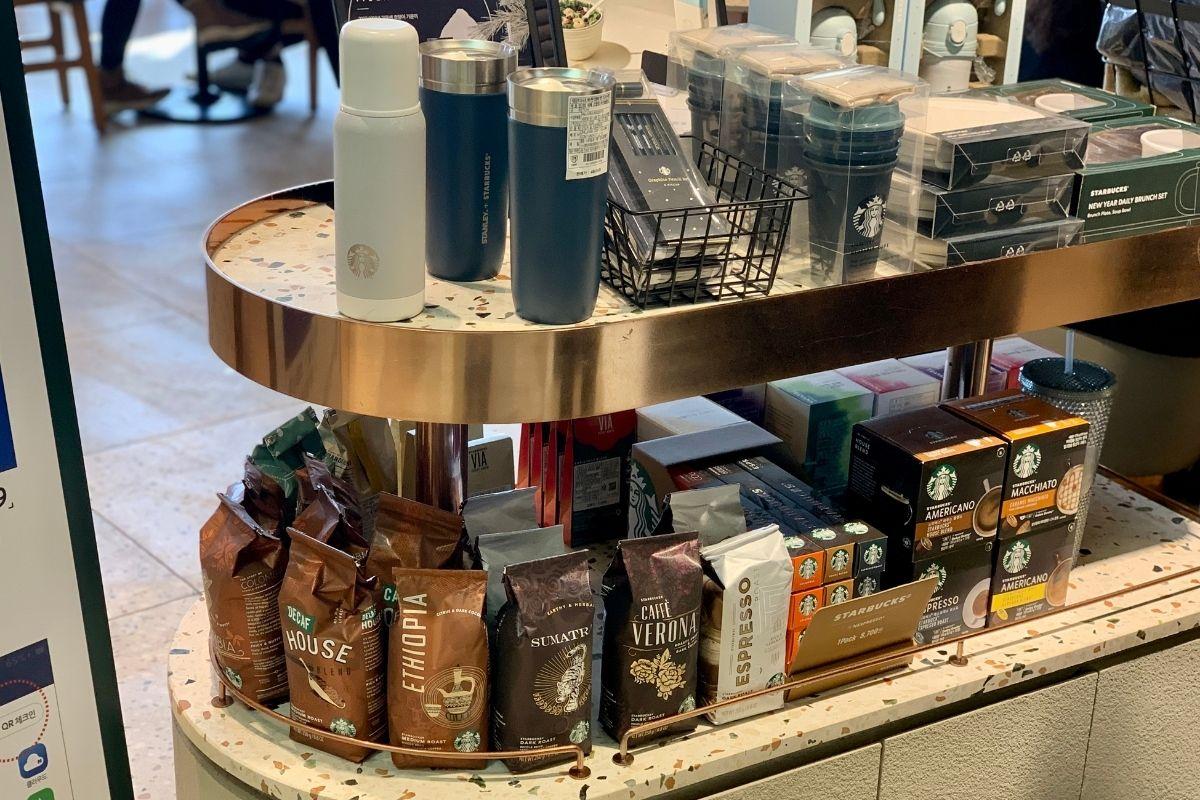 You can buy souvenirs as gifts for your friends and family! Usually the tumblers are around 25,000 KRW or more!
Address: 서울 중구 장충단로 275, 2F
2F, 275, Jangchungdan-ro, Jung-gu, Seoul
Hours: 10:30 - 22:00
---
Above is a list of our recommended cafes in the Dongdaemun area! If you want to know more about Dongdaemun, such as where to shop, what to eat, the hotels, or more, check out our post all about Dongdaemun!
---
Make the best out of your day in Dongdaemun! If you have any questions or concerns, please leave a comment below or send us an email at help@creatrip.com! You can follow us on Instagram, TikTok, and Facebook to stay updated on all things Korea!
---