Sinsa Anteroom | Seoul Hotel Recommendation
Great accommodations with a rooftop cafe and art exhibit hall in the trendy Garosugil area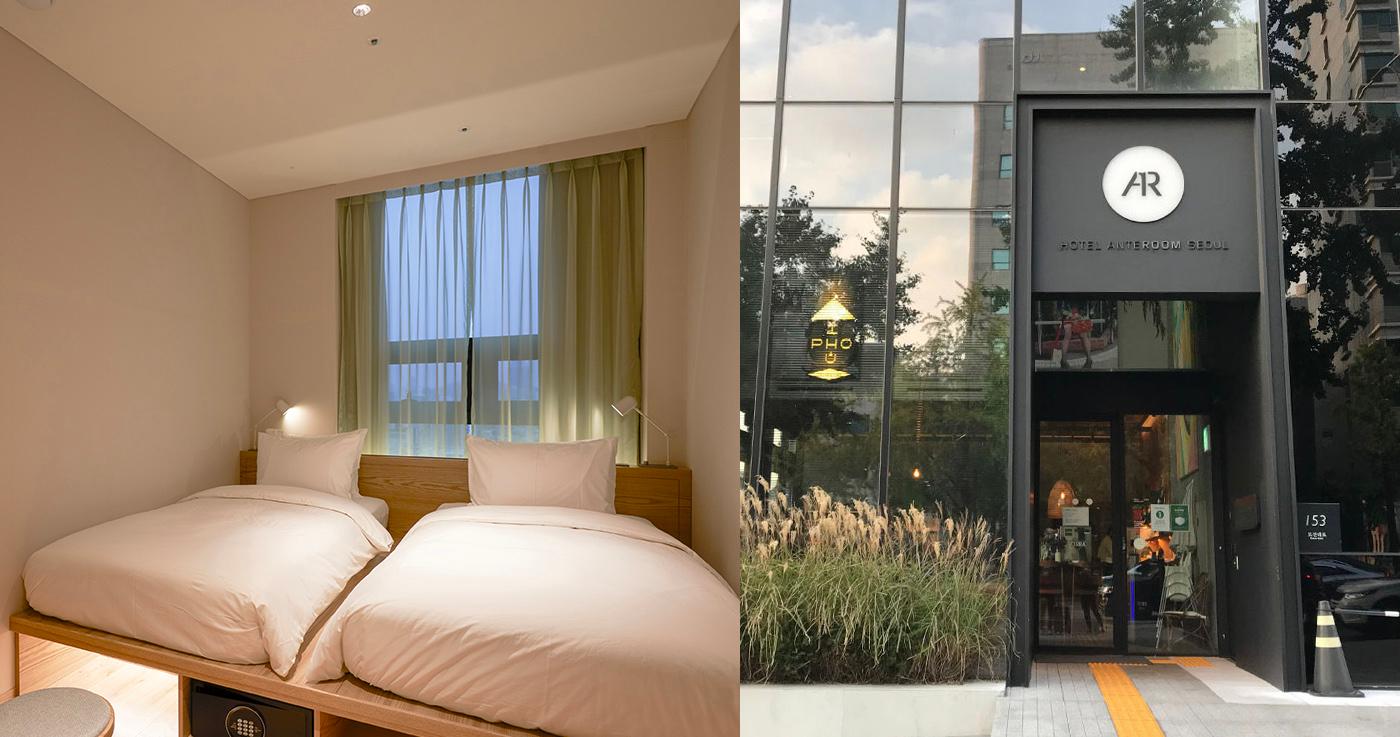 Hotel Anteroom Seoul in located in Sinsa, not far from Garosugil, so there are plenty of shops, cafes, and restaurants.
Also important is that it's conveniently located by Sinsa Station, so getting around the city is easy.
Plus the price for this hotel is also great, making this hotel a really good option to keep in mind when visiting Seoul.
---
Our Visit
Address: 서울 강남구 도산대로 153
153 Dosan-daero, Gangnam-gu, Seoul
Transportation: Sinsa Station (신사역) Exit 8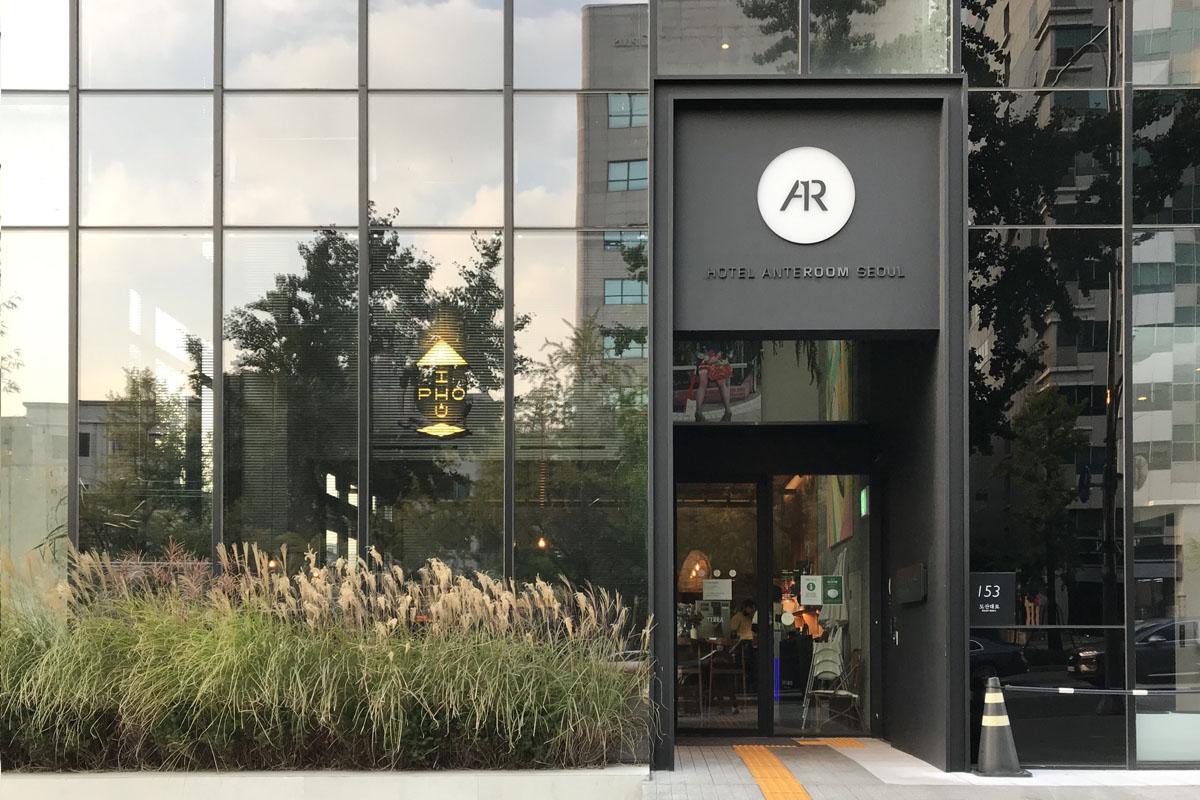 Sinsa is popular area for tourists because of the many cafes, restaurants, and shops in the area. It is a very trendy area, so if you want to know the latest trends in Korea, this area is a must-visit.
Because of this, many people choose accommodations in this area to be close to the action. If you're interested in staying here, we recommend Hotel Anteroom Seoul.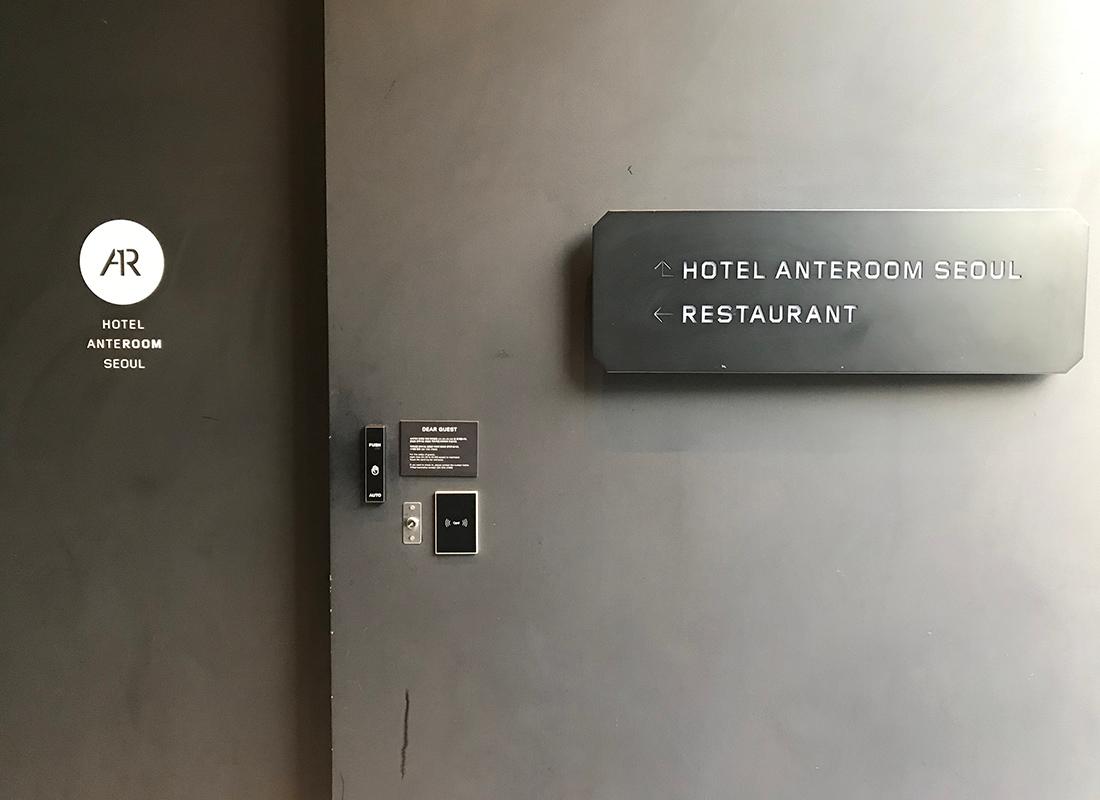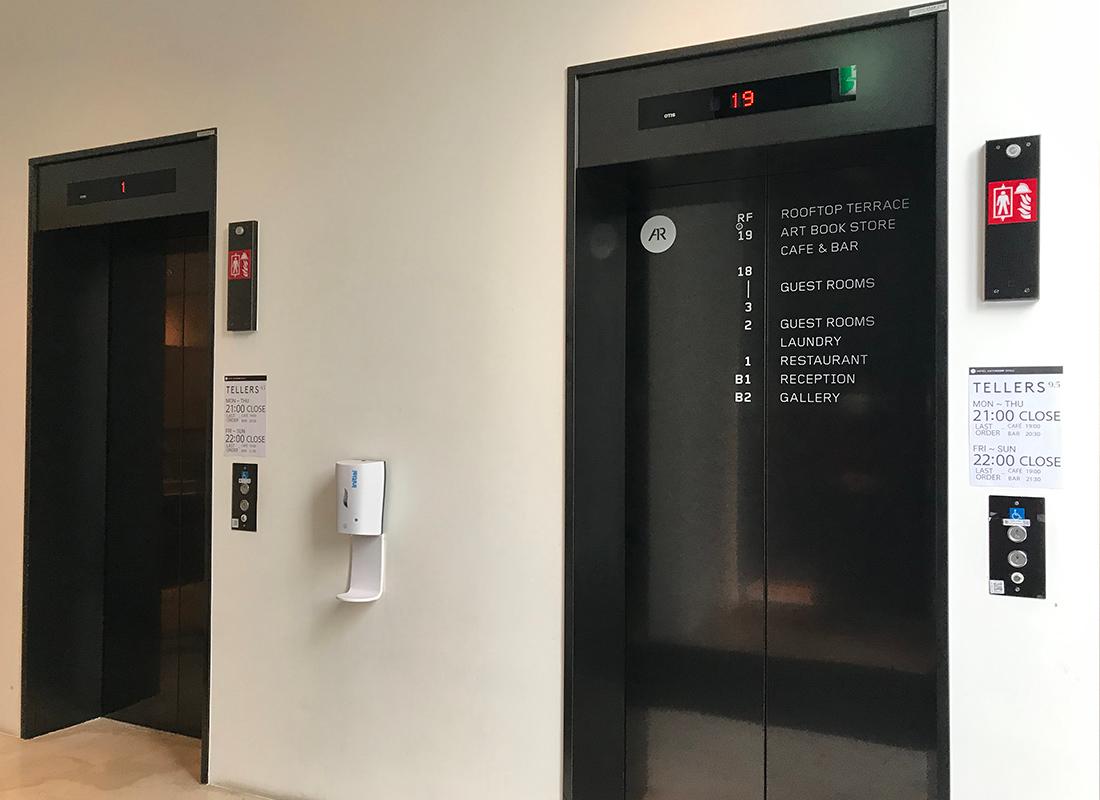 Hotel Anteroom Seoul is located close to Sinsa Station Exit 8, not far from Garosugil Street.
When you arrive at the hotel, take the elevator to floor B1 to check in as the space on the 1st floor is used for restaurants.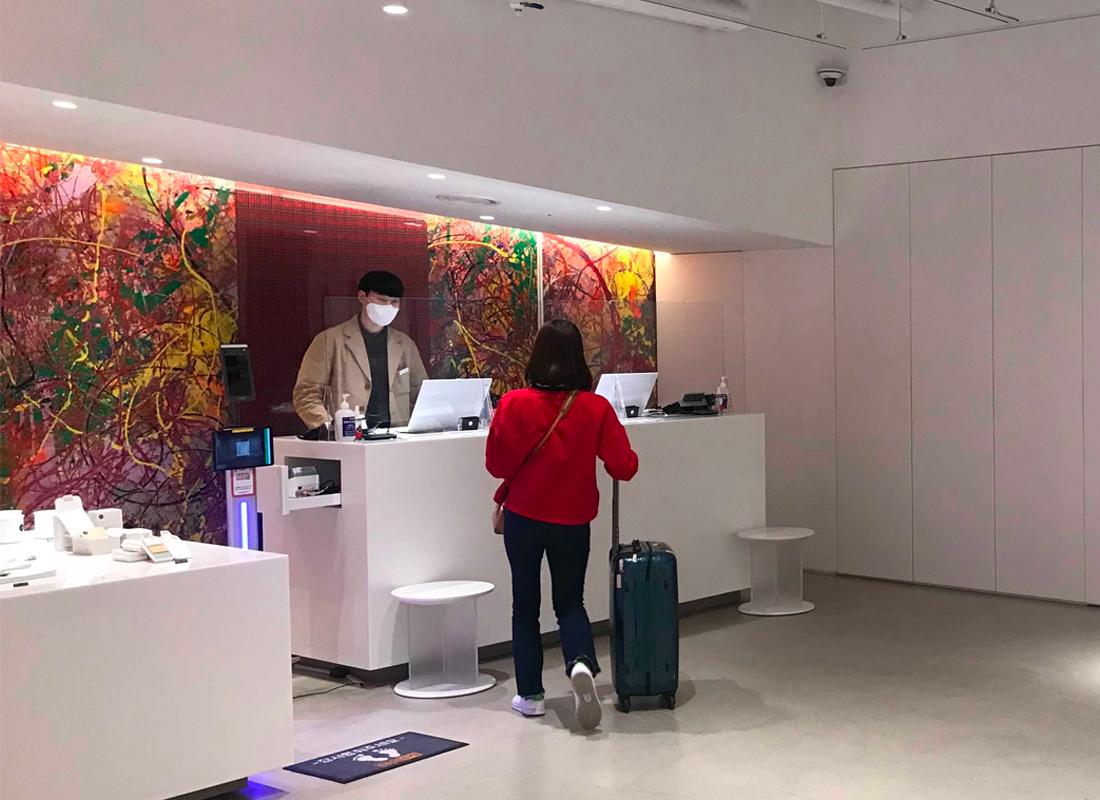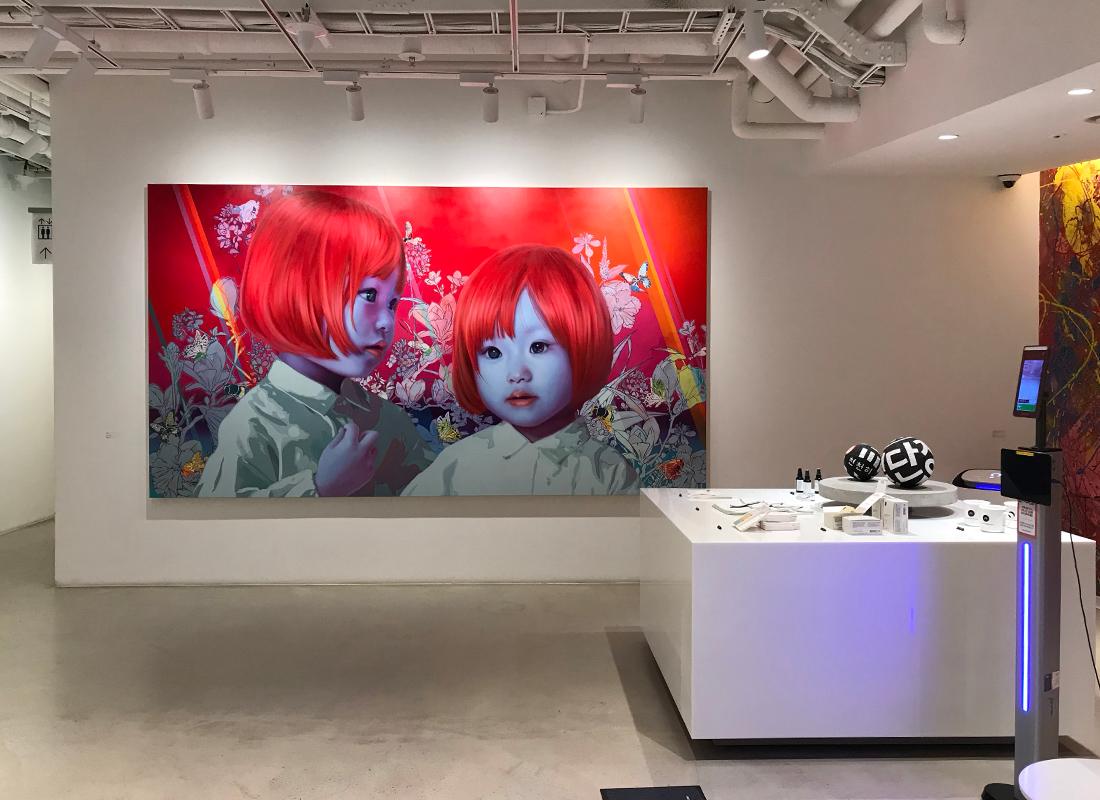 When the elevator opens onto B1, you might think you've entered a modern art museum, but don't be fooled, it is indeed the check in area for the hotel.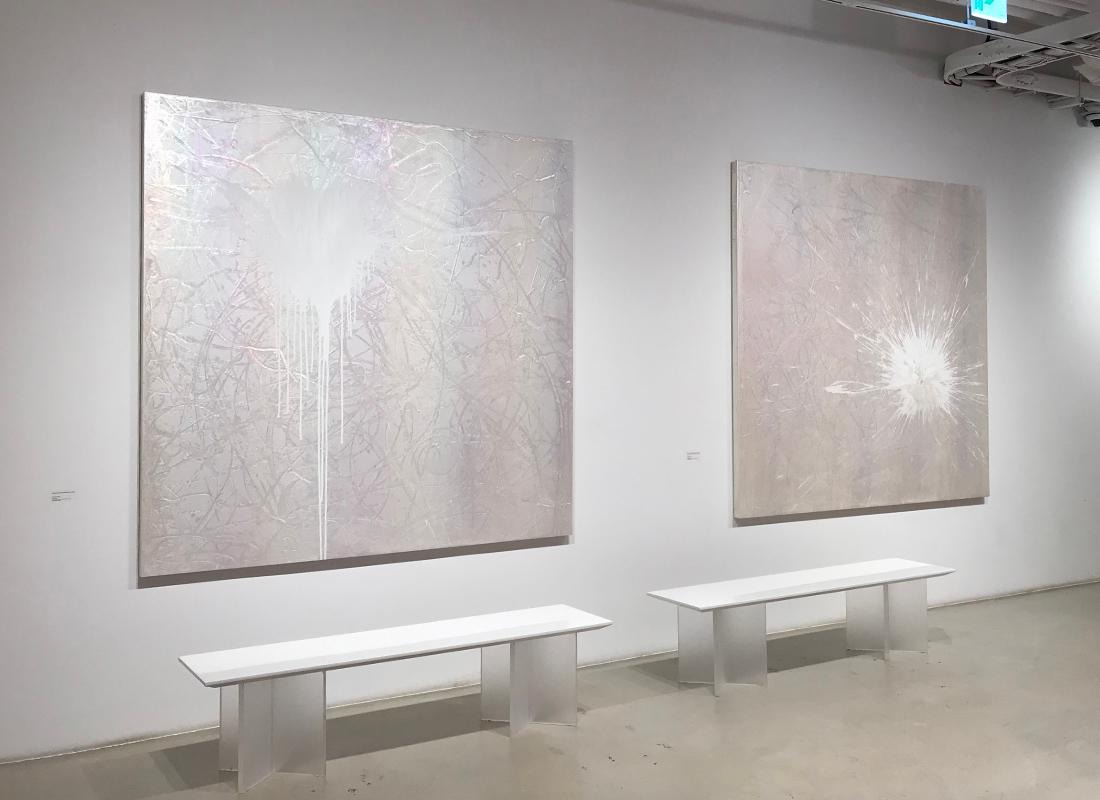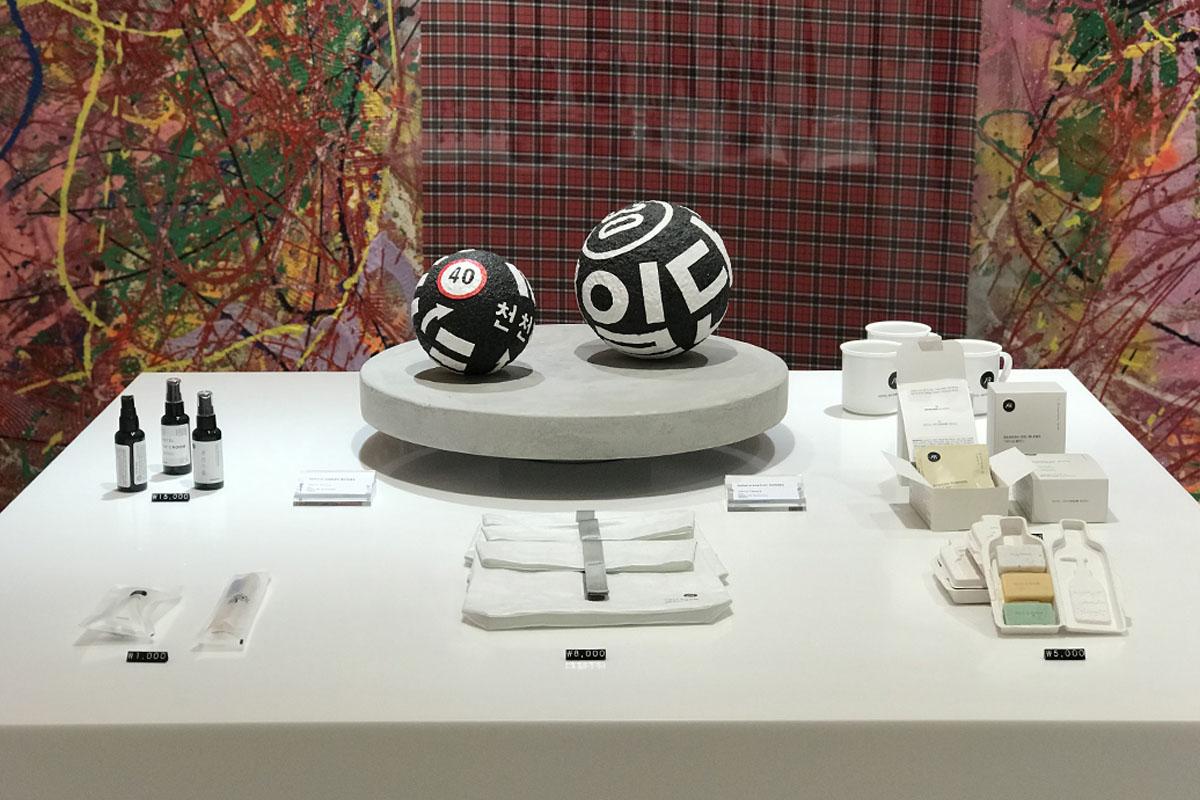 Feel free to take time to enjoy the artwork and take some photos if you want.
Additionally, the hotel has their own organic products for sale such as soap sets and deodorant sprays for clothes.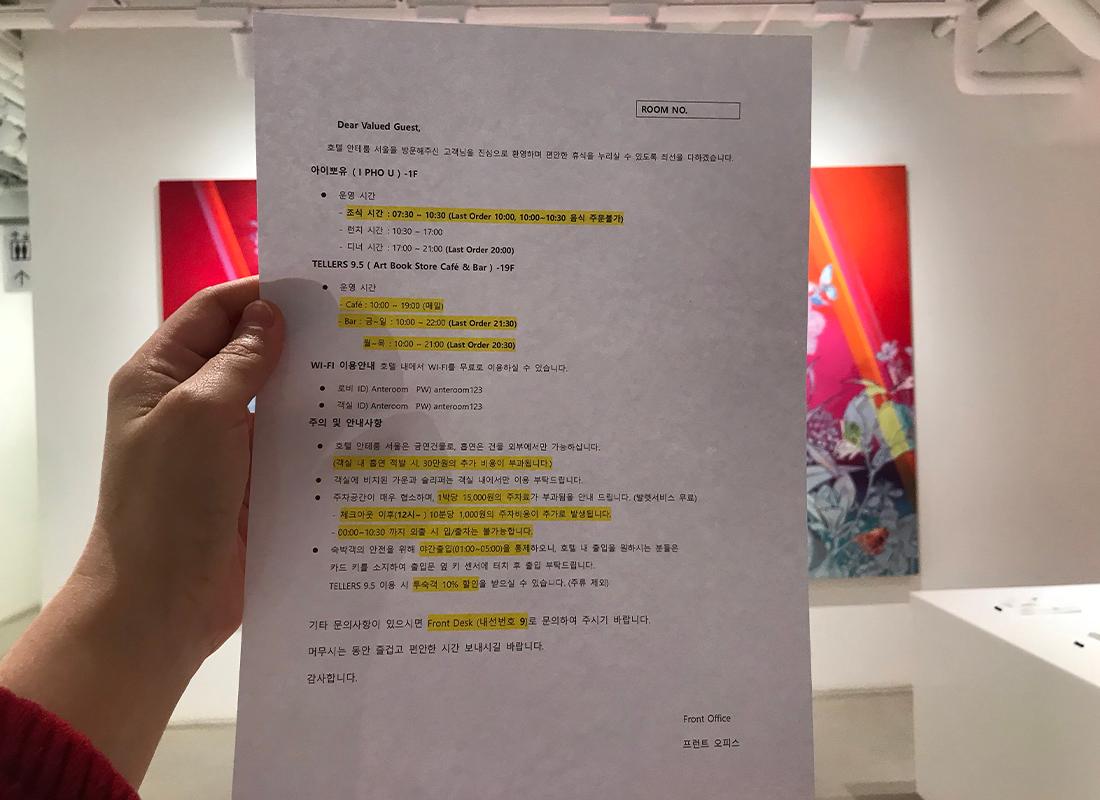 Once checked in, we received our key card and room details, along with information on other hotel services.
They do not provide a toothbrush set here, but you can purchase one for 1,000 won if you need and there is also no breakfast.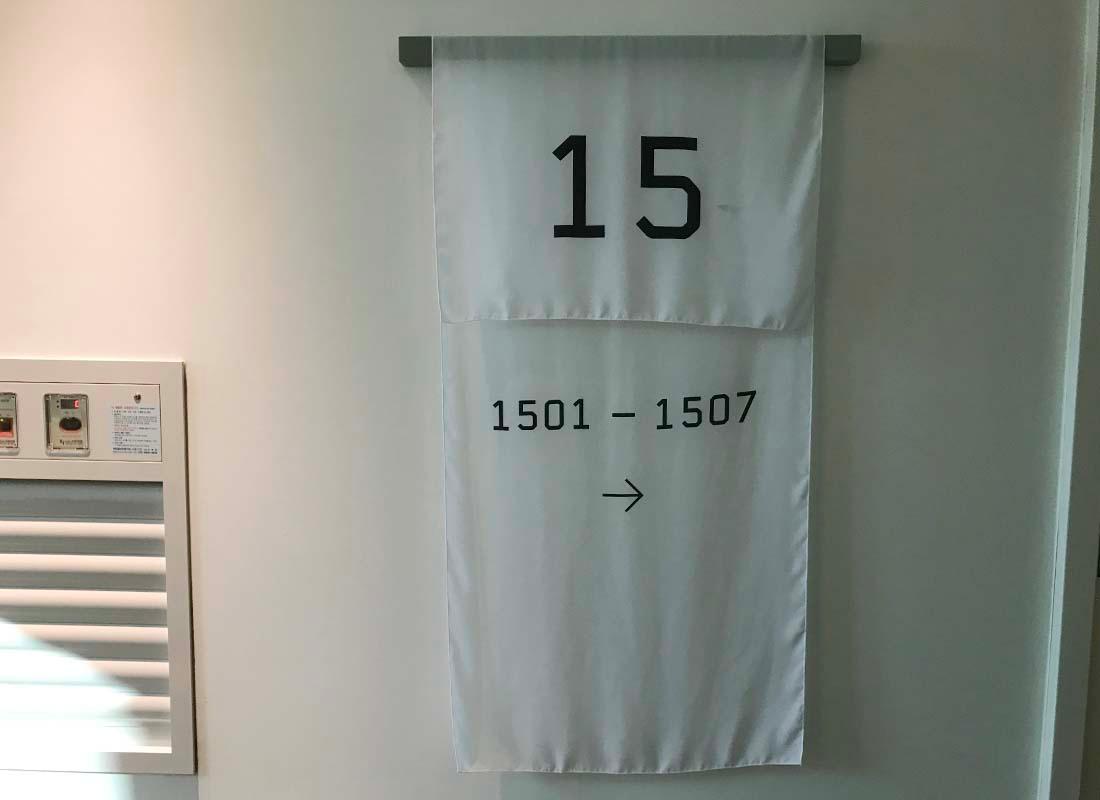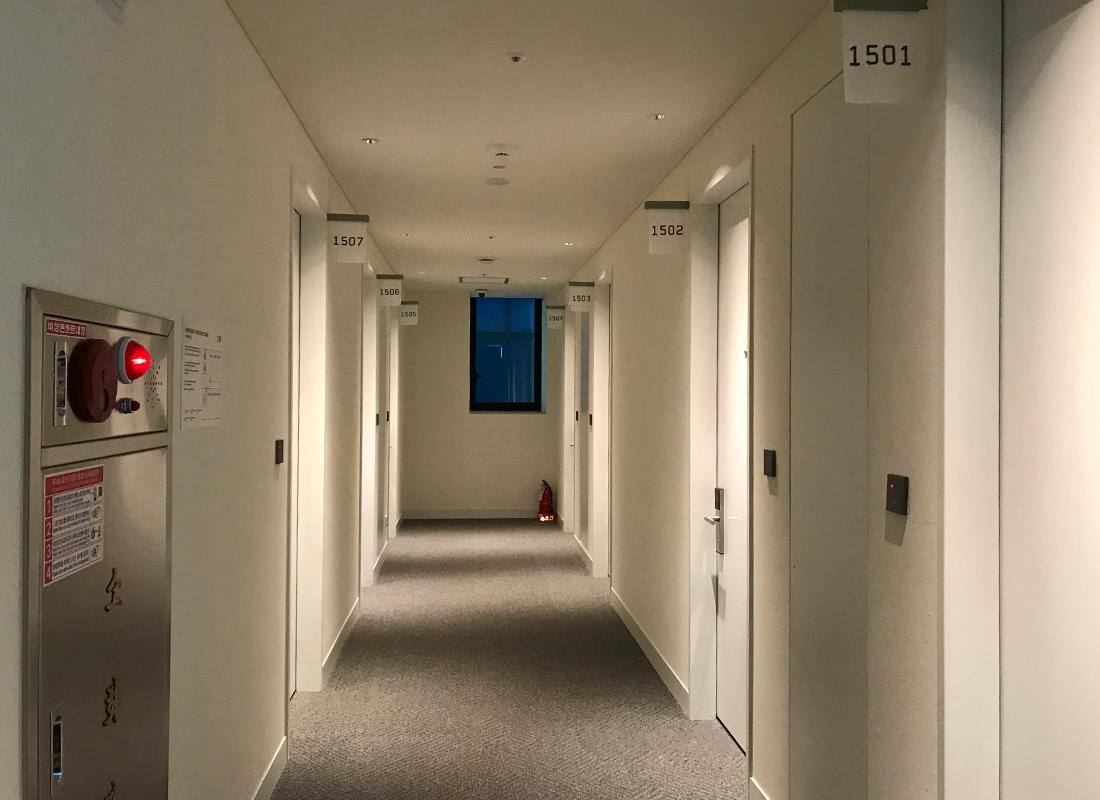 After check-in we went up to our floor. From the distance between doors you can tell the rooms are not very spacious.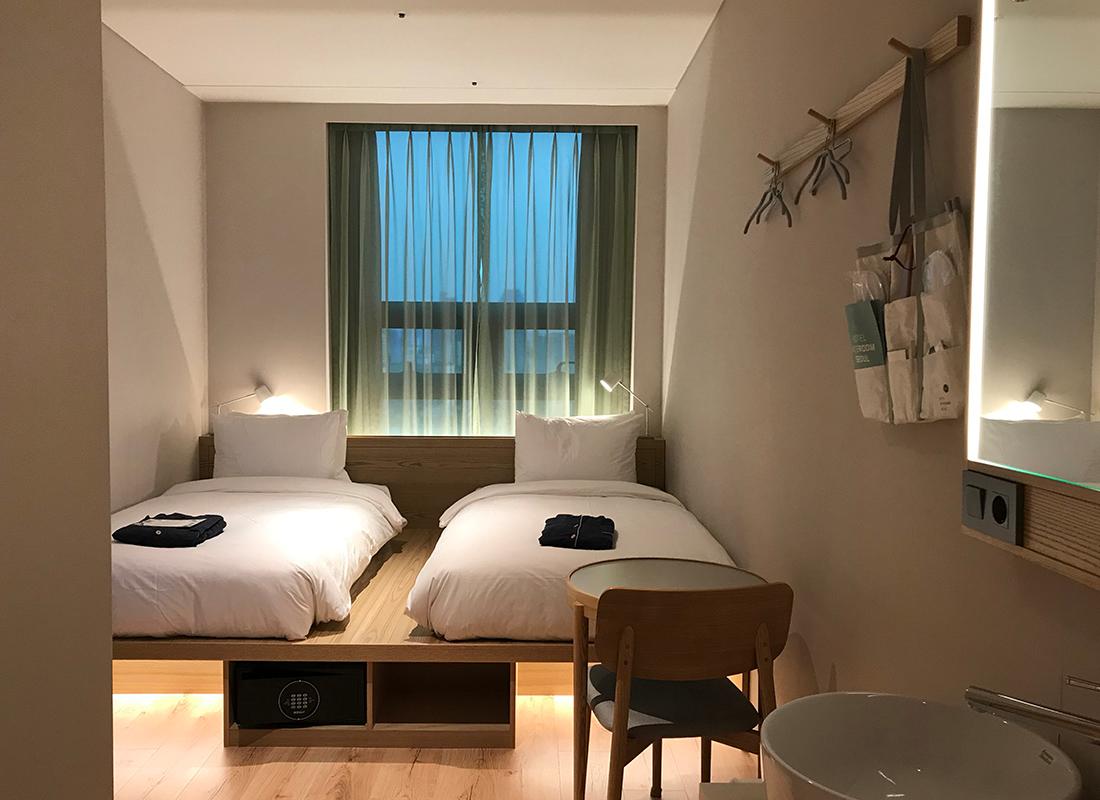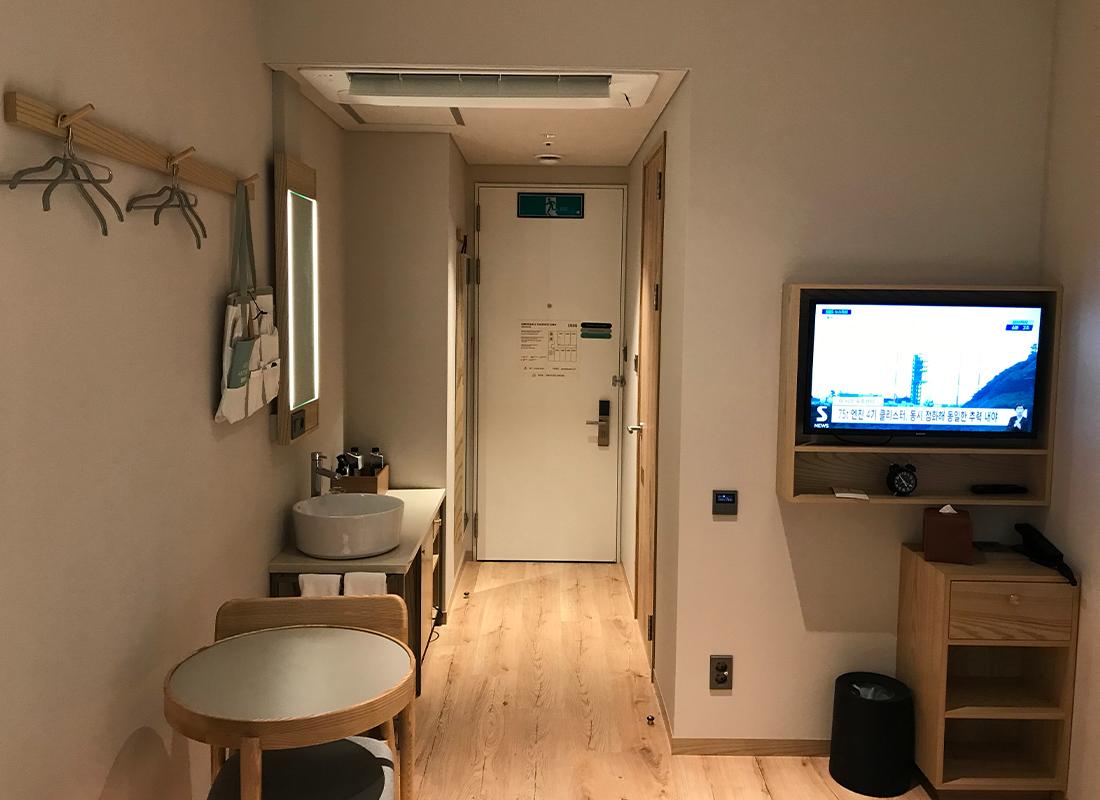 The room rate here is around 100,000-880,000 won per night, depending on the room type and time of booking.
The room we stayed in was a Twin Room, which was about 90,000 won a night with a promotion, a good price for the extremely popular area.
The room contained all the amenities needed and even though it was not very big, it was well organized so the space was used effectively.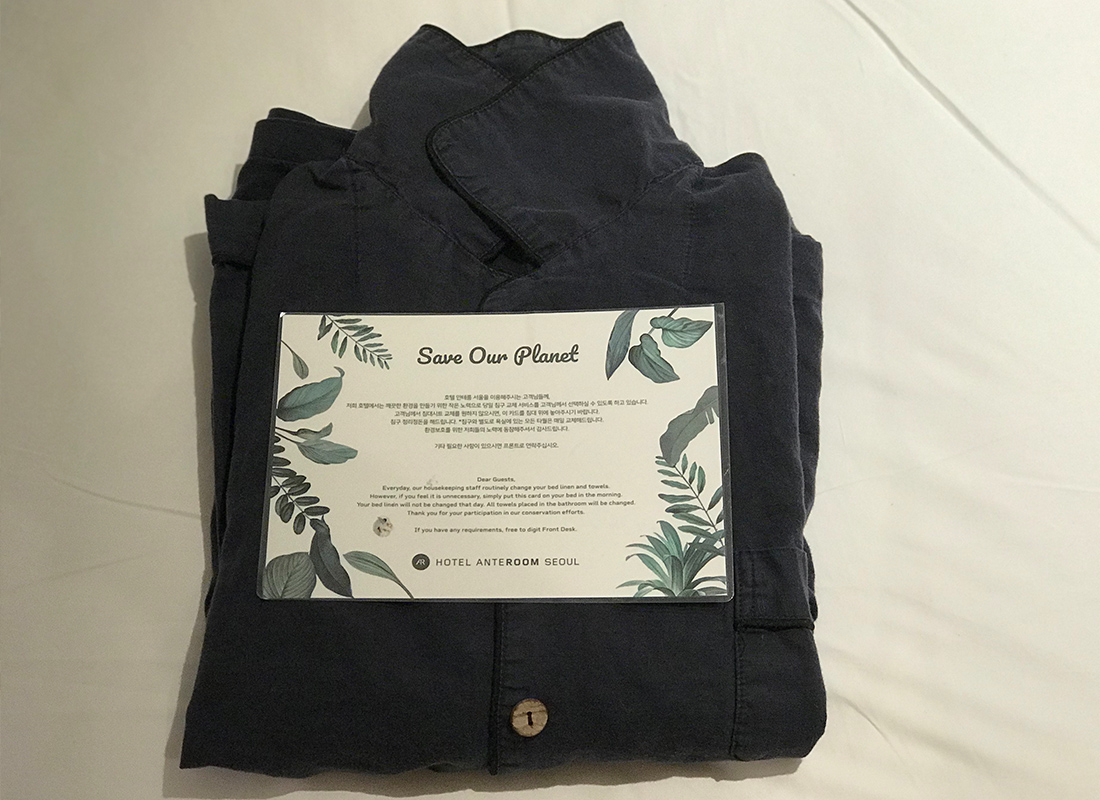 When you travel, you don't want to bring a full suitcase so that you have space to bring back items, right? Well if you stay here, you can leave out your slippers and pajamas, as they provide them.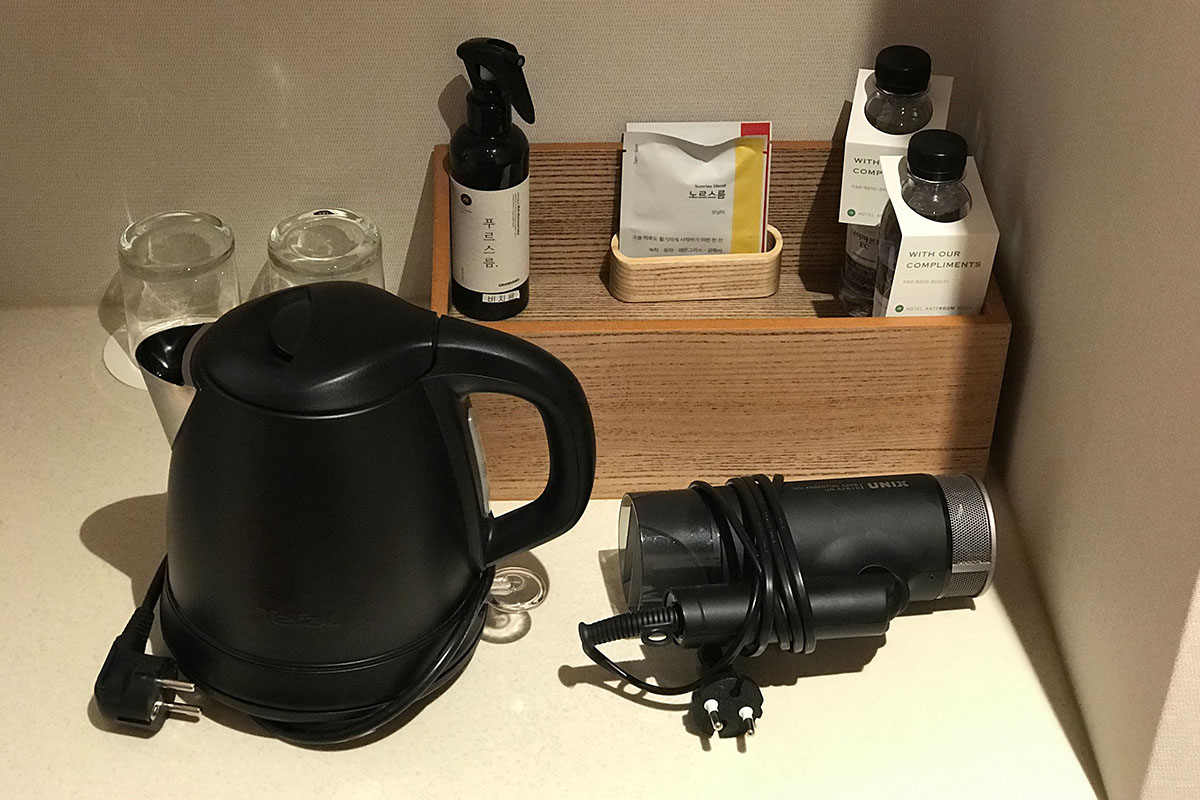 Also in the room, not only is there a refrigerator, but a kettle, hair dryer, tea, drinking water, and a soap set.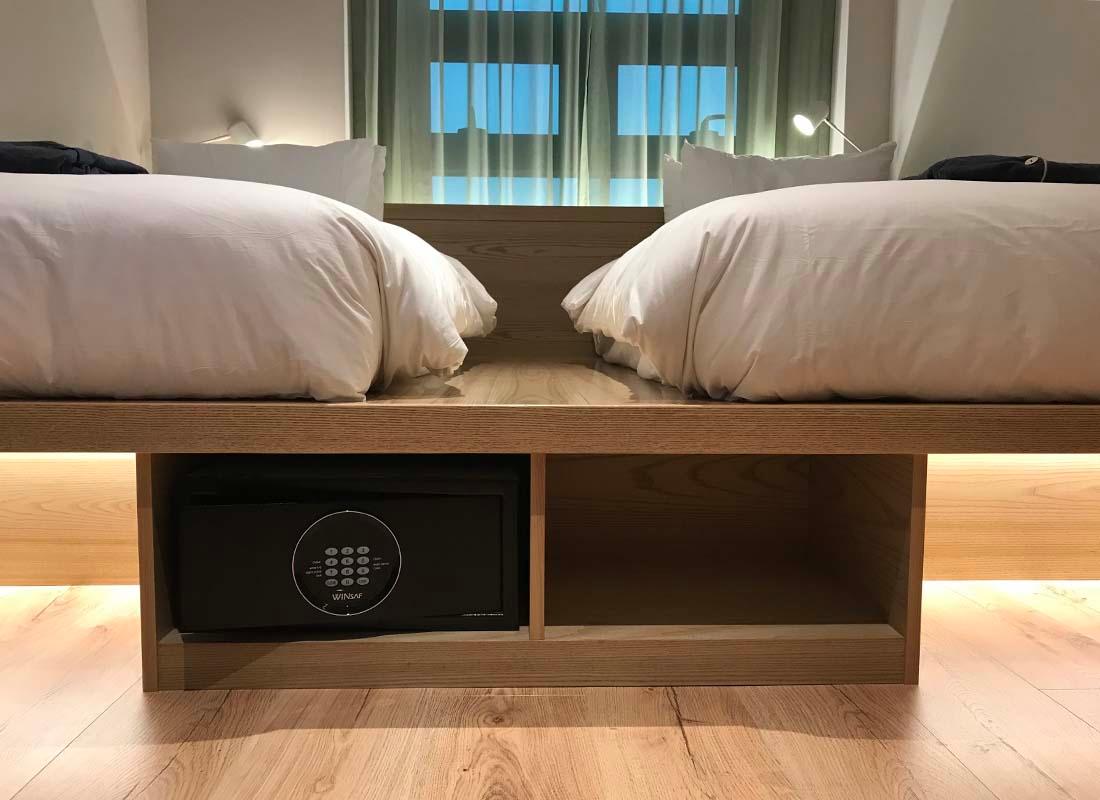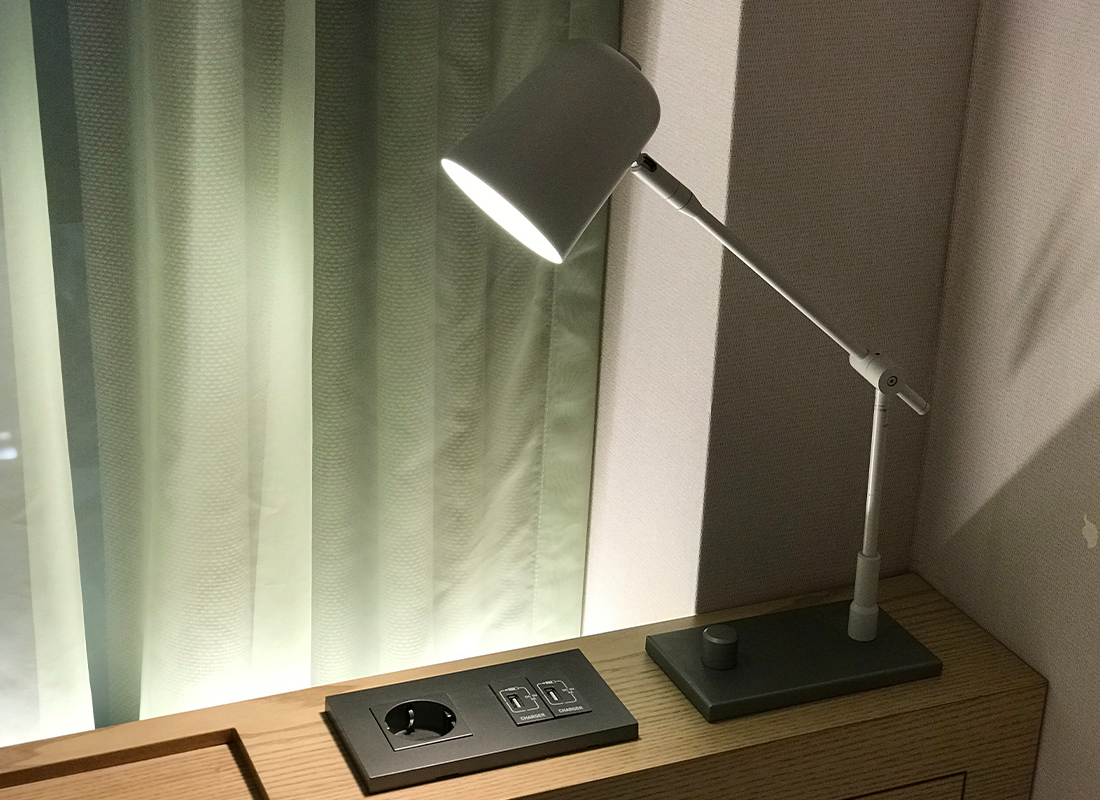 If you bring valuables, you can store them in the safe for your peace of mind.
Also luggage can be stored under the bed so that it doesn't take up precious space.
On the head of the bed there is a USB port to plug your chargers into.
The bed is comfortable, but for tall people, their legs may hang off the end.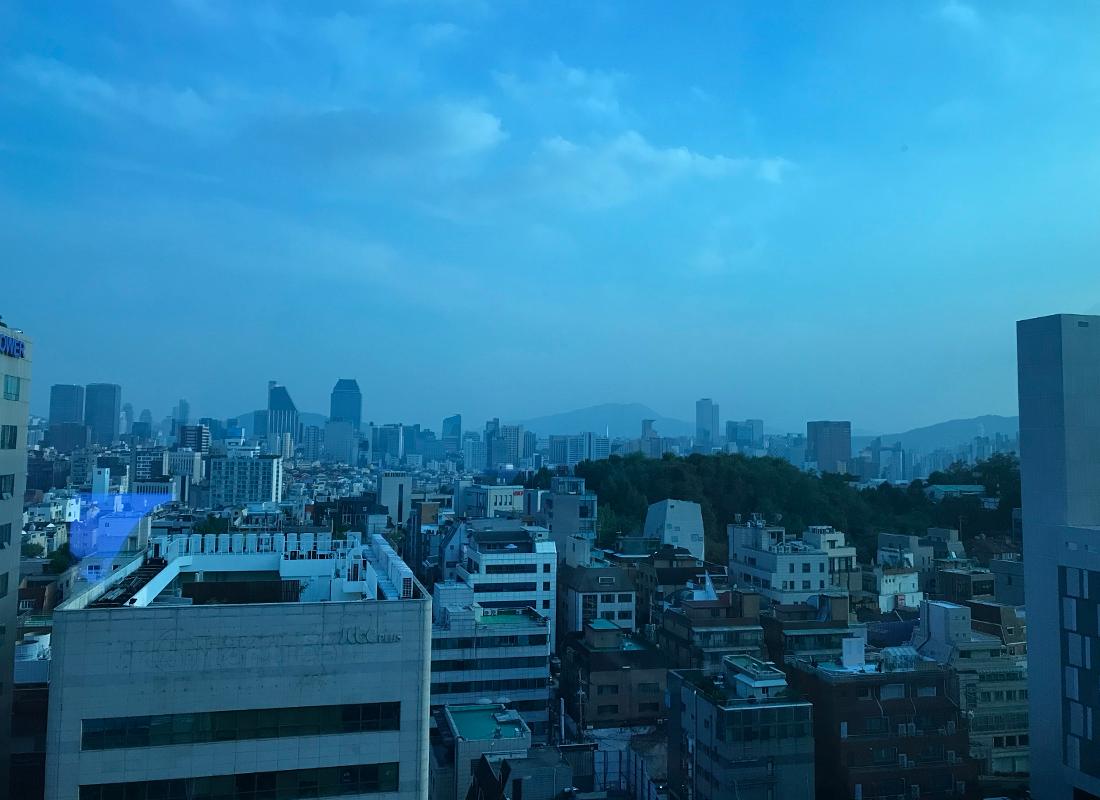 From the window of our room we could enjoy a view of the city and street below.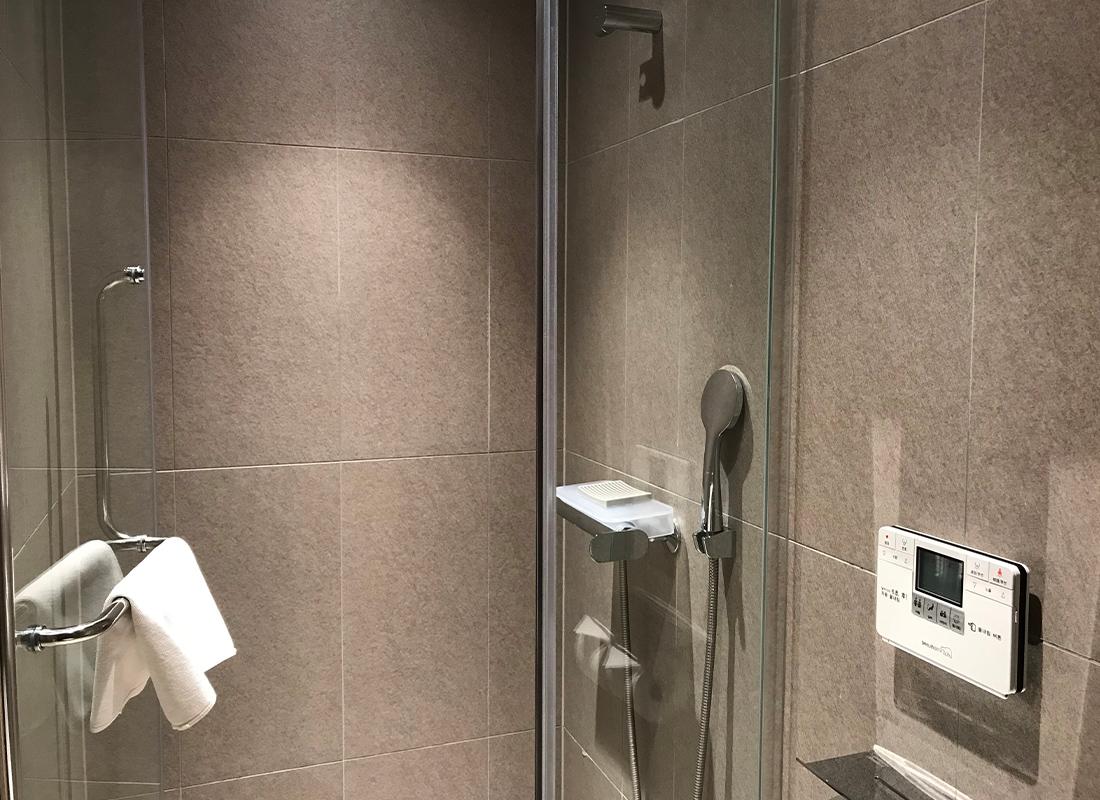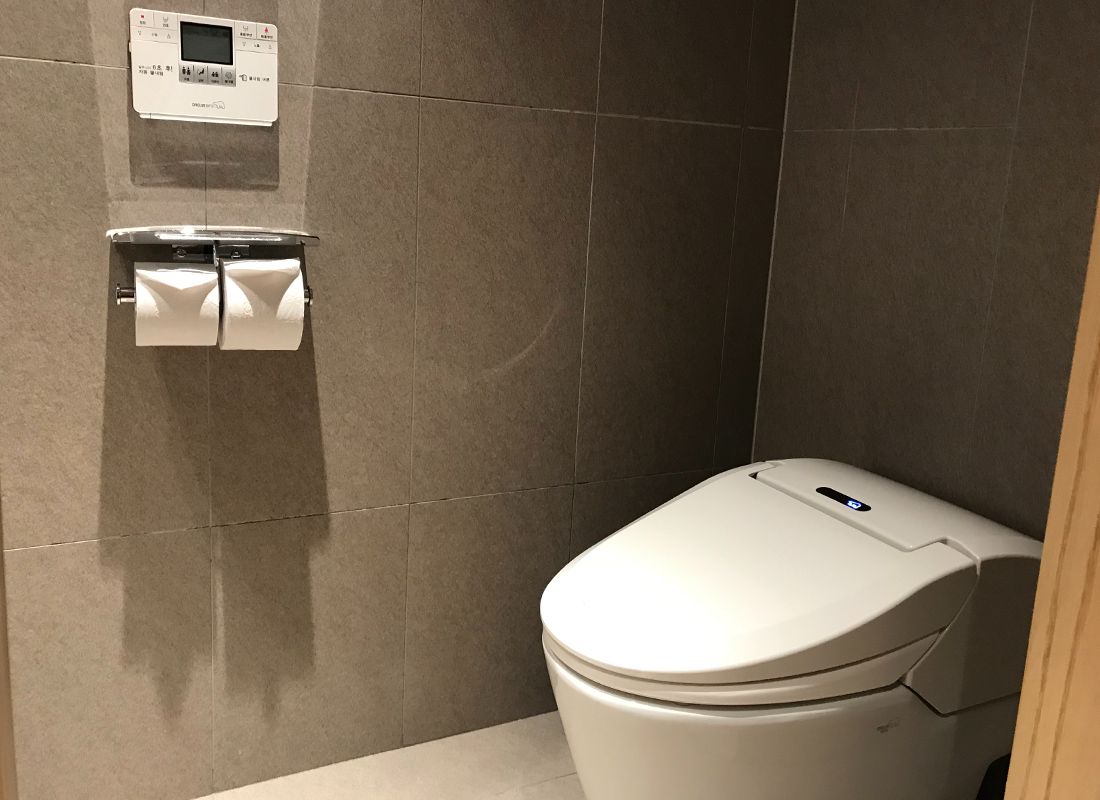 And as for the bathroom, it is divided into two sides, one for the shower area and one for the toilet area. The shower area has a glass partition to contain the water and keep the rest of the bathroom dry and clean.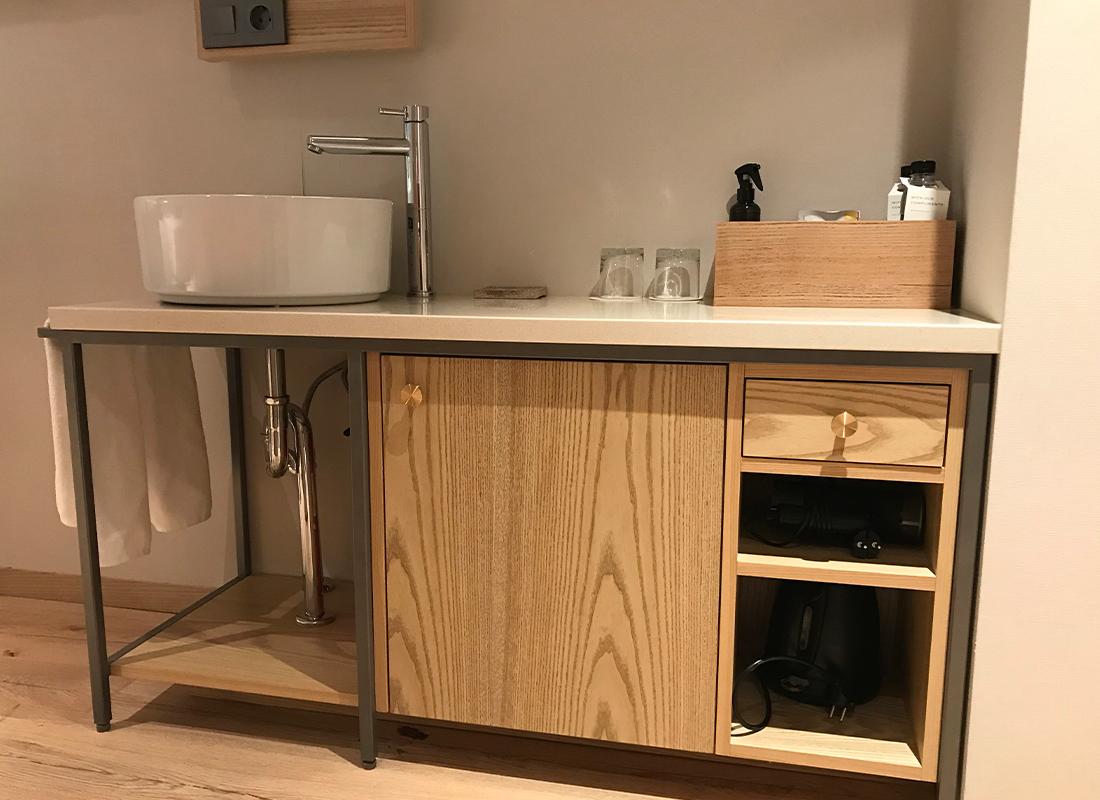 Because of the small space, the sink counter is located outside of the bathroom, which is actually very convenient because you can brush your teeth and wash your face while the other person showers.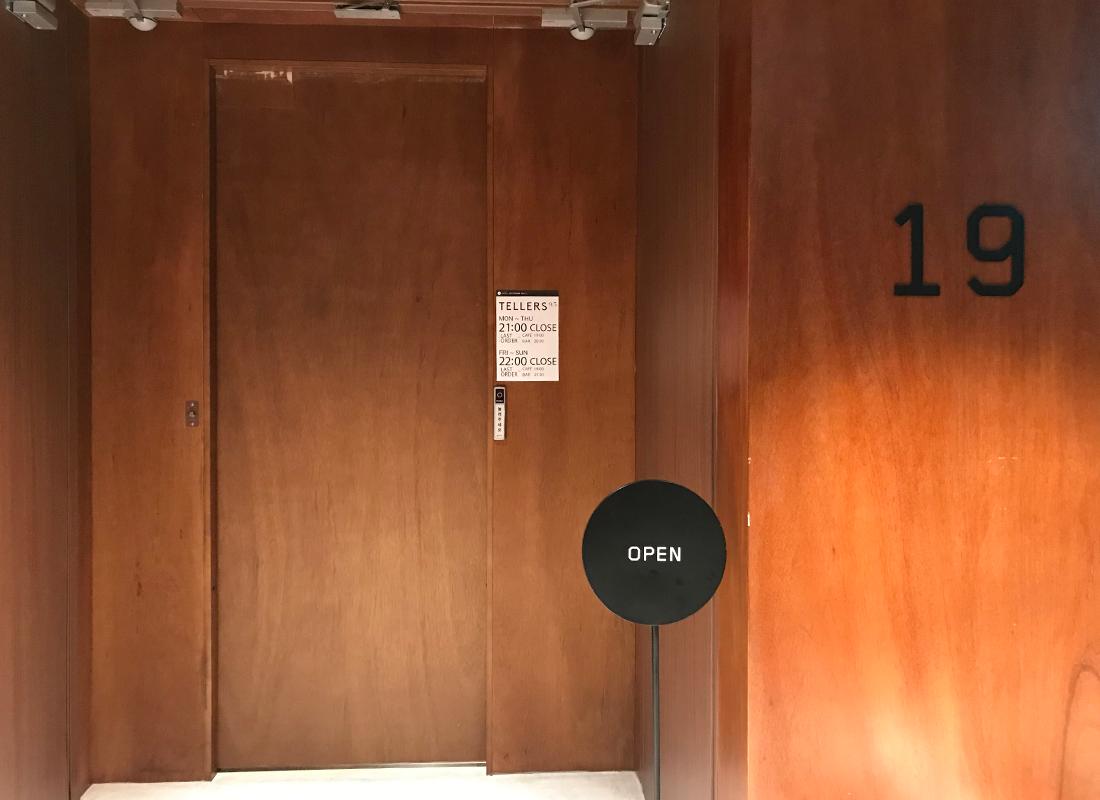 One of the special features of this hotel is the rooftop cafe that is popular among Koreans called TELLERS 9.5.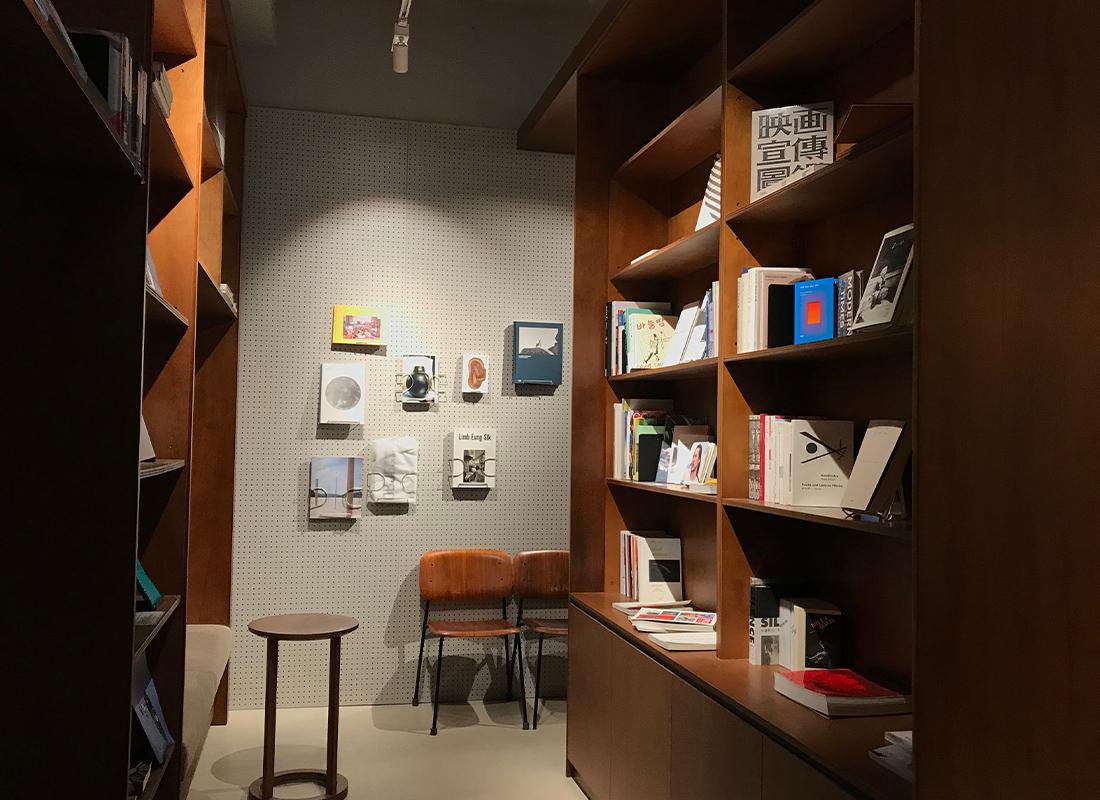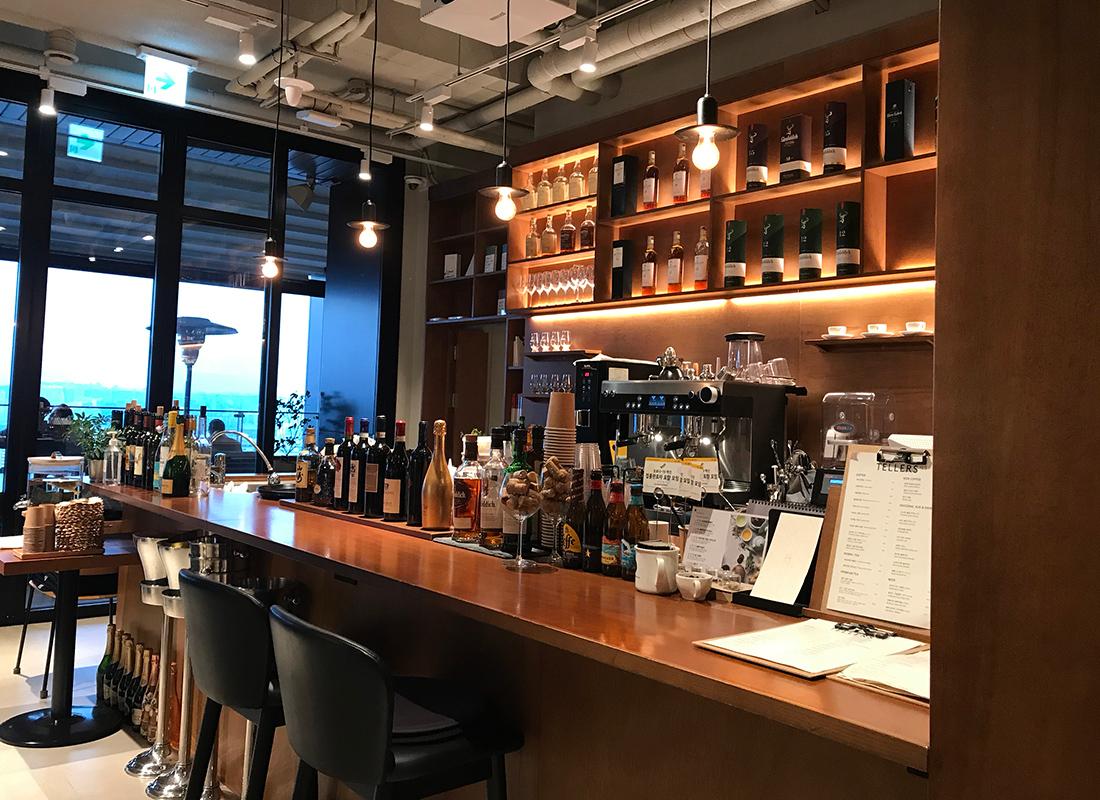 The cafe here has a warm and unique atmosphere, with a cute and cozy book corner.
But unfortunately you can't bring drinks into the book zone.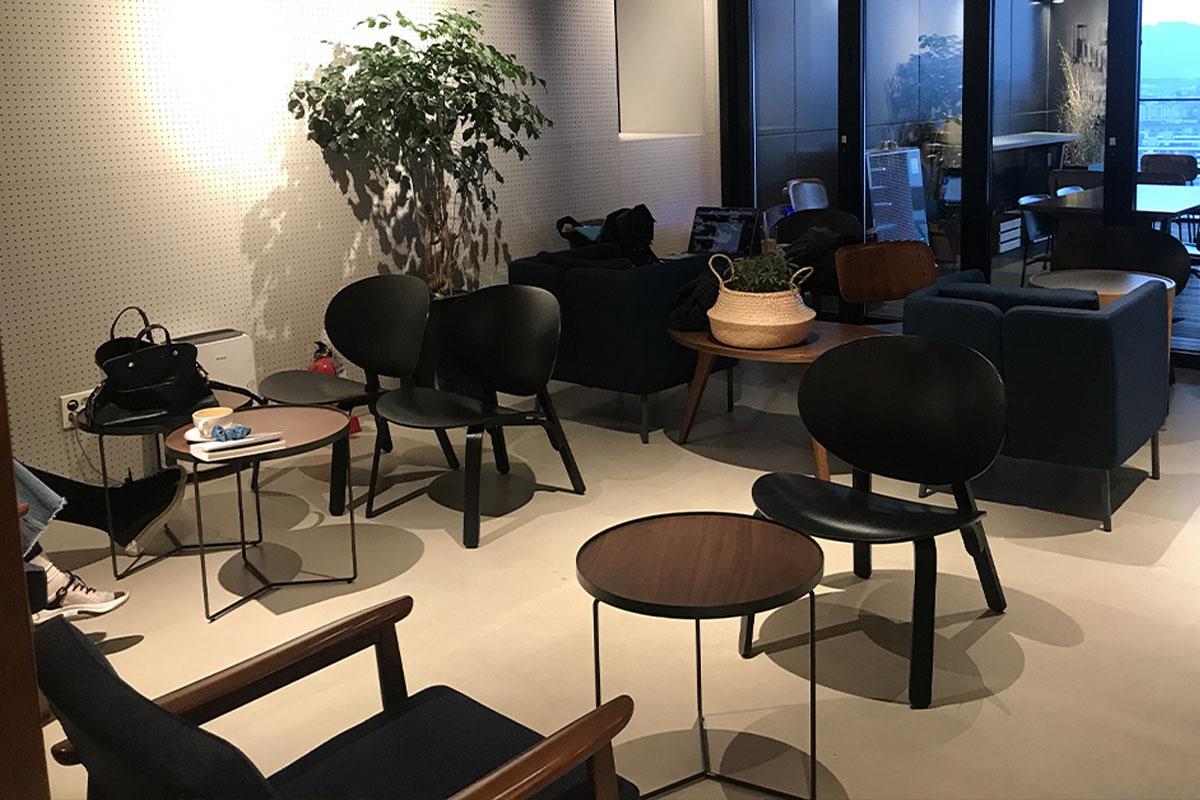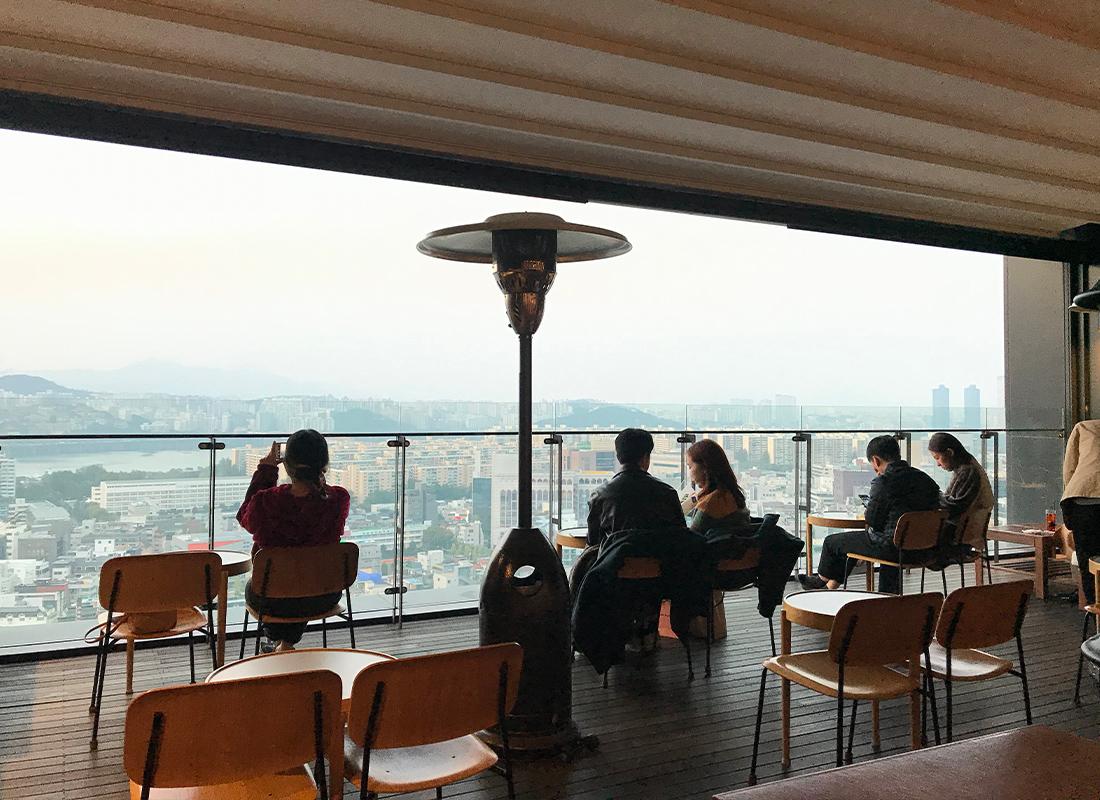 The cafe has seating both indoors and outdoors to choose from, but the outdoor area is really the highlight here.
You can sip your drink and gaze out at the Seoul cityscape.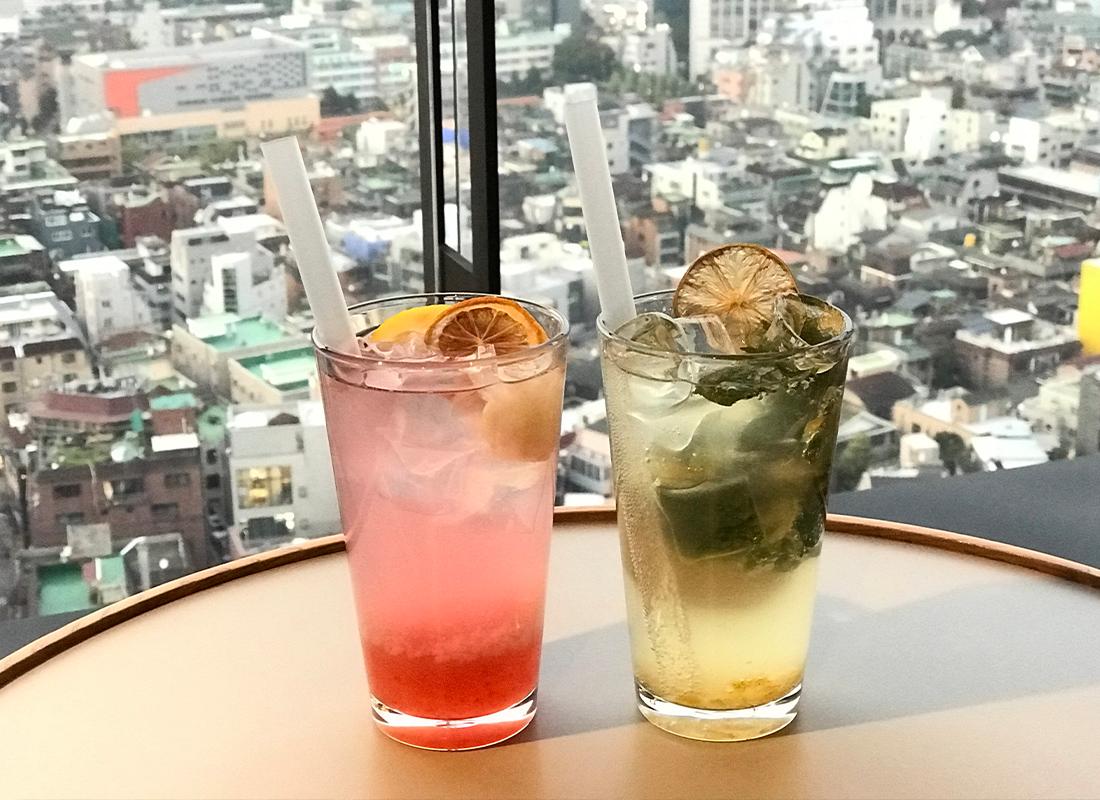 In the evenings they offer cocktails, so you can also sit and look at the night time view of the city while enjoying a drink.
But for those who don't drink you can order a pretty mocktail made of juice and soda like the ones pictured above.
As an added bonus, hotel guests get a 10% discount, so don't miss out on this part of the hotel if you stay here!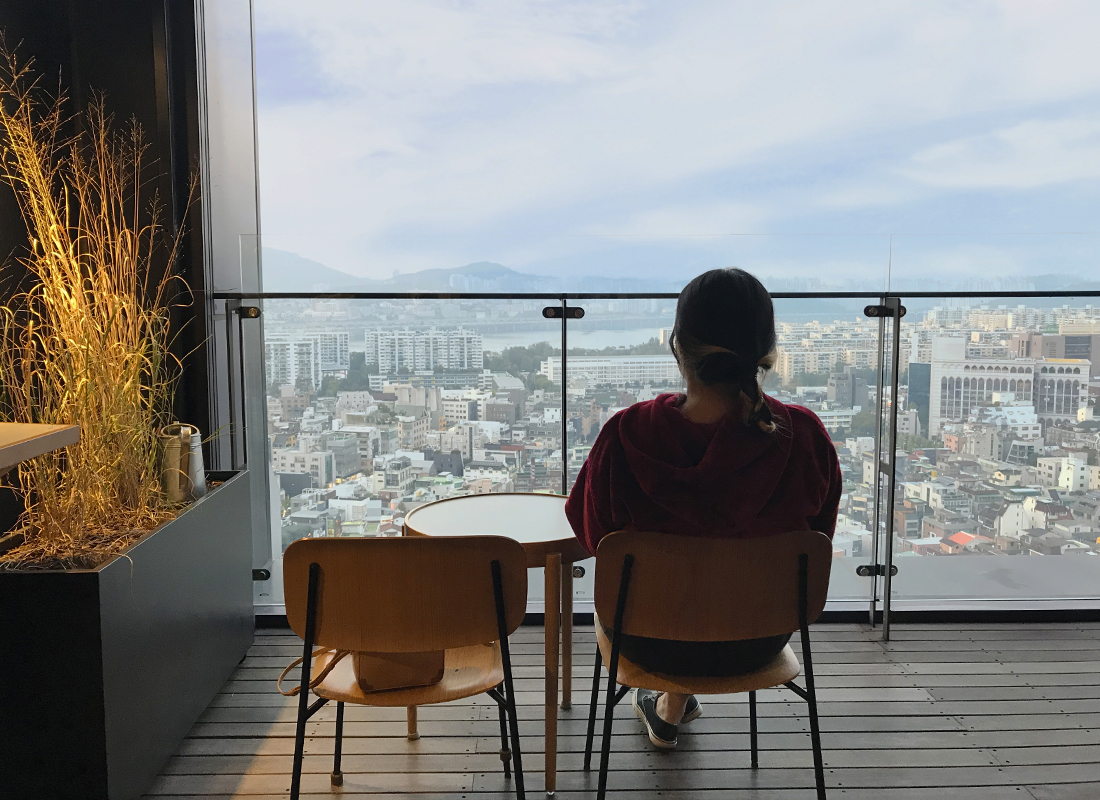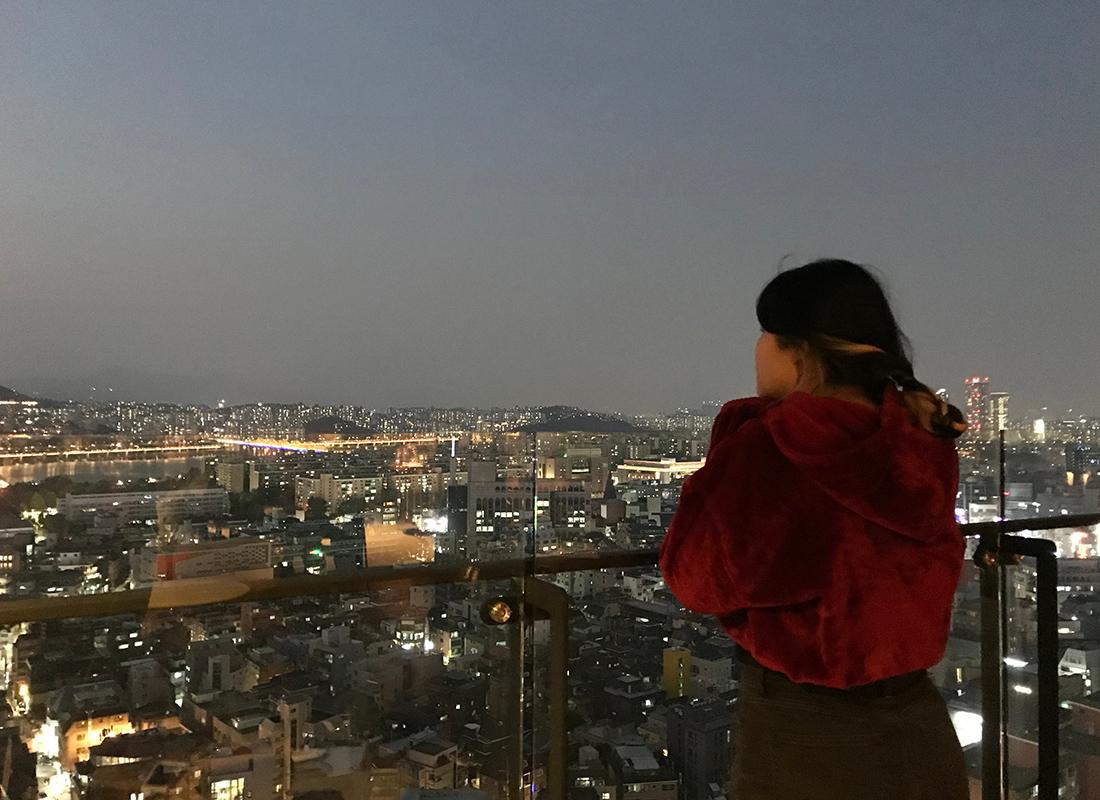 Taking photos in this spot is a must! Day or night, it's a stunning sight.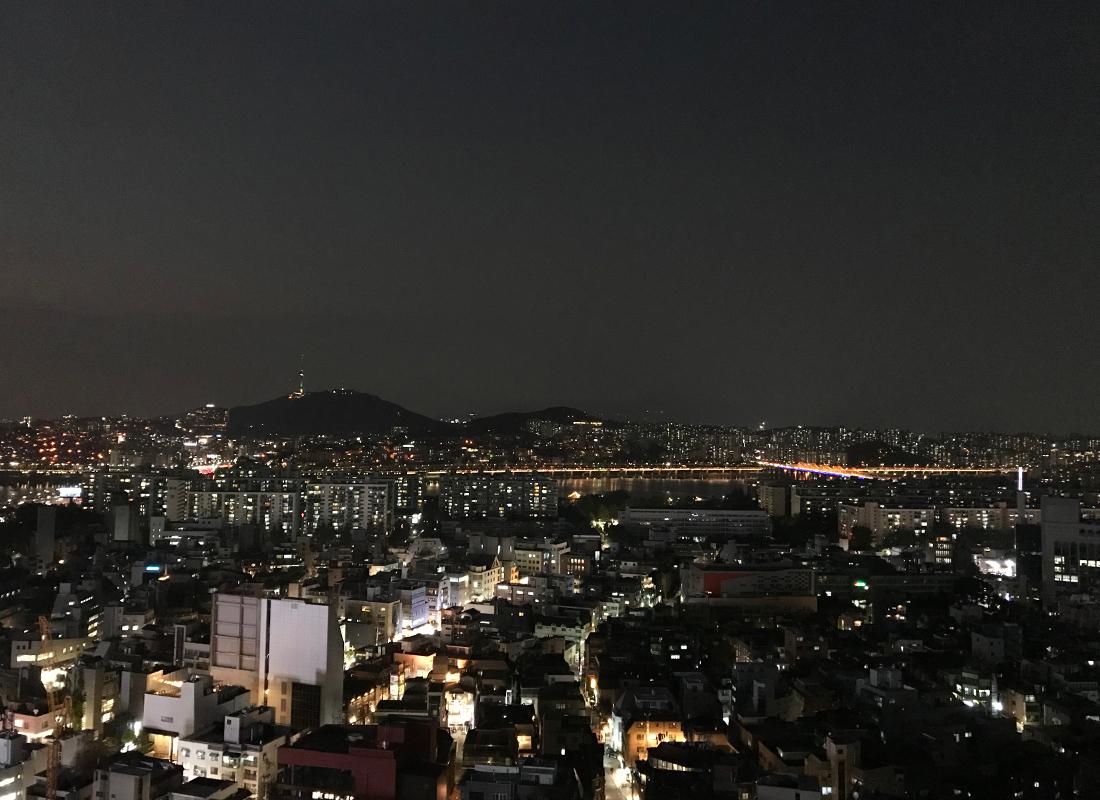 Never getting sick of this view!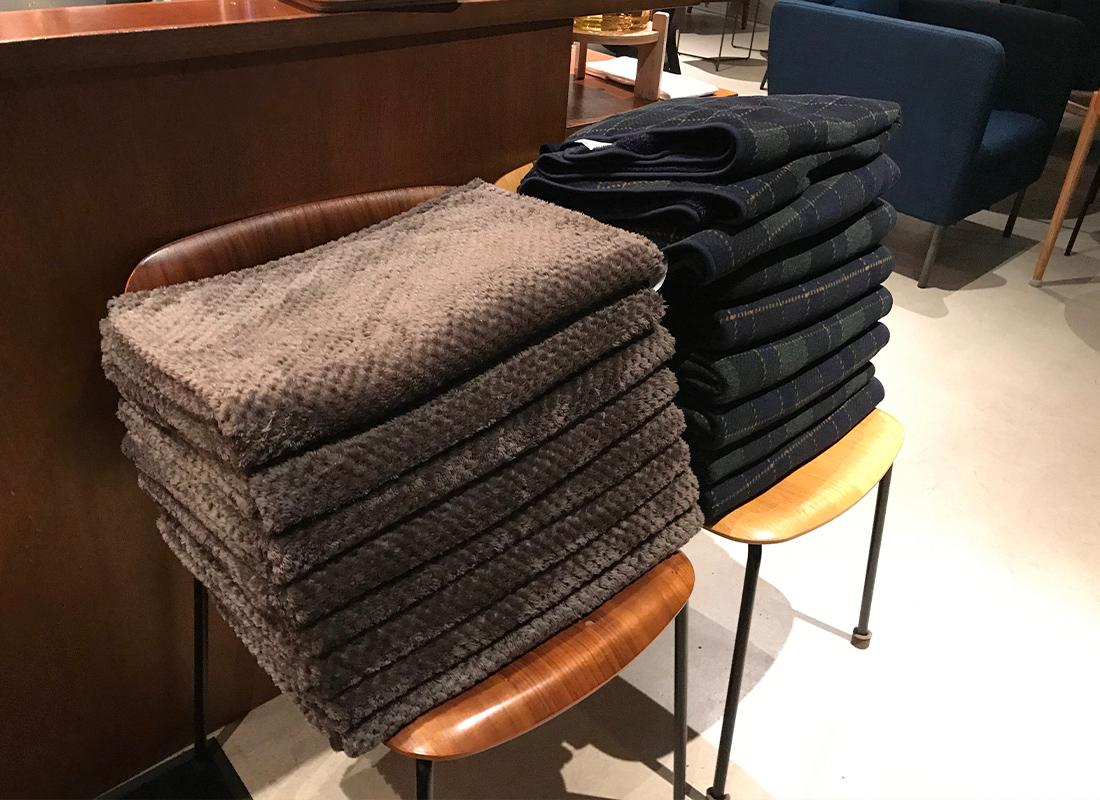 And if it gets chilly and windy at night, they have blankets you can borrow as well.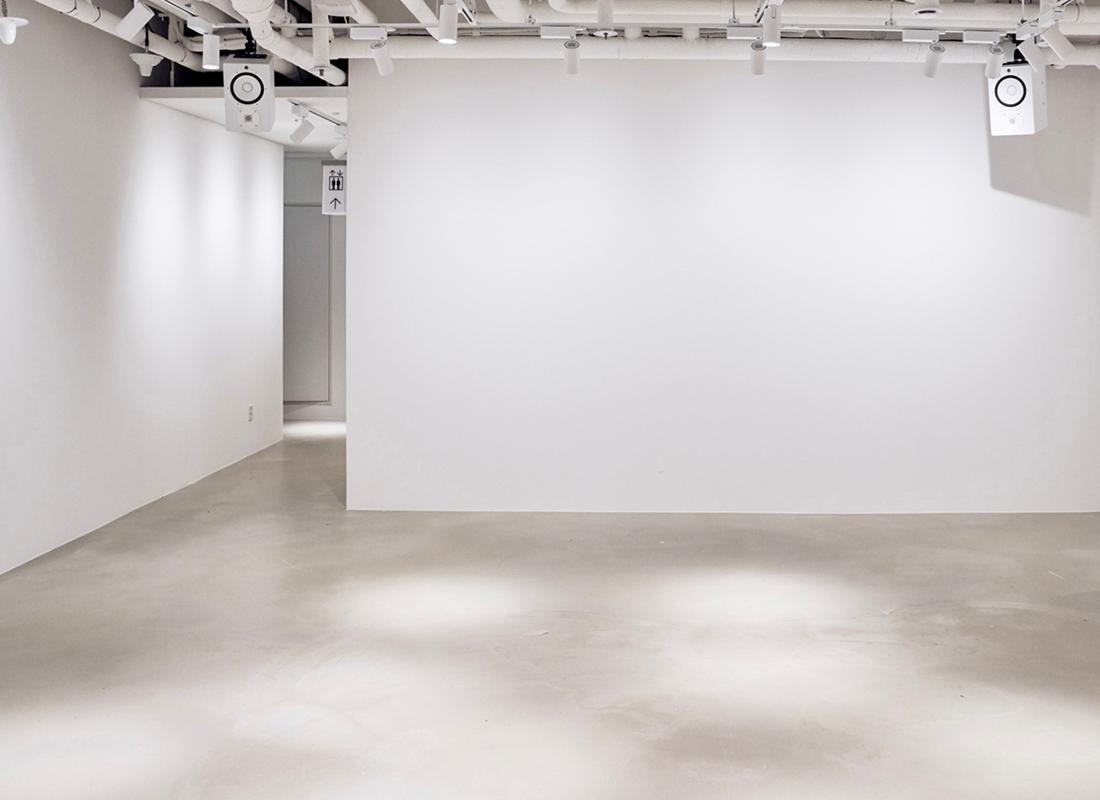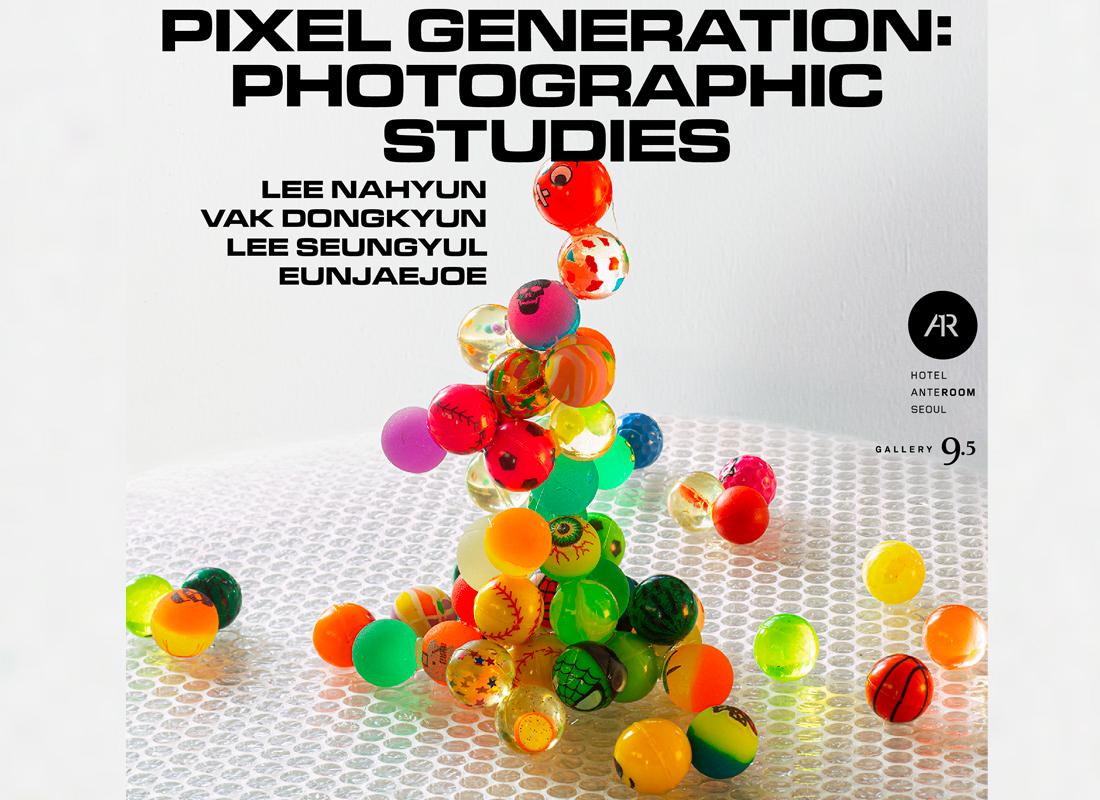 Source: anteroom seoul
Anteroom is also an art venue where artists can display their work.
If you like art, definitely check it out. You can check the exhibition schedule on the hotel's website.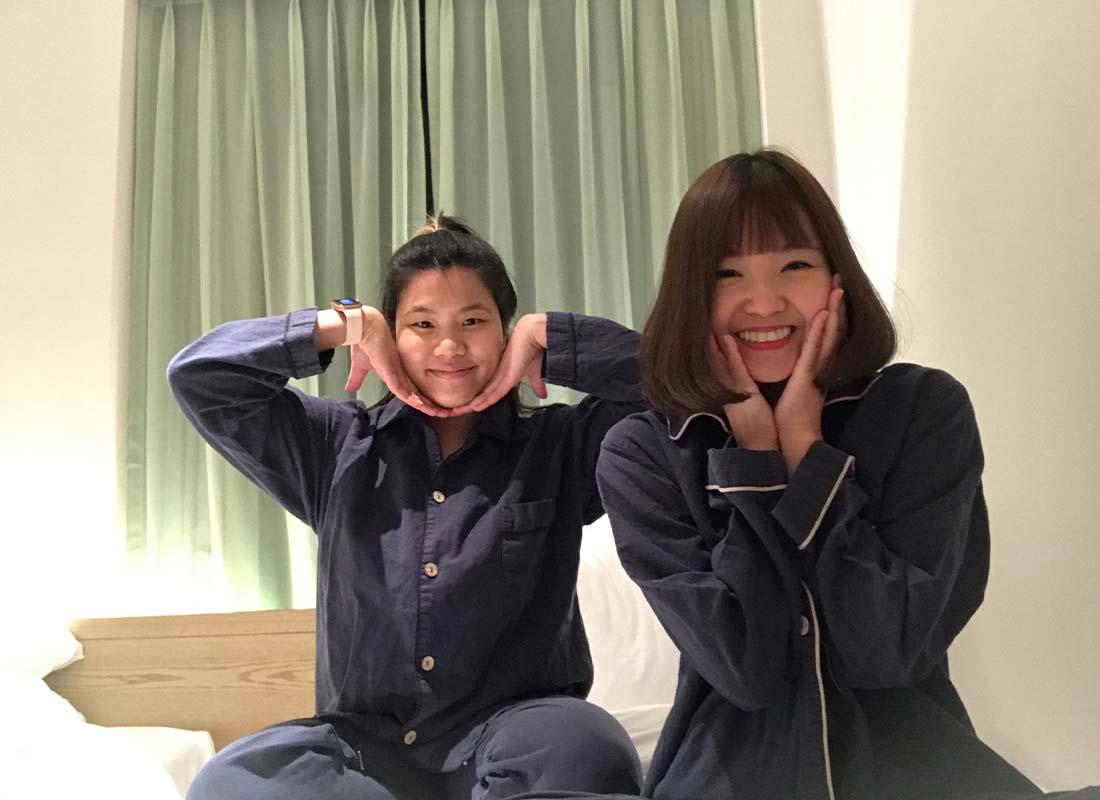 Anteroom Seoul is an excellent hotel option in terms of price, location, and facilities.
Whether traveling with friends, family, or your partner, this hotel can accommodate you and we highly recommend it.
---
How To Get There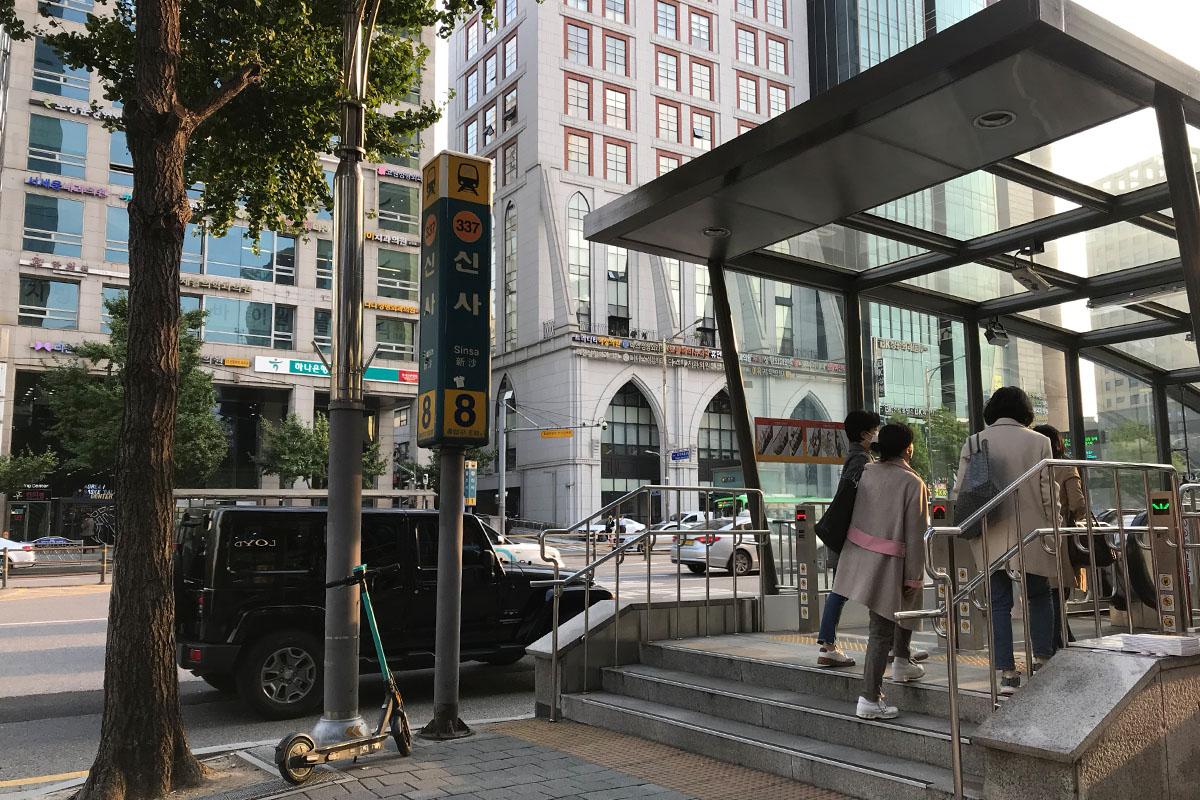 Take Exit 8 at Sinsa Station.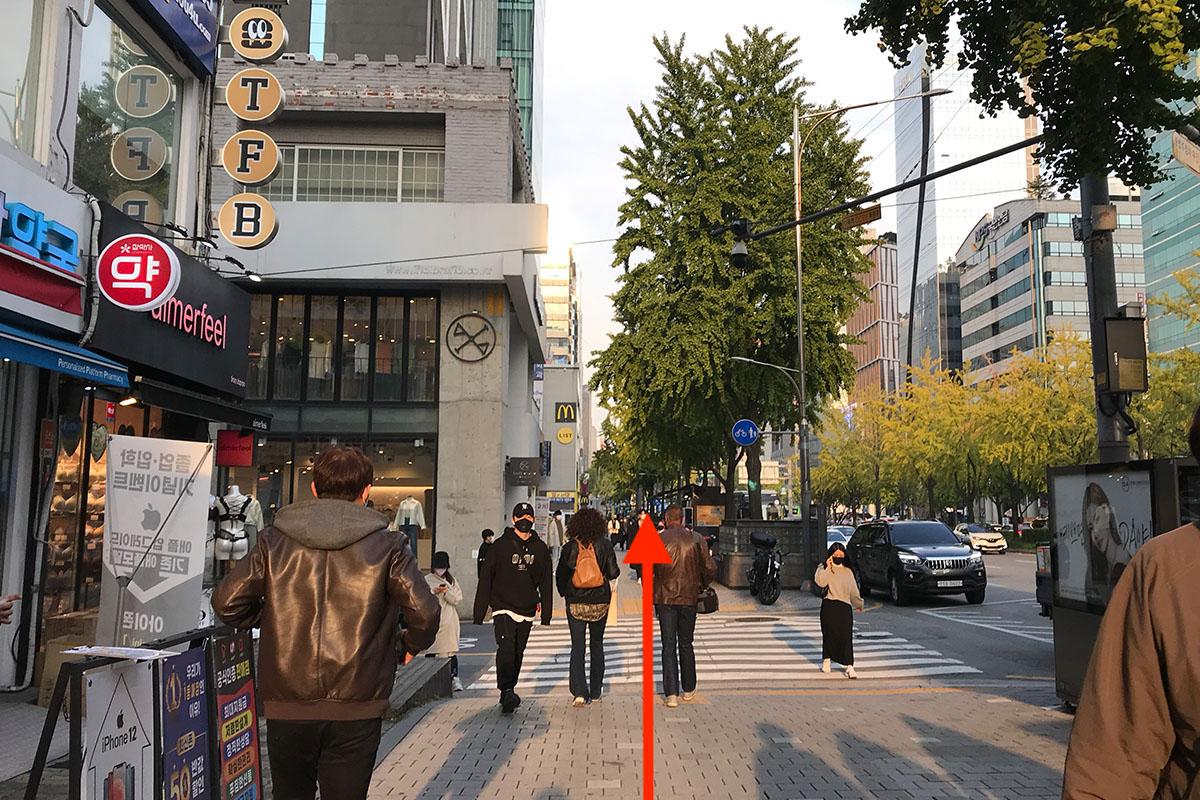 Walk straight ahead.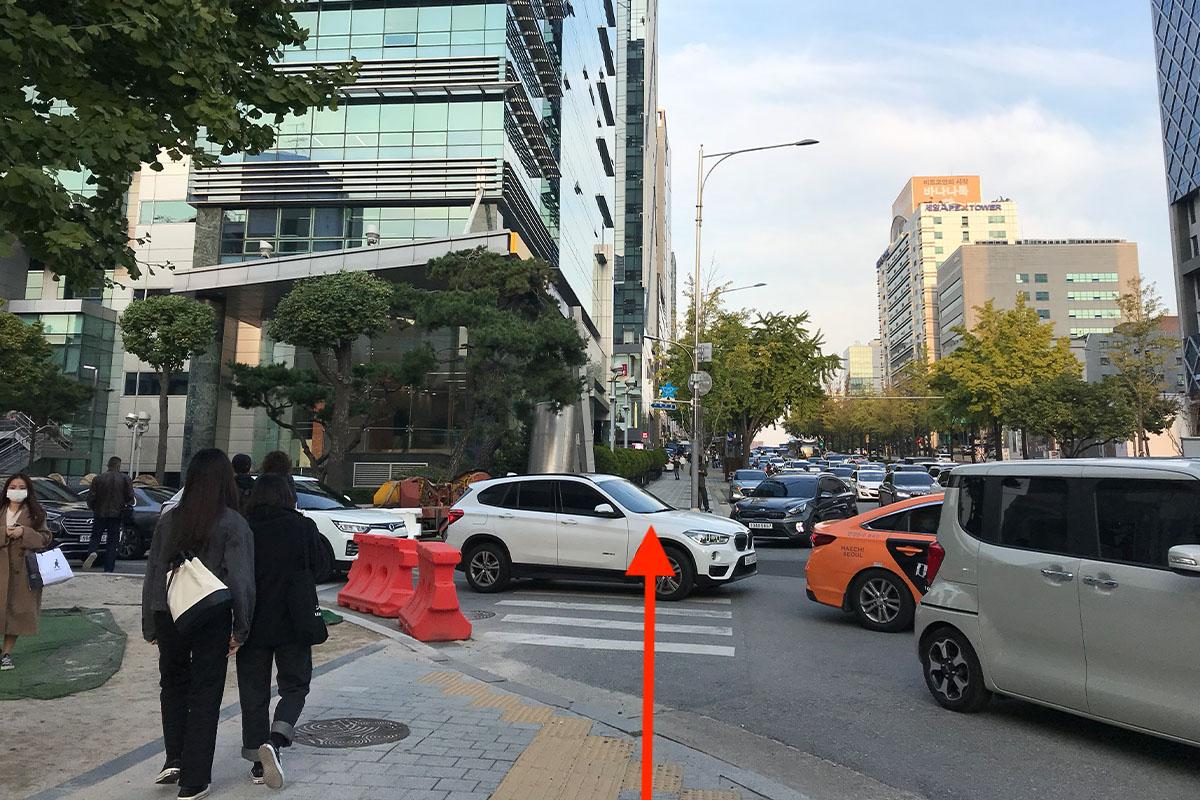 When you reach Garosugil, continue straight.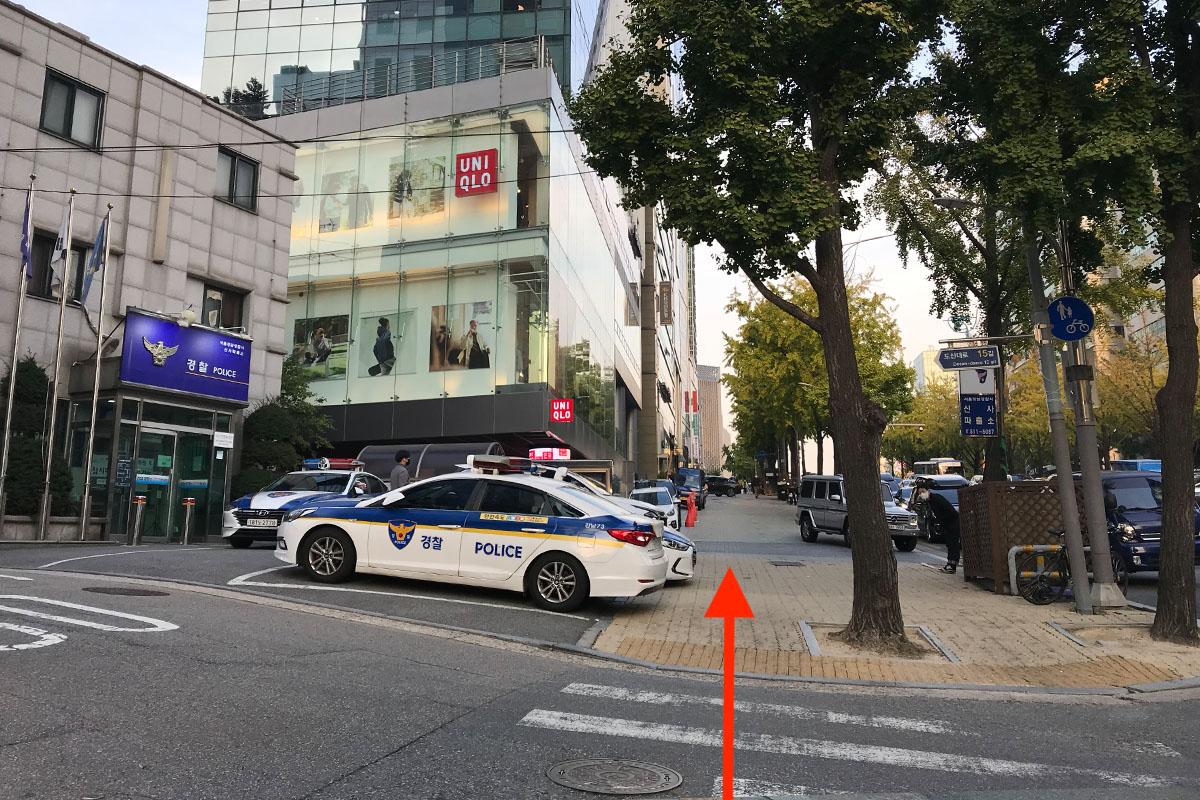 Walk past the police station and Uniqlo.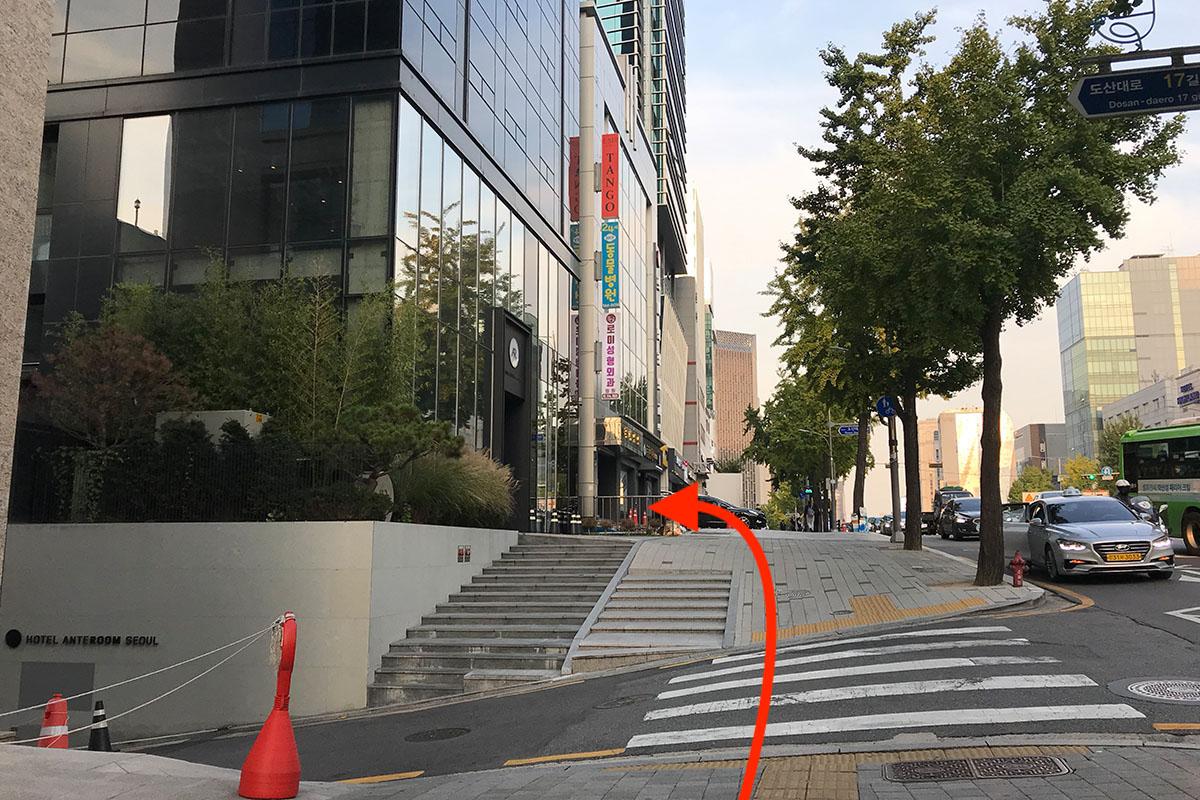 You will see Hotel Anteroom Seoul on the left.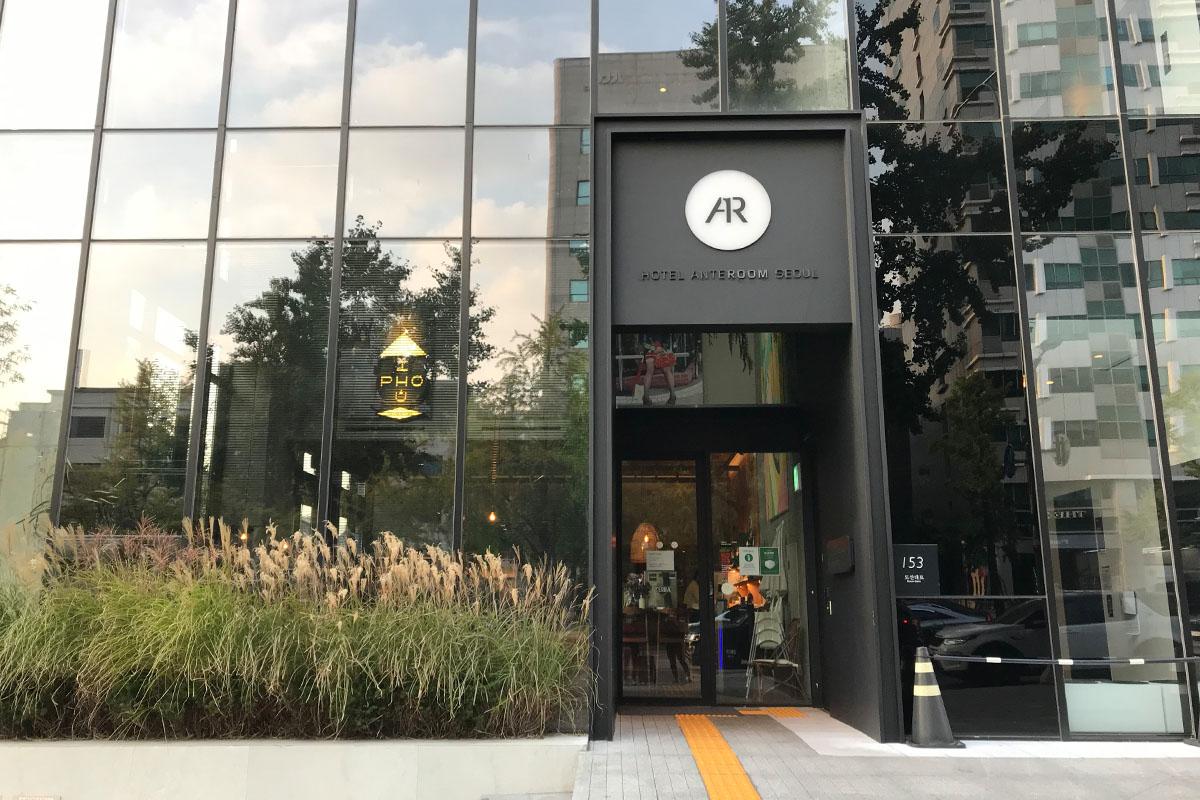 ---
That was our review of Hotel Anteroom Seoul in Sinsa.
We had a really great stay and definitely suggest you keep this place in mind when planning your Seoul vacation!
---