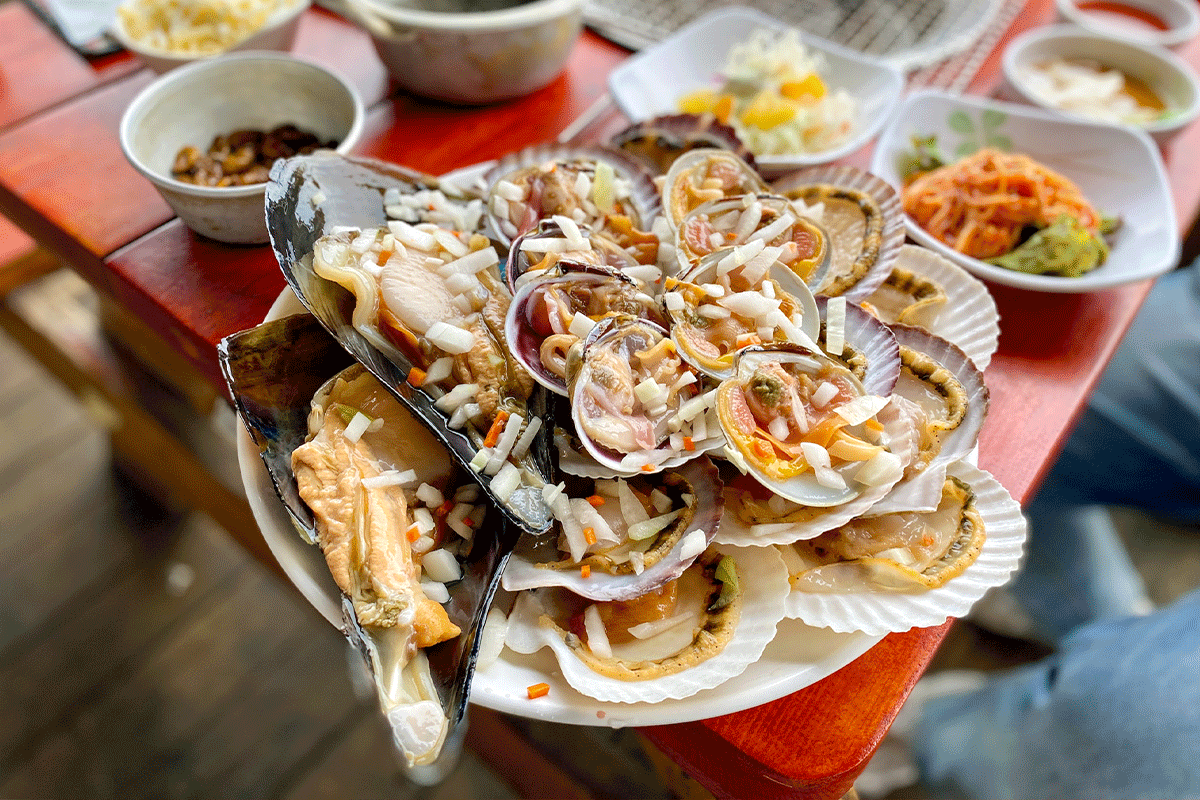 When in Busan, you can't leave without eating seafood.
We visited Mipo Kkeutjib, which is famous for their grilled clams and their fantastic sea view. Check out our review!
---
Information
Address: 부산광역시 해운대구 중동 달맞이길62번길 77
77 Dalmaji-gil 62beon-gil, Jung-dong, Haeundae-gu, Busan
Hours: 10:00-01:00
Transportation: 25 minute walk from Jung-dong Station Exit 7
7 minute taxi ride from Jung-dong Station (about 3,400 won)
20 minute walk from Haeundae
---
Menu
Menu
Price (KRW)
Grilled Clams (Small, Serves 2)
조개구이 (소) 2인분

50,000

Grilled Clams (Medium, Serves 3-4)
조개구이 (중) 3~4인분

70,000

Seafood Ramyeon
해물라면

8,000

Extra

Price (KRW)
Cheese
치즈

3,000
---
Our Visit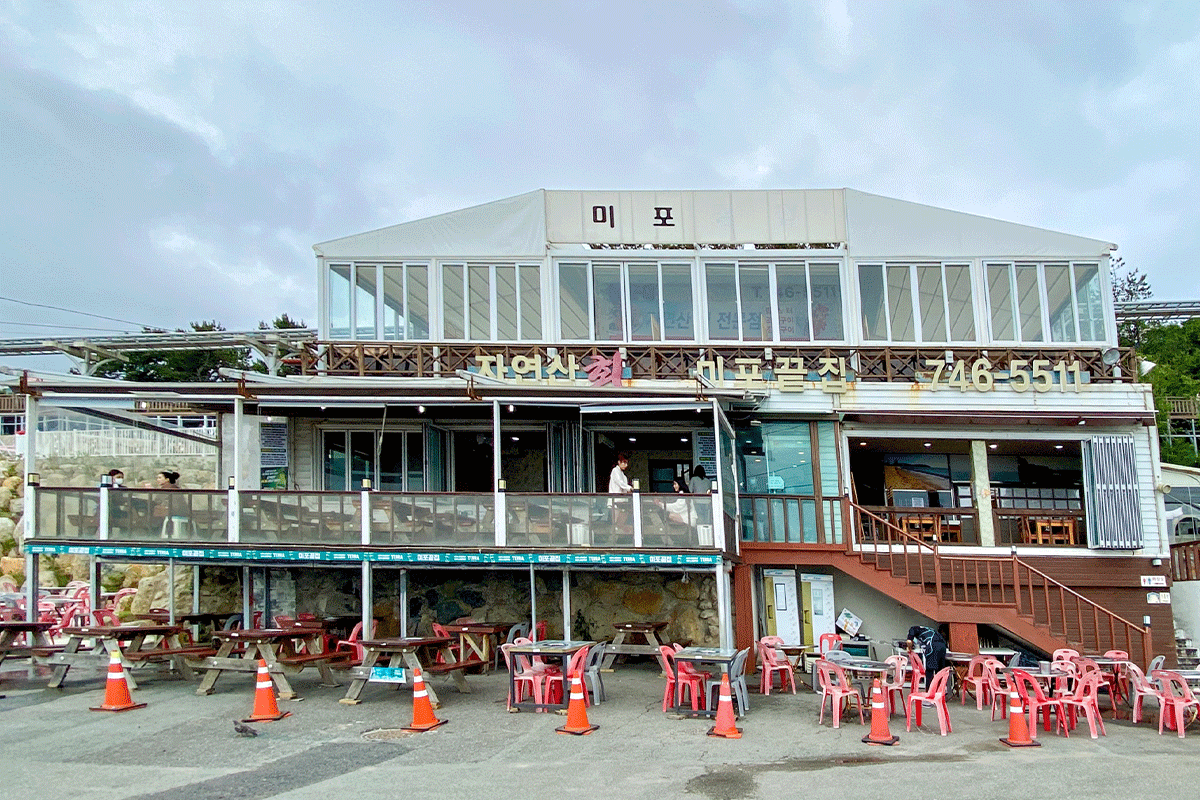 You will find the restaurant at the end of Mipo Port. It is a three-story building with a terrace and indoor and outdoor seating.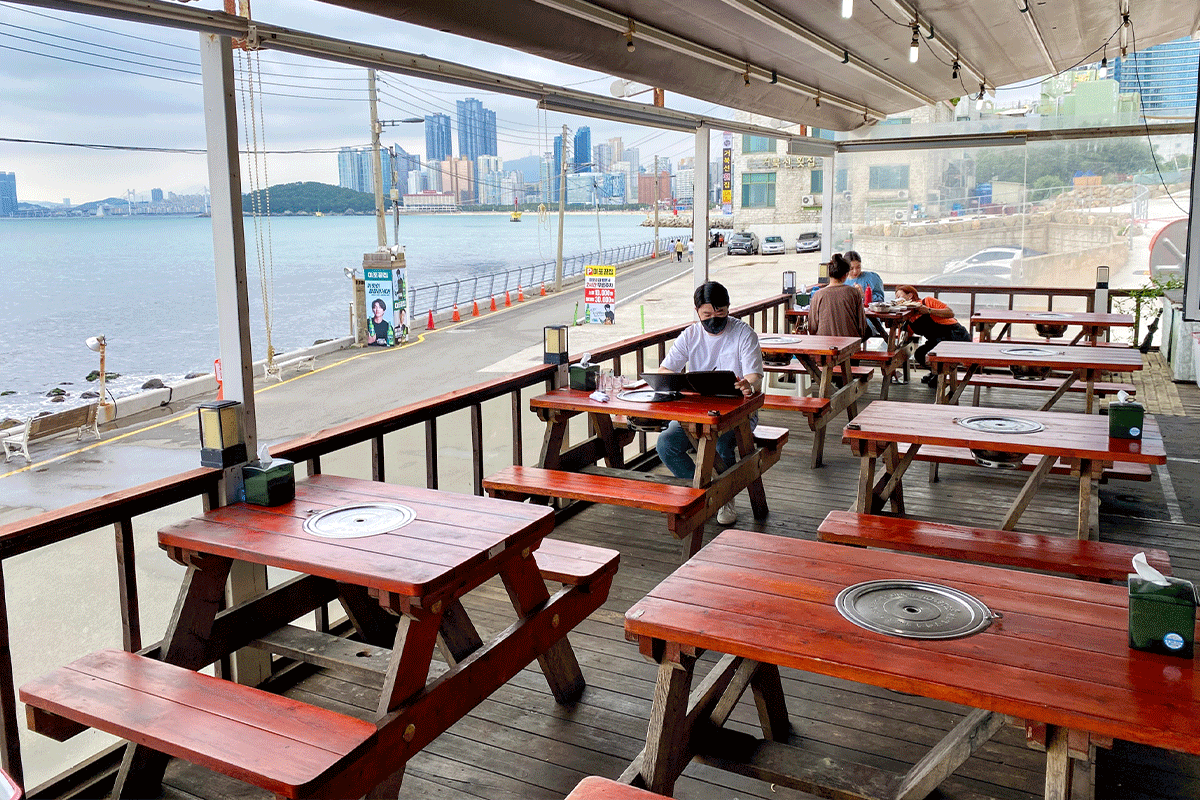 We sat outside on the second floor to get a good view of the sea. Tables with a sea view are so popular that you won't be able to get a seat at peak hours, but luckily we were able to go a little before the dinner rush.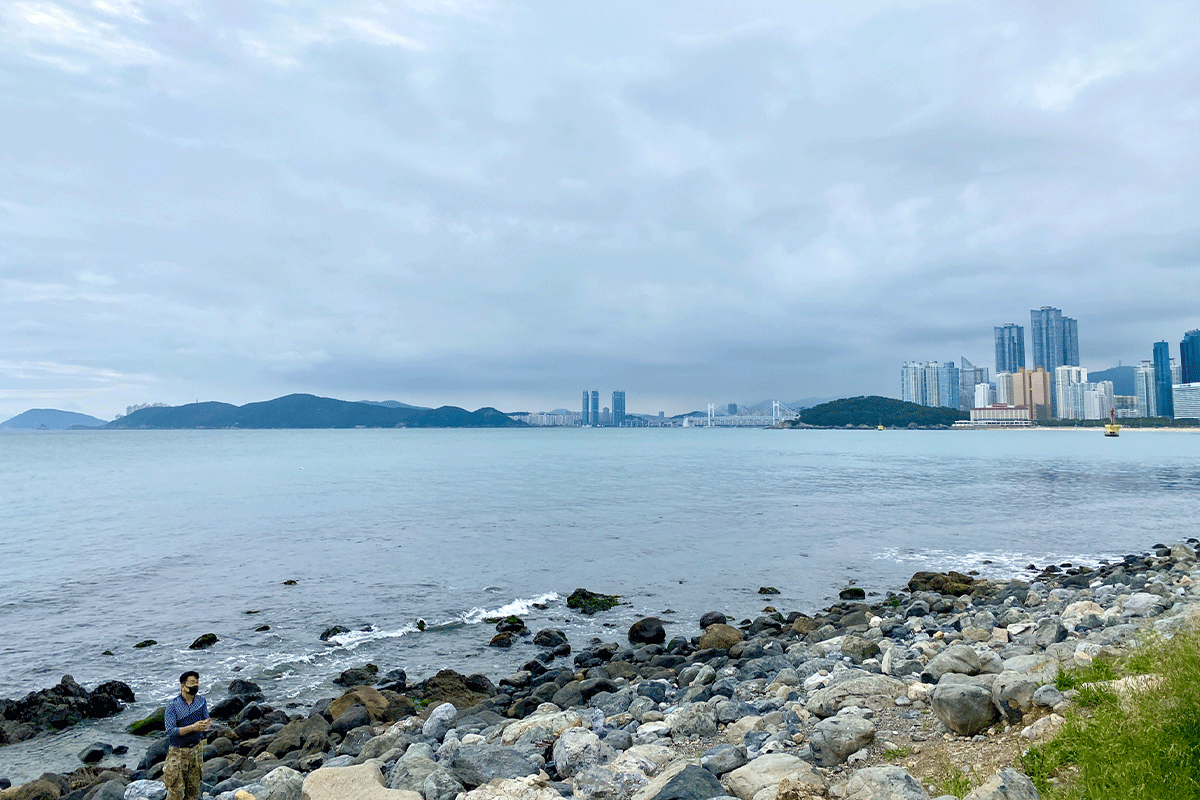 Unlike Haeundae and Gwangalli, Mipo Port is not very crowded, so it is a great spot to enjoy a quiet sea view in Busan. You can see Gwangandaegyo Bridge far away.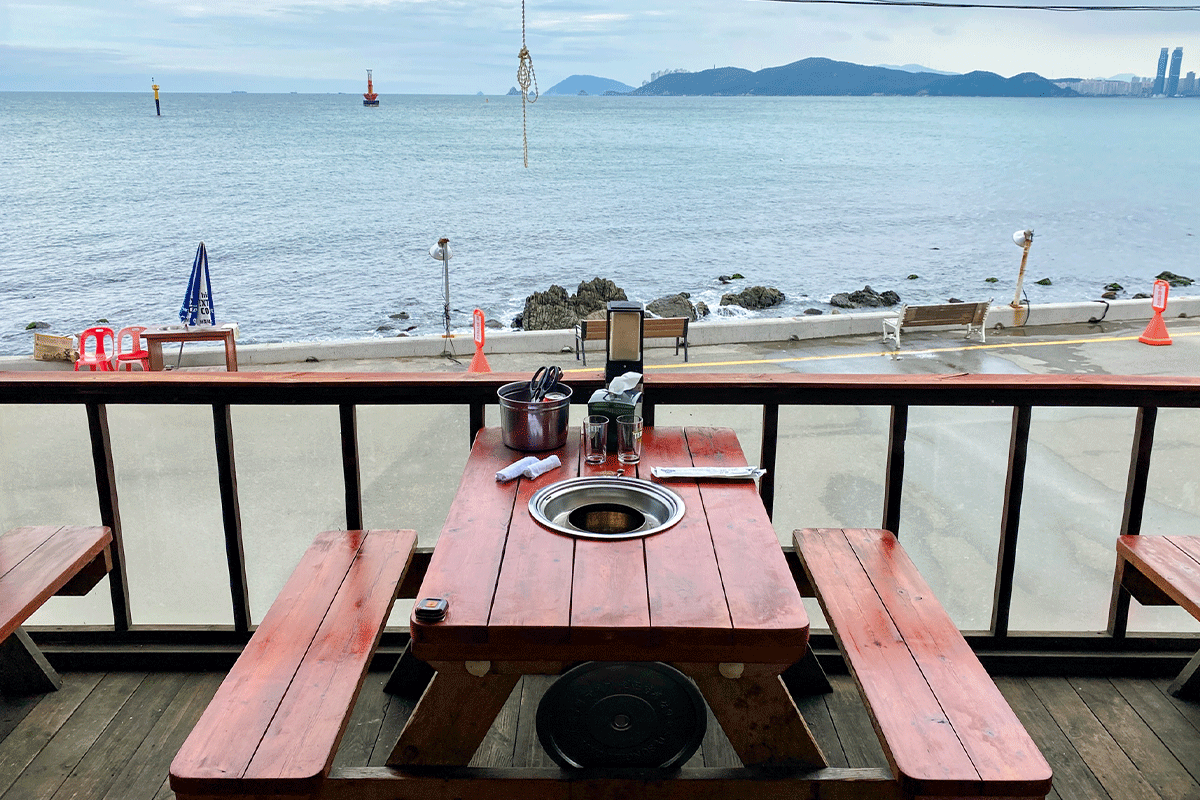 The view was wonderful! The restaurant stays open late late, so you can also eat while taking in the night scenery.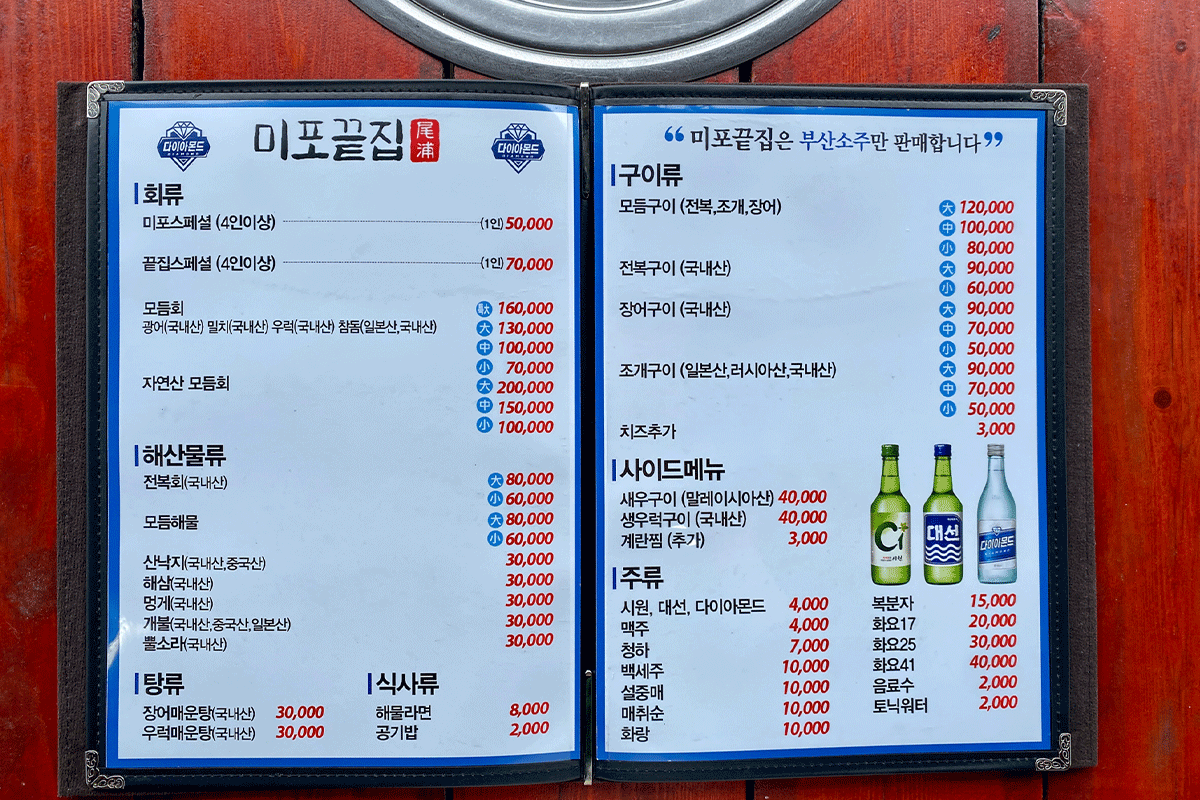 Mipo Kkeutjib sells a variety of foods, such as sliced raw fish (flatfish, rockfish, red sea bream), raw abalone, raw octopus, grilled seafood (abalone, shellfish, eel, shrimp), and maeuntang (spicy fish stew). We ordered the small grilled clams for two people.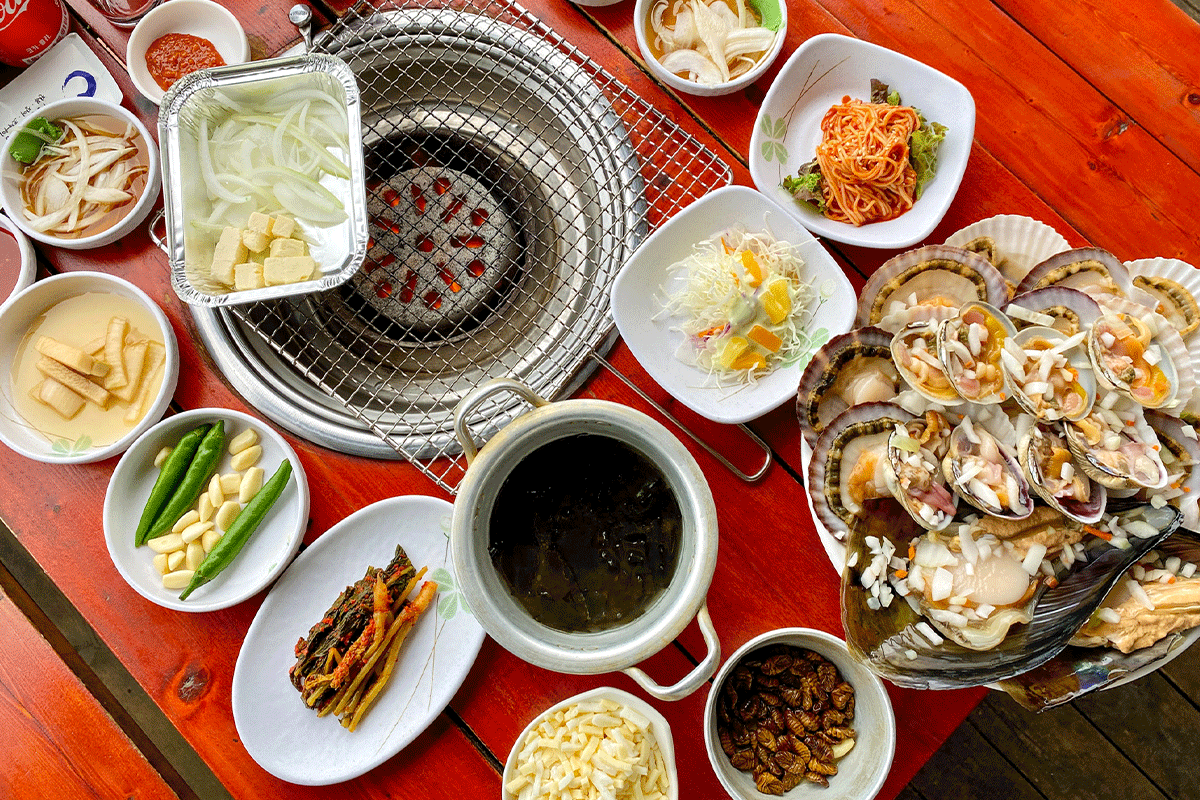 Various side dishes such as mustard leaf kimchi, salad, pickled onion, bibimguksu (cold mixed noodles), and silk worm pupae are served as side dishes. Seaweed soup along with onions and butter to be grilled with the clams are provided as well.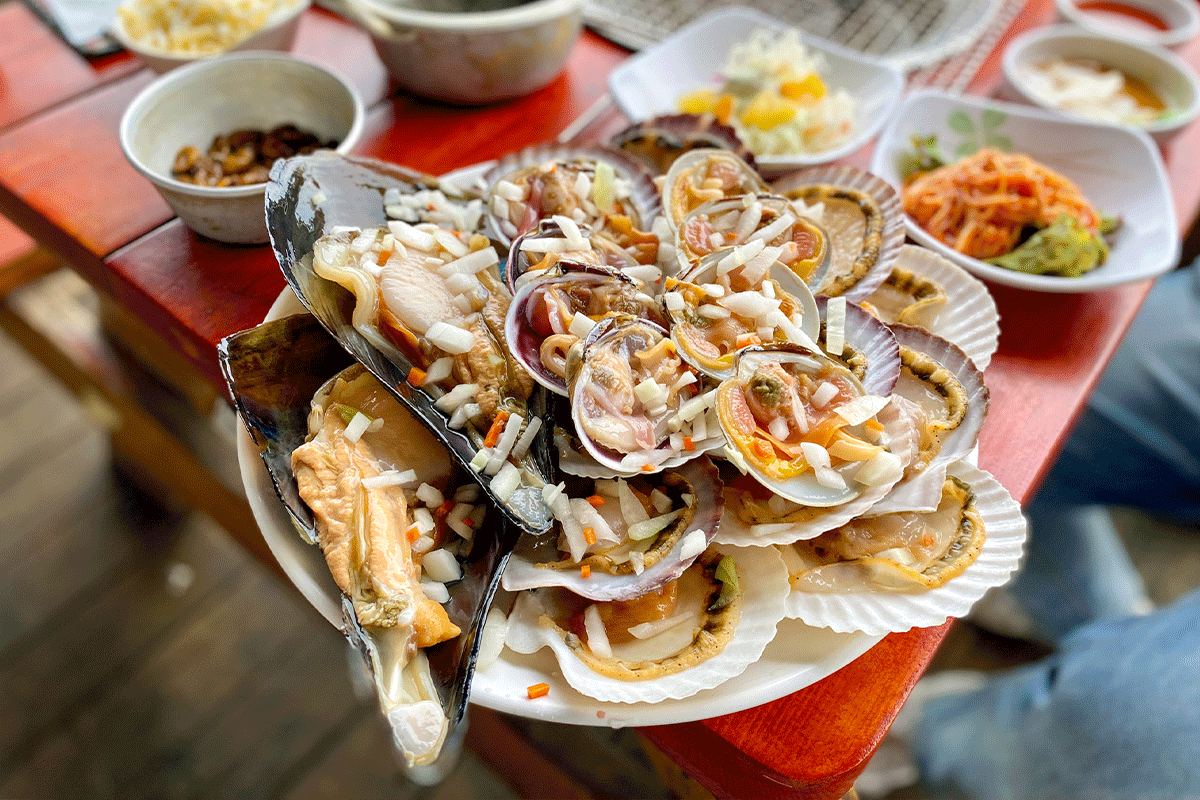 You'll get a lot of clams and scallops. You have to grill clams yourself, but don't worry, I'll tell you how to grill them deliciously!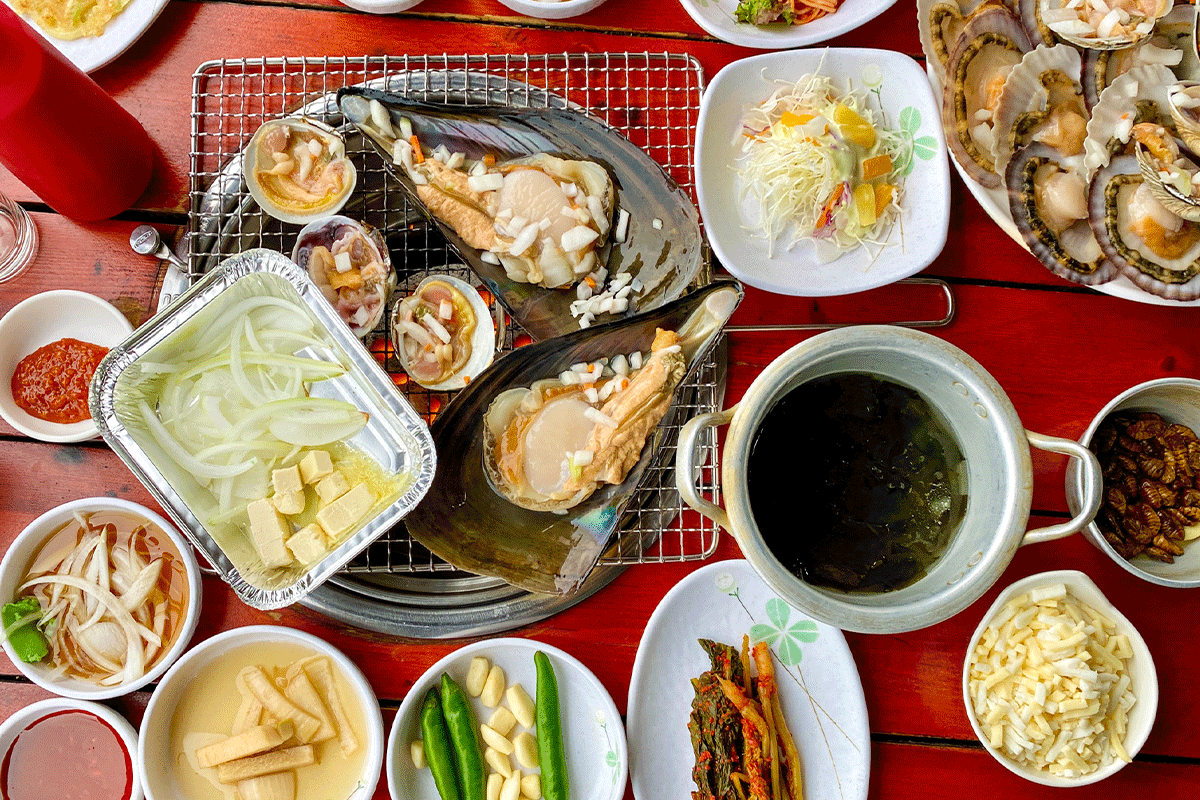 Place the shells over the briquette fire and cook for 10 seconds. Because of the strong fire, the clams cook quickly and will become tough if they're cooked for too long.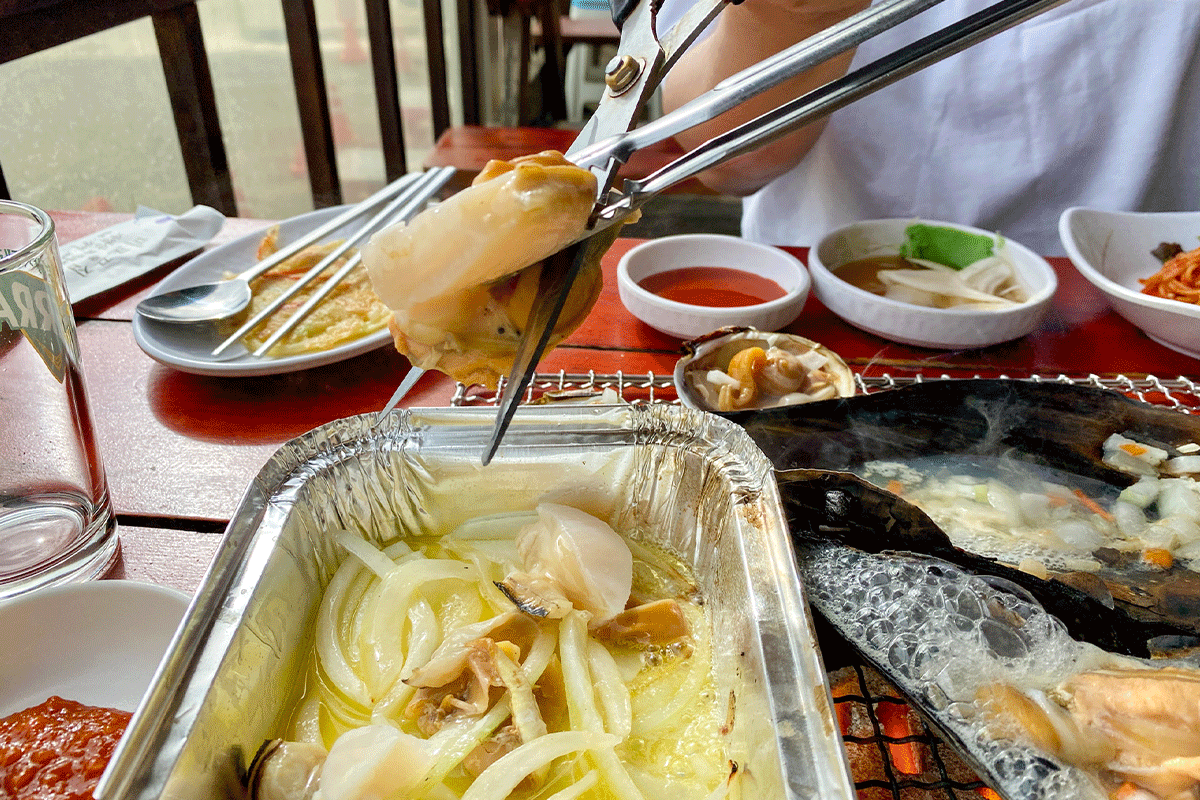 When fully cooked, they'll be easy to remove from the shell. Cut the clams into bite-size pieces, put them in the foil container, and boil them with butter and onions.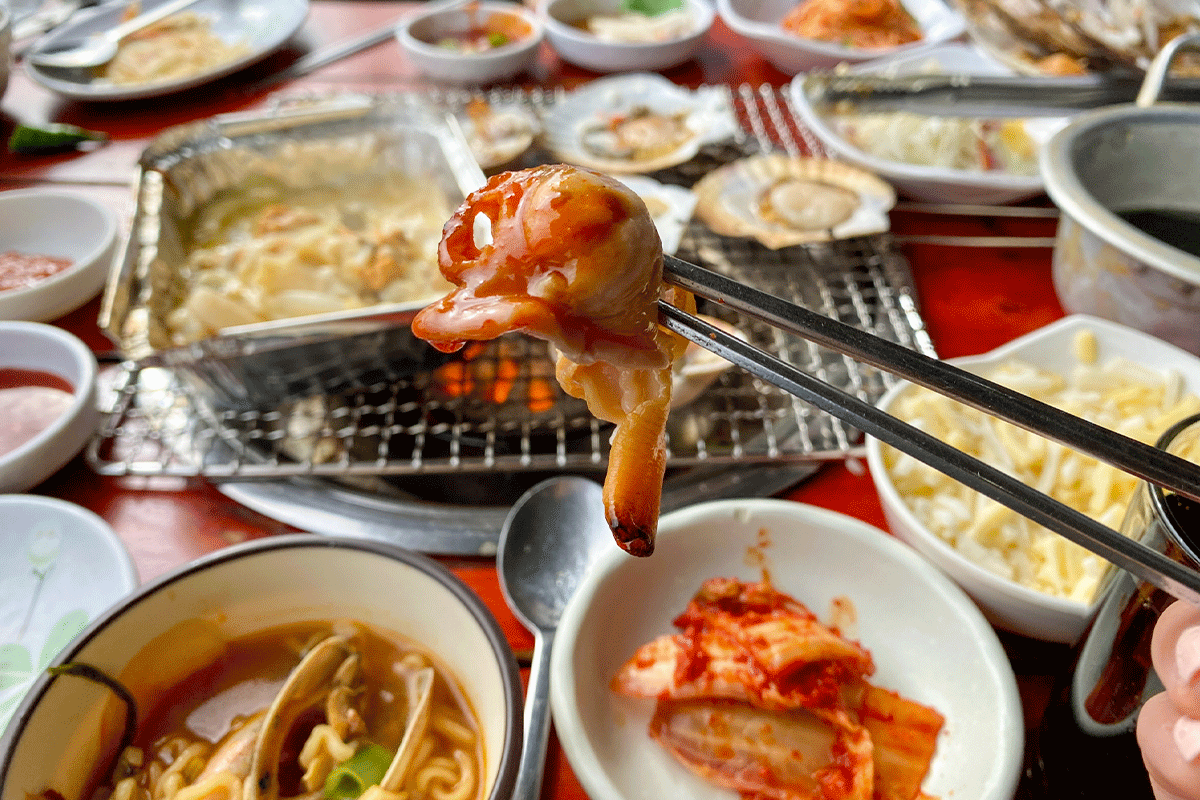 If you dip them in chogochujang (vinegar red pepper paste), you can enjoy spicy and sour grilled clams.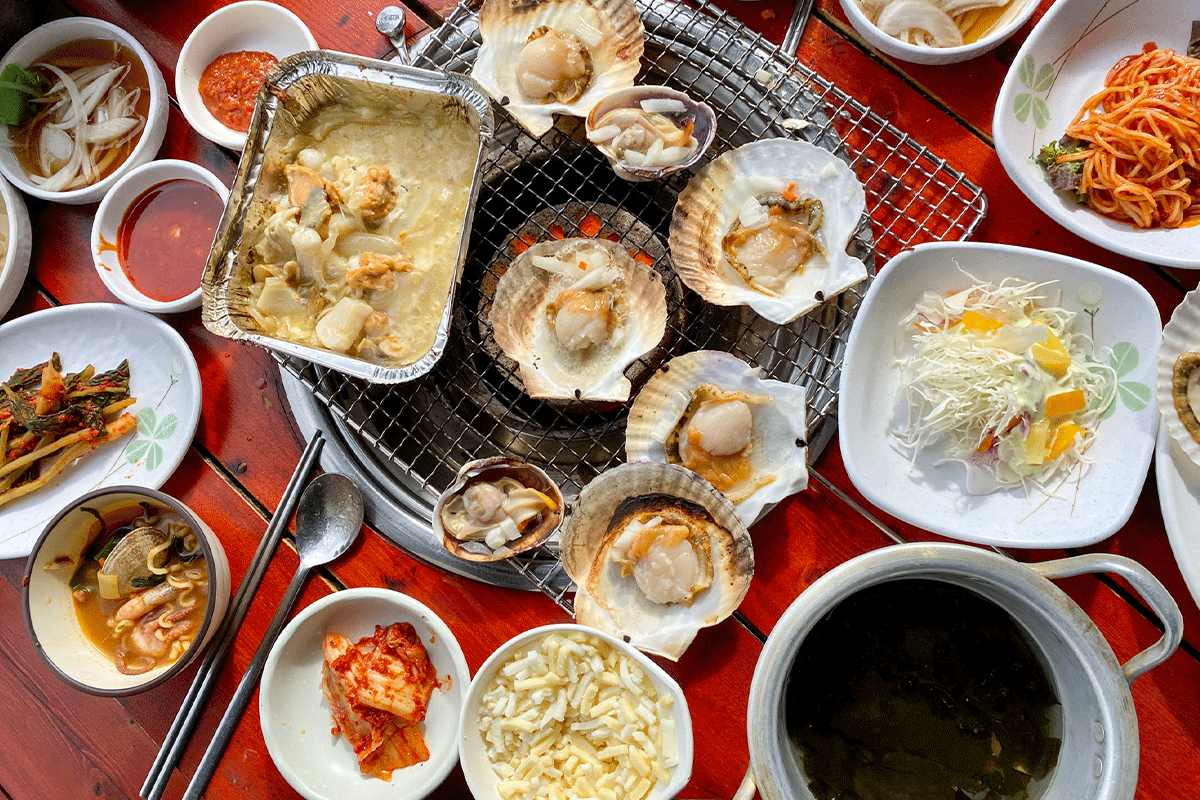 If you want something more savory, you can order cheese as a topping to grill with the clams.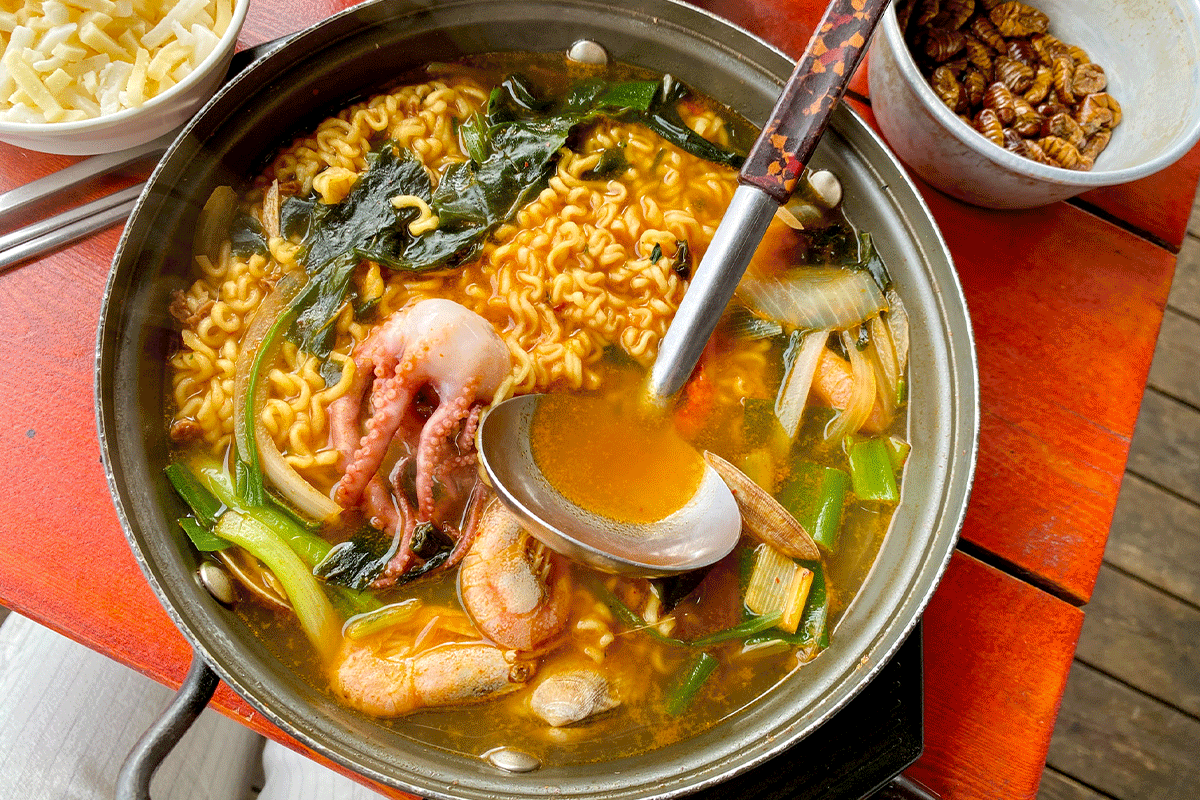 Lastly, order spicy seafood ramyeon to wash away the greasy feeling from all of the butter! It contains webfoot octopus, crab, other shellfish, and shrimp.
---
How To Get There
It takes 25 minutes to walk there from Jung-dong Station on Line 2. There is no bus that goes directly from the subway station to the restaurant, so it is recommended to walk or take a taxi. The fare is about 3,400 won, and it is about 7 minutes away by taxi.
You can also walk to the restaurant after sightseeing in Haeundae. It takes about 20 minutes and you can enjoy the scenery as you walk along the path by the sea.