Cafe Gamzabatt | Chuncheon Potato Cafe
A visit to the famous potato-themed cafe hidden in a sea of sunflowers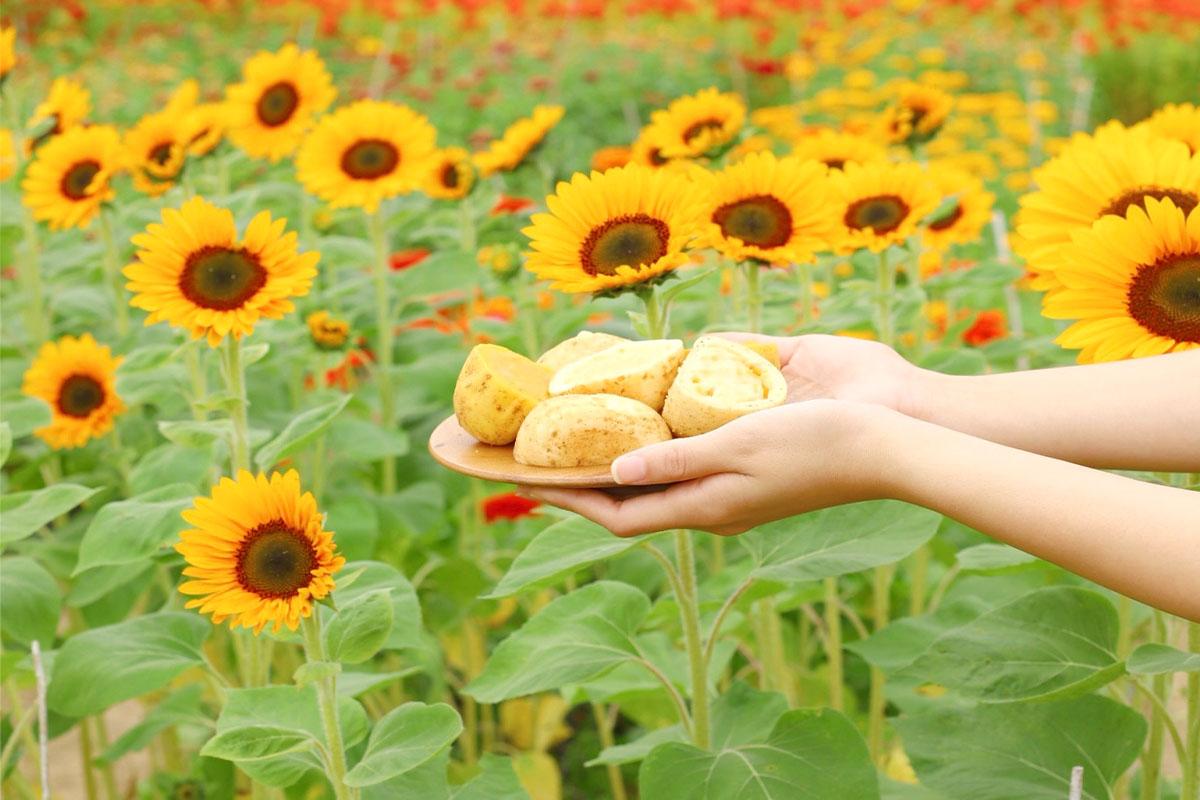 Guess what is on the plate in the photo.
If you thought they were potatoes, you would surprisingly be wrong. It's actually the original potato bread from Cafe Gamzabatt (meaning potato field).
Gangwondo is famous for producing a lot of Korea's potatoes, so this cafe took the theme and ran with it, using locally grown and produced products.
Though they look like potatoes, these buns have a chewy and sweet taste and have become extremely popular throughout the country.
If you visit the cafe, you will feel as though you've stepped into storybook as you enjoy your snack amidst the beautiful flower garden.
Shall we take a look around together?
---
Information

Address: 강원도 춘천시 신북읍 신샘밭로 674
674, Sinsaembat-ro, Sinbuk-eup, Chuncheon-si, Gangwon-do
Hours: 10:00-21:00

---
Reasons For Recommendation
The signature drinks and bread are really delicious, in particular we recommend the Seoritae Latte and the Original Potato Bread.
The interior decor is really cute and uses their mascot character, Potato, an anthropomorphic spud. You can even purchase Potato merchandise.
There is an outdoor seating area where various flowers are planted, which change depending on season.
The cafe uses 100% domestic potatoes, so everything is very fresh and delicious.
Creatrip members can receive 10% off drinks with a coupon download!
---
Things To Keep In Mind
Please present your coupon to cafe staff at check out to receive your drink discount, no reservation needed.
Coupon cannot be applied to potato bread.
Since seasonal fruits and vegetables are used, the menu may change depending on the season.
If you have any questions or issues regarding your coupon, please contact us at help@creatrip.com.
Click Here To Download Your Coupon
---
Menu
MENU
PRICE (KRW)
Beverages
Americano
아메리카노

4,500 KRW

Cafe Latte
카페라떼

4,800 KRW

Potato Latte
감자라떼

6,000 KRW

Seoritae Latte
서리태라떼

5,500 KRW
Breads

3,300 KRW

Cheese Potato Bread
치즈 감자빵

3,800 KRW
---
Our Visit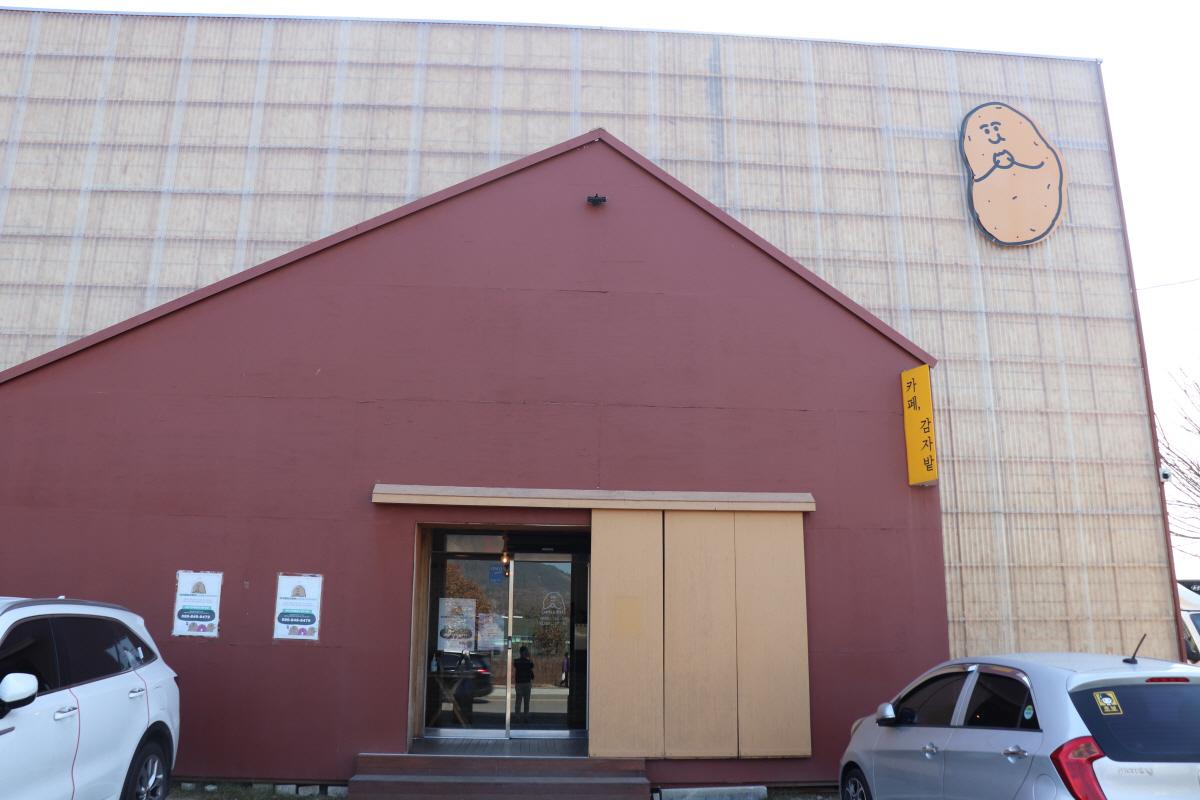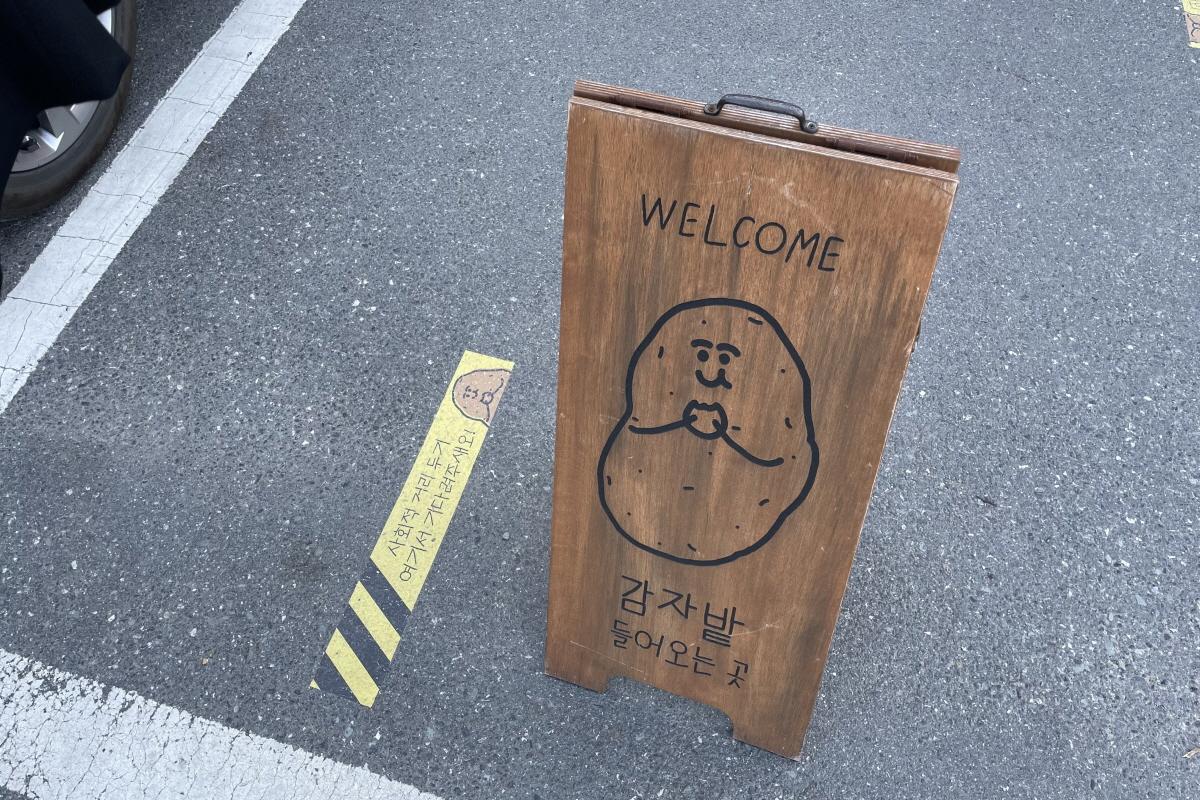 When you arrive at Cafe Gamzabatt, the cute potato character, aptly named Potato, greets you
The building immediately calls to mind the countryside and goes with the cafe's concept very well.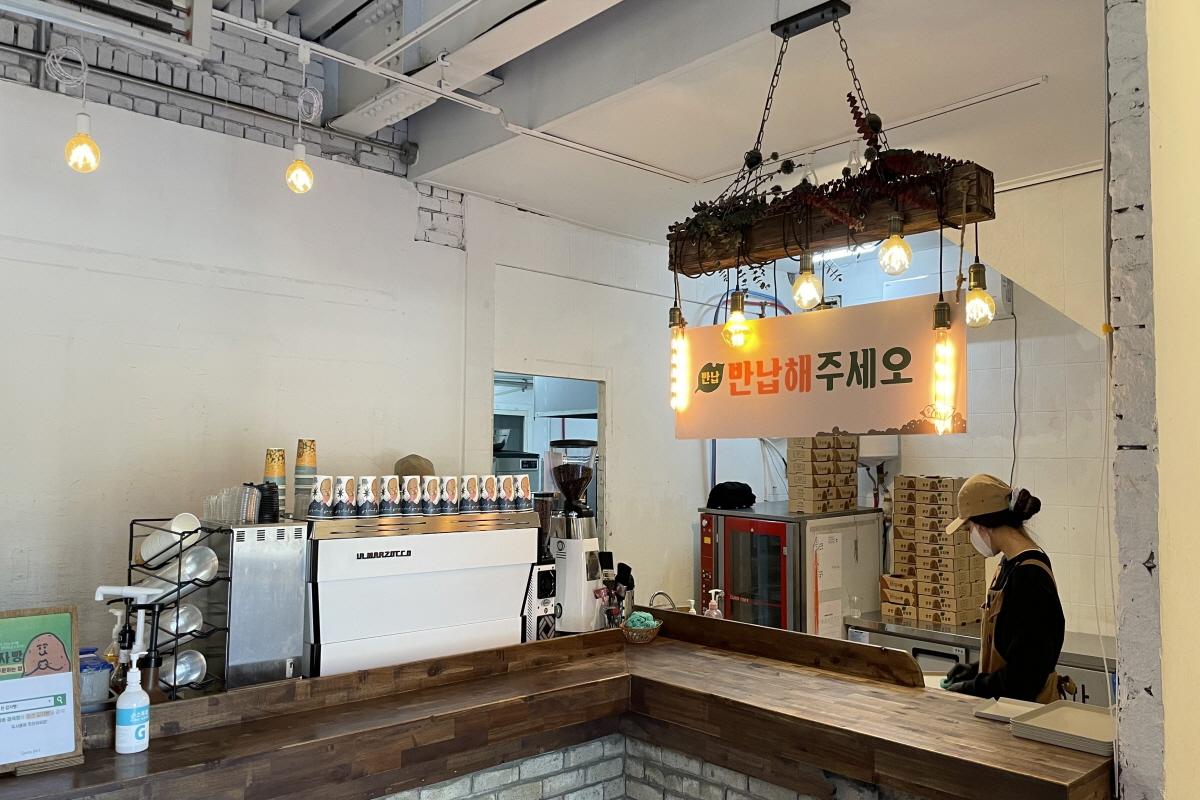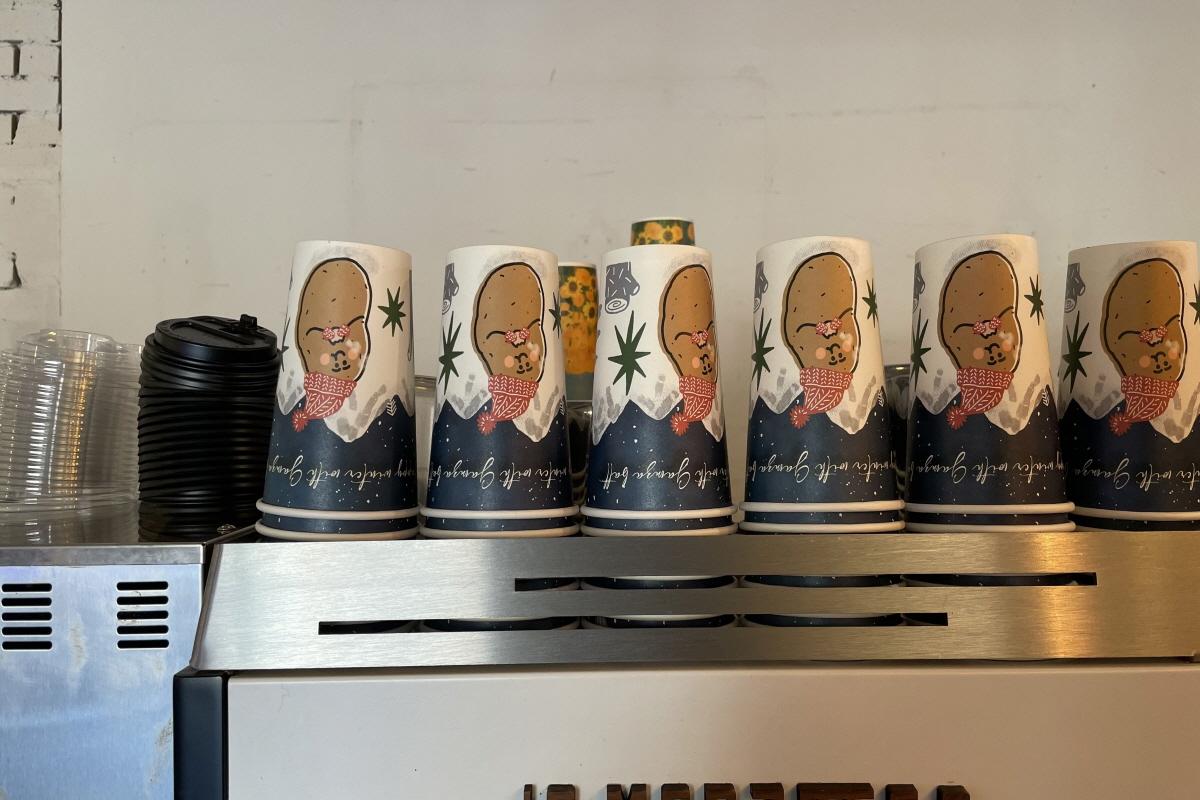 When you open the door and enter, you can see the employees hard at work, preparing orders for customers.
If you order a drink, you will be given a cute potato cup, the design of which changes based on the season.
When we went, the cups depicted Potato sporting a hat and gloves, snacking on some potato bread. Aren't they cute?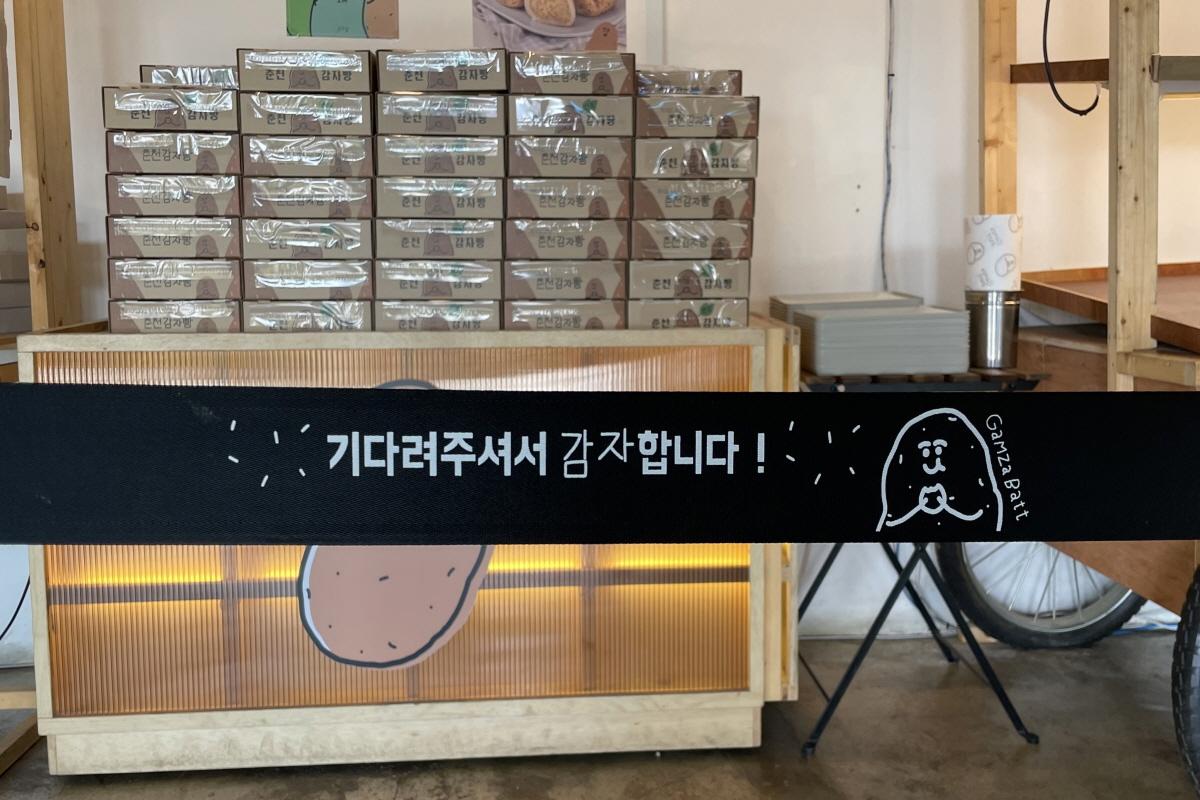 There are many cute potato-themed details scattered around the store, so it is fun to look around and try to spot them all.
I found a potato friend waiting in line!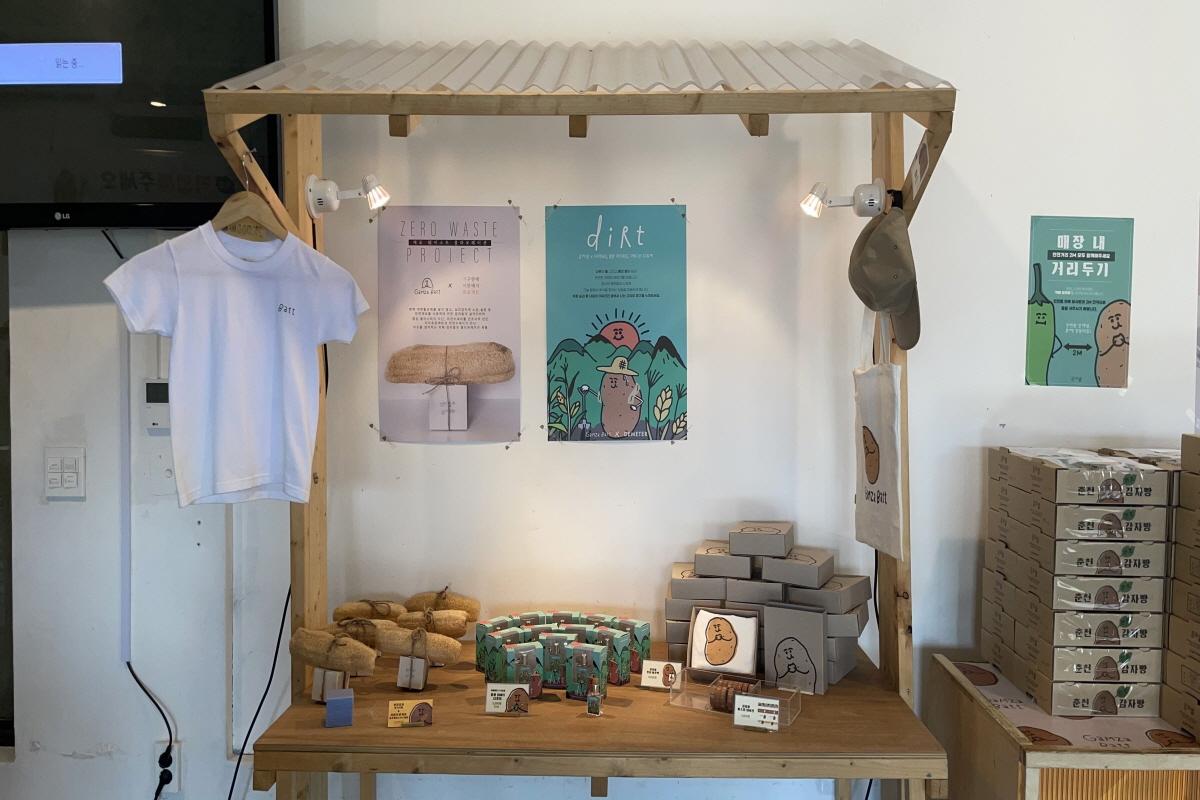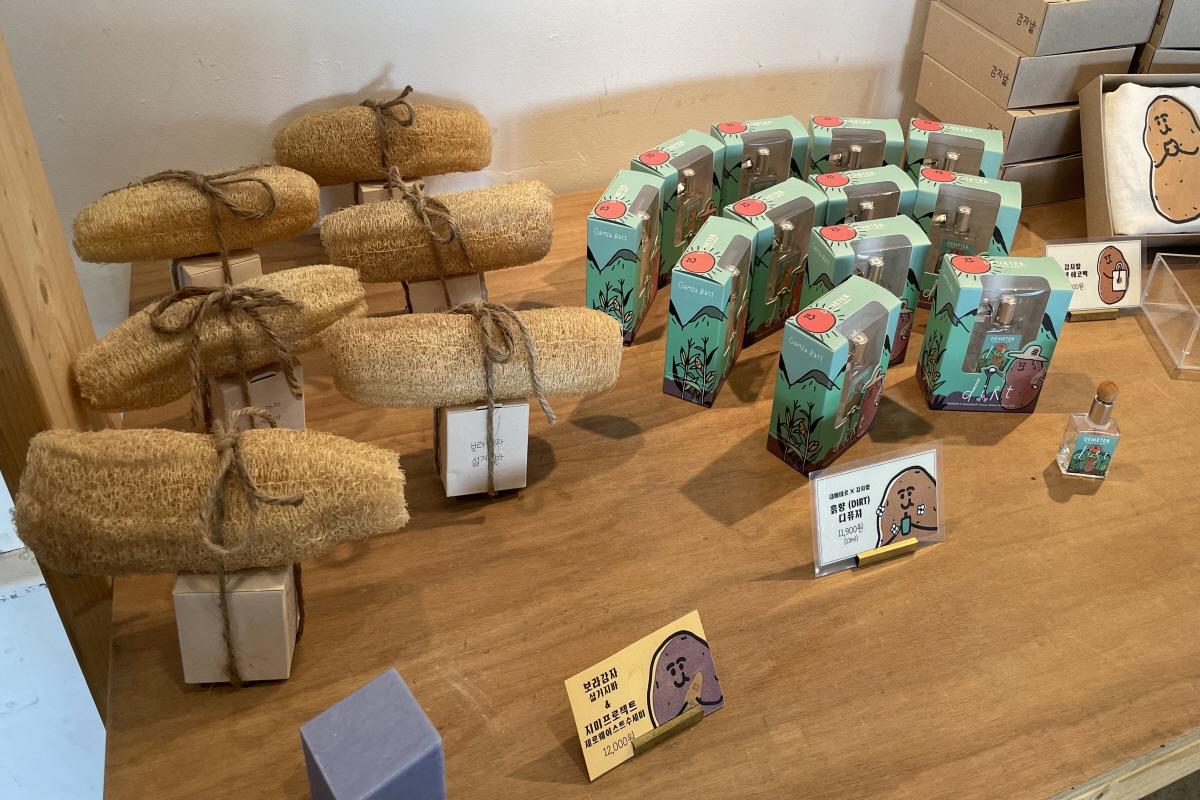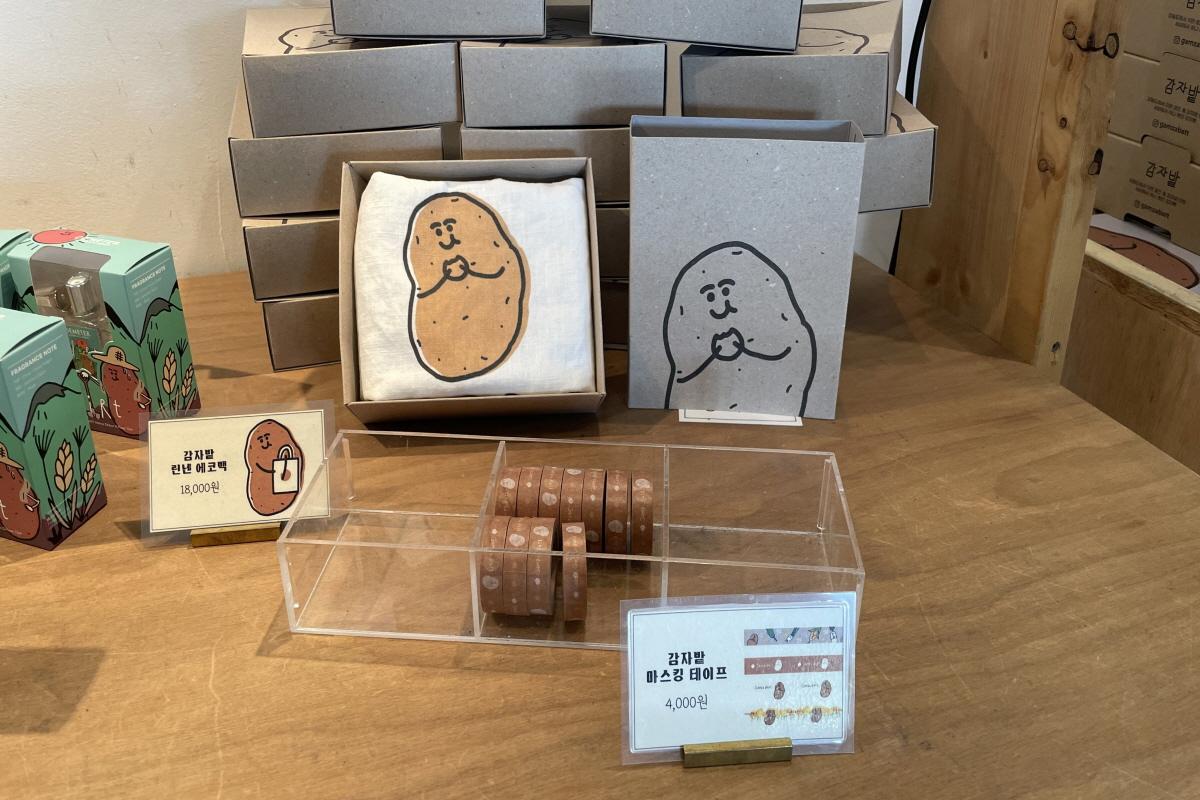 In the cafe you will also see cute Potato merchandise available for purchase.
When we visited, we saw T-shirts, dishwashing pads, diffusers, eco-bags, and washi tape.
My favorite is the eco tote bag!
The diffuser is a product in collaboration with Demeter, a famous fragrance brand. I was surprised to find out that it is a soil-scented diffuser! It was quite fragrant too.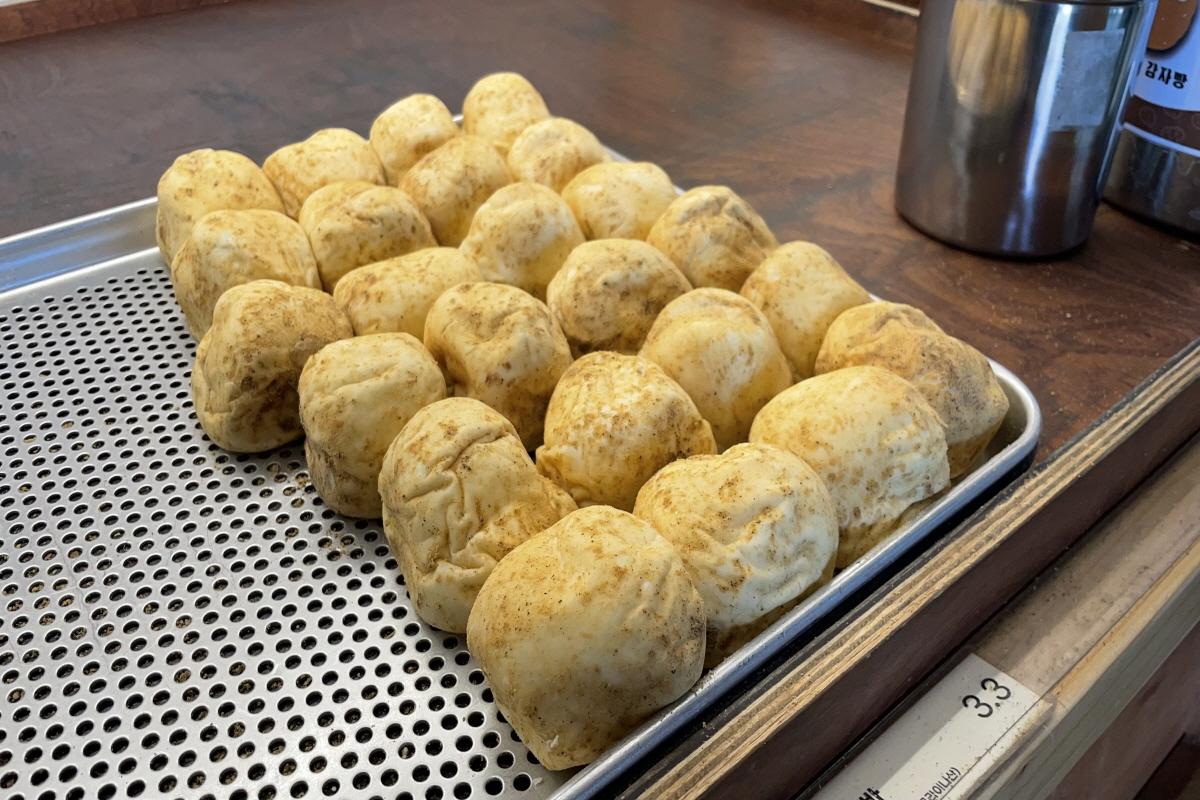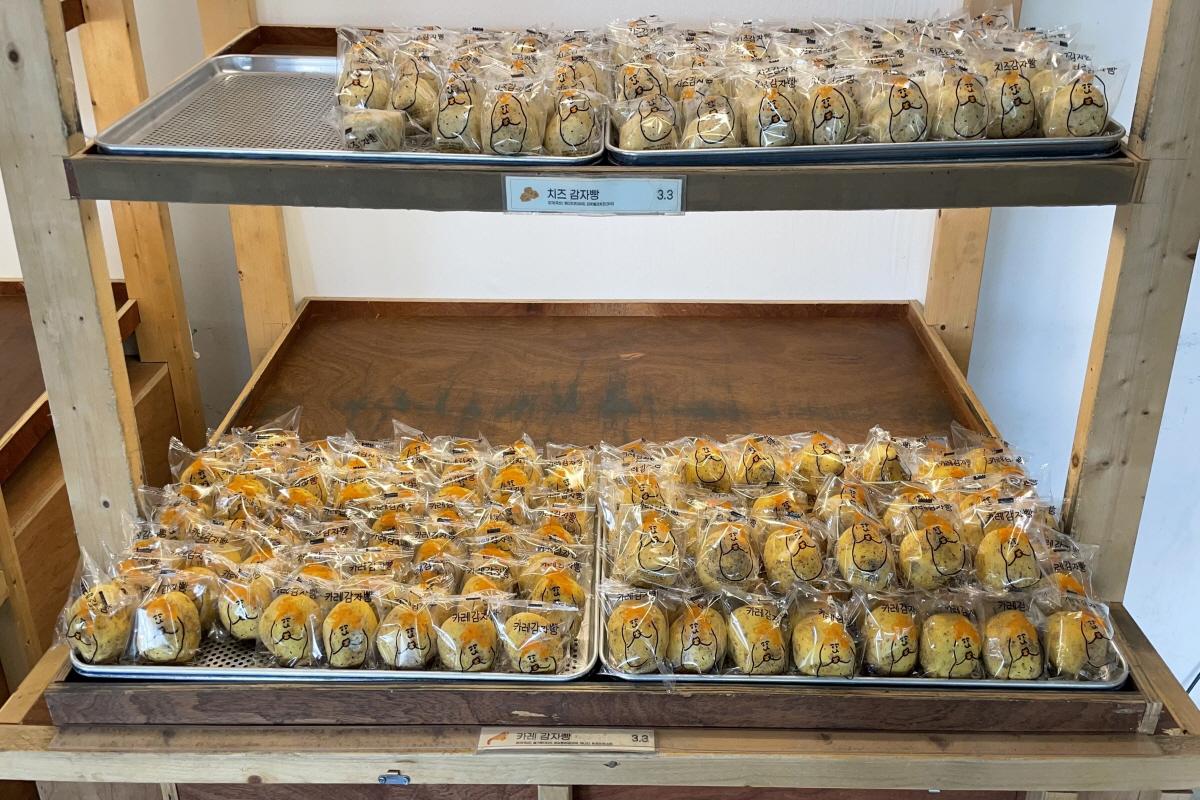 There are two different flavors of potato bread: original and cheese
If you tell the kind staff in front of the bread stand the type and quantity of potato bread you would like, they will place it on a tray for you.
If you take the tray and go to the checkout counter, there is a drink menu. Choose a drink and pay with the bread. Order complete!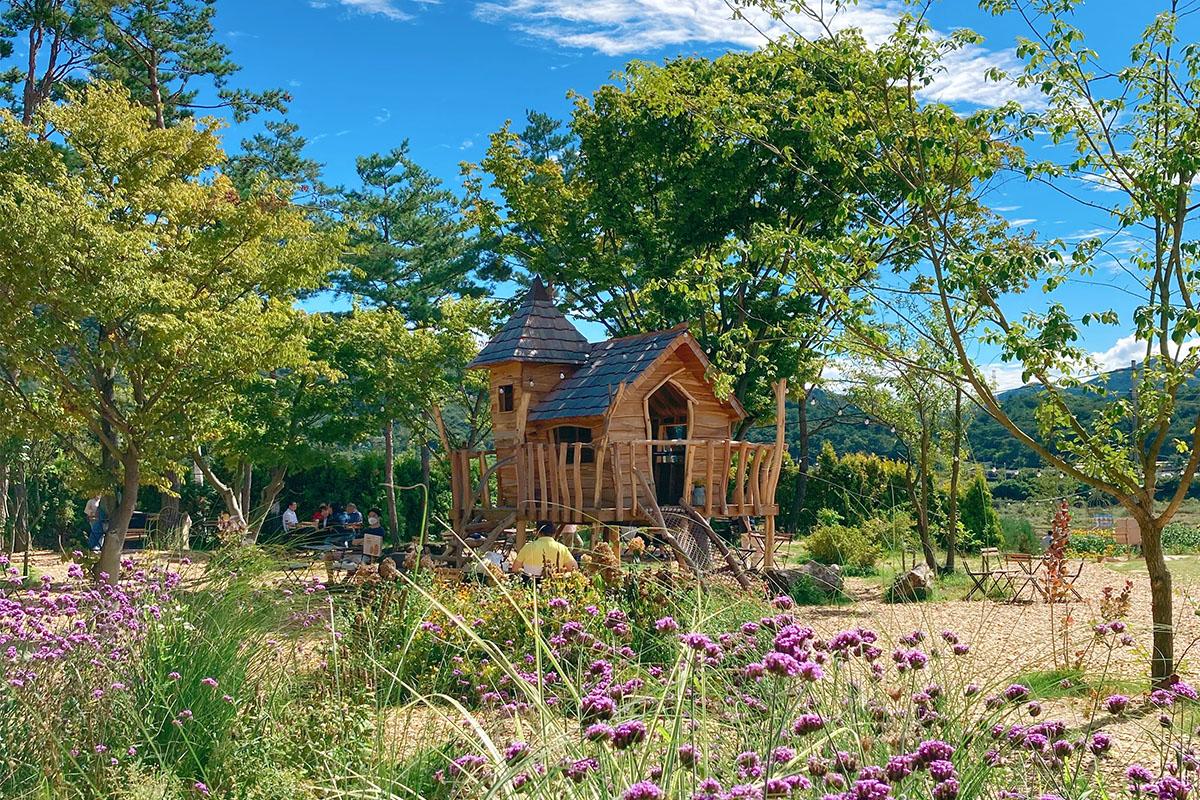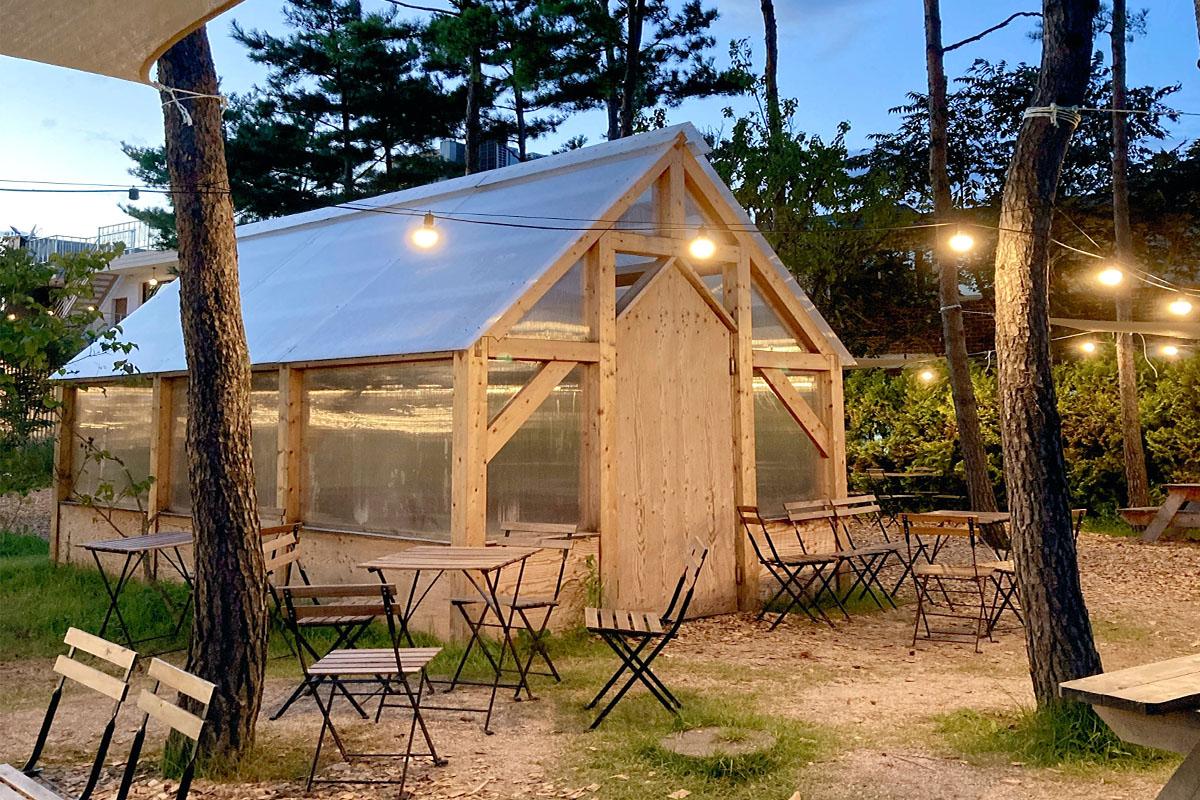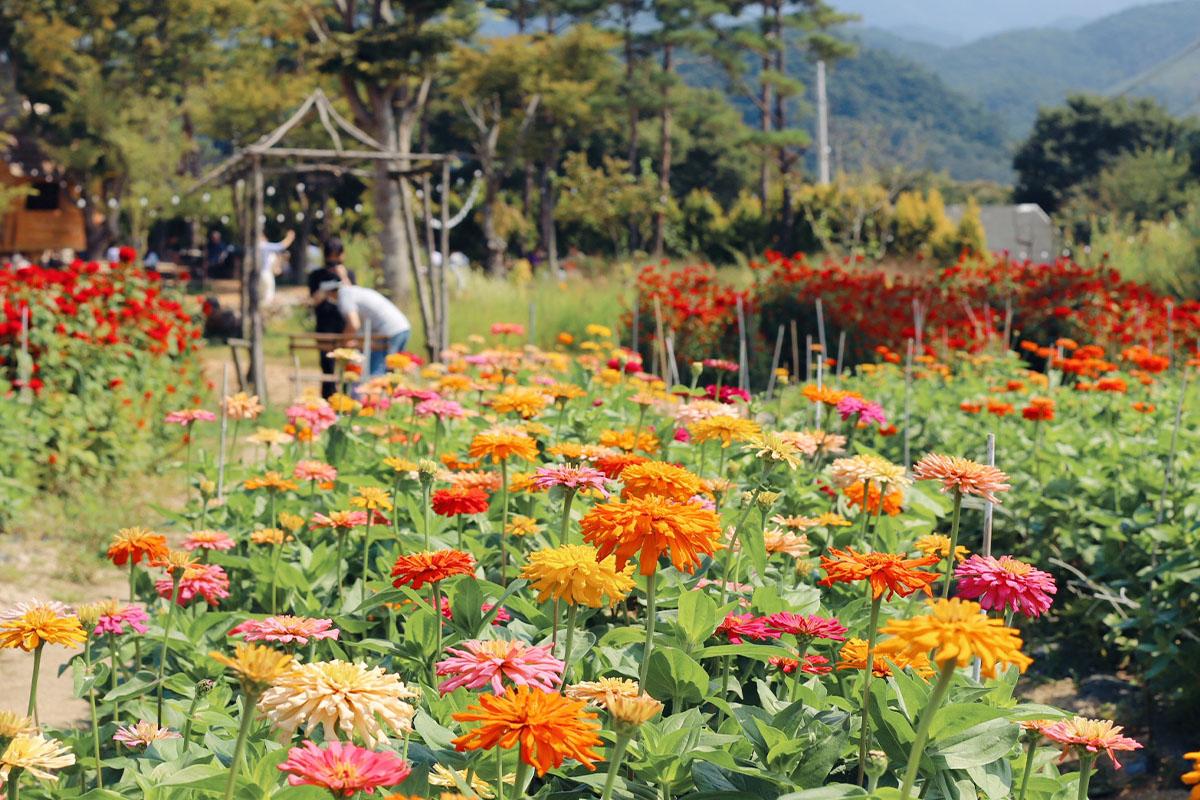 After ordering, we went out back to the outdoor seating area.
It's like a big backyard, really lovely!
If you visit on weekends, it may be difficult to find a seat since it is very popular, so we recommend coming on a weekday when they are less busy for optimal seating choices.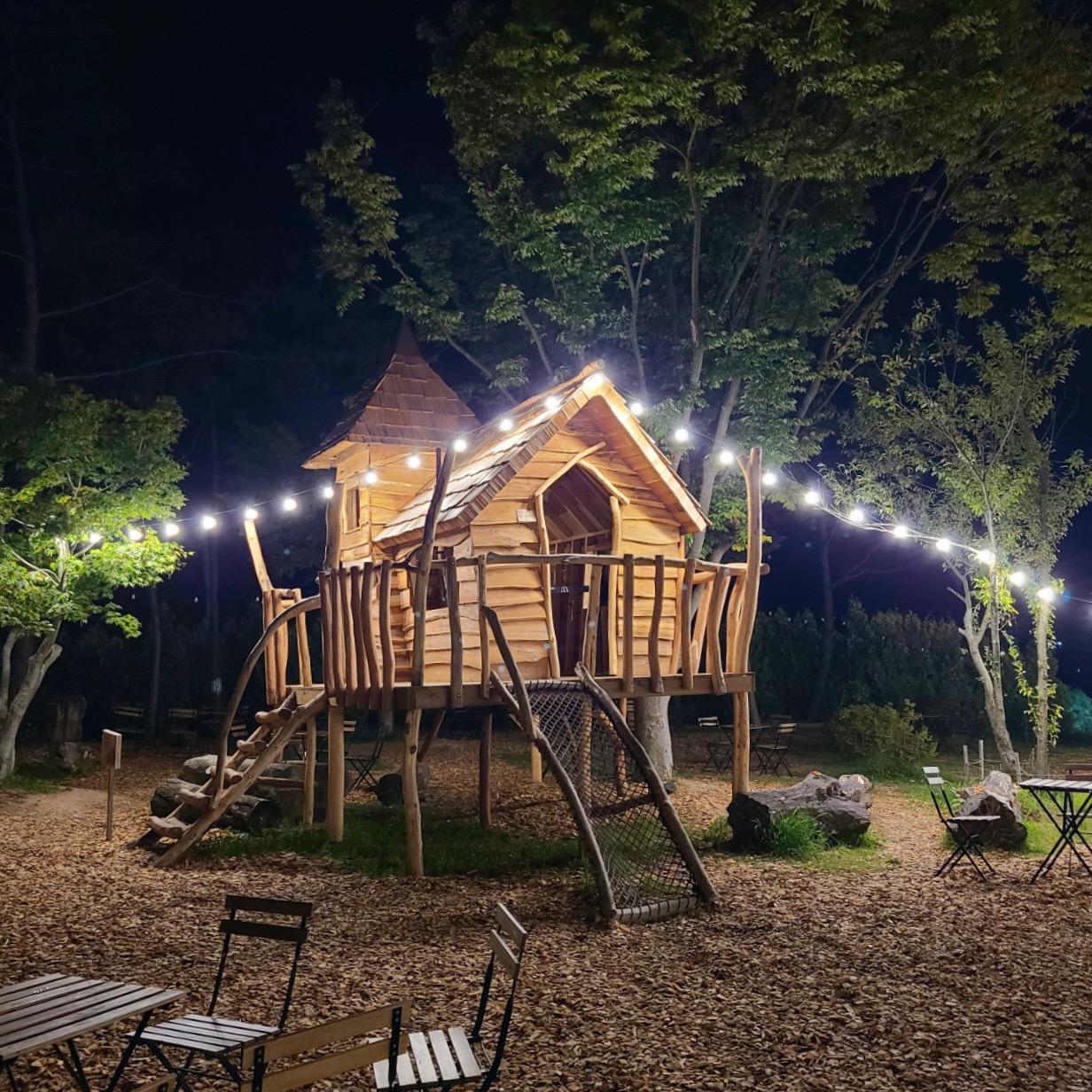 In the evenings, the string lights are turned on, which create such beautiful picture!
For those who are curious about the night time view, it would be nice to come here in the evening and enjoy the fairytale vibes.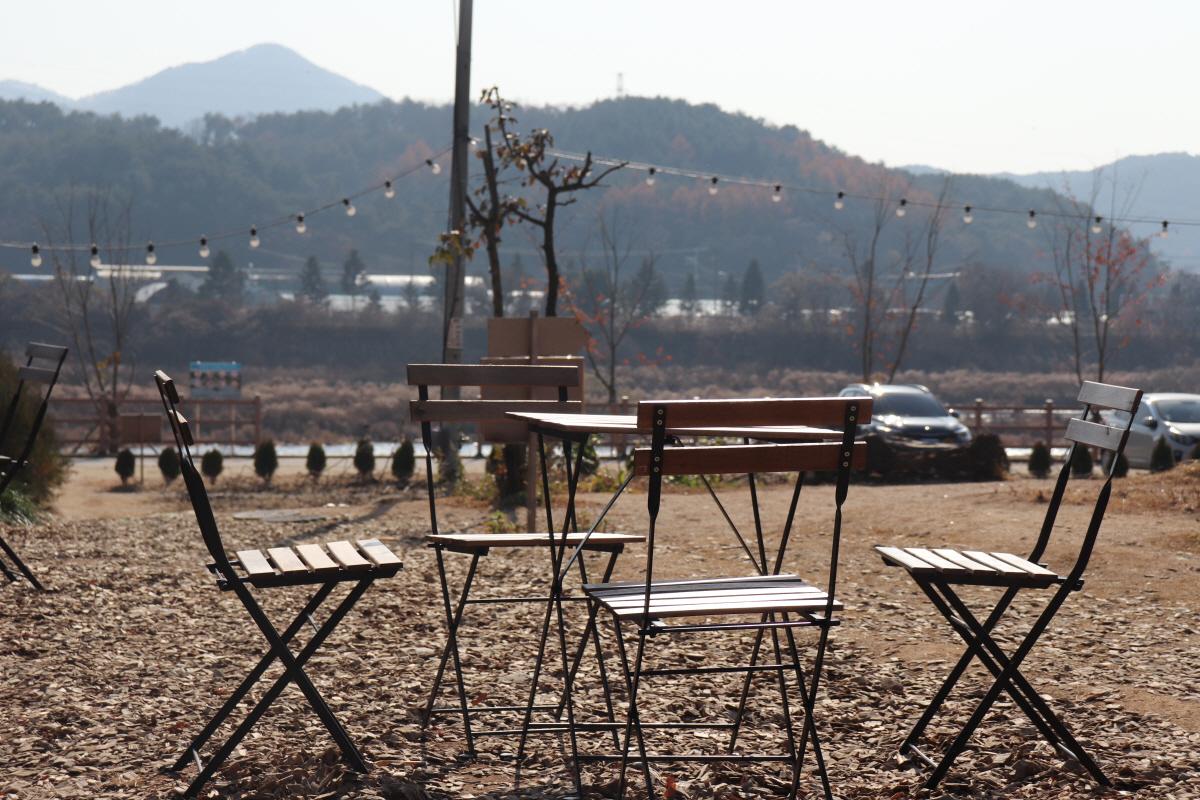 If you sit out here, you can see the scenery of the Soyanggang River.
After finishing our drinks and potato bread, we went to check out the second floor of the cafe.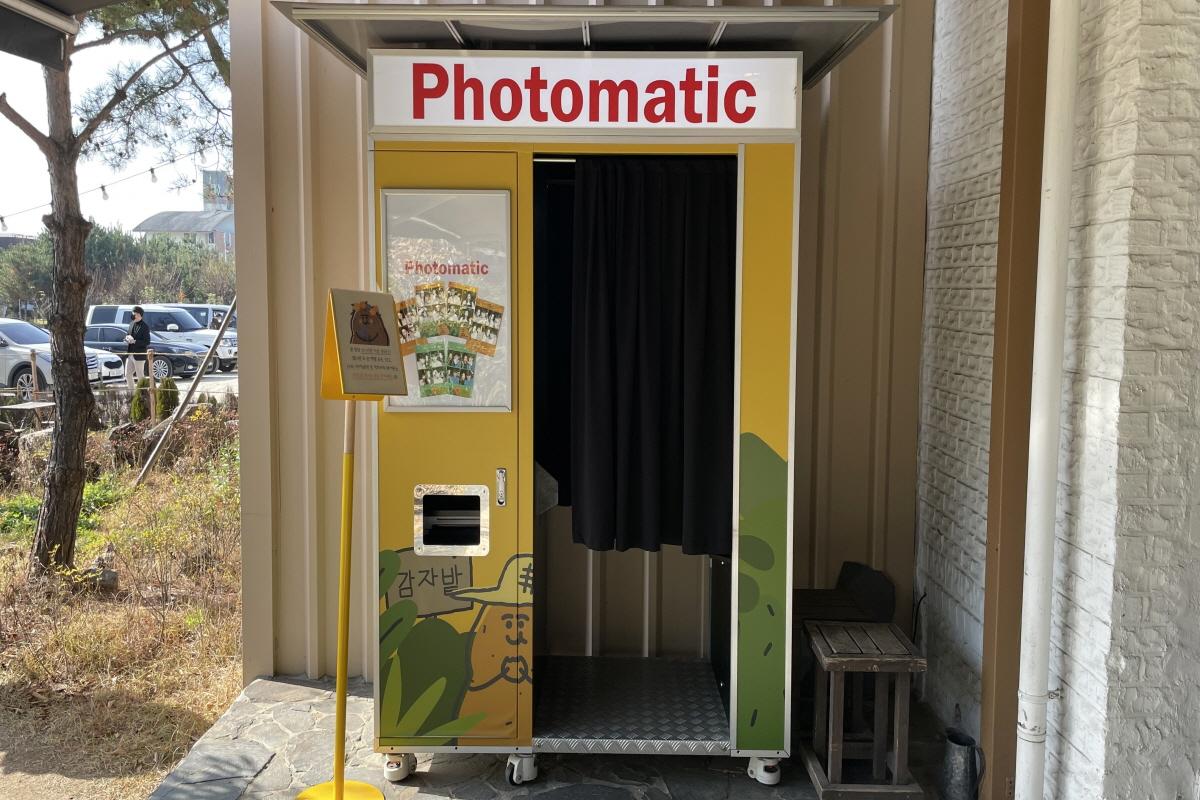 On our way to the second floor, we found this Photomatic photo booth!
Taking cute photos in booths like this is a really popular activity in Korea right now.
Photomatic and Cafe Gamzabatt collaborated to provide a unique photo frame that can only be found here, so don't miss this!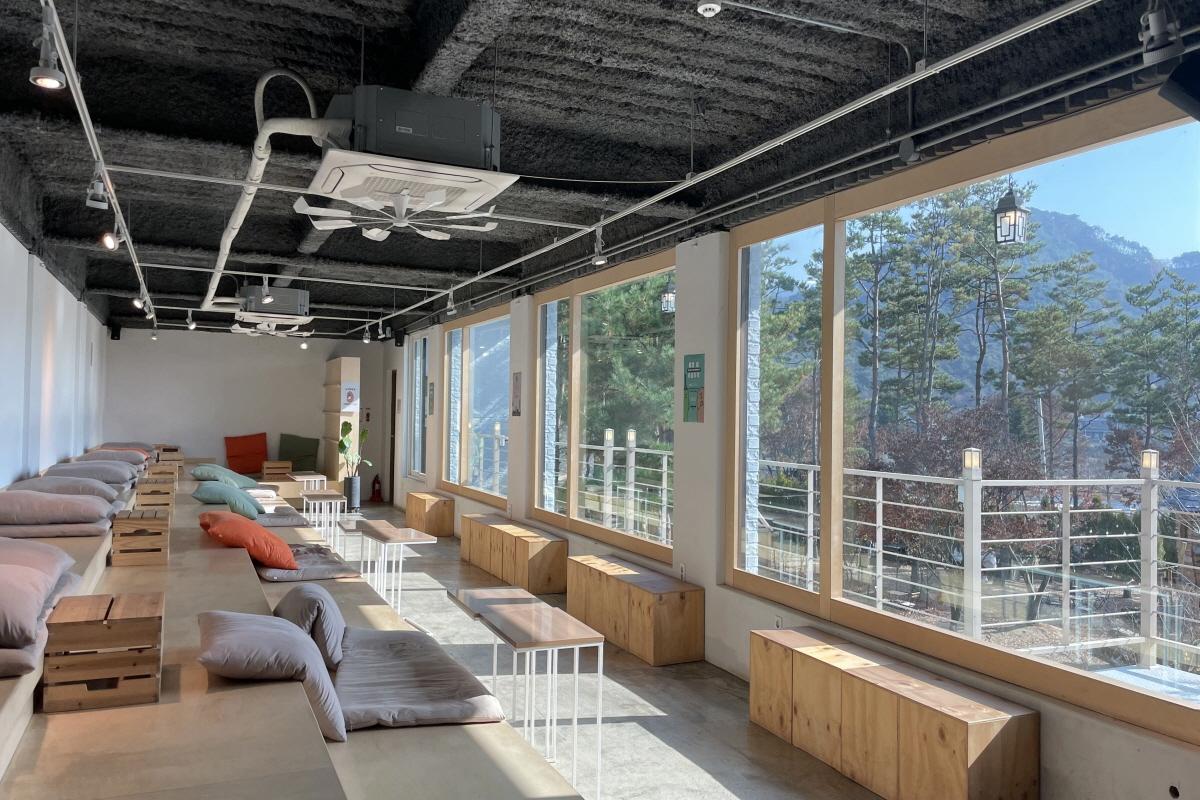 The second floor has a very different vibe, doesn't it?
It feels very cozy and homey, so it could be nice to settle into the cushions and relax while enjoying the view with some potato bread.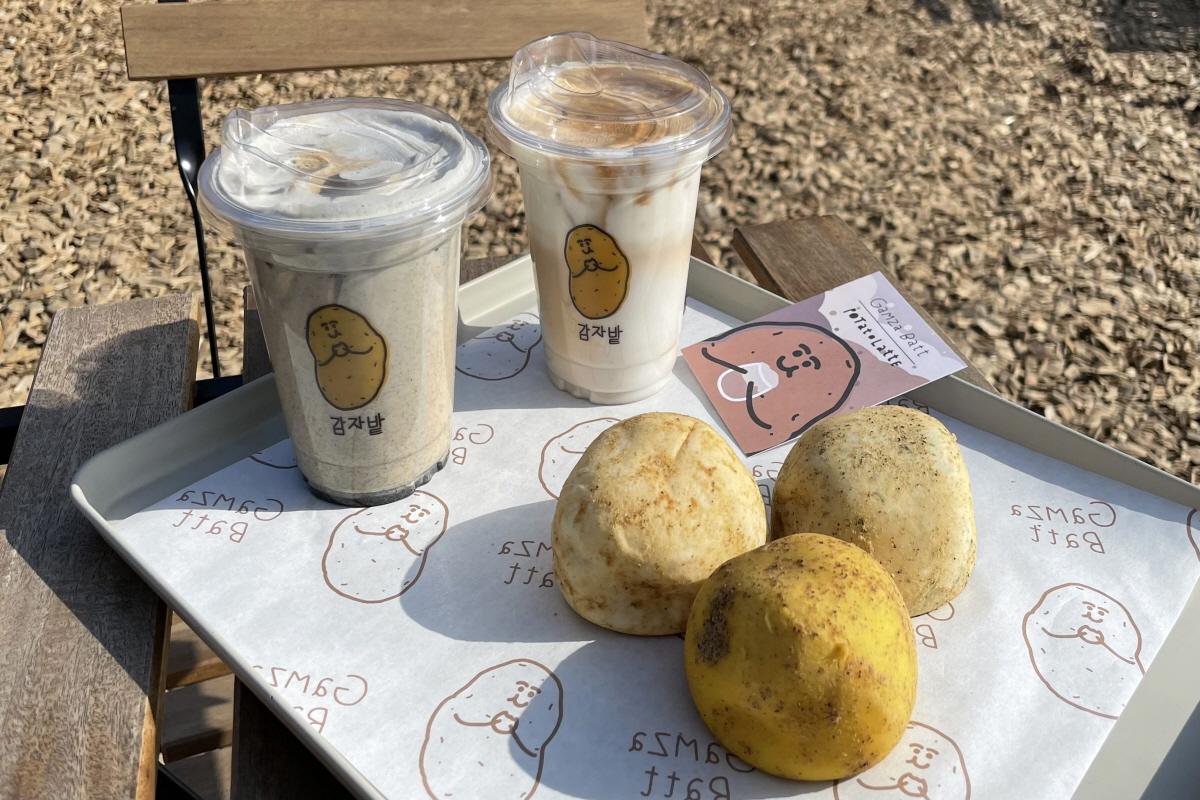 As for the drinks and the potato bread, we had heard so much about them, we were very excited to try them, so let's talk about those!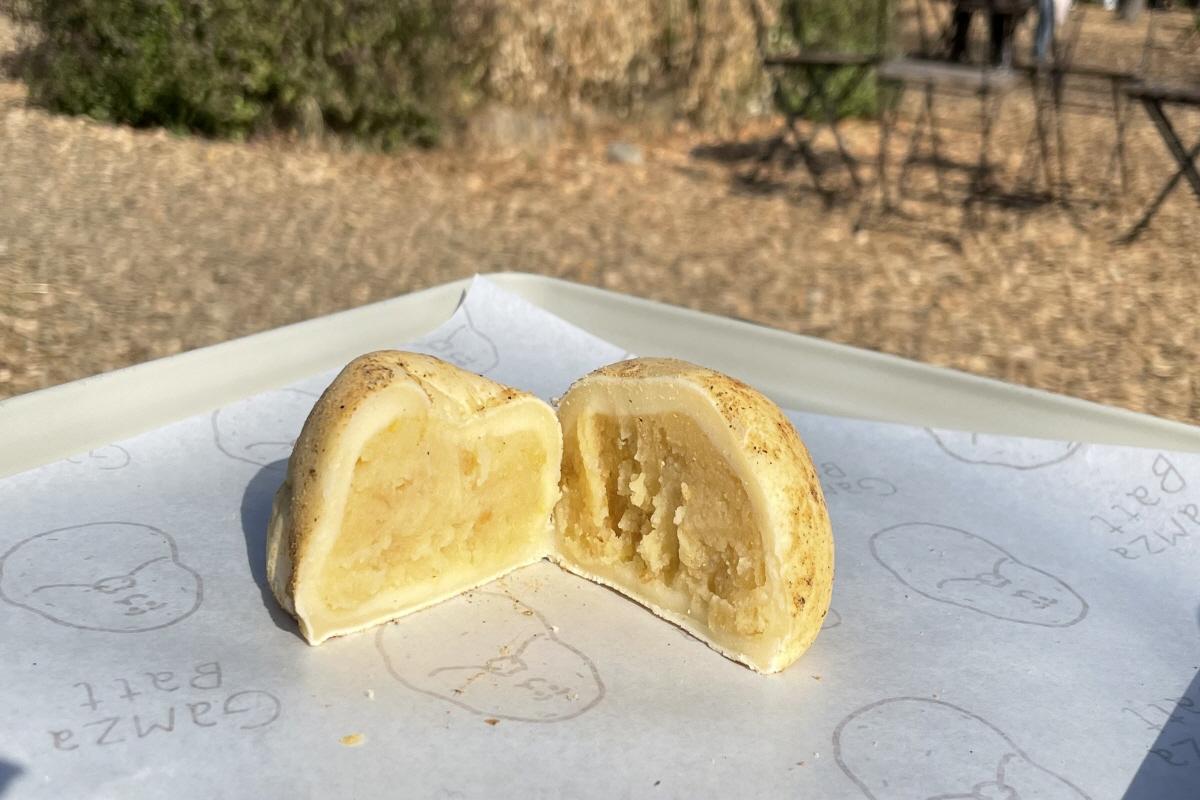 Original Potato Bread (오리지널 감자빵)
3,300 KRW
The first bread is the original flavor!
We thought it would be hard on the outside, but were surprised that it was actually soft and chewy. This is because the bread is made with rice flour instead of wheat.
The potato paste inside is made of domestic rose potatoes that taste sweeter than regular potatoes.
Maybe that's why it was so soft and sweet. We definitely would recommend this to anyone!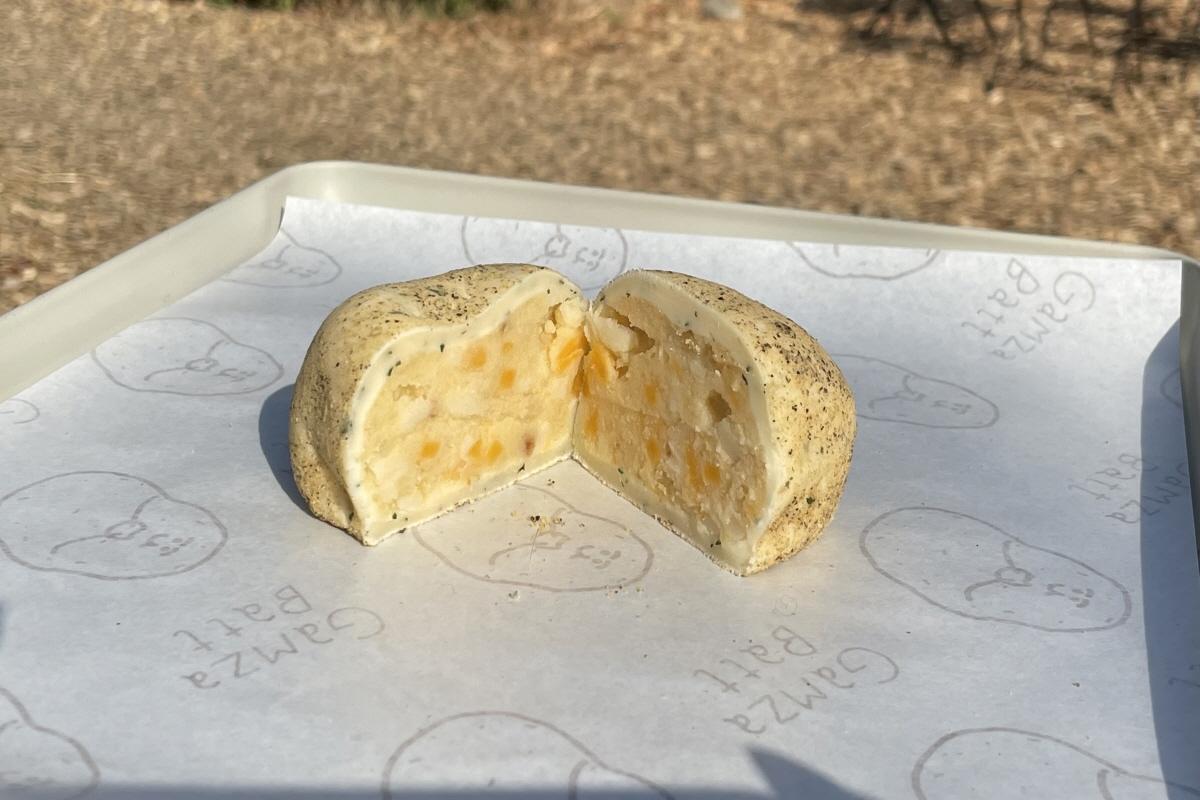 Cheese Potato Bread (치즈 감자빵)
3,800 KRW
Next up is the cheese flavored potato bread.
This one had parsley in the bread, which went very well with the cheese.
The potato filling contains mozzarella, gouda, cheddar, and camembert, so you can really taste a real cheese flavor.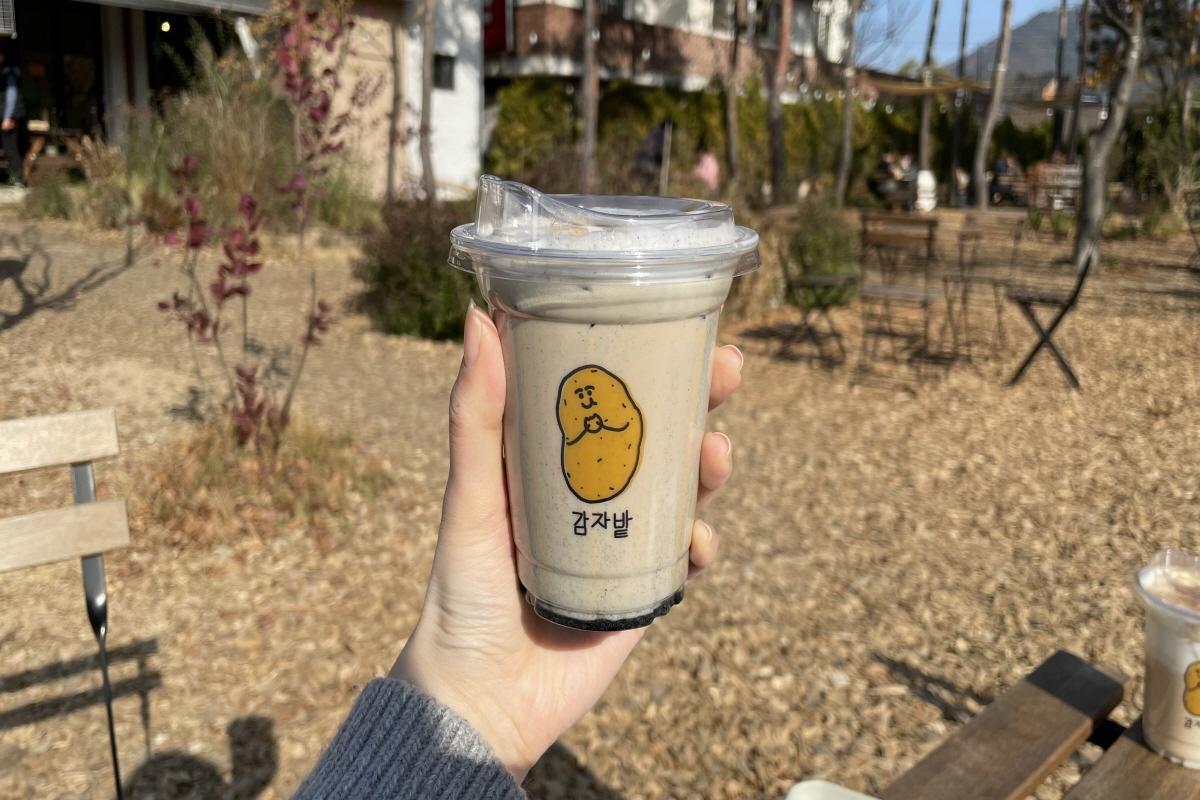 Seoritae Latte (서리태라떼)
5,500 KRW
The Seoritae Latte was really delicious because of the savoriness of the Seoritae beans.
It was not too sweet, so many people can enjoy this latte.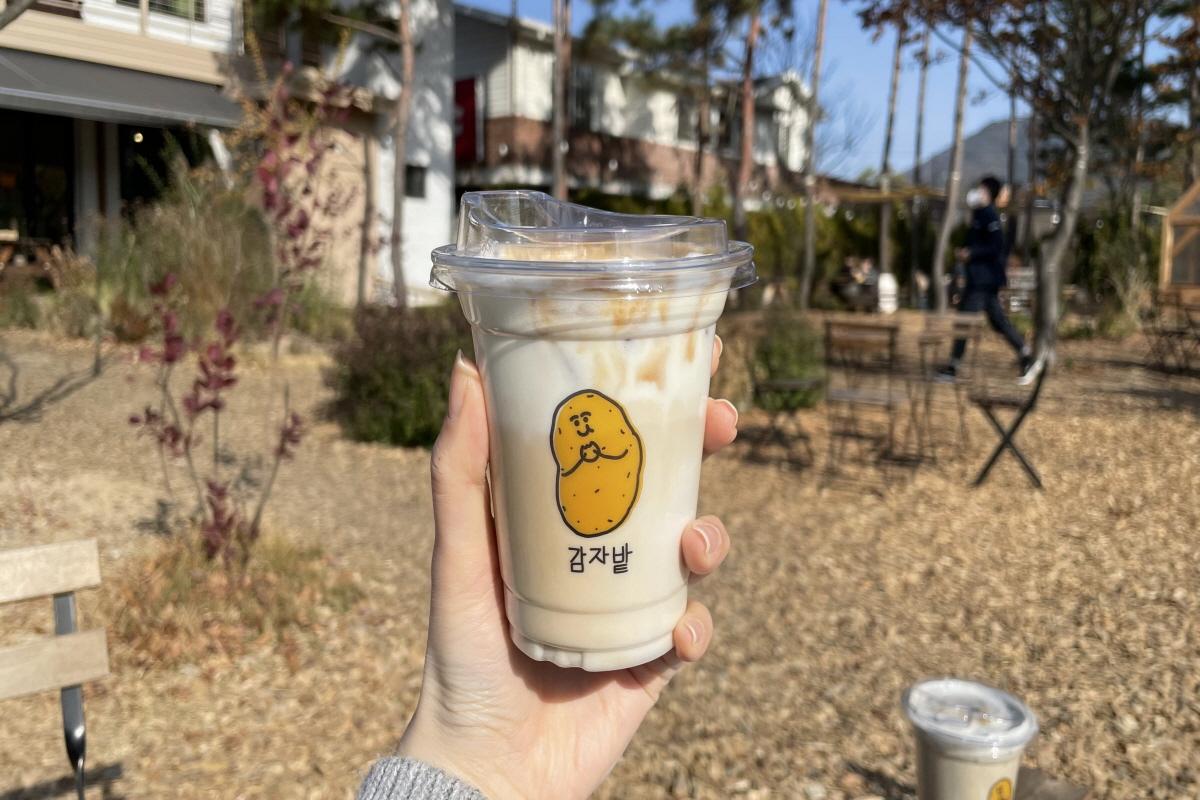 Potato Latte (감자라떼)
6,000 KRW
The Potato Latte tasted like potatoes and sweet cream.
If you're bored of regular sweet cream lattes, I recommend you try this variation to switch things up.
And it went very well with the potato breads!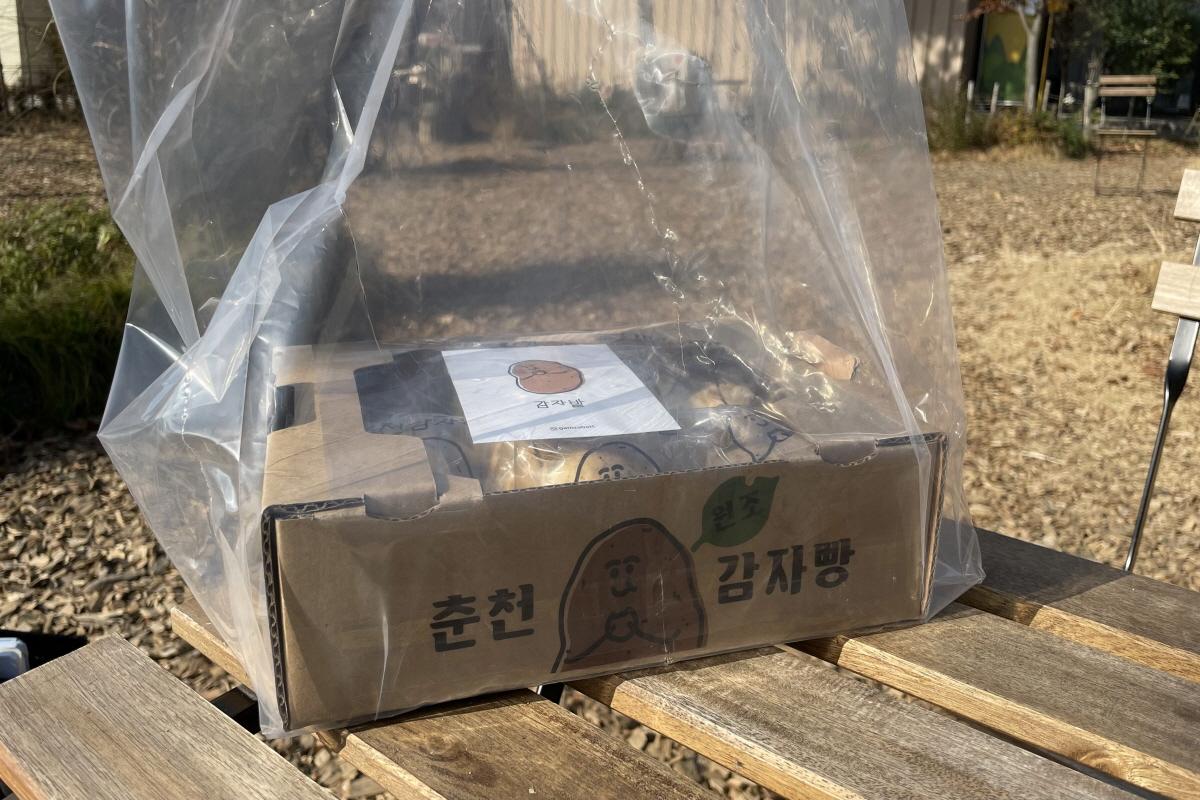 We were so impressed with the potato bread, that we had to bring a box back with us to share with our friends!
Overall, we really enjoyed our visit to Cafe Gamzabatt in Chuncheon.
If you're planning a visit to Gangwondo, don't forget to stop and try the famous potato bread!
And you can even pick up some cute Potato merch to bring home as souvenirs.
---
How To Get There
By Bus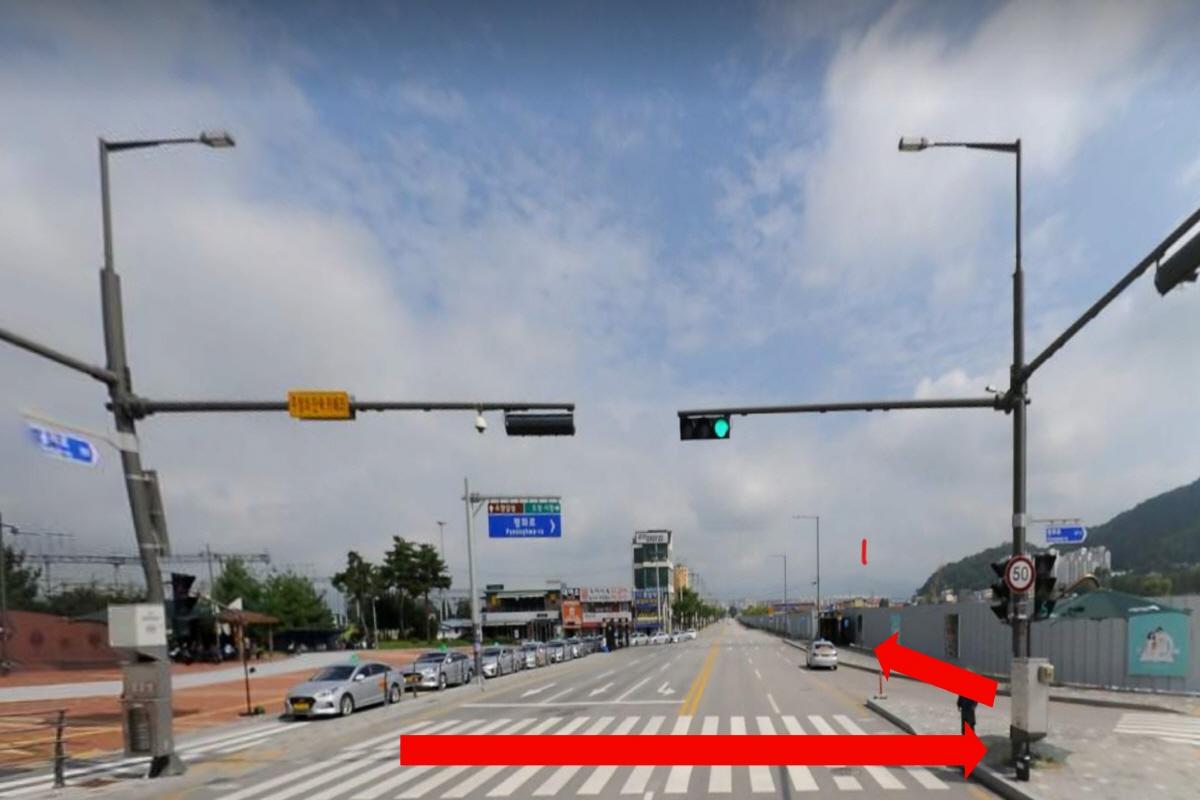 You can take the ITX train from Yongsan Station or Cheongnyangni Station to Chuncheon Station.
After coming out of Chuncheon Station Exit 1, cross the crosswalk and go to the left to get to the bus stop.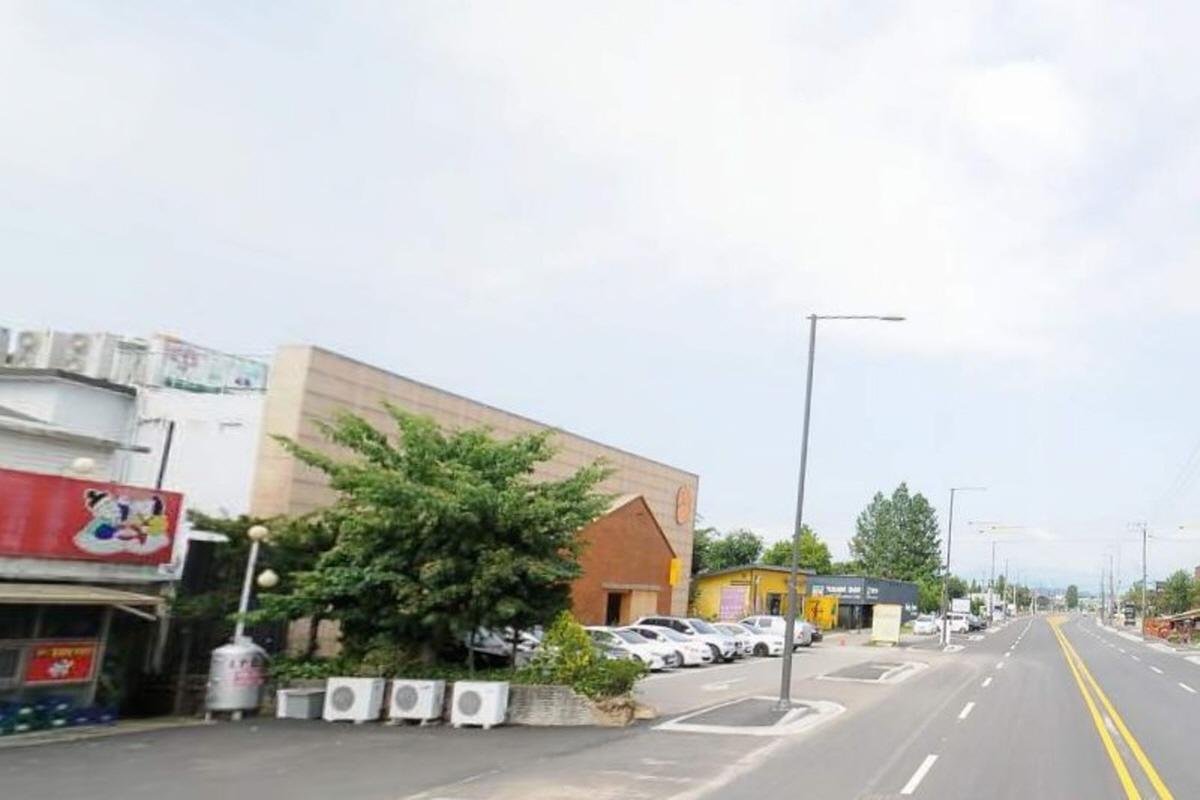 From the bus stop, take bus 11 or 12 and get off at the Sangcheon Elementary School stop (상천초등학교).
Walk straight to the right and you will see the cute potato character.
It takes about 30 minutes by bus to get there.
By Taxi
Get off at Chuncheon Station and take Exit 1, and you will see a taxi stand.
It takes about 20 minutes by taxi to get there and costs about 10,000 won
---
---
WE hope that you can enjoy this fun cafe when you are in Korea! If you have any questions, leave a comment below or send us an email at help@creatrip.com! You can also follow us on Instagram, TikTok, and Facebook to stay updated on all things Korea!
---