Explore Gangwondo | A One Day Trip To Cheorwon
Visit This Popular Tourist Destination Known For Their Beautiful Flower Fields And Impressive Landscape!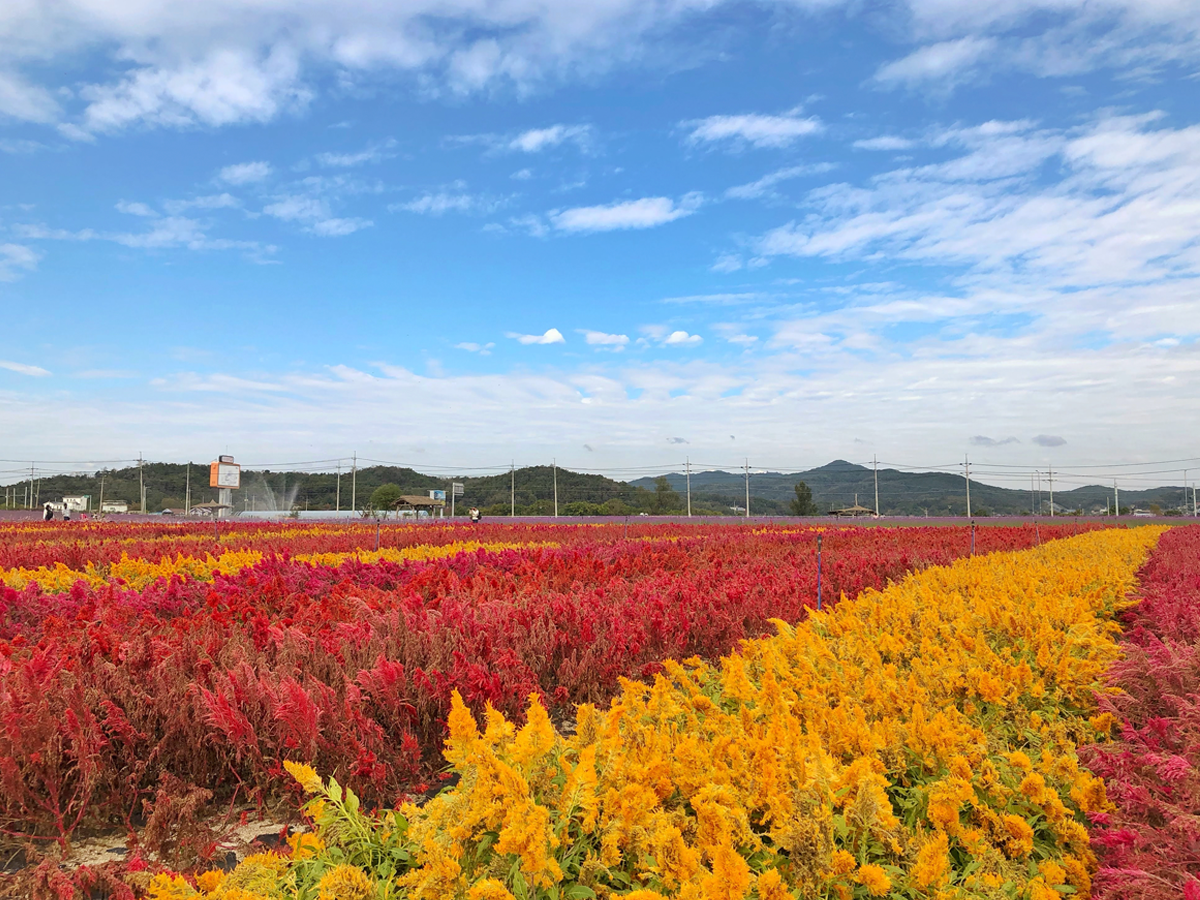 If you're visiting Gangwondo, South Korea, then you definitely need to try visiting Cheorwon.
This city close to the North Korean border has become an increasingly popular tourist destination for its beautiful scenery and flower fields.
Keep on reading to take a closer look!
---
Transportation From Seoul To Cheorwon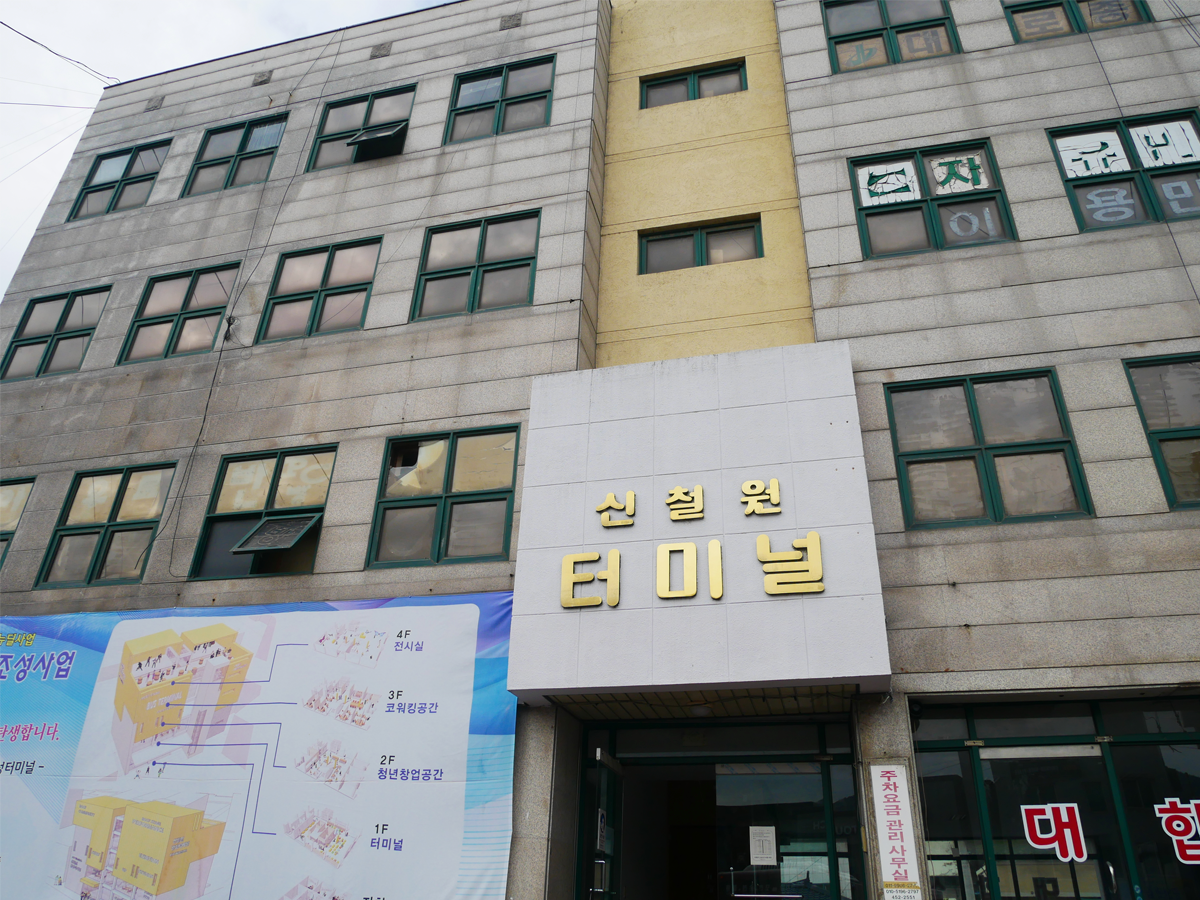 Public transportation to Cheorwon is mainly by train and bus. There are three bus stops in Cheorwon: Sincheorwon Intercity Bus Terminal (신철원시외버스터미널), Dongsong Intercity Bus Terminal (동송시외버스공용터미널), and Wasu Bus Terminal (와수버스터미널).
From Seoul, you can catch a bus at East Seoul Bus Terminal or Express Bus Terminal.
It takes about two hours from East Seoul Bus Terminal to Sincheorwon Intercity Bus Terminal, and the fare is 10,800 won.
The buses leave every hour. Departure times are 06:40, 07:20, 08:30, 10:00, 10:50, 11:00, 12:30, 14:30, 14:40, and 16:20. Tickets can be purchased in advance on txBus and BusTago, just make sure to check the time before departure.
---
Recommended Itinerary
Goseokjeong Pavilion (고석정)
Address: 강원 철원군 동송읍 태봉로 1825
1825 Taebong-ro, Cheorwon-gun, Gangwon-do
Admission: Free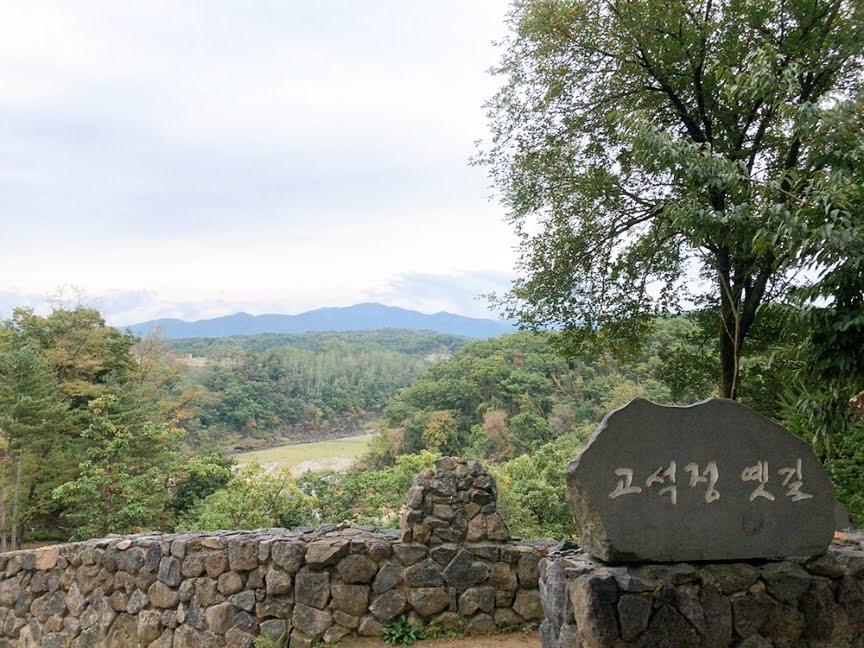 First, I want to introduce to you the Goseokjeong Pavilion, one of the eight scenic spots in Cheorwon.
Located by the Hantan River, its special topography and scenery means it has important geological research value.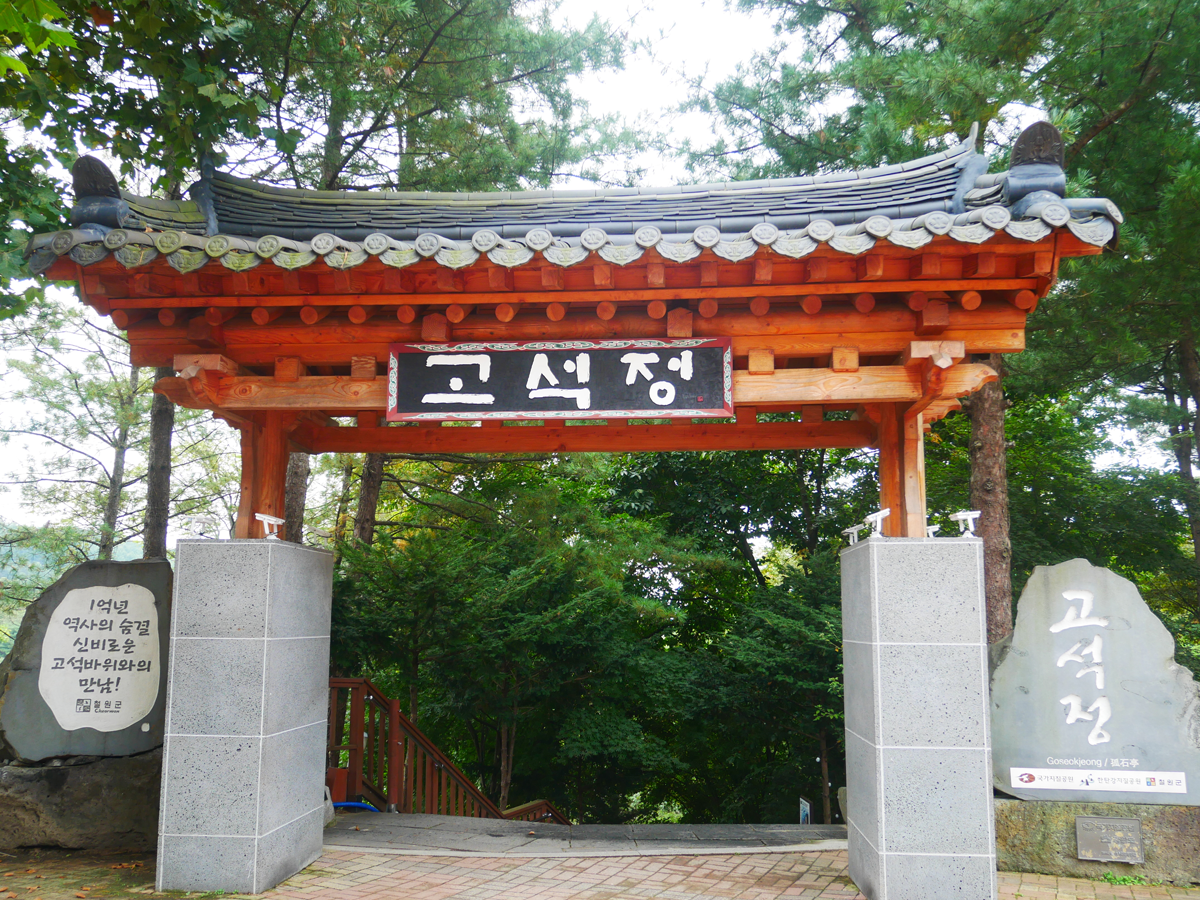 The entrance to Goseokjeong Pavilion is pictured above. If you keep walking, you will see the Goseok Rock (고석바위), a unique-looking 15 meter tall sedimentary rock formation.
The granite formed underground about 110 million years ago and was later discovered when a new channel formed through the erosion of the Hantan River.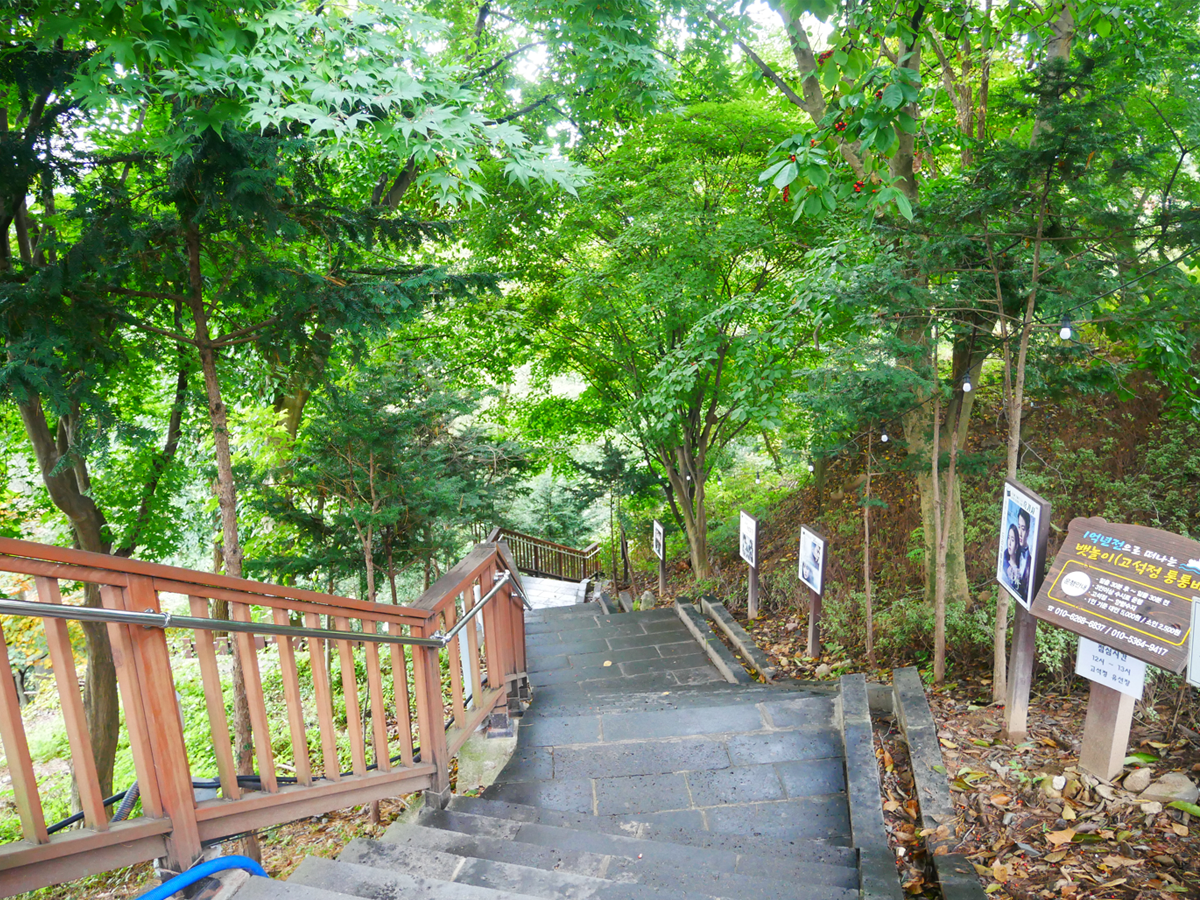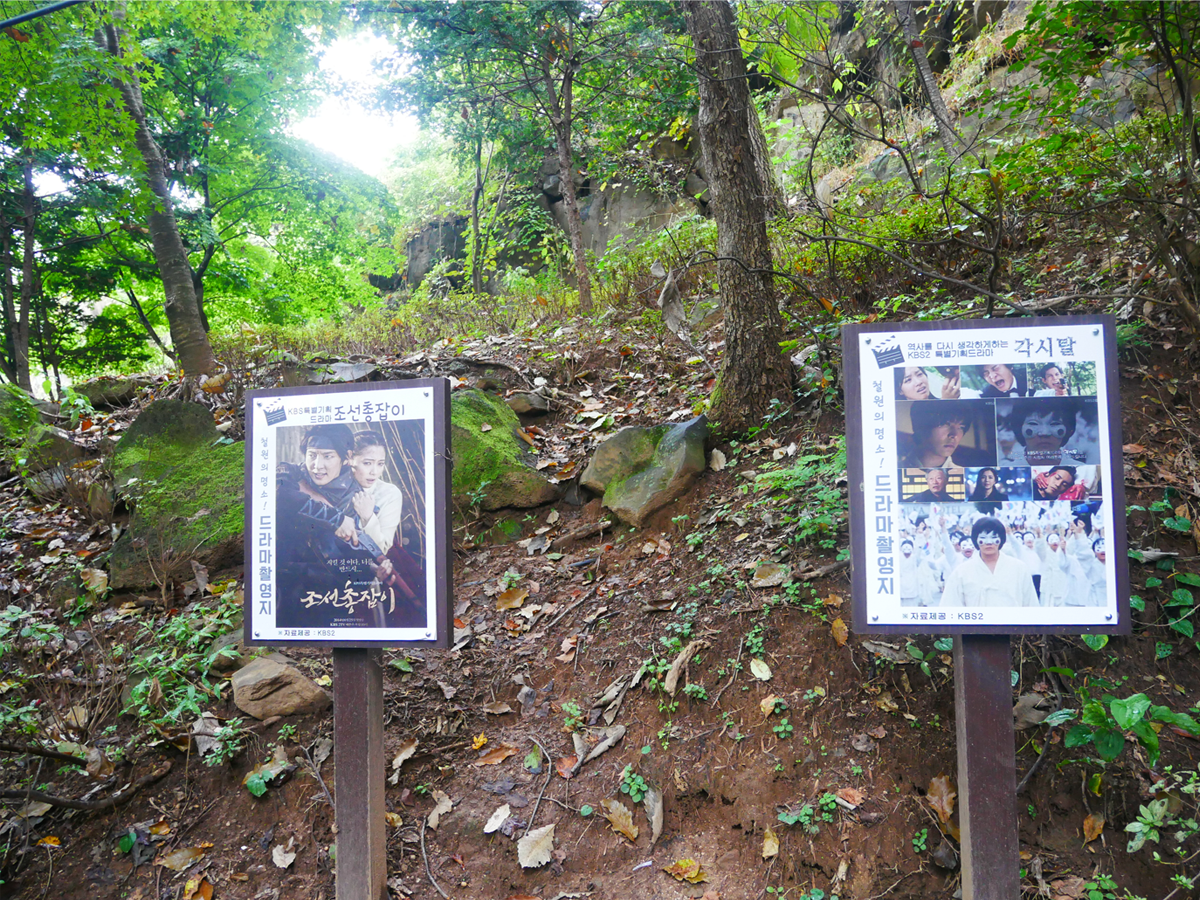 On the side of the stairs, you can see signs showing many Korean dramas that have been filmed here, such as Shark, That Winter, The Wind Blows, Dr. Jin, and Gunman in Joseon.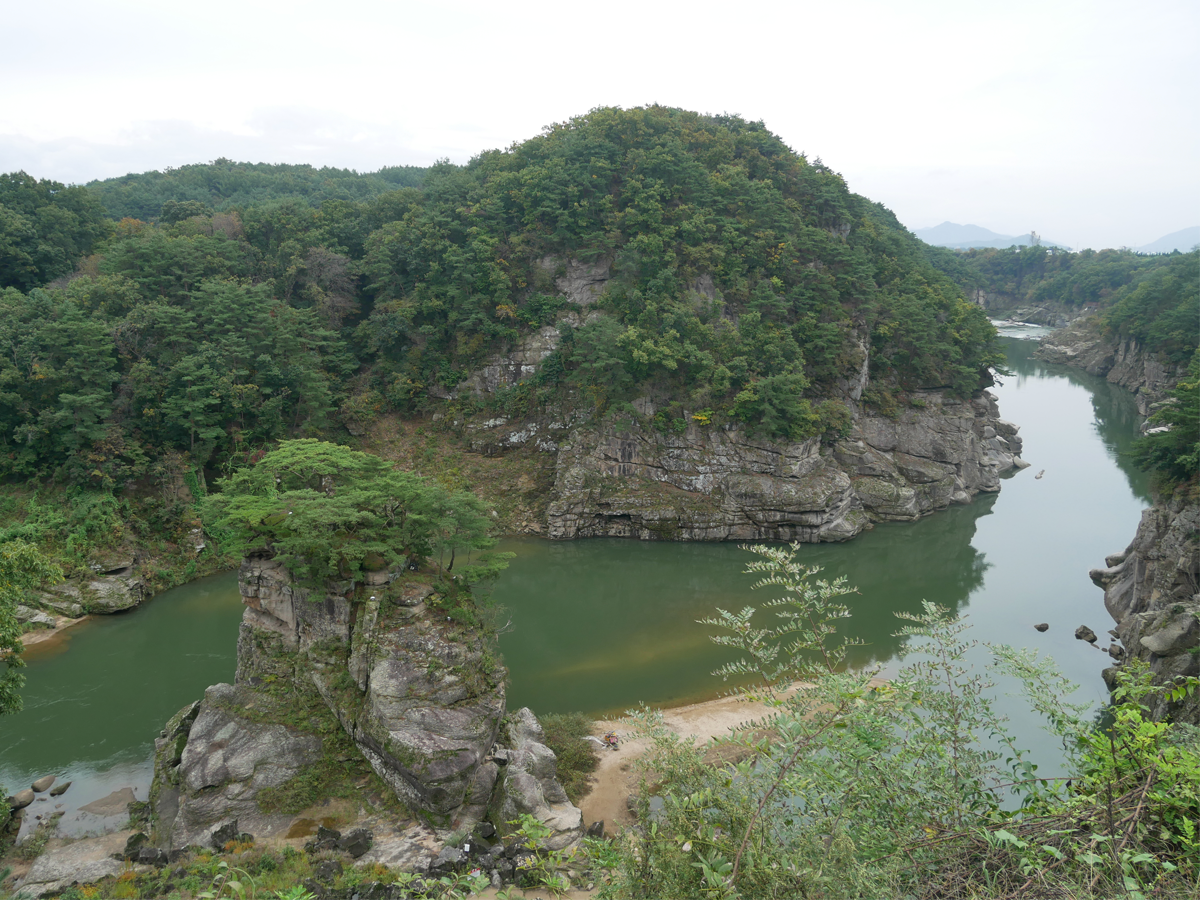 After about 15 minutes of walking, you will eventually come across the Goseok Rock and Hantan River and can feel the fresh air in the valley.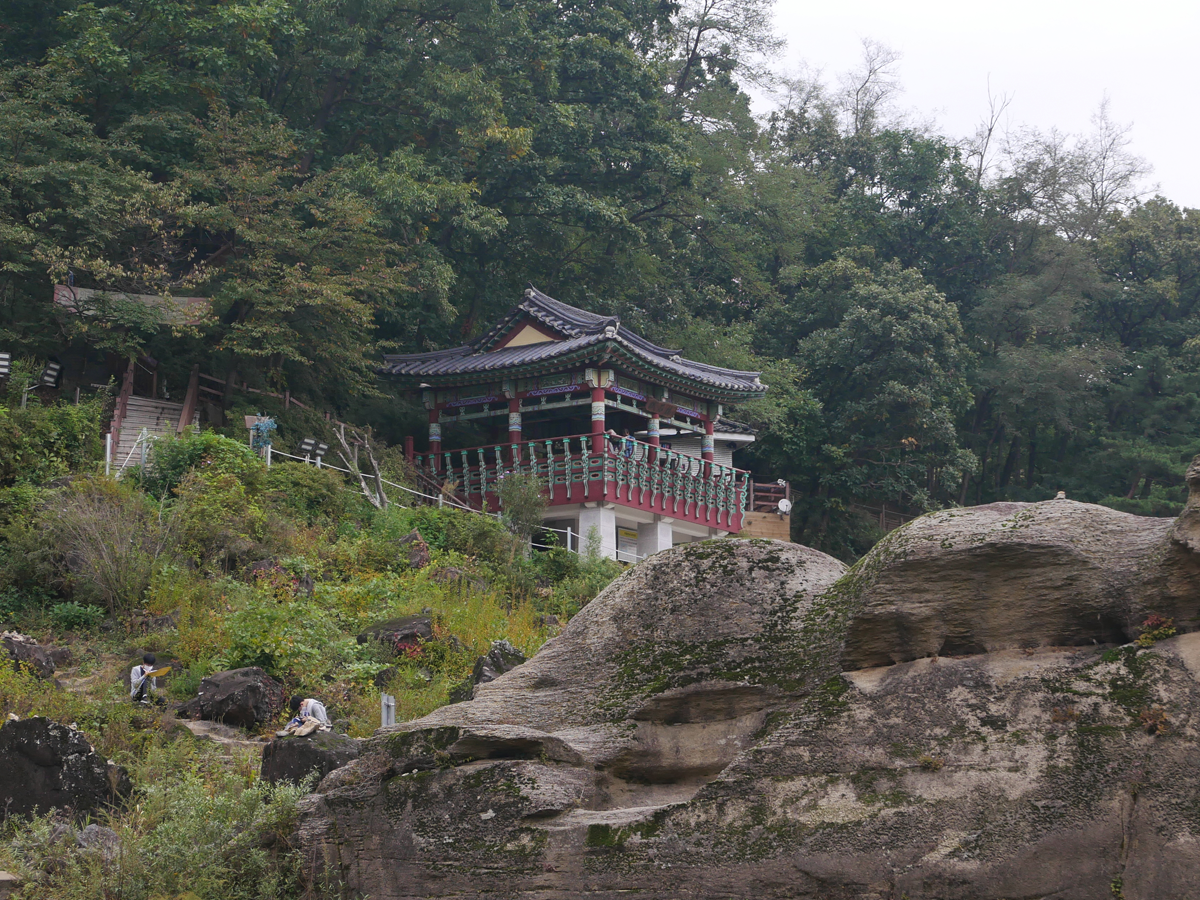 The two-story pavilion above is the Goseokjeong Pavilion. It was built during the reign of King Jinpyeong of the Silla Dynasty, but was burned down during the Korean War later rebuilt. It is a landmark with both geographical and historical significance.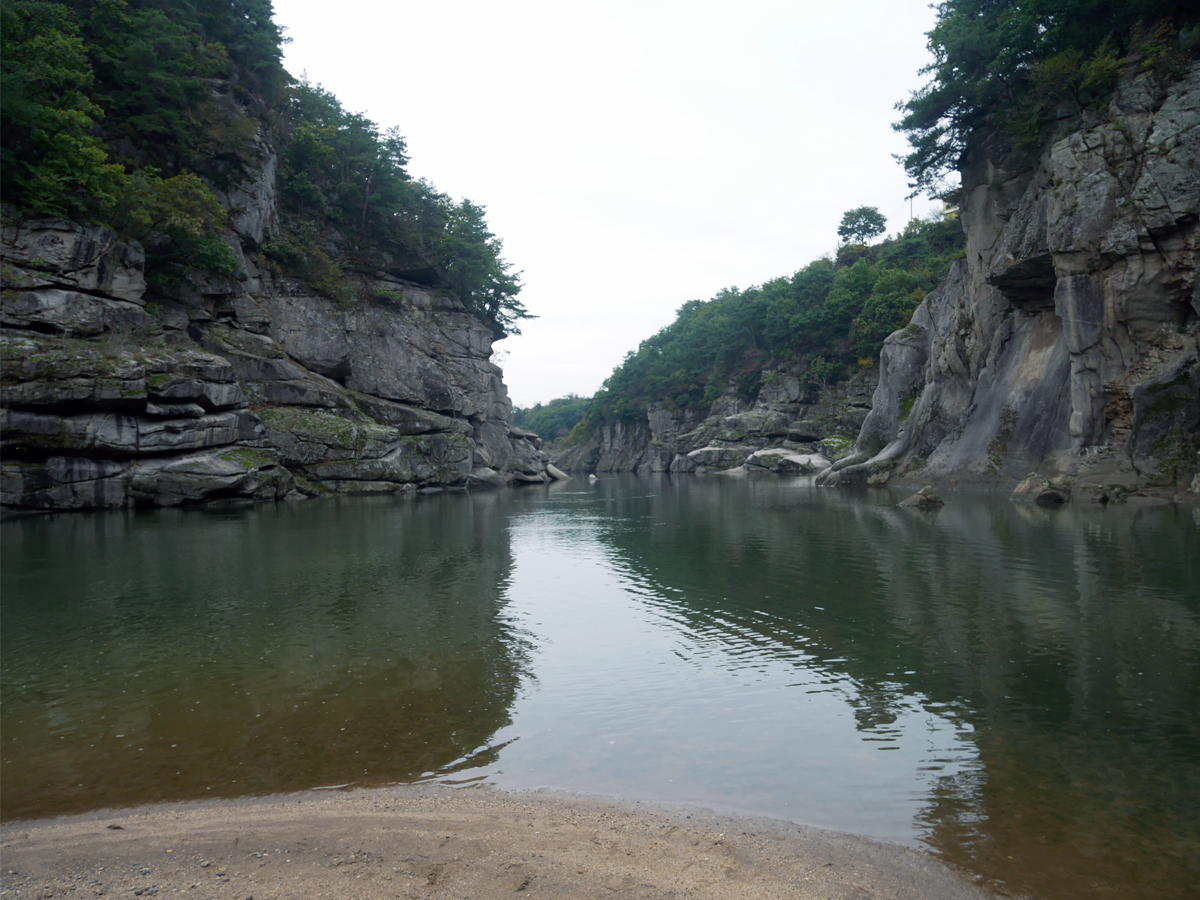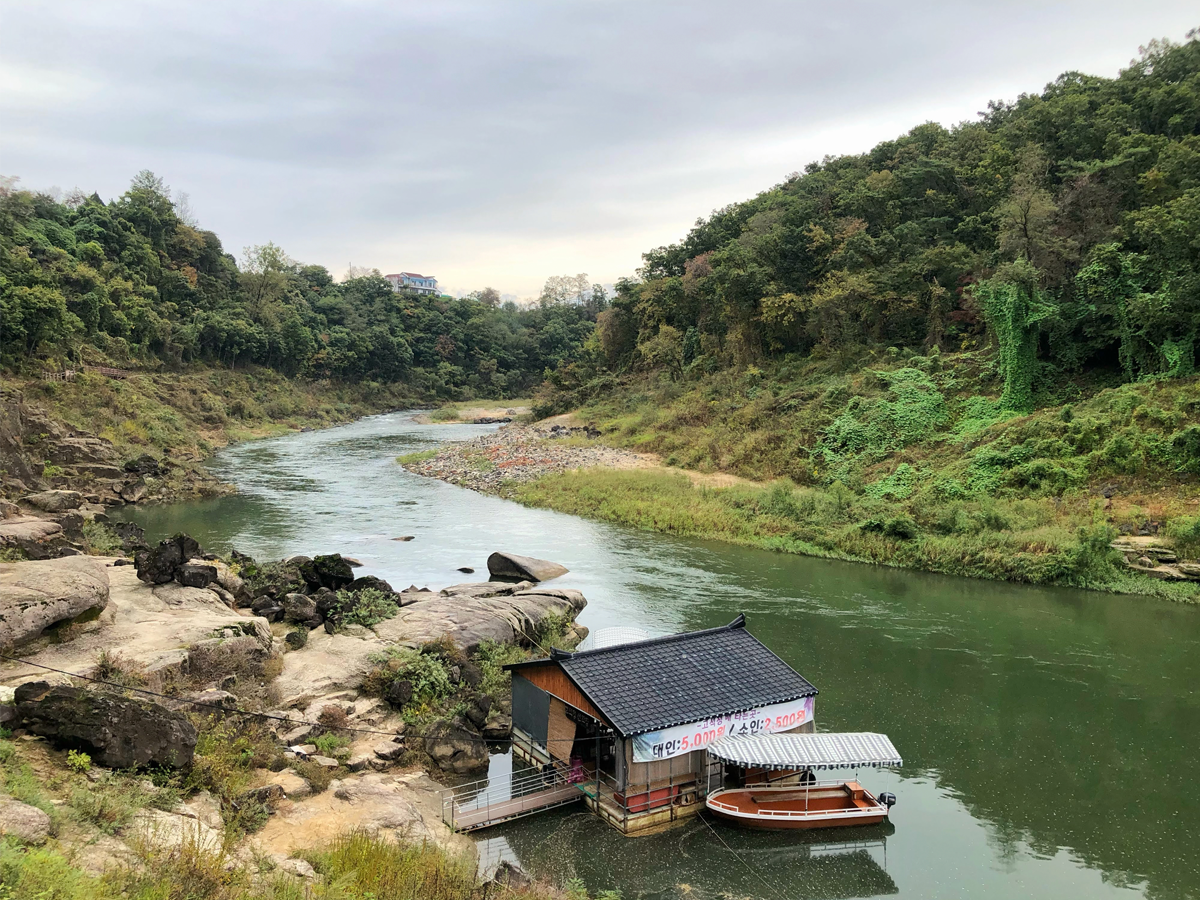 Here, you can also take a boat to go down the river and take a closer look at the interesting rock formations that have been naturally shaped over time. Why not explore while you have the opportunity?
Goseokjeong Flower Field (고석정꽃밭)



Address: 강원 철원군 동송읍 장흥리 10-2
10-2 Jangheung-ri, Cheorwon-gun, Gangwon-do
Hours: 10:00-17:00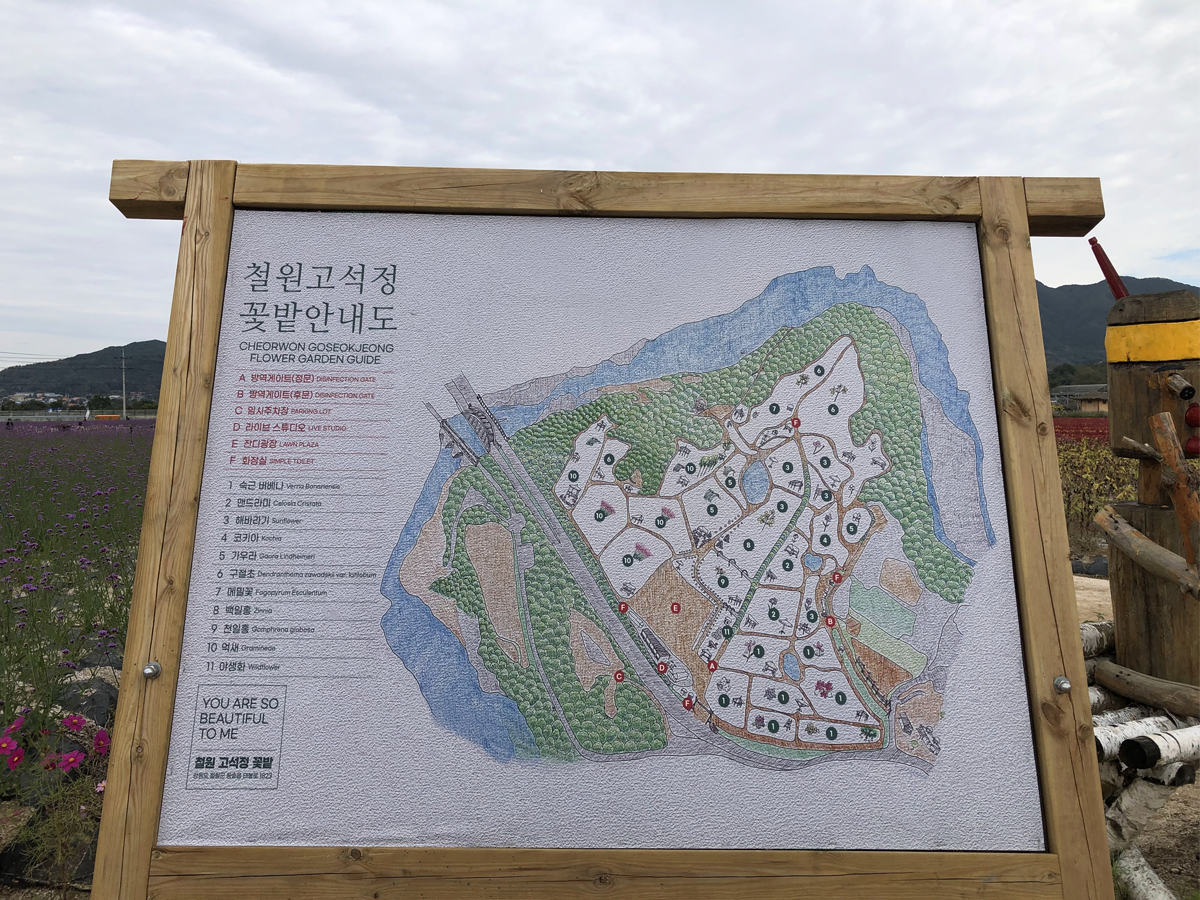 If you walk 15 minutes from Goseokjeong Pavilion, you can find the Goseokjeong Flower Field that has been very popular since last fall.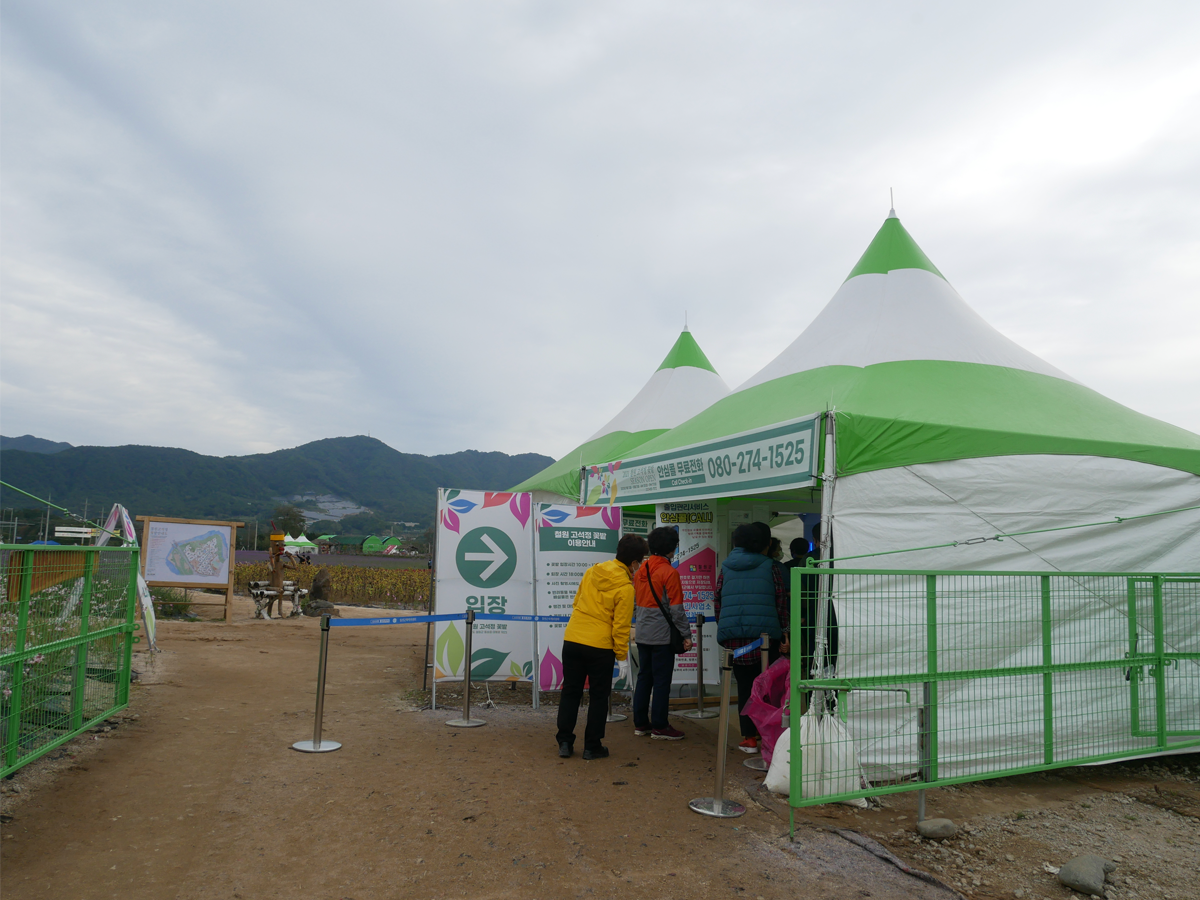 Due to COVID-19 prevention measures, you need to call a toll-free number or scan your QR code and take your take your temperature before entering.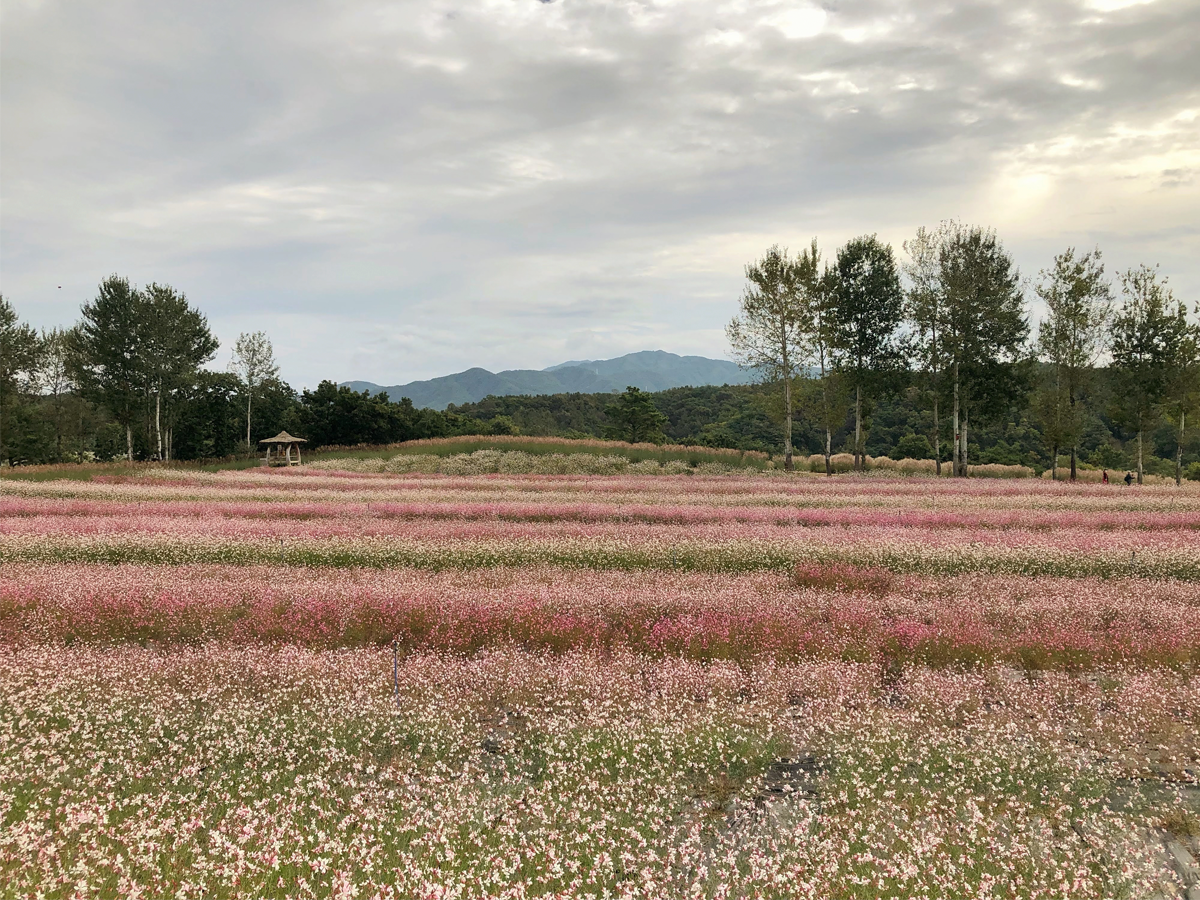 This field is about the size of a football field and has about 33 rows of flowers. The never-ending field of various colorful flowers looks spectacular.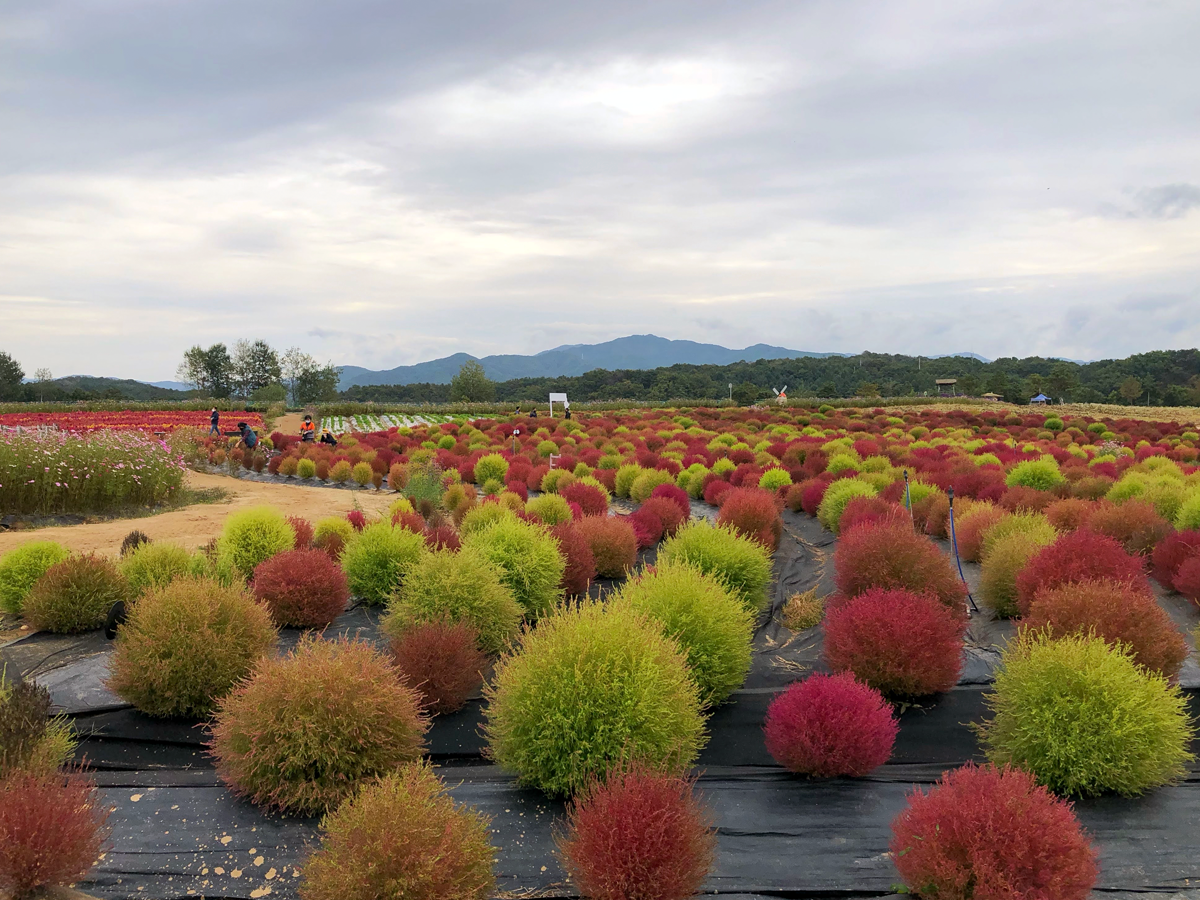 You can also find a ton of the popular Kochia flowers here.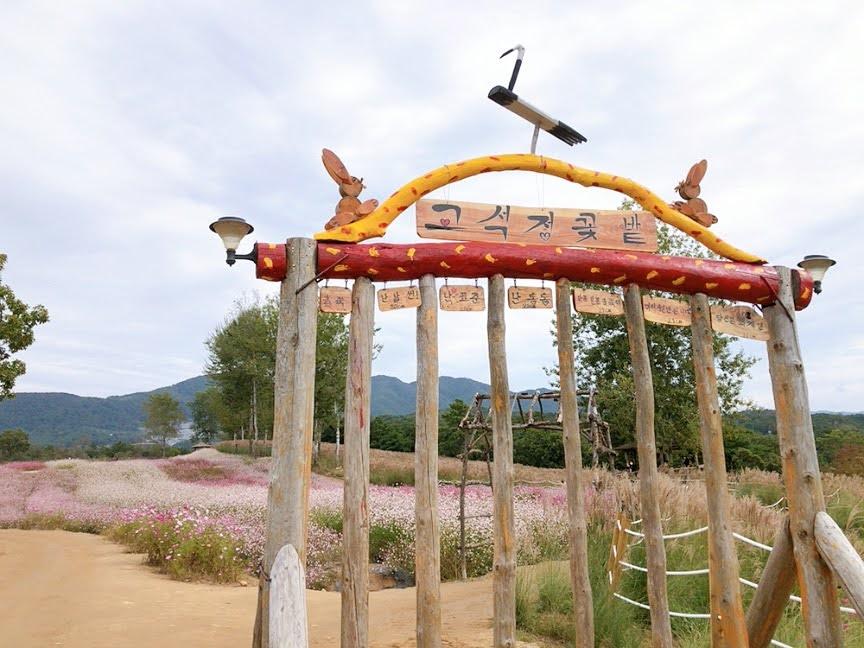 To make it more fun for tourists, the park also contains traditional hanok areas, art installations and more.
Additionally, K-pop music is played through speakers to add to the ambiance.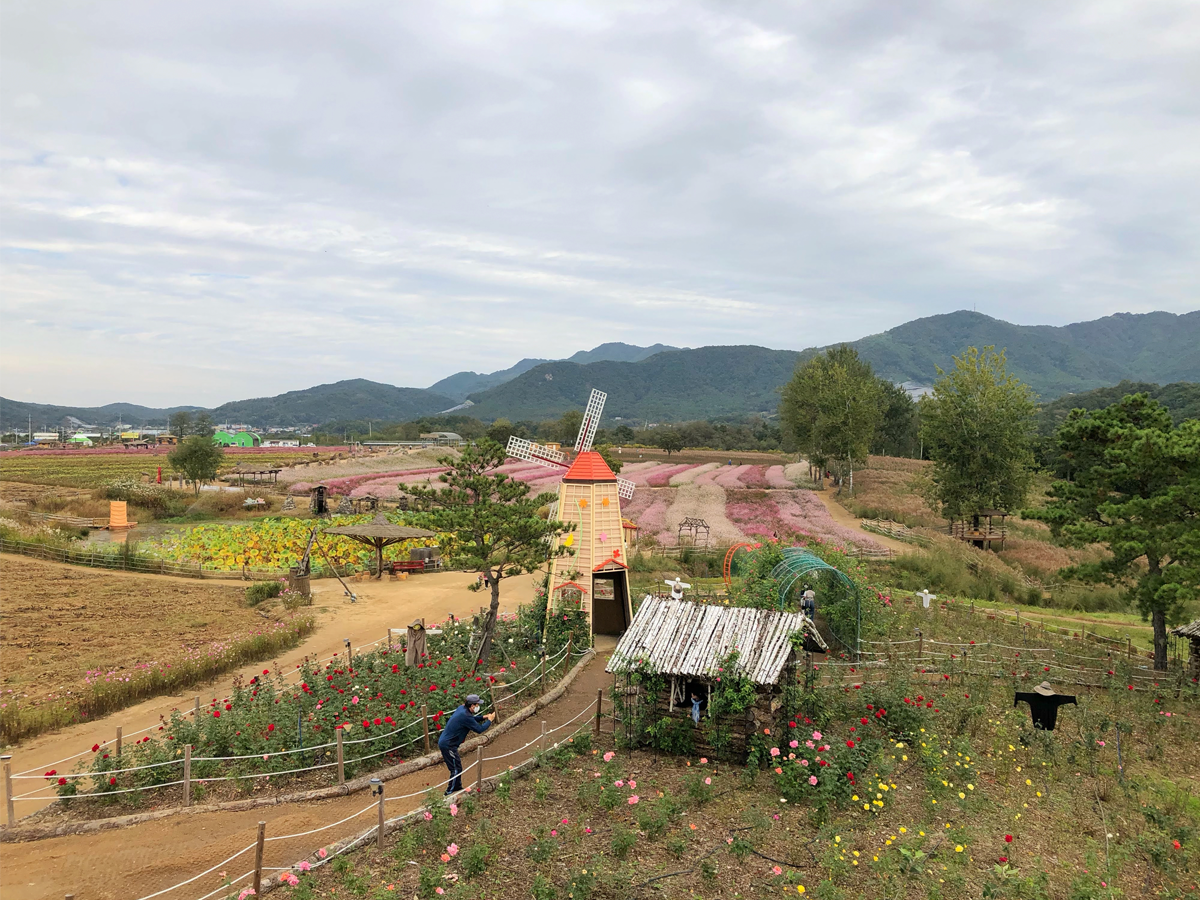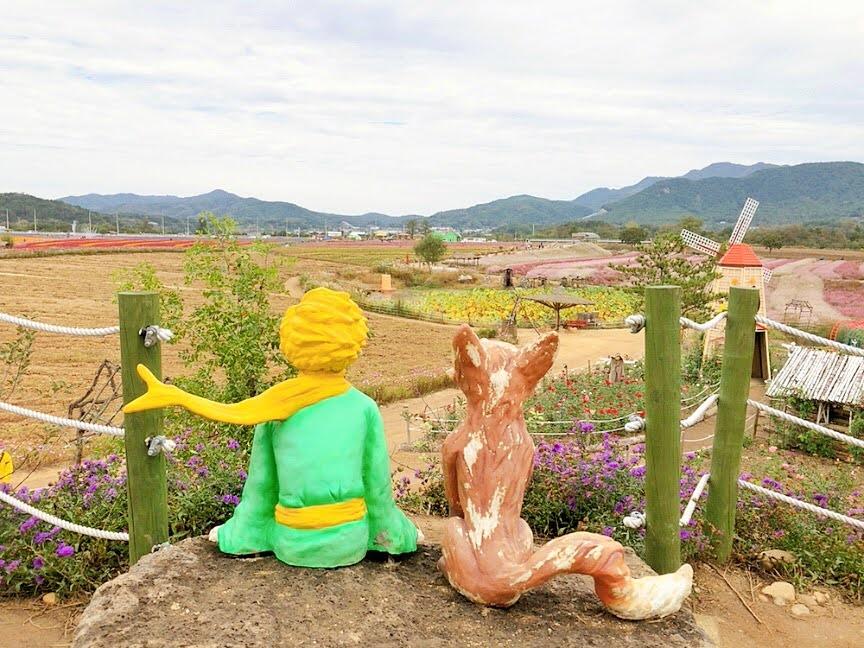 The weather was a bit overcast the morning I arrived, and there were no plants in the flower fields near the Little Prince, so it seemed a bit depressing.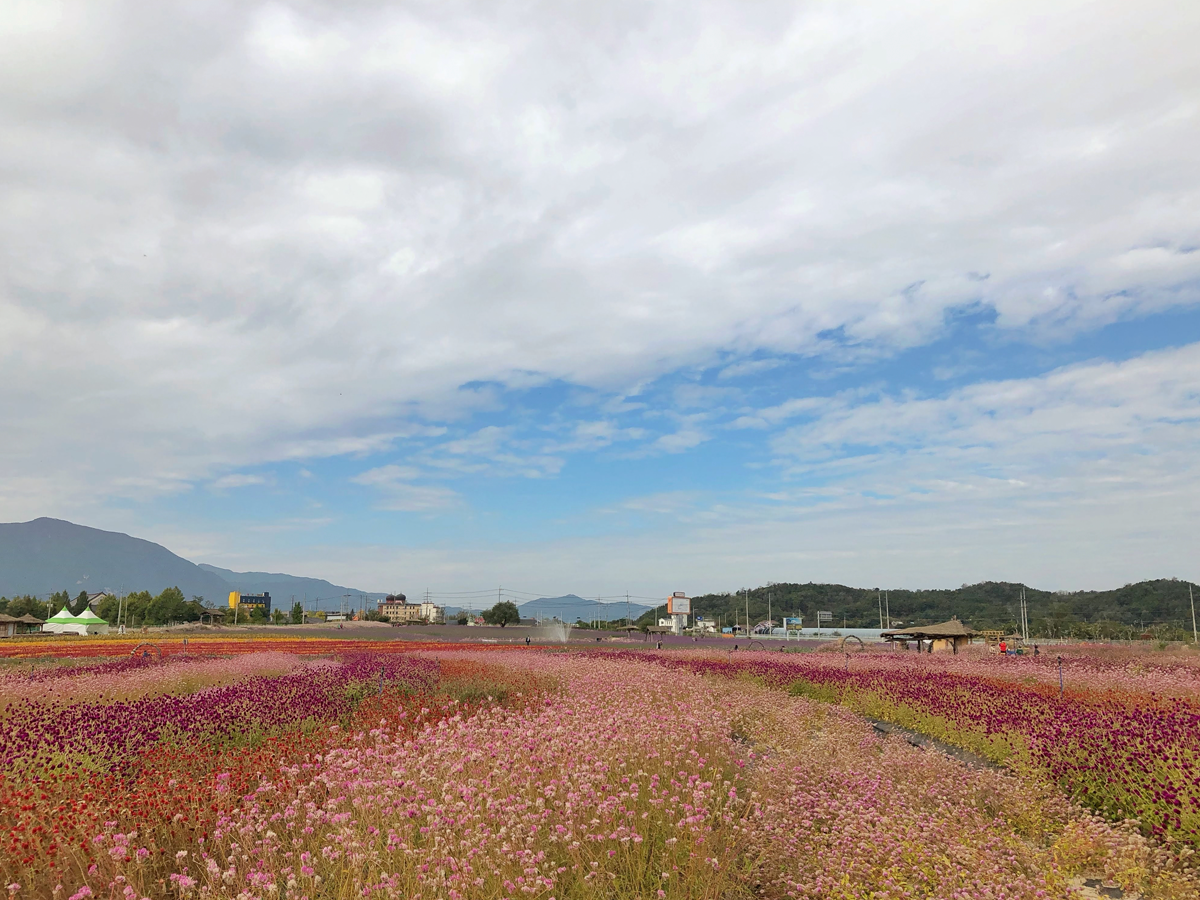 Just when we were giving up hope on getting some good pictures, the sky finally cleared up!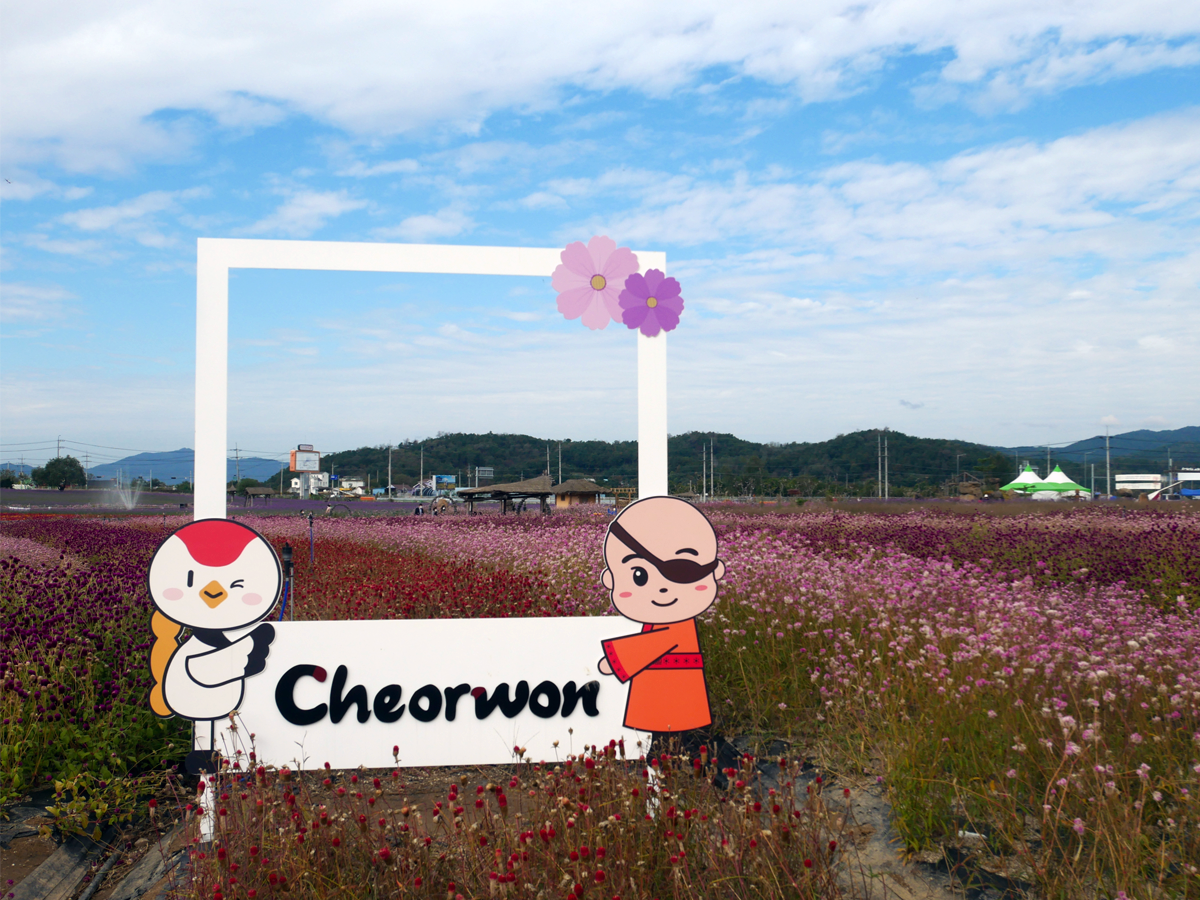 It is said that the people of Cheorwon regard the crane as a rare bird that symbolizes purity. Therefore, Cheorwon views the crane as the representative mascot of the county and here, you can pose for a picture with a cartoon version.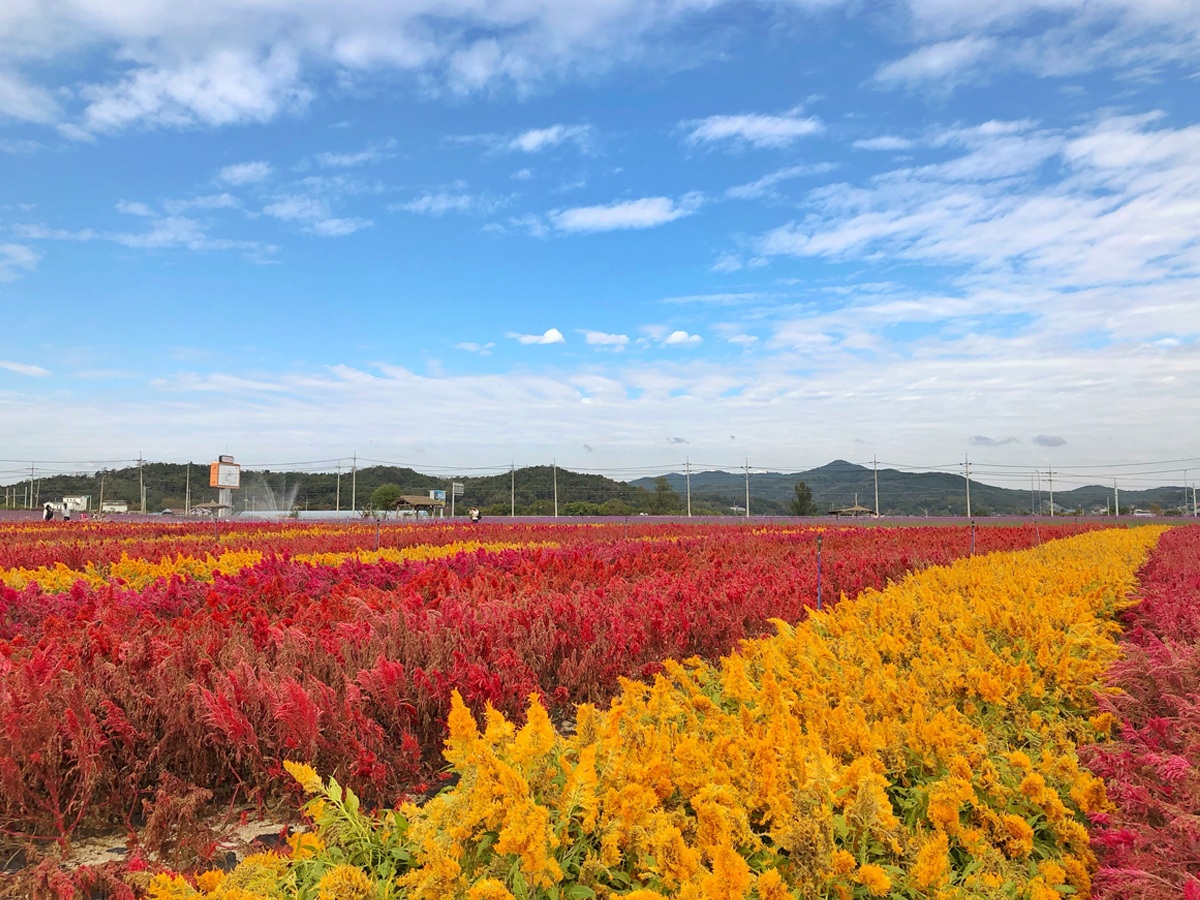 After waiting for a while, the sky finally turned blue. The bright, blue sky and white clouds above the sea of flowers is really beautiful, right?
However, Cheorwon's flower fields are not available every day. They will open according to the season. For example, this autumn they are expected to be closed on October 31, so be sure you confirm the blooming schedule before planning a visit.
Pyeongi Dambaek Ppyeokalguksu (평이담백 뼈칼국수)
Address: 강원 철원군 동송읍 태봉로 1833
1833 Taebong-ro, Cheorwon-gun, Gangwon-do
Hours:
11:00-20:00
Mon-Fri Break 15:00-17:00
Sat-Sun Break 16:00-17:00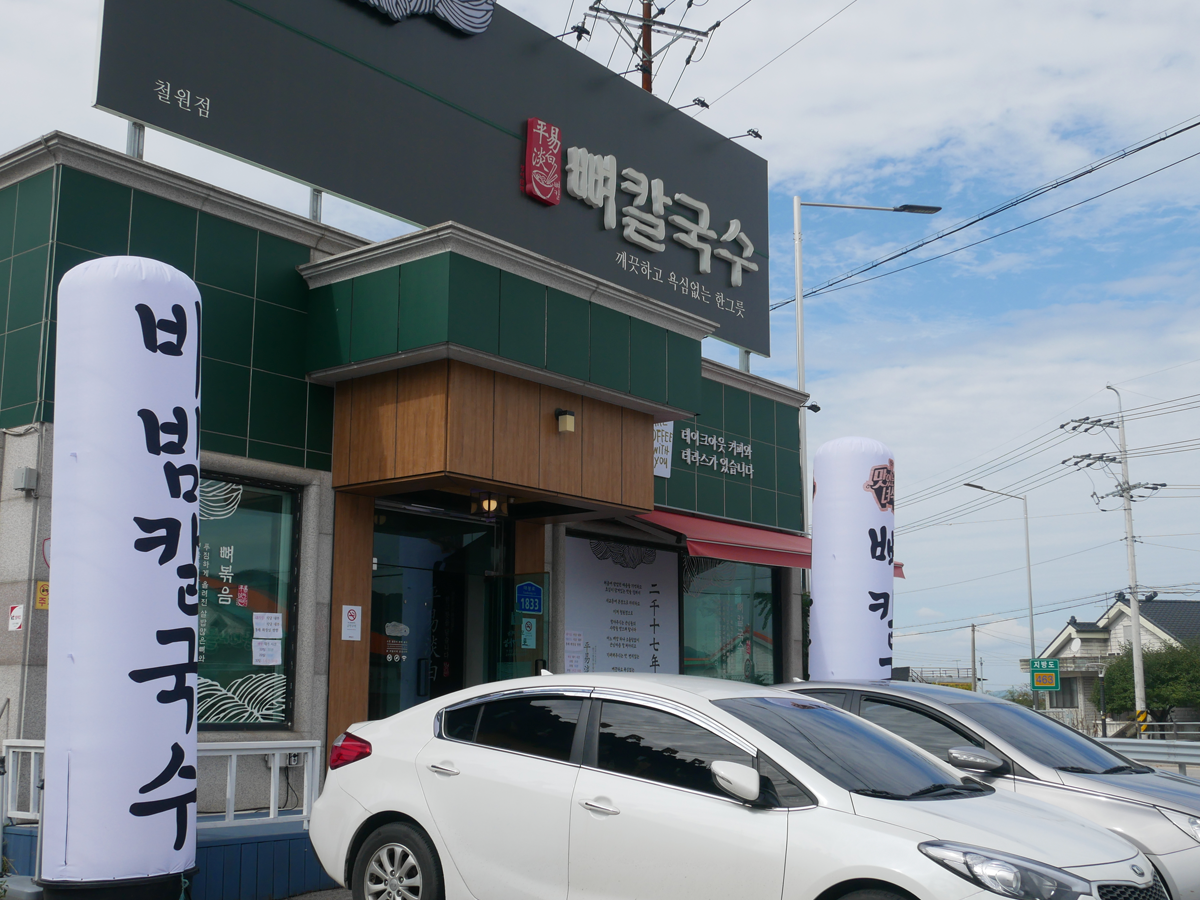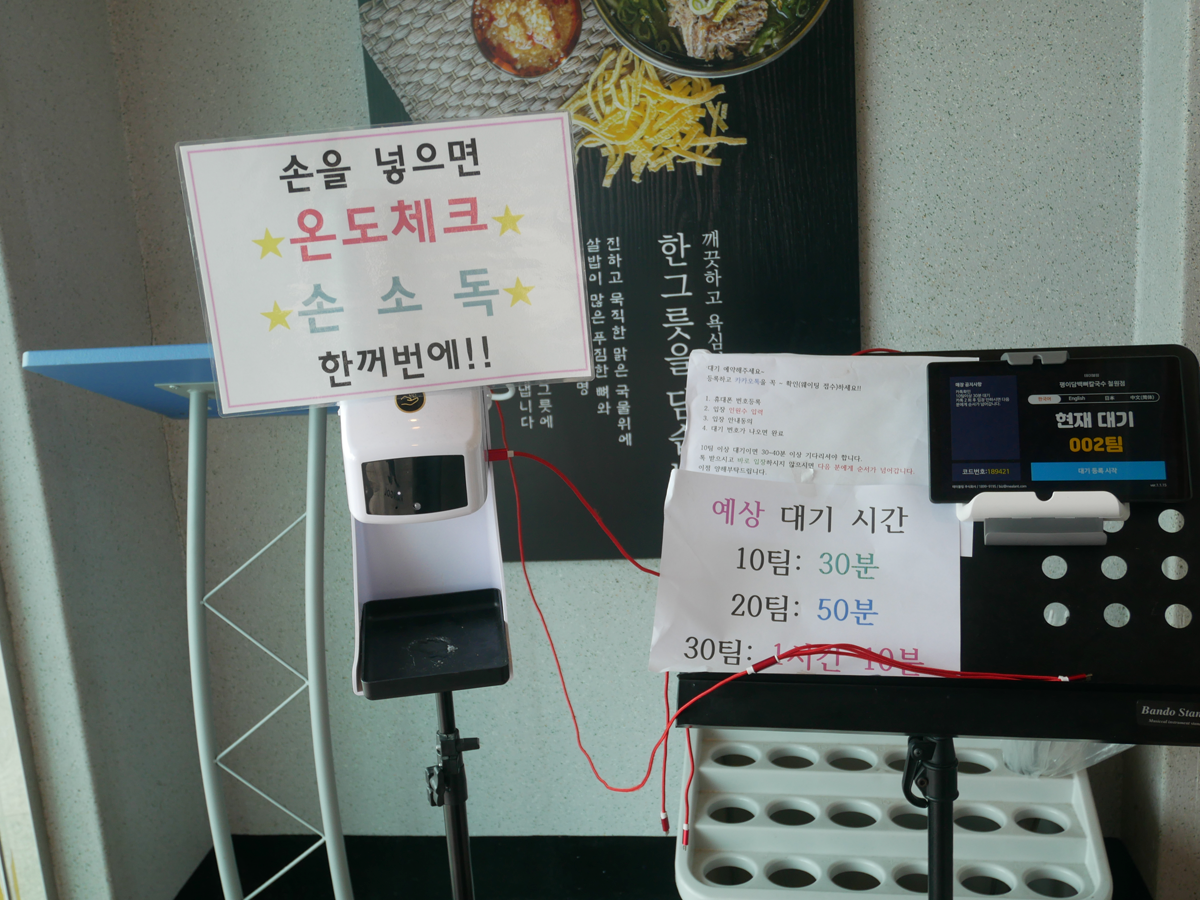 After all that walking, it's time for a lunch break to regain your energy!
Pyeongi Dambaek Ppyeokalguksu is about a 15 minute walk from Goseokjeong Pavilion. They sell kalguksu, or handmade knife-cut noodle soup.
It is one of the most famous restaurants in this neighborhood. You can see how popular it is from all the cars parked in front. You even need to take a number and wait to enter.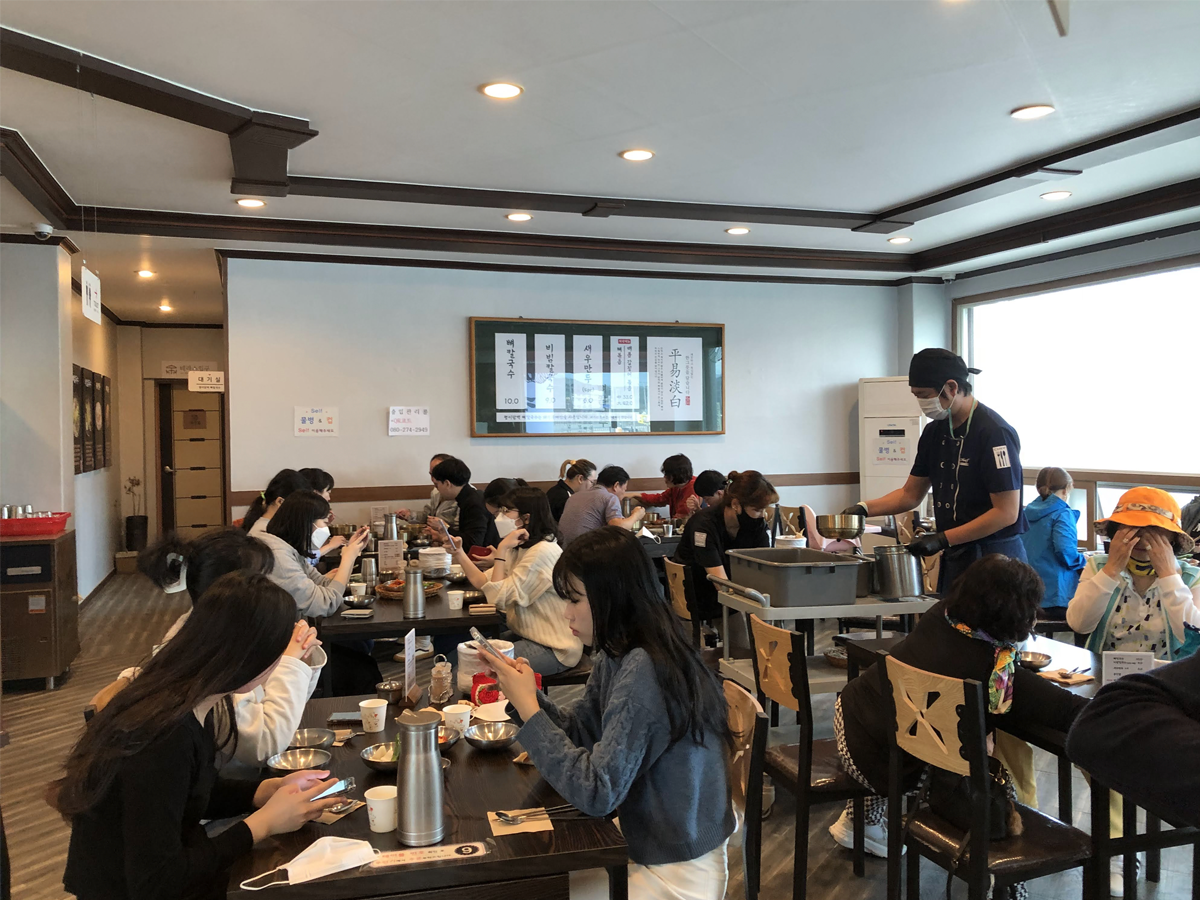 We arrived at lunch time, so although there were many tables inside, they were all full and we had to wait. This gave us even higher expectations for the delicious kalguksu.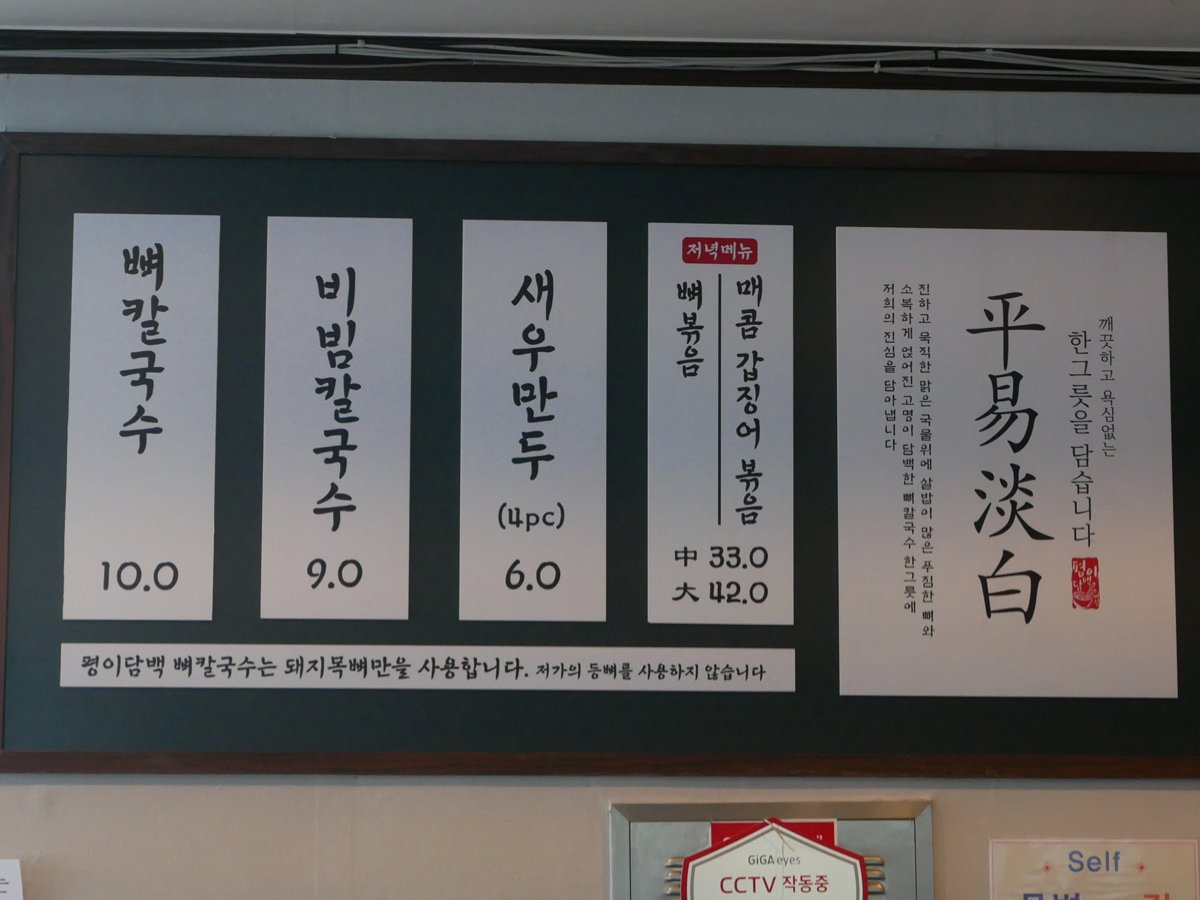 The restaurant's menu is very simple, including ppyeo kalguksu (뼈칼국수/bone broth kalguksu), bibim kalguksu (비빔칼국수/cold spicy kalguksu)", and shrimp dumplings (새우만두)". On the dinner menu, they also serve stir-fried pork ribs (뼈볶음) and spicy stir-fried squid (매콤갑징어볶음).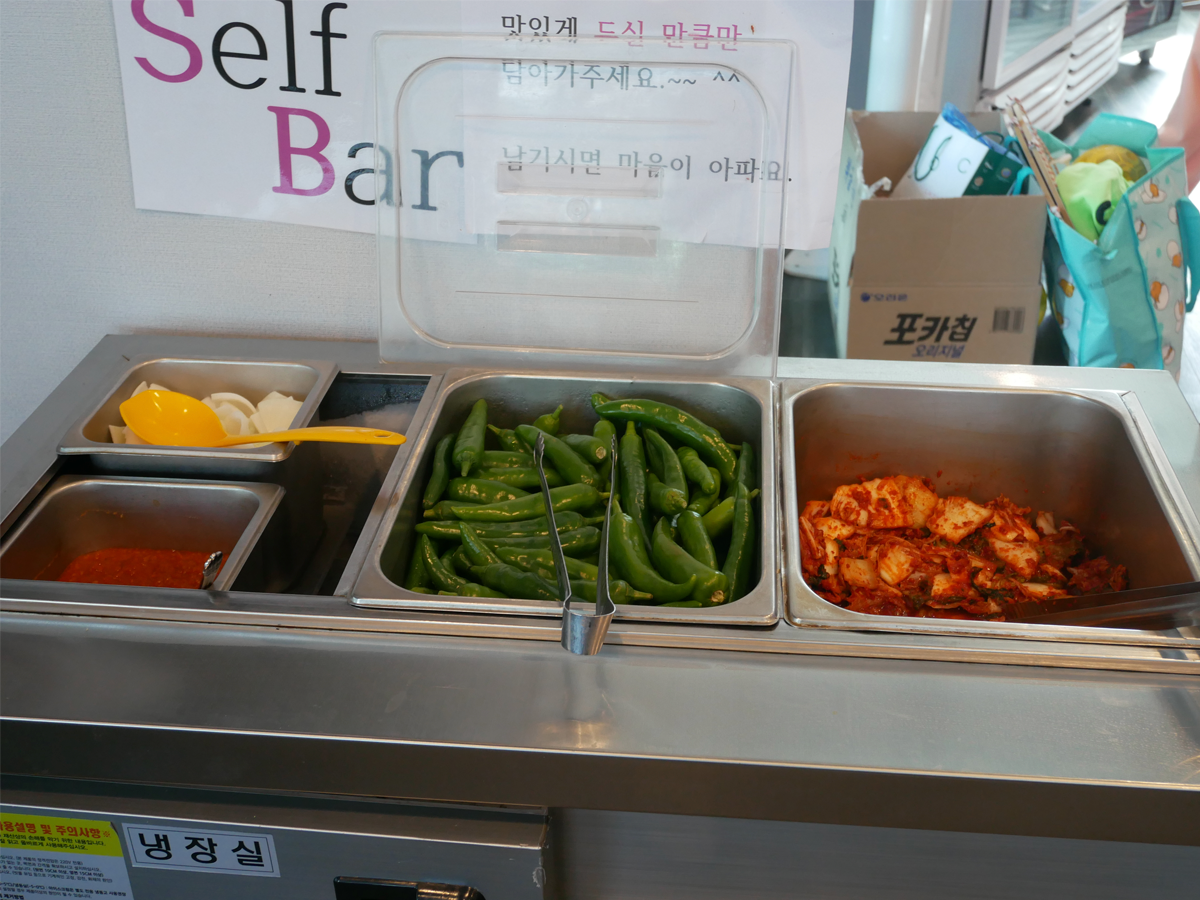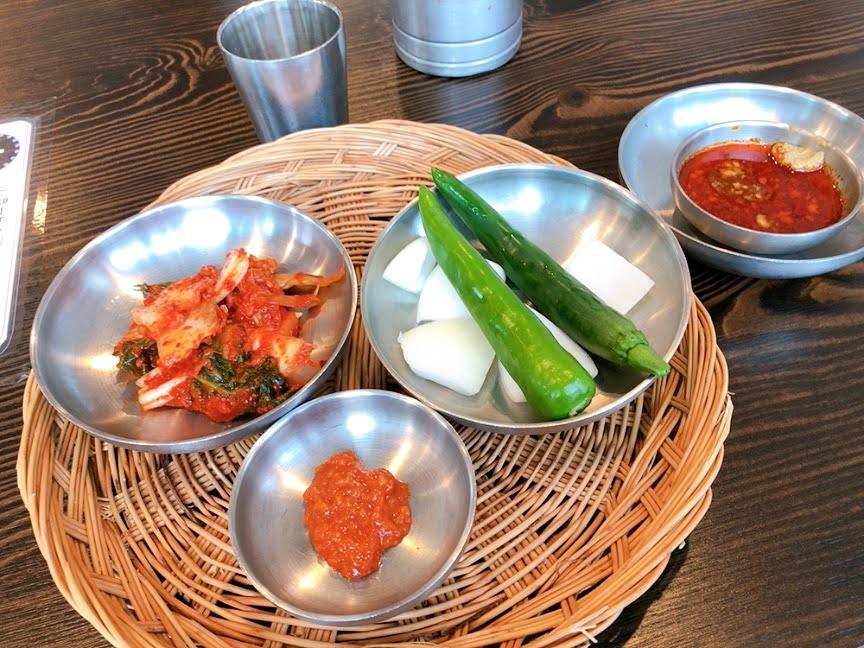 After they take your order, they serve side dishes first, including peppers, onions, kimchi, and ssamjang and other sauces.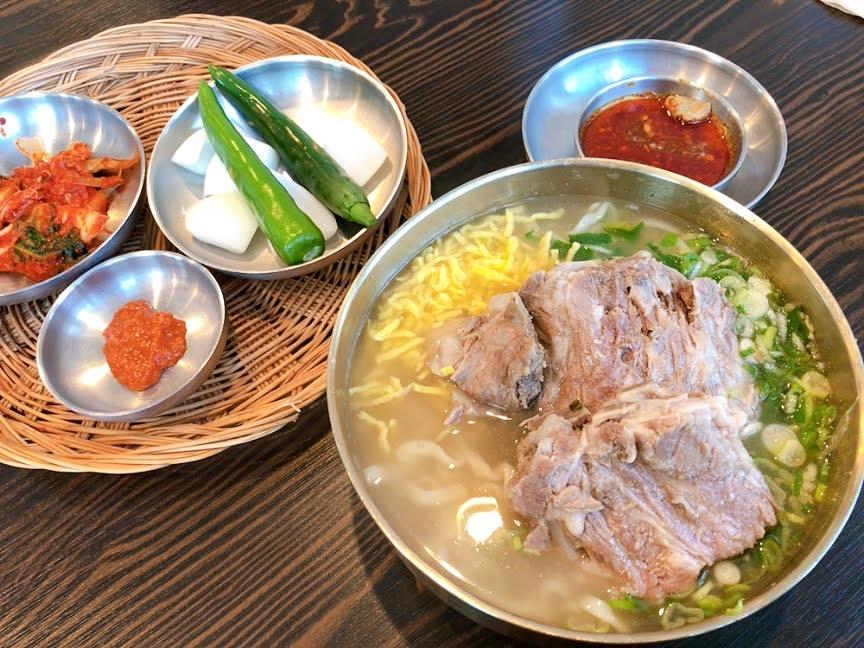 Ppyeo Kalguksu (뼈칼국수)
10,000 won
This is the restaurant's signature dish. The rich broth made from pork bones is sprinkled with chopped green onion and shredded egg to give it more flavor.
You dip the soft and tender pork ribs in a special sour and spicy garlic sauce and they just melt in your mouth. You won't be able to find anything like this at other restaurants.
This warm bowl of delicious noodles is perfect for the colder weather!
Hantan River Milky Way Bridge (철원한탄강 은하수교)
Address: 강원 철원군 동송읍 장흥리 725-12
725-12 Jangheung-ri,Cheorwon-gun, Gangwon-do
Hours: 09:00-17:00
Closed Tue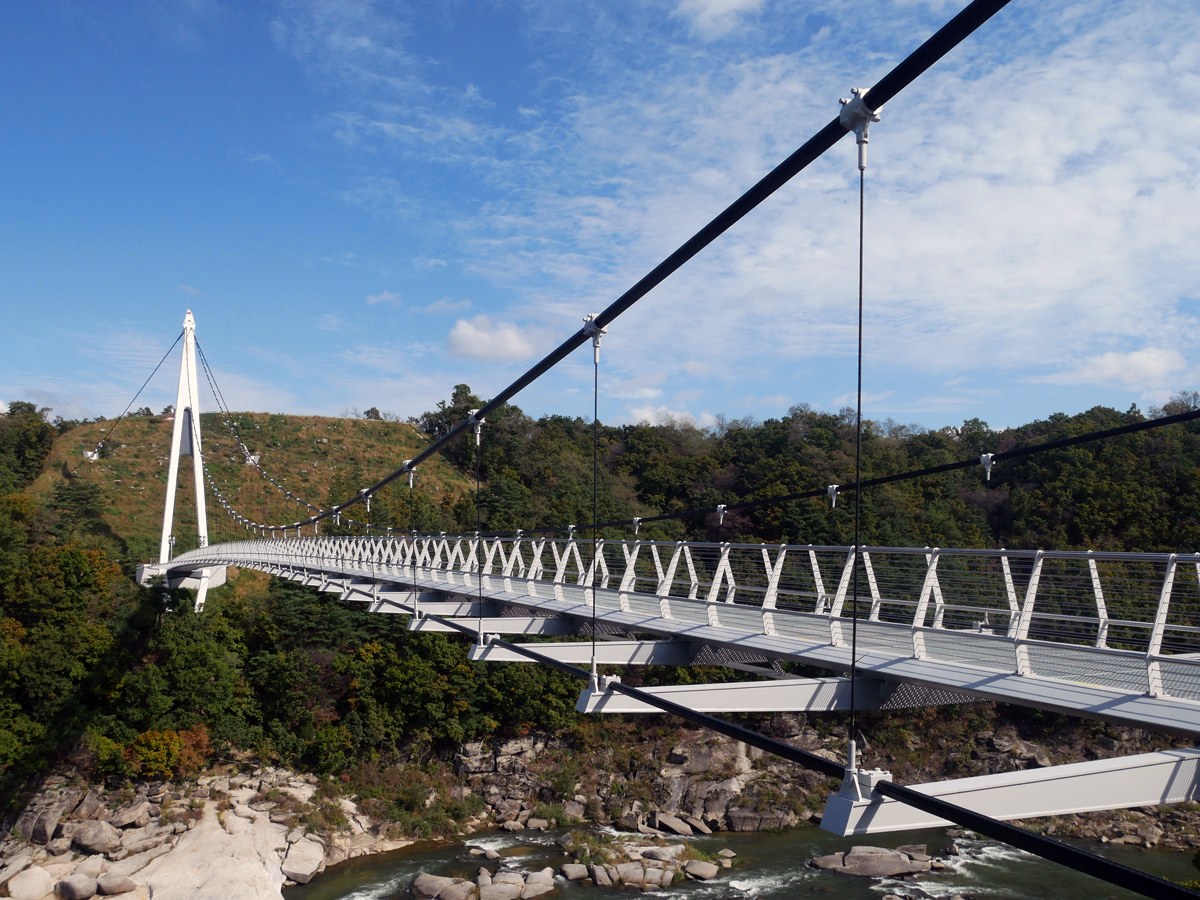 After lunch, we headed to the Hantan River Milky Way Bridge. This bridge is 180 meters long, 3 meters wide, and can hold up 2,311 people.
Because there is no public transportation, you must take a taxi to get here. The fare from Goseokjeong is about 3,500 won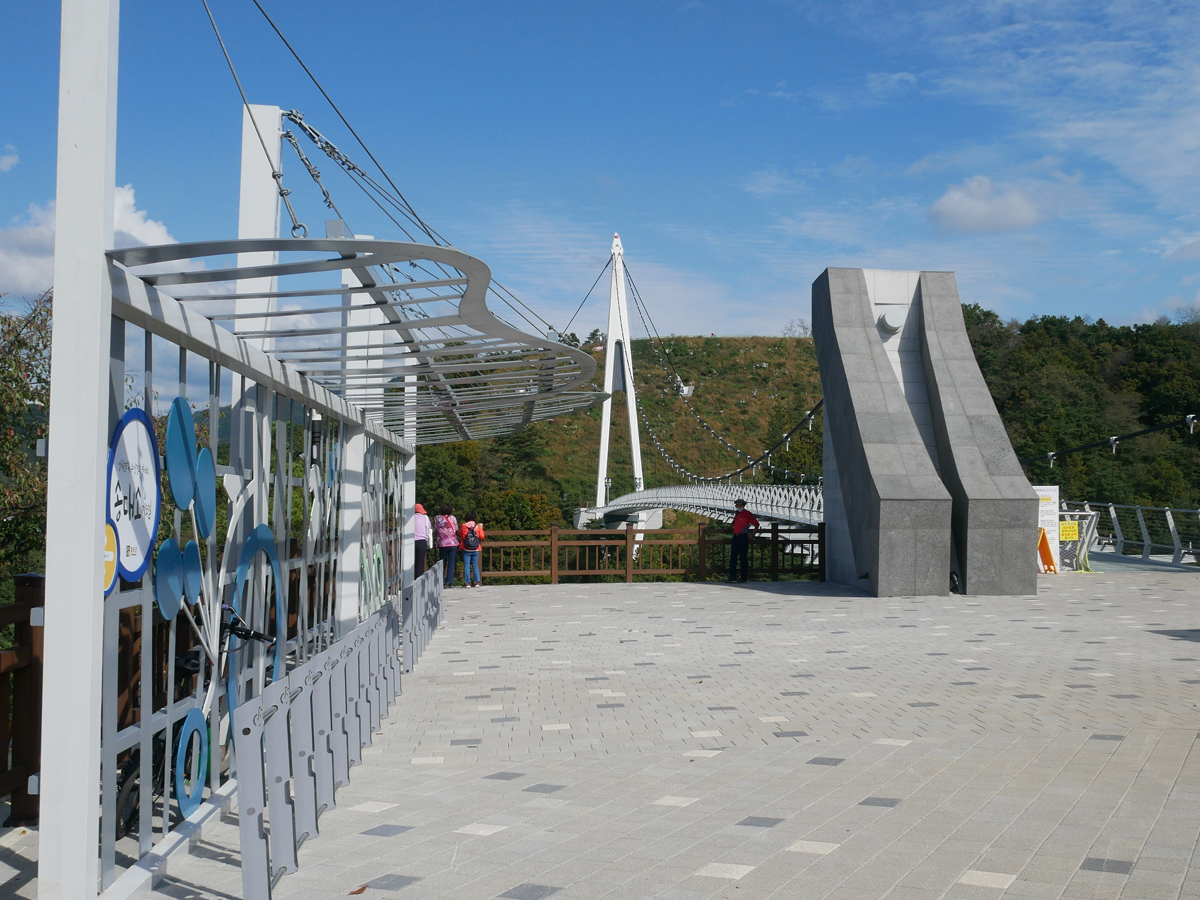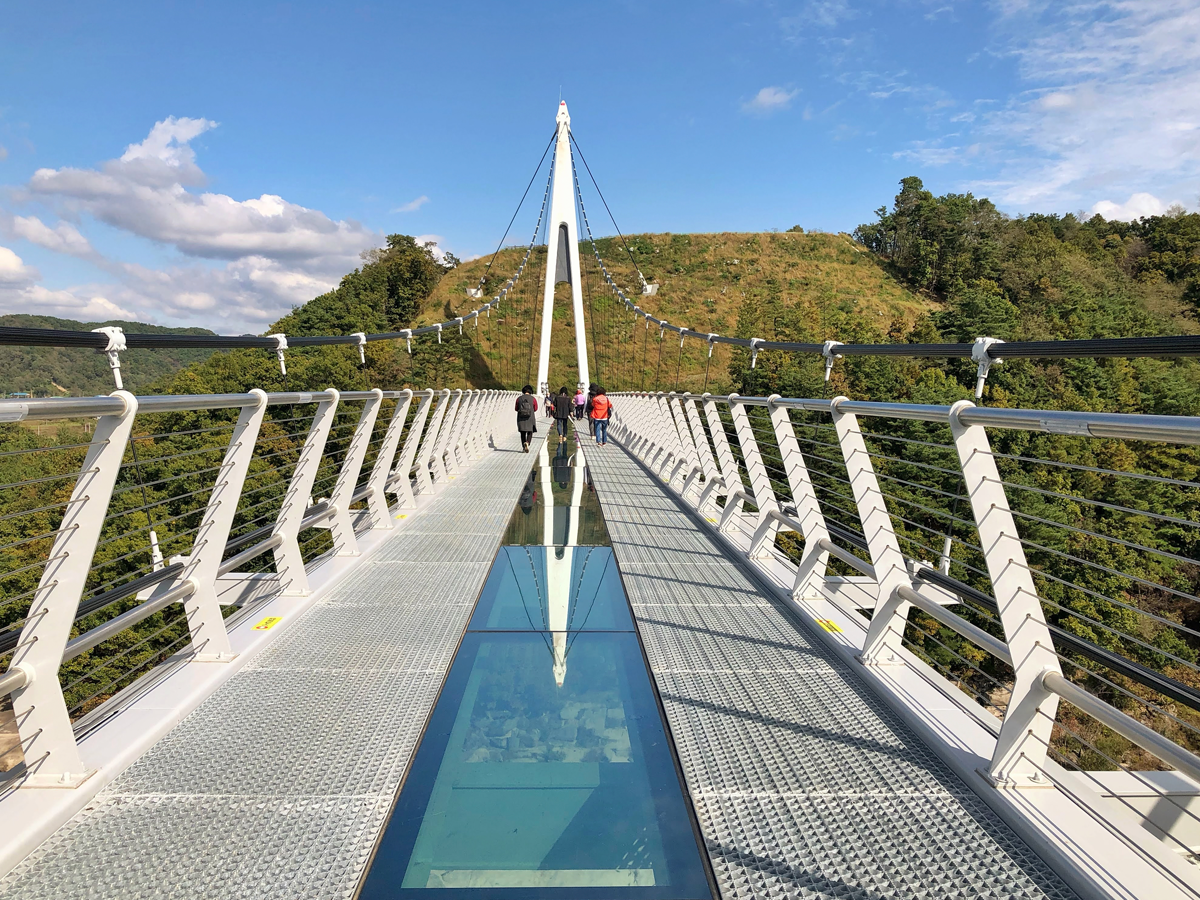 Does the glass walkway in the middle look familiar? Many sky bridges in South Korea use this design.
The Hantan River Milky Way Bridge is an asymmetrical suspension bridge with a simple design that blends harmoniously with the surrounding terrain. It is lit up at night, so you'll experience a thrilling, beautiful view both morning and night!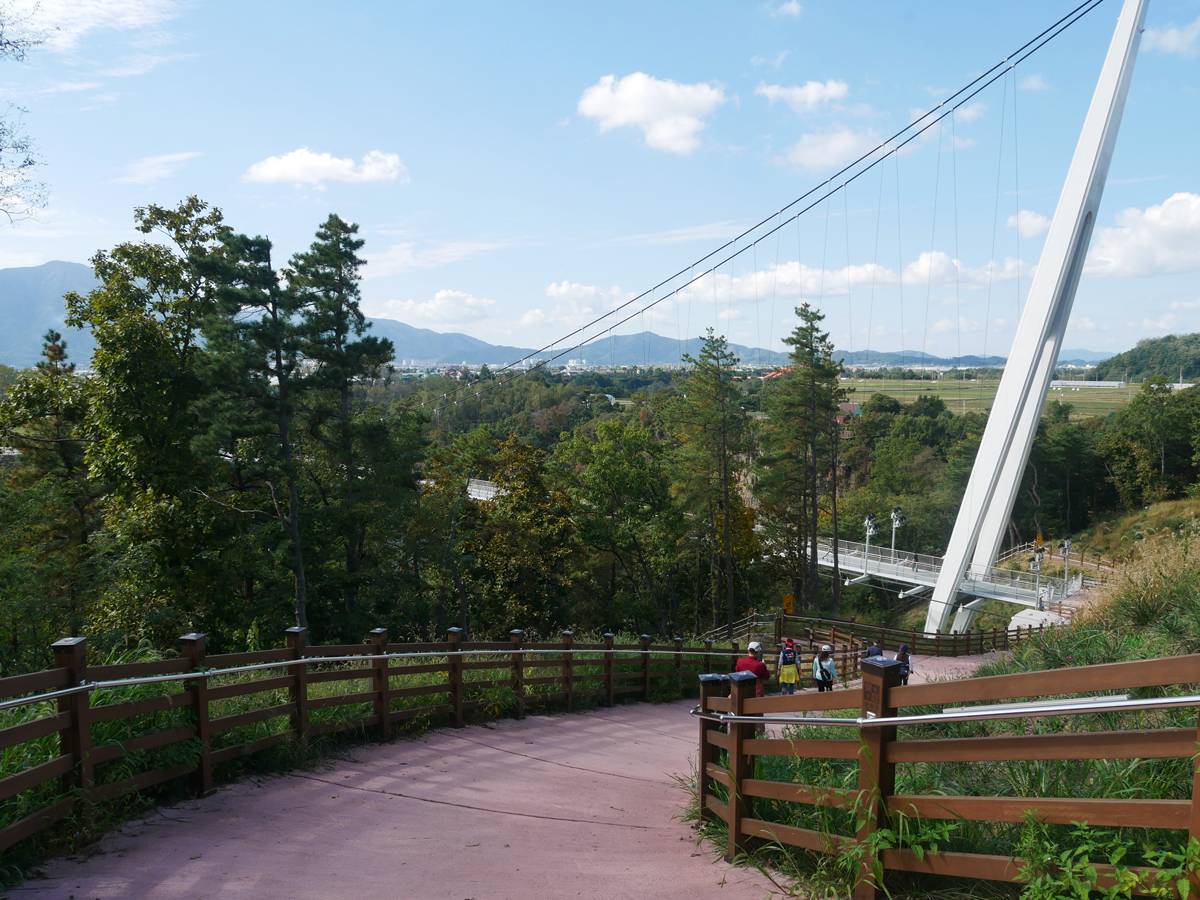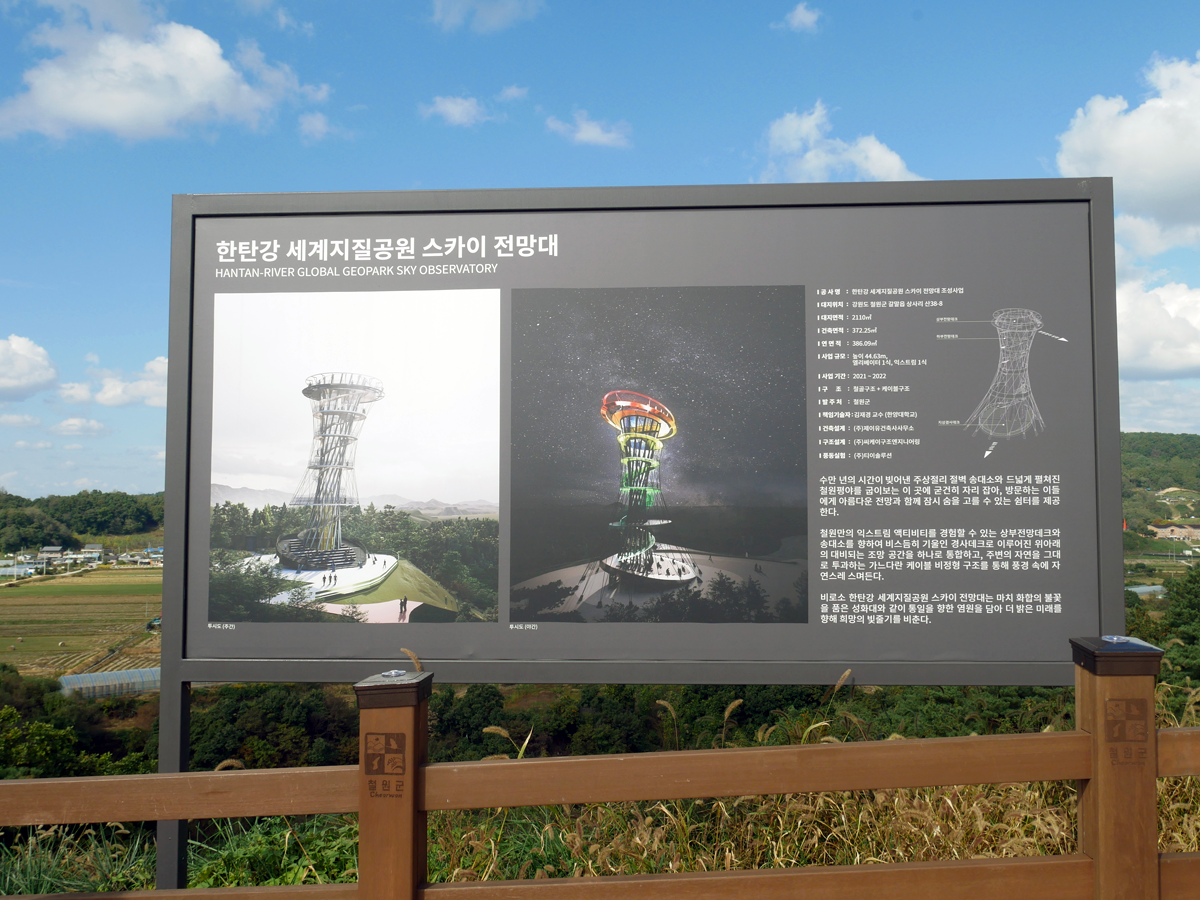 On the other side of the bridge, you can see a large sign introducing the new observatory. It is expected that the observatory will open in 2022 and become a popular tourist attraction.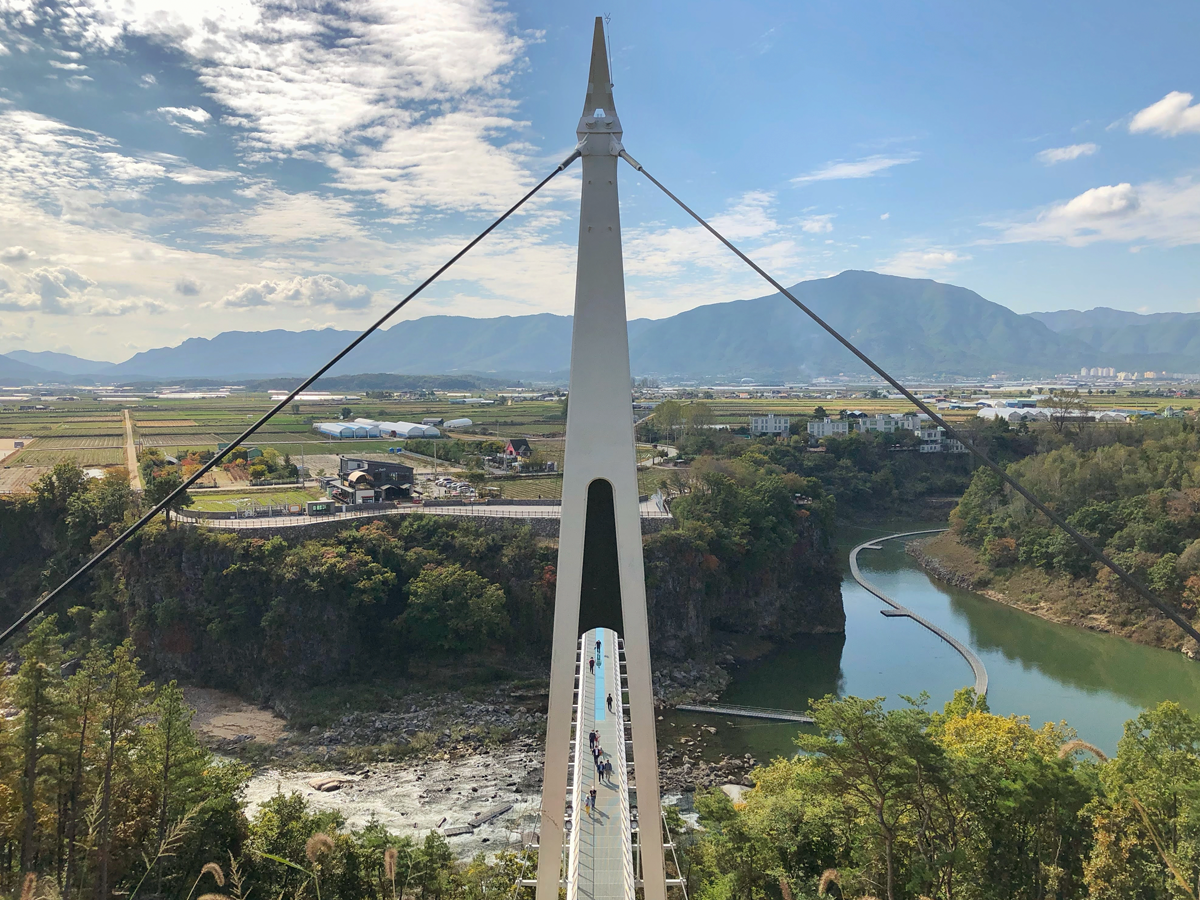 Although it's a little inconvenient to get here, we really recommend walking across the bridge during your visit to Cheorwon.
There are fewer people here than at other attractions and the scenery is truly beautiful, so it will definitely be worth it!
Cafe Eunhasu (카페

은하수

)
Address: 강원도 철원군 동송읍 한탄강길 112
Hours: 11:00-21:00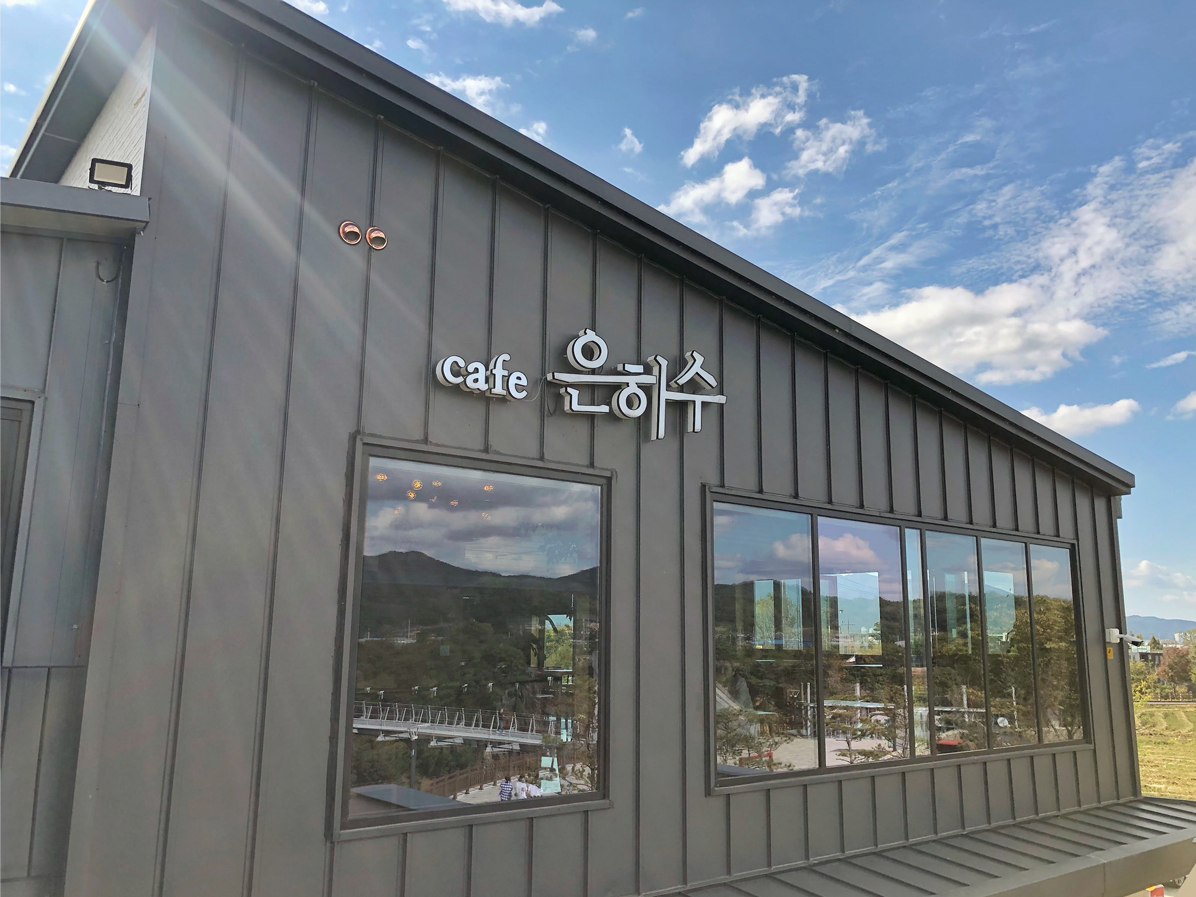 Right next to the Hantan River, you will find Cafe Eunhasu, or Cafe Milky Way. This is the only cafe in this area, so you can easily find it.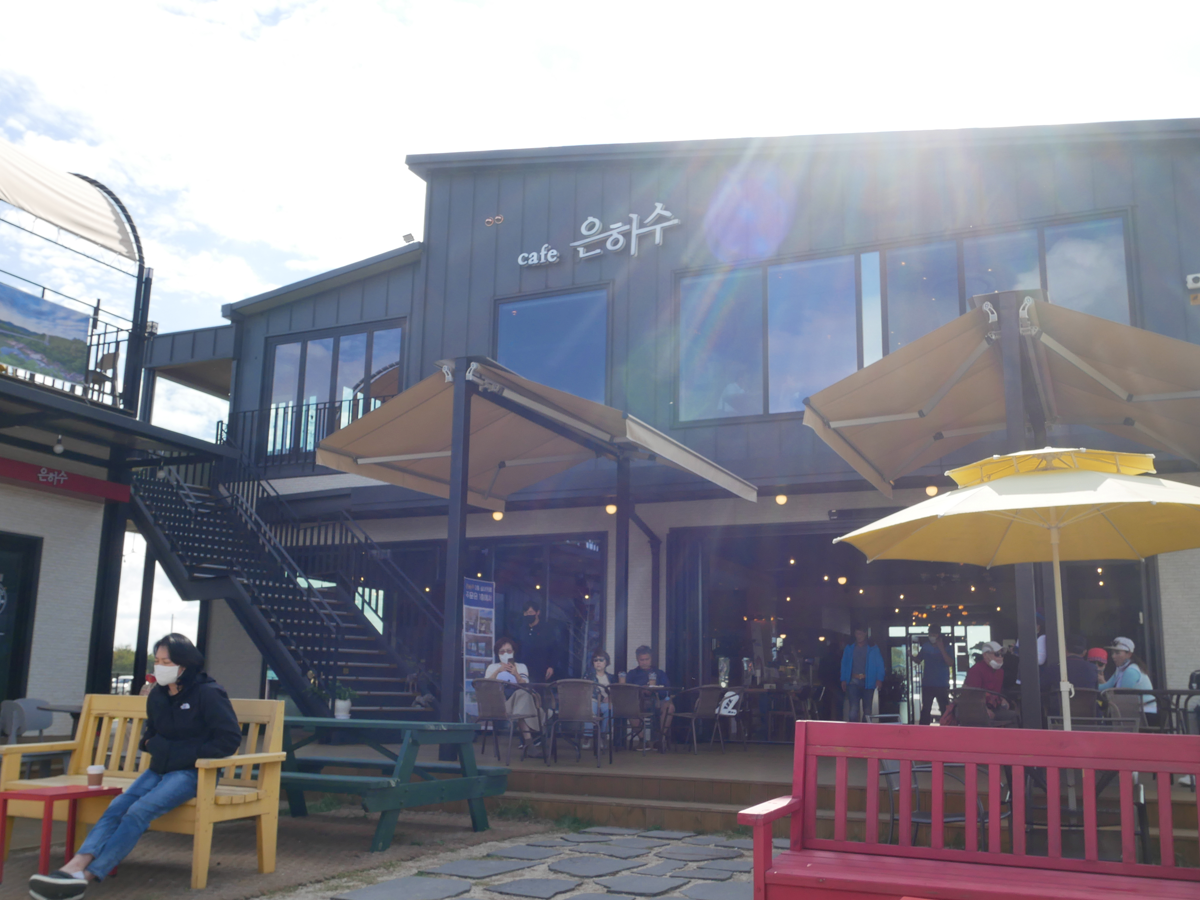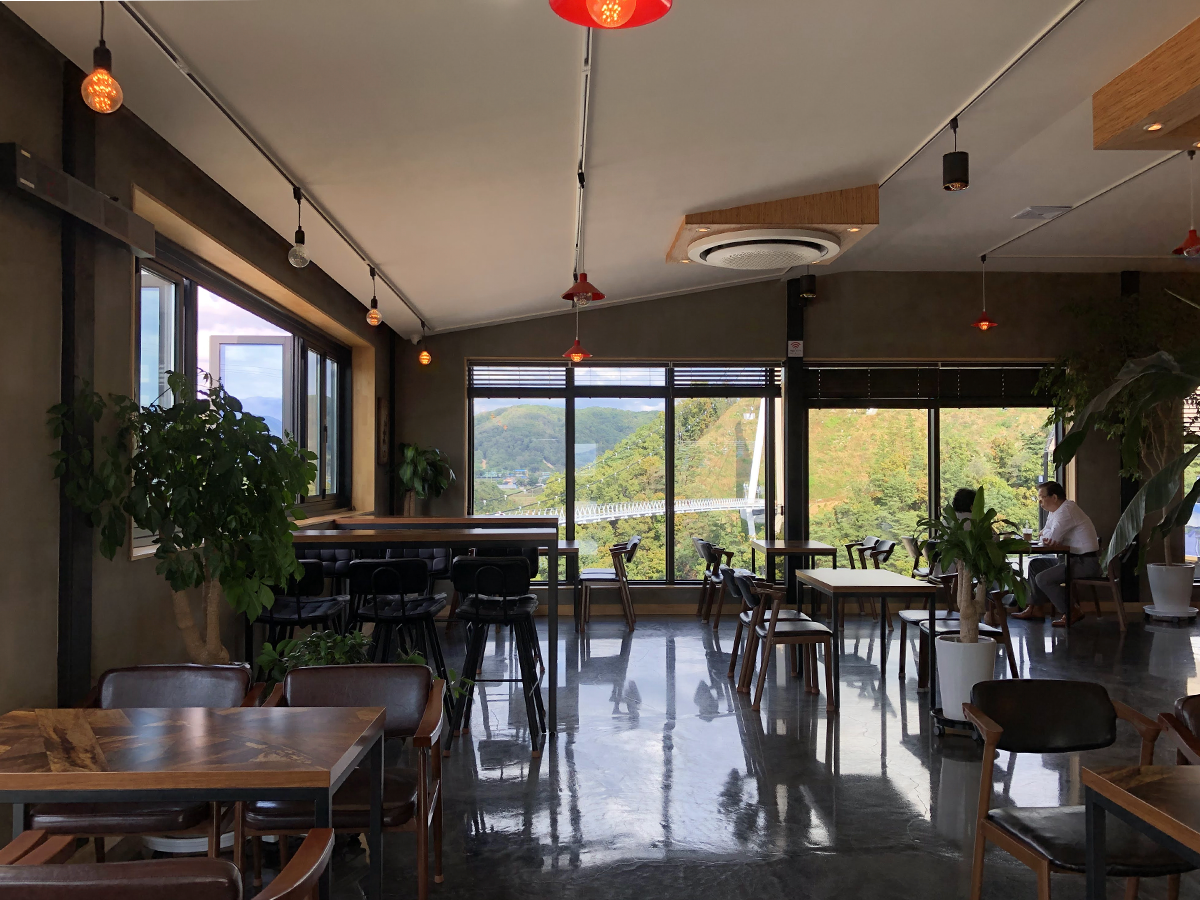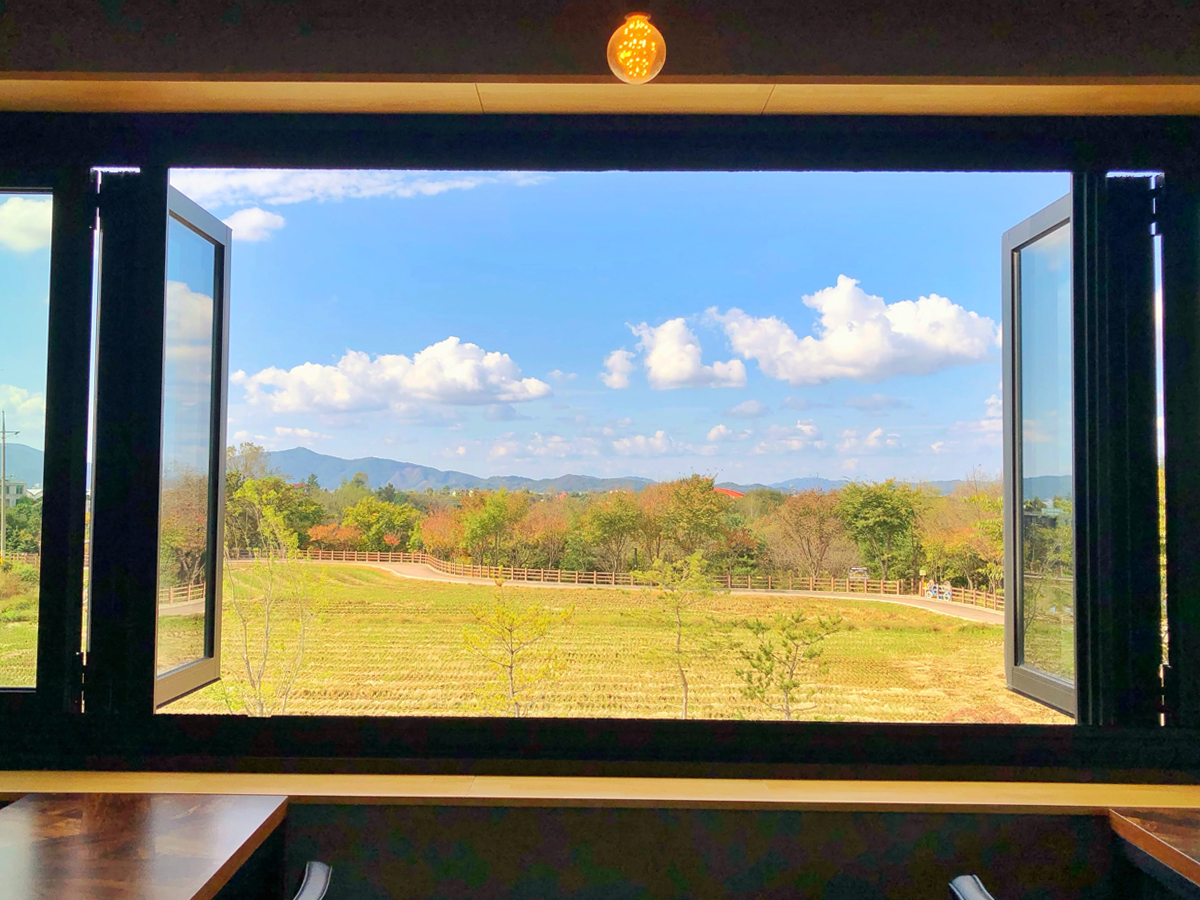 The cafe has two floors and is very spacious. You can enjoy the view of the Milky Way Bridge from the outdoor seating on the first floor and from the second floor, you can see the bridge and also some nearby fields.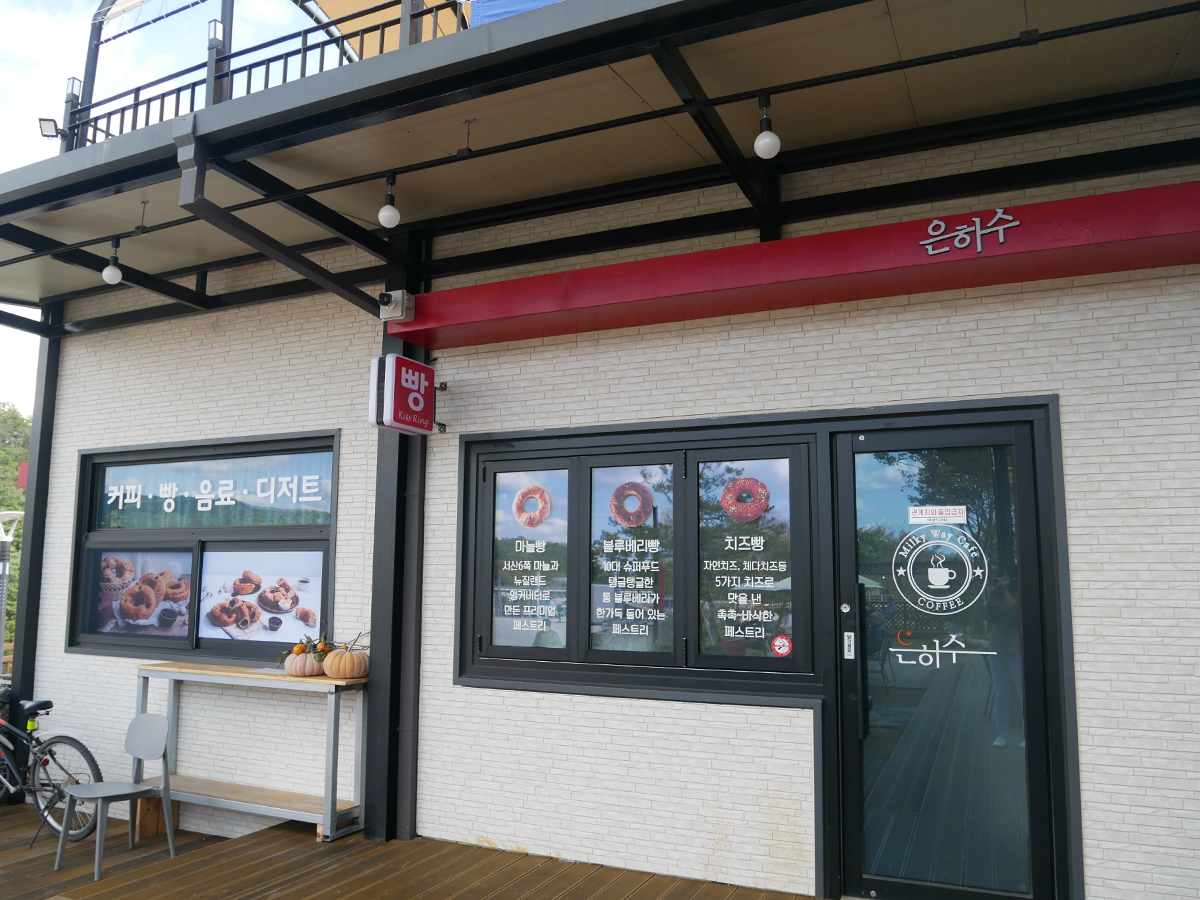 In addition to drinks, such as coffee and juice, there are also many desserts available, but the most famous one is the Kiss Ring.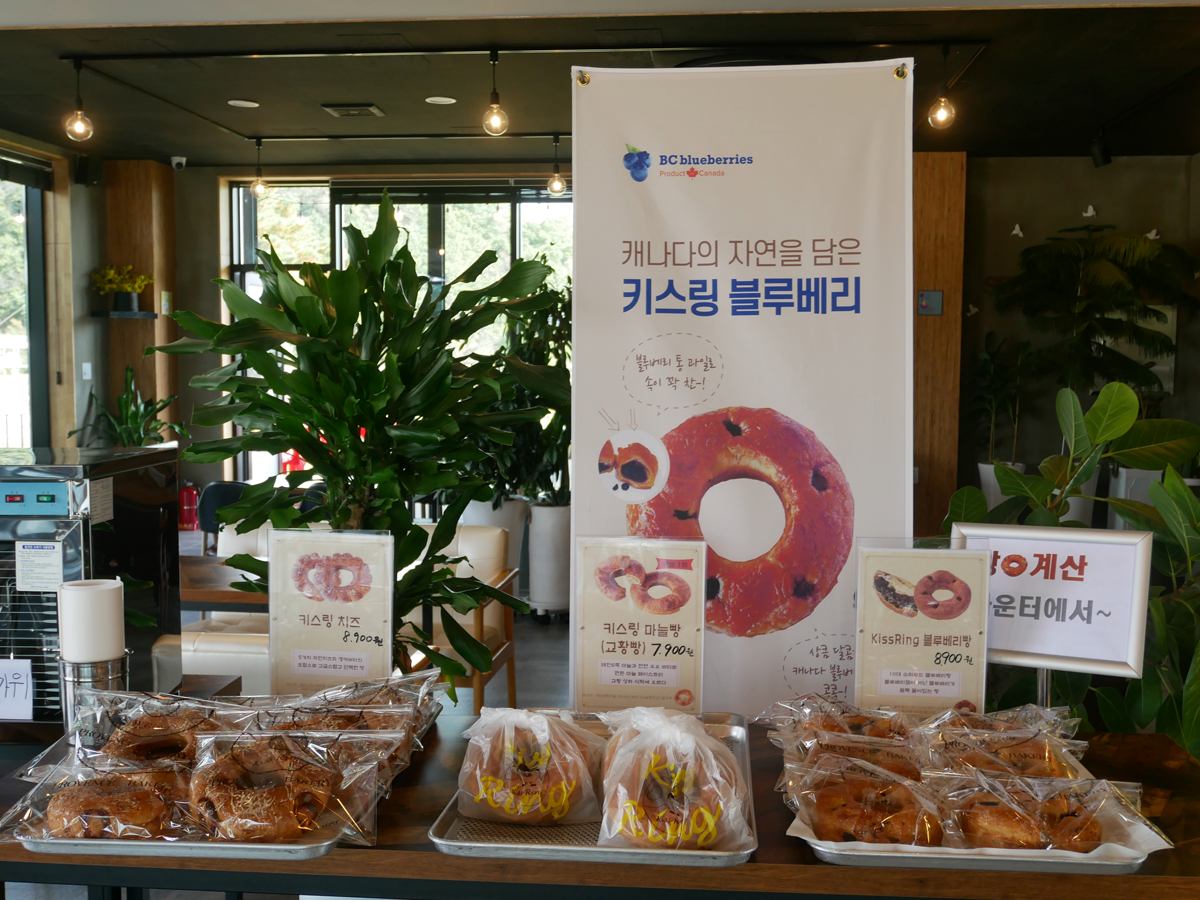 The three flavors it comes in are cheese, garlic, and blueberry. It's huge, so 3 to 4 people can enjoy together.
Almost every table in the cafe had ordered one, so we decided we had to try it too!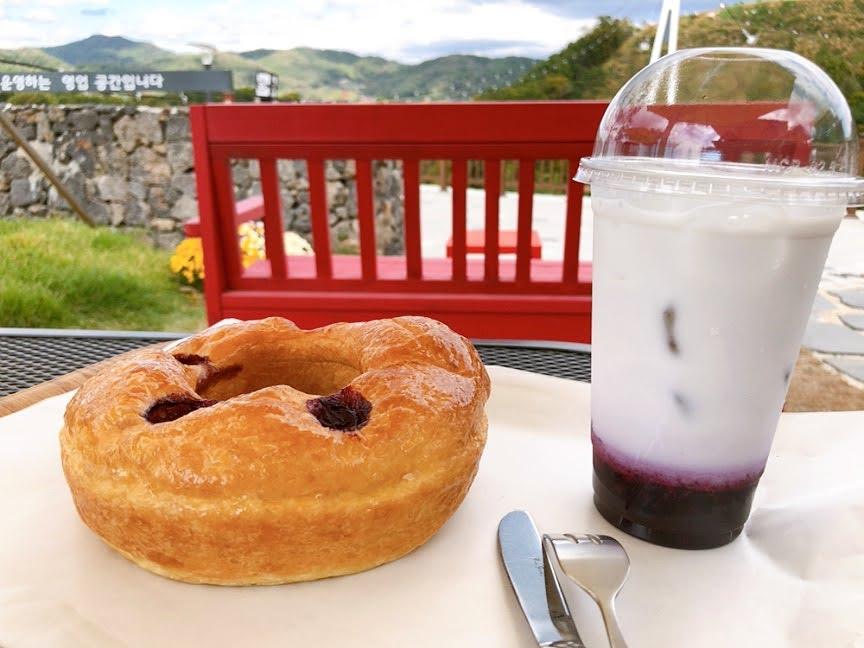 Blueberry Latte (블루베리 라떼)
6,000 won
The blueberry latte was a new item at the cafe. It's really big and looked pretty. You get some blueberry bits with every sip, but the milk was a little weak. After stirring, it felt more like drinking blueberry water.
I personally do not recommend this drink and think you should try ordering something else.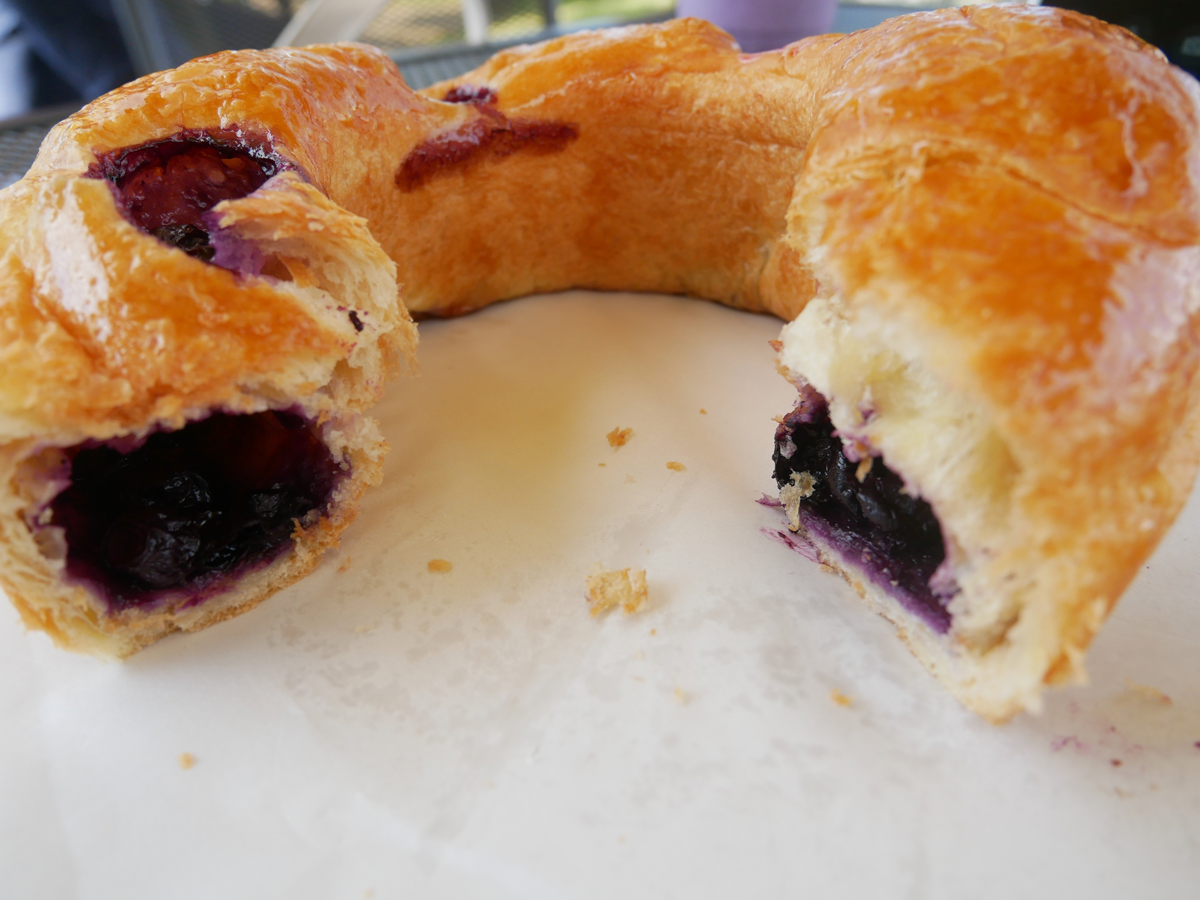 Blueberry Kiss Ring (Kiss Ring 블루베리빵)
8,900 won
The inside of the Kiss Ring is filled with blueberry jam with real blueberry chunks. The outer layer of the bread is brushed with a sweet jam. It was so yummy, no wonder almost every table ordered one!
---
That's it for our recommended one day itinerary to Cheorwon. We hope you'll be able to enjoy your time in Gangwondo and make some special memories!
If you're looking for more to do in Gangwondo, check out our blog on Chuncheon and Gangneung must-sees.
---