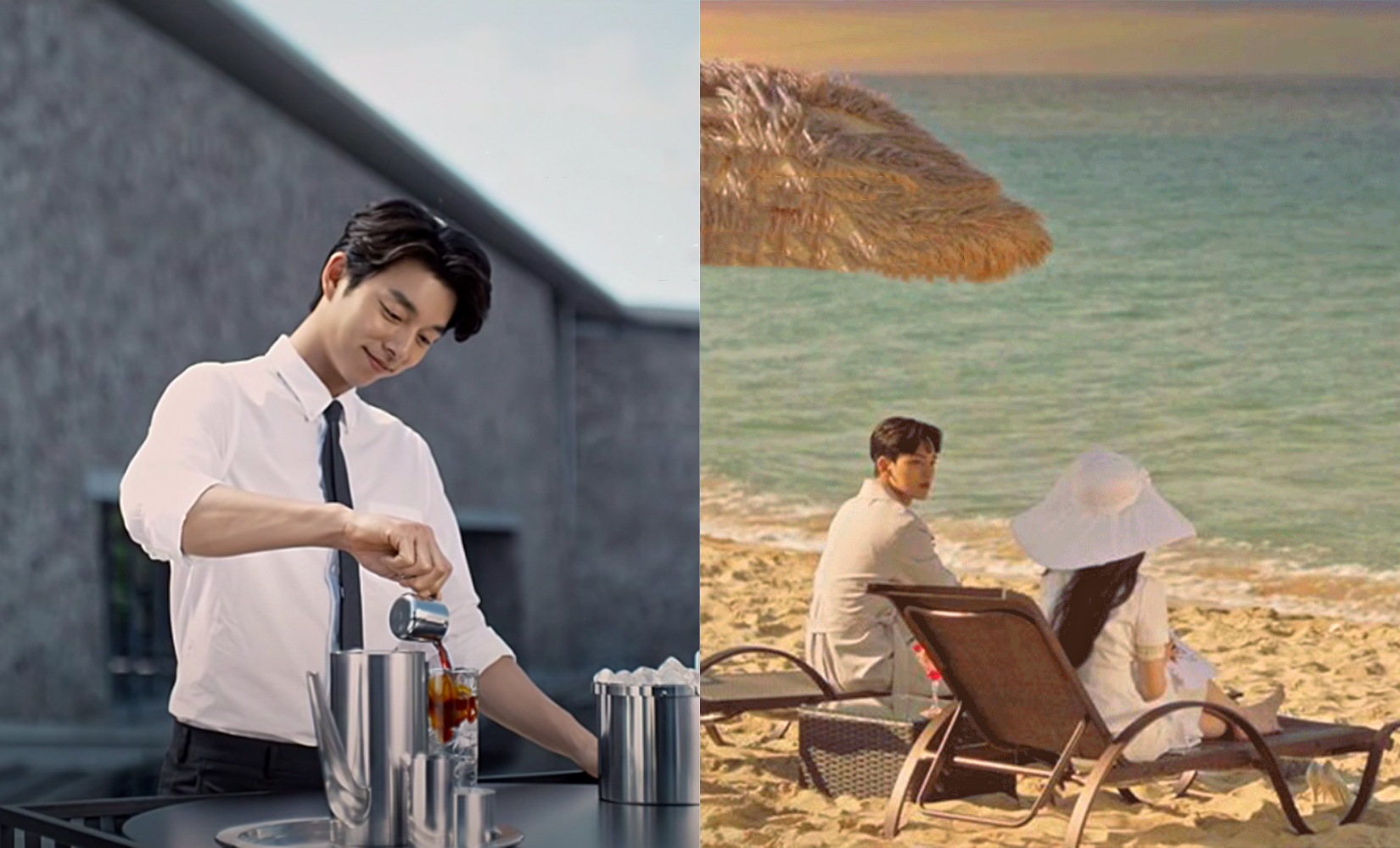 Let's take a look at some famous spots in Gangwondo, Korea where popular Korean dramas were filmed!
If you're in the area, you should definitely stop by since you can enjoy the beautiful scenery and recreate some of your favorite dramas.
---
Samcheok Sol Beach Resort
쏠비치 삼척 리조트

Address: 강원도 삼척시 수로부인길 453
453 Surobuin-gil, Samcheok-si, Gangwon-do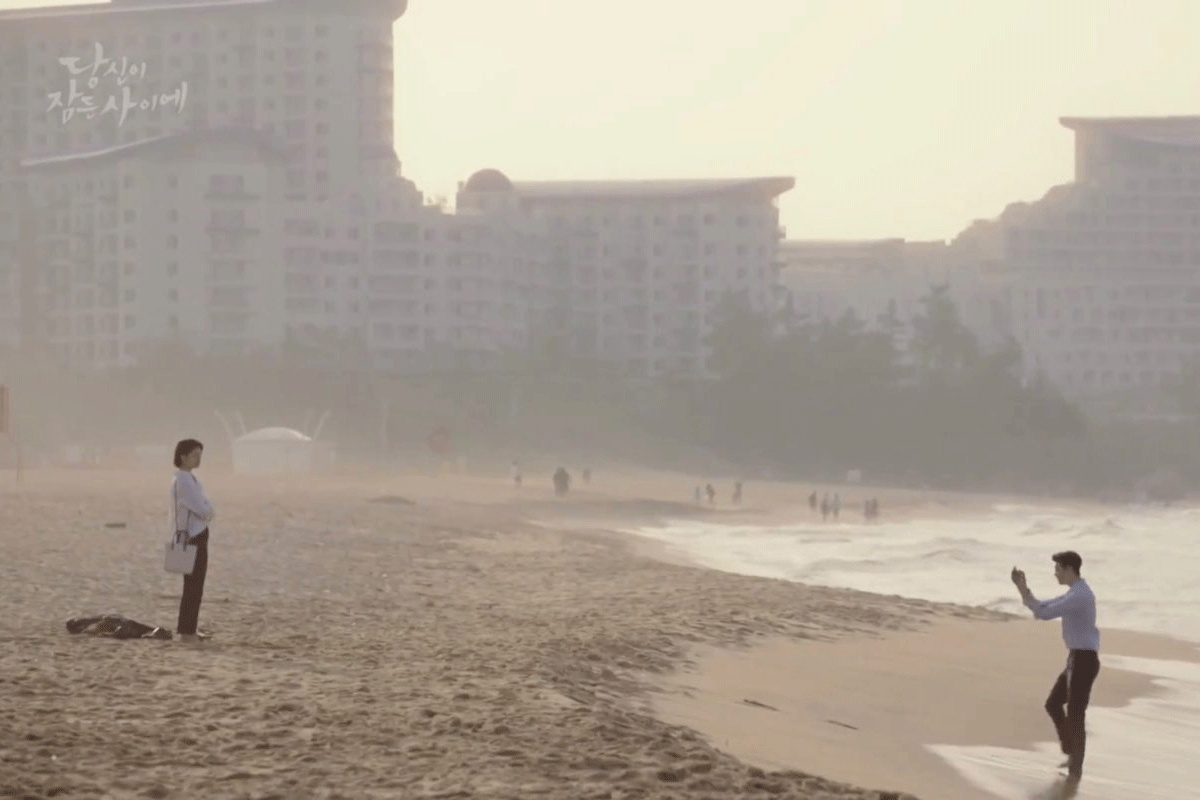 Source: SBS While You Were Sleeping
Samcheok Sol Beach Resort was in the background of a scene of Lee Jong-suk and Suzy on a date in the SBS drama While You Were Sleeping in 2017.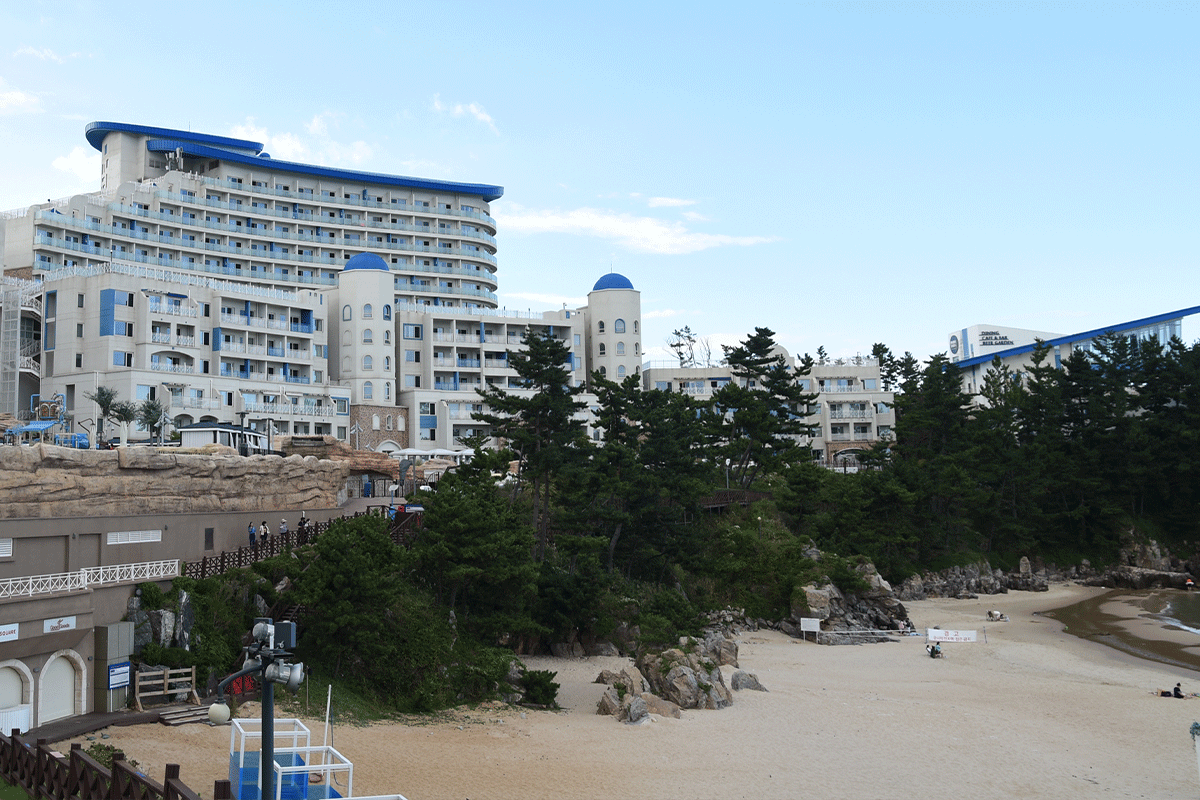 There is a 500m coastal pathway in front of the resort, so you can take a walk while looking at the beach. (The building shown in the picture is building C and D, and the one shown in the drama is the beach by building A and B.)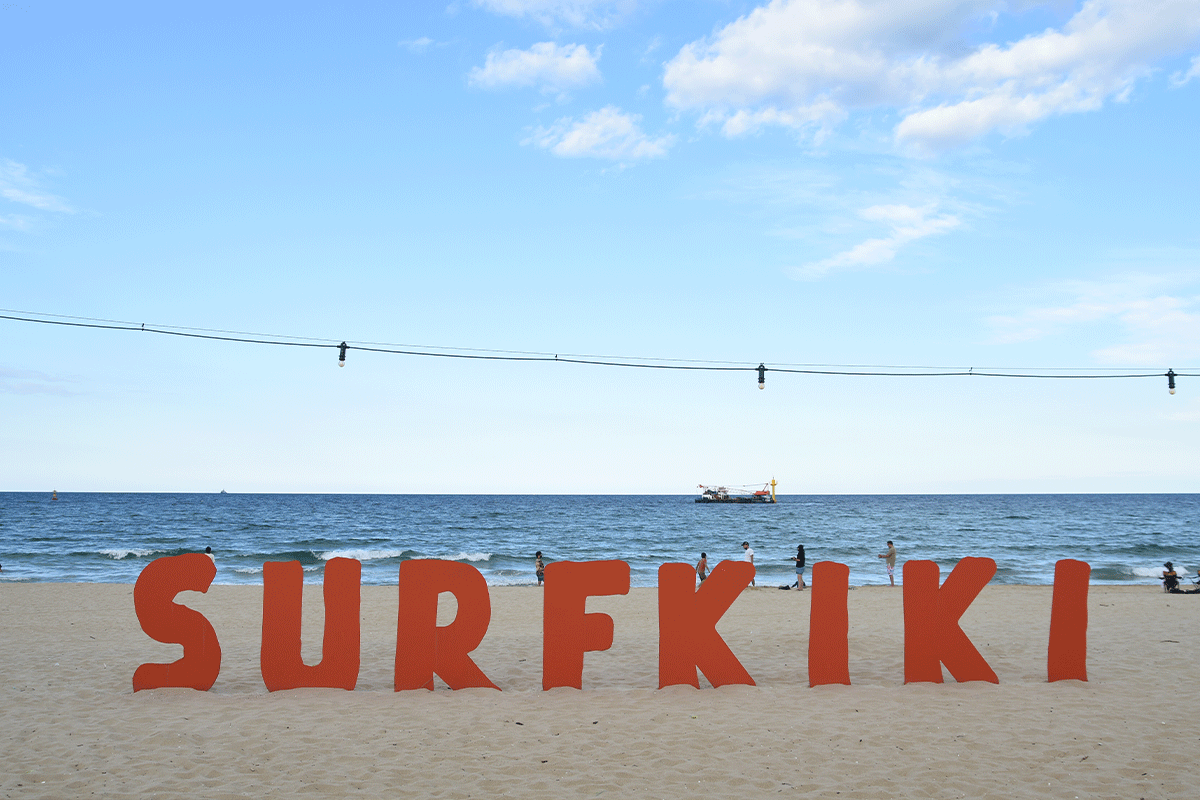 The coastal pathway is connected to Surfkiki Beach, where you can enjoy surfing.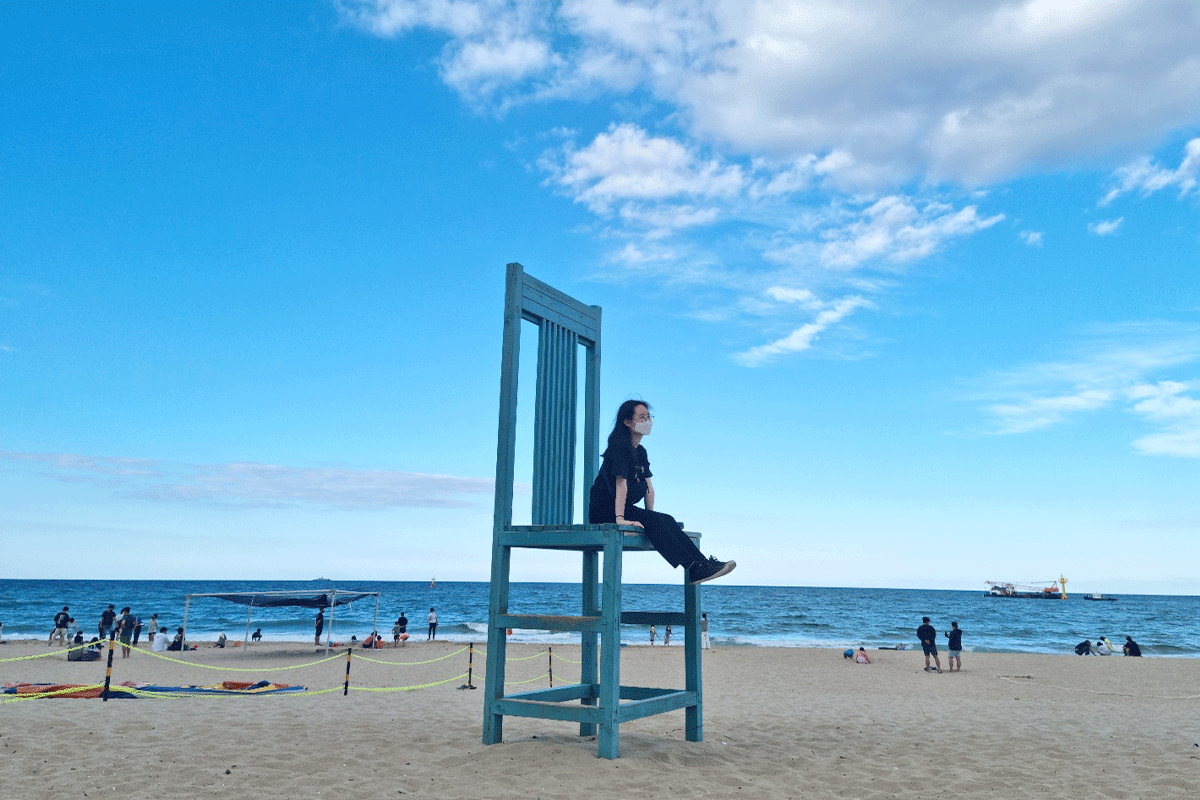 This huge chair is a famous photo spot on the beach here. Take a fairy tale-like picture here against the backdrop of a beautiful sea view.

---
Nongoldam-gil
논골담길

Address: 강원도 동해시 논골1길 2
2 Nongol 1-gil, Donghae-si, Gangwon-do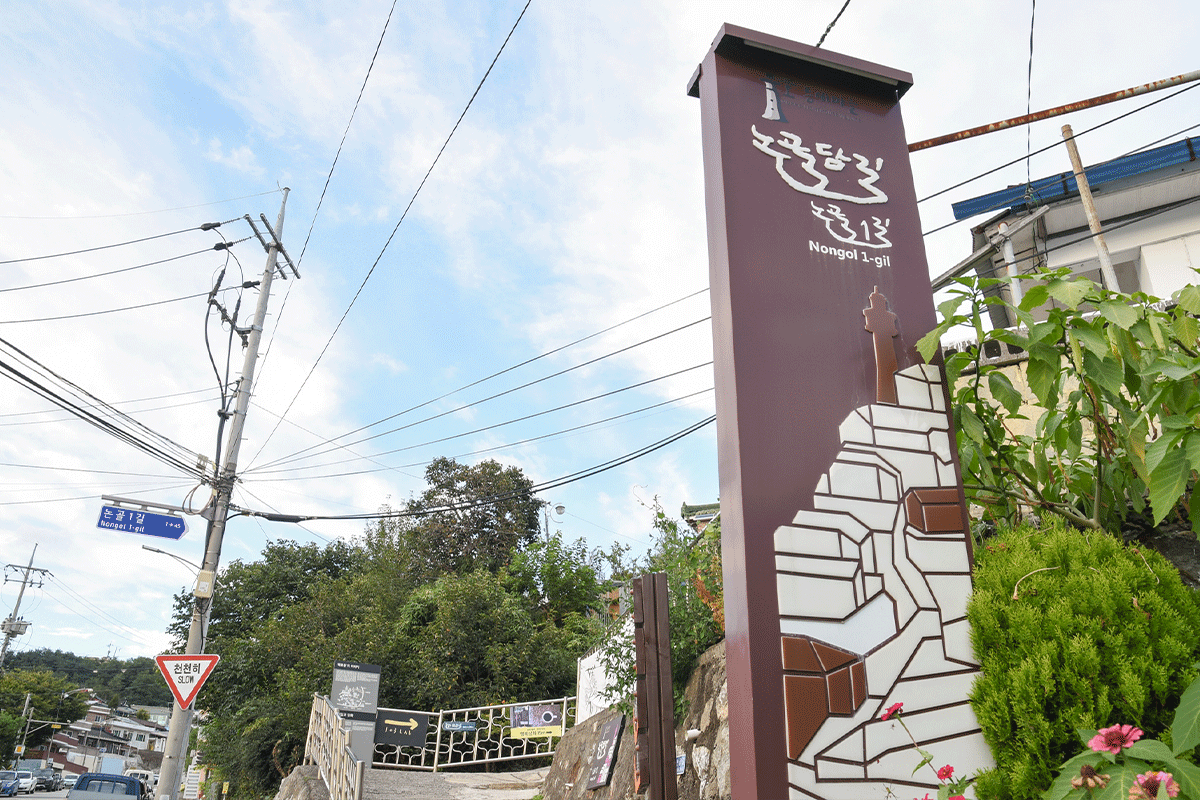 If you follow Nongol 1-gil of the Mukho Lighthouse Village, you can see some of the spots used as filming locations for the drama Run On. There's lots to see in the alleys of this road.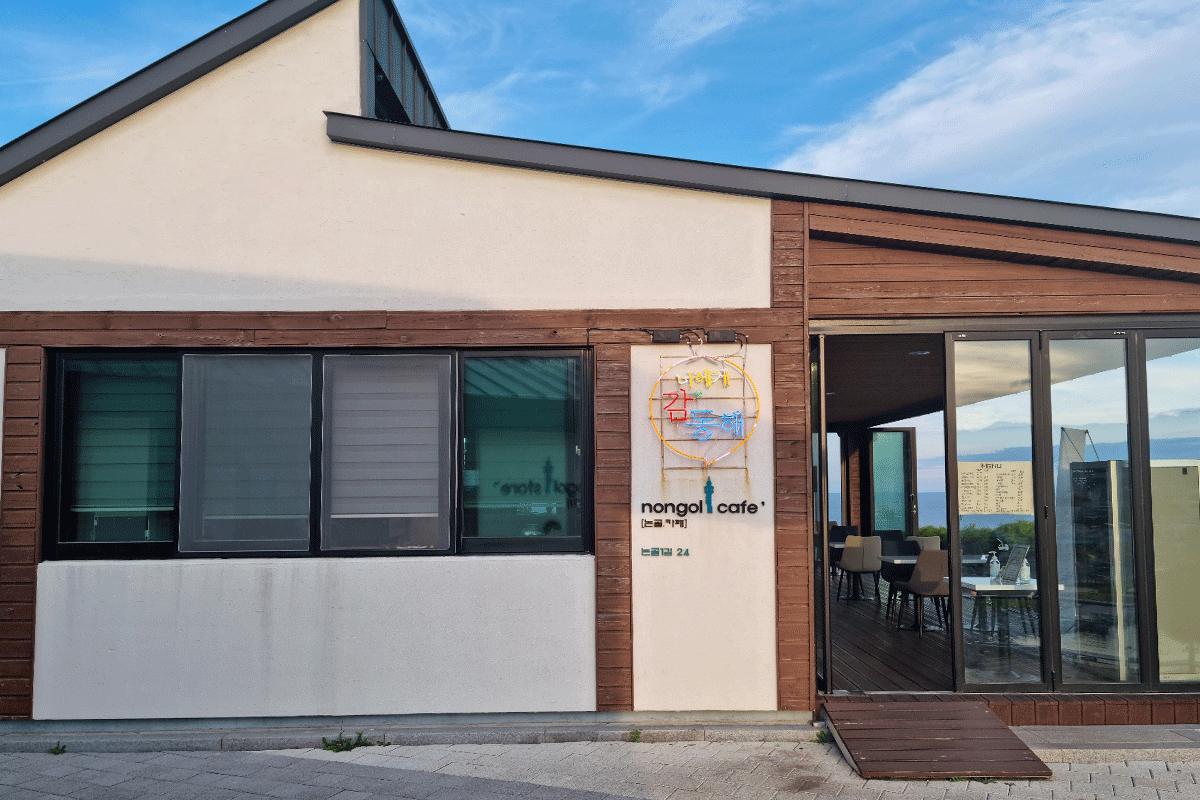 If you go up to the top of Nongol 1-gil, you will see Nongol Cafe, which boasts a beautiful view of the sea.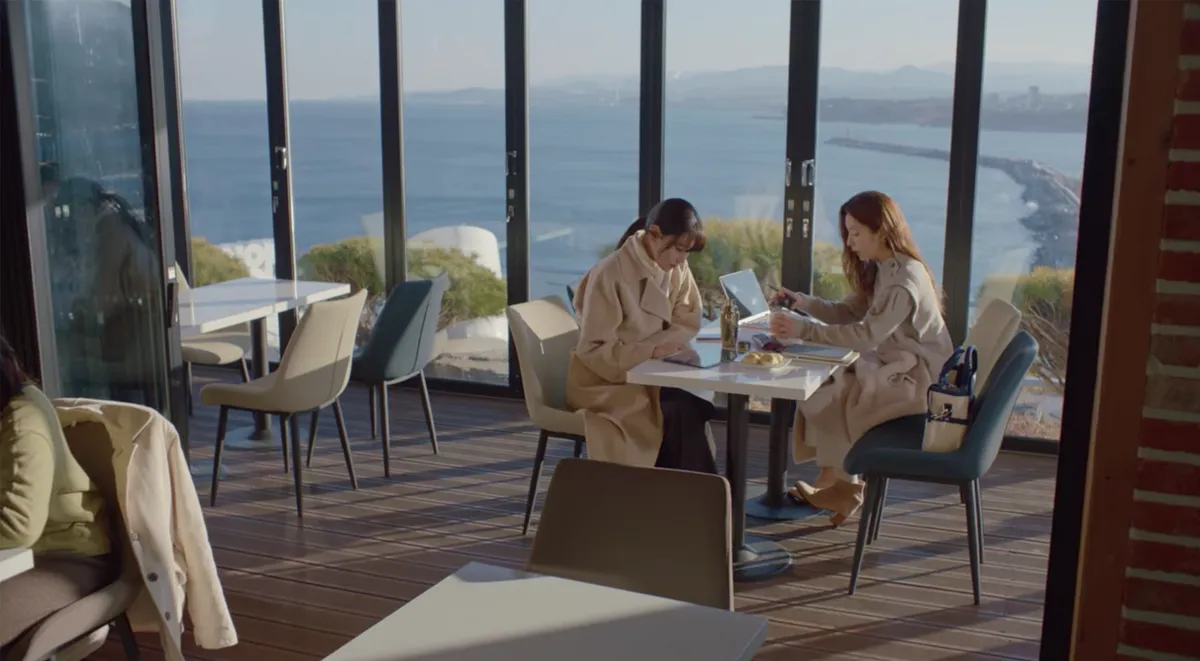 Source: JTBC Run On
This is the window of the cafe where actors Shin Se-kyung and Sooyoung talk in the JTBC drama Run On, which aired in 2020.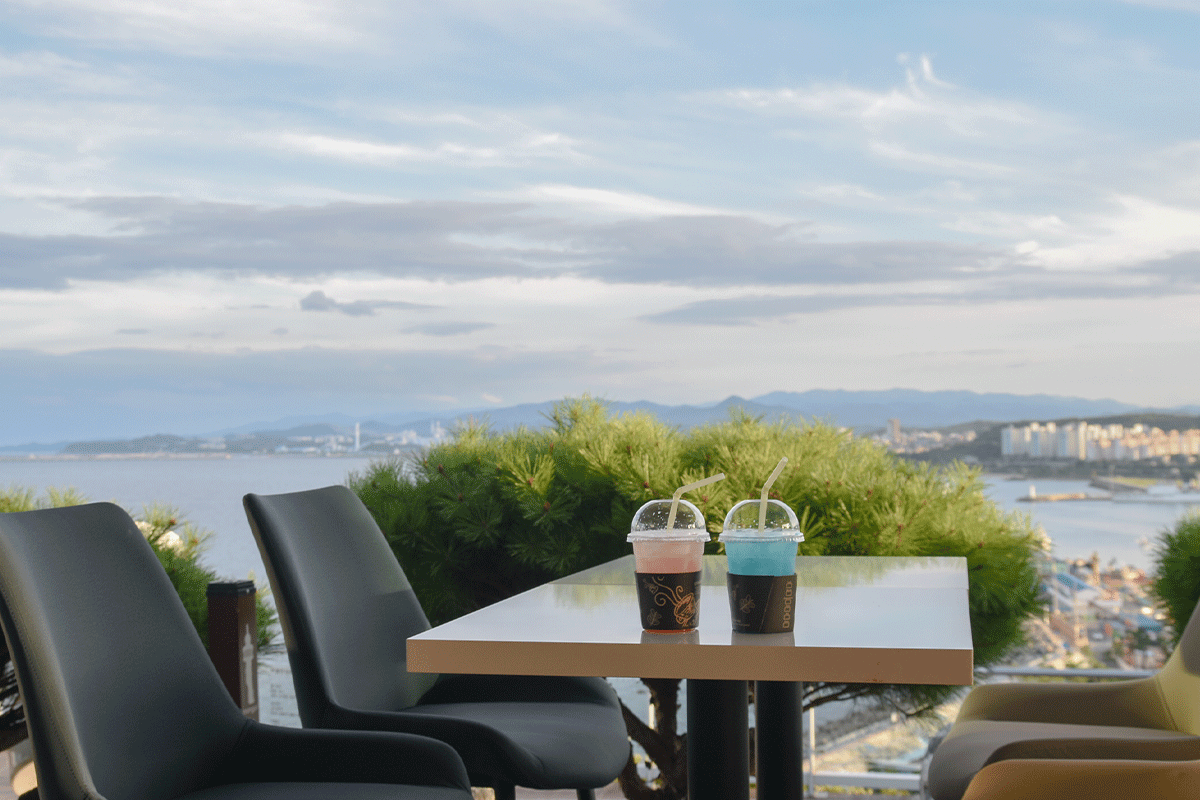 When I visited, the window was completely open because the weather was still warm. Because of this, I was able to enjoy a clear view of the landscape.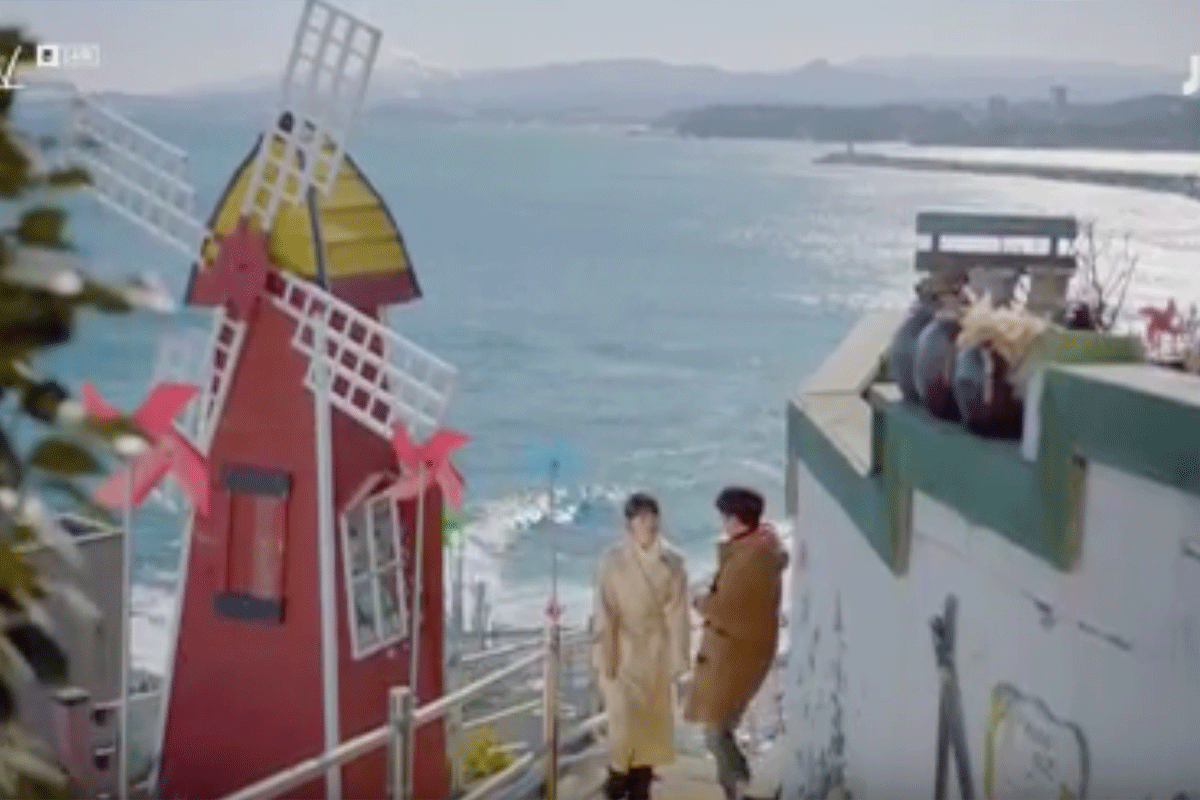 Source: JTBC Run On
This red windmill appeared in a scene Sooyoung and Kang Tae-oh filmed and is located on the Deungdae Oreum-gil (등대오름길) of Mukho Lighthouse Village.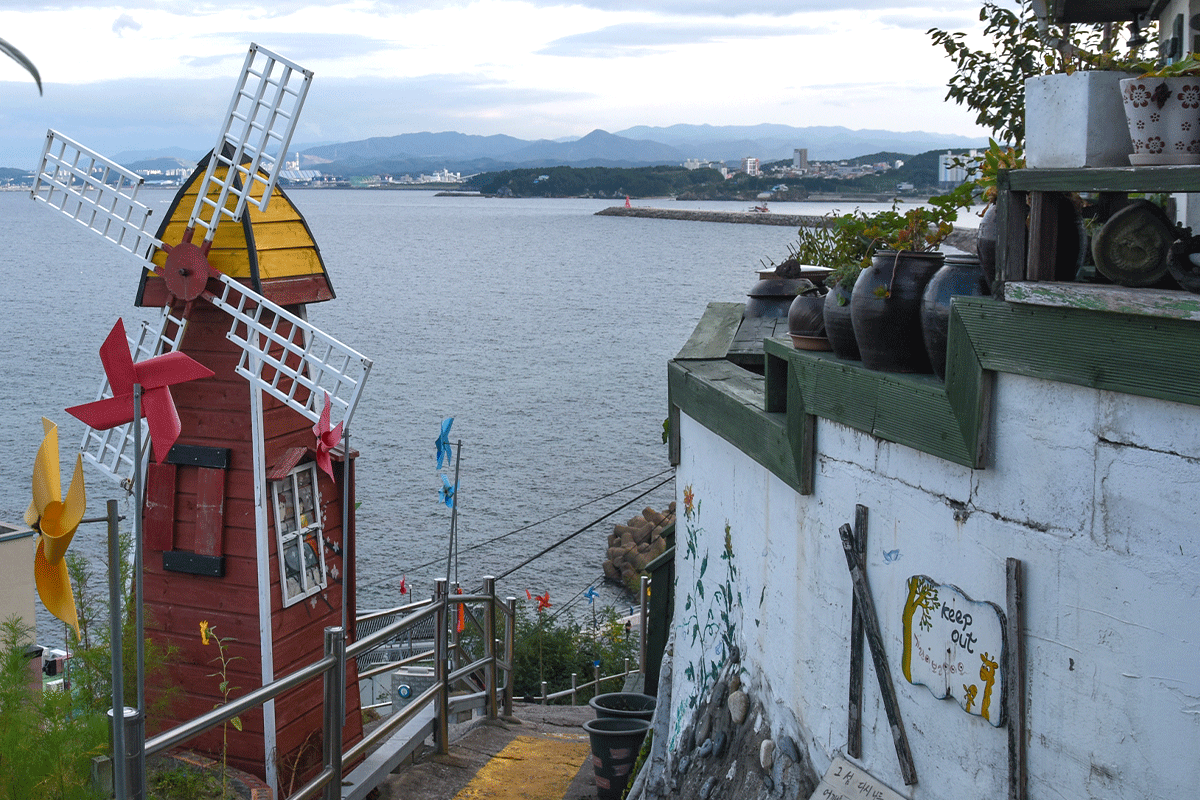 Once you leave the cafe, go straight to the left, and walk downhill to reach the red windmill. If you get confused, ask the cafe owner for directions and he will kindly tell you. Nongoldam-gil has various murals and sculptures everywhere, so it's fun to explore.
---
Mangsang Beach
망상해변

Address: 강원도 동해시 동해대로 6270-10
6270-10 Donghae-daero, Donghae-si, Gangwon-do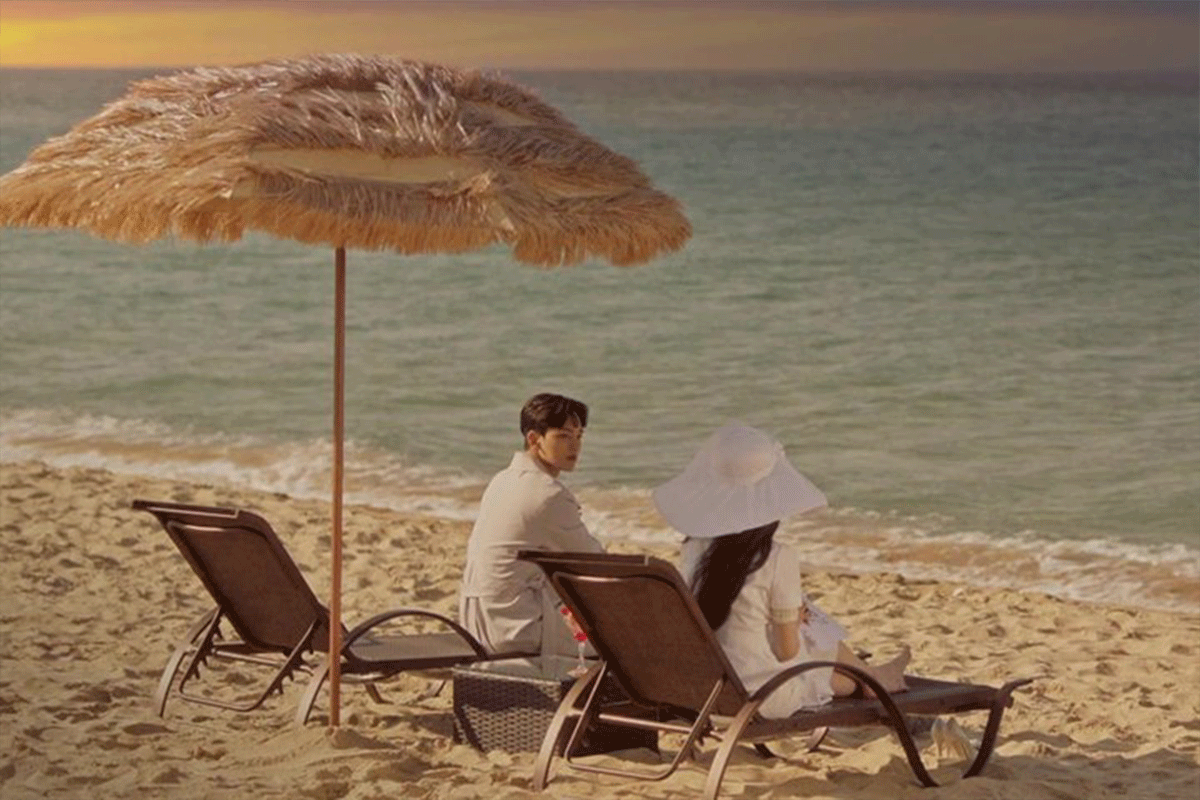 Source: tvN Hotel Del Luna
This is the beach that appeared in the drama Hotel Del Luna that aired on tvN in 2019. The beautiful sunset and exotic vibe received a lot of attention from viewers.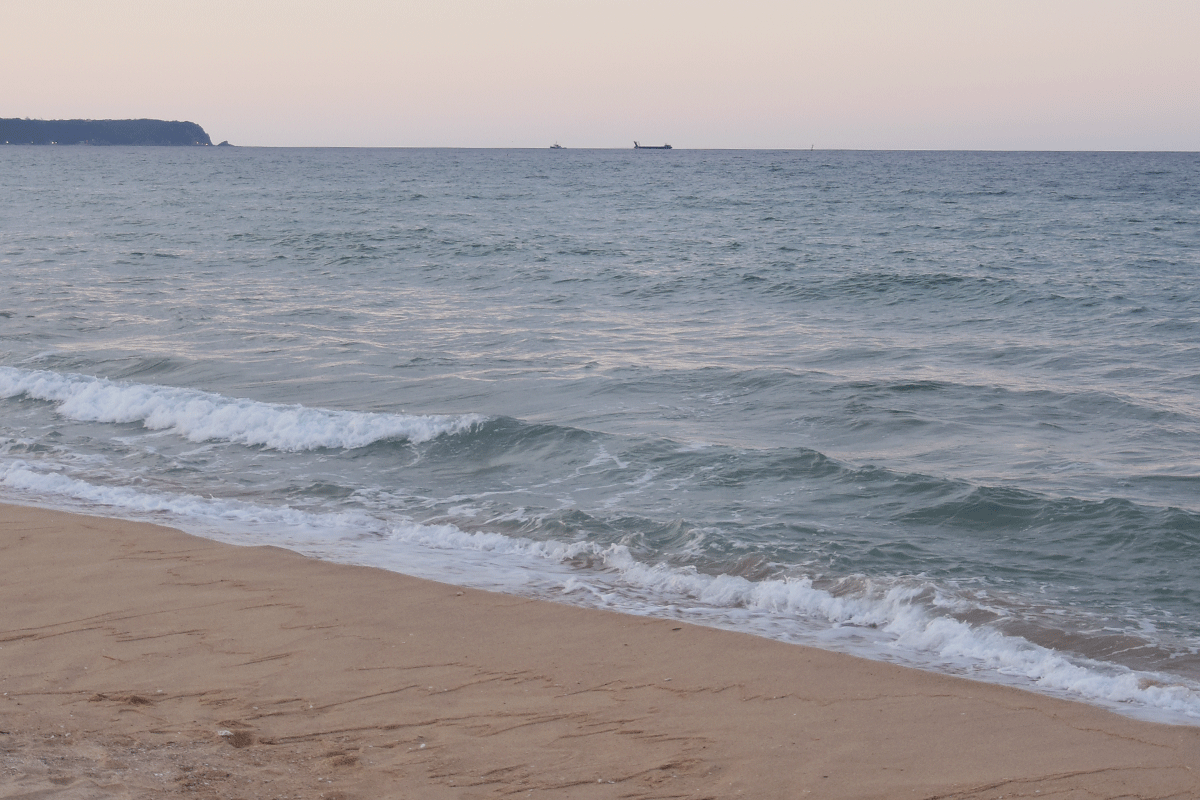 Unfortunately, there are no parasols, but if you go around sunset, you can see the dreamy colors and atmosphere that were seen in the drama.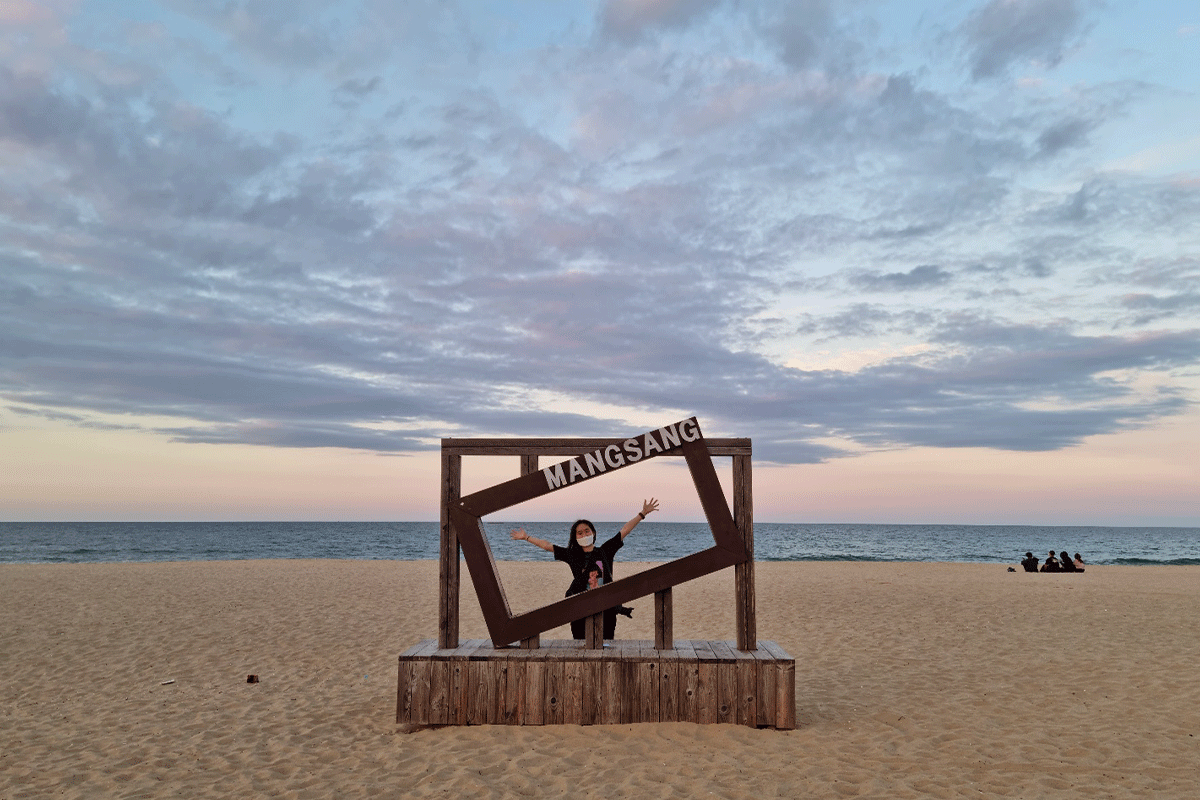 Thanks to the beautiful view, it's a good spot to see the sunset and is gaining popularity as a stopping point on drives through the area.
---
Yongpyong Resort
용평리조트
Address: 강원도 평창군 대관령면 올림픽로 715
715 Olympic-ro, Daegwalnyeong-myeon, Pyeongchang-gun, Gangwon-do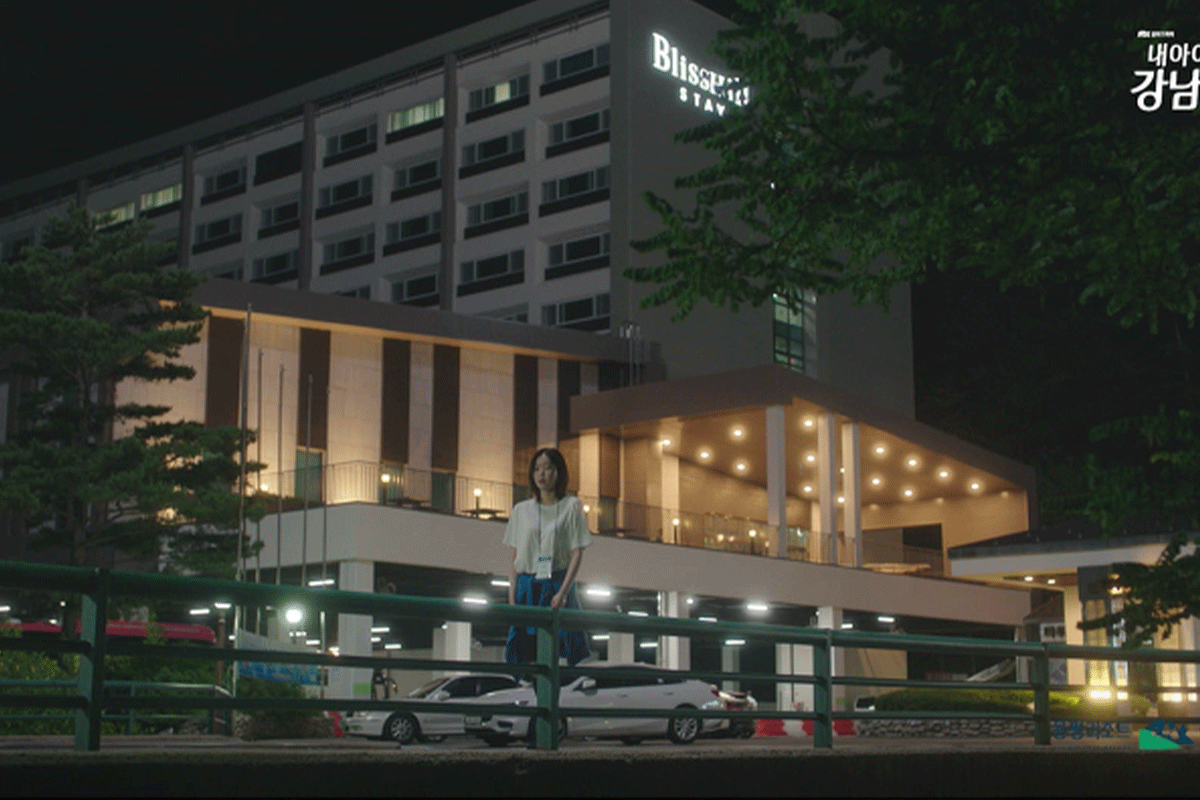 Source: JTBC My ID is Gangnam Beauty
This is Yongpyong Resort, where the university orientation was held in the 2018 JTBC drama My ID is Gangnam Beauty.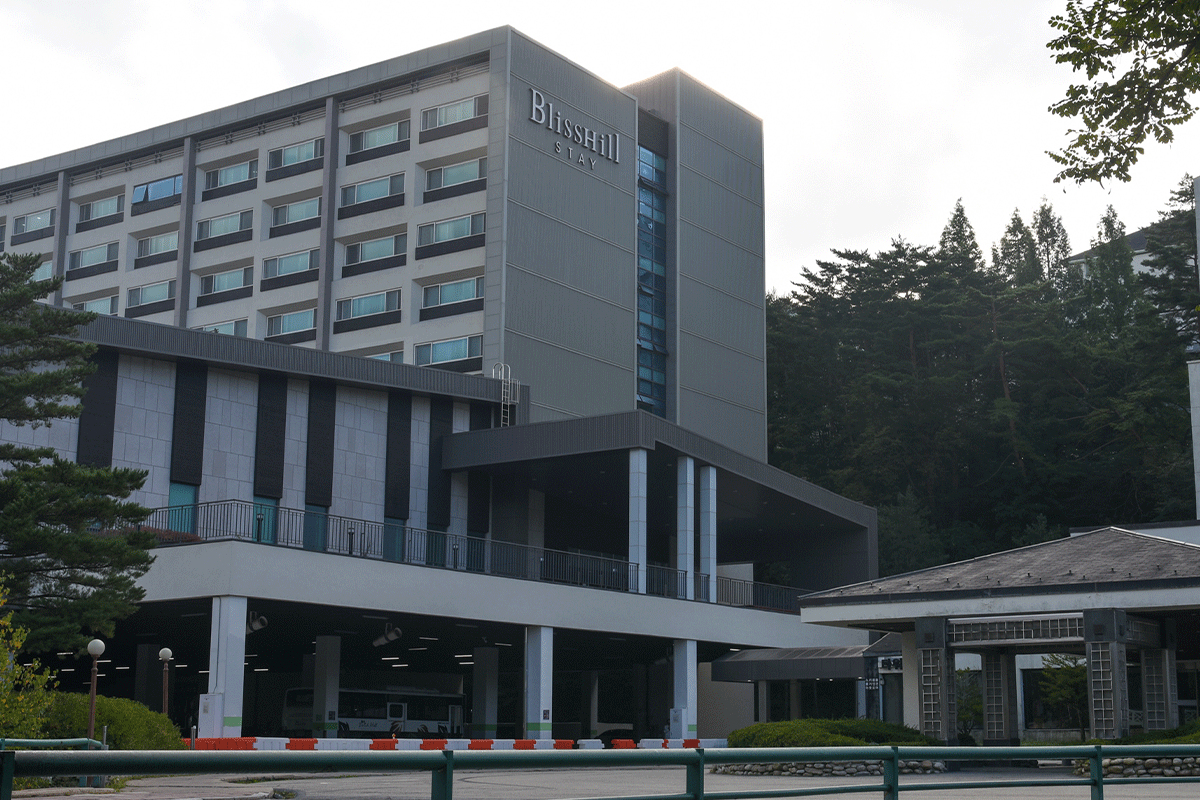 If you stand opposite the entrance to the first floor of the Tower Condominium, you can see exactly what's seen in the drama scene.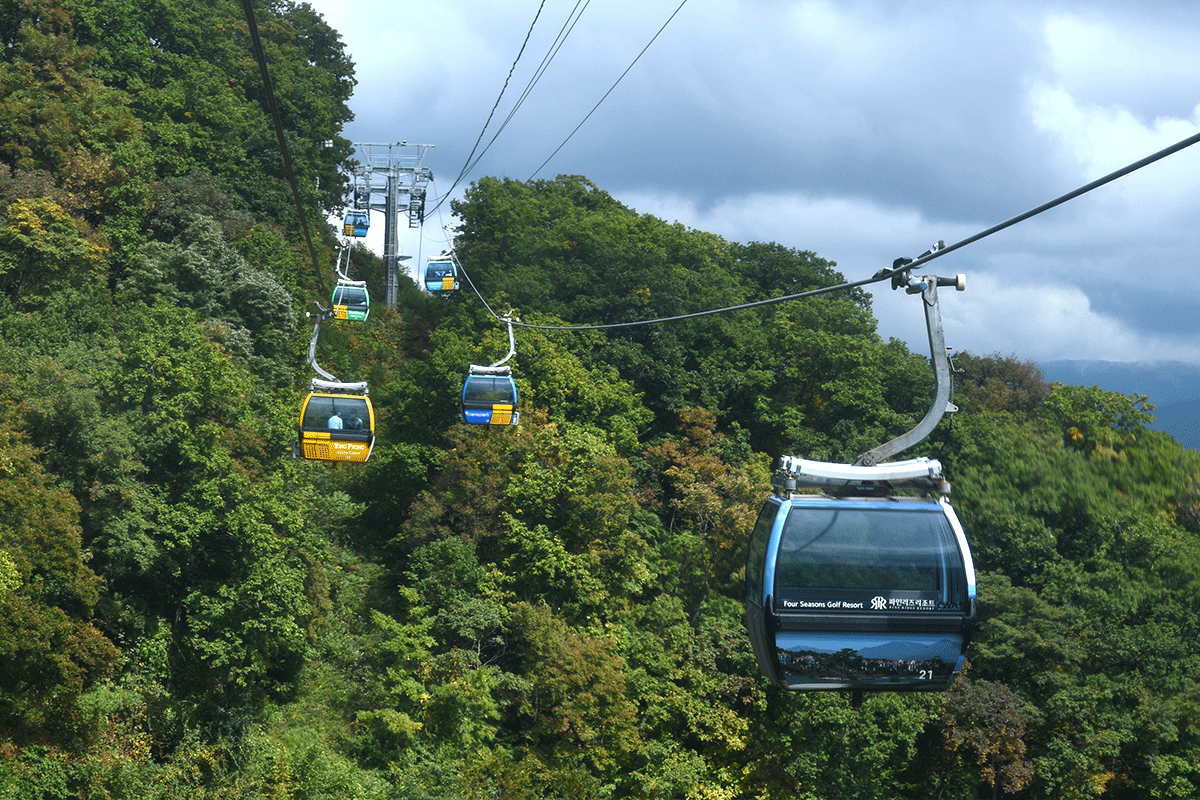 At Yongpyong Resort, you can take a cable car to Balwangsan Mountain, where another Korean drama was also filmed.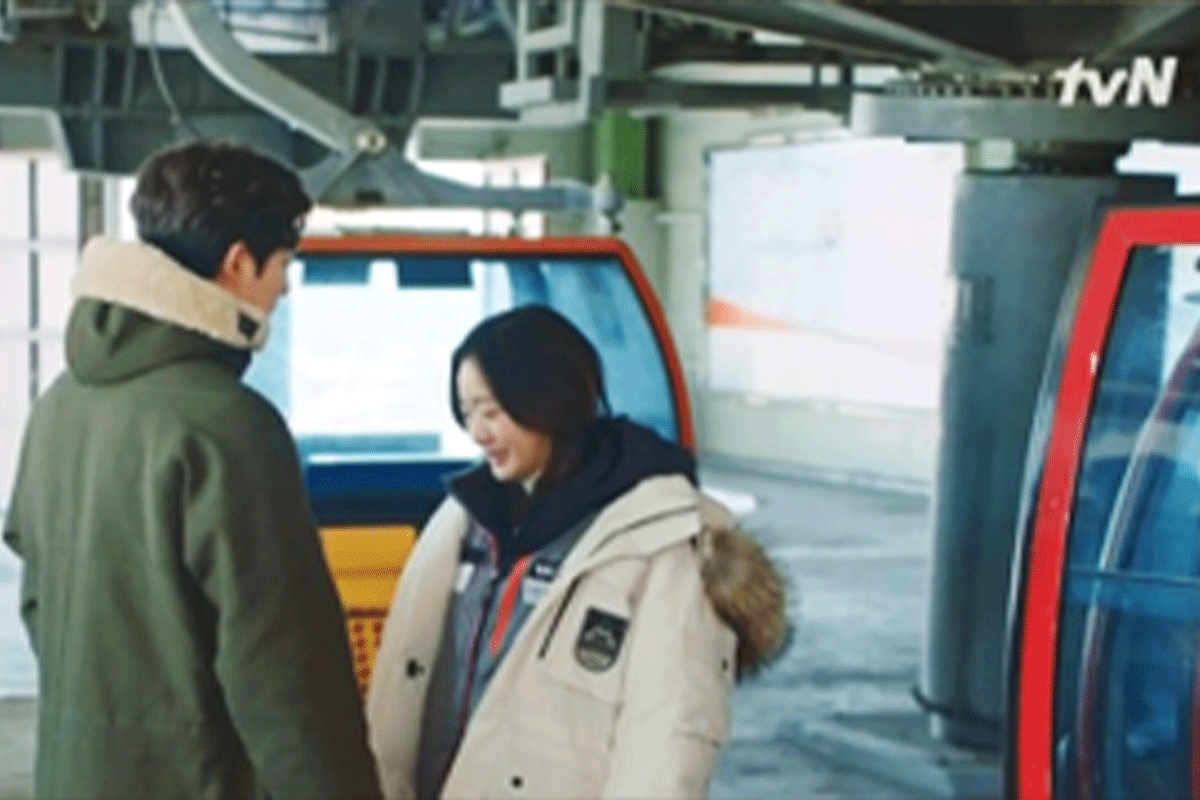 Source: tvN Goblin
The cable car that appeared in the 2016 tvN drama Goblin is the Balwangsan cable car operated at Yongpyong Resort.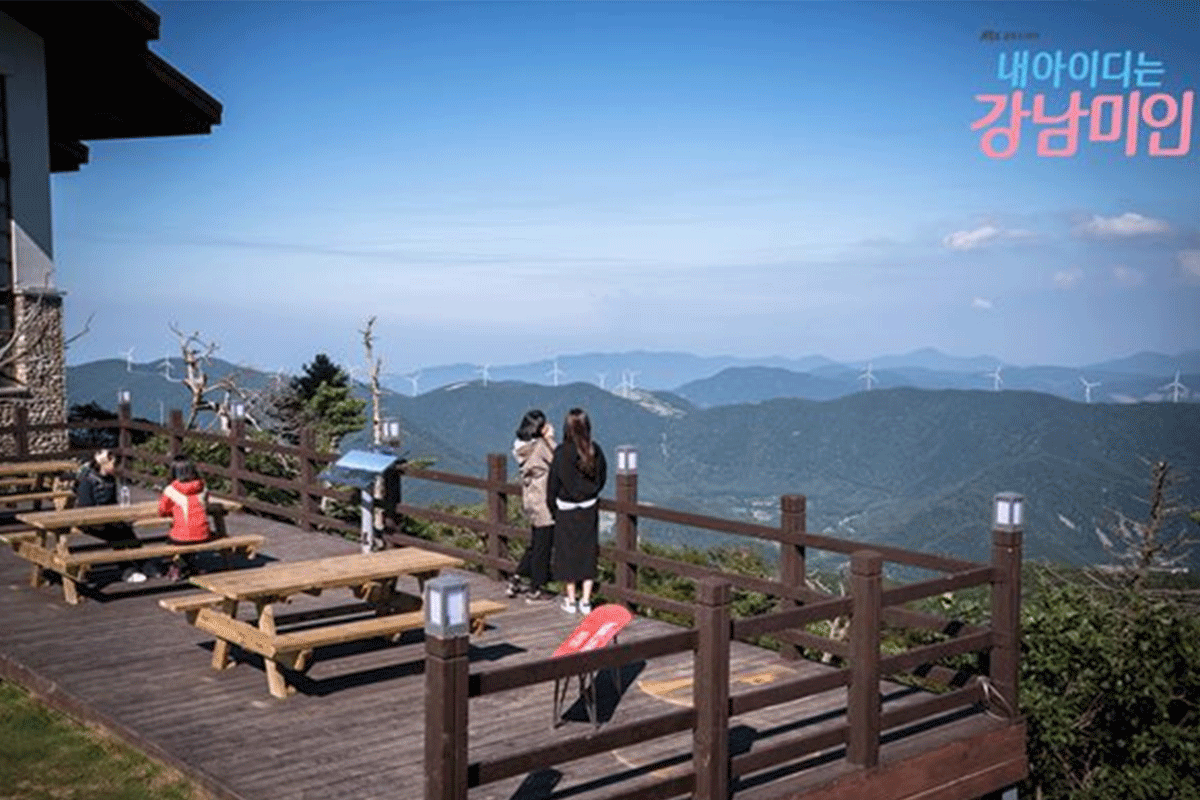 Source: JTBC My ID is Gangnam Beauty
My ID is Gangnam Beauty also filmed a scene at the top of Balwangsan Mountain. The main character Mi-rae visits to receive the energy of Balwangsan Mountain.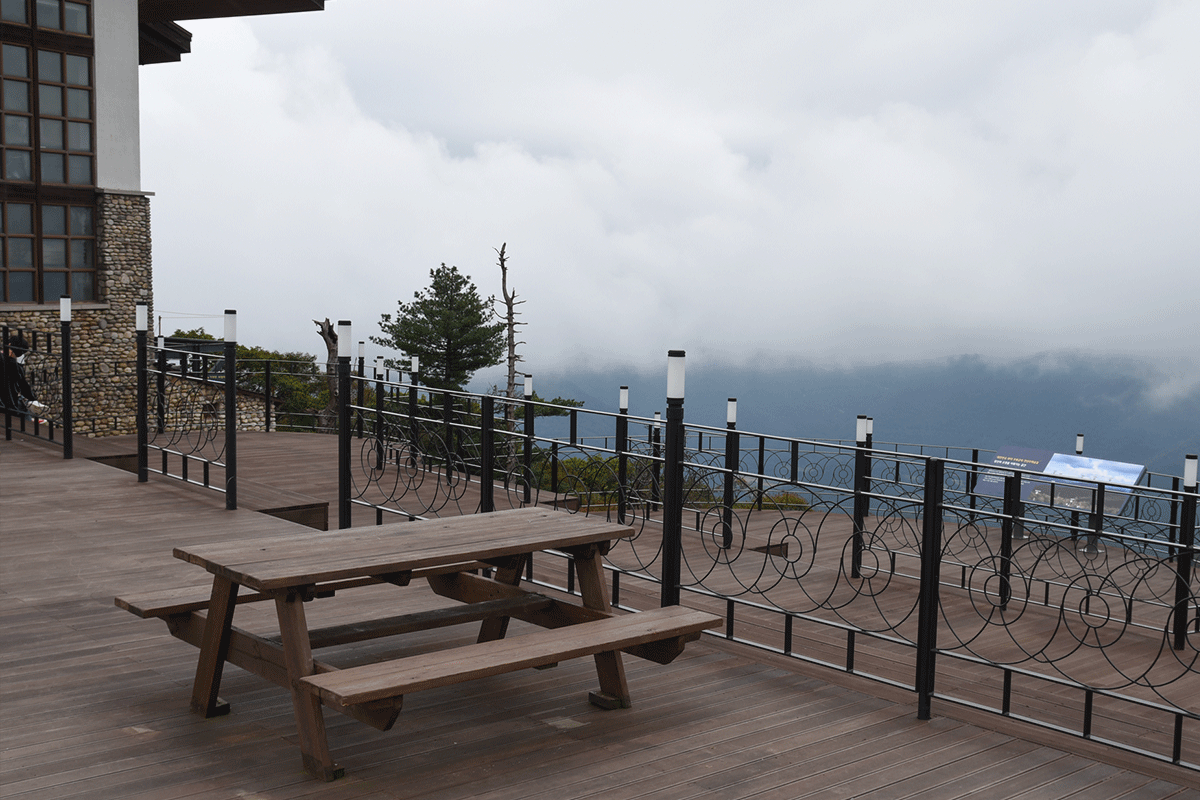 Unfortunately, when I visited, there was so much fog and the bench had been moved. If you visit on a clear day, it will feel more similar to the drama scene.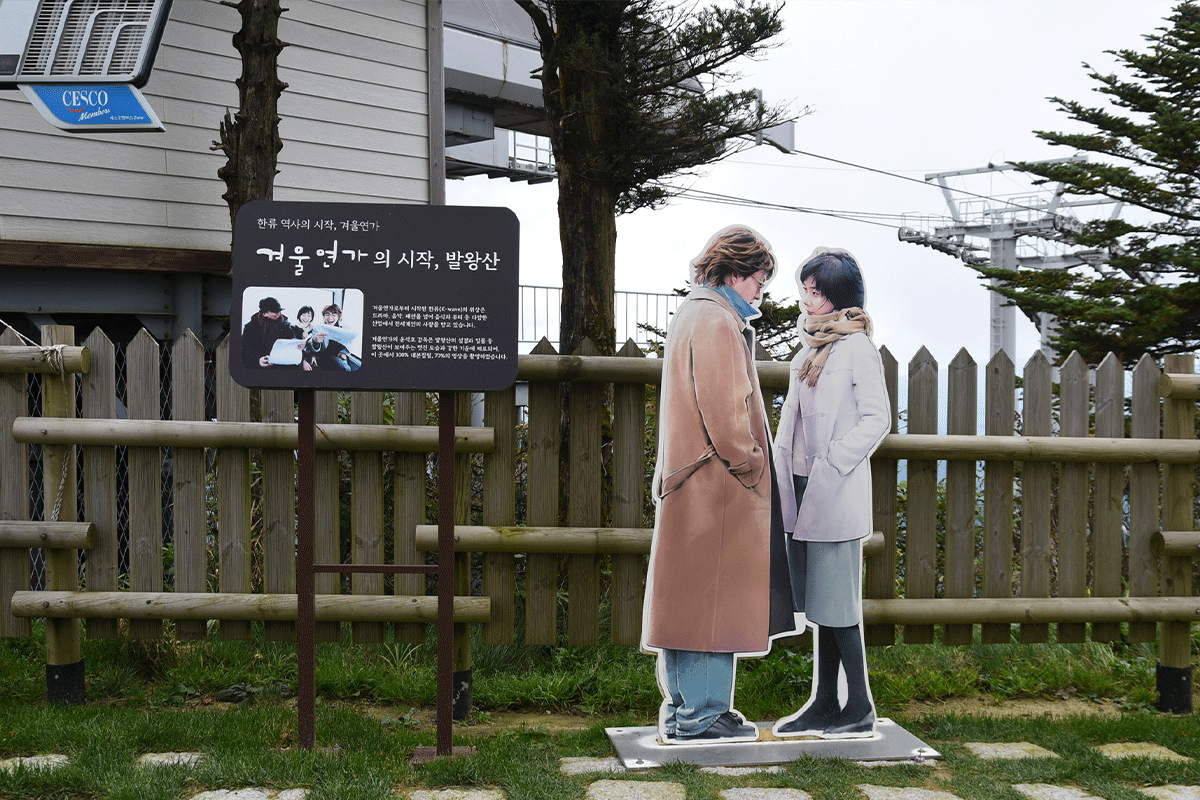 Winter Sonata, which aired on KBS in 2002, was also filmed here. The drama ended a long time ago, but it was so popular that there is a photo zone at the top of Balwangsan Mountain.

---
Goseokjeong Pavilion
고석정
Address: 강원 철원군 동송읍 태봉로 1825
1825 Taebong-ro, Dongsong-eup, Cheorwon-gun, Gangwon-do

Admission: Free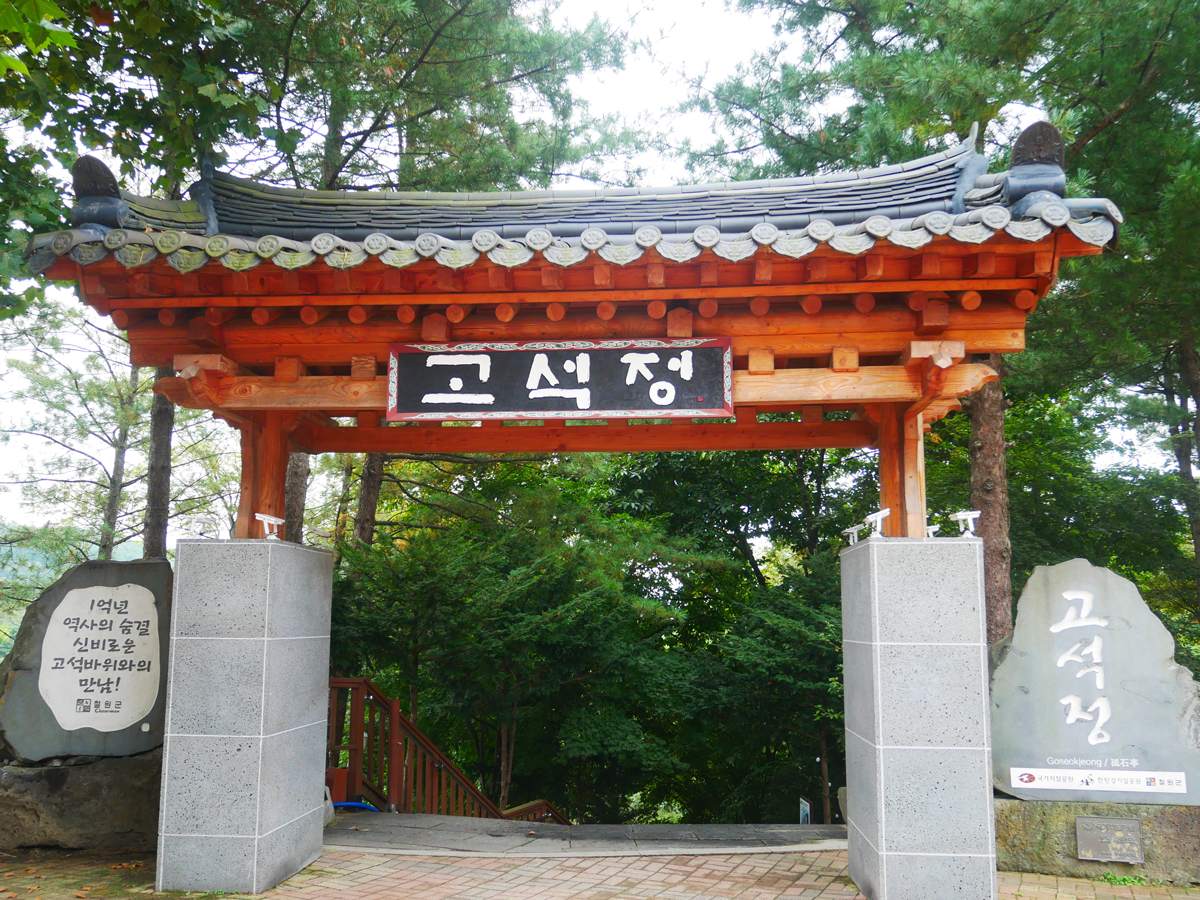 One of the eight scenic spots in the area, Goseokjeong Pavilion is located in the Hantan River valley. Because of its special geographical features, it is valuable for local research.
From this entrance, you'll see the Goseok Rock, which is 15 meters high and is made of ancient bedrock. The granite formed underground millions of years ago and later became exposed due to erosion.
On the side of the trail, you can see signs showing which Korean dramas were filmed here, such as Shark, That Winter, the Wind Blows, Dr. Jin, and Gunman in Joseon.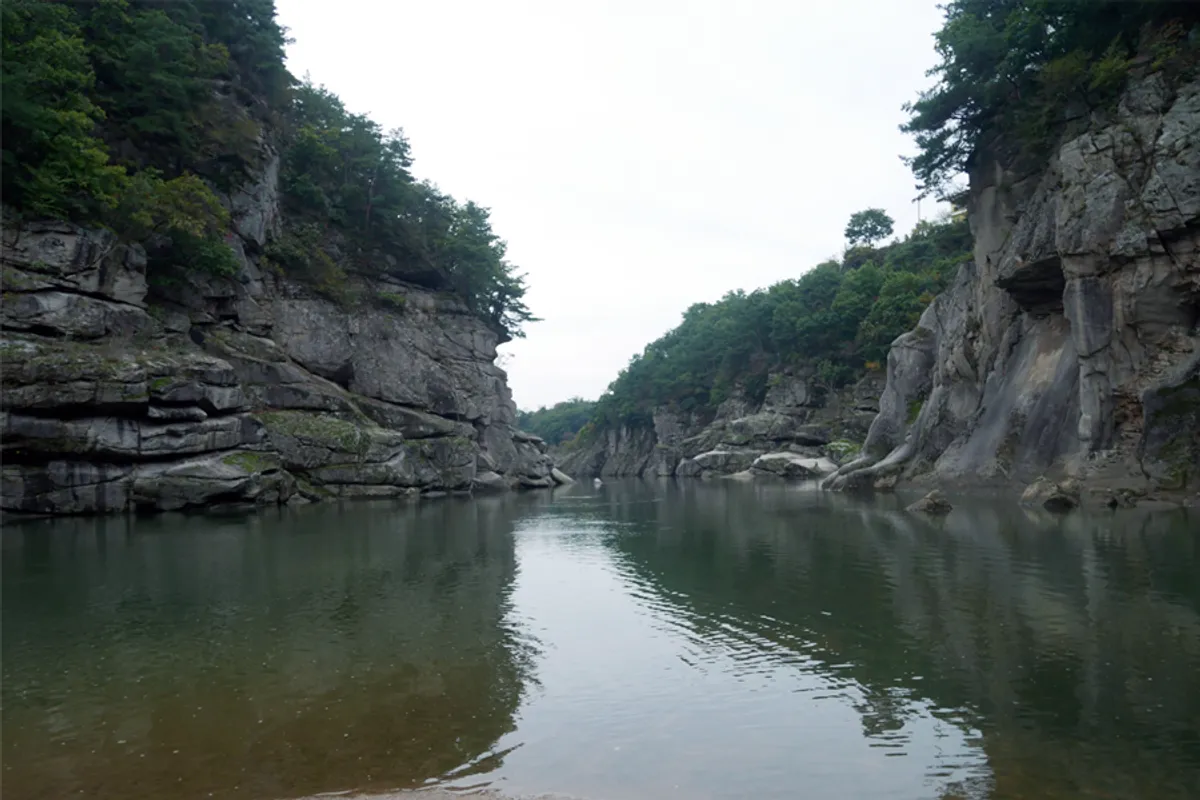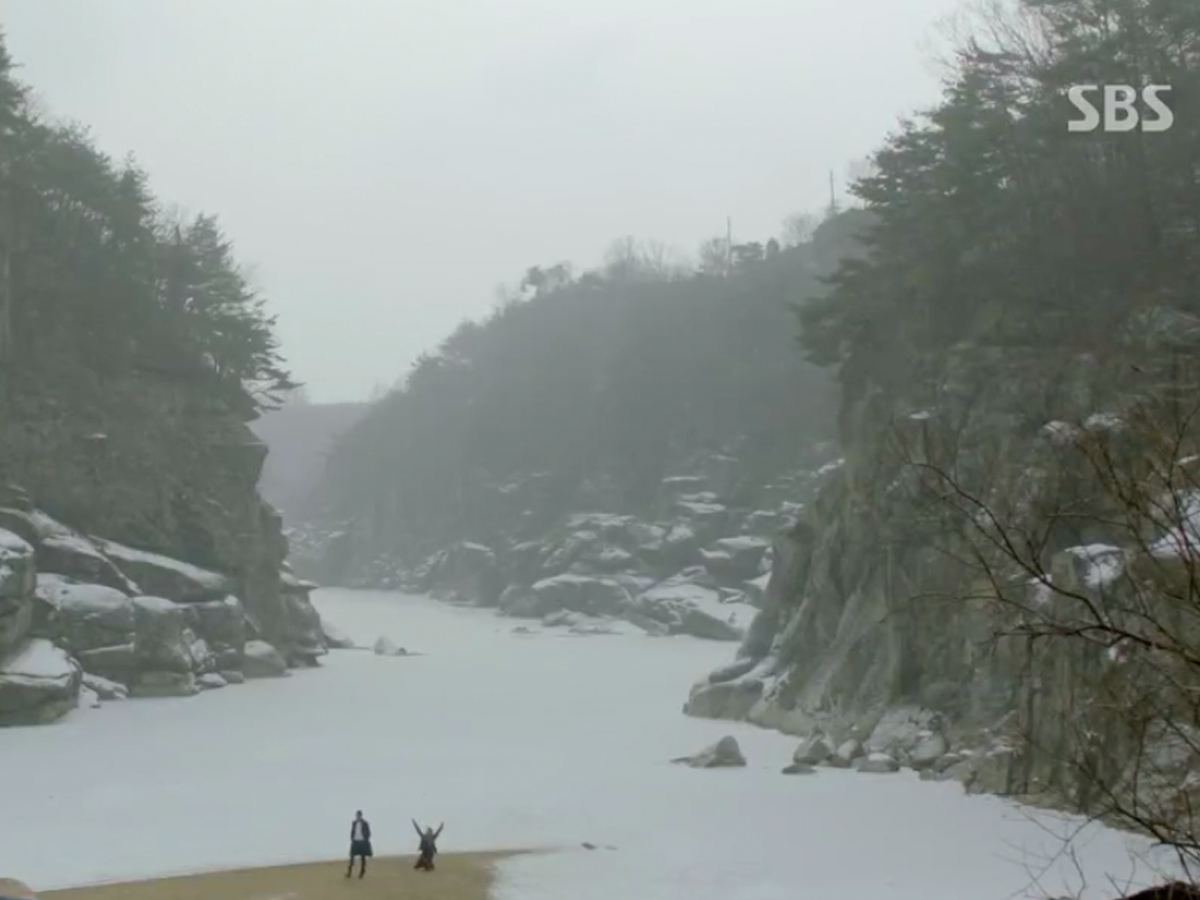 In the first episode of That Winter, the Wind Blows, Jo In-sung appears at Goseokjeong Pavilion on a snowy day where the Hantan River has frozen over.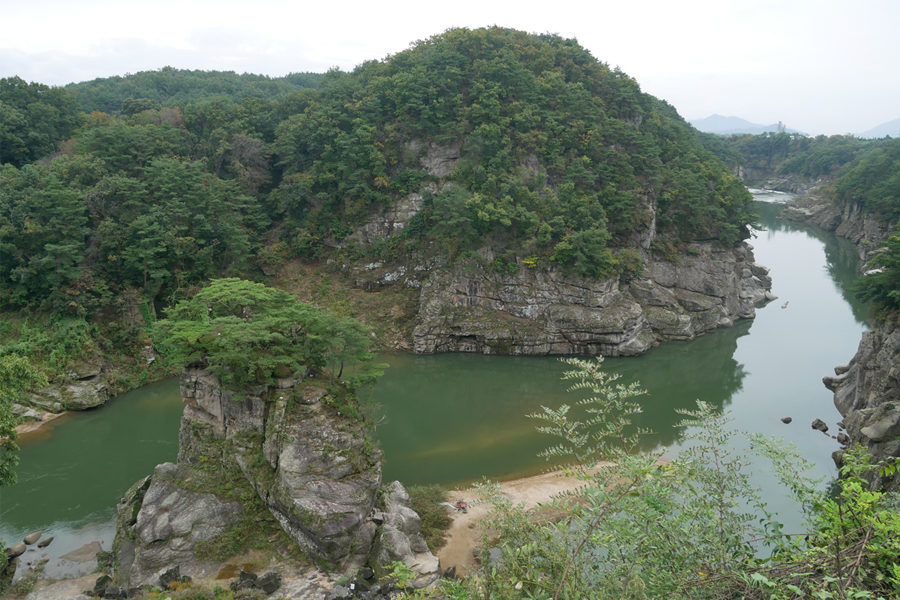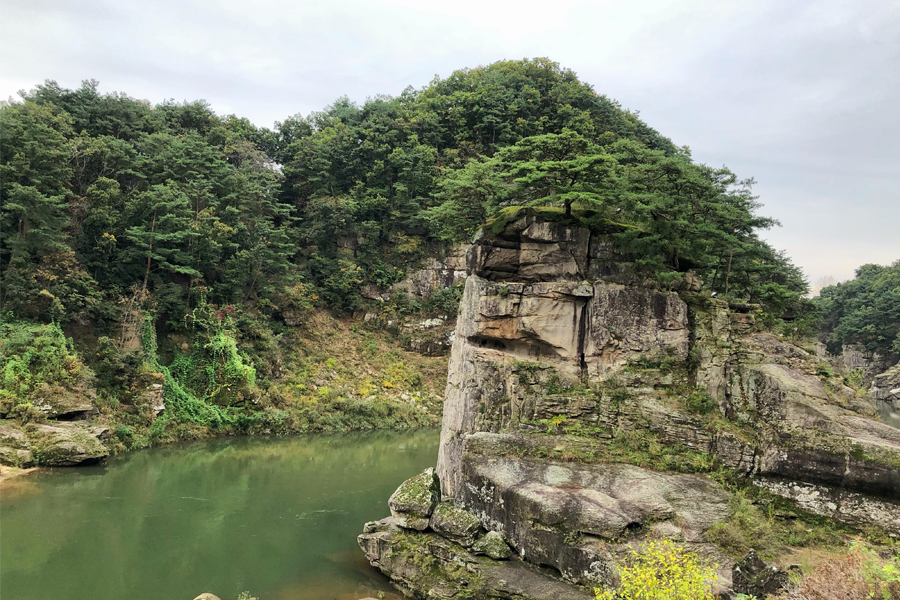 After walking for about 15 minutes, you can see the Hantan River and Goseok Rock and breathe in the fresh air. I will see Han River and Han River, just past rainy valley, and it will be fresher.
You can also take a boat ride in the river and see some of the interesting rock formations.
Click here if you want to find out what else you can do in the area.
---
Sogeumsan Suspension Bridge
소금산출렁다리
Address: 강원 원주시 지정면 소금산길 14
14 Sogeumsan-gil, Jijeong-myeon, Wonju-si, Gangwon-do
Hours: 09:00-17:00
Admission: 3,000 won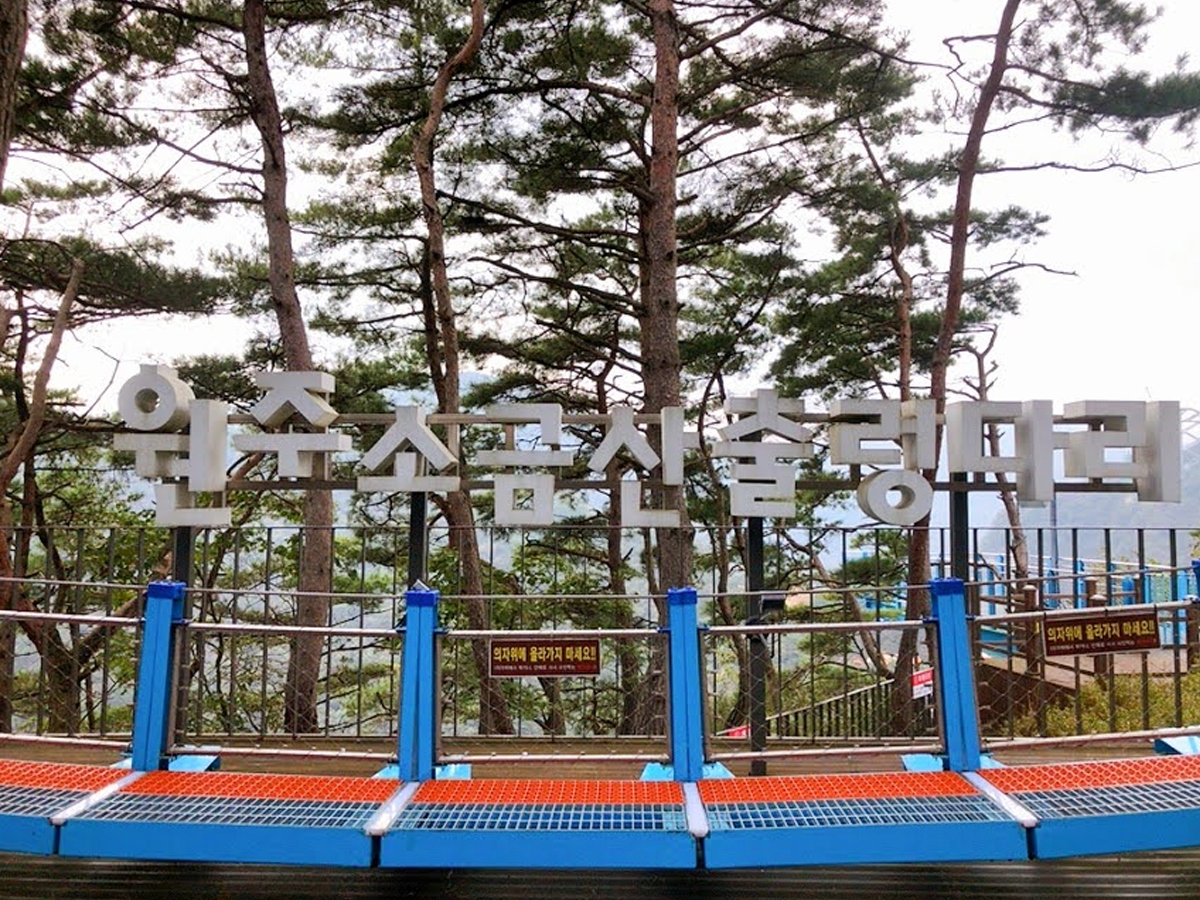 The 200 meter long Sogeumsan Suspension Bridge in Wonju is the longest suspension bridge in Korea. Here, visitors can enjoy the beautiful scenery of the Seomgang River, Wonju City, and Gyeonggi-do Province.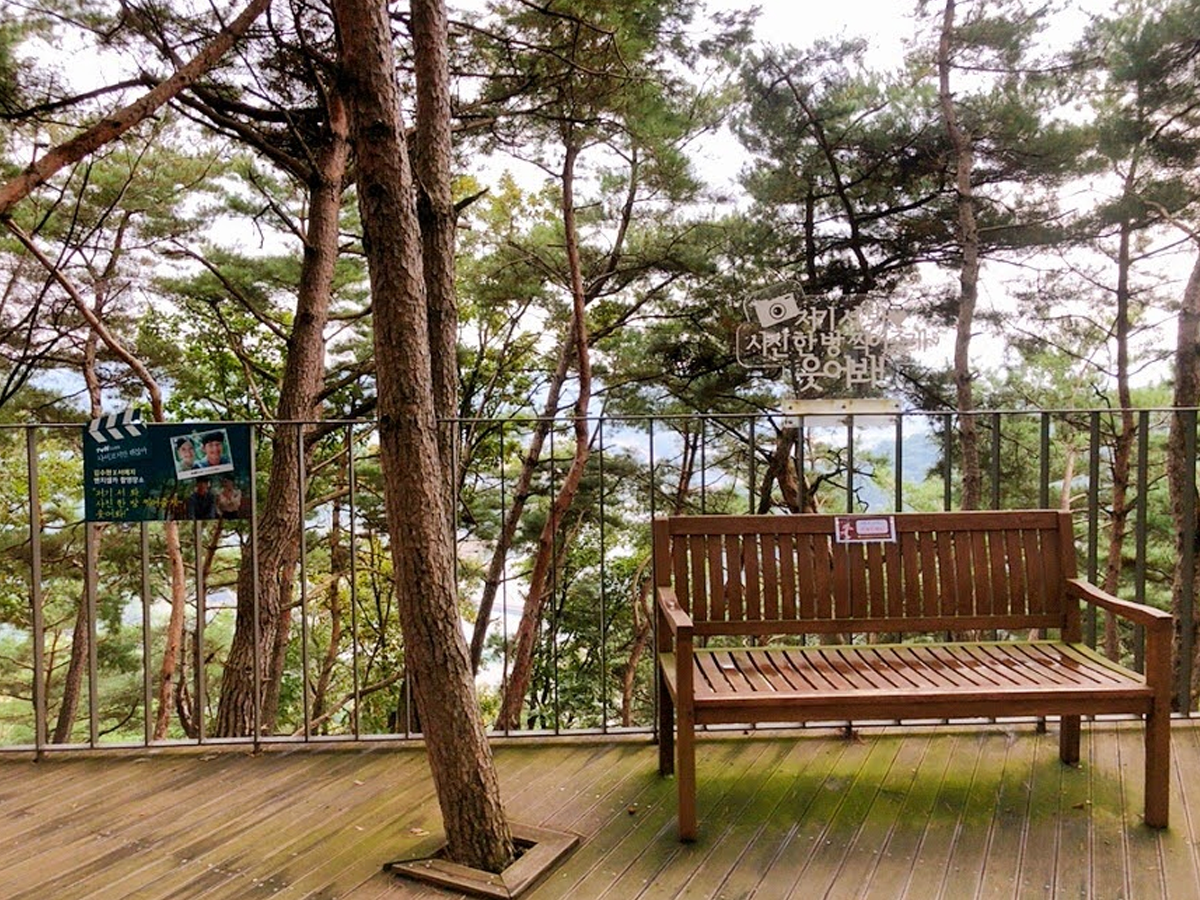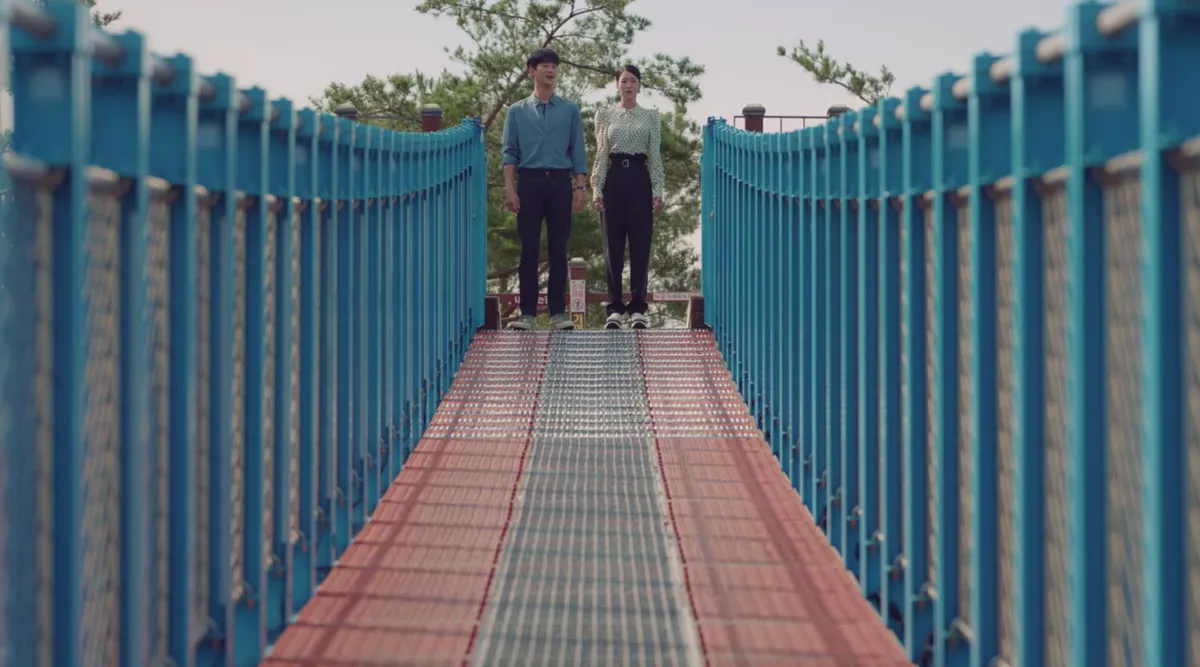 In the 9th episode of the drama It's Okay to Not Be Okay, do you remember Gang-tae wanted to see the suspension bridge? They went on a date there and sat on a bench and took pictures.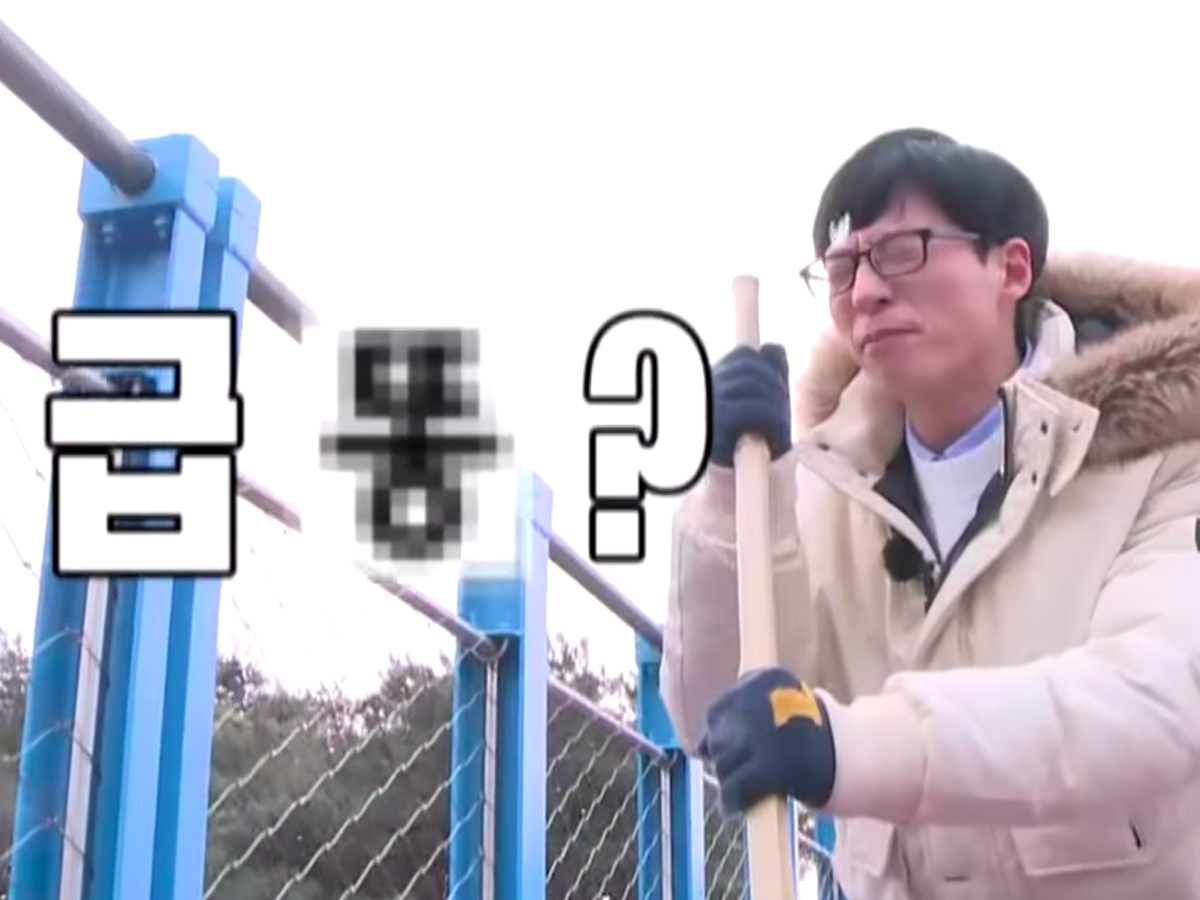 Also, in an episode of Infinite Challenge, Yoo Jae-suk was sent to this bridge and was so scared, he kept his eyes closed.

Located in the Ganhyeon Tourist Area (간현관광지), the Sogeumsan Suspension Bridge is planned to become a large park with cable cars, an observatory, etc.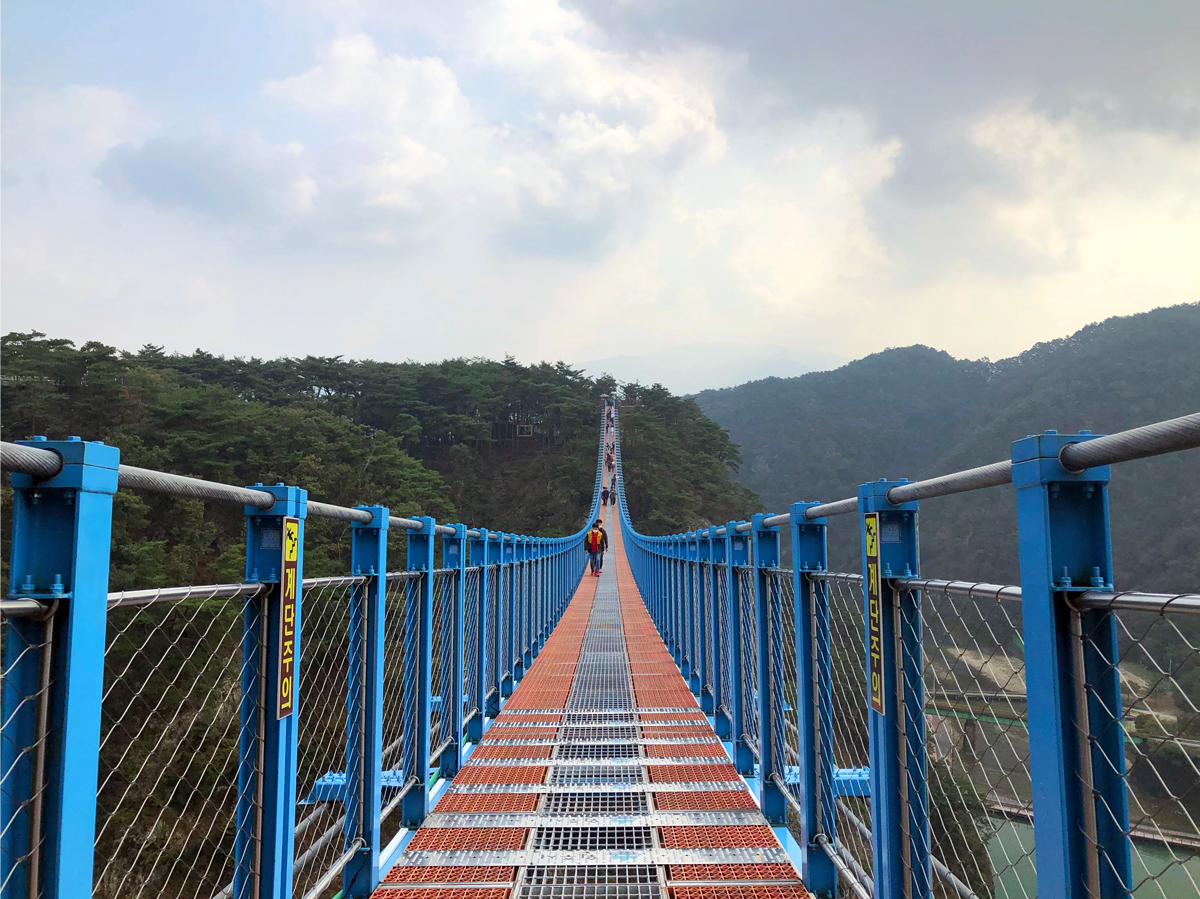 There are a lot of visitors even on weekday mornings, meaning it's definitely a spot you need to visit when you are in Wonju.

---
Museum San
뮤지엄 산
Address: 강원도 원주시 지정면 오크밸리 2길 260
260 Okeubaelli 2-gil, Jijeong-myeon, Wonju-si, Gangwon-do
Hours:
Main Building 0:00-18:00
James Turrell Hall 10:30-17:30
Meditation Hall 10:25-17:05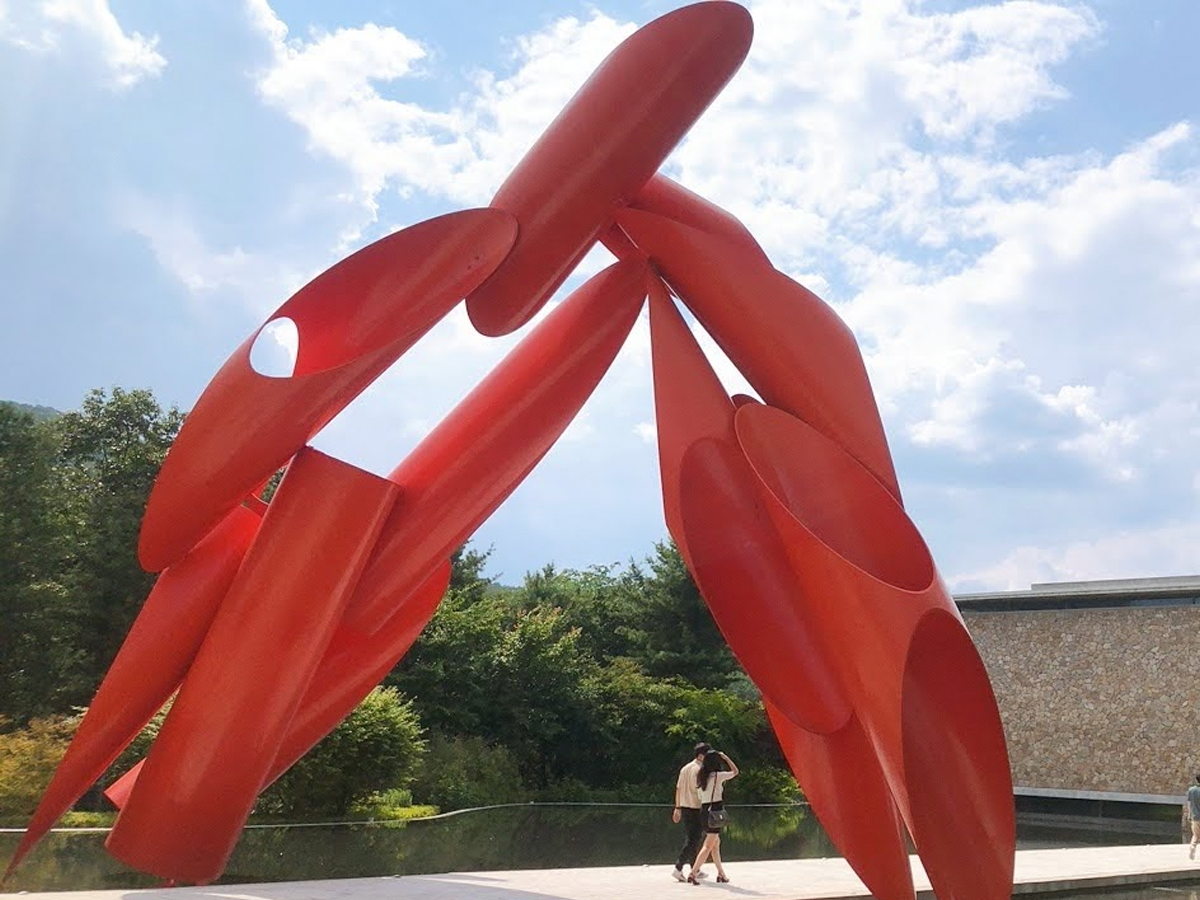 Located in Wonju, Museum SAN incorporates nature into its minimalistic concrete architectural style, focusing on the theme of the interaction between art and nature.
It's divided into different areas, such as an outdoor garden, paper gallery, art gallery, James Turrell exhibit, and meditation hall.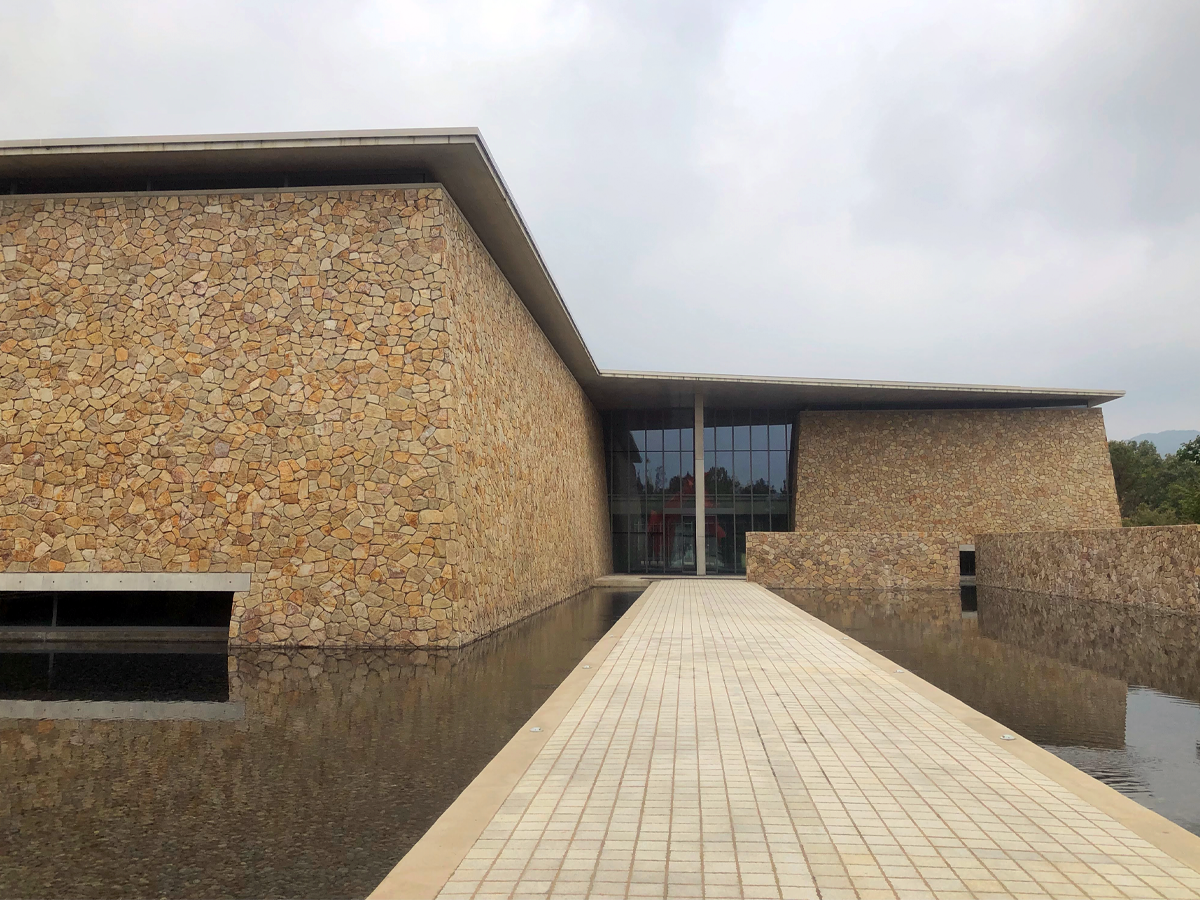 The water garden is a quiet, peaceful space, and you can see a reflection of the museum's main building, making it look like it's floating on the water. The red gate seems to be welcoming visitors to the water garden.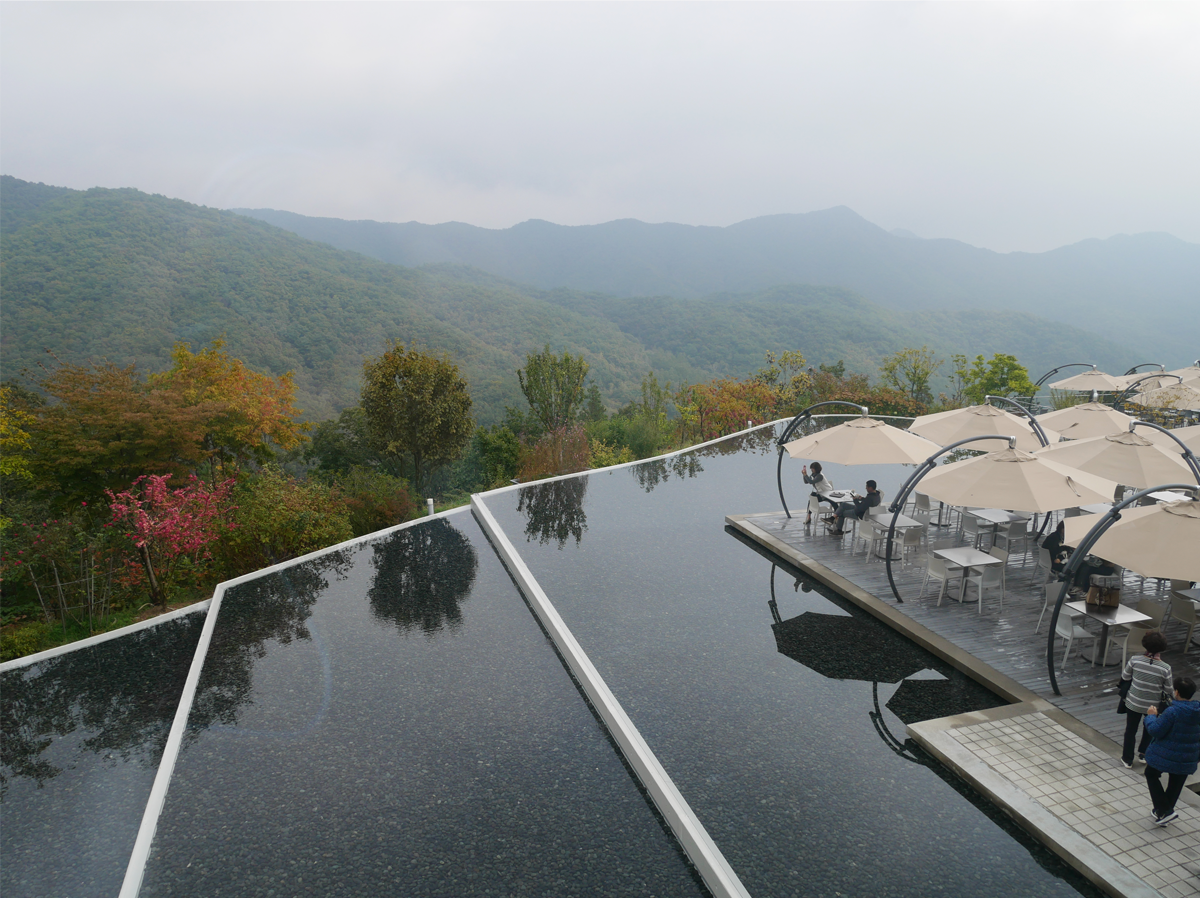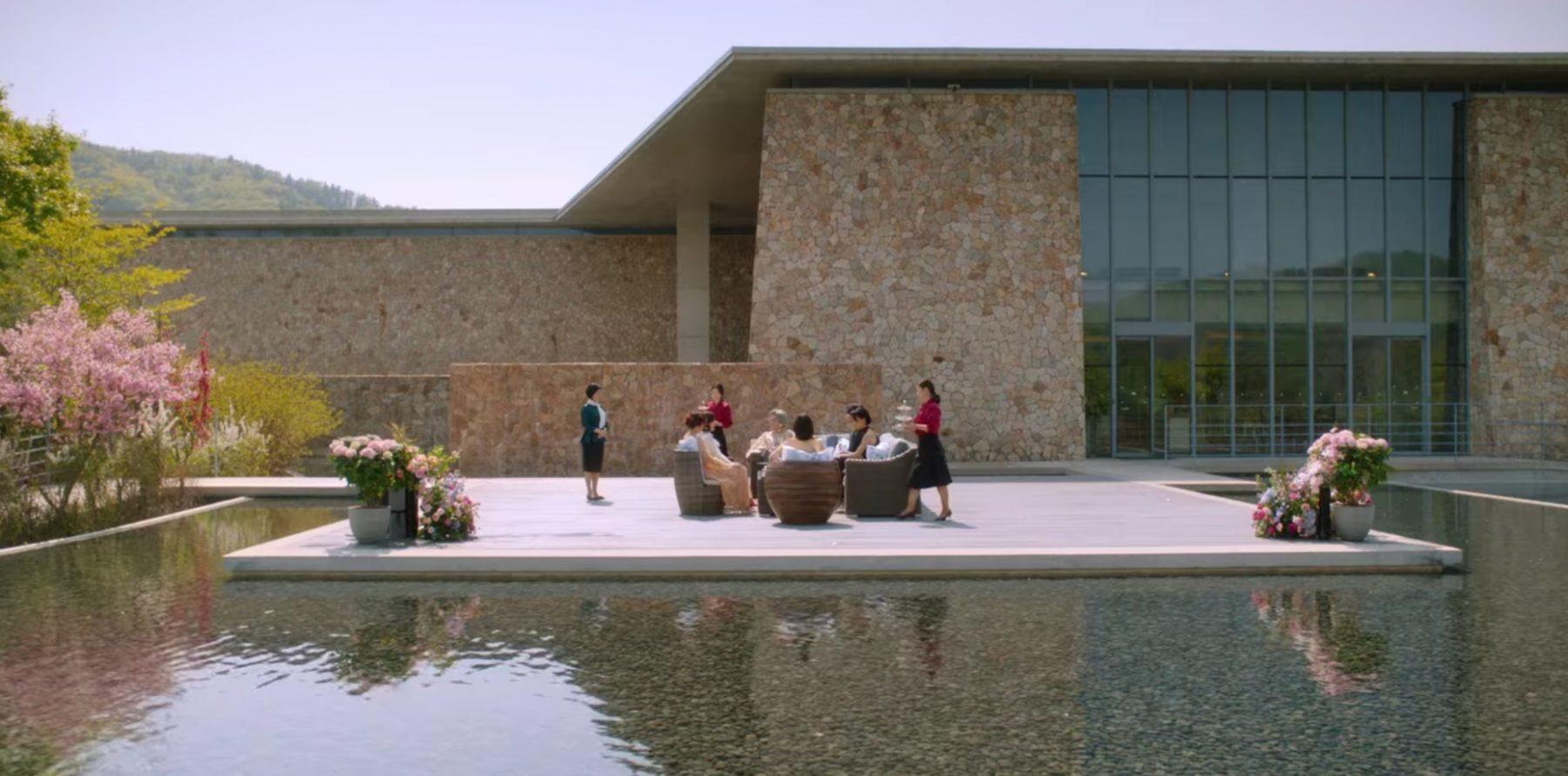 Source: tvN Mine
Museum San appears in the K-Drama Mine as the Hyowon Mansion.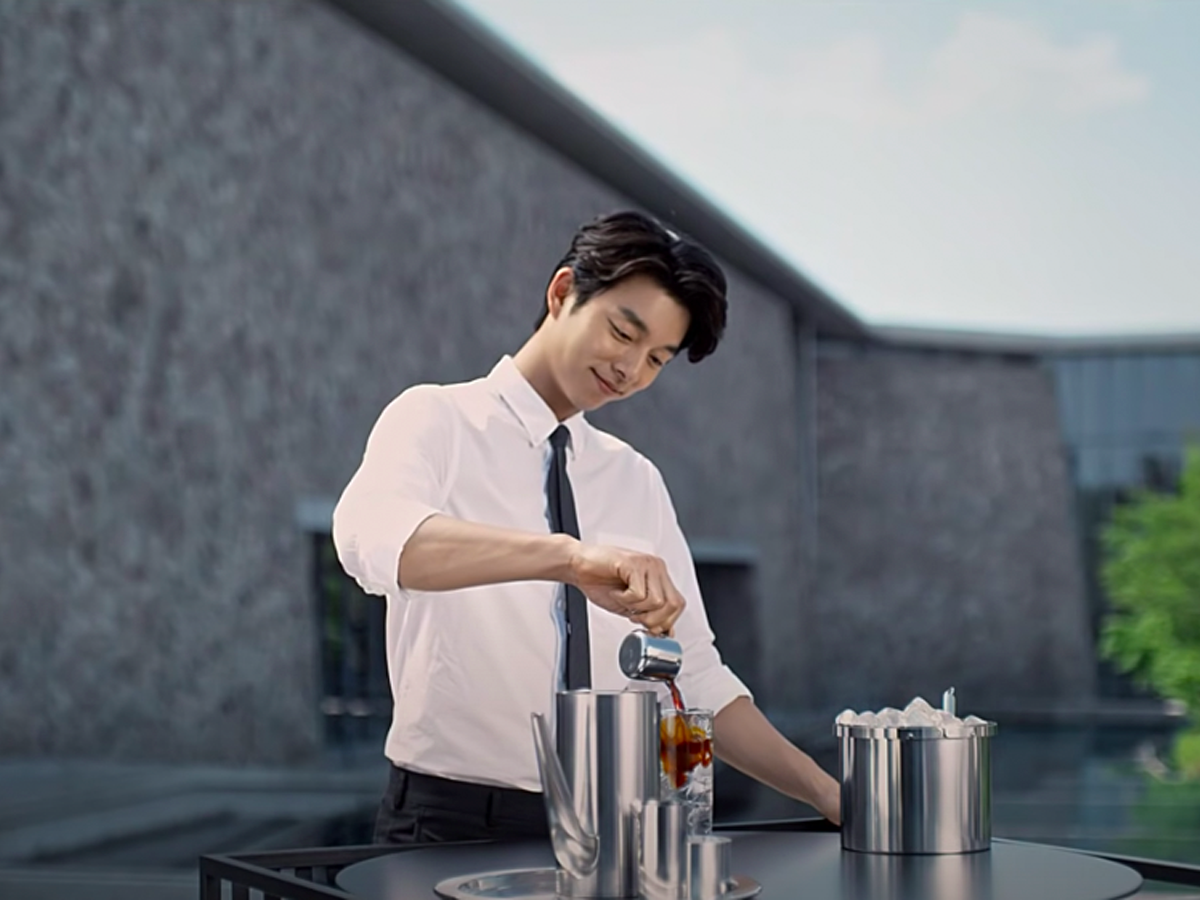 Source: Maxim

Museum San has appeared in countless advertisements, Korean dramas, and movies. Even Gong Yoo has filmed a coffee commercial here.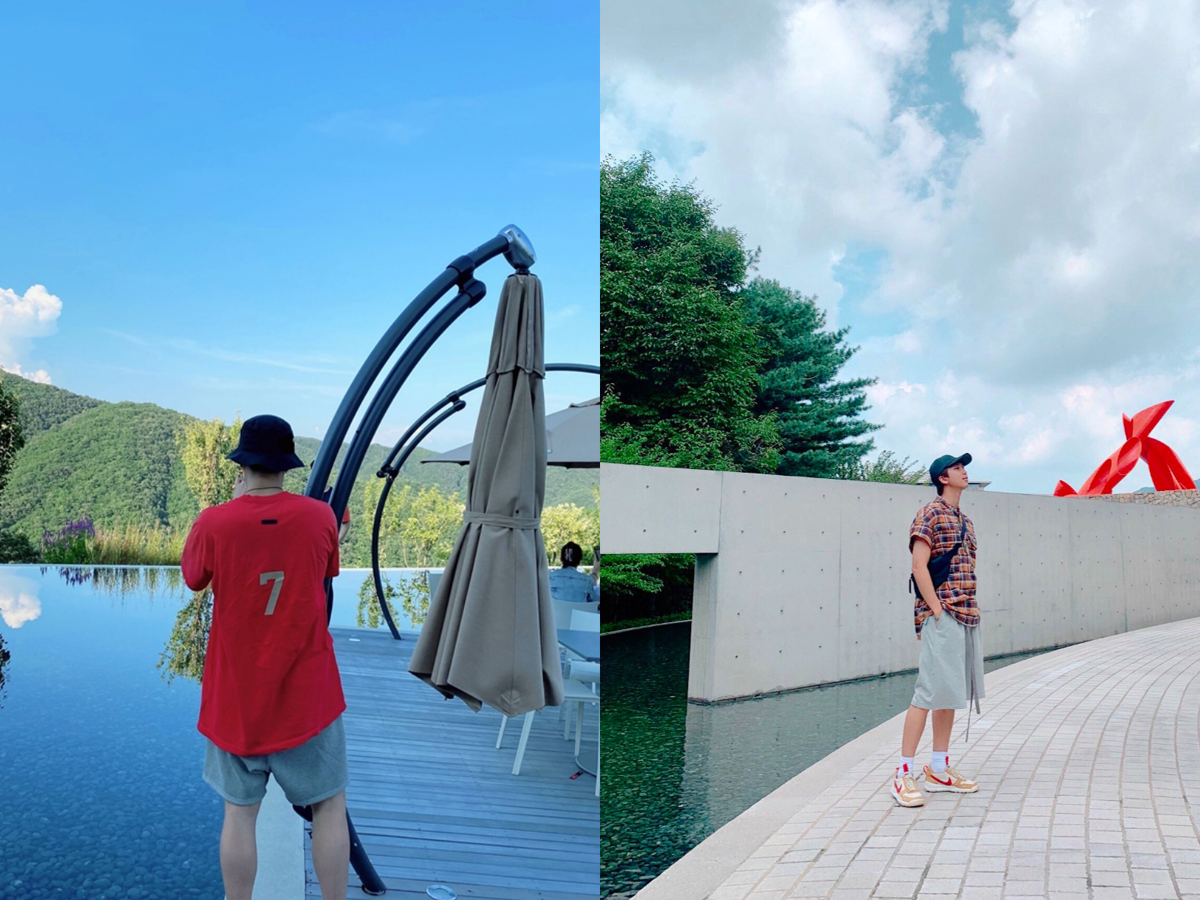 Source: Twitter @BTS_TWT

BTS leader RM, who loves art and art galleries, has also been there, so ARMYs should definitely follow in his footsteps and visit when in Wonju.
---
Jumunjin Port
주문진항
Address: 강원도 강릉시 주문진읍 해안로 1597
1597 Haean-ro, Jumunjin-eup, Gangneung, Gangwon-do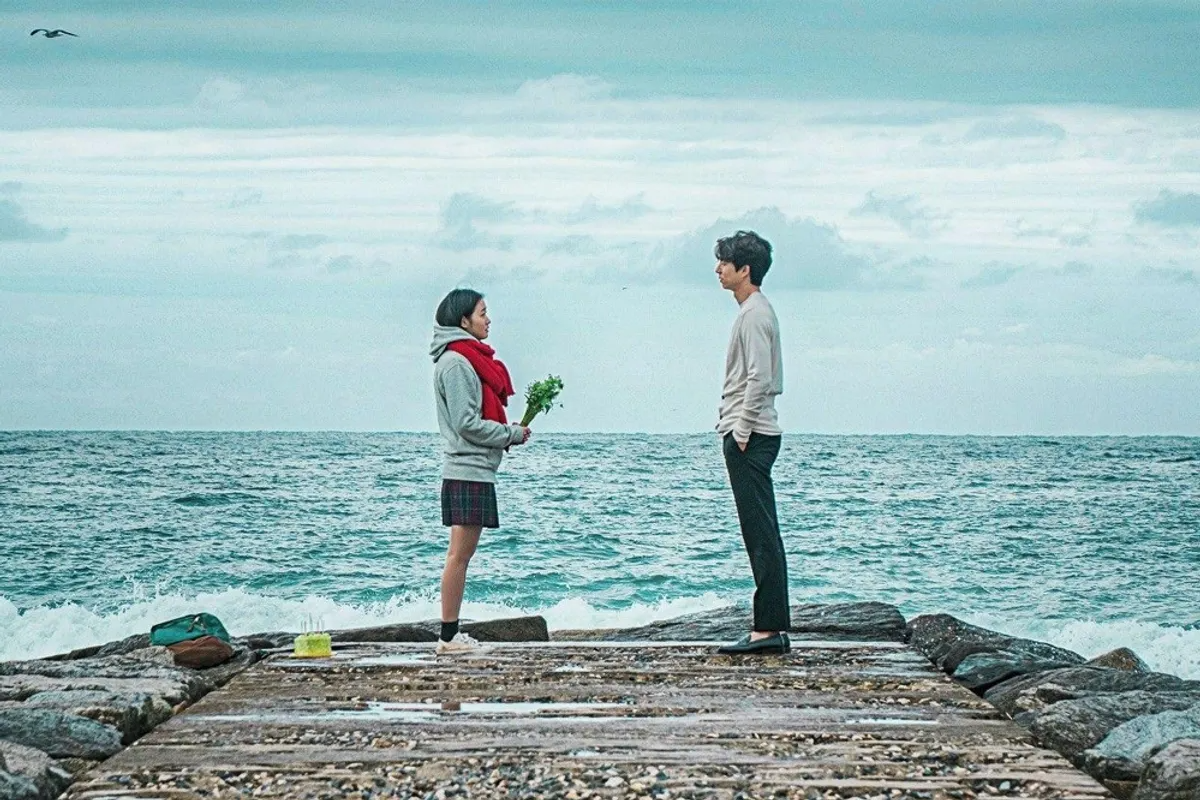 Jumunjin Port is one of the most well-known filming locations from Goblin. It's where Kim Go-eun received a bouquet from Gong Yoo.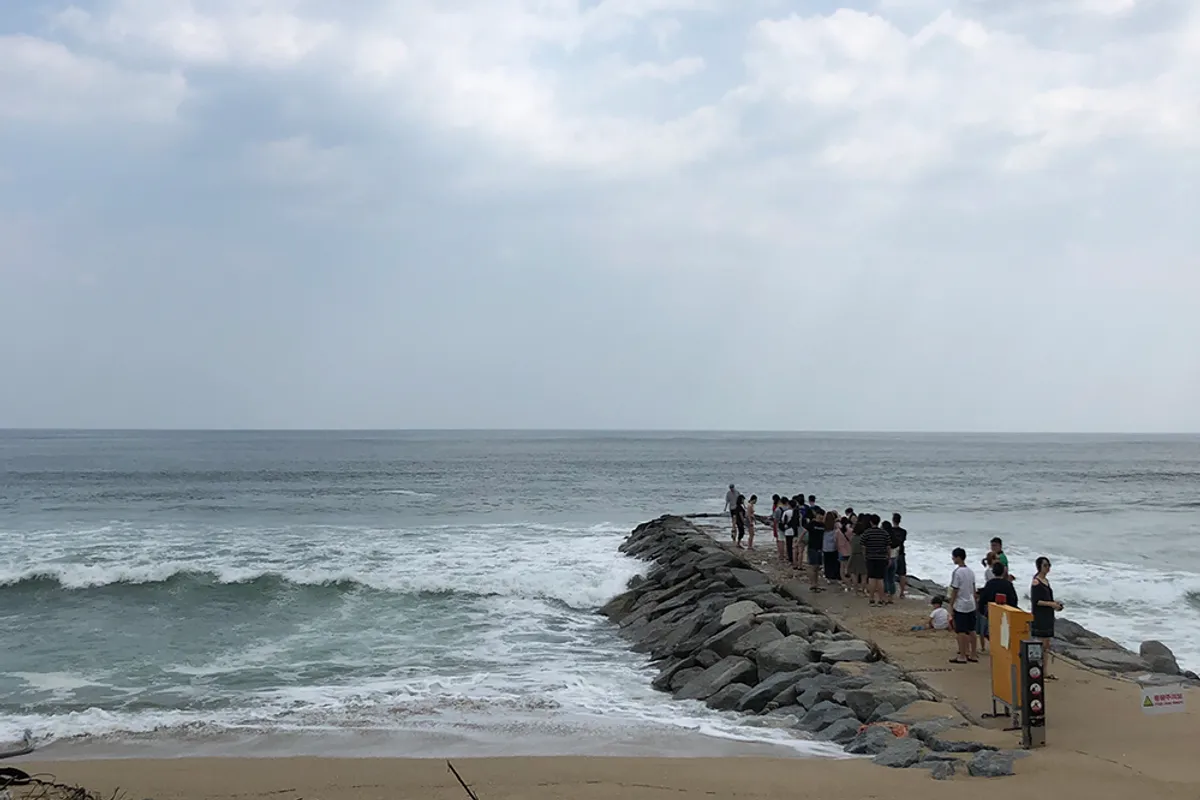 There is a woman who rents out bouquets by Jumunjin Port in Gangneung, so you can take the same beautiful photos like the drama characters.
---
Art Musuem Jajaknamusoup
미술관자작나무숲
Address: 강원 횡성군 우천면 한우로두곡5길 186
186 Hanu-ro dugok 5-gil, Ucheon-myeon, Hoengseong-gun, Gangwon-do
Hours: 10:00-17:00
National Holidays: 13:00-17:00
Wed-Thu: Closed
Admission: 20,000 won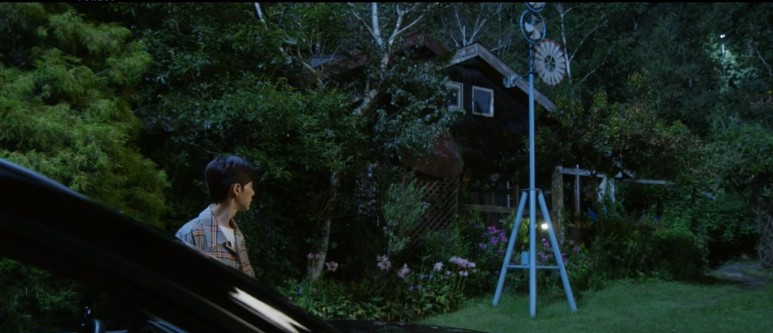 The art gallery consists of 2 exhibition halls, Studio Gallery and a guesthouse, all situated amidst stunning greenery perfect for healing and relaxing.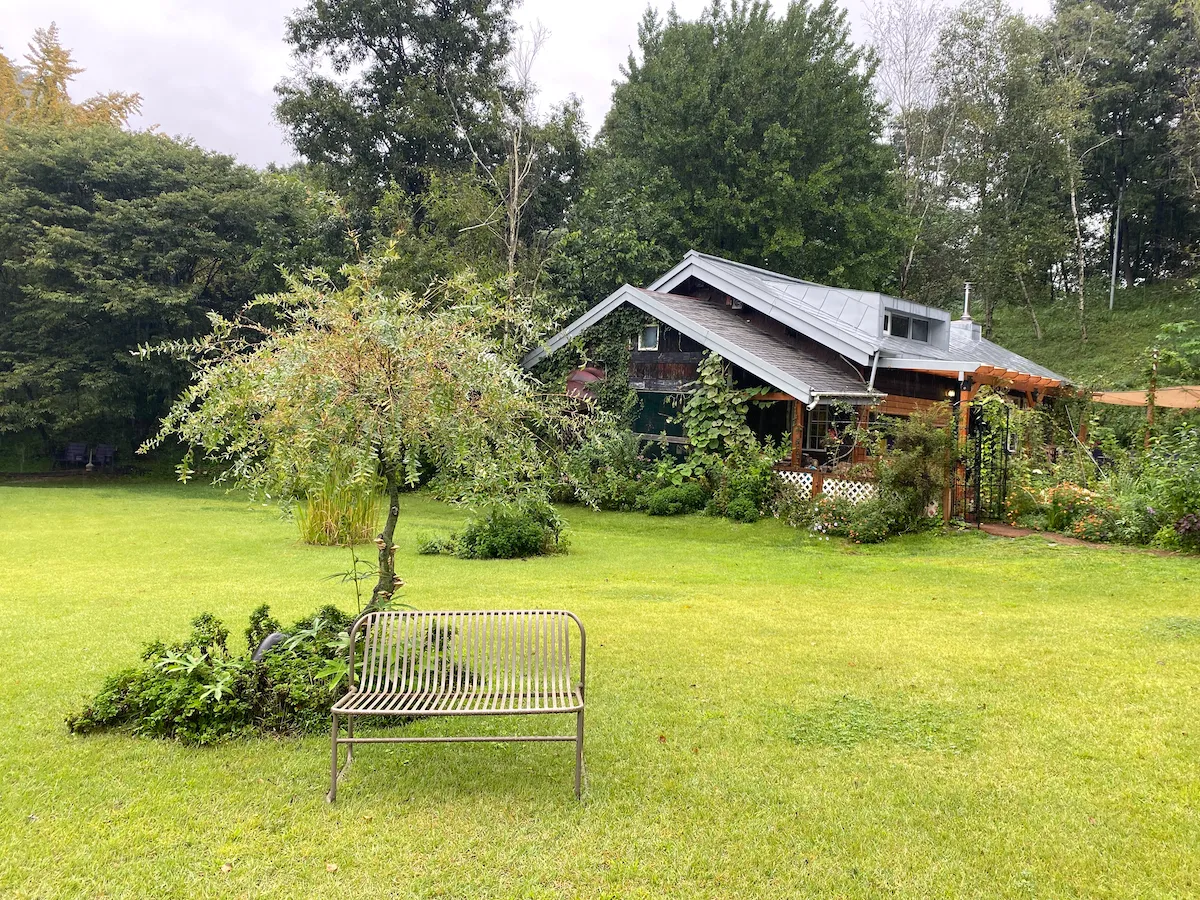 The popular K-drama Forest, starring Park Hae-jin and Cho Bo-ah, was filmed at Studio Gallery.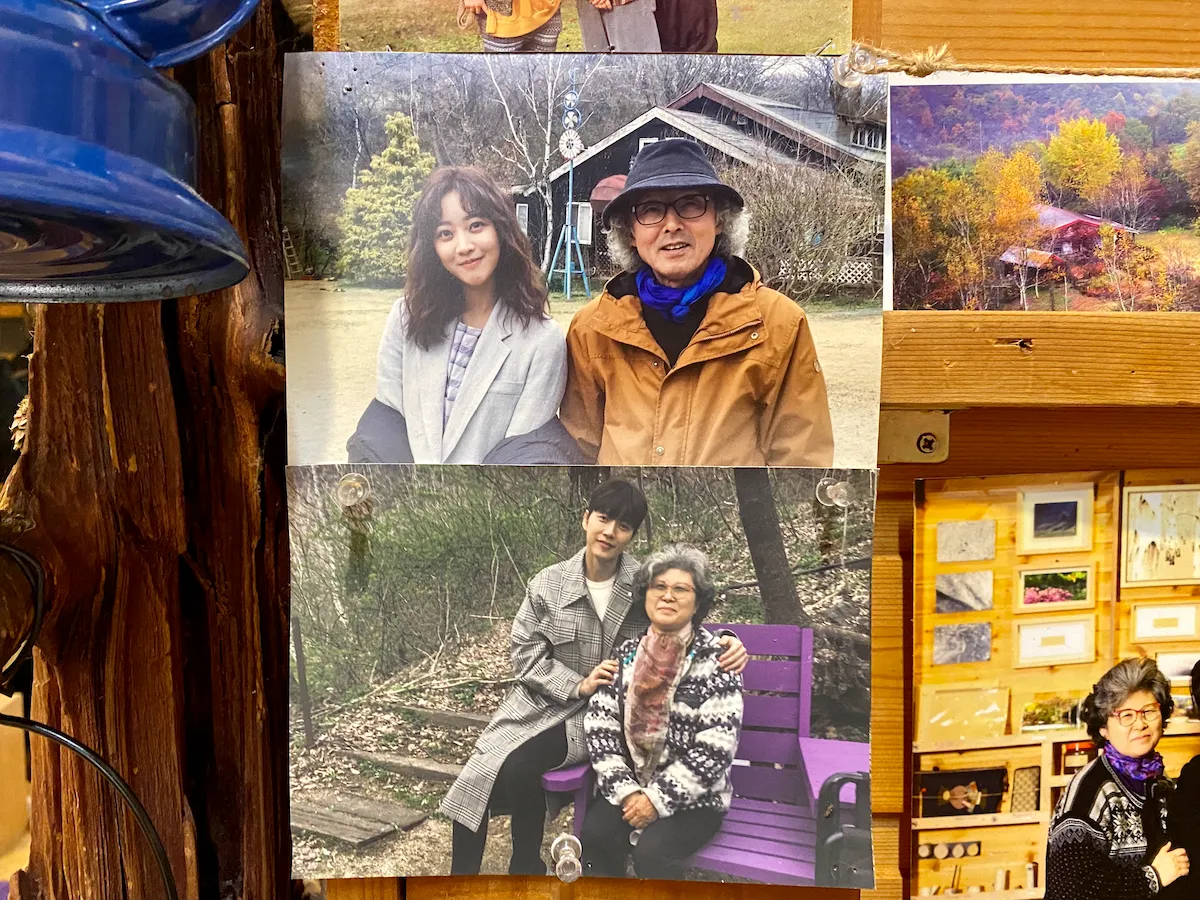 You'll find walls filled with photos of celebrities who have visited to film and shoot photos, including the Forest crew.
Don't forget to get your free drink and snack included in your admission fee at this building!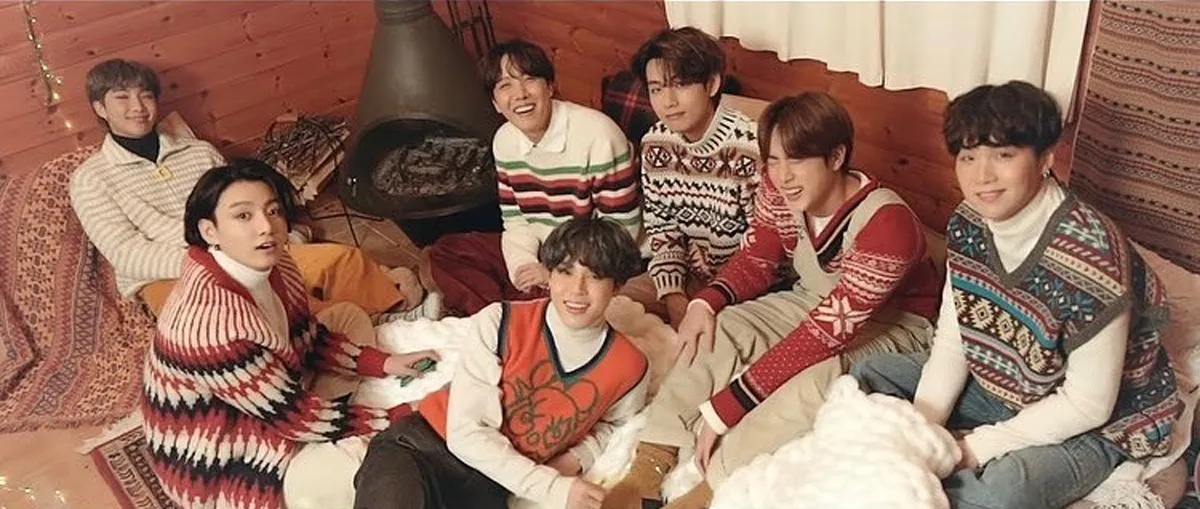 Another thing that makes this art gallery popular in Korea is because BTS filmed their Winter Package 2021 here!
If you're ever in the small county of Hoengseong, Gangwon-do, we highly recommend you drop by Art Museum Jajaknamusoup.
---
Oeongchi Bada Hyangiro Trail


외옹치바다향기로
Address: 강원 속초시 대포동 656-14
656 Daepo-dong, Sokcho-si, Gangwon-do
Hours:
Warm Seasons: 06:00-20:00
Cold Seasons: 07:00-18:00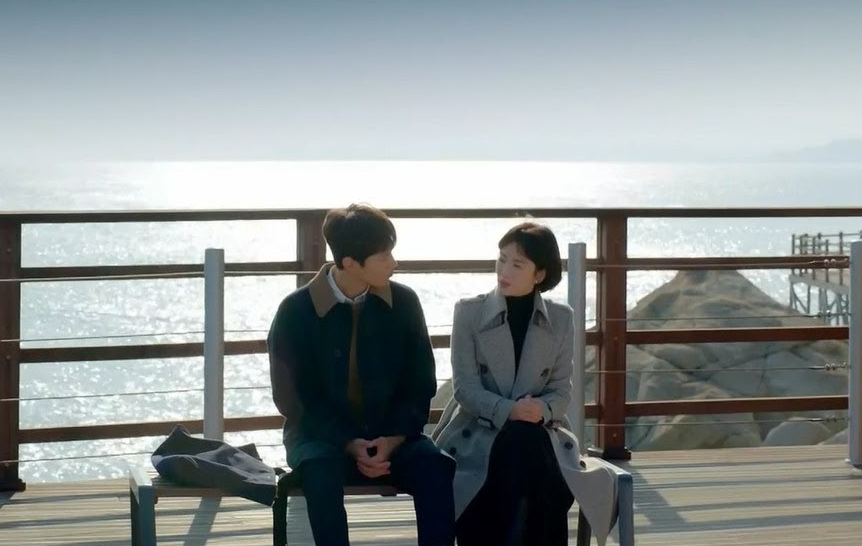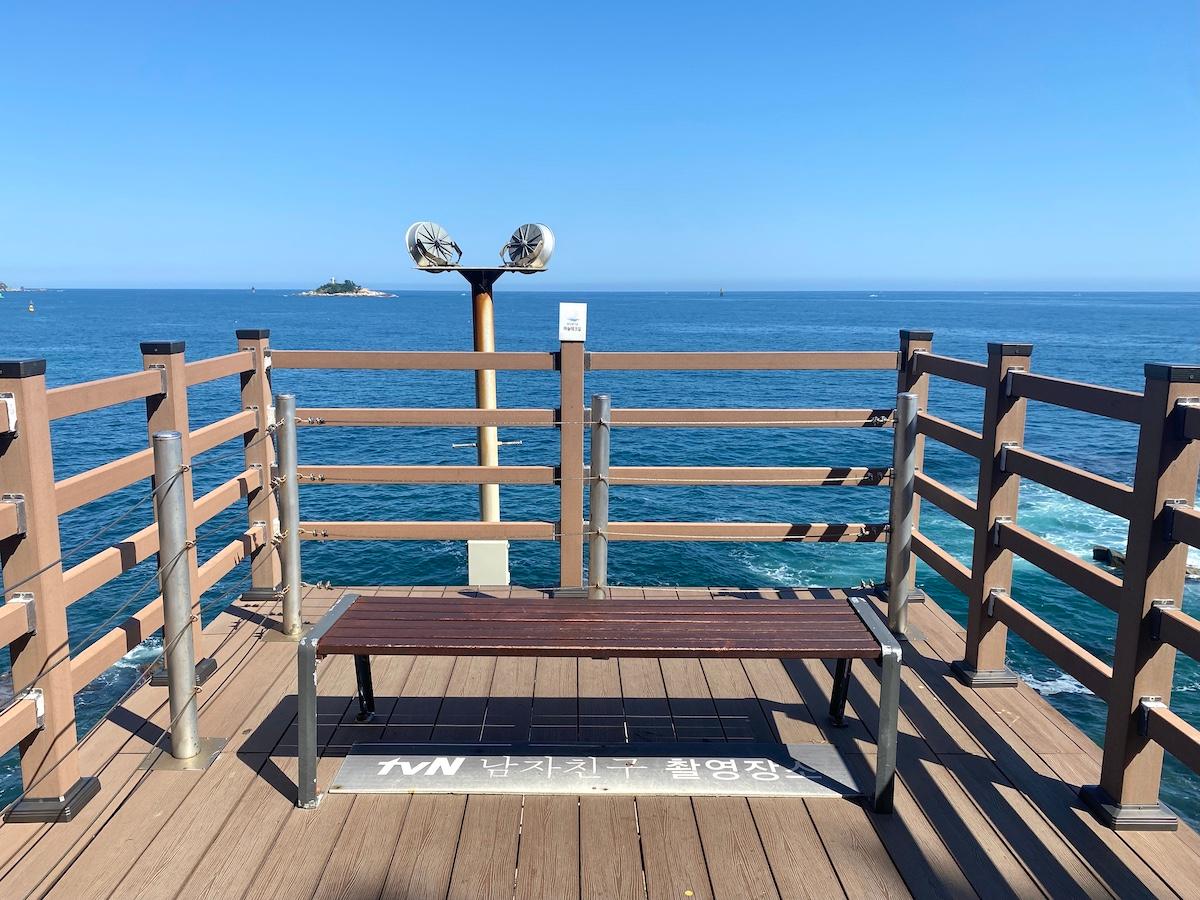 Oeongchi Beach is a small beach just south of Sokcho Beach that boasts a scenic walkway over the sea waters.
Among locals, it's most well known as the filming location of the K-drama Encounter starring Song Hye-kyo and Park Bo-gum.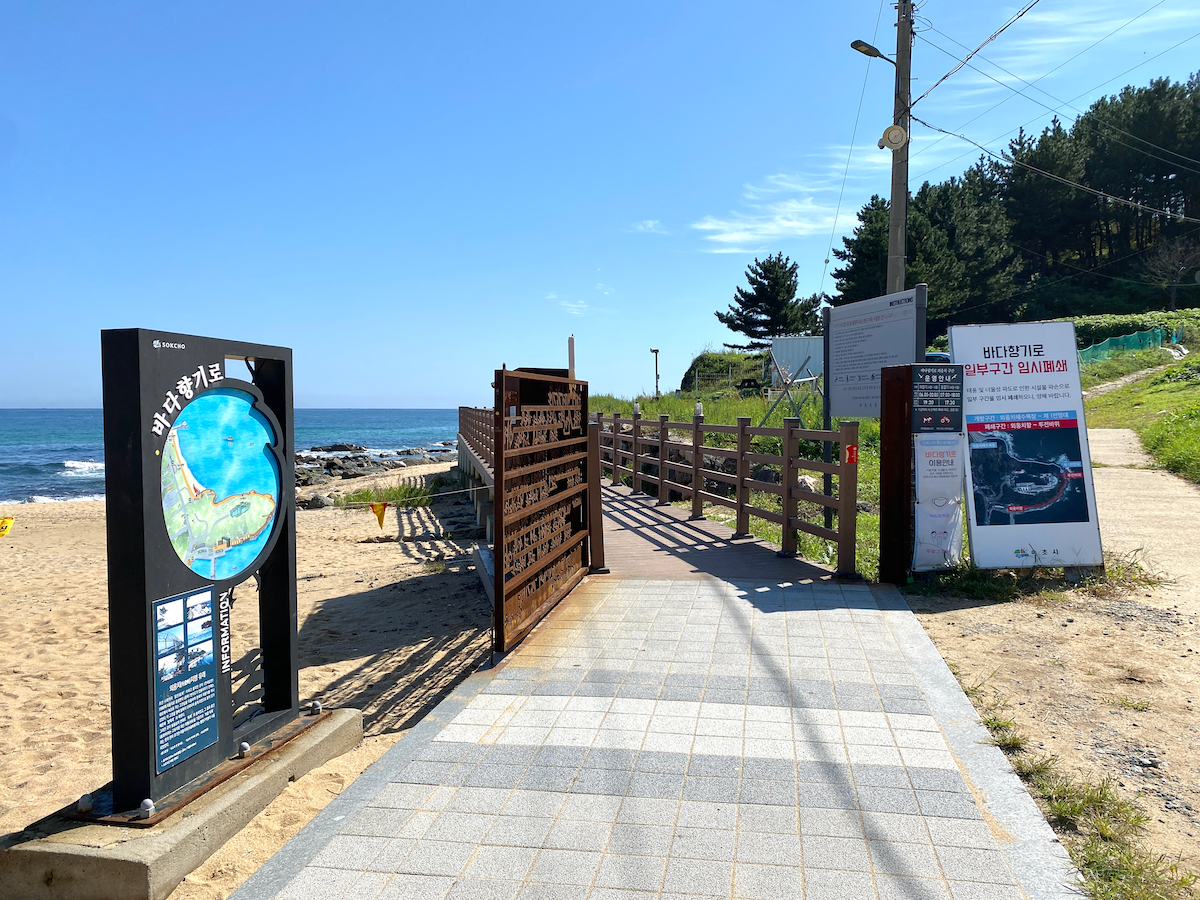 Start at the south end of Oeongchi Beach where you'll find the entryway to the walkway.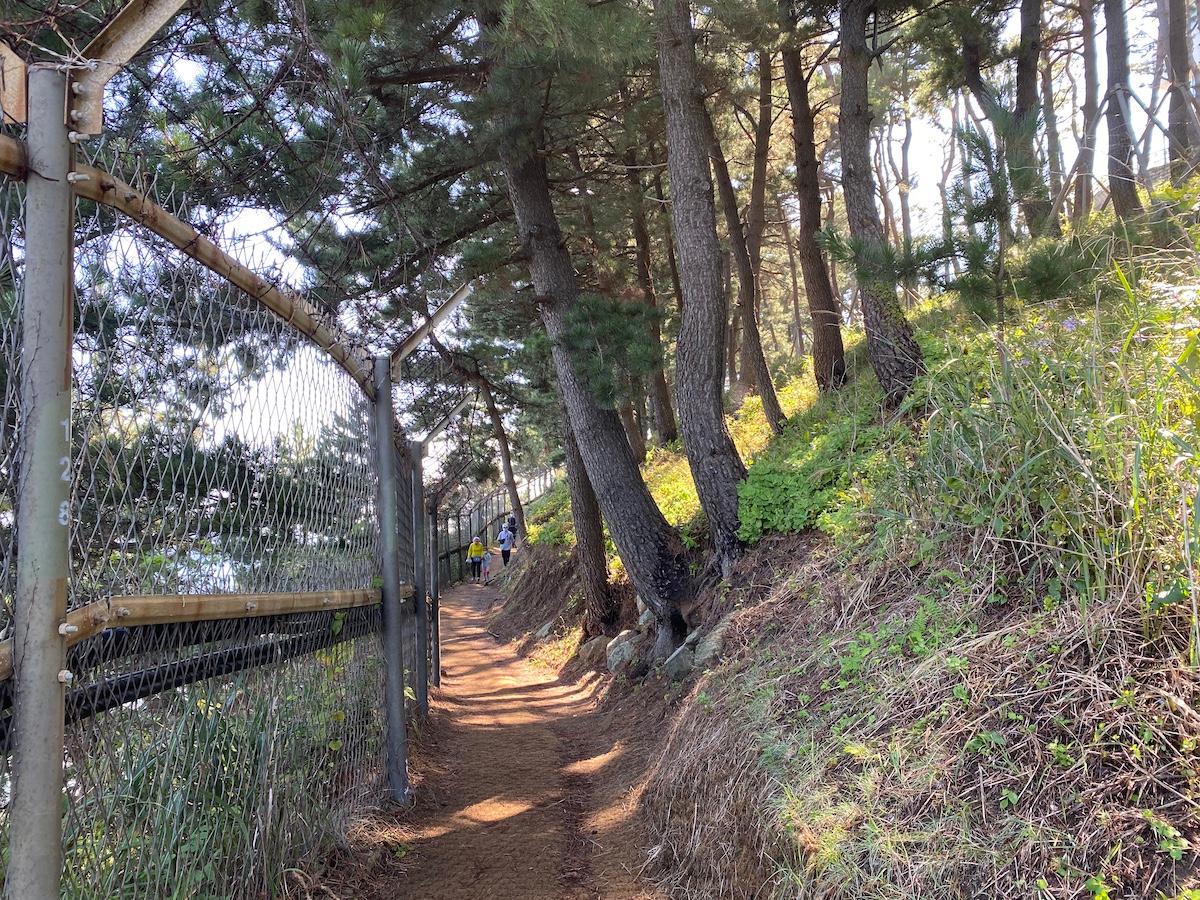 Just a short 7-minute walk, you'll find a small army base. Walk past it and you'll see the famous filming location right away.
Remember the stairs that lead down towards the beautiful ocean?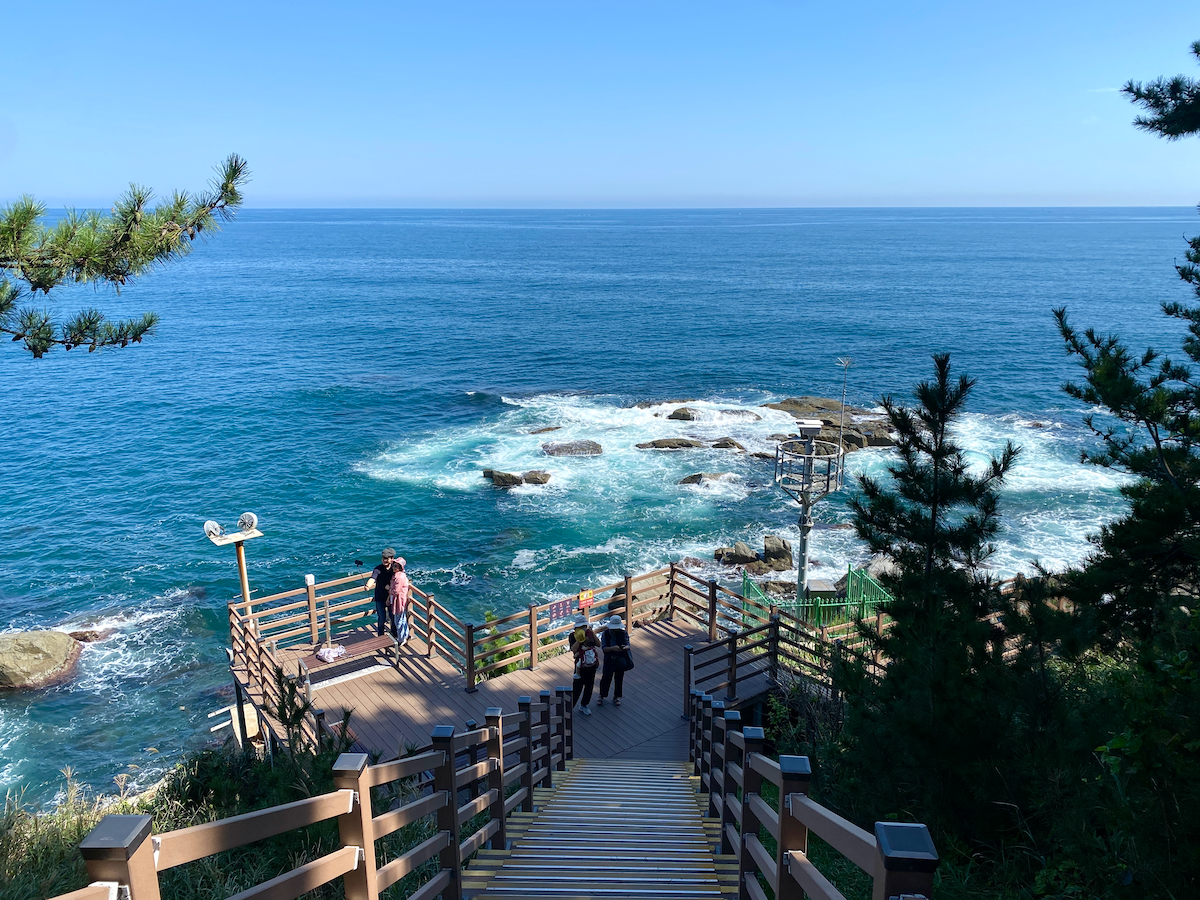 It's surely stunning and it helps us re-live the scene of the two main characters encountering each other in the drama!
---
Hope you enjoyed this list of K-drama filming locations in Gangwondo!
Which of these filming locations will you be adding to your travel itinerary?