Daegu Dongseong-ro | Where You Can See Everything That's Trending In Korea From Fashion To Food
If Seoul Has Hongdae, Then Daegu Has Dongseong-ro!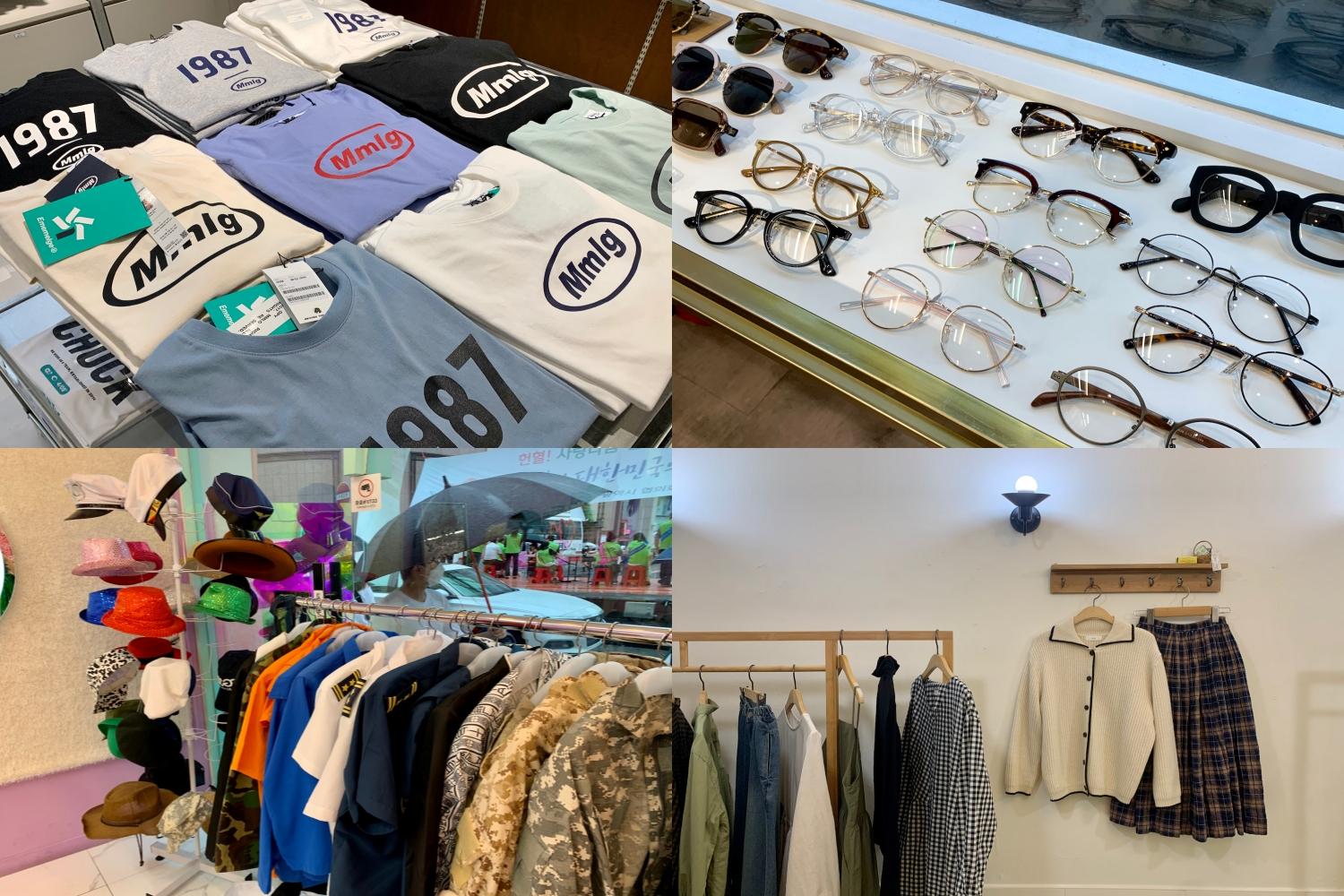 Today, I'm going to introduce the fashion and entertainment trends of Dongseong-ro, Daegu, Korea's representative hot place.
You can find everything here from recent fashion trends, accessories, beauty products, and cute shops.
Let's take a look around Dongseong-ro and see what's trending in Daegu!
---
What Is Dongseong-ro?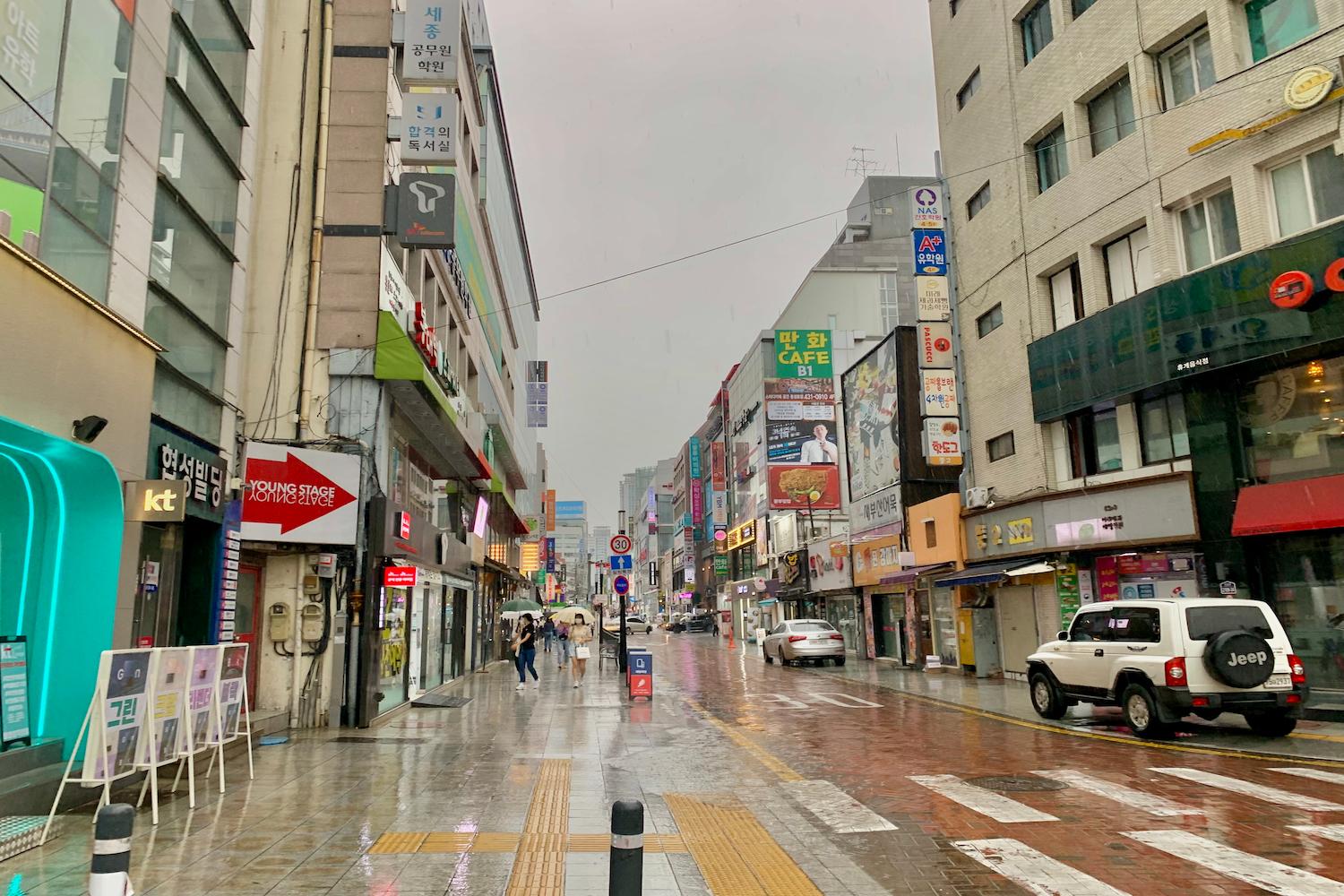 When thinking of the most popular places to visit in Seoul, many will think of Myeongdong and Hongdae.
Likewise, when it comes to the hottest place in Daegu, Koreans think of Dongseong-ro.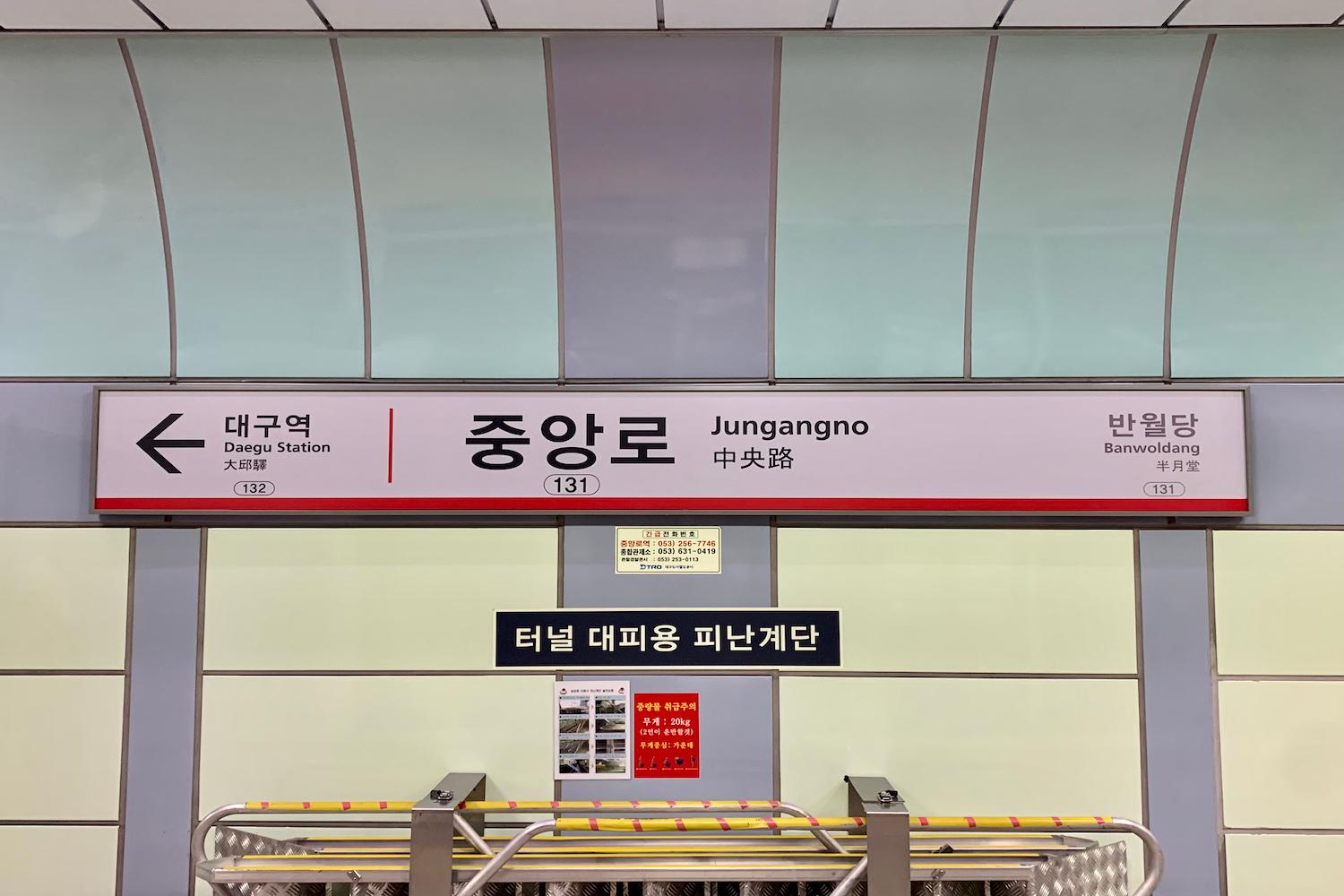 This is because Dongseong-ro is Daegu's largest downtown area and is the center of Daegu. It has everything from department stores, shopping centers, restaurants, academies, and areas to enjoy the culture, art, and relax.
If you get off at Jungangno Station, Daegu Subway Line 1, you can arrive at the entrance of Dongseong-ro.
Even when our Korean editor first visited Dongseong-ro, they were shocked about how you can find everything there!
Then, let's start our look around Dongseong-ro, Daegu!
---
Clothing Stores
As soon as I stepped onto Dongseong-ro, the most noticeable places were the numerous clothing stores!
As there are many hot places in Seoul, offline stores differ by region, making it difficult to see various brands at once.
On the other hand, Dongseong-ro is the only large downtown area in Daegu, so it has the advantage of being able to see numerous brands in one place!
1) Popular Brands
NERDY (널디 플래그쉽스토어 대구)
Address: 대구광역시 중구 동성로 15
15 Dongseong-ro, Jung-gu, Daegu
Hours: 11:00-22:00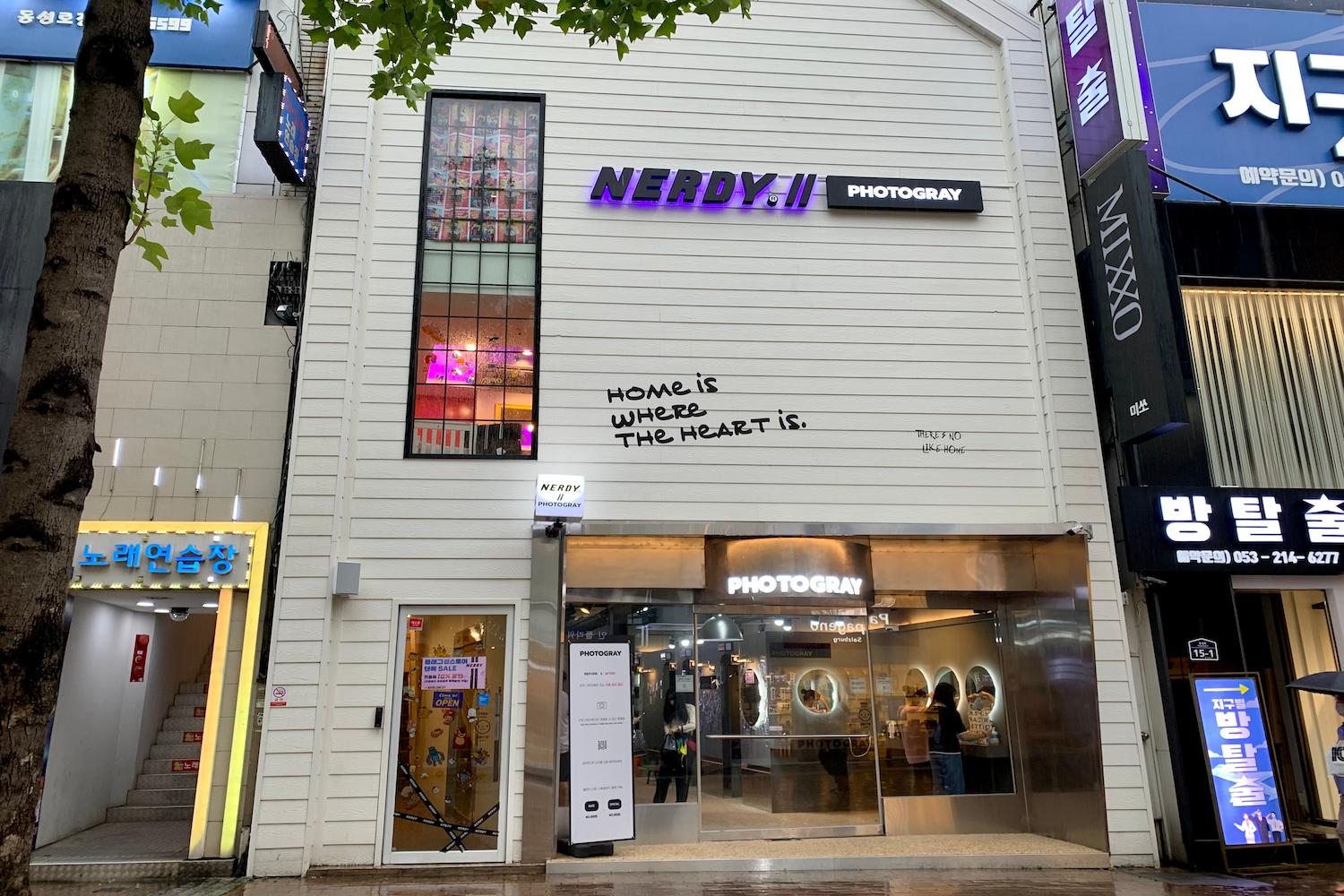 First up is Nerdy, a hip brand that Korean teenagers and people in their 20s enjoy.
In Seoul, Nerdy was only available at online shopping malls or boutique shops.
Uniquely, Nerdy's flagship store is located in Daegu! It must mean that there are many fashionable people in Daegu, right?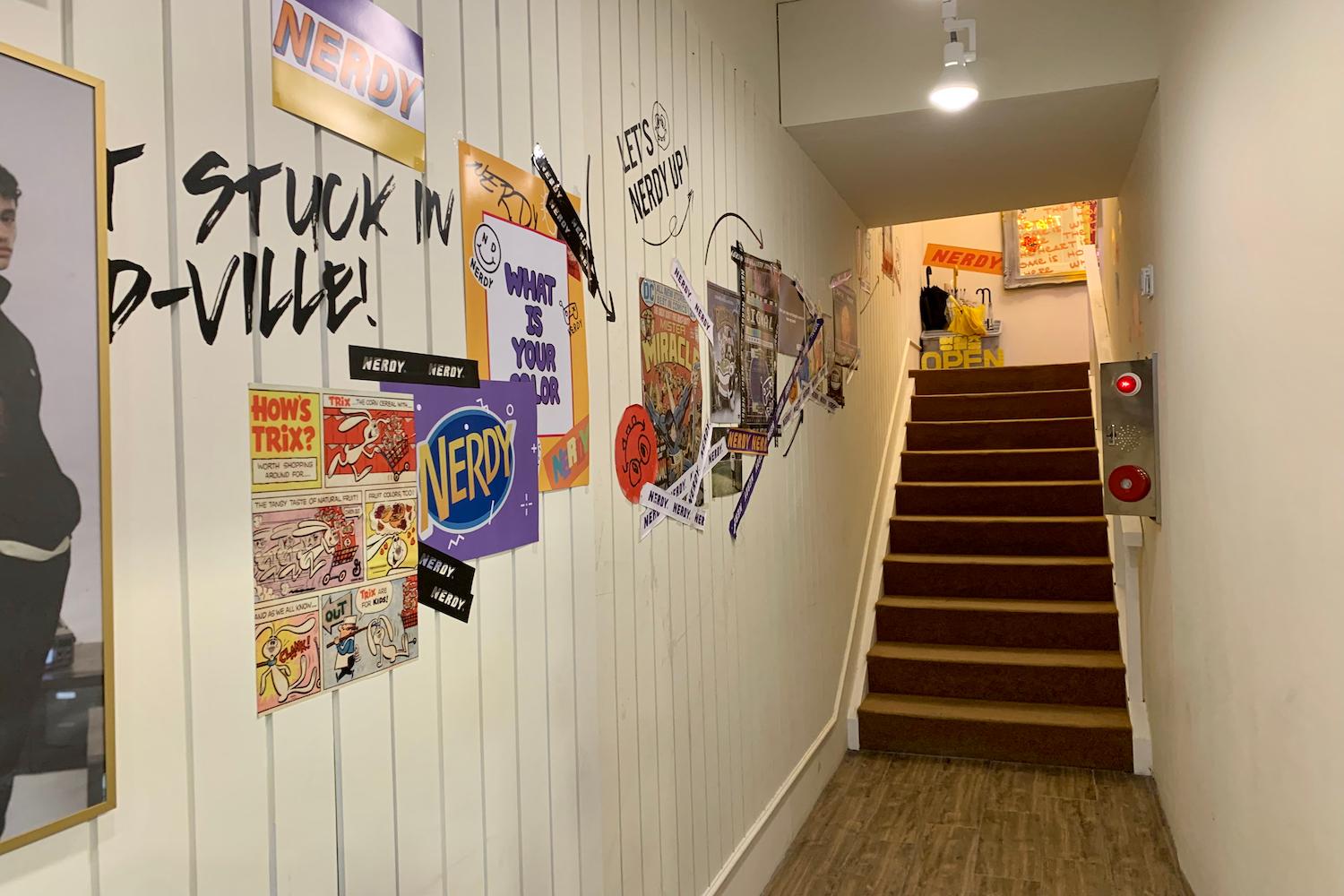 The second and third floors are operated as Nerdy's concept store.
Once you go through the hallway decorated like a teen movie, you can go up to the second floor.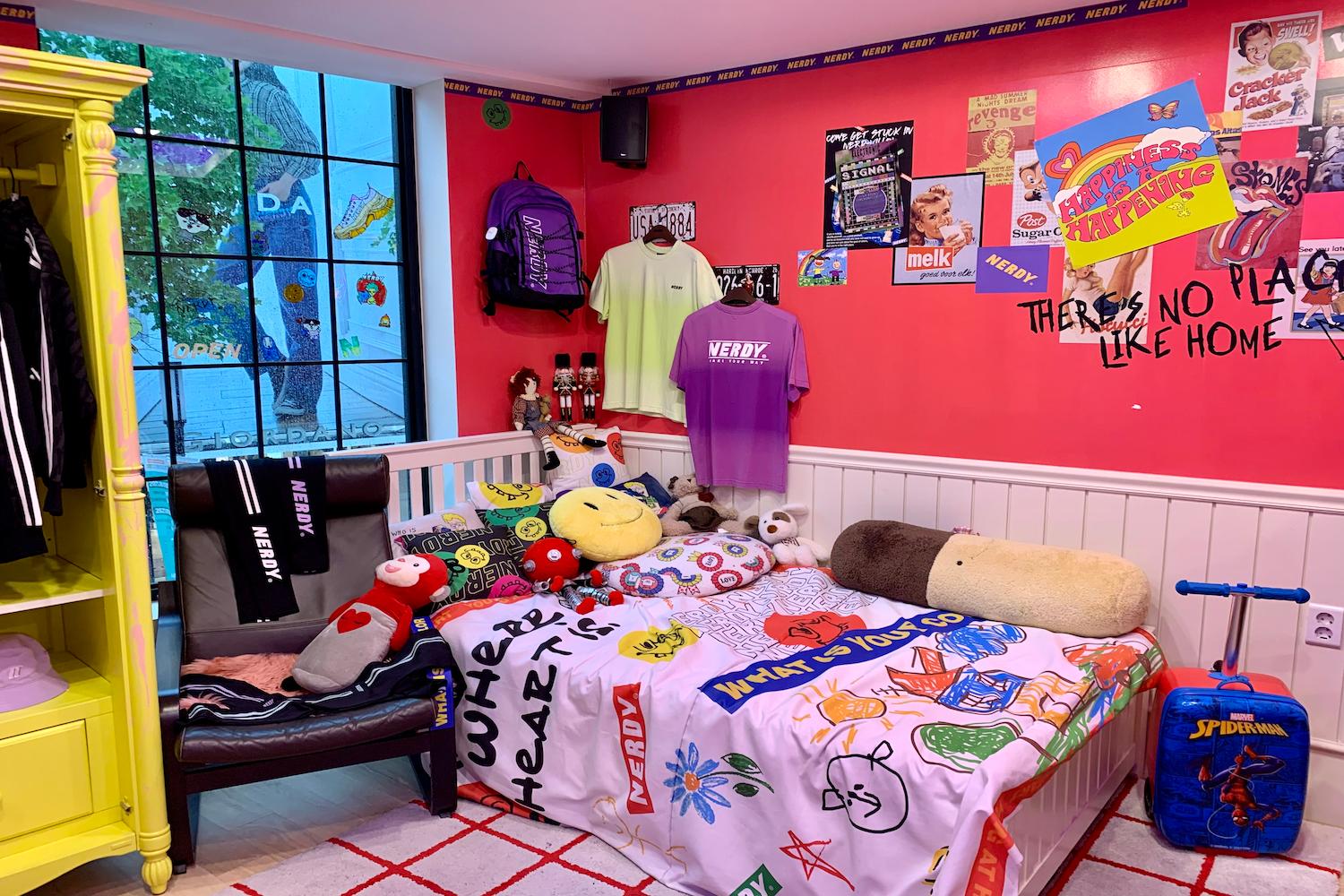 The Nerdy products, along with decorations and props, such as posters and a bed, were also very impressive.
Don't they portray Nerdy's philosophy of just enjoying life?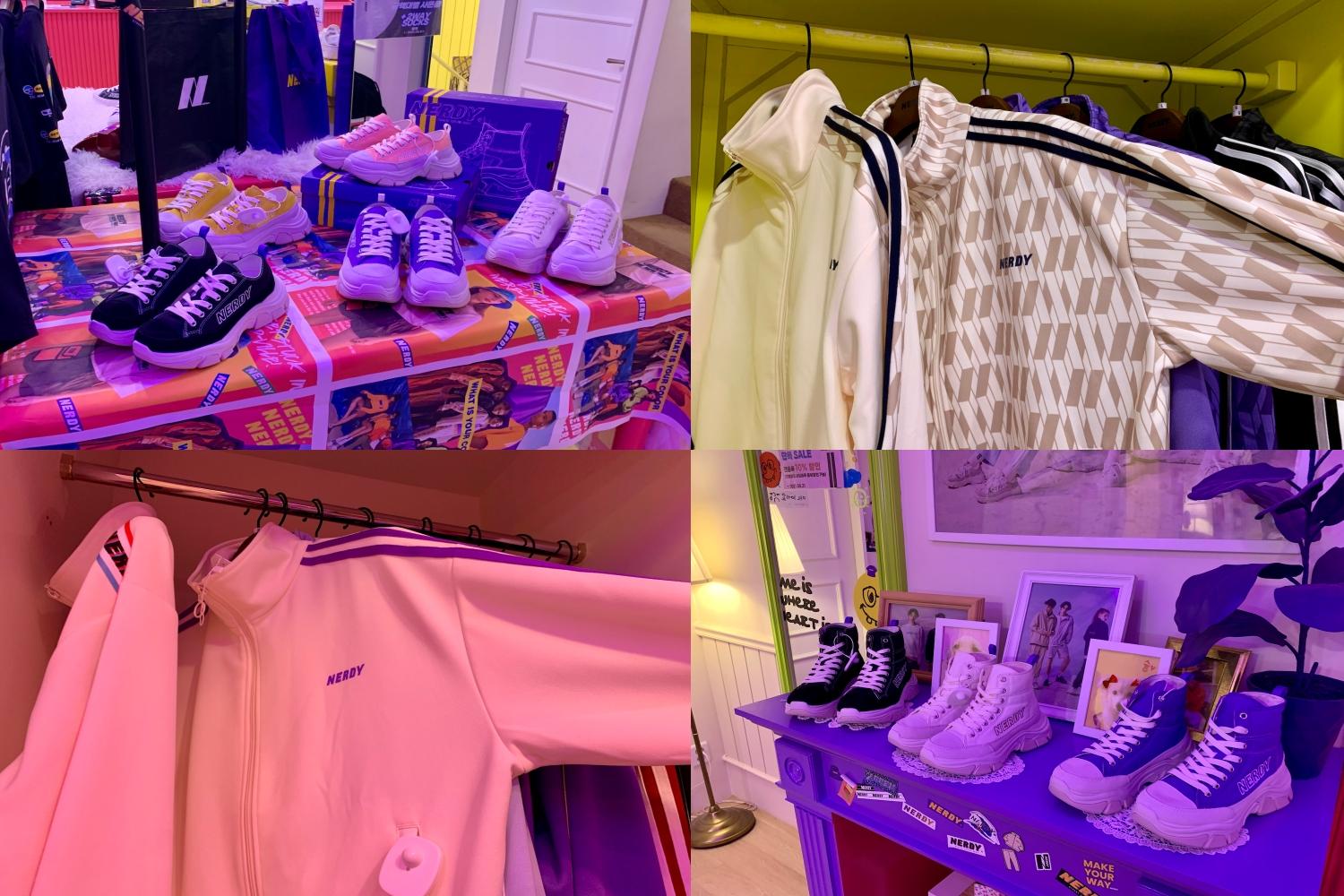 In addition, it is possible to try on and purchase products here.
It was full of pretty products, ranging from cute and comfortable athleisure, to sneakers with vivid colors.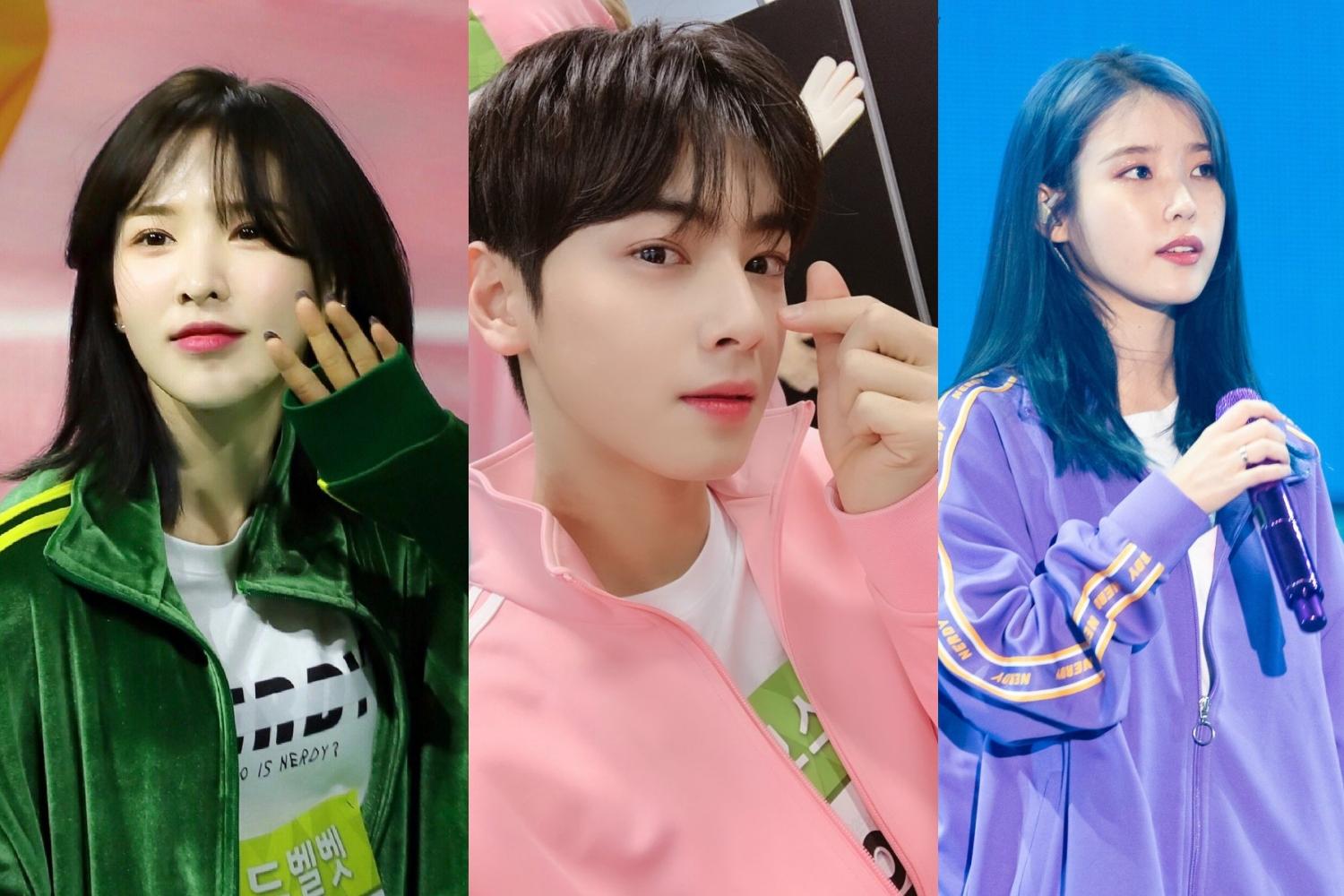 Nerdy is a brand that is popular in Korea and is loved by numerous idols, such as IU, Cha Eun-woo, Red Velvet, and TWICE, so we definitely recommend visiting!
Around The Corner (어라운드더코너 동성로점)
Address: 대구광역시 중구 동성로1길 28
28 Dongseong-ro 1-gil, Jung-gu, Daegu
Hours: 11:00-21:00
Around The Corner is a fashion boutique that can be found in the hottest areas of Korea, such as Hongdae and Gangnam.
Here, you can find the trendy brands that Koreans in their teens to 30s love the most.
The store located in Dongseong-ro is also very large, so you can try on and purchase products from dozens of Korean brands yourself.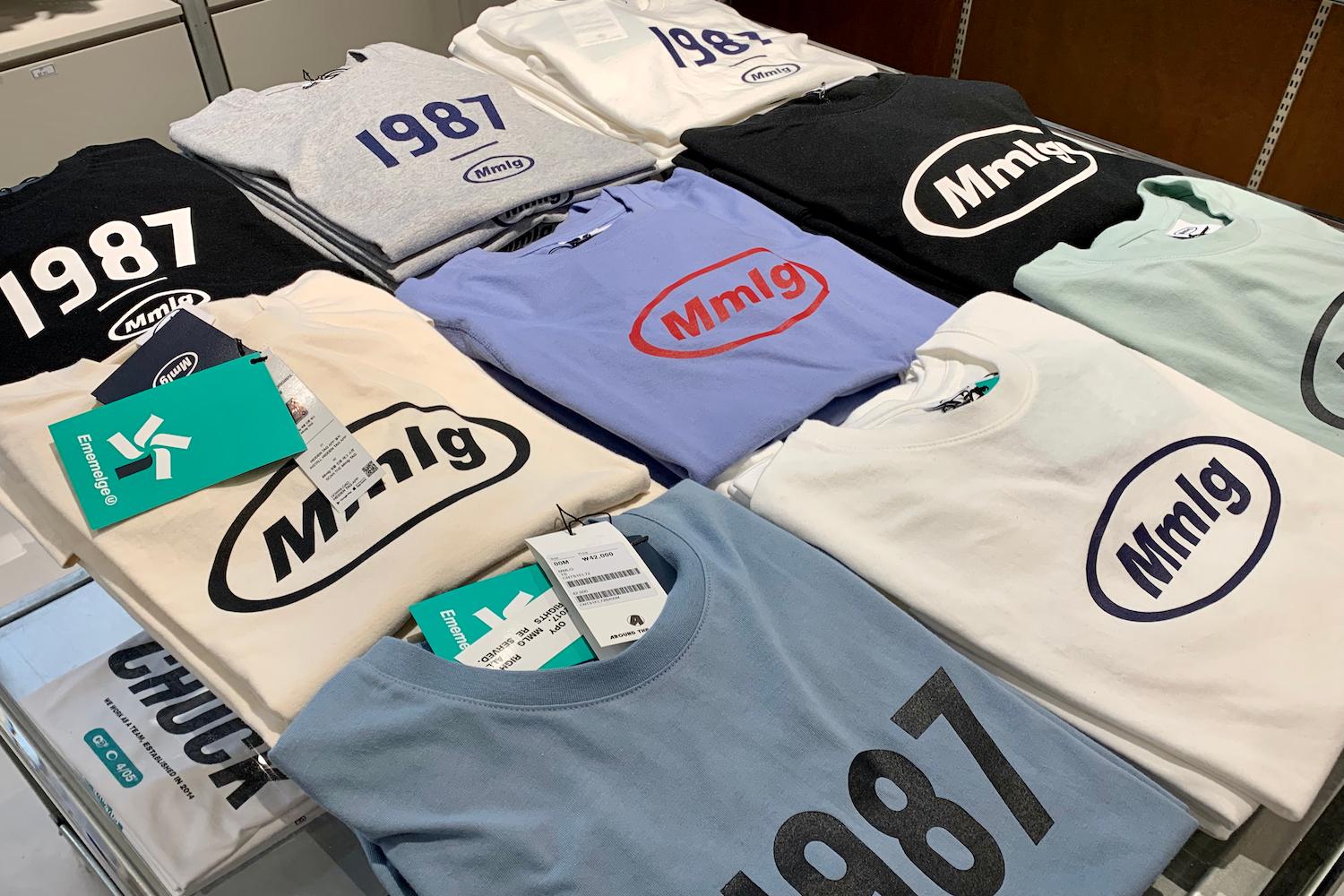 You can check out new products from the hottest brands in Korea, such as Mmlg, Pallet, and EBFD!
There are a lot of pretty clothes.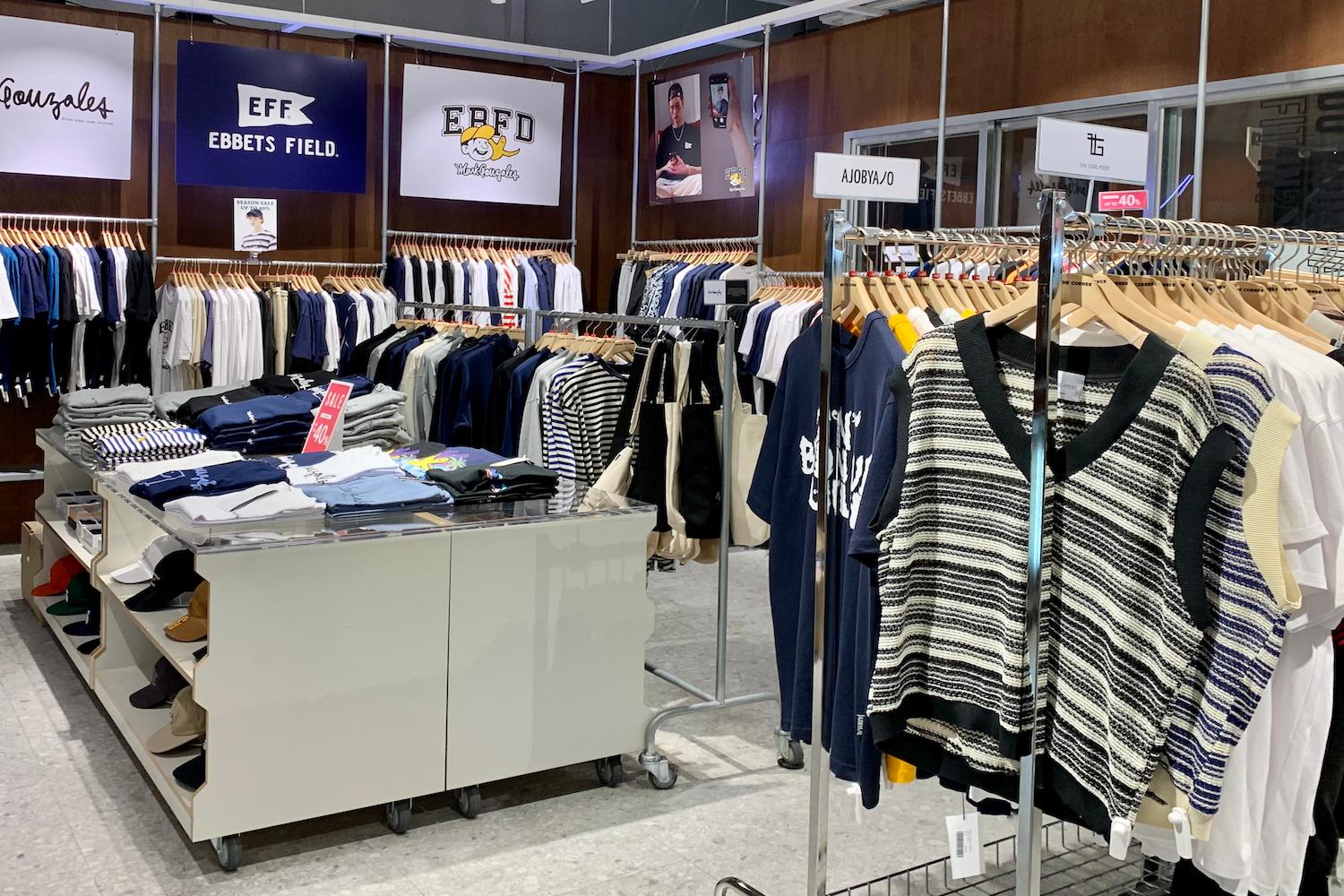 In addition, the staff here wear fashionable clothes sold at the store, so you can get some style inspiration from them.
2) SPA Brands
SPAO (스파오 동성로중앙점)
Address: 대구 중구 동성로 2가 45
45 Dongseongno 2-ga, Jung-gu, Daegu
Hours: 11:30-22:00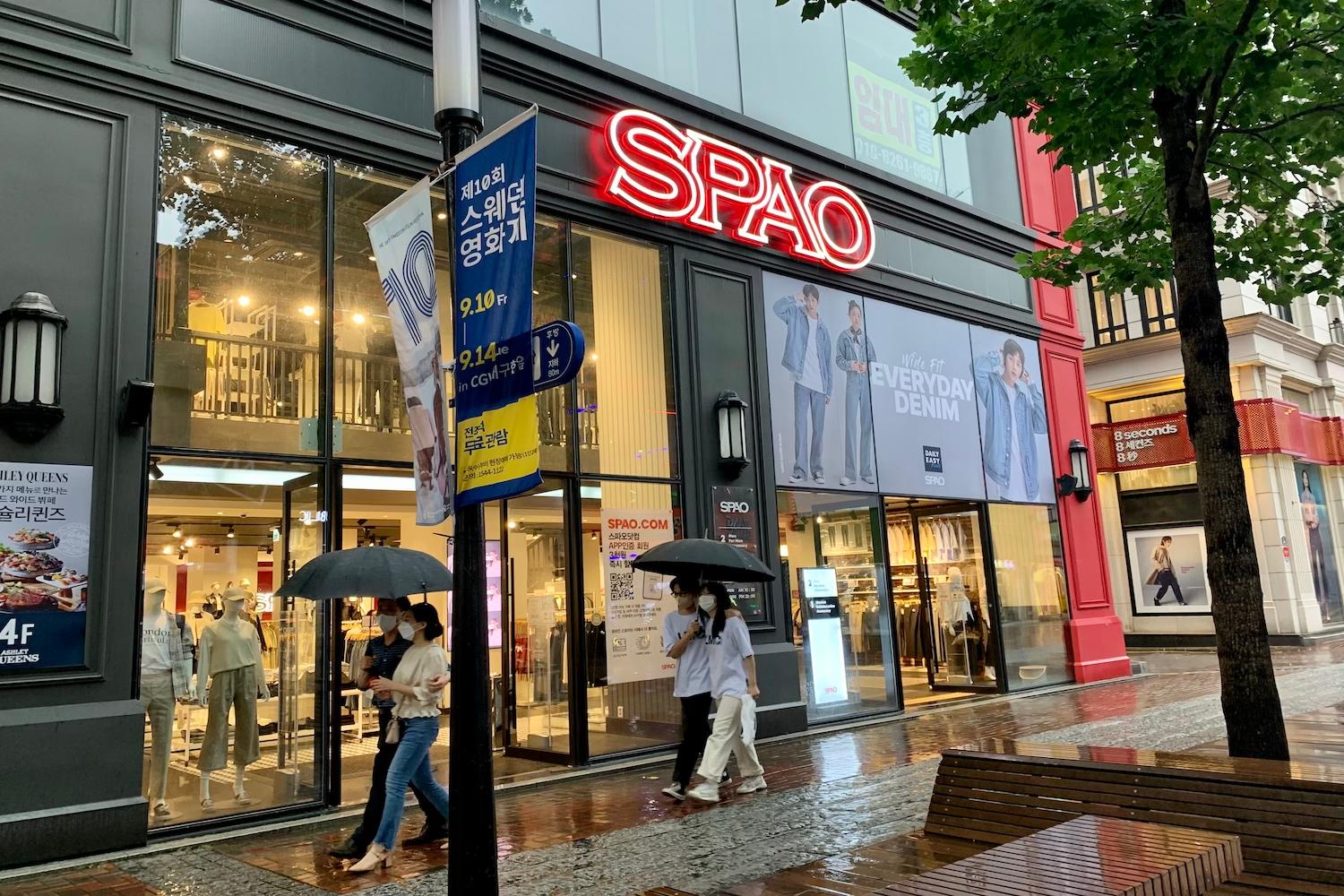 The first brand SPA brand I'll introduce is SPAO, a representative fast fashion brand of Korea!
In SPAO, you can not only purchase high-quality clothes at a low price, but you can also find trendy Korean-style clothes every season.
Shall we take a look at what's trendy this season?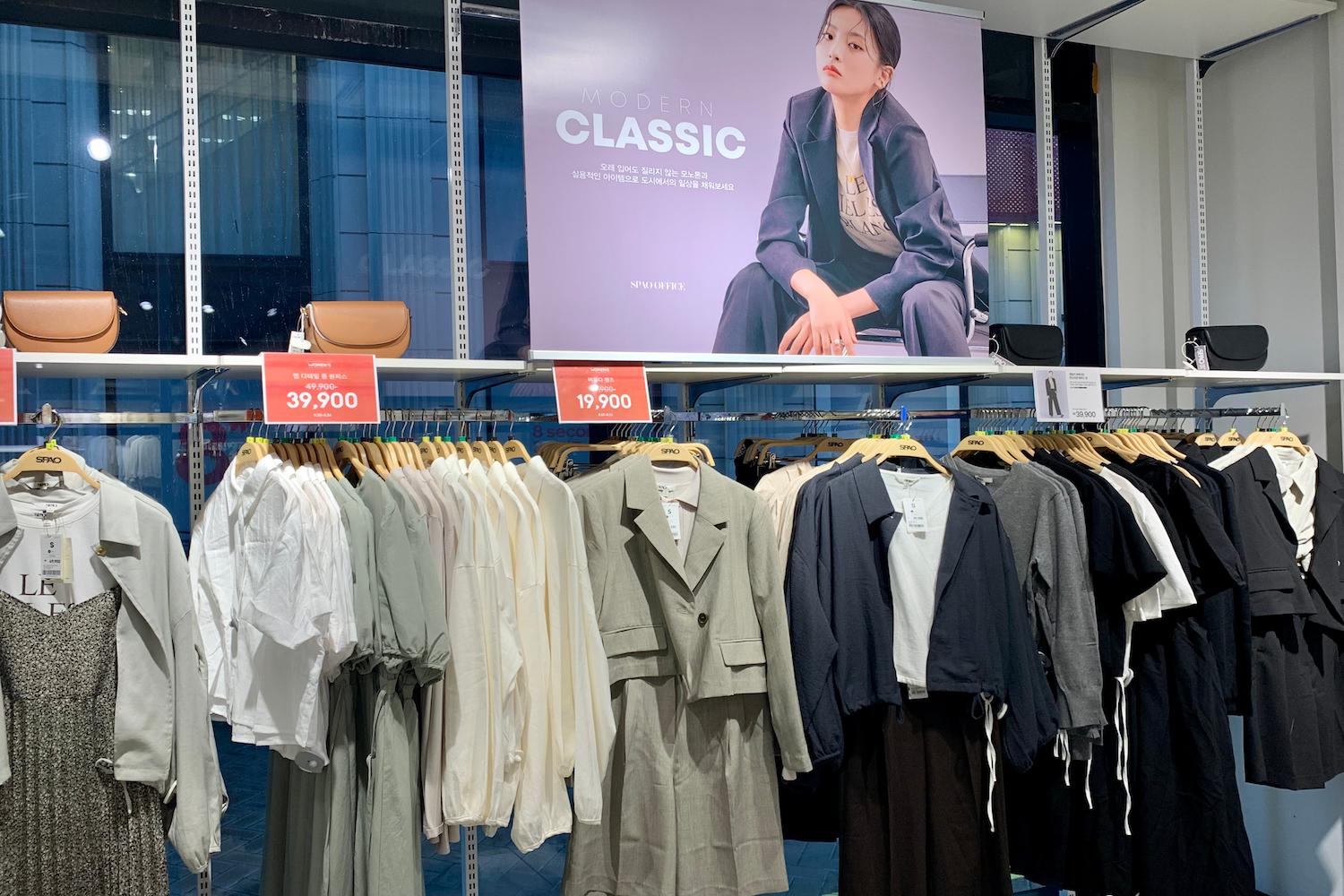 For women's clothing, the casual, daily look and monochromatic suit style are gaining popularity!
Recently in Korea, a wide suit style that creates a chic look is in style.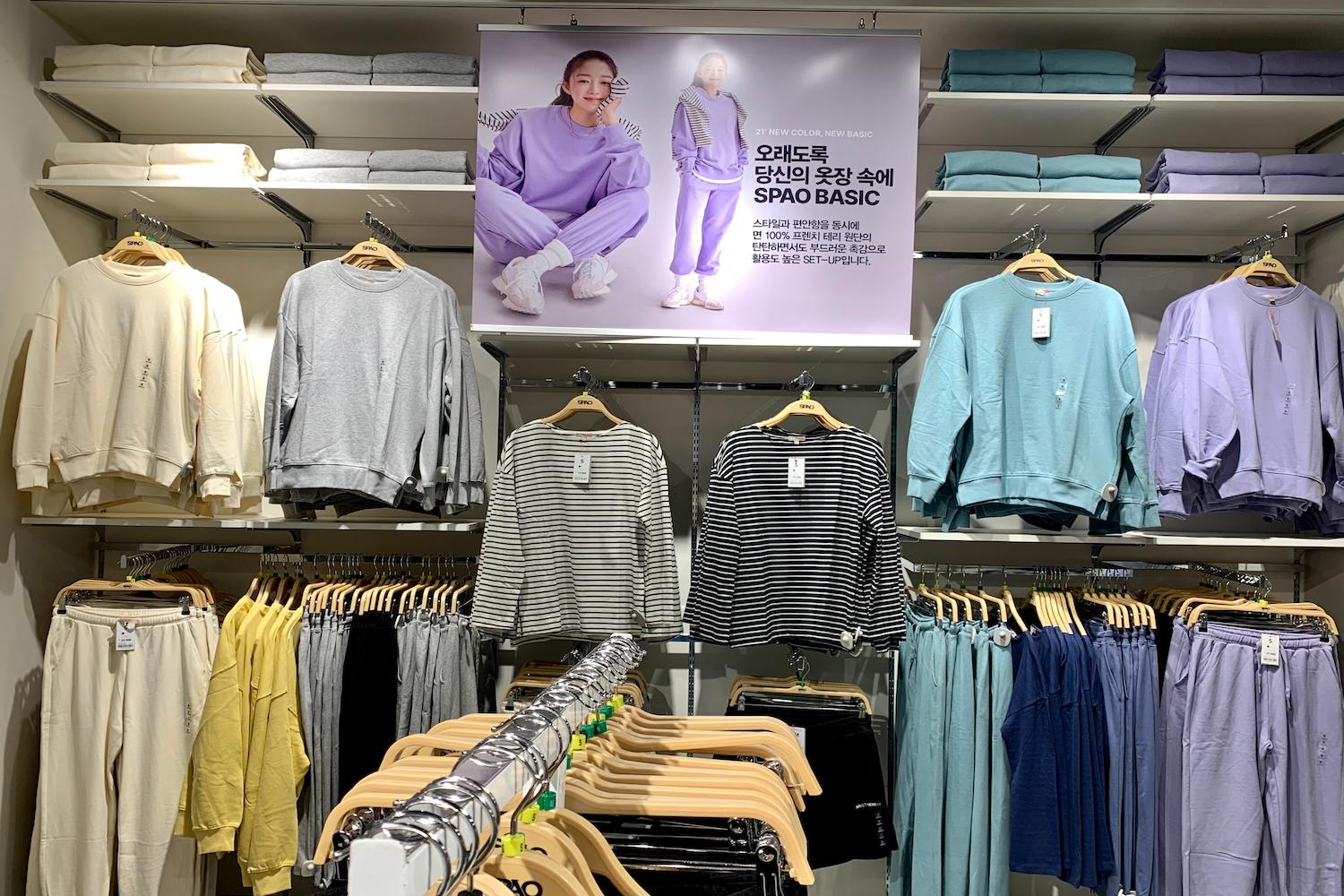 In addition, comfortable and practical training sets are also well-loved.
I think they're pretty because of the combination of the basic design and bright colors.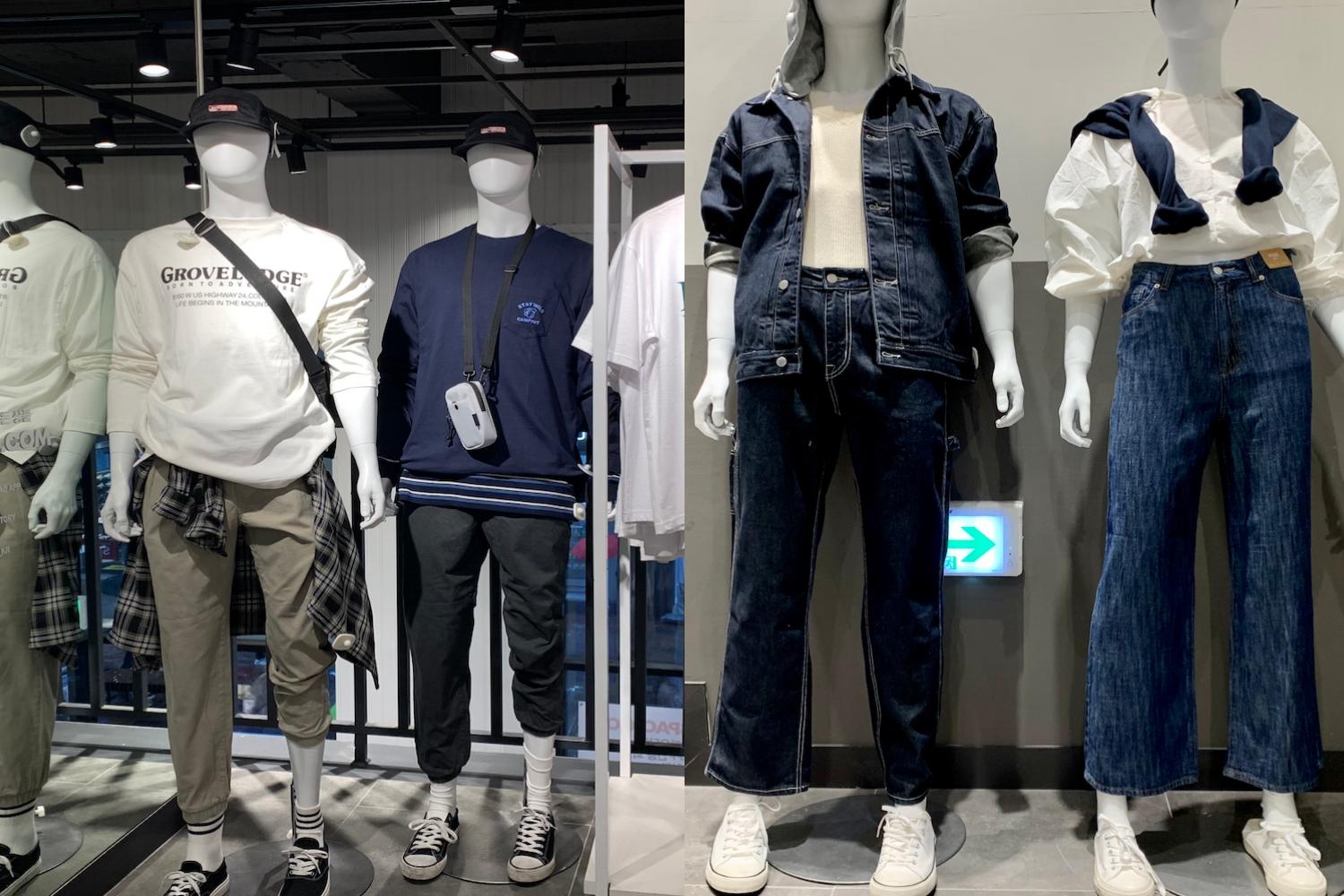 Jogger pants and black jeans are also popular with both men and women.
You can easily see whats trending in Korea these days at SPAO, where you'll find clothes that are both stylish and comfortable!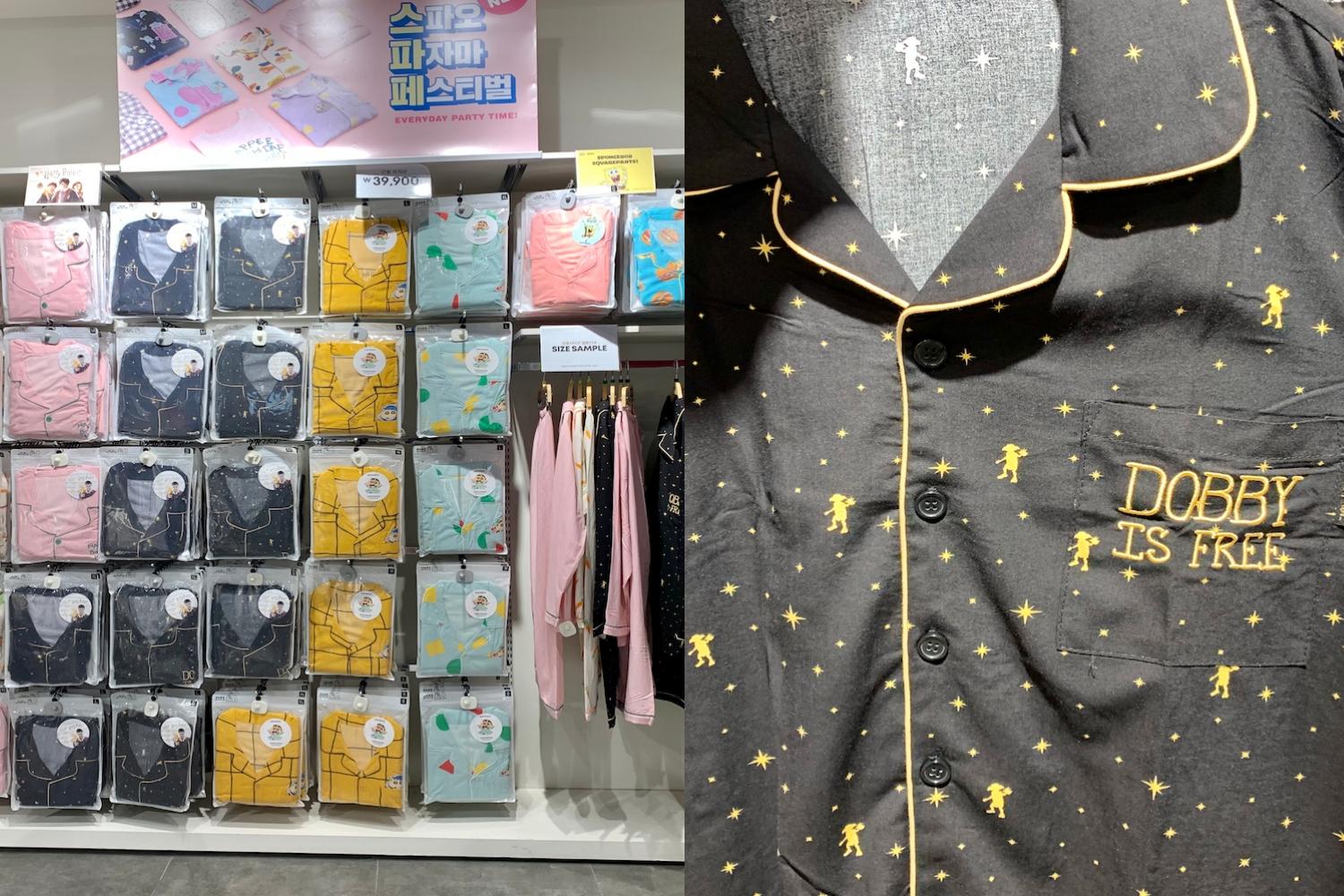 Another thing you can't leave out when talking about SPAO is their pajamas.
SPAO's pajamas are well-known for their comfort and cute designs
Among them, there was a collaboration with Harry Potter and the pajamas with "Dobby Is Free" written on them stood out to me!
MIXXO (미쏘 대구동성로점)
Address: 대구 중구 동성로 15-1
15-1 Dongseong-ro, Jung-gu, Daegu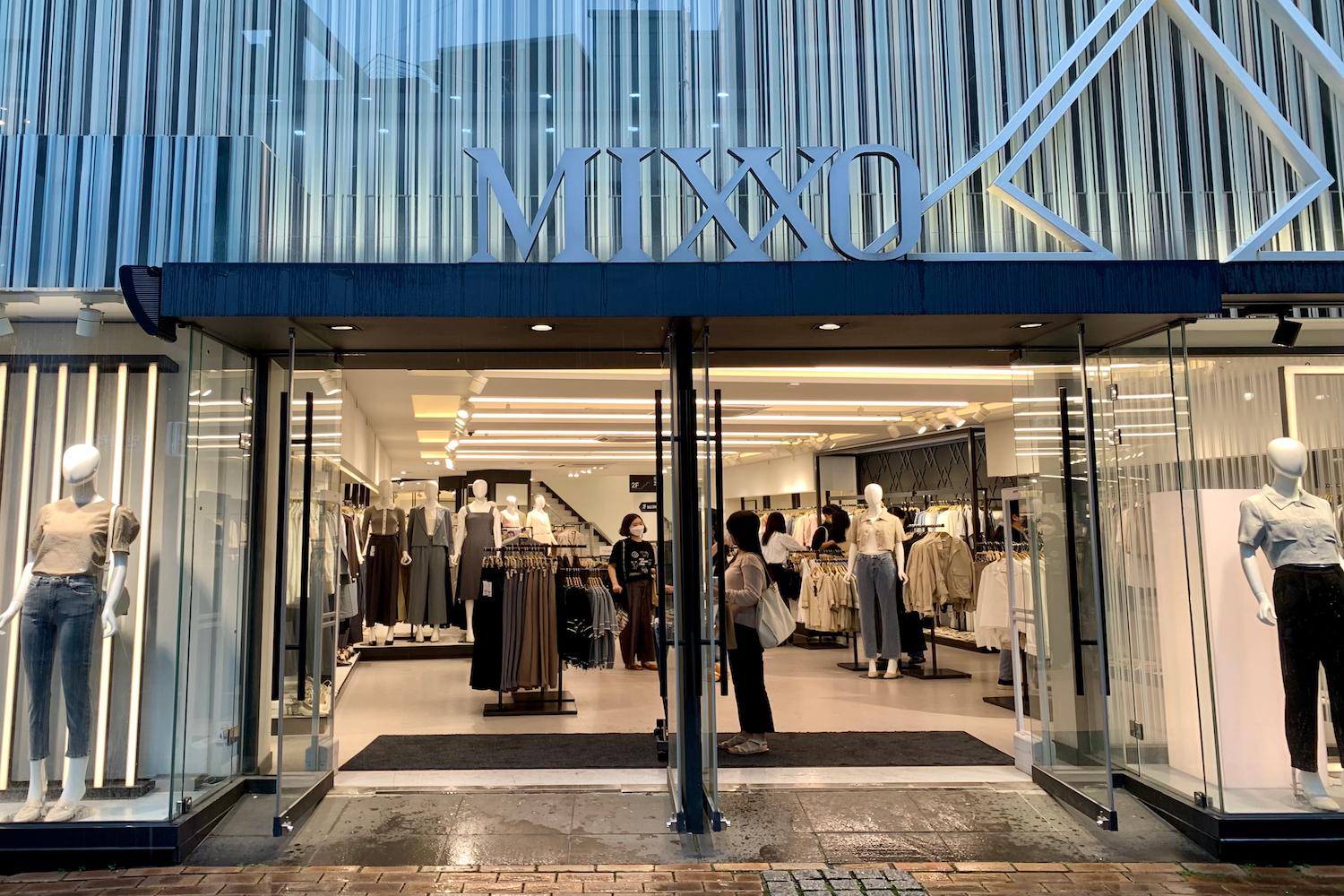 Next up is MIXXO.This brand is super popular with Korean women!
Many people like their clothes because they have many basic, monochromatic items that can be worn in different ways.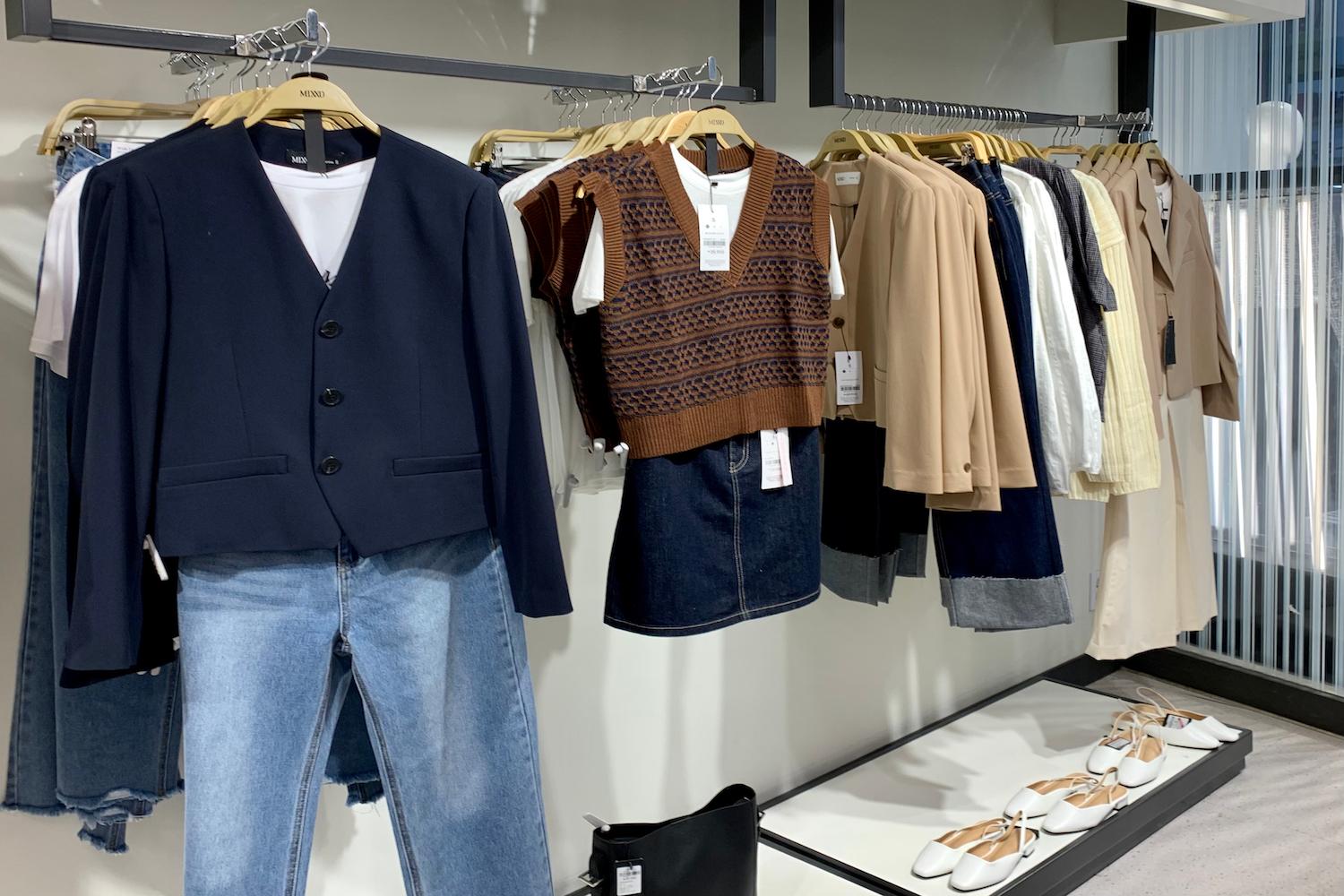 Their clothes give off a cool and hip vibe when worn, and I personally like this brand as well.
It's a brand that I definitely recommend visiting if you come to Korea!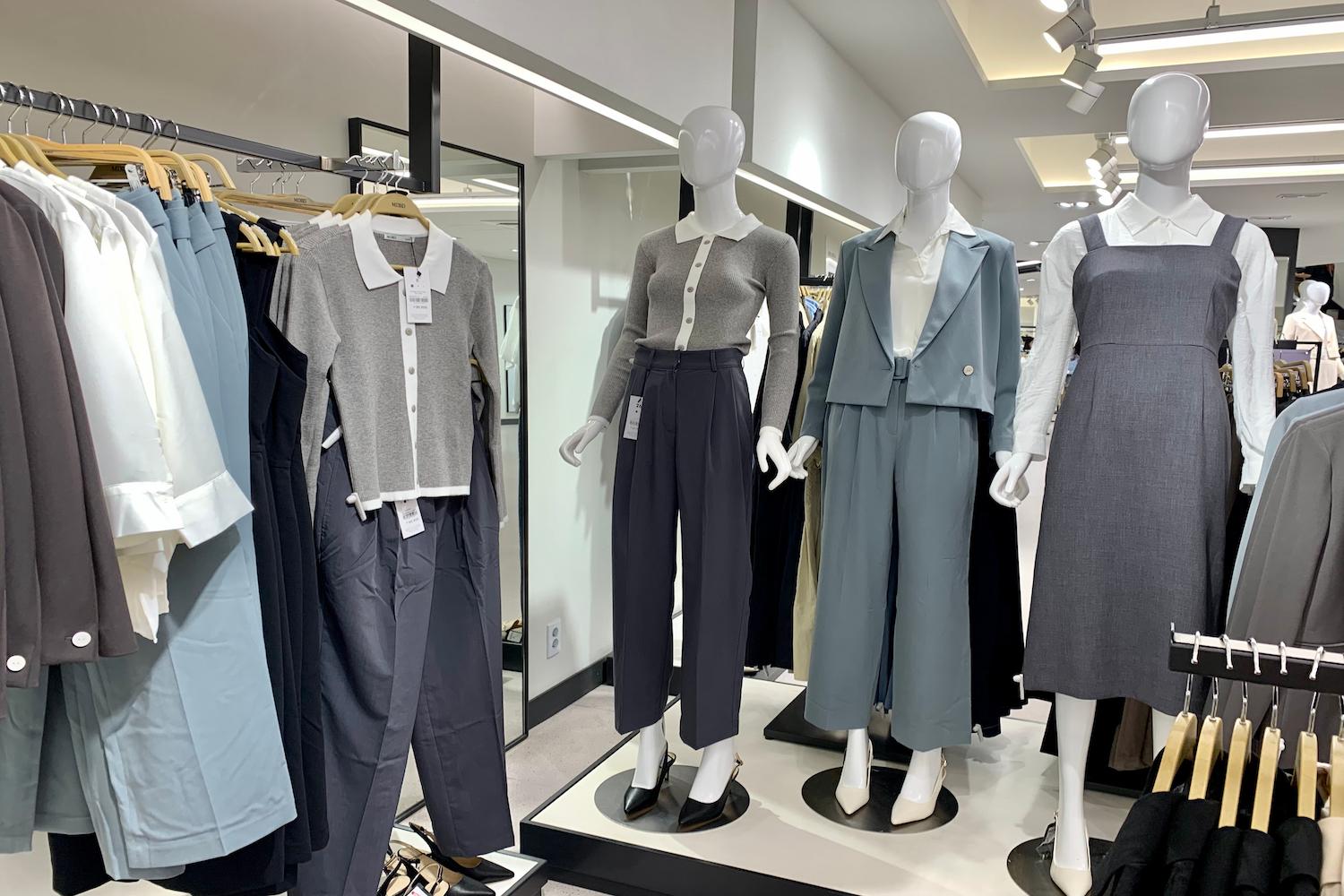 As you can see, the colors used are not too vivid or bright, so the clothes look classic and neat.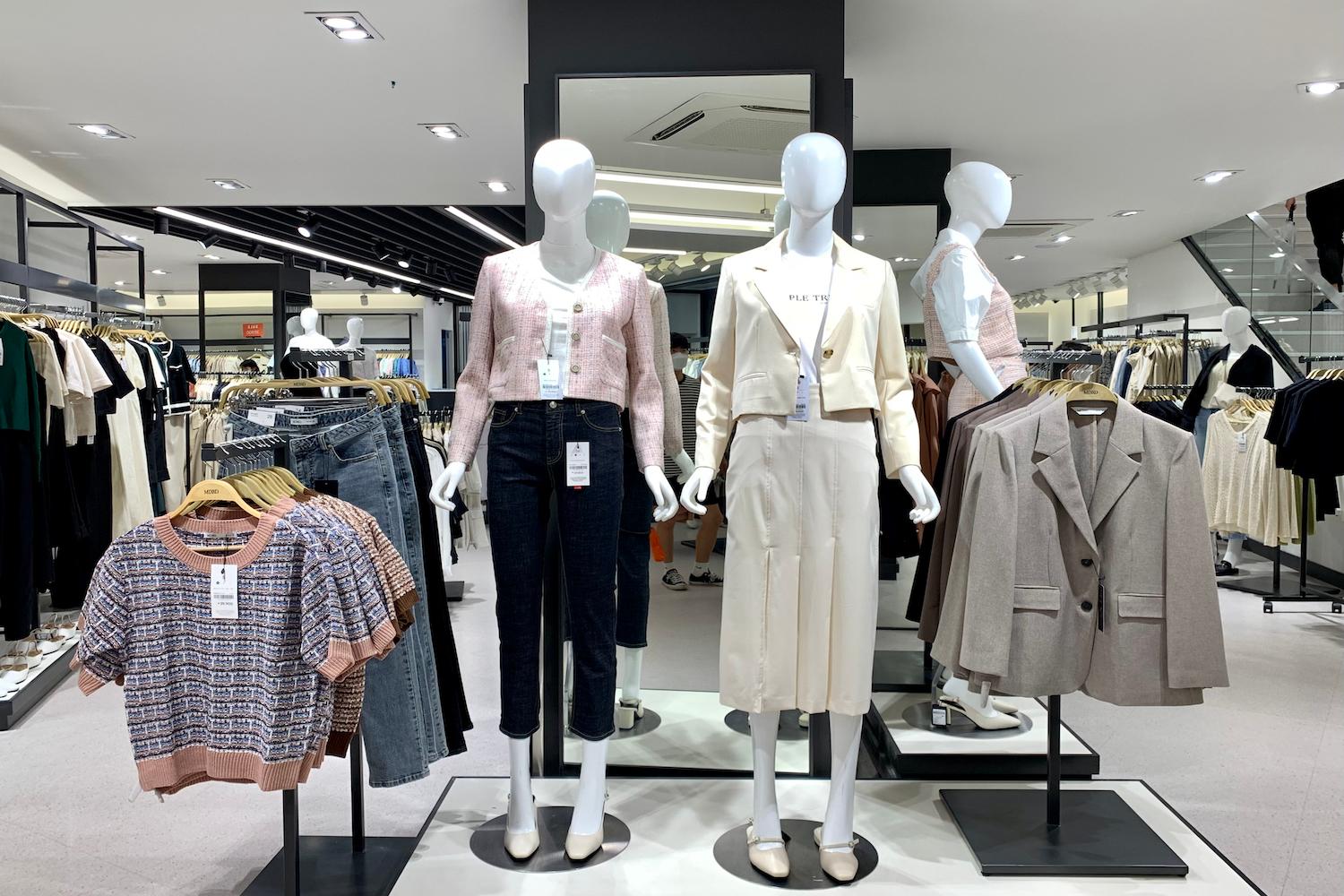 The prices range from 30,000 won to 70,000 won (approx. 25 to 60 USD), so you can purchase high-quality clothes very cheaply.
The Dongseong-ro location is fairly large and has two floors.
It was nice because they had both new items and sale items on display.
ROEM (로엠)
Address: 대구 중구 동성로 19
19 Dongseong-ro, Jung-gu, Daegu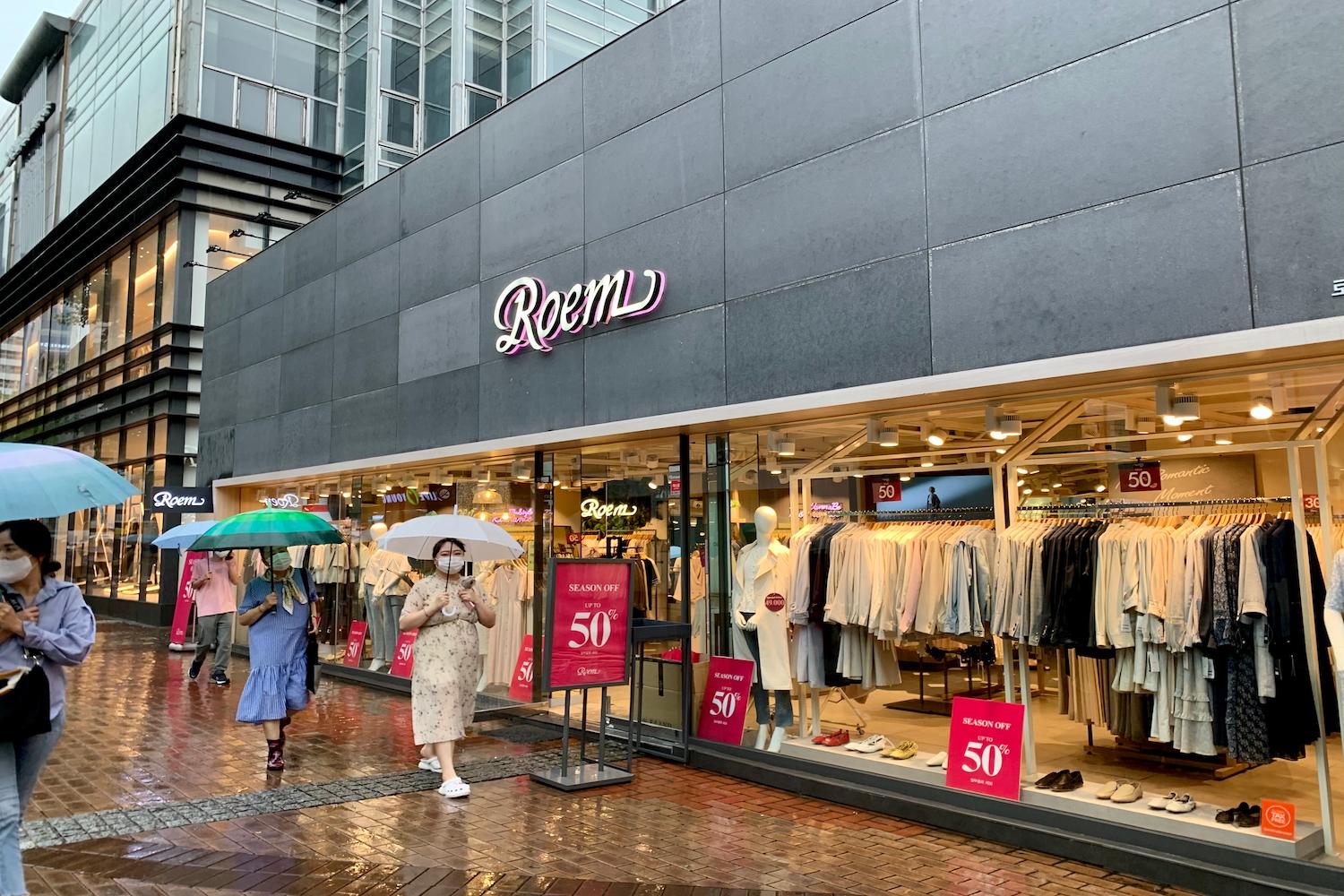 Roem is another fast fashion brand you can find on Dongseong-ro.
Here you can find many feminine clothes.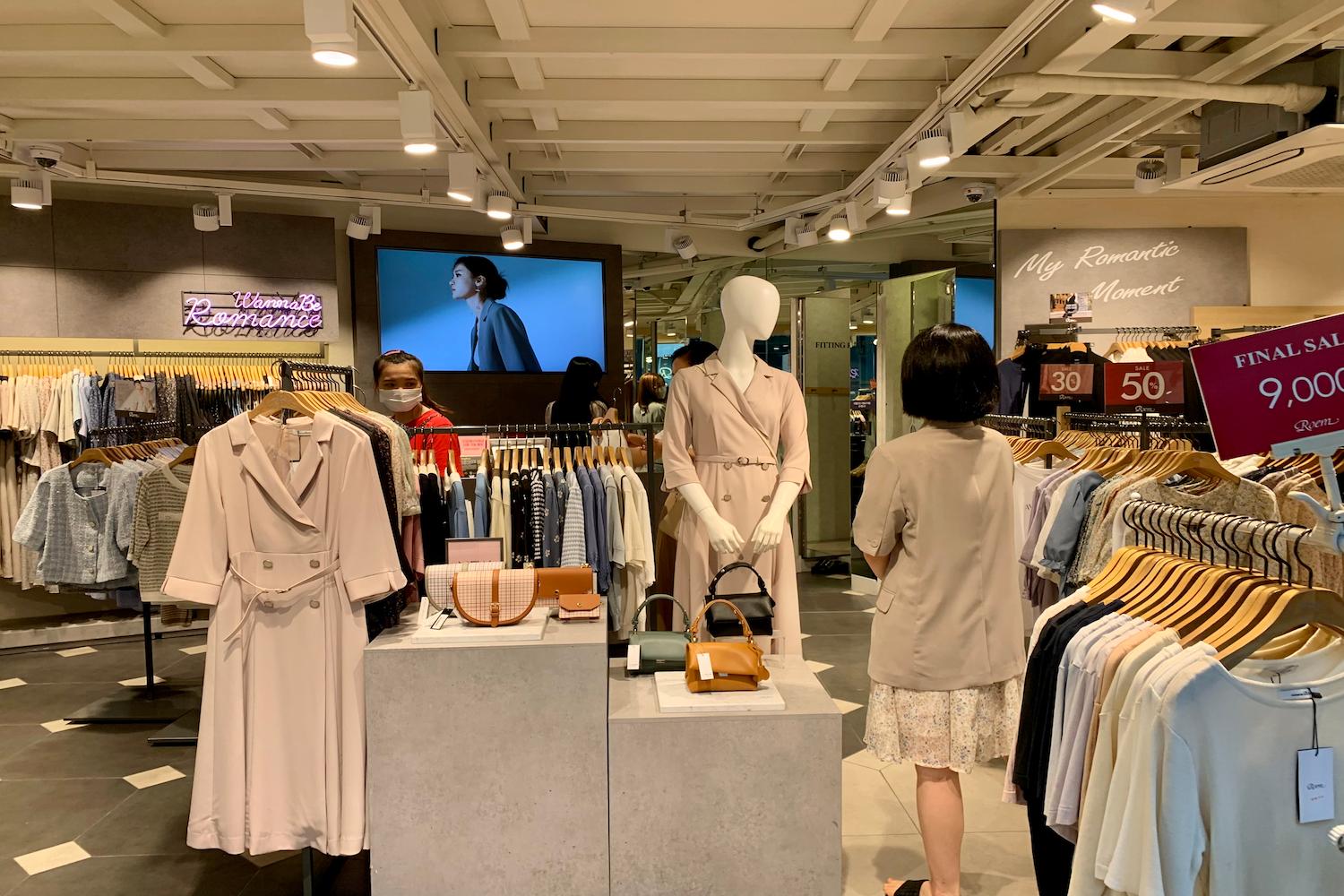 They have everything from everyday styles to fancy clothes that'll be good to wear on special occasions.
Their suits with pretty silhouettes are also very popular.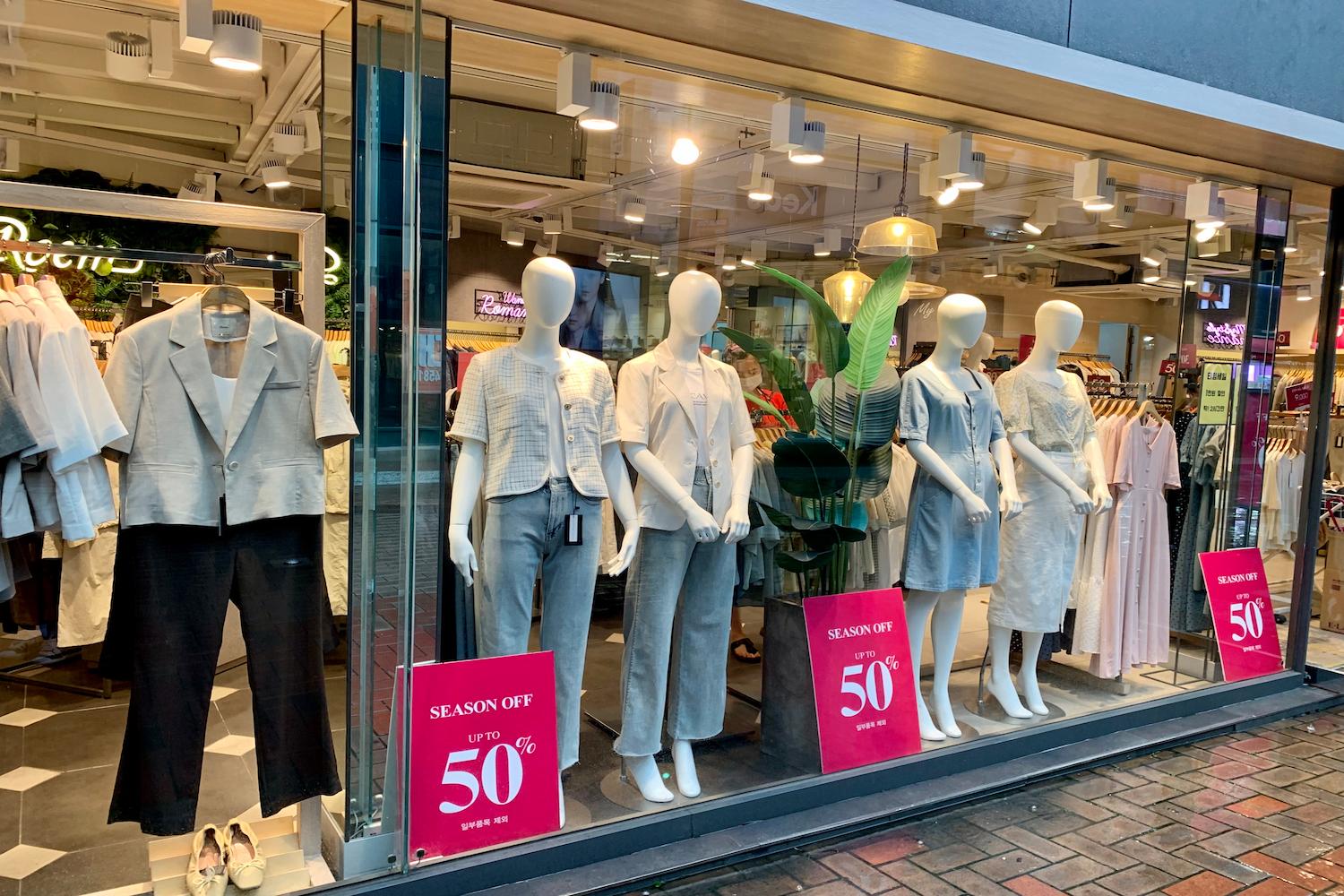 Overall, there were many pastel-toned and feminine designs.
Likewise, the price range is very cheap and ranges from 20,000 won to 70,000 won (approx. 17 to 60 USD), and suits or dresses with frills can be purchased for 90,000 won (approx. 75 USD).
3) Vintage Stores
Serendipity (세렌디피티)
Address: 대구 중구 동성로 2길 12-20
12-20 Dongseong-ro 2-gil, Jung-gu, Daegu
Hours: Fri-Sun 13:00-19:00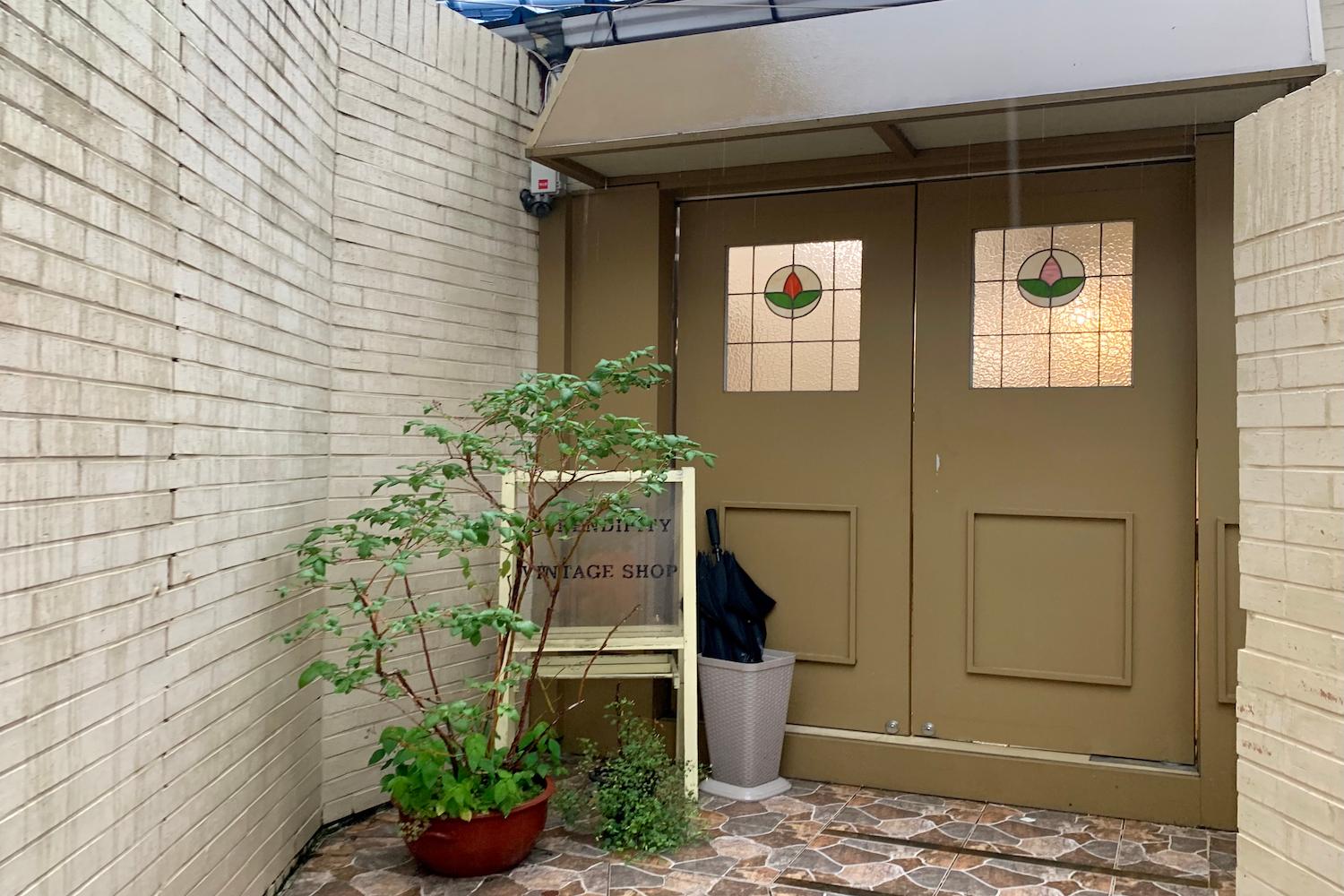 The SPA brands I introduced earlier are good, but if you still feel like you're missing something, stop by one of Dongseong-ro's vintage shops!
The first shop I'm going to introduce is Serendipity. You can feel the vintage vibe right at the entrance!
It makes me feel like I'm in movie. Shall we go inside?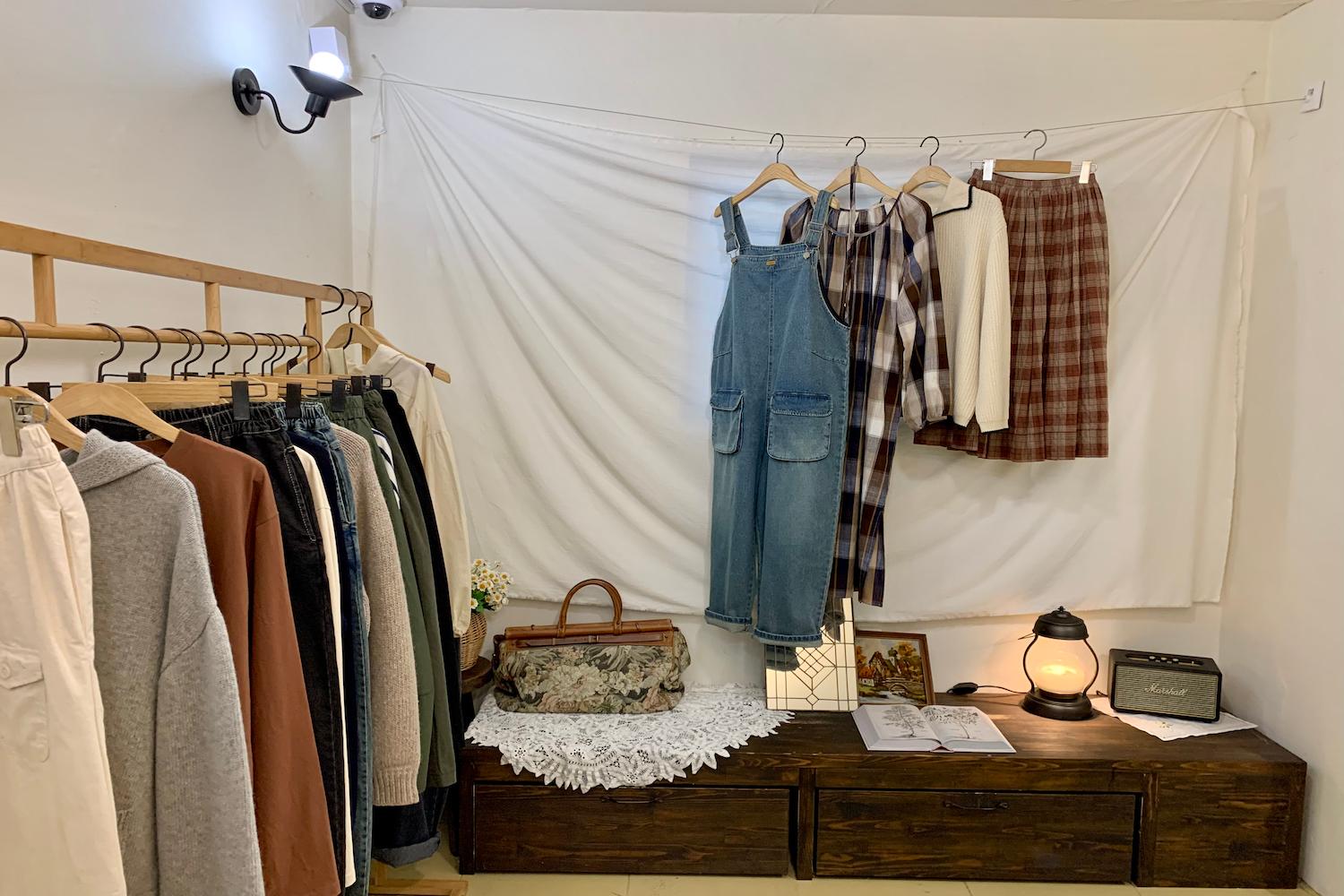 Serendipity is a brand that sells secondhand items as well as its own products.
It was filled with clothes perfect for stylish people that enjoy expressing their individuality through fashion!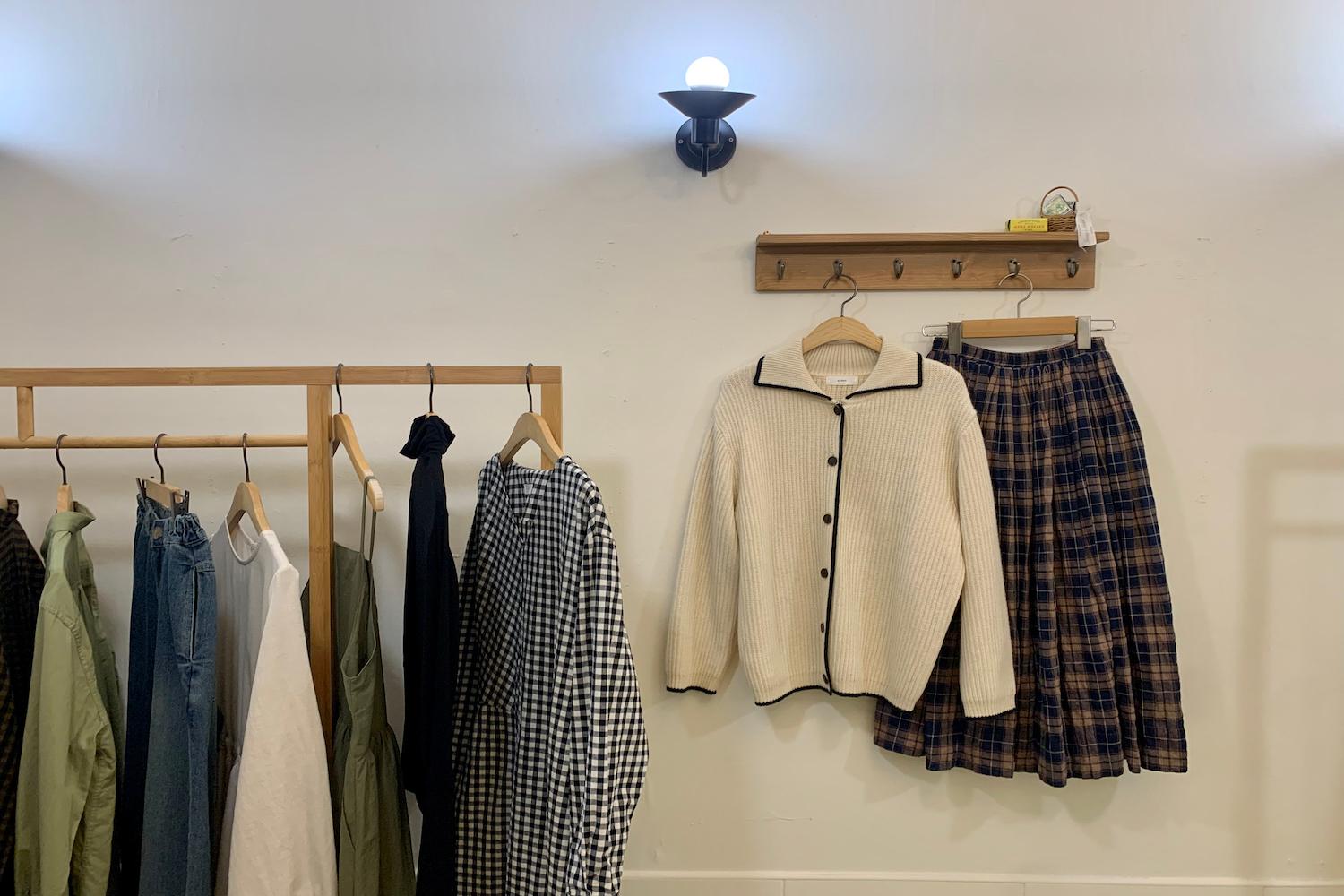 Wearing the long checkered skirt with the white cardigan pictured above would be so pretty and cute.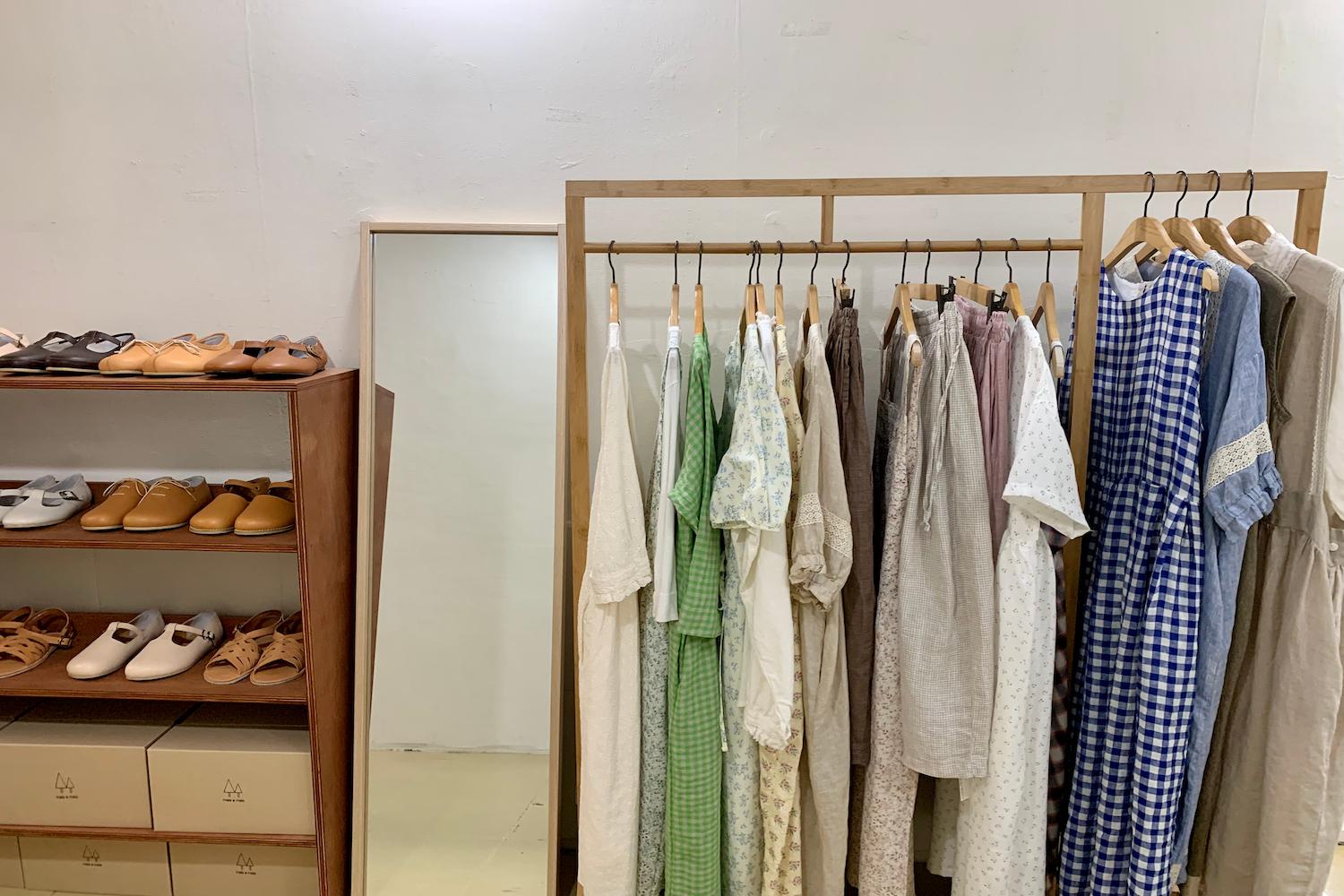 Each item stands out on its own, but it's fun to see how the shop coordinated them together.
Kuromame (쿠로마메 빈티지샵)
Address: 대구 중구 동성로1길 36-18
36-18 Dongseong-ro 1-gil, Jung-gu, Daegu
Hours: 13:00-21:00
Closed Jan 1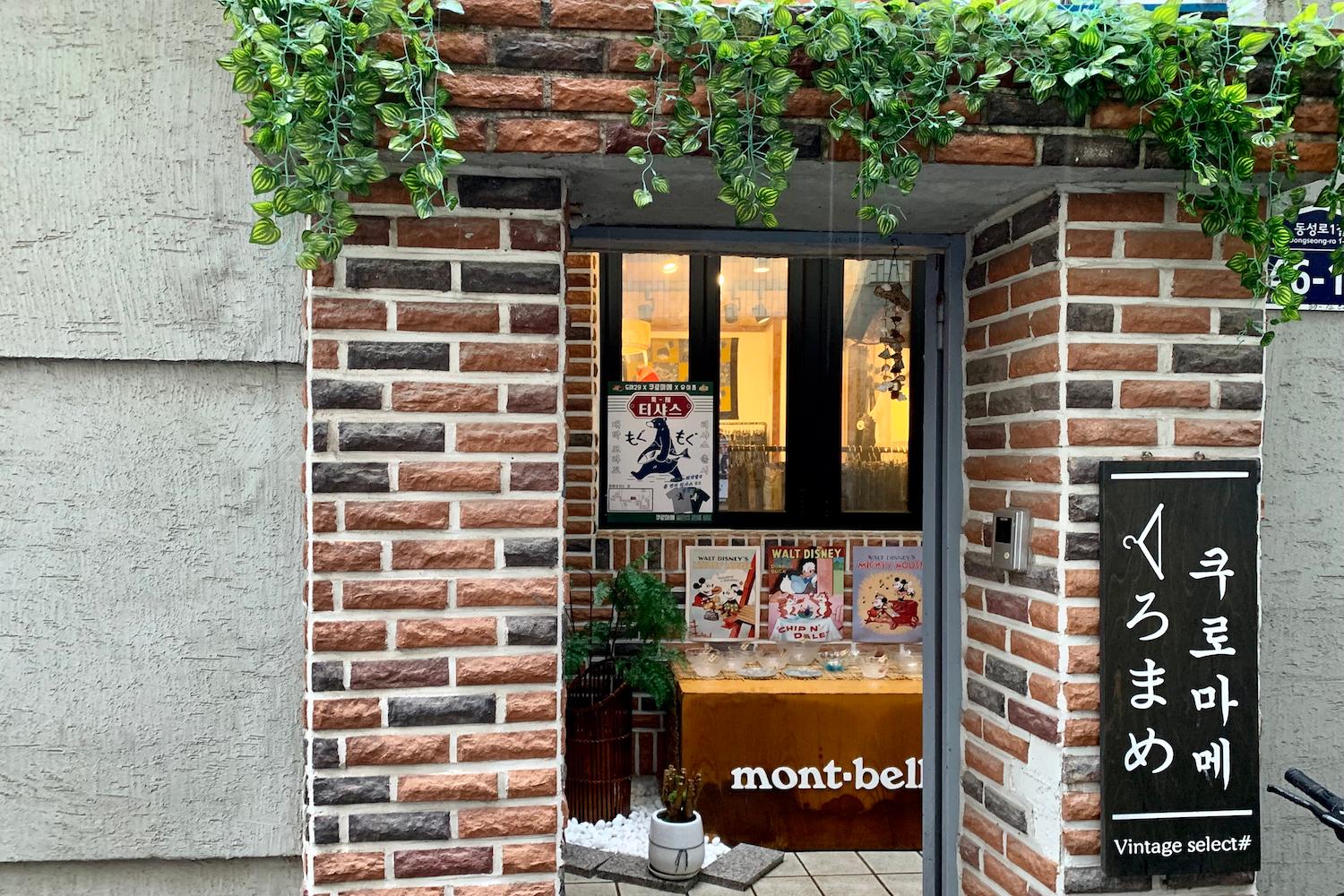 The next vintage shop I visited was Kuromame, a shop that has comfortable and fashionable products.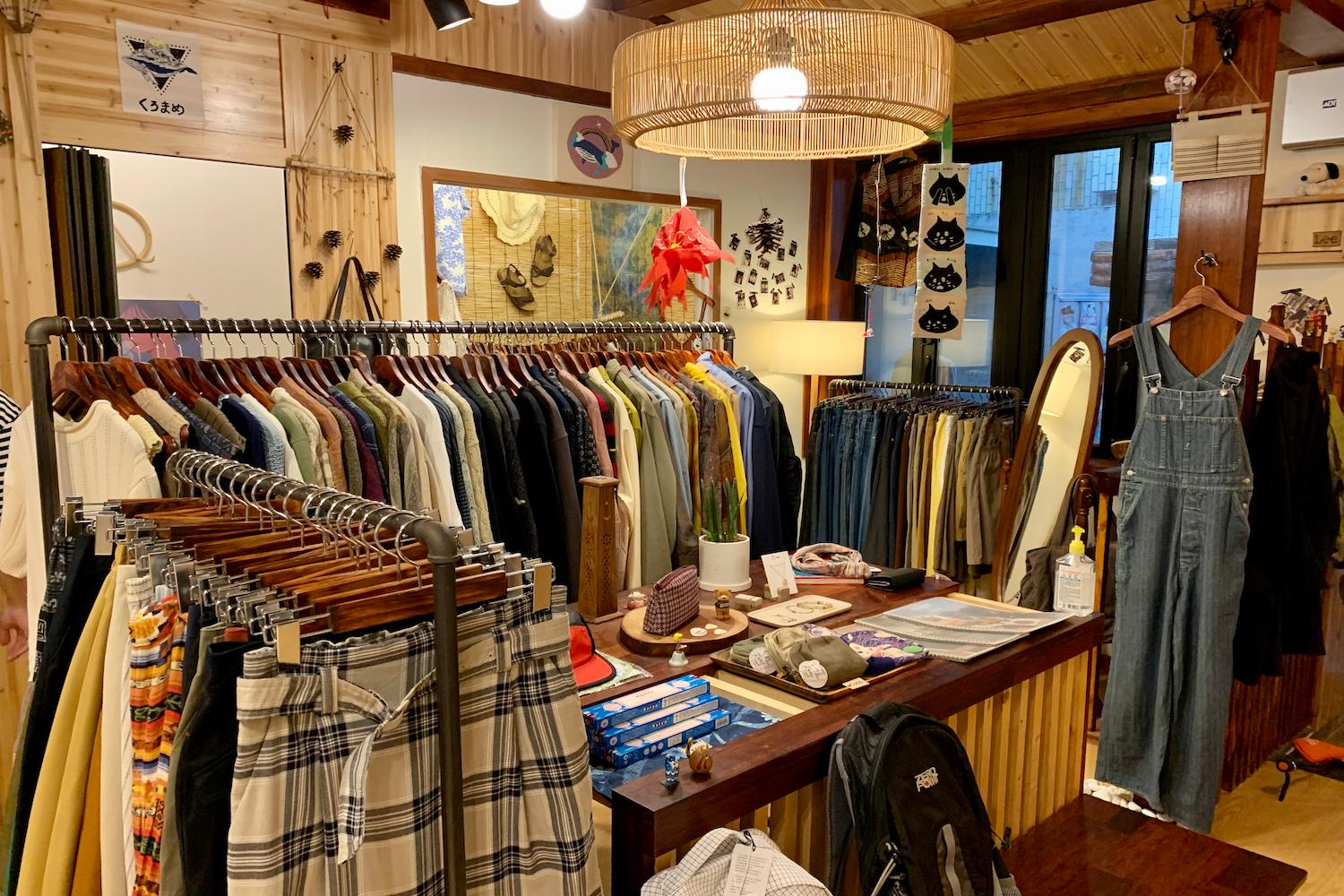 I really liked the vintage feeling that I felt as soon as I entered the store.
Sometimes, regular brands can't give off the same vibe as vintage stores. Kuromame is a very stylish vintage shop that can only be found in Dongseong-ro.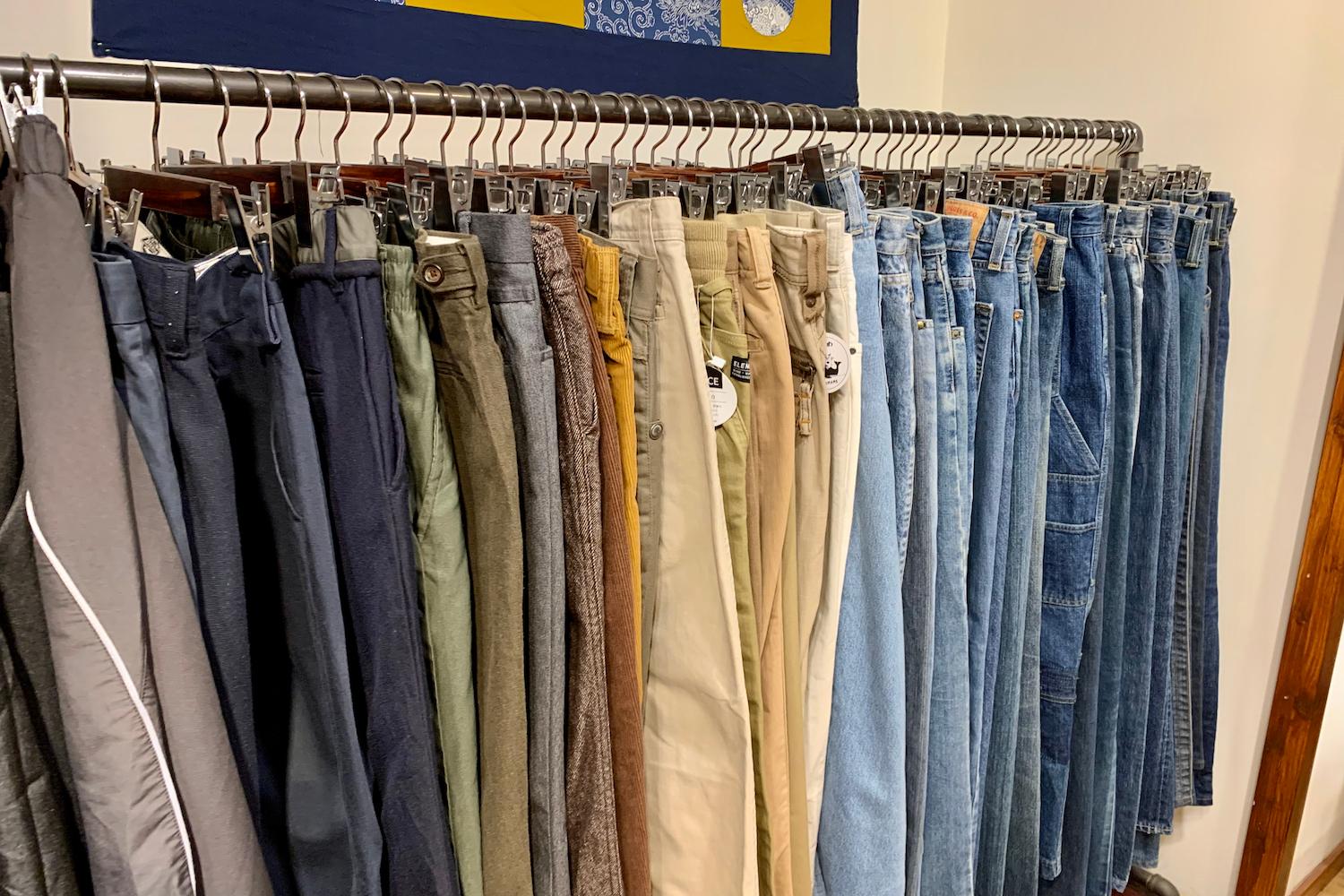 In addition, Kuromame is famous for their large selection of pants.
They have pants with a wide fit in various colors, so if you're interested in fashion, I recommend you visit!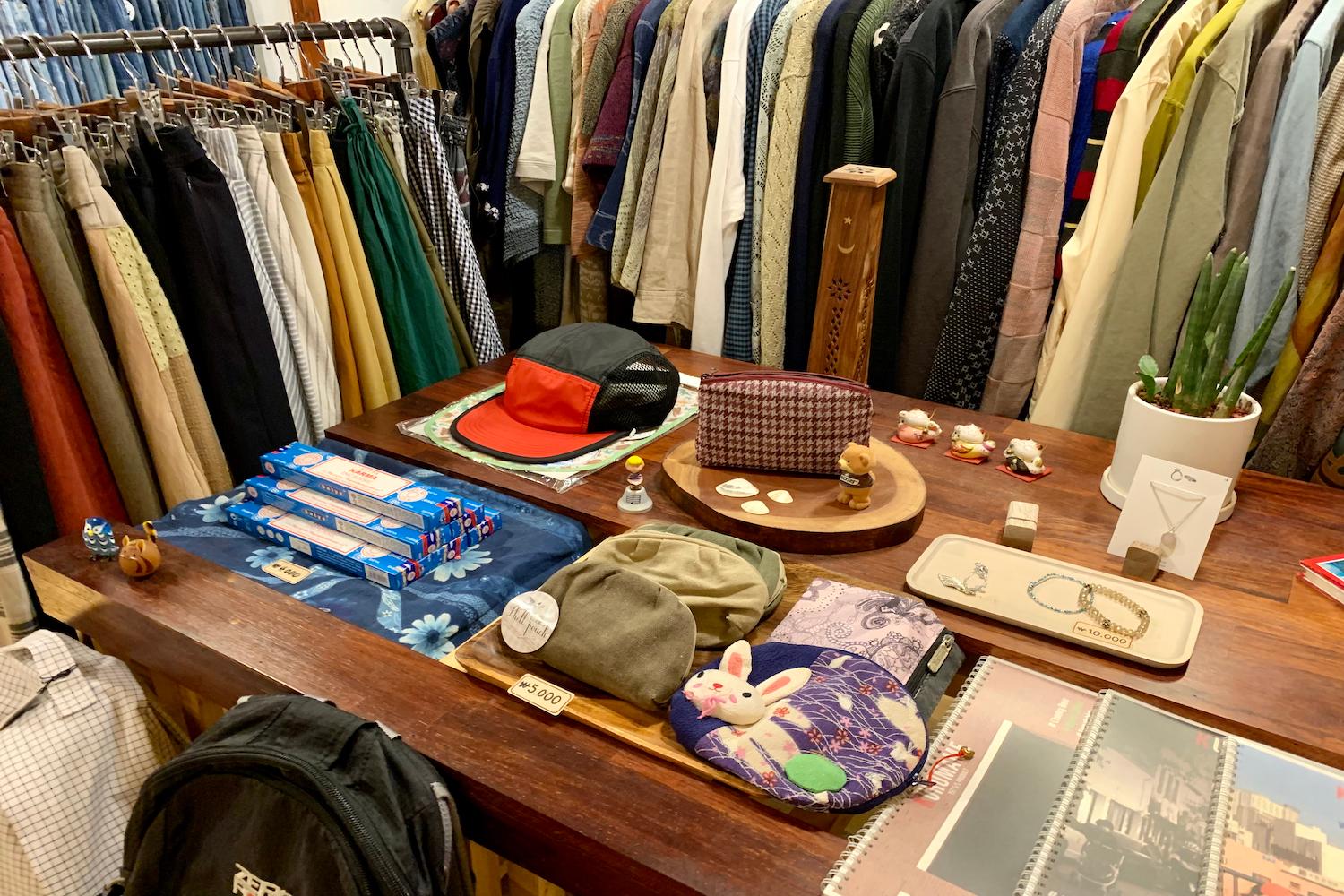 In addition to clothing, they also sell incense sticks, pouches, and miscellaneous goods, so there will be a lot to see when you visit.
---
Accessory & Stationary Stores
Of course there are great clothing stores to visit at Dongseong-ro, but you should definitely also visit some of the many stationary shops found in the alleys.
There are lots of shops were you can find lots of small and cute products, so keep on reading if you like buying souvenirs or cute items!
Itty Bitty Shop (이티비티샵 대구본점)
Address: 대구 중구 동성로 2길 12-3
12-3 Dongseong-ro 2-gil, Jung-gu, Daegu
Hours: 12:00-20:00
Break: 15:30-16:00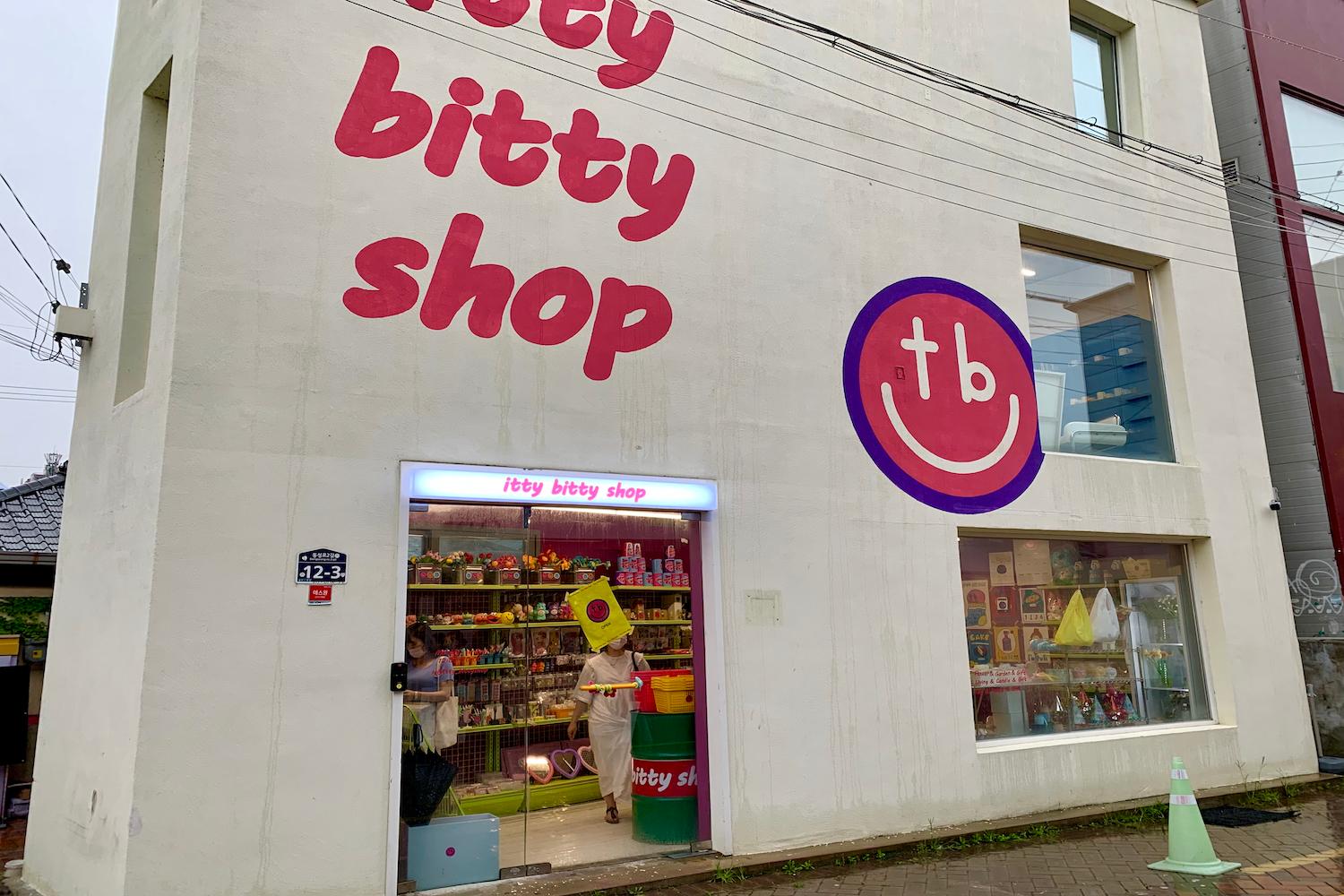 The cute smiley face at the entrance makes you want to enter.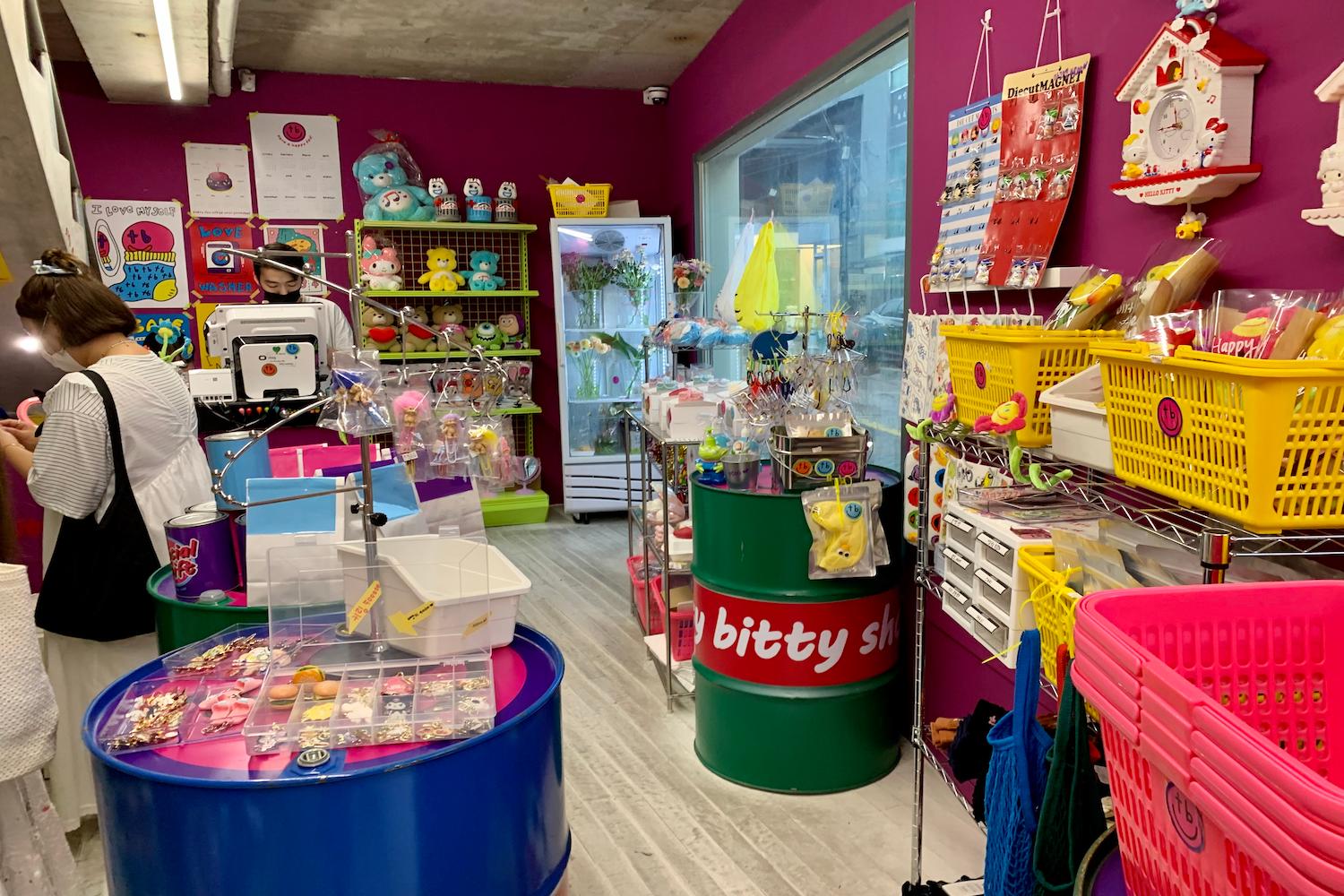 It's not that big inside, but it's filled with so many cute items!
You can find a variety of products, ranging from small stickers and pins to dolls, which are good to buy as souvenirs.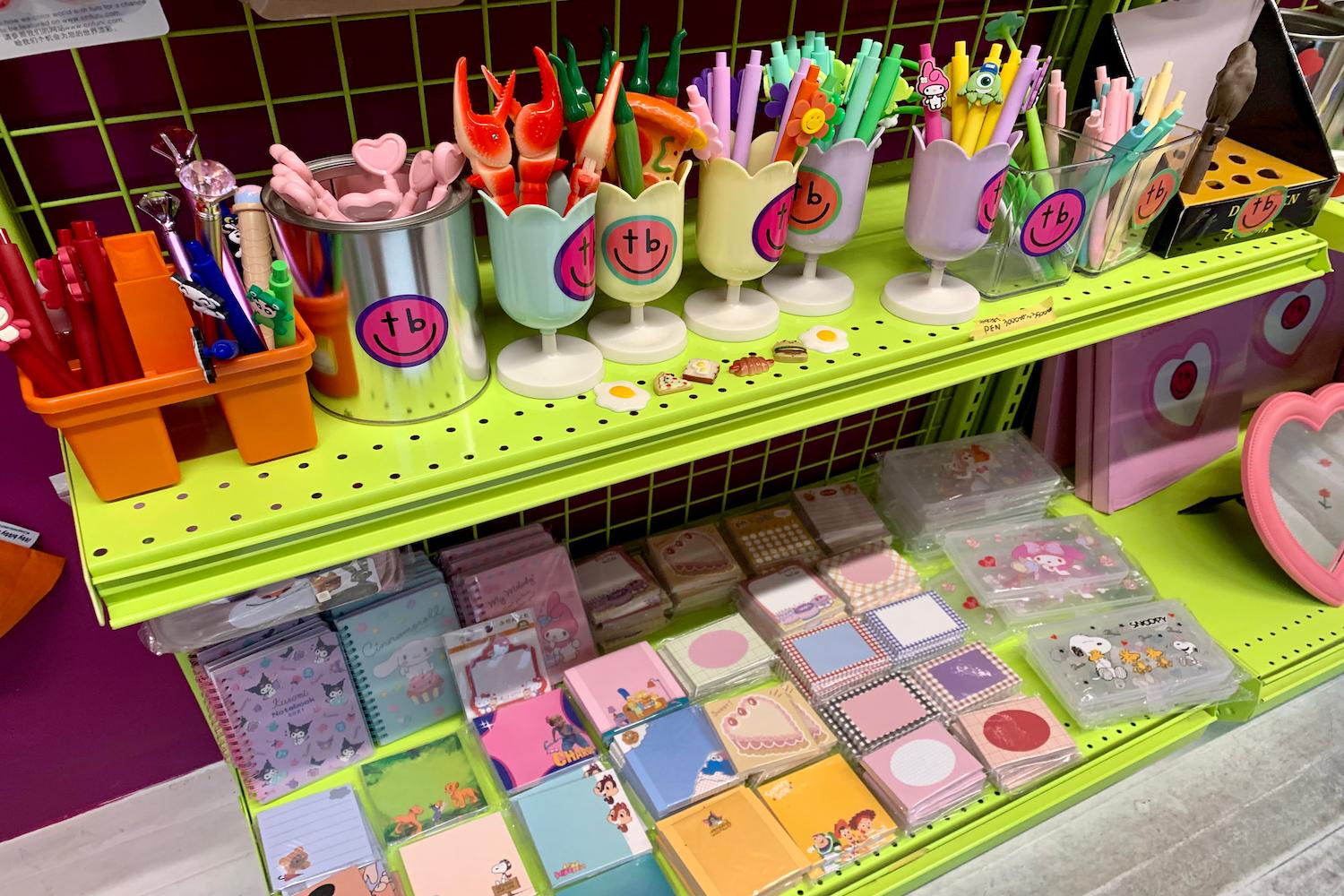 From sticky notes with nice illustrations to unique stationary products, it was a good place to buy things and discover interesting items.
Grim (그림)
Address: 대구 중구 동성로2길 48
48 Dongseong-ro 2-gil, Jung-gu, Daegu
Hours: 12:00-22:00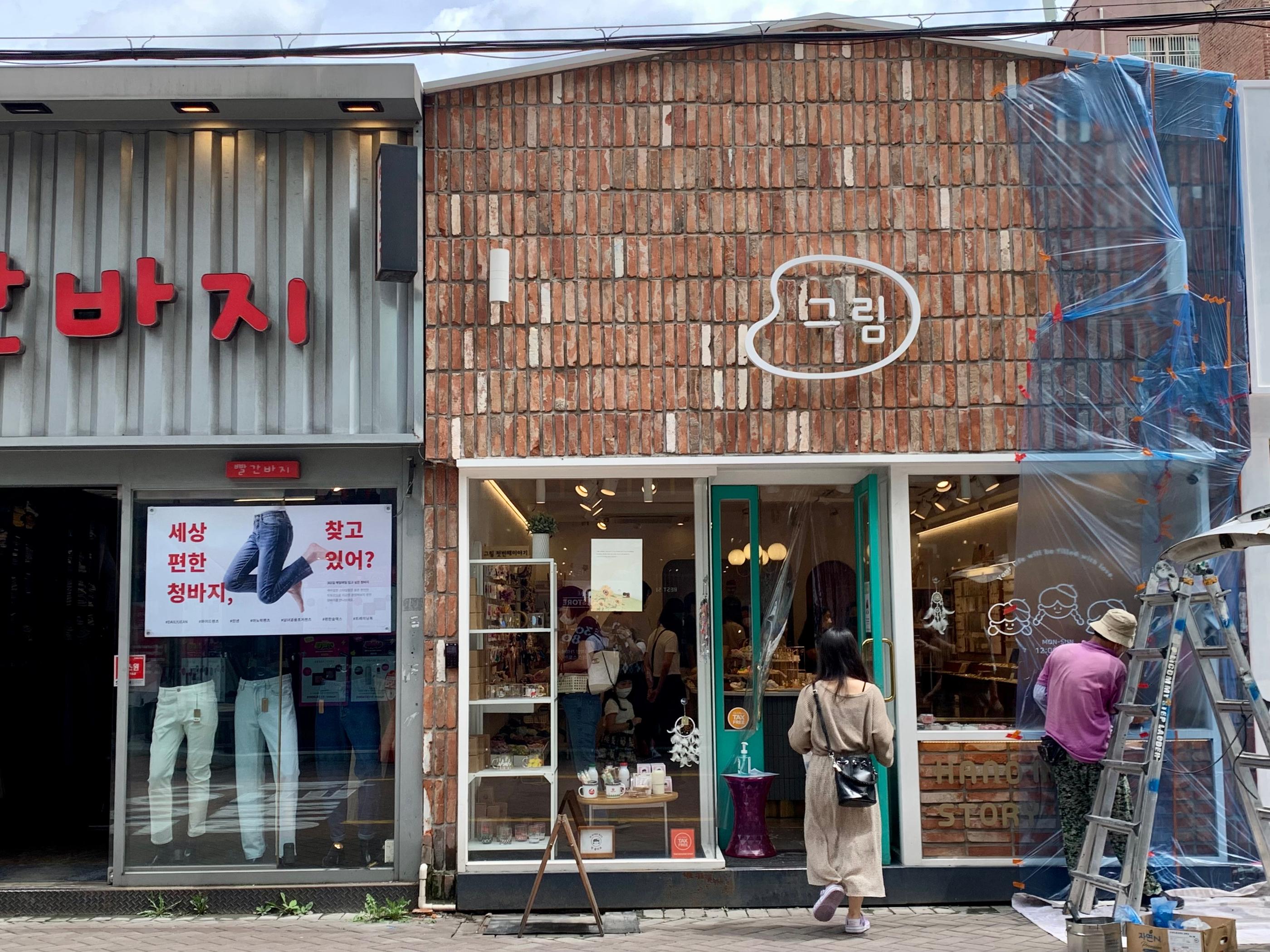 The second stationary shop I went to is Grim.
Grim is located on the main road of Dongseong-ro, so it is very easy to find.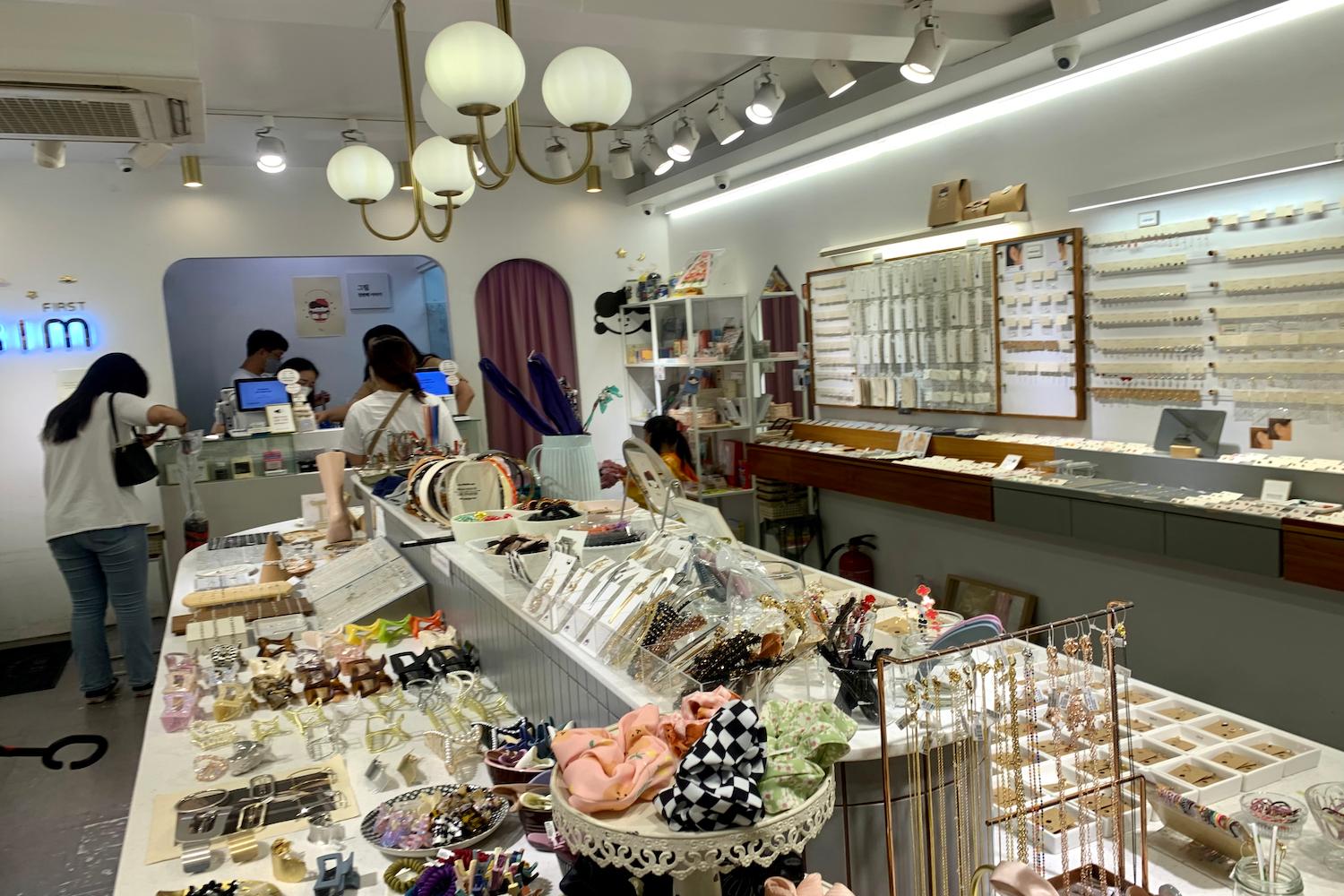 In addition, it is a popular place because you can see a variety of products from cute knick-knacks to accessories!
In the spacious store, they sell products you can use everyday, such as pretty hairpins, earrings, necklaces, and other things at low prices.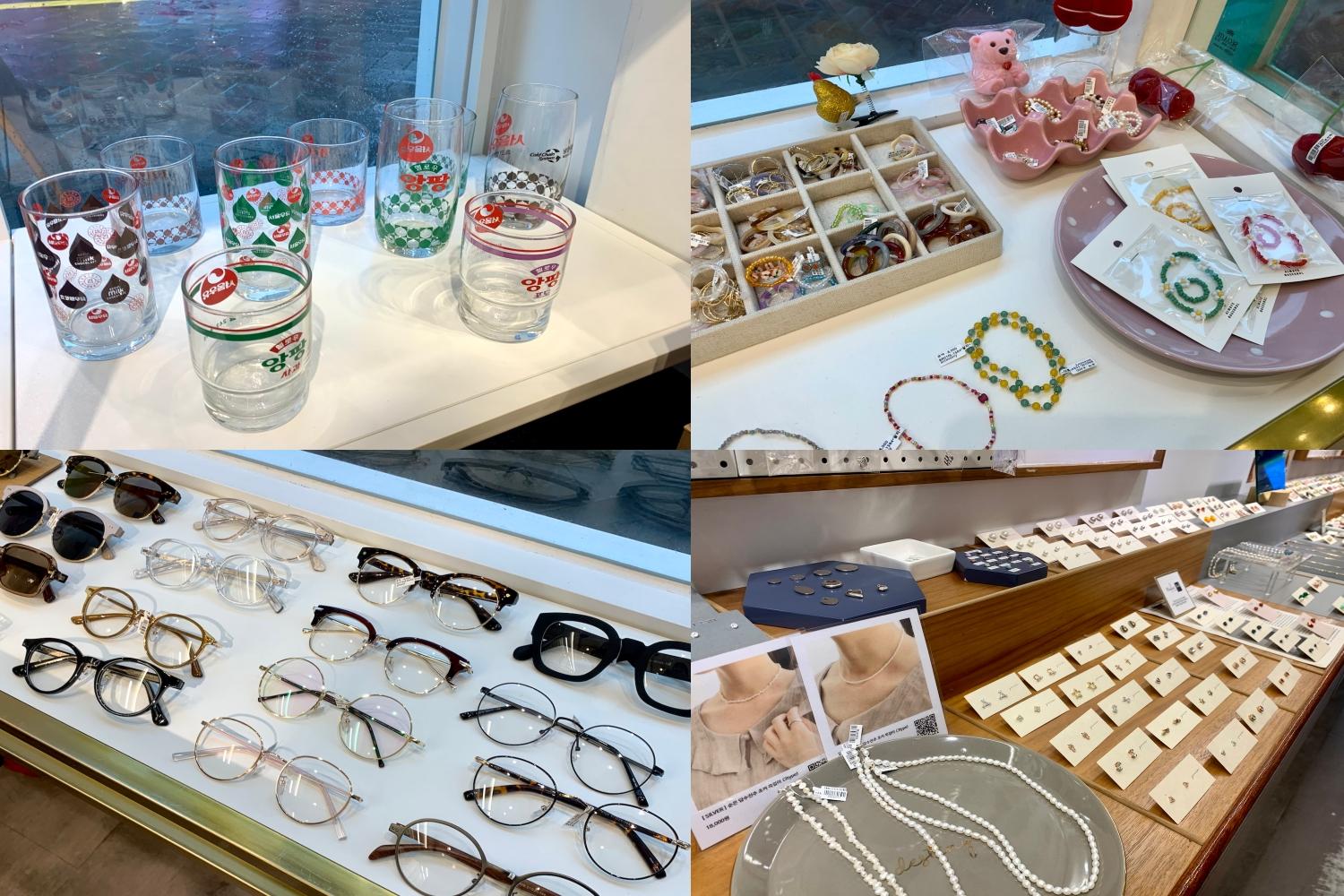 There's a wide range of items, from glasses frames popular in Korea, accessories that are popular on Instagram, and glass cups with a vintage feel!
You won't be able to get enough of all the pretty items.
N.cat (못된고양이 대구동성로2호점)
Address: 대구 중구 동성로3가 29-2
29-2 Dongseong-ro 3-ga, Jung-gu, Daegu.
Hours: 11:00-22:00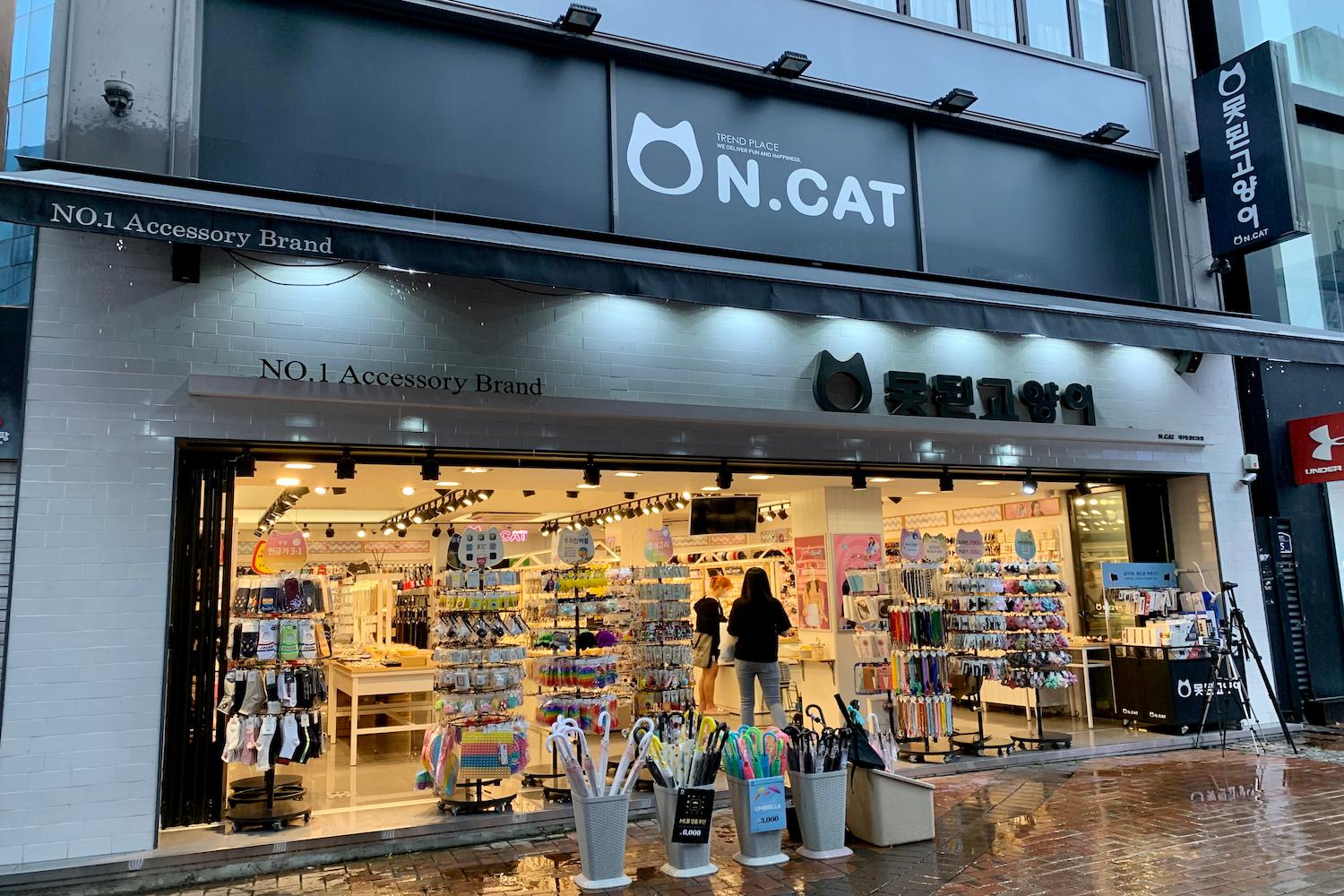 N.cat is a representative accessory brand in Korea.
It has been loved by Koreans for more than 20 years and sells various goods, such as accessories, bags, and hats.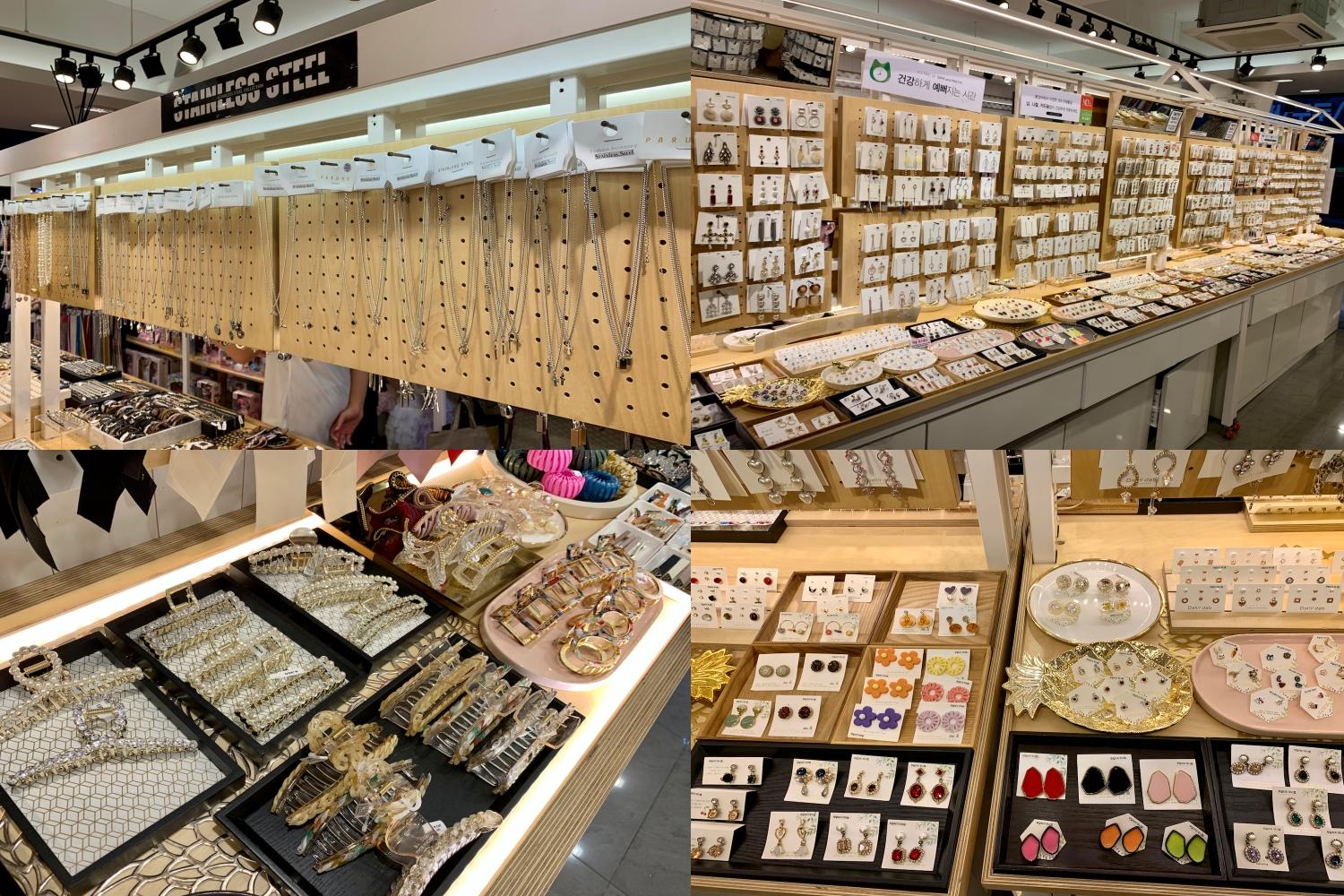 Most of the products can be purchased for between 10,000 and 20,000 won (approx. 8 to 17 USD), so they are popular among students and people in their 20s.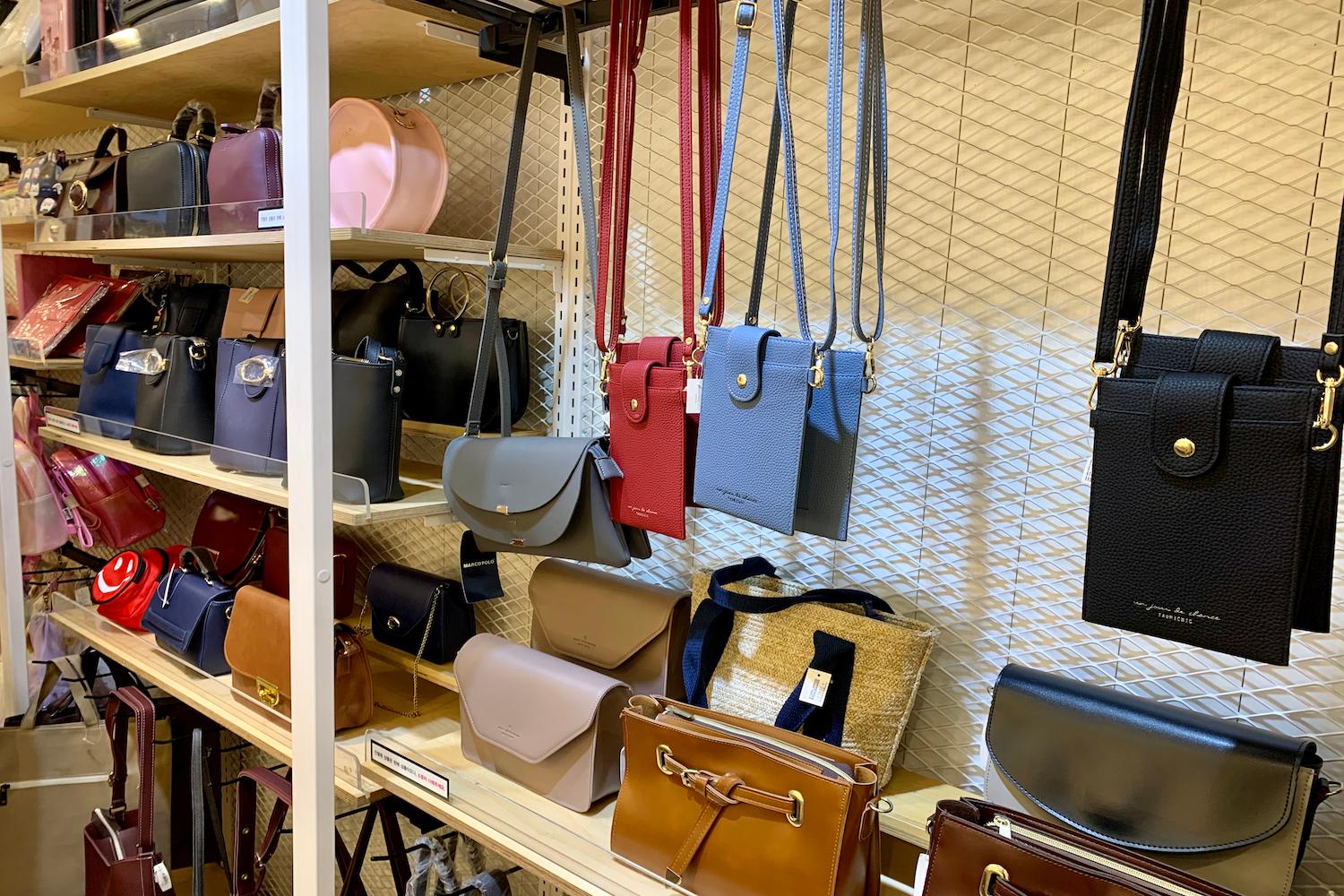 The Dongseong-ro branch sells well-designed artificial leather bags in the 10,000 won range, so if you are in a rush and want to buy a reasonably priced bag, I recommend a N.cat.
---
Health & Beauty Stores
Although health and beauty stores have many branches throughout Korea, the branches located in Dongseong-ro especially sold large-scale and diverse products!
Let's take a quick look at where you can find Korea's representative beauty brands and lifestyle and health products.
Olive Young (올리브영 대구동성로2가점)
Address: 대구 중구 동성로 18
18 Dongseong-ro, Jung-gu, Daegu
Hours: 10:30-22:00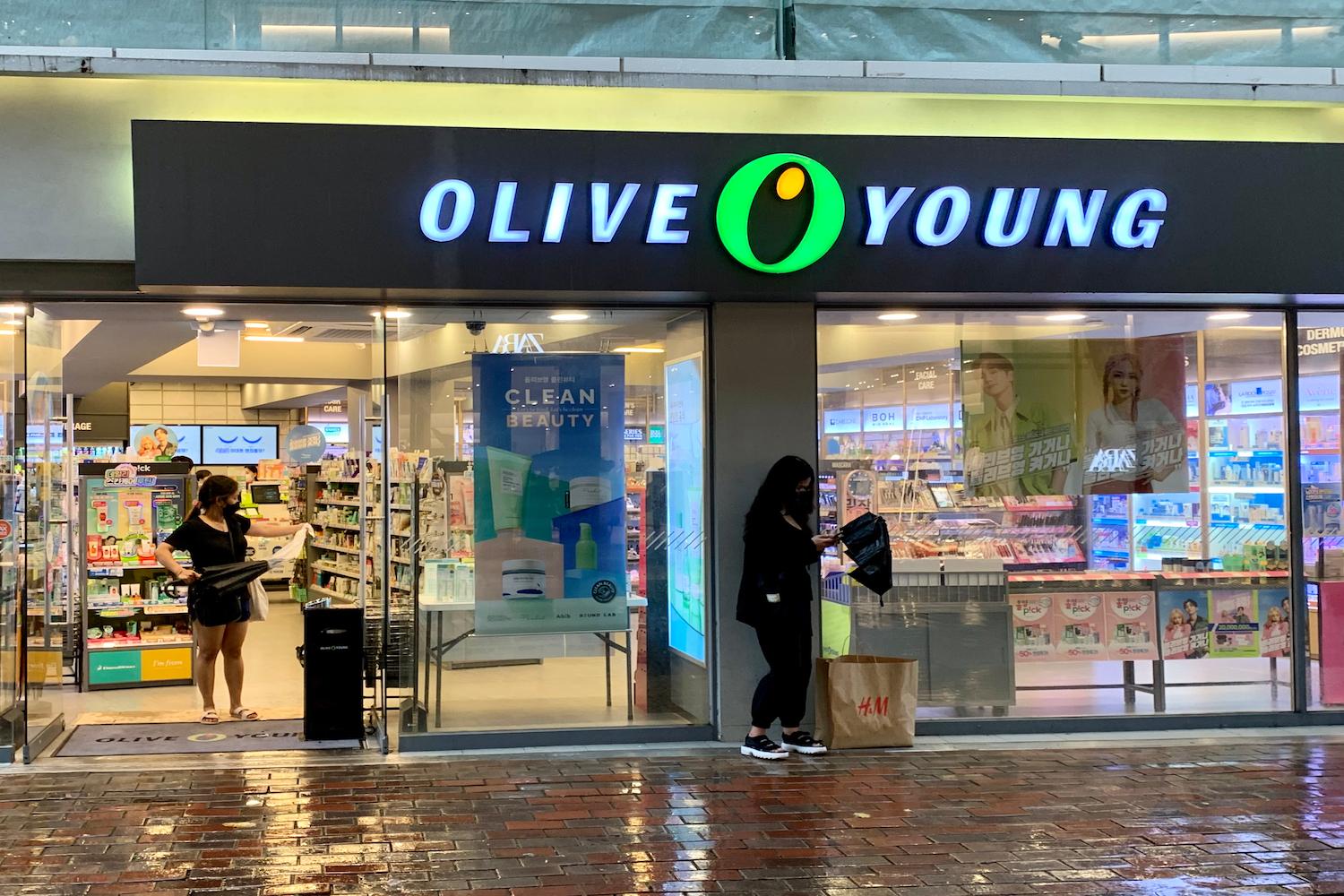 First is Olive Young, Korea's number 1 health and beauty store.
There are so many branches in Korea, but the branch located in Dongseong-ro is quite large.
You can purchase not only beauty and health products, but also lifestyle products here.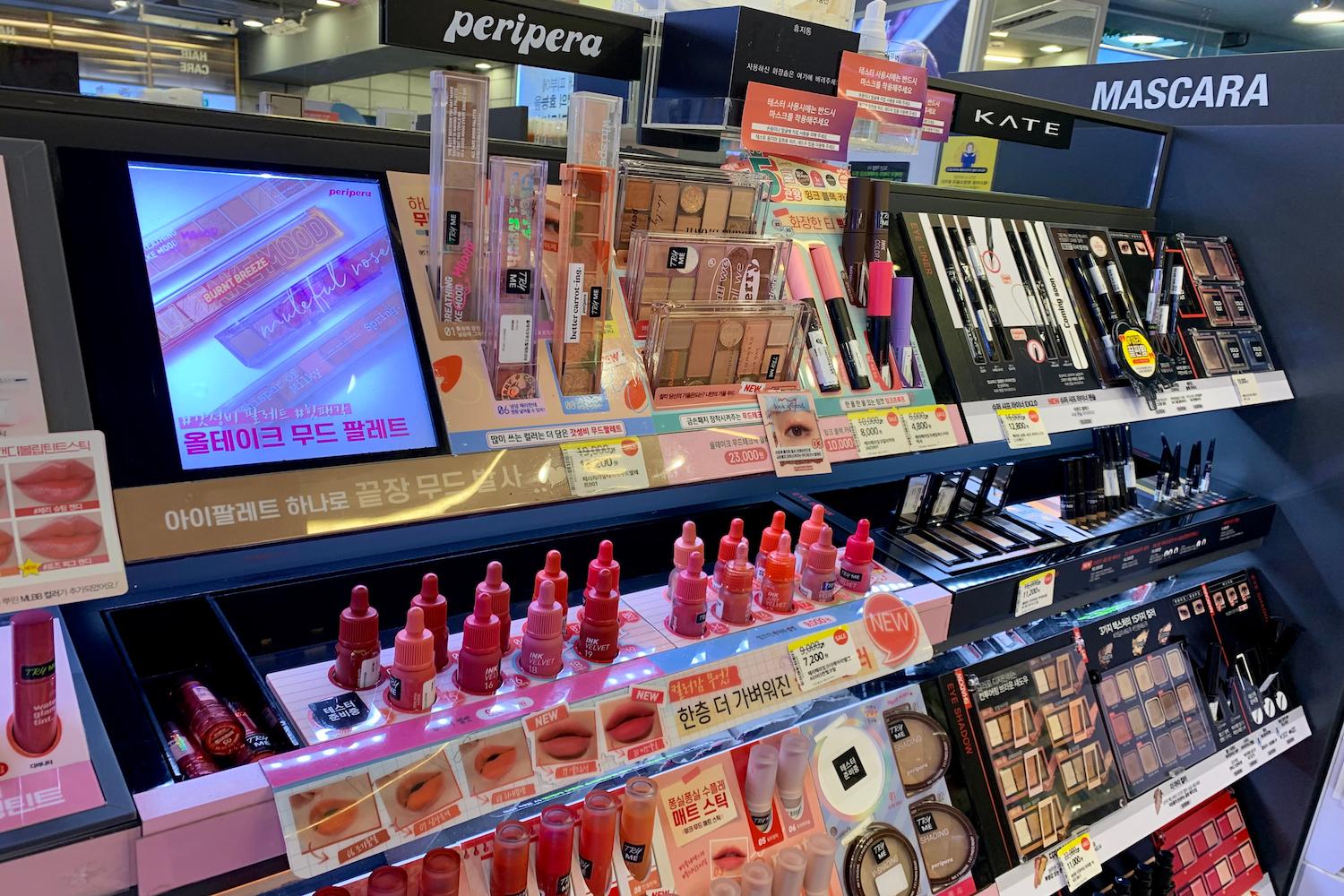 Here, you can see many Korean beauty brands, including A'pieu, Etude House, and Peripera.
Try out and purchase some Korean products famous for their beautiful colors!
In addition, you can purchase healthy diet food here.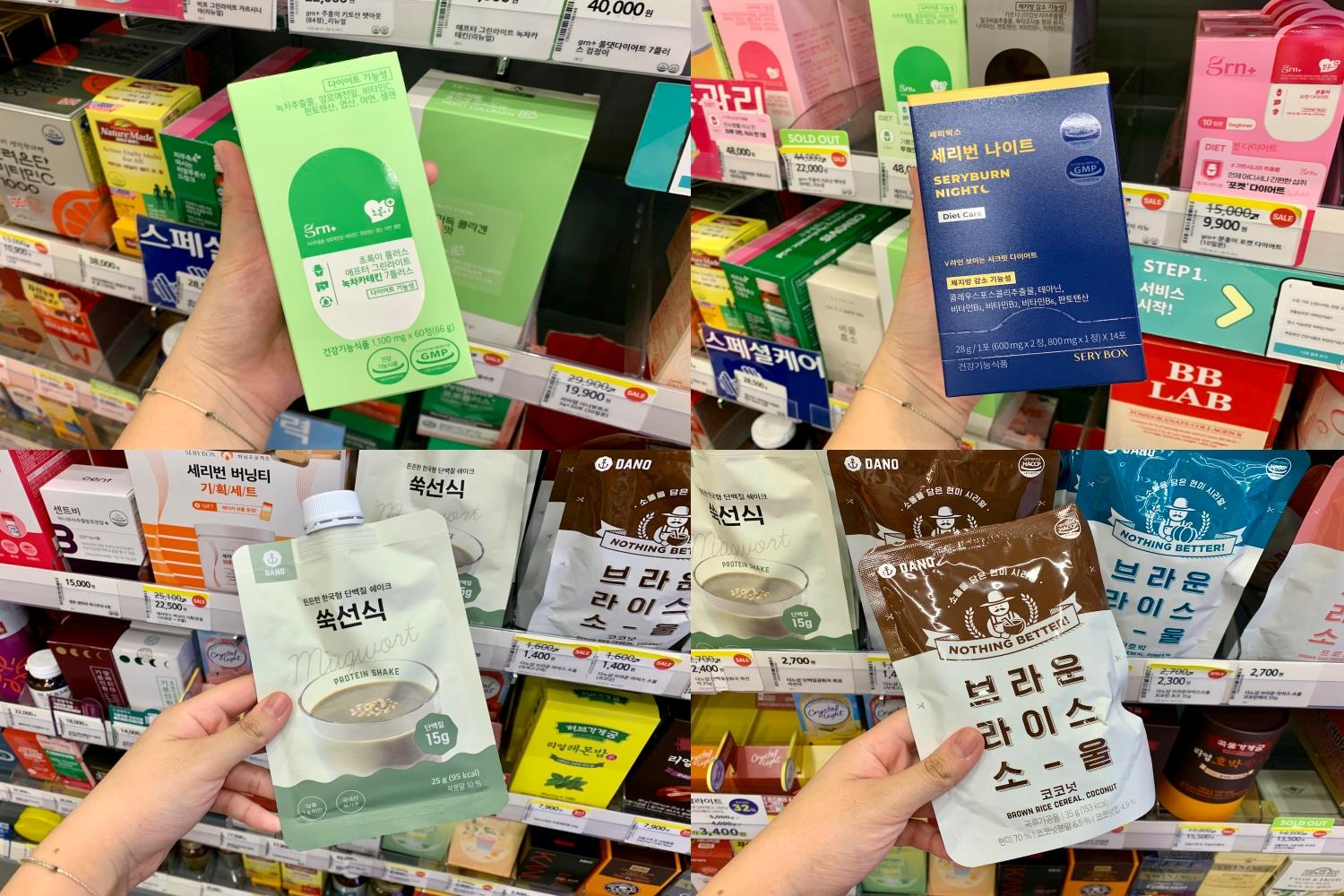 Olive Young has a lot of foods that are good for dieting and health and products to eat as meal substitutes.
You can buy snacks to satisfy your hunger while shopping or walking around.
lalavla (랄라블라 동성로광장점)
Address: 대구 중구 동성로 7
7 Dongseong-ro, Jung-gu, Daegu
Hours: 11:00-22:00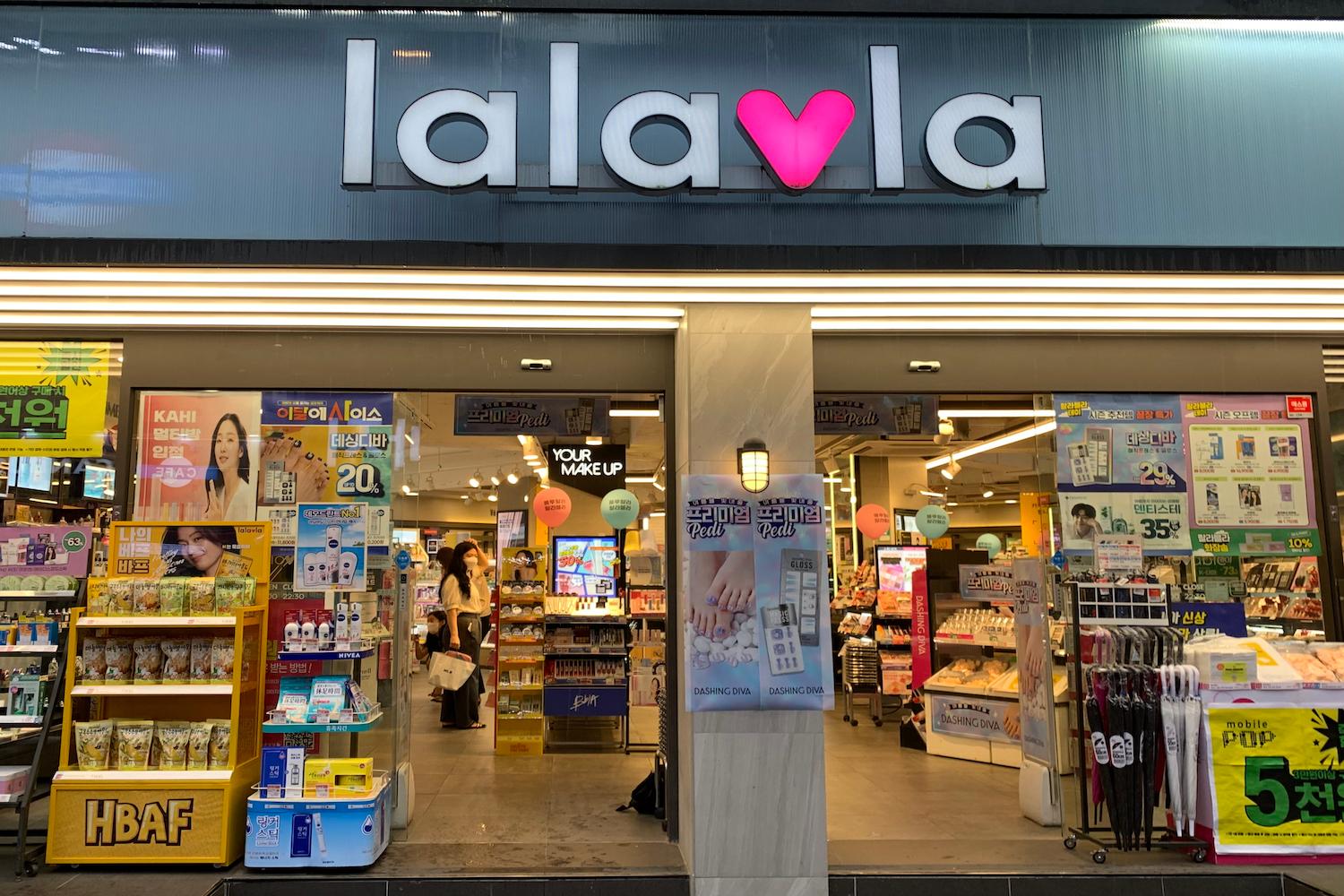 Next is lalavla, another health and beauty store store where you can purchase Korean products, like various medicines, health foods, cosmetics, and perfumes.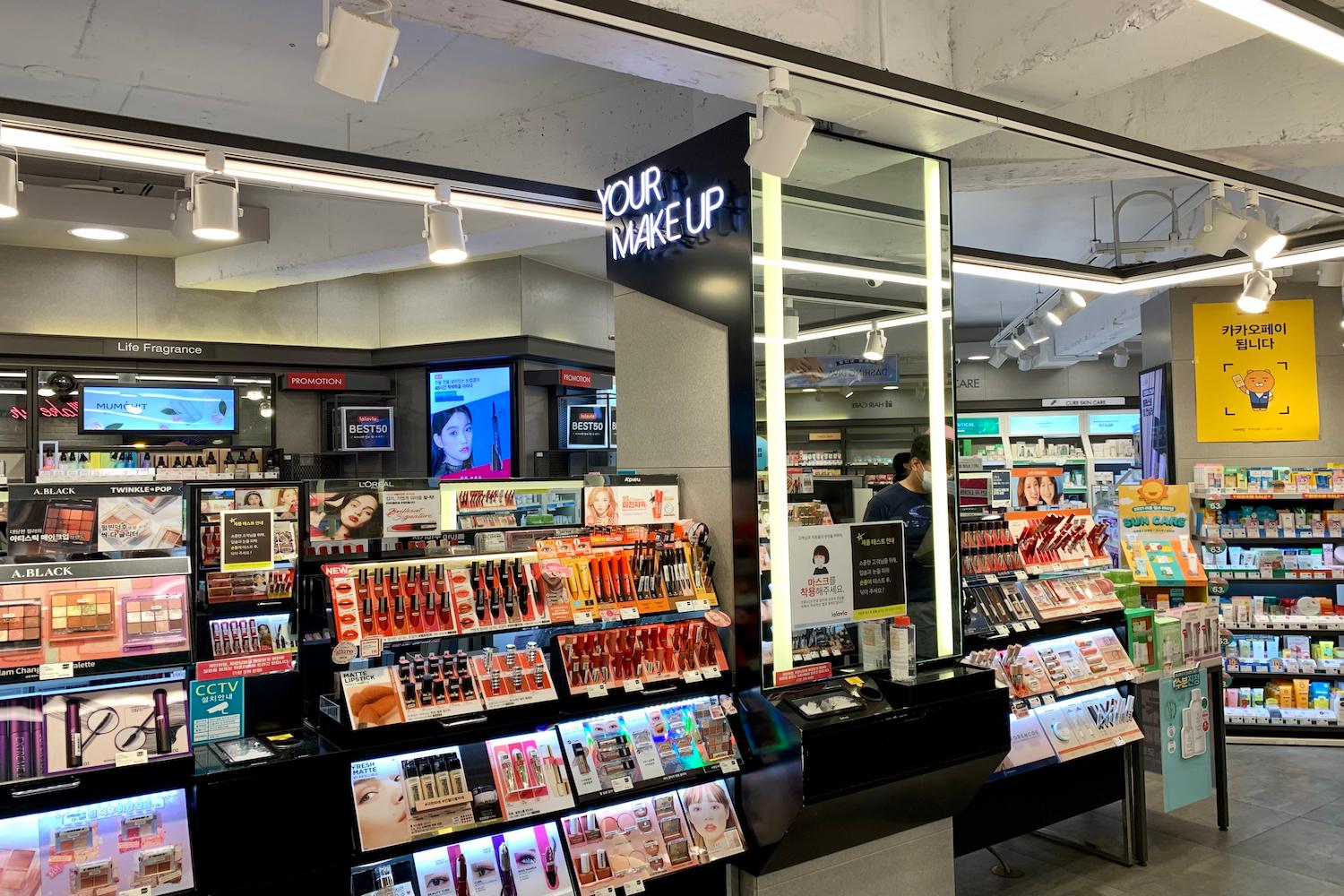 They sell similar products as Olive Young, but the interior of the store feels more organized, making it easier to shop!
It was easy to find the products you wanted.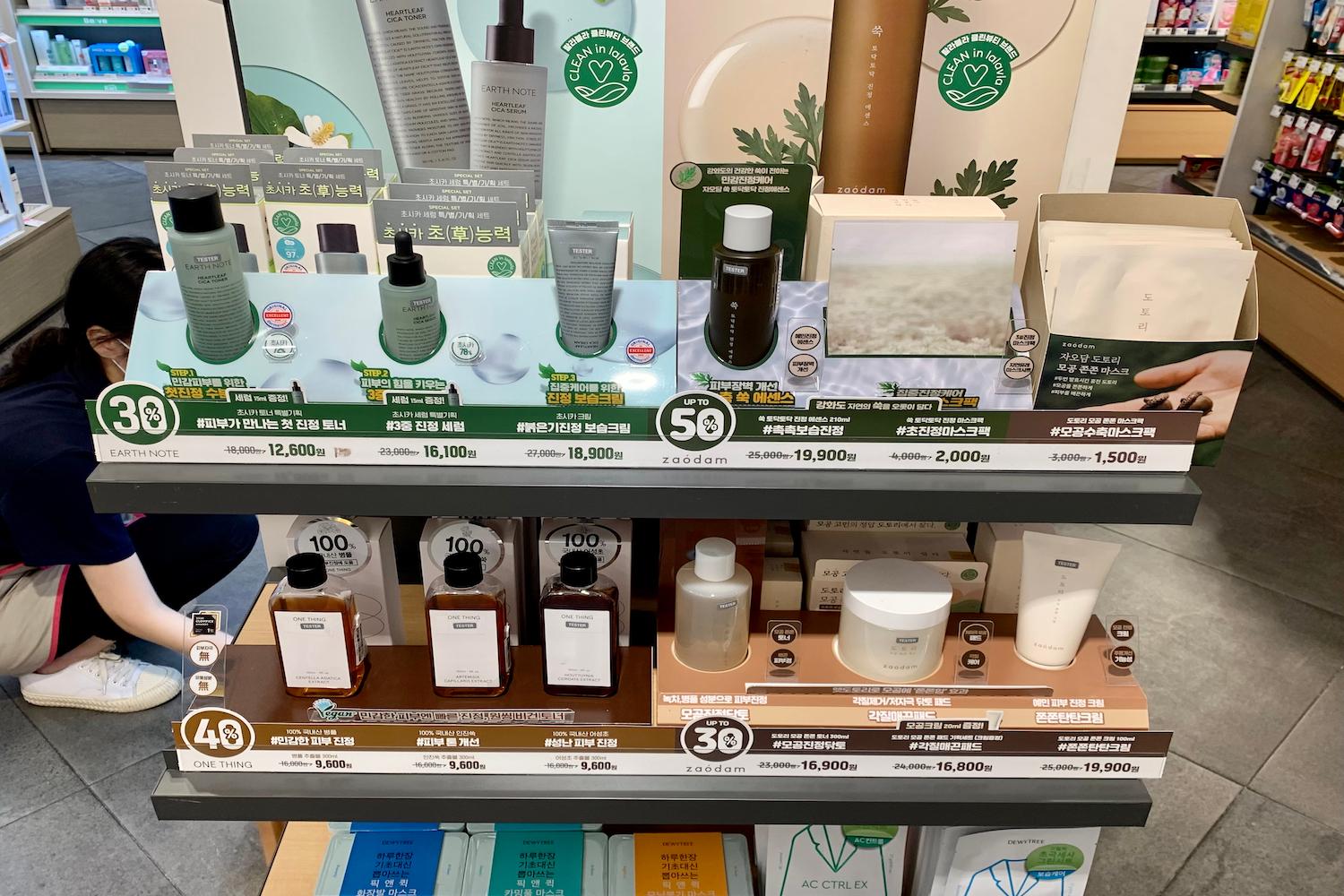 The basic products of One Thing, a brand which I personally like, are also being sold.
Most of the popular products in Korea that are seen on the Internet can be purchased at these health and beauty stores, so if you want to see them for yourself, I recommend you take a visit.
---
Photo Booths
Once you've walked around Dongseong-ro and shopped for pretty clothes and beauty products, there is one more thing you must do.
That is taking a "four-cut" (네컷) photo booth picture! These "four-cut" photos are a must for Koreans in their 20s.
There are so many stores in Dongseong-ro where you can take these photos, so if you see one, make sure to go in and make memories!
Please note that at most of these photo studios, you can receive two sheets at a price of 4,000 to 5,000 won and need cash.
Photo Signature (포토시그니처 동성로대백점)
Address: 대구 중구 동성로 33-1
33-1, Dongseong-ro, Jung-gu, Daegu
Hours: 00:00~24:00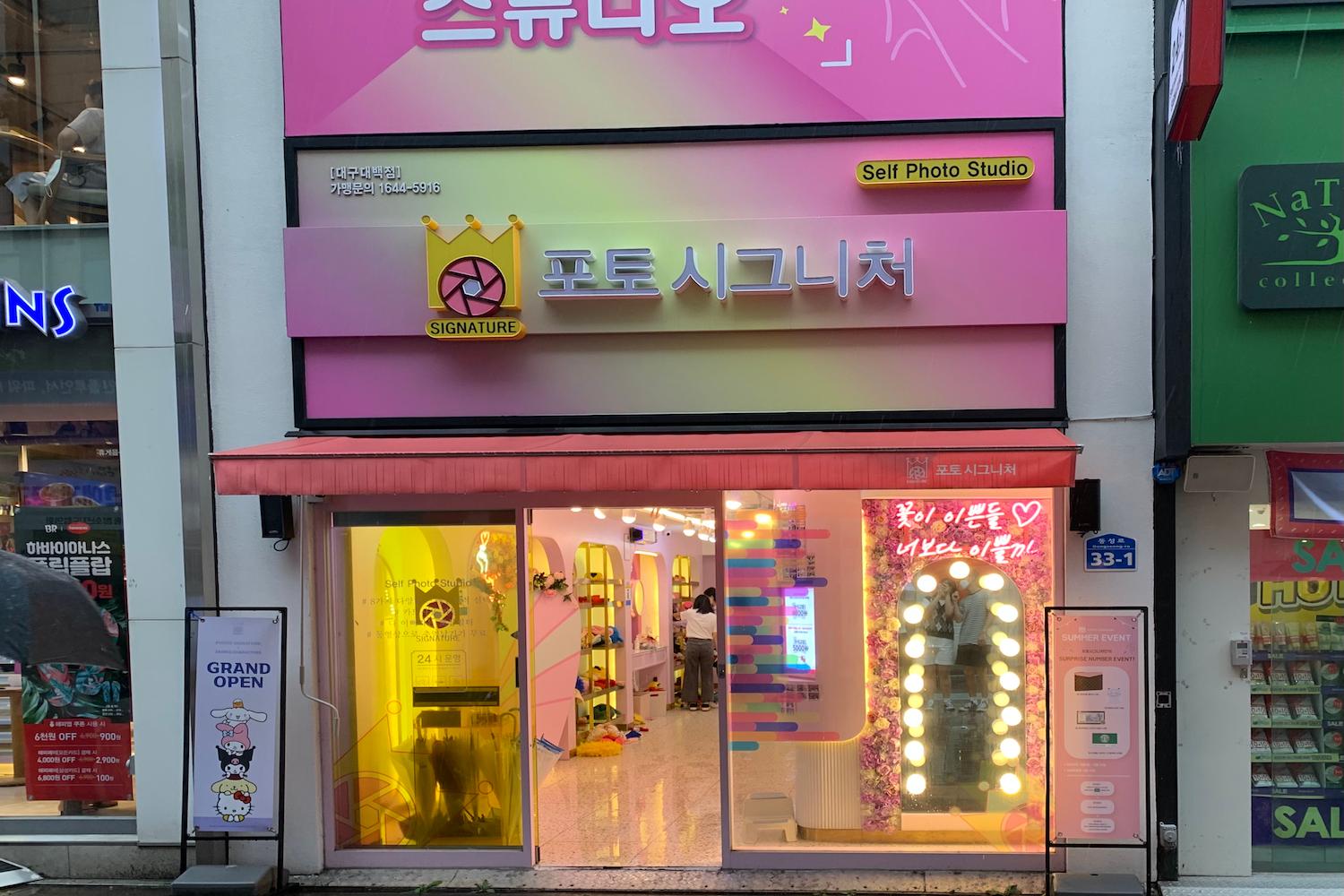 The first studio I recommend is Photo Signature.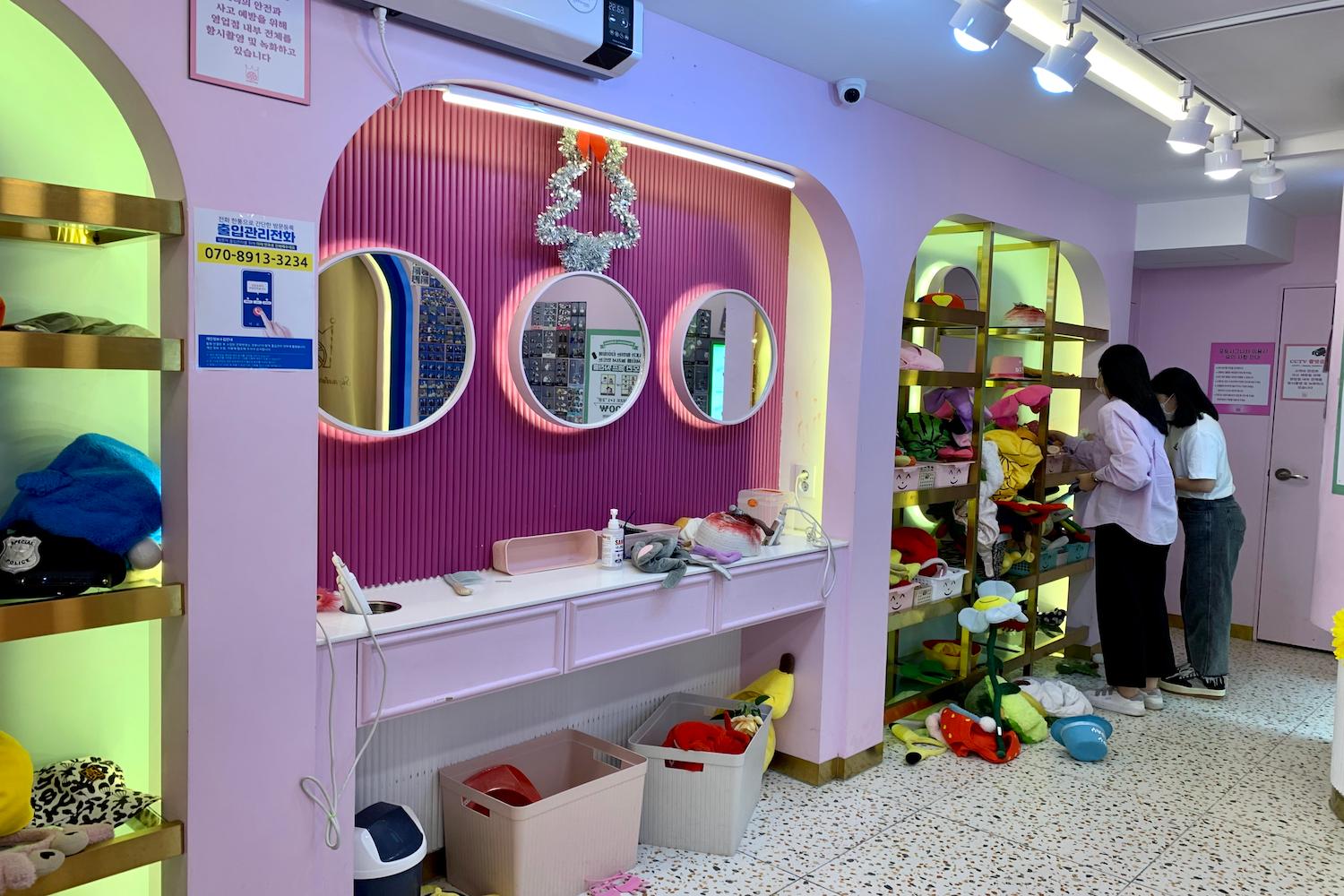 At Photo Signature, you can take more memorable pictures with DSLR yourself with a remote control!
In addition, there are hats and headbands for you to wear to make your photos more fun and unique.
Hongdae Four-Cut (홍대네컷 동성로점)
Address: 대구 중구 동성로 26 1층
26 Dongseong-ro 1st floor, Jung-gu, Daegu
Hours: 09:00-00:00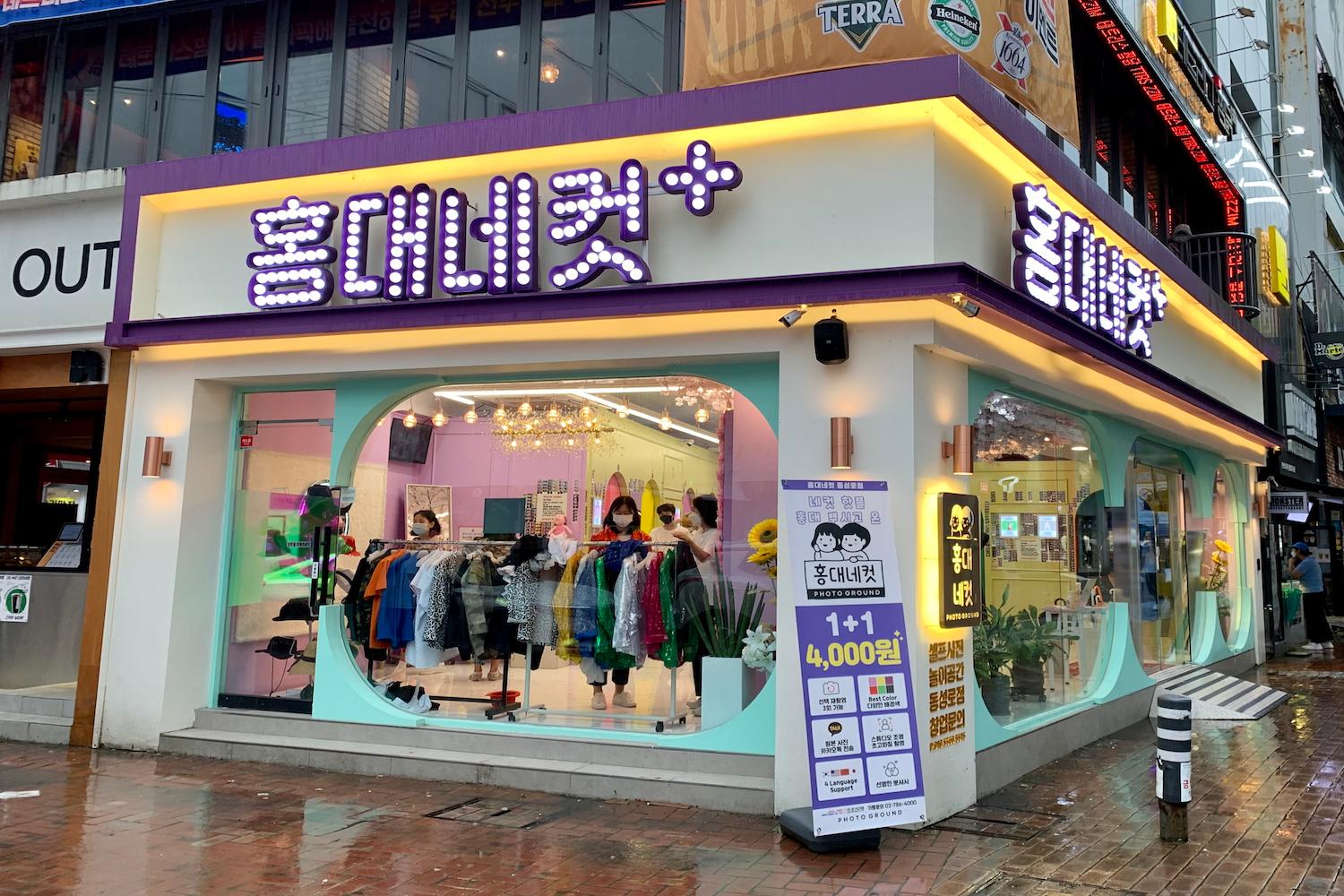 This is the most crowded four-cut photo studio I've ever visited!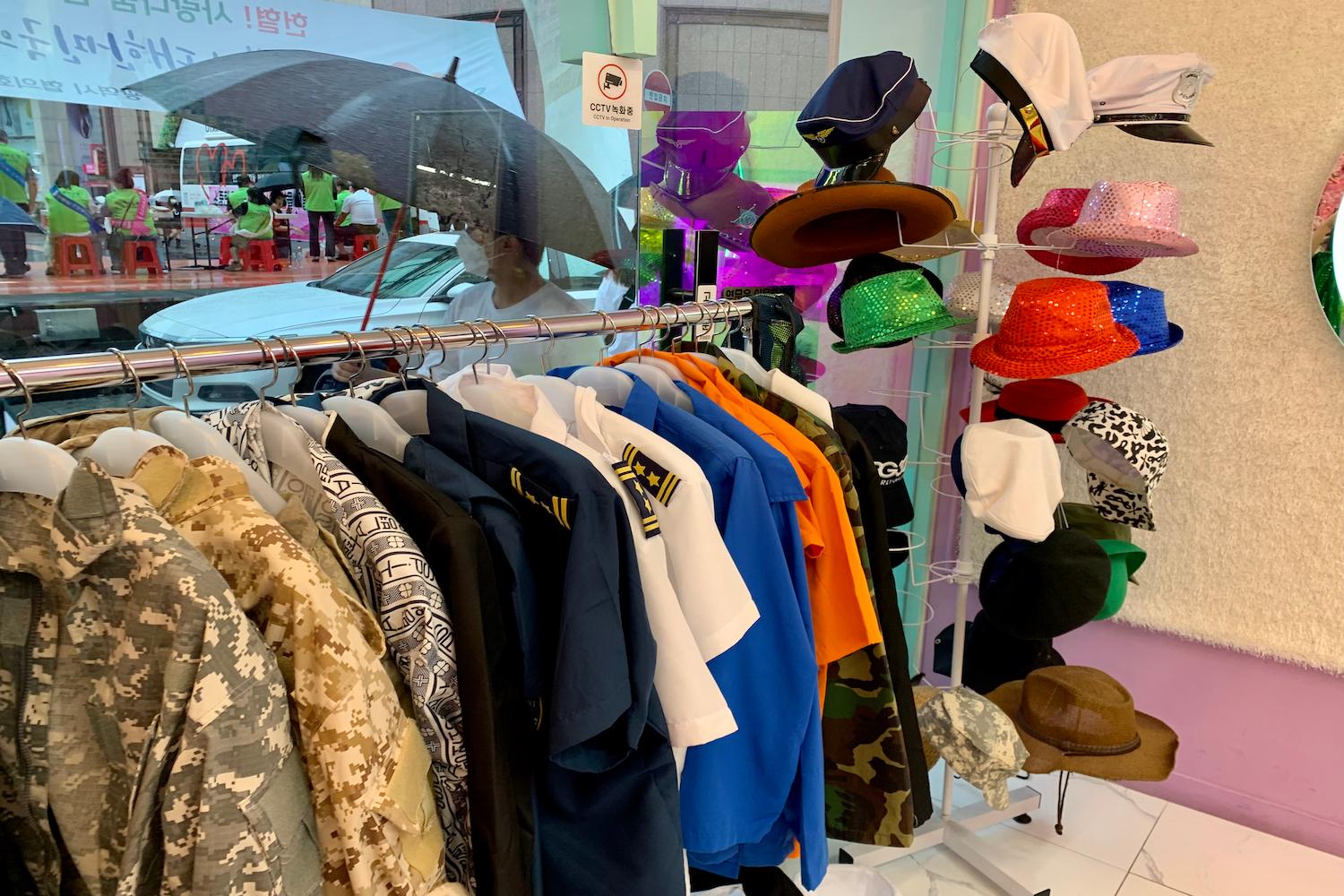 The reason it's so popular is because of these costumes!
There are so many interesting costumes, such as Korean police costumes, military uniforms, and hanbok, so you can have fun taking pictures not only in groups, but also by yourself.
Harry Photo (해리포토 대백점)
Address: 대구 중구 동성로 22-1
22-1 Dongseong-ro 2-ga, Jung-gu, Daegu
Hours: 00:00-24:00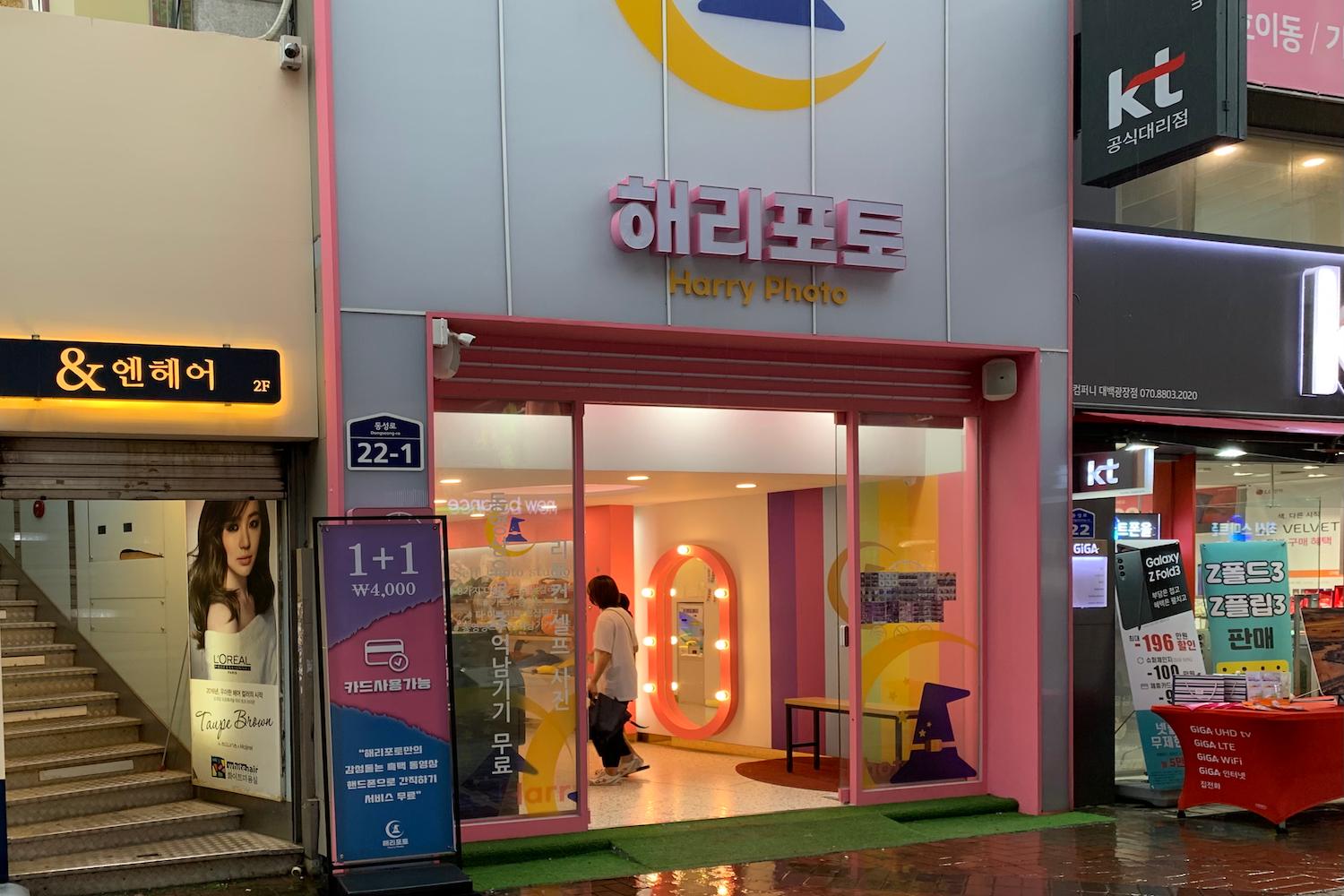 Harry Photo has small amenities prepared for visitors to use before taking pictures.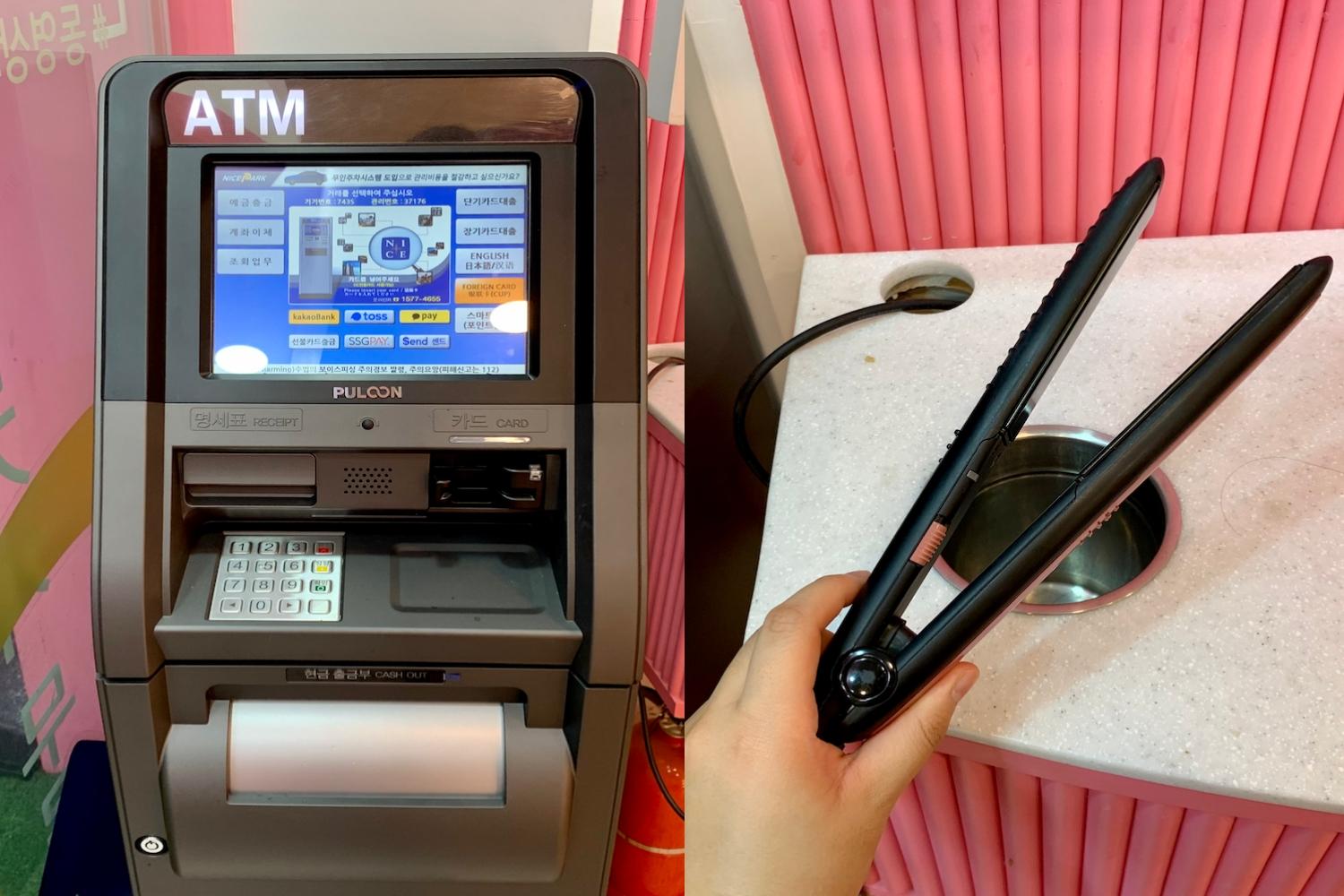 There are ATM machines for cashless people and hair straighteners for quickly straightening your bangs!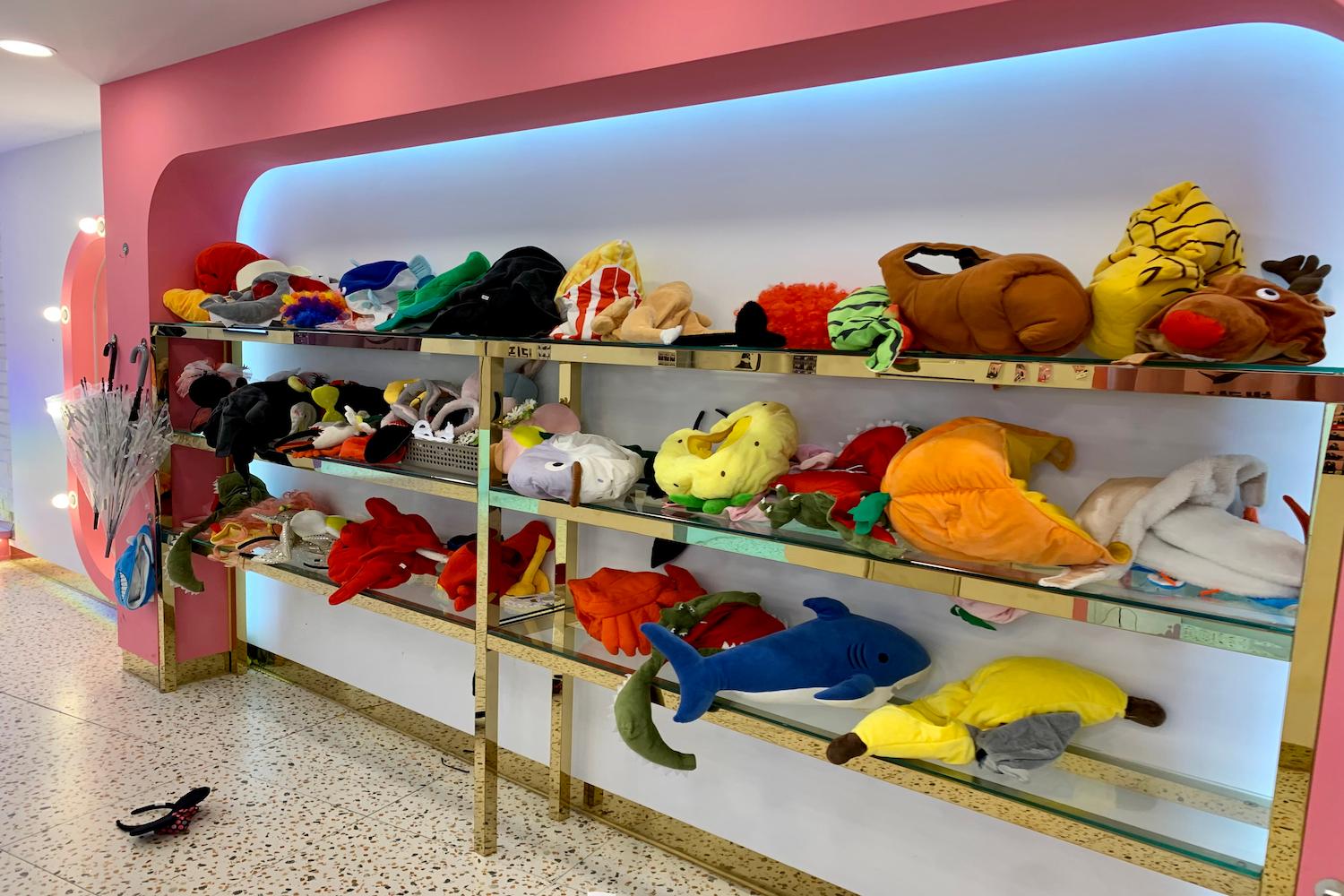 It is different from other studios because it has props, such as hats and headbands, as well as amenities!
---
Did you enjoy our tour around Dongseong-ro?
Although you might not be able travel to Daegu in person now, please refer to this guide if you get a chance to visit Daegu in the future.
See you next time!
---