Exciting Activities To Try In Daegu, South Korea
From Making Fried Chicken To A Sky Jump, Daegu Has It All!
Today, I'd like to introduce you to some cool activities you can enjoy in Daegu. Seoul isn't the only city with fun things to do!
Today's activities are not only loved by locals in Daegu but also tourists from other regions. Let's check them out.
---
83 Tower Sky Jump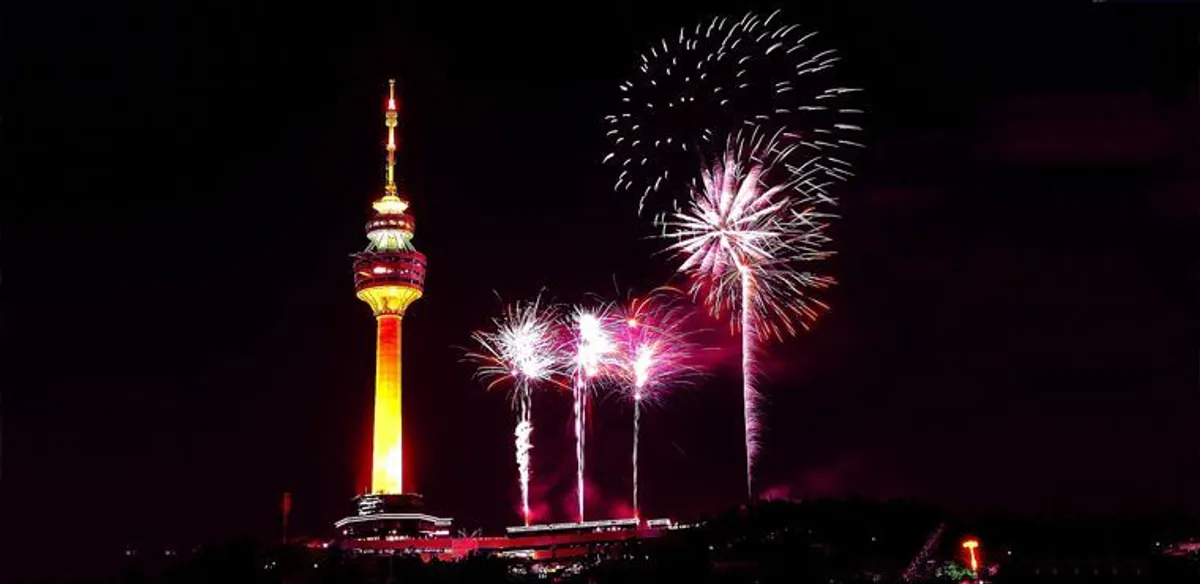 If you're planning to visit Daegu, you've probably heard of the 83 Tower. 83 Tower is a huge 202 meter tall tower that is the center of Daegu.
The first experience I'd like to introduce to you today is the 83 Tower Sky Jump, which is the highest in Korea. A sky jump is a thrill activity that combines skydiving and bungee jumping.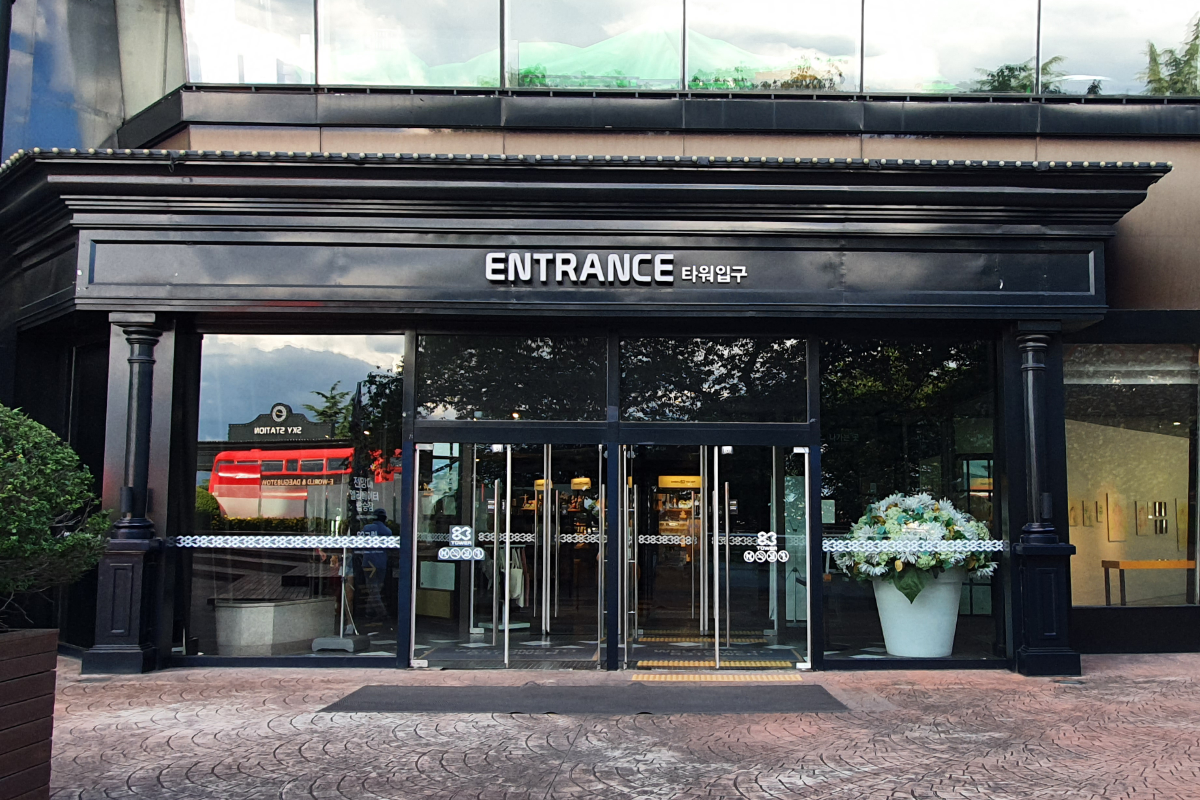 You will find the entrance to 83 Tower in the theme park, E-World.
There's an entrance to the first floor and the fourth floor, and you have to go to the entrance to the fourth floor pictured above. This is where the ticket office is.
If you didn't make a reservation in advance, you can buy a Sky Jump ticket here. If someone in your group just wants to watch, you just need to buy a ticket to the observatory (10,000 won)!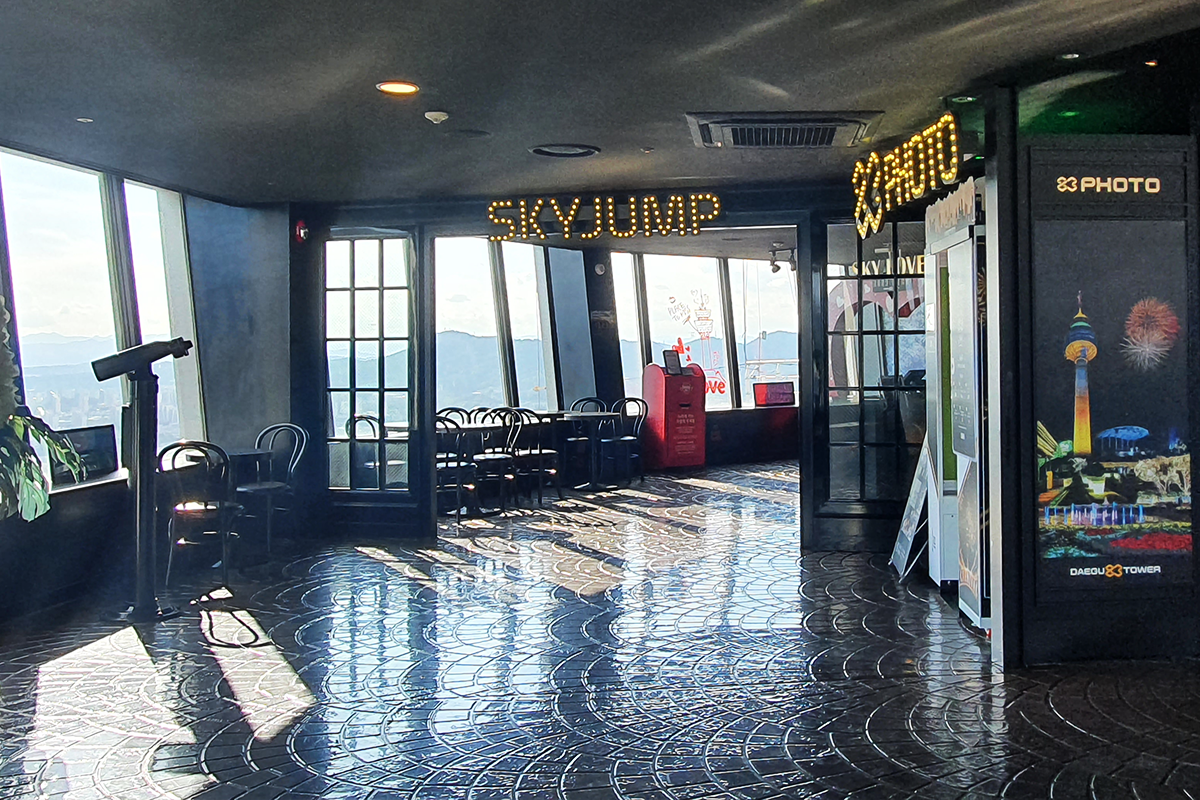 If you take the elevator up to the 77th floor, you will find the sky jump area and observatory. Show your ticket to the staff here.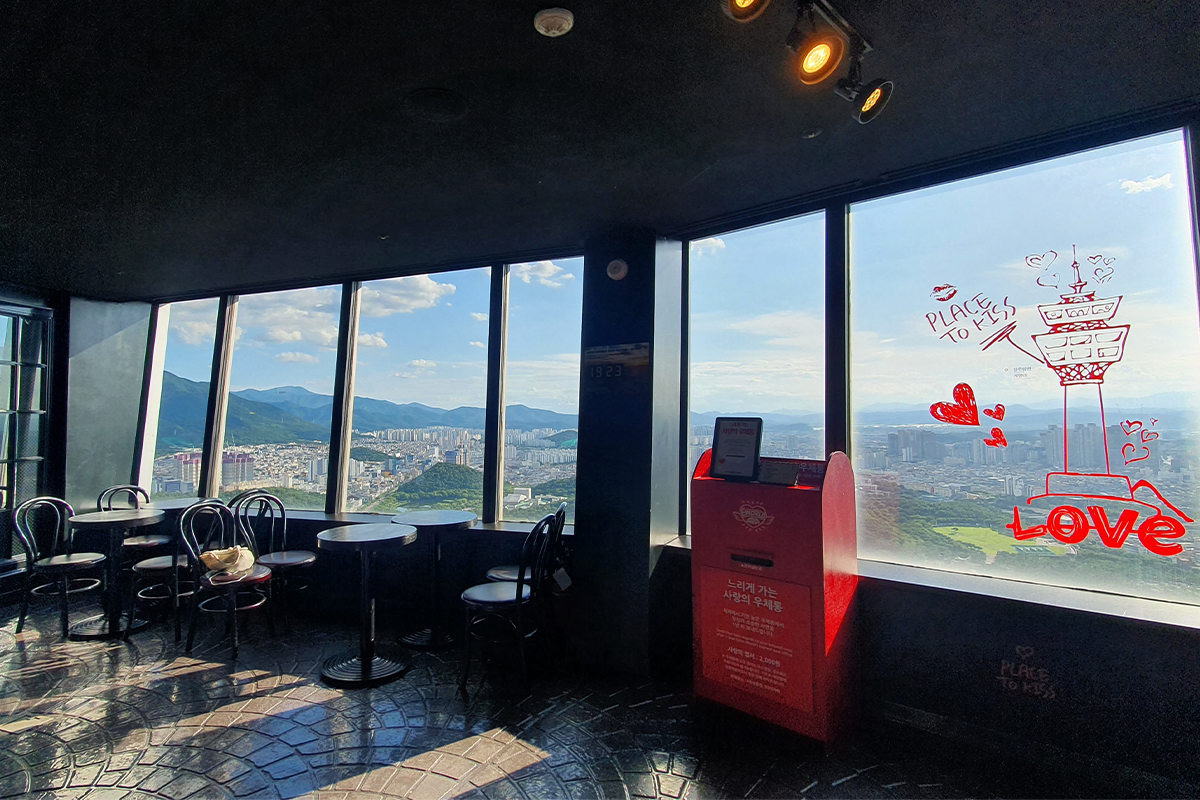 The 83 Tower Observatory has a height of123 meters and is located 231 meters above sea level.
When you come up here, you can see the beautiful scenery of Daegu in a glance!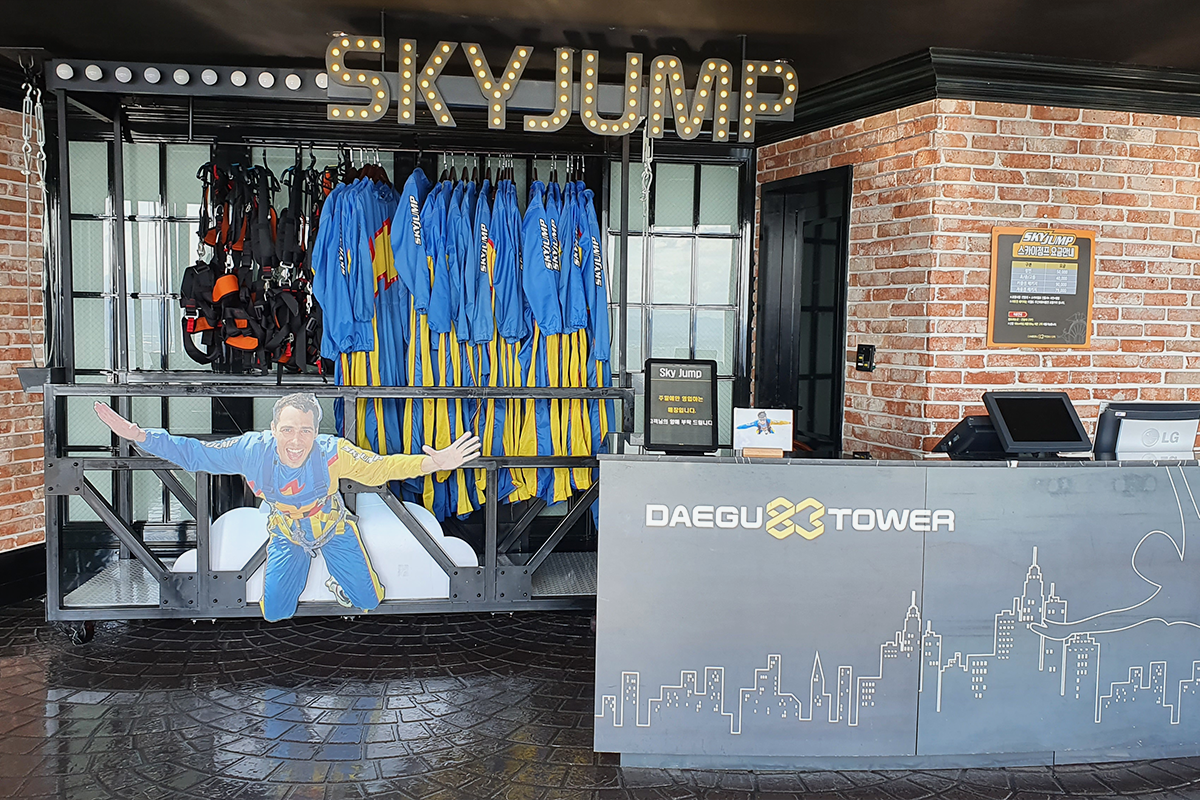 To do the sky jump, you have to change into a jumpsuit. There's a variety of sizes and the staff will help you choose the correct one.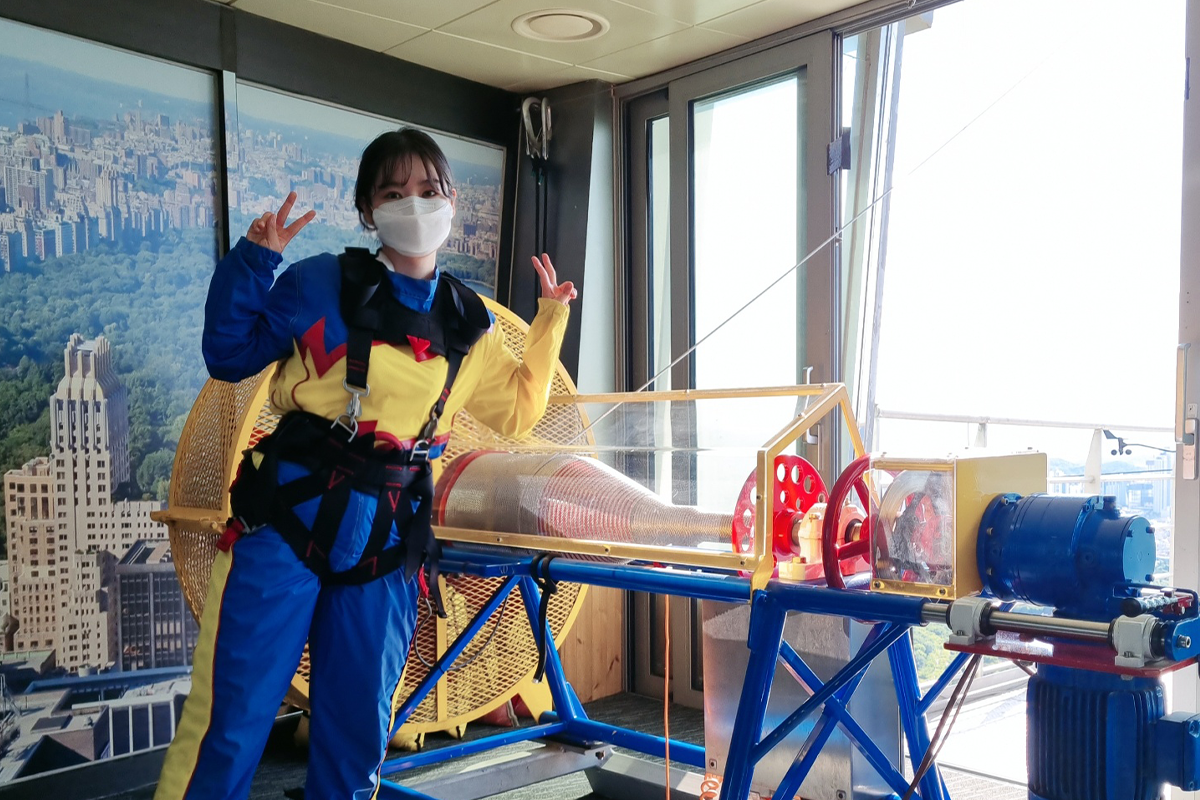 Once you're done, you can go get ready to jump. This thing with the long cord is the machine that helped me jump! The sky jump suit and the machine are the same color, so the worker recommended I take a picture in front of it.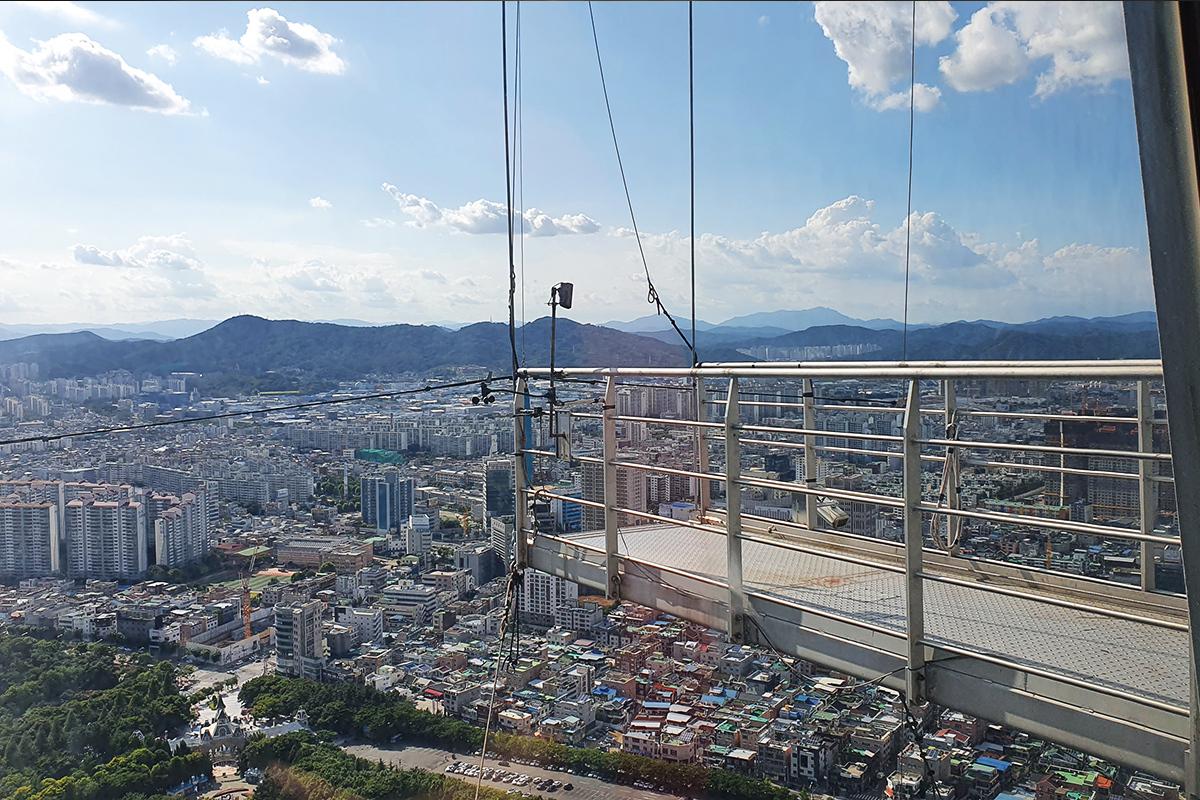 This is the stand you will jump off of!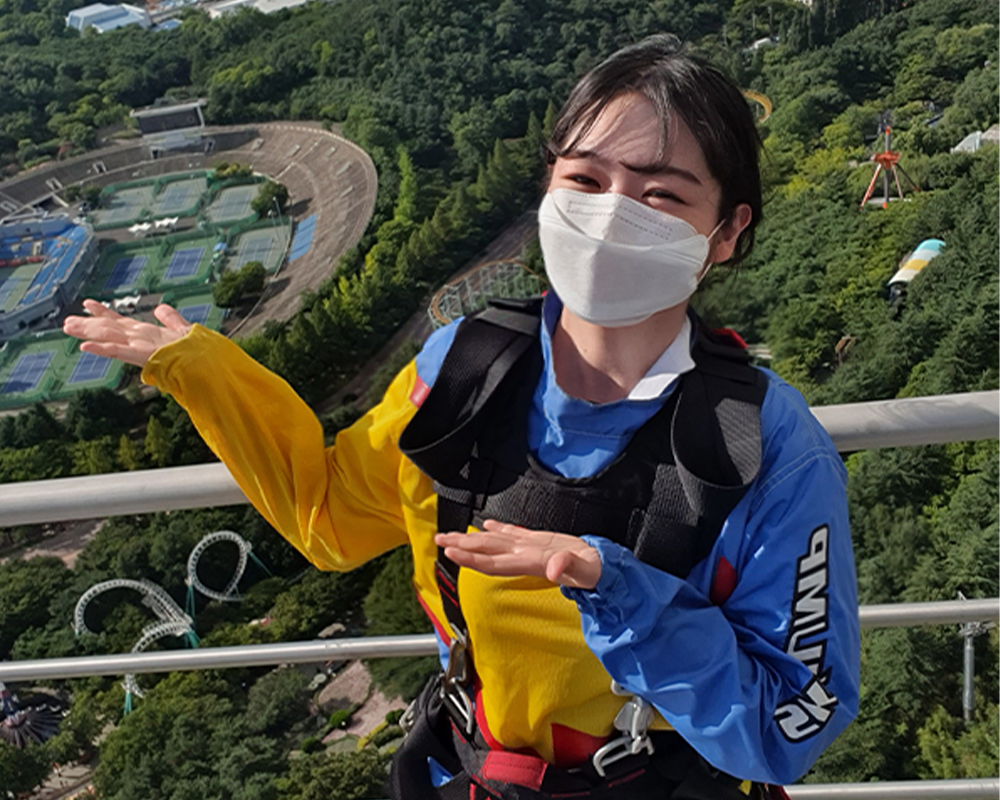 From the observatory, you can only look outside through the glass, so it was really nice to get out and really see how beautiful the scenery is! The instructor took a picture for me before I jumped.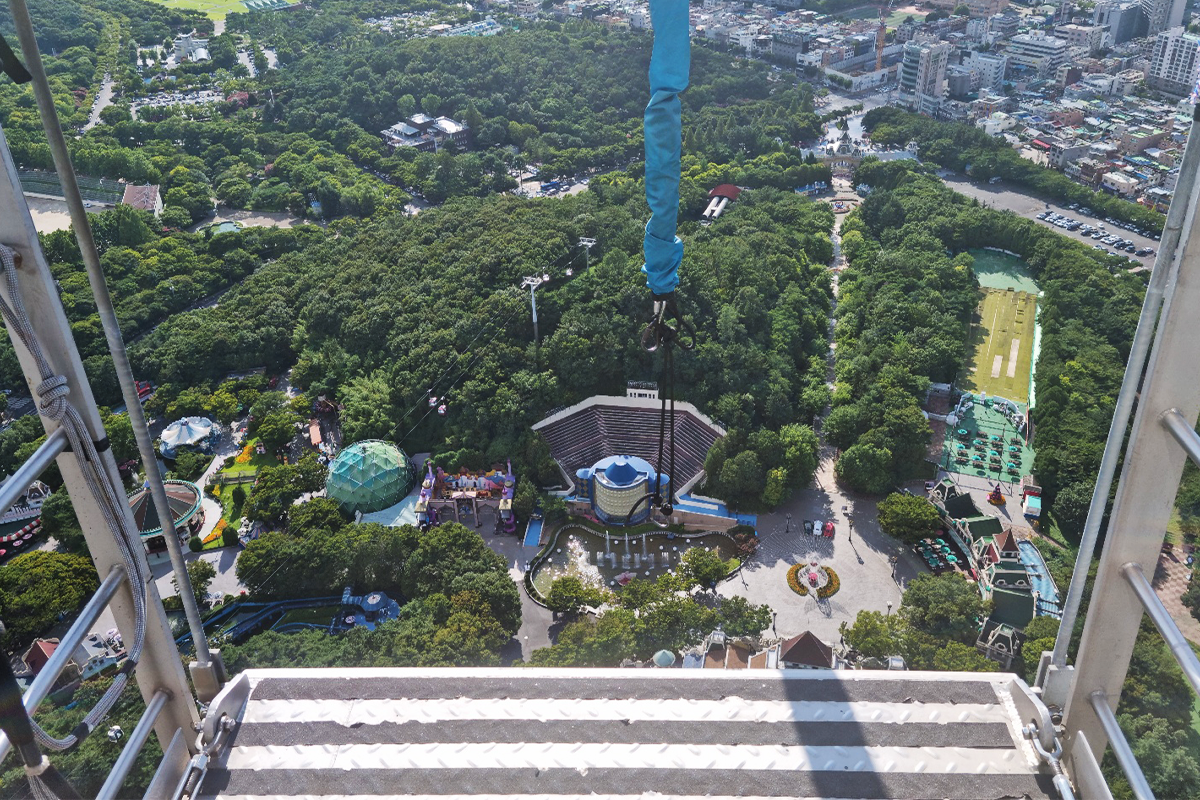 I walked towards the stand with confidence, but when I actually stood there, I was so scared! This is the view from the third highest sky jump in the world.
The kind instructor helped me regain my courage.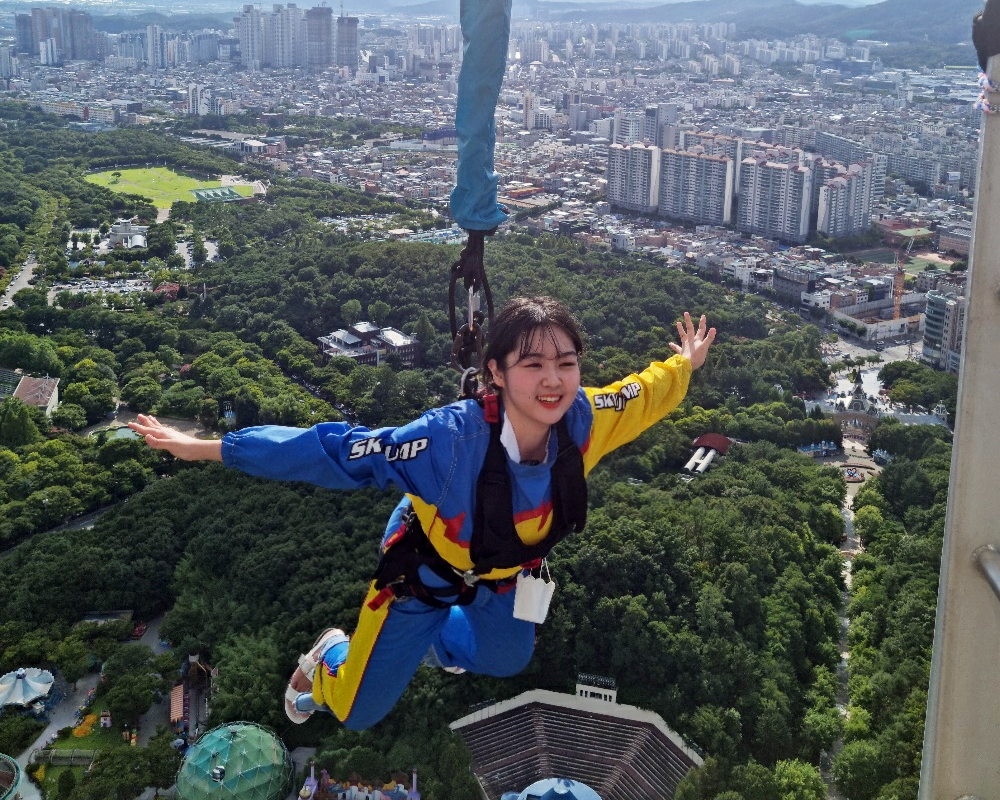 You can choose between two different ways to jump. I tried both of them for you guys!
The first way is jumping and hanging from the rope like the picture above. You can do a flying pose for some cool pictures.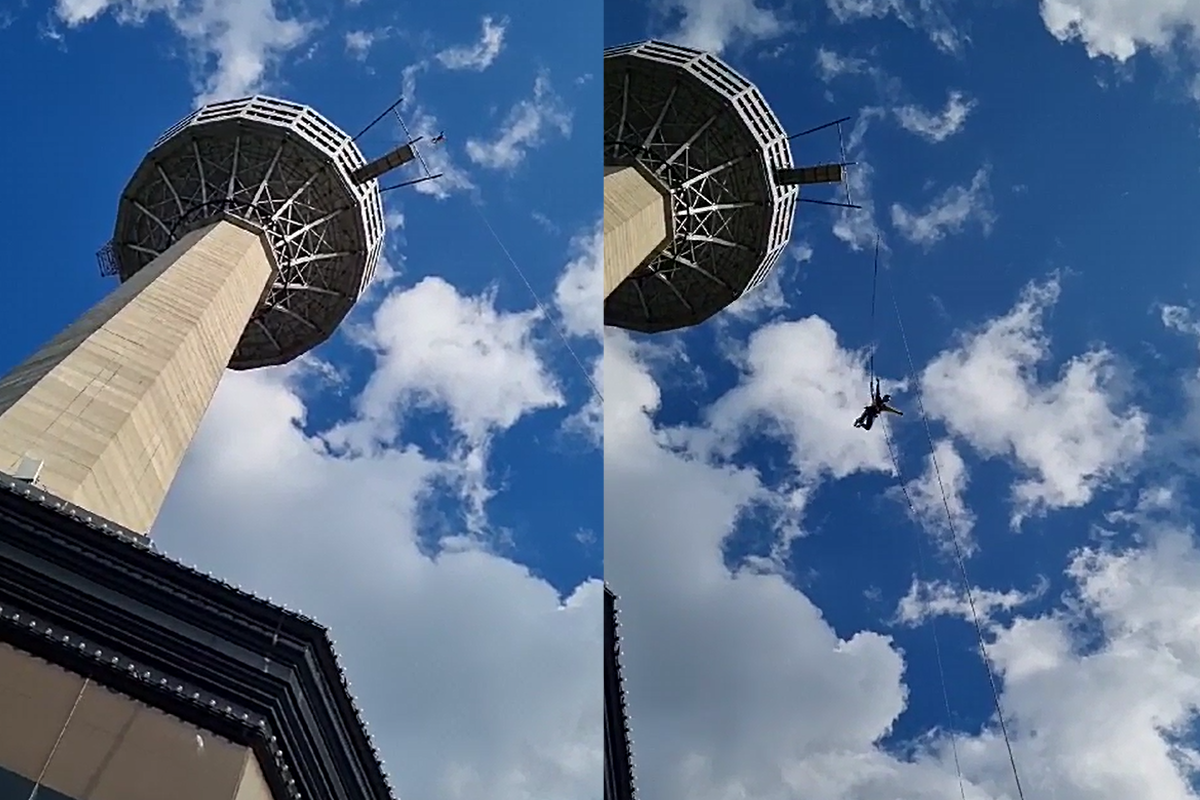 The second way is to jump off yourself. If you run from the stand and jump far, it's an even more exciting experience!
Even though I'm not normally a fan of extreme sports, I really enjoyed the 83 Tower Sky Jump. You fall at a speed of 9 meters per second, so you'll feel like you're flying.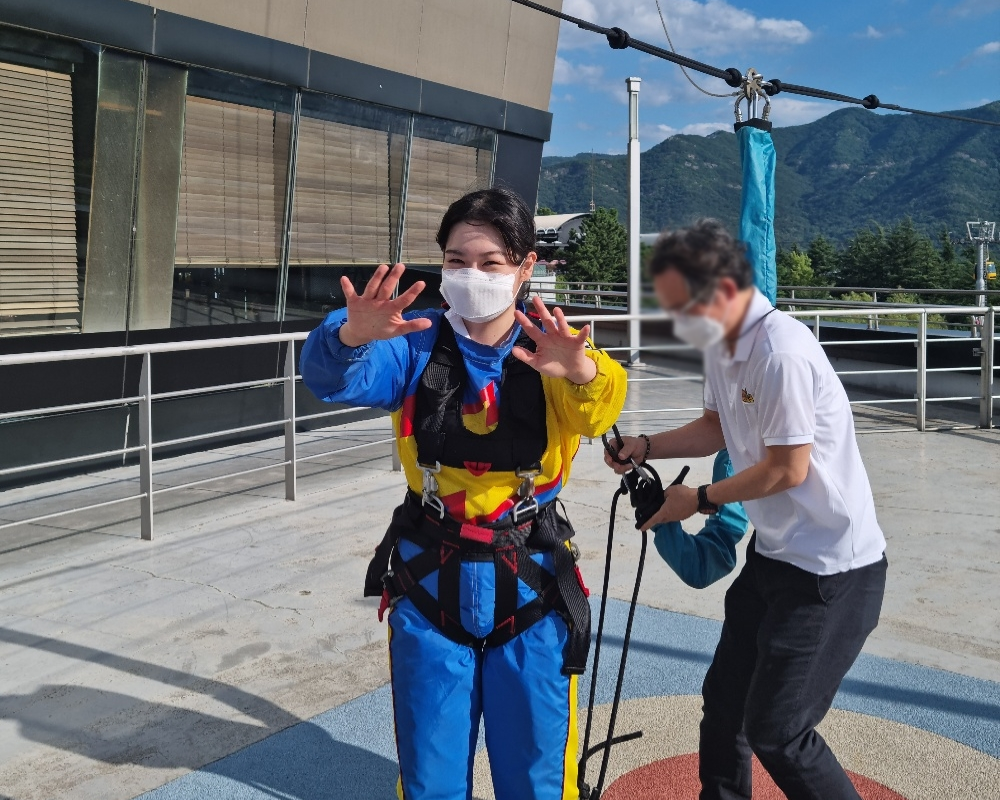 Once you finish sky jumping and arrive at the landing area, the instructor unties the rope like this.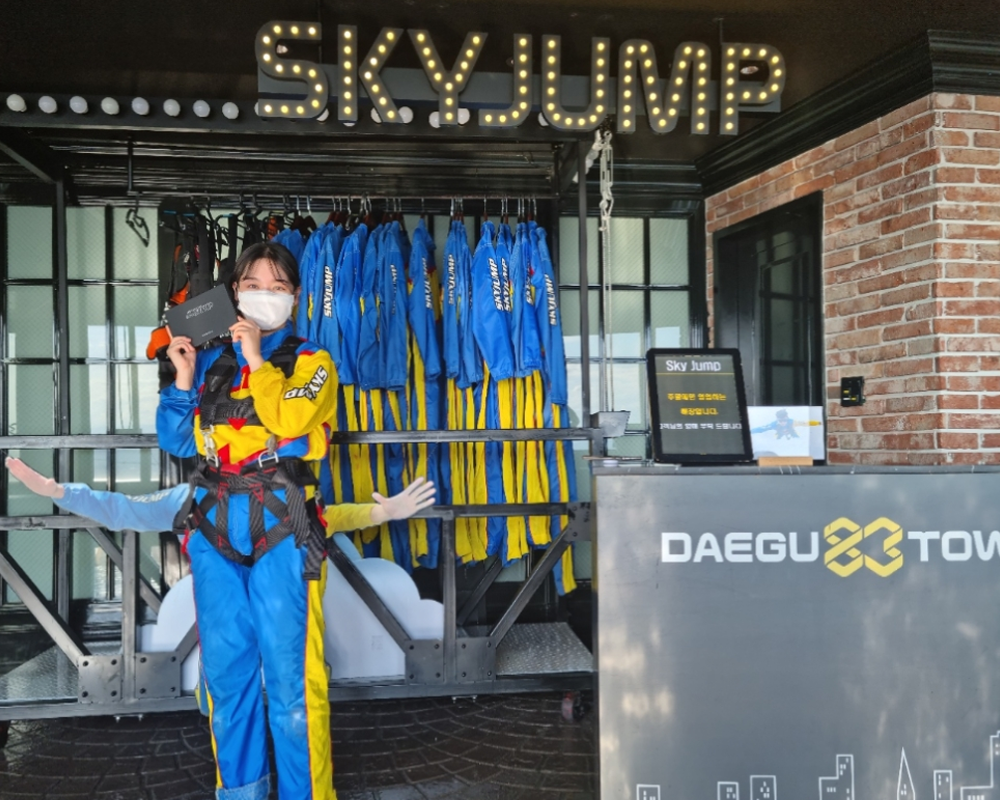 If you take the elevator back to the 77th floor, you can get a certificate saying you succeeded in sky jumping! I'm so proud of myself for completing in this thrilling activity.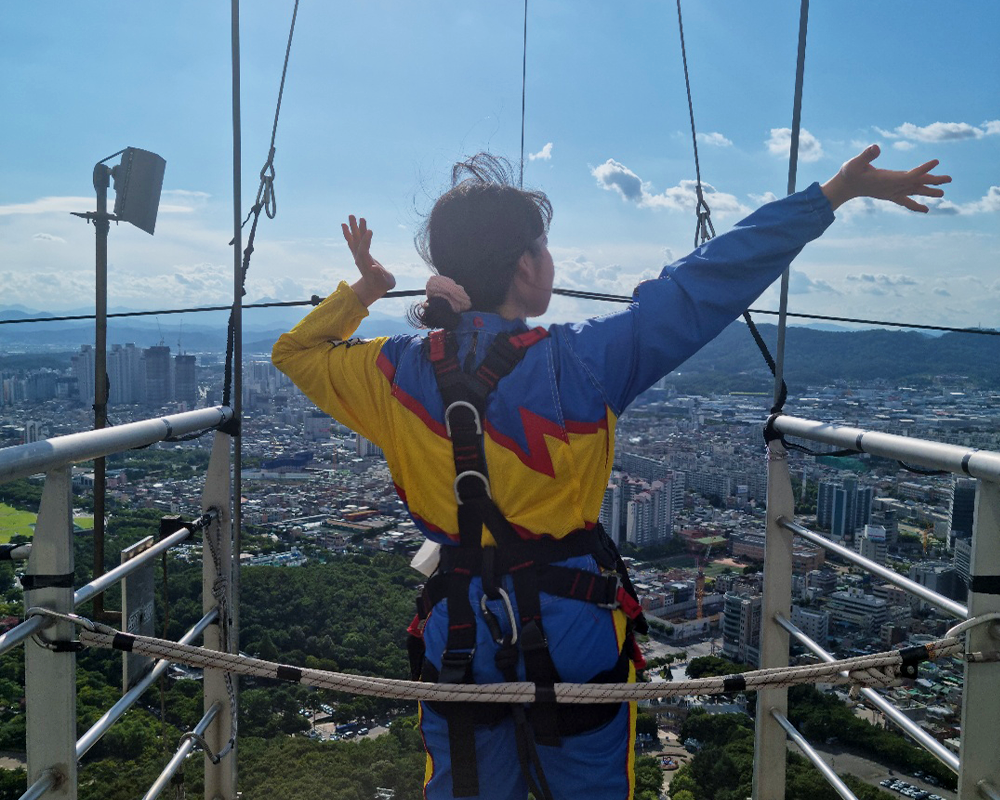 If you want to try an extreme sport that will test your limits and see the great scenery of Daegu at the same time, try the 83 Tower Sky Jump!
Address: 대구광역시 달서구 두류동 두류공원로 200
200 Duryugongwon-ro, Duryu-dong, Dalseo-gu, Daegu
Hours: Weekends 12:00-19:00
Price:
Adult 50,000 won
Child: 40,000 won
Couple: 80,000 won
Transportation: 10 minute walk from Duryu Station Exit 15
Reservation:
Reserve online through Coupang
Tickets also available for purchase at entrance
Information: Must be taller than 150 cm and weigh less than 120kg to jump
---
Ttang Ttang Land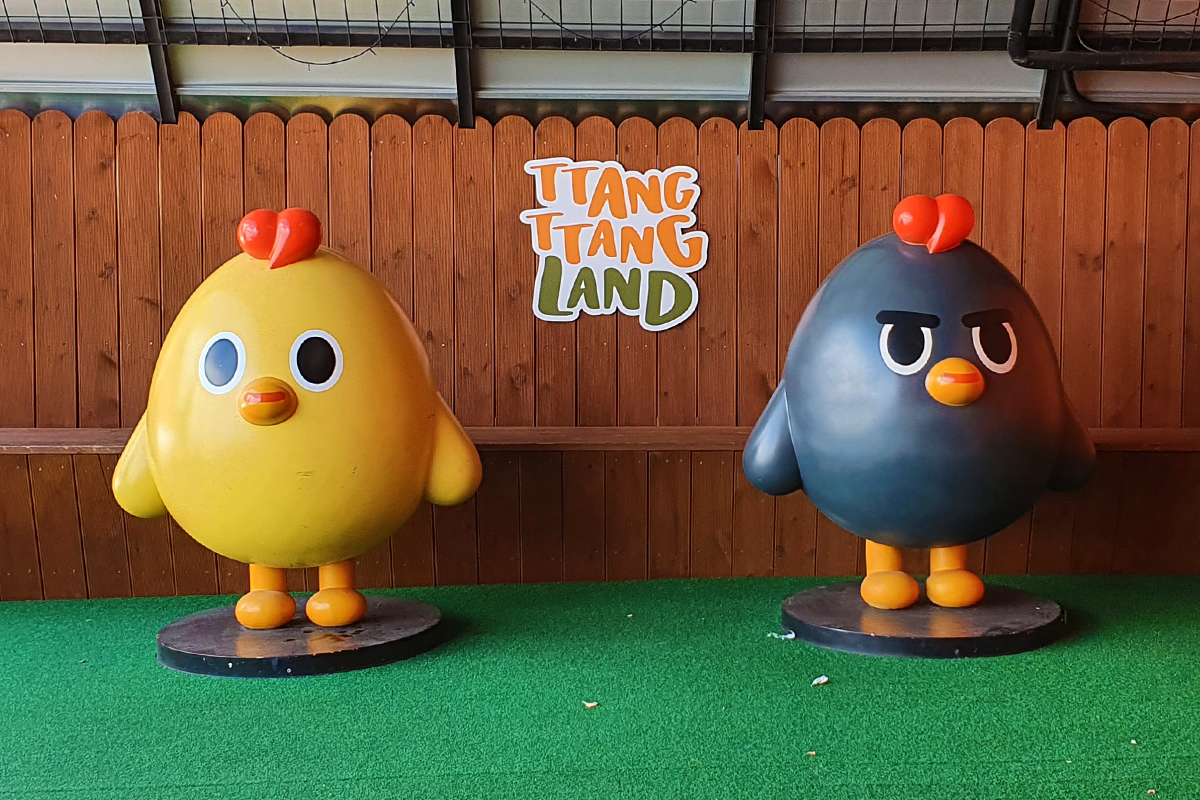 Did you know that Daegu is a mecca for fried chicken? Korean fried chicken was started in Daegu! In addition, there is a huge chicken theme park in Daegu that you can't find anywhere else.
It's called Ttang Ttang Land, where you can enjoy everything about delicious Korean chicken. Ttang Ttang Land is an experience theme park run by Ttang Ttang Chicken, an old chicken brand started in Daegu.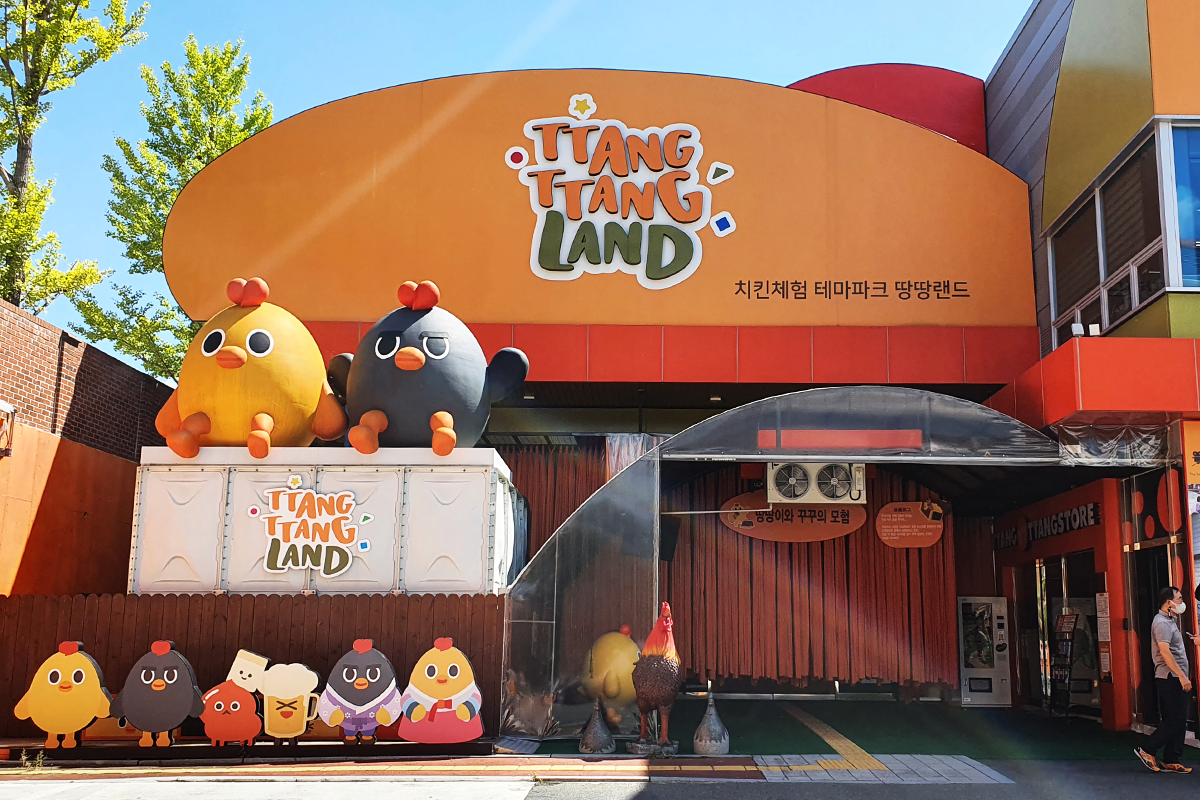 At the entrance of Ttang Ttang Land, Ttangttangi and Kkukku, mascots of Ttang Ttang Chicken, greet visitors. Aren't they so cute?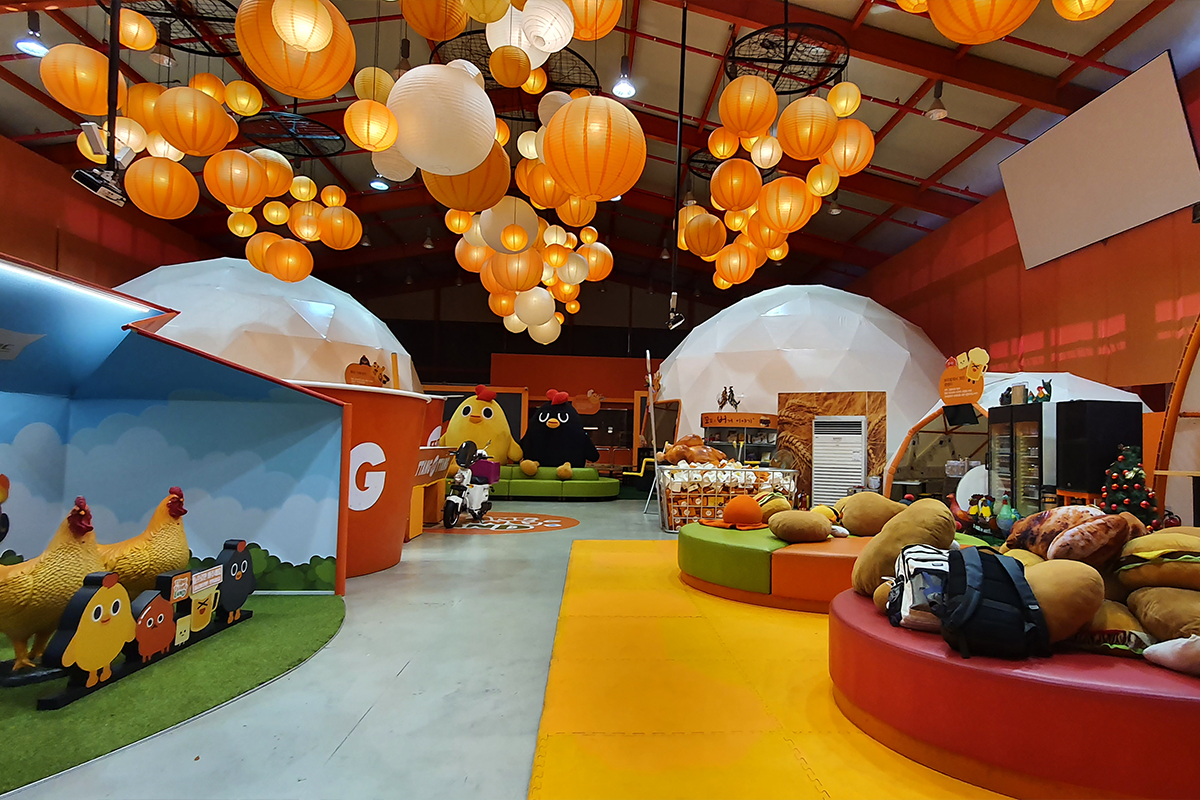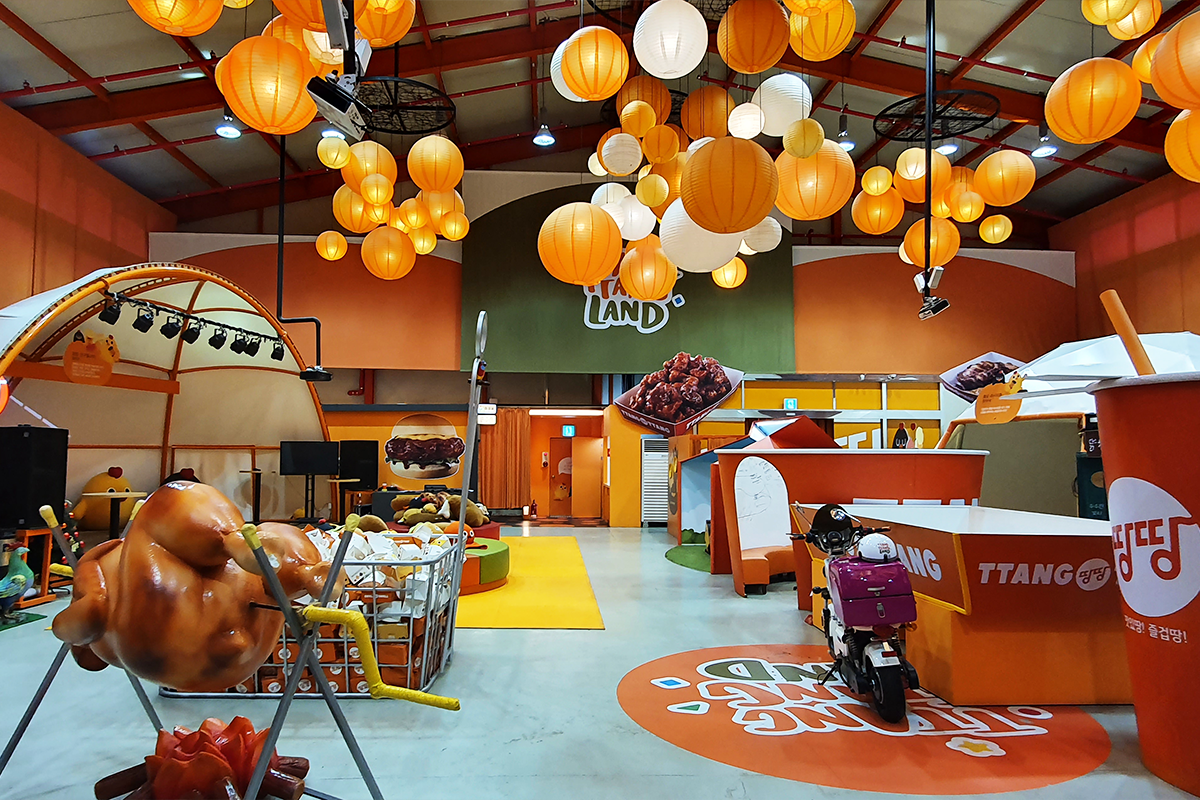 Inside the building, there is a chicken theme park. This is an exhibition hall and amusement park where visitors try to find the best chicken recipe for Ttangttangi and Kkukku!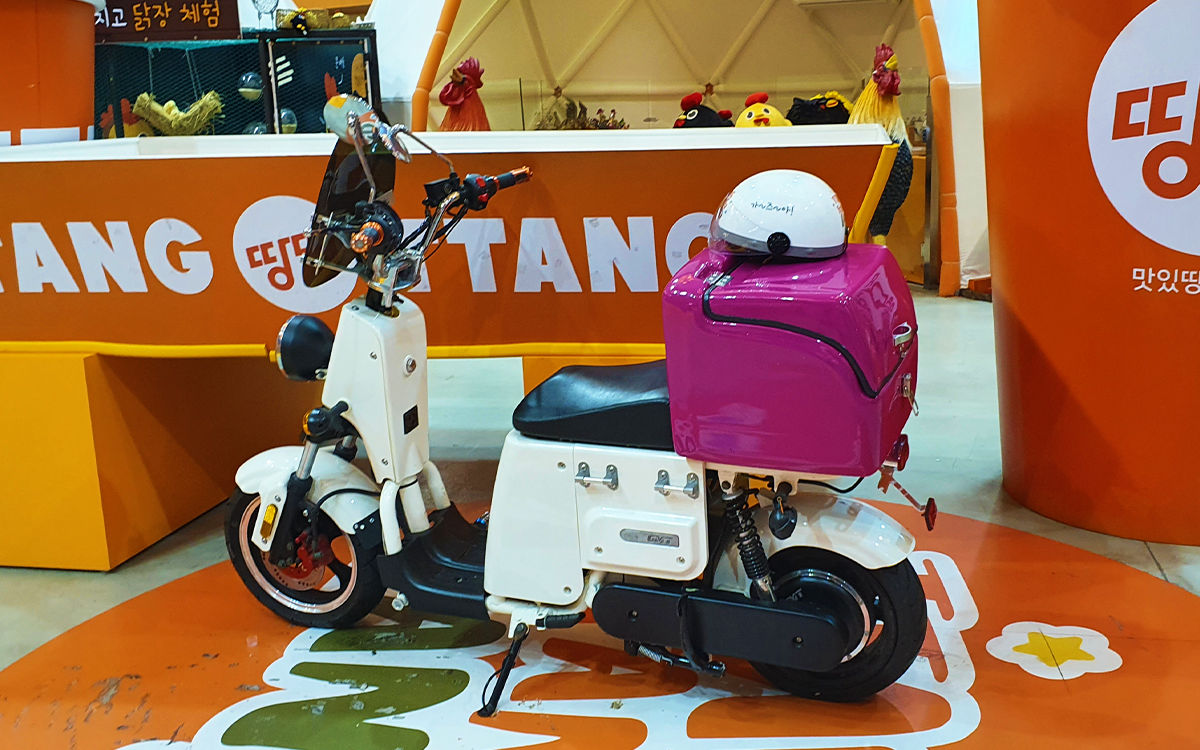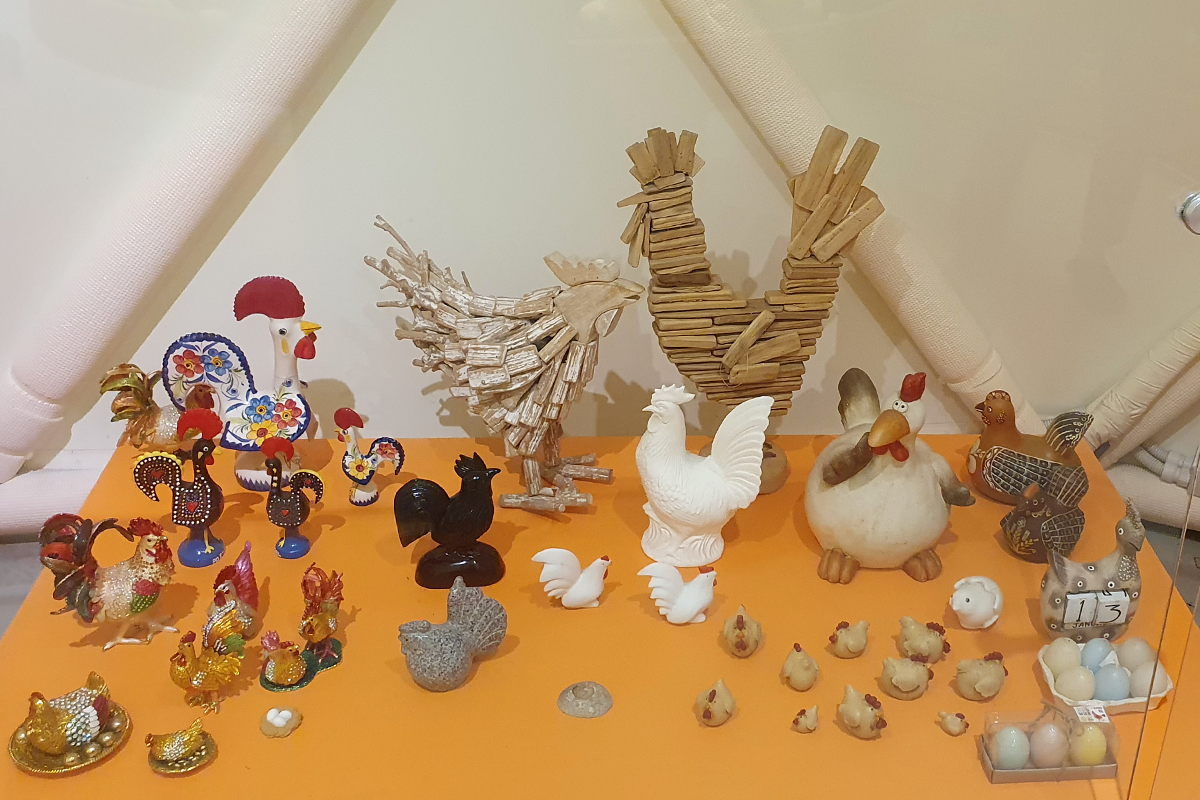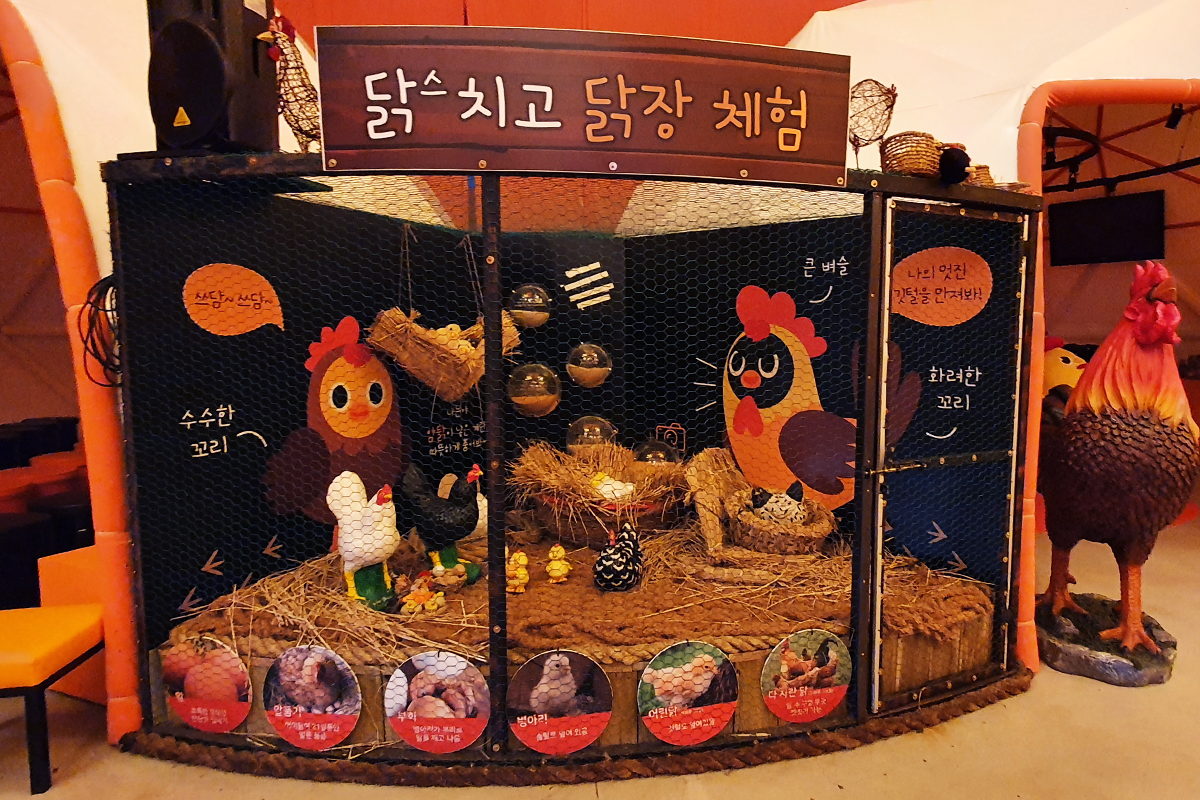 From motorcycles used for chicken delivery, figures of chicken from all over the world, to models of old henhouses in Daegu, everything related to chicken is on display here.
Now that we've looked around the exhibition hall, shall we check out the highlight of Ttang Ttang Land, making chicken?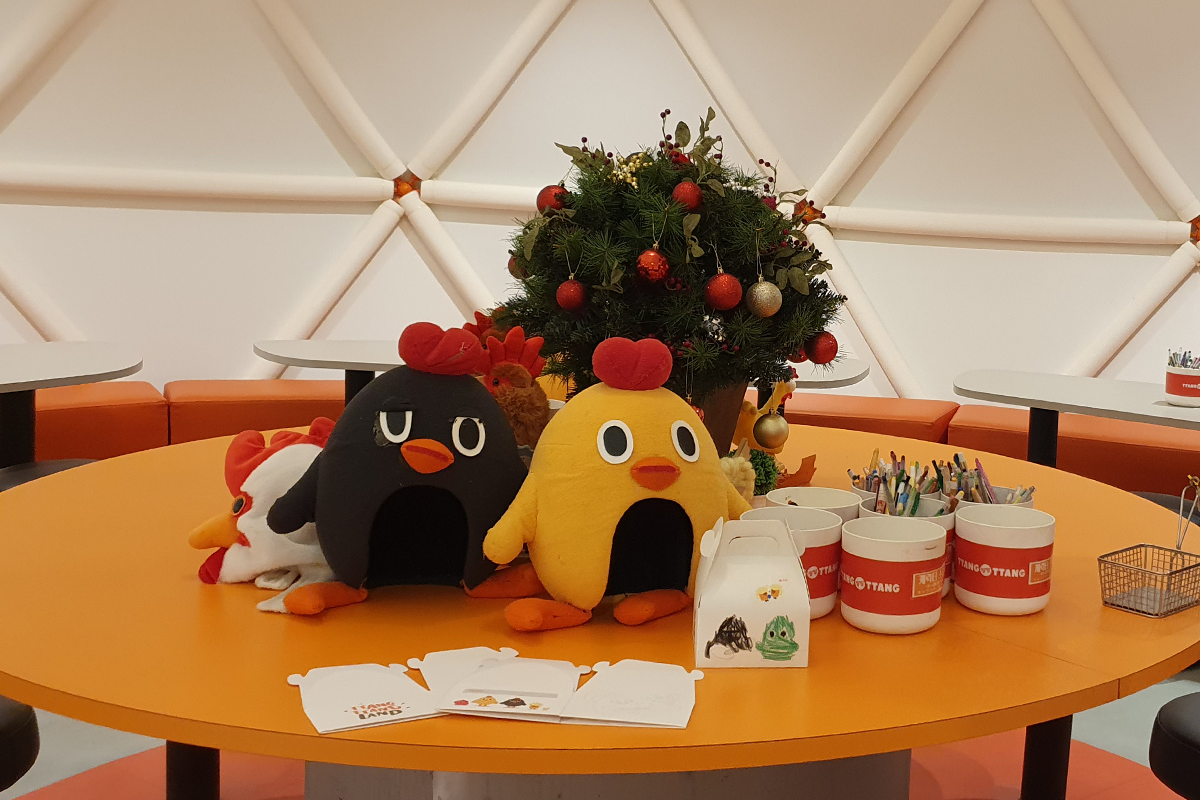 Here, you make fried chicken boxes. If you color the prepared box design and fold the box according to the instructions, you can finish it easily.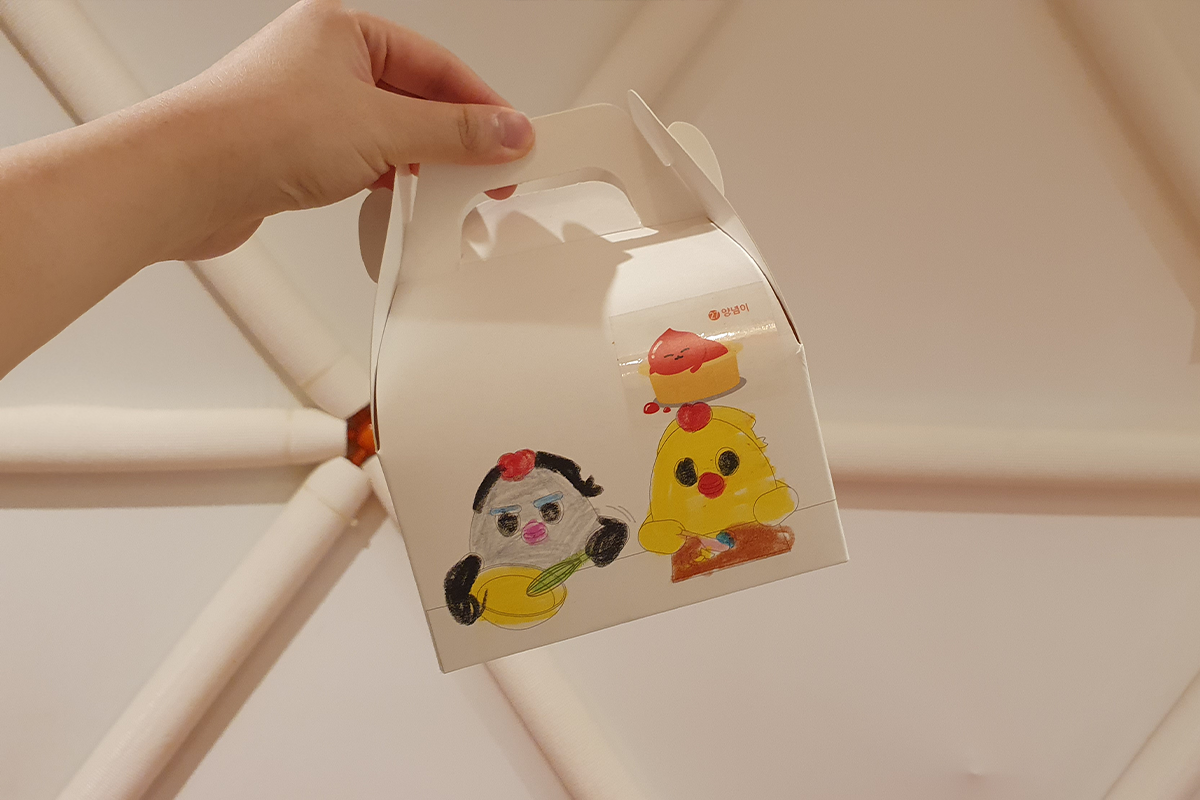 You can put your own chicken in this box!
This is where you can make your own fried chicken and hamburgers! You can sit around the table and make the chicken with the prepared ingredients.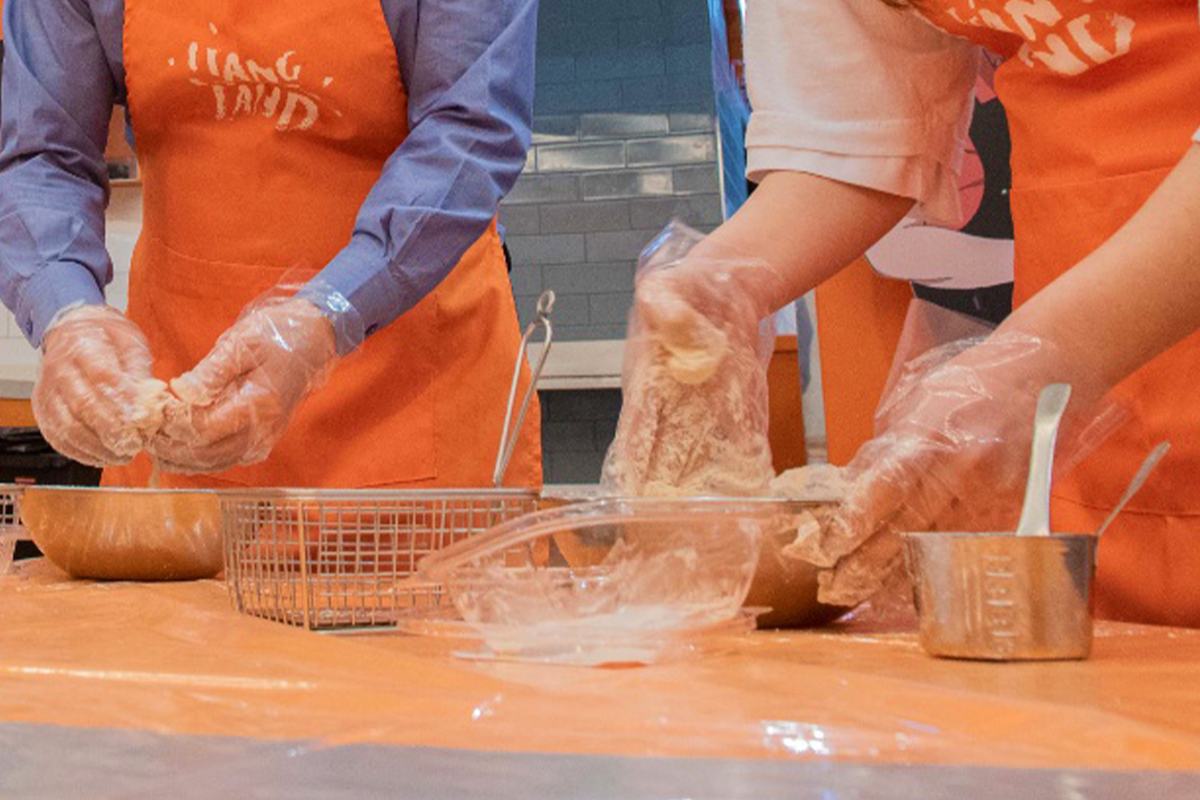 The staff is very kind and explain everything clearly, so all you have to do is put on the apron and plastic gloves and take it step by step!
I've only eaten fried chicken, so it was cool to experience the process of making it myself.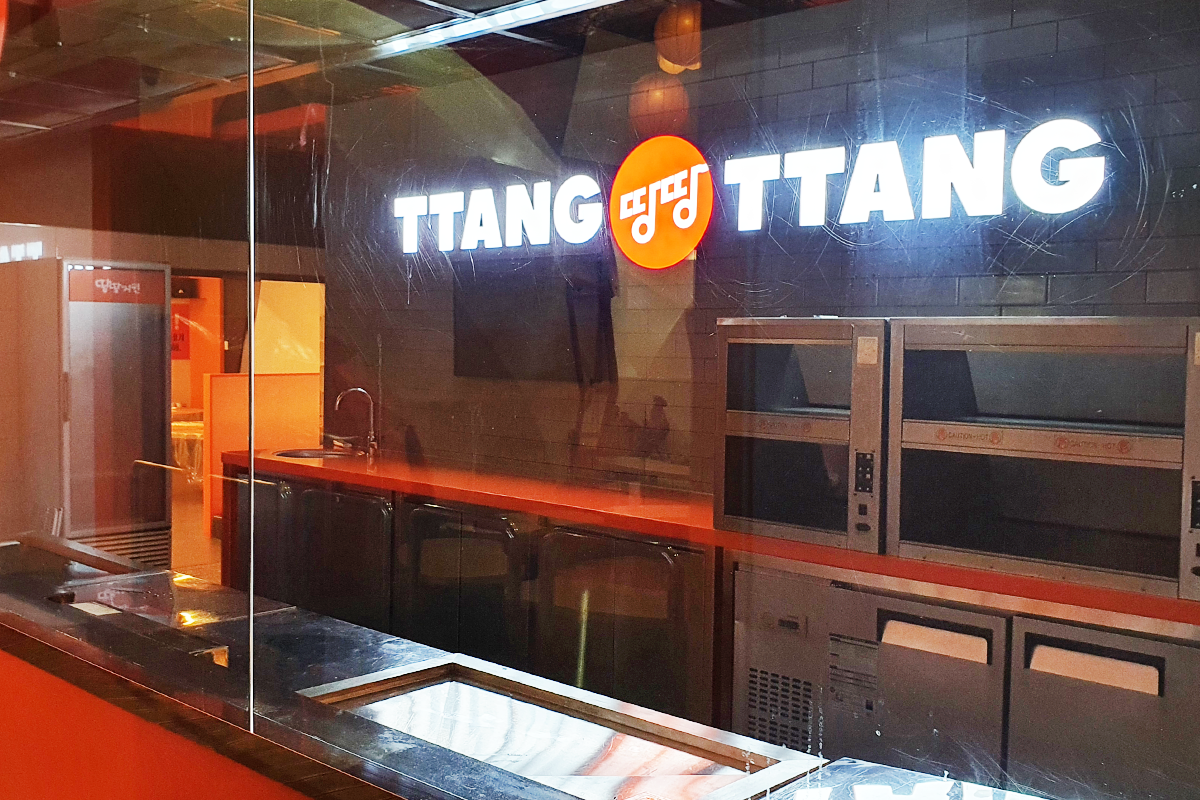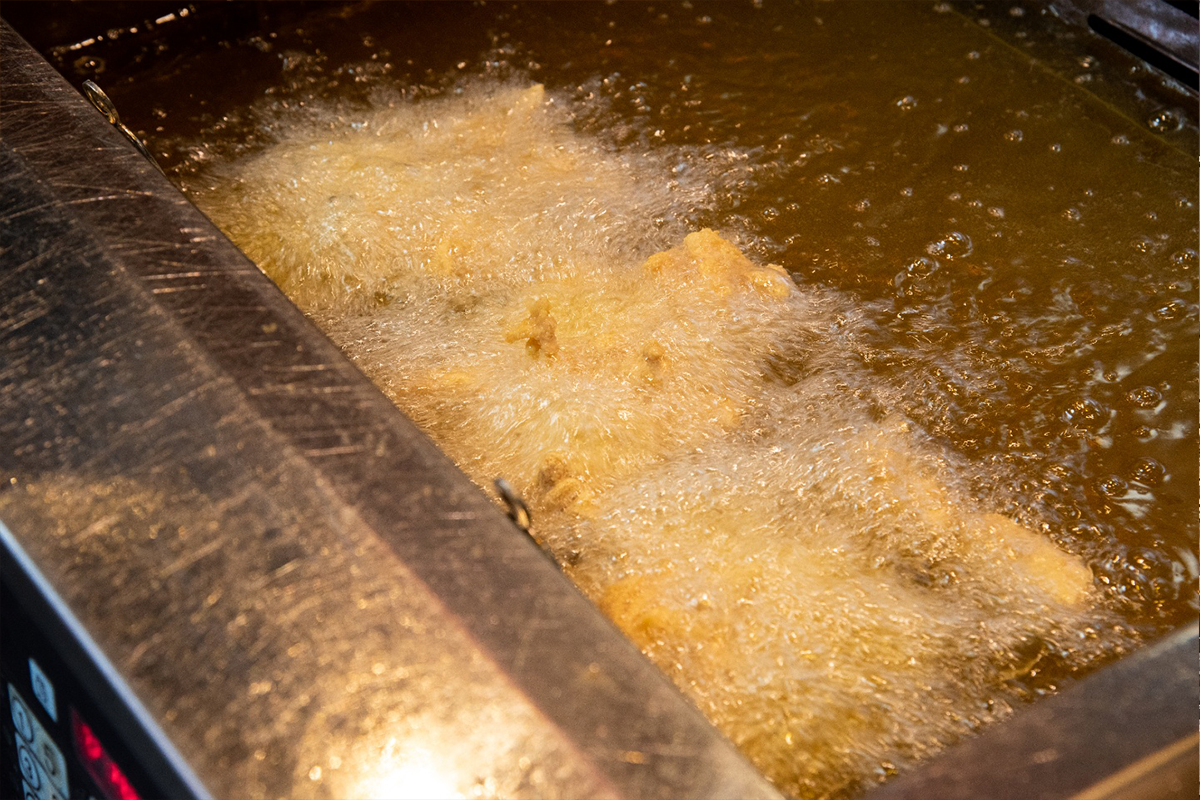 After you coat the chicken evenly with batter, the chicken is fried right in front of you. Experts help you because the process can be dangerous! You can watch it being fried through the window. I was couldn't wait to eat it!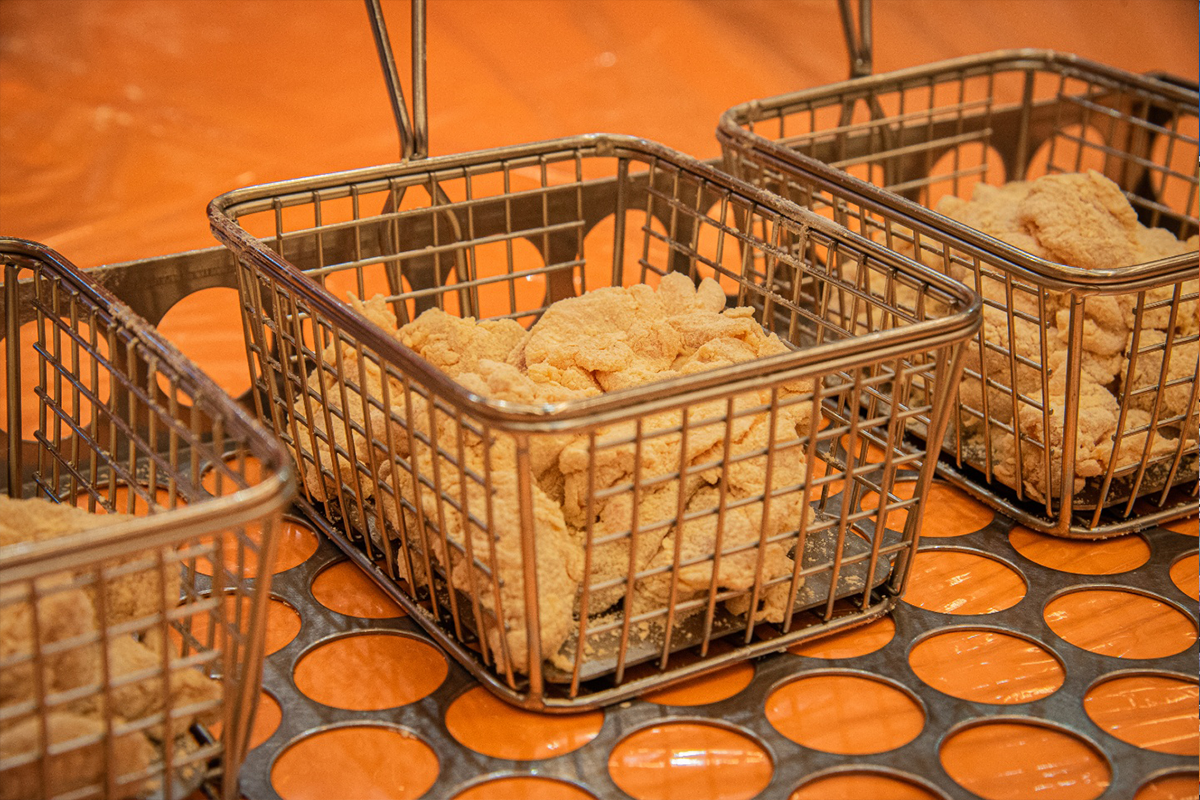 Ta-da! This is the final result. Not only do you get the chicken you made, but you also get a bucket of chicken (550cc), so you definitely won't go hungry.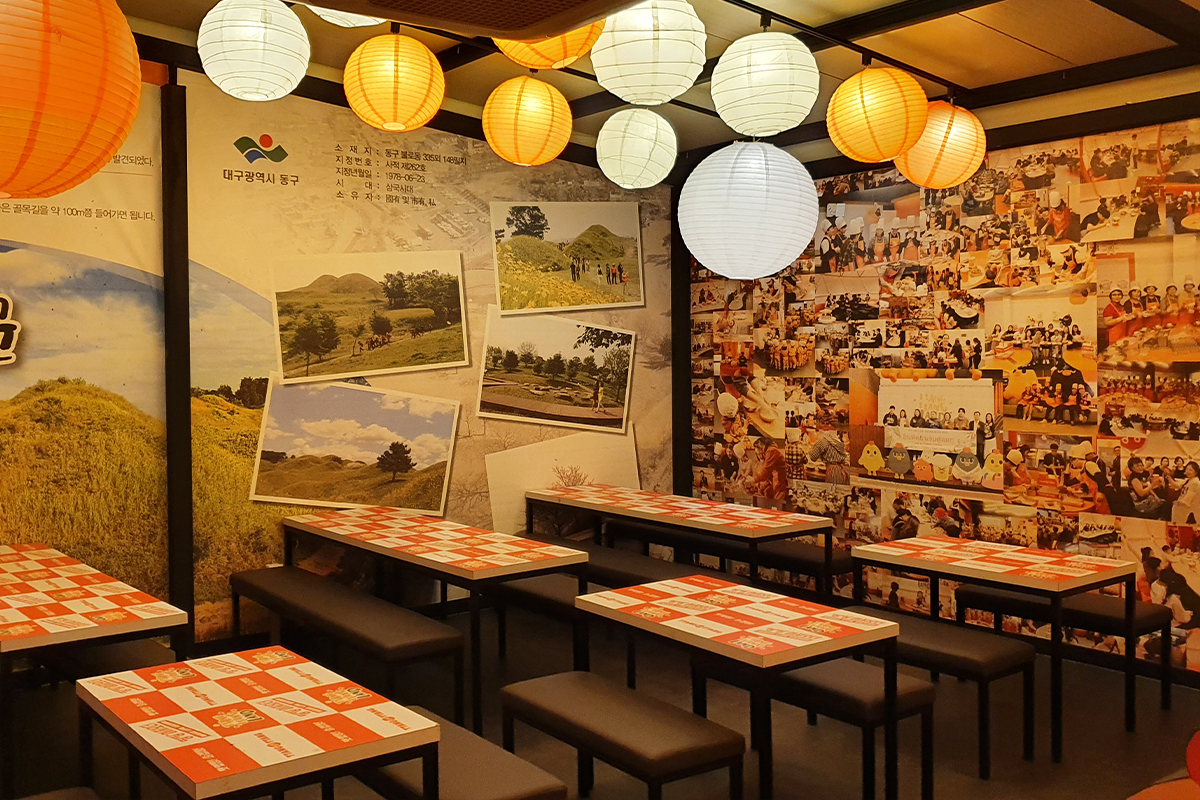 You can eat the finished chicken here. The fresh crispy chicken was delicious!
The wall was decorated with pictures of people enjoying their time at Ttang Ttang Land, so it was fun to look while eating.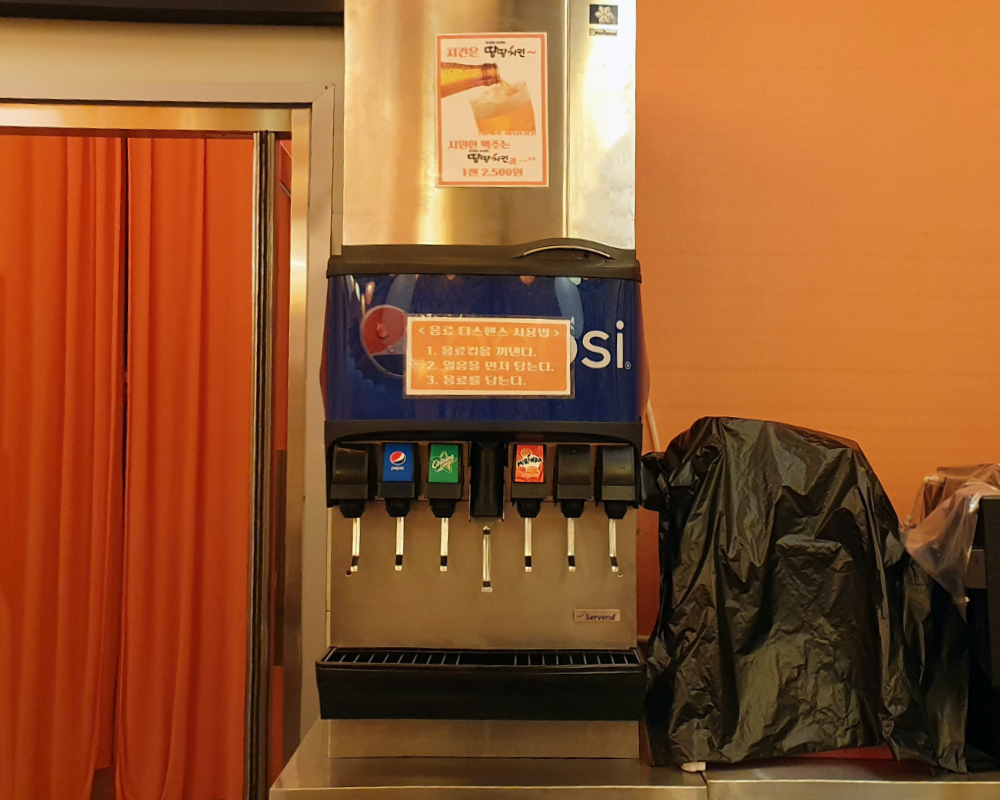 In addition, you can enjoy unlimited coffee and drinks. Also, when you're having fried chicken, you need some beer to go with it right? Don't worry because you can get a glass of beer for the cheap price of 2,500 won!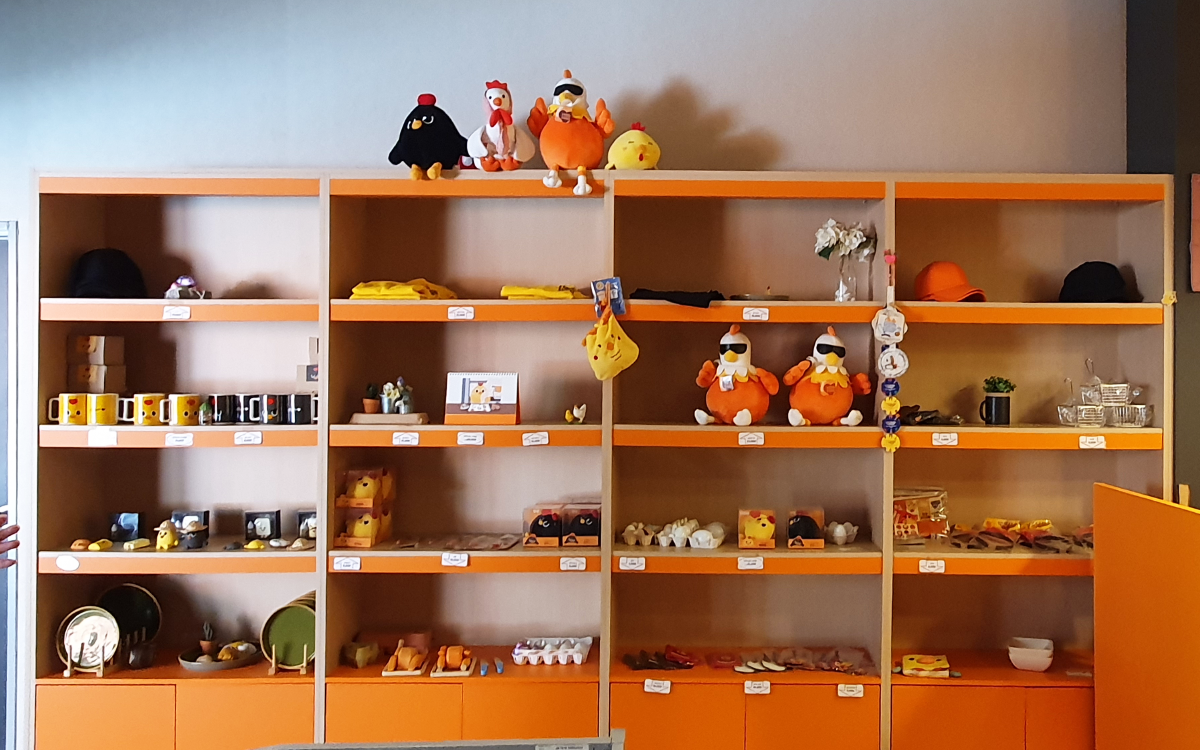 After the chicken making experience is over, you can also buy souvenirs at the gift shop. From cute dolls to mugs and plates, there were so many things I wanted to buy!
Enjoy Korean fried chicken to the fullest at Ttang Ttang Land, the only large chicken theme park in Korea!
Address: 대구광역시 동구 봉무동 팔공로 220-2
220-4 Palgong-ro, Bongmu-dong, Dong-gu, Daegu
Hours:
Tue-Sun 10:00, 11:00, 12:00, 13:30, 14:30, 15:30, 16:30
Takes about 1.5 hrs to finish making
Price:
Chicken Making: 17,000 won
Chicken & Burger Making: 22,000 won
Group of 20+ People: 20% off
Under 13 Years Old: 20% off
Transportation: Take bus 401/101-1/Express 1/Dong-gu 8/Palgong 1 from Ayanggyo Station Exit 2
Reservation:
Reserve online here
Arrive at selected time and date
Show mobile or email voucher to staff
---
Keeping Class DIY Mood Light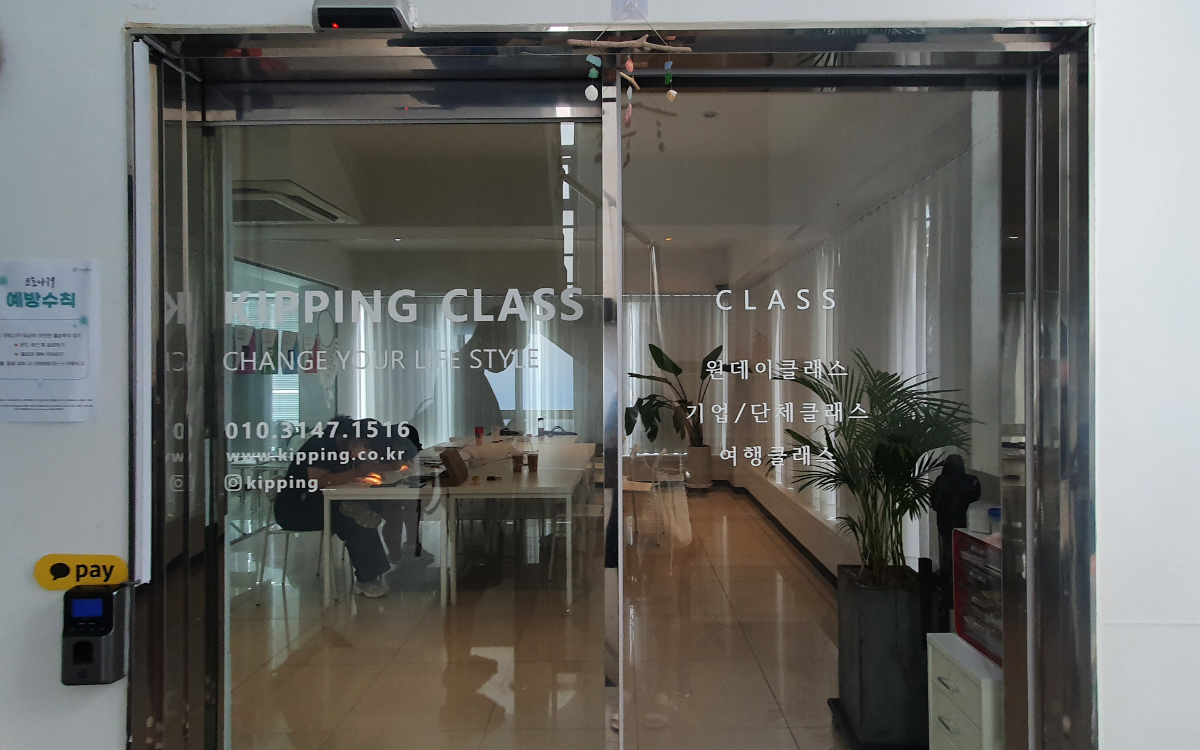 The third activity I would like to introduce is a DIY mood light class at Keeping Class. You can make your own pretty mood lights for just 35,000 won each.
Keeping Class is a small workshop located on Dongseong-ro, the main street of Daegu.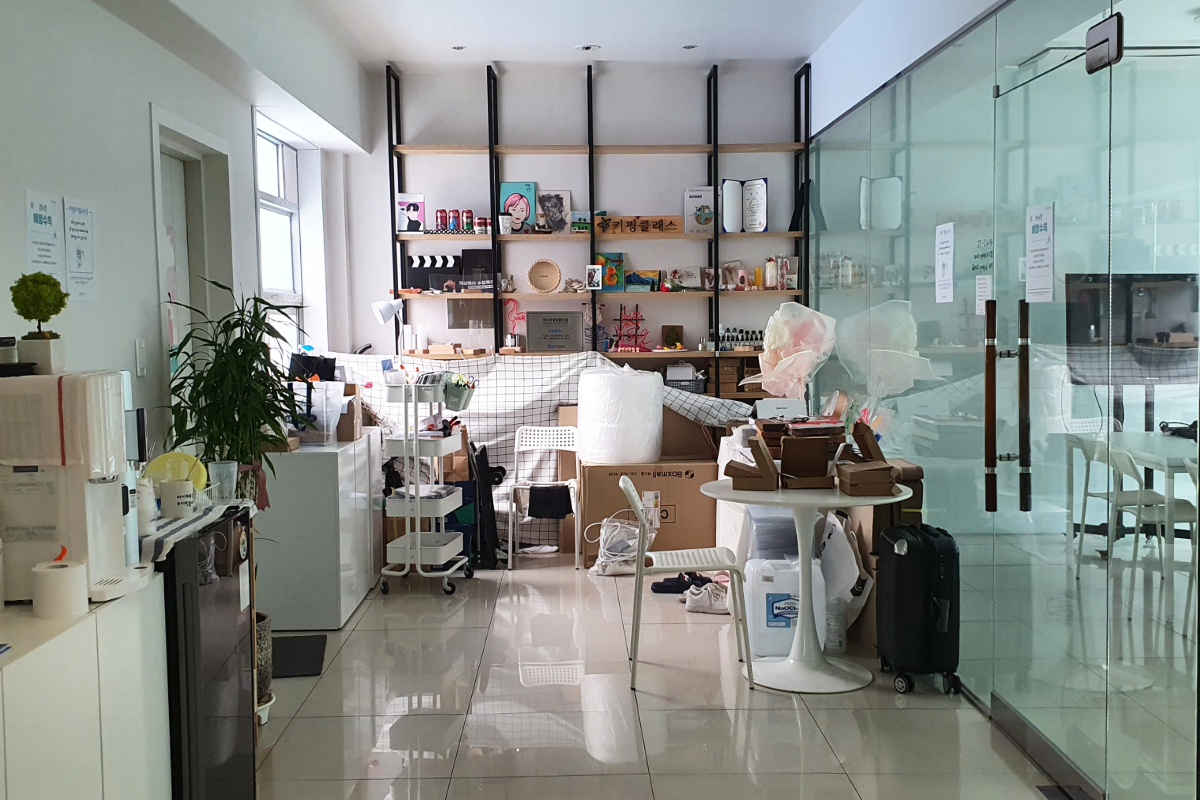 There were a lot of different materials inside because Keeping Class holds various other one day classes, besides mood light making.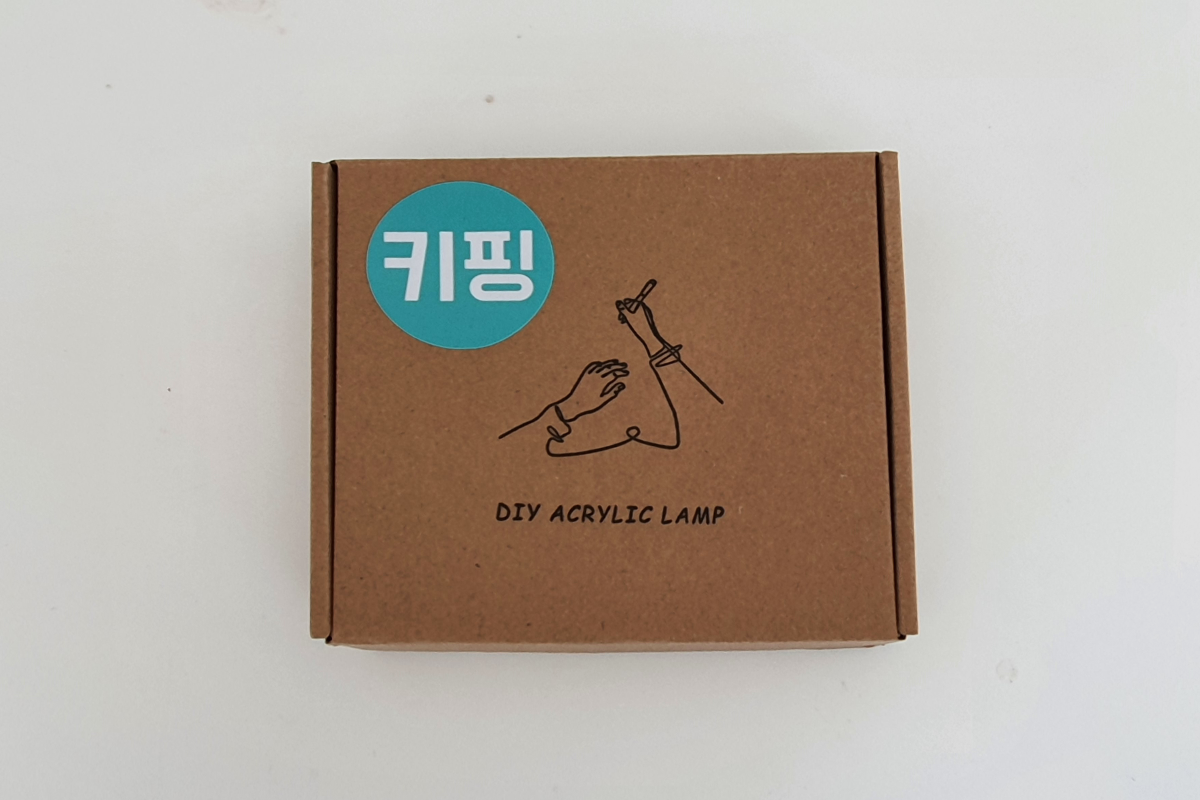 When I sat down at the table, the instructor handed out the mood light kit labeled DIY ACRYLIC LAMP.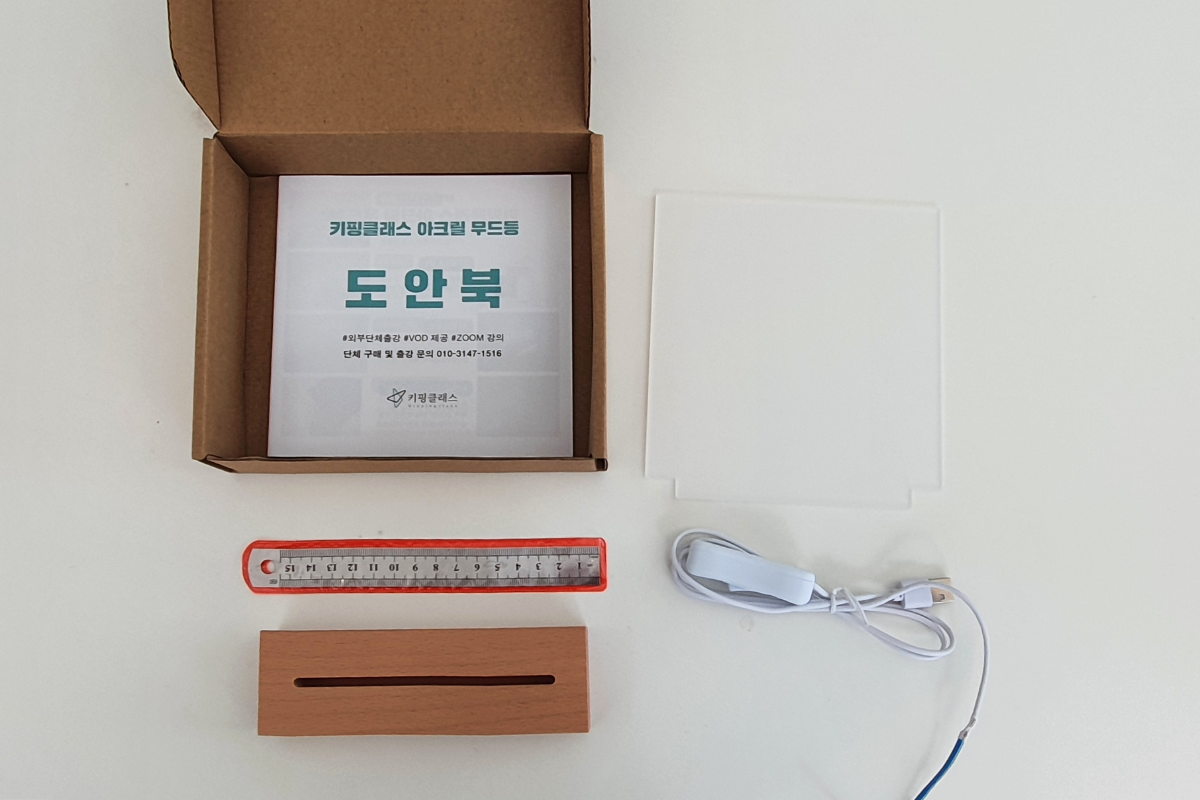 There were a total of 5 items in the kit: an acrylic board, light, wooden stand, ruler, and instruction book.
The lights are connected to a USB port, so you can use them anywhere if you have the right adapter!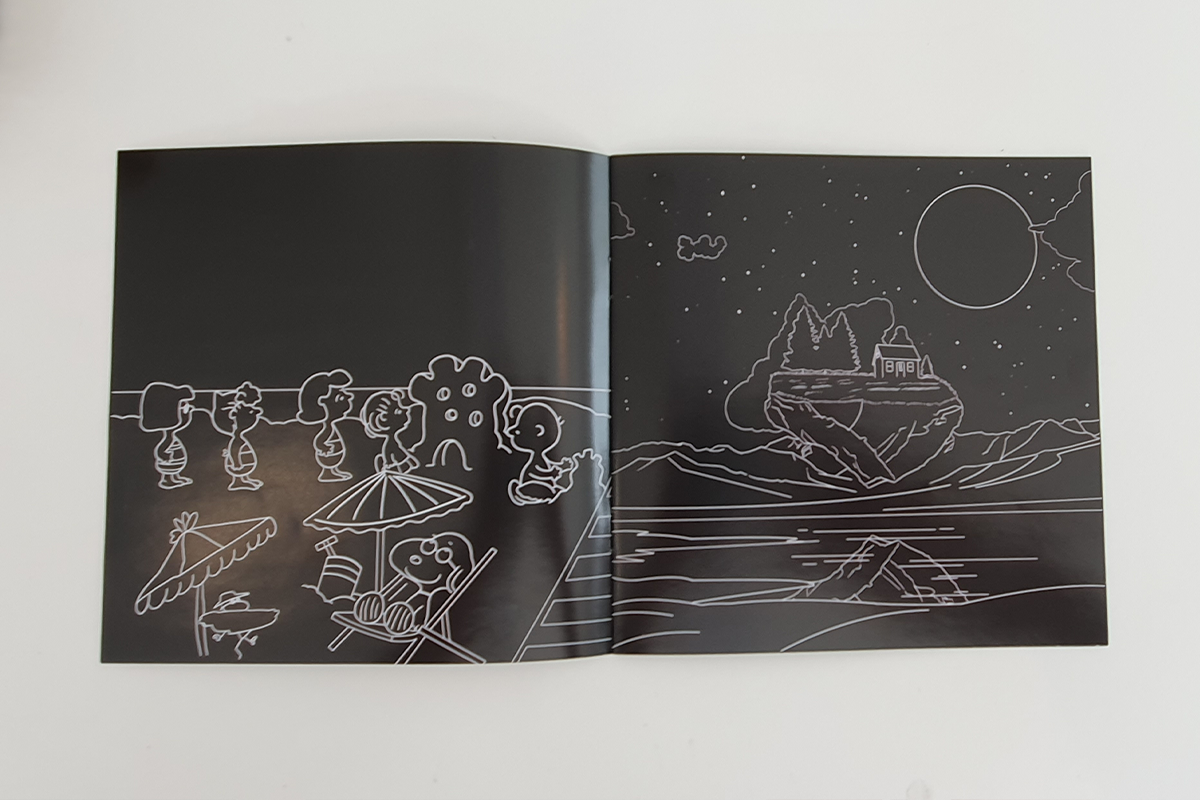 There were a variety of designs in the instruction book. I chose the picture on the right.
If you have any particular designs you want, you can send them to the instructor online before the class and he will prepare them for you!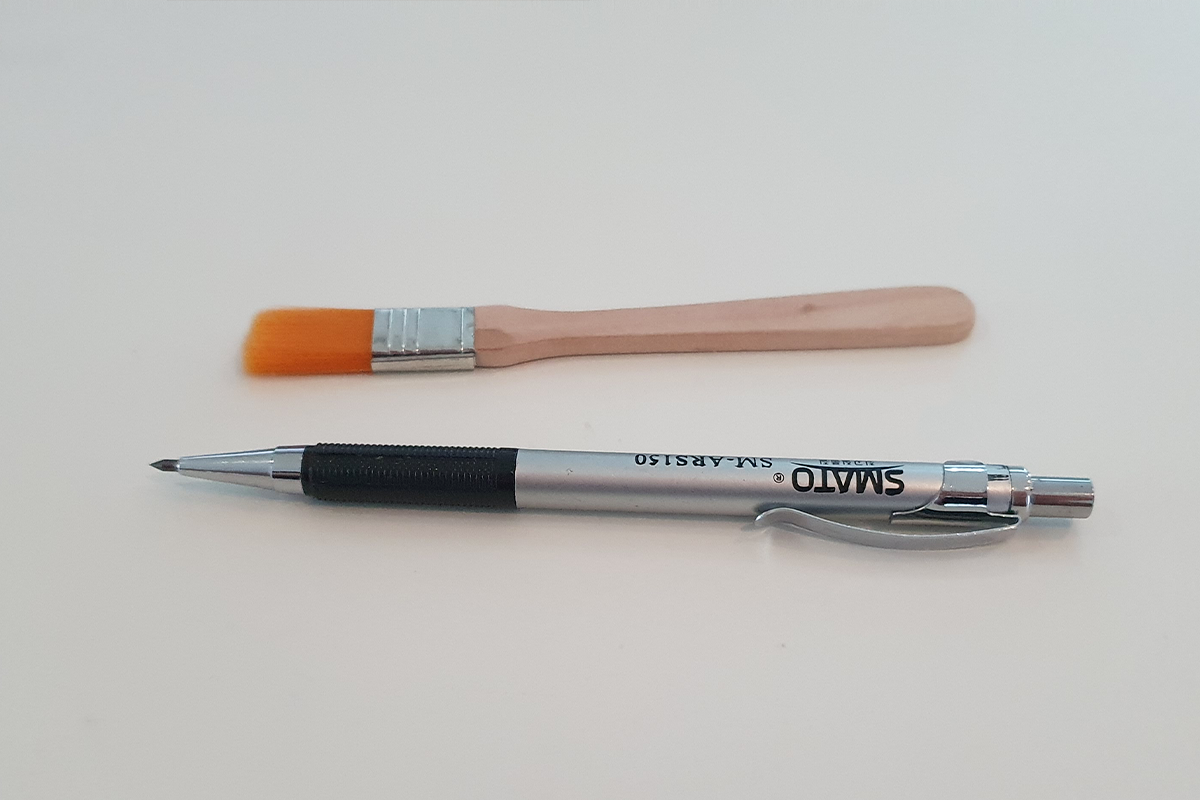 Next, they handed out the iron pens and brushes. You use this steel pen to scratch the acrylic board and the brush to brush everything off.
Let's get started!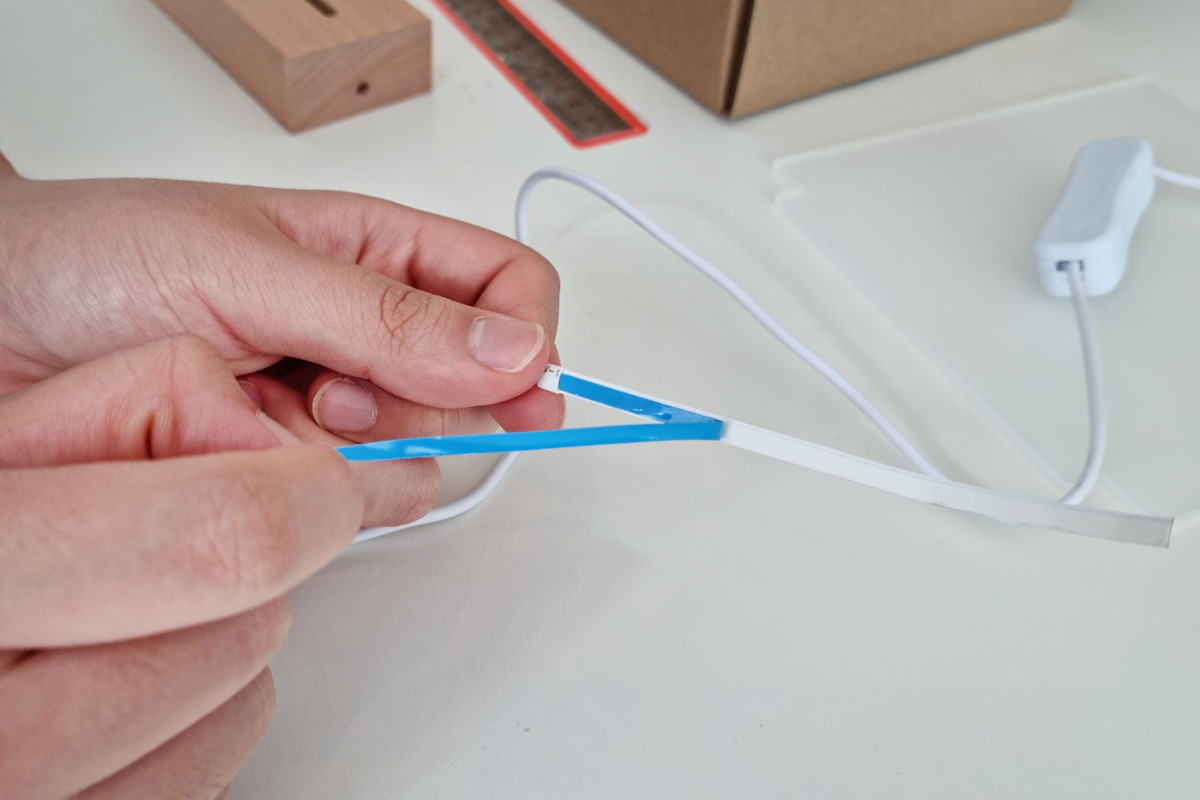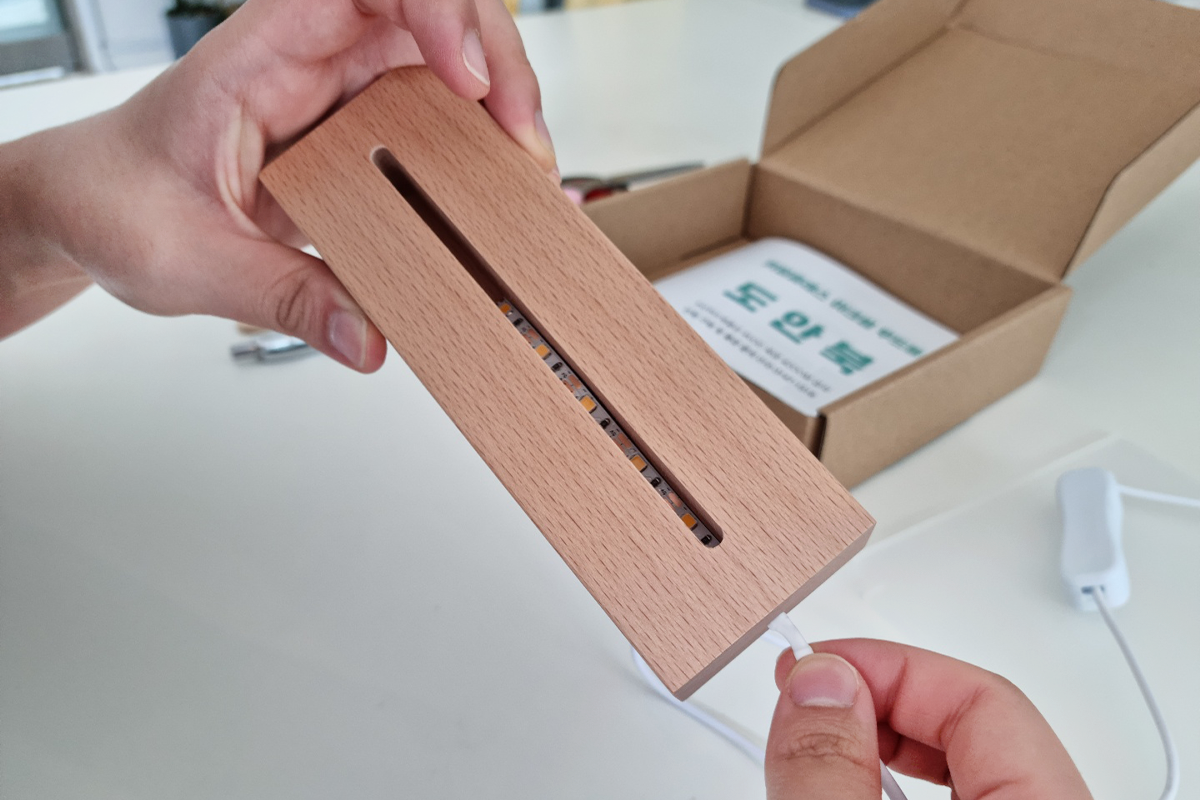 First, carefully remove the tape attached to the thin, long light and put it into the wooden stand.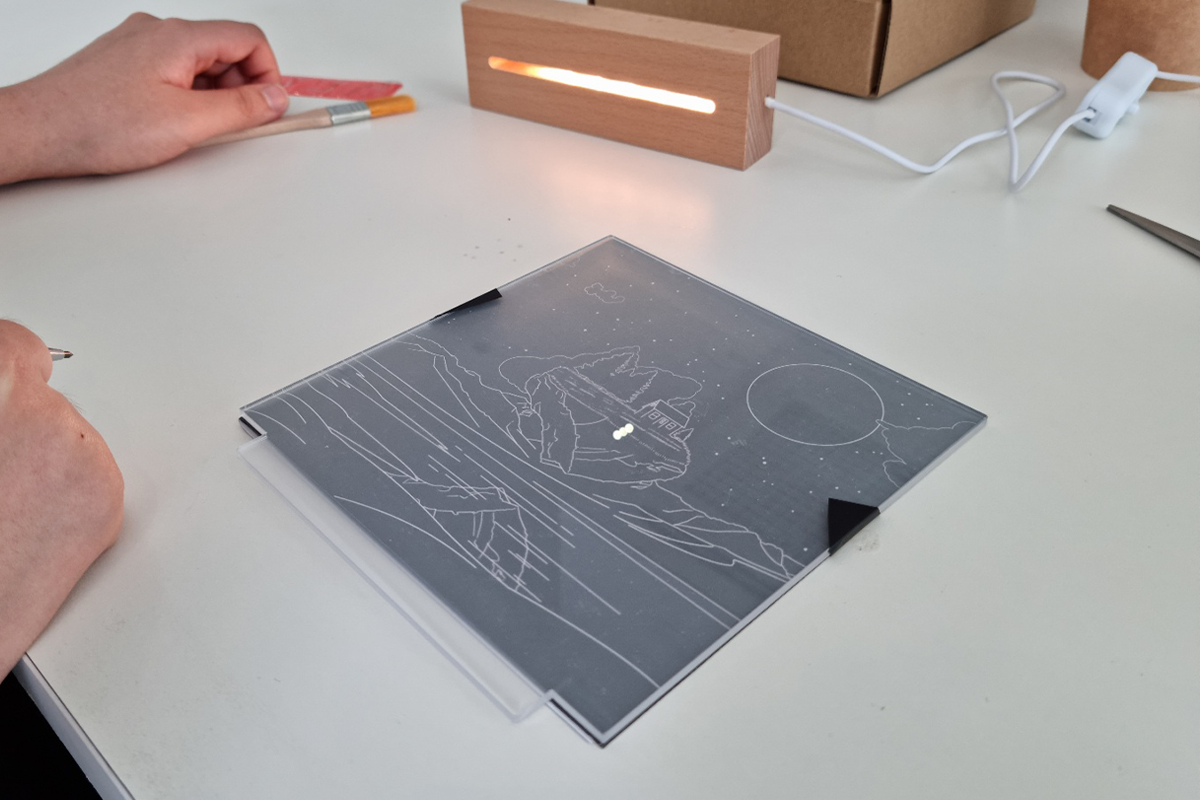 Second, carefully attach your chosen design to the acrylic board.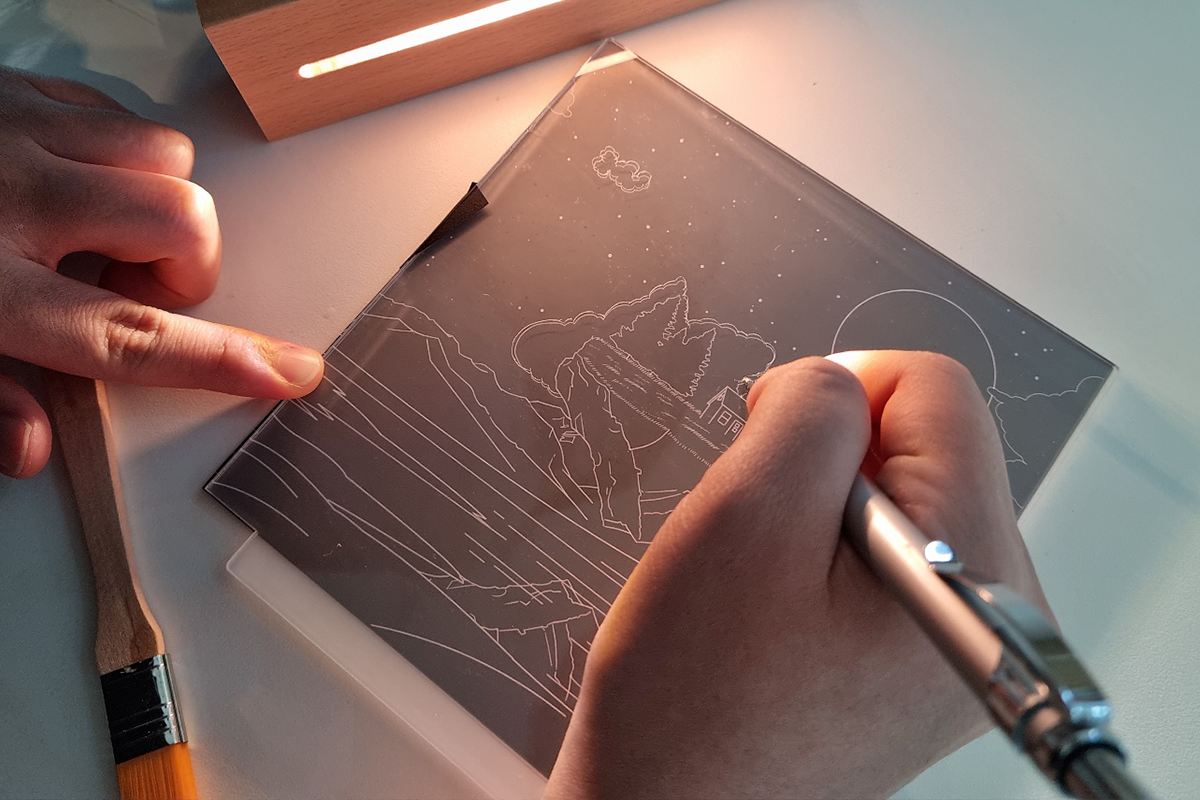 Then, you scratch along the design with the steel pen to create your picture on the acrylic board. The teacher made sure to help everyone individually, so anyone can make a pretty mood lamp if they follow the instructions well!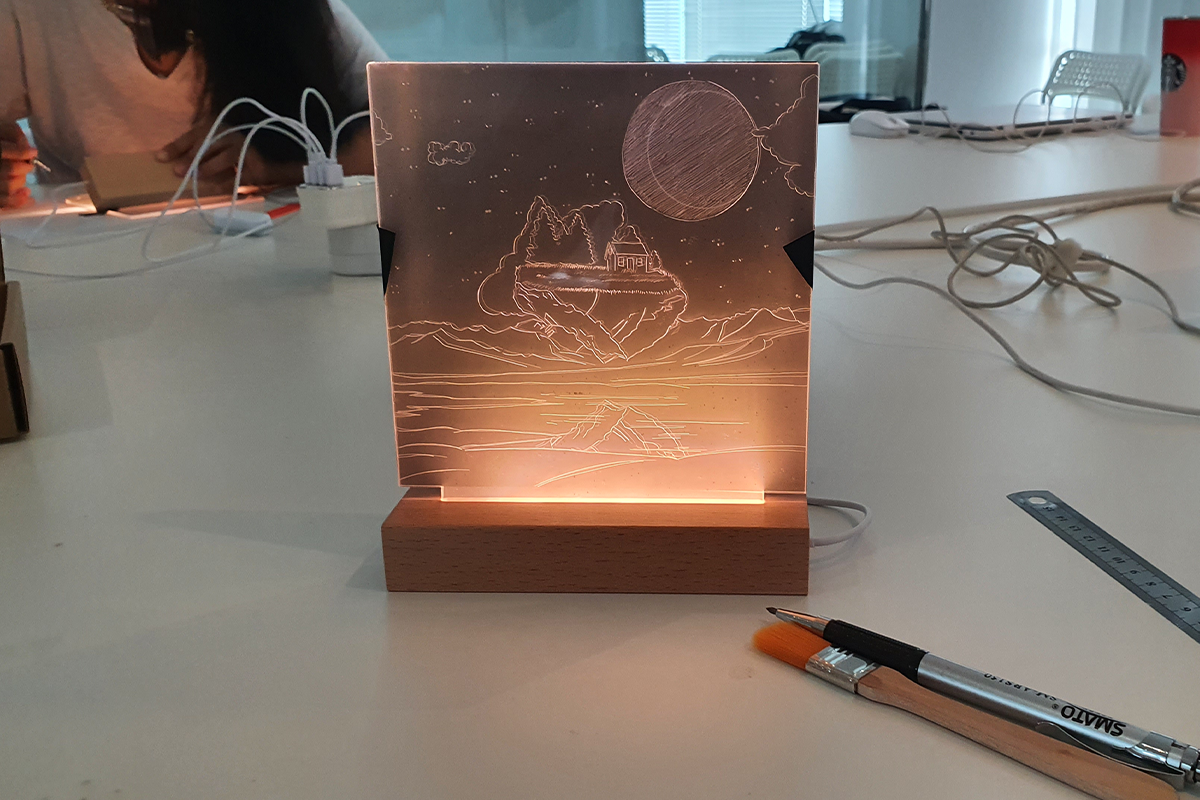 You can check your progress by putting the board in the frame. It was so exciting filling up the acrylic board little by little!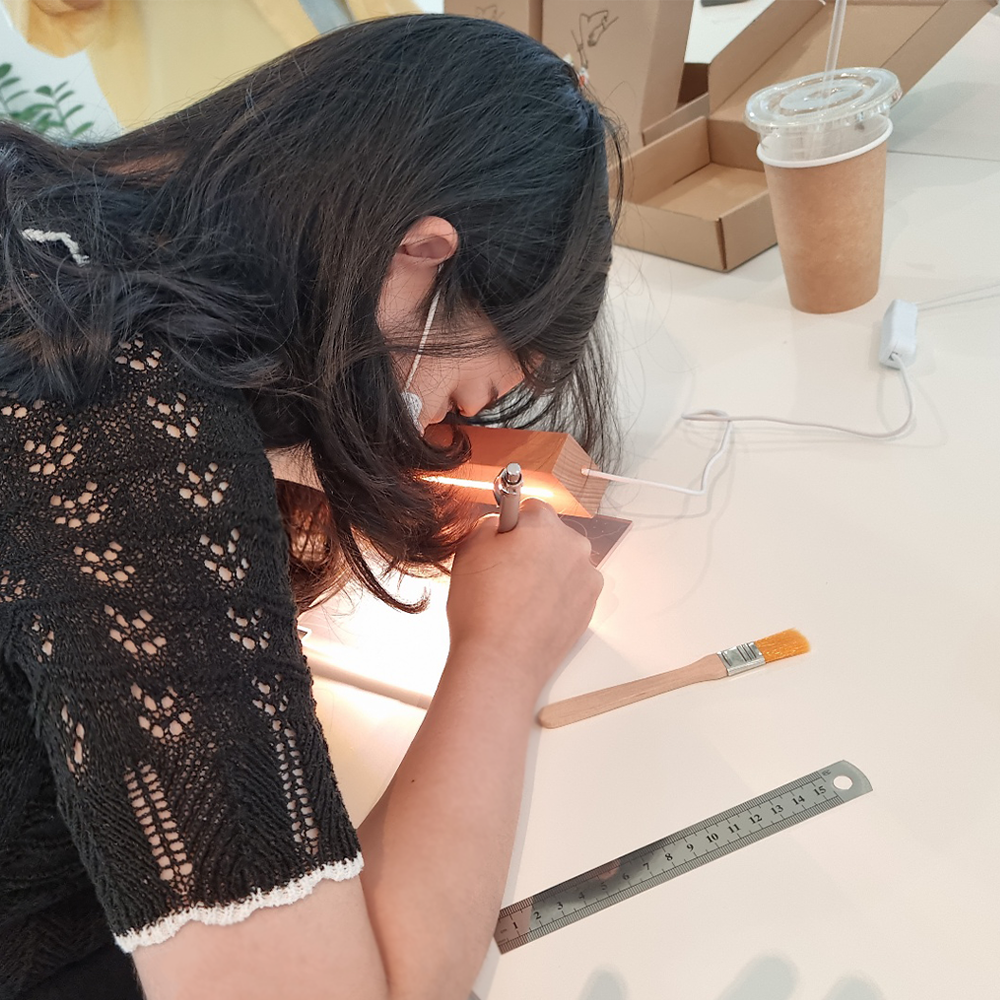 Can't you see how focused I am? It was such a new and fun experience that I got totally absorbed in it!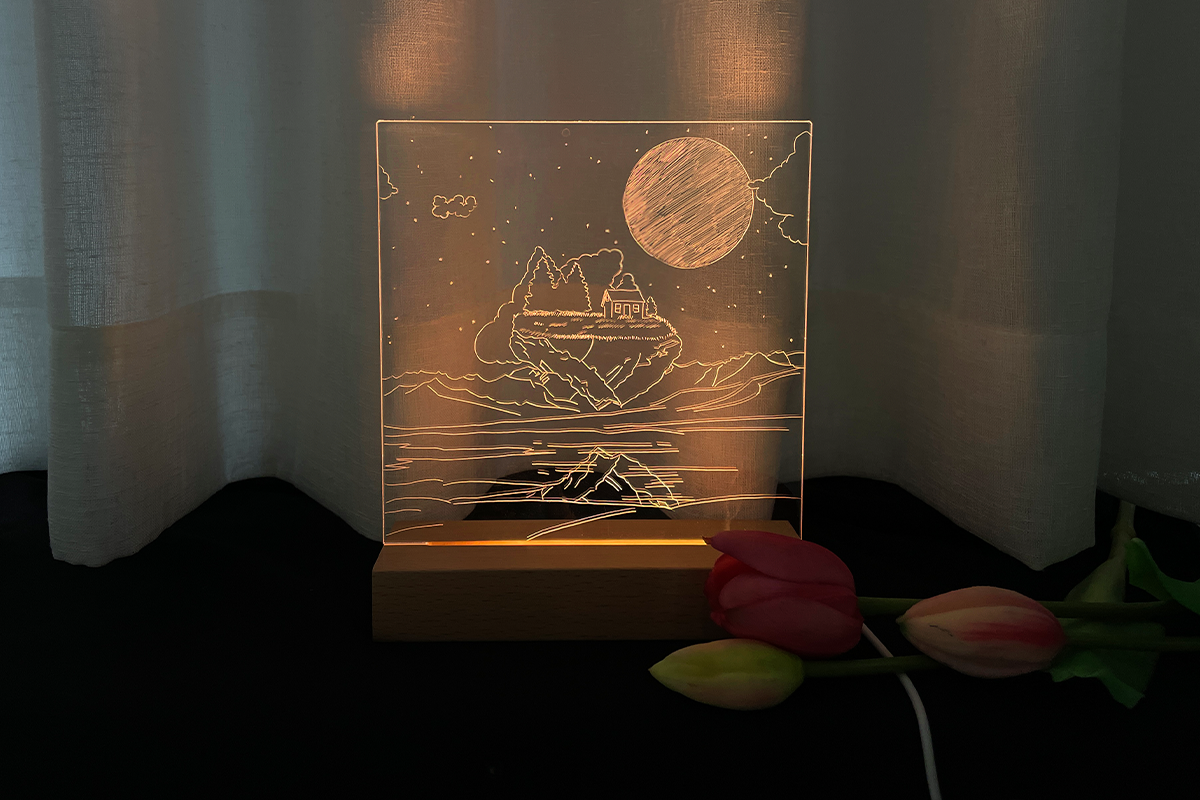 Here is the finished product! Isn't it pretty? I think it's more meaningful because I made it myself.
Why don't you try making a pretty mood light at Keeping Class too?
Address: 대구광역시 중구 성내2동 중앙대로81길 14
14 Jungang-daero 81-gil, Seongnae 2-dong, Jung-gu, Daegu
Hours: 11:00, 14:00, 16:00, 19:00
Takes 1-2 hours to complete
Price: 35,000 won
Transportation: 1 minute walk from Jungangno Station Exit 1
Reservation:
Reserve online here
Arrive at selected time and date
Show mobile or email voucher to staff
---
Free Diving Class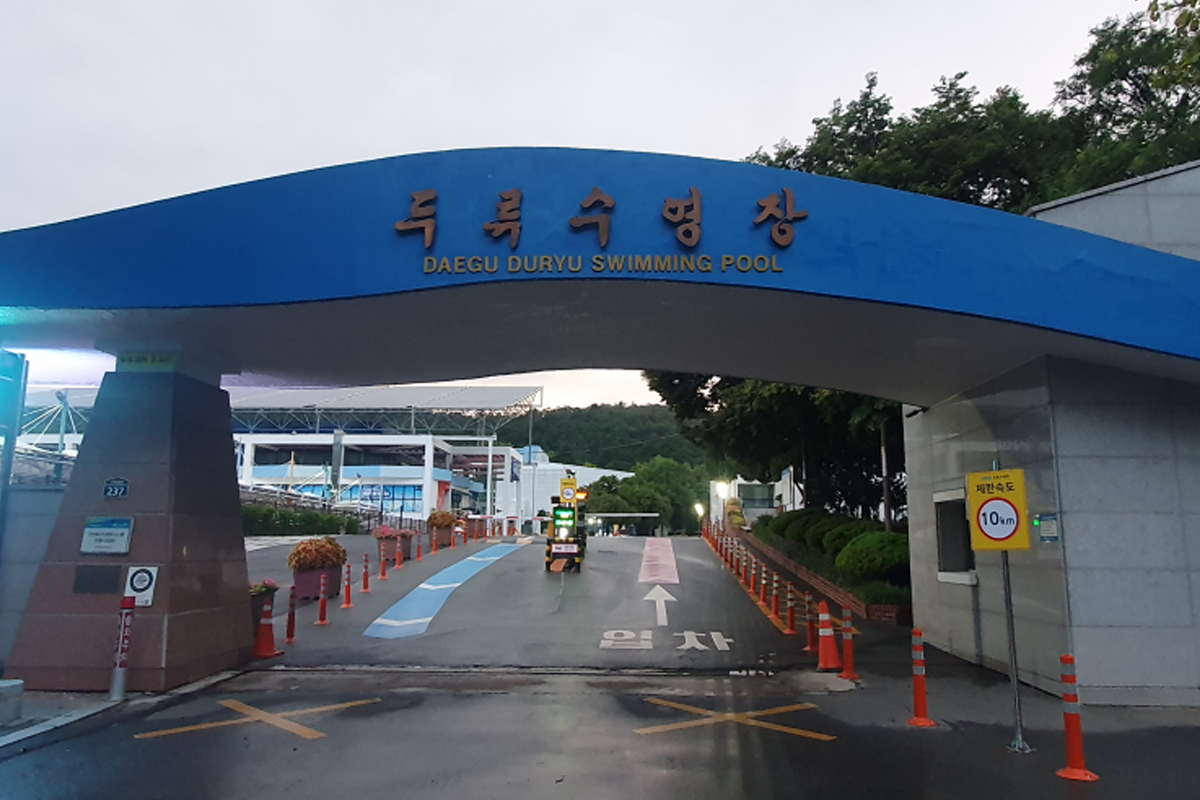 Next up is the one-day free diving one-day class at Duryu Swimming Pool in Duryu Park, Daegu's largest park. It's a great experience you enjoy in Daegu in the hot summer!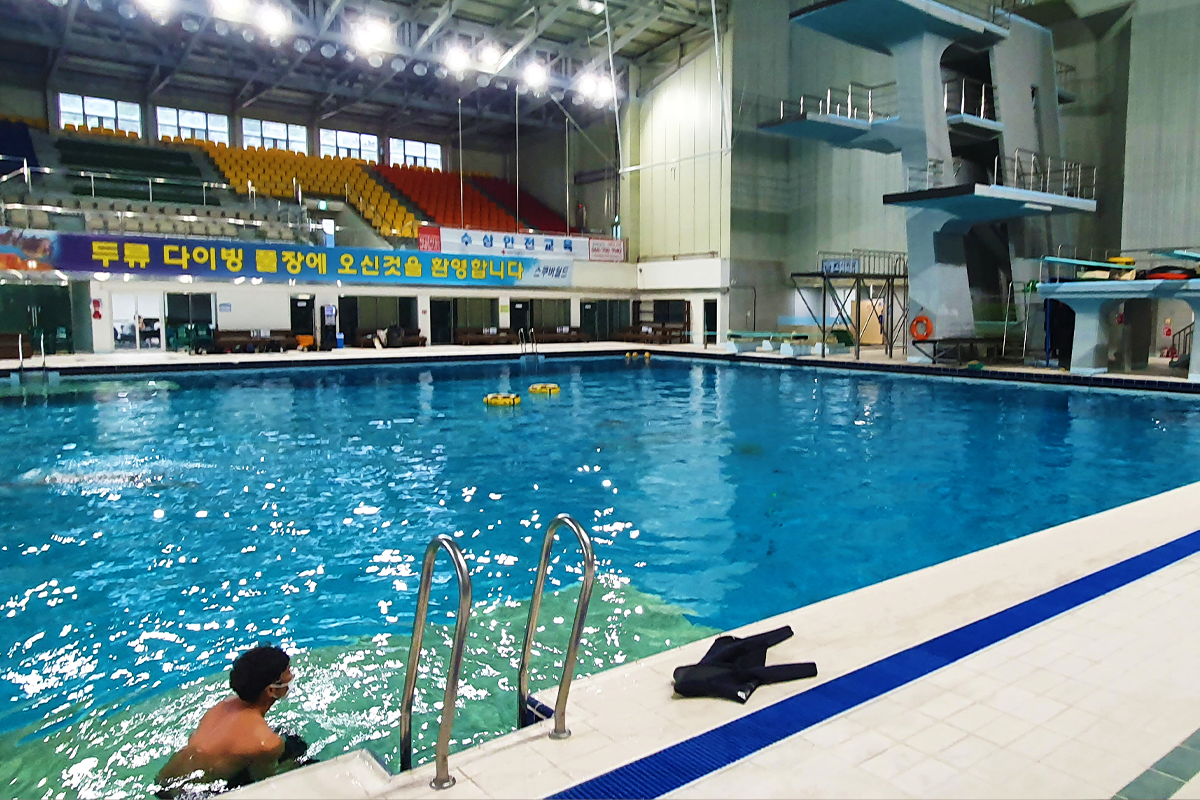 The diving pool inside the Duryu Swimming Pool is a large pool of about 1005 pyeong (approx. 3,305 square meters). It's a swimming pool with a depth of 3 to 5 meters, so it's a great place to learn how to dive.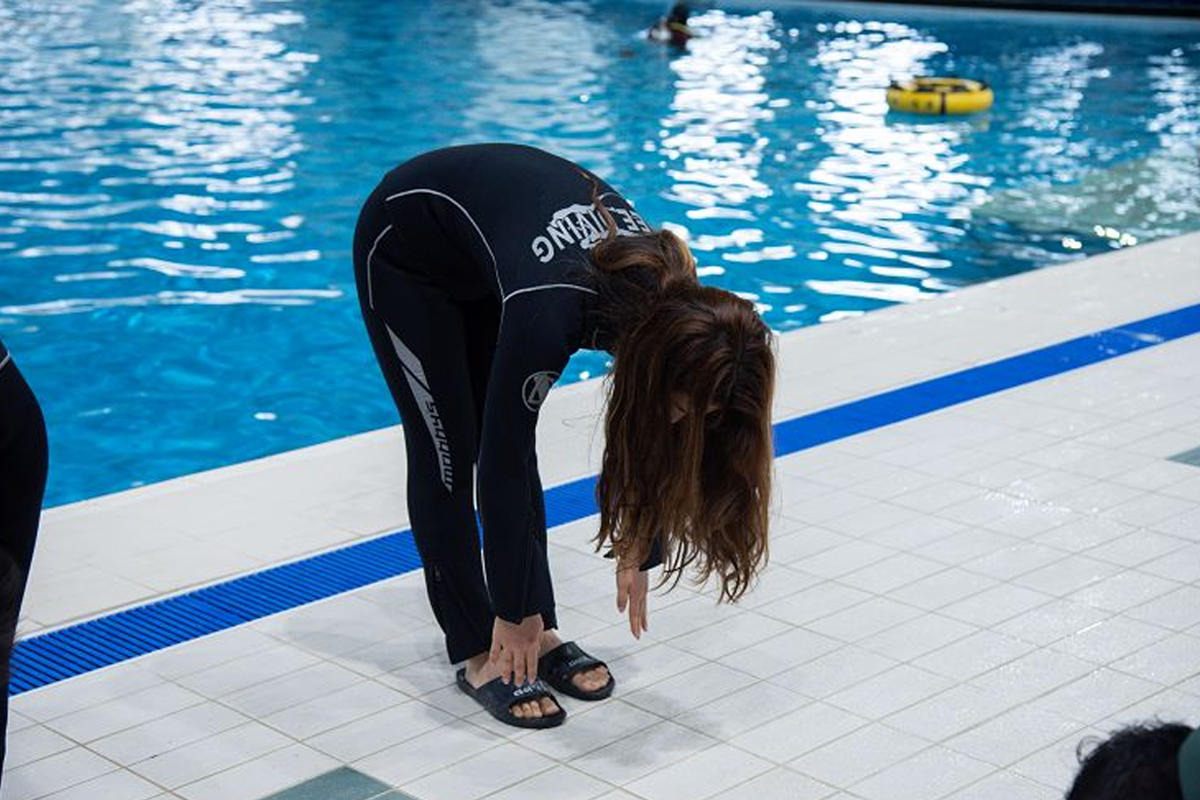 Once you follow the instructor onto the pool deck, you change into your swimsuit in the changing room. Don't worry, you can store your things there too.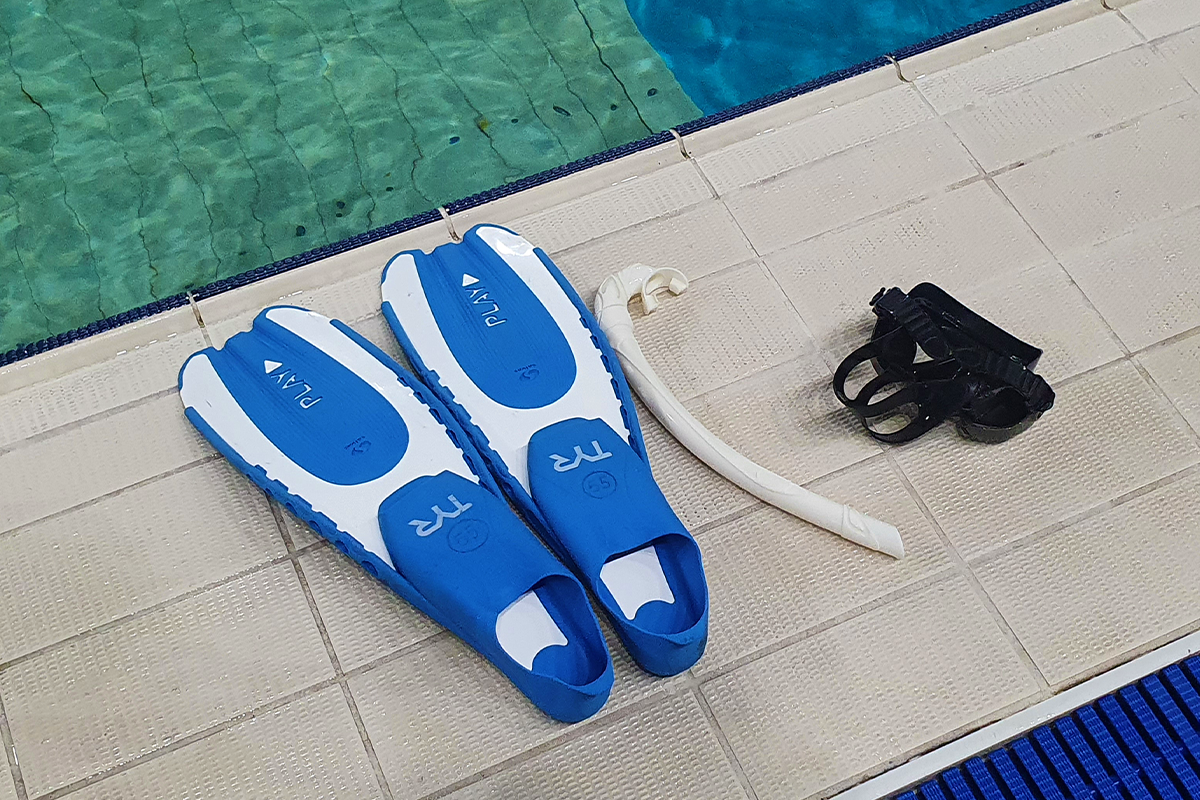 When you finish changing, the instructor will prepare the flippers and snorkel for you!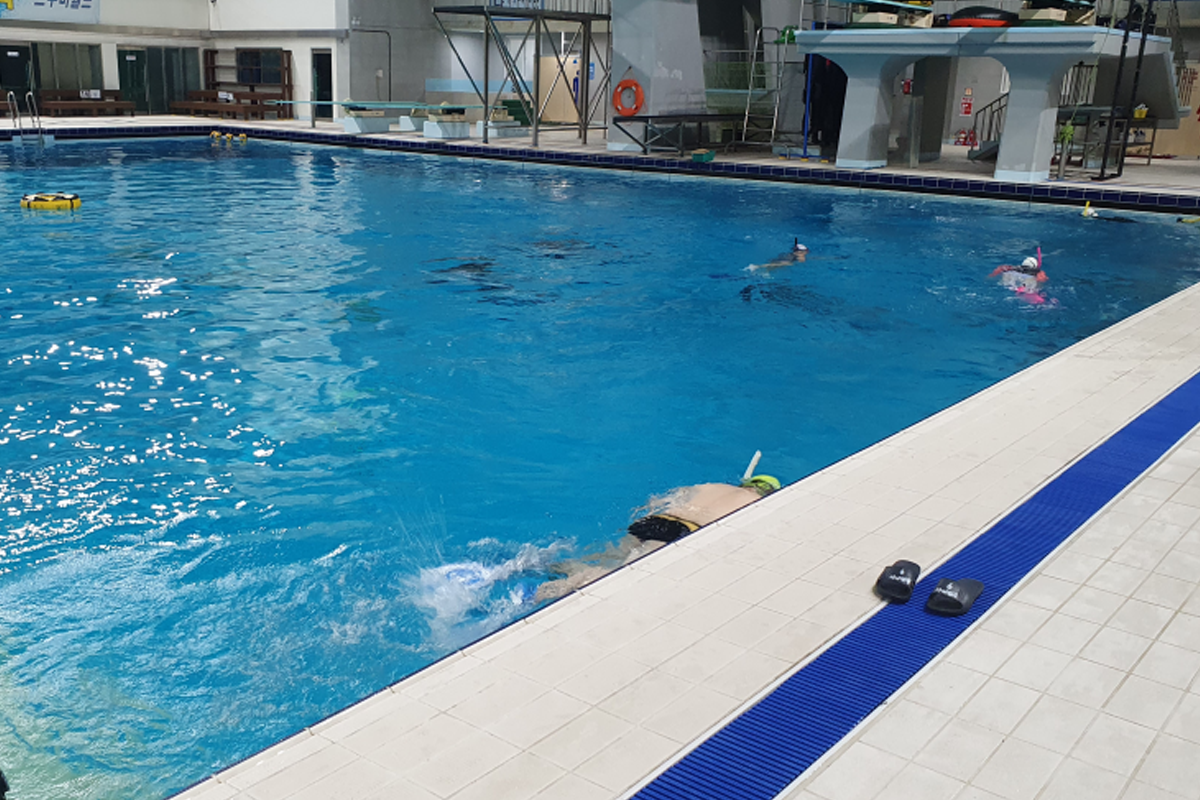 It's hard to go into the deep end right away, so you need to learn the basics from the instructor first. After warming up, you learn how to breathe while underwater.
Next, you get adjusted to free diving.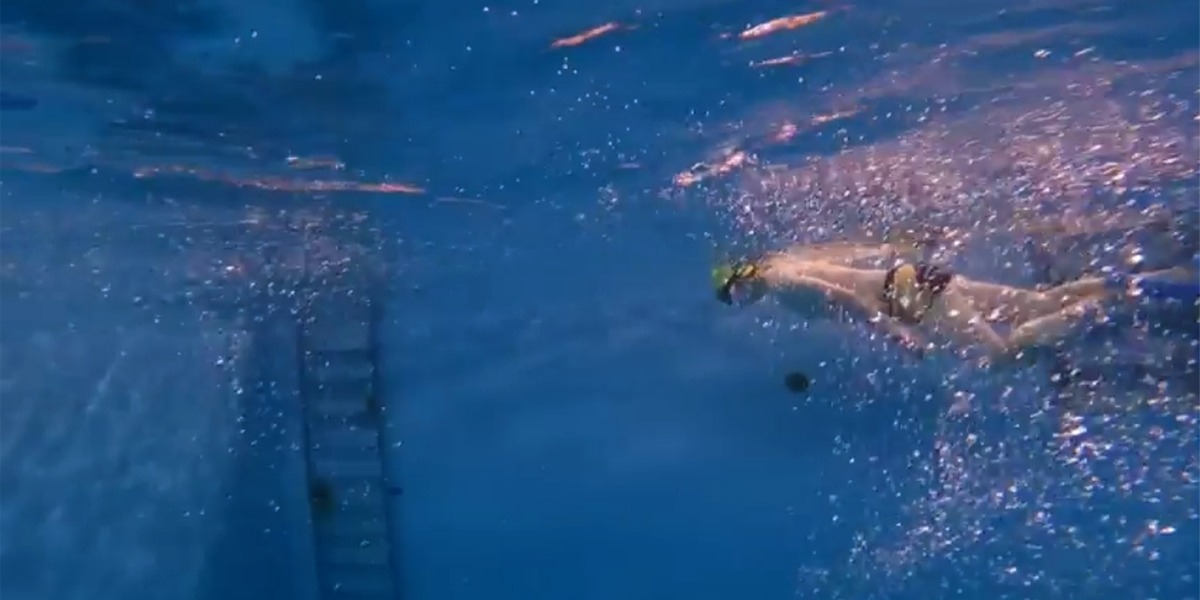 If you follow the instructor step by step, you will become able to swim freely in deep water! I didn't have much experience swimming in deep water, so I was a little scared, but I soon found myself diving deep into the water.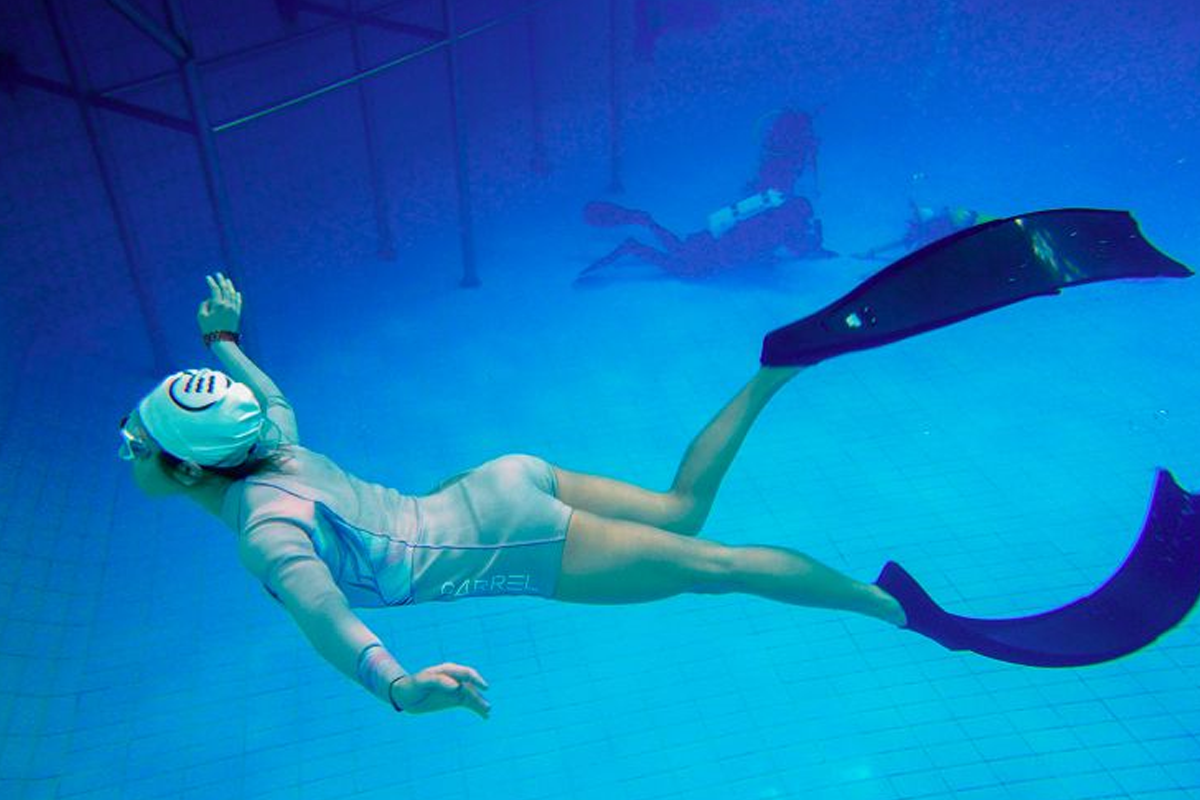 After learning how to free dive, I can be the main character this summer at the beach and pool, right?
In addition, the instructor takes videos and pictures of you while swimming with an underwater camera!
Address: 대구광역시 달서구 성당동 공원순환로 237
237 Gongwonsunhwan-ro, Seongdang-dong, Dalseo-gu, Daegu
Hours:
Tue, Thu, Fri: 10:00, 18,00
Wed: 10:00, 14:00, 18:00
Sat, Sun: 10:00. 13:00
Takes about 2 hours to complete
Price:
1 person: 60,000 won
3+ people: 50,000 won each
Transportation: 20 minute walk from Seobu Bus Terminal Station Exit 1
Reservation:
Reserve online here
Arrive at selected time and date
Show mobile or email voucher to staff
Information:
Must be over 6 years old
Entrance fee 12,000 won
Towels, toiletries, swimsuit, swim cap available
20,000 won to rent swimsuit
---
Yoohoo Electric Bike
Do you want to enjoy the beautiful nature of Daegu in a different way? I recommend Yoohoo Bike's electric bicycle! Yoohoo Bike rents out electric bikes so that you can have a good time by the beautiful Geumho River in Daegu.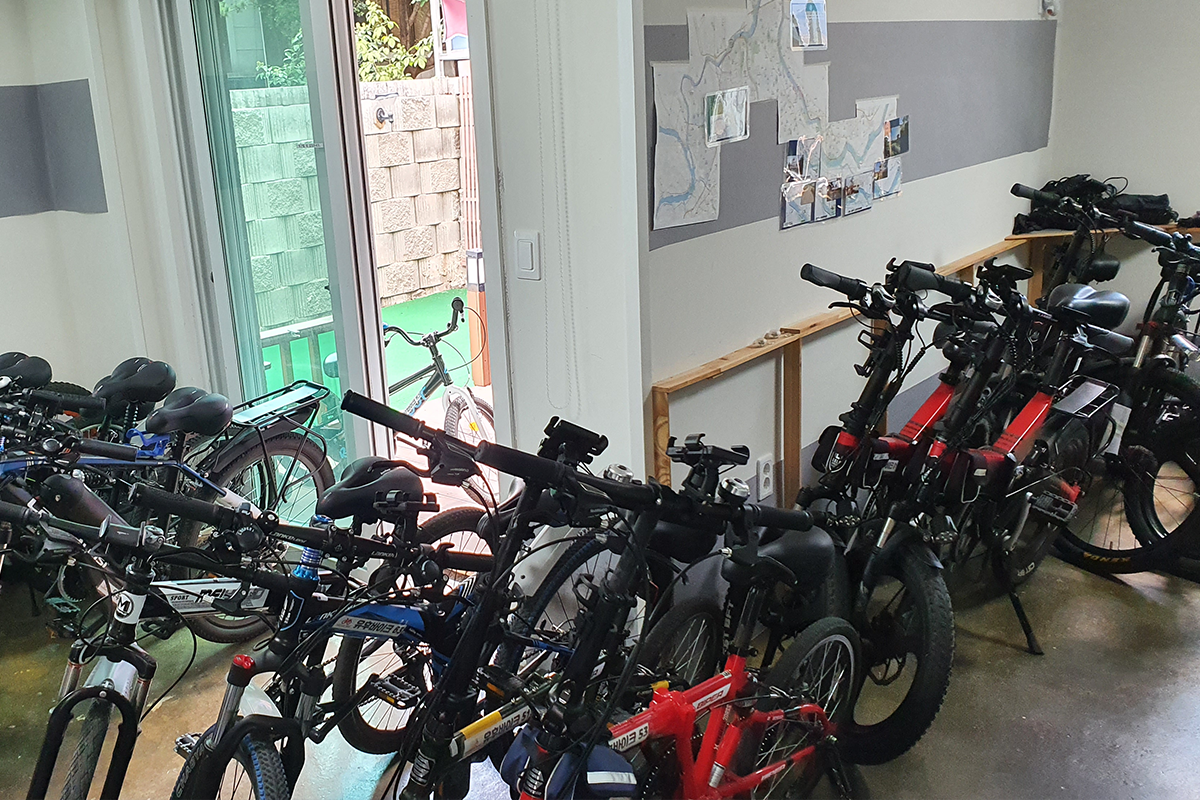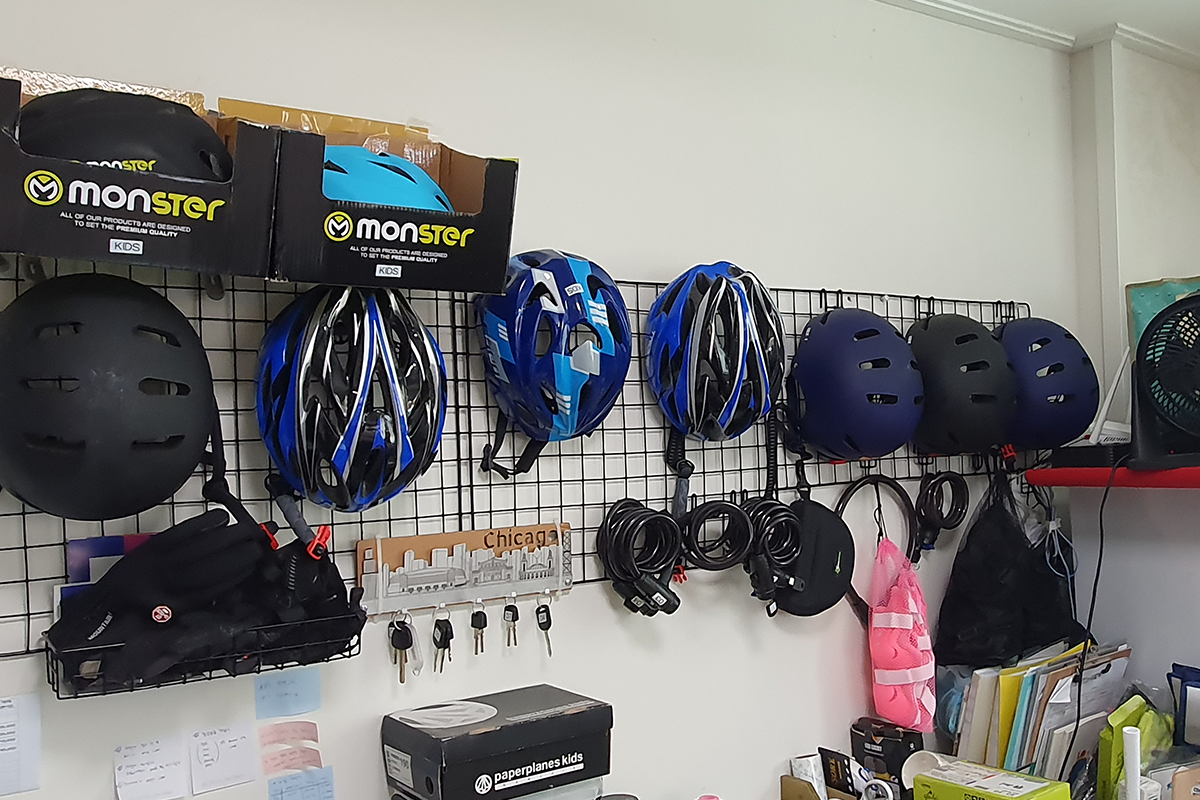 Inside the store, there were a lot of regular bicycles, electric bicycles, and safety gear. The store owner will help you find a bike that fits you.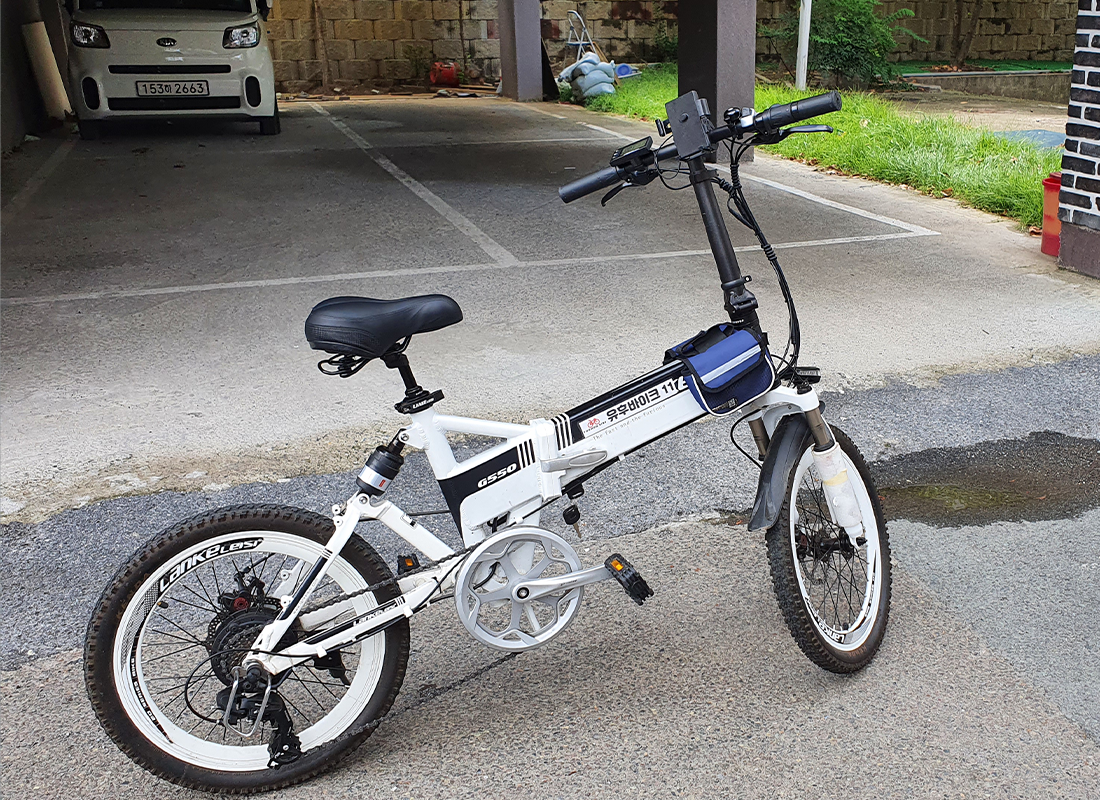 It looks like a regular bike, but it's actually completely different!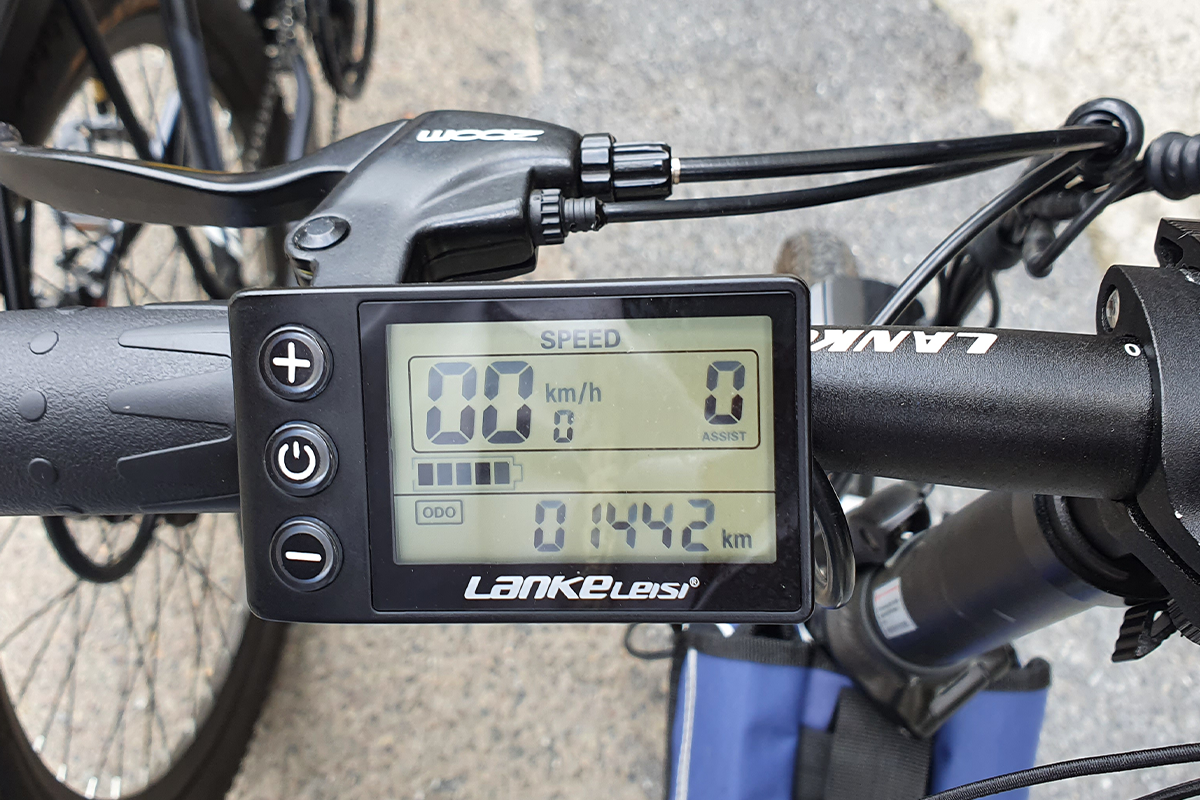 There's a machine like this installed on the left handle.
Press the power button on the left side of the machine, press + and - to adjust the speed. The higher you go, the faster it gets.
Your speed is displayed on the machine screen, so I can check while riding.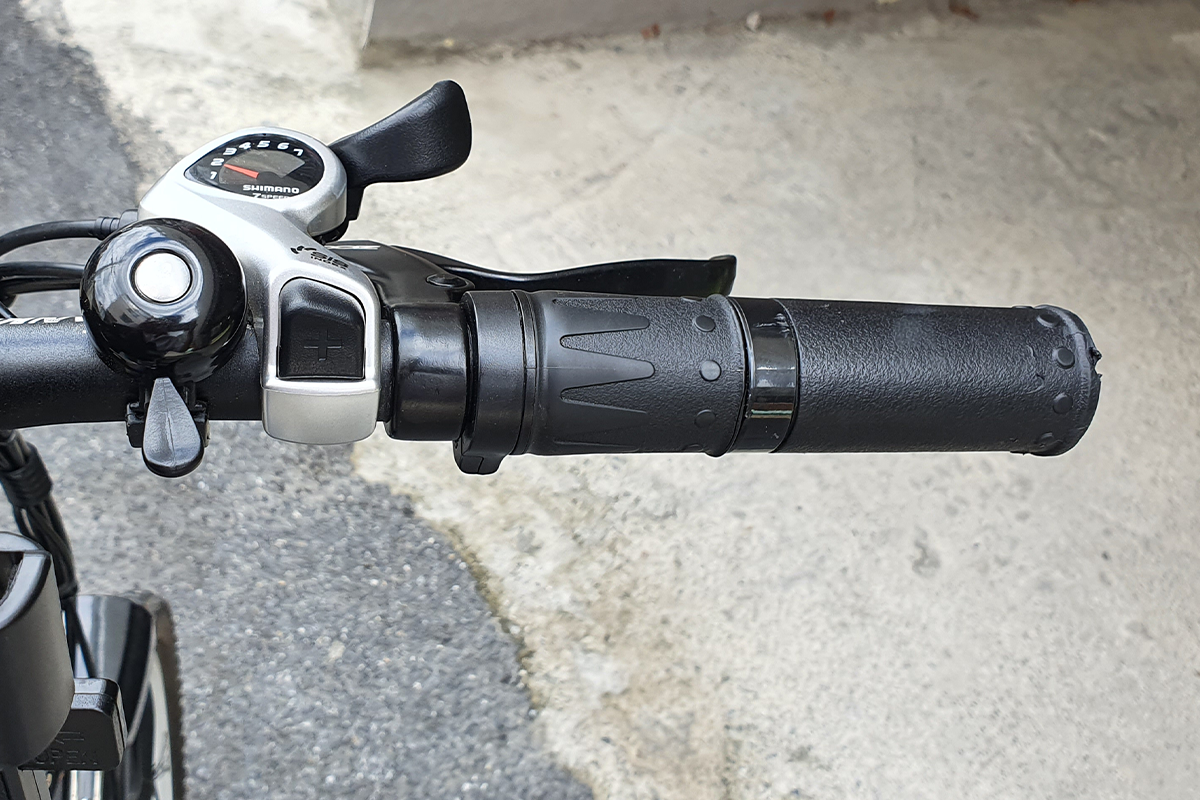 If you don't want to adjust the speed on the machine, you can have the machine level set to zero and use the right handle to adjust the speed. Turn the right handle towards yourself to speed up!
The more you turn the handle, the faster it gets, so be make sure you only set it to a speed you can handle.
With the help of the store owner, I adjusted the speed and started to ride towards Geumho River!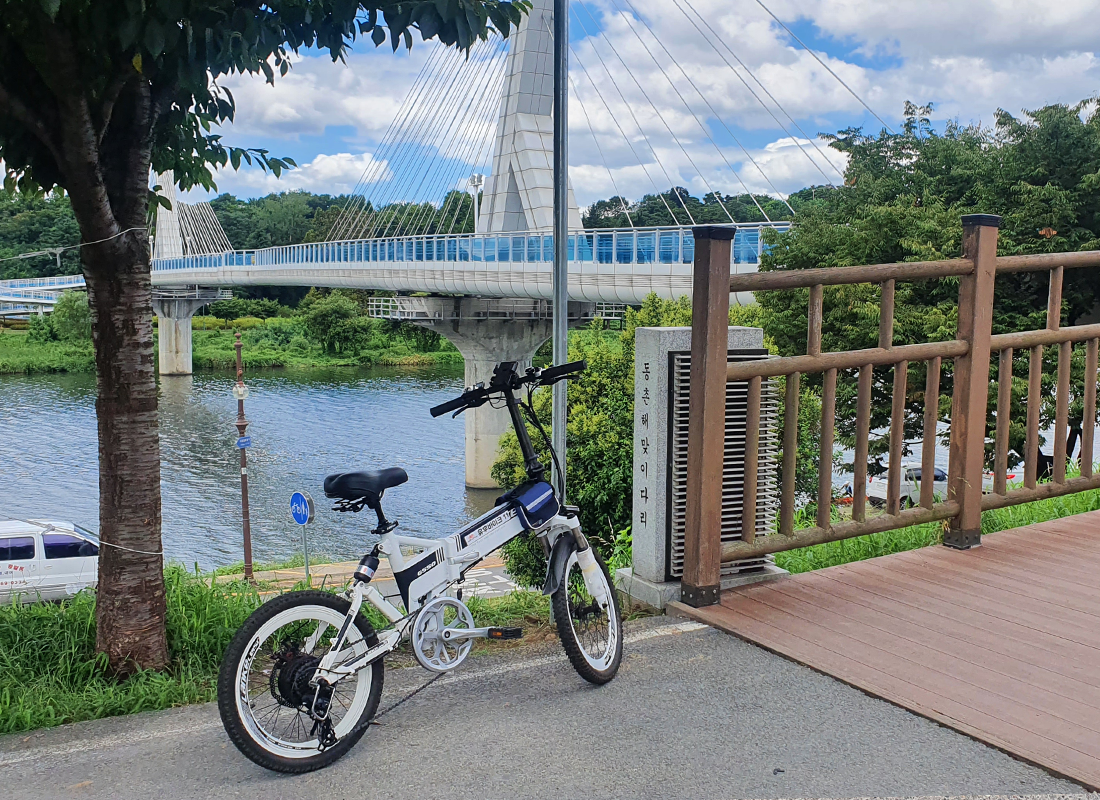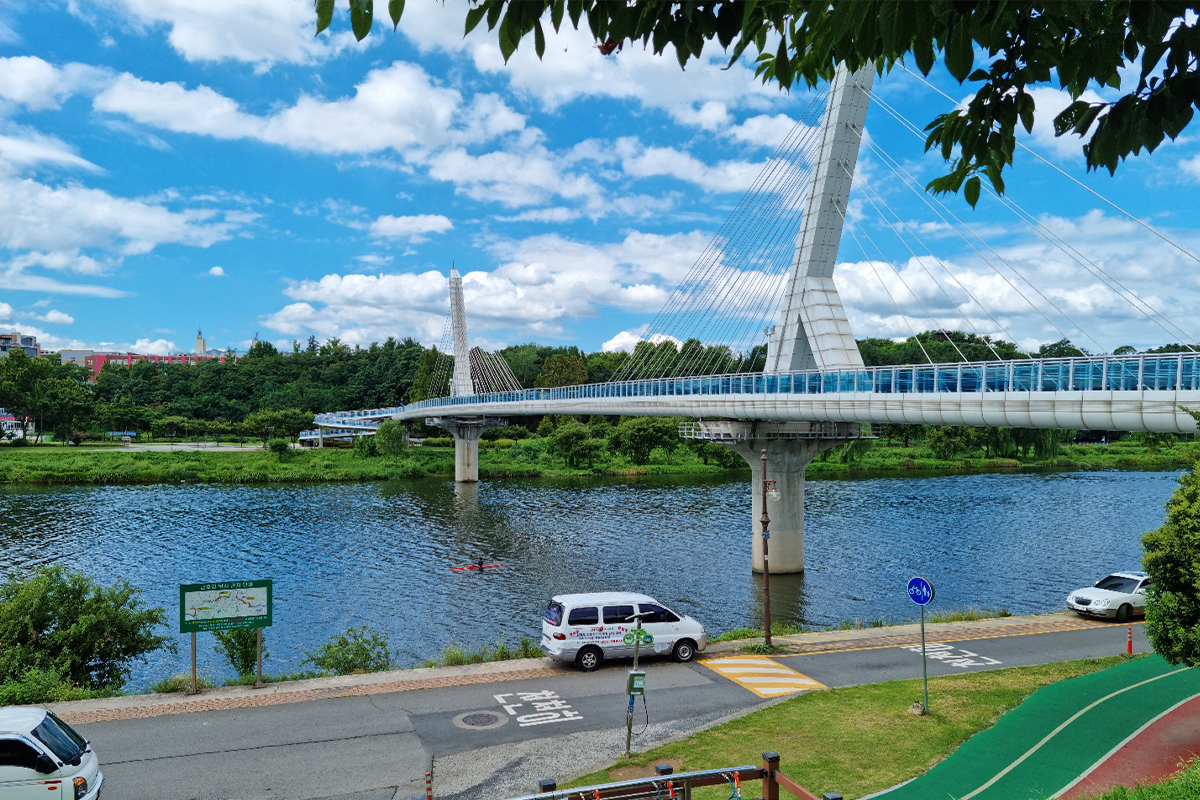 This is the Geumho River Sunrise Bridge. If you cross this bridge, you'll get to Dongchon Park. The bike lanes are very well constructed. Don't forget to walk your bike slowly and safely on the bridge!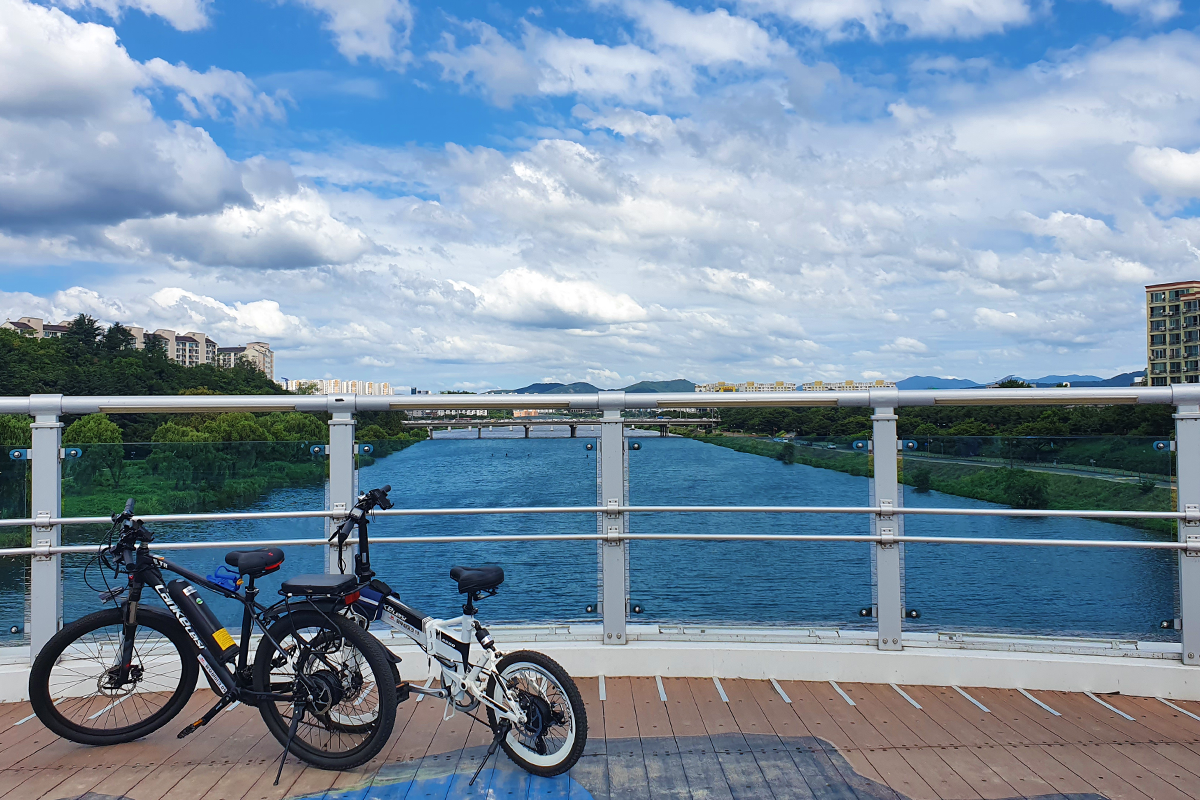 This is Geumho River from the bridge! The river and sky are beautiful, right? The clouds were so pretty because it had rained the day before.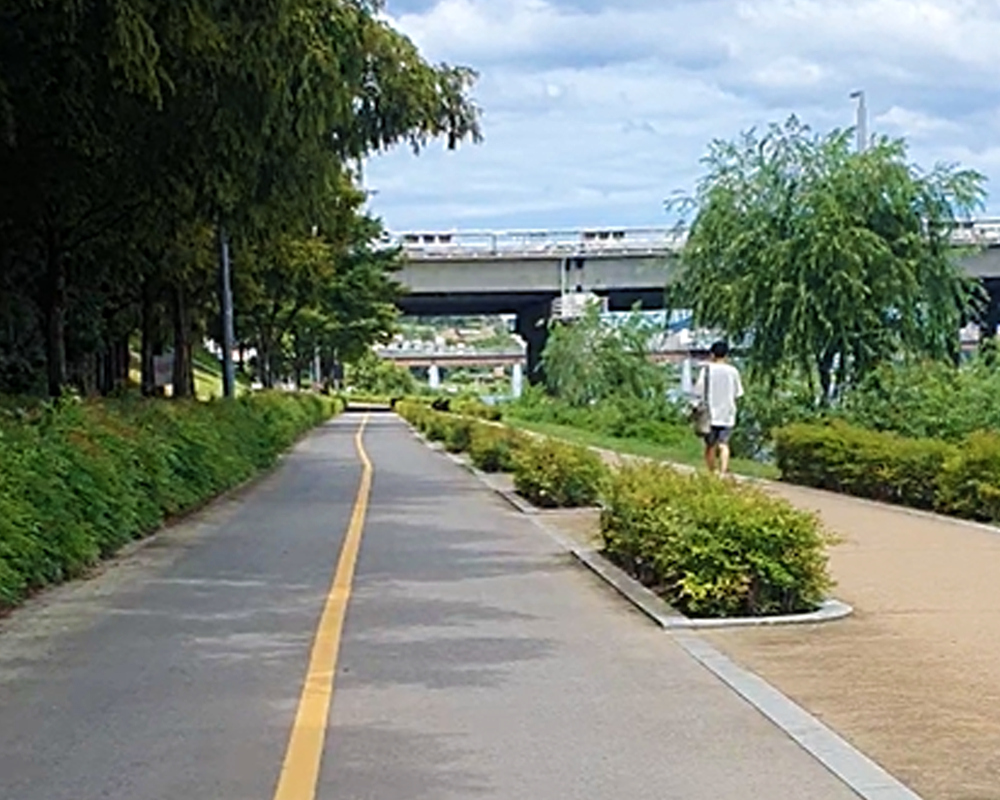 After crossing the bridge, I rode down the bike path. I was going at a speed of about 20 kilometers per hour, and it was so exciting and fun! It's an electric bicycle, so no matter how fast or how long I rode it, I didn't get tired.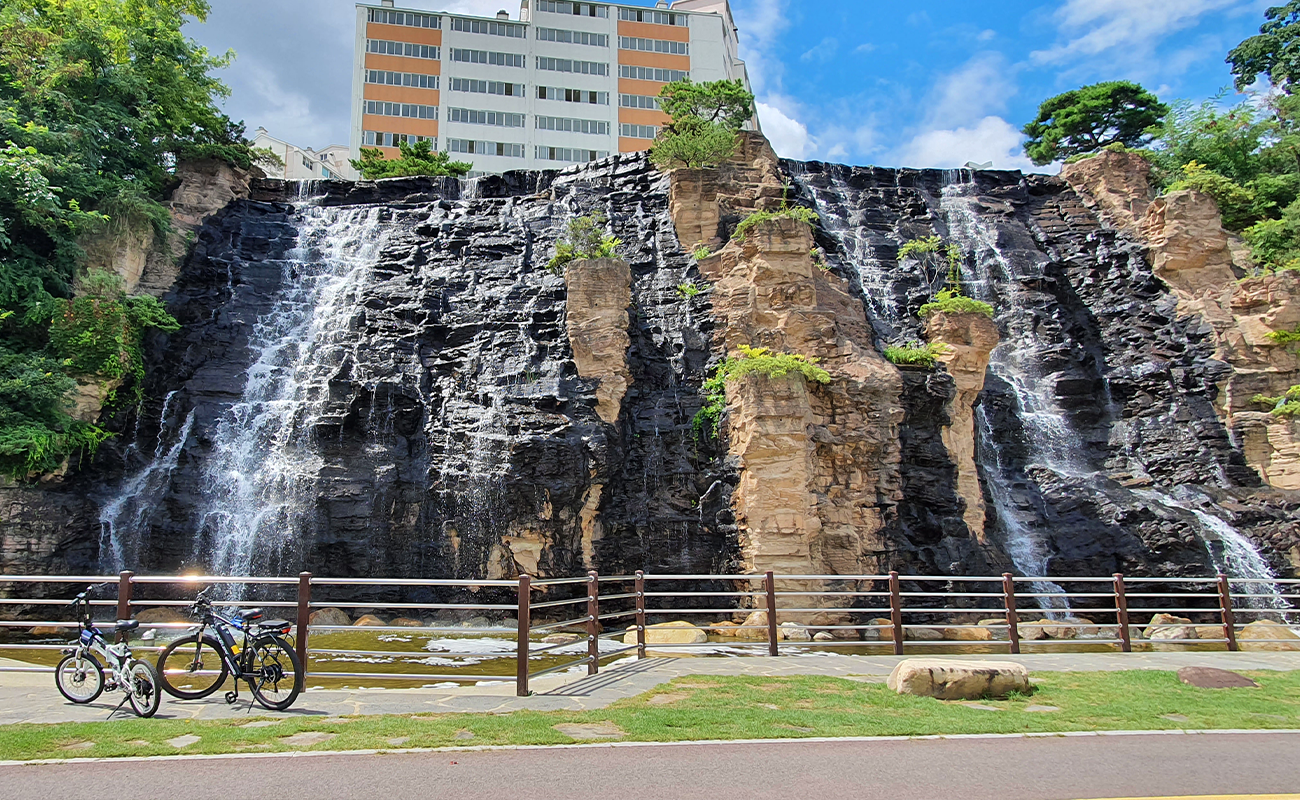 If you keep going, you'll come across Ayang Falls. It's a great place to take a quick break!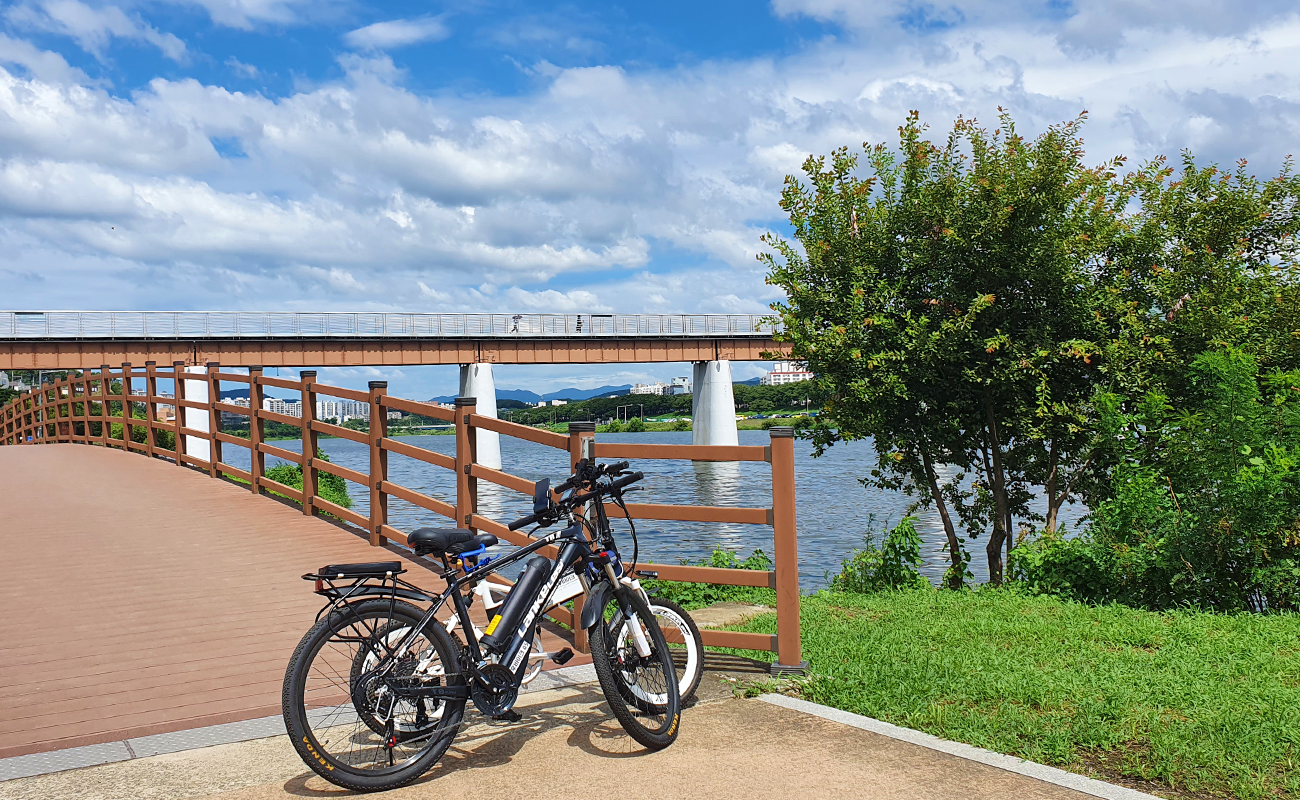 I rode along the Geumho River for an hour, and it was really refreshing.
You'll fall in love with Daegu too once you speed along the river and enjoy the beautiful views!
Address: 대구광역시 동구 검사동 1022-14 유후 101호
#101 1022-14 Geomsa-dong, Dong-gu, Daegu
Hours:
Dec-Feb 09:00-18:00
Mar-Nov: 09:00-21:00
Price: 10,000 won/hr
Transportation: 3 blocks from Dongchon Station Exit 1
Reservation:
Reserve online here
Arrive on selected date
Show mobile or email voucher to staff
---
Daegu Nature Park Zoo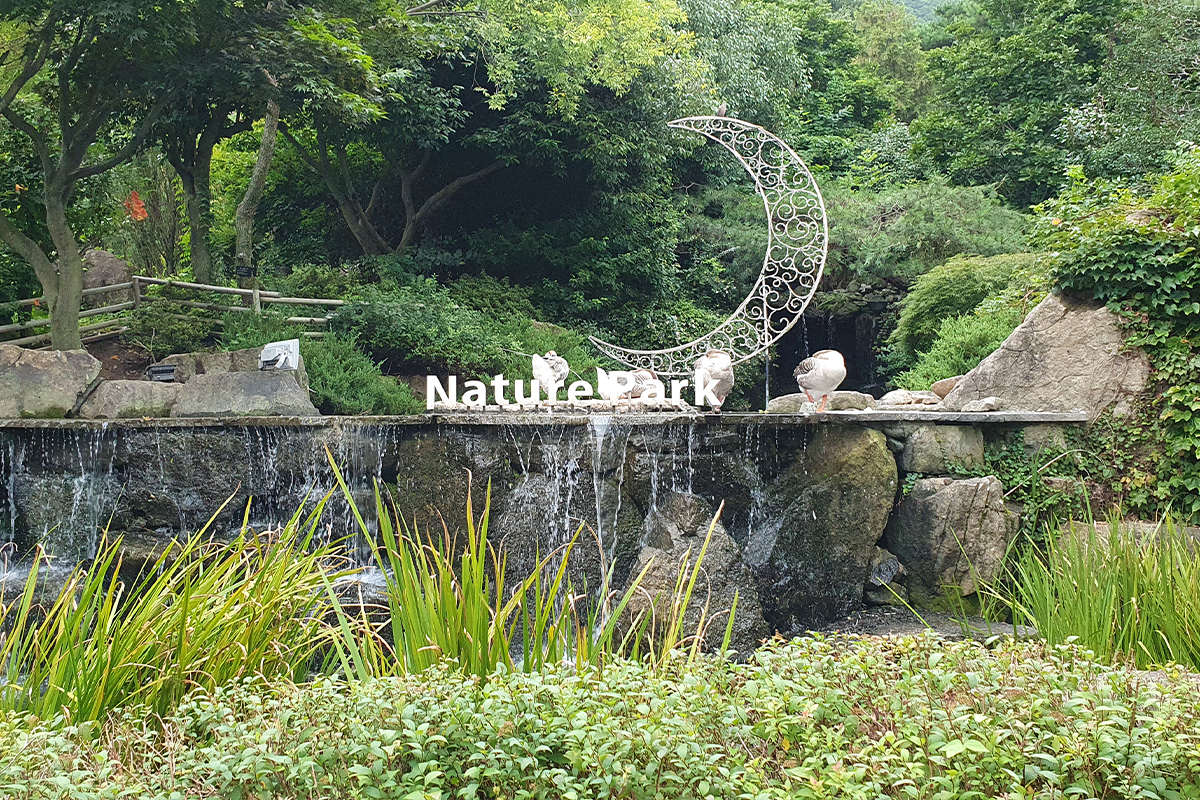 Do you happen to like animals? If so, you need to visit Nature Park too!
Nature Park is the largest zoo in Daegu, and it is an preserve for wildlife and animals, so you can enjoy nature while interacting with animals.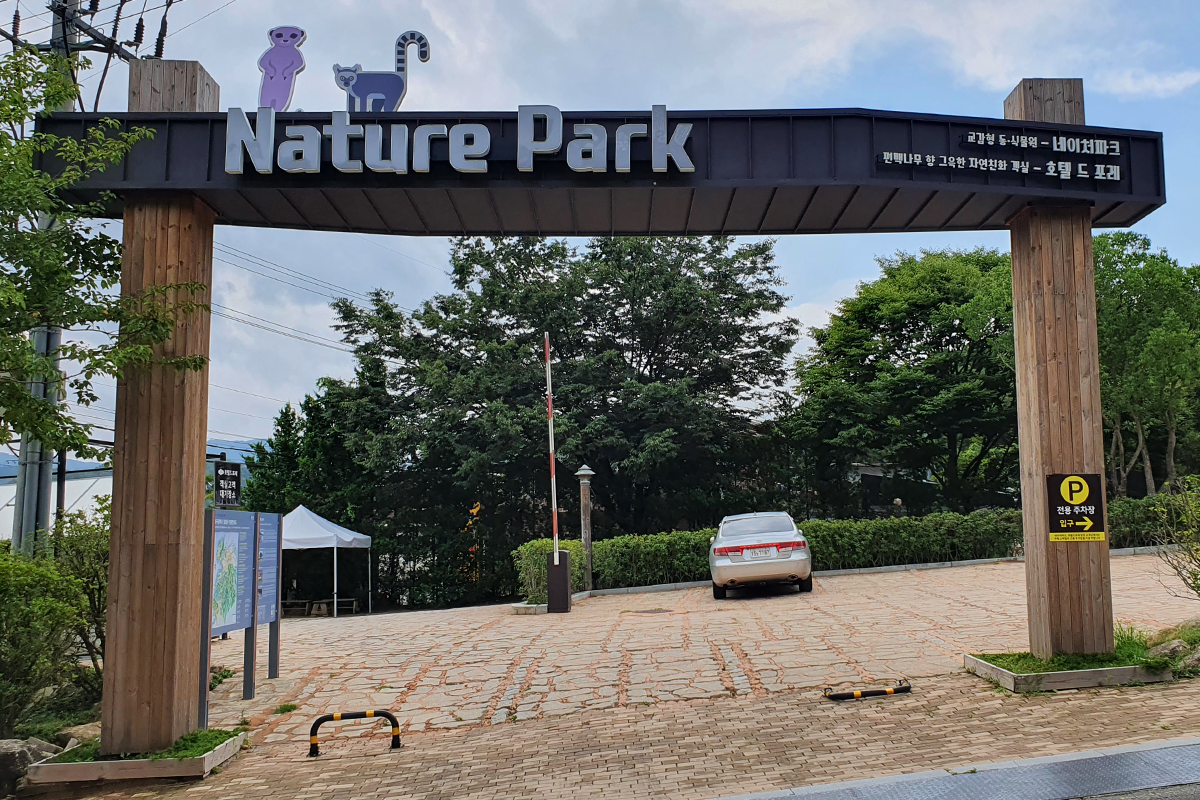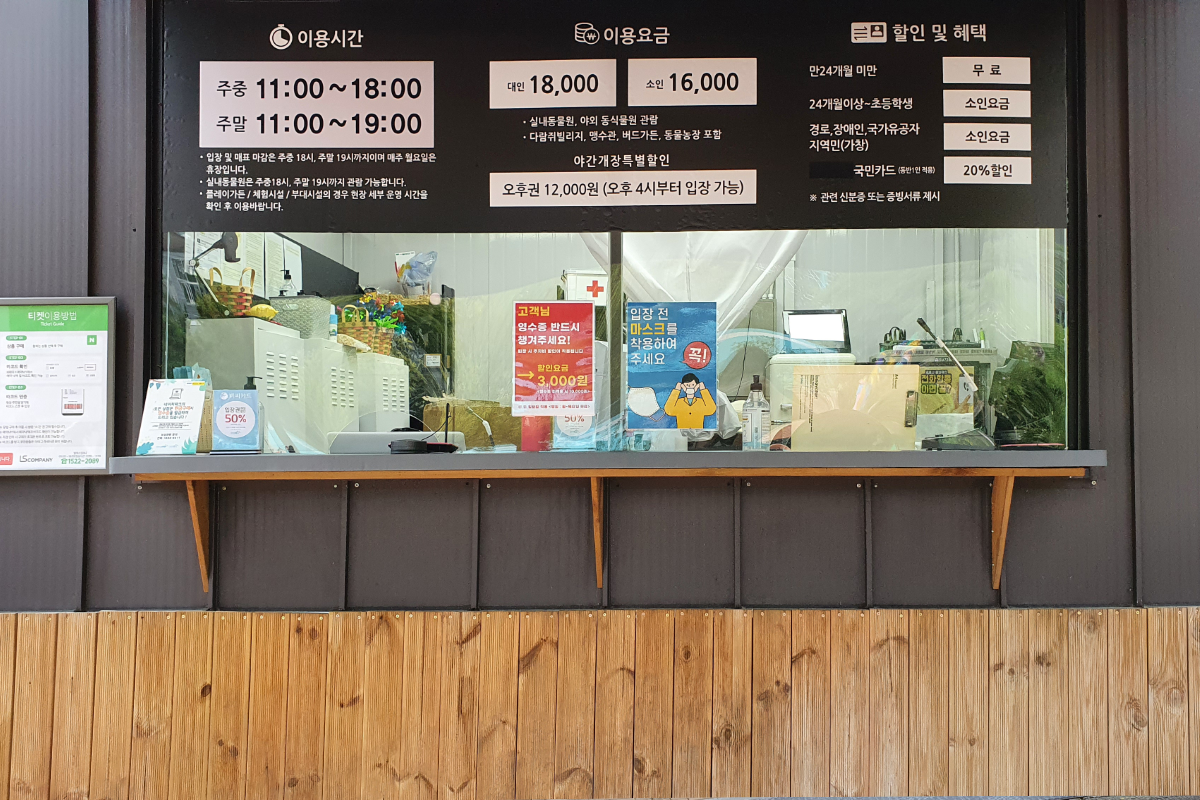 As soon as you enter, you can show your ticket at the ticket office on the right!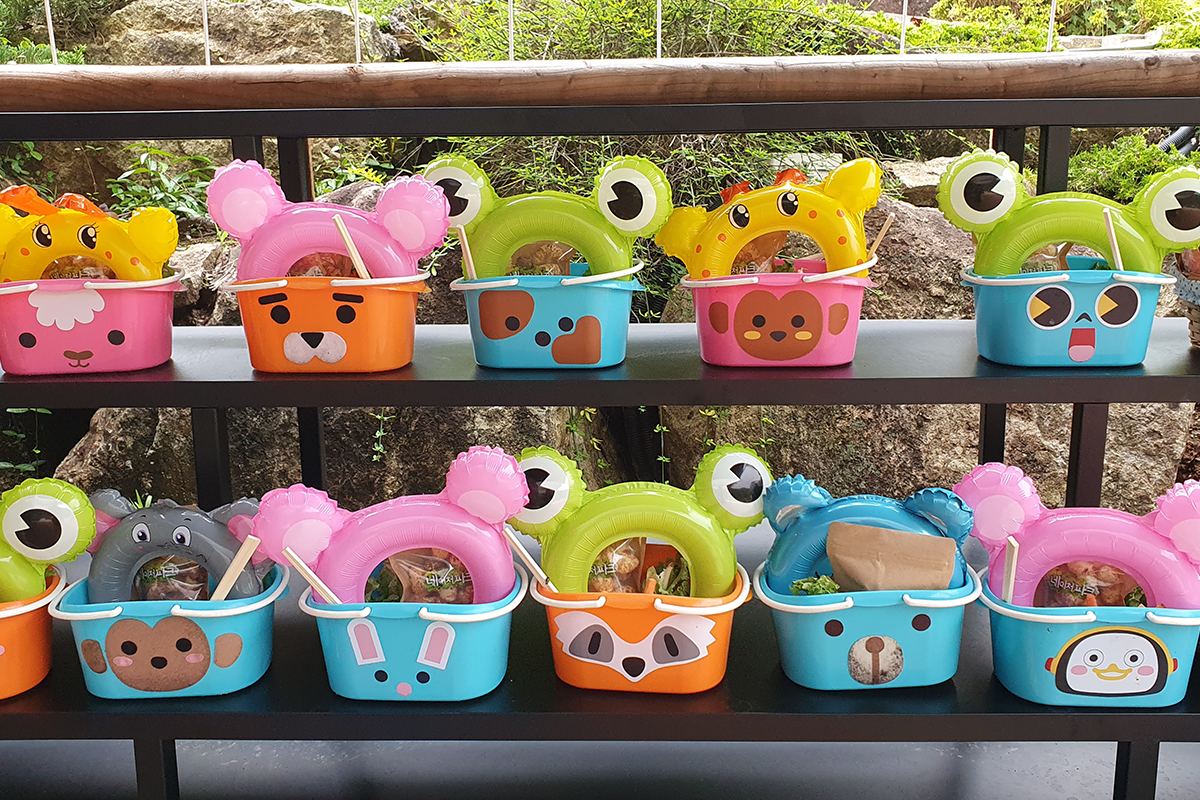 These baskets and headbands are located on the right side of the ticket office and are available for 5,000 won. The baskets contain food for the animals!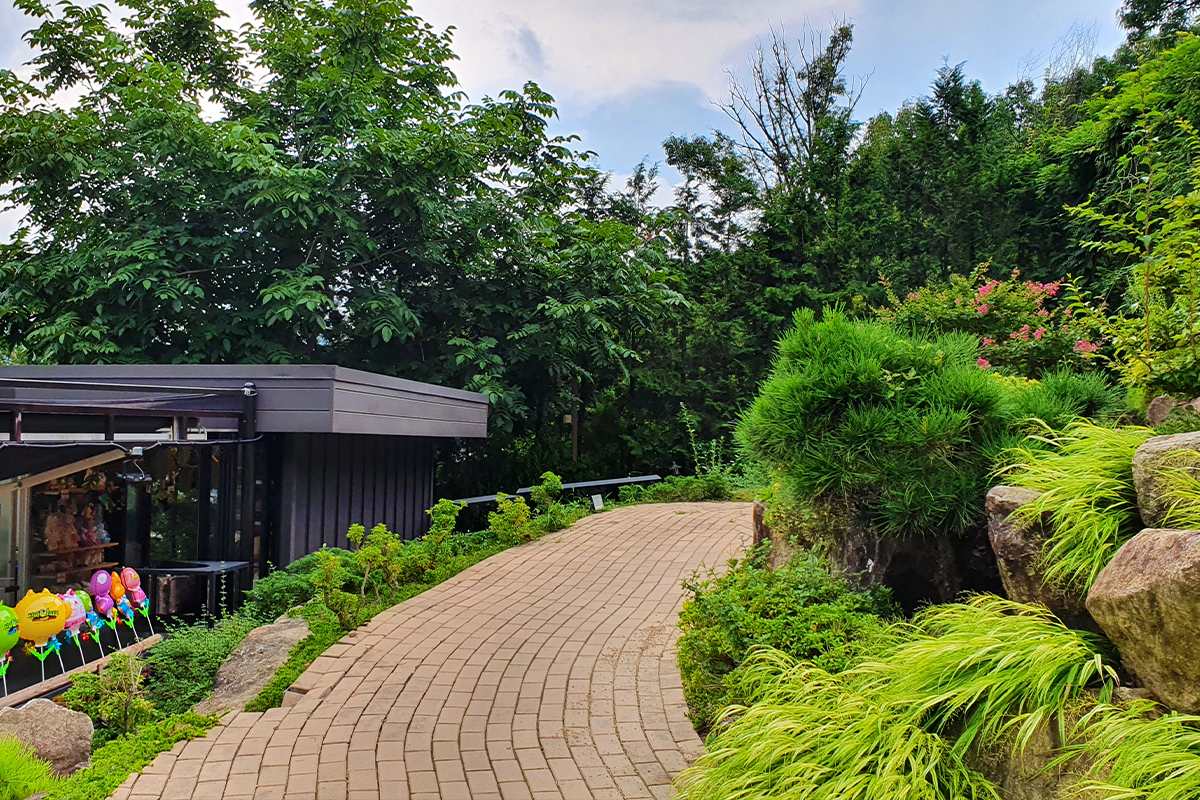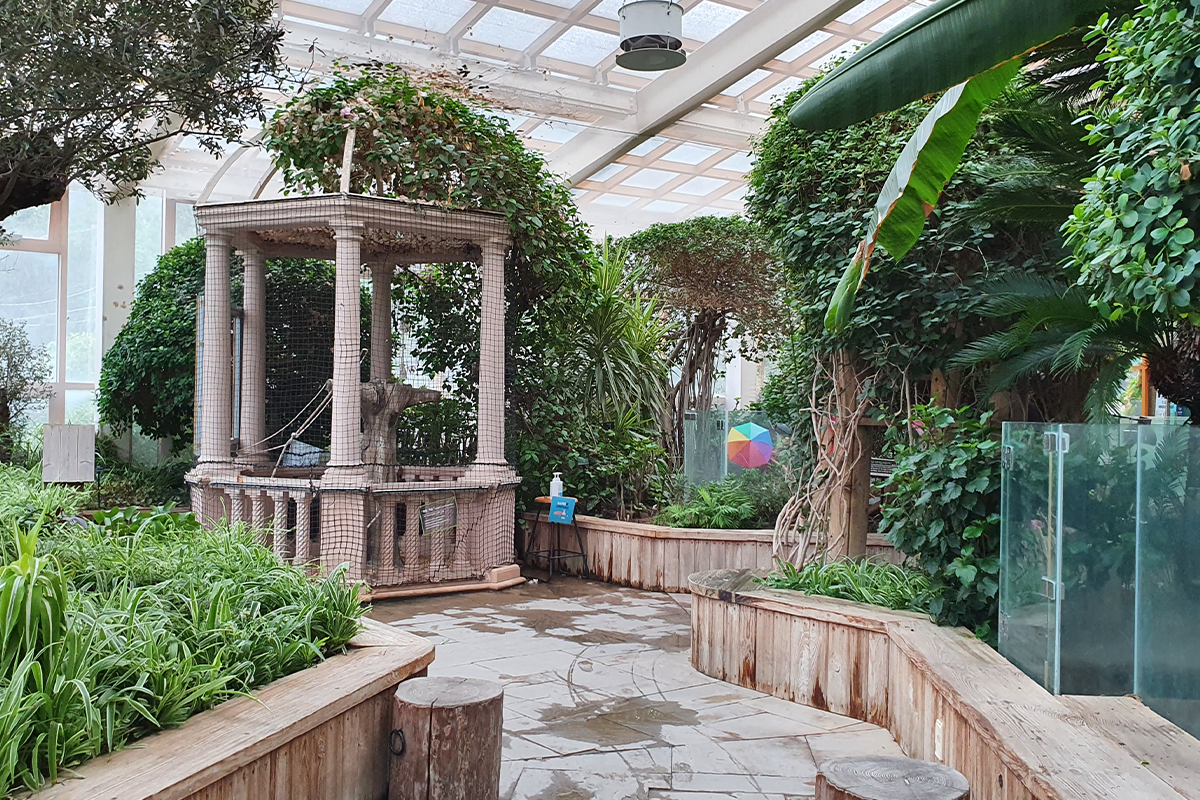 Nature Park is a large zoo about 120,000 pyeong (approx. 39,700 square meters). It's different from other zoos because there are alternating indoor and outdoor exhibits.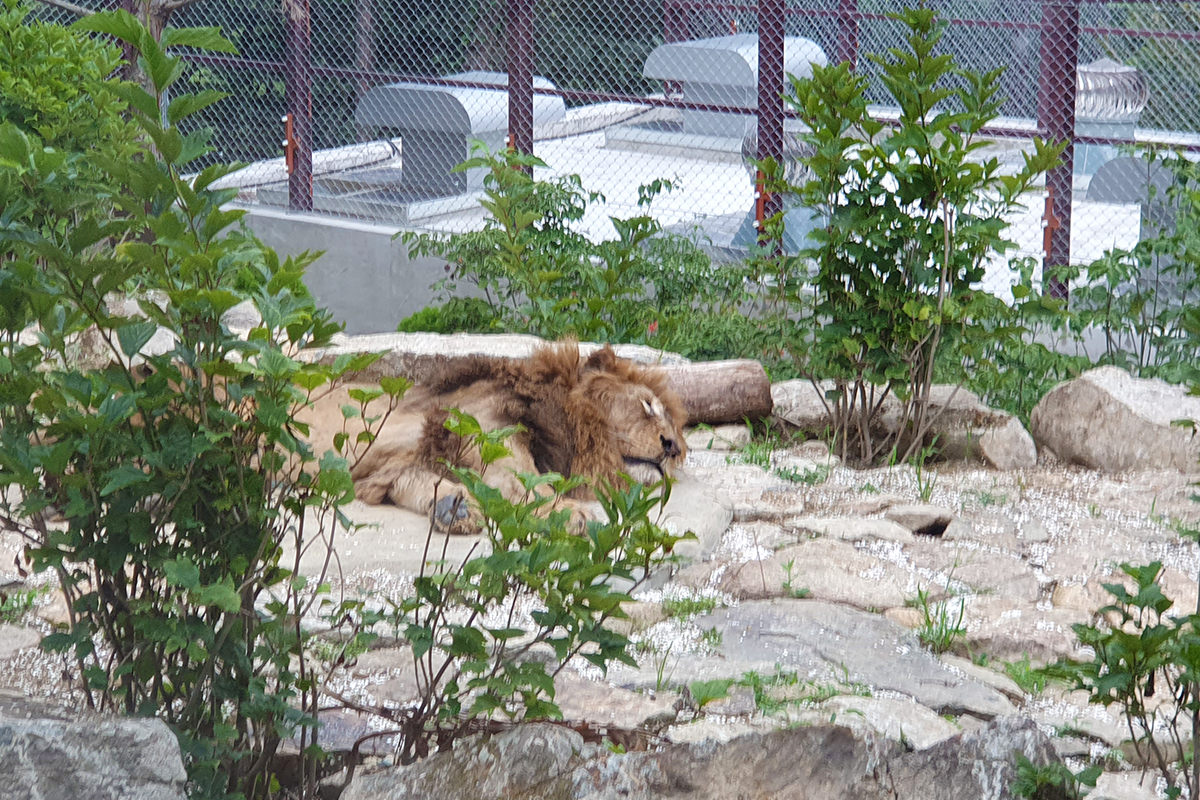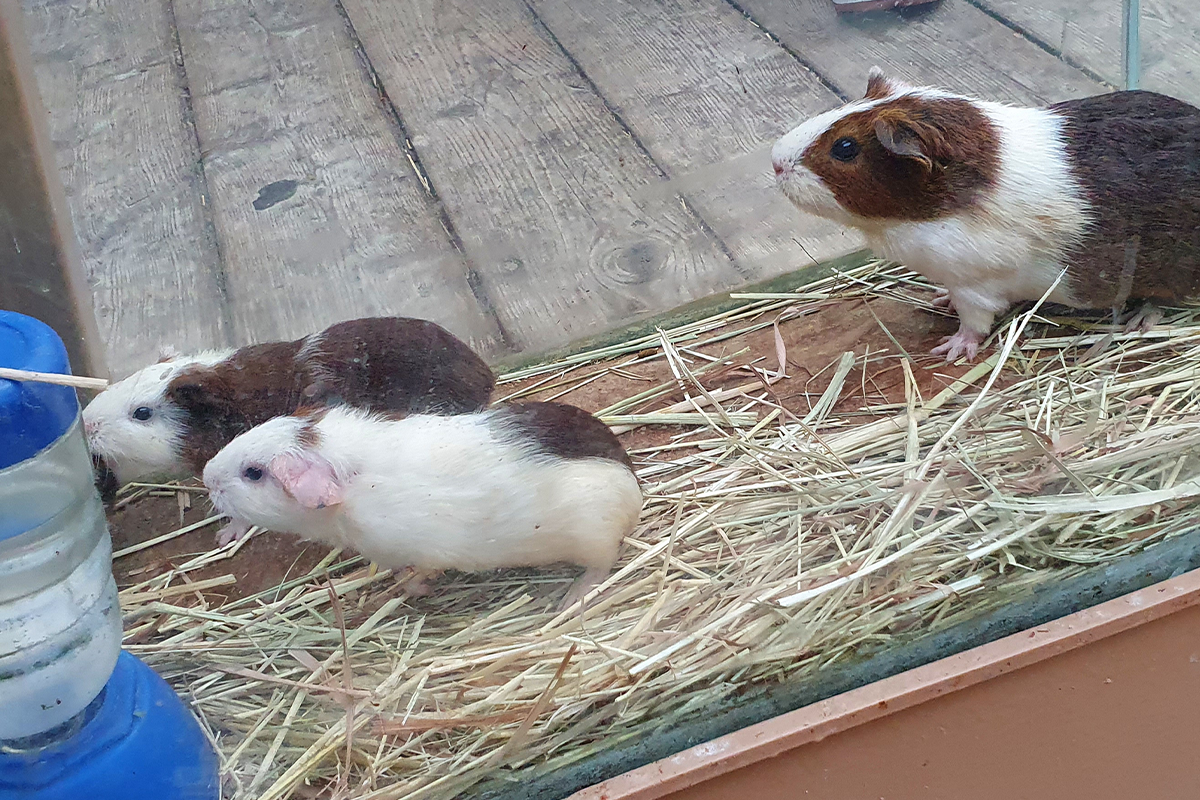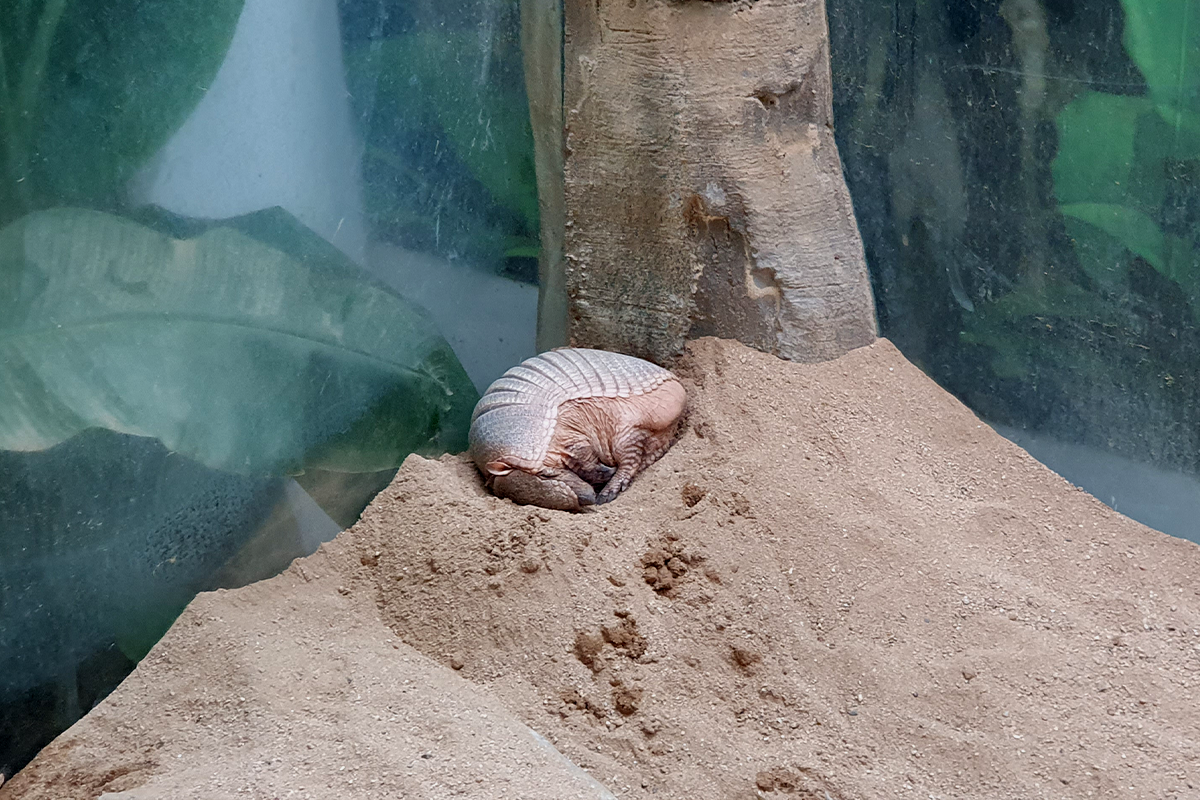 There are more than 300 animals of more than 50 species living in Nature Park. You can see everything from big predators, cute little animals, and strange animals that you might not have seen before!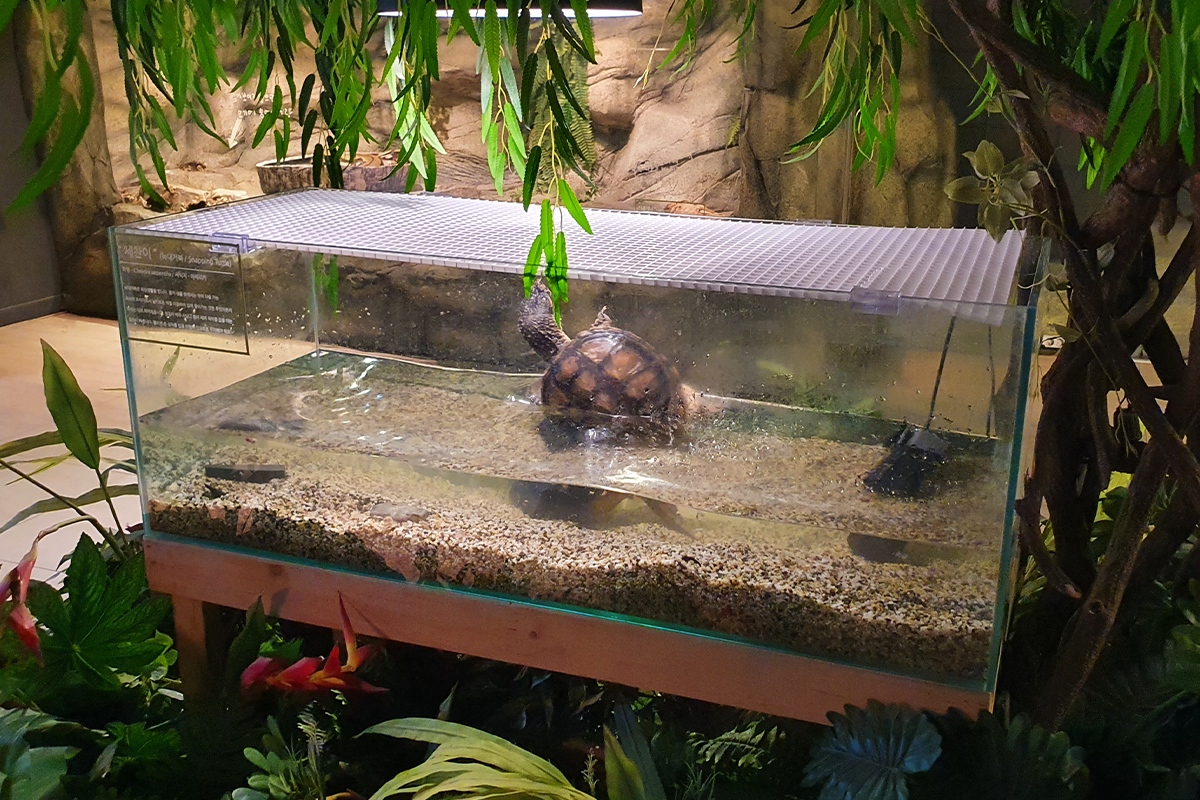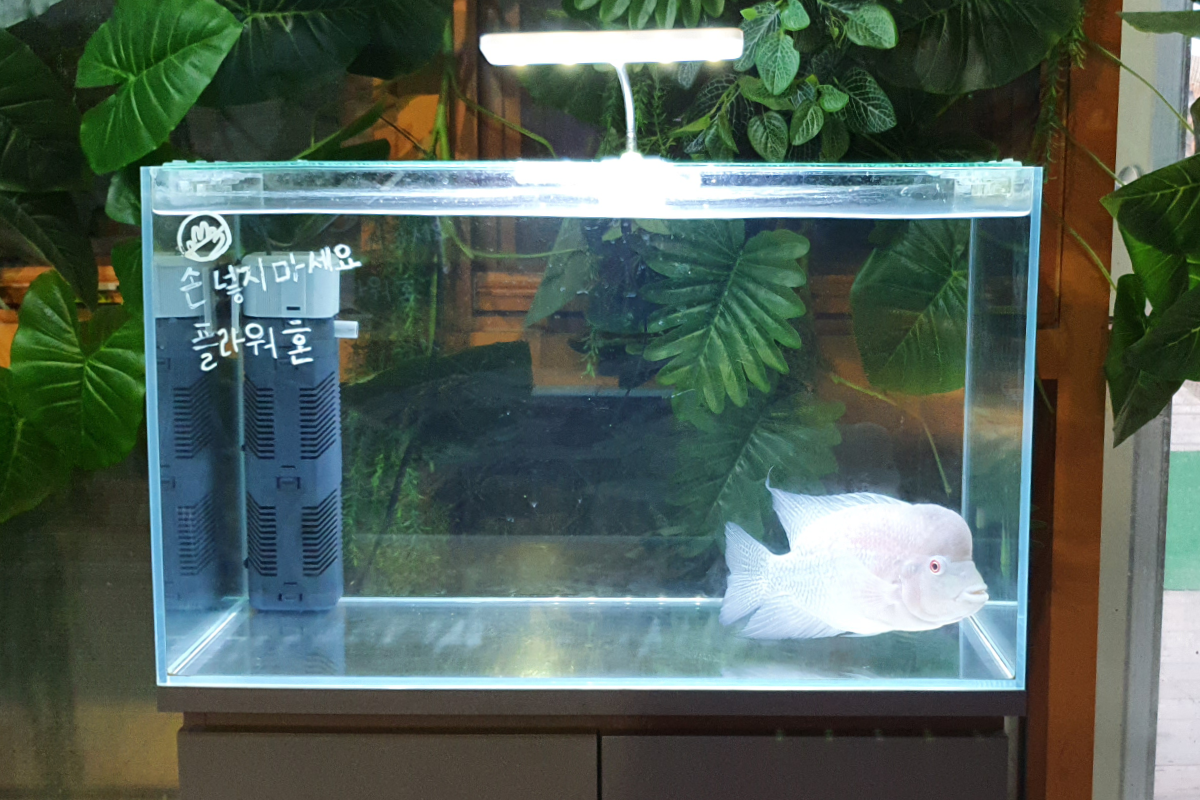 You can even see marine animals. It was amazing seeing so many interesting animals!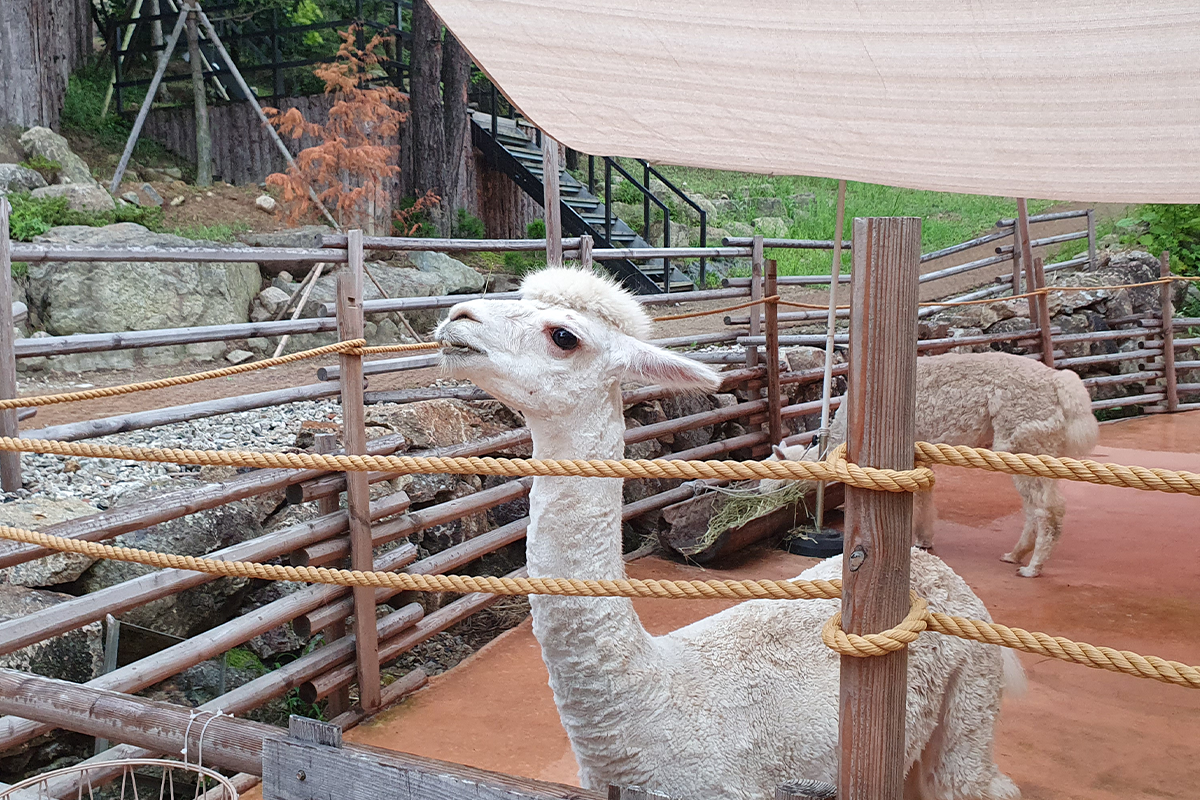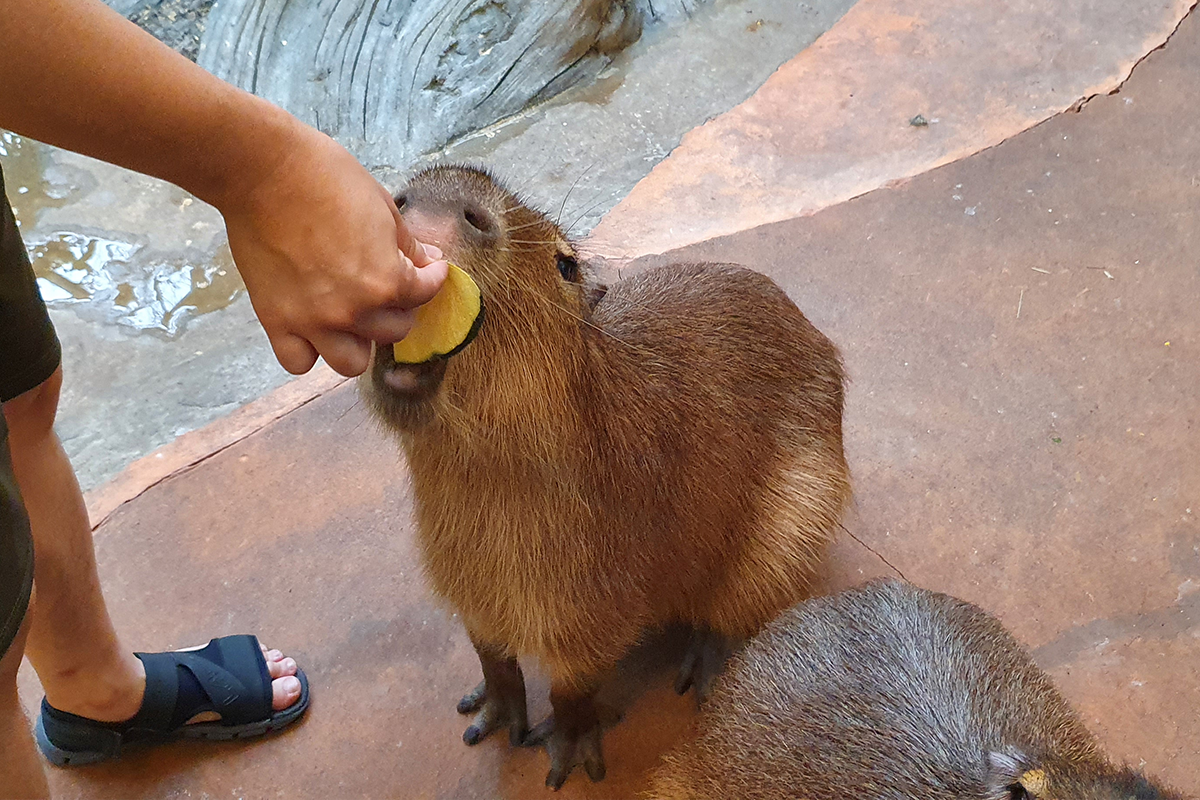 As I mentioned earlier, you can also feed some of the animals. It's actually the highlight of Nature Park!
While looking around, you'll see signs telling you what animals you can feed from your basket.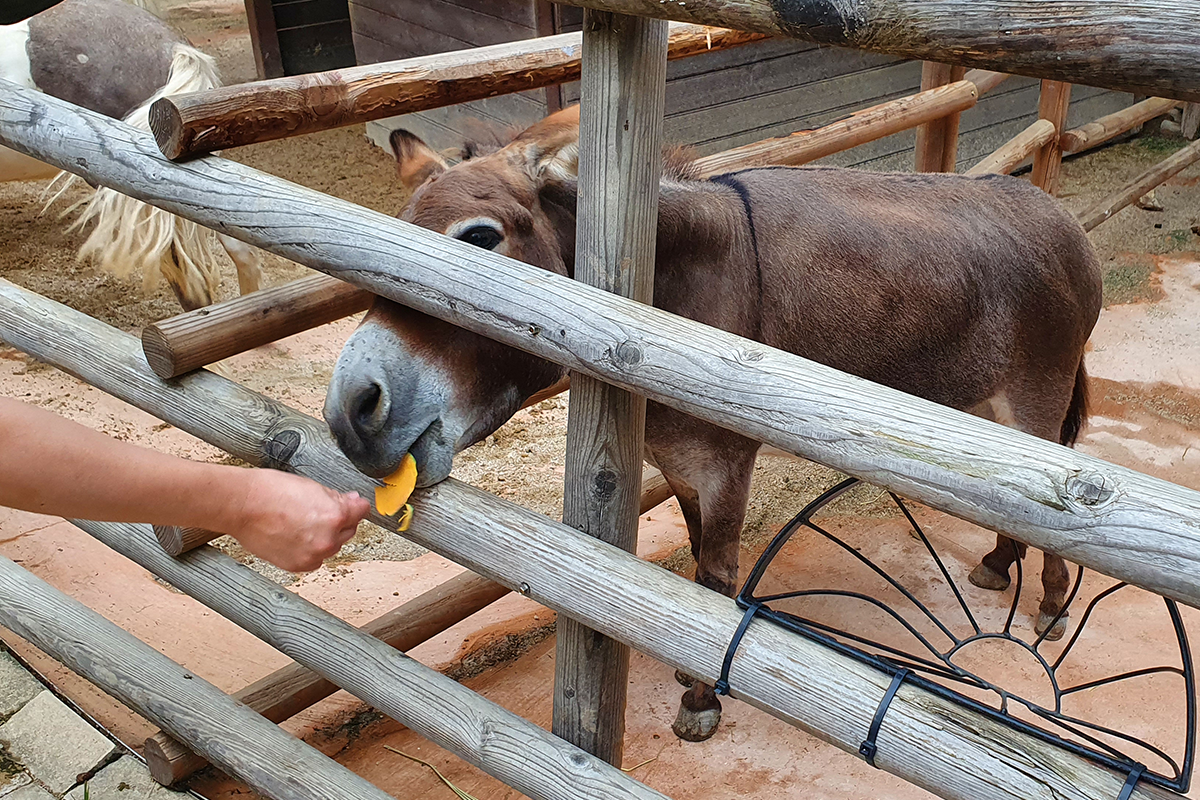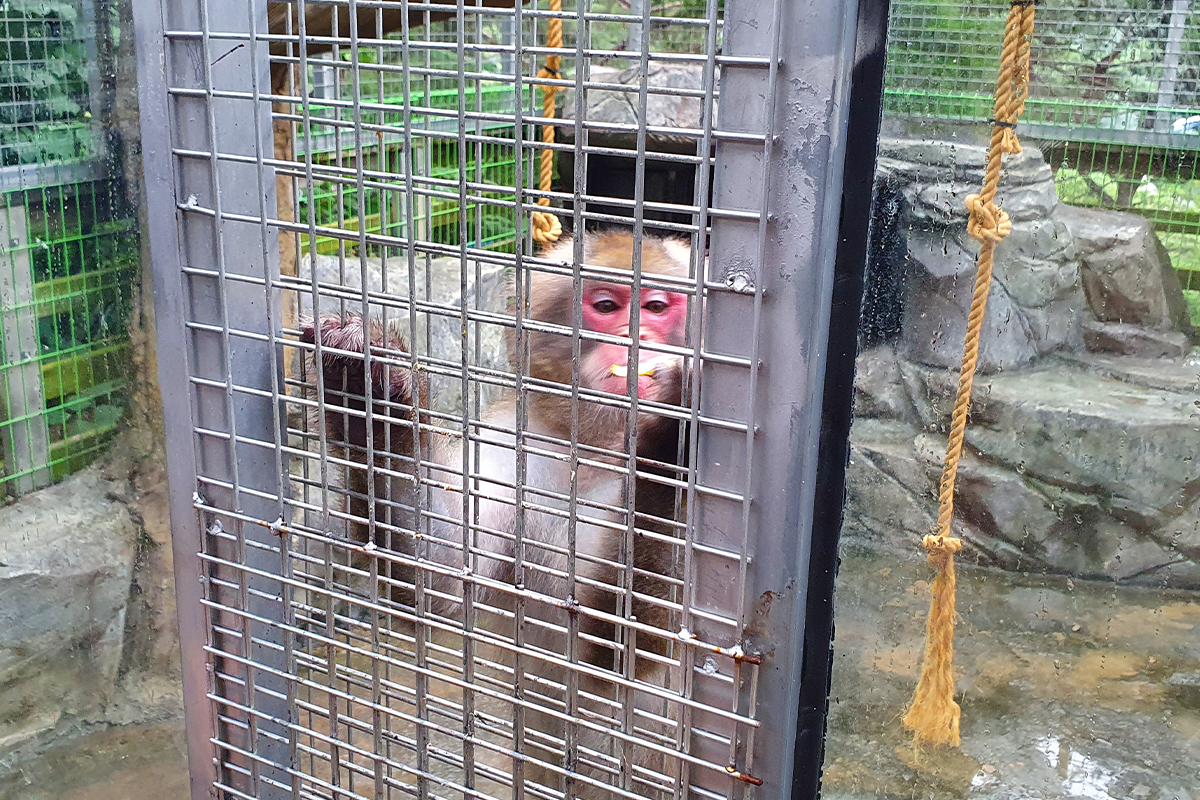 The experienced animals just saw me holding a basket and knew to come over knowing that they'd get some food. It was so fun getting to interact with such cute and interesting animals!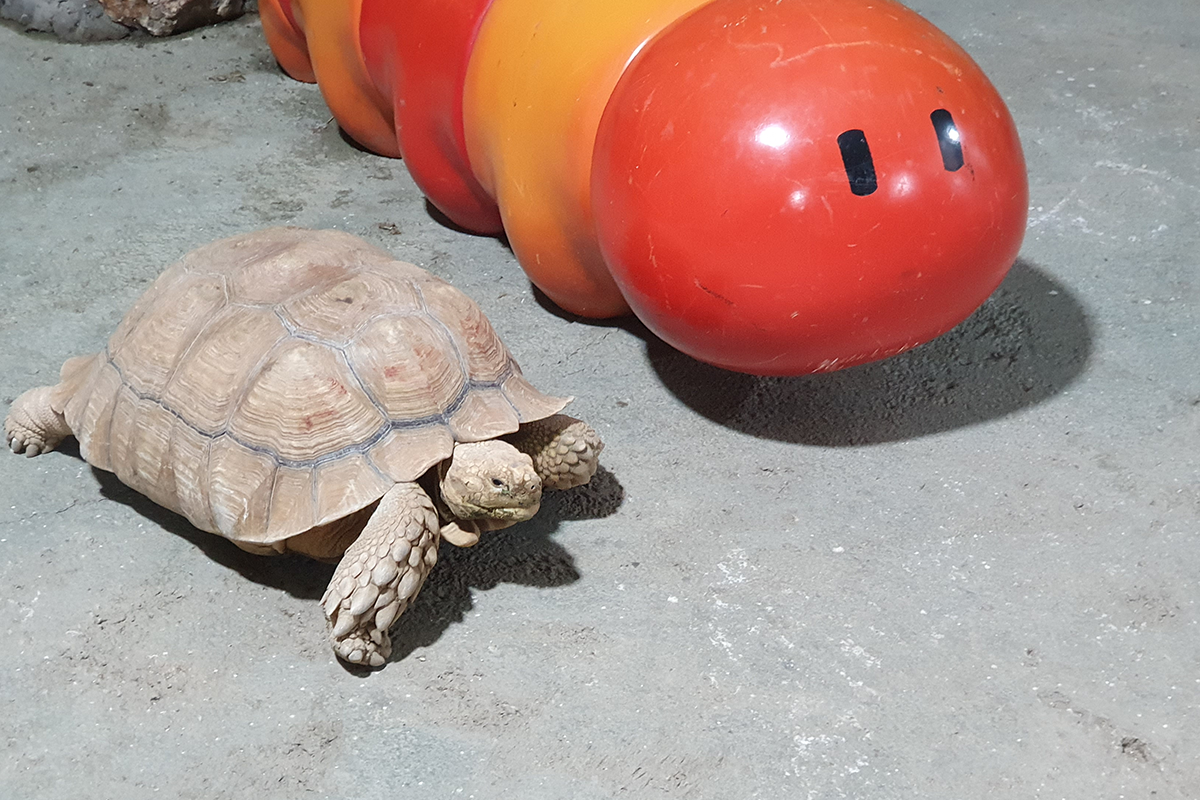 If you love animals, why don't you visit Nature Park in Daegu? It's a great chance to see many different animals up close.
Address: 대구광역시 달성군 가창면 가창로 175길
Gachang-ro 175-gil, Gachang-myeon, Dalseong-gun, Daegu
Hours:
Tue-Fri: 11:00-18:00
Sat-Sun: 11:00-19:00
Price: 9,900 won
Transportation: Take Bus 240/304/449/Gachang 2, Express Bus 2 to Spa Valley 1 Stop
Reservation:
Reserve online here
Arrive on selected date
Show mobile or email voucher to staff
---
Green Postman Photo Studio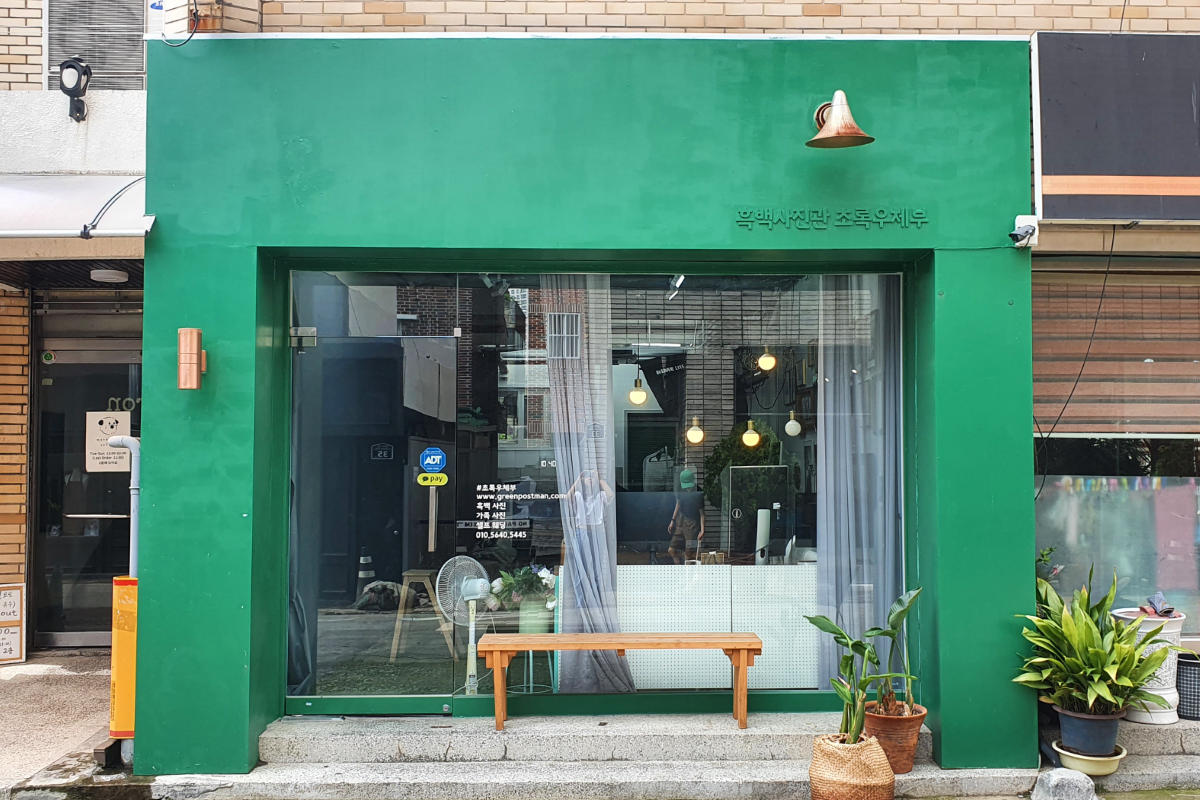 I strongly recommend the Green Postman photo studio as your last stop so you can capture your happy memories in Daegu.
The Green Postman is the hottest black-and-white photo studio in Daegu these days!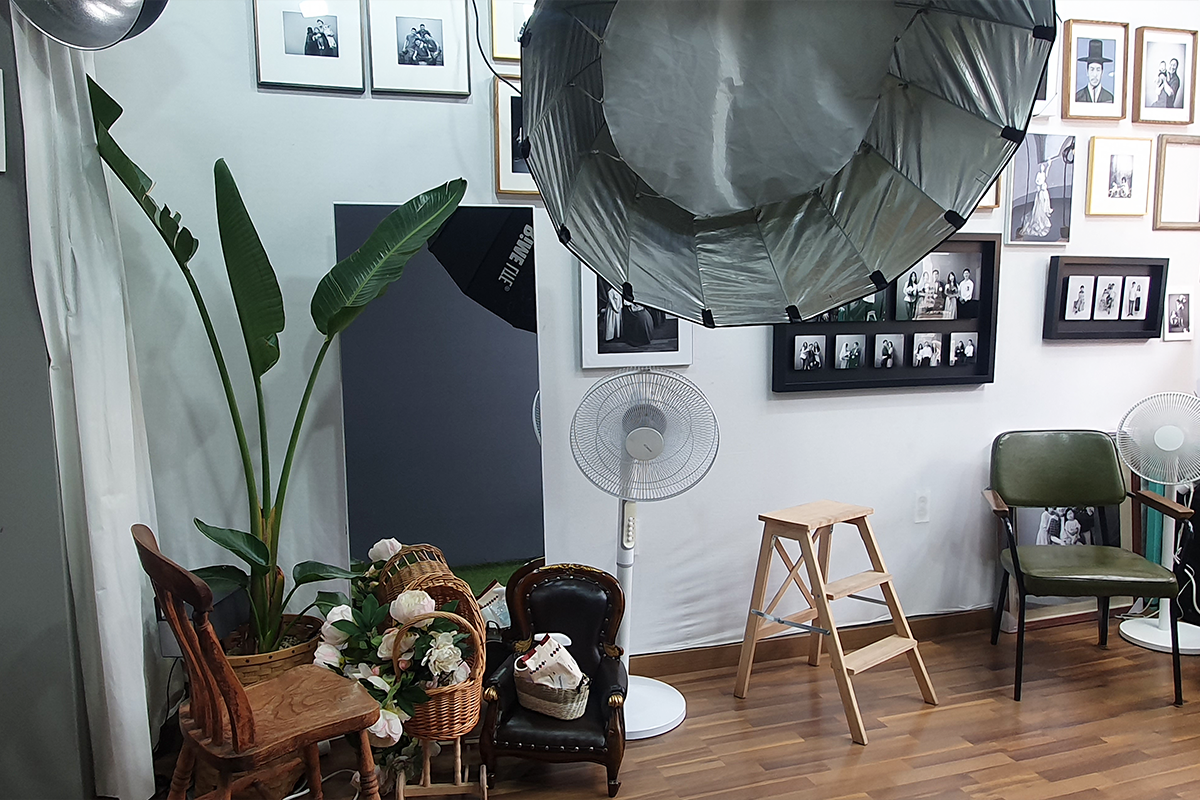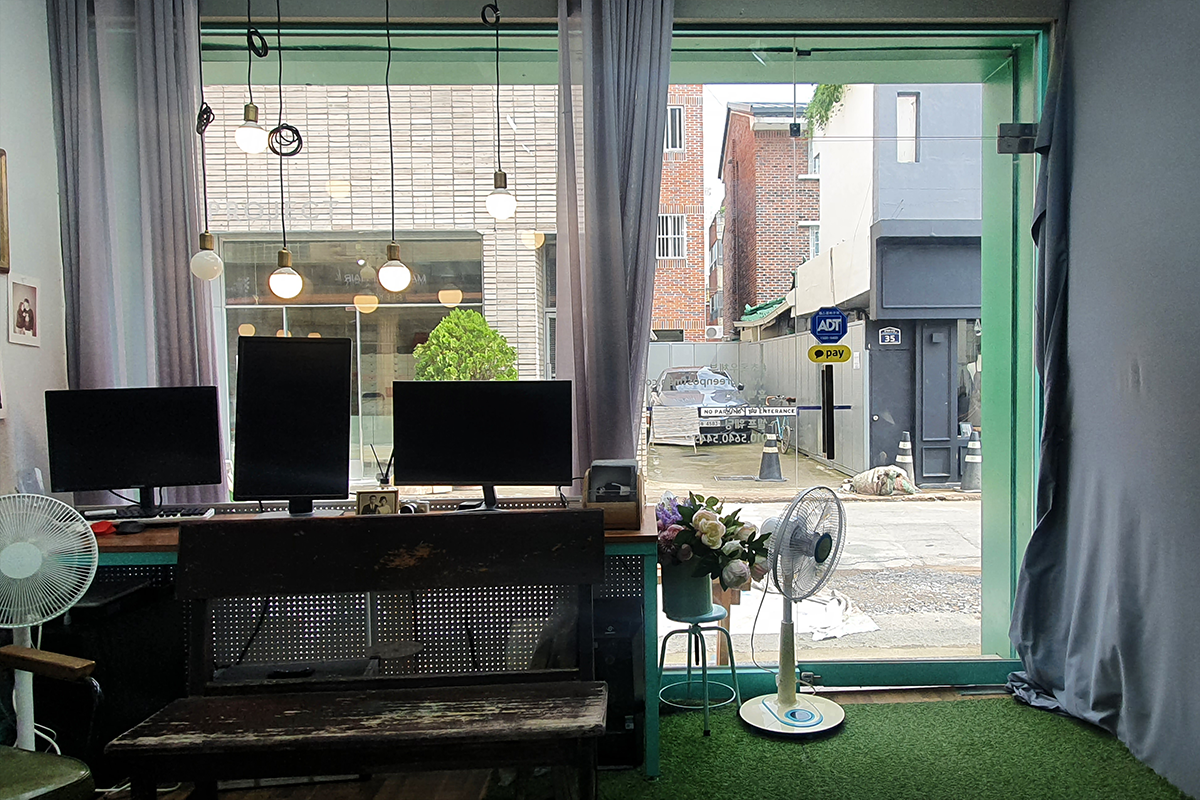 The inside of the store was small and neat. It's a cozy and comfortable atmosphere, so it's perfect to relax and get photos taken.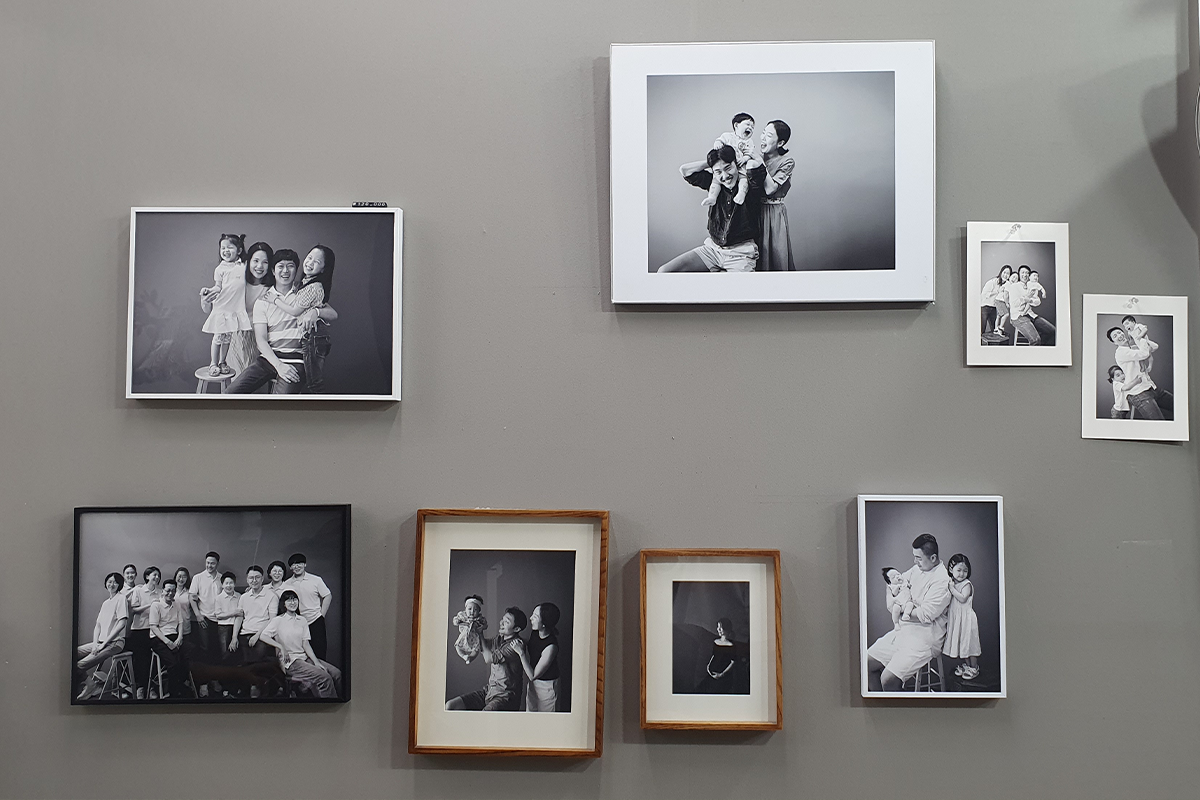 There were black and white photographs taken here all over the place. Everyone in the photos looked so happy, so I was really looking forward to the shoot!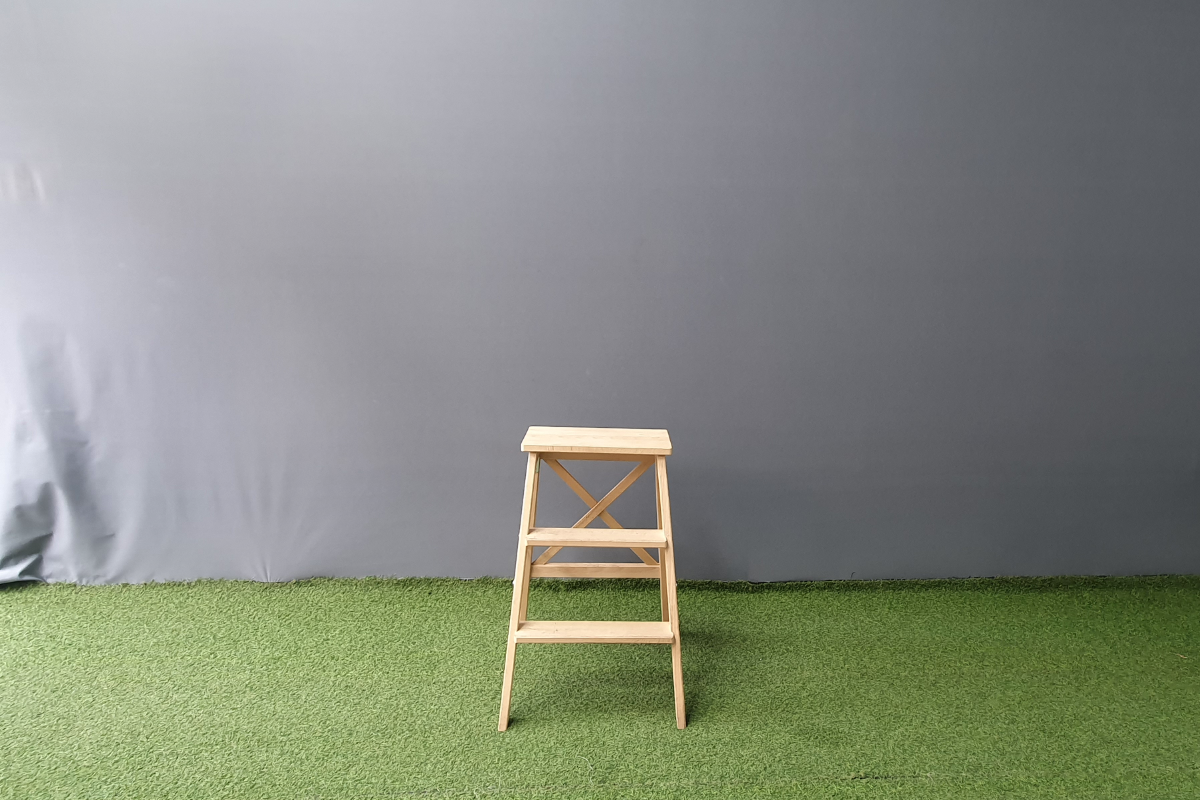 The photoshoot takes place against a dark blackout curtain. You can use props, such as chairs, or you can pose without props.
Think of any poses you want to do in advance and tell the photographer. They will work with you to make your vision come to life!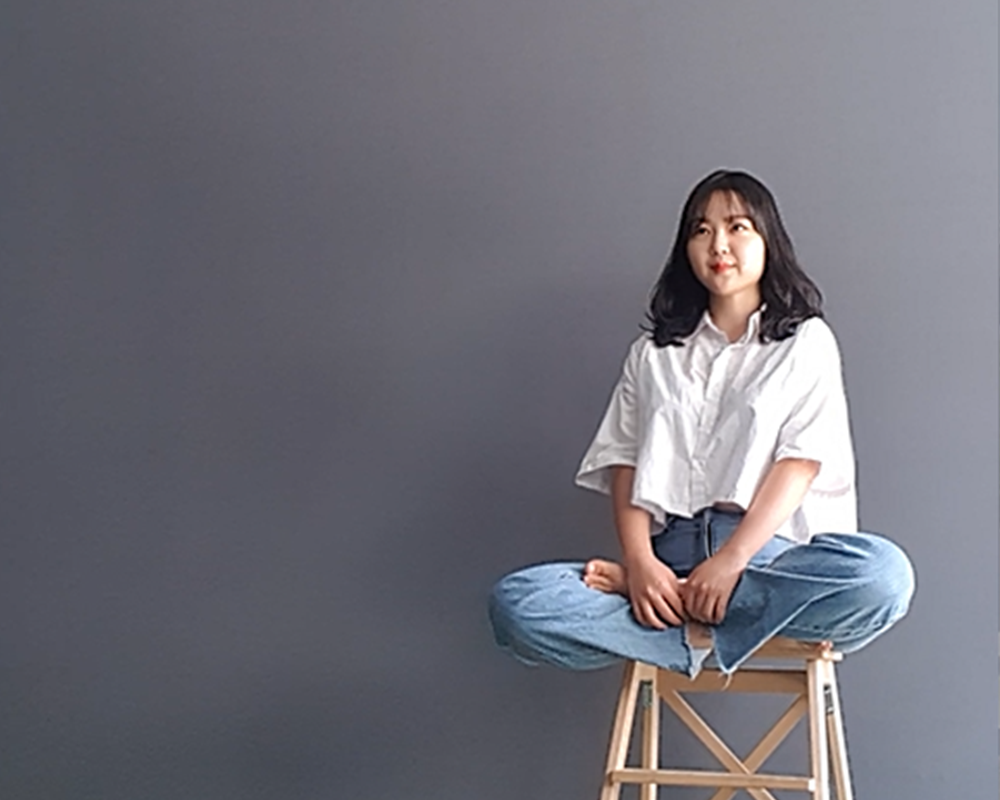 The shoot lasted about 10 to 15 minutes. Since the photographer creates an enjoyable atmosphere, even people who feel awkward will be able to pose naturally!
At first, it was awkward for me to pose too, but the photographer helped me feel more comfortable.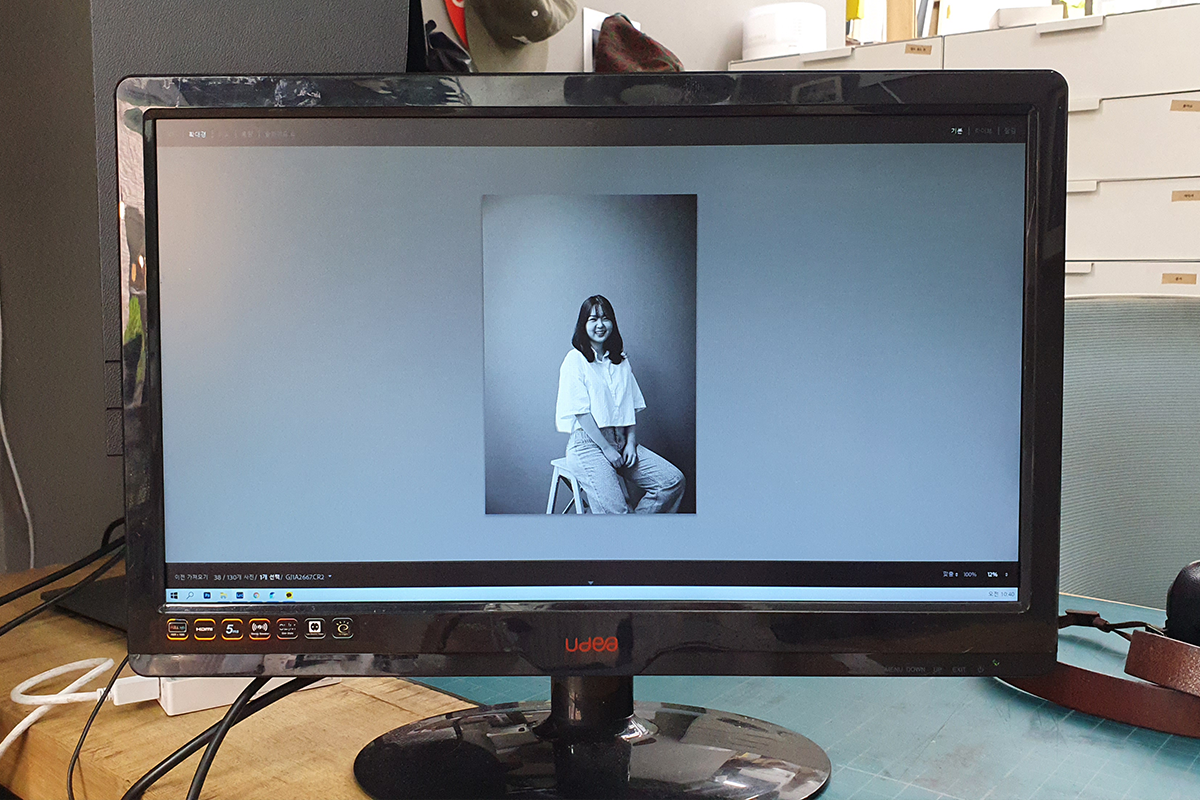 The most difficult part is choosing your favorite pictures after you finish.
Fortunately, the Green Postman gives you plenty of time to choose pictures, so you can through all the pictures carefully!
After much consideration, I decided to print one picture that I liked the most and one picture the photographer recommended.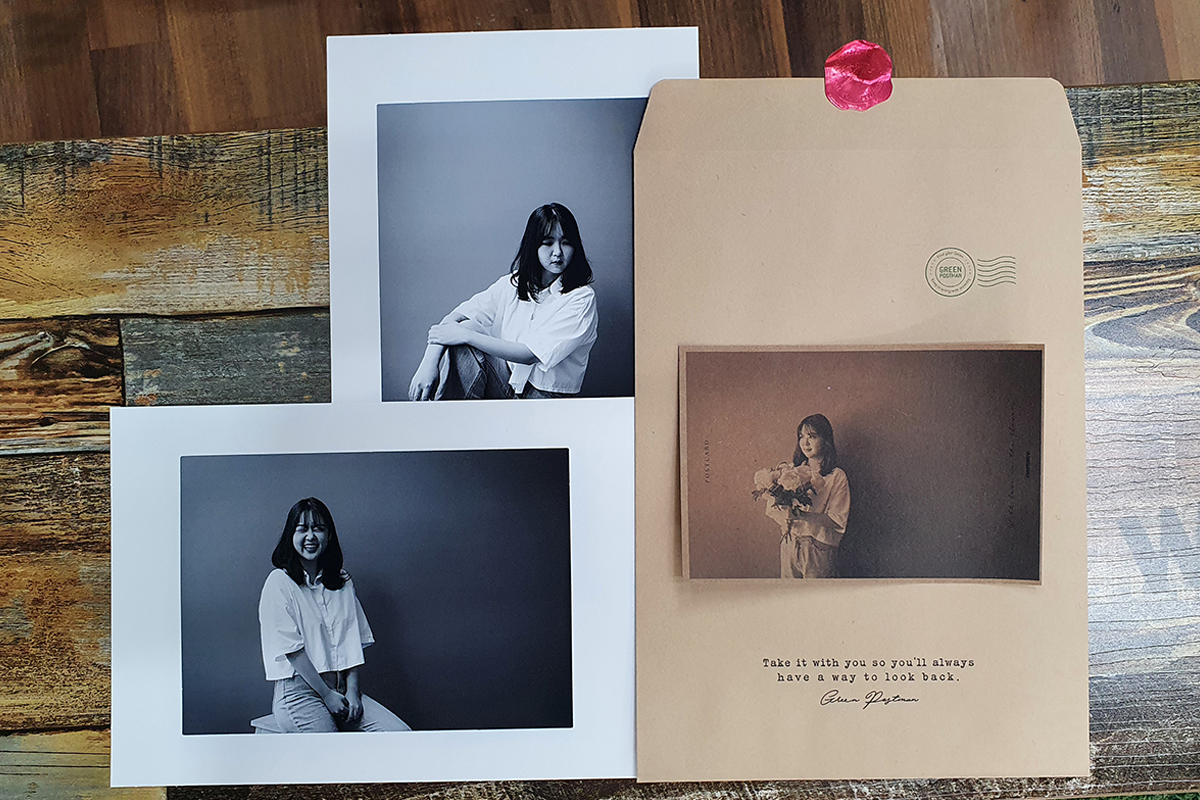 After you choose, your pictures will be edited and printed in about 15 minutes. I really liked the pictures because the photographer made really pretty and natural edits.
You guys should take a nice black-and-white photo at the Green Postman photo studio in Daegu too! It's fun to take pictures alone, but it would be even better to take pictures with your friends, boyfriend or girlfriend, and family.
Address: 대구광역시 중구 동덕로 8길 52
52 Dongdeok-ro 8-gil, Daebong 1-dong, Jung-gu, Daegu
Hours: Tue-Sun 10:00-20:00
Price:
Basic (minimum 2 5x7 sheets): 15,000 won per sheet, original not included
Original file: 40,000 won
Family Photo Set (8x10in frame + 2 prints + original): 130,000 won
Couple Set (2 prints + original + postcard): 70,000 won
Transportation: 6 minute walk from Kyungpook National University Hospital Station Exit 3
Reservation:
Reserve online here
Arrive at selected time and date
Show mobile or email voucher to staff
---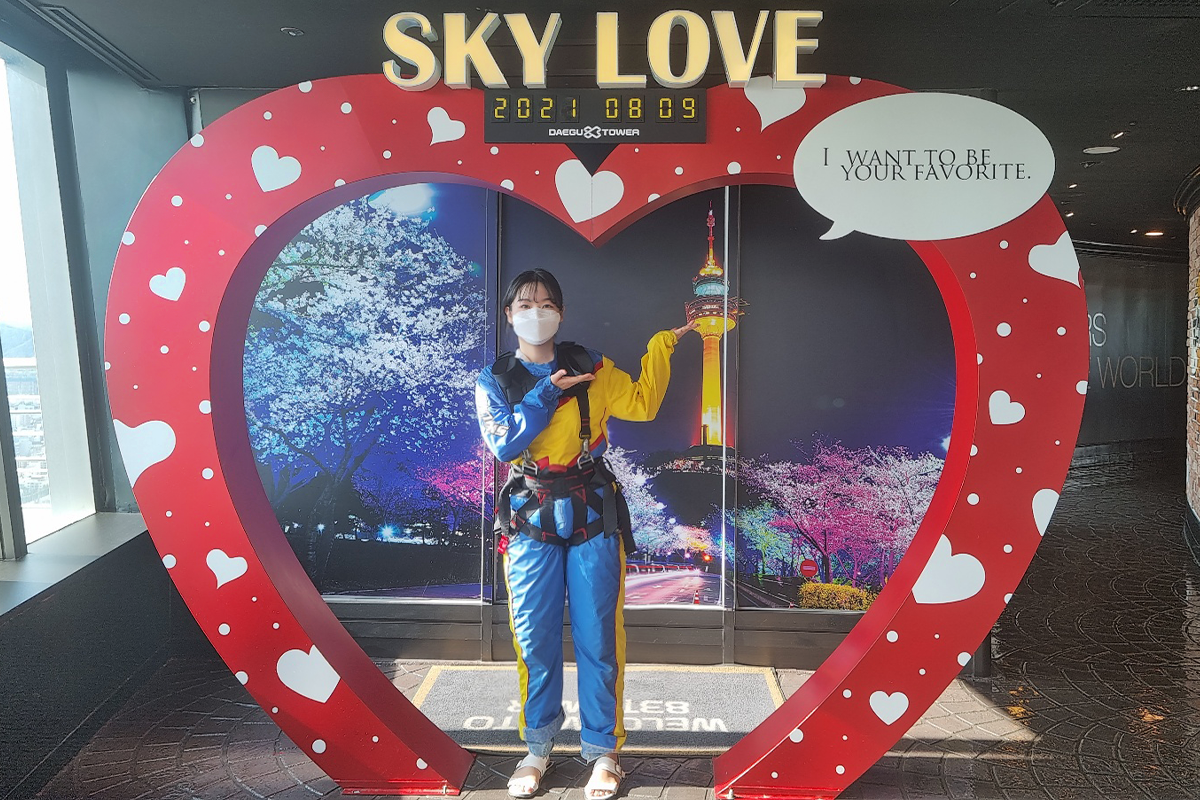 That's it for my list of cool things to do in Daegu. I had such a great time, and I hope you can enjoy Daegu like me too!
---