TXT Soobin's Walk Around Seoul | Pizza Express, R.about, & Super Matcha
Recreating TXT Soobin's outing in Sinsa. Enjoy delicious pizza and desserts along the way at Garosu-gil.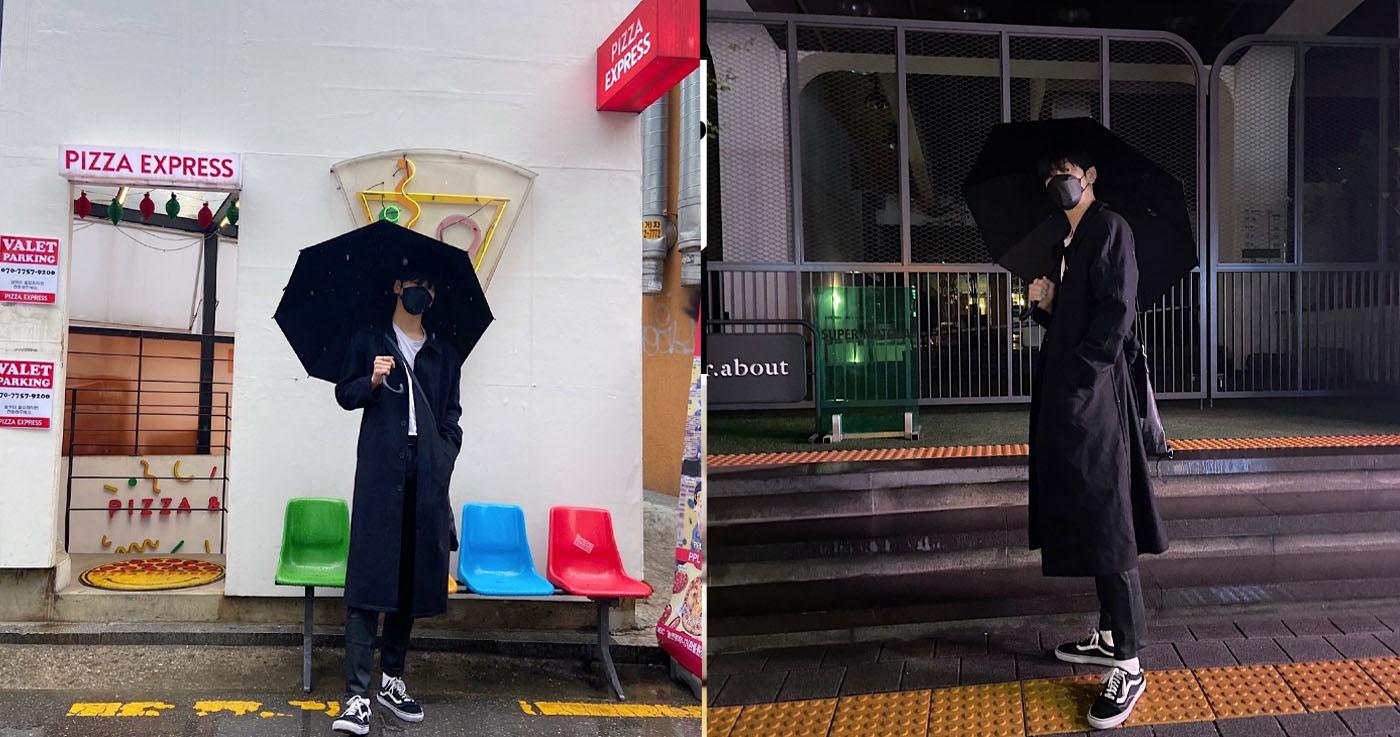 TOMORROW X TOGETHER fans can get a glimpse of members' daily lives through their Twitter page.
Recently, Soobin of TXT posted a walk he took around Seoul on a rainy day.
He stopped by a pizza restaurant called Pizza Express and some cafes.
We really wanted to try the pizza at this restaurant, so we headed out to follow in Soobin's footsteps!
---
Pizza Express
피자익스프레스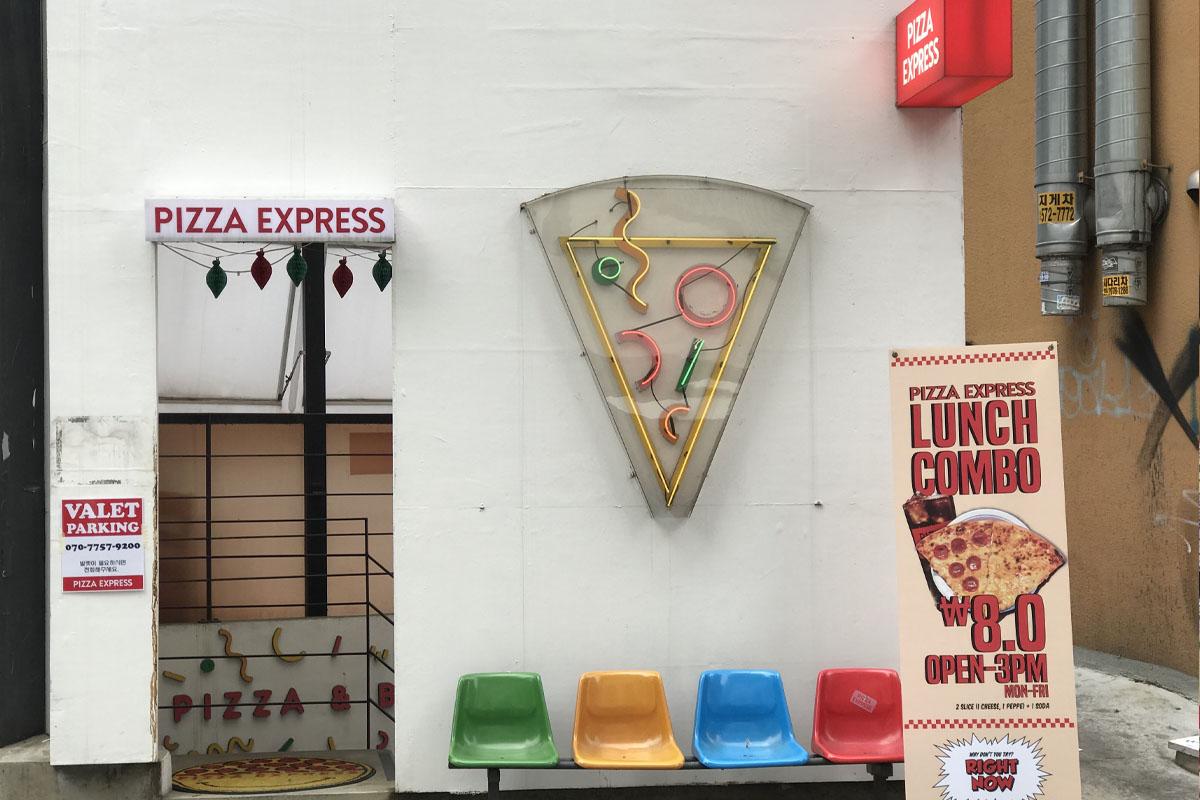 Information

Address: 서울 강남구 압구정로10길 28
28 Apgujeong-ro 10-gil, Sinsa-dong
Hours: 11:30-22:30
Transportation: 12-minute walk from Sinsa Station (Line 3) Exit 8
---
Pizza Express is located in Sinsa in Seoul and is easy to get to by subway. It's about a 12-minute walk from exit 8 of Sinsa Station on line 3.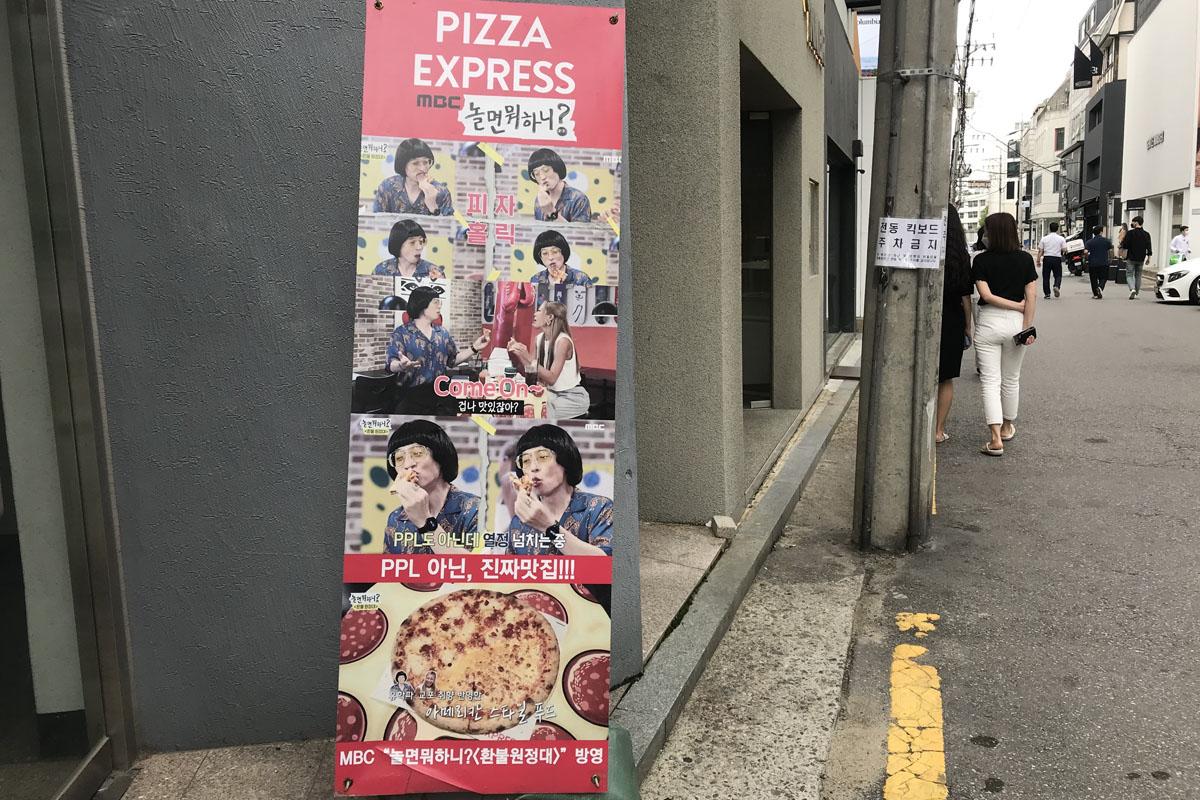 This restaurant became popular not only through word of mouth but also because it appeared on Yoo Jae-seok's show, Hangout with Yoo. In the show, Yoo Jae-seok and Jessi stopped by this restaurant to eat some delicious pizza.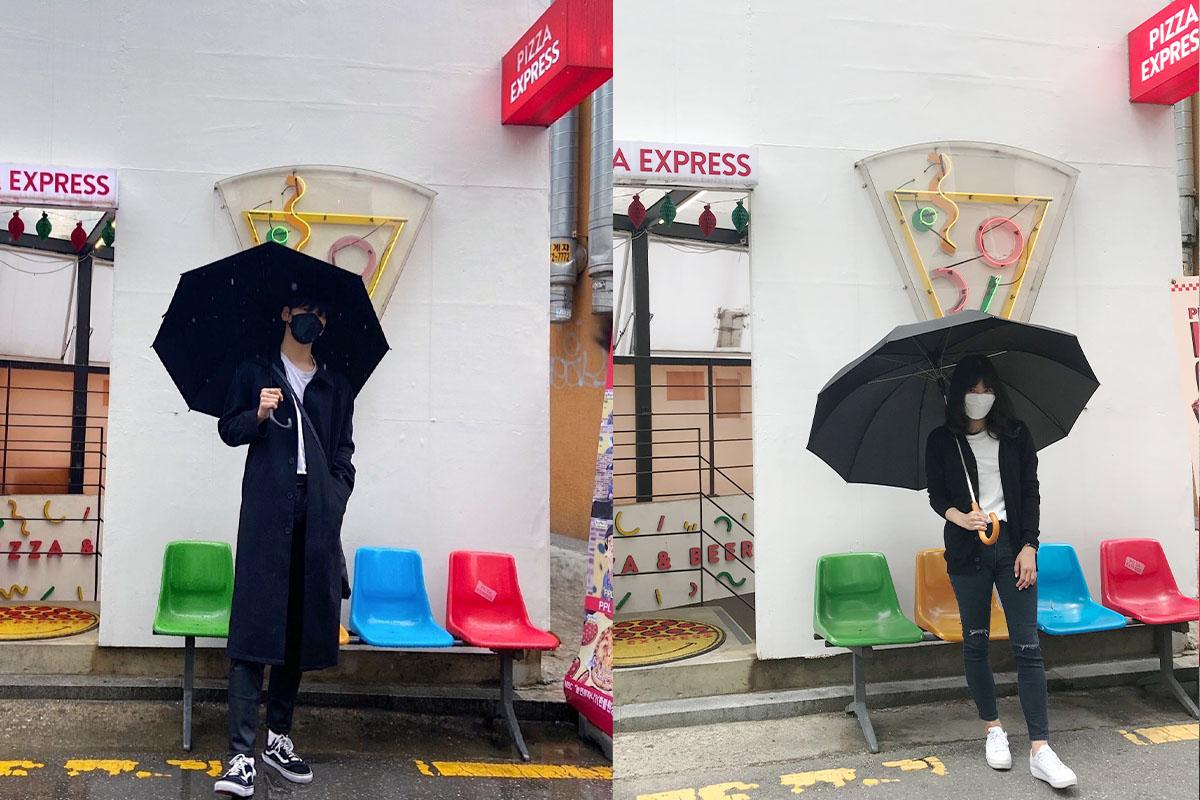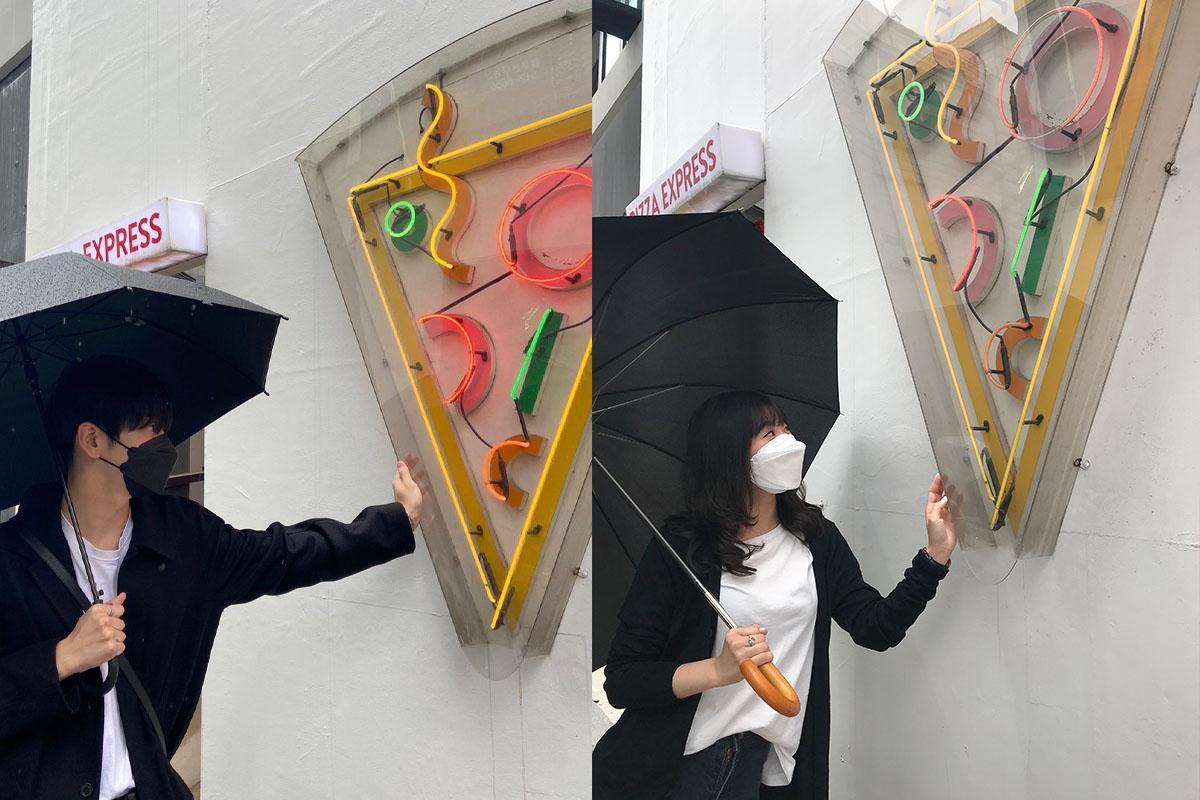 The unique exterior of Pizza Express with its colorful lights and chairs is a fun place to take pictures. Of course, Soobin made sure to take some pictures here.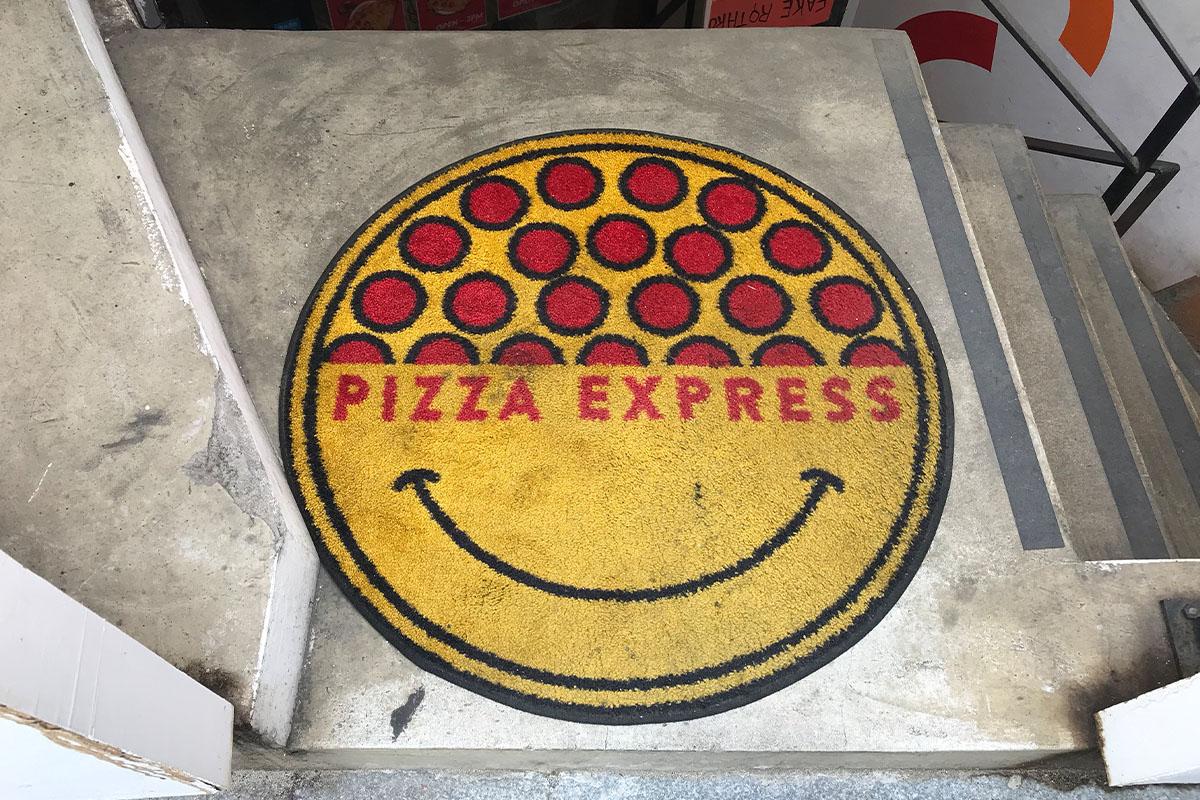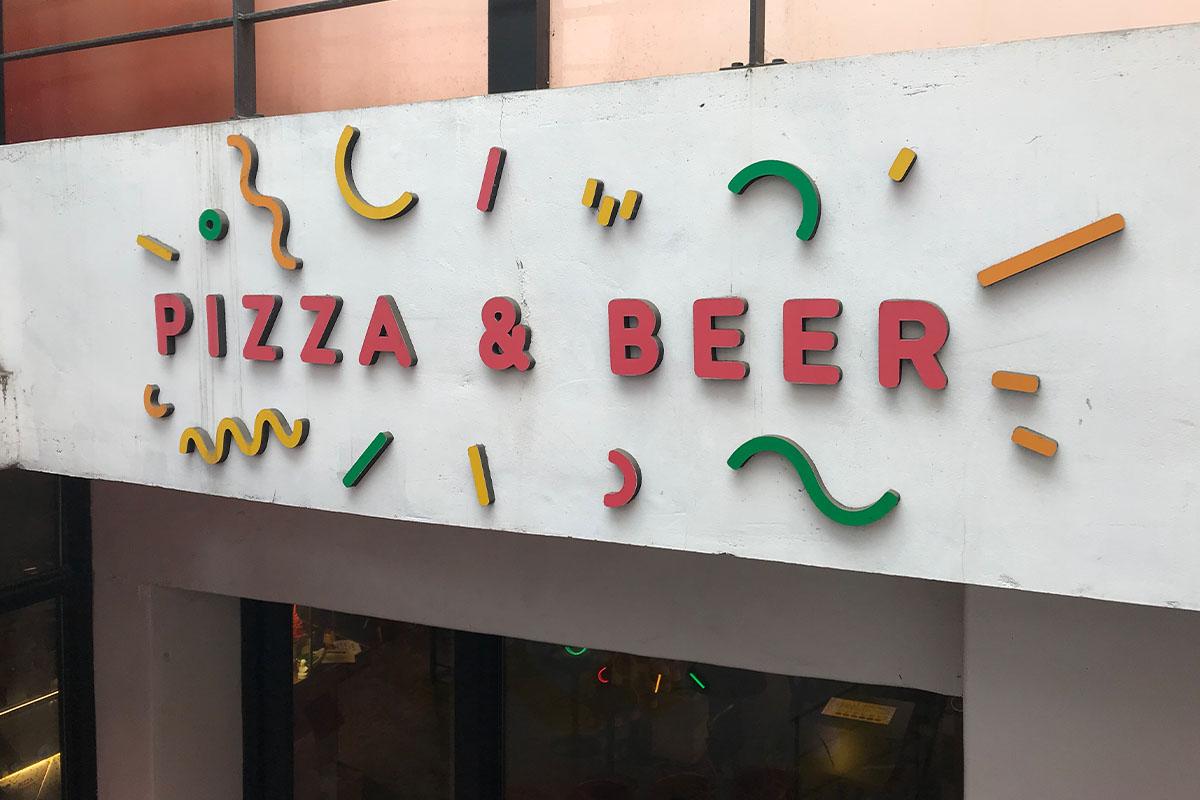 After taking some photos outside, we decided to head inside. Everything inside the restaurant was pizza-themed! There was a pizza carpet on the floor and other decorations on the walls that gave off a fun vibe.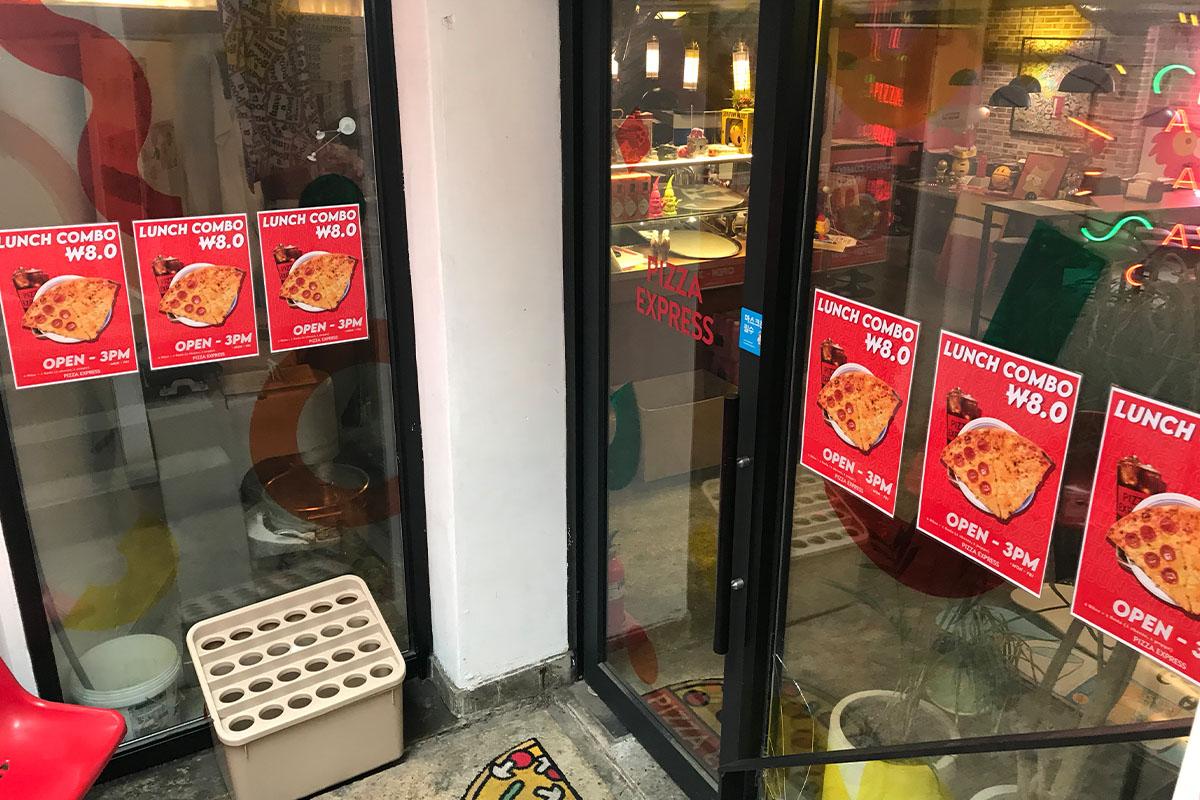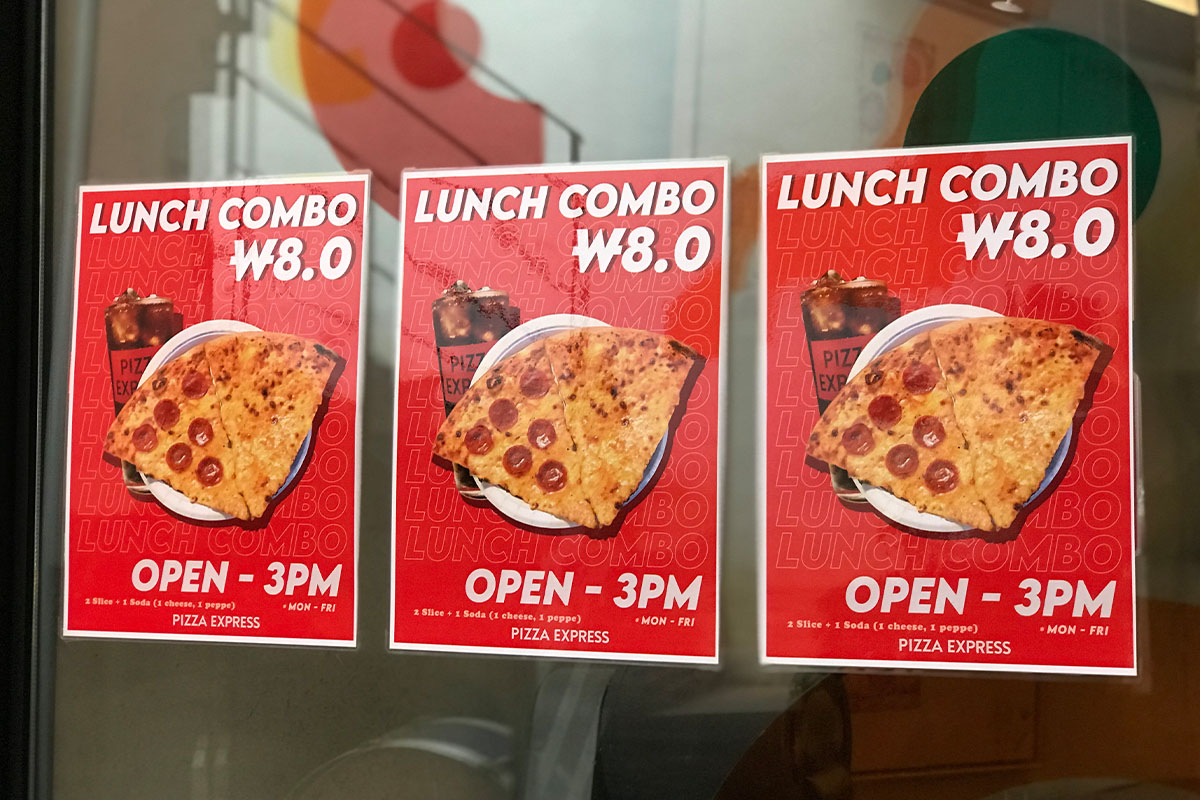 For visitors who come in on a weekday, there's a special promotion. From Monday to Friday until 3 PM, you can order a lunch combo for 8,000 KRW. The lunch combo comes with two slices of pizza (one pepperoni and one cheese) and a drink. This is a great deal, don't you think?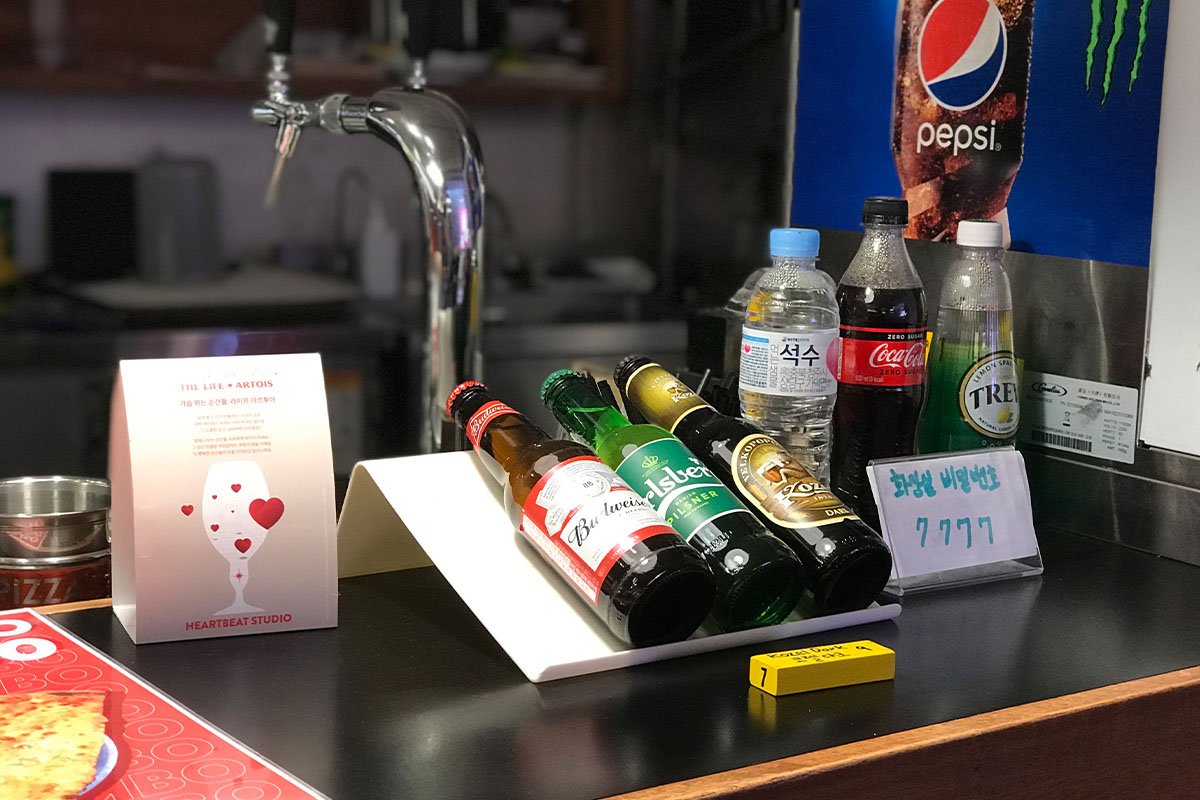 After entering the restaurant, we became excited when we saw all the decorations and heard the music blasting through the speakers. Something important to note, the restaurant has free WiFi. So, you can eat here and browse the internet without worrying about using up your data, which is a major plus. If you need to use the restroom, you can get the door code at the front counter.
The menu had pictures and was also available in English, making it convenient for tourists and expats. The menu included pizza, drinks, and sides. We ordered the lunch combo and hot wings.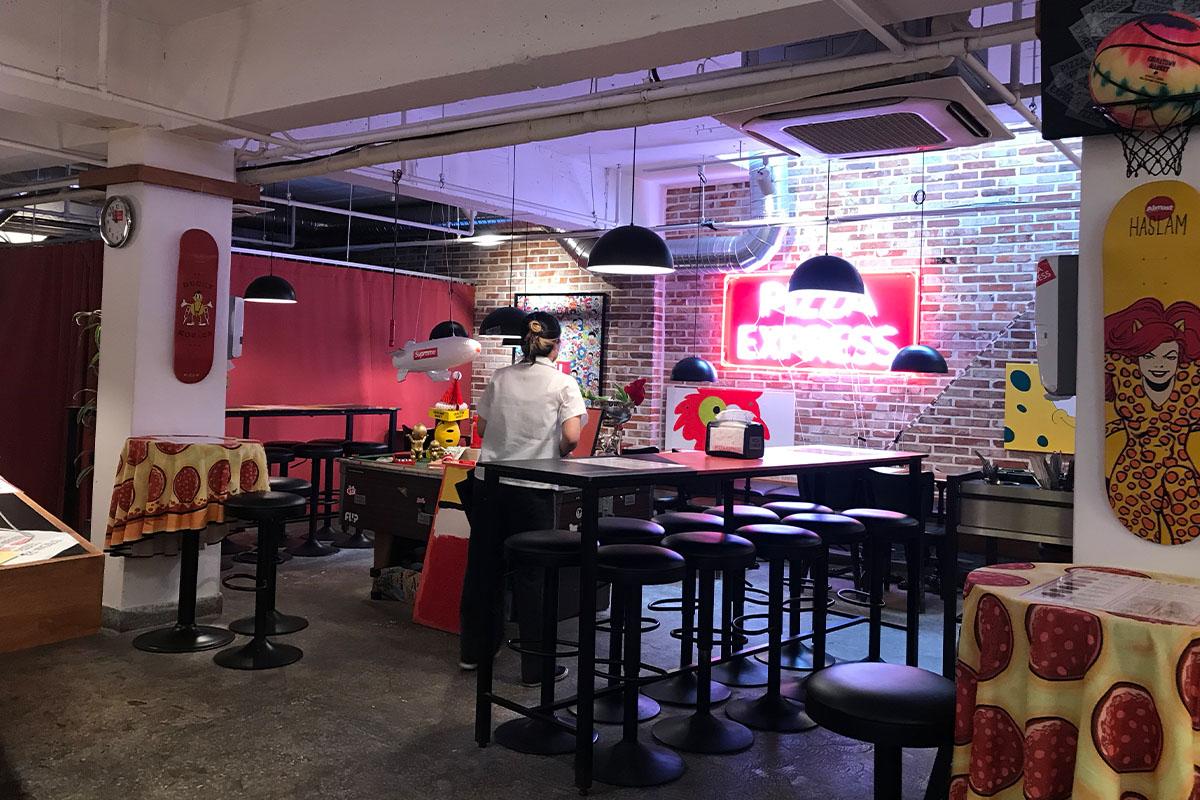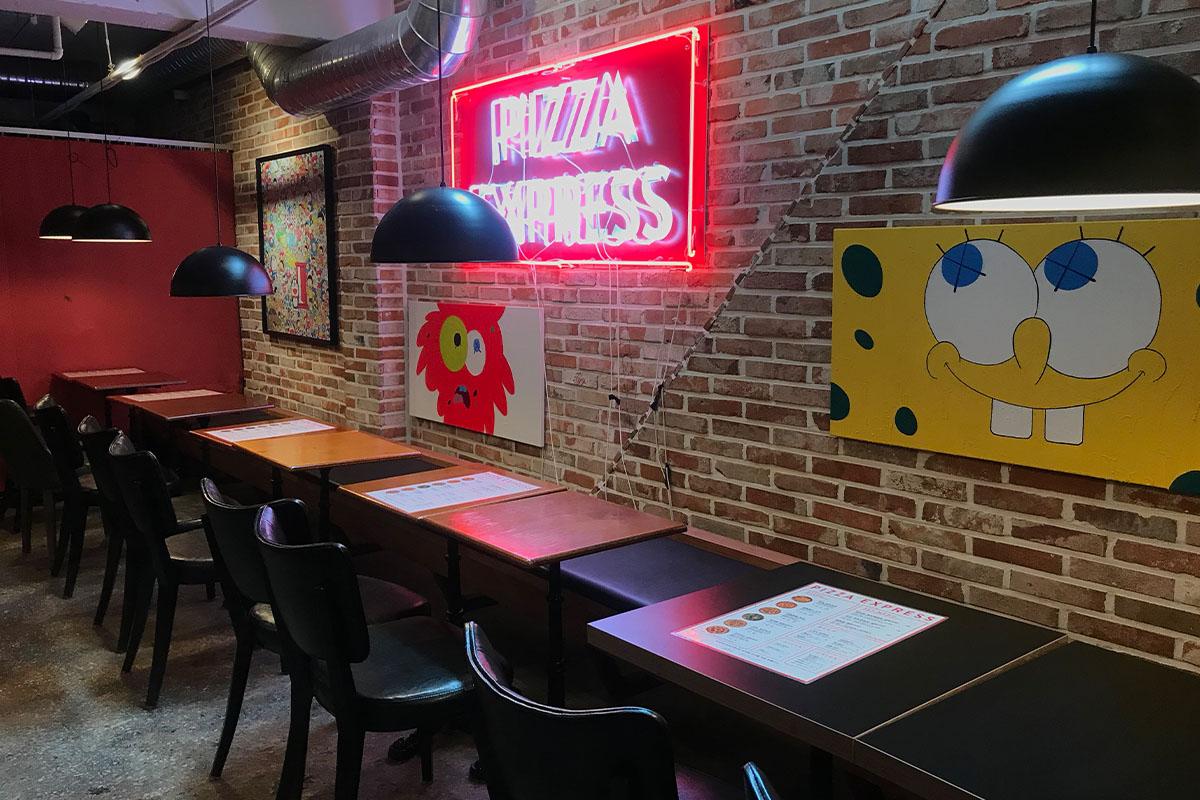 After ordering, we explored the restaurant. Even though the restaurant opens at 11:30 a.m., we recommend coming in at noon as they need some time to prepare for the day. If you come in right at noon, you'll also be able to avoid the lunch rush. The seating area isn't very large, so there aren't a lot of seats.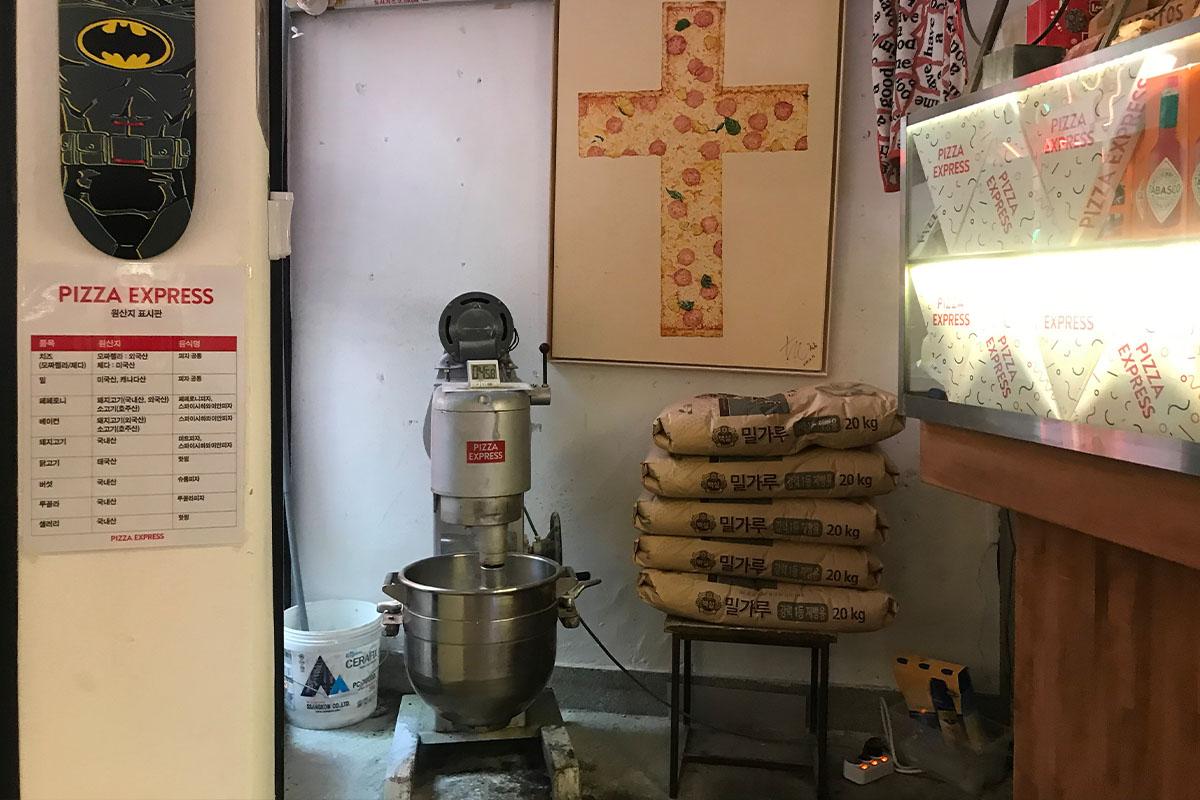 The dough is made fresh at the restaurant. So, if you enjoy freshly made pizza, then this restaurant is for you.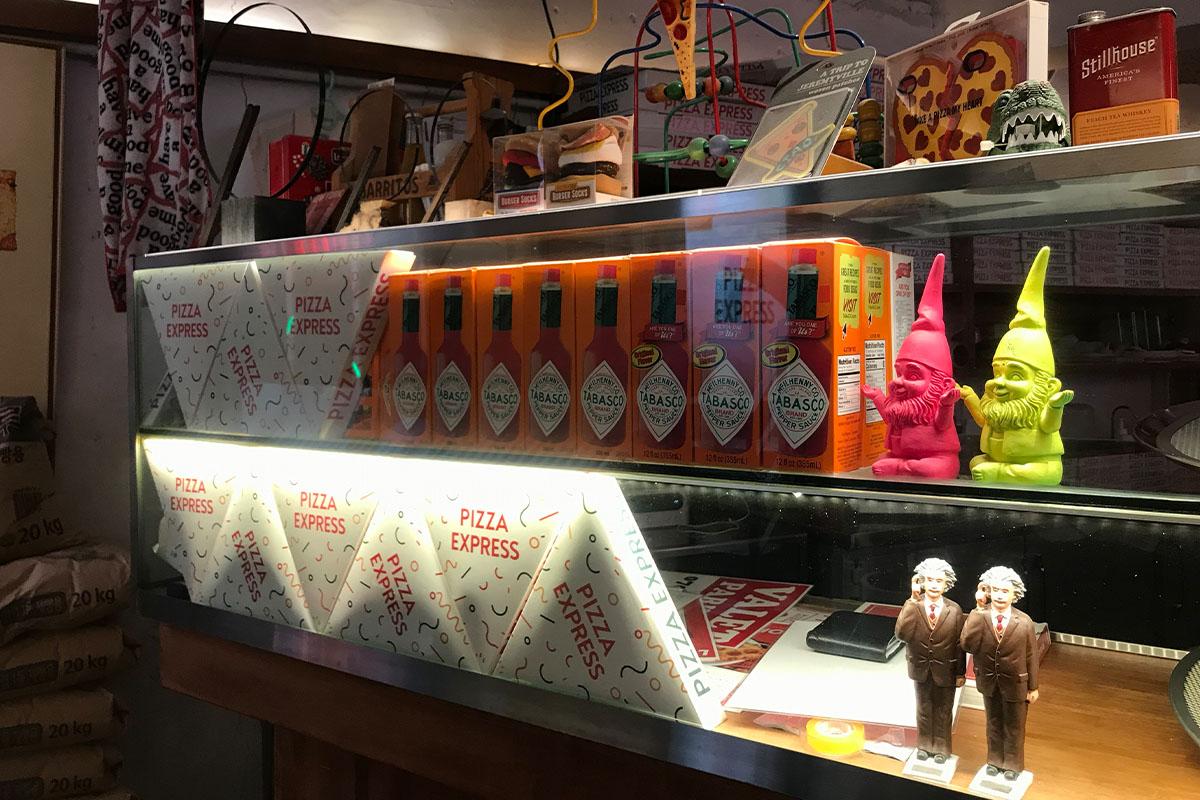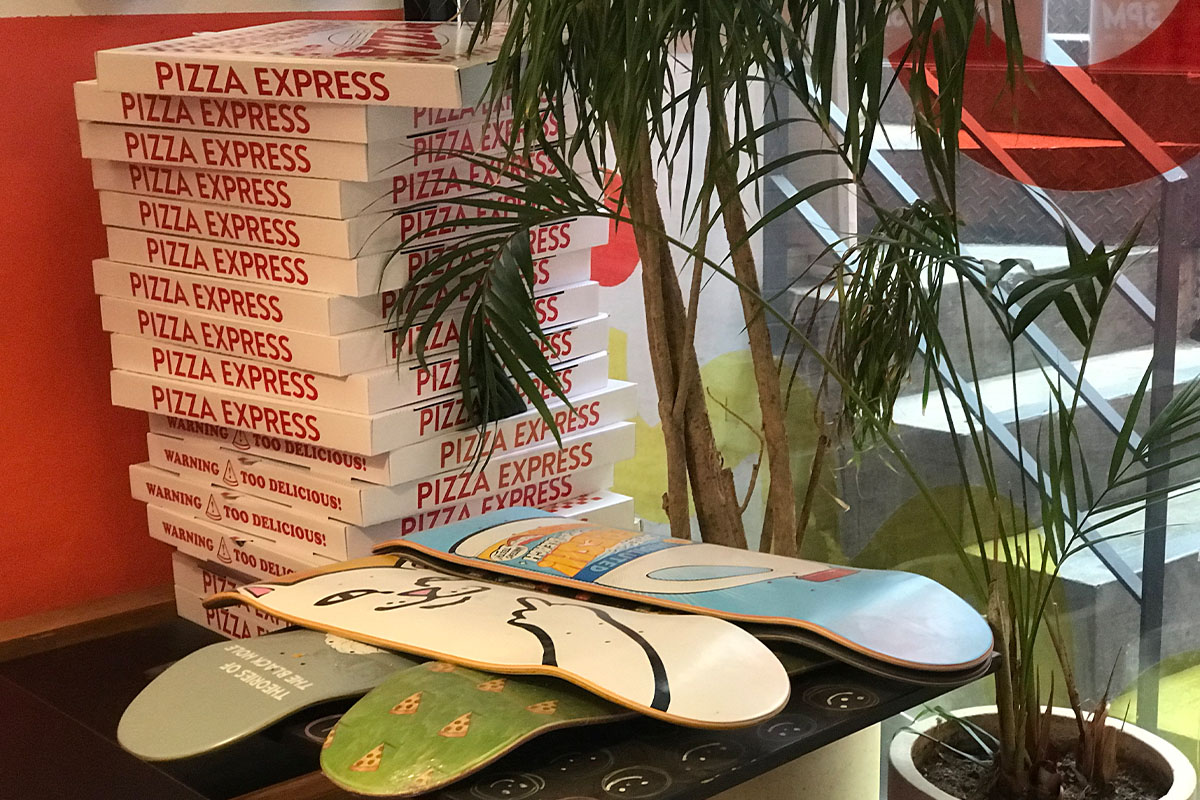 We really liked the interior of Pizza Express. It had a fun, chill, and urban atmosphere.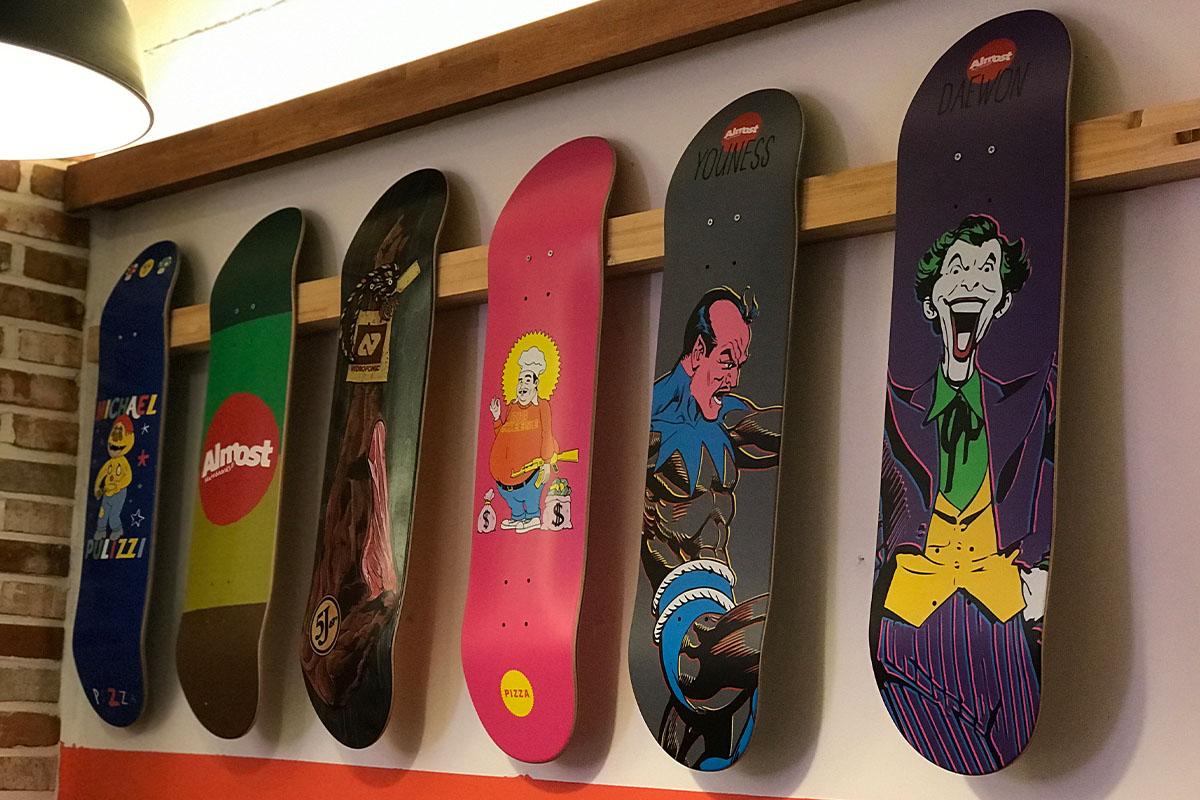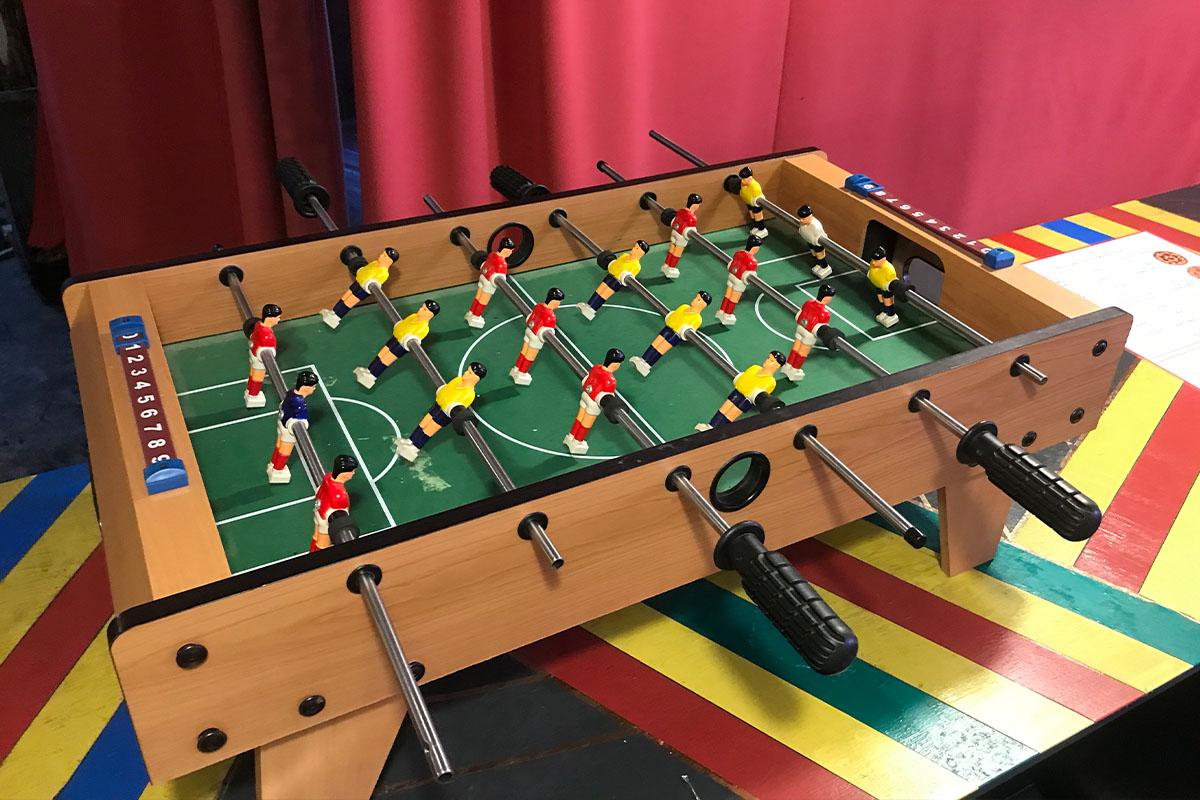 The restaurant is decorated with many colorful skateboards, so it was fun to look at each design. If you're a fan of Supreme, then you'll enjoy looking at all of the Supreme items on display. There are also fun games that you can play like foosball!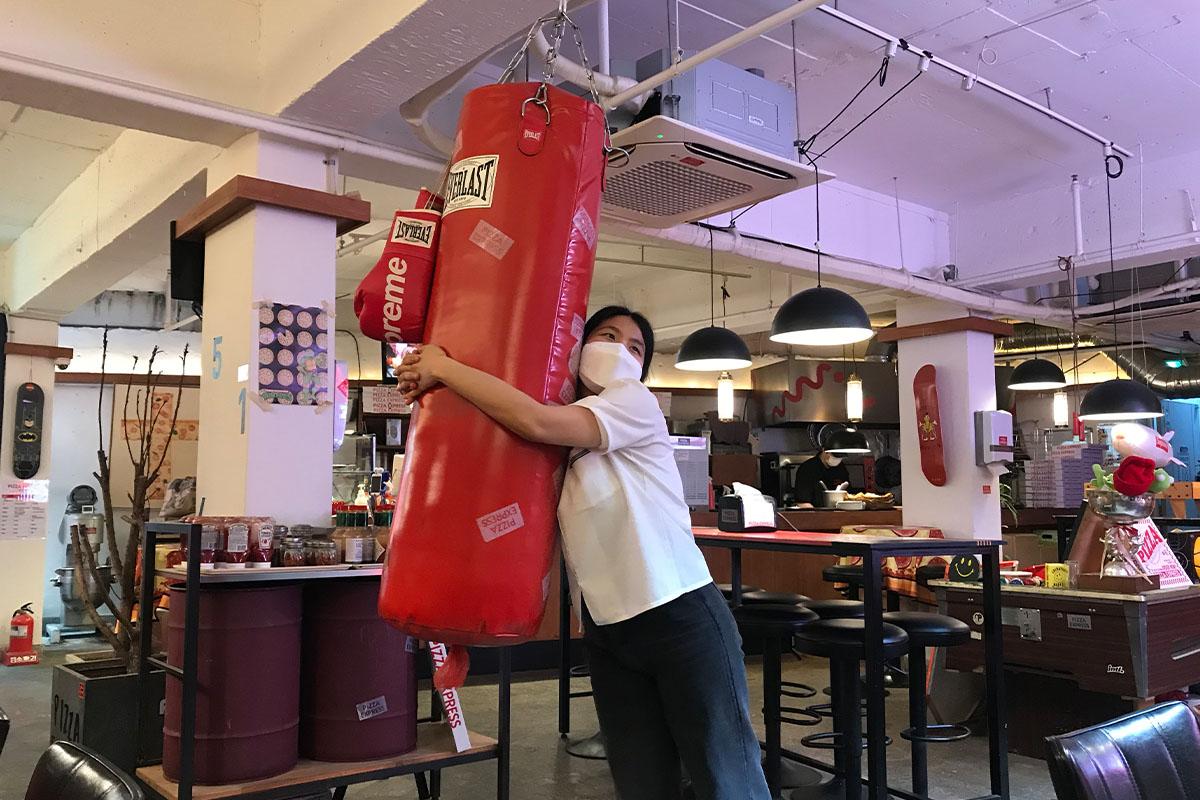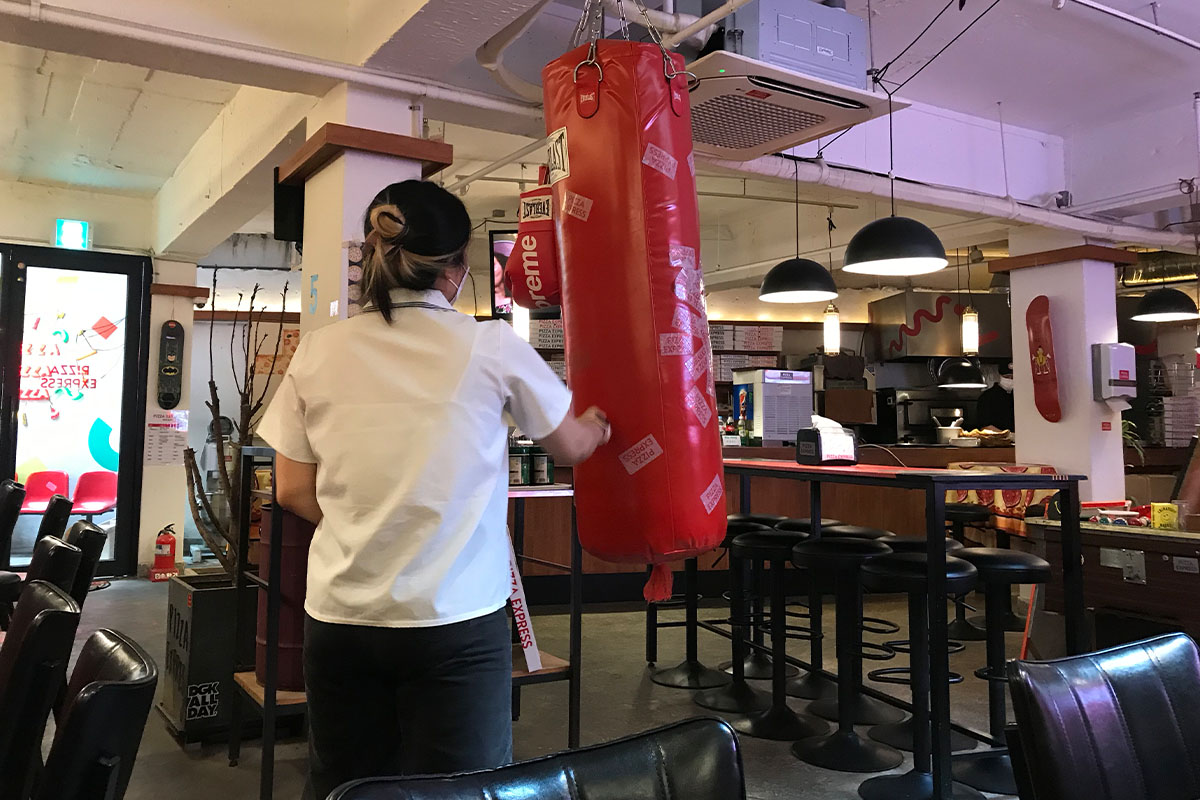 We found this punching bag hanging from the ceiling. We thought we'd burn some calories before we ate our pizzas!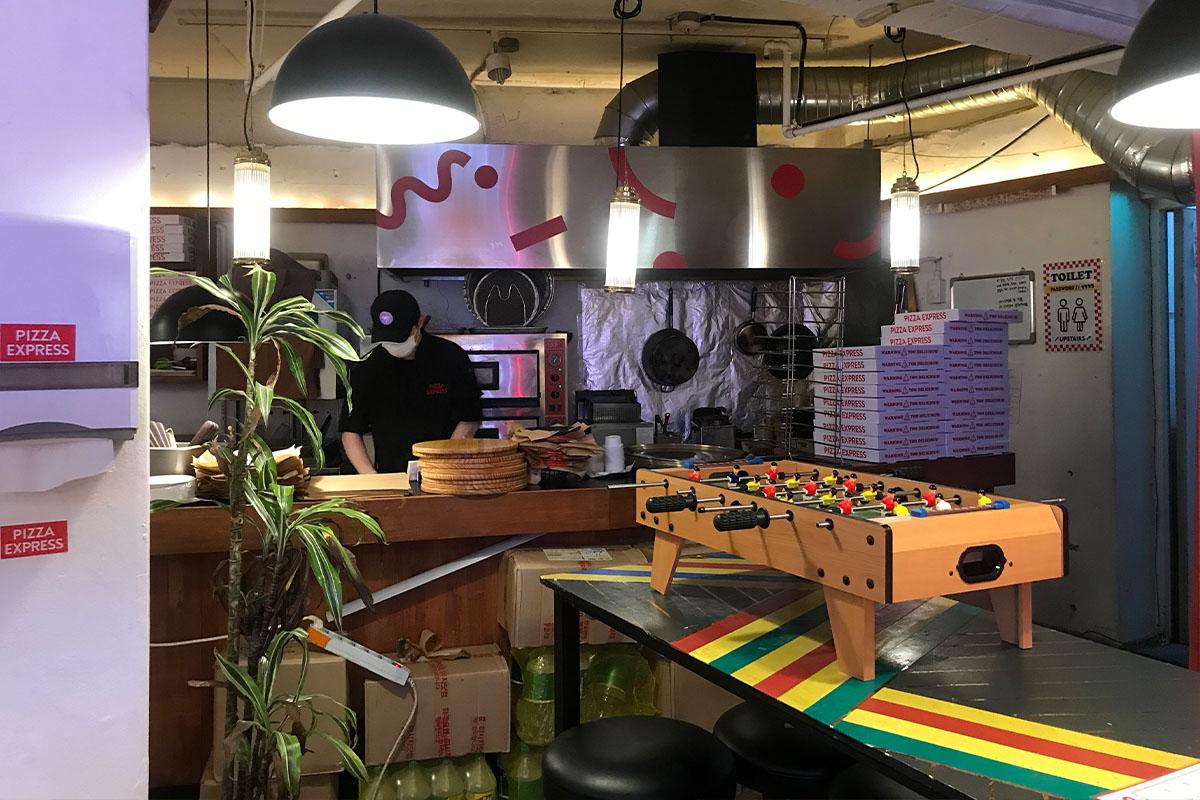 The kitchen was open for its customers to see the staff making their fresh pizzas.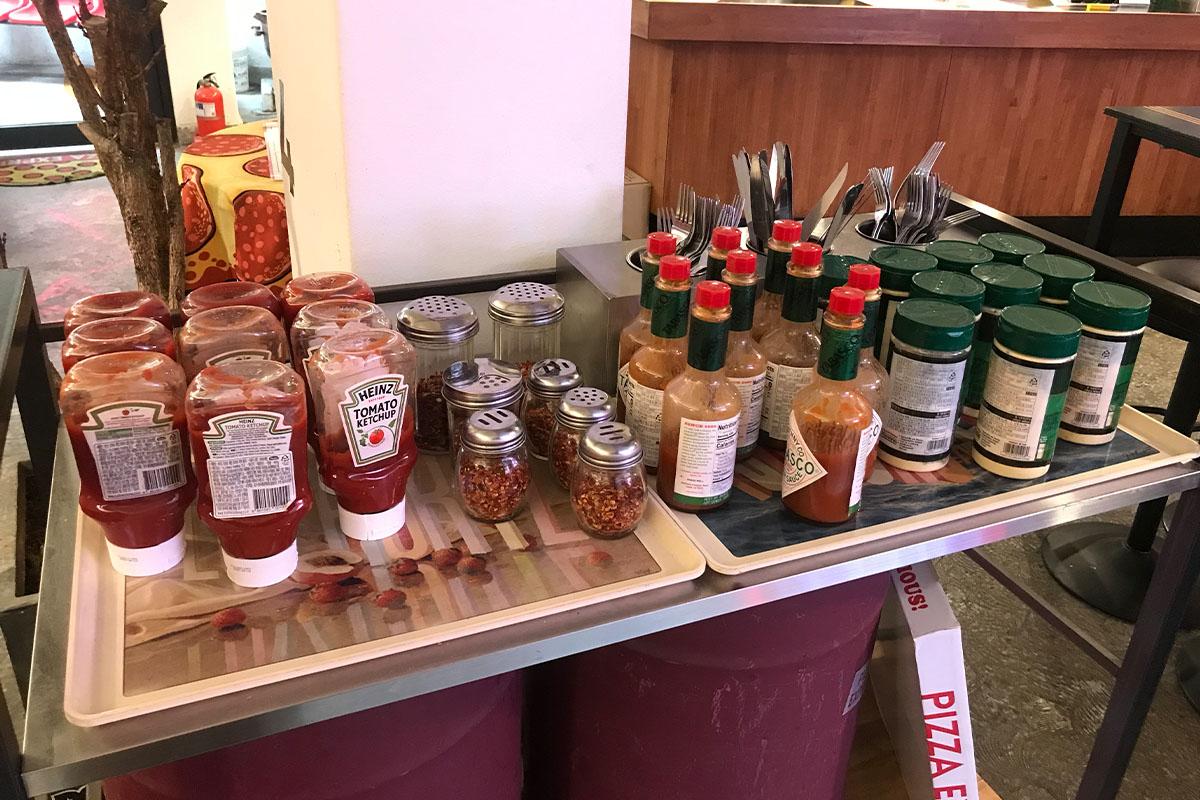 Toppings and sauces can be found at this self-service table. Just walk up and pick up what you need. You'll find ketchup, hot sauce, parmesan cheese, pepper flakes, and dried oregano.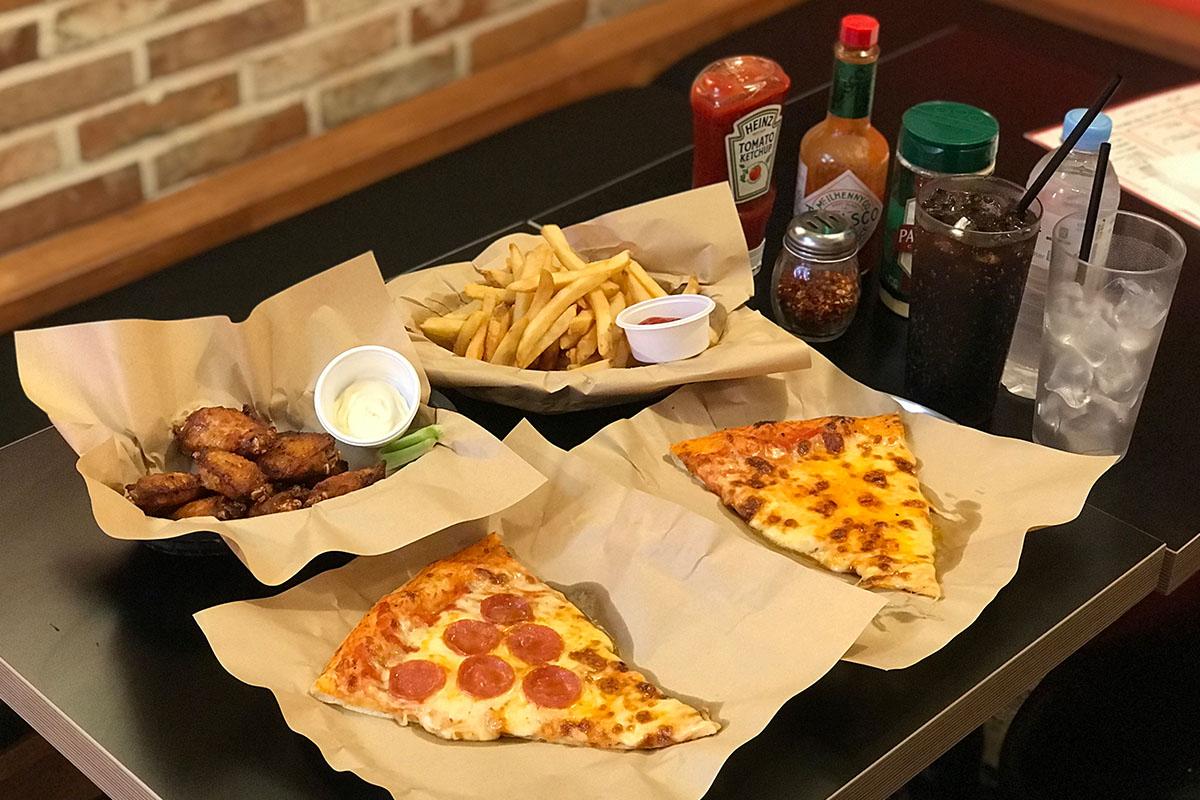 After waiting for some time, our orders were finally ready! We were confused when we saw the order of fries. It turns out that the staff misheard our order due to the loud music. So, we ended up getting the lunch combo, hot wings, and french fries.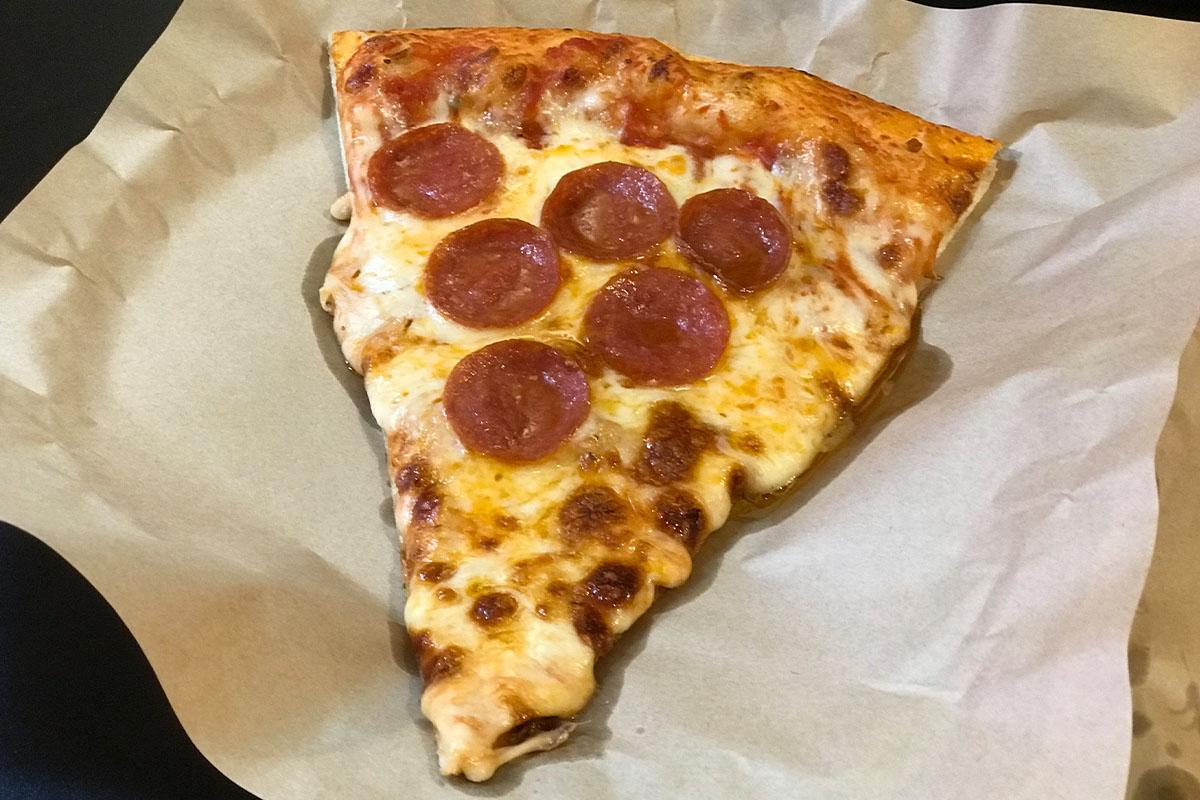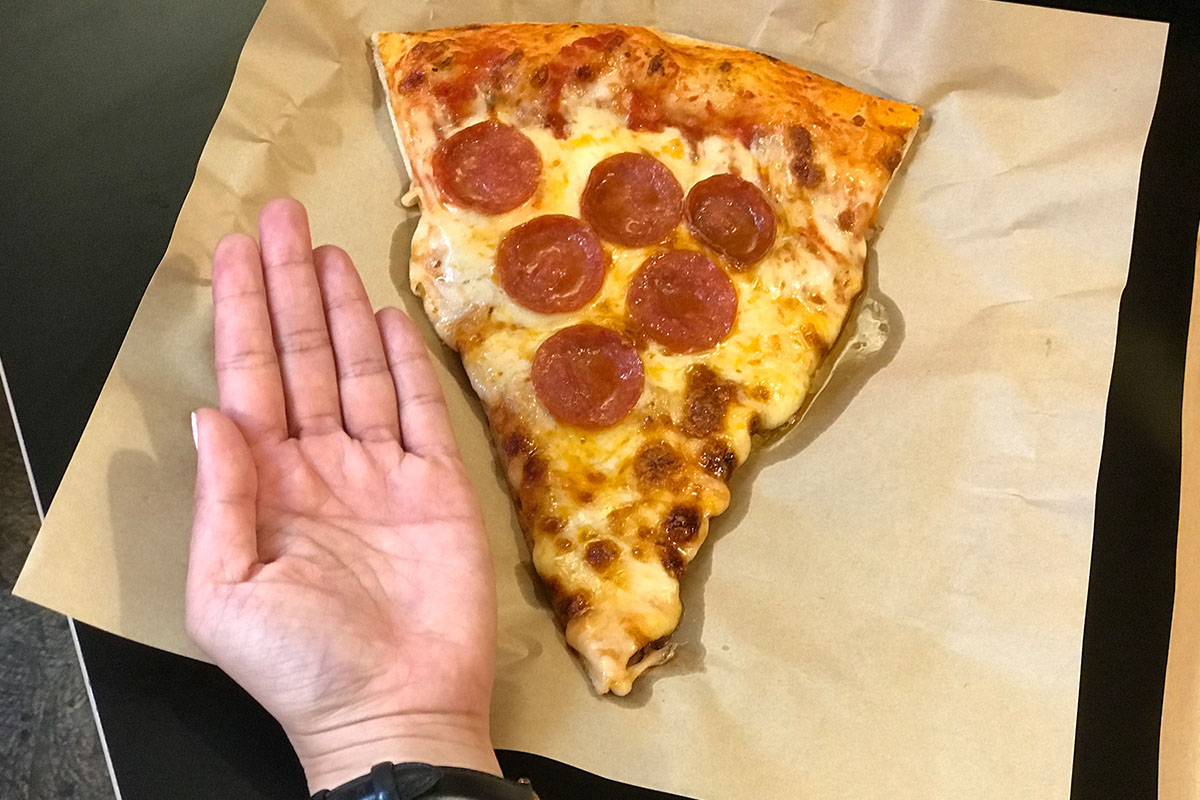 Lunch Combo
8,000 KRW
The lunch combo comes with two pizza slices and a drink. The first slice was the pepperoni pizza. The pizza slices here were very large and huge compared to the size of our hand. It tasted like your classic pepperoni pizza, with just the right amount of melted cheese on it. The flavors of the crust, sauce, cheese, and pepperoni all tasted so good!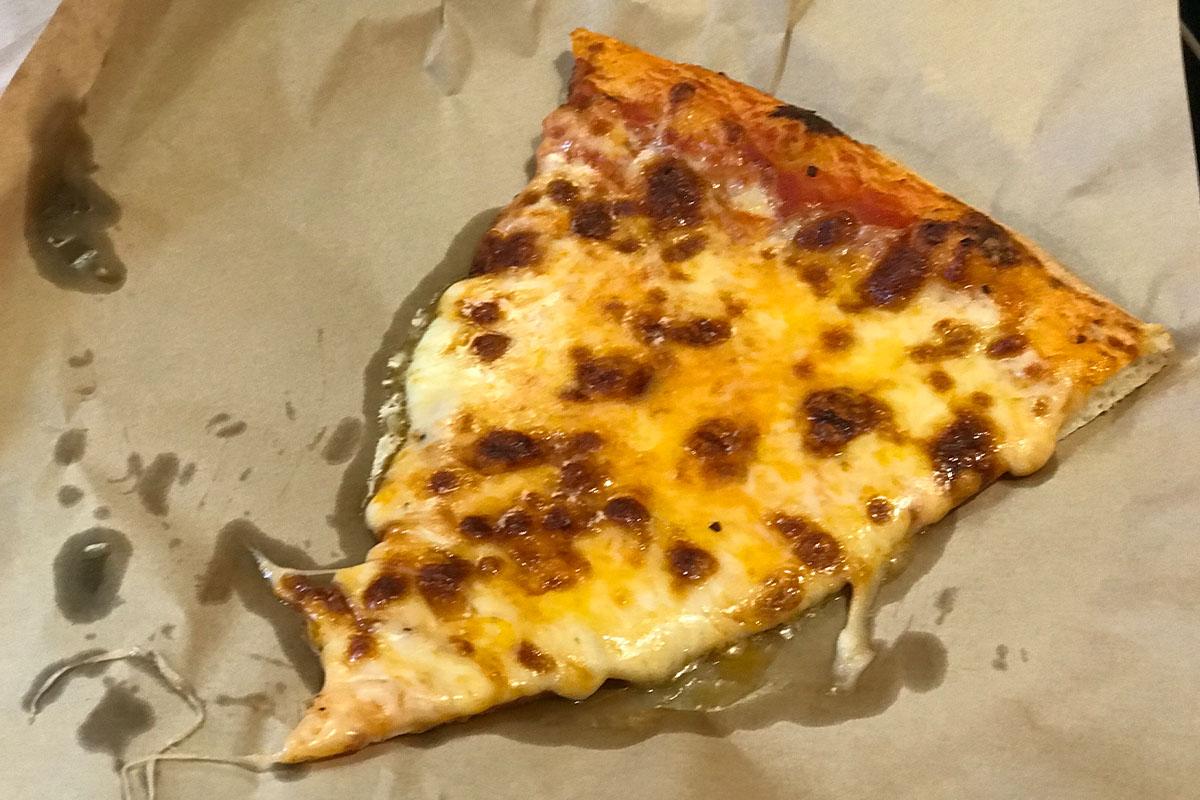 Next up was the cheese pizza. It came with a lot of cheese, which is perfect for cheese lovers. We recommend eating it while it's still hot. After a while, the cheese will harden, and it won't taste as good.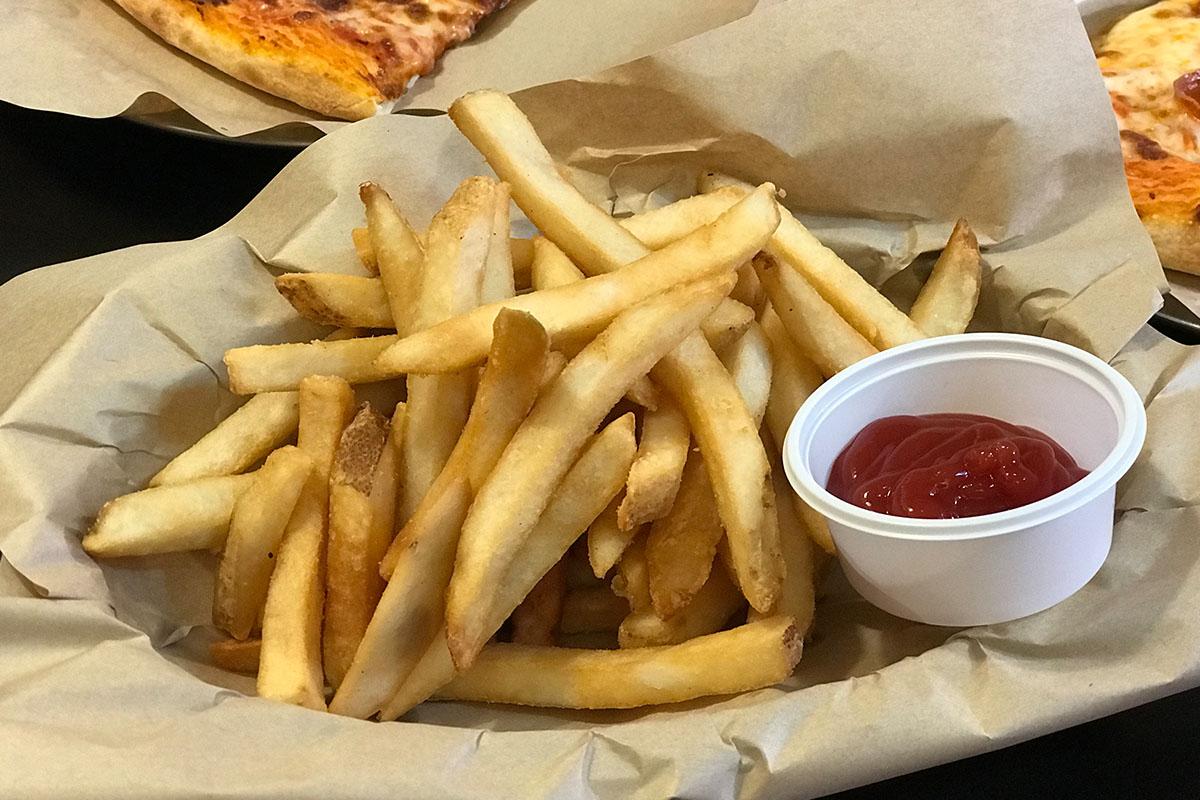 French Fries
7,000 KRW
We saw orders of french fries at all the other tables! No wonder the restaurant thought we had ordered this. These were perfectly fried, and even after they had cooled, they were still crispy and delicious. For those of you who like french fries, be sure to order these!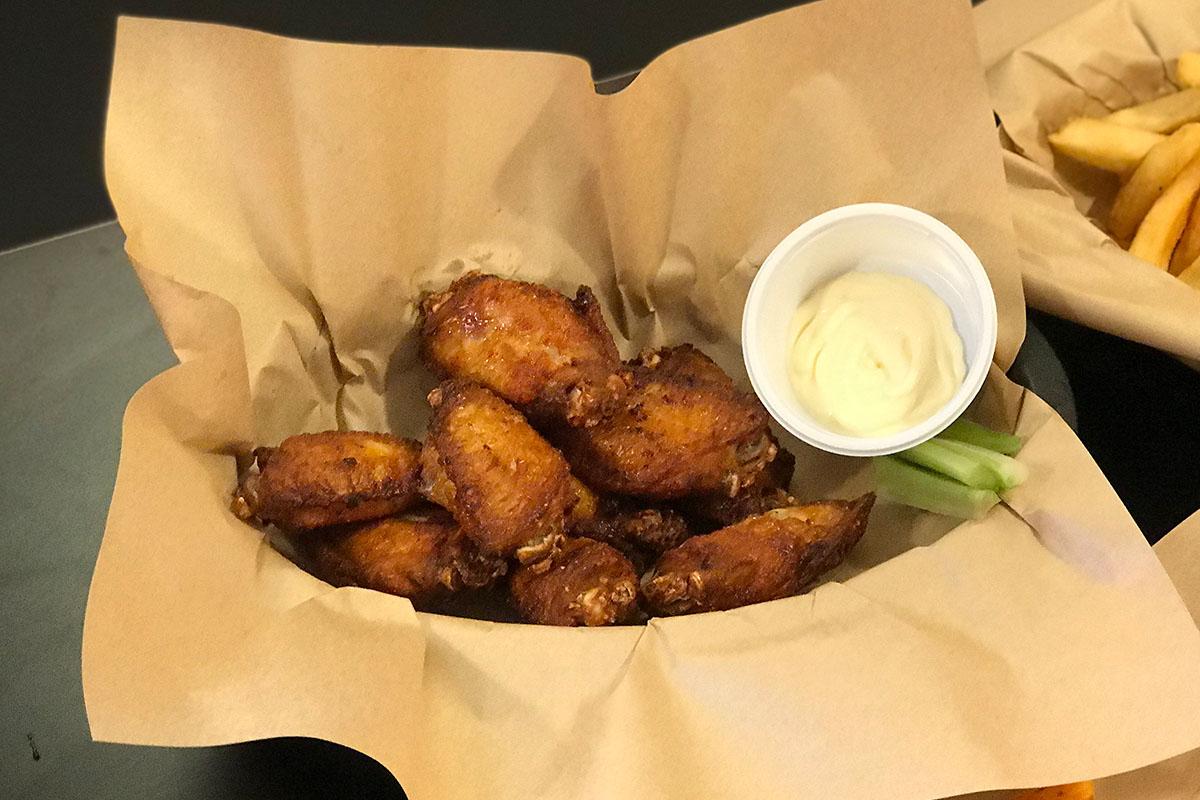 Hot Wings
12,000 KRW
And now, the hot wings! This was actually our favorite menu item. We liked it even more than the pizza. These hot wings were crispy on the outside and soft and juicy on the inside. They were coated in a delicious sauce that tasted amazing.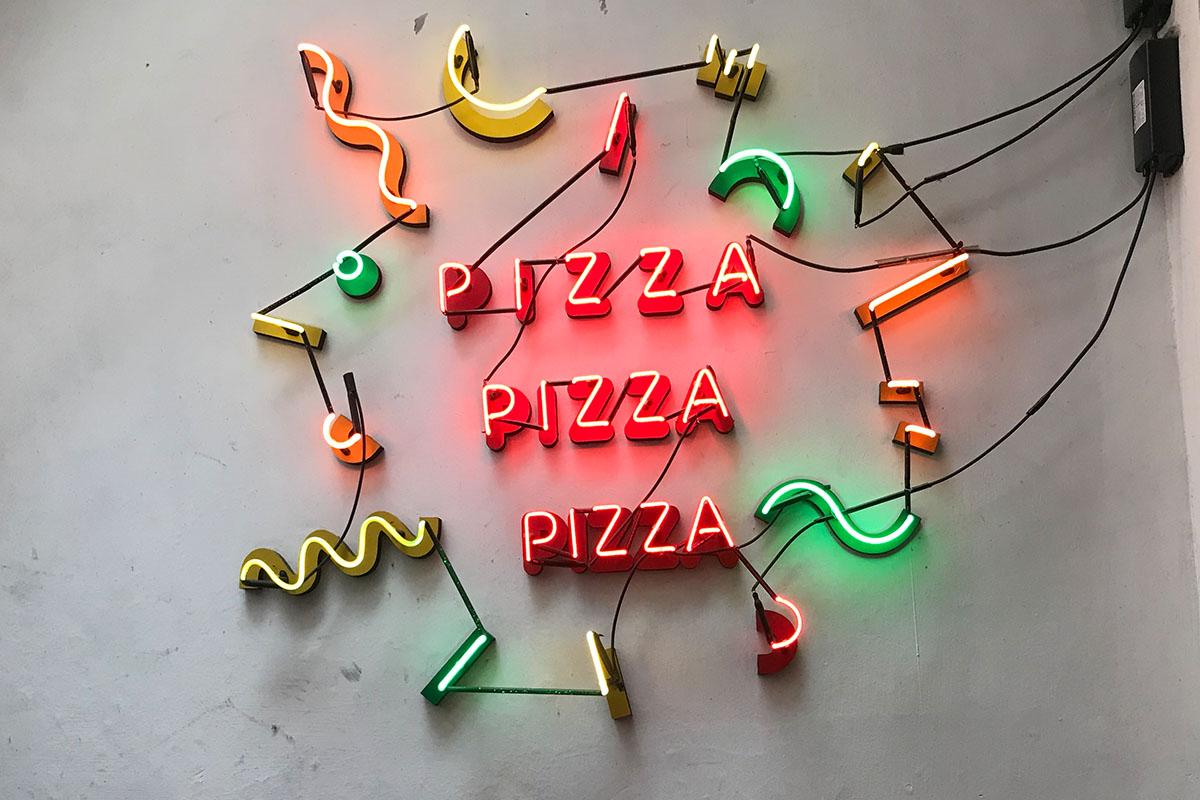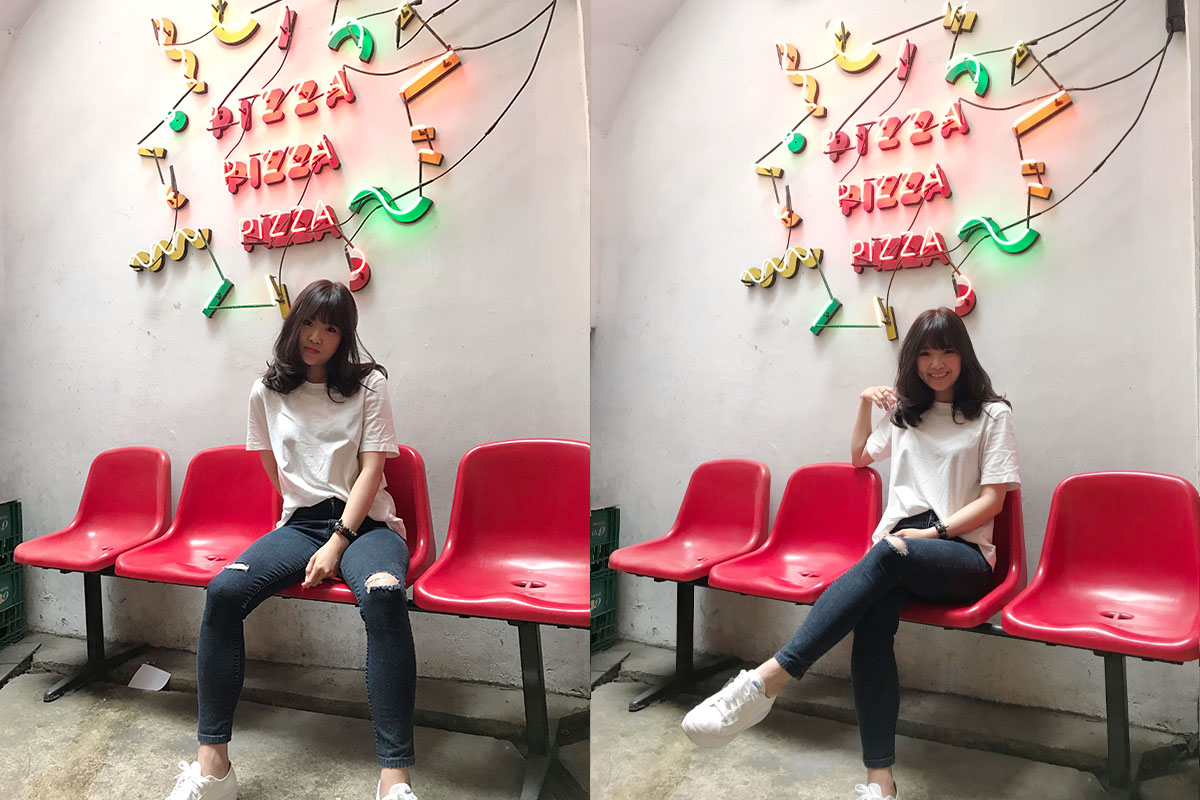 After we were done eating, we made a stop at a popular spot inside the restaurant to take pictures. It was in the corner of the restaurant, and there were red chairs and a colorful pizza sign that lit up. This is a popular spot to take pictures for social media. If you love pizza, we highly recommend that you check out Pizza Express on Garosu-gil. It's definitely worth visiting!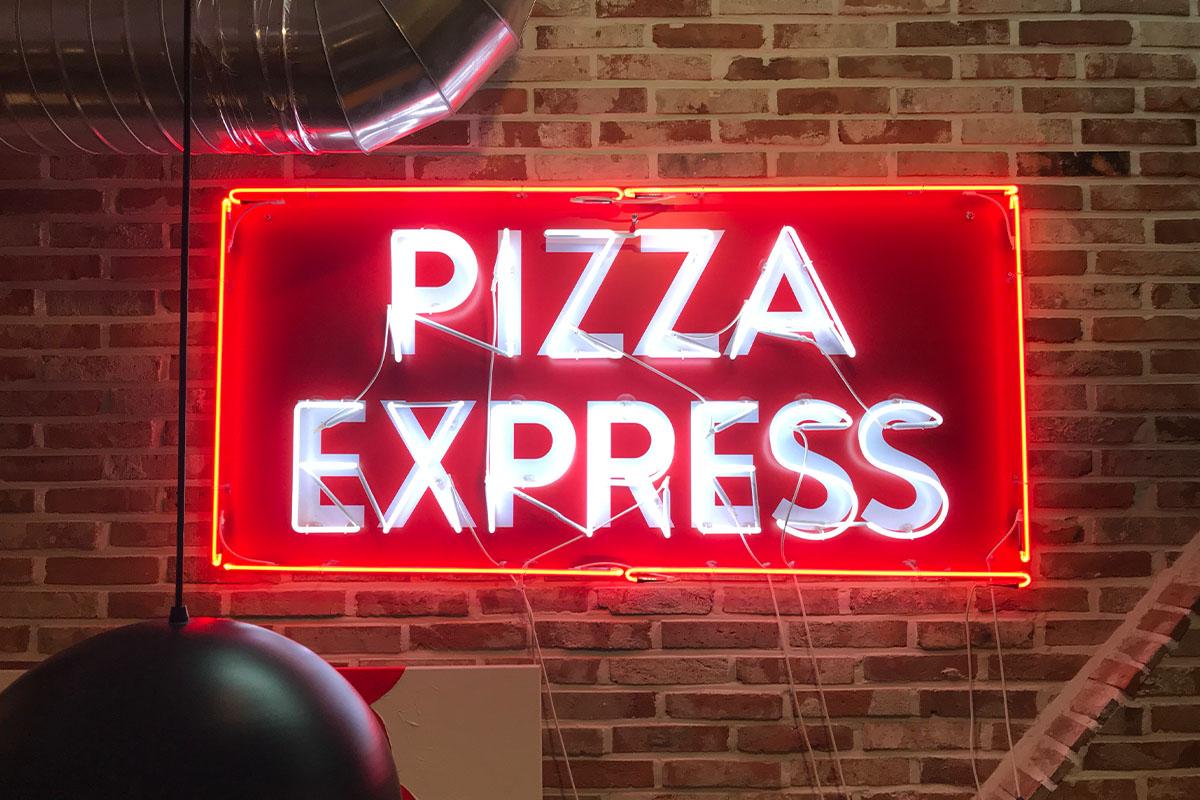 ---
R.about & Super Matcha
아러바우트 & 슈퍼말차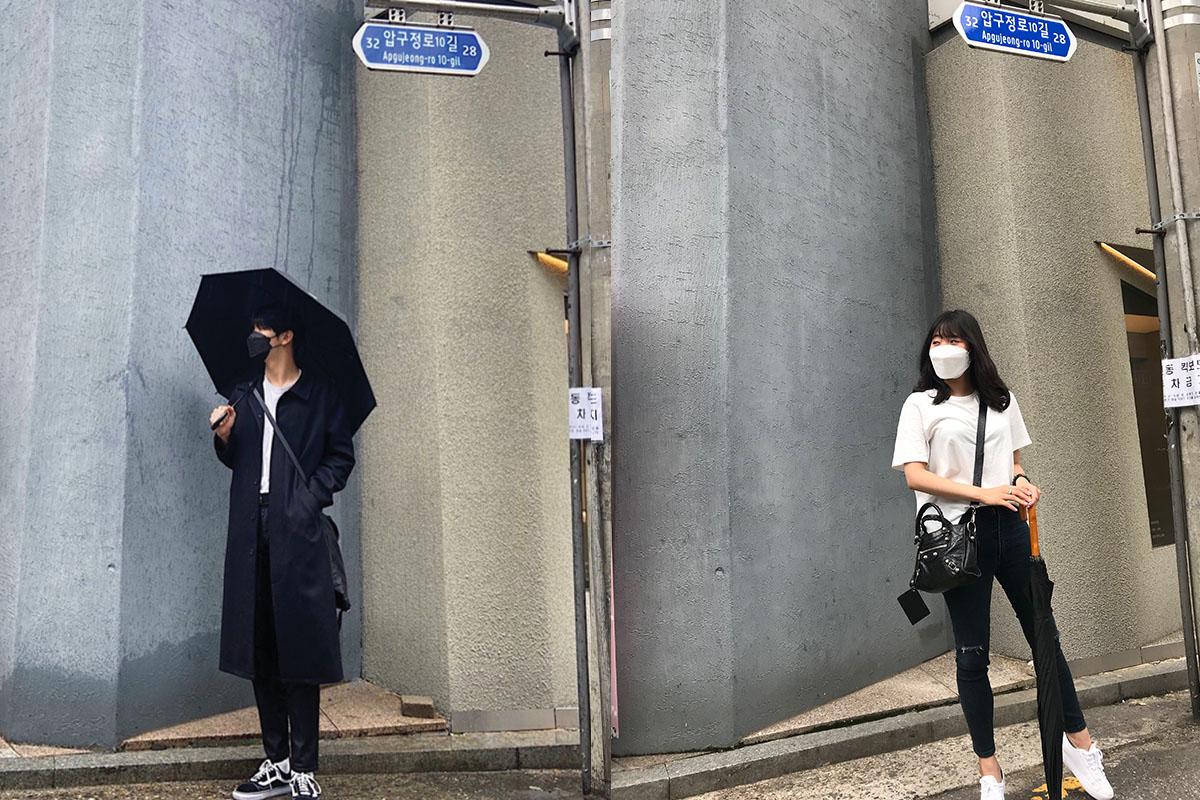 *Please keep in mind that these two cafe locations have been closed.
After leaving the restaurant, we decided to stop and take a picture at another spot where Soobin had taken a picture on his rainy walk in Seoul. When you walk out of the restaurant, turn right, and you'll see this street sign that reads Apgujeong-ro 10-gil (앞구정로 10길 32-28).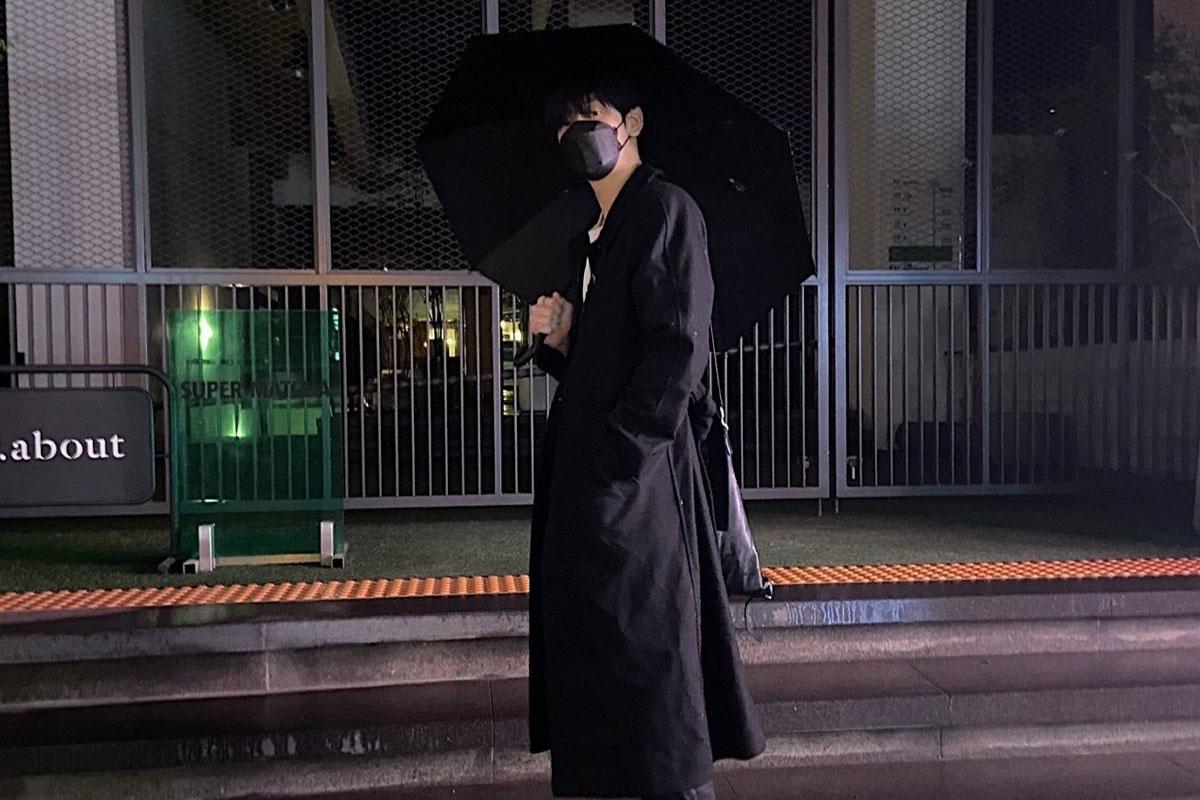 The last place where Soobin took a picture of his walk was in front of the steps of this building.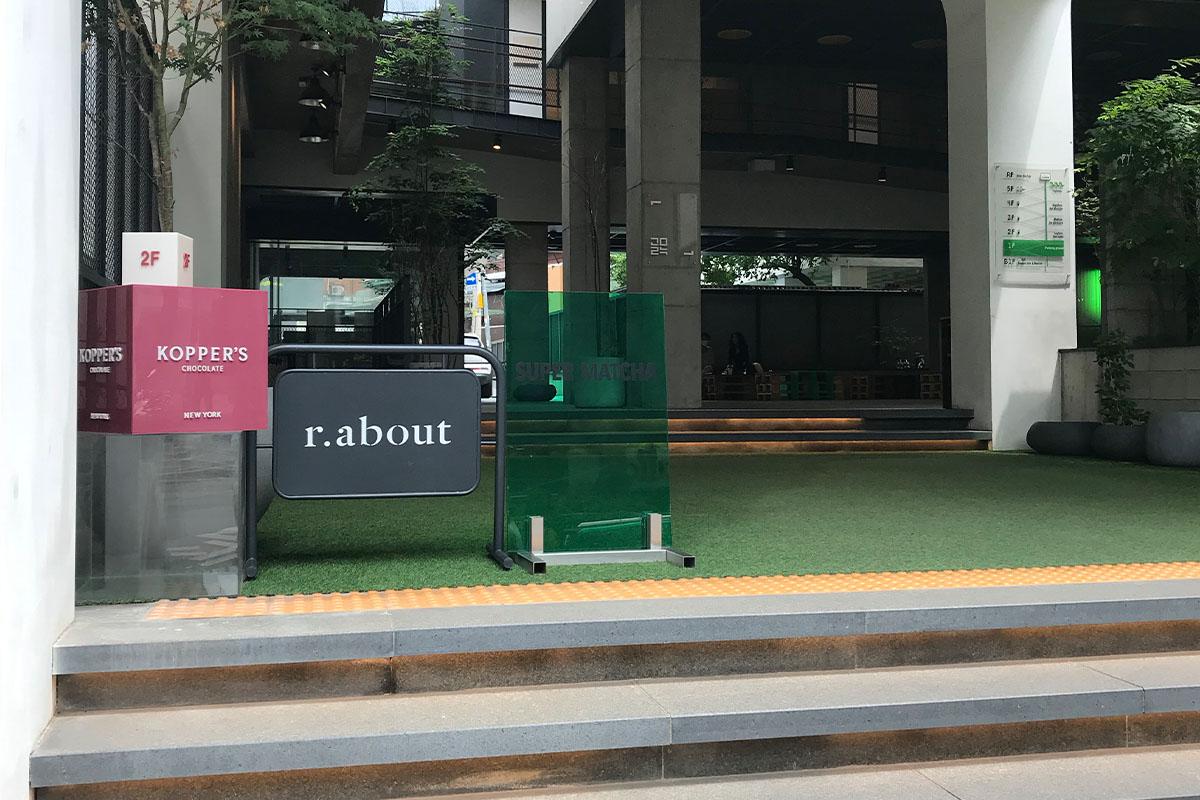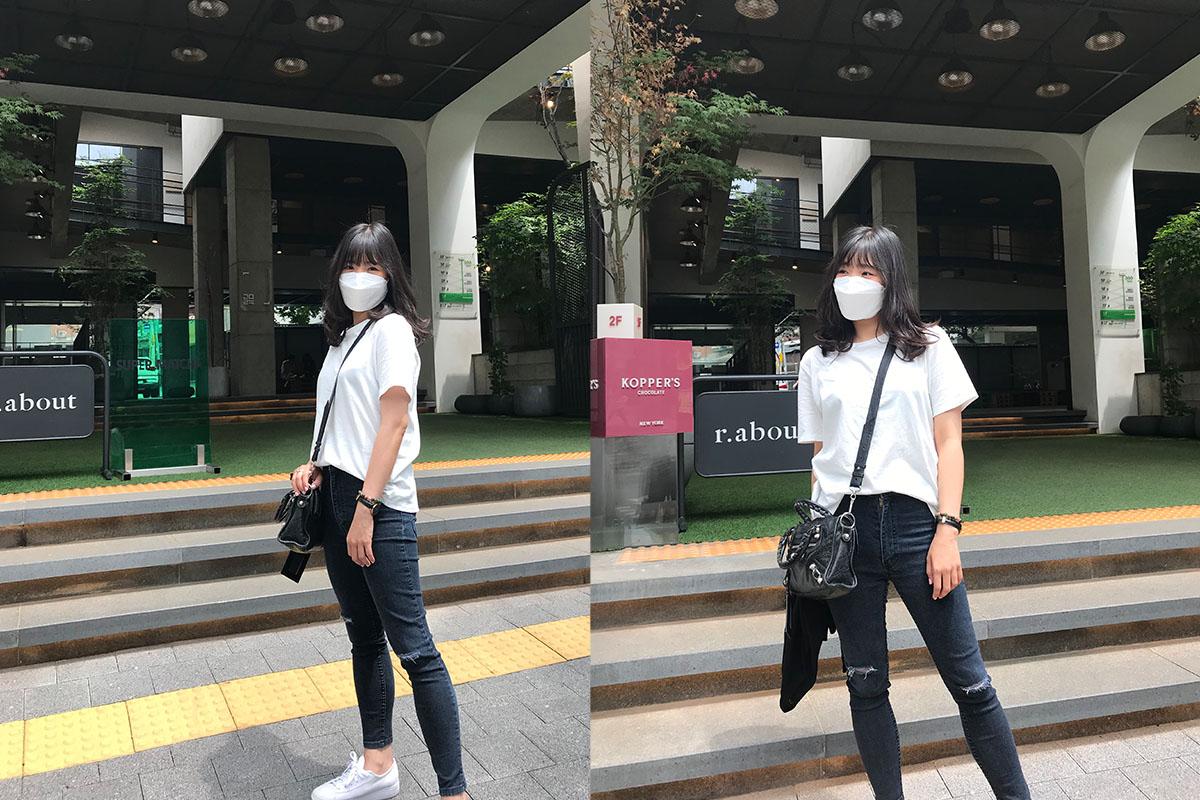 If you want to recreate Soobin's photo, we recommend coming at night when the fence is up.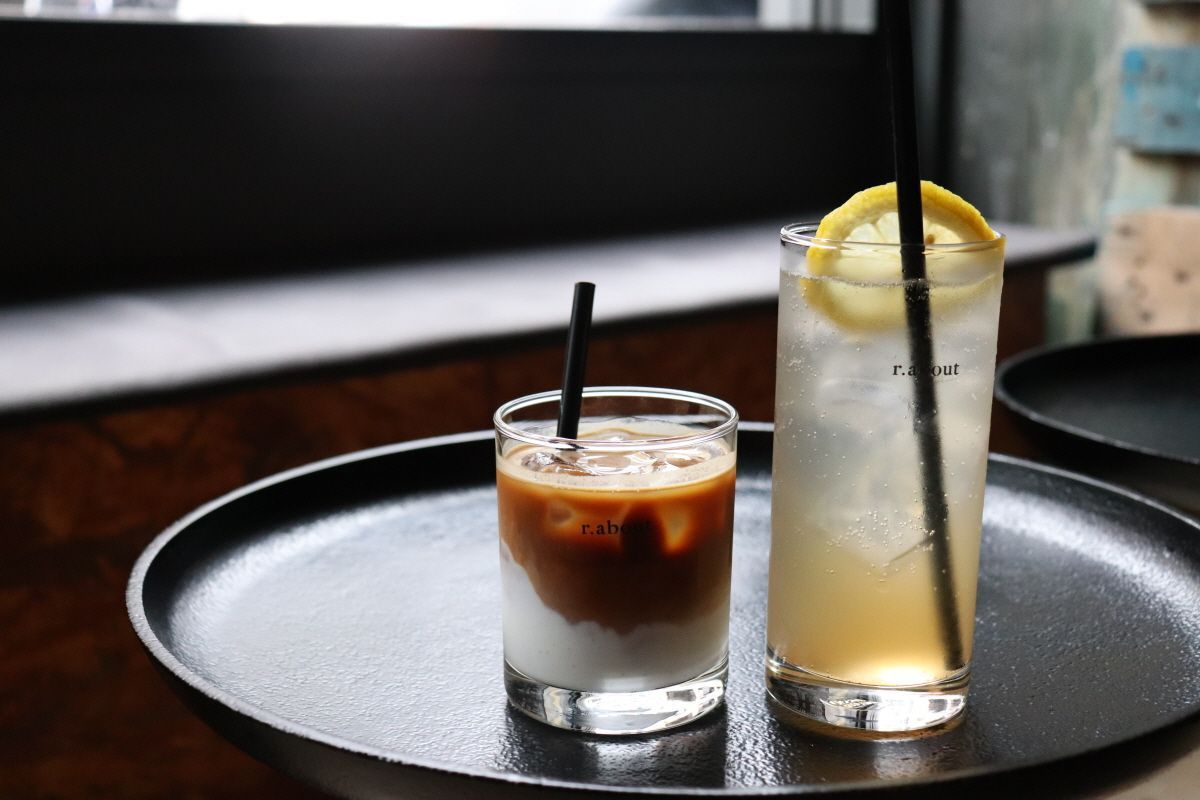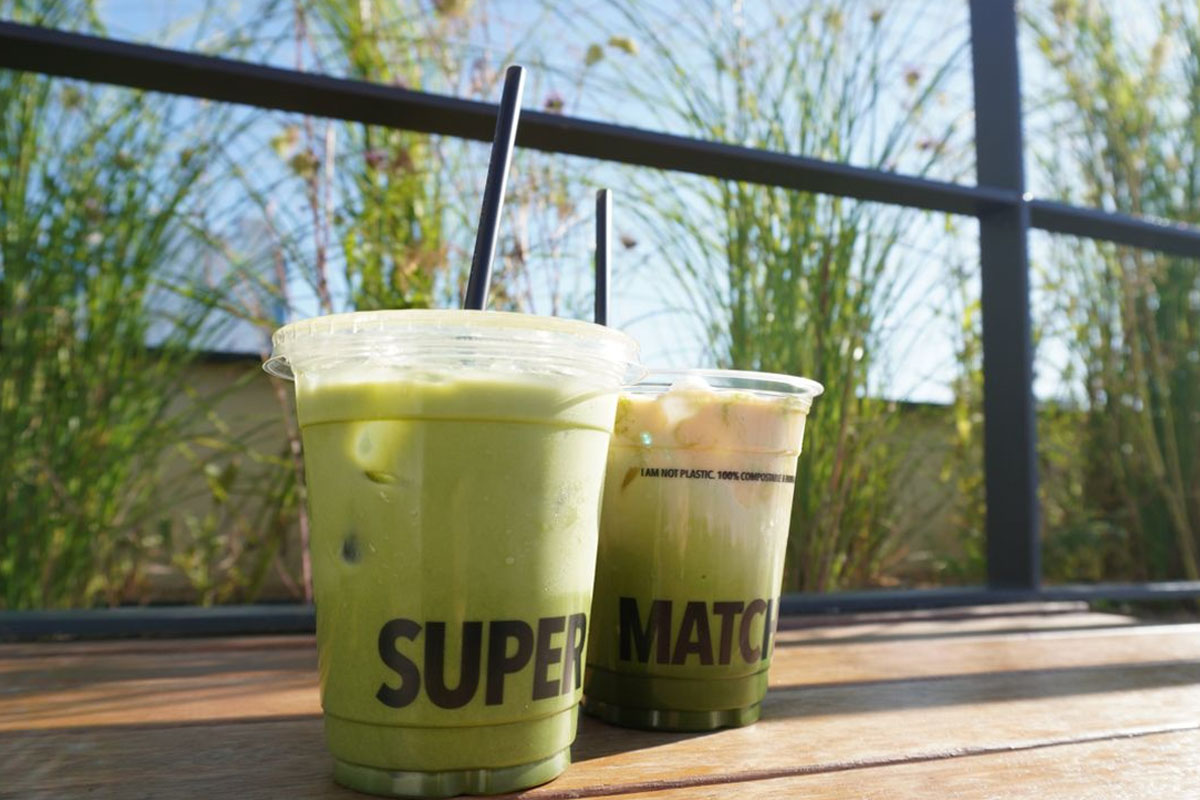 Inside this building, there are two cafes called r.about and Super Matcha. You can see the signs for these cafes in Soobin's photo. After eating a delicious meal, there's always room for dessert, right?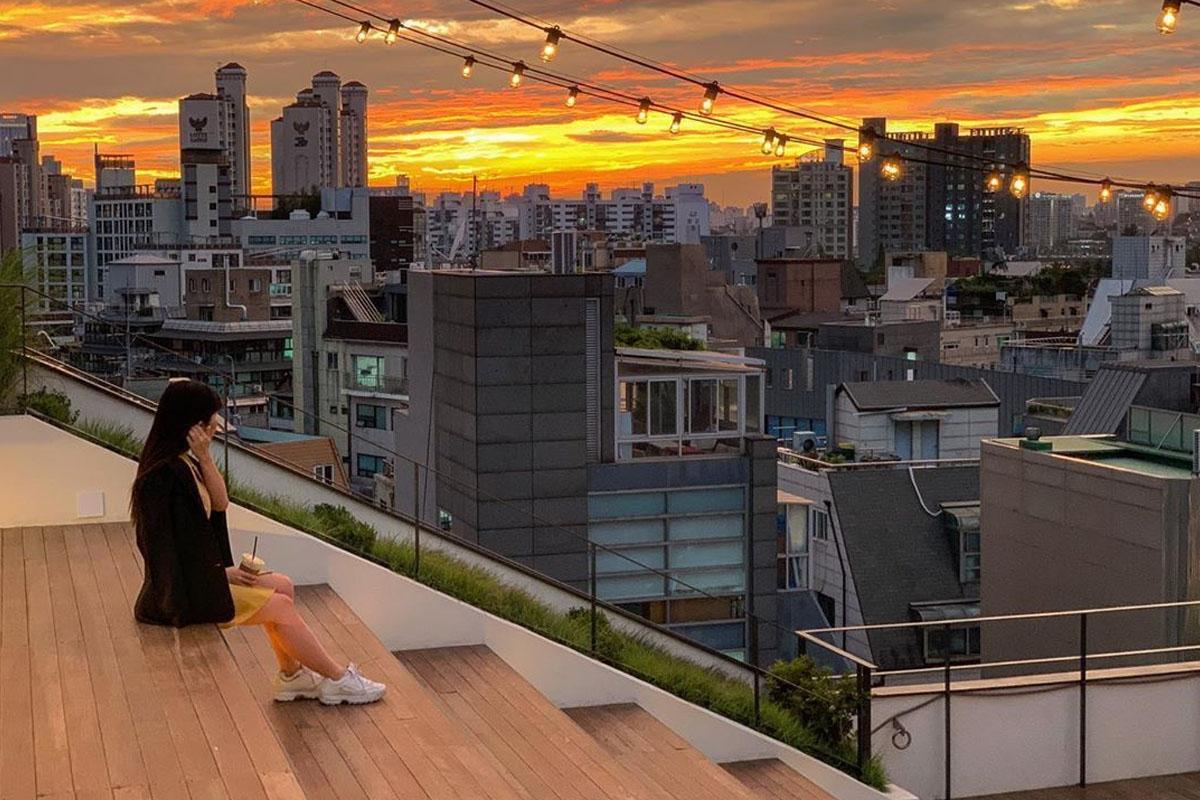 Source: garogolmok
The rooftop area of this building is very beautiful. We recommend coming in the evening right before sunset for an incredible view of Seoul.
---
If you're a fan of TXT, don't miss out on following in Soobin's footsteps around Garosu-gil. Garosu-gil is a popular area with many restaurants, cafes, and places to take great pictures. If you want us to visit any other places your favorite K-pop idols have visited, let us know in the comments below!
---