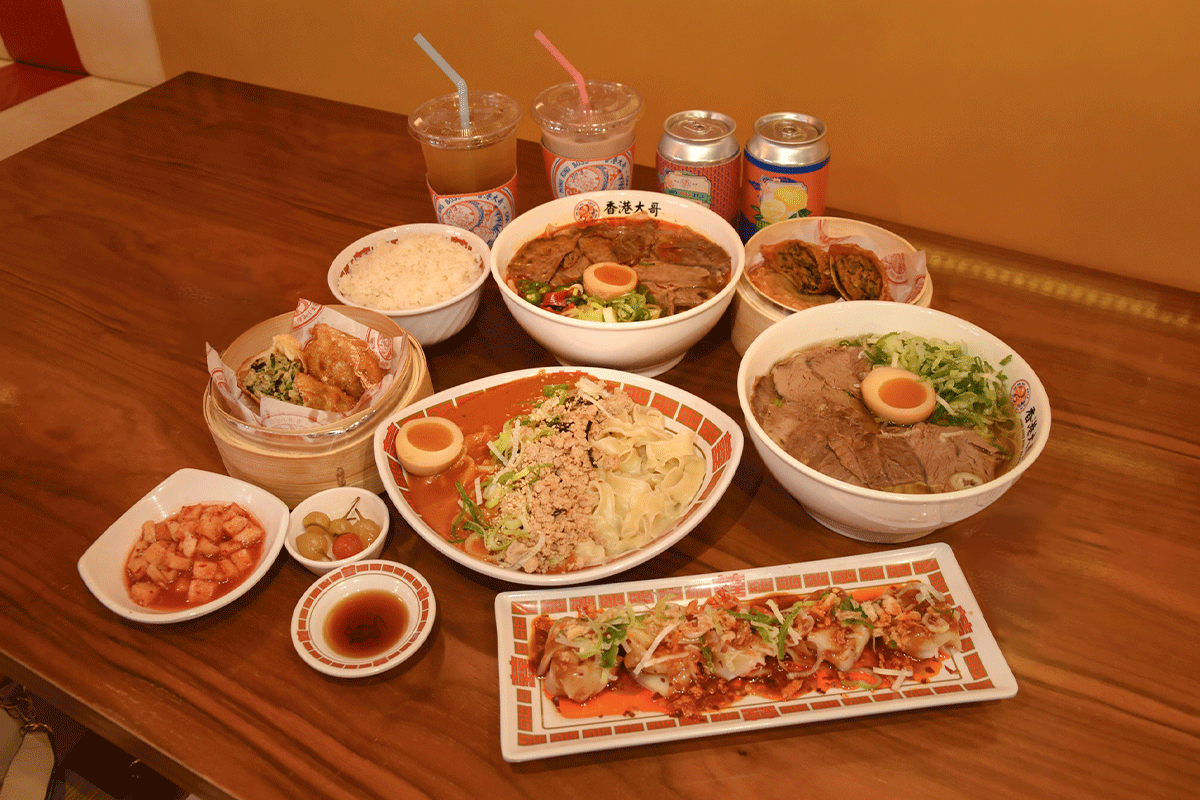 Today, we will introduce you to Hong Kong Boss, a restaurant serving Korean-style Hong Kong food that has satisfied the tastebuds of both Korean and foreign customers.
Don't forget, Creatrip members can also get a 10% discount!
---
Information
Address: 경기도 고양시 덕양구 고양대로 1955 스타필드 고양점 B1층 PK키친
1955 Goyang-daero, Deokyang-gu, Goyang-si, Gyeonggi-do
Hours: 10:00-21:00
Instagram: @hongkongboss.official
---
Reasons For Recommendation
You can enjoy a delicious meal at Starfield in Goyang, a haven of entertainment and attractions.
You can taste Korean-style Hong Kong food.
It is tailored to the concept of cha chaan teng which represents Hong Kong's food culture, so you can enjoy tea and your meal together.
---
Things To Keep In Mind
Creatrip members can get a 10% discount on all Hong Kong Boss menu items.
Show the coupon to the staff at the restaurant before paying.
If you have a problem using the coupon, please contact support@creatrip.com.
---
Menu
Menu

Price (KRW)

Main Menu

Beef Noodle Soup (Regular/Spicy)




우육탕면 (기본맛/매운맛)

8,500

Beef Rice Soup (Regular/Spicy)




우육탕밥 (기본맛/매운맛)

8,500

Beef Knife-Cut Noodle Soup (Regular/Spicy)
우육도삭면 (기본맛/매운맛)

9,000

Mixed Knife-Cut Noodles




도삭비빔면

8,500

Side Menu

Cumin Gyoza 2pc




쯔란튀김교자 2조각

3,000

Meat Gyoza 2pc




고기튀김교자 2조각

4,000

Spicy Wonton




매콤완탕

6,000

Chili Fried Chicken




향라닭튀김

9,000

Set Menu
Main Dish + Mixed Gyoza
(1 Cumin Gyoza, 1 Meat Gyoza)

Beef Noodle Soup/Beef Rice Soup/Mixed Knife-Cut Noodles Set




우육탕면/우육탕밥/도삭비빔면 세트


11,500

Beef Knife-Cut Noodle Soup Set


우육도삭면 세트
12,000
Tea

Soy Milk Tea (300ml)




두유밀크티

3,500

Lemon Black Tea (300ml)




레몬블랙티

3,500

Soy Milk Tea Can (330ml)




캔 두유밀크티

4,000

Lemon Black Tea Can (330ml)




캔 레몬블랙티

4,000
*Extra cilantro/rice/1 half-boiled egg 1,000won, extra beef soup 3,000 won
*Cilantro is not included in the order. Add extra if you would like it.
---
Our Visit
On the first basement level of Goyang Starfield, you'll find PK Kitchen full of restaurants, and Hong Kong Boss is located at the innermost part when you enter from the left entrance of PK Kitchen.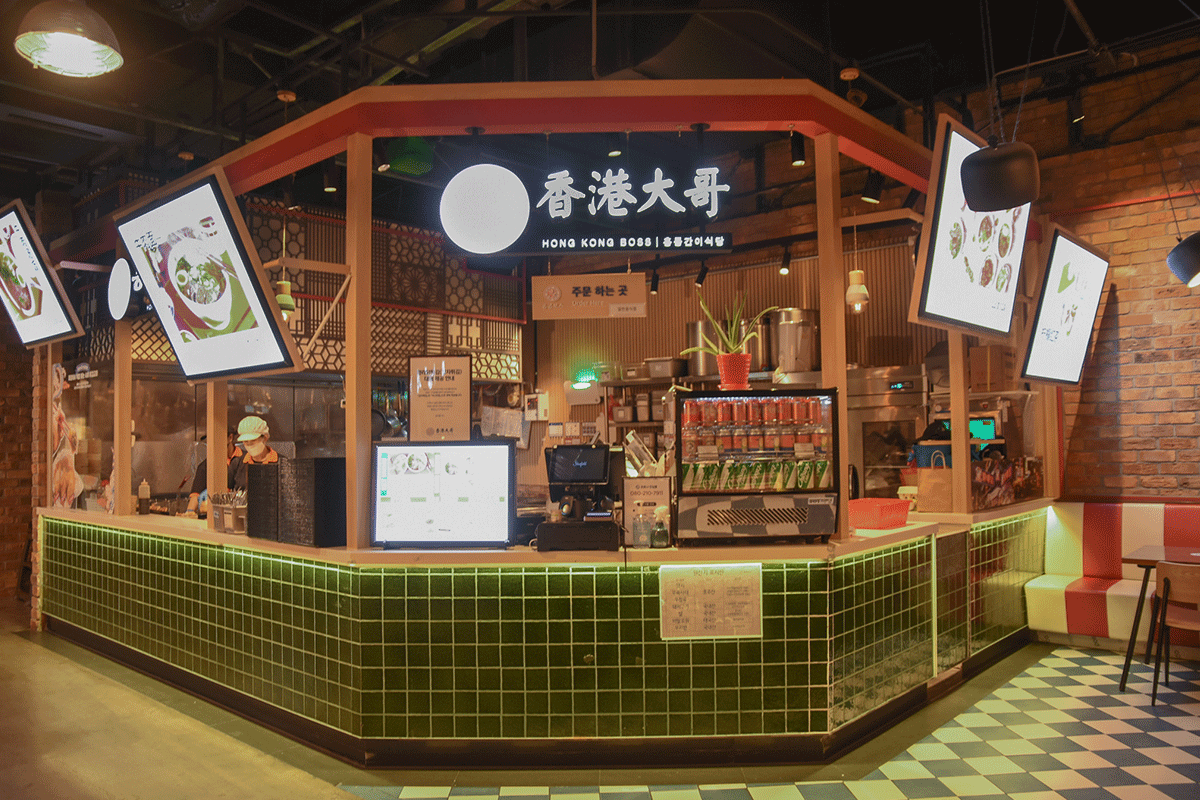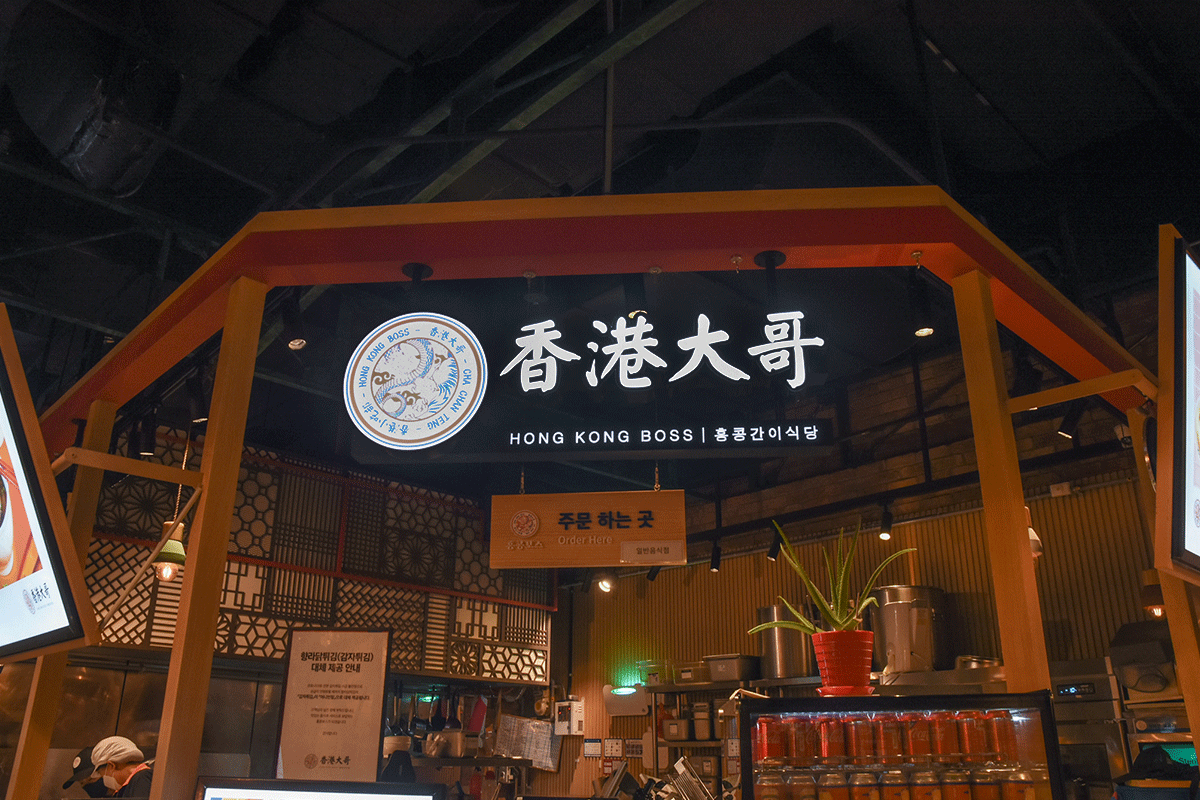 Hong Kong Boss serves Hong Kong food reinterpreted in a Korean style with the slogan, "A different taste of Hong Kong tailored to the taste of Koreans." It attracts both Korean and foreign customers because it combines Hong Kong food, which has a combination of both Eastern and Western food culture, with a Korean-style twist.
Hong Kong Boss is a reproduction of a cha chaan teng, which is a Hong Kong-style restaurant where you can experience authentic Hong Kong food culture. Neat tables and subtle lights decorate the restaurant in Starfield.
It's a food court design, so you can sit freely at any table you want and enjoy your meal.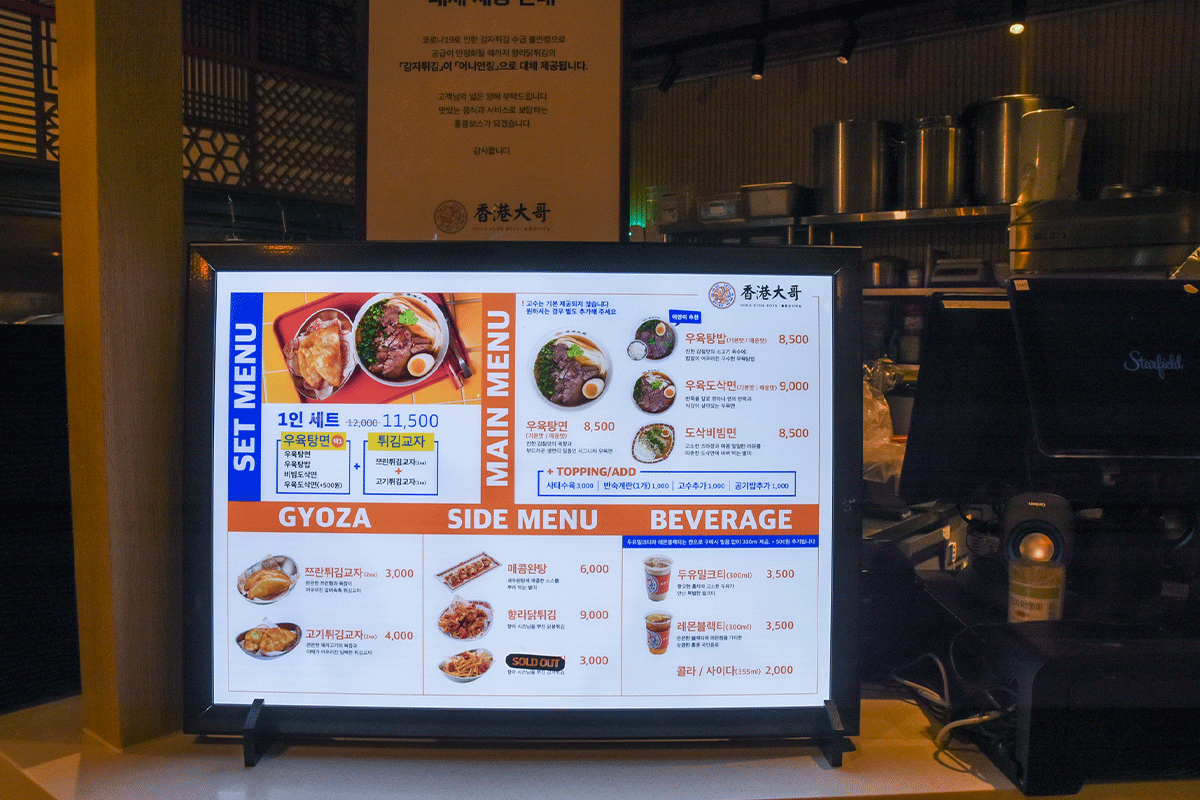 Look at the menu next to the counter and then order. After ordering and paying, you will receive a buzzer.
Please make sure to show your Creatrip coupon to the staff when ordering and paying!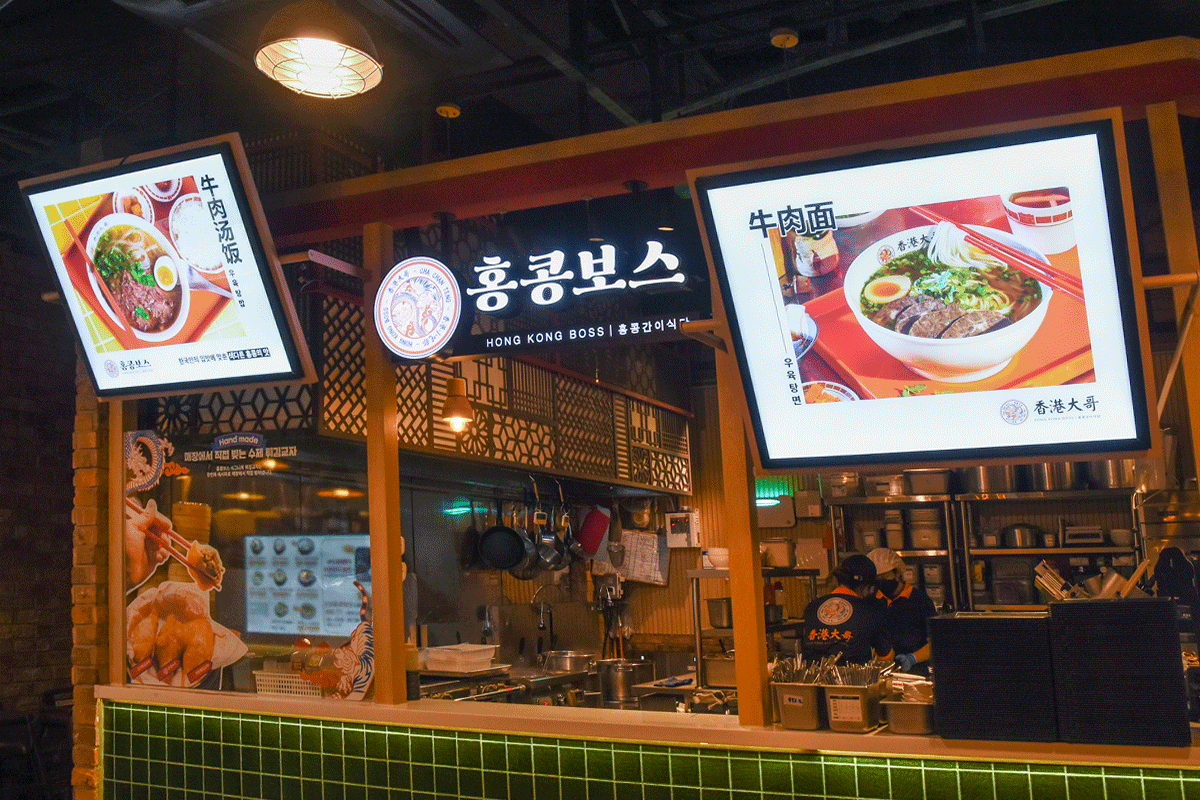 Once your buzzer vibrates, you can pick up your order on the left side of the counter. Time to try out Hong Kong Boss's unique dishes!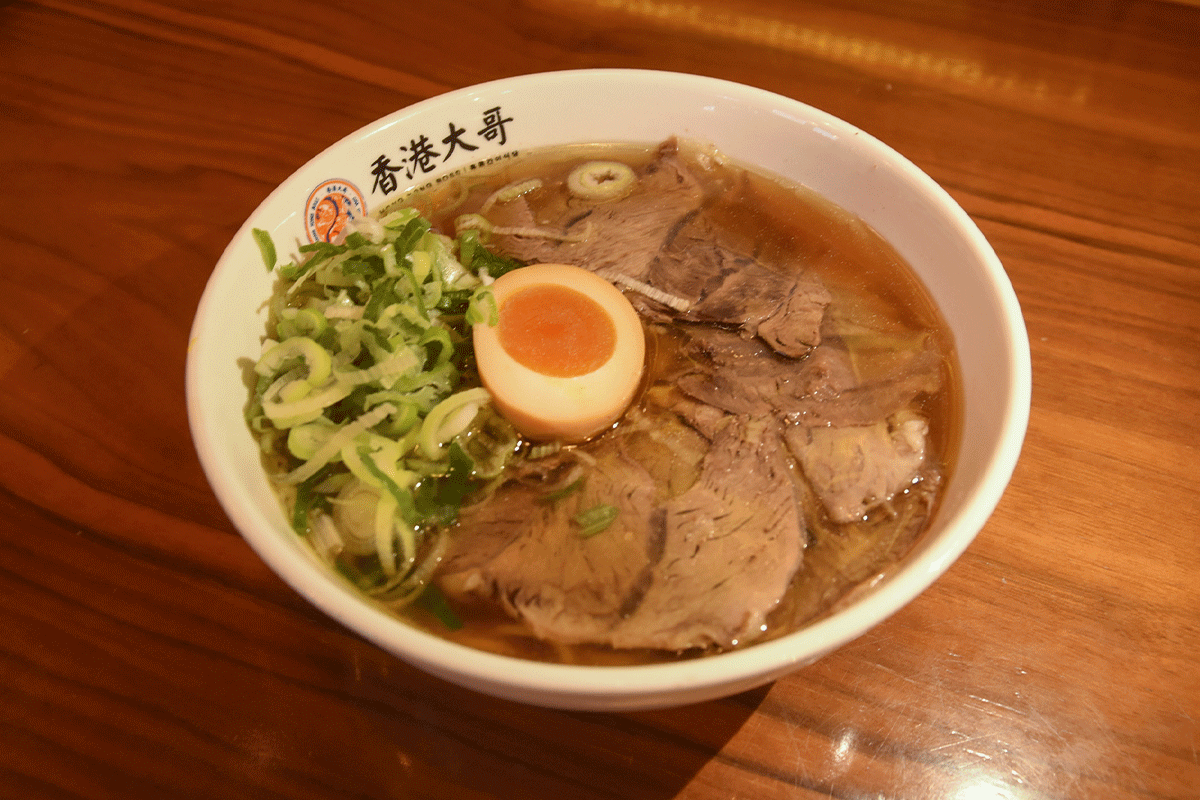 Beef Noodle Soup Regular Flavor (우육탕면 기본맛)
8,500 won
This is the signature main dish of Hong Kong Boss. It has a rich, savory broth and soft noodles. If you like thin noodles with a soft and sticky texture, you can order these beef soup noodles.
Don't be surprised if you can't see the noodles! There are plenty of noodles just under the stacked of meat.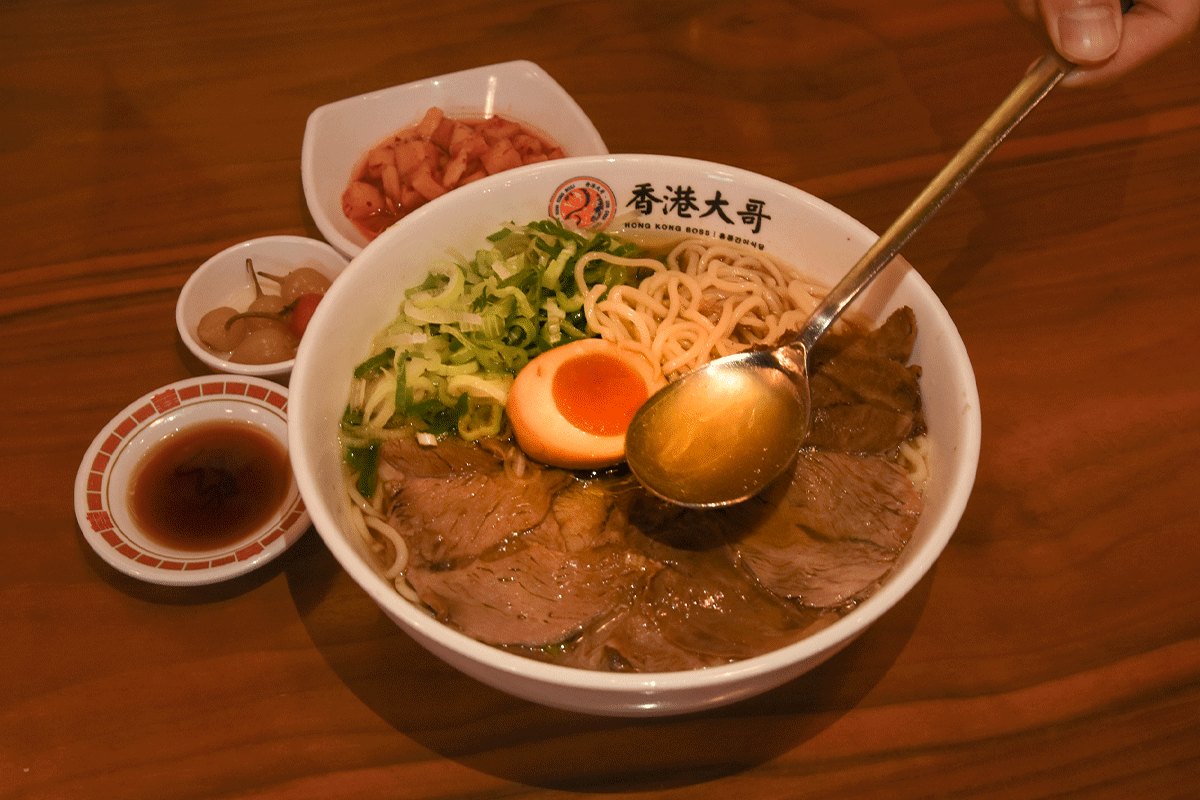 The broth is carefully boiled for a long time as soon as the restaurant opens in the morning, so the beef broth is very clear, rich, and full of flavor.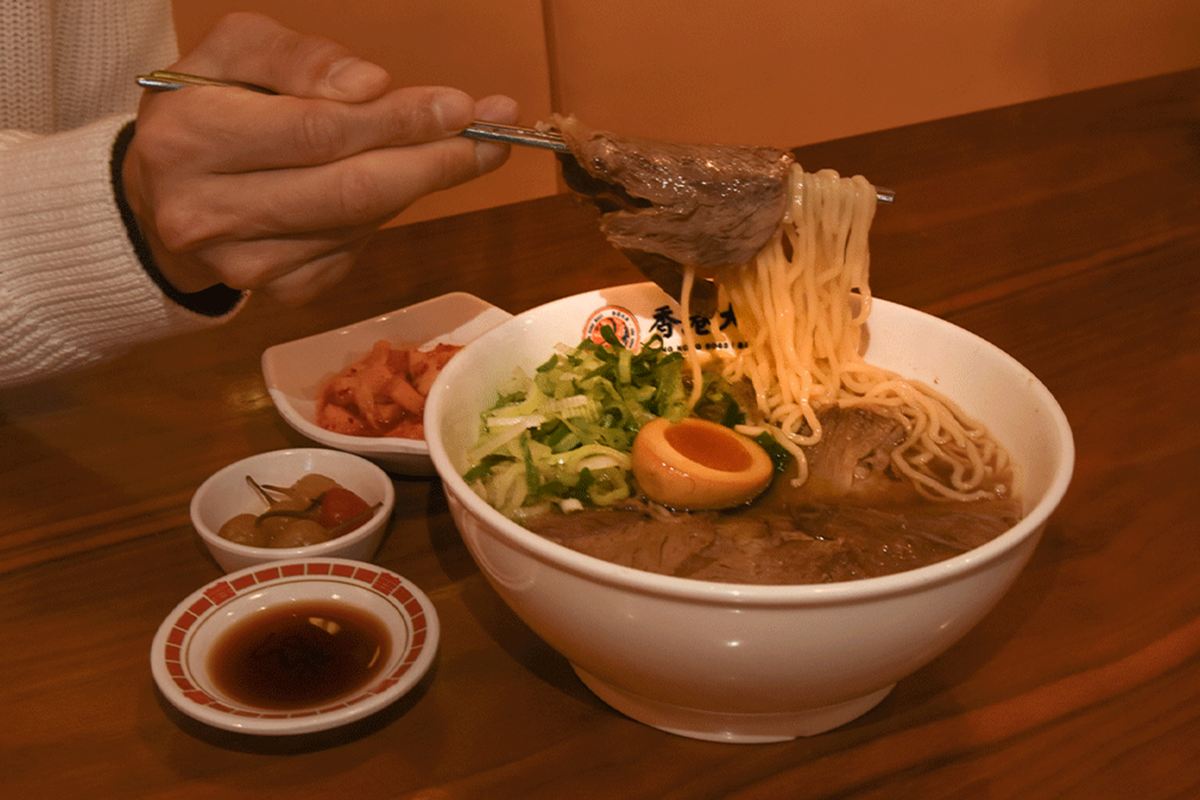 Grab some noodles and a large slice of beef with your chopsticks and take a bite. The chew noodles and soft meat will melt in your mouth.
When you dip the meat in soy sauce, the savory taste of soy sauce seeps into the meat making it more flavorful.
Beef Rice Soup Regular Flavor (우육탕밥 기본맛)
8,500 won
The selling point of Hong Kong Boss is that anyone of all ages can easily enjoy the dishes. Beef soup and rice is similar to Korean gukbap (rice soup), so even young children and those who can't eat spicy food can enjoy it deliciously.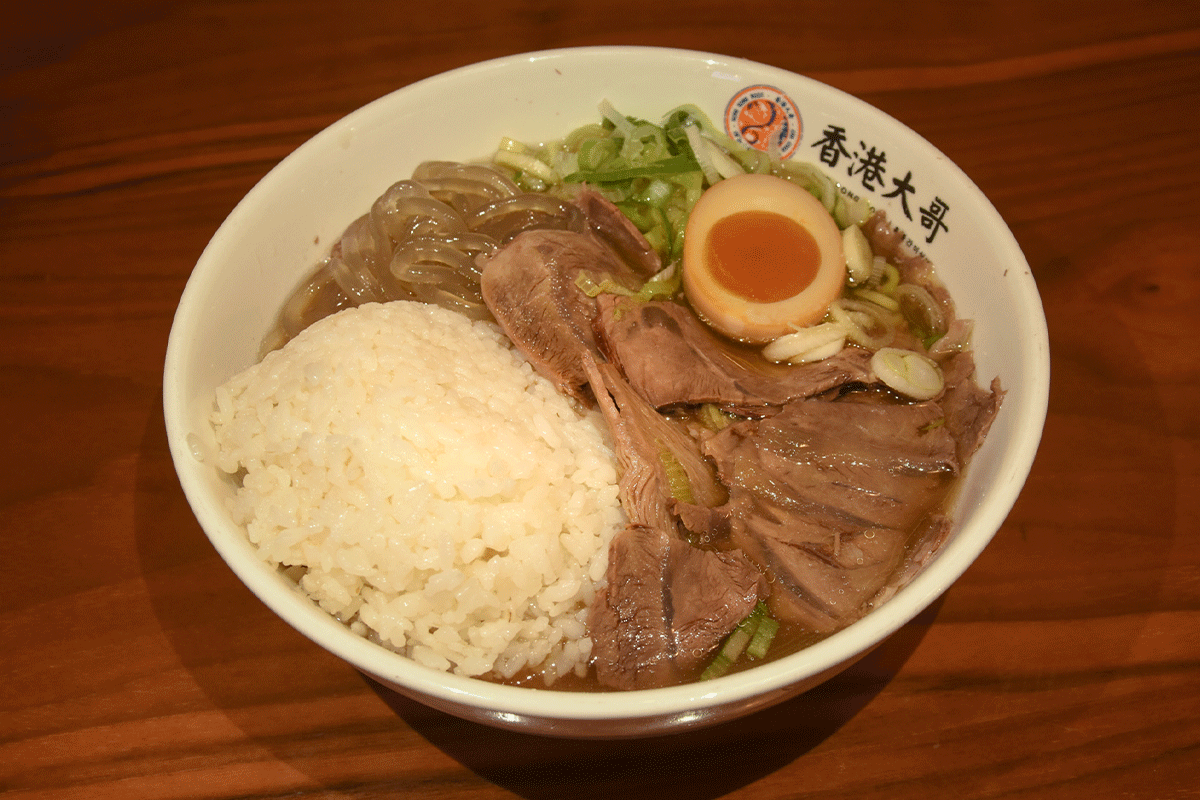 In the beef rice soup, glass noodles are included in the rich beef broth. When you order the beef soup rice, try mixing the warm rice in with the soup.
Like Korean gukbap, it tastes good when you mix the soup and rice and eat them together.
Kkakdugi, or radish kimchi, which Koreans eat with gukbap, is also served along with the soup. It's crunchy and a bit sour, so it goes very well with the beef soup.
As a Hong Kong dish reinterpreted to suit the taste of Koreans, it captures the charms of both Korean and Hong Kong food.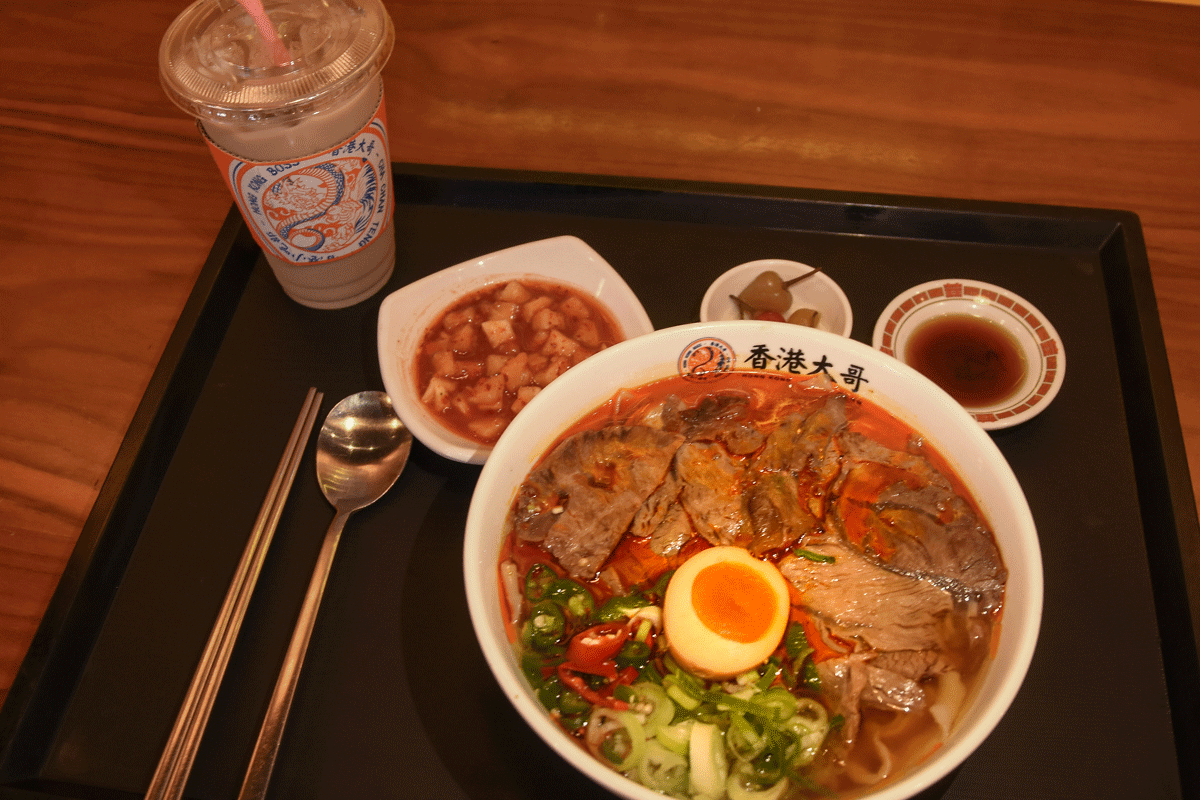 Beef Knife-Cut Noodles Spicy Flavor (우육도삭면 매운맛)
9,000 won
The unique texture of the noodles and fragrant rayu chili oil come together in this noodle dish. The spicy smell kept stimulating my appetite throughout the filming.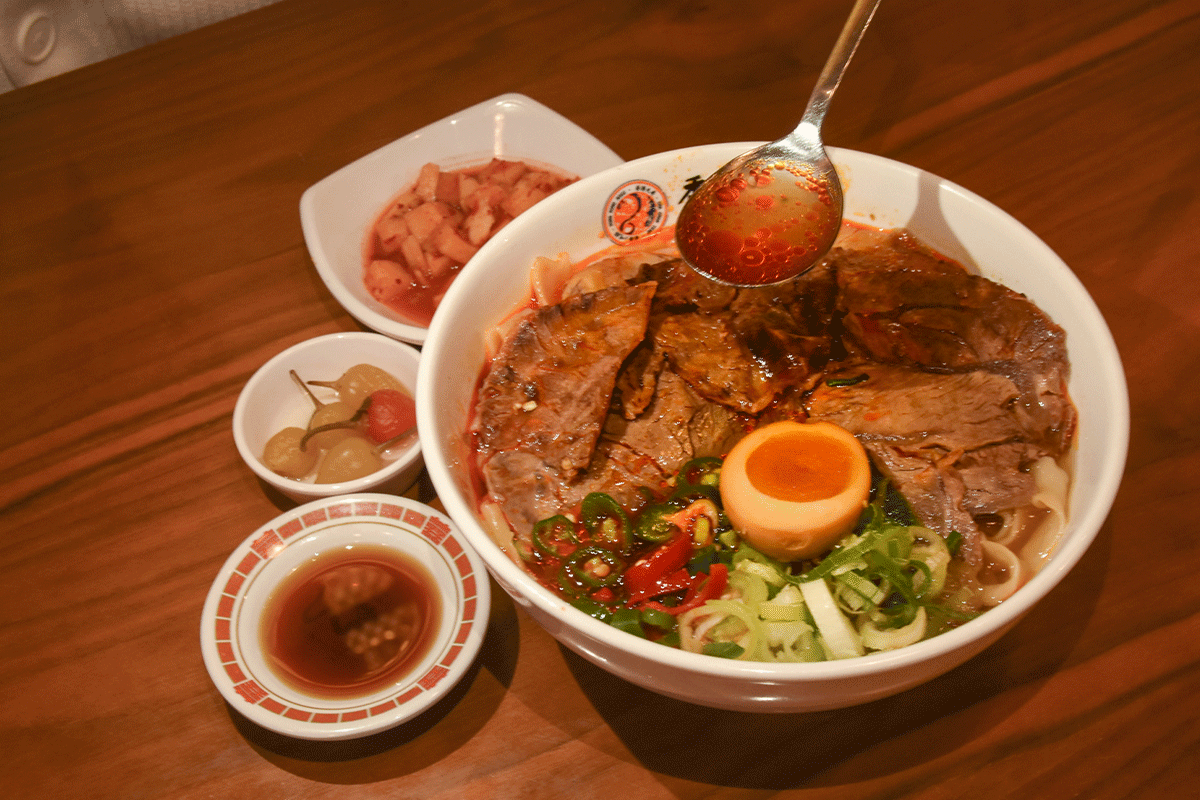 It has a spicy and tingling taste thanks to the Hong Kong Boss's special broth made with rayu, so even a sip of the soup will relieve your stress.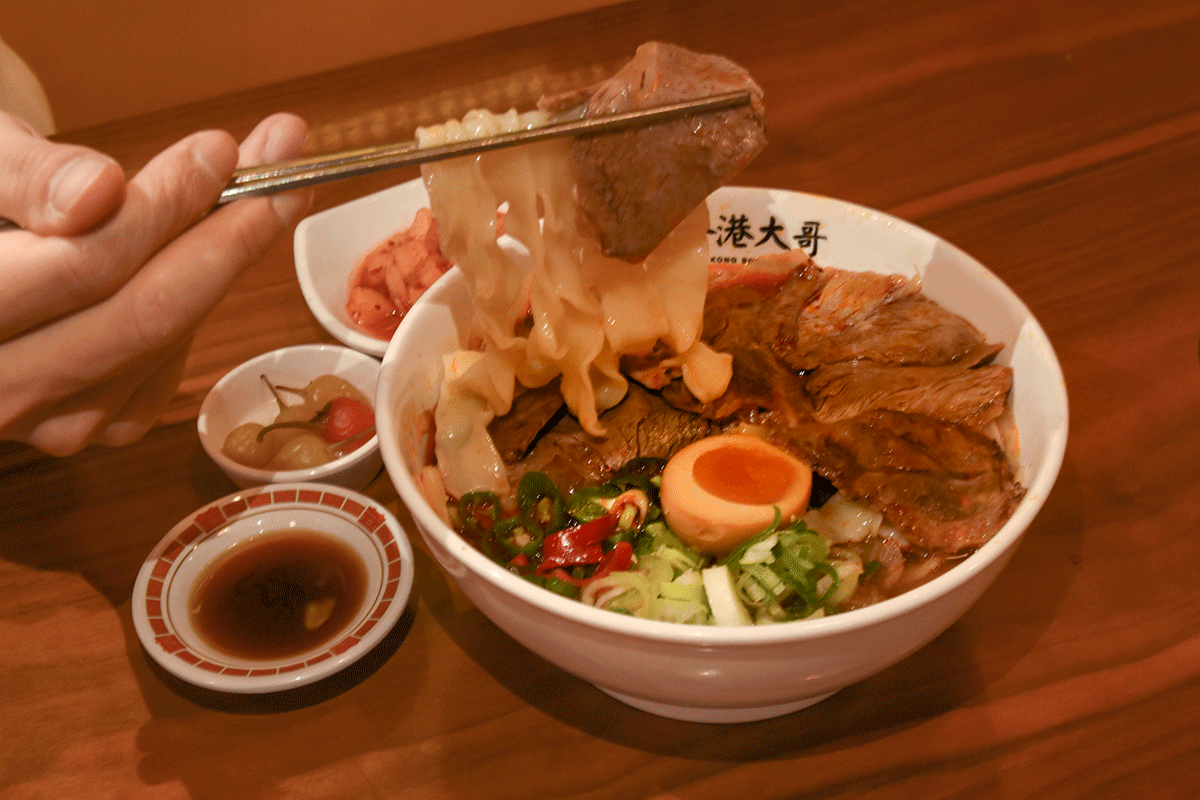 Unlike ordinary noodles, this dish is specially made by hand-cutting thick and chewy flour dough. This gives the noodles an elastic, chewy texture, and I recommend this dish for those who like chewy noodles.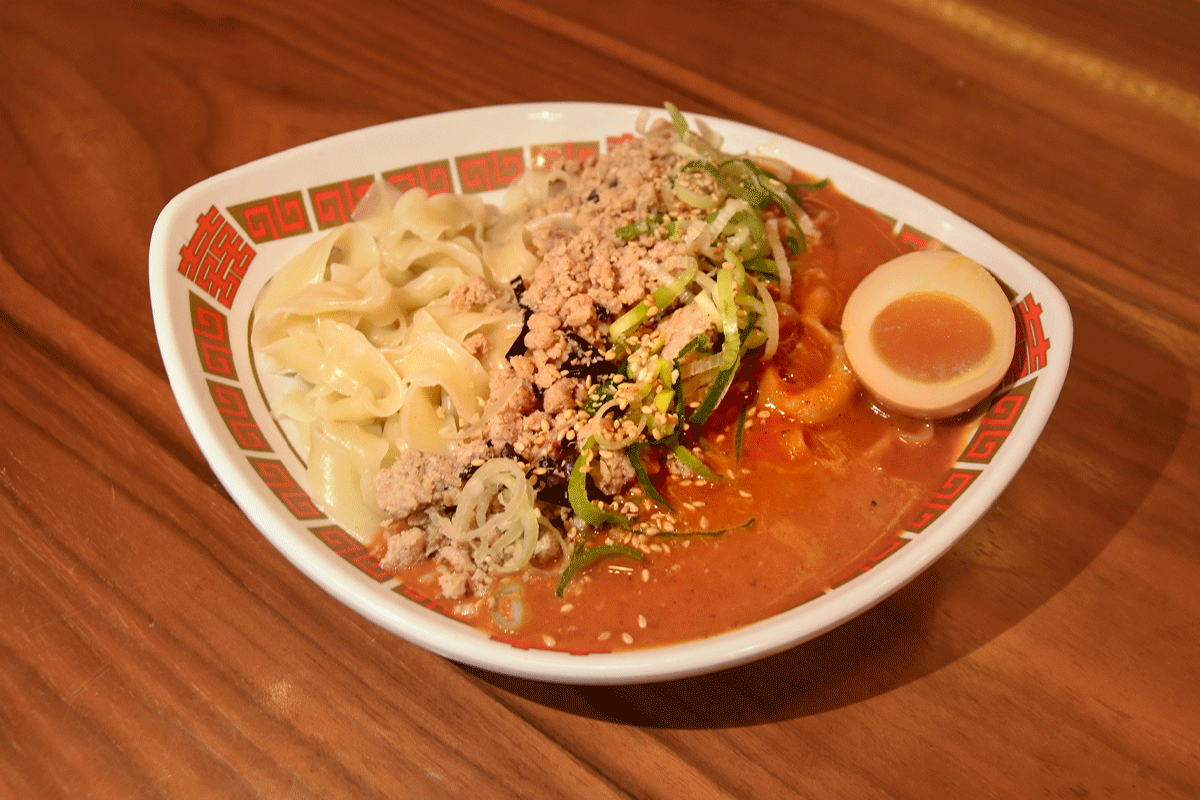 Mixed Knife-Cut Noodles (도삭비빔면)
8,500 won
The last dish to introduce is spicy mixed knife-cut noodles (dosak bibimmyeon), which is mixed with savory zumajang sauce and rayu chili oil. When you think of mixed noodles, you might expect them too be cold, but this is actually a warm dish made with freshly boiled noodles mixed with sauce.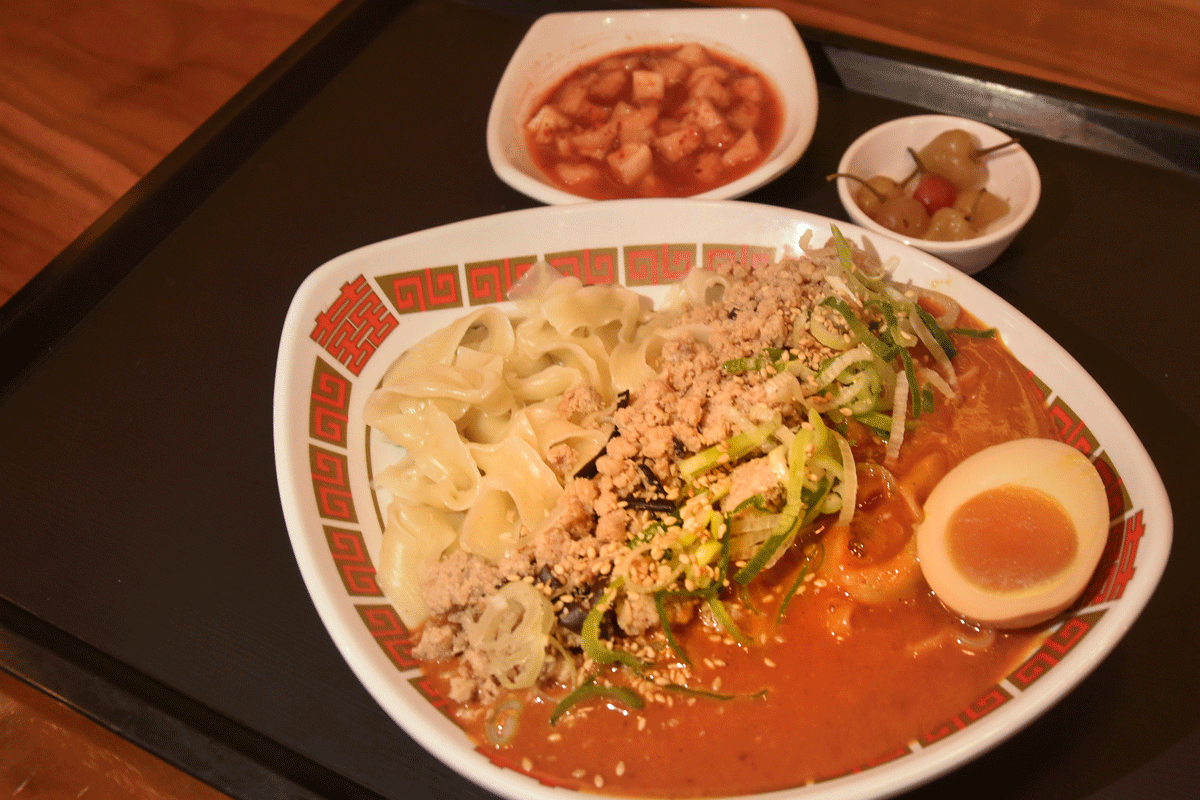 These noodles come with a generous amount of savory nuts, pork, green onions, and sesame seeds as a garnish. You can mix the toppings with the spicy sauce made with Hong Kong Boss's special spices.
The kkakdugi and pickled peppers that come as a side dish are perfect to cleanse your palate while eating.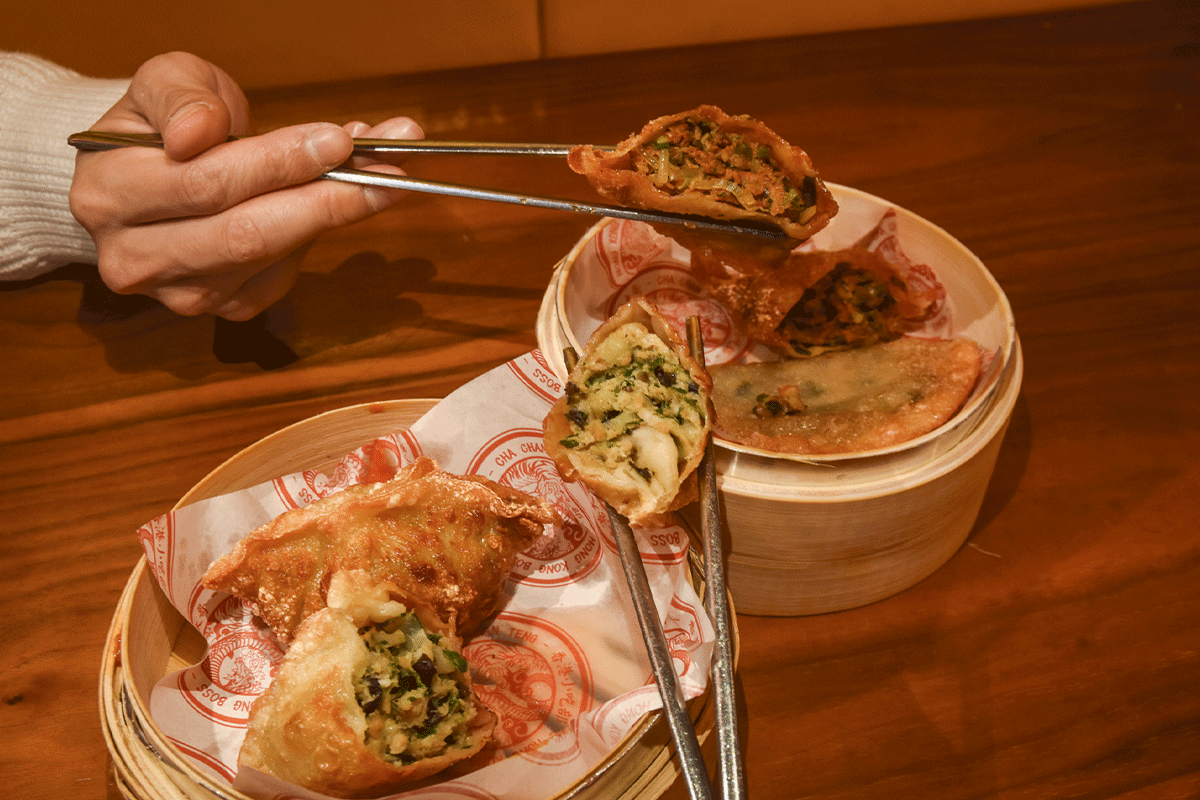 The next dishes I'm going to introduce are side dishes that you can't miss. If you order a set meal, you can taste two kinds of fried gyoza along with the main dish. First, I'll introduce the fried foods.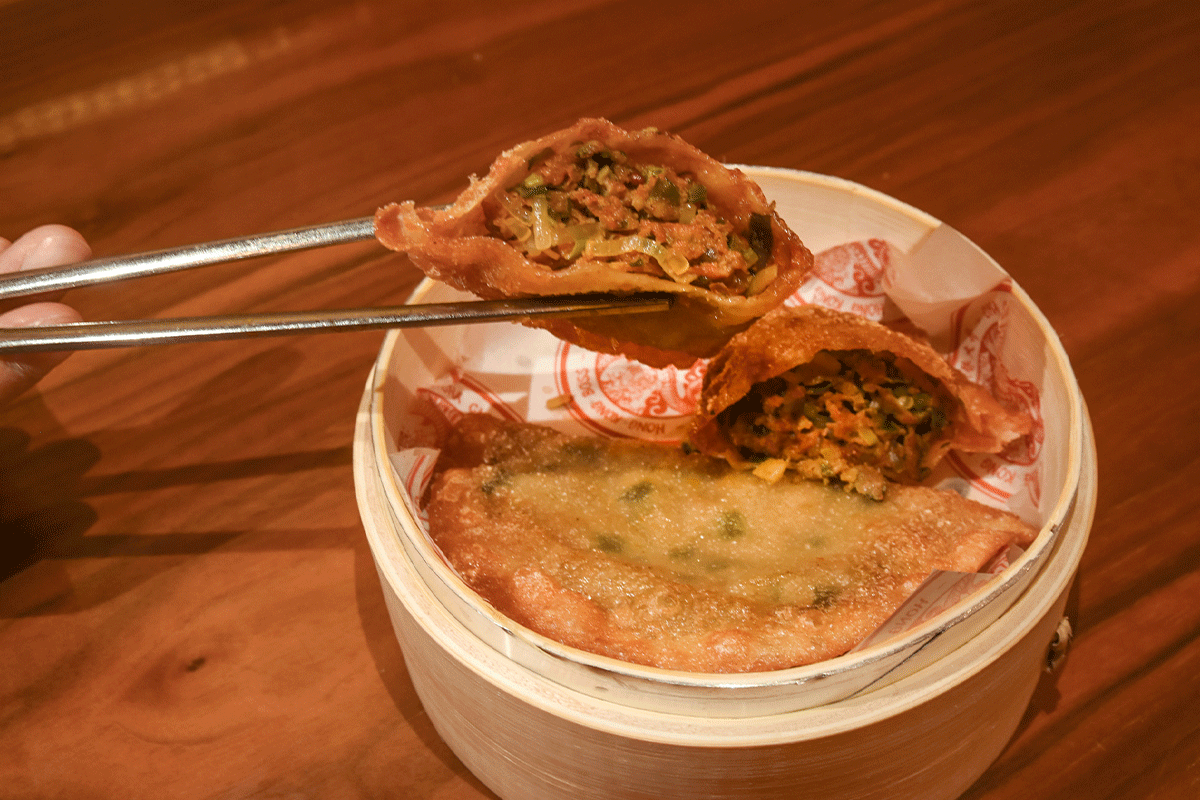 Cumin Gyoza 2pc (쯔란튀김교자 2조각)
3,000 won
These fried dumplings are crispy on the outside and moist on the inside and have a subtle cumin aroma.
Meat Gyoza 2pc (고기튀김교자 2조각)
4,000 won
The filling of this gyoza is filled with juicy pork and mixed vegetables. As you can see in the picture, they don't skimp on the filling!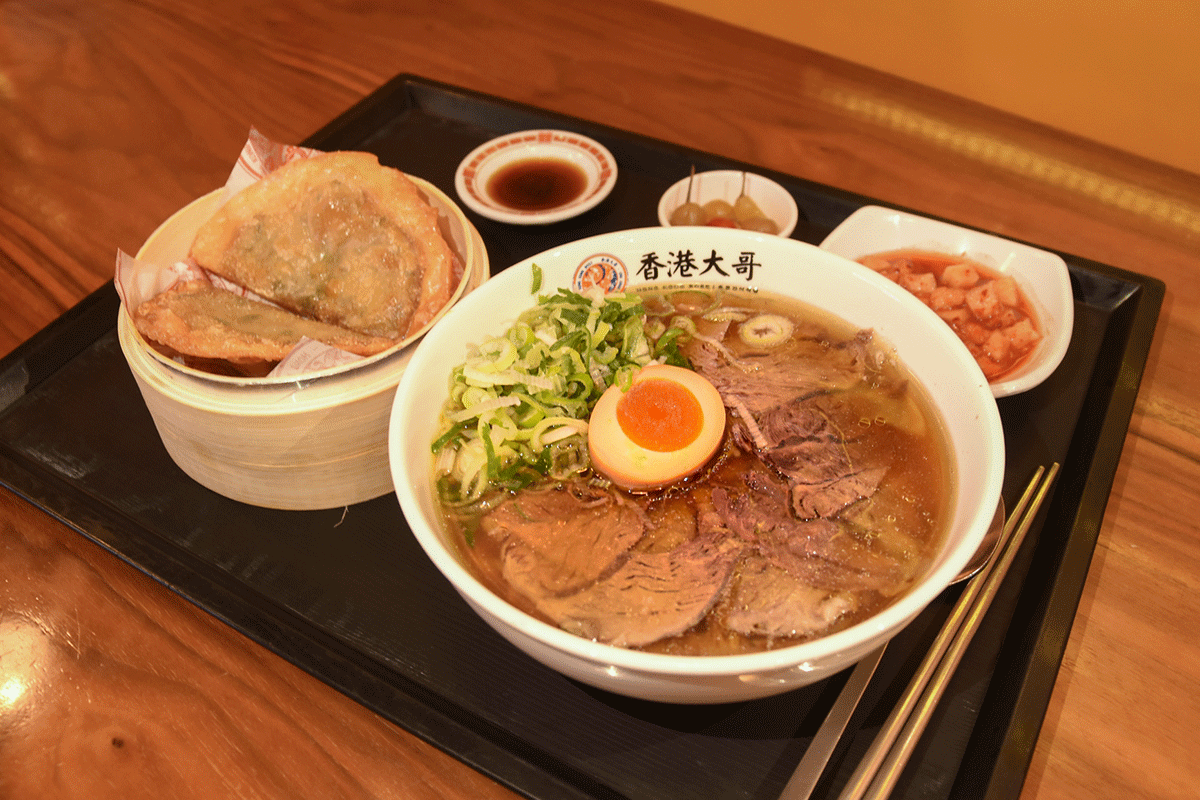 1 Person Set (1인 세트)
11,500 won (12,000 won if you select the spicy mixed knife-cut noodles)
If you want to try both the cumin and meat gyoza, but don't want too much food, I strongly recommend the 1 person set! It consists of one main dish, one cumin gyoza, and one meat gyoza.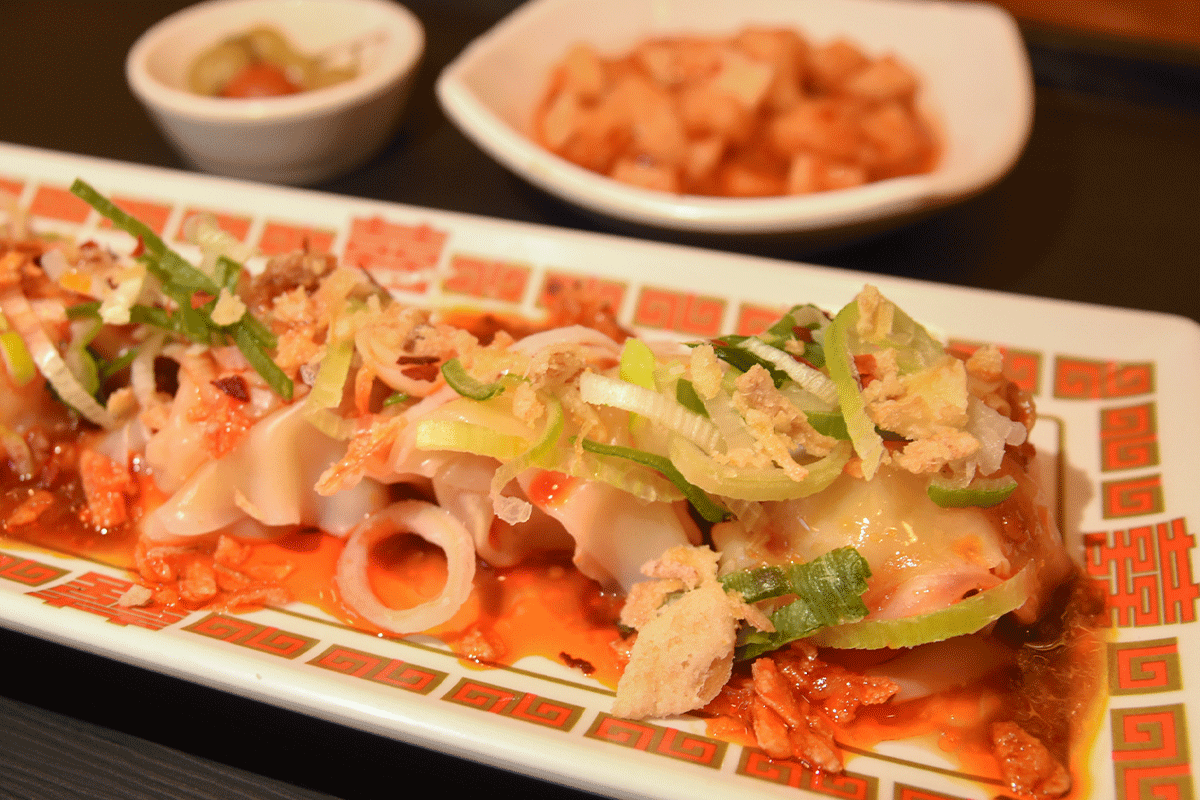 Spicy Wonton (매콤완탕)
6,000 won
These are shrimp wontons covered in a spicy sauce. I enjoyed all the different dishes I tried at Hong Kong Boss, but I particularly enjoyed these spicy wontons.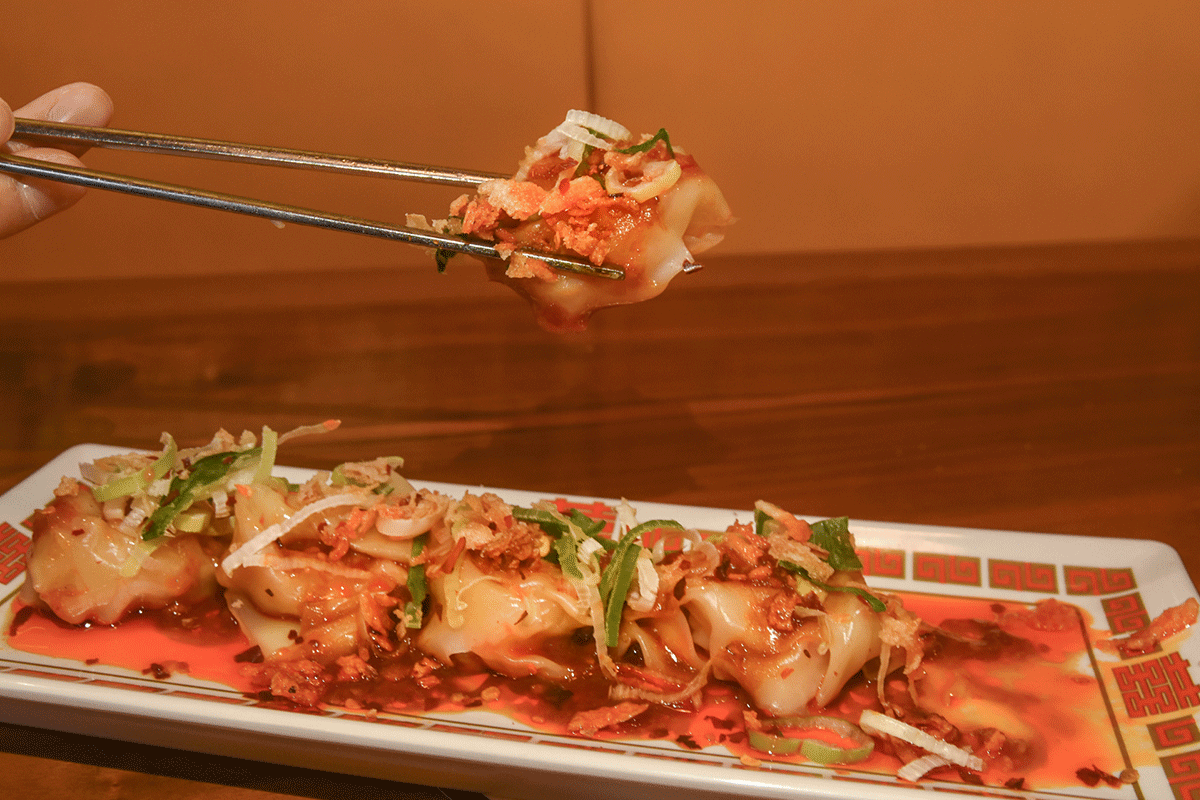 There is a whole shrimp in each shrimp wonton, and as soon as I chewed it, it felt like the it was popping in my mouth. That's how fresh and juicy the shrimp was!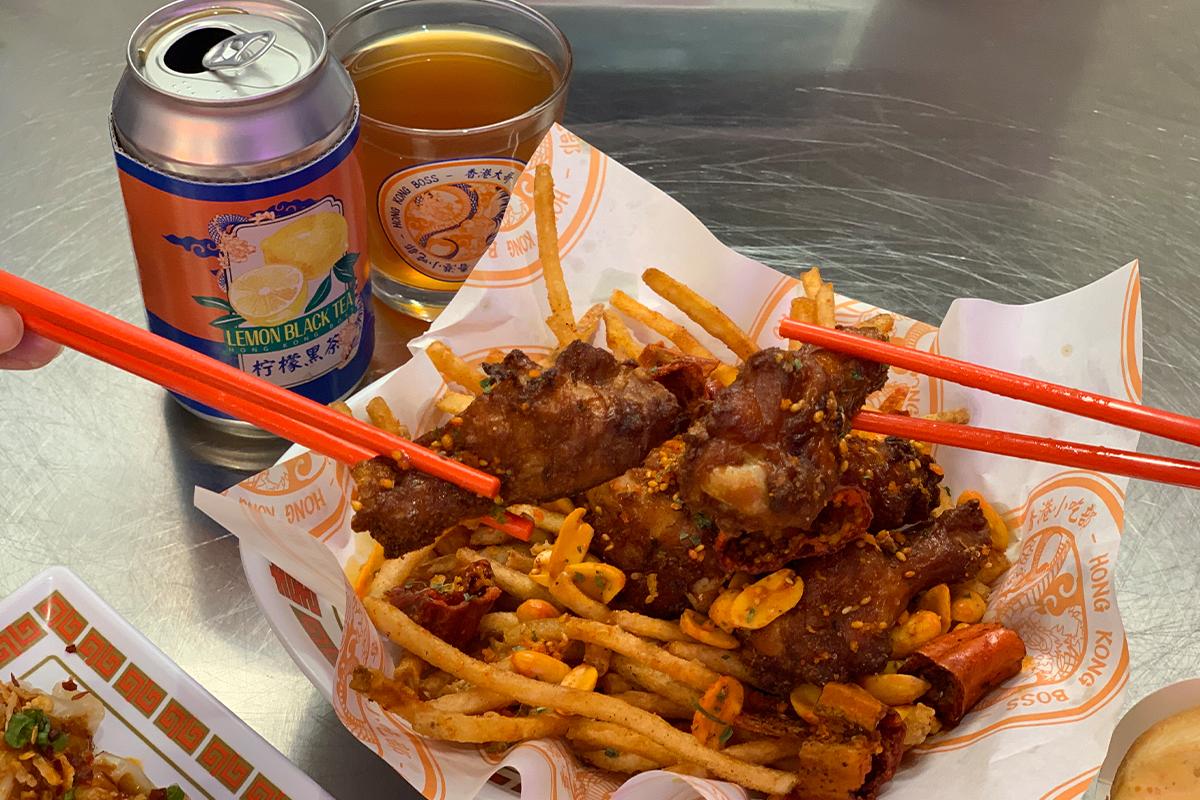 Chili Fried Chicken (향라닭튀김)
9,000 won
Fried chicken sprinkled with chili seasoning is another delicacy at Hong Kong Boss. Since it is made with chicken wings, the meat isn't tough at all and very easy to chew.
The chicken is served with seasoned french fries and red pepper flakes, but please note that they may not be able to provide them depending on the supply shortage of raw materials due to COVID-19.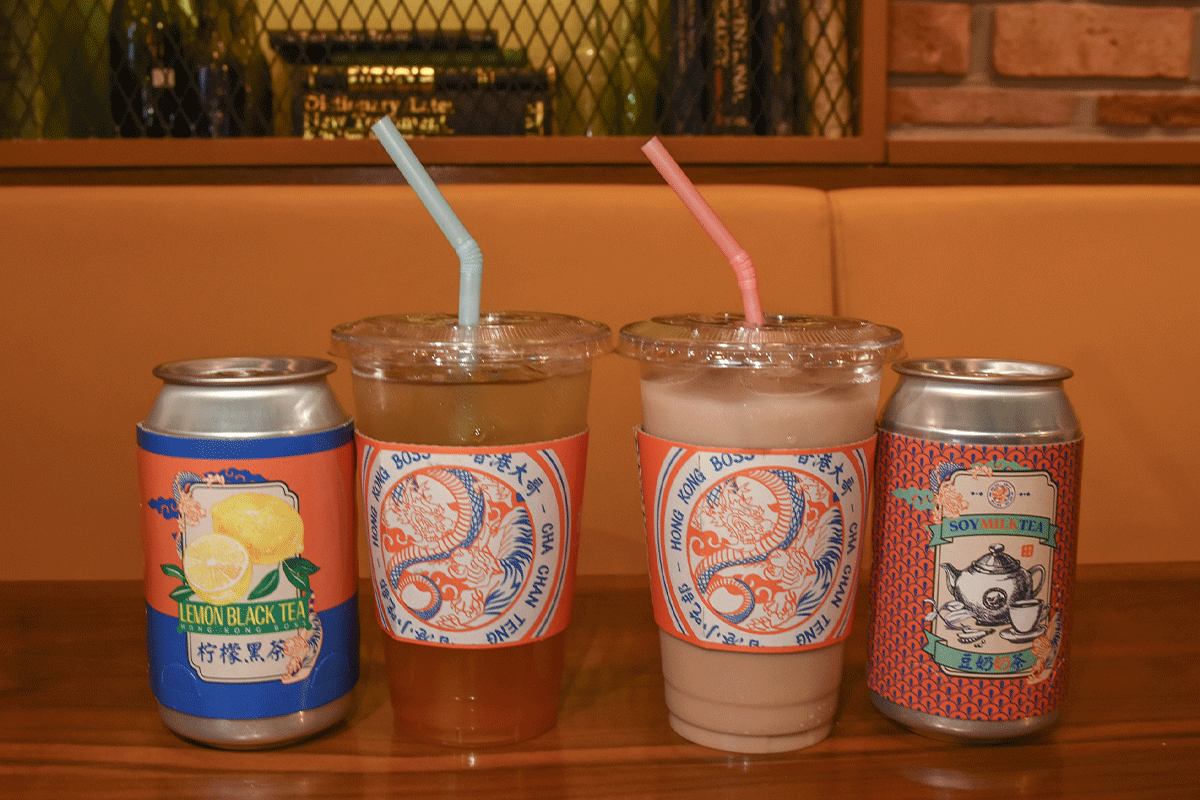 The last items I will introduce are the different teas available that reinforce Hong Kong Boss's identity as a cha chaan teng. After having a delicious meal at Hong Kong Boss, you must finish it off with some tea.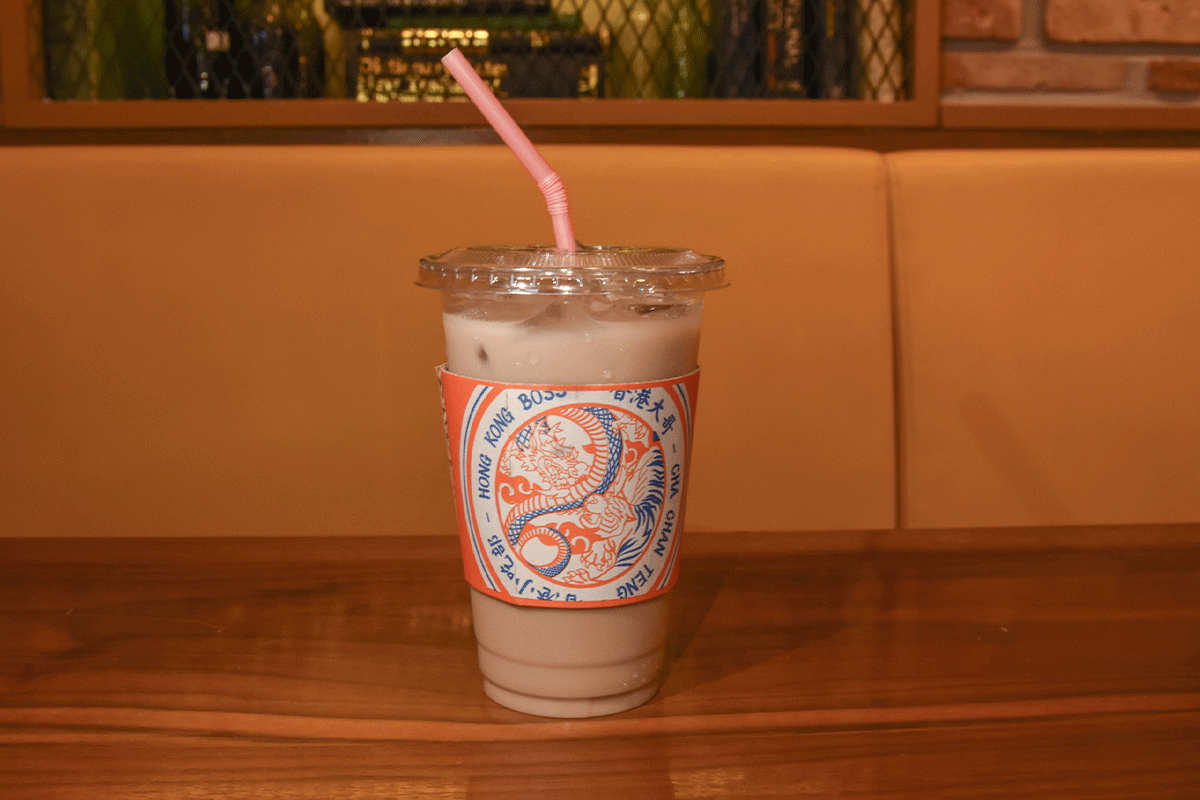 Soy Milk Tea 300ml (두유밀크티)
3,500원
This is a special milk tea made with savory soy milk and fragrant sweet tea. It goes down very smoothly and is just sweet enough to help wash away the strong flavors from your meal.
It seems that this is especially popular with women customers!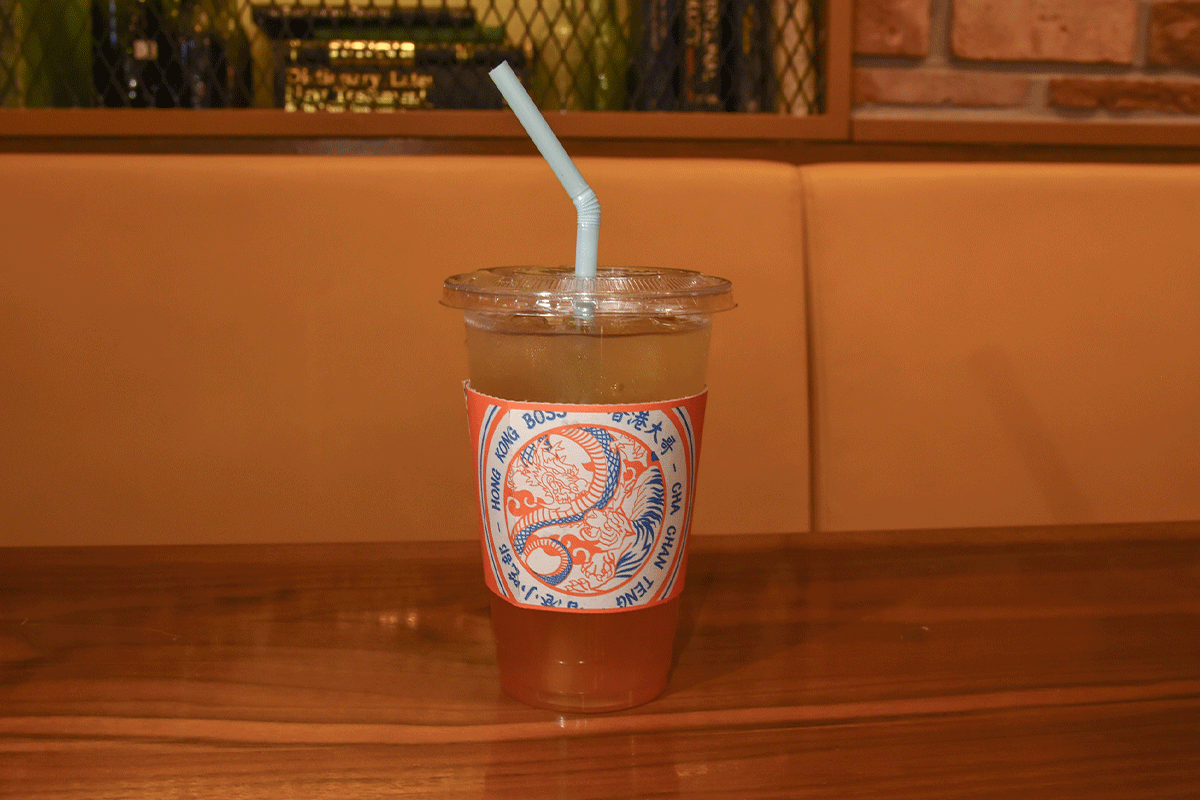 Lemon Black Tea 300ml (레몬블랙티)
3,500 won
Lemon black tea made with black tea and lemon syrup is so popular, you could consider it the national drink of Hong Kong. The lemon scent spread in my mouth as I drank it and was very refreshing.
Personally, I had to take turns taking sips of both the both soy milk tea and lemon black tea because they were both delicious.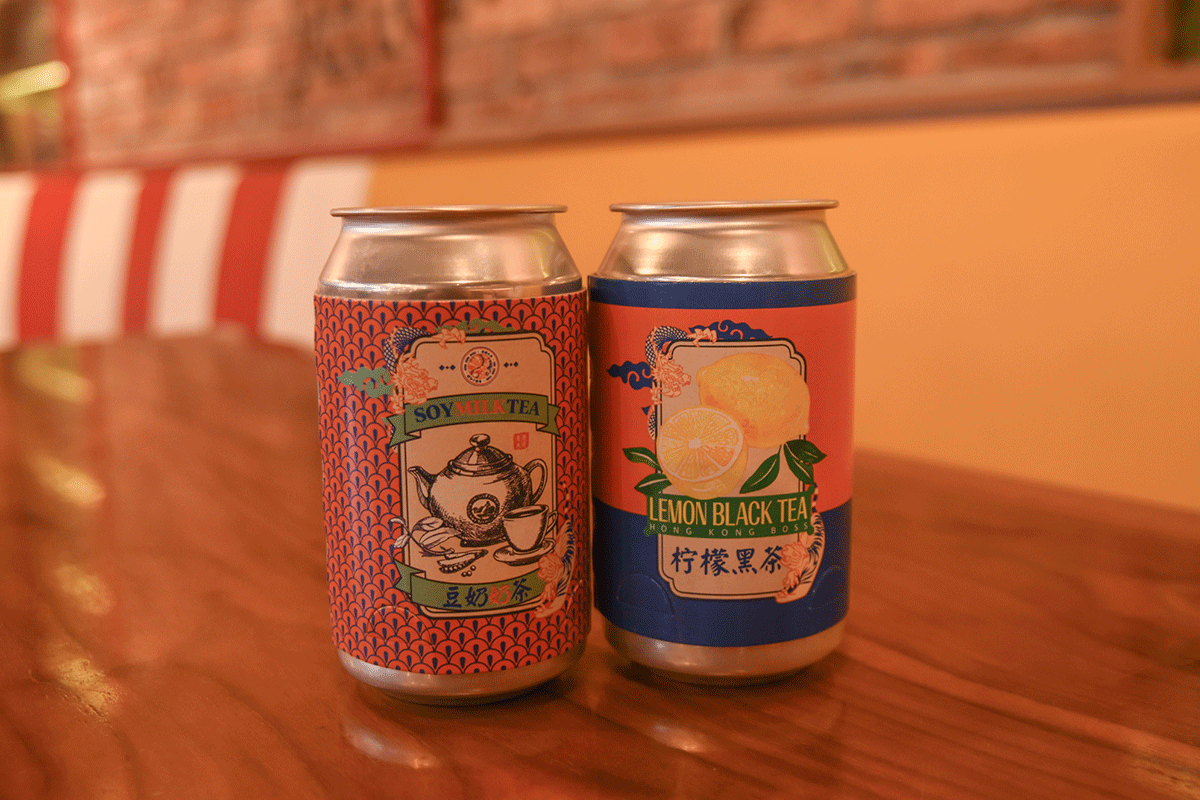 Take-out Can Drink 330ml (캔 용기 포장)
4,000원
The two drinks I mentioned are also sold in take-out cans, and they are the prettiest beverage cans I've ever seen. They have fancy designs on them making them perfect to use as a gift to your acquaintances, and of course, it guarantees the taste lasts!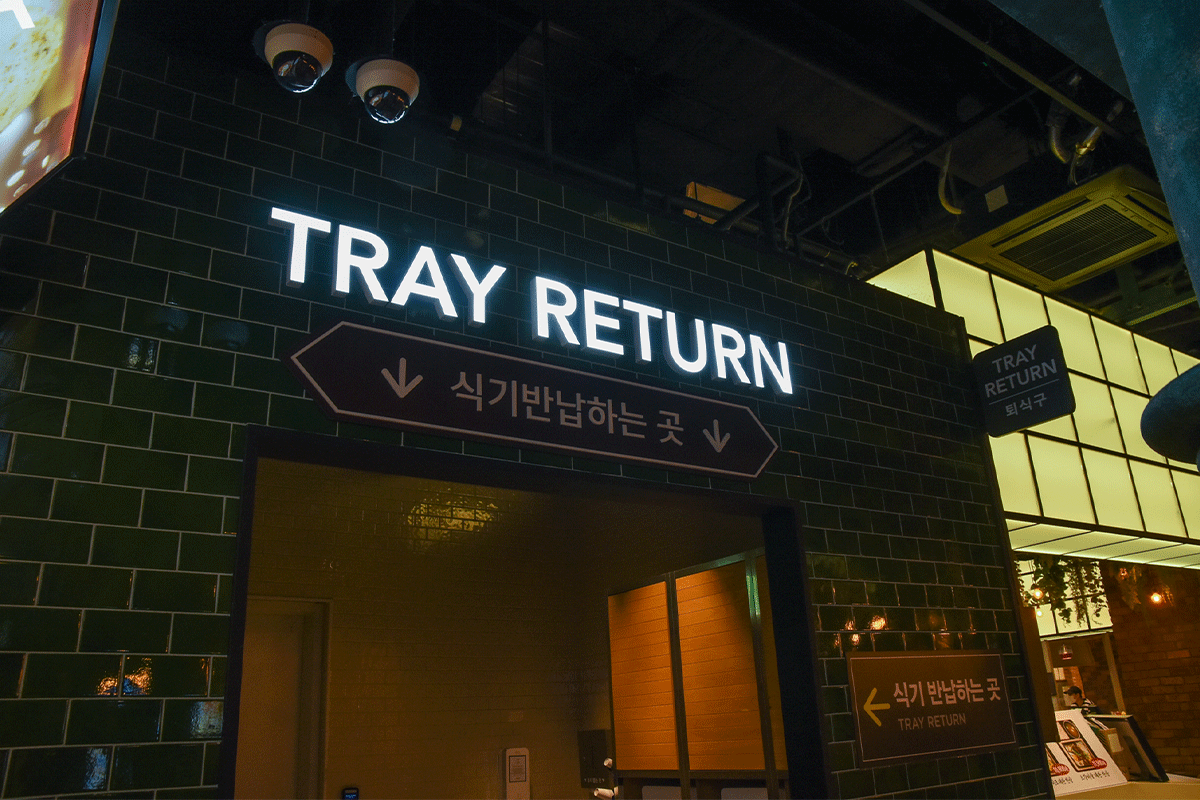 Please return your plates and utensils after eating. You can return them at the counter by the exit that says "tray return"

---
How To Get There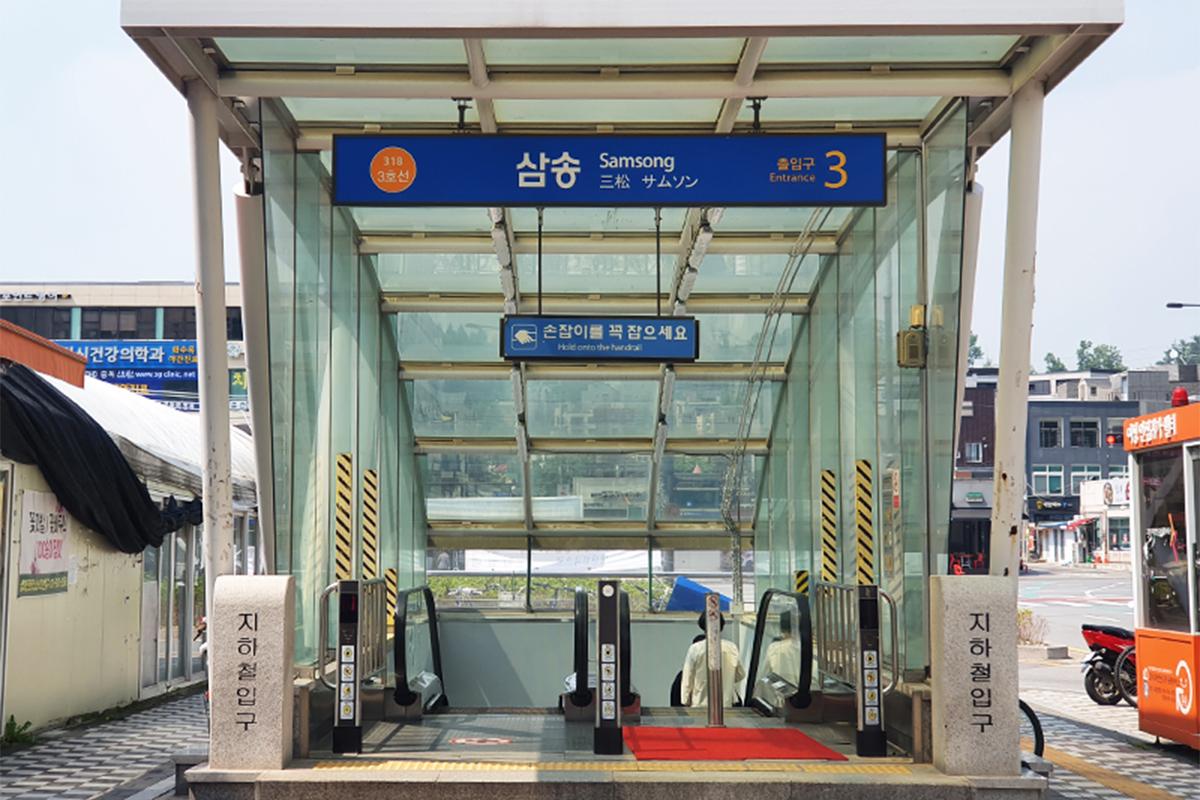 Come out of Samsong Station Exit 3 on Line 3.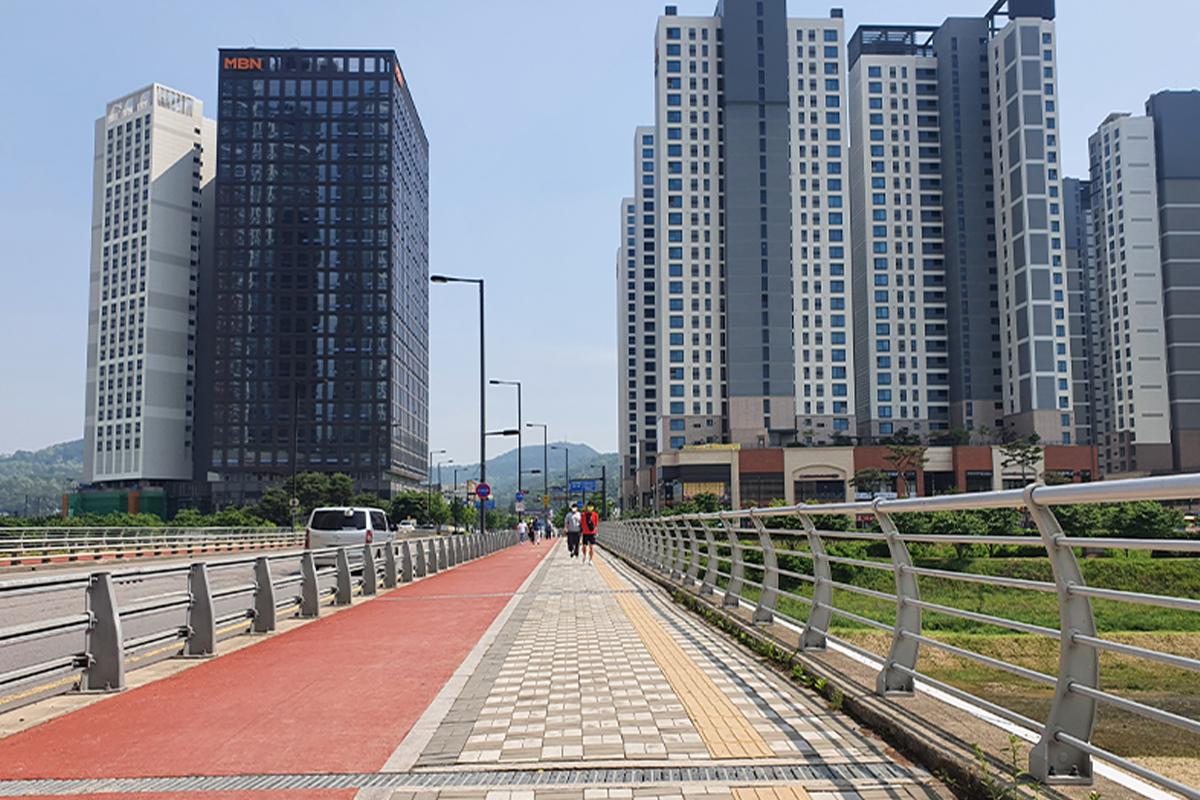 Walk straight for about 10 minutes.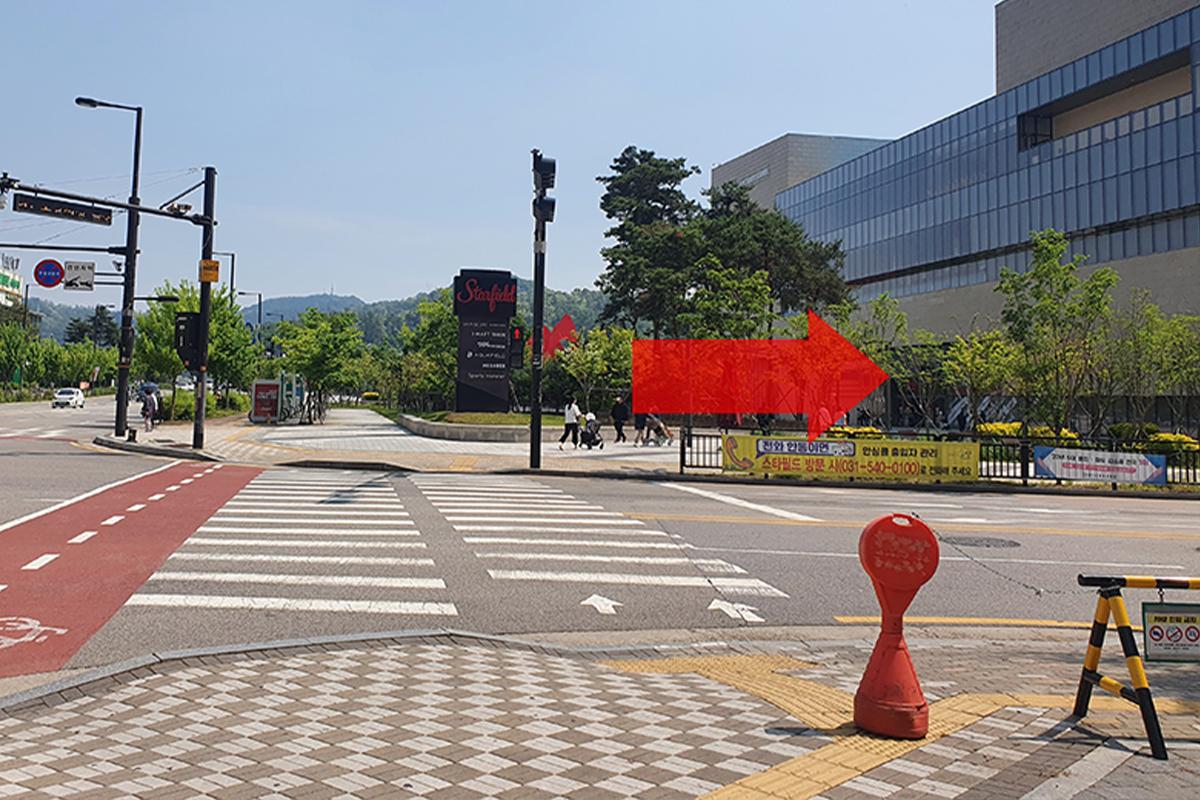 Once you cross the crosswalk, Goyang Starfield will be the huge building on your right.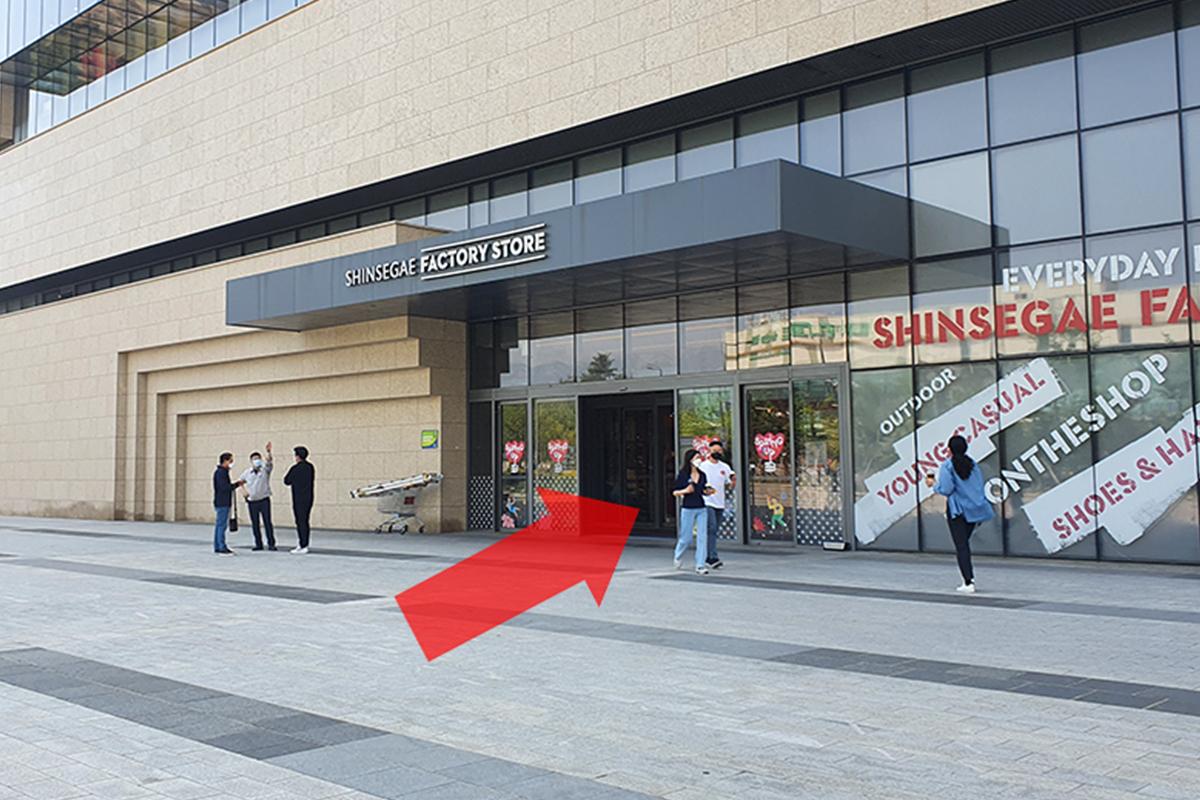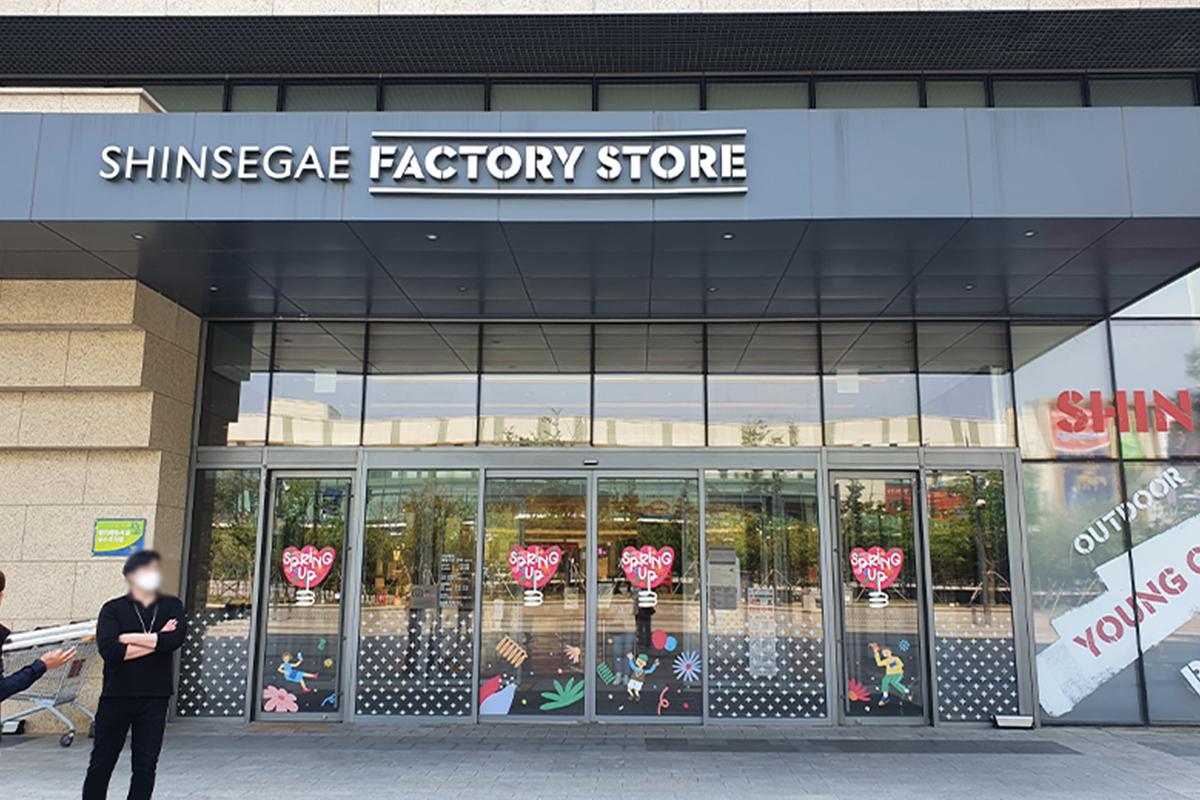 If you cross the crosswalk and walk toward the Starfield building, you will see this entrance. Please enter through this entrance.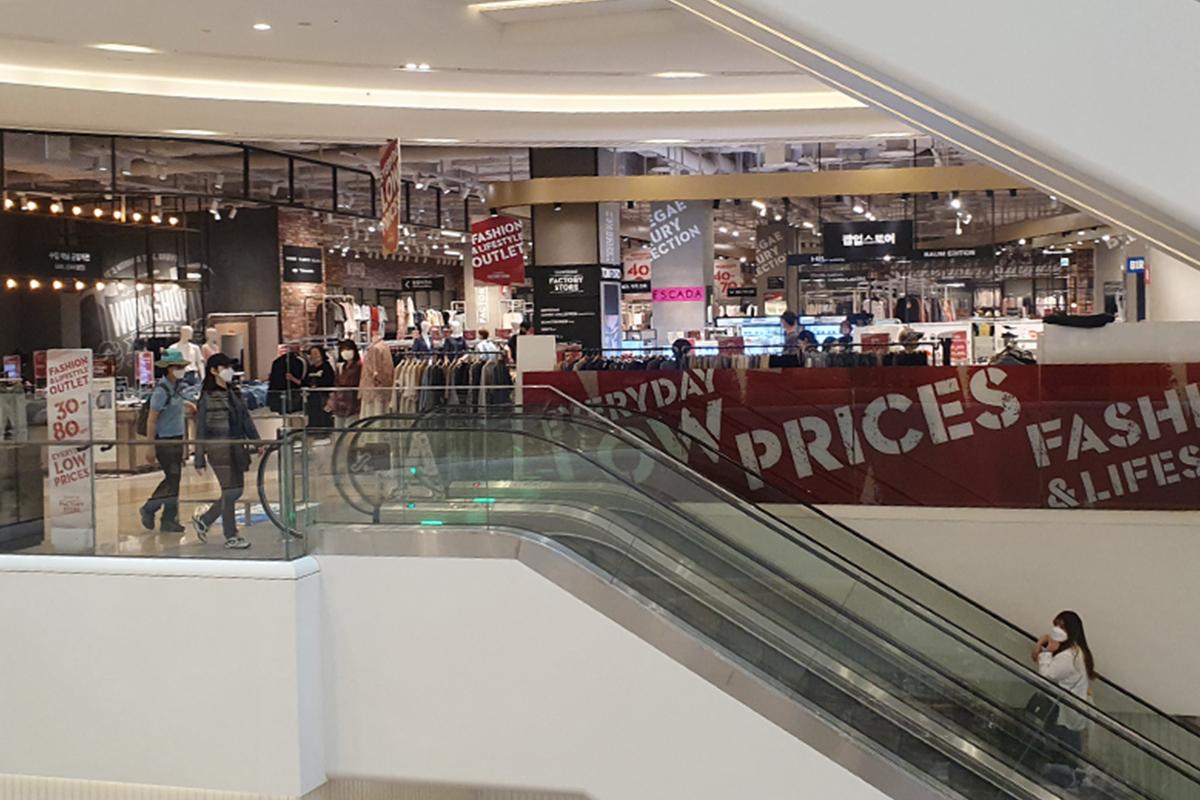 Take the escalator down to the first basement floor.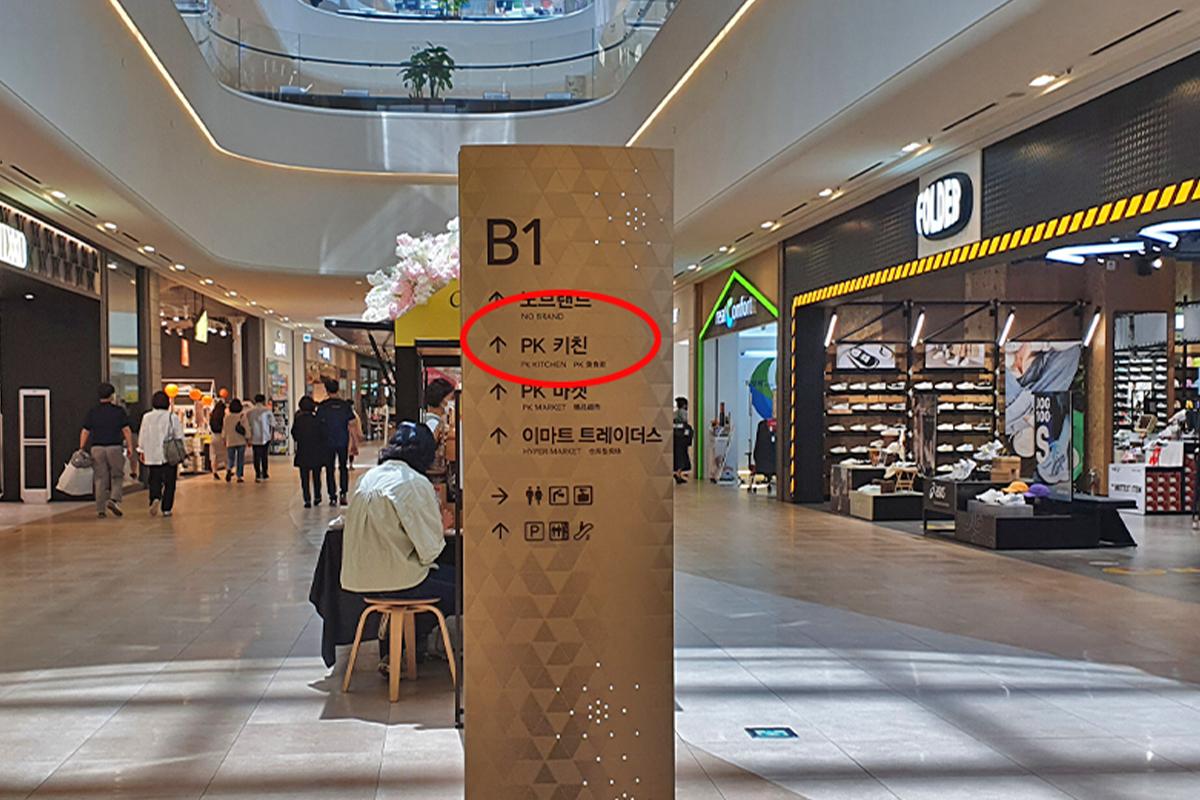 After going down, go straight in the opposite direction. The PK Kitchen shown on the sign is our destination.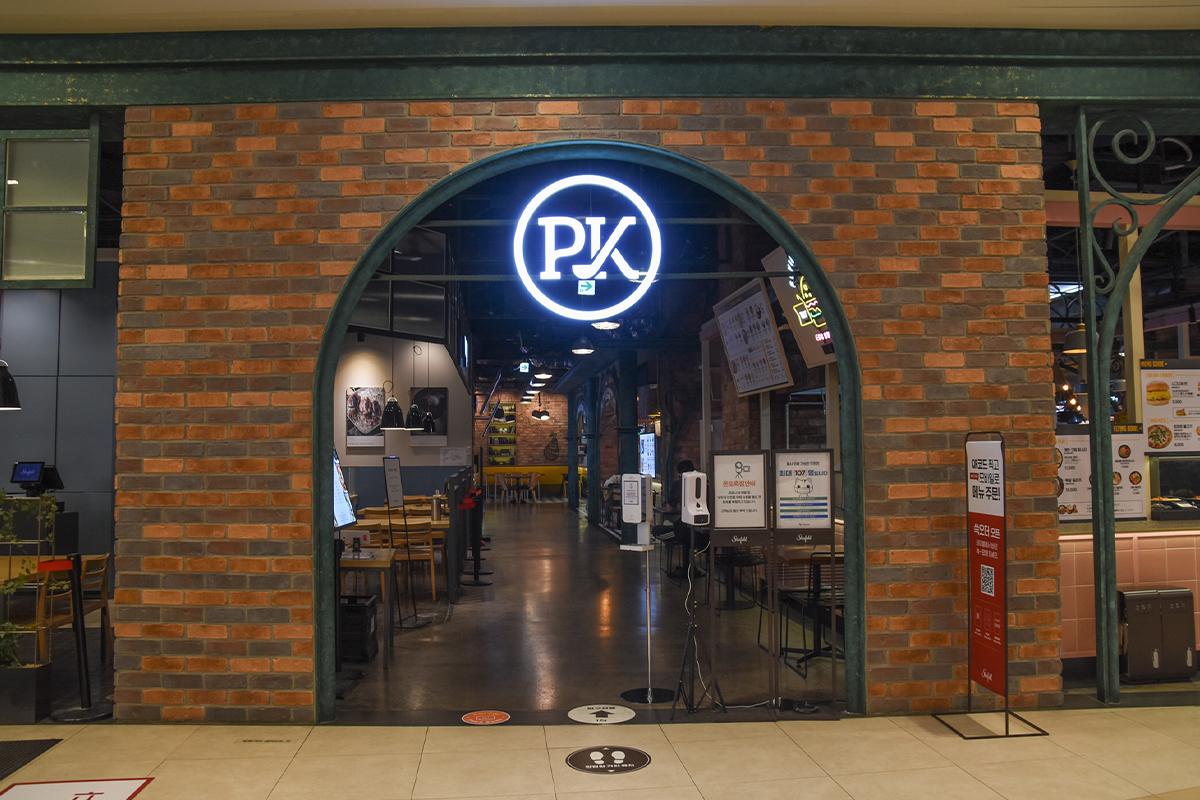 If you keep going straight, you will see the neon sign above the entrance for PK Kitchen.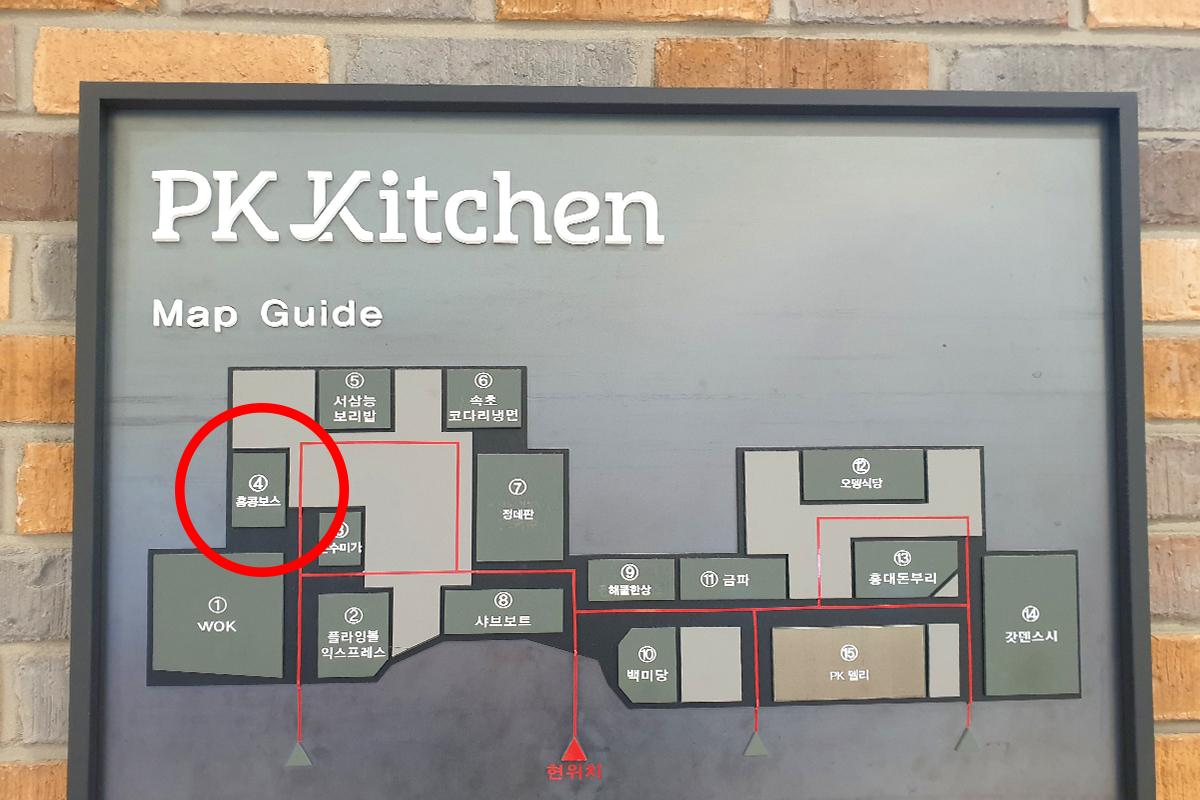 The circled spot where Hong Kong Boss is. There are several entrances to PK Kitchen, so when you're facing PK Kitchen, you should go through the entrance furthest on the left and go straight.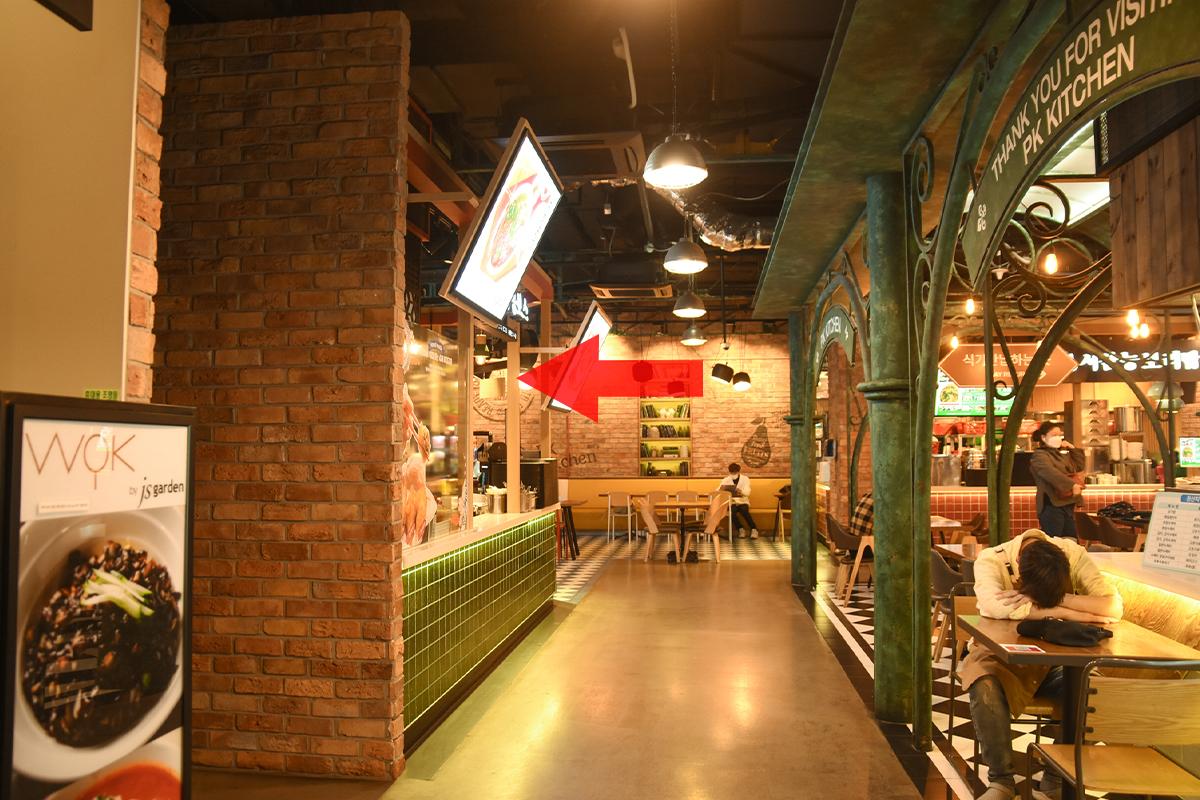 Hong Kong Boss will be on the left where the arrow is pointing.
---
I hope you get a chance to visit and enjoy a delicious meal. Don't forget to click here or the button at the bottom of the page to download your coupon!