Cafe Camptong: A Must Visit In Seoul For ARMY
We visited the café from episodes 118-119 of Run BTS!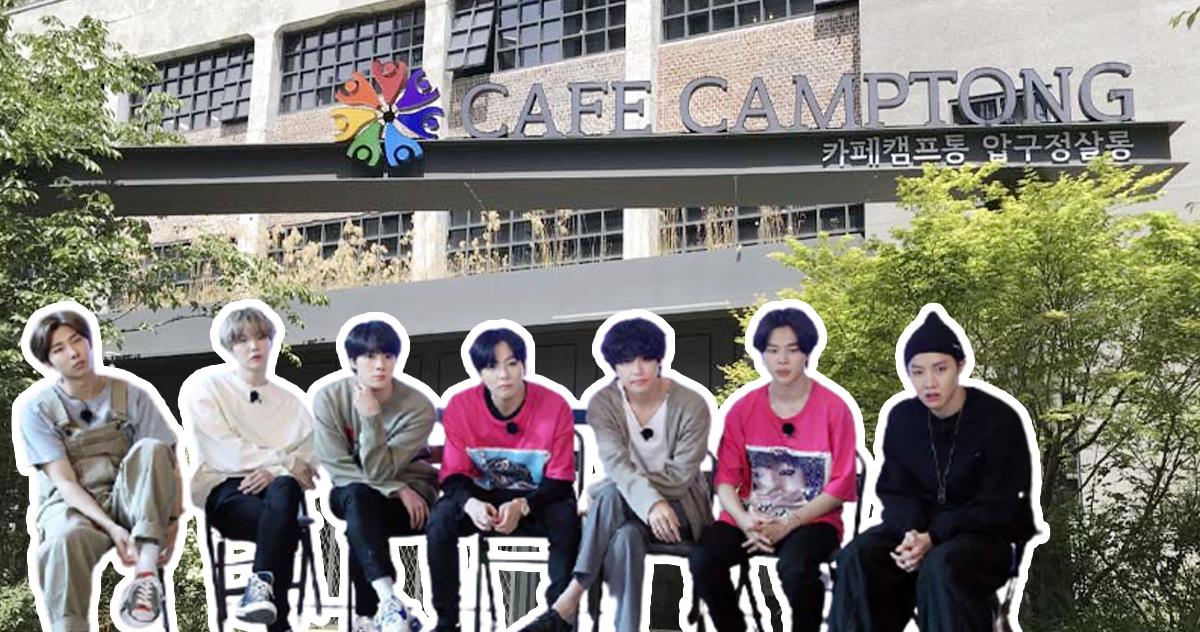 Fans of K-pop, BTS fans in particular, will be familiar with the popular show Run BTS.
Cafe Camptong was used as the filming location for episodes 118 and 119.
We headed over to the café to take pictures just like the members of the boy band!
---
Information
Address: 서울 강남구 압구정로42길 27
Hours: 11:30-19:00 (Last Order 18:30)
Getting there: 10-minute walk from Exit 5 of Apgujeong Rodeo Station (압구정로데오역), or a 4-minute walk from bus stop Apgujeong Police Box (압구정파출소 정류장).
---
Our Visit To Cafe Camptong

The filming location for episodes 118-119 of Run BTS, Cafe Camptong is located near Apgujeong Rodeo in Seoul.
With 5 floors to explore, the café is huge. ARMY members and fellow K-pop lovers, let's follow in the footsteps of our idols and take some memorable photos!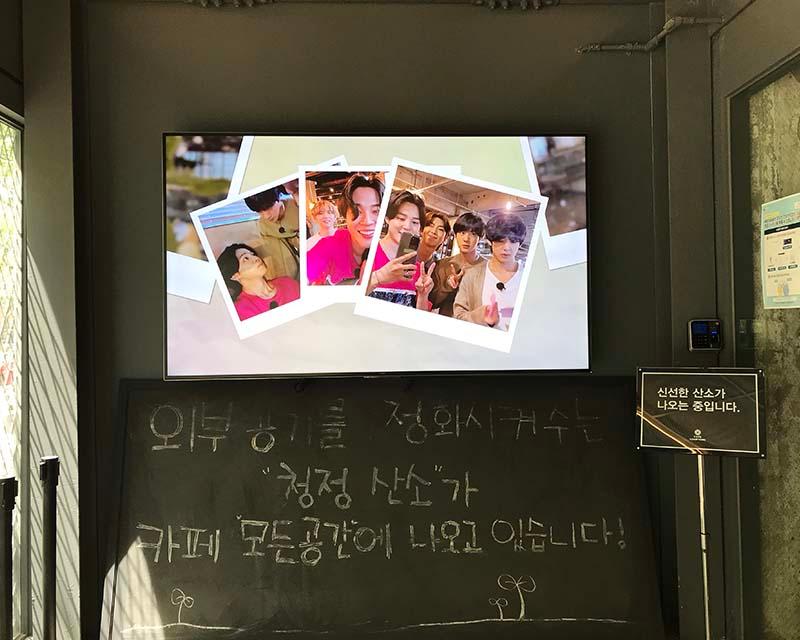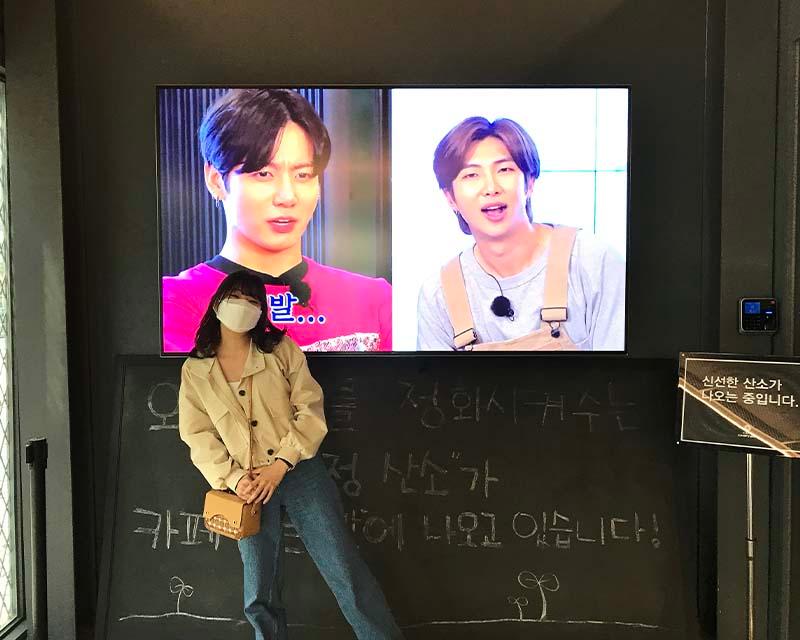 Before entering the café, you are greeted by a screen showing clips of the episodes of Run BTS that were filmed at the location.
Even those not familiar with the TV show will soon realize that having the popular boy band coming to your café is a big deal.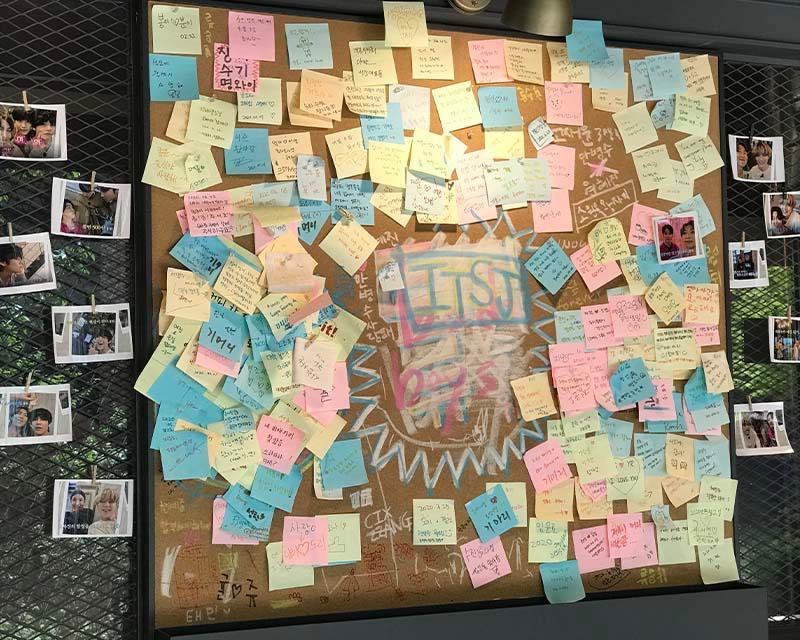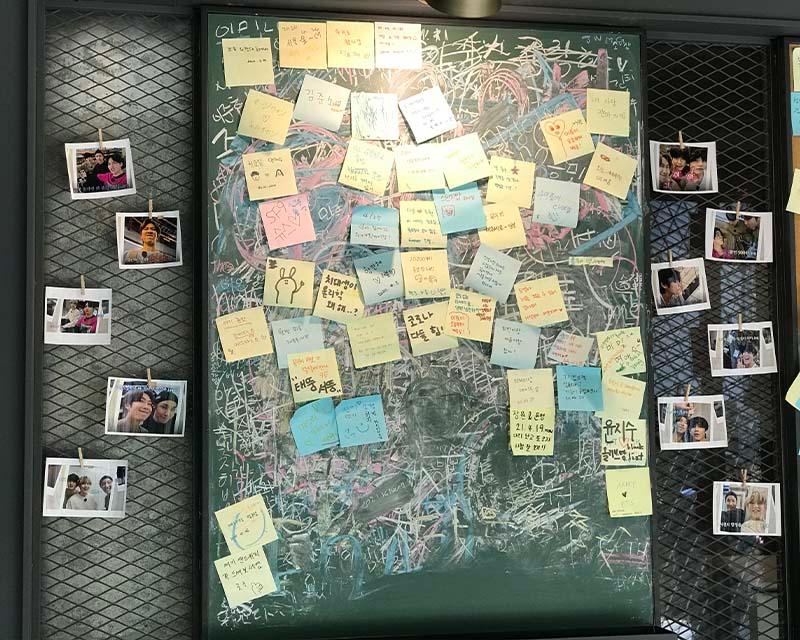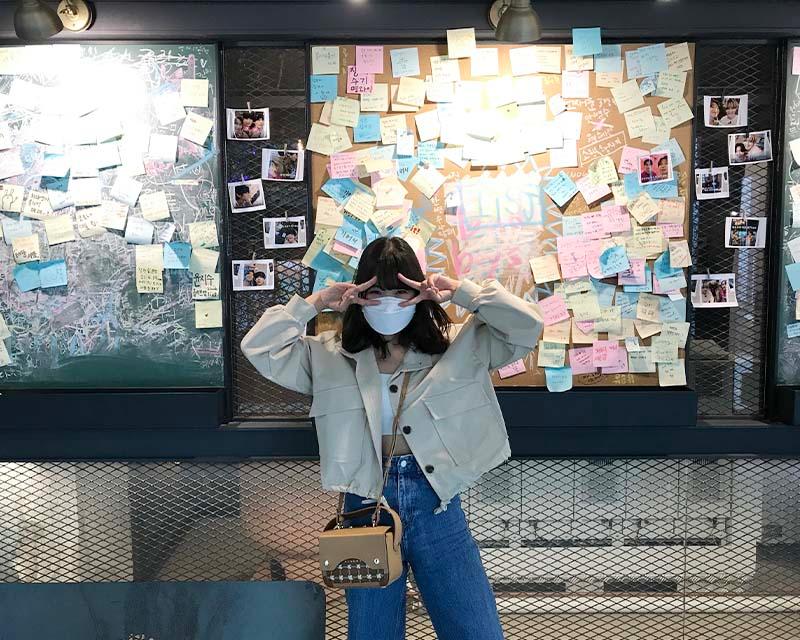 There are also boards on the walls with messages from fans as well as pictures of the idols. Many visitors will stop here to take selfies.
We've just barely entered the café, and all the BTS related items make us even more excited to come here!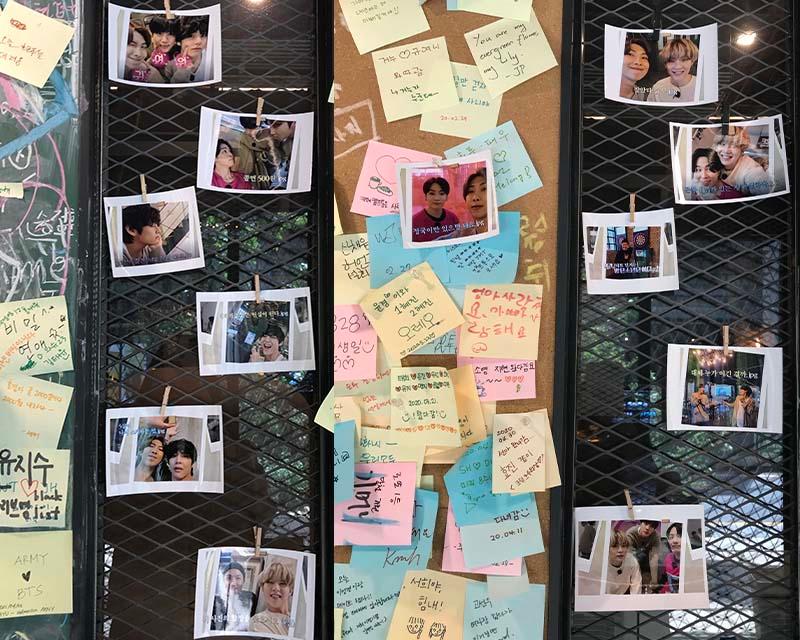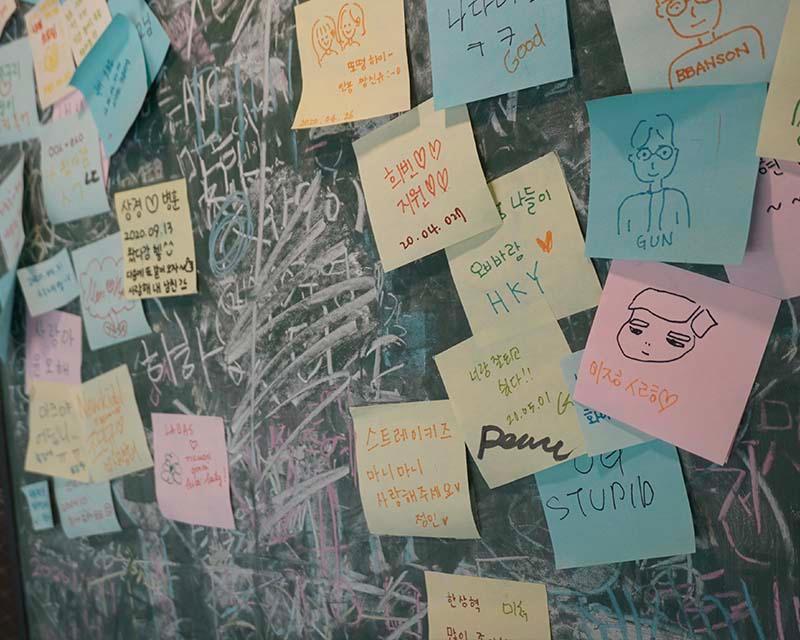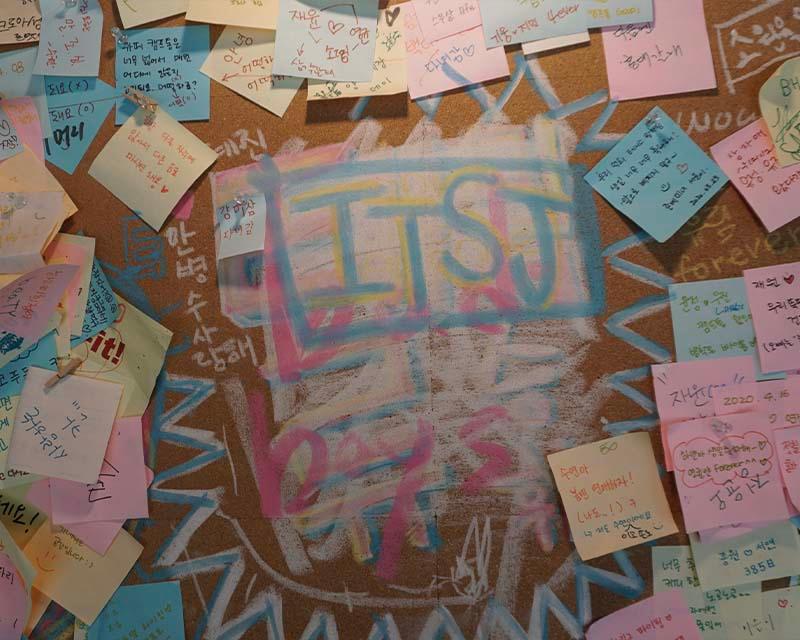 The boards and walls are covered with pictures of BTS trying to complete various missions that they got during the show, as well as messages from visiting fans.
Don't miss the opportunity to leave your own message!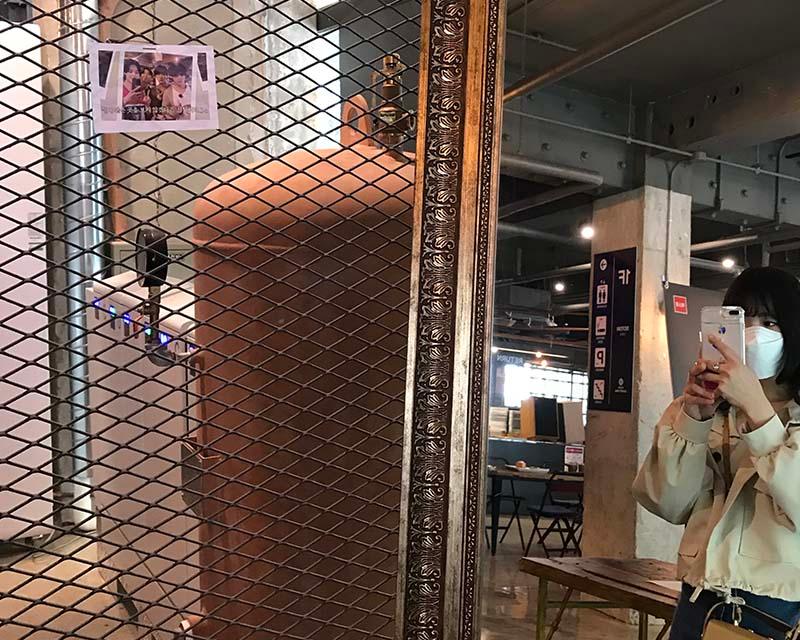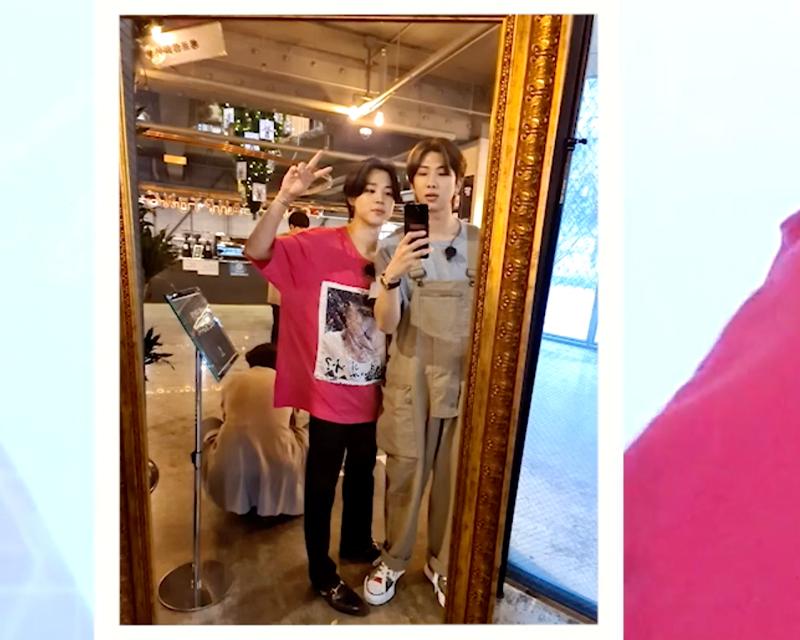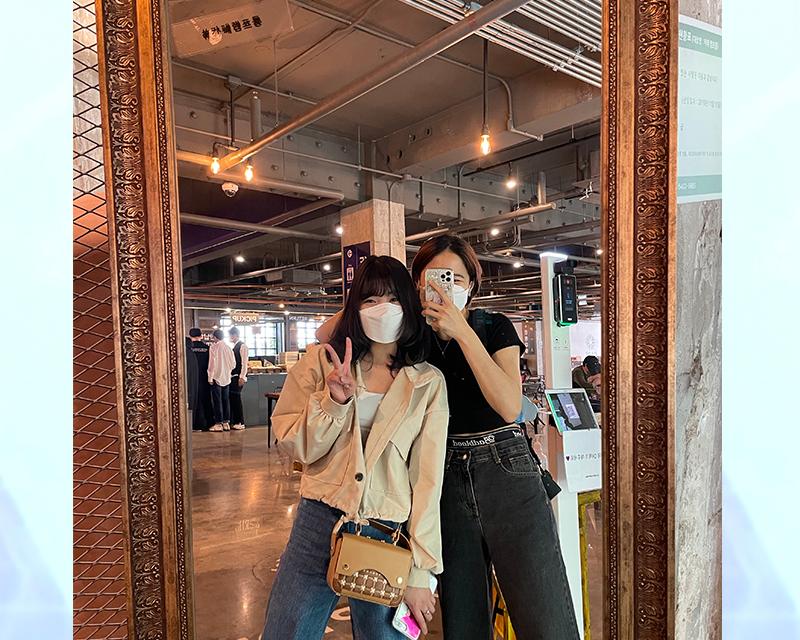 Entering the café, we found the mirror where Jimin, RM and other BTS members took selfies.
We just had to take a few pictures ourselves before heading to the counter to order our drinks.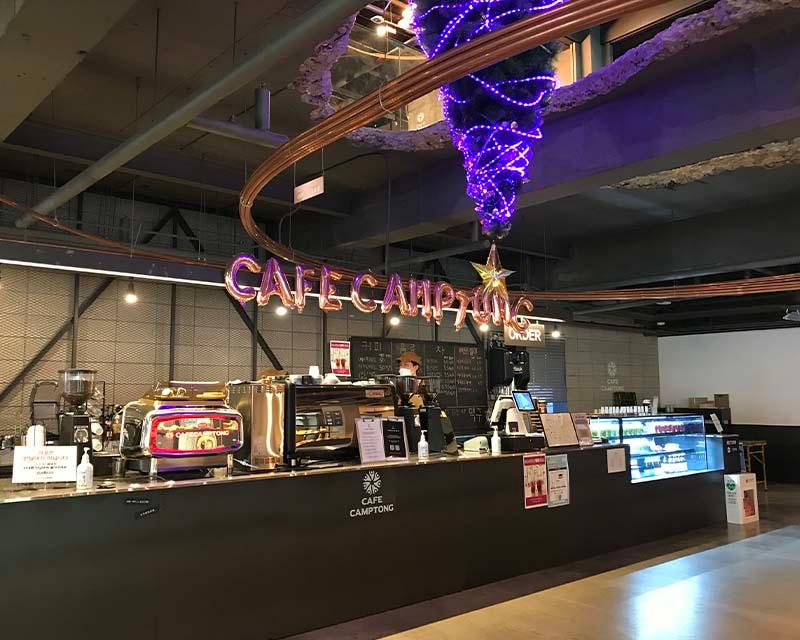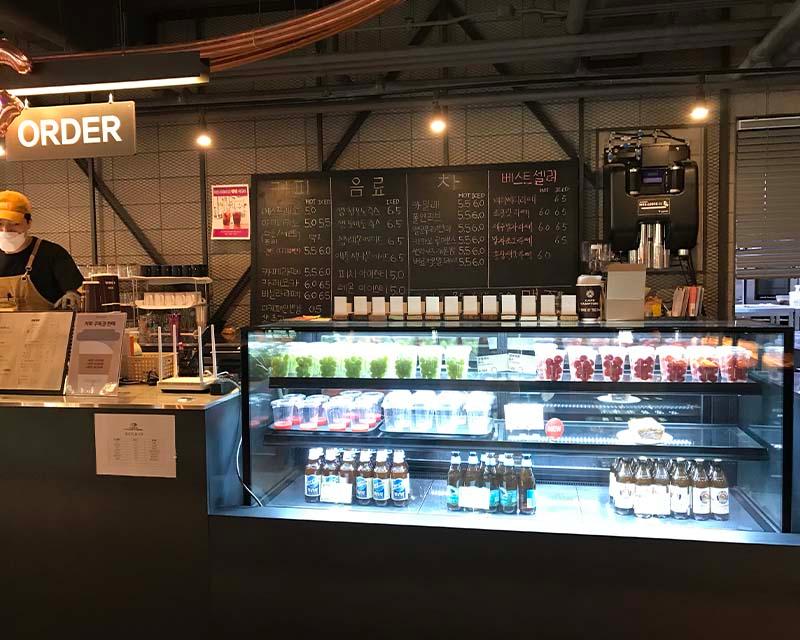 Head to the counter to find another unique thing about the café, namely a Christmas tree hanging upside down from the ceiling!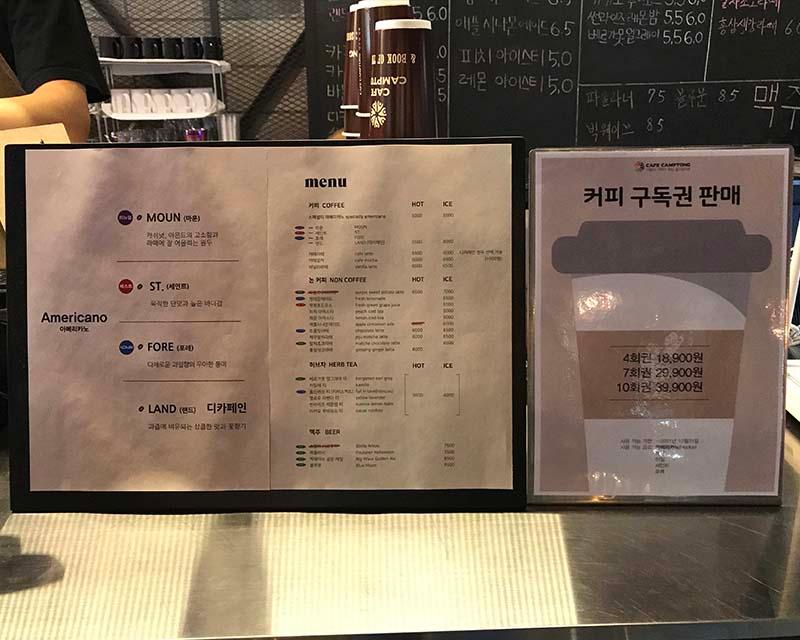 You can look through the menu which is available by the counter.
They offer a variety of coffee beans and styles to choose from, making it a great place to visit for coffee lovers.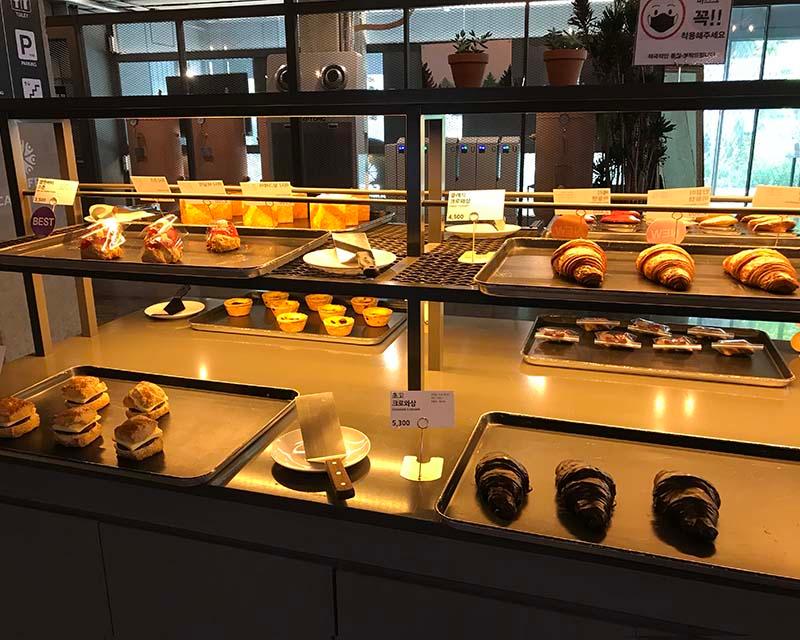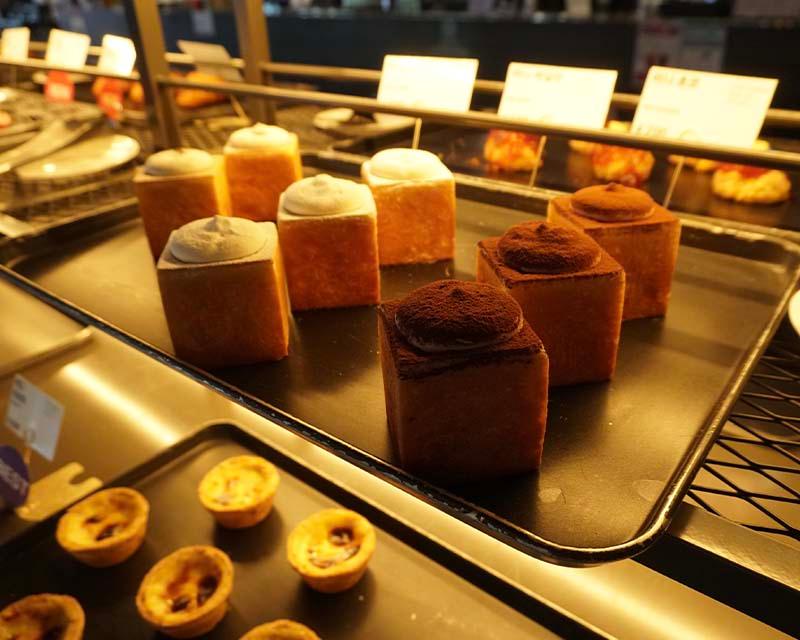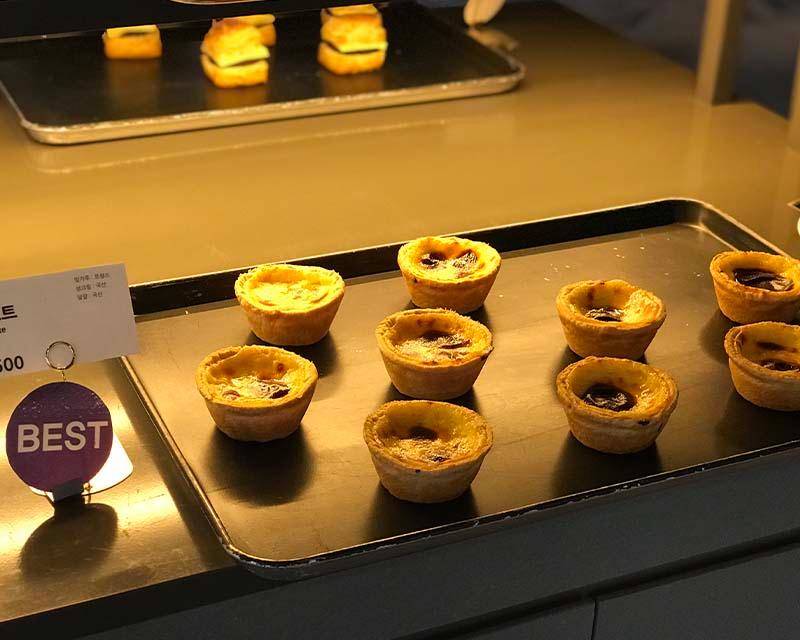 If your sweet tooth calls for a cake as well, choose between the many options and put it on a tray before you head to the counter to order your drink.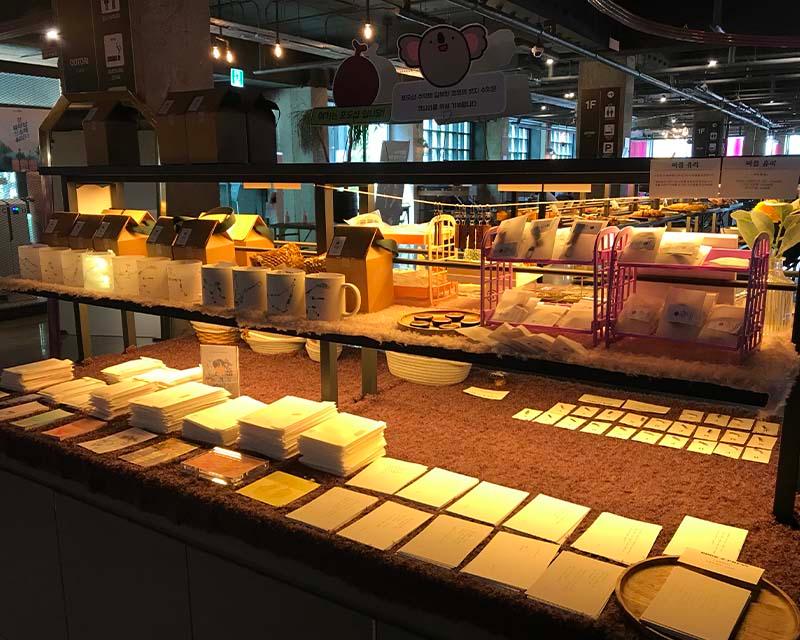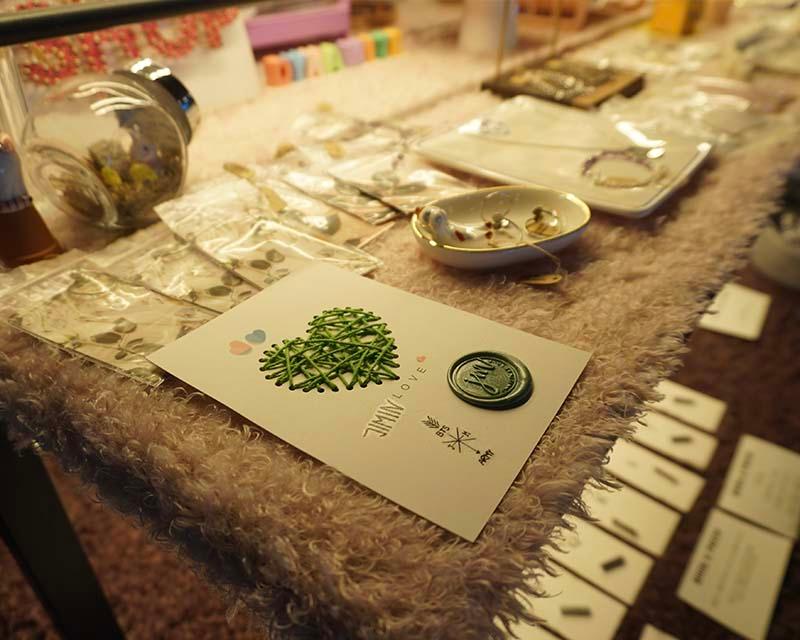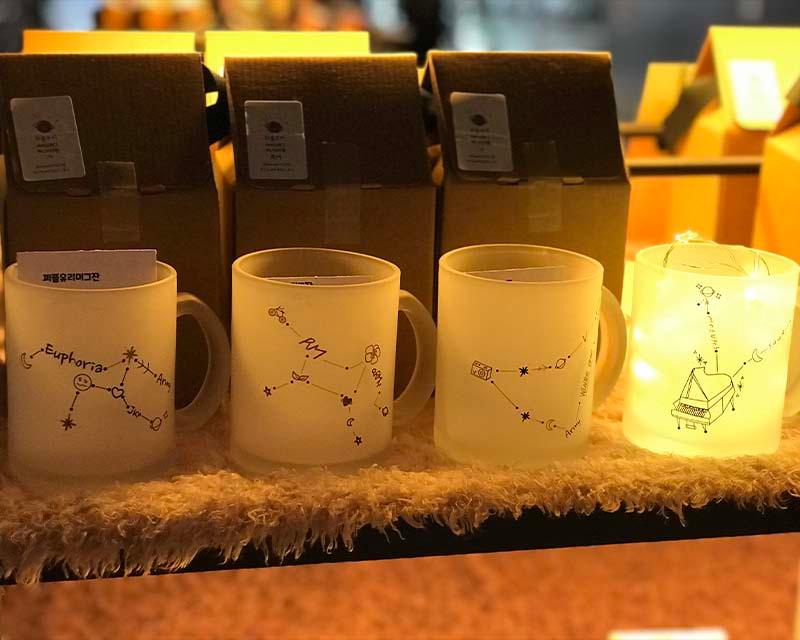 Having ordered our drinks, we took a look around the shop and found many products, such as cups and notebooks, made by BTS fans.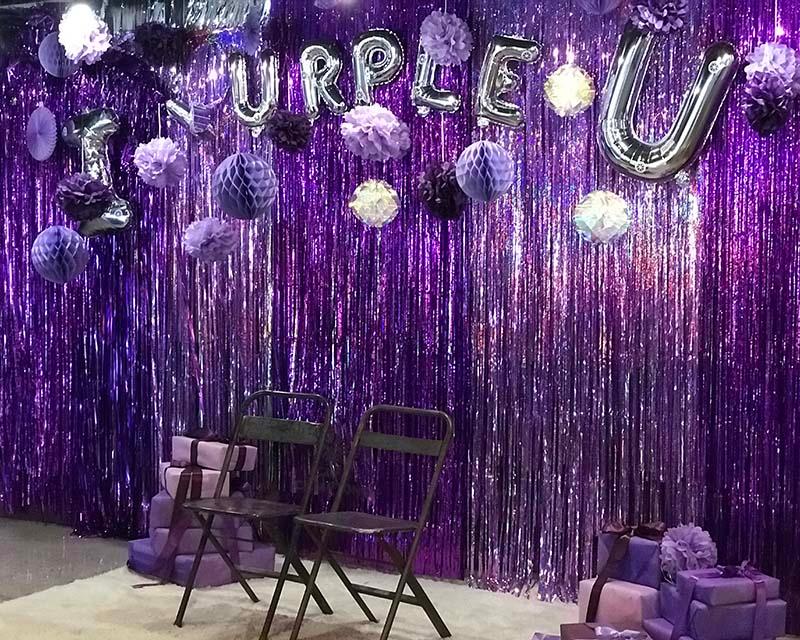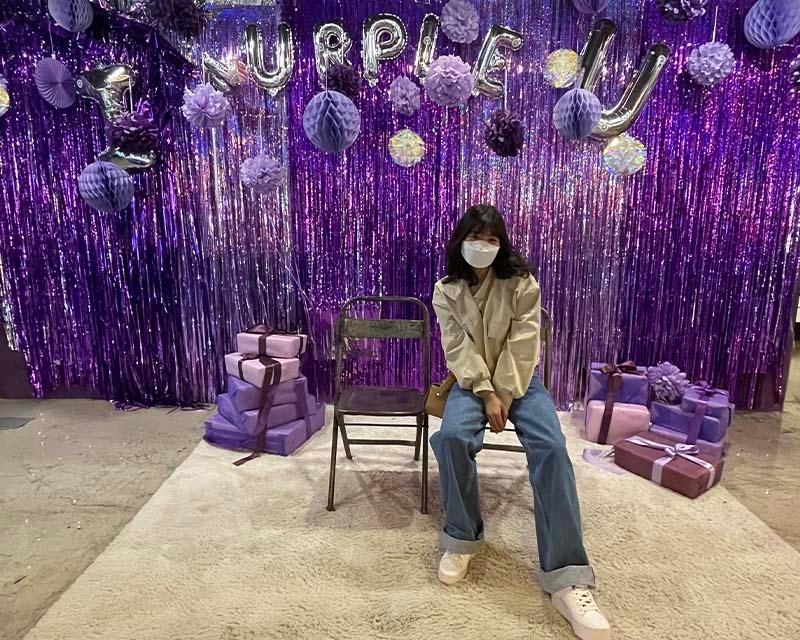 There is also a photo zone on the other side of the shop with the classic BTS message I PURPLE YOU!
Don't miss the opportunity to take pictures with the iconic message.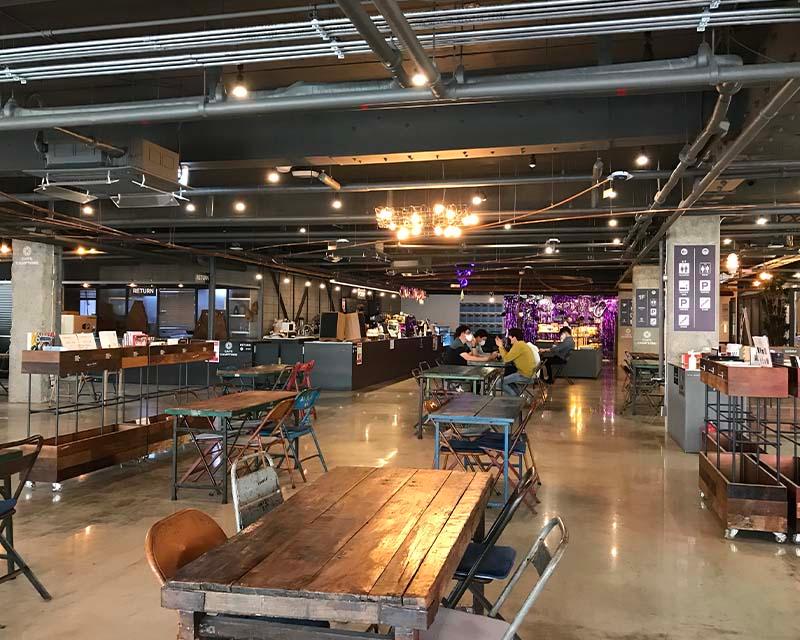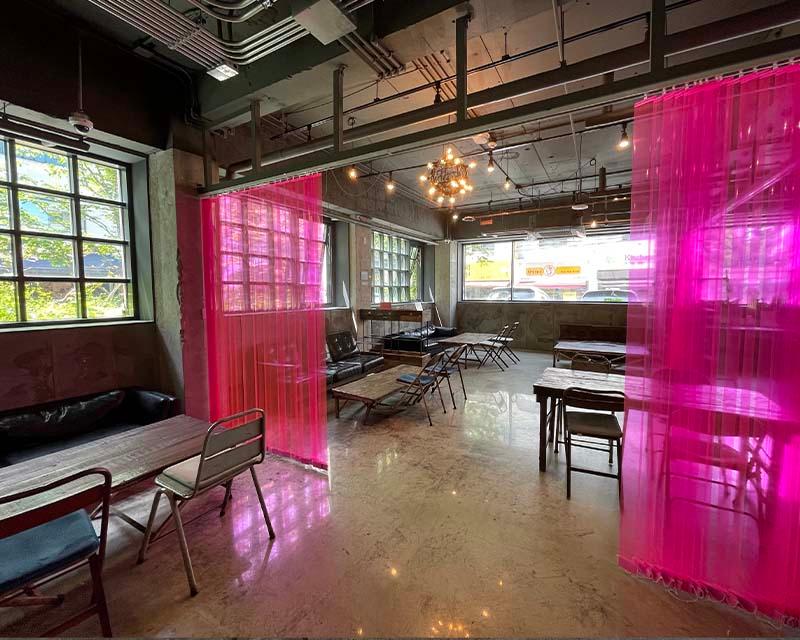 As mentioned before, Cafe Camptong is huge!
It has five floors, each impressively wide, so take a moment and look around before you choose a seat.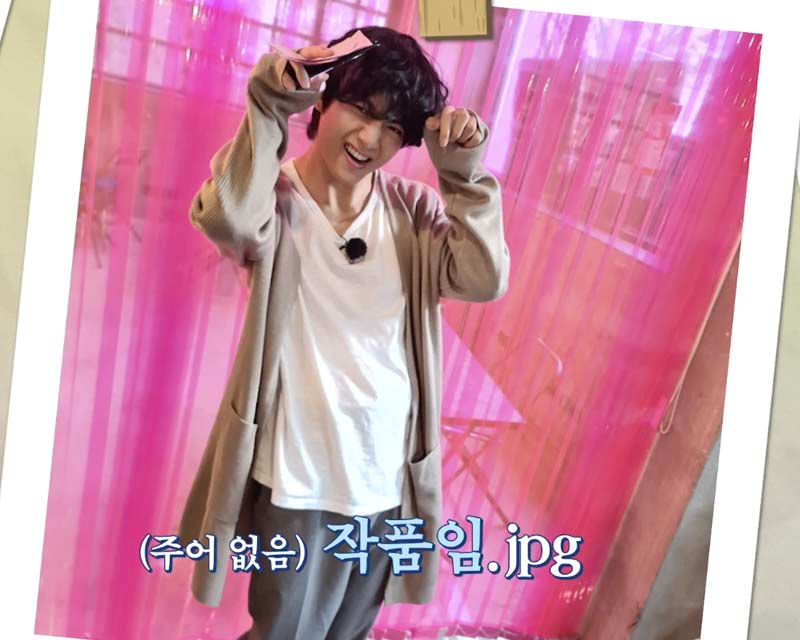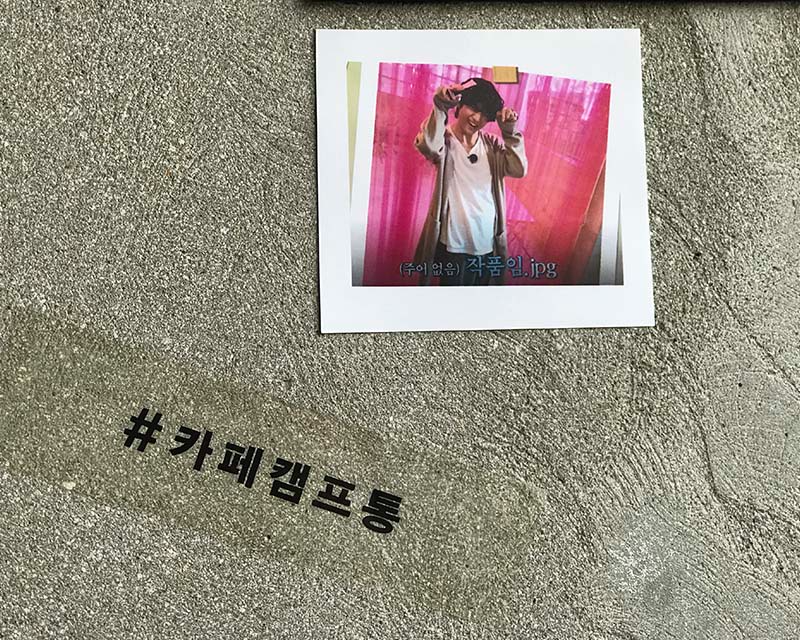 When we saw the pink curtains, we realized that this is the spot where V stopped to take some gorgeous photos.
One thing that we really like about the café is that they put up pictures next to the spots where BTS were seen in the show.
This way we don't have to roam around trying to locate the spots all on our own.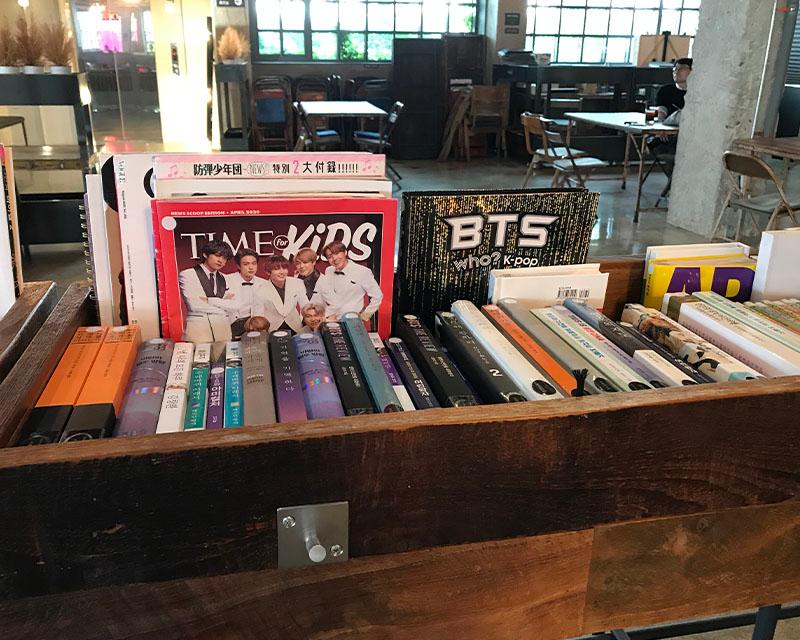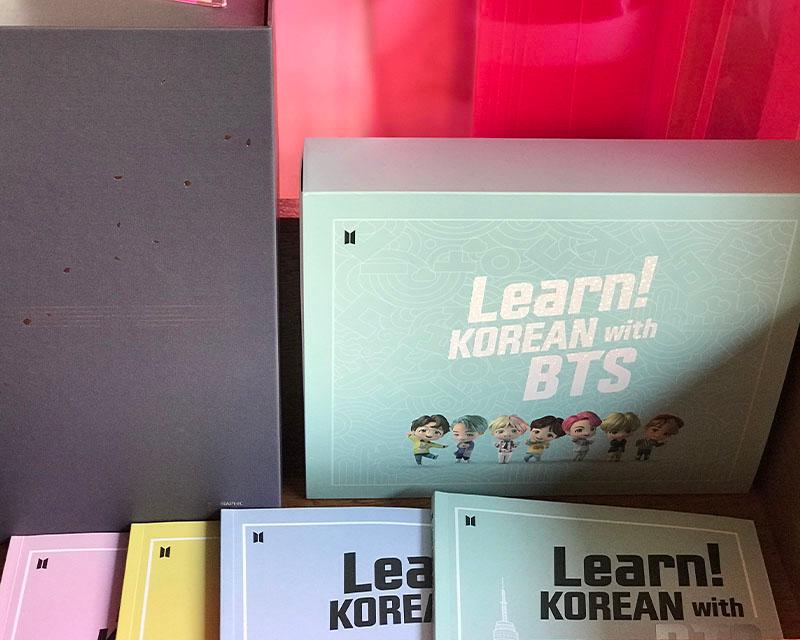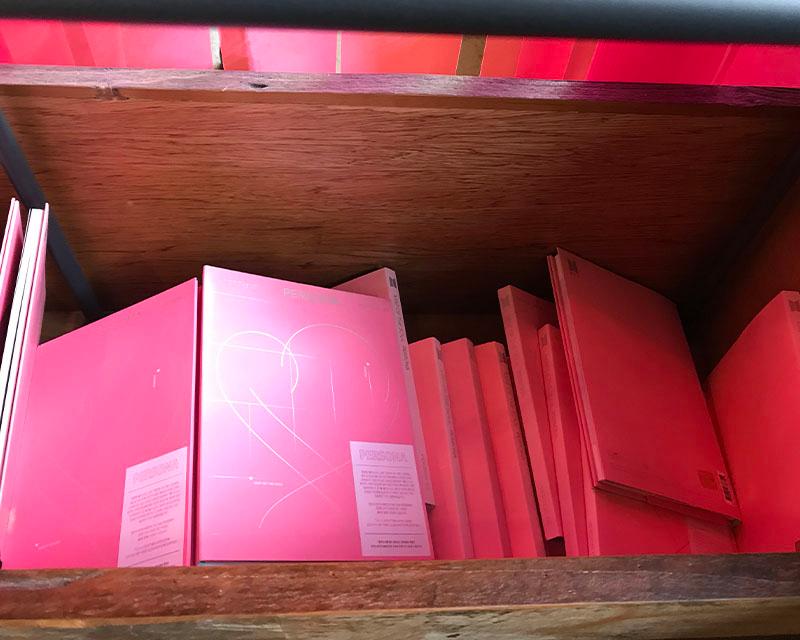 While waiting for our drinks, we looked around to see what else the café has on display.
Soon we started to suspect that the owner might be a member of the ARMY, because everywhere we looked we saw BTS magazines, books and albums!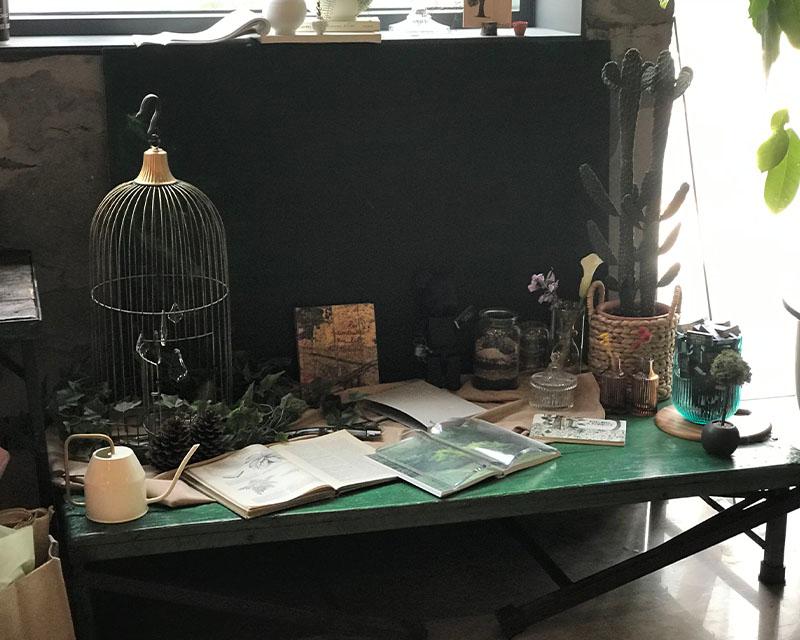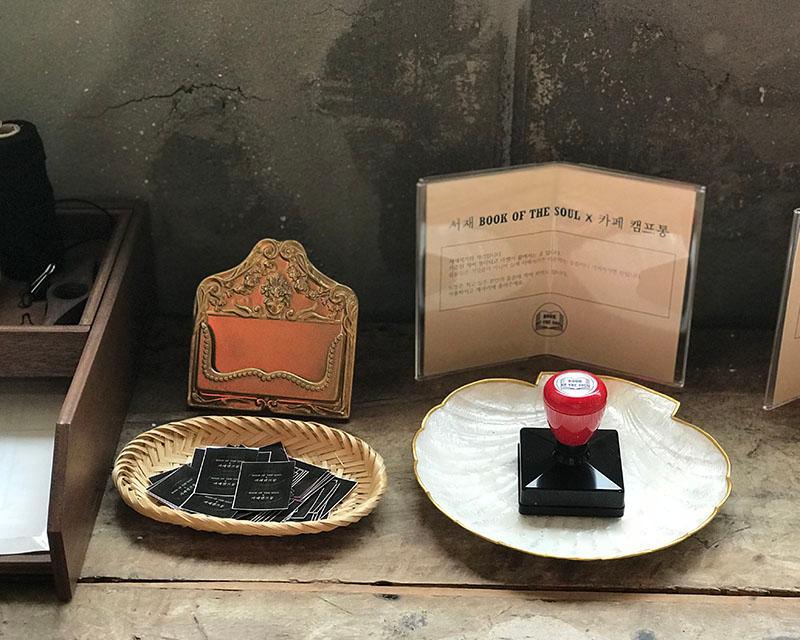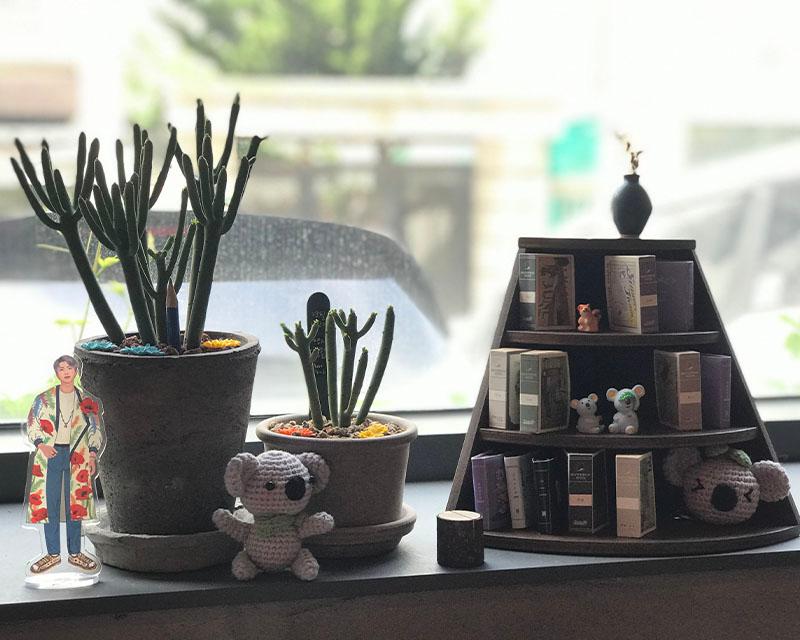 The interior of the café is fairly plain-looking, with plenty of polished concrete and wooden tables and chairs.
But there are also many small and cute decoration details in window sills and elsewhere.
You can also get a stamp to put in your book as a proof of your visit!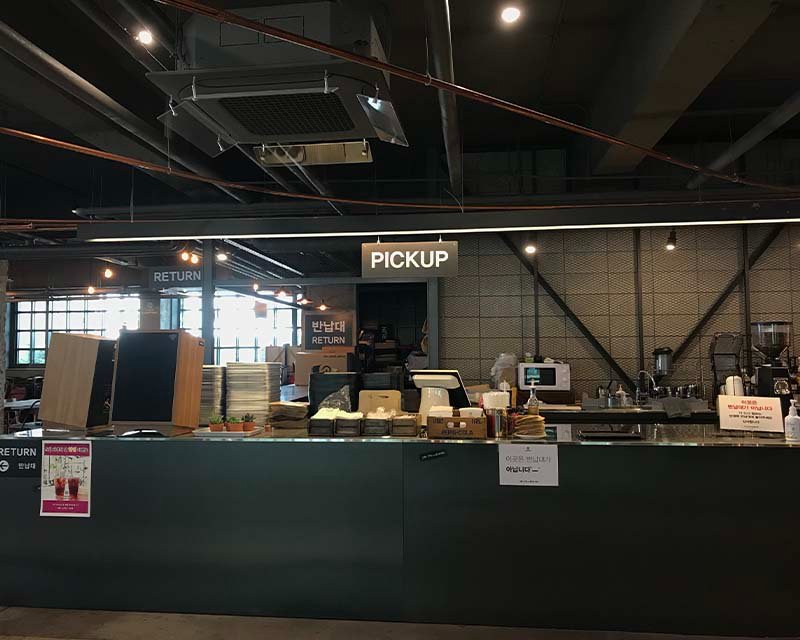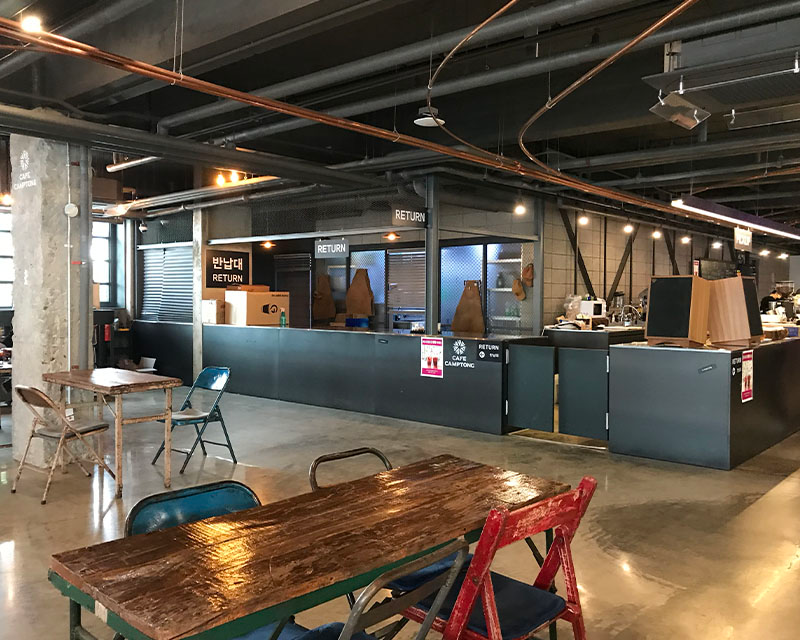 When your drink is ready, you pick it up by the counter. Remember to return your tray when you're finished!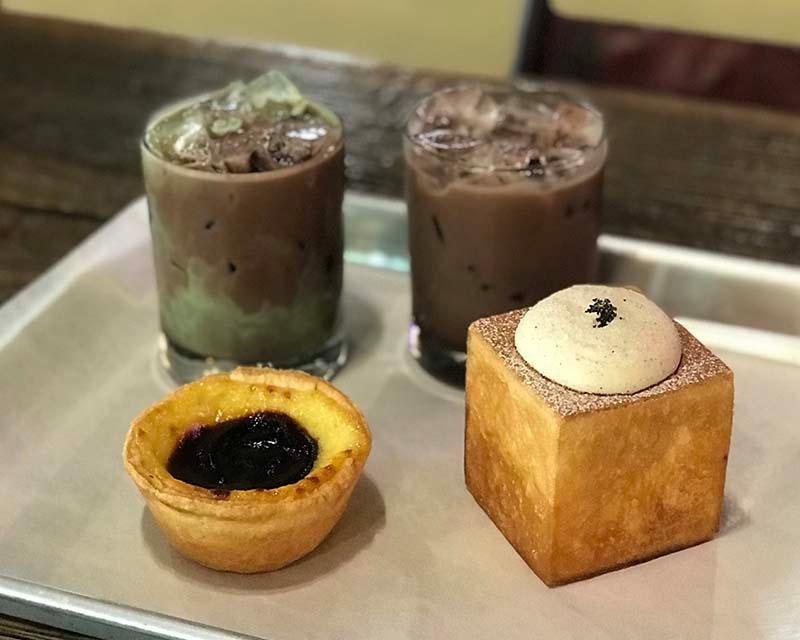 Finally our order was ready!
We ordered some of the store's signature drinks and cakes: Chocolate Latte, Matcha Chocolate Latte, Egg Tart and Mini Earl Grey.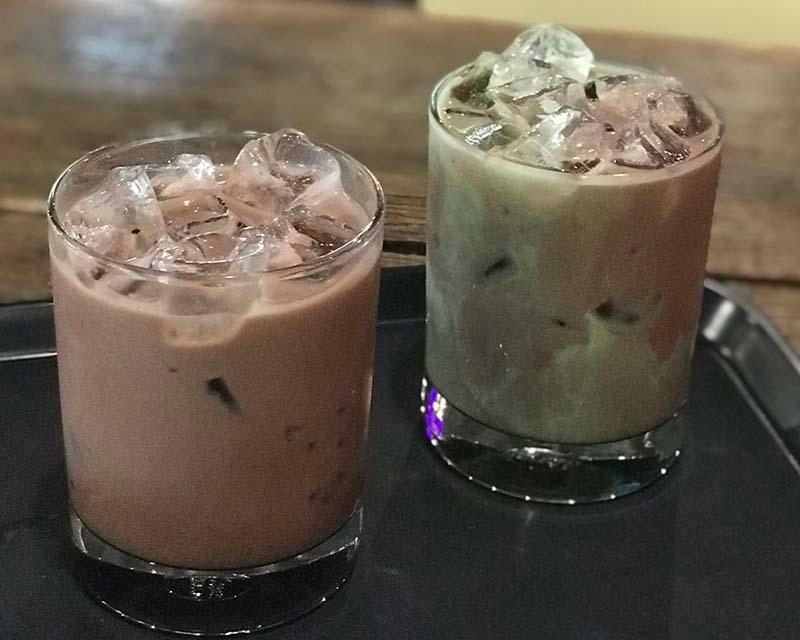 Chocolate Latte
6,500 won
Matcha Chocolate Latte
6,500 won

It was rich in flavor without being too sweet. It lived up to the hype as one of the signature drinks of the café.
New on the menu, Matcha Chocolate Latte was also interesting. It turned out that the aroma and taste of matcha go perfectly with chocolate!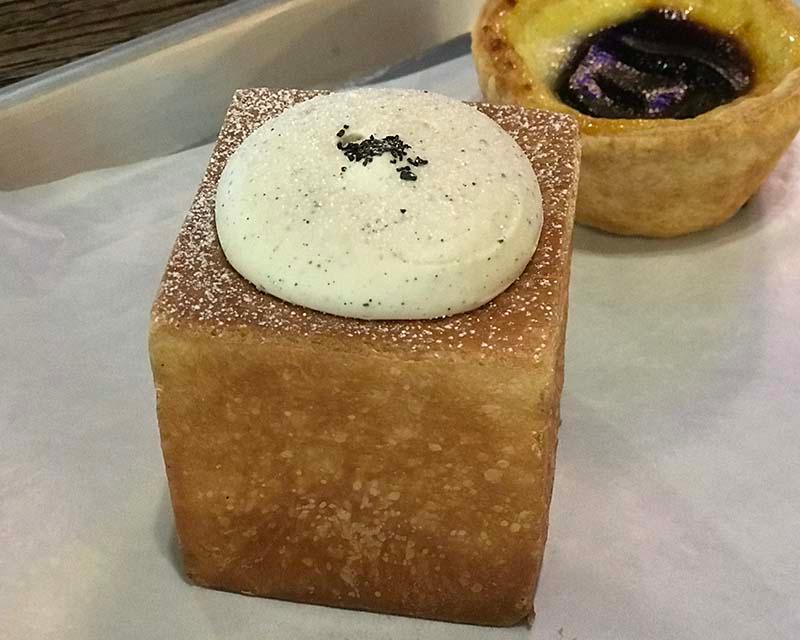 Mini Earl Grey
4,200 won
Although it is not served hot, it's still soft, and the earl grey aroma is very pleasant.
The cream inside the cake is light and not overly sweet, so don't worry about it being too rich.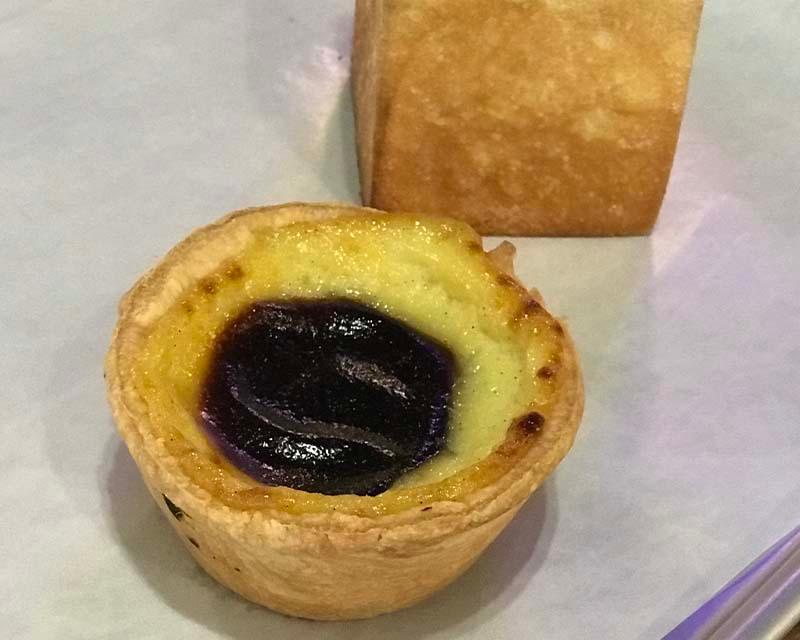 Egg Tart
4,600 won
You'll soon understand the reason for it's popularity. The tart is crunchy and delicious, without being too sweet.
The tart shell is quite thick, making it a challenge to cut!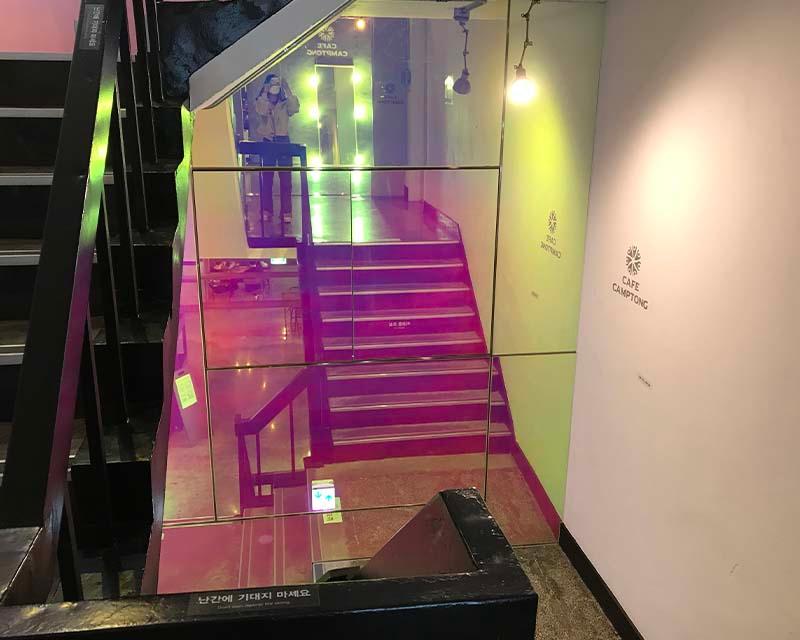 Having enjoyed drinks and cakes, we decided to explore the other floors of the café.
BTS sure know how to take advantage of their surroundings in order to take great pictures.
This mirror on the stairs leading to the next floor is a hot photo spot that the members were quick to identify.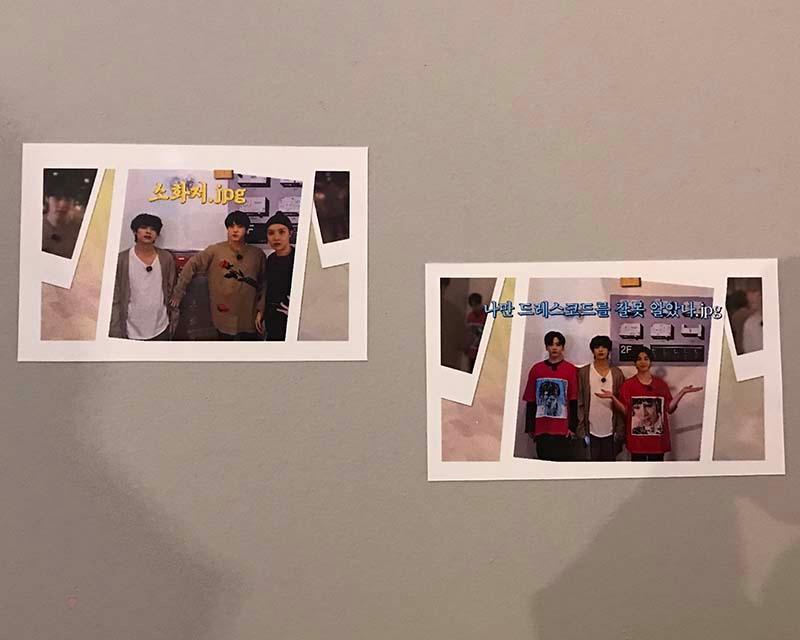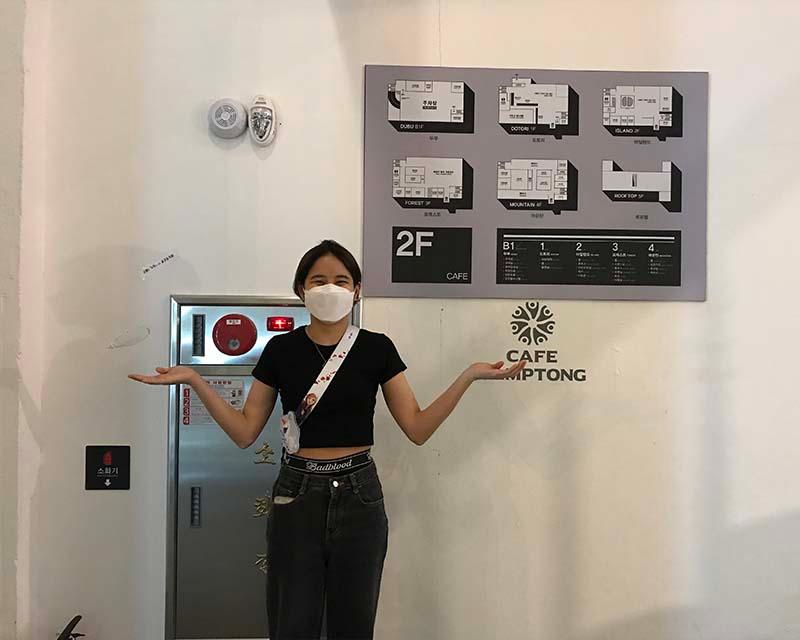 We haven't even gotten to the second floor before discovering another photo spot!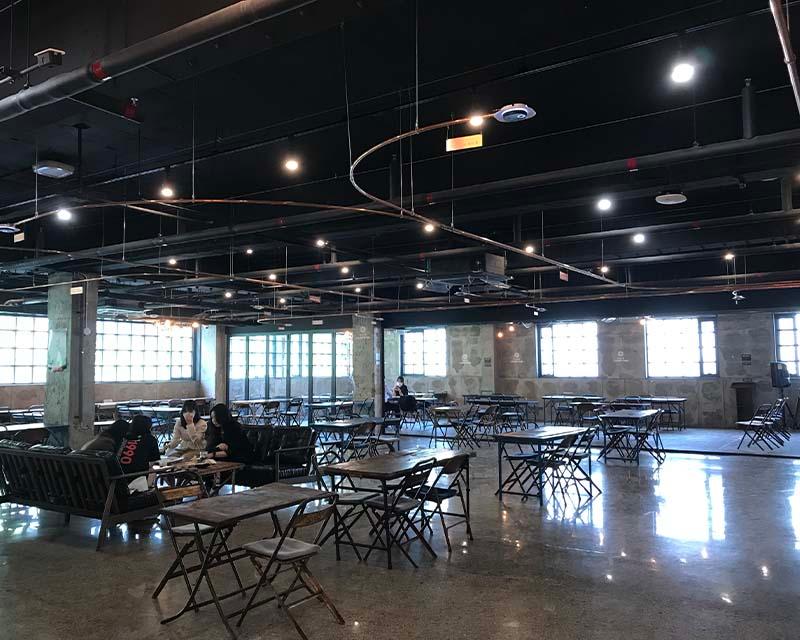 The second floor has plenty of seats available as well. Here we saw many people who had brought books or laptops with them.
Oh, and did you notice?
On top of (or rather at the foot of it!) the seven BT21 characters are all gathered!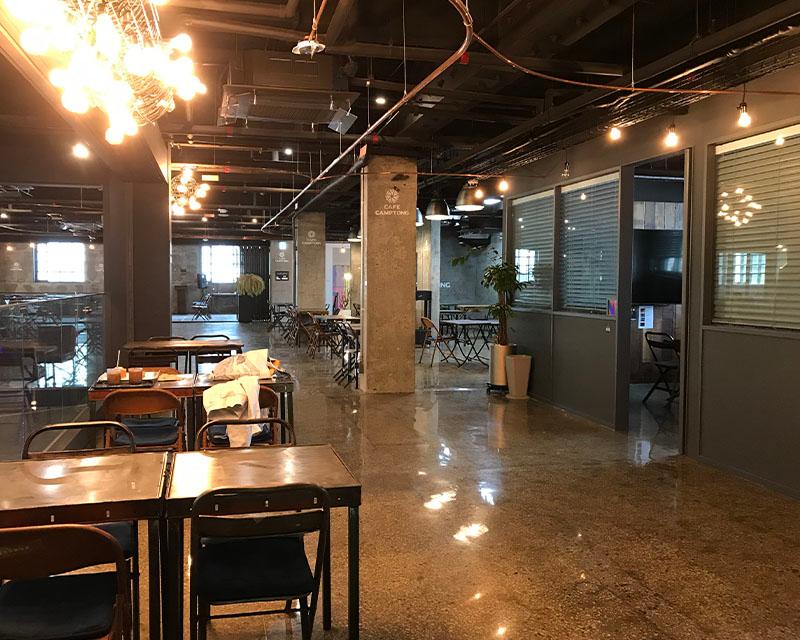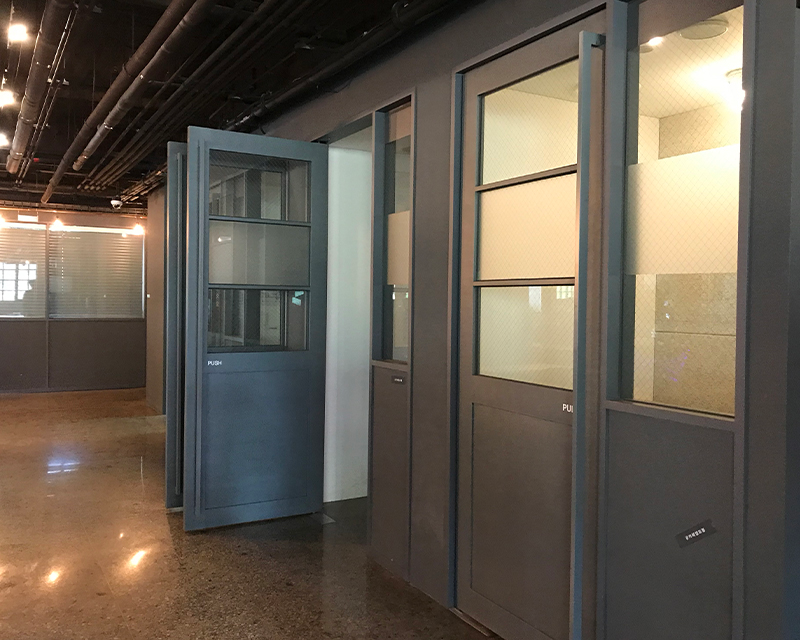 There are private rooms available for those who want to sit and read or work in peace.
The small rooms are open for anyone, whereas you have to make a reservation if you want to use the larger rooms.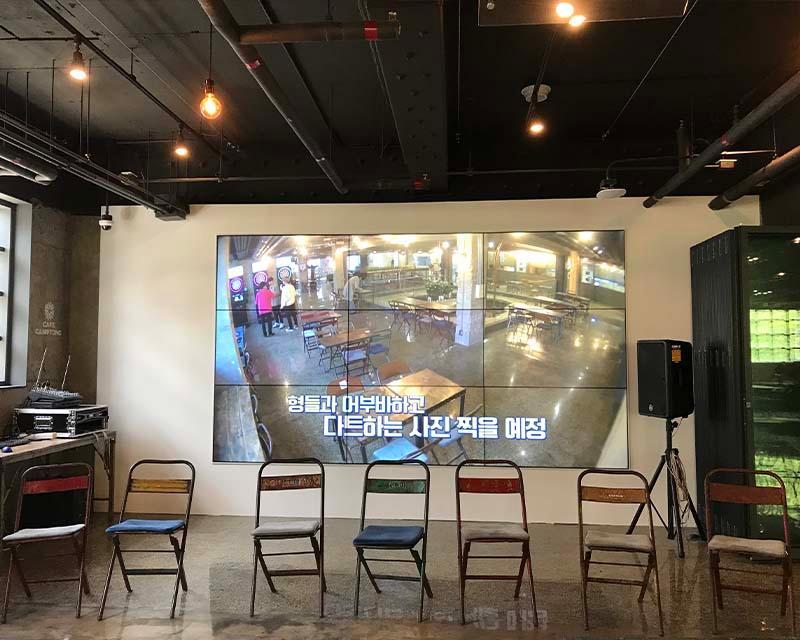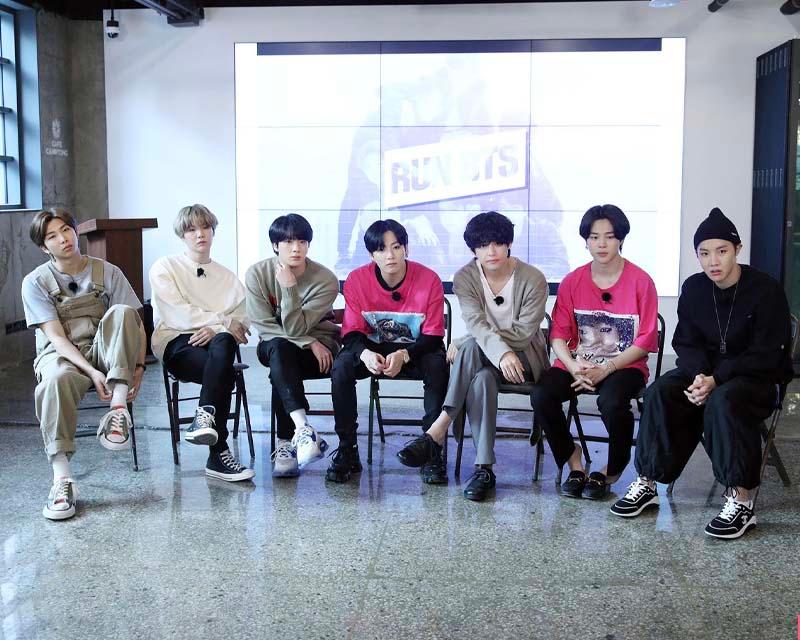 If you saw the Run BTS episodes, you'll surely recognize the chairs above, which the BTS members used during the filming of the show.
With the show running on the screen in the background, it makes you feel like they are still recording as you sit down!
We couldn't remember which member sat in what chair, so we decided to sit down in all of them and make a gif image of it!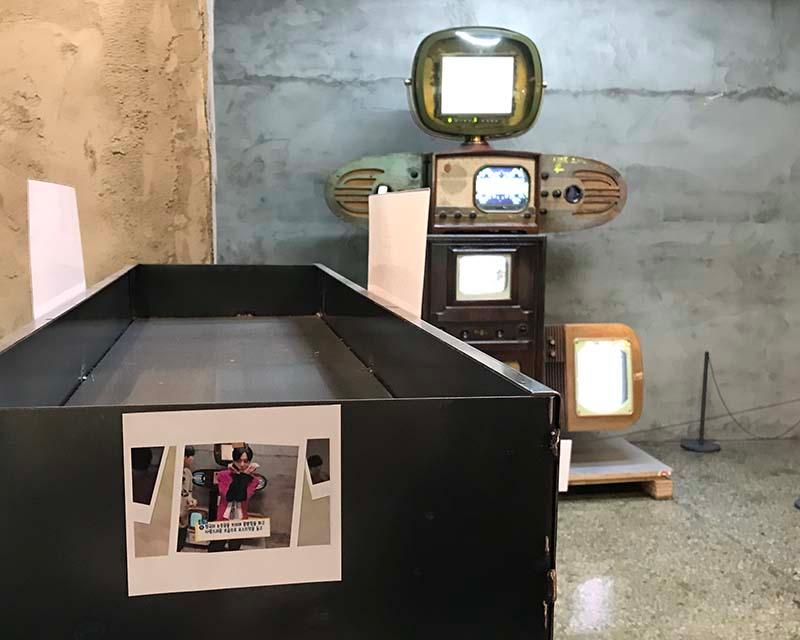 Does the picture above look familiar?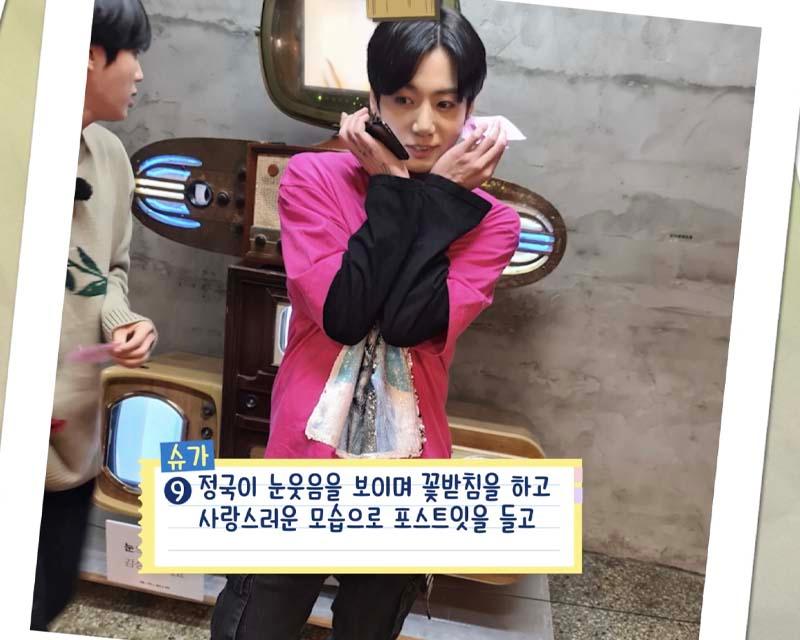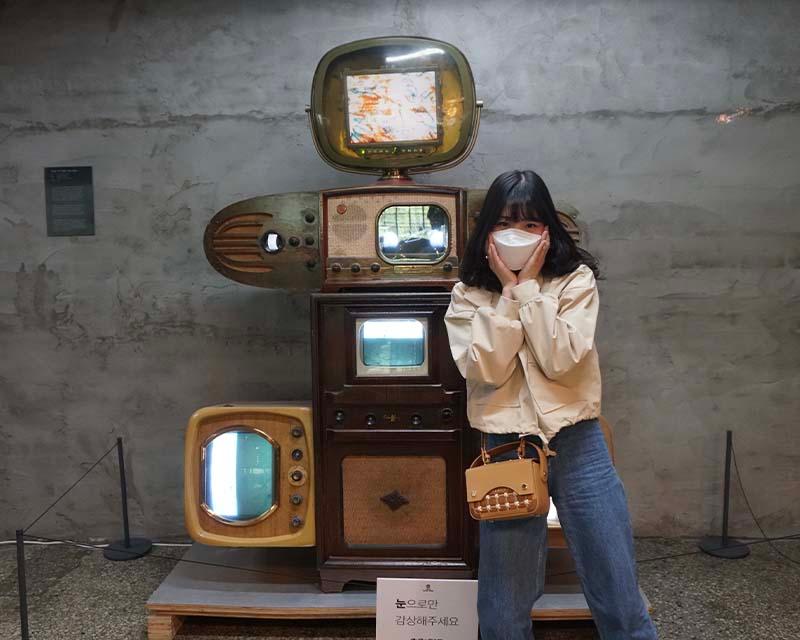 This is where Jungkook took some cute photos, posing like a flower.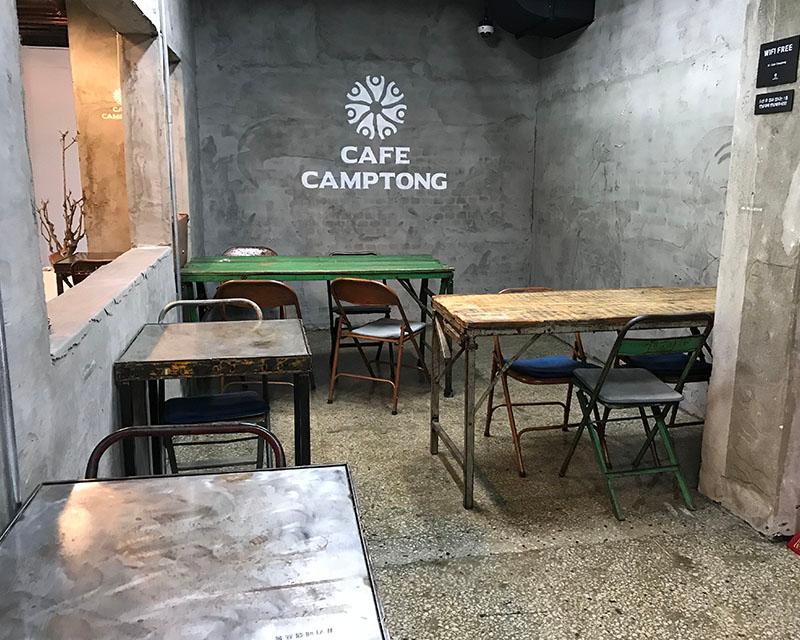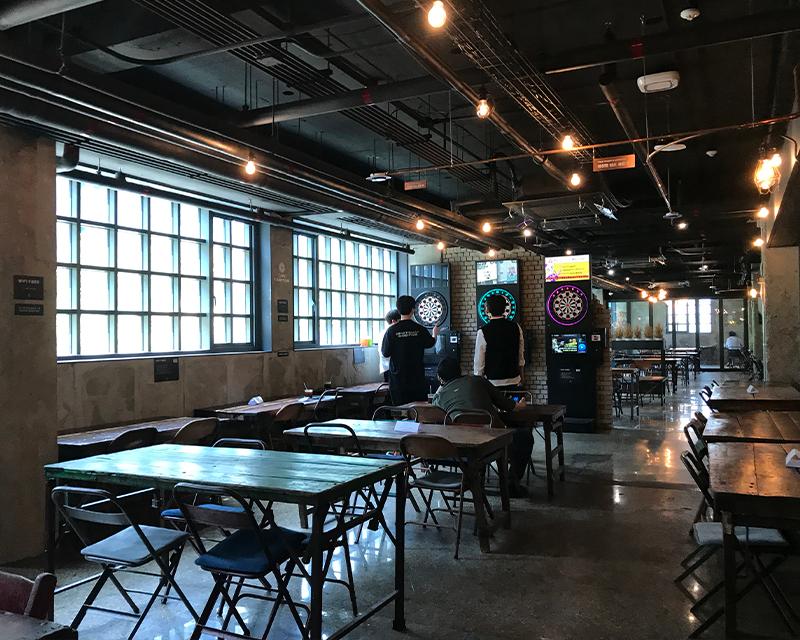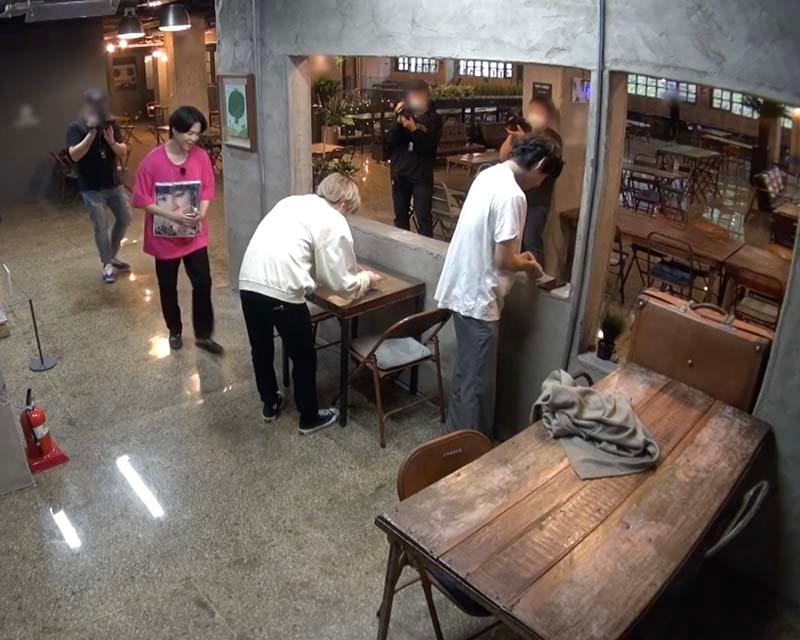 Want some quietness without sitting in a private room? This corner gives you some added privacy where you can enjoy your coffee in peace.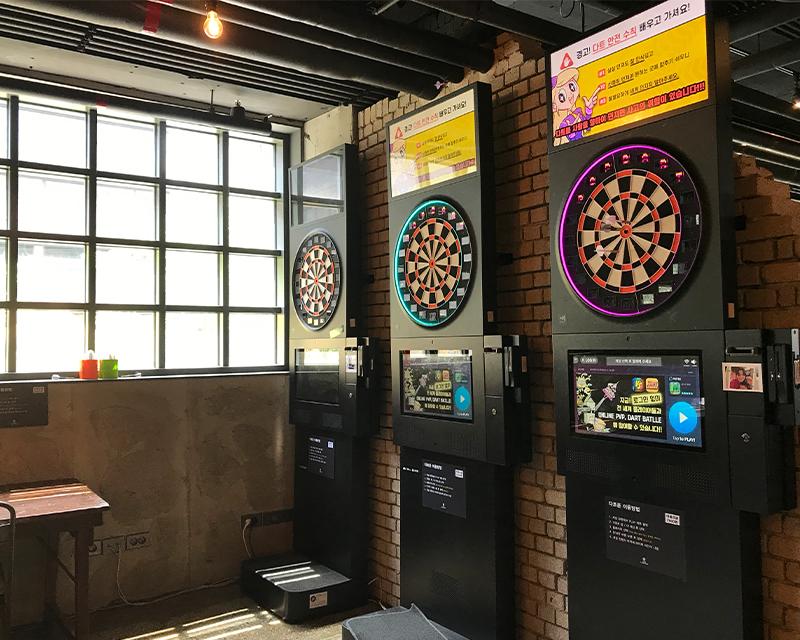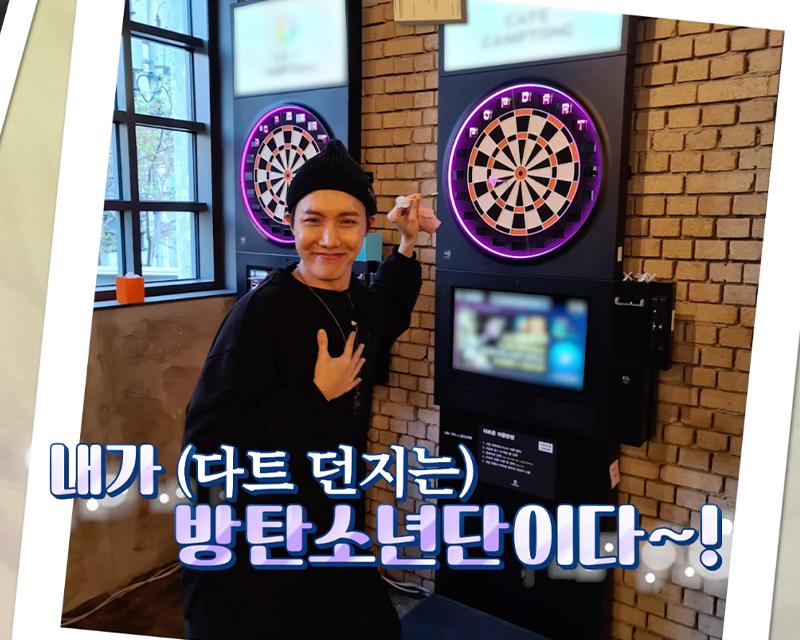 If you're tired of just sitting down, you can invite your friends for a game of dart!
J-hope, Jimin and Suga were seen taking pictures here.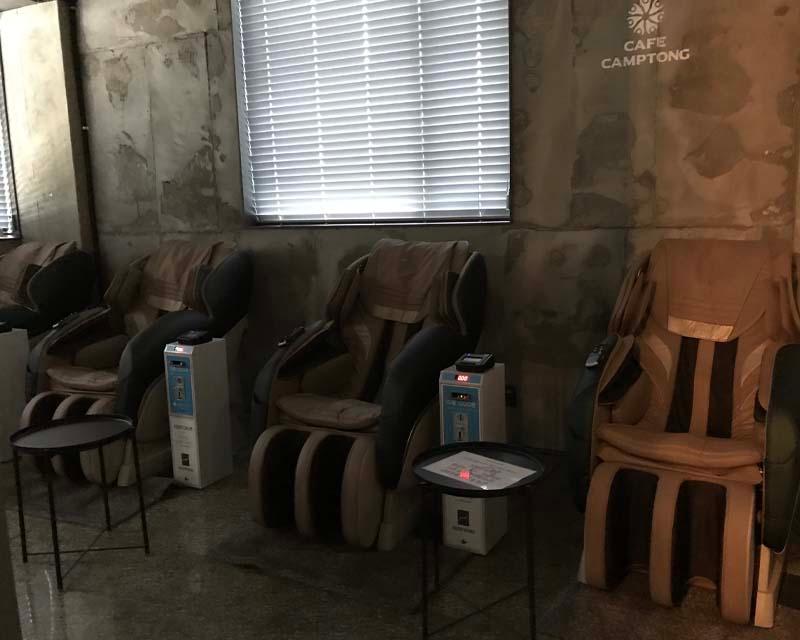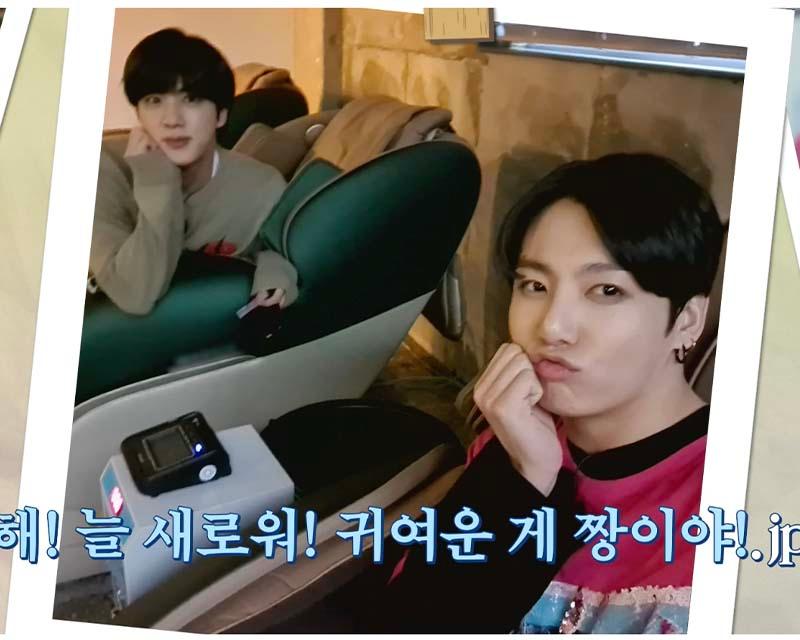 There are even massage chairs you can use if you want to take a break from all the walking and exloring. It's only 1,000 won for 10 minutes!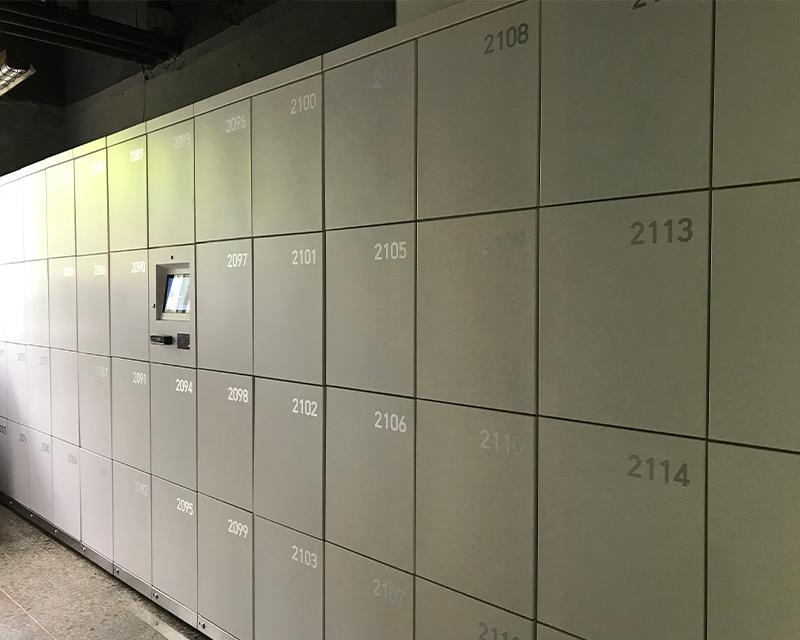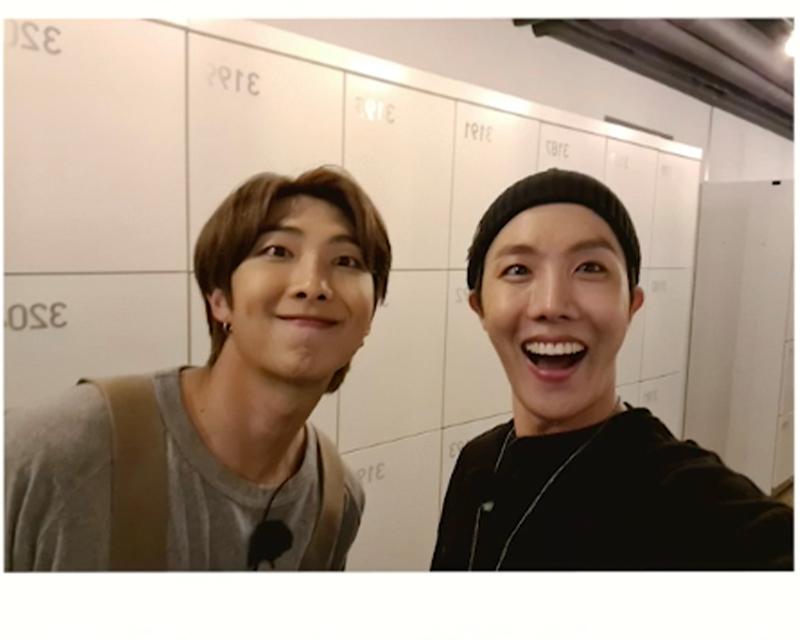 Some might just walk past these lockers, but not us!
We quickly recognized them from the show, and didn't miss the opportunity to snap a picture.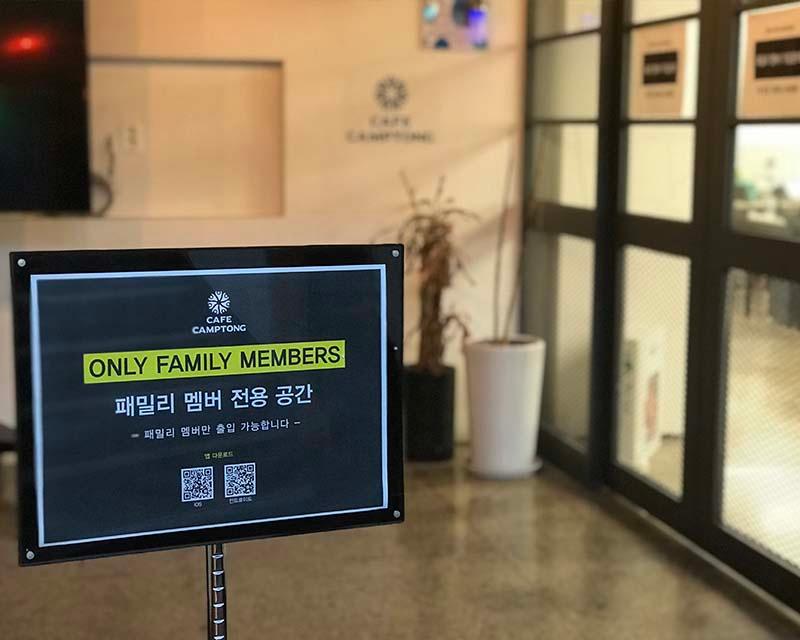 Having fully explored the second floor, we went up to the third floor and found out that it's actually an office floor. Only members can enter the space.
Let's head up to the fourth floor instead.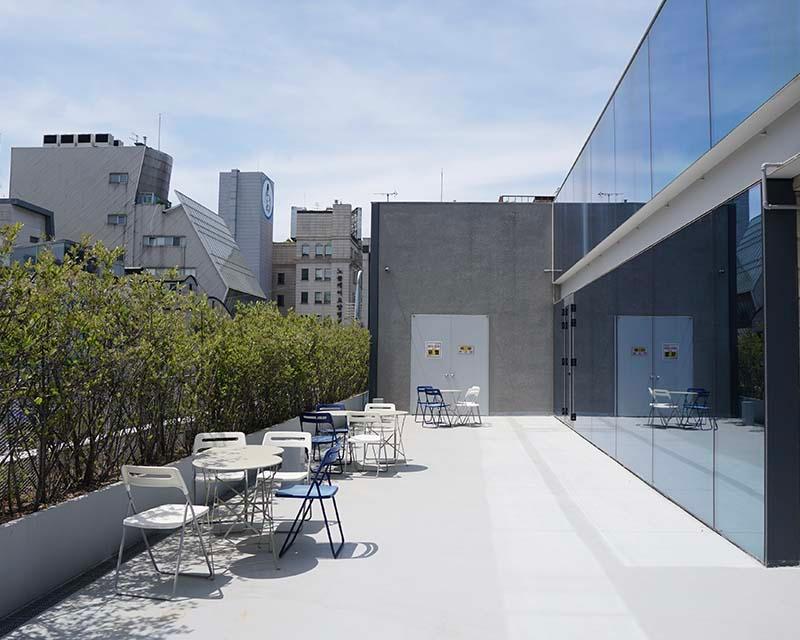 There is a terrace on the forth floor with plenty of space. This is a great spot to relax and enjoy the weather on fine days.
The sky is so pretty these days!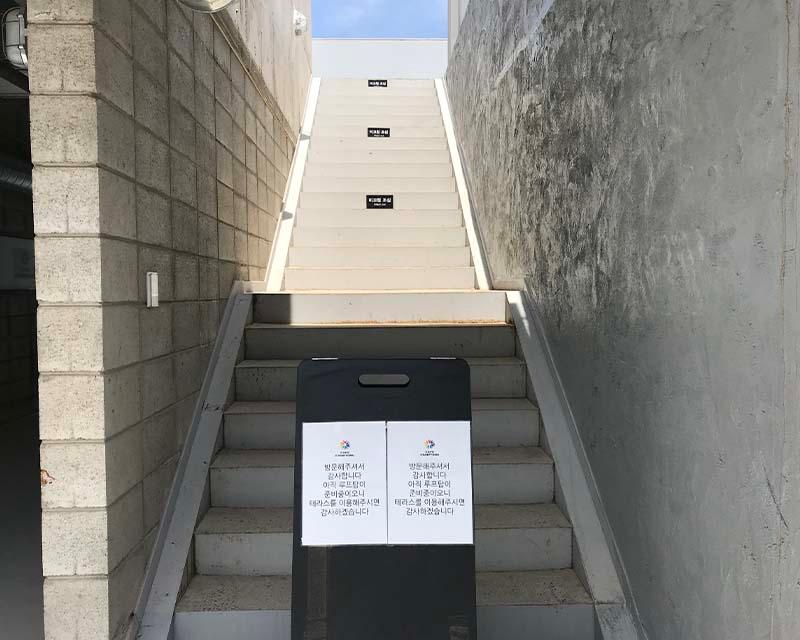 There's a staircase from the forth floor leading up to the rooftop on the fifth floor. Unfortunately, it was closed when we visited the café.
We've been told that you can get an excellent view of the city from the rooftop, so definitely head up there if it's open when you visit.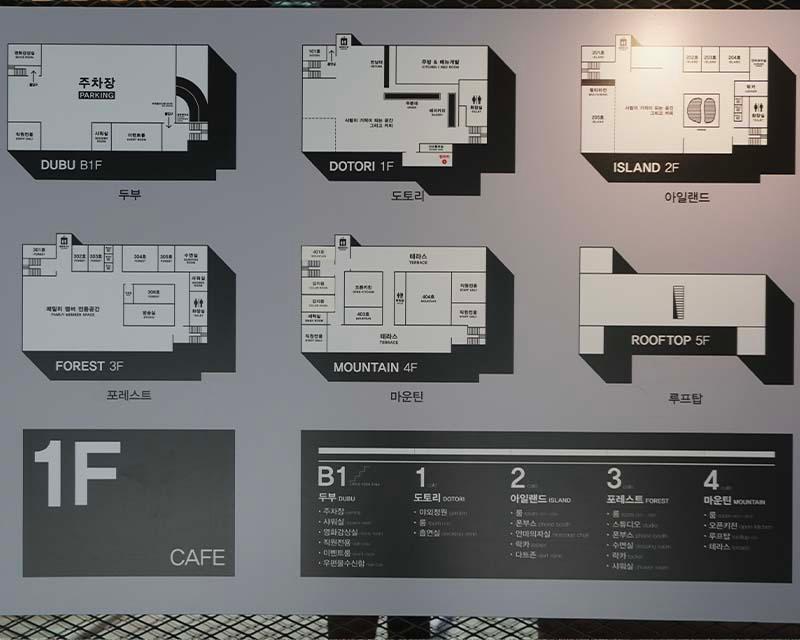 Don't worry about getting lost. There's a floor plan on each floor that lets you know where tables and other facilities are located.
---
How To Get There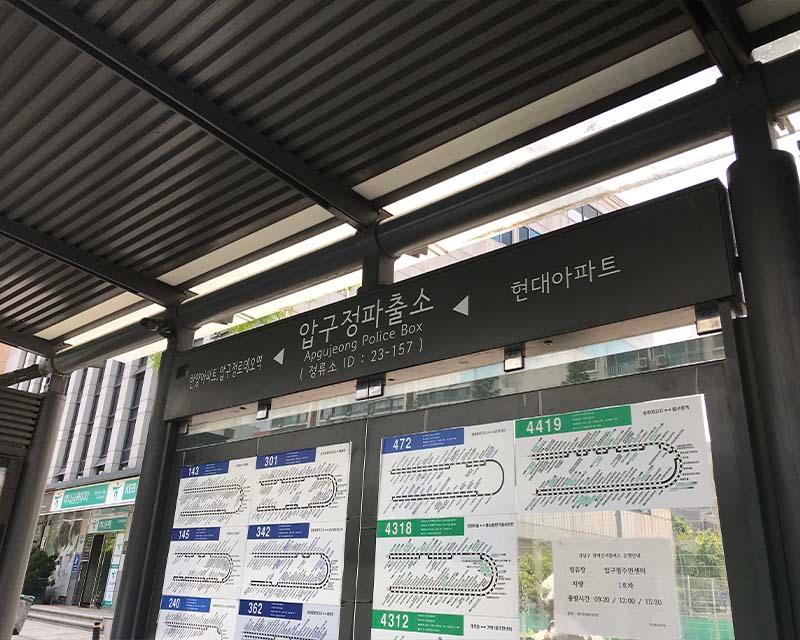 Getting off the bus at Apgujeong Police Box (압구정파출소 정류장).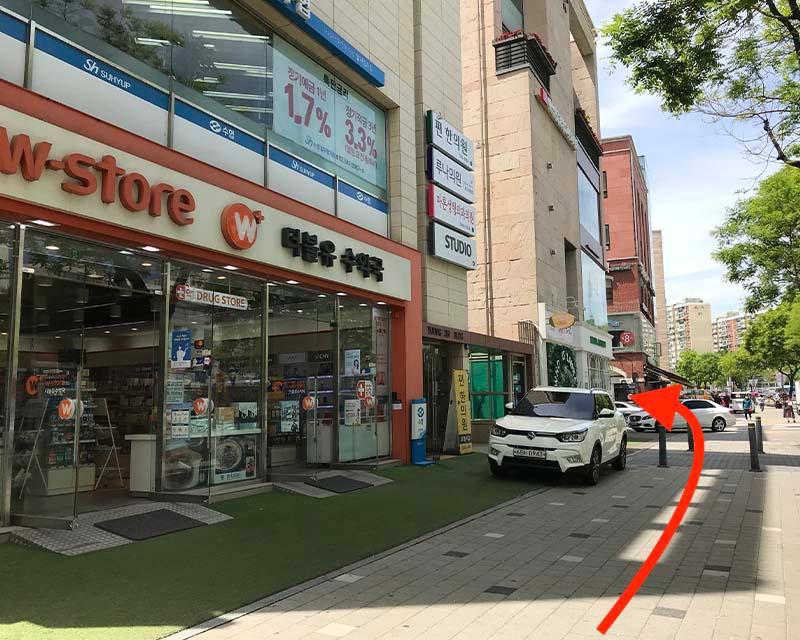 Walk past the W-Store drug store and take the first left.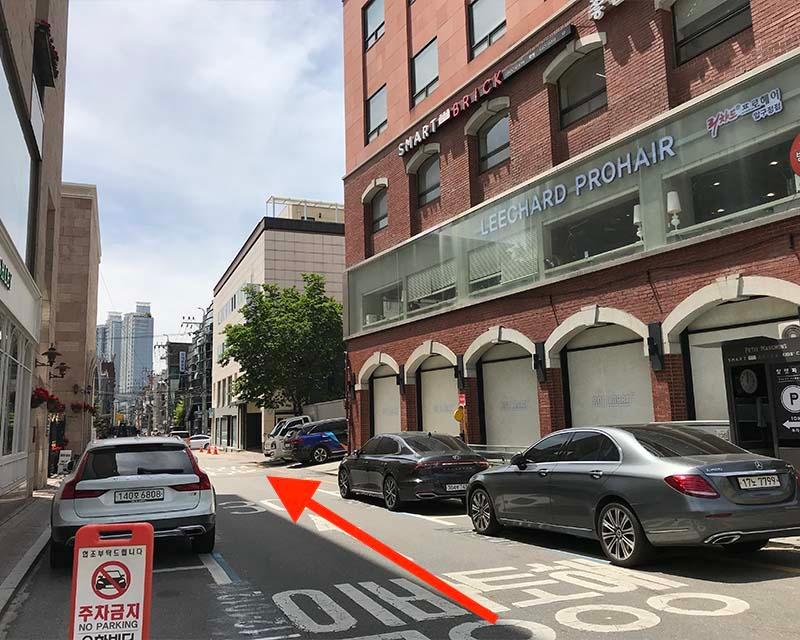 Continue down the alley. On the right side you can see the hair salon LEECHARD PROHAIR.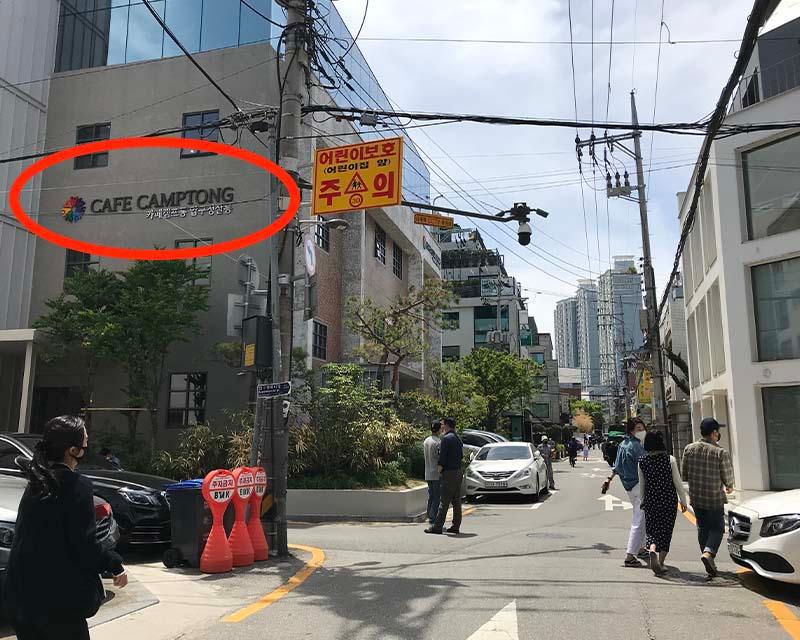 Keep walking straight until you see Cafe Camptong on your left!
Click here for more articles and blogs on BTS!
---
Cafe Camptong is a must-visit for BTS fans in Korea!
Stay tuned as we will continue our quest to find the hottest and best places to visit for K-pop fans!
---