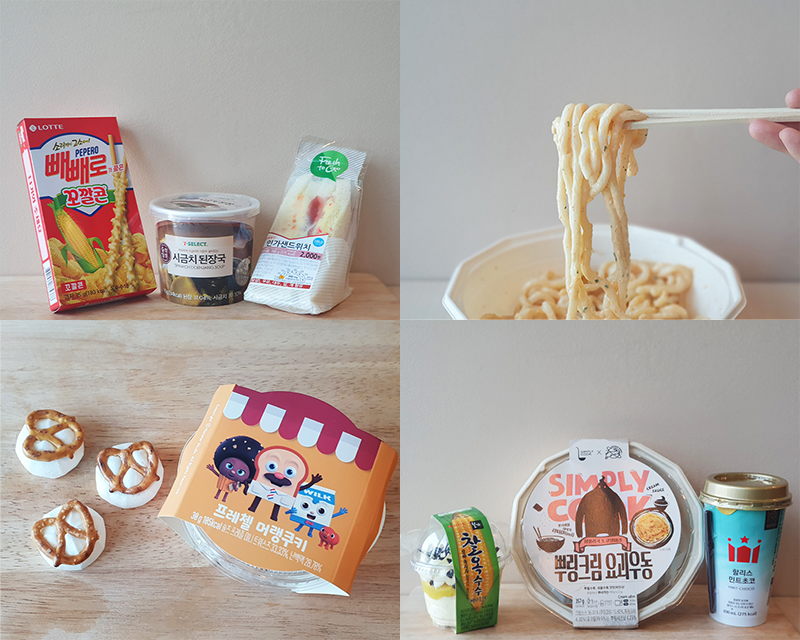 Did you know that at Korean convenience stores such as CU, GS25, and 7-Eleven, there are newly released items every month that you can look forward to?
You can check out our review of April's new releases here.
We're back to introduce new releases for the month of May. Here is our honest review!
---
GS25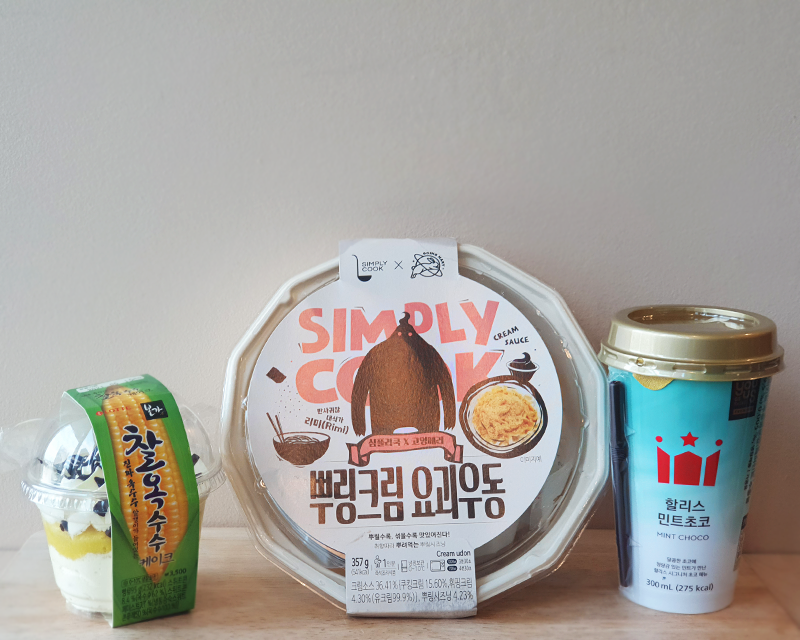 # Waxy Corn Cake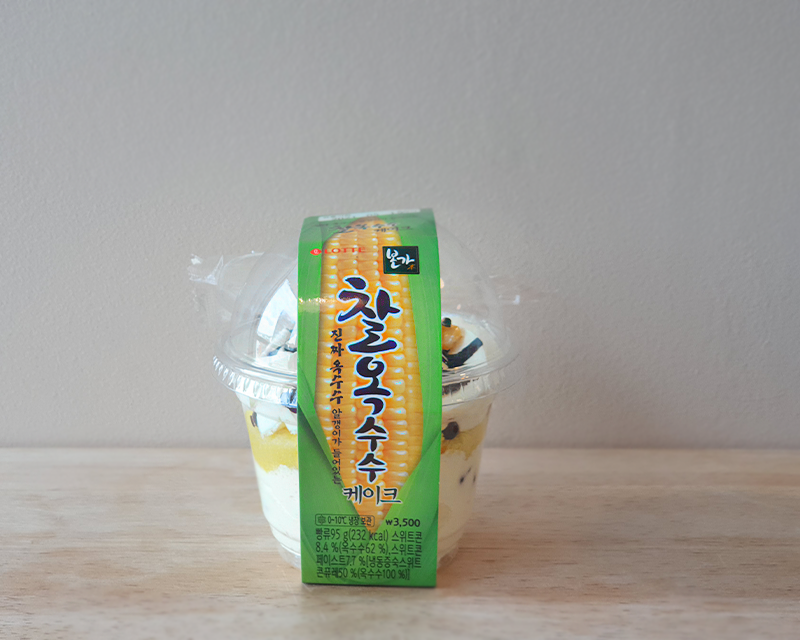 Price: 3,500 won
Starting off we have the GS25's waxy corn cake! Their brand's waxy corn ice cream has been popular in Korea for many years and they released a cake version of the same flavor in a cup.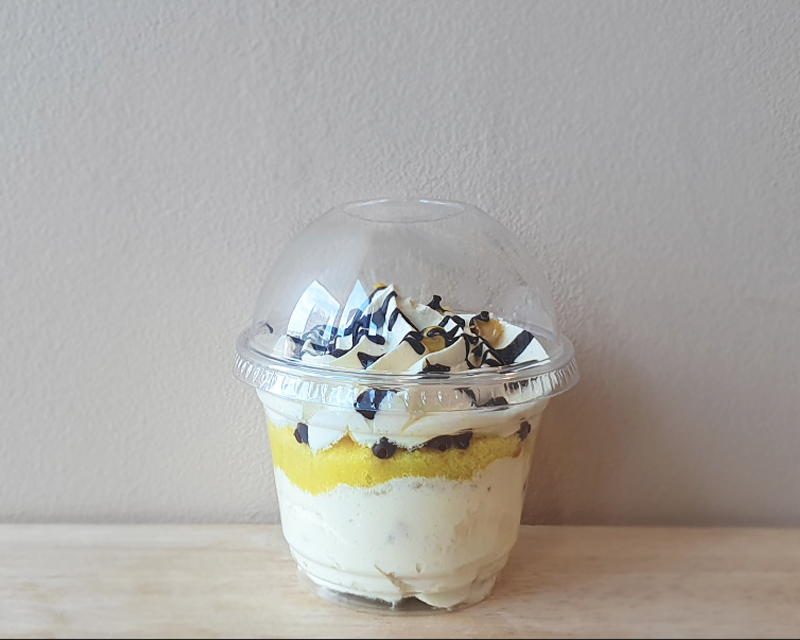 The cake consists of three layers. At the bottom is cream, then bread, then there's another layer of cream which adds dimension!
You can easily eat this with a spoon. It felt a bit weird to see what I know as ice cream being turned into a cake but the savory corn flavor in between the sweetness of the cream was delicious.
It's impossible to dislike it if you enjoy eating canned corn!
# Bburing Cream Wicked Udon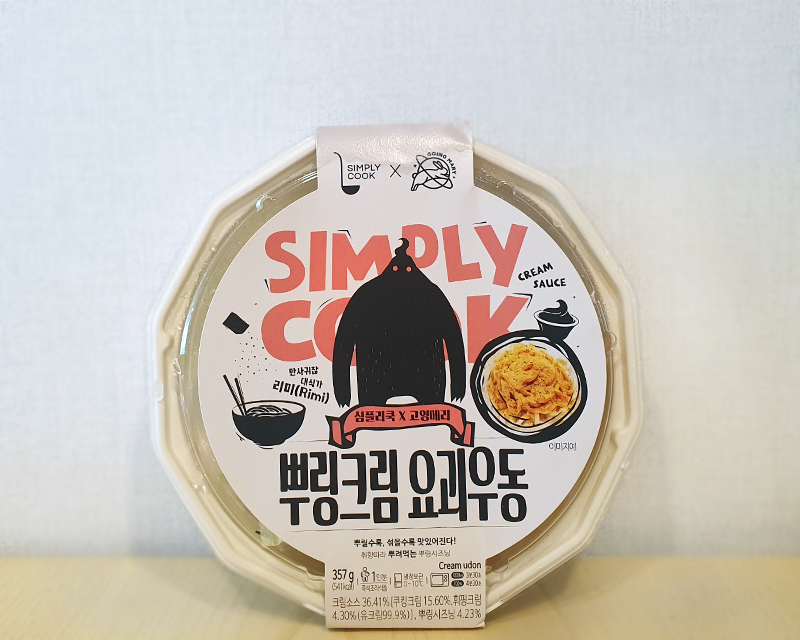 Price: 3,200 won
This cream udon dish is what I looked forward to the most. It's a collaboration between Going Mary, a small Korean food company, and Simply Cook, a subscription-based meal kit company.
There is a monster on the packaging that fits their concept very well. The dark monster with glowing red eyes is a famous character of Going Mary from their Wicked collection.
The packaging caught my eye at the convenience store that I had to get it.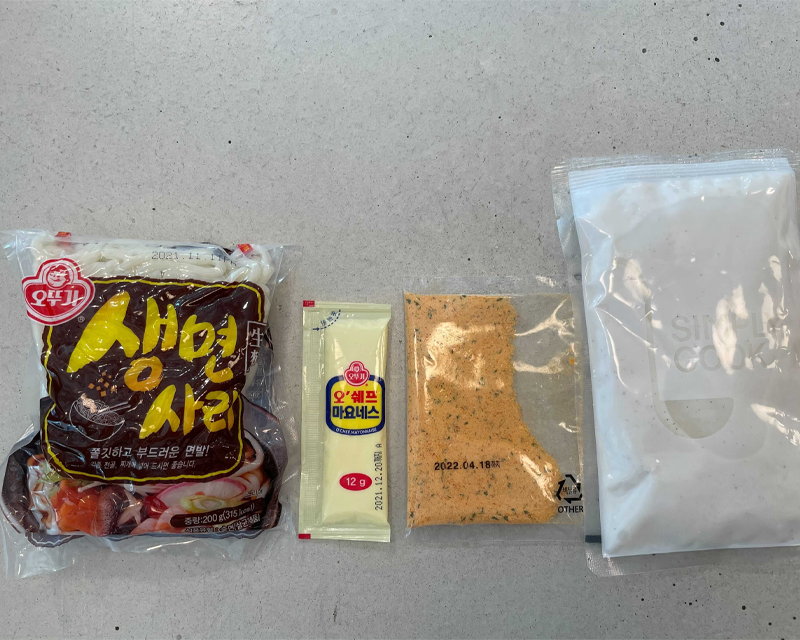 When you open the lid, you'll find four ingredients inside. From the left are noodles, mayonnaise, seasoning, and milk cream.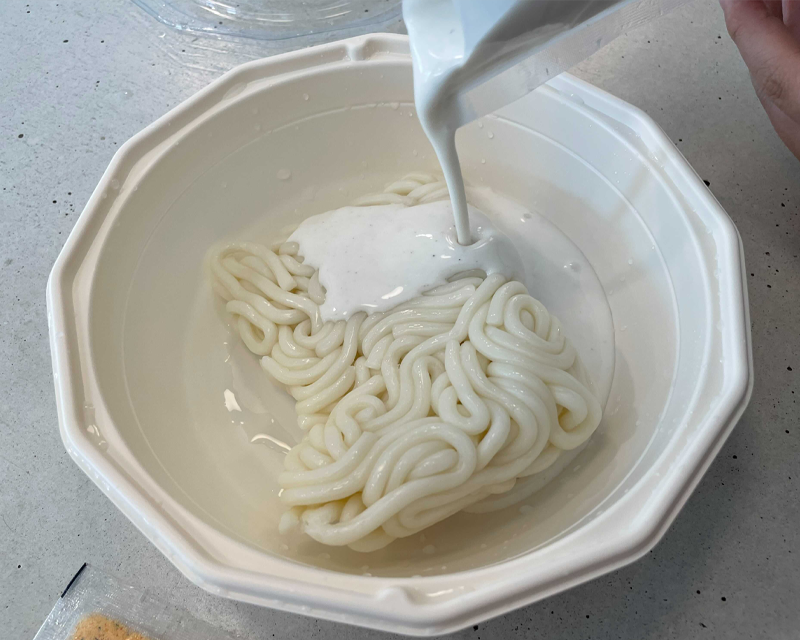 Just remove the noodles from its packet and put them in the bowl. Then pour in the milk cream and microwave it for 3 minutes and 30 seconds to 4 minutes and 30 seconds.
After that, you can adjust the amount of mayonnaise and seasoning to your liking. I like the taste of both so I put in both.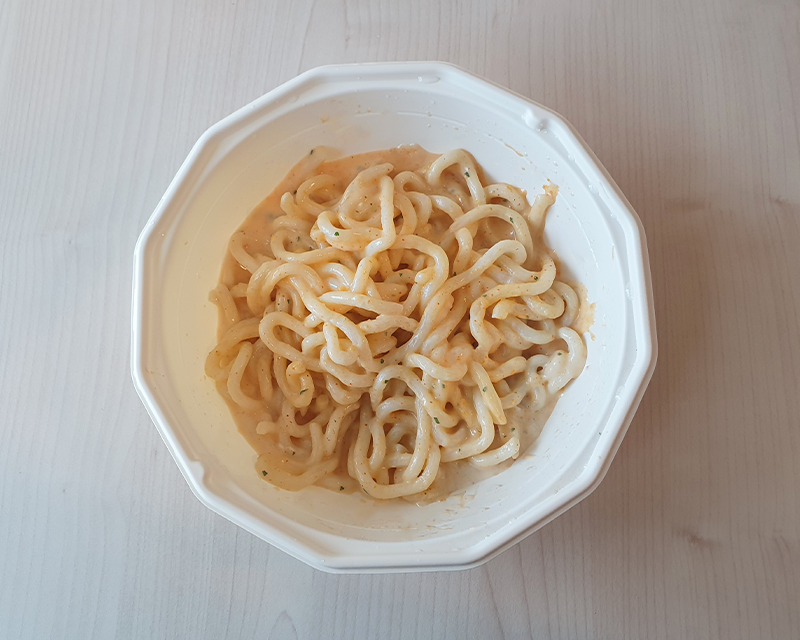 Here is the final result! I was satisfied that I was able to make this delicious dish so easily. The soft milk cream and mayonnaise with the slightly spicy seasoning paired very nicely together.
The texture of the noodles was very tasty! It was soft and chewy. I think it would taste even better if I ate this with spicy Korean fried chicken.
#Hollys Mint Choco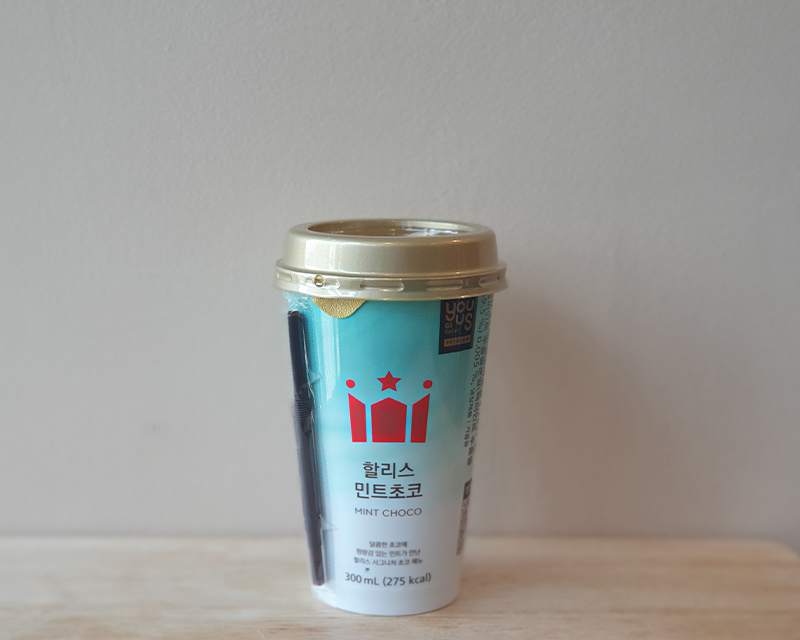 Price: 2,500 won
Hollys Coffee is a franchise cafe that was the first Korean cafe to specialize in espresso-based drinks in the country.
Hollys and GS25 partnered up to make their mint choco drink available at convenience stores.
I was actually afraid to try it because I dislike the taste of mint chocolate but after taking a sip, I was pleasantly surprised. I could hardly taste the mint chocolate! It had a scent of sweet cocoa with only a slight scent of mint.
If you like the strong taste of mint in your mint chocolate drinks, I wouldn't recommend it for you though as it's very subtle.
---
CU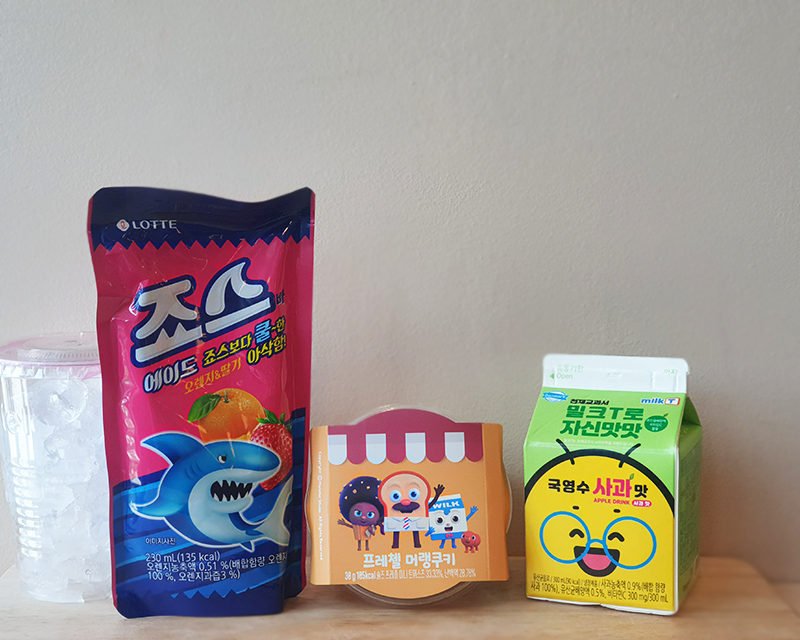 # Pretzel Meringue Cookie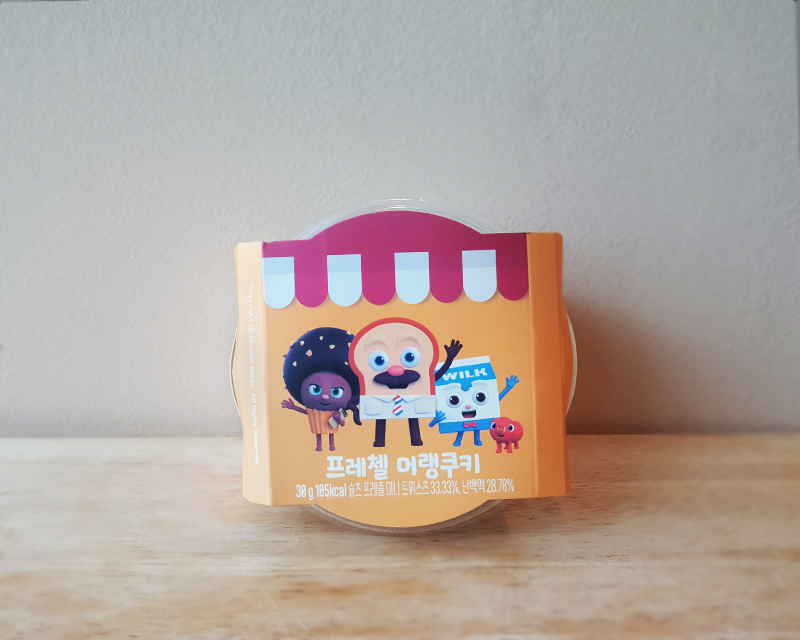 Price: 2,200 won
Have you ever seen these cute characters? These characters are from the Korean animation, Bread Barbershop which is popular on Netflix.
This month, CU launched a ton of collaboration foods with Bread Barbershop. I bought this snack because the pretzel meringue cookies looked very delicious.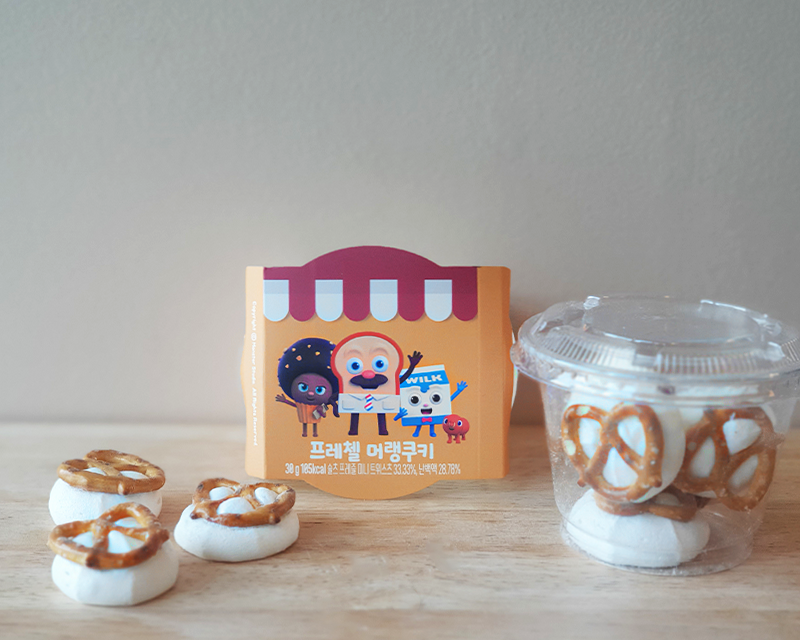 There are about 10 meringue cookies that come in this small plastic cup. Don't they look so cute and adorable? It's perfect as a bite-sized snack to keep on your desk or to put in your purse!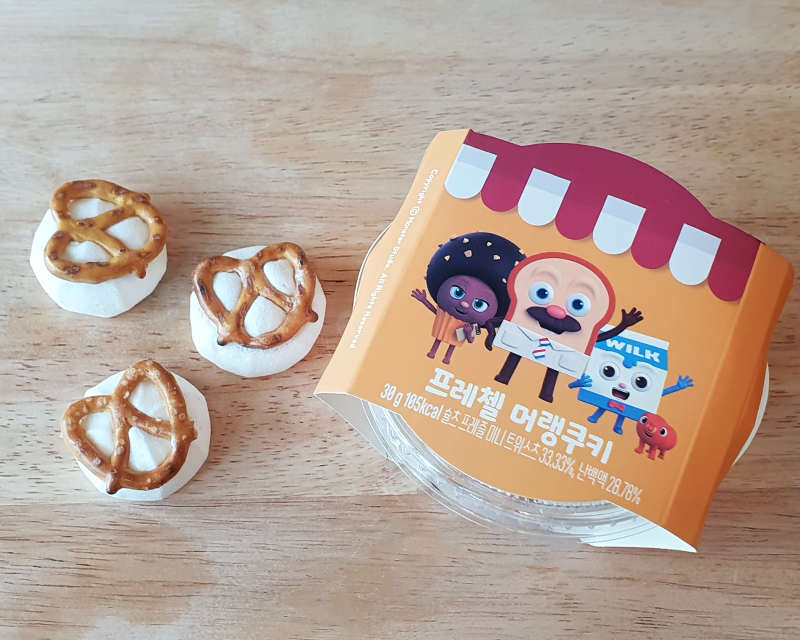 After the sweet and crispy meringue cookie melted in my mouth, the saltiness of the pretzels nicely balanced each other out.
It tasted similar to the meringue cookies that you can buy at a regular bakery. I think I'll often buy it from the convenience store the next time I'm suddenly craving it on my way to work.
# Jaws Bar Ade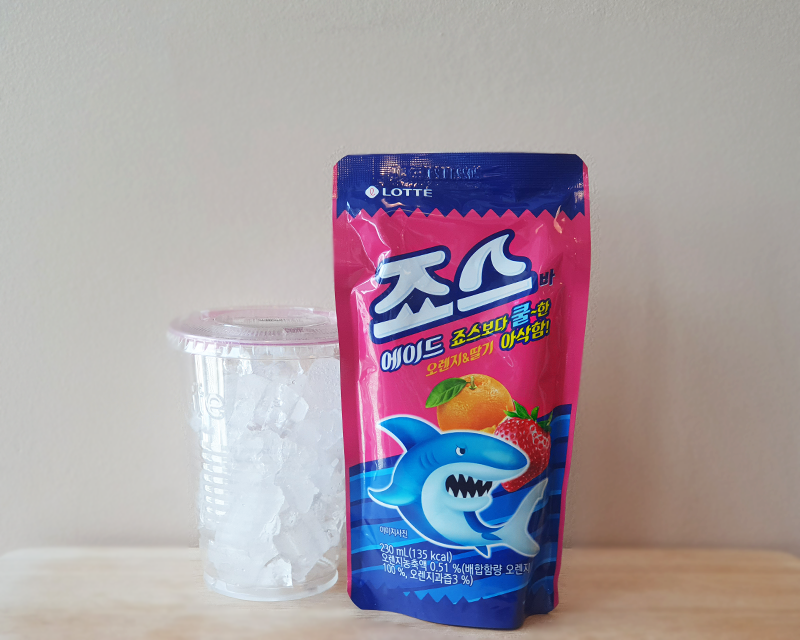 Price: 1,200 won
(Ice cups are purchased separately.)
Jaws Bar Ade comes from Jaws Bar ice cream that has been around for about 40 years in Korea. The outer part of the ice cream is gray with a blue tinge, to represent a shark.
The inside is red with a pink tinge that tastes like orange and strawberry.
It was one of my favorite ice creams growing up so I was very curious about the ade.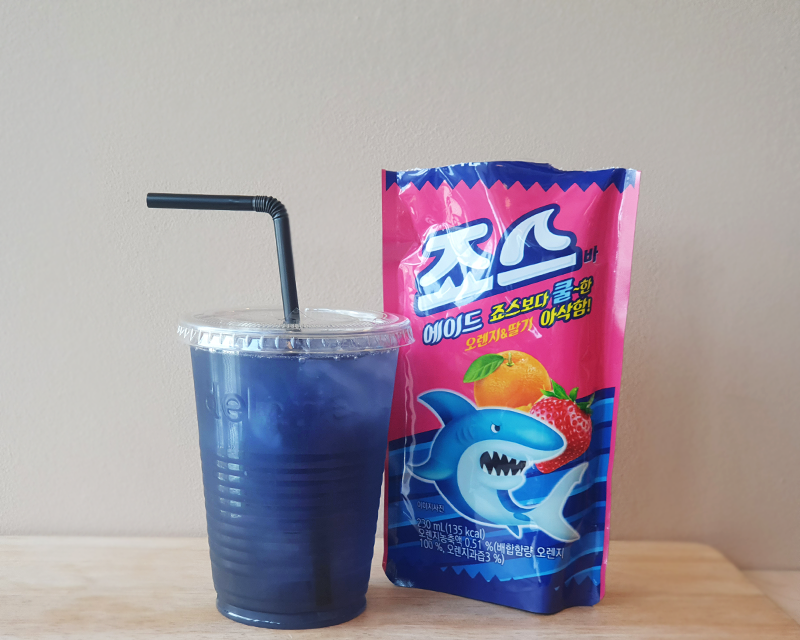 The color of the drink is very similar to the color of the ice cream. It's slightly bluer but the taste is the exact same.
It's a very sweet and refreshing orange and strawberry flavor. It was really cool to drink it in this form.
Since summer is approaching soon, I think I will be drinking this often from an ice cup to keep myself refreshed!
# Milk T Yogu Apple Drink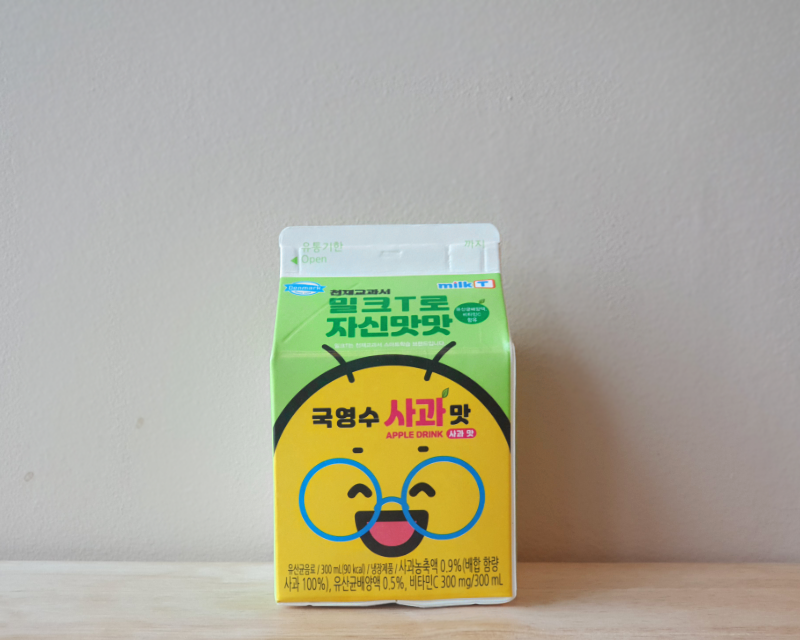 Price: 1,000 won
Milk T Yogu Apple Drink is a collaboration drink with CU and the Korean educational publishing company named Chunjae Text. It tastes like a normal apple drink but it was cool to see that it was made by the company that makes textbooks.
On the package, it reads gug (국) yeong (영) su (수) sa (사) gwa (과) flavor. The word gug (국) is short for gug-eo (국어) which is the Korean language. Yeong (영) is short for yeong-eo (영어) which means English and su (수) is short for su-hag (수학) which means mathematics.
Sa (사) is short for sa-hoe (사회) which is social studies and gwa (과) is short for gwa-hag (과학) which is science. Sa-gwa (사과) together means apple so it works out nicely!
The five subjects are known to be the major subjects in Korea.
---
7-Eleven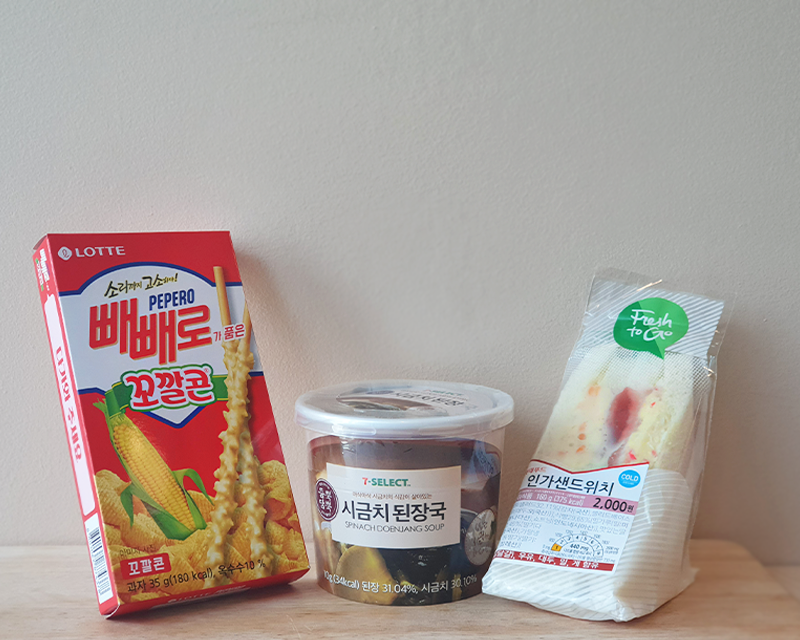 # Inkigayo Sandwich 2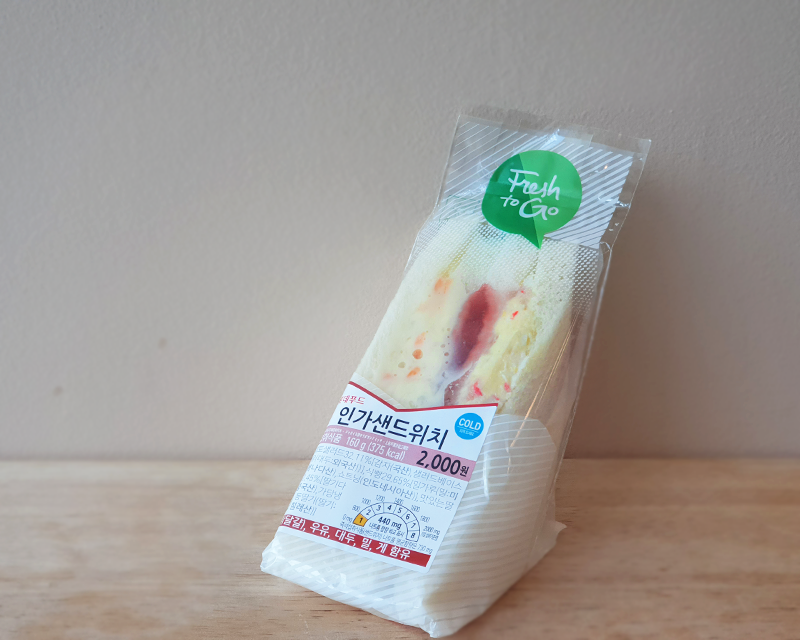 Price: 2,300 won
Have you heard of Inkigayo sandwiches? It's a sandwich from a convenience store at SBS where the Korean music program broadcast, Inkigayo is filmed. This sandwich is known to be widely loved by many K-pop idols.
7-Eleven has officially released the popular Inkigayo sandwich that many were dying to try!
It was actually released a few years ago, but they renewed it to make it even more delicious.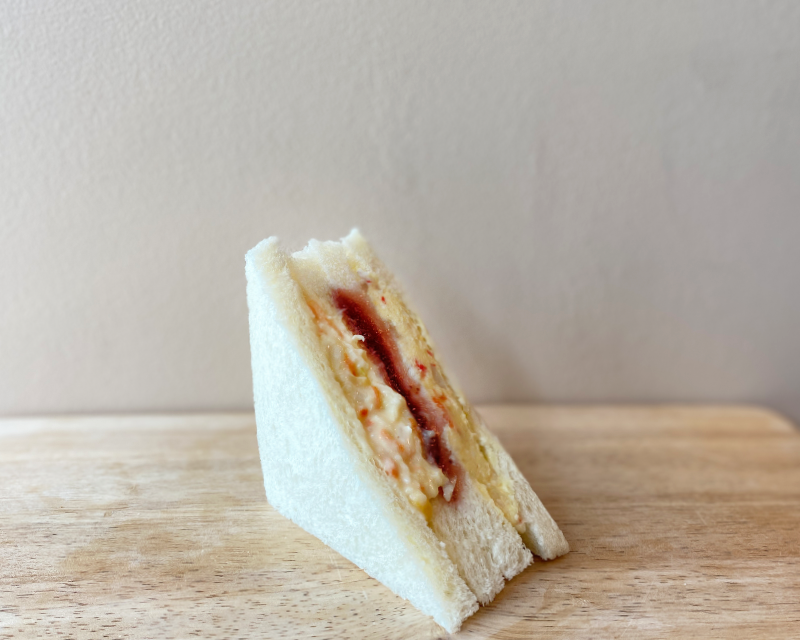 In between the four layers of fluffy and soft milk bread, there is egg salad, tuna salad, and strawberry jam spread between.
I got to try the version that was released years ago and I remember I enjoyed it so much that I had it often. The renewed version tastes even better!
What's different from its previous version is the taste of the tuna salad. In the past, the tuna smelt very fishy but this renewed version completely got rid of that. It tastes sweet and savory which is very delicious.
You should try this popular sandwich loved by K-pop idols that you can easily get your hands on at 7-Eleven.
# Spinach Doenjang Soup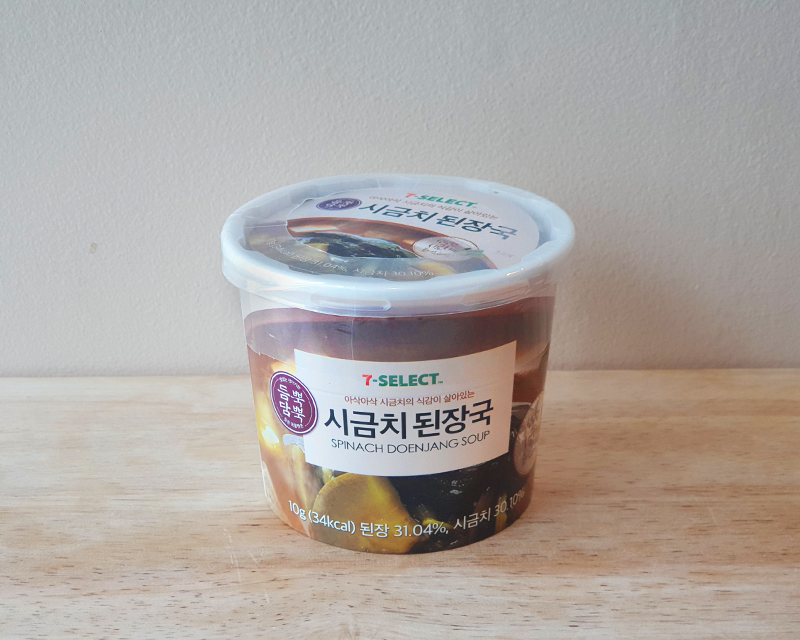 Price: 1,500 won
This is a simple soup meal that was released this month at 7-Eleven. They also have Spicy Welsh Onion Meat Soup and Spicy Dried Pollace Soup. I decided to go for the Spinach Doenjang Soup.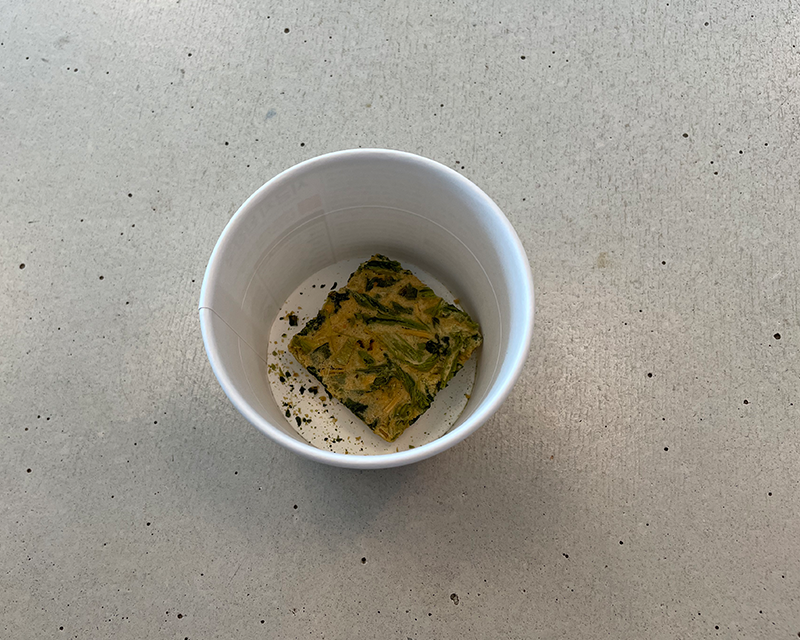 When you open the lid, there is a little packet. You'll see a freeze-dried spinach soybean paste in the packet.
Just put it in the container and pour hot water on it. It's very simple and easy to make!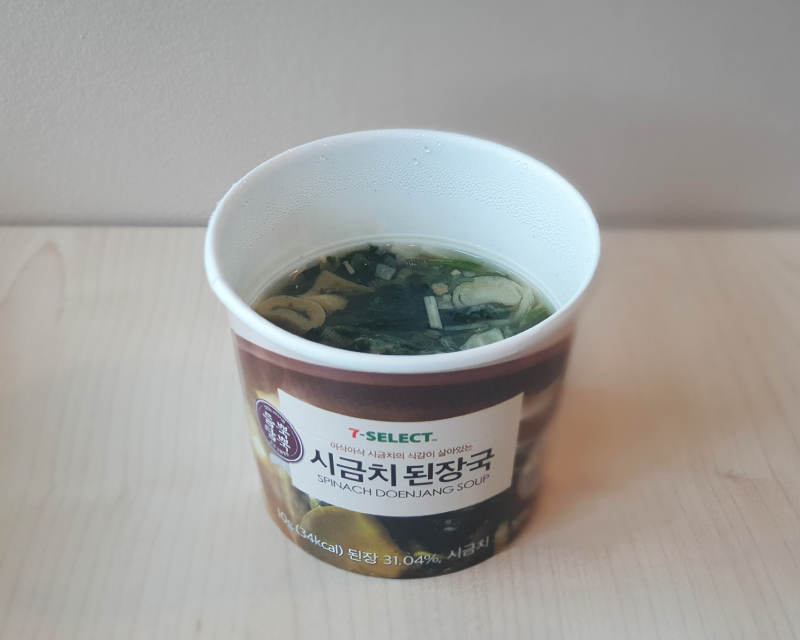 It doesn't look very delicious but the taste was decent. The spinach was crunchy and tasty but I would recommend adding a little less water than the suggested line as it tasted quite watery and bland.
Many Koreans need soup with their rice when eating their meals so I think this will be great to have together with other meals from the convenience store.
# PEPERO Kkokkalcorn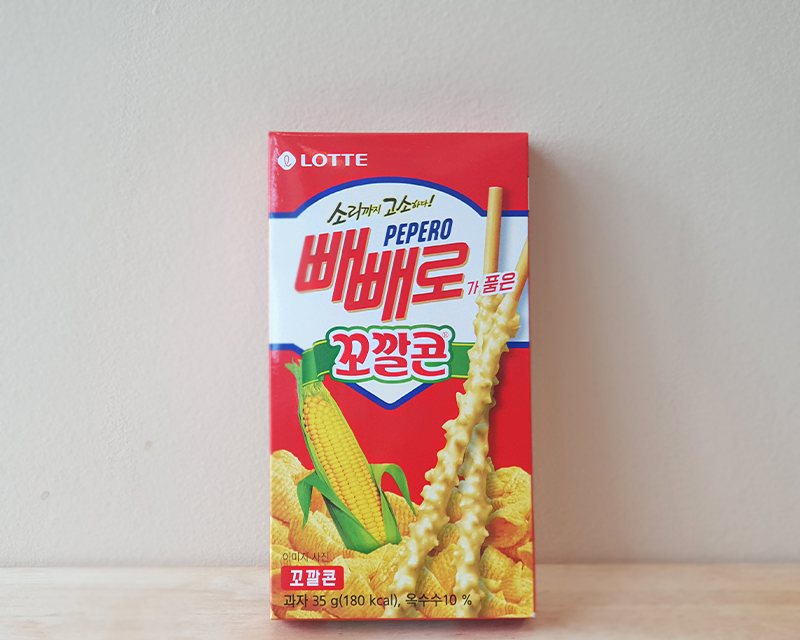 Price: 1,500 won
Korea's two famous snacks Lotte's Pepero and Kkokkalcorn partnered up together to launch these Kkokkalcorn flavored Pepero sticks. Pepero is a long stick coated in chocolate and Kkokkalcorn is a corn-flavored snack that tastes very savory and salty.
I was curious about how it would taste together.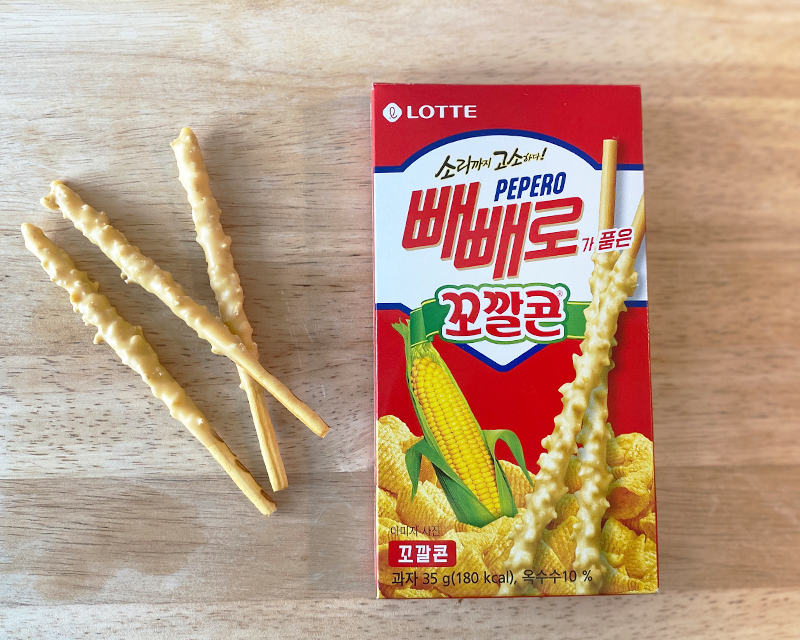 As you can see, Pepero sticks are coated in corn-flavored cream. I didn't think it would go well together but it was surprisingly very delicious.
The Kkokkalcorn snacks enhanced the sweet and savory flavors nicely while adding a touch of saltiness. I recommended it to all my friends after having a bite and they all enjoyed it very much.
---
That concludes our review of new releases at Korean convenience stores for the month of May! There are so many delicious snacks to choose from and I'm glad to have introduced them to you quicker than others.
The next time you visit Korea, don't forget to check out some of these products at the convenience stores around you. See you in June!